What are the best luxury Florida resorts for families? In Miami? Palm Beach? Naples? Orlando?

We know.
No vacation can recharge a family in winter faster than a quick Florida break. Flights are easy; many are direct. Budget airlines have brought airfares down across all carriers. With all of that money you save not flying to the Caribbean, you can assign those dollars to your resort.
Here's where to go if you are looking for the Sunshine State's absolutely most luxurious, full-service resorts with kids' clubs, stunning grounds and service, and poolside cocktails. If we've missed your favorite, share in the comments.
Gulf Coast Florida Resorts
The Ritz-Carlton Naples and Golf Resorts
For families seeking the best on the Gulf coast
What's new?

The Golf Resort opened an extensive water park at their pool in 2021

The Beach Resort completes a room and spa renovation by January 2022
The Ritz-Carlton has such a stranglehold on Naples that there are two Ritz properties. The Ritz Carlton Naples, is beachfront, and the Golf Resort is within a 10-minute drive. They're both fabulous in their own way and incredibly family-friendly. Guests of both resorts have full access to all amenities offered. The resorts provide a luxury shuttle to go back-and-forth between the two on schedule.
An exceptional club lounge
The most premium experience is a spectacular club-level room at the beach resort with sweeping Gulf of Mexico views of the jade green water. This property was— for years— the top-rated Ritz-Carlton property, and considered one of the best US resorts when it opened.
While many resorts from the Ritz brand have been modernized and updated from its well-known southern country club decor, this property isn't letting go of that aesthetic anytime soon. It suits the formal atmosphere the resort seeks the moment you enter the main lobby.
Finding Family Fun
Families have many options to entertain themselves, starting a check-in with a sticker scavenger hunt. The marine life and animal collection at the kids' club would rival a small city's aquarium or natural history museum, and if that weren't enough, guests can blow glass next to the pool on weekends for a unique souvenir.
The true ritual at the Ritz Carlton Naples beach resort is sunset and most resort guests and others from the area gather at the beachfront Gumbo Limbo restaurant for a sunset ceremony and tropical cocktails.
The Ritz Carlton Golf Resort, by contrast, has a quieter pool scene and a smaller number of rooms. Families can book expansive club level suites at the golf resort and request an in-room camping setup for your young stargazer.
The golf club at the resort is exceptional; my son was thrilled with his golf lesson and the dedicated pro teaching the kids' program. There are tennis courts at both properties.
When it's time to get cleaned up after a day of sunshine, even the most formal of this luxury resort's restaurants manage being family-friendly exceptionally well, particularly with their children's menus.
Our most formal meal at the Grill was our favorite, as my kids loved the attentive service with multiple servings of housemade pretzel bread. Finishing their first chocolate soufflé was a joyful fifteen seconds.
Best Rooms for Families:
Families of four at either the beach or golf resort who do not reserve a suite or adjoining rooms will be stuck with two double beds. Families with one child can book a king room and have the chaise made up as a twin. Club level rooms have access to generous spreads that could replace all breakfasts, some lunches, and even some dinners.
Kids Club and Fun Stuff:
For ages 5 to 12, half and full-day programs are available; a gaming lounge for teens; and a resort scavenger hunt at check in. The Golf resort has a creative playspace filled with a massive blue foam block system that will encourage fort building for at least and hour. A video game room and mini movie theatre are next door.
Read our reviews on both Ritz Carltons.
Luxe Recess Perks!
Luxe Recess can book your family vacation at this hotel and include the following amenities at no extra cost: daily breakfast for 2 adults, $100 resort credit, upgrade based on availability as a full service Virtuoso affiliate.
---
Hyatt Regency Coconut Point Resort and Spa
For those seeking great pool time and only packing flip-flops
This resort north of Naples always delivers and surprises first time guests. Though basically a Florida convention resort, families started really flocking here in bigger numbers when the pool area expanded to add a small water park pool area. The atmosphere is tropical and cheery and a good bet for families who seek a really well-run, but casual, resort.
The expansion of the pool and water park areas now include five water slides and a lazy river.
There are two adjacent slides for racing and a slide for duos to enjoy using inner tubes that's great for families. There are two other traditional slides scaled for bigger and little kids, too.
The lazy river is very serene. We spent hours in it one day, making friends with other guests and enjoying leisurely chats. Everyone seemed to be as blissed-out as we were. Grandparents guided infants in floats passed out in sweet naps, and, for me, it felt like a family yoga retreat by day's end.
Not beachfront, but a private beach is a boat ride away
The Hyatt Regency Coconut Point is not directly on a beach, as guests must take a trolley ride or walk the quarter mile to a marina; from there, guests take a boat to a private island for some sand castle building or water sports. Dolphins and other wildlife frequently make their presence known during the journey but — with a pool area as fantastic as theirs— we never had the time to partake in such an adventure.
---
JOIN OUR LUXURY HOTELS & RESORTS FOR FAMILIES,
A FACEBOOK GROUP FOR SEEKING HELP AND INSPIRATION
FOR THE BEST LUXURY FAMILY BREAKS.
---
There's also a mountain climbing wall and a daily schedule of poolside actives for families and kids. The resort is a good launch pad for more eco-adventures in the area to see the marine life or take boating adventures.
Tarpon Bay is an enjoyable seafood restaurant for a date night or family dinner, but otherwise, the resort is built for casual poolside meals, room service, or food from a takeaway market.
Best Rooms for Families:
Families who do not book suites (all of which have pullout sofa beds) may find booking two adjoining rooms the most comfortable. Standard rooms come with one king-sized or two queen-sized beds. There are club level rooms, too. Families will enjoy breakfast, but, as with most Hyatt lounges, lunch and dinner offering won't be as kid-friendly.
Kids Club and Perks:
There is a kids' club offering half, full-day, and evening sessions. Kids must be aged 3 through 12. The morning session from 9AM to 1PM includes lunch and costs $65 per child. Afternoon sessions are $55 per child from 1pm to 4PM, and evening sessions— on Fridays and Saturdays only— run $65 from 6PM to 10PM and include dinner.
Children might make crafts, watch movies, visit the arcade next door, or families can on their own. My children were the only campers in the session and the counselor customized their time to their preferences.
Read more about our stay at the Hyatt Regency Coconut Point.
Luxe Recess Perks:
---
Luxe Recess can book your family vacation at this hotel and include the following amenities at no extra cost: daily breakfast for 2 adults, $100 resort credit, upgrade based on availability as a Hyatt Privé member agency. Sometimes we have access to unpublished special rates.
Palm Beach-area Florida Resorts
The Breakers
Best for families who appreciate grand dame resorts and dressing up for dinner
The Breakers is truly the iconic Florida beach resort that offers a luxurious family break in Palm Beach. Hotel lovers can't help but show their respects when entering the lobby of this Gilded Age masterpiece Henry Flagler built while extending the railroads down to Miami.
The Breakers has remained privately owned and is proud to offer a capital reinvestment program to ensure that the resort is consistently evolving to offer its guests a top-of-the-line experience. Considering its credentials as a historic resort, The Breakers commitment to change is impressive.
It's newer spa building, for example, is exceptional for parents looking for a little bit of time away from kids. It's the only spa I have ever been to that offered gelato in hidden freezers next to healthy trail mixes and fruits. All guests receiving facial treatments receive a complimentary free make up application at the Guerlain boutique next door.
Fusing family friendliness in formal spaces
Despite the visual splendor of the Breakers, the resort embraces families in every aspect. Looking at the vintage frescoed ceilings in the main lobby, I laughed at seeing a stray Mylar balloon that escaped from a child's hands. Pristine manicured lawns transform into multi-generational frisbee or soccer games. Children push their scooters down the colonnades connecting the pools and recreation facilities.
The Breakers offers numerous on-site dining options, as well as a few nearby offsite restaurants accessed by a resort driver. A family could switch between Italian, sushi, steak, and seafood for a different type of dinner every night without ever leaving the resort or needing a credit card.
Staffers adorned in Lilly Pulitzer dresses coordinate with each poolside role. Note the Beach Club restaurant by the pool is open to resort guests and club members only.
The Italian restaurant is worth mentioning in terms of how family-friendly it is for those who have young children between the ages of two and eight. There is a clever playroom encased with a glass wall facing the restaurant; parents can watch their children build with blocks and play a few games from their seats while they enjoy a glass of wine before the meal arrives. This restaurant is adjacent to The Breakers lovely playground as well as their arcade and children's club.
An exceptional kids' club
We keep waiting for the Breakers to resume operation of their kids club. The kids' club is very well-managed, and it's one of the two places in all of our travels that my daughter (a kids' club aficionado) asked if she could stay the entire day when I tried to collect her at lunchtime. (The other time was at Kiawah, not in Florida!)
There is an adult pool, as well as a few other family pools with zero entry and cabanas flanking the sides. The private beach area is smaller than those at Miami resorts, as the sand covers much less distance from the waves.
Best Rooms for Families:
Families have the option of booking suites and junior suites with sofa beds or adjoining rooms. There is a huge range of accommodations at The Breakers, and I suggest confirming with the property directly that you have chosen a room that offers the bed configuration your family needs. The Flagler Club is a club level experience for only 25 rooms designed for couples or those traveling for business, but not families.
Kids Club and Perks:
Though not reopened yet, there is a kids' club for 3 to 12-year-old children. A day session runs from 9AM to 3PM with lunch provided and an evening session runs from 5:30 to 9:30PM. Tennis and golf clinics available for children, too. There's a fabulous children's resort wear boutique on site to buy more vacation outfits. Kids will enjoy the playground and arcade at all hours.
Read our full review of The Breakers.
Luxe Recess Perks!
Luxe Recess can book your family vacation at this hotel and include the following amenities at no extra cost: daily breakfast for 2 adults, $100 resort credit, upgrade based on availability as a full service Virtuoso affiliate.
---
Eau Palm Beach Resort & Spa
Best for the family seeking a stylish play zone
 What's New

Revamped kids' and teen spaces ready for January 2022
Kids' splash pad
Ice cream and casual cafe for family dining options
New family cabanas at the pool
In an area steeped in its own traditions, The Eau likes to poke fun at the Old Palm Beach by going for chic irreverence. The Jonathan Adler colorful design of the property's rooms and spaces defines the resort's experience.
The exterior architecture of the property doesn't tease what's in store for guests once they step inside this one-of-a-kind property south of Palm Beach's central action in Manalapan.
Rooms are decorated with unique touches and amenities, and hotel lovers will appreciate every design detail and amenity. The homage to Palm Beach's love for chinoiserie style with Pagoda lamps and blue bathroom cabinetry. The navy drapes and needle point Palm Beach pillows provide a finishing touch. Balconies offer white birdcage porch swings to enjoy ocean views.
The Eau, known for its exceptional spa, boasts a really impressive kids' club, as well.
A distinctive kids' club
Kids find it after enjoying a pirate ship playground nearby. Once inside, different rooms within this very large space revolve around specific themes. Children can practice being a DJ, mountain climb a chalkboard wall, play dress up costumes, dance.
Dining at the resort can be casual by sticking with the oceanfront and poolside restaurant. Breakfast is an elegant buffet with creative items mixed with the traditional. The resort served the best chocolate chip cookies the size my my children's head.
Though the pools are straightforward, the resort leaves large floats in one of them for children to share throughout their splashing time. By learning to take turns using it, they make friends and play together.
My children were happy enough, and then a pool server brought a tray of frozen grapes to launch them into a happy orbit.
Best Rooms for Families:
Families who do not book suites (all of which have pullout sofa beds) may find booking two adjoining rooms the most comfortable.Standard rooms come with one king-sized or two double beds. Some premium king rooms include sofa beds. Call the resort directly to confirm your bed configurations. There are club level rooms, too. Families will enjoy breakfast, afternoon snacks, and cocktails.
Kids' Club:
Aquanuts is available for children ages 5-12 daily from 9AM to 4PM and Kids Night Out on Friday and Saturdays from 6PM to 9PM. Half Day Sessions are $80 per child, and Full Day Sessions cost $108 per child. Kids Night Out is $80 per child, the hourly rate is $22 per child.
Read our full review of The Eau Resort.
Luxe Recess Perks
Luxe Recess can book your family vacation at this hotel and include the following amenities at no extra cost: daily breakfast for 2 adults, $100 resort credit, upgrade based on availability as a full service Virtuoso affiliate.
---
Miami-area Florida Resorts
Acqualina
Best for those seeking exceptional service in Miami away from the scene

We experienced some of the best attentive service in all of our stays from the bell staff and doorman to the beach attendants.
A truly five-star staff really helps parents enjoy their family vacations on a new level. My son left his hat and sunglasses in the backseat of our car, and the valet ran inside and chased us down to return them at the elevators to our room knowing we would need them.
When we got to the beach for the first time, my son was overwhelmed and delighted by the expansive stretch of high-rise condo buildings along the Miami beach as far as the eye could see. He sprinted off to explore. I was carrying a heavy beach bag and a fancy camera, and I asked the beach attendant to run and get my son. Off he sprinted. He challenged my son to a race back to me, all smiles, and having the time of his life.
Outstanding service and family suites among all Florida resorts
And sometimes a mom needs a little help. I had a self-tanner accident and sought the spa's assistance, and they provided samples of every exfoliant in their product line. Acqualina defines the service one can expect from a truly great independent hotel.
It's miles away from the Miami beach scene and perfect for families. If the service wasn't enough, its expansive suites are some of our favorites for the gorgeous interior design with muted metallics.
Families fit right into the pool and beach areas. Staff provide a designated sand castle building area with extra umbrellas for shade.
Children from all the Americas mingle at the kids' club or at the small soccer area as they play pick-up games sporting their international jerseys with Emirates logos. No, my son didn't play soccer with the bigger boys, but he was invited to join his new friends in a water balloon fight led by a willing, soaked dad.
Adults seeking serenity will have no problem finding a quiet pool area, and if they seek exclusivity, the private spa pool is only open to guests receiving treatments that day.
Acqualina, in Sunny Isles just above North Miami Beach, is equidistant to the Fort Lauderdale and Miami airports.
Best Rooms for Families:

Families get a break at Acqualina in that entry-level rooms include a king bed and pull-out sofa and are spacious for families. For those seeking more beds, the deluxe one-bedroom suites have both a pull-out sofa and a twin daybed in a separate reading room. One-bedroom suites come with complete kitchens and stocked freezers with ice cream to take the mini bar to a cool, new level.
Kids' Club:
Acquamarine is the kids' club adjacent to the sports lawn. Children aged 5 to 12 can participate in sessions from 11AM to 3PM, with weekend hours from 10AM to 4PM.
Check our full review of Acqualina.
Luxe Recess Perks!
Luxe Recess can book your family vacation at this hotel and include the following amenities at no extra cost: daily breakfast for 2 adults, $100 resort credit, upgrade based on availability as a full service Virtuoso affiliate.
---
The Four Seasons Surfside
For families seeking an escape from the crowds
The Four Seasons Surfside is a relatively small hotel compared to the many high rise resorts in Miami Beach. Its towers are primarily residential (and hardly ever occupied by its worldly owners), and the hotel has less than 100 rooms.
The Surf Club, long dormant from is early twentieth century glamor, awoke with a lovely new architectural rebirth from Richard Meier. The original building rests in between two new residential towers and floors of hotel rooms above it.
The resort features two pool areas and outstanding dining options. The only Thomas Keller restaurant in Florida resides at the Surf Club. The hotel's signature restaurant serves breakfast and dinner while guests dine under soaring ceilings and giant palm trees. Resort guests enjoy lunch al fresco or by the pool.
This Kids' Club is included!
The kids' club, Kids for All Seasons, is complimentary for children like most Four Seasons resorts. The staff supervise kids as well as the mascot club bunny in a well-lit, cheery space filled with Legos, games, and screens. Kids partake in outdoor activities throughout the day, too.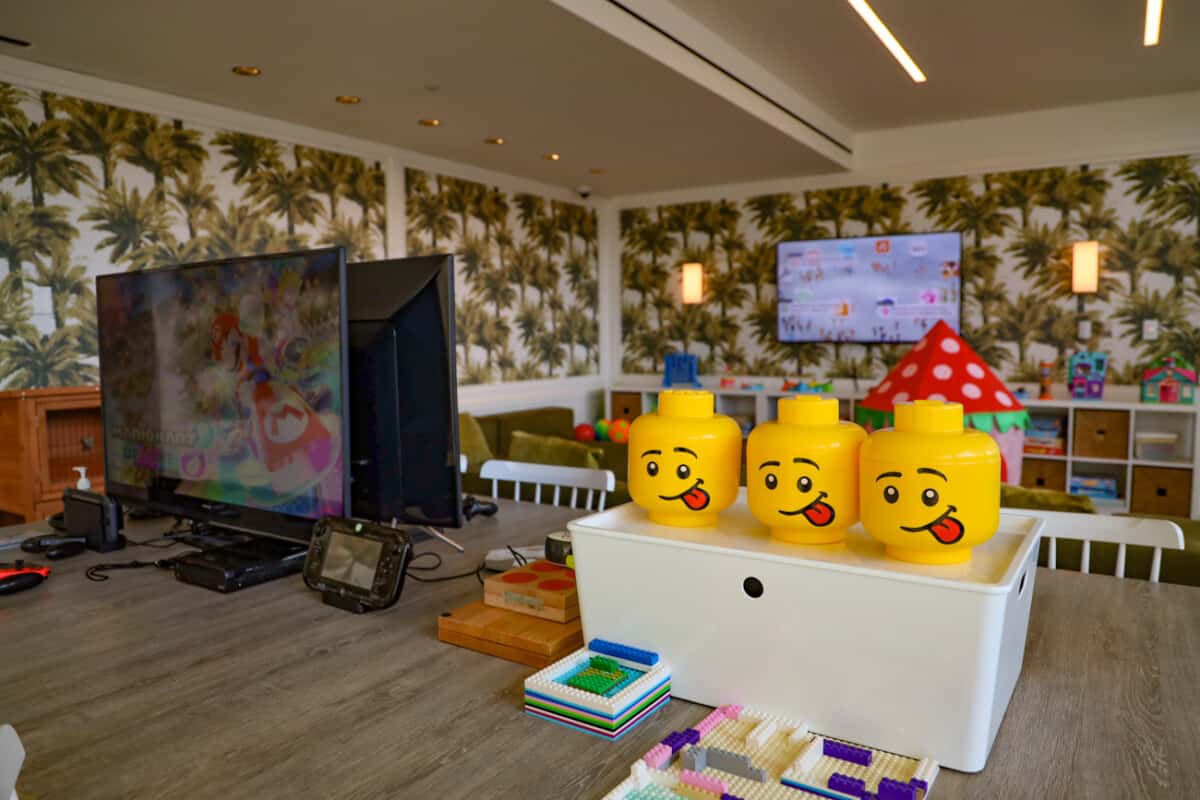 Best Rooms For Families
Standard rooms come with a king sized bed and a seating area comprised of one twin mattress that would work for a family of three.
There are one bedroom suites with sleeper sofas and two bedroom suites as well. Additionally, two adjoining rooms can attach and share a single entry. Some suites include a complete kitchen as well.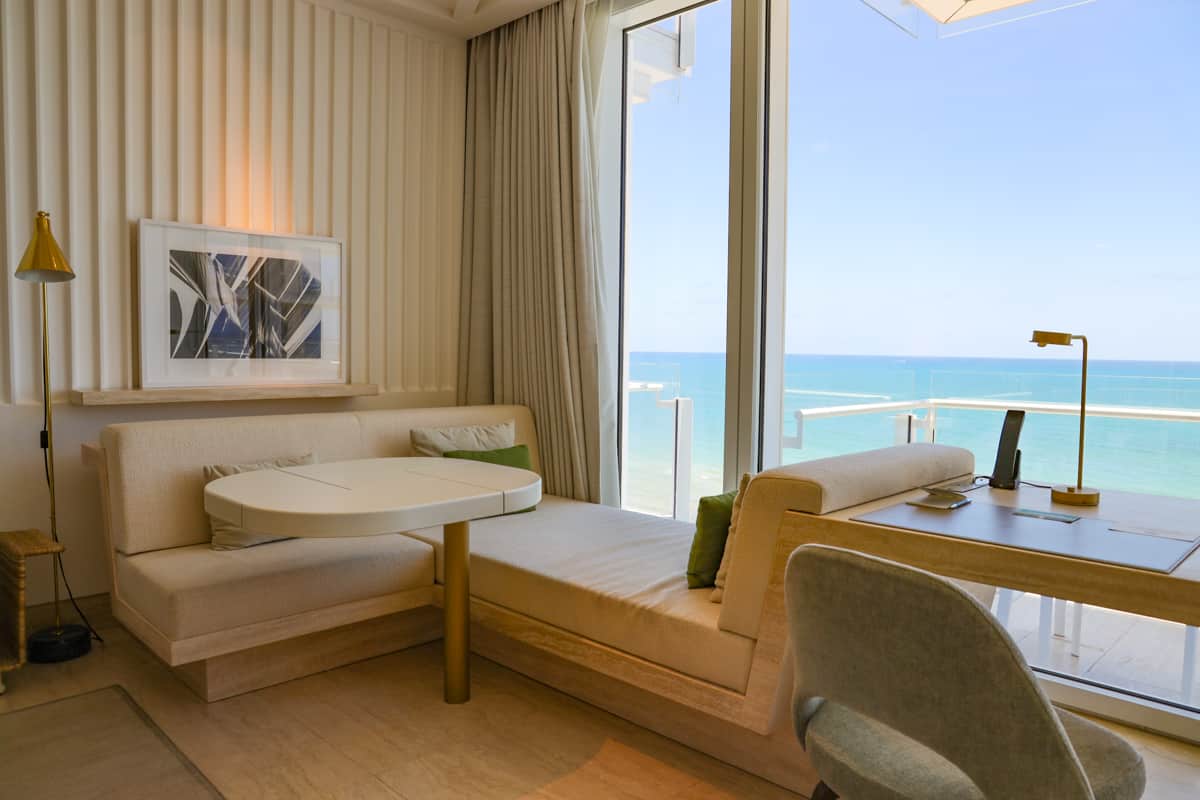 Read our full review of The Four Seasons at the Surf Club.
Luxe Recess Perks
Luxe Recess can book your family vacation at this hotel and include the following amenities at no extra cost: daily breakfast for 2 adults, $100 resort credit, upgrade based on availability as a full service Virtuoso affiliate.
---
St. Regis Bal Harbour
One of the best Florida resorts for families flush with hotel points
The St. Regis Bal Harbour offers an elegant family respite directly across the street from the legendary Bal Harbour shops and its restaurants. It's ideal for both a beach and shopping break.
The family pool may be a little too straightforward and small to engage kids for long, but during peak season the resort runs craft activities at a nearby table. Pool service was incredibly slow at both of our visits, which is my only criticism of the hotel.
A no-brainer meal plan for kids
A steal for families, the SPG Kids all-inclusive resort plan is a no-brainer, charging $35 a day per child which includes three meals at the restaurants and unlimited smoothies by the pool. You break even after breakfast and lunch, so dinner is essentially free.
The Greek restaurant Atlantikós serves an excellent breakfast buffet as well as a kids' menu for dinner. The other option for families is the causal BH Burger Bar. Bal Harbour offers casual eateries, but not the pricing to match. I found it funny that my first visit to the hotel for a hamburger and hot dog lunch with my son cost about $85.
There's a small kids club that offers crafts and games to ensure parents can enjoy the Remède Spa. Children receive resort packs at check in that include sand toys for the beach and a voucher to enjoy the macarons at the lobby's patisserie and tea salon, La Gourmandise. This lobby café offers an afternoon tea service.
The standard rooms at the St. Regis Bal Harbour are incredibly impressive and spacious, offering entryways with large closets. Split baths with commode and walk-in closets are on one side of a long hallway and shower, tub, and double-vanity are on the other. There's so much storage space that every Manhattanite will jump for joy.
All rooms and suites have ocean views and private balconies with two large wicker chaise lounges if you feel ambitious enough to wake for a spectacular Florida sunrise.
Some suites offer a dining area and kitchen and a slightly awkward pull out sofa in the TV area of an expensive open space. The real draw of our suite was the size of its bathroom. There was literally a marble hallway from the vanity to the bathtub with enough wall space to create a small gallery. We used points on one stay to upgrade to the giant Atlantic Suite, but I actually preferred our stay in a standard room more. It was plenty spacious.
Best Rooms for Families:

Families will find the double queen-bedded standard rooms spacious unless they choose to splurge for a suite. The room categories are also based on hotel floor for the improved view, though all suites have ocean views. Our Atlantic suite had a dining area and kitchen if that is convenient for families.
Kids' Club:
The kids' club operates every day from 9:30AM to 4PM and half and full day sessions are available at $55 and $90, respectively.
Luxe Recess Perks
Luxe Recess can book your family vacation at this hotel and include the following amenities at no extra cost: daily breakfast for 2 adults, $100 resort credit, upgrade based on availability as a full service Virtuoso affiliate.
---
Orlando Resorts
The Four Seasons Orlando at Walt Disney World Resort
For Families Seeking the Best Resort at Walt Disney World
The Four Seasons Orlando truly changed what a Disney vacation could be when it opened. It's the only Mobil 5-star resort in Central Florida. But don't think that this resort is suited only for Disney-bound families, as my husband even suggested while we enjoyed time at the adult pool that we return for our anniversary. It manages to be all things for all guests.
The strength of the Four Seasons is its exceptionally clever resort design, the rooms, and the expansive pool area which is one of our favorites in the Sunshine State.
The resort is surprisingly compact, and doesn't feel overwhelming to explore or navigate, yet the pool area covers several acres. The family pool, lazy river, waterslides, and splash areas are well-designed to offer little nooks and alcoves around them so that it can still feel private. The pool area remains secluded and serene even with several guests using the facilities at the same time.
The exceptional kids' club is complimentary to allow parents time at the adult pool where eye contact call a pool server to your chaise lounge instantly.
For visiting the Disney Parks
Four Seasons Orlando guests visiting Disney receive two key Disney resort benefits. The first is being eligible for Extra Magic Hours when parks are open early or later by an hour exclusively for Disney resort guests. The second, and most important, is Four Seasons guests can now book ride reservations using the Fast Pass system sixty days prior to check in, just like Disney resort guests.
The resort offers scheduled bus service to all four parks that are rarely full because most guests are savvy enough to take an Uber to save time. The resort boutiques also offer some of the best and most stylish Disney merchandise for adults. Think exclusive Missoni Mickey ears or espadrilles. And the children's retail selection is just as stylish.
The restaurants are strong, including the best character meal in all of Disney World a few mornings per week and the rooftop tapas and steakhouse called Capa. Our favorite is the excellent poolside restaurant PB&G serving fresh and inventive casual lunches.
This view is worth its price
An incredible perk is securing a park-view room from which all four Disney parks and their fireworks shows are in view in the distance. The sun sets in front of your room, and the stress of the crowds melts away as you're in the happiest place on earth.
Best Rooms for Families:
Standard rooms include a king-sized bed and comfortable queen-sized sleeper sofa. Rooms with two double beds are available to connect a king bedded room for families with more than two children. Park-view rooms are worth the price increase, as balcony views of sunsets and all four theme park fireworks deliver a perfect ending to a busy day.
Kids Club and Fun:
For ages 4 to 12, a complimentary kids' club runs daily from 10AM to 6PM. When notified in advance of the children's arrival the hotel will leave pirate or princess swag for the children in the room at check in.
Read our full review on the Four Seasons Orlando.
Luxe Recess Perks
Luxe Recess can book your family vacation at this hotel and include the following amenities at no extra cost: daily breakfast for 2 adults, $100 resort credit, upgrade based on availability as a Four Seasons Preferred Partner.
The Four Seasons offers $200 resort credits for suite bookings. Luxe Recess offers unparalleled luxury Disney vacation planning.
---
The Ritz Carlton Grande Lakes
Best Florida resort for the Orlando-bound who wish to downplay the parks
 What's New

Room renovation completed in 2021
Luxury three and four bedroom homes on property that have resort amenities
New pool cabanas added and expanded water area
Fork and Knife replaced Norman's as the signature restaurant
Grande Lakes is a vast property for both the Ritz Carlton Orlando and the JW Marriott. They are closer to International Drive and Universal's theme parks then they are to Disney World. The Ritz Carlton actually takes pride in the fact that its the only luxury resort in Orlando that has no visible sign of Disney World anywhere in its lobby.
This giant resort complex shares meeting space and a massive spa complex with the JW Marriott next door. Grande Lakes has always been the local favorite for staycations and exceptional family programming around the holidays like Christmas parties and gingerbread making classes, New Year's Eve family parties, Easter egg hunts, and the Fourth of July fireworks.
This Florida resort is in process of an update and has revealed a new lobby, while rooms are still in process. The club lounge offers the best club experience in all of Orlando with excellent food and attentive service. Parents appreciate the separate section in the club for children with kids' food, candy, cookies, and games. They enjoy the free-flowing champagne, wine, and beer while enjoying views of the resort grounds and Disney fireworks in the far distance.
Rooted in Farm to Table Restaurants
A strength of the Ritz Carlton Orlando is its food and beverage program. All of the restaurants on site are outstanding, many of the ingredients locally grown on the resort's farms. Farm-to-table cuisine is taken very seriously at Grande Lakes.
There is no separate adult pool, but guests of the resort spa enjoy access to a private spa pool which has few crowds and a delicious spot café for before,—or after—a treatment or work out.
Guests who seek more active outdoor pools will enjoy the lazy river and games hosted at the next-door JW Marriott; parents of younger children will love the enclosed splash pad and playground near the Ritz Kids Klub. Ritz guests receive two complimentary hours included in the resort fee.
Best Rooms for Families:
Families of four who do not reserve a suite or adjoining rooms will receive rooms with two queen-sized beds. Families with one child can book a king room and request one rollaway. Club-level rooms have access to generous spreads that could replace all breakfasts, some lunches, and even some dinners. The Club Lounge is on the top floor with far-off fireworks views and a dedicated kids' section.
Kids Club and Perks:
For ages 4 to 12, from Noon to 5PM daily. Club Level and Executive Suite guests receive complimentary time for up to three children per room, per day. All other guests receive two complimentary hours for up to two children per room, per day; additional time at $20 per hour, per child. Open house daily for all children with parents between 10:30AM and 11:30AM for craft activities.
Read our full review on the Ritz Carlton Orlando
Can I help you plan a Florida vacation?
I can book all of these hotels with added perks and room upgrades and no additional cost to you. Let me VIP you and your family on your next beach or Disney vacation!
I can pass along many benefits as a preferred partner with the Four Seasons, Ritz-Carltons, Waldorf-Astoria, Rosewood, Preferred, Hyatt, and more.
Please see my page on vacation planning for more information and to set up a call. If you would just like to book these properties with my amenities, you can complete this form.