Fancy a change from the traditional family beach holiday? Then a visit to one of America's legendary destination ranches could offer a truly unforgettable, once in a lifetime family ranch vacation.
Why a Dude Ranch Vacation Should Be Your Next Family Getaway
As an urbanite British mother, I'm probably not the most obvious dude ranch enthusiast. My natural habitat is the concrete jungle of London, rather than riding the range astride a horse. So why did we decide to pack up our family of four and hot-hoof it to a Texan ranch, when we could easily have unwound on a fly-and-flop beach holiday or enjoyed the cultural stimulation of a city break?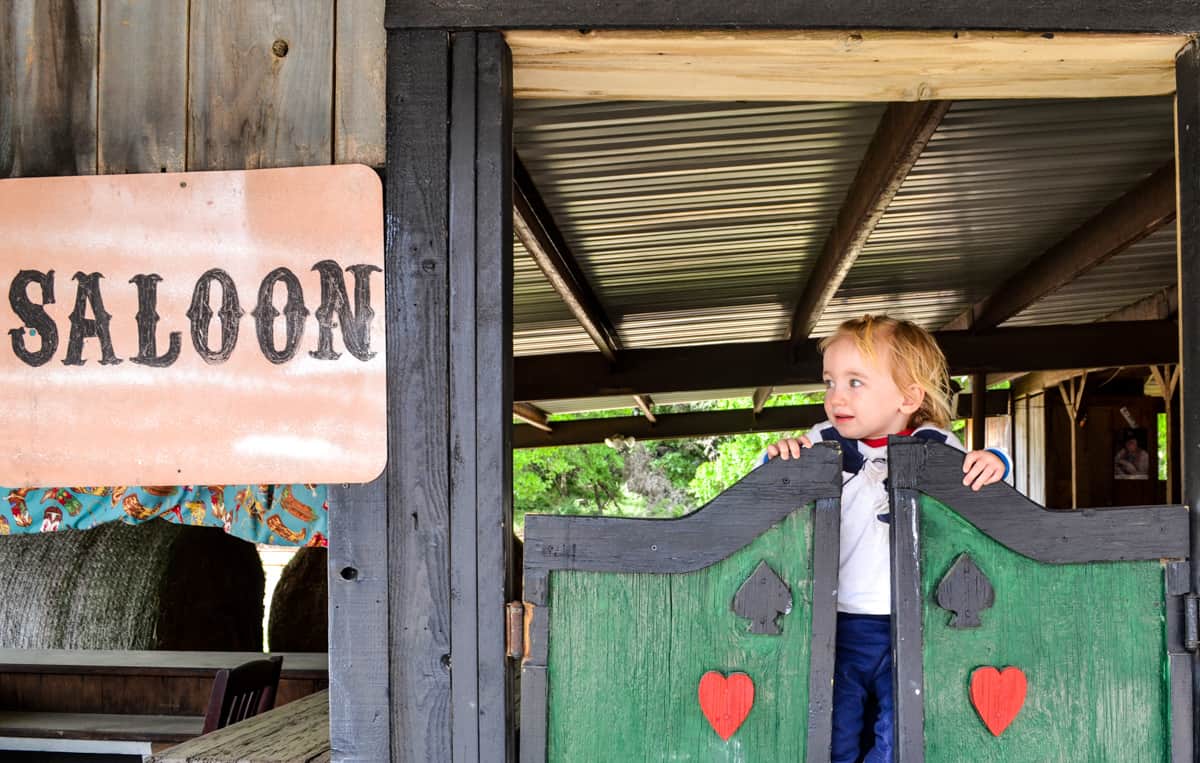 Perhaps the answer lies in the romantic allure of the American cowboy and the freedom of the wide-open plains. I wouldn't be alone in mythicizing the wrangler's way of life, as dude ranches have been attracting city slickers like myself since the early 1900s, offering vacations that deliver a taster of the spirit of the Old West. Or perhaps it's as simple as a parent's desire to see their kids connect with nature and take a step back from digital diversions. Whatever the reason, we were outside our comfort zone and on a long-haul flight heading to Texas to play cowboys for the week.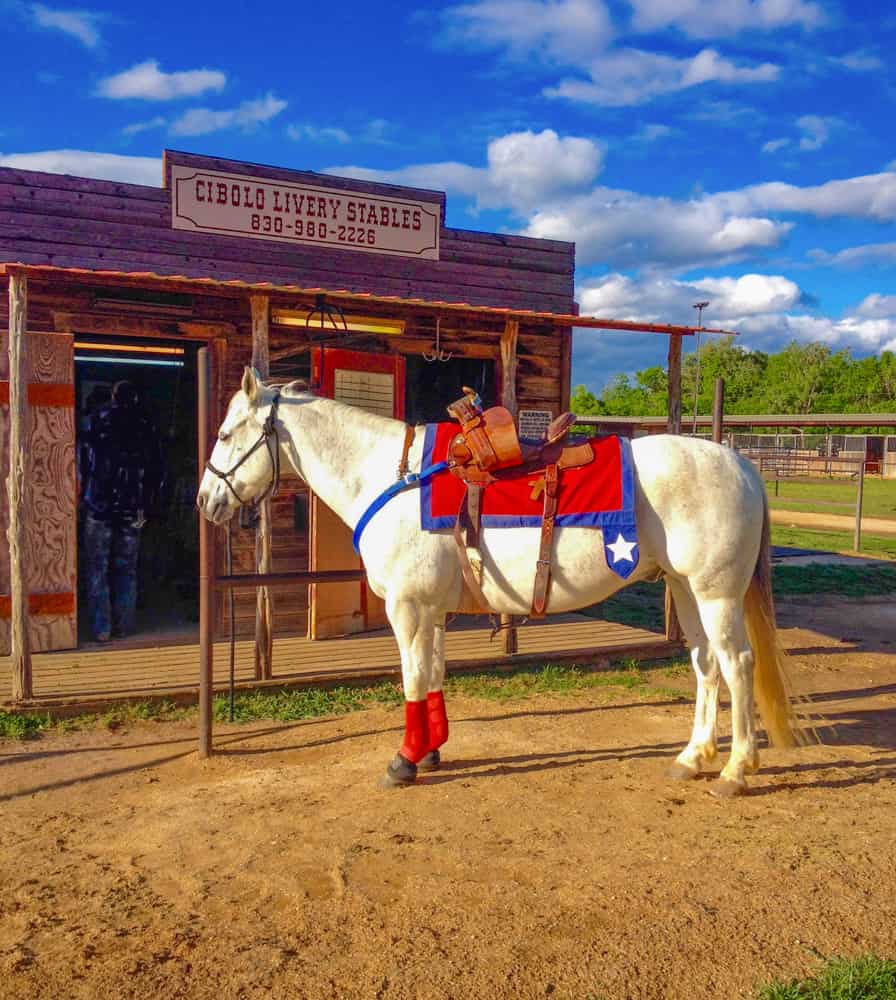 Touching down in San Antonio, we drove an hour through lush Texas Hill Country to arrive at Bandera, the self-proclaimed 'Cowboy Capital of the World". Bandera is essentially just a couple of streets of nostalgic, frontier style buildings, giving the initial impression of being a two-horse town.
But appearances can be deceptive. Although Bandera boasts a dinky population of just 910 people and looks like the stage set of a bygone Wild West movie, this plucky town offers plenty of quirky attractions. Uncover the region's history at the Frontier Times Museum, learn how to dance the Texas two-step at the open air, family-friendly 11th Street Cowboy Bar, visit a bucking bronco rodeo and of course, no visit to Bandera is complete without staying at one of the many authentic dude ranches that border the town.
We chose to hit the hay at the Flying L resort, recommended as the most child-centric ranch option due to its waterpark, family rides, and nightly ritual of s'mores around campfire. And for a genuine, dusty-boots dude ranch experience, it did not disappoint!
The Rustic, historic, authentic Flying L
We chose a two-bedroom historic villa, complete with a full kitchen, wood-burning fireplace, outside dining area and lots of rustic, equestrian themed decor. If you're looking for an ultra luxurious lodge, then the Flying L probably isn't the right choice. See my list of more luxe options below.
The accommodation is clean and spacious but leaning on the basic side, making it more five-spurs than five-stars. However, what this friendly ranch does offer is a completely immersive experience. Since it first opened back in 1947, the iconic Flying L ranch has attracted cowboys of the silver screen including John Wayne, Tex Ritter, the fantastically named Slim Pickens, and was even the setting for an episode of The Cisco Kid TV show.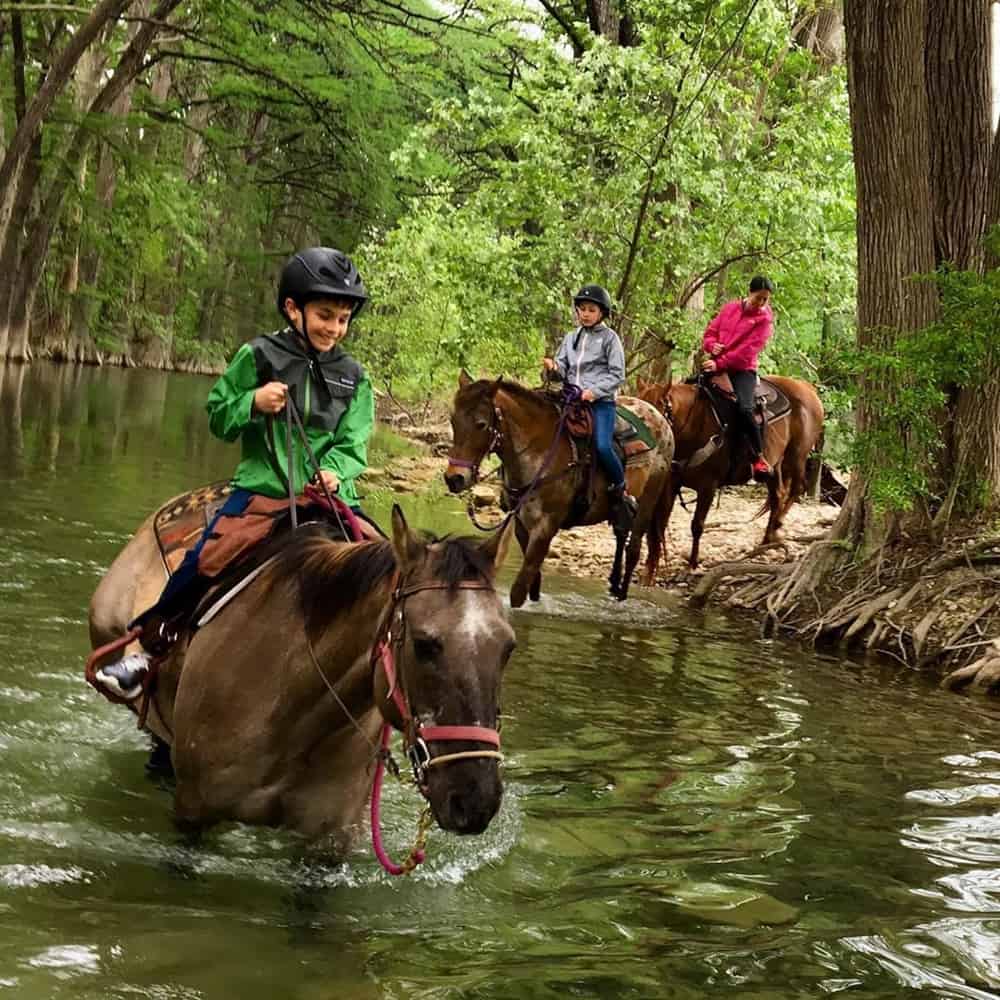 There's also plenty of outdoorsy activities for families, with basketball and tennis courts, hiking trails, an 18-hole golf course and catch and release fishing at the onsite San Julian Creek, a setting so picturesque that it's become a wedding hotspot.
Although my adventurous seven-year-old happily hopped in the saddle and was trail riding from the moment we arrived, I had my doubts about how our young toddler would fit into life on the ranch. Plus, my horse-phobic husband had made it abundantly clear that he had no intention of saddling up during our stay!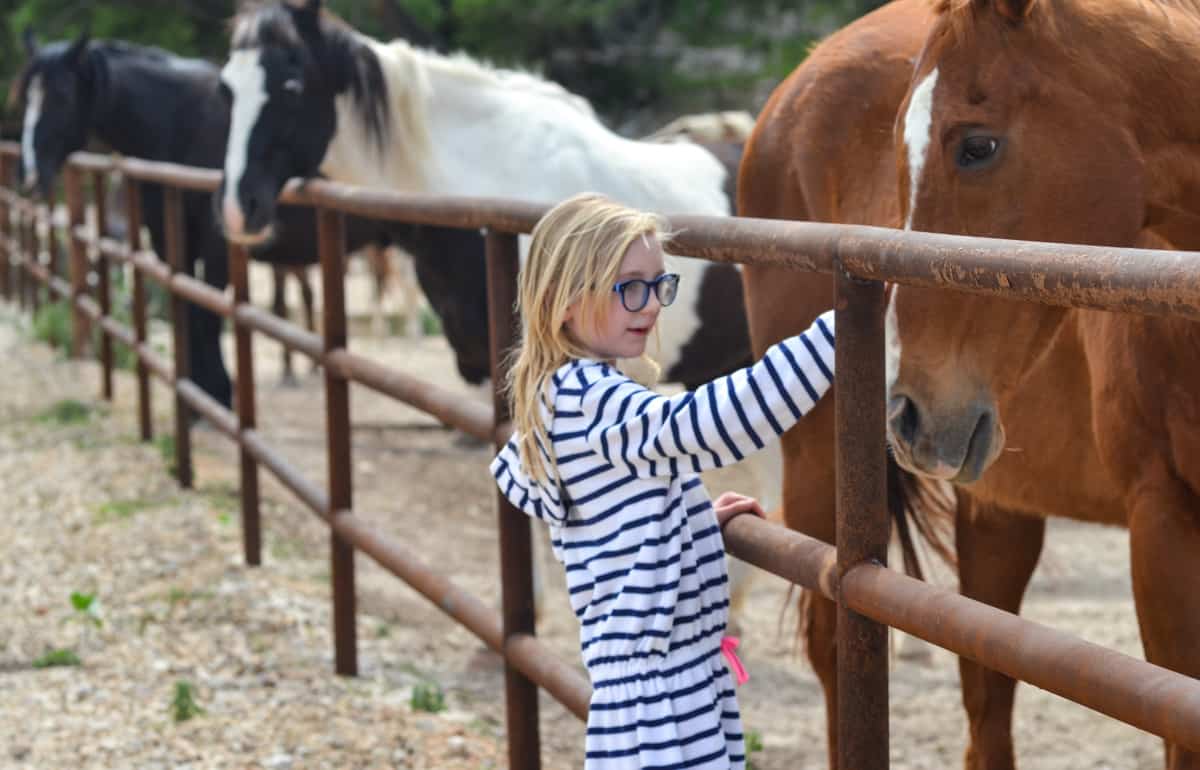 Thankfully I needn't have worried, as the Flying L resort was able to cater for the various demands and interests of my family, highlighting just how versatile a ranch stay can be. Our youngest adored the daily hayrides and visits to feed the resident deer and antelope. There are also mini playgrounds dotted across the property, a petting farm and a wonderfully eccentric Wild West themed waterpark filled with slides and shooting jets of water.
The Magic of A Horseback Vacation
Children as young as three-years-old can take part in lead-around pony rides, but will need to be at least six to join the trail rides. These outings were the highlight of our stay, as my eldest daughter and I trekked the spectacular landscape, past streams filled with catfish and through meadows of wildflowers as hawks circled overhead.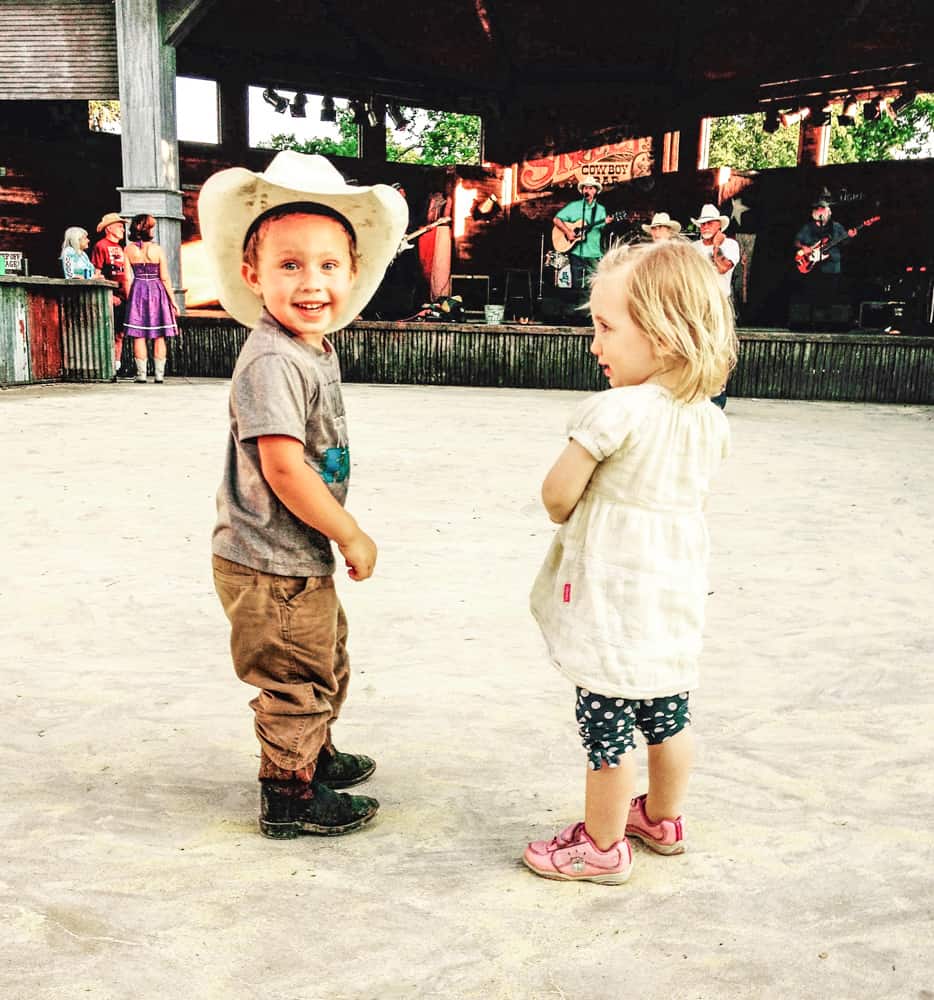 To be soaking up the landscape while trying to stay firmly rooted in the saddle, felt both nerve-racking and exhilarating in equal measure! There's something about the absence of screens and being at the mercy of something quite literally bigger than yourself, that focuses the mind and brings you into the present moment like nothing else.
Plus, it may not look like vigorous exercise, but an hour on a horse will make you feel like you've done back-to-back Pelaton rides.
I was soon so comfortable in the saddle that we signed for two long rides each day, enjoying the heady combination of adventure, liberation and deep relaxation that horseback riding was bringing.
Back at the ranch, as dusk fell we regrouped as a family around the campfire with toasted marshmallows, as the charismatic Cowboy Buck strummed his guitar and serenaded us with country ballads.
Remember to pack insect repellant, as ranches can become mosquito-fests when nights fall. In high season there's also a weekly chuck wagon dinner show featuring a Texas BBQ, Country Western band, gunslinger show and roping lessons for the children.
If you find yourself in Bandera on a Saturday evening, be sure to make the drive out to the famous Tejas Rodeo Company, set in a floodlit stadium surrounded by cowboys on horseback and longhorn bulls. This weekly rodeo show has the Stetson-wearing audience whooping their appreciation as the impressive riders deliver the "greatest show on dirt".
It was her first rodeo, and she nailed it
To my amazement, when the mutton busting competition was announced over the crackling speaker, my eldest was at the front of the queue, ready to sign up! For rodeo novices, mutton busting is a slightly bizarre segment of the show where kids determinedly hug onto the back of a woolly sheep as it races around the arena.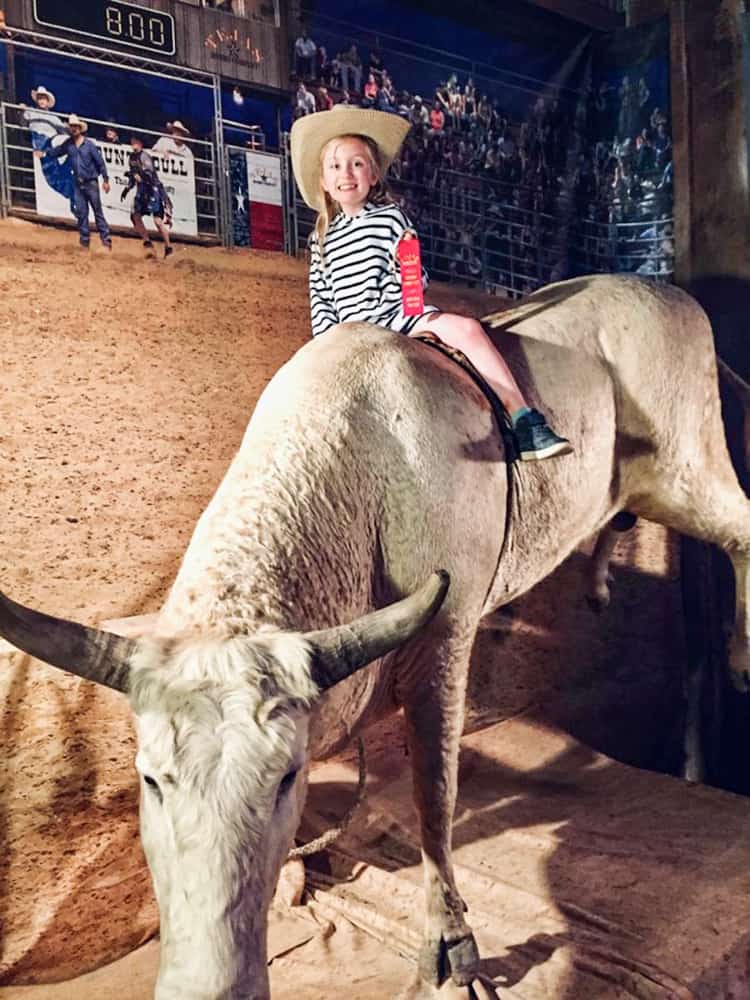 But I am pleased to report that my fearless daughter was the girl who clung onto that speedy mutton for the longest time, cheered on by the 1000-strong crowd! While she narrowly missed out on the shiny gold trophy, she took her prize ribbon and the knowledge that she did pretty well for kid from inner city London.
We returned to London with treasured memories of a family vacation that has since gained legendary status. As Winston Churchill once wisely said "No hour of life is wasted that is spent in the saddle", or on the back of a sprinting sheep apparently.
Try These Family Dude Ranch Vacations
We've rounded up the most family-friendly homesteads in the U.S., from all-out luxury resort ranches with personal butlers to rustic working cattle ranches. Here are the best places to sample a taste of the Wild West and ride off into the sunset with your gang of outlaws.
The Resort at Paws Up, Montana
Best for Activities Galore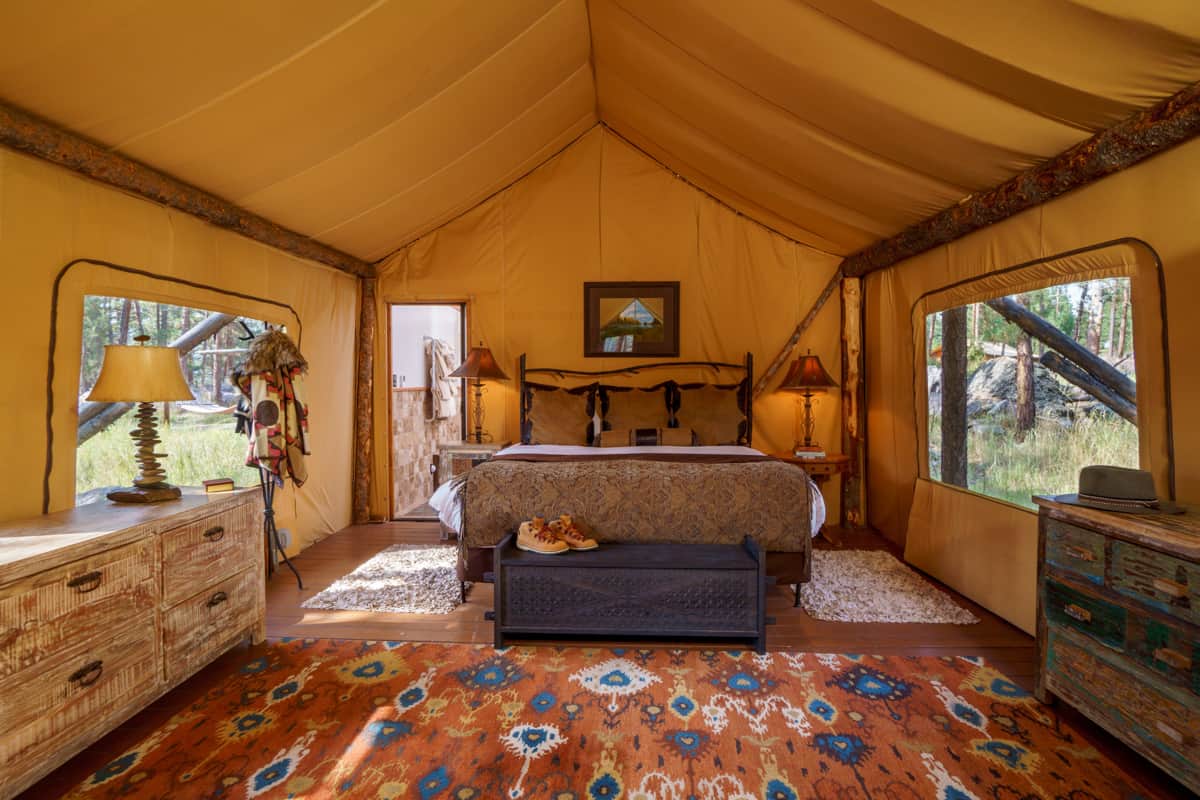 If you're seeking a serious dose of five-star opulence with your wilderness family vacation, then this is the place for you! Set in 37,000 acres of picturesque Blackfoot River Valley country, the Resort at Paws Up has all the outdoorsy favorites of a traditional dude ranch.
Tick off trail rides, cattle drives, scenic hikes and fly-fishing, plus a seemingly limitless schedule of outside-the-box activities. But what really sets this Montana ranch apart is the laidback luxury on offer, with gourmet cuisine, decadent spa treatments and an outrageously extravagant camping experience all on tap.
There's a chock-full schedule of over 70 activities to test out, including bucket-list items such as horse whispering, hot air ballooning and helicopter tours. Alongside family options, the ranch also has a supervised Kids Corps of Discovery program with a schedule of activities for children aged three to teens.
Kids can spend time with their peers and try their hand at archery, go-karting and sapphire hunting, while teens can whizz off on e-bikes or run rampant with paintballing. As if all this wasn't already enough, throughout the year the ranch also hosts specialist workshops in wildlife painting, survival skills, big sky photography and an all-female cowgirl school.
Paws Up Family Accommodations
This expansive ranch has 28 ultra-comfortable log cabins, sleeping from two to eight people. Each log cabin has glowing log fireplaces, in-home laundry, heated bathroom floors, fully furnished kitchens, 300-thread-count sheets and bubbling hot tubs out on the deck.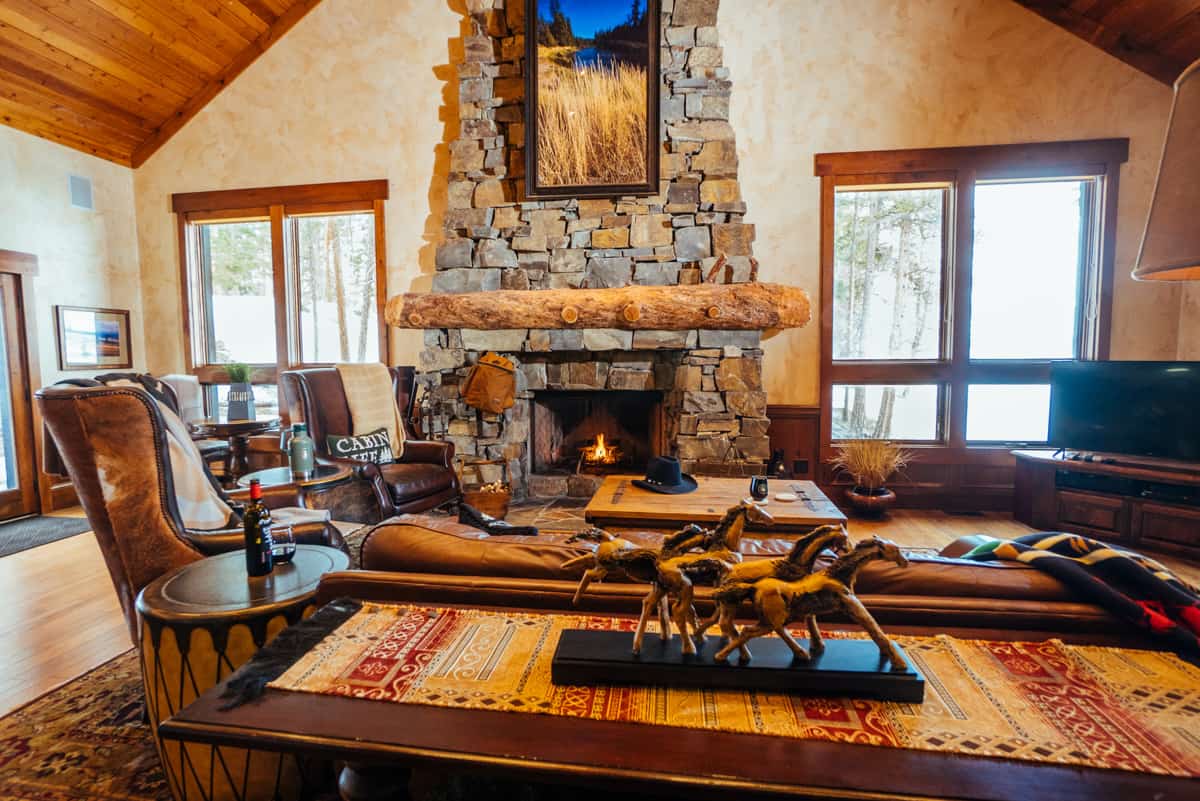 Alternatively, sleep out under the stars in the secluded glamping safari tents, where the emphasis really is on the glam. We're talking roll top baths, air con, hardwood floors, king-size beds with electric blankets, and a butler – you heard us right – an actual butler, plus a dedicated chef to rustle up delicacies such as elk tenderloin. There are 36 tents in total and larger groups can reserve an entire six-tent camp that sleeps from 12 to 24 people.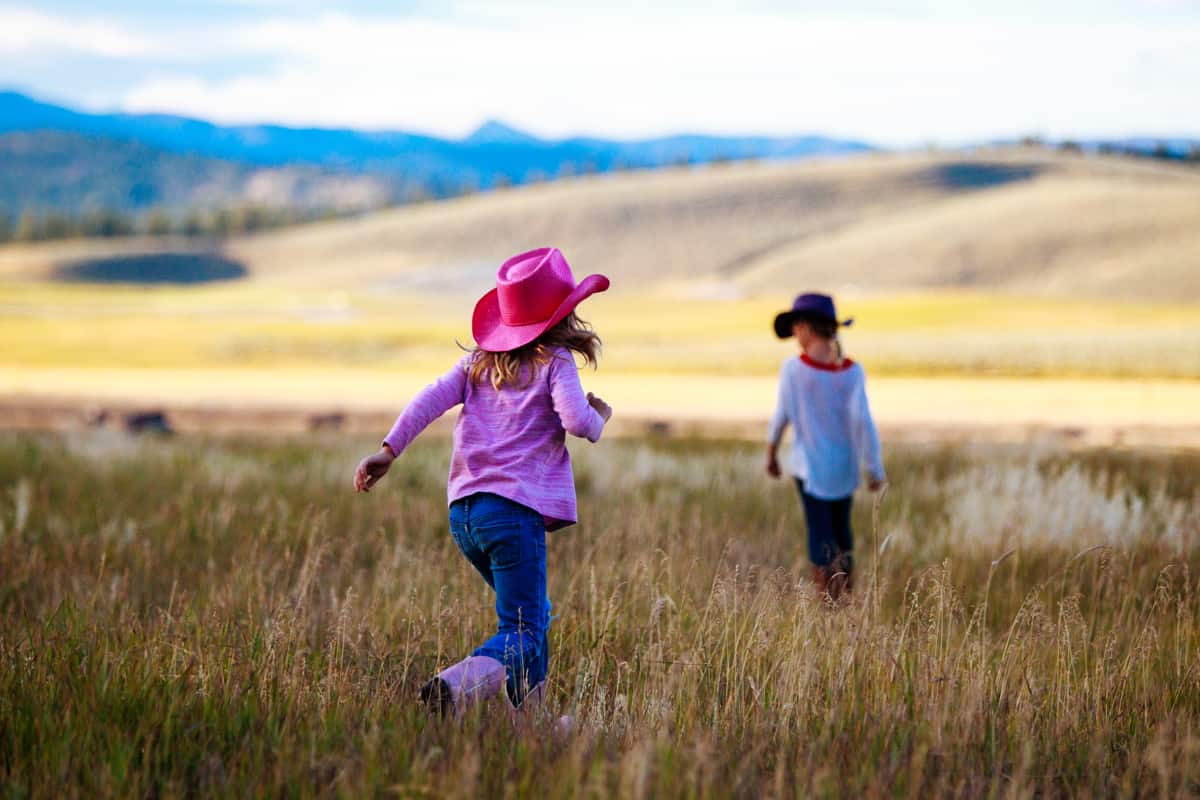 What to Know Before Booking
Age restrictions: Minimum age for horseback riding is eight years old.
Nearest airport: Missoula International Airport (MSO) is a 40-minute drive.
Price range: Summer starting rate for a family of four in a Meadow Luxury Home from $3,149.92 per night. Summer starting rate for a family of four in the Moonlight two bedroom luxury tent from $3,260 per night.
Best time to visit: All year.
Luxe Recess Perks:
Our readers who book with us receive
Upgrade on arrival, subject to availability
Complimentary round-trip private airport transfers
Bottle of wine in room on arrival
A $300 USD activity credit, to be utilized during stay
---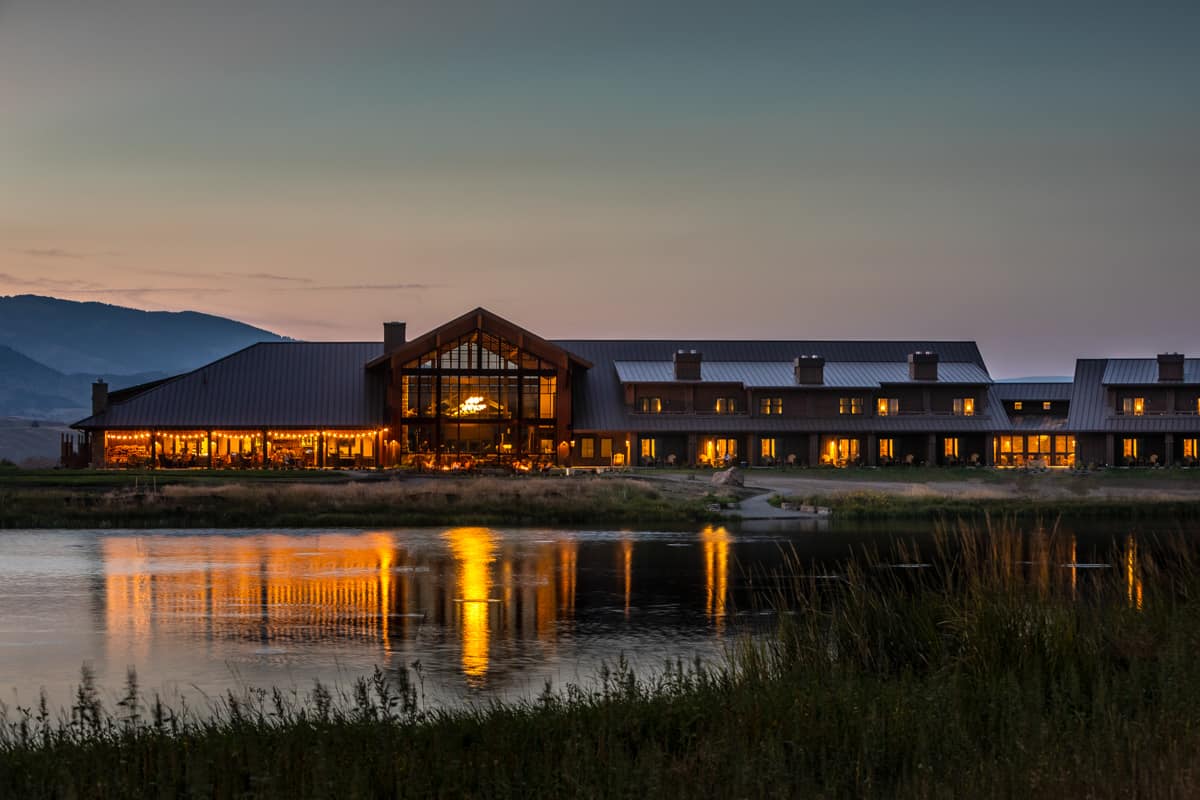 Sage Lodge, Montana
Best for Big Family Gatherings
Looking for jaw-dropping landscapes, open-air activities and plenty of room for the extended family? Well, Sage Lodge has all of these by the wagonload. The lodge is located on the peaceful banks of the Yellowstone River, not far from Yellowstone National Park.
This year-round retreat is particularly enchanting in winter, when the rugged mountains are capped with snow and having hit the cross country slopes, families can cozy up in their rooms before a cracking log fire.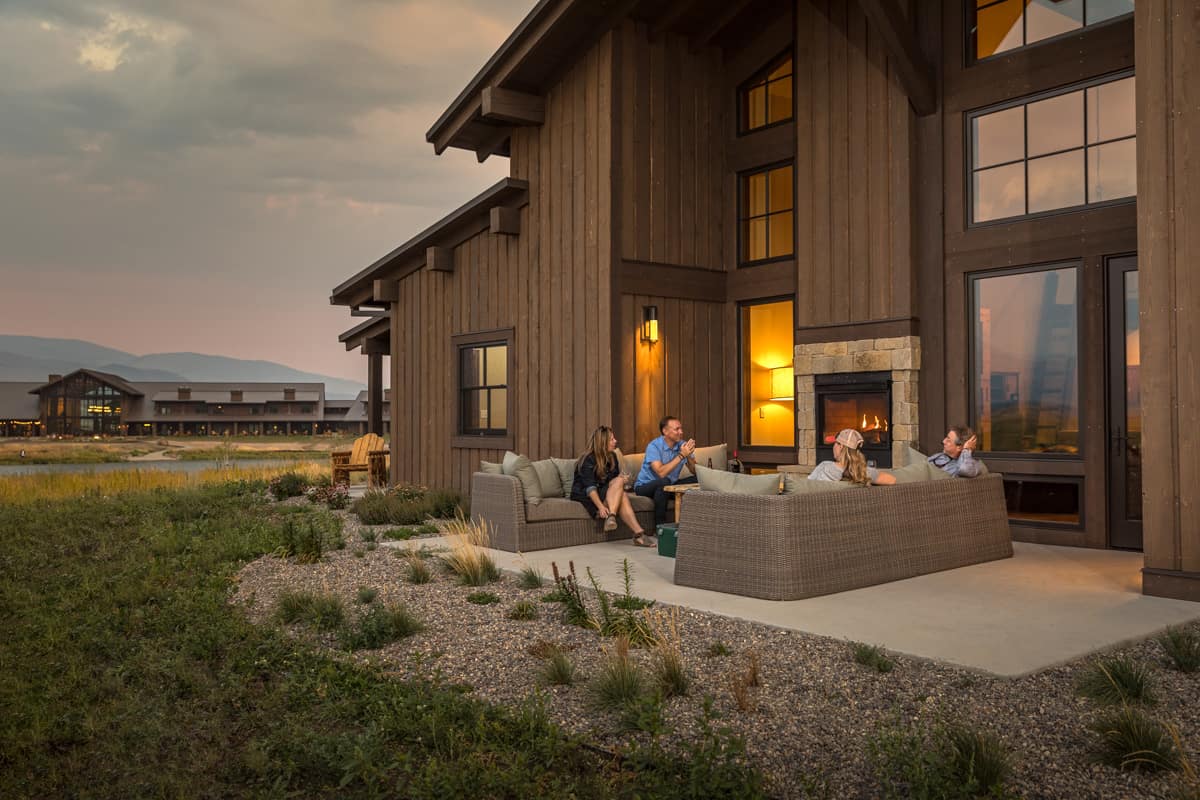 Sage Lodge Accommodation
Set over 1,200 acres of rural landscape, Sage Lodge offers 34 guest rooms in the main lodge, with balconies and patios to soak up the views ofParadise Valley and Emigrant Peak. If you were keen to stay in the main lodge, the best choice for a family of four would be the double queen room.
However, the jewel in this resort's crown has to be the four stunning ranch houses. Set back from the main property, these stand-alone lodges offer peace and quiet and have 2,783 square feet to play with. Inside, the luxury lodges have everything needed for a multi-gen getaway or for larger families, including a kitchen, four separate guestrooms offering six king beds and two queen pullout sofas, with a private bathroom in each guestroom.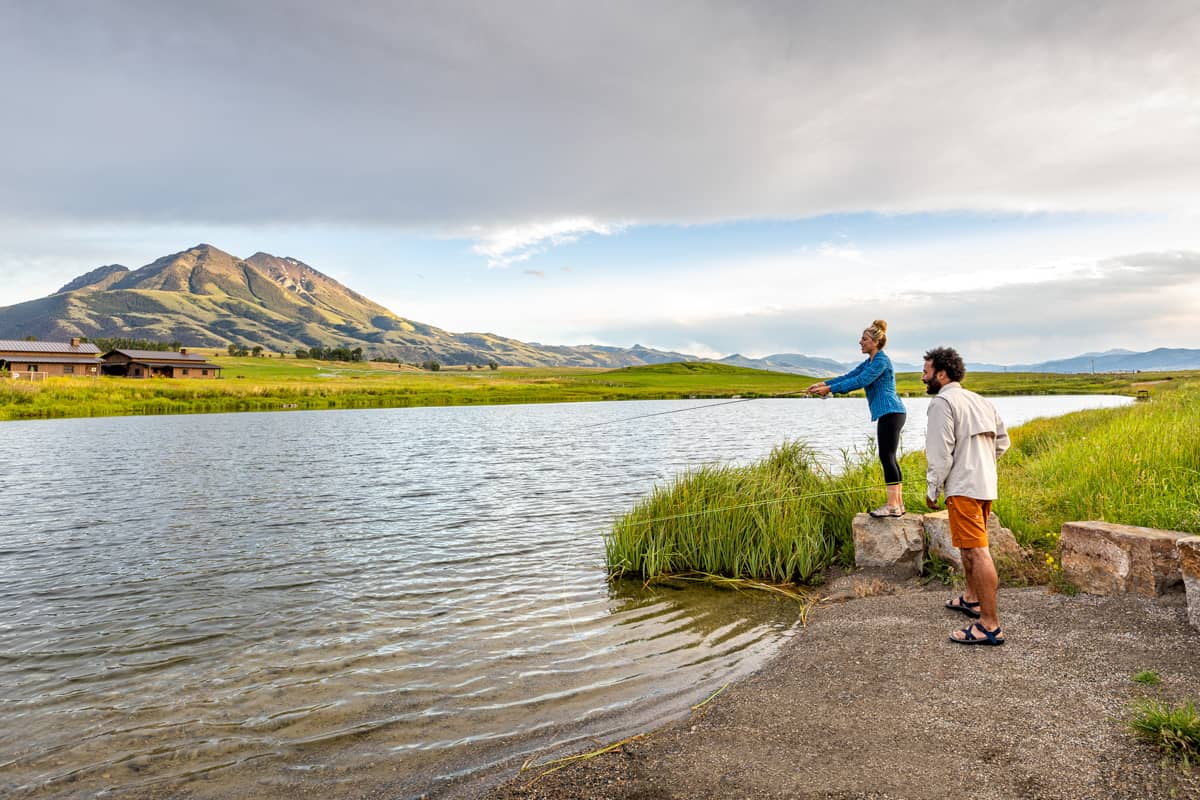 Sage Lodge Activities
Visit between June and September if you want to explore Paradise Valley from the saddle of a horse. Sage Lodge works with one of the oldest trail riding outfits in the area, who for a truly memorable experience can also arrange private picnic rides as a family. While there's not an organized kids program, families can sign up for a plethora of alfresco activities including landscape painting, fly fishing, rafting and snowshoeing in the colder months at this mountain ranch.
Children will love the private wolf watching tours of Yellowstone or the guided day hike, led by none other than the resident llamas. Trust us, grab a selfie with these gorgeous woolly animals!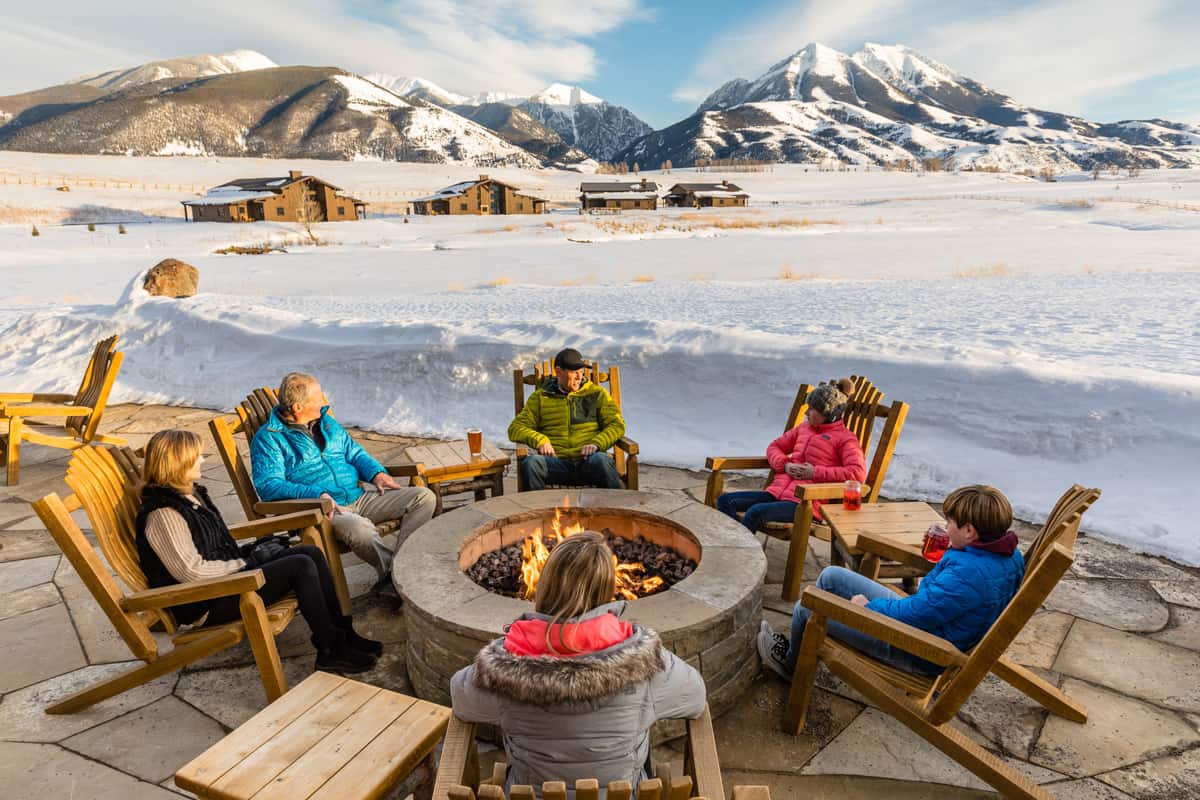 What to Know Before Booking
Age restrictions: Riding for age six.
Nearest airport: Bozeman Yellowstone International Airport
Price range: Rates for Lodge Double Queen rooms that sleep four start at $359 per night. Ranch houses start from $2,000 per night.
Best time to visit: All year (although riding is just in the summer months).
Luxe Recess perks: Readers who book with us will receive a Local Montana Gift Basket Amenity of Assorted beverages and snacks to highlight the region)
---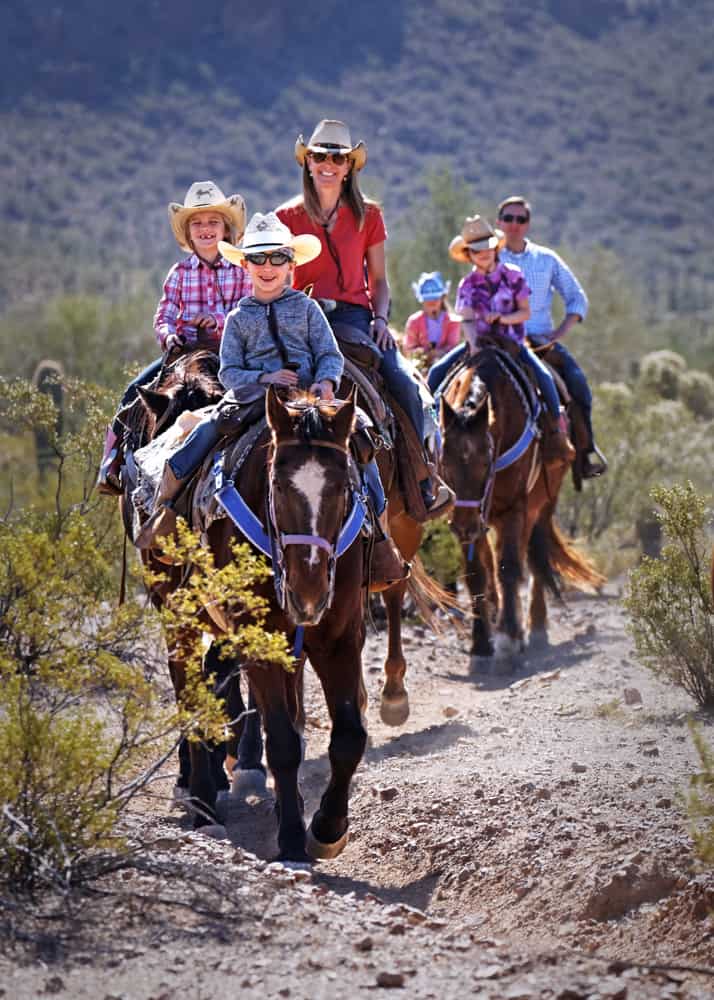 White Stallion, Arizona
Best for an authentic dude ranch experience.
Horse riding is the heart and soul of this ranch, which owns the largest private herd of horses in Arizona. This is a traditional back-to-basics dude ranch experience, best suited for those seeking big-hearted hospitality with plenty of outdoor-centric activities, rather than a luxury ranch resort stay. The family-run ranch is situated in 3,000 acres, close to the Tucson Mountains and Saguaro National Park.
White Stallion Accommodation
Most of the 43 rustic, Southwestern style guest rooms dotted throughout the grounds include private patios with Sonoran Desert views and adobe fireplaces.
Families should either book adjoining deluxe king rooms, to create a suite that sleeps eight and offers two separate bathrooms, or book into The Hacienda, a five bedroom, three bathroom house that can sleep up to ten people. All rooms have iPod docks, mini-fridges, and Wi-Fi but no TVs, to encourage a screen-detox.
Activities at White Stallion
Year-round, there are plenty of activities for the whole family to try their hand at, but during Spring Break, Thanksgiving and Christmas, the ranch really goes all-out with a more structured schedule of riding, pool tournaments, tennis matches and basketball games, for kids to join as they please.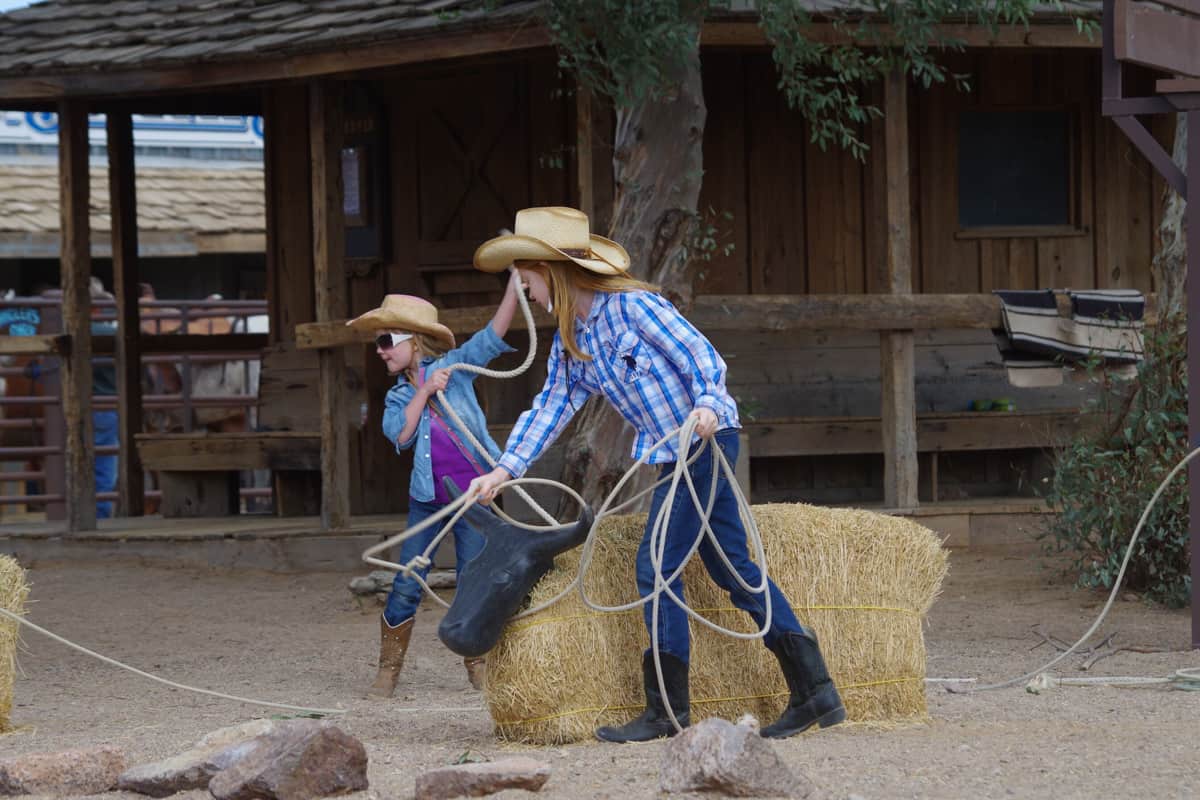 Horseback riding is the lifeblood of this ranch, and the wranglers are expert at matching riders to specific horses for the duration of their stay, so nervy guests (we hear you!) are guaranteed a more docile steed. You can sign up for either the slow family rides or kick up some dust with a loping (cantering authentic Western style) adventure.
There's also a petting zoo, rock climbing, a mini cinema, heated indoor pool, tennis and basketball courts and a rodeo stadium. Families can opt for an all inclusive stay, including plenty of hearty fare from the onsite restaurant, steak night and a boisterous hayride lunch.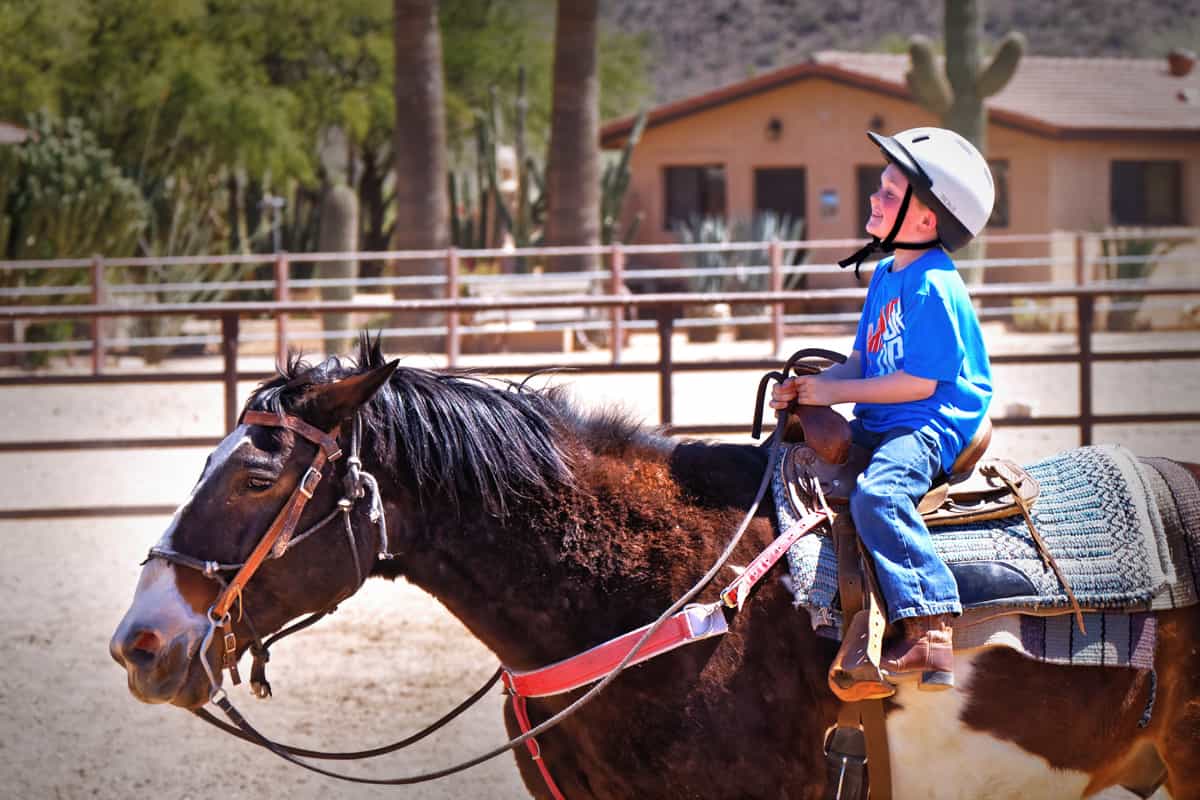 What to Know Before You Book
Age restrictions: Riding from five years old for slow rides and eight years old for fast rides (Note that there is a riding test to determine children's skill level).
Nearest airport: Tucson International Airport is a 30-minute drive (free transfers for guests staying four nights plus).
Price: The Cactus Kids Summer Special package costs from $556 per night plus taxes and gratuity for a family of four, including lodging, all meals and daily activities (with some exceptions on activities). There is a three night minimum stay.
Best time to visit: Spring Break, Thanksgiving and Christmas offer additional children's activities
Luxe Recess can help you book your vacation to White Stallion!
---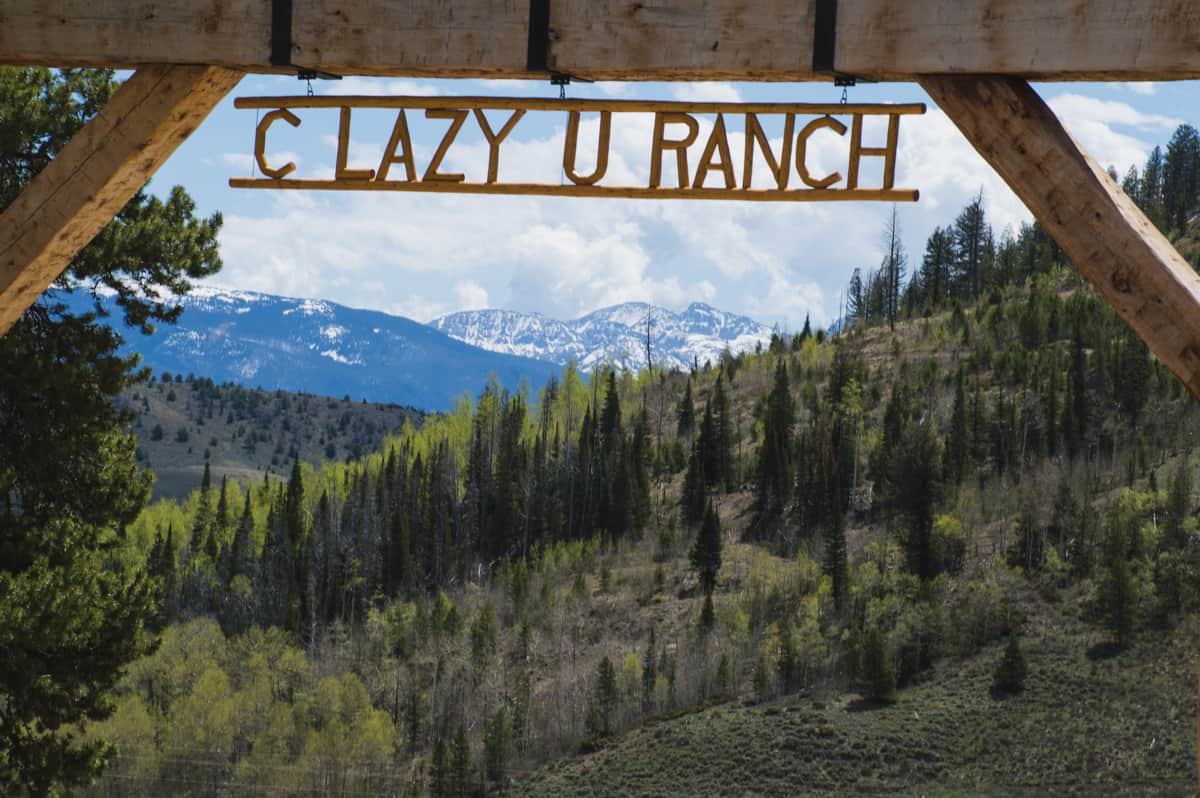 C Lazy U, Colorado
Best for Year-round adventure
When it comes to genuine pioneer homesteads, C Lazy U is the real deal. For over a century this historical ranch has been enticing guests to the beating heart of the Rocky Mountains, with a calendar crammed with all-weather activities.
C Lazy U Accommodation
The 38 cabins are fresh from a recent refurbishment with luxury touches such as French toiletries. All meals are included, ending an active day with a four-course dinner served family-style.
The most popular cabin choice for families is the secluded Crest Cabin, which sleeps six and is peacefully set back from the main lodge. Larger groups should consider the Ranch House Cabin, a triplex sleeping up to 12 guests. It's a good choice for younger kids as you're in the epicenter of the action, with the main lodge and swimming pool at your doorstep.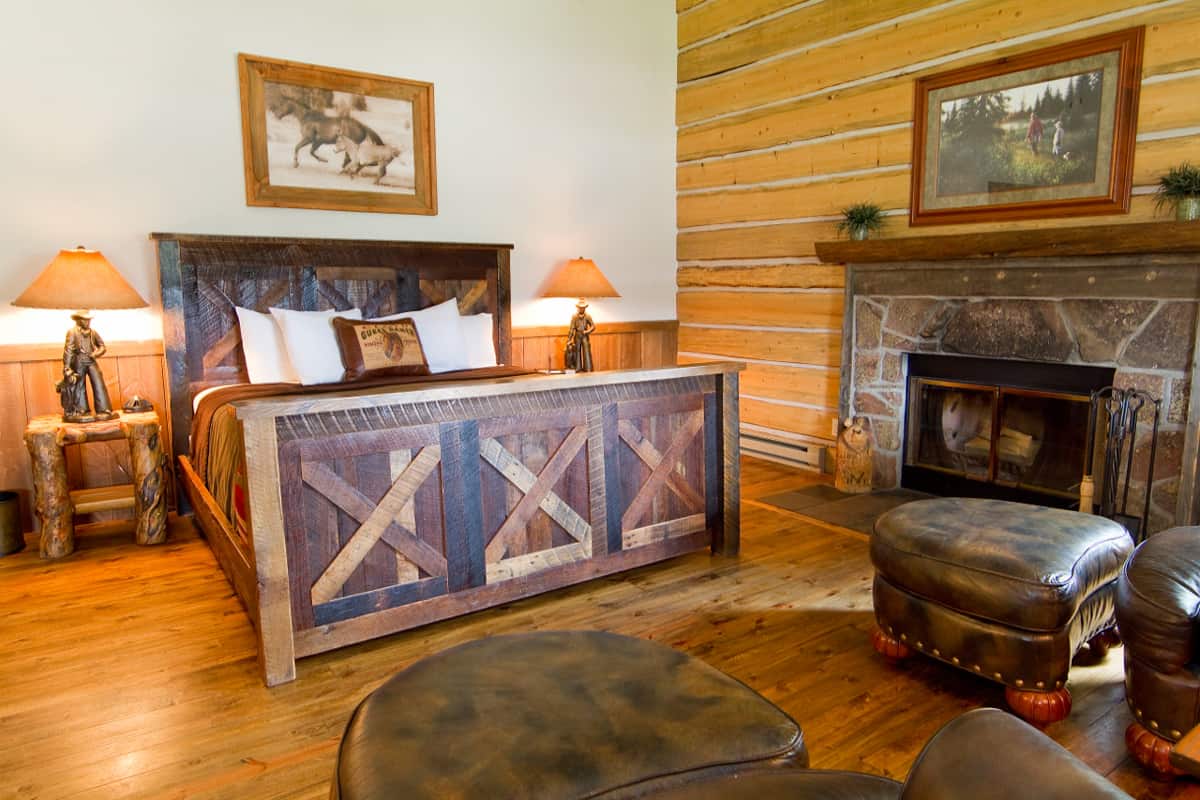 Dude Ranch Activities
There's an action packed family friendly riding program divided into three age groups. Cowpokes aged three to five can enjoy rope-led pony outings and carriage rides courtesy of the adorable donkey Petey. Mustangs aged six to twelve have ownership of their own horse for the week, while teens mix it up with intrepid white water rafting outings, an overnight campout and a group rodeo visit, sure to give the rest of the family a serious dose of FOMO!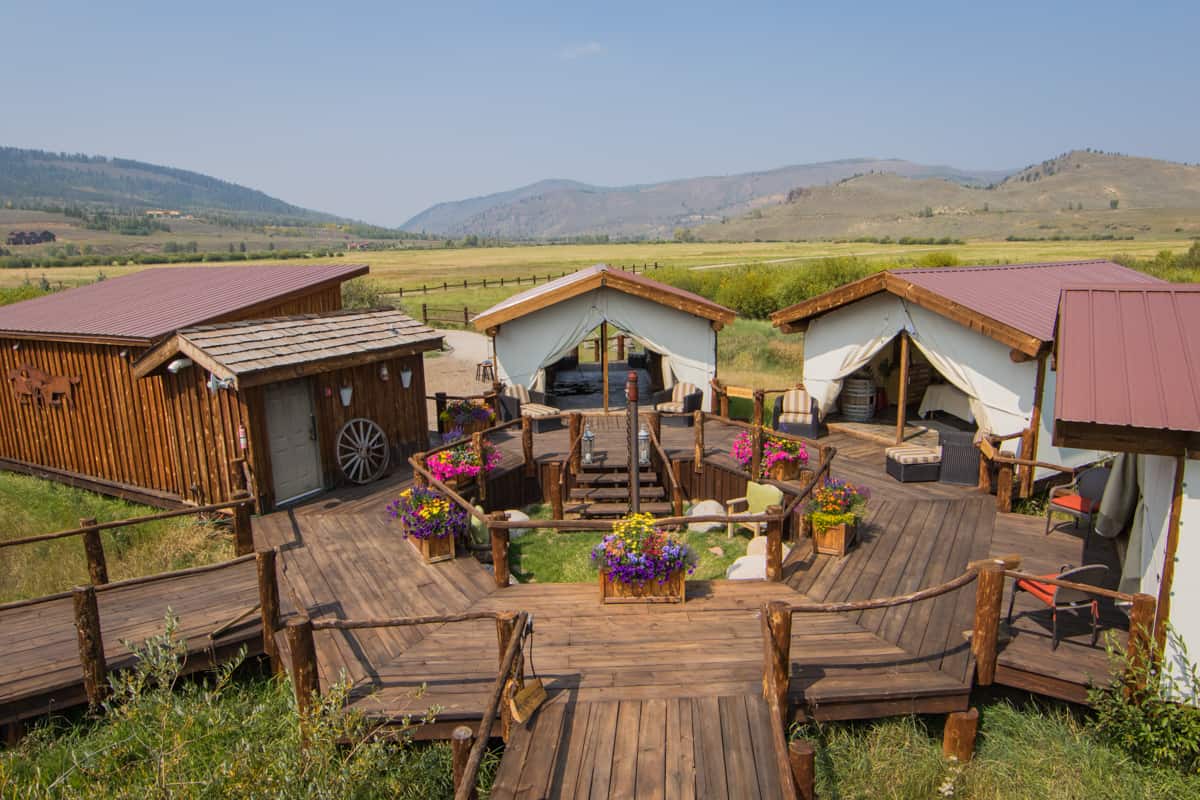 Note that the kid's riding is counselor supervised so you generally won't be trekking as a family, although there's a group ride on Fridays and a 'shodeo' at the end of week where children showcase their new horsemanship skills for their parents.
When not hanging out with your four legged friends, the C Lazy U ranch has an extensive winter program, with cross-country skiing, snow tubing, sleigh rides, plus an award-winning tented spa overlooking the tranquil river, for saddle weary ranchers to unwind.
What to Know
Age restrictions: Riding for age three.
Nearest airport: The two local airports are Kremmling Airport and Granby Airport (with free ranch transfers) or Denver International Airport is a two-hour drive.
Price range: All inclusive rates (including lodging, meals, activities and riding) in the summer start from $568 for adults or children per person per night. Winter rates from $568 for adults, $195 for children.
Best time to visit: All year.
Luxe Recess can help you book your vacation to C Lazy U!
---
Tanque Verde Ranch, Arizona
Best for Connecting With Nature
Put down the screens and pick up a Stetson at North America's largest ranch. Situated in 60,000 acres of Tucson desert, this landscape looks like the dramatic backdrop to a John Wayne movie, complete with super-sized cacti. Originally built in 1868, this storied ranch is one of the last outposts of the Old West, made family-friendly with a jam-packed roster of activities for both in and out of the trusty saddle.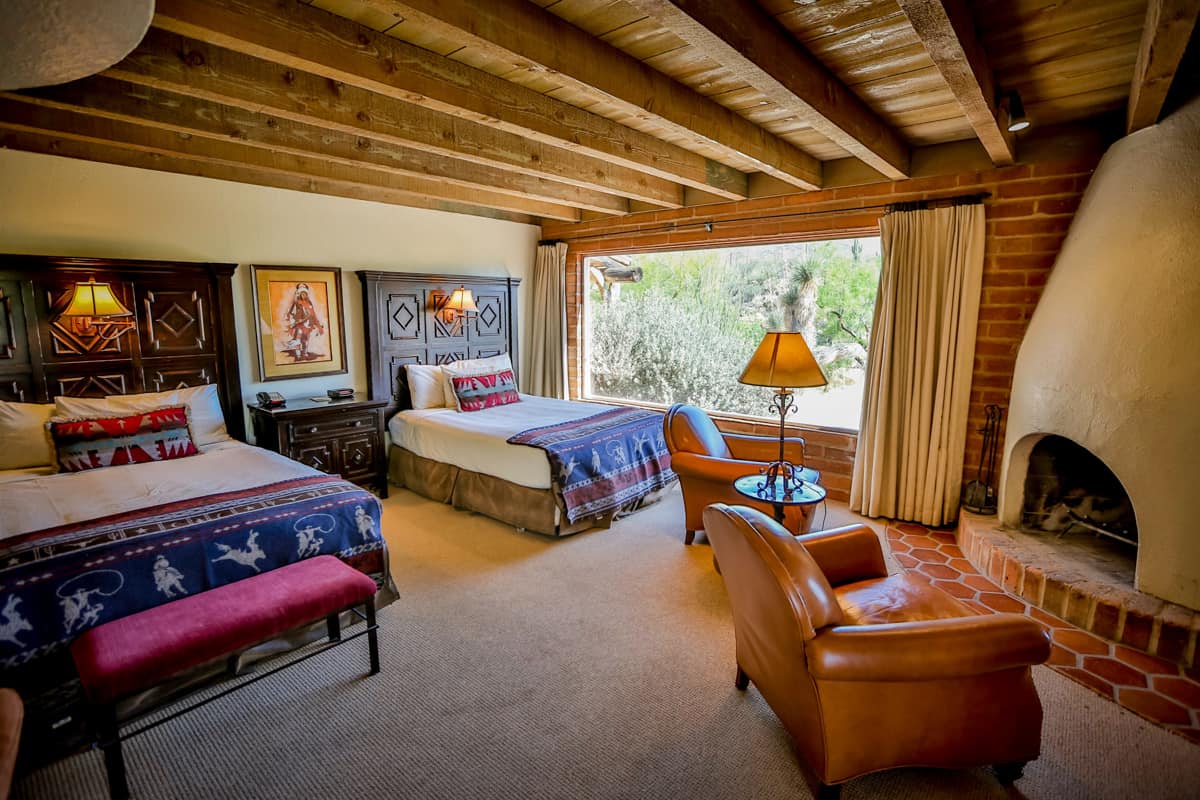 Family Accommodations
The accommodation is mostly comprised of pastel hued Adobe style lodges, some stand-alone and others set around a hacienda style courtyard. The Rincon Vista Haciendas suites sleep up to six and make a good family option, with mini refrigerators (the lodges don't have full kitchens), sweeping desert views and patios for cowboy style cookouts in the evening. Larger groups can request interconnecting rooms, and pull out sofas and cots are also available on request. The Wi-Fi is strong but (pre-warn the children) the lodges don't have TVs, although the ranch does organize communal movie nights.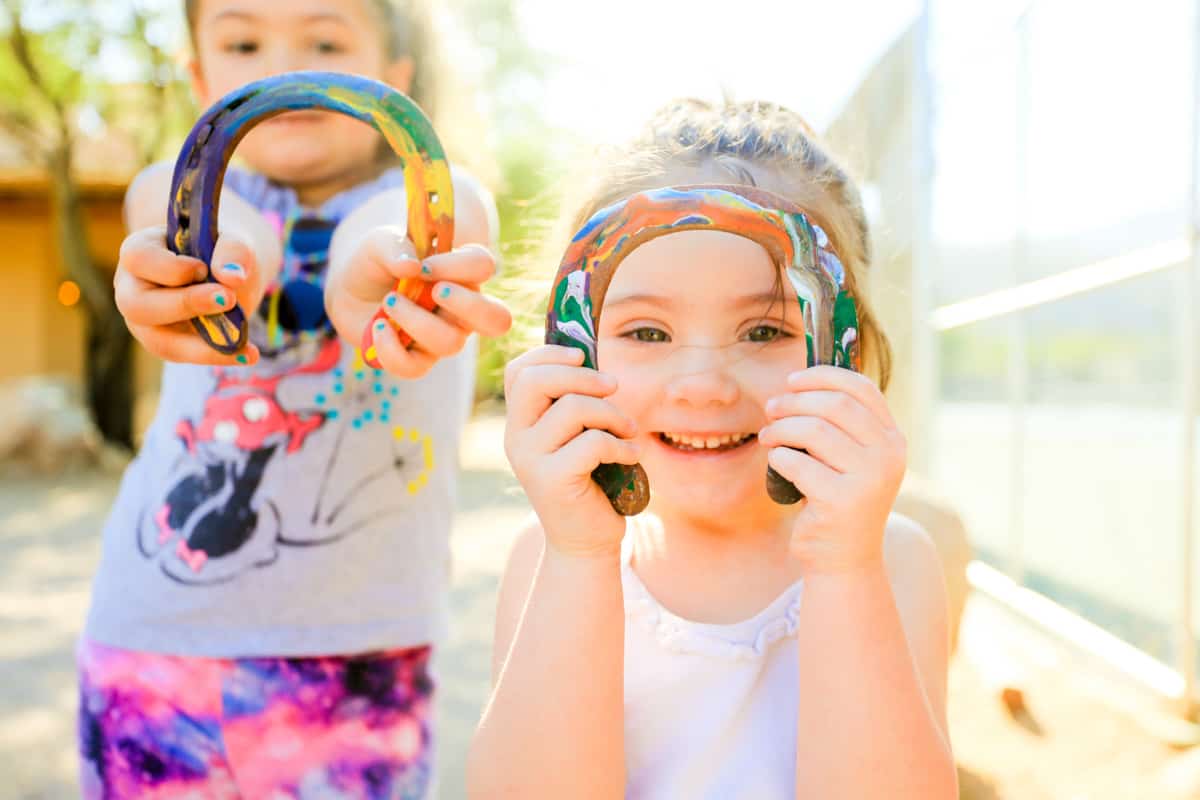 Tanque Verde Activities
Kids from age 4-12 can join the riding program, which runs throughout the week from 8am-4pm. Alongside twice-daily rides, there's plenty of variety with fishing, crafts and lawn games thrown into the mix. Older teens are able to tap into the adult's daily schedule, which includes loping lessons, mountain biking excursions, yoga sessions, catch and release fishing (tackle provided) or take a dip in the indoor or outdoor swimming pools.
At the onsite nature center, kid's can learn about the surrounding Sonoran Desert ecosystem and if they're feeling brave, get up close and personal with rare snakes and spiders.
Age restrictions: Riding for age four.
Nearest airport: Tucson International airport is a 50 minute drive.
Price range: Starting rate $225 per person, per night during high season. Best time to visit: Winter, spring and autumn.
Luxe Recess can help you book your vacation to Tanque Verde Ranch!
---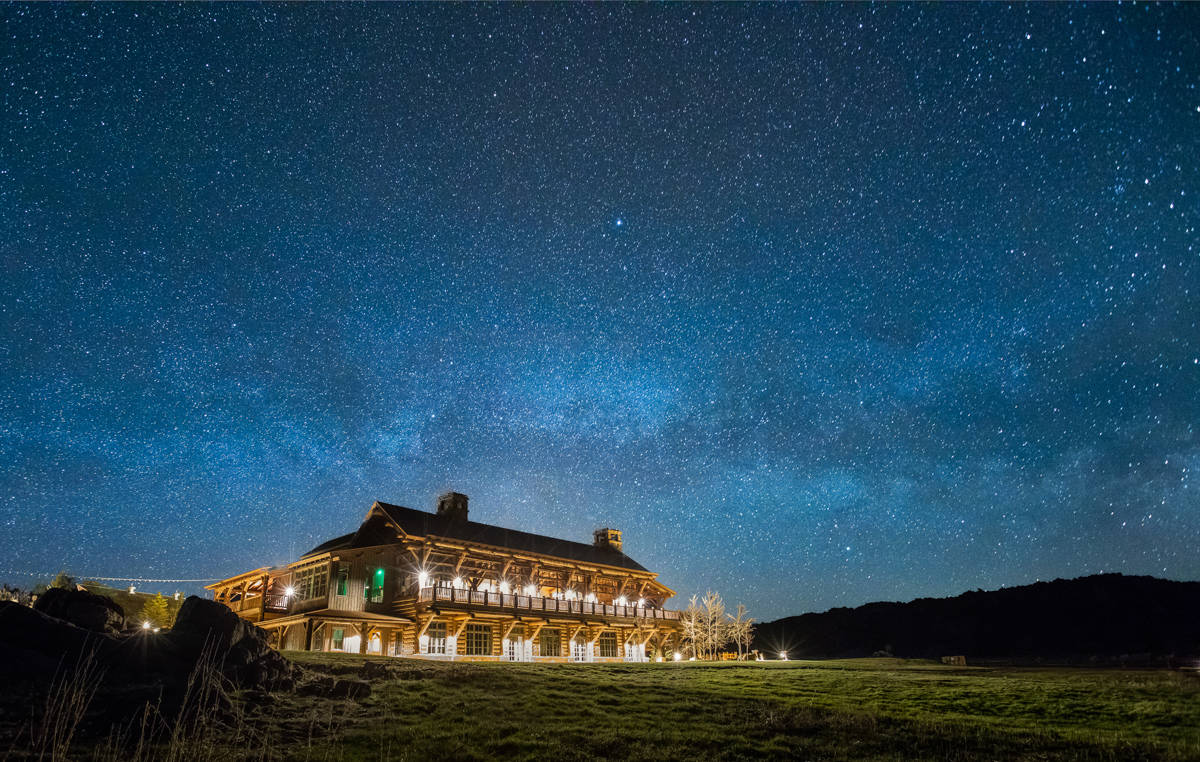 Brush Creek Ranch, Wyoming
Best Luxury Dude Ranch
Strap on your spurs and head to Brush Creek Ranch to discover why this working cattle ranch frequently tops the list. Set in 30,000 acres of cowboy country, with rugged mountains, lush forests and rolling prairie, this expansive resort is truly about getting away from it all – but in serious style!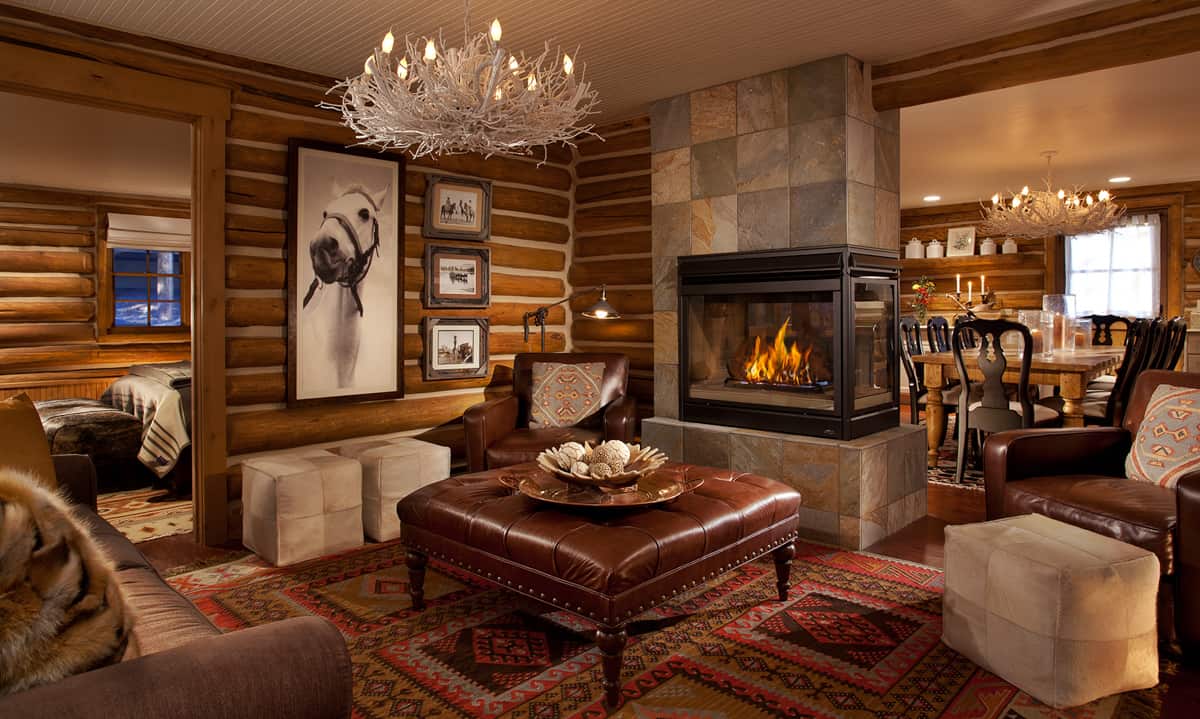 Brush Creek Ranch Accommodations For Families
The spacious ranch is home to 33 separate cabins, with the most family-centric being the cabin suites (sleeping up to four) or the cabin residences (accommodating between 6-12 people), which include a full kitchen. All the residences have tasteful rustic-luxe décor, with handsome mahogany interiors.
Keep an eye out for the Hawkins House cabin, a recent edition that makes a great choice for families. Sleeping up to eight, it includes a porch with front-row views of the running of the horses each morning – sure to delight children!
As the evenings roll in, sample some cowboy cuisine and live music at the chuck wagon dinner, or roll up your sleeves for a culinary master class in seed-to-table dining from their award-winning executive chef.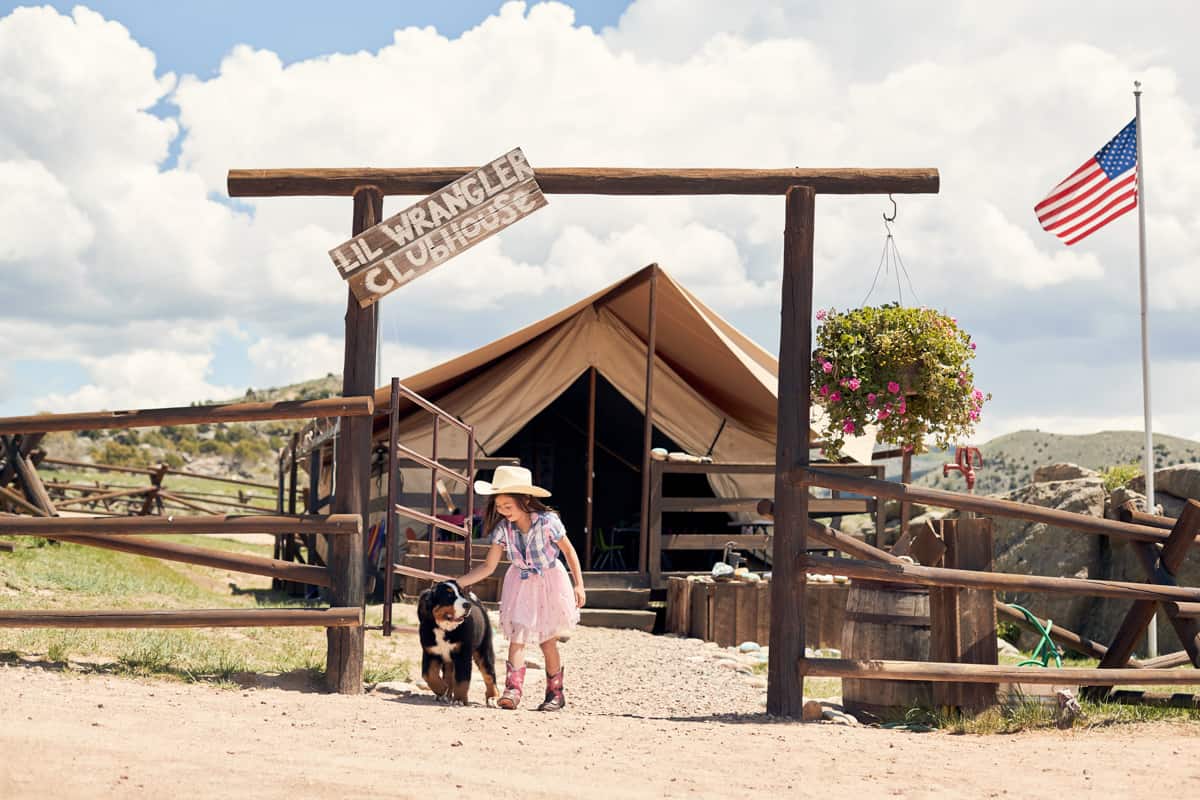 Ranch Activities
Rather than a sunrise-to-sunset kid's program, this ranch offers supervised Lil' Wranglers sessions for children aged between four and nine, in bite-sized two and a half hour chunks. Outside of this, there are over 40 activities to enjoy as a family, from archery, paintballing and high ropes, to snowmobiling and skiing in the winter months, at the resort's own private mountain which boasts nine separate runs. Press reset at the onsite spa, which includes a prenatal massage and a hot stone treatment, using pebbles plucked straight from the local Wyoming River.
As one might expect, all this luxury comes with a price tag. But the resort's no purse policy means that all your food, beverages and activities (excluding spa treatments) are taken care of.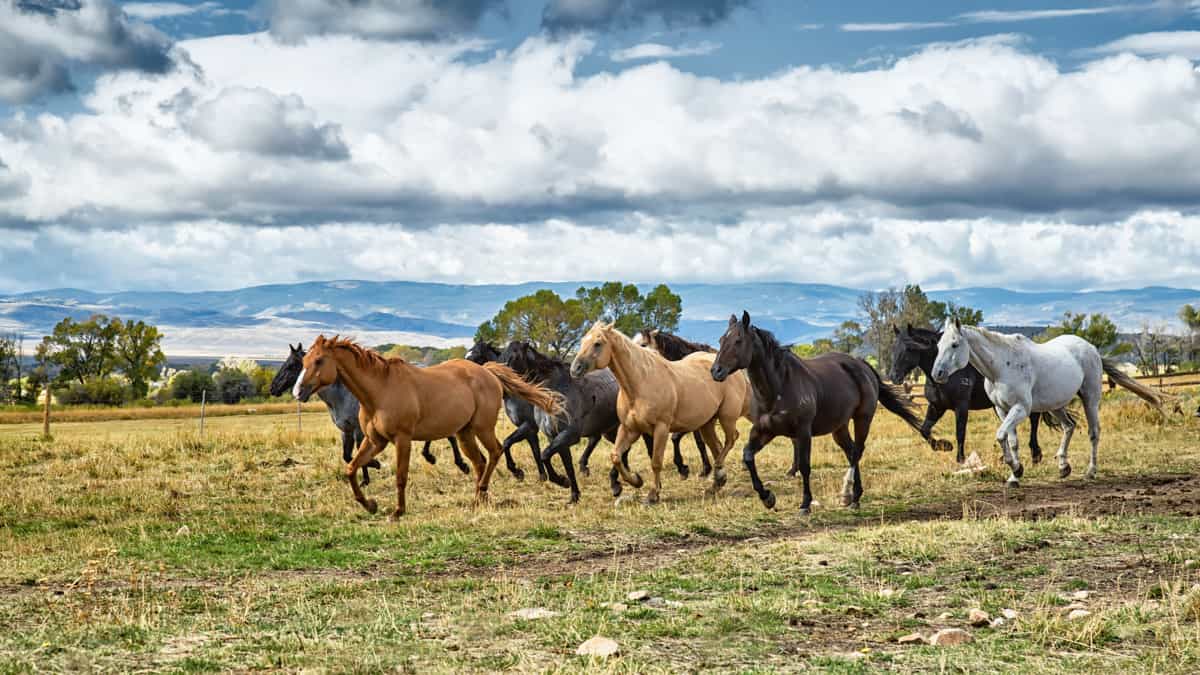 Age restrictions: Riding age four.
Nearest airport: 3.5 hour drive from Denver International Airport (DEN); 1.5 hour drive from Laramie Airport (LAR); 30 minutes drive from Shively Field Saratoga Airport (SAA).
Price range: Pricing is all-inclusive and starts at $950 per person, per night.
Best time to visit: All year.
Luxe Recess reader perks who book with us:
Upgrade on arrival, subject to availability
Full breakfast, served in Trailhead Lodge Great Room Dining Hall (included in rates)
$150.00 per person (up to 2 paying adults per room) towards ANY premium activity of his/her choice (No cash value/ non transferable )
Early check-in/late check-out, subject to availability
Complimentary Wi-Fi
---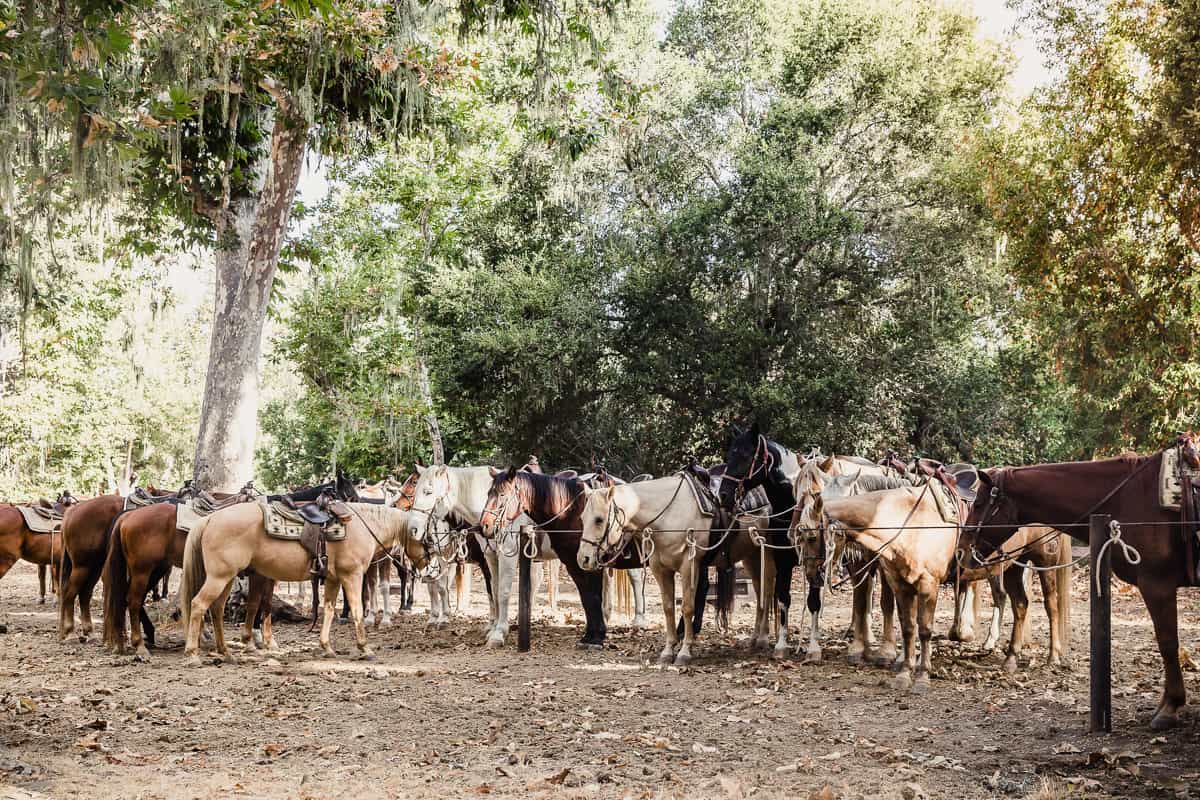 Alisal Guest Ranch, California
Best for Great Value
Part dude ranch, part farm stay, the Alisal Guest Ranch and Resort is the perfect spot for kids to get hands on with animals. Spread out over 10,000 acres of trails and lakes, this working cattle ranch celebrates a bygone era when cowboys drove cattle through Solvang.
Nowadays, the resort is home to a sweet barnyard filled with critters, a pot bellied pig, exotic bearded dragons and a stable brimming with over 100 horses. No need to set an alarm here, as you'll awake to roosters crowing, while evenings are spent star-gazing or watching movies under the night skies.
Accommodations
The 73 suites or detached studio cabins are basic but well designed, with wood burning fireplaces, refrigerators, and colorful Western style art. Note that even the larger lodges just offer one separate bedroom with a king-sized bed, so children will need to sleep in the living room on sofa and camp beds.
The best way to arrange this is by checking into either the deluxe, select or luxury suite, as these larger suites offer more room to play with or speak to the ranch about booking adjoining suites. All guest rooms are intentionally free from TVs and phones.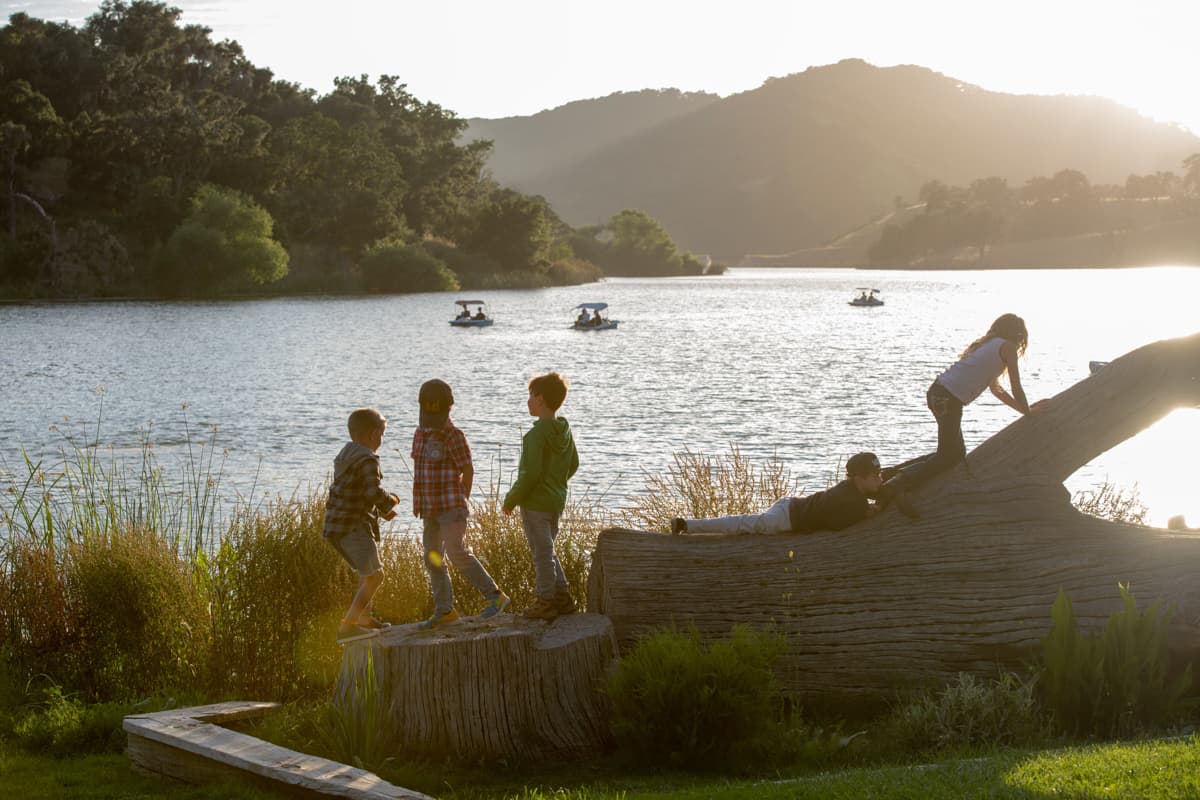 Activities
There's a year-round schedule of activities that families can pick and mix from. The (already very reasonable) room rates include many activities including daily lead-around pony rides, arts and crafts sessions, and guided evening walks.
From June through to September, cowpokes aged 3-12 can join the Lil' Wrangler three hour supervised daytime sessions, plus there's group lakeside BBQs and s'mores around the roaring campfire in the evenings. Horseback trail riding, Lil' Wranglers club, golf and fitness classes incur an additional fee.
Golf aficionados will appreciate that there's not one, buttwo, 18-hole golf courses onsite. Aside from spa time, our favorite parent's activity at the Alisal is the BBQ boot camp, where adults can master the orange coals and raise their backyard barbeque skills back at home.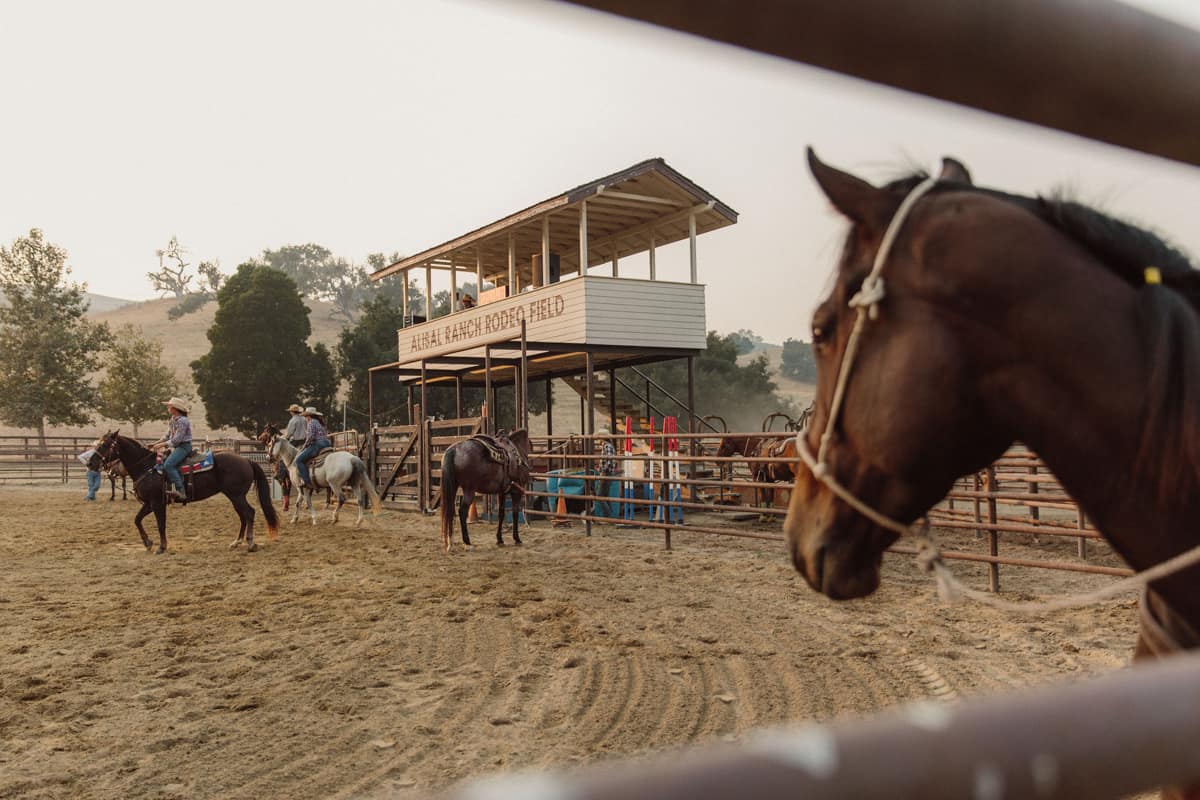 Age restrictions: Riding age three, trail rides from age seven.
Nearest airport: Santa Barbara Airport (SBA) is 30 minutes away, or Los Angeles International Airport (LAX) is a three-hour drive.
Price range: Starting price for a family of four from $45 per night.
Best time to visit: All year as the ranch offers seasonal activities.
Luxe Recess can help you book your vacation to Alisal Ranch!