Photos and additional reporting on the best Napa resorts by Robin Hutson
We all have that fantasy of wandering among the vines, sipping a glass of pinot noir, and watching the sun set over the rolling hills of California's Napa Valley. But sometimes that fantasy requires bringing your kids. With world-class wine, incredible dining, and endless outdoor adventures, Napa is a dream destination that shouldn't have to wait until your kids leave the nest.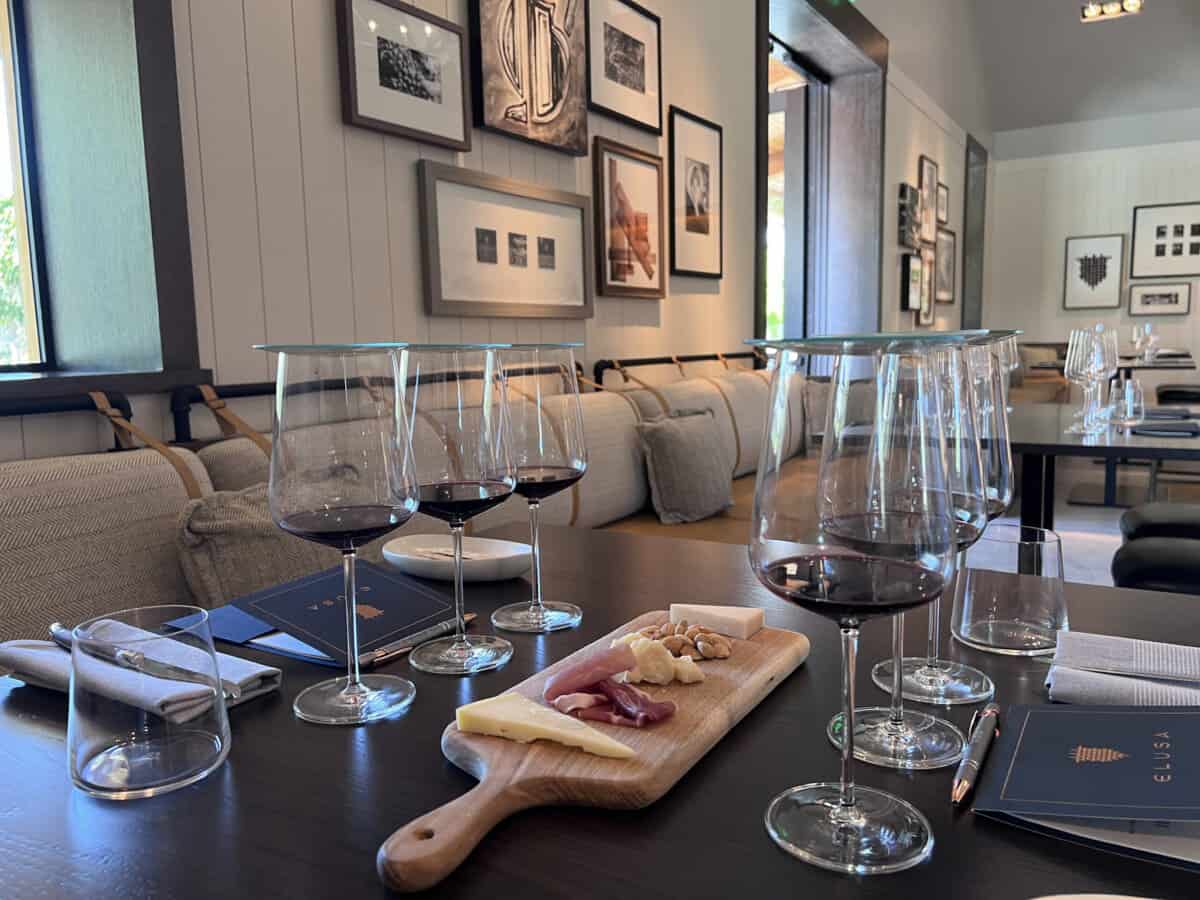 The Napa Valley region is ideally suited for outdoor activities like hiking, biking, horseback riding, and kayaking. Many of the region's farms and ranches have kids' programming, and most vineyards encourage family picnics, complete with a glass of grape juice for the kids. So, the next time you wonder: Why would anyone bring kids to wine country in Napa Valley? Well, why not?
STOP!
JOIN OUR LUXURY HOTELS & RESORTS FOR FAMILIES,
A FACEBOOK GROUP FOR SEEKING ADVICE AND INSPIRATION
FOR THE BEST LUXURY FAMILY BREAKS.
We've rounded up our favorite family-friendly resorts and luxury 5-star hotels that offer everything from biking and cooking to kids' activities that will keep them busy for hours while you indulge in the best vino Napa has to offer. Plus, we have a few recommendations just for couples or Mom and Dad.
Best Napa Resorts That Are Family Friendly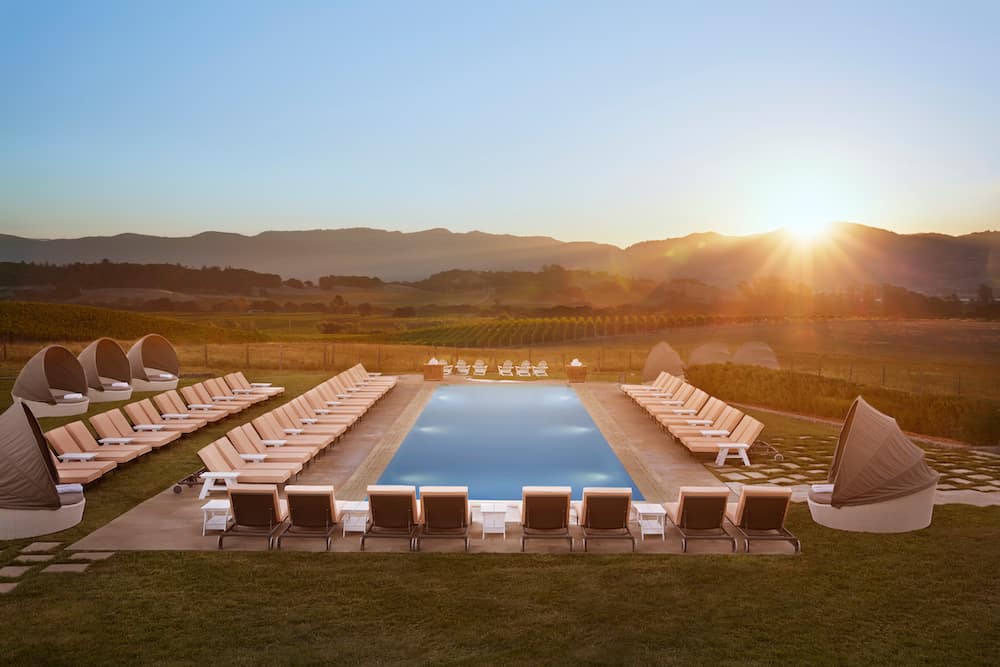 Carneros Resort and Spa
Set on 28 rolling acres of vineyards in the heart of Napa on Sonoma Highway, Carneros Resort and Spa is the self-proclaimed 'quintessential Napa resort' and indeed, it's hard to beat this relaxed resort's spectacular scenery, fresh cuisine, and outdoor amenities. Carneros is one of the very best places for families who want the serene, authentic Napa experience, while also accommodating their kids.
A 3,000-square-foot spa offers a full menu of treatments, in addition to daily fitness classes for both adults and children. Two pools, including a family pool with zero entry, pickleball courts, and a fleet of bikes, round out the recreational options. Three restaurants, all boasting farm-to-table cuisine, serve everything from the freshest produce to steaks and seafood. The restaurants' outdoor spaces open onto a vast, grassy pavilion where the resort frequently features live local musicians and other activities.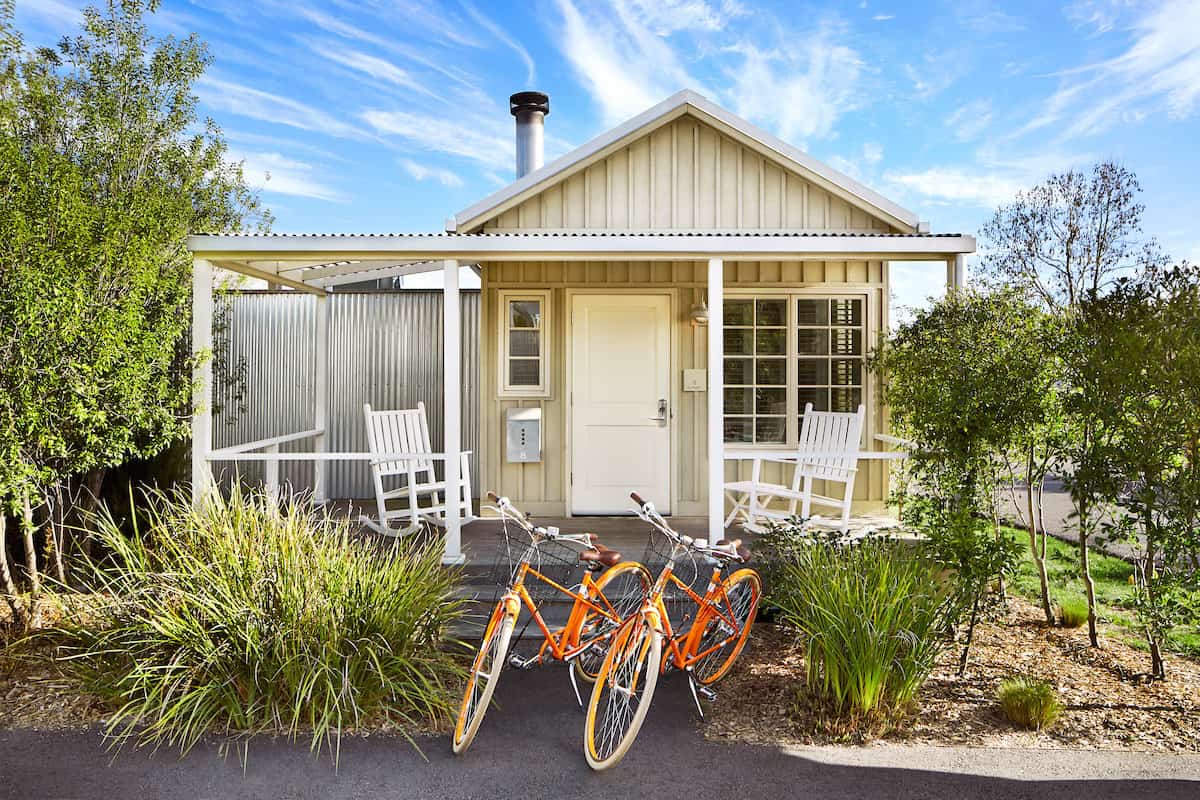 The cottage accommodations and residences are the real draw for families at Carneros. Private cottages have king beds or two doubles and a private patio. All cottages feature fireplaces, heated bathroom floors, wine dispensers and walk-in showers with attached outdoor showers. For more space, book a two-bedroom cottage with fenced yard and outdoor fireplace.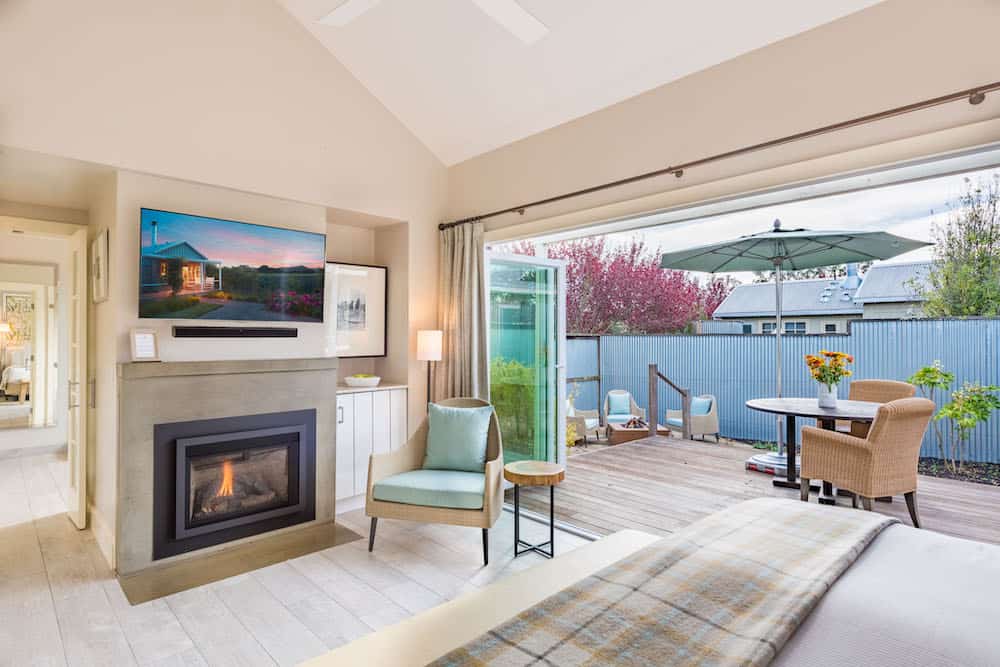 Families traveling together will love the option of two connected cottages with shared outdoor yard. For the most spacious choice, book a three-bedroom private residence in the resort's gated residential community. With fully-stocked kitchens, living areas, washers and dryers, outdoor decks and backyards, the homes are the best way to enjoy the resort's luxurious amenities and setting, while also enjoying your privacy.
This is a resort where we can pass along VIP amenities for your stay including daily breakfast, a resort credit, and priority for a room upgrade. Learn more.
Four Seasons Napa Valley
For a region that is overflowing with 5-star choices, the Four Seasons Napa Valley sets the gold standard for full-service luxury when it comes to families. Unlike many of the Napa Valley resorts that simply boast vineyard views, the Four Seasons is the only resort located on a working vineyard, Elusa. The Four Seasons Napa Valley has its own tasting rooms and wine program—a key selling point for families that don't want to ditch the kids for vineyard visits and tastings.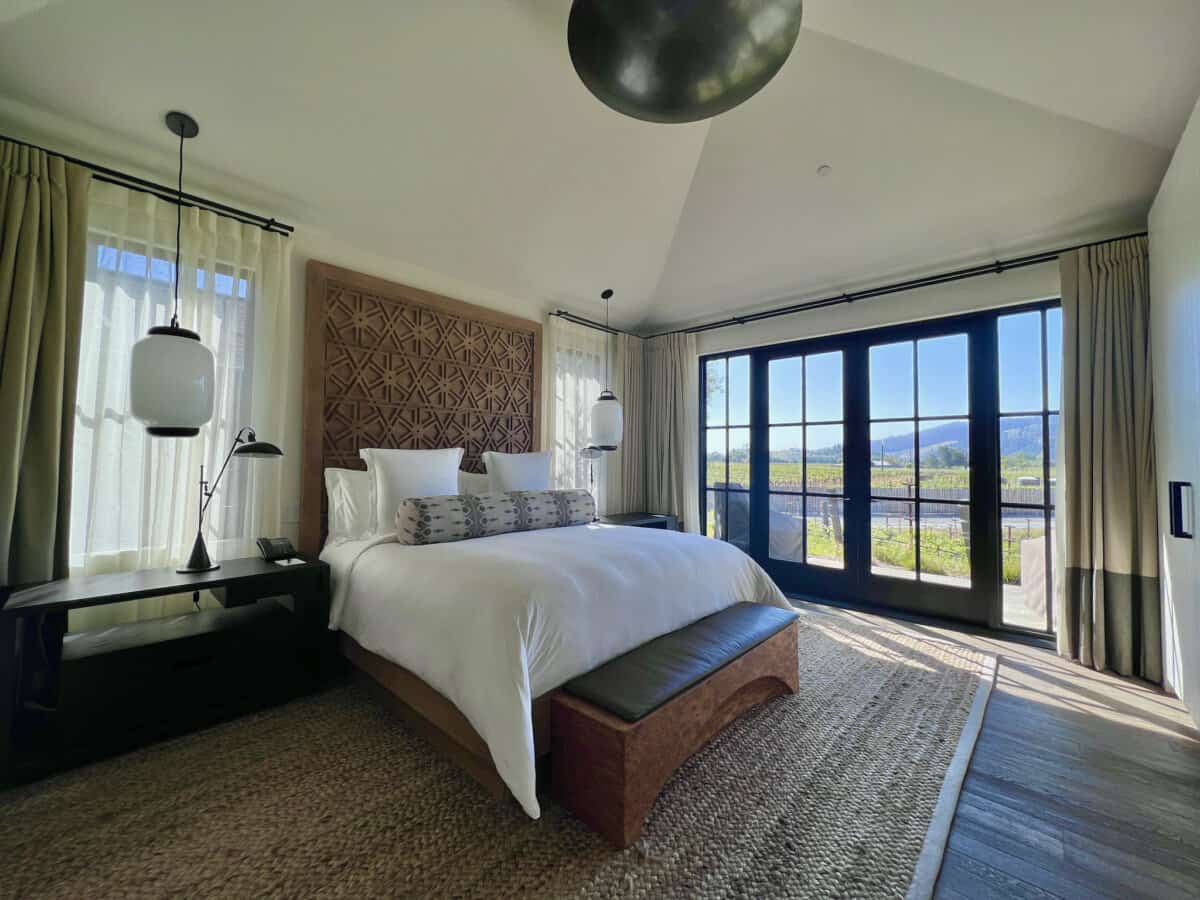 In addition to the on-site vineyard, wine program, and wine tasting rooms, guests can enjoy bocce courts, biking, a fitness center, outdoor pool, and an additional family pool. At Spa Talisa, indulge in one of the dozens of treatments that focus on Calistoga's natural mineral and thermal baths, or an olive oil treatment harvested from the trees on property.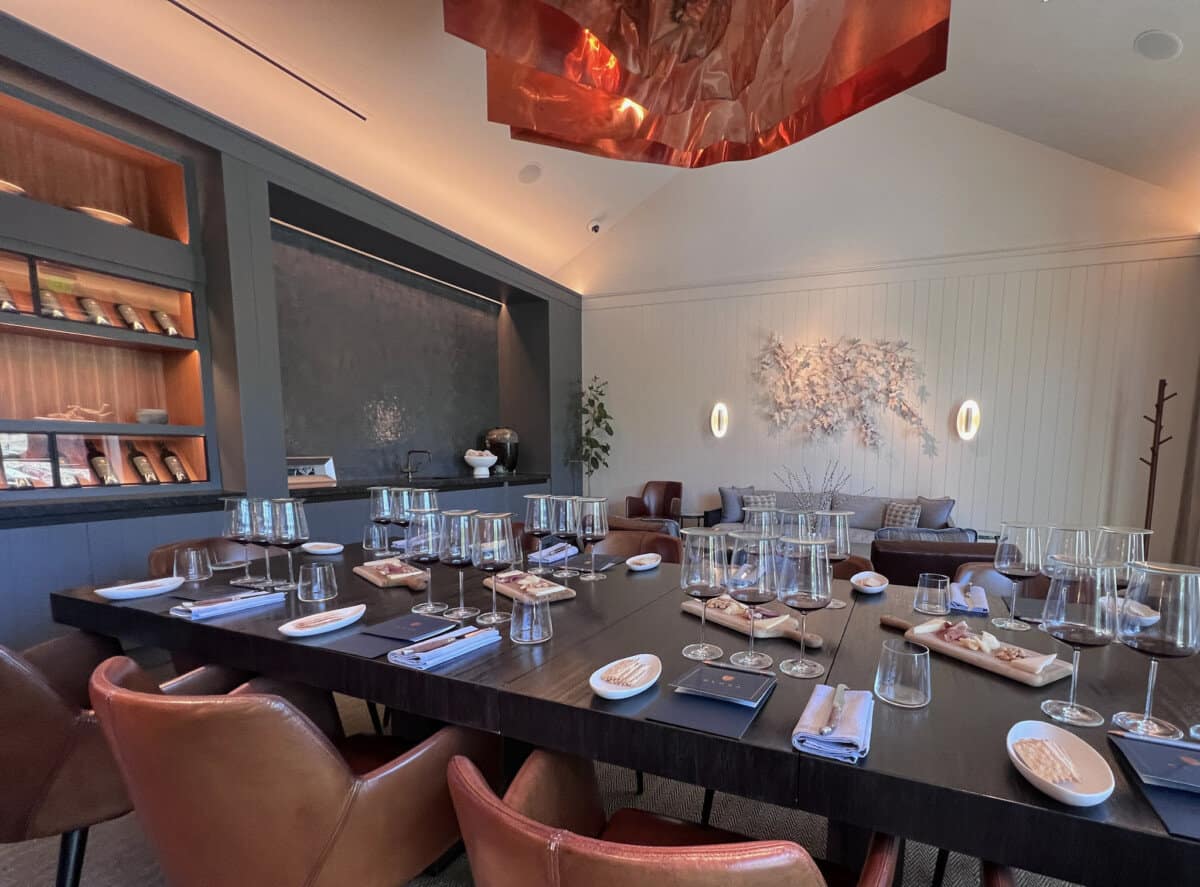 Accommodations range from standard guest rooms and suites to villas that have two to four-bedrooms, some with private pools. The resort also houses private residences, making the entire property feel as though it's an exclusive residential enclave. The Four Seasons caters to families by hosting regular activities like outdoor movies, nightly s'mores at the fire pits, crafts, scavenger hunts, and games. Kids can even participate in grape stomping during the harvesting season. The 'Kids for All Seasons' kids' club is operated more like an outdoor camp than a babysitting service.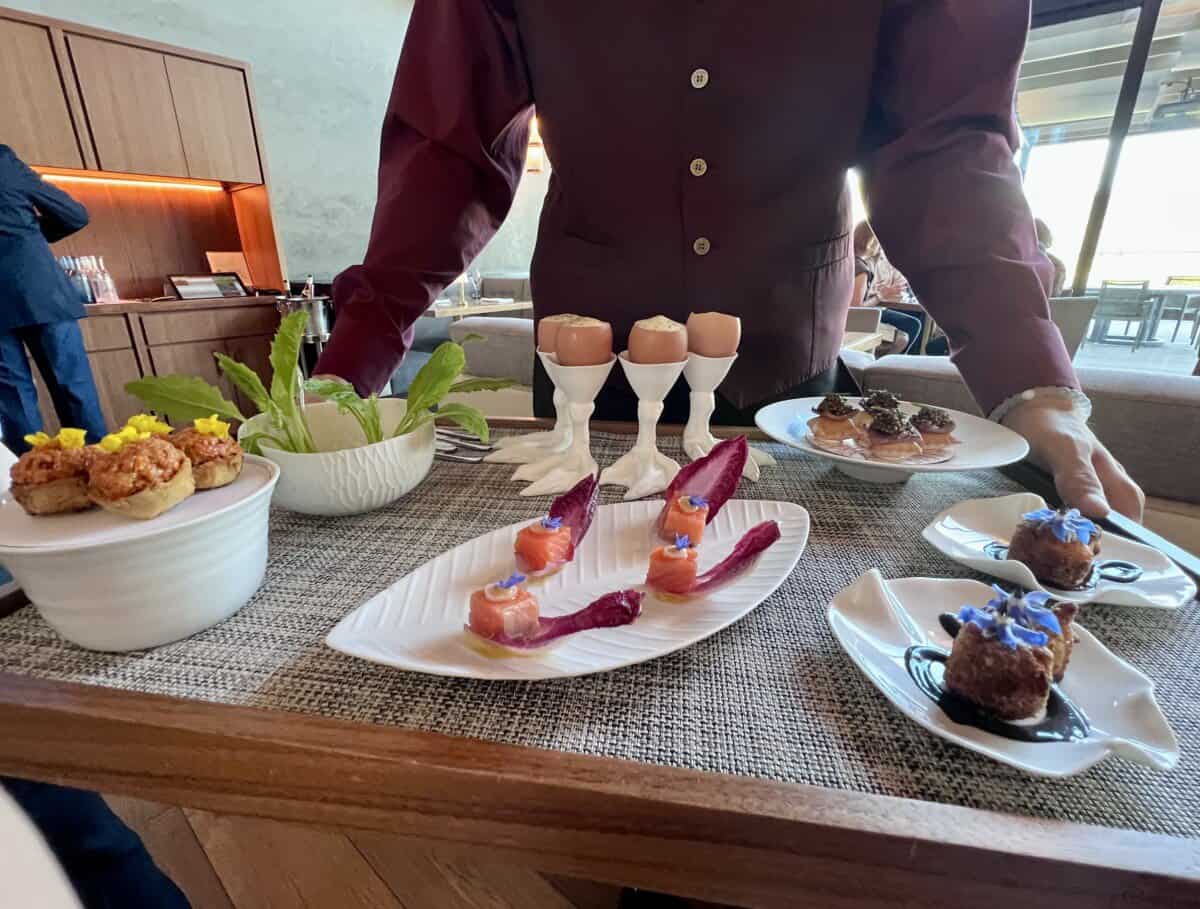 If your tastes run to Michelin-starred restaurants, Auro, the property's signature restaurant, was outstanding. I felt the tasting menu was a great deal for the food experience it offers.
An extra perk of the resort: the Four Seasons is within a short walk or bike ride to the small downtown of Calistoga.
This is a resort where we can pass along VIP amenities for your stay including daily breakfast, a resort credit, and priority for a room upgrade. Learn more.
Solage
Part of the Auberge resorts collection, Solage is in northern Napa Valley, just outside of Calistoga. A serene resort set on 25 acres, Solage exudes understated luxury with its minimalist décor and focus on natural materials. Cut flowers near the lobby are for guests to take every morning for the vases in their rooms.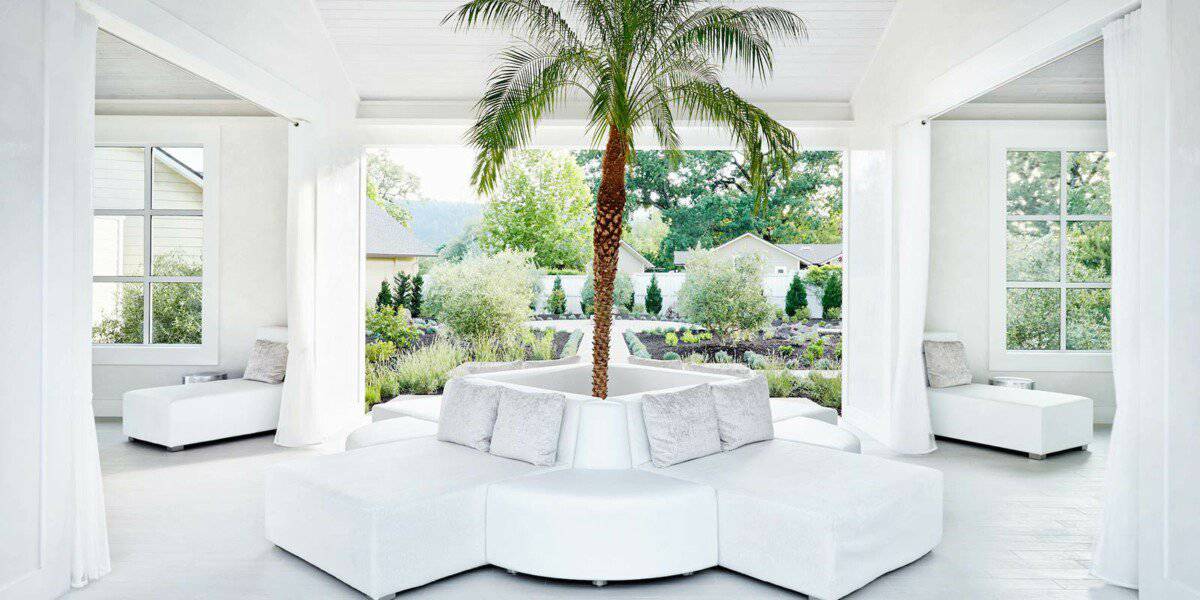 The resort's award-winning restaurant, Solbar, features farm-fresh fine dining with dishes like duck confit and Alaskan halibut, while the poolside Picobar serves seasonal dishes and fresh ceviche and tacos.
Solage caters to families with custom itineraries, fireside s'mores, kids' activities, and a splash pad at the family pool. Childcare is available through the concierge and the resort frequently runs family promotions like the 'Kids Eat Free' program during the summer months.
The wellness center, totaling 20,000 square feet, is where Solage really shines. The full-service spa features natural mineral treatments inspired by the area's natural hot springs, and the massive indoor baths area houses multiple geothermal pools.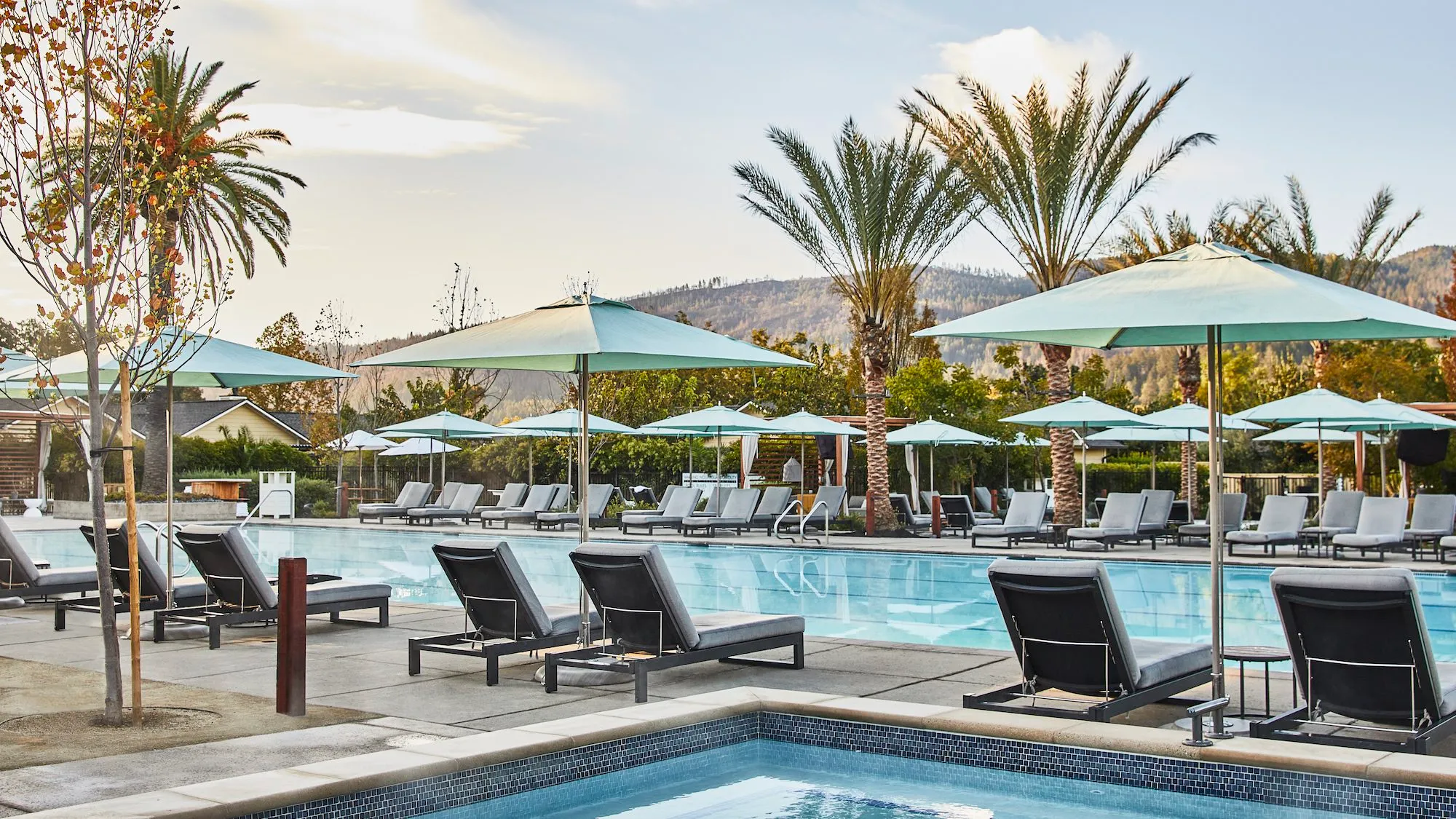 Guest can choose from either studios or suites for accommodations; all feature a private patio or terrace and come with complimentary bikes for exploring the resort.
Studios are like traditional hotel rooms with king or double queen-bedded rooms, seating areas, and a private terrace, many with outdoor fireplaces. Suites range from one to two-bedrooms and have large living spaces, floor-to-ceiling windows, outdoor showers, soaking tubs, and some have jetted outdoor hot tubs and a fire pit.
This is a resort where we can pass along VIP amenities for your stay including daily breakfast, a resort credit, and priority for a room upgrade. Learn more.
Montage Healdsburg
The newer Montage resort, set in the mountainous town of Healdsburg, is an eco-conscious luxury resort set on 258 acres of forest and vineyards. Please note this resort is the furthest from San Francisco, so you may want to see if you have additional flight options to Santa Clara.
With 130 rooms and suites, the property is sprawling, but maintains an intimacy that underscores the personalized service that Montage properties are known for. The resort boasts two restaurants, plus a lobby bar, all of which form a massive indoor-outdoor dining area. The signature restaurant, Hazel Hill, serves gourmet cuisine with a French twist, and everything is fresh and locally sourced.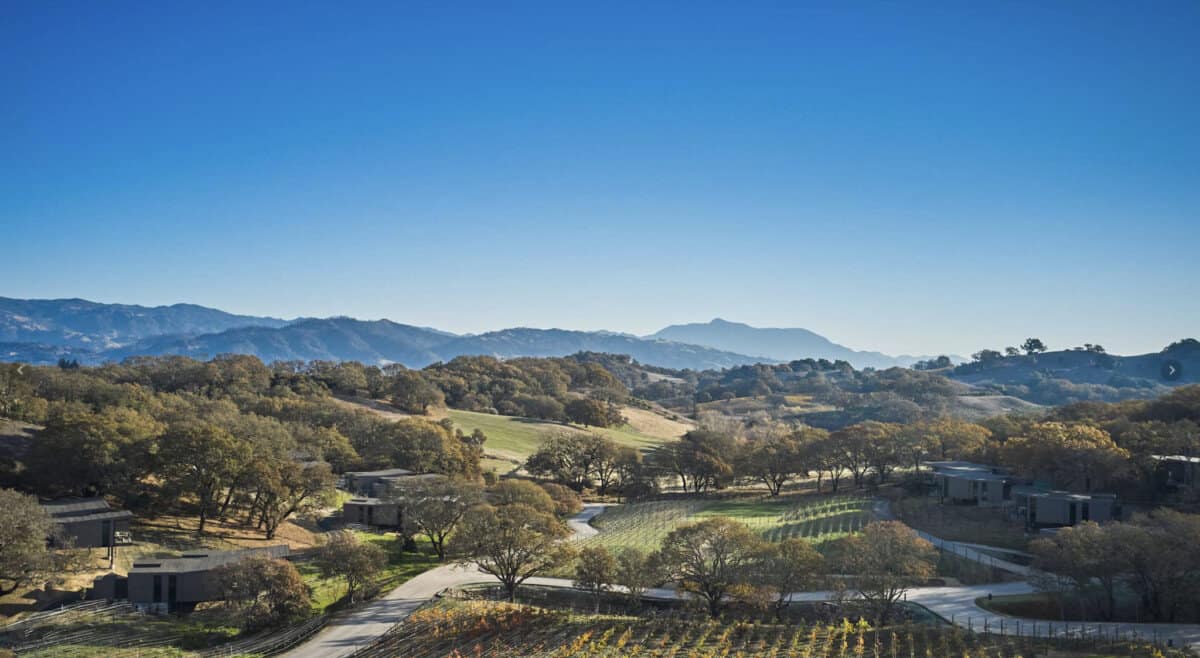 The large spa, adjacent to a full-service salon, offers every kind of wellness treatment, while the fitness center has a rotating menu of yoga, meditation, and workout classes. Pickleball courts are also on property. Those seeking a round of golf nearby can easily visit Healdsburg Golf Club at Tayman Park and Windsor Golf Course.
The kids' club, Paintbox Kids, offers childcare and planned programming, including kids' nights out on weekends, outdoor movies, crafts, and culinary activities. Montage Healdsburg also has a separate family pool, fireside s'mores, and a Montage Merits program where kids can earn badges through resort activities.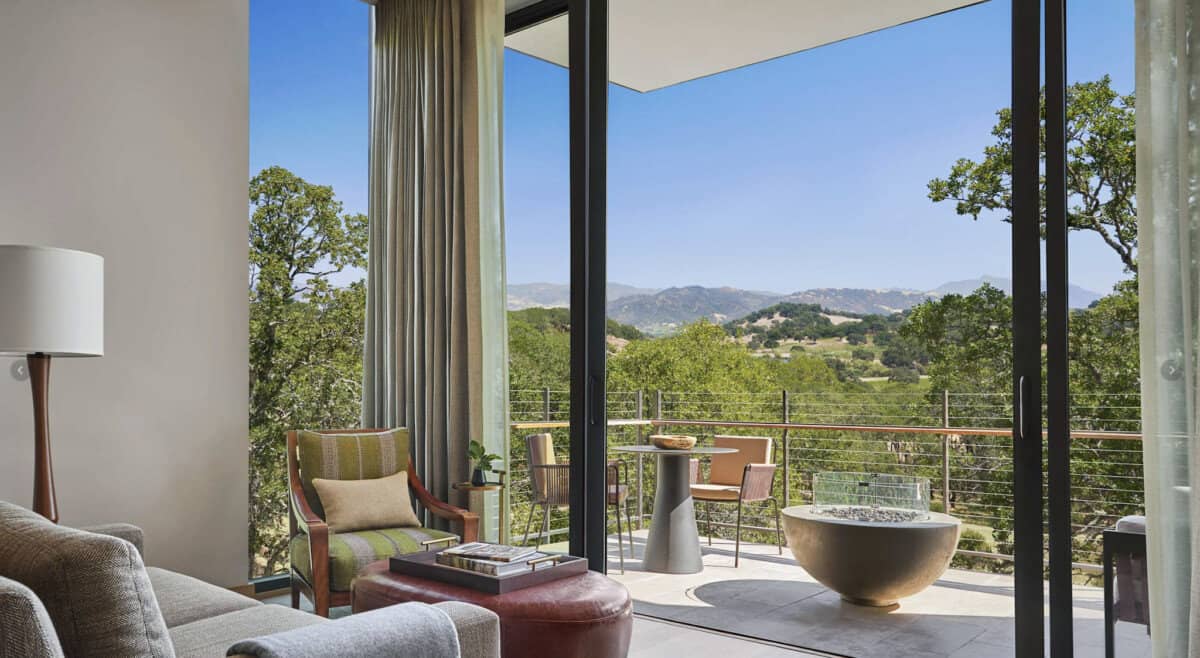 Accommodations are spread across modern-style bungalows and include contemporary décor and balconies with either forest or mountain views. Studios are a more spacious option, and one-bedroom suites offer a full living area and extra bedding. The largest accommodation is a three-bedroom guest house with spectacular mountainside views.
Rooms are spread out across the resort, ensuring privacy, though hotel guests with mobility issues should note that the terrain at the resort is hilly.
This is a resort where we can pass along VIP amenities for your stay including daily breakfast, a resort credit, and priority for a room upgrade. Learn more.
Other recommendation for families:
Meadowood Napa Valley has long been a family favorite. While the main building is closed due to one of the recent area wildfires, the resort is fully open. Compared to vineyard and town settings of many other resorts, Meadowood's multiple cottages and amenities lie among the trees to give this resort a woodsy, mountainous feel.
It's a great place for the family that prioritizes movement over rest, showcasing biking, hiking, tennis courts, and an extraordinary fitness facility.
When it's just Mom and Dad
Bardessono
This luxury hotel in downtown Yountville checks all the boxes for a sophisticated couple's retreat. Walking distance to legendary restaurants (Did anyone say, The French Laundry?) wineries, and a fun downtown Napa scene. It's the ideal pedestrian-friendly location for those who wish to skip even a short drive in the rental car.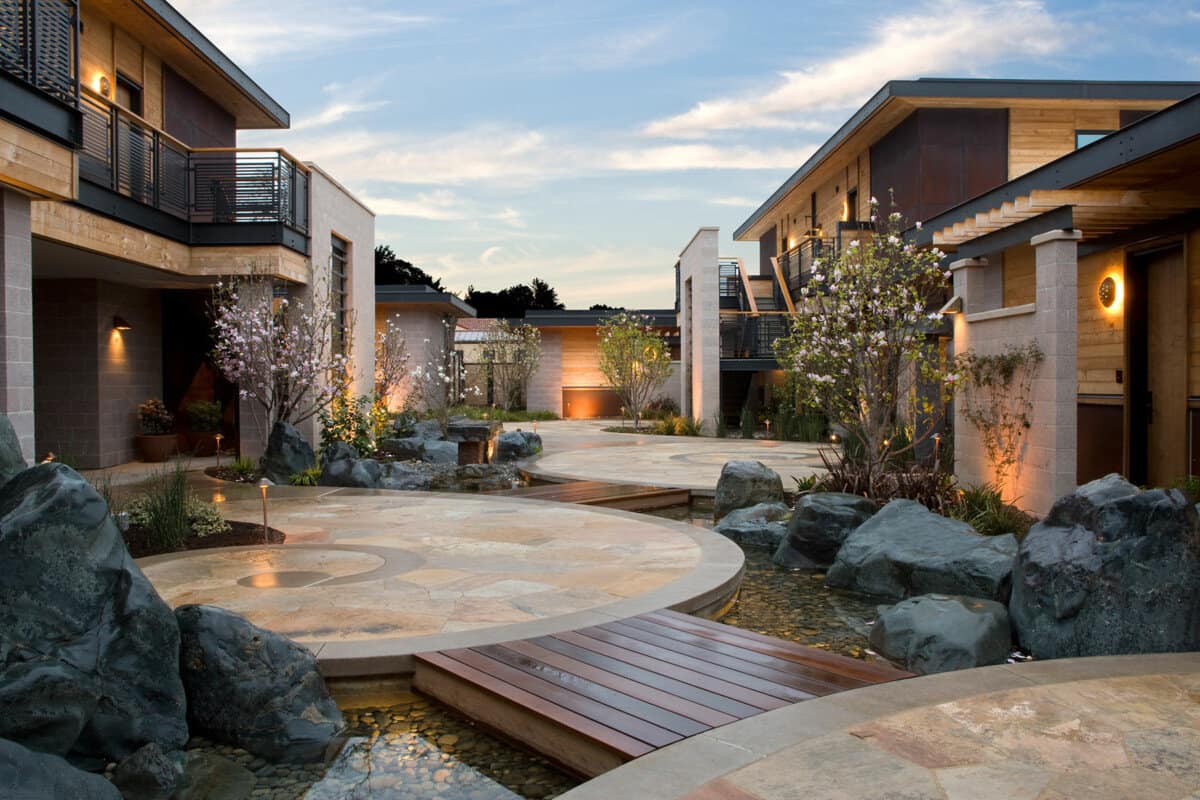 A LEED-certified property, Bardessono is committed to a low carbon footprint, and green chic is the name of the game at this sleek glass and wood hotel. The on-site restaurant, Lucy, specializes in gourmet organic dining, and the adjacent bar wins high marks for their craft cocktails.
The resort's vibe is tranquil and sophisticated and public spaces are joined by a series of courtyards. The spectacular rooftop pool has bar service, and sunset and mountain views, while the surrounding vineyards and culinary gardens contribute to the rustic sense of place.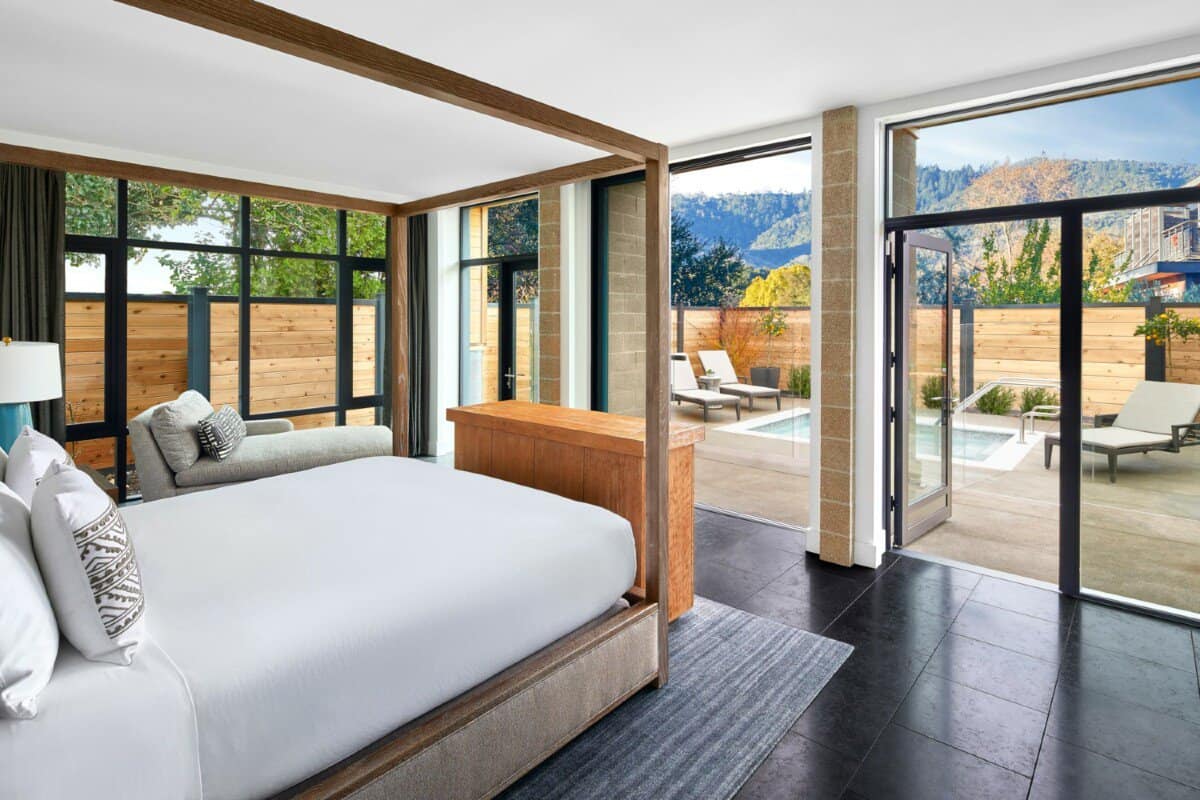 Accommodations are spacious and contemporary in design within the Bardessono hotel, and contain all the perks you would expect, and a few extra, too. The massive 200-square-foot bathrooms come equipped with folding massage tables for in-room treatments, doors are operated via your smart phone, and motion sensors on the windows close the shades for energy efficiency. Every room comes with a private patio or balcony, gas fireplace, and high-thread-count organic sheets. And yes, some suites offer good privacy for your outdoor hot tub.
This is a resort where we can pass along VIP amenities for your stay including daily breakfast, a resort credit, and priority for a room upgrade. Learn more.
Poetry Inn
With only five rooms, the Poetry Inn offers the utmost in pampered luxury in an intimate, secluded boutique hotel setting. Set into the hillside near Yountville, the Poetry Inn offers sweeping views of the Valley and unmatched solitude compared to the bustling energy of many of the area's best hotels and resorts.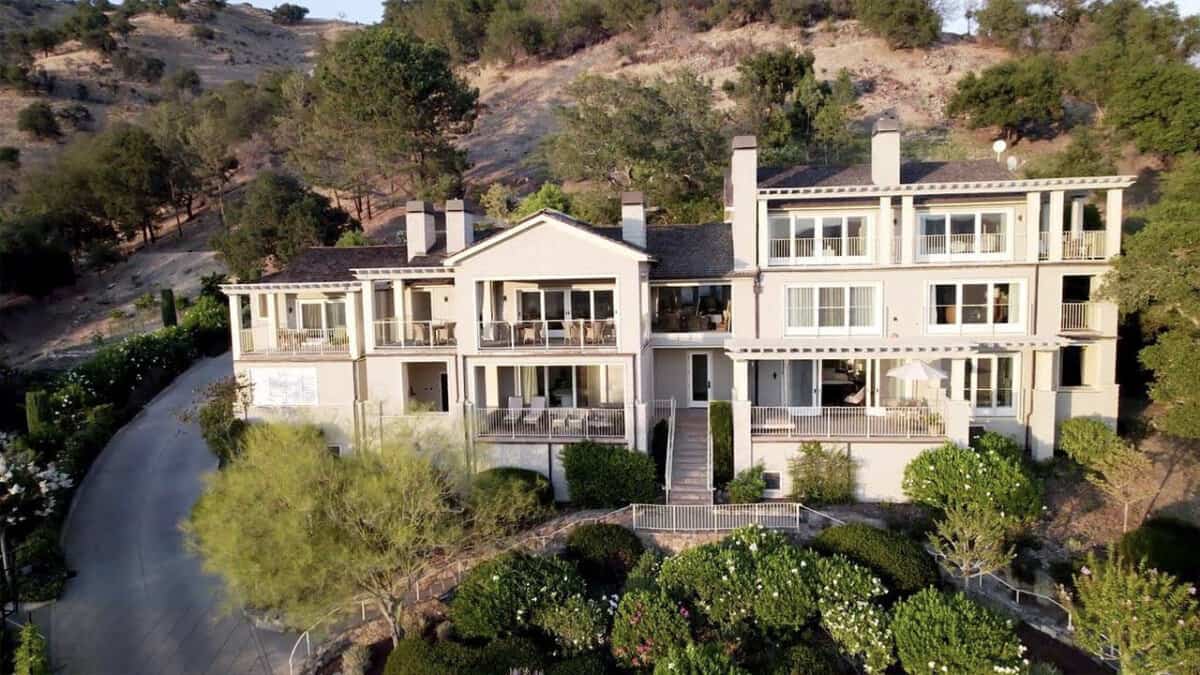 Personalized, unpretentious service is the calling card of the Poetry Inn, which is why many guests choose the property for honeymoons, anniversaries, or other special occasions, and only guests 16 and over are permitted.
Guests are greeted in person with a glass of wine after driving through the gates, and everything from winery reservations to spa treatments can be handled by the friendly staff. Mornings start with sunrise pastries delivered by the Bouchon Bakery, followed by a custom, three-course gourmet breakfast.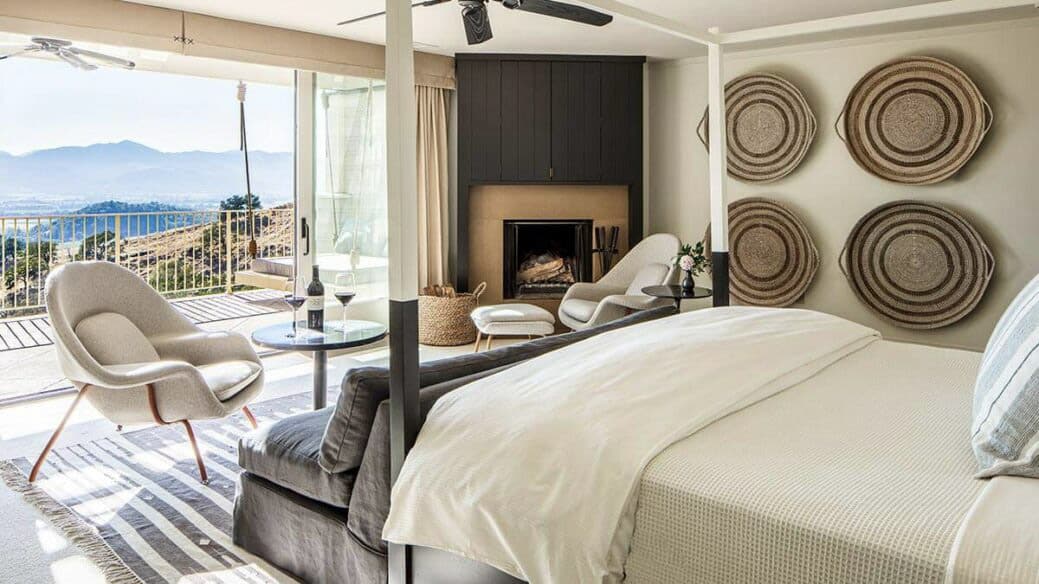 Private lunches and dinners can be arranged through the Inn's chef, and guests are treated to cocktails and aperitifs in the Inn's living room during the evening. The Inn's small pool and spa offer serene valley views, and while there is no fitness center, the Inn is ideally situated next to the Silverado Trail, perfect for hiking. Every room in the Inn is different in design, but all have soaking tubs, fireplaces, luxury linens and balconies with spectacular, western facing views.
Auberge Du Soleil
When you want to splurge on the ultimate getaway with your partner, nothing in Napa compares to Auberge du Soleil in Rutherford. The flagship property in the Auberge Resorts portfolio, this resort doesn't skimp on style, luxury or service. And it's a perfect place for a true couple's getaway—children under 16 are not permitted on property.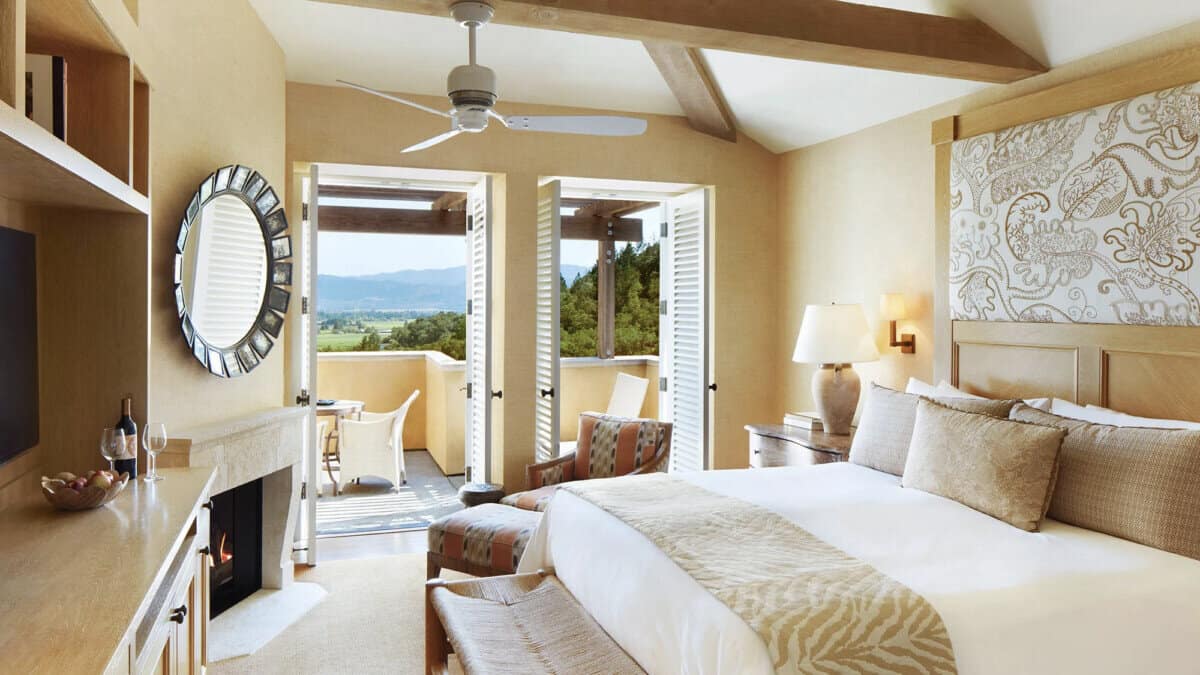 With a Mediterranean-meets-California vibe, the décor is luxe and tasteful, but also more extravagant than many of the area's minimalist Napa Valley hotels. Set on 33 hillside acres, the resort has both spectacular views of the Napa Valley and legendary sunset views. The main restaurant, named 'The Restaurant' features handmade pasta, fresh organic produce, and a stunning 15,000-bottle cellar for wine lovers. The other dining option, The Bistro, serves more casual French-inspired fare like classic steak frites.
The spa offers a full-service menu, an outdoor courtyard surrounded by olive trees, and hammam and steam rooms. The resort's hillside pool boasts incredible views of the valley and Mount Veder.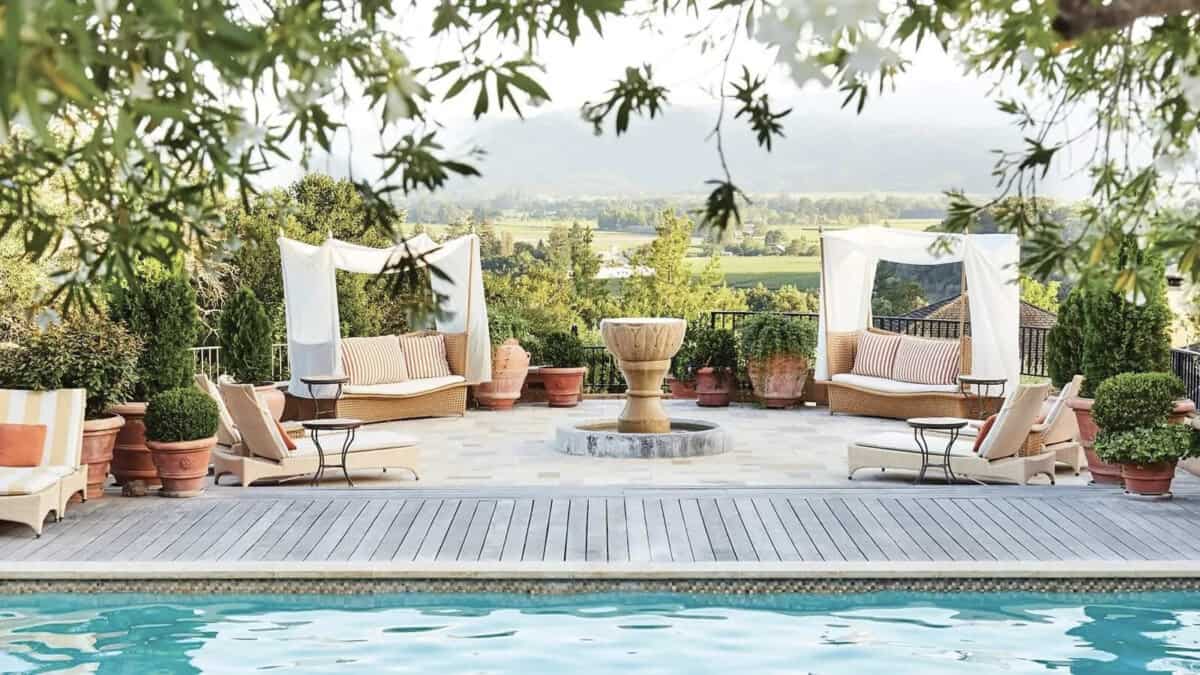 Accommodations are traditional in style and range from classic rooms to large deluxe suites, all with private outdoor spaces, gas fireplaces and soaking tubs. Suites include large living areas, an outdoor shower and a soaking tub.
For the ultimate indulgence with another couple, book one of the private maisons, 1800-square-feet residences with two master suites, outdoor tubs and showers, and terraces with valley views. Maison guests also receive a welcome bottle of Dom Perignon, a dedicated Mercedes Benz for use, full-in room bar stocked with wine and spirits, a tour of the resort's art gallery, and full breakfast served in-suite.
This is a resort where we can pass along VIP amenities for your stay including daily breakfast, a resort credit, and priority for a room upgrade. Learn more.
But it's not just wine country….
As a reminder, there are so many options in this beautiful area for families… wine doesn't have to be a part of the agenda if you don't want it to be. If your kids are young, you'll be enjoying kids clubs at the full-service resorts and afternoons made of pool time and delicious meals.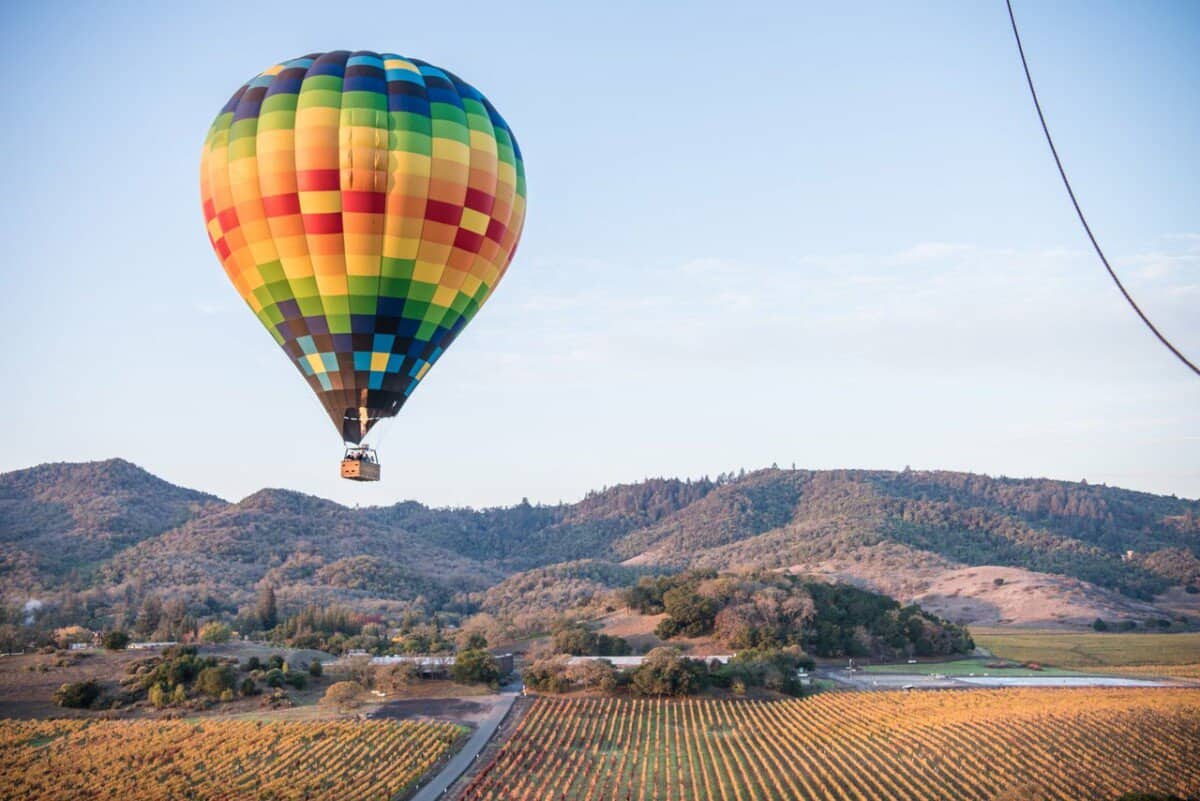 If your kids are older, explore the surrounding areas and indulge in options such as horseback riding, hot air ballooning, cooking lessons, and olive oil tastings.
Please reach out if you would like to plan a trip to the region, with or without the kids!