We've rounded up some of the sexiest hotels on our bucket list for adult-only trips, no matter what you are into.
The Sexiest hotels without the kids or where to make more
Even if you are unable to get away around Valentine's Day, it is always a good idea for parents to spend time alone, out of the house, and at a hotel. Warning: These hotels are so sexy that you and your partner could consider browsing their websites as foreplay.
For suburban parents in need of a dose of cool
Royalton Park Avenue, New York
Just walking into the lobby at the Royalton Park Avenue (check your dates for rates) makes you feel like you're at the right party and can make you feel the glory of your DINK days. During the warmer months the rooftop pool and lounge are decidedly sexy.
Spectator Hotel, Charleston, South Carolina
The new Spectator Hotel has brought a luxurious Roaring Twenties vibe to Low Country with the first hotel to offer butler service. Don't drink and drive. Borrow one of the many types of bicycles the hotel offers to explore the area then sample the impressive custom cocktails at the hotel bar. Retire to rooms where your butler has unpacked your luggage and is waiting to deliver your morning coffee.
[hr gap="30″]
For parents who crave sun and sand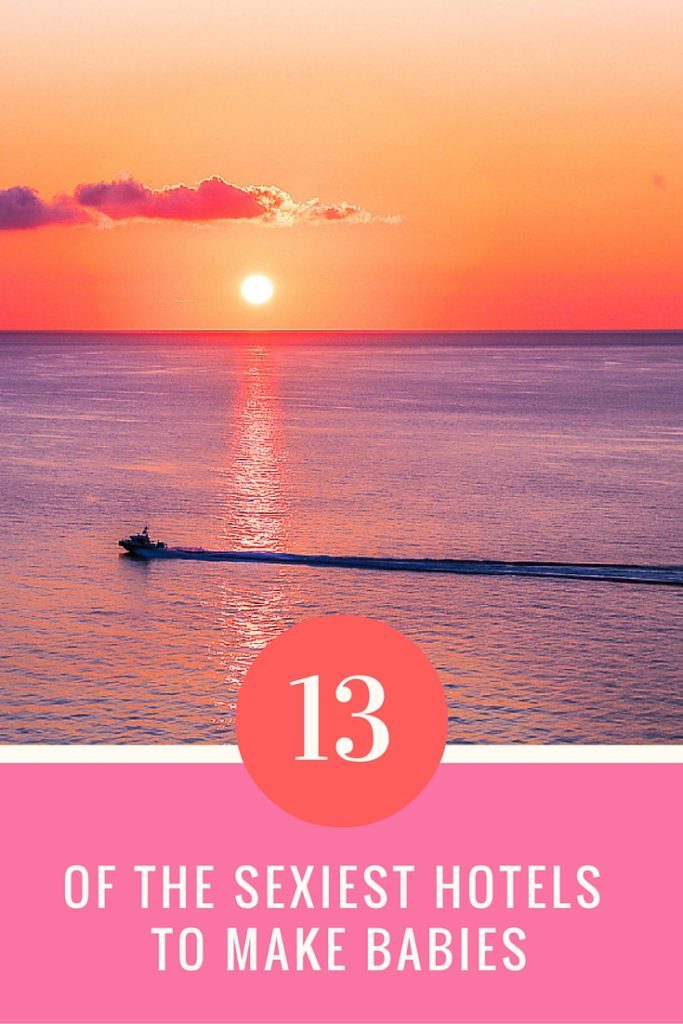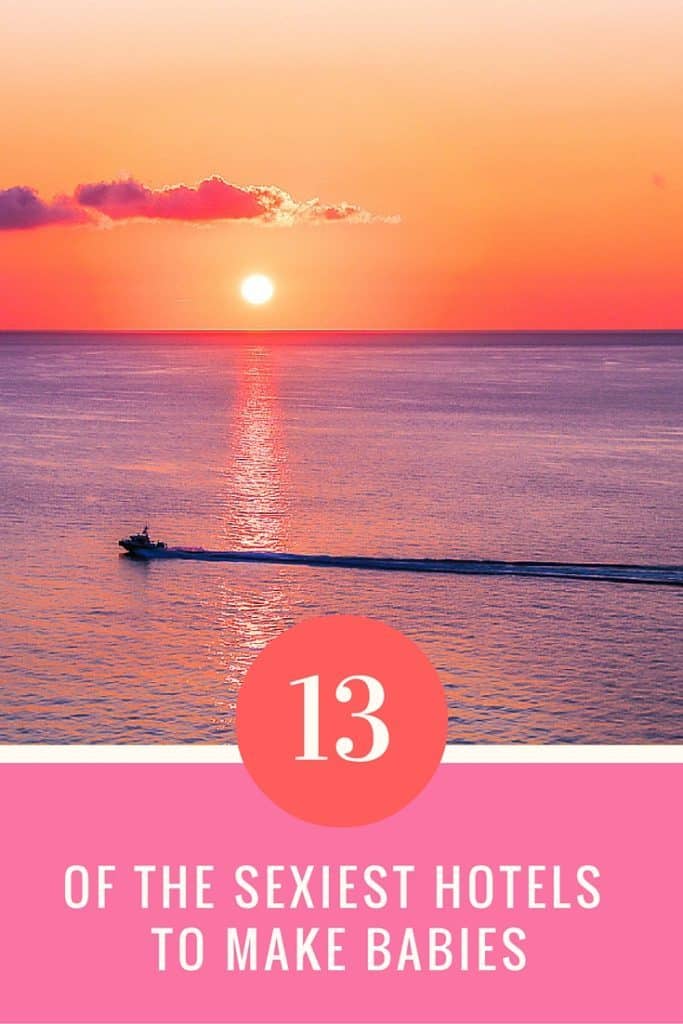 Faena, Miami Beach
Did you swoon as a young lass to Ewan McGregor in Moulin Rouge or Leonardo di Caprio's Romeo? Enjoy breathtaking balcony views of Miami Beach while lounging in the excessive Baroque infused rooms at the Faena Hotel. As with anything director Baz Luhrmann touches, it is a true feast for the eyes fusing the fusing white and red interior aesthetics of Miami Beach and Buenos Aries. Where else would the narcoleptic Argentinian from Moulin Rouge want to sleep? The South American holistic spa, Tierra Santa Healing House, claims to be a one of a kind in the US.
The Four Seasons, Anguilla
Los Angeles Designer Kelly Wearstler has brought her incredible mixture of brushed gold and organic elements to create a stunning Caribbean resort at the Four Seasons in Anguilla. Though the kids have lots to do here, leave them home or at the kids club to enjoy the spaces and rooms inspired by the female body. A fabulous adult amenity is the number of private plunge pools on many of the balconies.
Esperanza, Cabo San Lucas, Mexico
This Cabo San Lucas favorite for honeymooners reopened last year with even more spectacular rooms, infinity pools, and hundreds of candles that are lit every night at the Esperanza Resort. Auberge Hotels have been rejuvenating parents for many years at their West Coast properties known for high-end California design, natural-leaning spas, and epicurean offerings.
[hr gap="30″]
For parents who seek the delicious
The Old No. 77 Hotel & Chandlery, New Orleans
This new hotel near the French Quarter presents a casual, brick-exposed serving of hipsterdom with both a pillow and spiritual menu of curated titles and an art vending machine. The Old No. 77 Hotel boasts Chef Nina Compton's Compère Lapin opened to rave reviews for her cuisine blending New Orleans, Caribbean, French, and Italian flavors.
The Press Hotel, Portland, Maine
Portland, Maine is low-key foodie paradise for couples looking for value. The new Press Hotel offers the hipster couple a Valentines approach for those who shy away from the obvious roses and chocolates: aphrodisiac tasting menus and hipster love notes drafted from one of the many vintage typewriters like those adorning the hotel lobby walls. 
Belmond Casa de Sierra Nevada, San Miguel de Allende, Mexico
For those seeking art and architecture all around, the Belmond Casa de Sierra Nevada offers a luxury respite in the heart of the historic city considered the most beautiful in Mexico. The Sazóne cooking school at the hotel will teach you classic Mexican treats, but one could travel to the Belmond property simply for the ultimate Talavera tiled bathrooms to soak at the copper tubs.
[hr gap="30″]
And in the role-playing categories…
For parents who like Masterpiece Theatre
The K Club
Most Americans don't know the history of Ireland's and France's relationship in wine production. Staying at The K Club, a five-star French chateau outside of Dublin is a crash course in a history you will want to savor. The K Club's rooms, though fully modernized, make you feel like the guest of an impressive estate known for its golf but also an art museum in its own right. Even though this resort works well for families, too, its sophistication is incredibly sexy.
Blantyre, Lenox, Massachusetts
Do you and your partner enjoy Downton Abbey? Head to Blantyre in the Berkshires in between Boston and New York, a Gilded Age estate turned Relais & Chateaux hotel. The public spaces and period furniture are worthy of the show's set, and you'll find everyone's wit and charm elevate from such a formal atmosphere. Find your inner Lady Mary and own it.
[hr gap="30″]
For Parents with frontier fantasies
Triple Creek Ranch, Darby, Montana
This all-inclusive resort offers lots to do before retreating to your personal log cabin. Take nature safaris of the Montana landscape to see roaming bison under the big sky or try sapphire panning, fly fishing, and horseback riding. For the ultimate pre-arrival to Triple Creek Ranch, watch Legends of the Fall and vow to grow your hair out like Julia Ormond.
Dunton Hot Springs, Dolores, Colorado
Dunton Hot Springs is an abandoned ghost town that has been salvaged into a luxury resort near Telluride, Colorado. This Relais Chateaux property is an all-inclusive retreat with each party given their own restored log cabin, one of which has its own hot spring inside. For those who seek unlimited outdoor activities including tours to nearby Mesa Verde National Park to see archeological sites of the Ancestral Puebloans' cliff dwellings from 1000 AD.
Which hotel is giving you wander lust?
All photos in this article are credited to the hotels represented.
Miami Area Hotels