Enjoy our list to Santa of the best Christmas resorts and hotels where we want to spend the holiday season.

We've been really, really good. What about you?
Hotels for a City Christmas
New York, Chicago, and London are leading destinations for the holidays for shows, shopping, restaurants, and museums for families. So much show that we have a complete guide just on New York's and London's holiday activities for families.
---
---
The Carlyle, New York
The Carlyle (check your dates & rates) has long been one of my favorite hotels at Christmas long before Sofia Coppola's Netflix special starring Bill Murray (which felt like a present in itself!).
Bemelmans Bar, whose walls are adorned with girls in two straight lines offers a holiday morning tea on December weekends with special guest Madeline. Carlyle suites feel so residential to begin with, it is truly one of the most home-like ways to spend Christmas at a hotel, especially when guest's beds are often made with monogrammed pillow cases.
The Langham Place Fifth Avenue
The Langham Place Fifth Avenue (check your dates & rates) is well located for holiday shopping and window gawking down Fifth Avenue as well as the holiday skating rink and seasonal market at Bryant Park. Families staying at the hotel have easy access to the Empire State Building next door to view one of the country's best light shows year round as well as the Grand Central holiday light show on the terminal's ceiling. The best perks of all are the generous size of the wood-paneled family suites and the Langham's service.
Swissôtel Chicago
The 41st-floor penthouse transforms into a holiday attraction at the Swissôtel Chicago (check your dates & rates) . The Swissôtel Chicago Santa Suite opens December 3rd where the five-room penthouse becomes a holiday showcase with tours, treats, and activities led by elves. Swissôtel Chicago has produced an original tale brought to life in the lobby before heading to the penthouse.
---
JOIN LUXURY HOTELS & RESORTS FOR FAMILIES,
A FACEBOOK GROUP FOR SEEKING HELP AND INSPIRATION
FOR THE BEST LUXURY FAMILY BREAKS.
---
Clara's Bear Isn't Scared is a magical toy adventure that follows its main character from the North Pole to the Santa Suite. Guests who post or tweet a photo of their Santa Suite visit using the hashtag #SwissSantaSuite will be entered to win a number of prizes, including a one-night stay. The Swissôtel Chicago Santa Suite has a varying schedule, and you should contact the hotel for more information. Santa shows up for photos on December 12th and 19th.
[hr gap="15″]
For Texas Christmas Vacations
The Gaylord Texan
Everything is bigger in Texas. The Gaylord Texan in Grapevine near Dallas transforms their giant atrium into the ICE spectacular every winter. Guests by tickets to this event which includes a parka to wear. Temperatures are kept freezing to maintain the giant ice sculpture. Oh, and you can snow tube inside as well.
The perk of this Christmas hotel is its proximity to a massive indoor outlet mall, so it's perfect for a stay to shop for those on your list or a great way to celebrate the post-Christmas sales.
The Four Seasons Dallas
For some Texas-style luxury, the Four Seasons Dallas always rolls out the red carpet for kids, and we saw it—it says "Howdy!" This Christmas resort near the Dallas Forth Worth Airport celebrates the holidays for the month of December with weekend activities for families.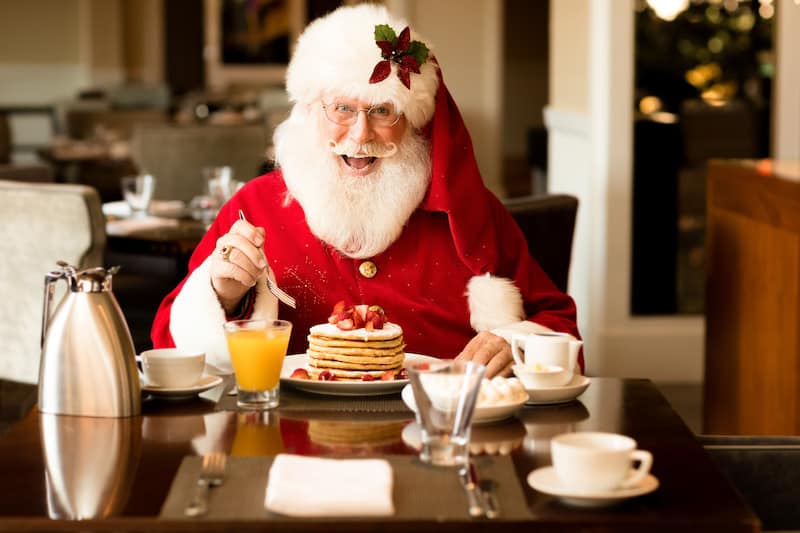 For me, Dallas has always been one of my favorite cities for the festive season to holiday shop. The Four Seasons designed the ultimate family shopping package available until December 22nd that includes complimentary use of the resort fleet of Mercedes Benz sedans to head to NorthPark Center (Dallas' best indoor shopping center).
The package includes deluxe VIP experiences at the mall including tickets to the Christmas trains, a picture package with Santa, and complimentary valet parking.
On the Saturday mornings in December, families can dine with holiday characters for breakfast before their shopping excursion.
Beach Christmas Hotels
Florida, California, Hawaii, South Carolina, and Georgia offer palm tree holidays of every style.
The Breakers
For those seeking holiday serenity and a spa break in the most elegant surroundings, head to The Breakers in Palm Beach (check your dates & rates) where the stunning holiday décor is capable of appealing even to those who don't celebrate Christmas. Two 18-feet high Christmas trees create a true wow factor with more than 25,000 lights under the frescoed ceilings of the historic building. Spa fans take note that the Breakers Spa has a massive newly renovated spa that is beyond dreamy.
Montage Laguna Beach and Montage Beverly Hills
The Montage Laguna Beach and Montage Beverly Hills, both "Legend" properties with Preferred Hotels with exceptional family amenities and children's programs, will create perfect vacations in Southern California. Both properties offer the Montage Paintbox program where children will create a variety of holiday gifts and decorations, and both properties will offer Santa Claus tuck-ins with milk and cookies and a bedtime story. The Montague Beverly Hills (check your dates & rates) will prepare an elegant holiday meal and offer your children a cooking class with the hotel's executive chef team to prep your kids to cook the holiday meal by 2035. Younger guests can also join Chef Patrice Martineau and Pastry Chef Julie Jangali for a hands-on opportunity in a baking classes beginning Saturday, Nov. 7 and also available Nov. 21, Dec. 5 and Dec. 19.
The Montage Laguna Beach (check your dates & rates) offers a gift service where their own elves can select, purchase, and wrap your family's presents so you can spend your days walking on the beach or lounging by the pool. Both properties can deliver personalized stockings to the hotel room for every family member.
[hr gap="15″]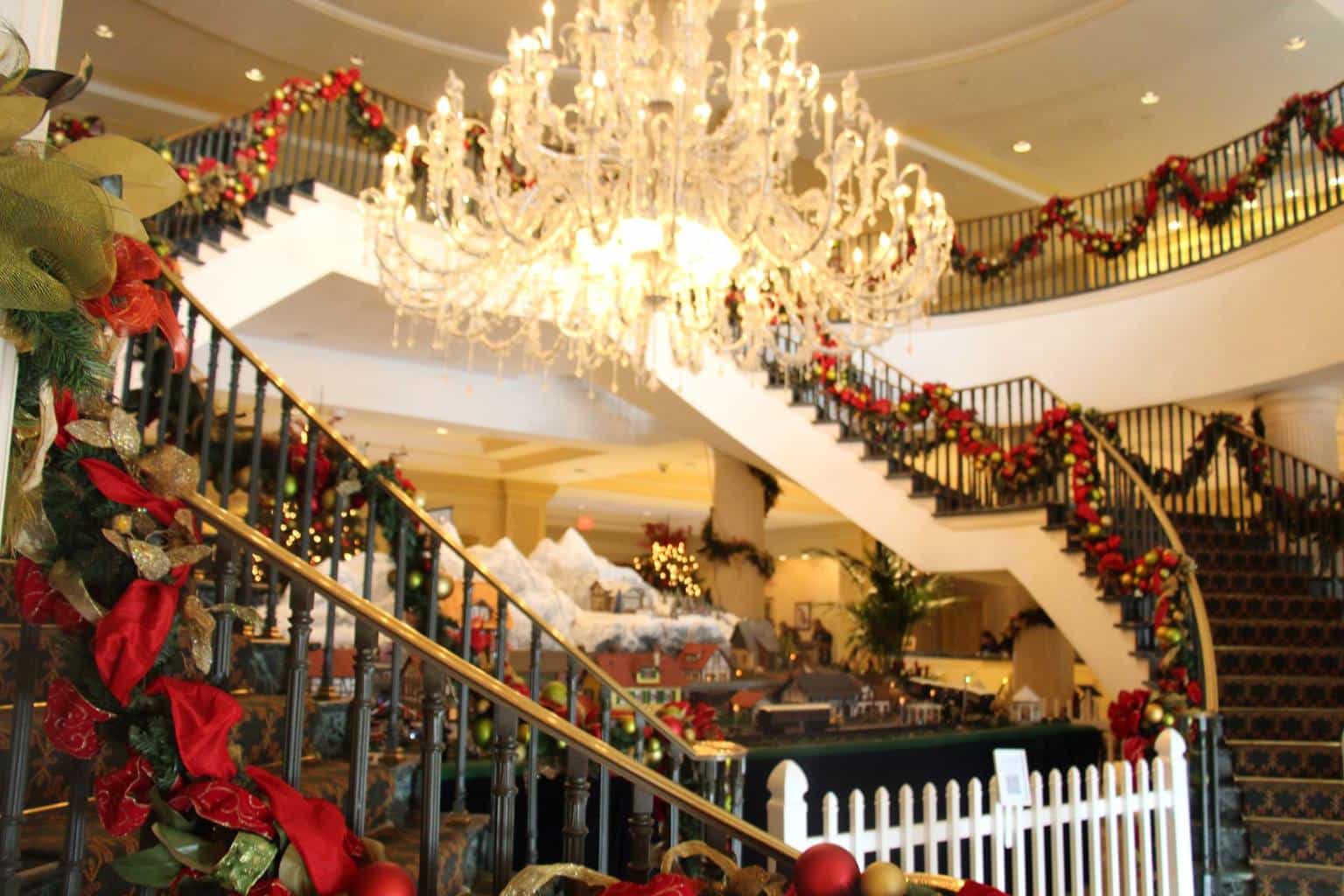 Belmond Charleston Place
Who wouldn't love to stroll the best boutiques in historic Charleston's mild winters? The Belmond Charleston Place (check your dates for rates) is in the heart of the city's best shopping and restaurants, nothing is more than a pedicab away. The Belmond Charleston Place has incredibly generous suites for families, and a club level lounge for snacking all day. The hotel's magnificent lobby staircase is paired with a massive train for the holidays set paying hommage to Belmond's luxury train travel through Europe. The hotel's family friendly but luxurious restaurants will do all of the cooking. Yes, please!
The Cloister at Sea Island
Sea Island on the Georgia Coast tends to go all out with everything they do. Our stay at the Cloister (check your dates & rates) showed how well this resort blends formal with fun for the Lily Pulitzer donning crowds from Atlanta and Texas. Every year, they launch a new holiday theme, Alice in Wonderland and How the Grinch Stole Christmas have been recent themes. Camp Cloister offers theme inspired classes for holiday ornaments, building gingerbread houses, cookie baking, and hat making alongside their nature curriculum. Special family events include a Reindog Parade and a Children's Christmas Party on Christmas Eve in the resort ballroom with entertainment, crafts, and a visits from special guests, Mr. And Mrs. Clause, and a cast of elves.
Disney's Aulani Resort
To celebrate the holidays Hawaiian style, it's hard to beat the family activities at the Disney's Aulani resort on Oahu. No one is surprised to learn how many family activities there are at Aulani. (Read our full review). Families can swim or paddle board in the ocean, snorkel, plunge down waterslides or meander in lazy rivers.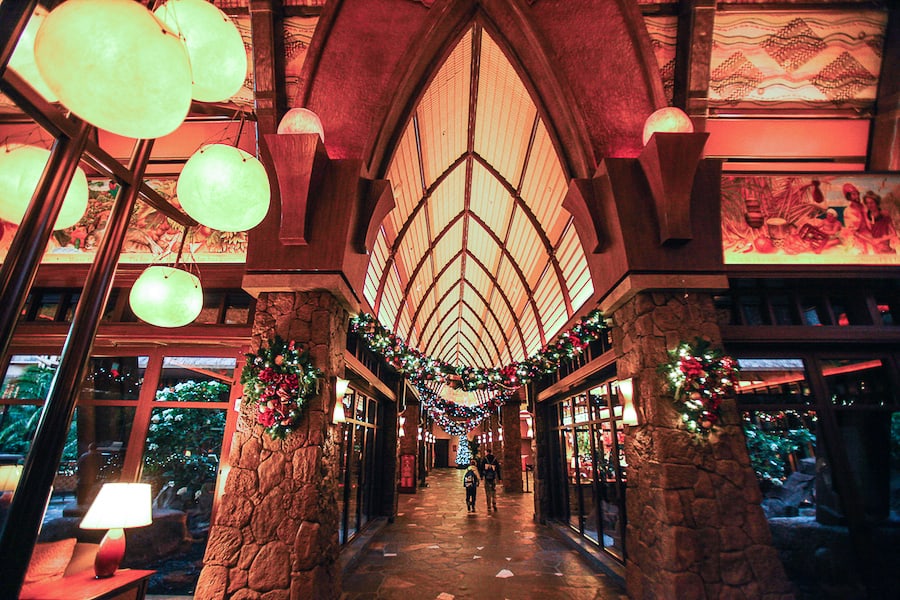 But Aulani offers extensive cultural and creative programming from ukulele and hula, to photography and painting classes. During the holidays, Santa appears as well as some well known Disney friends. Although we love holiday decorations, the art collection at Aulani is the largest contemporary Hawaiian art collection in the world and is worth a close look.
Mountain Christmas Hotels
The East Coast Mountains offer prestigious, historic hotels while the Rockies offer the country's leading ski slopes and glamping.
Omni Mount Washington, Omni Bedford Springs, Omni Grove Park Inn
For an old-fashioned Christmas at America's historic mountain resorts, Omni has your holiday planned along the Appalachian Trail with its red-roofed hotels. In New Hampshire, the Omni Mount Washington (check your dates & rates) offers sleigh rides, snowshoeing, skiing, and an Elf tuck-in at night, and breakfast with Santa and tea with Mrs. Claus.
Further south in Pennsylvania, the Omni Bedford Springs (check your dates & rates) is a Nutcracker winter wonderland, with more than 600 displayed from the world's largest collection, with some over five feet tall. Nutcracker-themed teas and cooking classes for families complete the holiday theme along with meals with Mr. and Mrs. Claus.
In Asheville, North Carolina, the Omni Grove Park Inn hosts the largest gingerbread house competition in the country, on display from November 18th through January 3rd, 2016. The competition is a fundraiser for local charities and has raised more than $125,000 to date from its parking fees. Glad to know one inflated hotel fee is going to good causes. Now, what about those pesky Wi-Fi fees?
The Broadmoor
Surrounded by the Colorado mountains, The Broadmoor, a Legend property with Preferred Hotels & Resorts, in Colorado Springs, takes the holiday season to new heights with a gingerbread replica of the hotel's iconic main building, elegantly decorated trees throughout the hotel, and visits from Santa himself.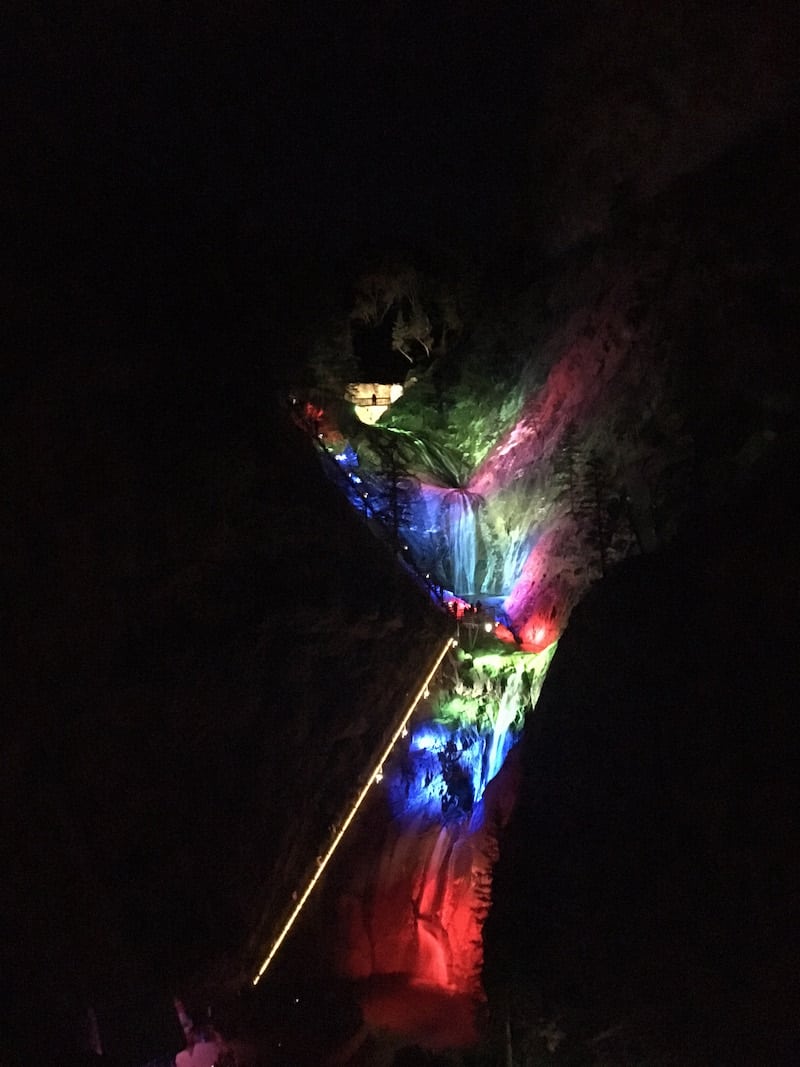 The holiday spirit doesn't end when guests head outside, with the famous Broadmoor Seven Falls welcoming visitors to 'The Grandest Mile of Scenery in Colorado'. Seven Falls is the only waterfall in Colorado to have earned a spot on National Geographic's list of International Waterfalls. For the holidays, enjoy the views with more than 100,000 individual holiday lights during the winter season.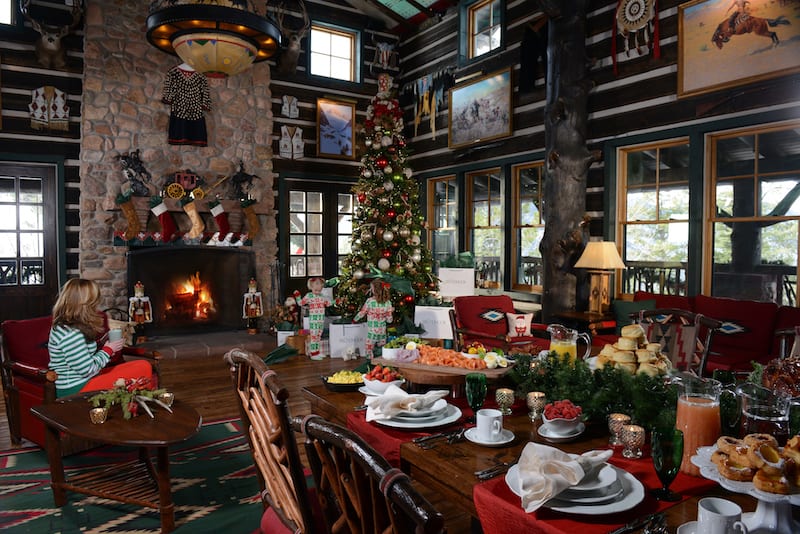 The most exclusive offering at the Broadmoor is a private holiday and buy out Cloud Camp, a mountain top Wilderness Lodge.
But at the main resort, guests enjoy traditions like The Broadmoor Holiday Show, a night of festive cabaret headlined by Debbie Boone. Gen X-ers will know her as the songstress behind "You Light Up My Life." She won the Grammy for best new artist of the year, which Adele, Carrie Underwood, Meghan Trainor also won.
The Resort at Paws Up
The Resort at Paws Up (check your dates & rates) offers a luxury ranch or glamping vacation in Montana. But for Christmas, their goal is to bring a Winter Wonderland to life.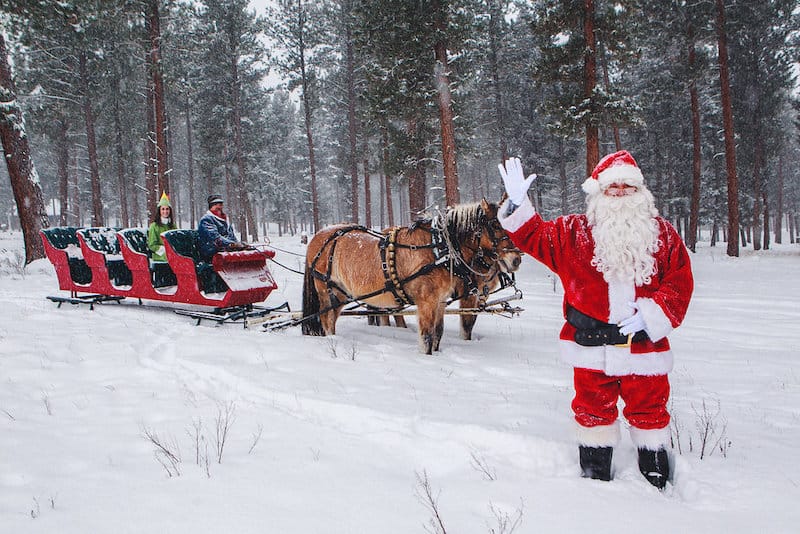 Each family's accommodation, a stand alone cabin, is given a Christmas tree or Hanukkah Menorah, holiday movies, and a visit from Santa Claus with presents for the kids. Extra nice, the resort includes roundtrip airport transfers and $500 resort credits (per person!) to tailor a stress-free adventure.
Cross-country skiing, snowmobiling and tubing, horse-drawn sleigh, ice-skating, dogsledding provide the fun. 
Their all-inclusive Christmas package includes a traditional feast and all other meals. Your family's own "personal Santa" whom I assume is a trained life coach stays on hand ready to keep the peace between siblings young and old.
The Greenbrier Resort
To experience a more formal mountain resort designed for Christmas, head to the Greenbrier (check your dates & rates) a few hours from Washington DC in West Virginia. Those who await the MacKenzie-Childs catalog must go on a sacred design pilgrimage to see Dorothy Draper's timeless masterpiece of black, white, red, pink, and green. The holiday events culminate at the Gingerbread Ball on Christmas Eve. Family buffets, live music for dancing by the Sugar Plums Quartet, caricaturists, strolling puppets, Nutcracker Ballerinas, balloon artists and Mr. and Mrs. Claus celebrate with you.
St. Regis Aspen
The ski village of Aspen celebrates the holidays with a 12-day program and the best base to enjoy it all is the St. Regis Aspen (check your dates & rates) whose tree lighting becomes a festive community event on December 19th.
The hotel pastry chef creates a gingerbread replica of the St. Regis (this year built to look like an ice castle) on display and children learn about gingerbread house design from the St. Regis Pastry Chef.
On Christmas Eve guests gather for a special reading for the holiday classic 'Twas The Night Before Christmas by Santa Claus, who, after the reading, greets children and poses for photos. Other festive activities leading up to Christmas include cookie, stocking, and ornament decorating, as well as carriage rides through the snowy streets of Aspen with Santa Claus. Morning teddy bear story hours at the Aspen Historical Society and skiing and snowboarding instruction can fill your days with family fun.
[hr gap="15″]
Fairmont Scottsdale Princess
One of the most ambitious Christmas programs is the Princess Festival at the Fairmont Scottsdale Princess, (check your dates & rates) where a desert resort transforms into a six-week winter wonderland with an ice-skating rink, petting zoo, magic snowfalls, and a Selfie Elfie determined to photobomb your family photos.
The Princess Express Train offers rides through a lagoon decorated with millions of lights, 14-foot poinsettias, swans, a candy cane forest, and of course, a 30-foot Loch Ness Monster. Yes, Please. Scottish Highlands, the North Pole, it's all good.
If that weren't enough, there will be a S'mores Land and a Christmas carousel every night along with an 88-foot narrated light and music Nativity show. Given the Fairmont Scottsdale Princess becomes a popular holiday destination for locals too, resort guests should think ahead and book dining reservations for all key holiday meals in advance.
[hr gap="15″]
The Best Christmas Hotels at Disney World
Many families head to Disney World for Christmas. Too many. The decorations are magical, but the crowds, to me, are not. We love visiting in the middle of December when things are relatively quiet and can attend one of the last Very Mickey Christmas Parties with reduced crowds. We would never even consider visiting during the holidays without booking a VIP guide, and we explain everything you need to know about the Disney guides and private companies.
For Disney Lovers:
The Cabins at Copper Creek
Disney's newest accommodations are also currently there most luxurious. The Cabins at Copper Creek are standalone and unique accommodations at Disney's Wilderness Lodge. The Wilderness Lodge has long been a favorite Disney resort for a true Christmas feel. The theme of the Pacific Northwest and America's great National Park lodges makes you think of evergreen Christmas trees anyway. Guests lounge around the lobby's giant stone fireplace with warm beverages.
The Copper Creek Cabins sleep eight and offer a cathedral ceiling living room, kitchen, and dining area. A screened-in, wraparound porch separates you from Bay Lake. And no matter how cold Orlando might get during the holidays, families have the option to get in their private hot tub on their deck while watching fireworks. Additional family can book studios and guest rooms in the main lodge and use the cabin as the convening space.
Guest can order decorated Christmas trees through Disney's floral and gifts. And those staying through New Year's Eve are a short boat ride away to the Contemporary Resort which hosts a large family countdown event in it's ballroom.
For Luxury Seekers:
Four Seasons Orlando at Walt Disney World
For Disney-bound luxury travelers who prefer non-polyester bedding, the Four Seasons Orlando at Walt Disney World (check your dates & rates) is hard to beat at Christmas. The free kids program, Kids For All Seasons, offers a variety of holiday-themed activities, movies, and story time.
The fun isn't limited to the younger guests; mixology classes, wine mixers, and cooking classes round out the holiday plan for adults. Ice cream is serious business here, with two different ice cream shops stocked with holiday flavors like crushed candy cane.
Both of the main restaurants, Capa and Ravello, will offer holiday fare, but the star of the resort is the massive multi-pool and waterslide area, Explorer's Island, designed with many private nooks to make it serene and exclusive, regardless of the hotel's occupancy.
The top floor suites can be combined for a master 9-bedroom family complex complete with butler service. Your suite butler can wrap presents, decorate for the holidays, and arrange for hot cocoa service after every dip in the pool.
Let us know if we can help you plan an over-the-top holiday.
All photographs courtesy of their hotels or taken by the author.