The Omni Mount Washington Resort is one of the most quintessential New England resorts to experience a historic grand hotel. The Omni Mount Washington is part of the Bretton Woods ski complex that also includes a lodge and a more intimate inn.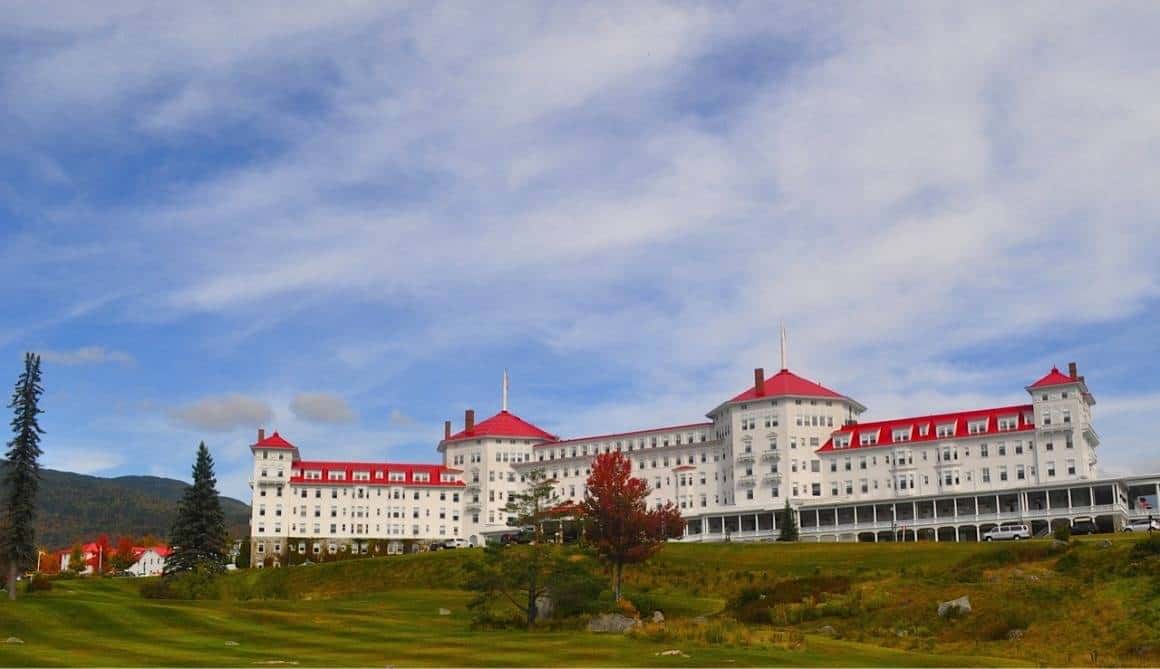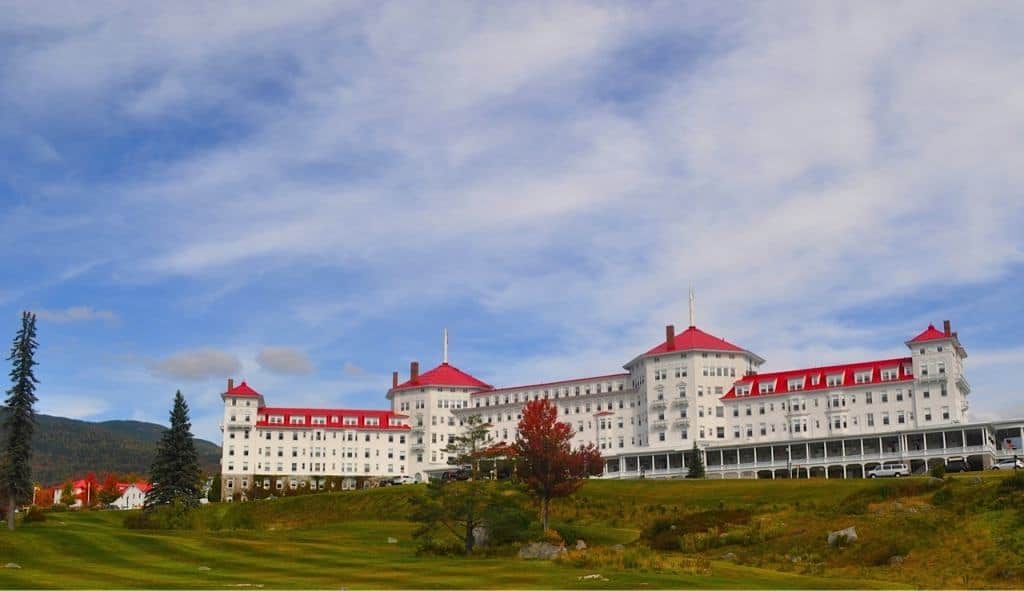 The resort's white building and red roof contrast from its mountain setting, making a lasting impression when you first see it from your car.  The lobby and great hall are equally impressionable and have been wowing guests since 1902. (Check your dates here for rates.)
Mount Washington Resort Location
Mount Washington is the highest peak in the state of New Hampshire (and New England), and the resort is not far from its hiking trails or the popular drive up the mountain. Older model Subarus around Boston frequently sport the bumper sticker "This car climbed Mount Washington." Most people who come to the resort will stay on property, though Story Land and other family attractions — most of them train-themed — are around. North Conway is the largest town nearby with restaurants and outlet shopping, but it is still about an hour away.
For families, the Omni Mount Washington is an ideal multigenerational destination. Two parents I spoke with during our visit were vacationing with the grandparents, too. The hotel was the site of the international meeting that established the World Bank and International Monetary Fund in 1944.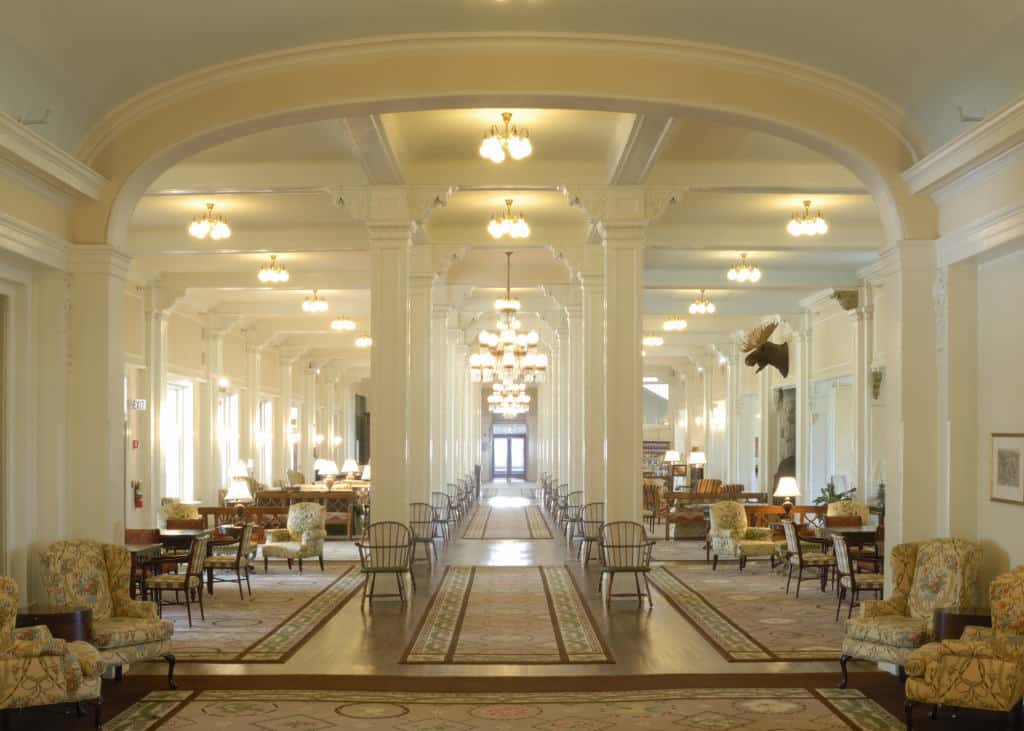 Only empty nesters would have the free time to enjoy the hotel's daily historic tours, so I'll have to add that to my list of other activities I hope to do one day—after sleeping in and reading a newspaper.
Omni Kids Backpacks and other amenities
After the front desk staff presented my children with Omni backpacks, it took us over an hour to reach our room because my kids were so eager to explore the porch and its views, play at the checkers table in the great hall, drink the watermelon-infused water, and stare at the moose hanging above the fireplace.
Best Family rooms
There are many great room categories for families. We had a beautiful corner room with two queens and plenty of space for a roll-away bed, too. There are larger family suites available for more privacy. The hotel has one unique family suite with a master bedroom and sitting room with two different twin bedrooms off the living area, one decorated for a boy and one a girl, yet both are really gender neutral. This deluxe family suite would make a very magical vacation.
The Omni Mount Washington was built when en suite bathrooms were a recent luxury, so the bathrooms are smaller than the standard set by today's deluxe resorts. The doors don't always close well because of their age, but the beds are incredibly comfortable and the fireplaces are controlled by a remote. The hotel delivers cookies and milk to welcome children to their hotel rooms at turndown service. The decor is grand, traditional New England in all of its glory, many moose and all.
Omni Kids Club
We called ahead to ask if the Omni Kids Club was in session during the week in the fall. We were delighted to receive a letter at check in from the head of children's programming who informed us that they would make the kids' club available to our children exclusively the next morning so that my husband and I could visit the spa.
The Omni Kids Club room was well stocked like an organized preschool room, with the exception of the large screen television and Wii game system. There was a counselor for each of my children, and they were well cared for and entertained with bracelet making, board games, and Finding Nemo. We have not used many kids clubs because my youngest is really just recently old enough to participate, but this experience was stress-free for us.
The lower level of the hotel has an arcade, a toy store, a candy shop, and bakery. In between building our kids' plush toys and playing in the arcade, I left my purse out in the middle of the hotel's hallway (while I was distracted picking up my toddler's shoes, socks, and pants he had just removed). A staff person tracked me down within seconds and returned it to me.
Family Fun at the Mount Washington Resort
There are many seasonal activities for families to participate in during both the summer and ski seasons.  Zip lines, go carts, a playground, indoor and outdoor pools, barnyard interactions entertain for the warmer weather. The resort kicks into high gear with snow related activities: cross-country and alpine skiing, kids snowmobile driving, tubing, and winter clinics for three-year-olds and older. Children even have their own after-ski parties on Saturdays in the peak season.
The resort must really shine as a Christmas and holiday destination. Staff informed me there are families who spend every Christmas at the resort, taking huge blocks of rooms just as it was done back in the turn of the century. I would think the great hall would be stunning decorated for the holidays. The resort offers several special touches besides the main meal with Santa Claus. There are Mrs. Claus teas for children, but best yet, hire Santa's elves to arrive at your room with plush moose toys and have them tuck your kids into bed after a reading of 'Twas the Night Before Christmas.
Mount Washington Resort Spa
Parents who enjoy spas will be impressed with the new building from 2009. The design of the space is wonderful for a full day's rejuvenation. There are individual lounges and facilities for men and women but also a coed lounge adjacent to an outdoor sitting area and Jacuzzi. The spaces were so beautiful, it made you really want to linger. There was a hair and nail salon attached, too, that does provide children's services, but the spa is a wonderful adults-only haven.
The fitness center is a bit of a let down after the impressive spa, a basement room with older equipment and uninviting lighting. Parents should plan on doing their cardio workouts outside. Six laps of the hotel's porch is a mile, and the views and fresh air are hard to beat for strolling a baby to sleep.
We were only able to try one of the resort's restaurants, Stickney's, during our visit. It is the more casual option if you don't feel your children can handle the main dining room's more formal atmosphere. The service and their willingness to accommodate our children were more memorable than the food itself. They had no vegetables to offer children as sides except carrots and celery sticks. I concede that I didn't get to try the real foodie options at the resort, though: the resort's main dining room or the smaller Omni Bretton Arms Inn next door. Both would accommodate children, but I had a toddler who had refused a nap, and I couldn't risk a meltdown and ruined meal.
The Omni Mount Washington Resort goes to great lengths honoring the natural setting it occupies. Each room is decorated with photographic prints of flora and fauna from the property, and on the bottom of the frame is a map to show you where to find these plants, the same ones used in herbal mixtures of the spa's products. The hotel customized the carpets of the great hall and lobby depicting these local plants, too.
It is with this attention to detail that the Omni Mount Washington is a great fit for the outdoorsy family or parents interested in historic properties, which is why it makes such an ideal multi-generation destination. Grab the extended family, book your block of Christmas rooms and get ready for Santa's little helpers to tuck you in.
Check your dates here for rates.