My favorite museum in Los Angeles is LACMA. LACMA is very welcoming to children and even has a NEXTGEN program which means that kids under 17 get in free, as does one adult companion. LACMA also has free programs for kids on weekends where kids can learn about artists and make their own art.
We have attended many Andell Family Sundays. LACMA also has the Boone Children's Gallery which teaches children about paintings and lets them learn hands on. LACMA has a great "foodie worthy" restaurant (Ray's) that is kid-friendly to the extent that they don't mind if you bring your kids.
There is also a snack bar and café for children who are less inclined to sit for a meal.   LACMA also offers free jazz music – check the website for times and dates www.lacma.org.   Note that you need to make reservations and buy tickets (even with a NEXTGEN pass) for special exhibits. There's plenty of parking under the museum.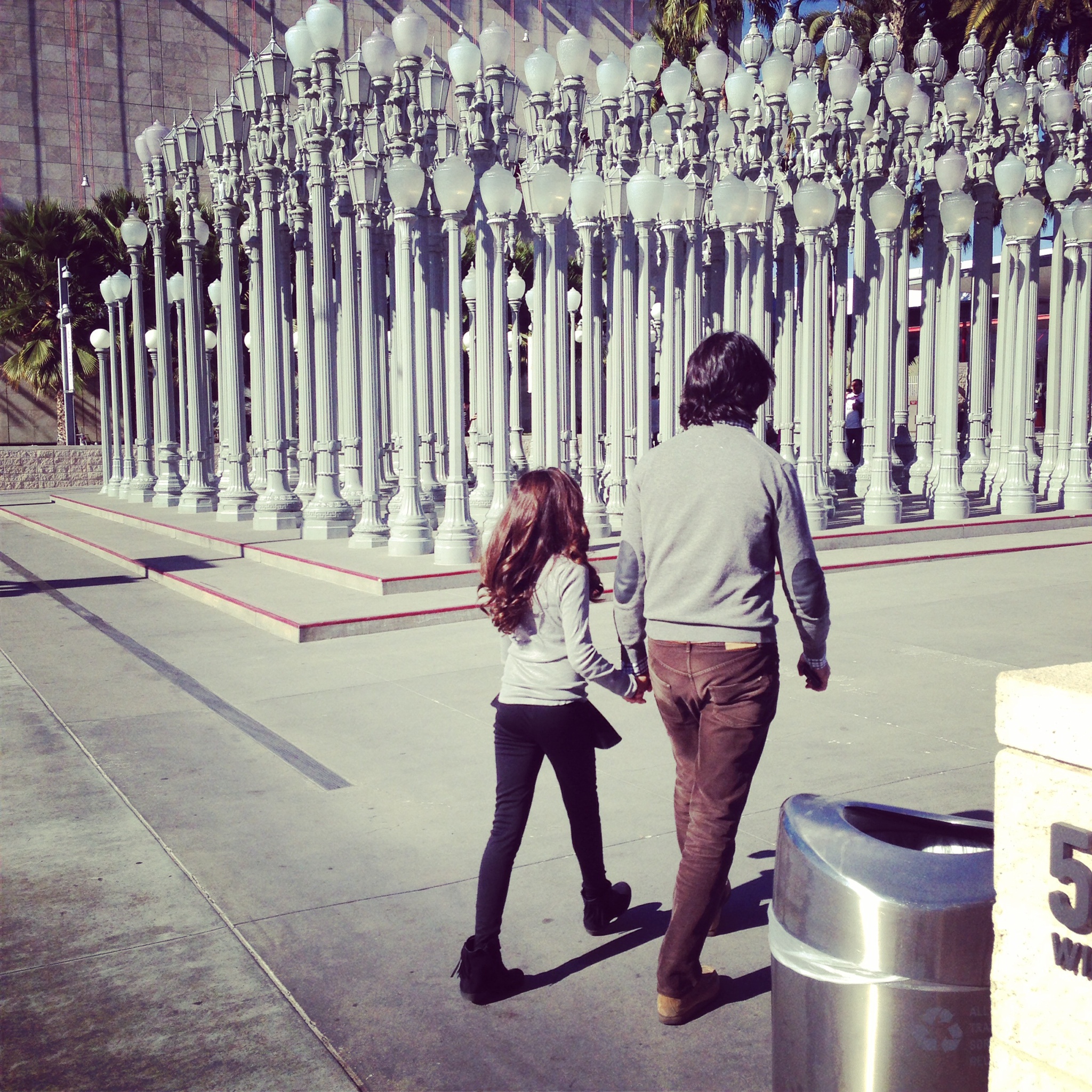 The Getty is probably the most famous museum in Los Angeles, but I have heard connoisseurs express disappointment with the collection.   For me, the views from this architectural wonder of a museum are worth the trip alone. Be prepared for lines if you go during holidays or weekends in the summer.   This is a great museum for kids – mine even get excited about the tram ride up to the museum and love running around outside.
You could spend hours laying on the perfectly manicured grass and or enjoying an afternoon playing in the stunning garden designed by Robert Irwin and not even bother entering the museum.  The Getty has an excellent restaurant, The Restaurant, with locally sourced ingredients and sweeping views, but you need a reservation. The Café is self-service and more casual. They also have concessions with food where you can buy a light snack. Admission is free, but parking has a fee. Closed Mondays.
Though this is a Jewish Museum, the Skirball Cultural Center is a great place for people of all beliefs. Most are drawn to the permanent exhibition, Noah's Ark. Young children will enjoy this interactive, 8,000 square foot, floor-to-ceiling experience. Noah's Ark has life-sized wooden animals that children can touch.
Skirball has a wonderful children's performance series during the summer, and hosts a Hanukkah festival. Thursdays are free, but you almost always need a ticket for Noah's Ark. Dress your kids for climbing. You might want to bring a camera with you because it is a little too dark in Noah's Ark to take good photos with your smart phone.  Zeidler's Café is a wonderful restaurant, and there is ample, free parking.
Less of a tourist attraction than other museums in Los Angeles, the Norton Simon Museum boasts a high caliber and varied collection. It is a beautiful little museum located in Pasadena and is an excellent option for well-behaved children to see big named artist in a serene environment.
The Langham Huntington: Art, Tea, and Teddy Bears in Pasadena
Many genres are on display, there is an extensive Asian art collection, and the museum also has European art from the 14th-through the 19th centuries as well as Modern and Contemporary art. My children loved the sculptures and recognized Picasso, Degas, Van Gogh. The sculptures garden is very calming and has an incredible variety of plants. The entire museum can be seen in a half day.   Closed Tuesdays. Children are free. Parking is free.
We love the Four Seasons Los Angeles at Beverly Hills as a central location to enjoy all of these museums.