Photos and additional reporting by Robin Hutson.
When it comes to luxury family hotels, no other city in the world has more per square mile than London. London has the perfect hotel for every traveler's taste, and because these are the best family hotels offered, none of them skimp on luxury.
Want to feel like you've stepped onto the set of Downton Abbey? Is London's hip style more your cup of tea? We've got you covered.
Lavish appointments, indulgent dining and flawless English service is on the menu at each of these London accommodations. From tails-clad butlers to room-prepared Cosmos, it's easy to see why London is the ultimate destination for families who want the royal treatment.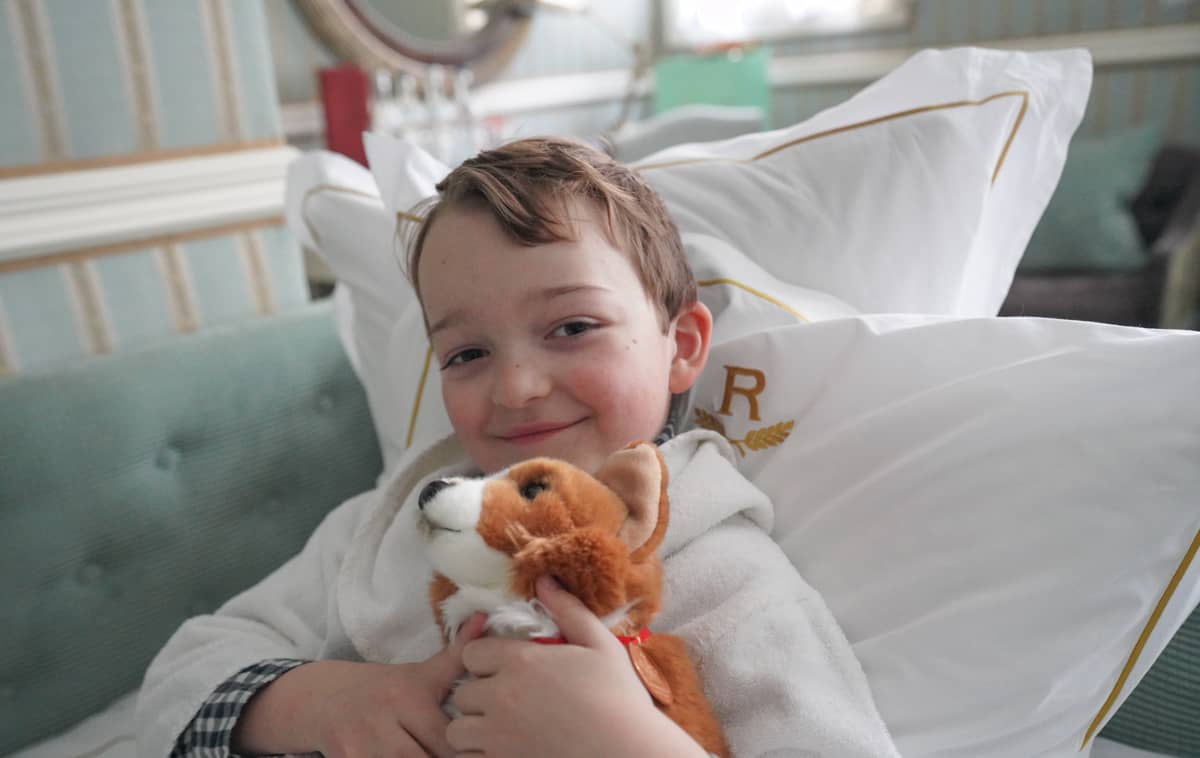 Where to Stay if You Want Your Martini Shaken, Not Stirred. London Hotels With a Sophisticated City Feel.
JOIN OUR LUXURY HOTELS & RESORTS FOR FAMILIES,
A FACEBOOK GROUP FOR SEEKING ADVICE AND INSPIRATION
FOR THE BEST LUXURY FAMILY BREAKS.
Rosewood London
The Rosewood London is located in a restored Edwardian mansion in Holborn, steps from the British Museum and within walking distance of Covent Garden. A specular hotel cloaked in marble and history, The Rosewood seamlessly captures the feel of an intimate country house with the sophistication of a chic city hotel.
Wildly popular with families due to the spacious rooms, a one or two bedroom suite or adjoining options, The Rosewood pulls out all the stops to welcome children. Younger guests are welcomed with a personalized letter, activities, toys, and even spa treatments tailored to them in the hotel's Sense spa.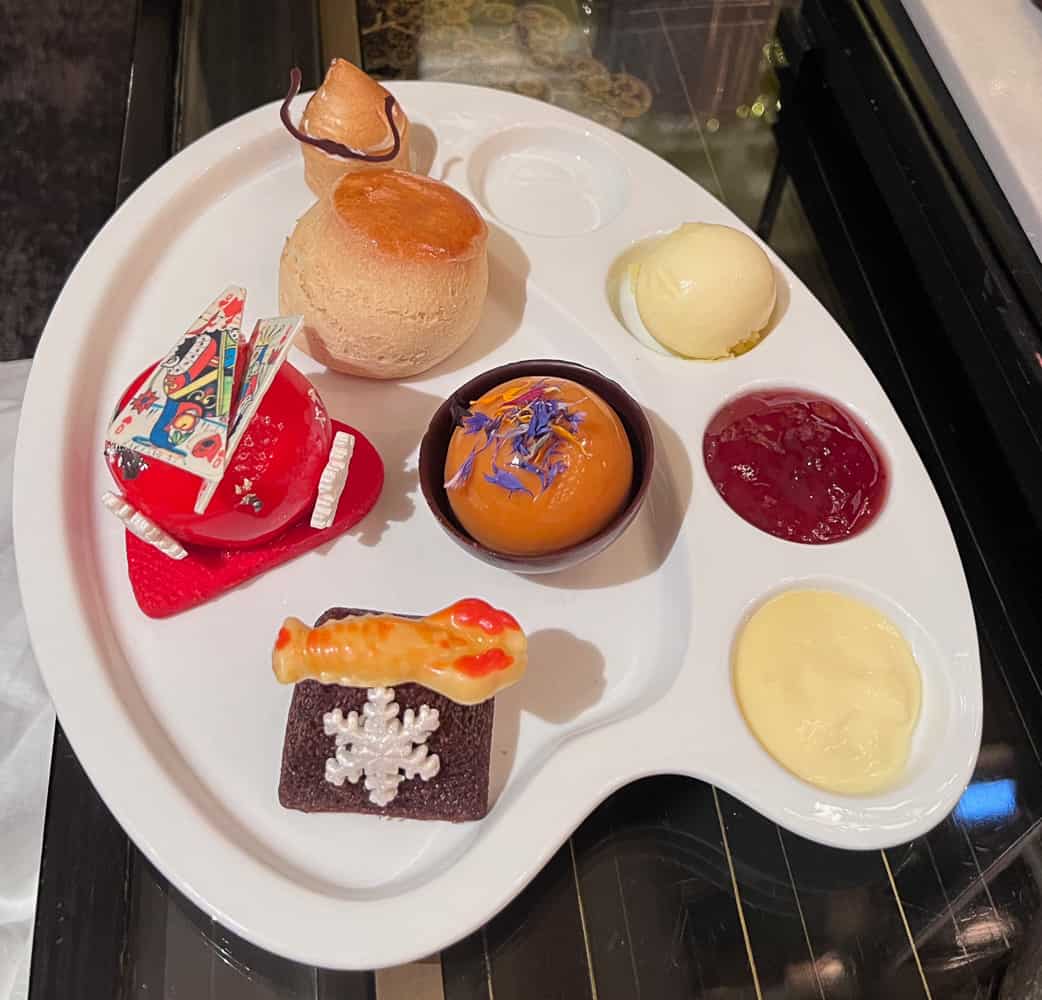 Three dining spots: Scarfe's Bar, The Holborn Dining Room and the Mirror Room offer everything from craft cocktails to fine dining. The Mirror Room's afternoon tea is themed around current art exhibitions in town, and they look too beautiful to eat. And yet we managed.
The hotel's outdoor courtyard is bliss for families to unwind on a sunny day after city exploring.
The Corinthia
In the heart of London within walking distance of Trafalgar Square and the houses of Parliament and the theaters of the West End is The Corinthia, a luxe contemporary-style hotel with some of the most spacious rooms and suites in the city. Décor is luxurious, yet understated in muted tones of grey and blue; many rooms have balconies with views of the London Eye and specialty suites each have private outdoor terraces with spectacular city views. For the ultimate indulgence, stay in the Royal Penthouse, a sprawling retreat with its own spa and wine cellar.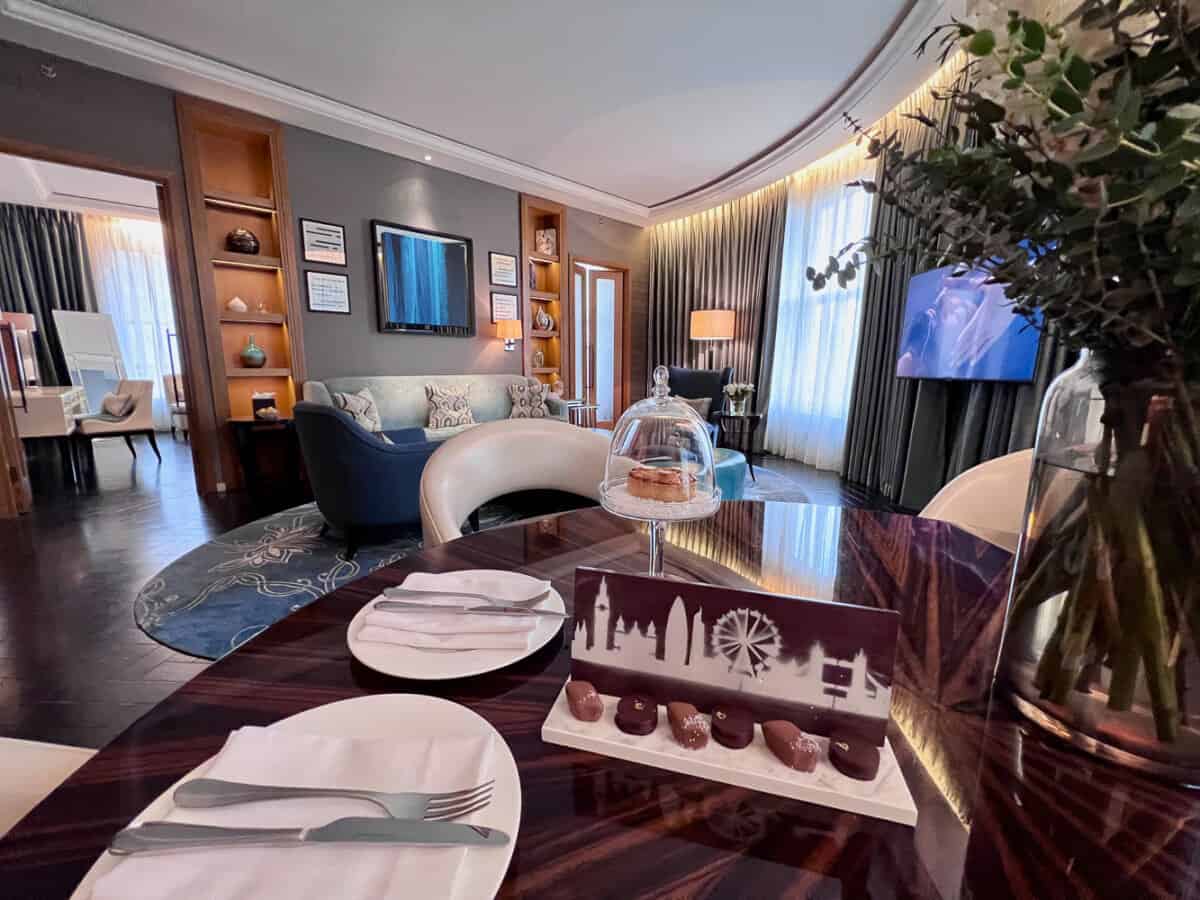 The Corinthia is home to one of the best spas in the city, ESPA Life, a four-story facility complete with indoor swimming pool, thermal suite, ice fountain, and fitness centre. Pamper yourself in one of the spa's seventeen treatment rooms or spend a day of wellness with one of the on-staff acupuncturists, physiotherapists or nutritionists. Personal trainers offer complimentary bootcamp classes, and they are a true workout.
For families, an on-call family concierge coordinates family tours and children's activities. In-room amenities include video game consoles, toys, and soaking tubs with built-in TVs.
Shangri-La at the Shard
If city views are a priority on your next trip to London, you can't do better than the panoramas at the Shangri-La Hotel at The Shard. Located on the 34th to 52nd floors of London's most iconic skyscraper (and Western Europe's tallest building), the Shangri-La Hotel at The Shard was also the setting for the film Spiderman: Far From Home. Unparalleled city views that would even leave a superhero weak-kneed are the calling card of this sleek hotel.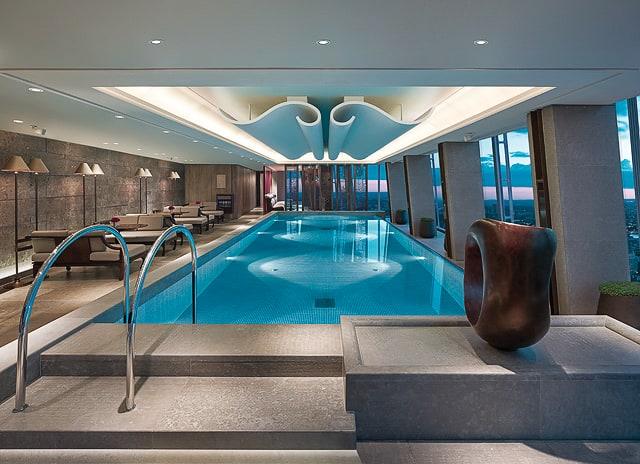 Hotel rooms are modern and luxurious, though they can feel rather corporate. Fans of contemporary design will love the minimalist décor where the city views are the real star. With kid perks like cookies and sweets upon check-in and discounted dining, the hotel offers plenty of appeal for younger guests. And no stay here is complete without a dip in Western Europe's highest infinity pool, located on level 52 of the hotel.
Four Seasons Trinity Place
Located adjacent to the Tower of London and Tower Bridge, this Four Seasons property is in a grand Neoclassical building that once housed London's Port Authority in central London. The Four Seasons Trinity Place oozes a clubby sophistication that would make James Bond feel right at home. Dark wood, houndstooth checks, even the in-room gin bottle seem tailor made for 007.
The hotel's city vibe and hushed public spaces might be better suited for older children, but the hotel's generous sized rooms and junior suites with sleeper sofas are perfect for families of all ages. With modern bathrooms cloaked in marble and every amenity at the touch of an iPad, this hotel embraces the best of cutting edge city luxury. If your children do not want to squeeze into a sofa bed, a connecting second room can be guaranteed.
London, Baby! Where to Stay for Savvy London Style

When Only the Hippest Will Do
Ham Yard
Funky, eclectic and hip, The Ham Yard, designer Kit Kemp's ninth and largest hotel, is a haven for travelers in the heart of busy Piccadilly Circus. Tucked away on a quaint courtyard in Soho, the hotel's vibrant interiors focus on bright colors, strong patterns and a world-class art collection. This is a five-star luxury hotel that doesn't take itself too seriously.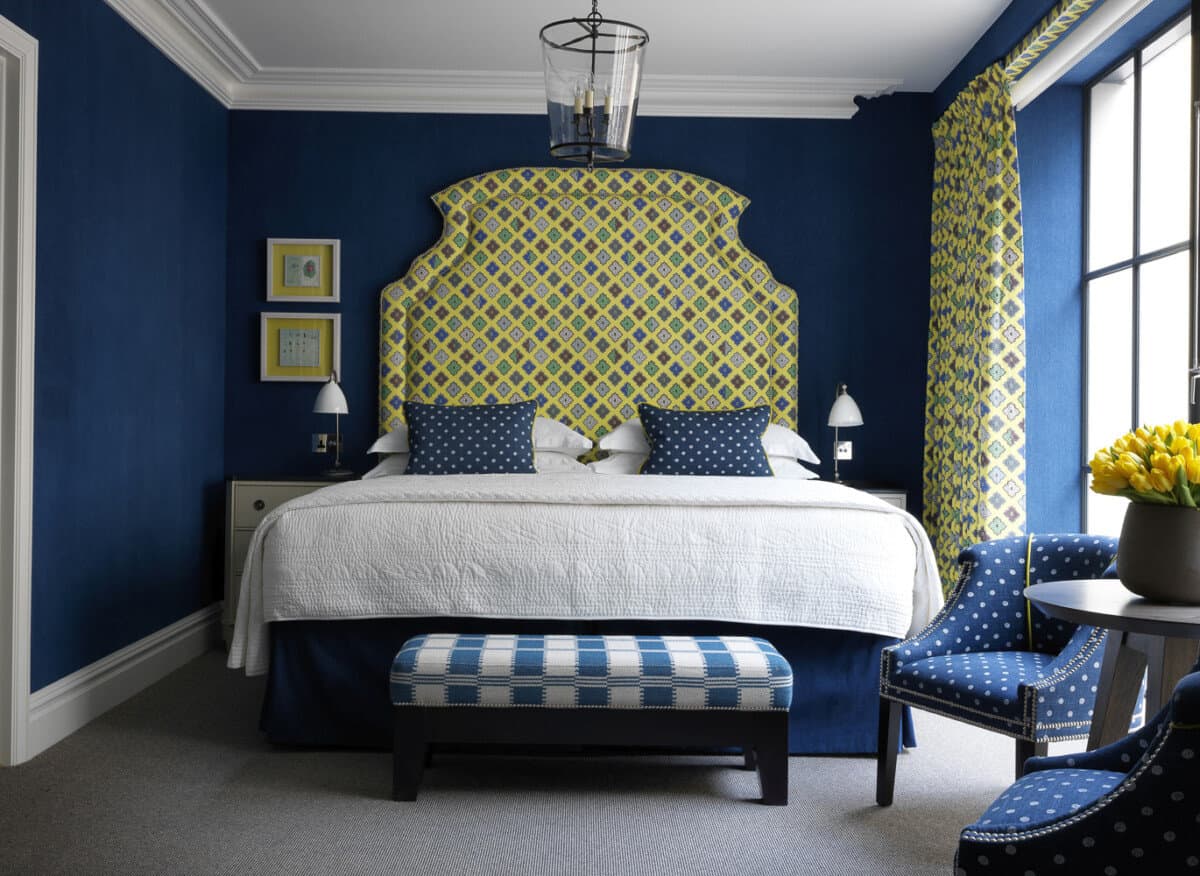 Every room has a different design and offers a new experience for every stay. Family rooms are spacious with pull-out sofas and the option of adding a rollaway bed. Bathrooms are large, modern and feature Kemp's signature toiletry line, Rik Rak. Child-size bathrobes, books, games, and bedtime milk and cookies are just a few of the amenities available for families.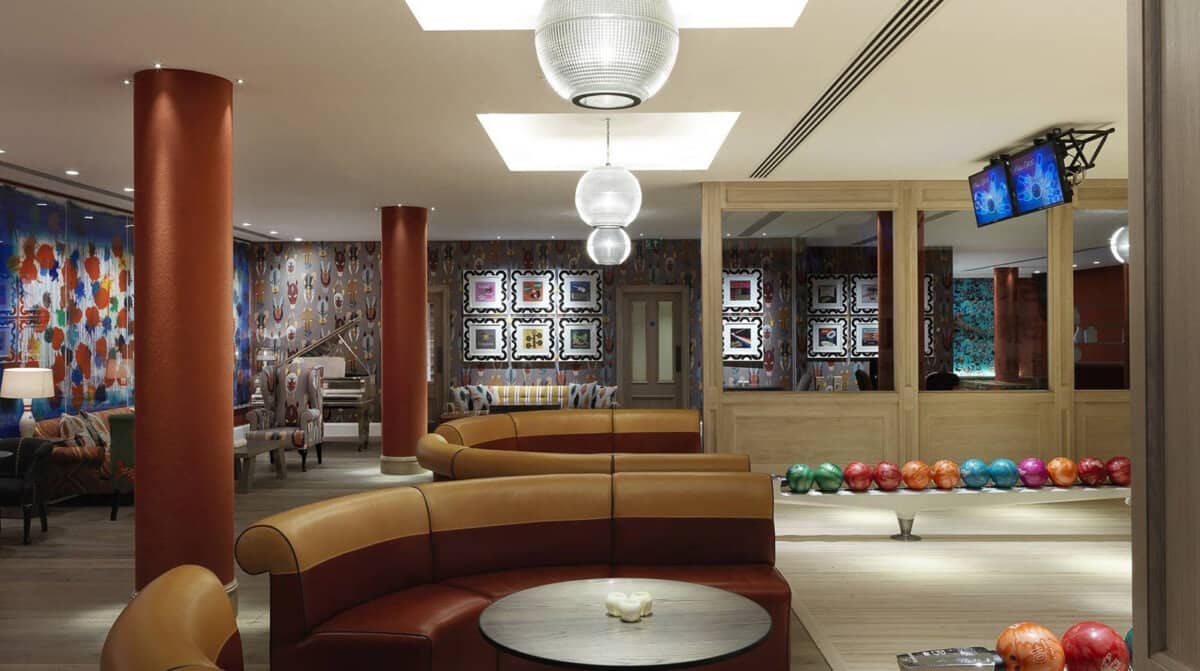 The Ham Yard's cool vibe extends to the lower-level public spaces, where a 176-seat cinema and gleaming 1950s-era bowling alley offer after-hours fun for families. A highlight of the hotel is the fourth-floor roof terrace and gardens which are home to resident bees that produce the hotel's honey. The extensive vegetable, flower gardens and lounge area offer the perfect spot for relaxing with cocktails and gazing out across the city skyline.
Brown's Hotel
A Rocco Forte Hotel, Brown's Hotel in Mayfair is renowned as one of London's best bets for a luxurious, family-friendly accommodation. The hotel's storied history (Bram Stoker, Theodore Roosevelt and Alexander Graham Bell have all been guests) gives the hotel an authentically English feel with all the appointments of a modern, 5-star hotel. Décor is eclectically traditional, and doesn't skimp on style. Despite the vast choice of accommodation among the 115 rooms and 33 suites, Brown's Hotel maintains a level of intimacy that is usually found in smaller boutique hotels.
Rocco Forte hotels are known for their kid-friendly amenities, and Brown's is no exception. Rooms can be outfitted with cribs, toys, gaming consoles, and children's books. A teddy bear turndown service, customized spa treatments and even a picnic in the park can be arranged at a moment's notice.
Dining at Brown's offers a wide variety of British classics and nouveau cuisine. Charlie's restaurant serves traditional fine dining in one of the most stylish dining rooms in all of London, while Donovan's Bar attracts fashionable tastemakers with their inventive cocktails. The hotel's Drawing Room offers a traditional afternoon tea that is consistently rated one of the best in London.
Athenaeum Hotel
The Athenaeum is an award-winning, independent hotel with a great location in Mayfair, facing Green Park, just steps away from Hyde Park Corner. The hotel's contemporary feel will appeal to travelers who love sleek modern décor and minimalist luxury. Standard rooms at The Athenaeum feature large windows, comfortable bedding and marble-clad bathrooms. The real draw for families is the hotel's 18 private residences, housed in Edwardian row homes adjacent to the hotel.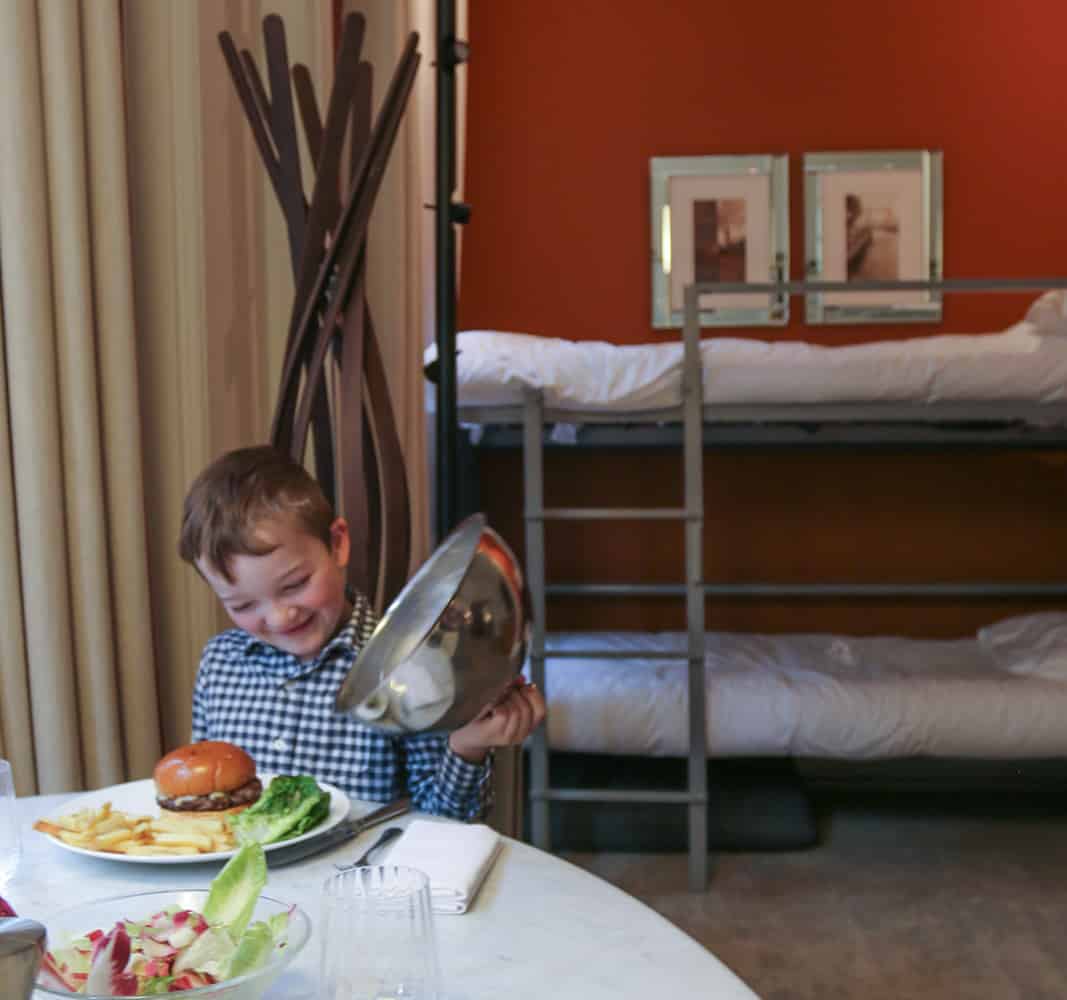 Every apartment features a dining and sitting area, washer/dryer and small kitchen. One-bedroom suites have king-sized bedrooms and tucked-away bunk beds for kids. Extra rollaways are available on request and some apartments are interconnecting for larger families or groups.
The Athenaeum's buzzing lobby has multiple lounge areas and the on-site restaurant offers a British-inspired menu for breakfast, lunch and dinner, plus afternoon tea. Within walking distance of all of London's major attractions, and across from three parks, The Athenaeum is a great choice for families looking for more space in the heart of the city.
Taj 51 Buckingham Gate Suites and Residences
Taj 51 is the London edition of the Indian hotel company and is made up of three grand Victorian townhouses an easy walk from Buckingham Palace. Décor exudes modern luxury with Indian-inspired touches. It's a great choice for large families. Taj 51's suites and residences range from one to six-bedroom layouts, each fully equipped with a living room and kitchen.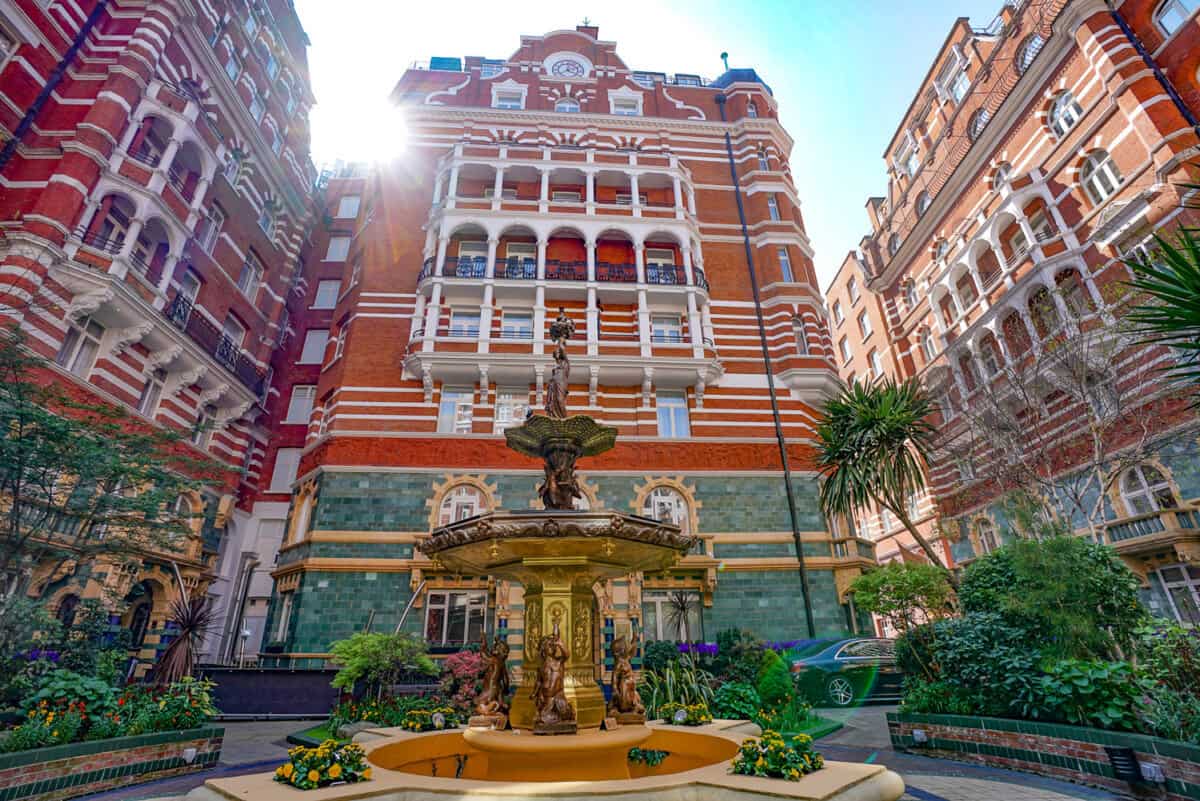 The hotel has a complimentary kids program called Kids @ Taj which includes a personalized welcome, a special goodie bag (with a Taj teddy and activity books) on arrival and a Taj passport for stamping as kids take part in a series of bespoke activities. At bedtime, little ones can also enjoy cookies with marshmallows and hot chocolate.
The hotel is home to three acclaimed restaurants (including Michelin-starred Indian restaurant Quilon) and an award-winning spa. Every restaurant has menus tailored towards children, while Taj's Alice in Wonderland Afternoon Tea is a particular favorite with younger guests.
All Hail! Where to Stay If You Want to Feel Like Royalty
Rubens at the Palace
Located opposite the Royal Mews at Buckingham Palace, Rubens at the Palace is the closest you can get to being neighbors with the Queen herself. The Edwardian-era hotel has kept an elegantly traditional feel, while also playing on its close vicinity to the Palace with monarch-themed rooms and a few extra touches celebrating the British Royals.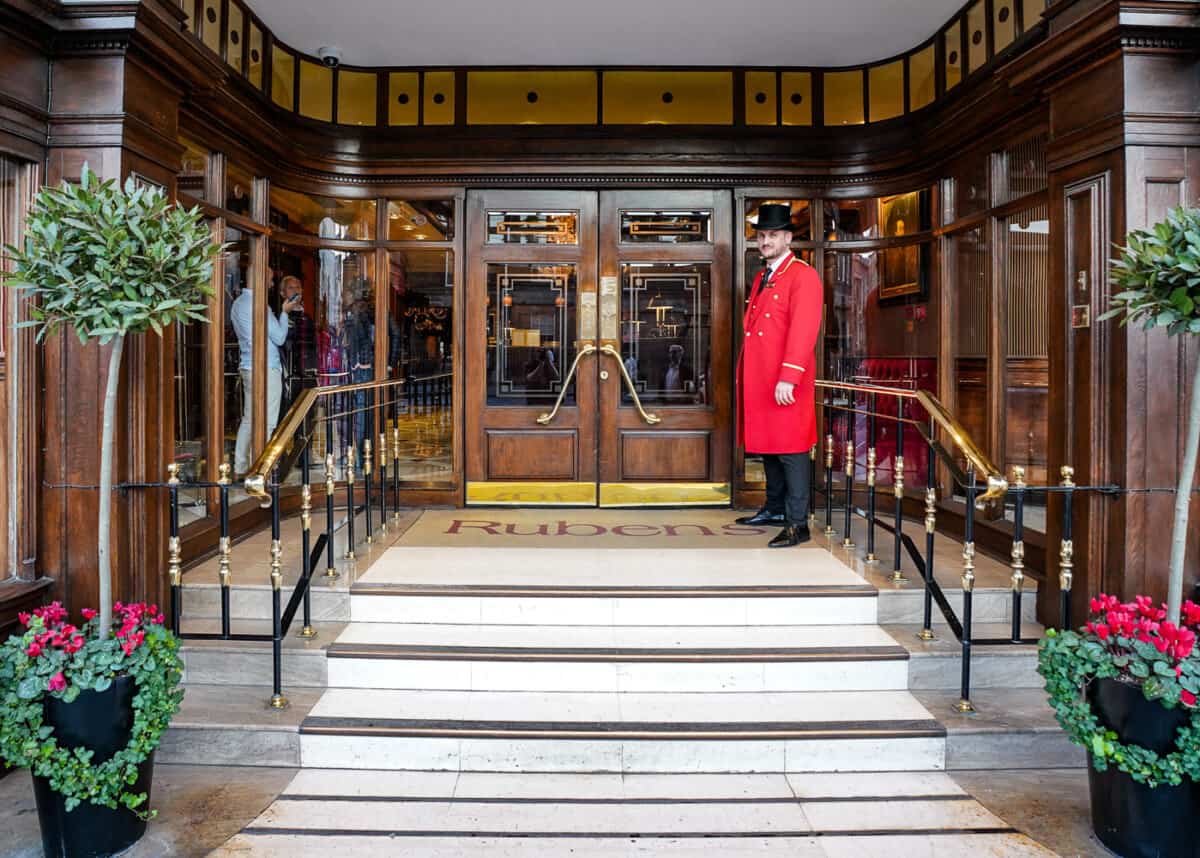 Décor at Rubens is extravagant, with silk, tassels and swags at every turn. Rooms reinforce the opulent feel with monogrammed bedding and deep, comfortable mattresses. Family rooms are not massive, but can comfortably sleep four and amenities range from in-room fruit, truffles and water, to kid-sized robes and slippers. The hotel is known for its concierge, John, aka, The Director of Fun. John can arrange for just about anything for families and is a bottomless resource of tips and tricks for navigating the city.
Afternoon tea at the hotel's Palace Lounge is a luxurious experience for the whole family, while little ones can also take part in a Master Chef Experience in the art of pastry making.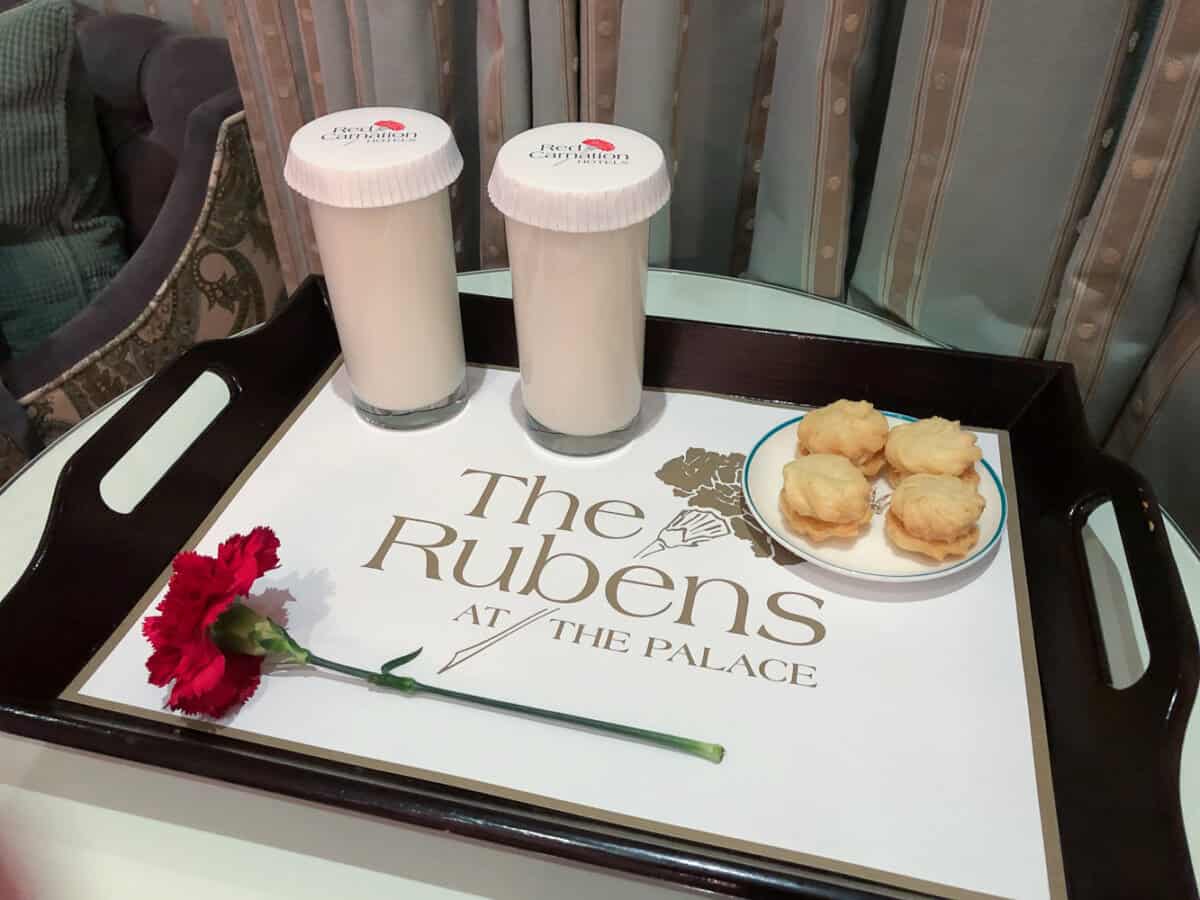 Kids eat for free from the children's menu when dining in the restaurant with an adult and the Rubens has no shortage of dining options. Traditional fare is served at The English Grill while the hotel's opulent basement restaurant, The Curry Room, serves up exceptional Indian cuisine. The Rubens' New York Lounge offers live jazz and is the perfect place to unwind after a busy day exploring.
The Goring
A favorite of British nobility for decades, it is rumored the Queen Mum regularly enjoyed martinis at the hotel's bar during her lifetime. The hotel has a quintessentially British style to it: antique furnishings, clawfoot tubs and footmen so attentive you might feel like you're in an episode of Downton Abbey.
If you've always dreamed of marrying a prince, a stay at The Goring, located opposite Buckingham Palace, will satisfy all your royal fantasies. In fact, Kate Middleton stayed at The Goring in The Royal Suite the night before her wedding to Prince William.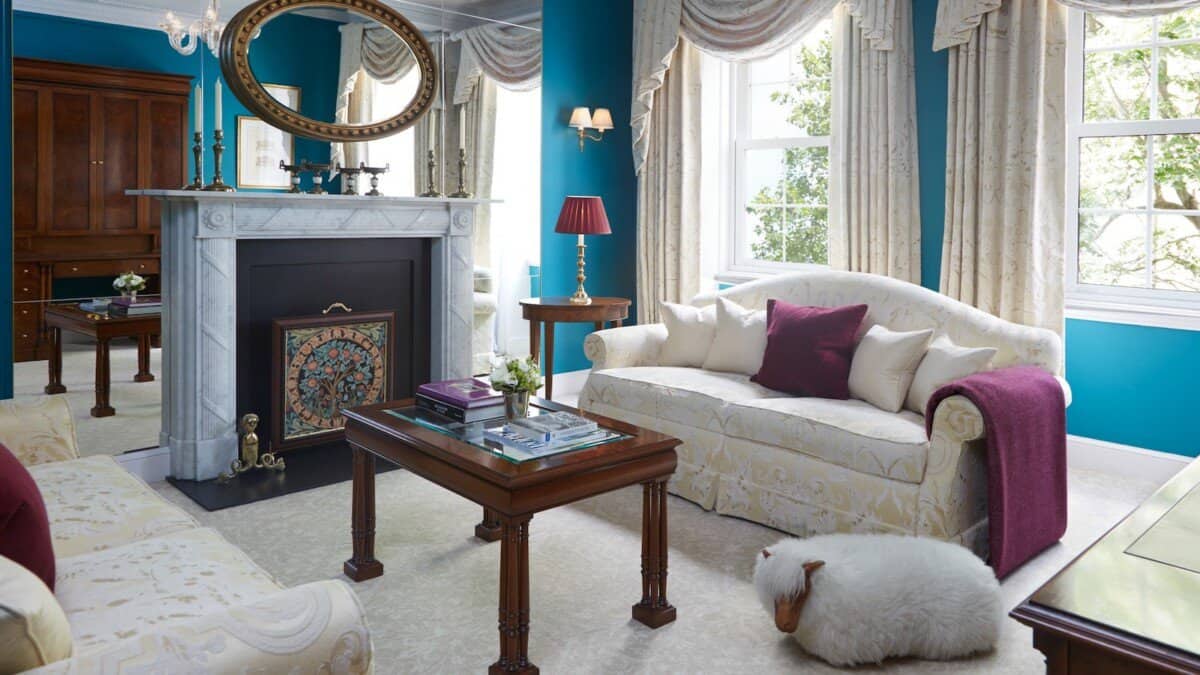 Having been run by the Goring family for four generations, the hotel has always ensured a five-star experience for families and personalized attention is the hotel's calling card.
At check-in a Goring mascot 'Baaa-bara Sheep' as well as a "For Kids' Eyes Only" activity pack wait for young children, while babies receive a basket of essentials such as lotions, changing mats and toys.
A truly unique offering for 3-9 year olds is The Goring's Dressing Up Box outfitted with costumes from fairytale princesses to Harry Potter, Beefeaters, Royalty, a British Bobby or a Guardsman. It's easy to have an epic family photo on thier lawn and garden.
Moms and Dads are treated to in-room Cosmos, the hotel's signature drink. Though rooms can be cozy, there are plenty of interconnecting bedrooms and the hotel will supply extra beds. Their 'Bring the Family' deal means that families receive 50% off the children's room and breakfast included for the whole group.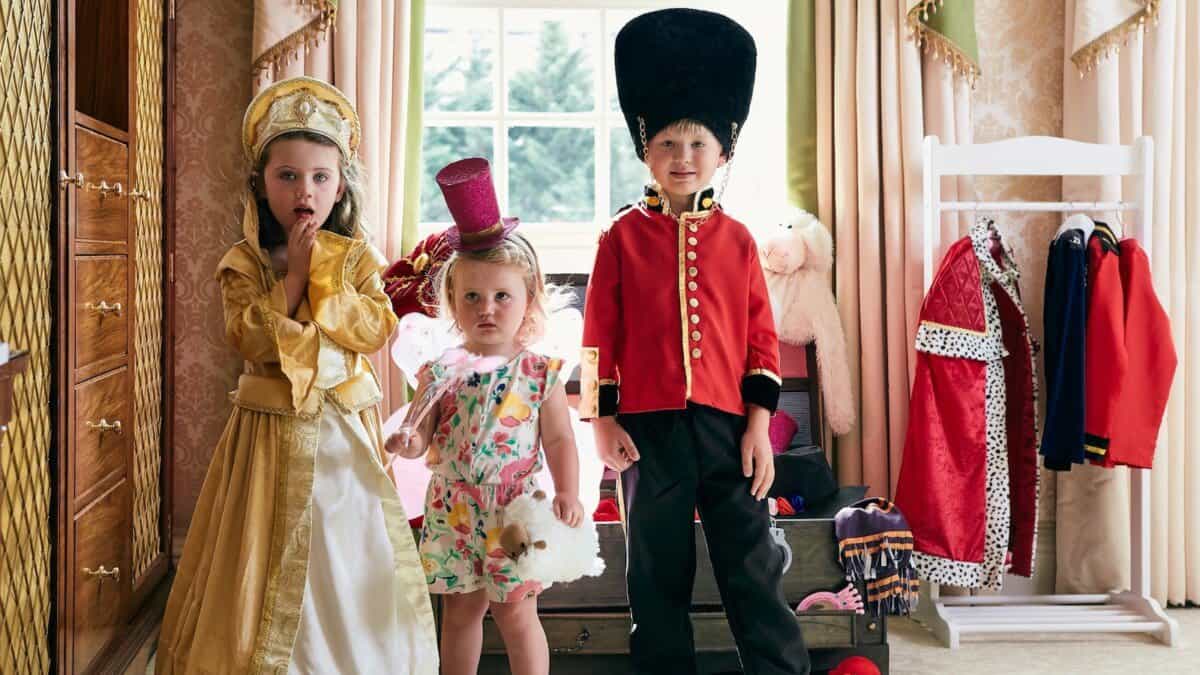 The Lanesborough
If unabashed luxury and elegant appointments are what you seek, only The Lanesborough will do. The hotel is fancy with a capital F and service is white-gloved and flawless. Décor is Regency in style with miles of marble, silk and gilding on every surface; this is not a hotel for minimalists.
Rooms are spacious and feature the best modern appointments. Adjoining rooms can be booked, though junior suites are especially charming and offer extra space for families. It is said the hotel's Royal Suite tops out as the most expensive suite in all of London.
Families that want to experience the finest in London's old-school elegance can dine in the hotel's spectacular Celeste restaurant, one of the city's most beautiful dining rooms.
Its central location at the southwest corner of Hyde Park makes both Mayfair and Knightsbridge accessible by foot.
Claridge's
No London hotel guide would be complete without a mention of Claridge's, a hotel of such prestige that it has an almost mythical reputation. From the stars of the Golden Age to countless politicians, actors and royalty, Claridge's has hosted an endless list of famous faces within its storied walls.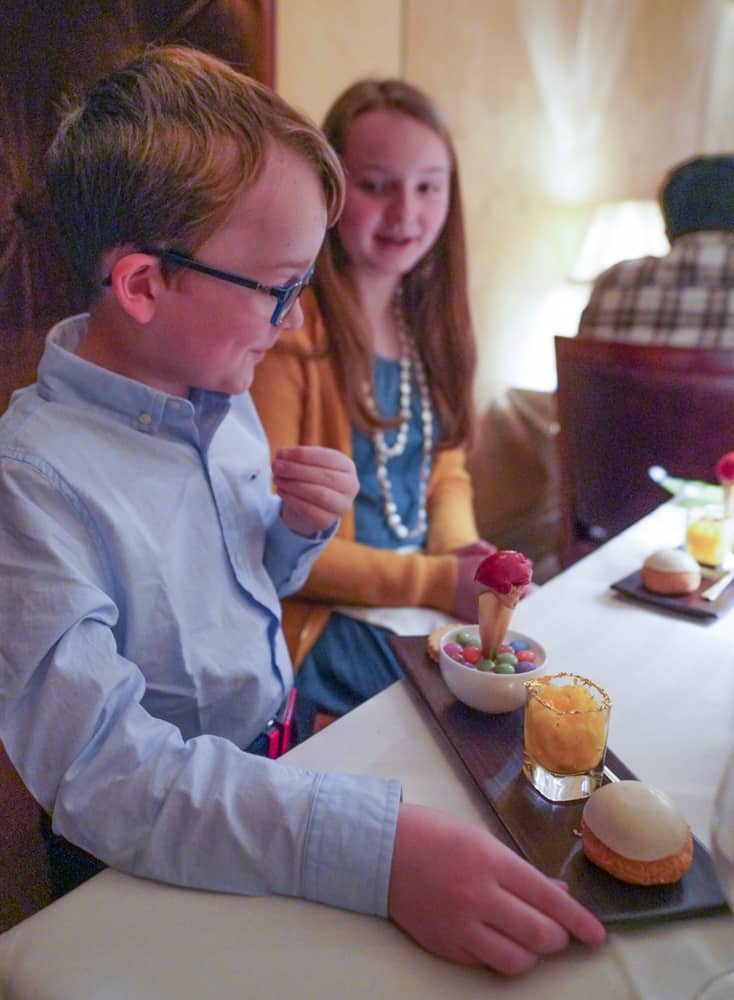 Located in Mayfair, the hotel's décor is firmly Art Deco with lavish flower arrangements in every public space. Rooms can range from muted and understated to boldly black and white. Children are welcomed graciously with treats, activities and reduced adjoining room rates.
Davies and Brook, the hotel's Michelin-starred restaurant serves inspired British cuisine, while the lobby parlor serves one of the best afternoon teas in London.
If Posh and Proper Is Your Cup of Tea
The Savoy
Who can forget the final scene from Notting Hill when Hugh Grant bursts into The Savoy ballroom to declare his love for Julia Roberts? This iconic hotel on the north bank of the River Thames oozes old-world elegance with its mix of traditional Edwardian and Art Deco style.
Managed by Fairmont, The Savoy is a great option for travelers who enjoy classic luxury with a bit of retro glamour. It's also home to the renowned Savoy Grill, a restaurant once frequented by the likes of Frank Sinatra, Winston Churchill and even HM Queen Elizabeth herself. With celebrity chef Gordon Ramsay at the helm, The Savoy Grill serves up traditional dishes like Beef Wellington, in an elegant, white-gloved environment.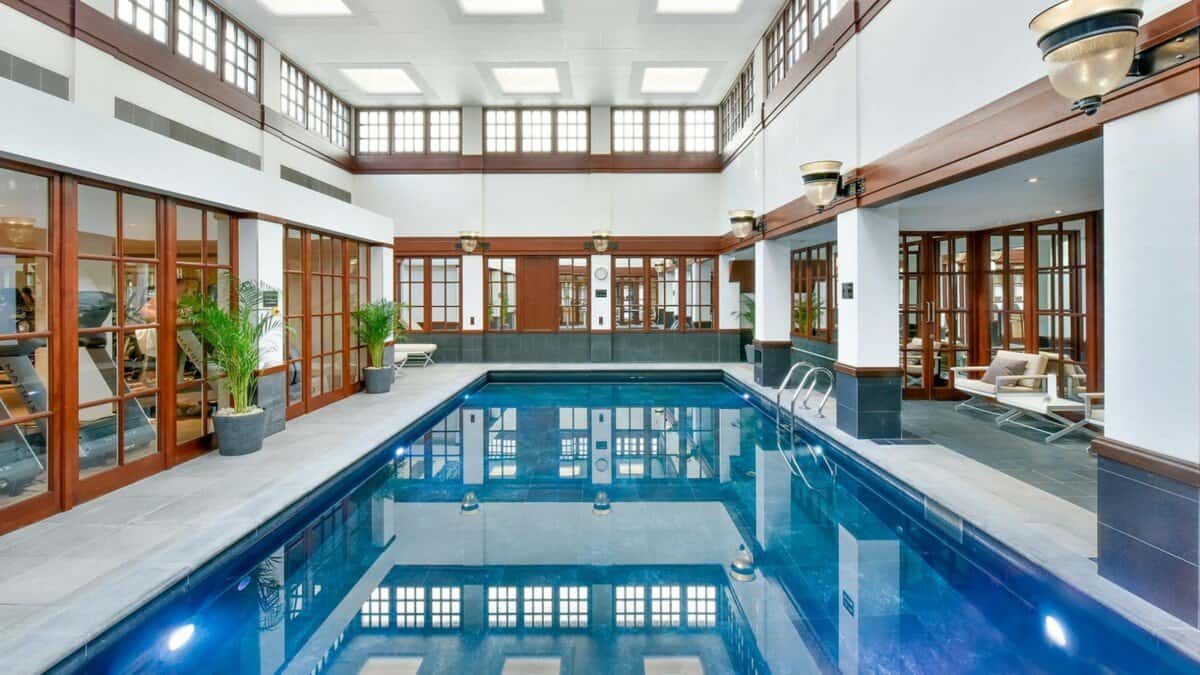 With a large indoor pool, spa, and 24-hour fitness center, The Savoy is a full-service hotel with all the benefits of a larger resort. Kids at The Savoy are treated with the same luxurious perks as their parents and receive a welcome bag full of goodies. Rooms are outfitted with gaming consoles, and DVD players and babysitting is available through the hotel. The concierge can arrange private tours and families can even book the hotel's own Rolls Royce Ghost to ferry them around the city.
The Milestone
A charming boutique hotel set opposite Kensington Palace and Gardens, The Milestone hotel offers personalized service combined with quiet luxury. Awarded the prestigious Forbes 5-star award, The Milestone is a part of the Red Carnation group of hotels. Décor at The Milestone plays up its pedigree (the building dates to 1883) with antique furnishings and elegant appointments. Fans of Ashford Castle (another Red Carnation property) will recognize the interior design style of the hotel.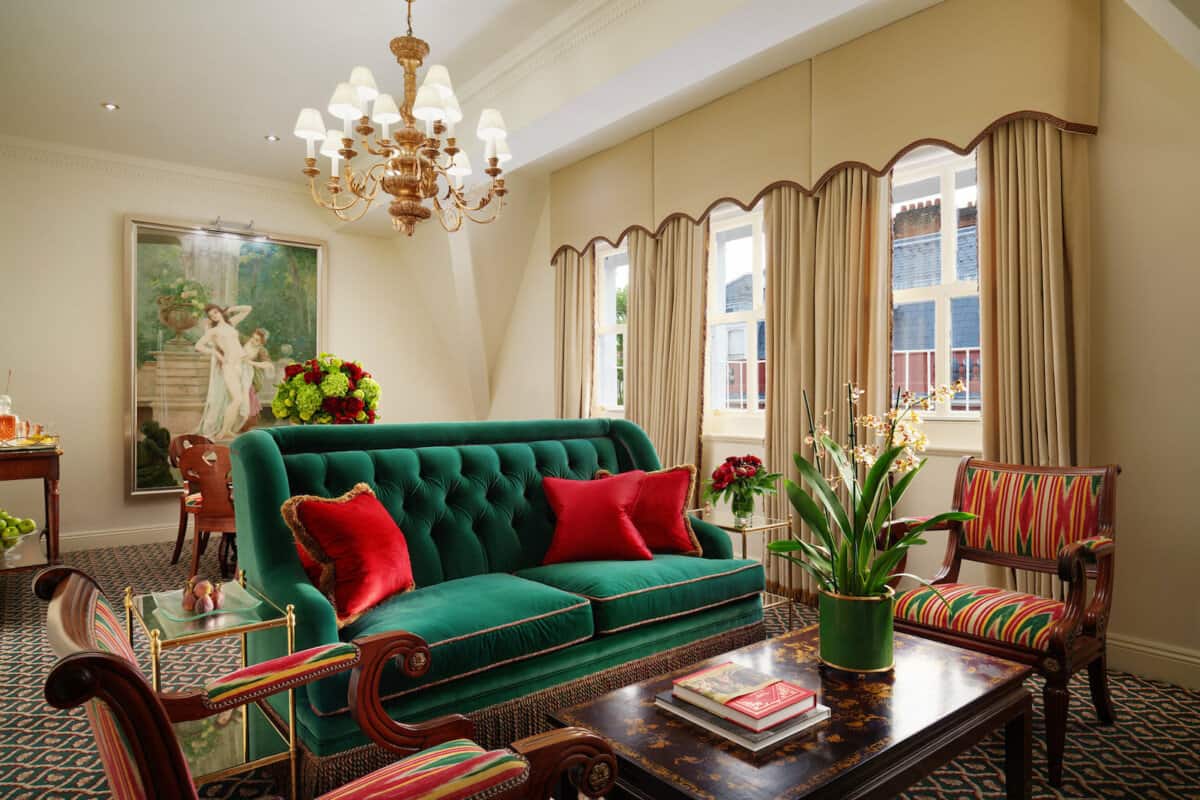 With just 43 guest rooms and 13 suites, the hotel prides itself on an intimate experience where guests are treated like beloved family members. Rooms range from Superior Queens to two-bedroom residences and family wings with interconnecting rooms.
Dining at The Milestone offers the same intimate experience. Enjoy British cuisine at the elegant Cheneston's or book a parents-only dinner at The Oratory, one of London's most romantic restaurants, housed in the original chapel of the building. Stables Bar occupies the property's original stables and looks like a page straight out of a Polo ad.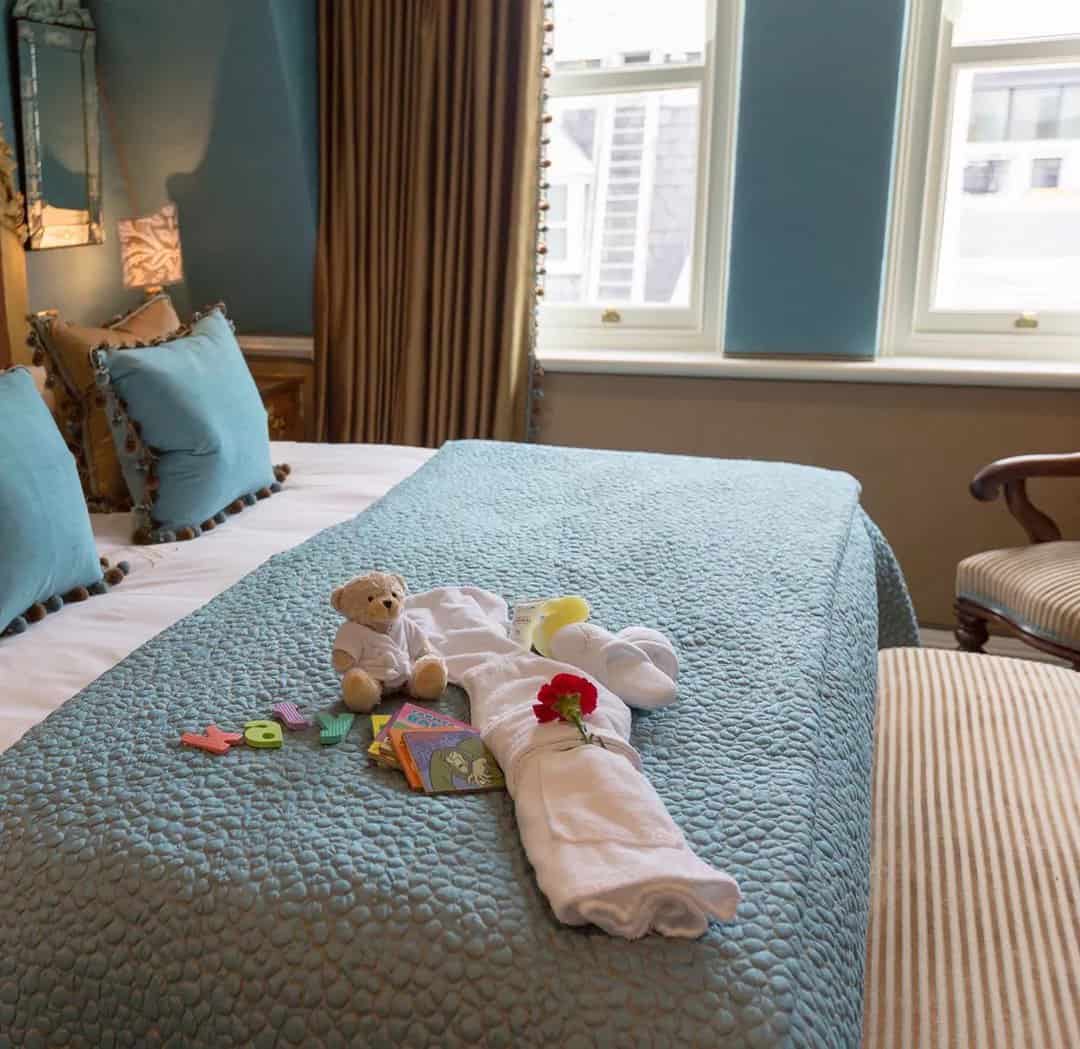 Children are welcomed at the Milestone with a selection of books and games, a "Milestone Kid's Passport," a teddy bear book and chocolate mousse on turndown. The hotel's opulent Park Lounge also offers a Prince and Princess Afternoon Tea.
The Landmark
The Landmark is one of London's great historic rail hotels and sits next door to Marylebone train station. The large hotel is renowned for its grand glass-roofed Winter Garden filled with palm trees which dominates the main atrium. The Landmark features classic English style that would please any traditionalist and American-sized double rooms that will easily accommodate a family of four.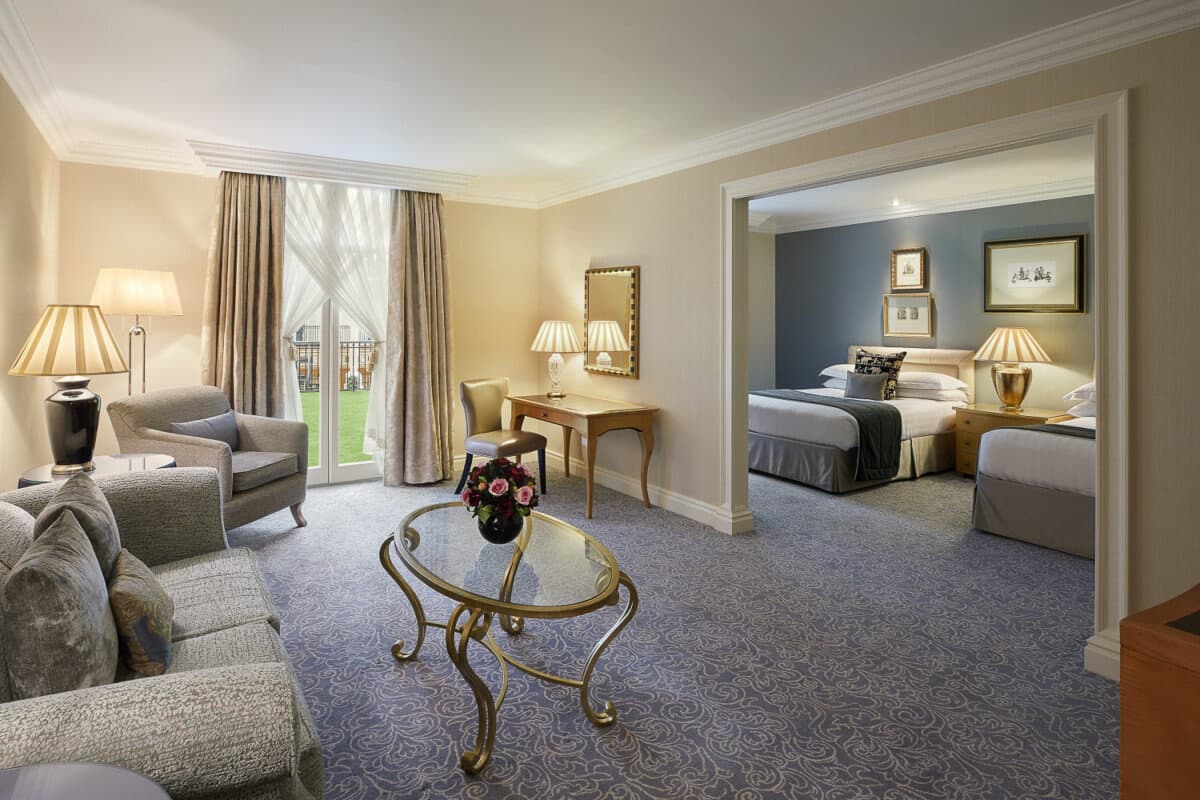 Not only is the Landmark in an ideal location for families, within walking distance of Madame Tussaud's, Regents Park and the London Zoo, but the hotel also has full-service amenities like a spa and a large, chlorine-free indoor pool, making this hotel a great choice for those seeking reasonably-priced luxury.
Four Seasons London Park Lane
With spectacular views of Hyde Park, the Four Seasons Park Lane is perfectly situated for exploring the city's most beautiful parks, but also within walking distance of the best in shopping, dining and attractions like Kensington Palace and Regent Street. Rooms at this five-star hotel have been recently refreshed in soothing tones of blues, greys and neutrals. Spacious and equipped with the latest technology, they will make any family feel right at home.
Dining at the Four Seasons is exceptional with three venues and an outdoor terrace when weather is warm. Kids under 12 dine for free in any of the hotel's restaurants, and they are welcomed with in-room welcome amenities and activity packs. The hotel's spectacular rooftop spa is known as one of the best in the city.
Mandarin Oriental Hyde Park
In an Edwardian-style building in Knightsbridge overlooking London's iconic Hyde Park lies the Mandarin Oriental Hyde Park, one of London's grandest hotels. Reopened following a multi-million-dollar renovation, the hotel boasts an old-world lobby resplendent in marble, brass and crystal. It's the perfect hotel for shoppers, across the street from Harvey Nicks and a short walk to Harrods.
Rooms at the Mandarin Oriental are decorated in Art Deco style, with luxurious amenities like Miller Harris bath products, soaking tubs, and palatial marble-clad walk-in showers. The hotel is also home to a private spa, a two-Michelin starred restaurant by Heston Blumenthal, and London's only restaurant by renowned chef Daniel Boulud, Bar Boulud.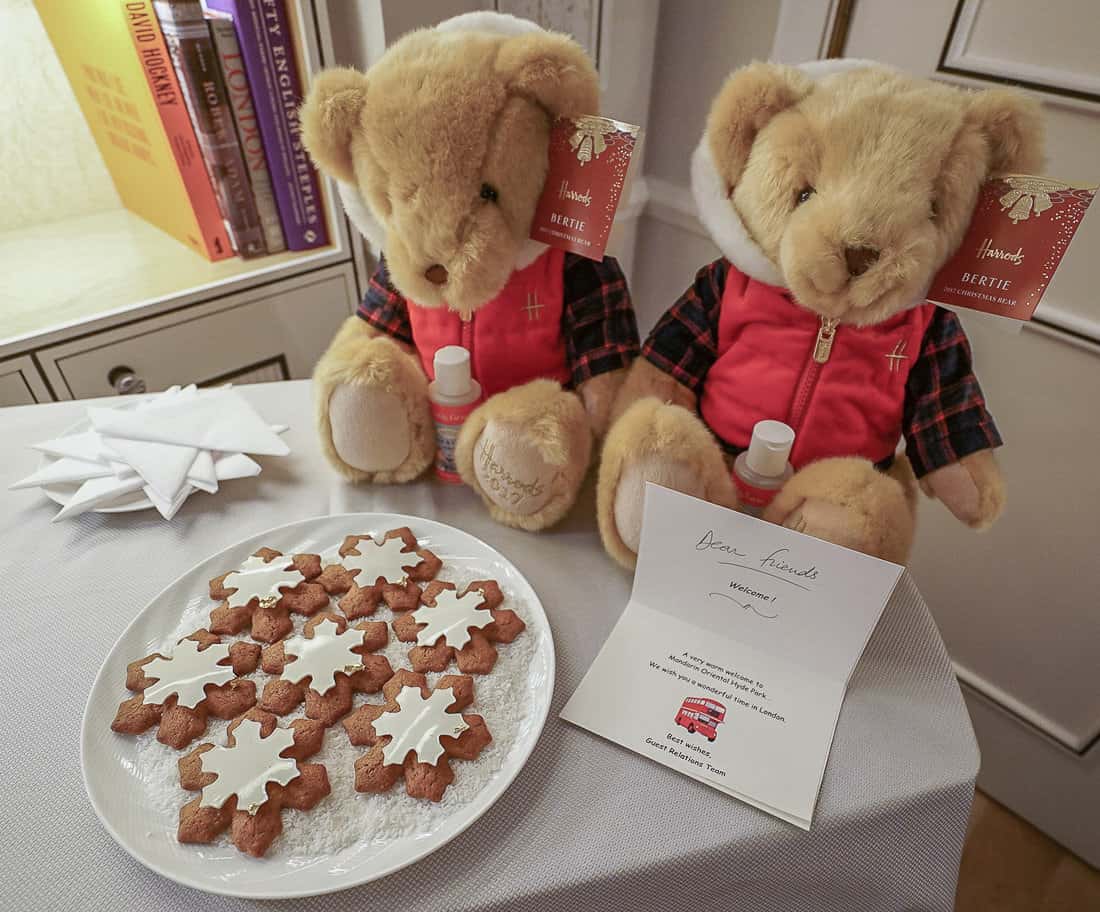 Complimentary amenities for younger guests include teddy bears, mini bathrobes, bath toys, books and crayons. Kids can also use the hotel's 17-meter, indoor heated swimming pool and a babysitting service available on request.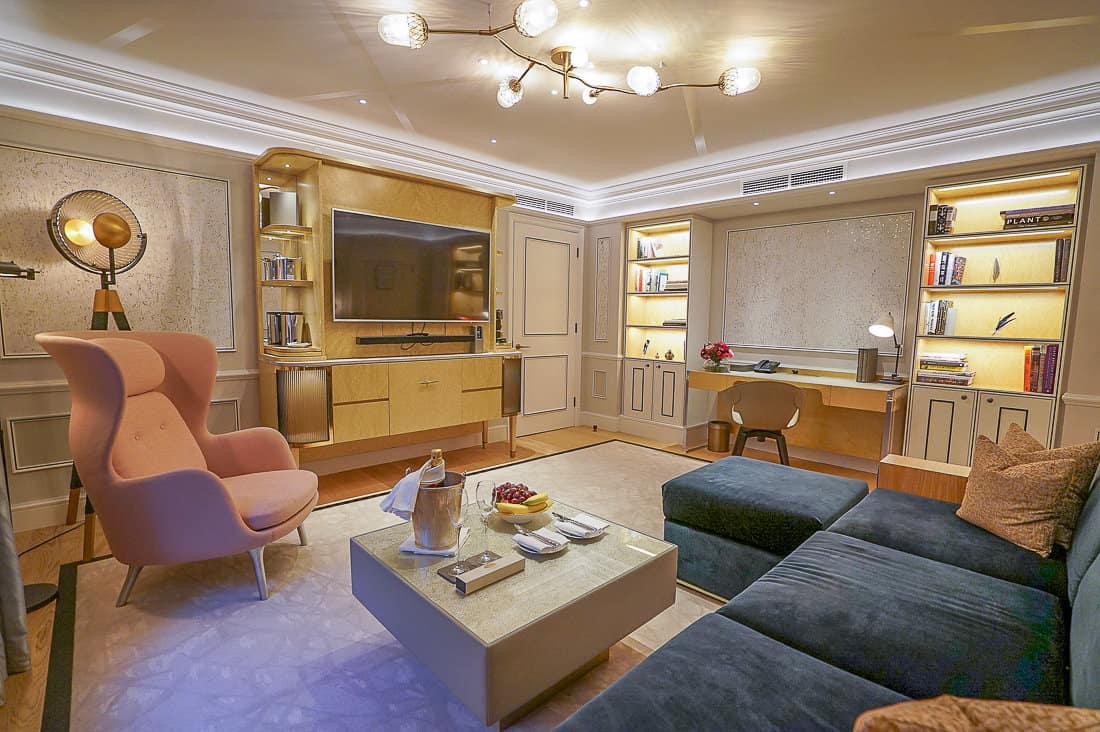 Children under 12 can stay free of charge using a complimentary rollaway, while multi-bedroom suites and interconnecting rooms can be booked for those traveling with older children.
Planning a London Family Vacation?
There are so many incredible choices. We can help! Luxe Recess is both a family travel magazine and a Virtuoso travel agency. We can book any of these properties for you and ensure you have the right room with the right number of beds for everyone in the most convenient neighborhood.
But we can include numerous VIP amenities like daily breakfast, hotel credits, and incredible upgrades if available at no cost to you.
Please reach out for a vacation planning call so I can begin to help you plan the ultimate London vacation. It is a destination my family never tires of because there are so many wonderful things to do.
No worries if you already know where you want to stay! We can still book your hotel of choice and add out amenities. Our you can see if your hotel is available to book on our Virtuoso site.