Do you love following the Royal family? Do you want to dress your children like little Prince George and Princess Charlotte? Did you follow Diana, Princess of Wales, as young girl?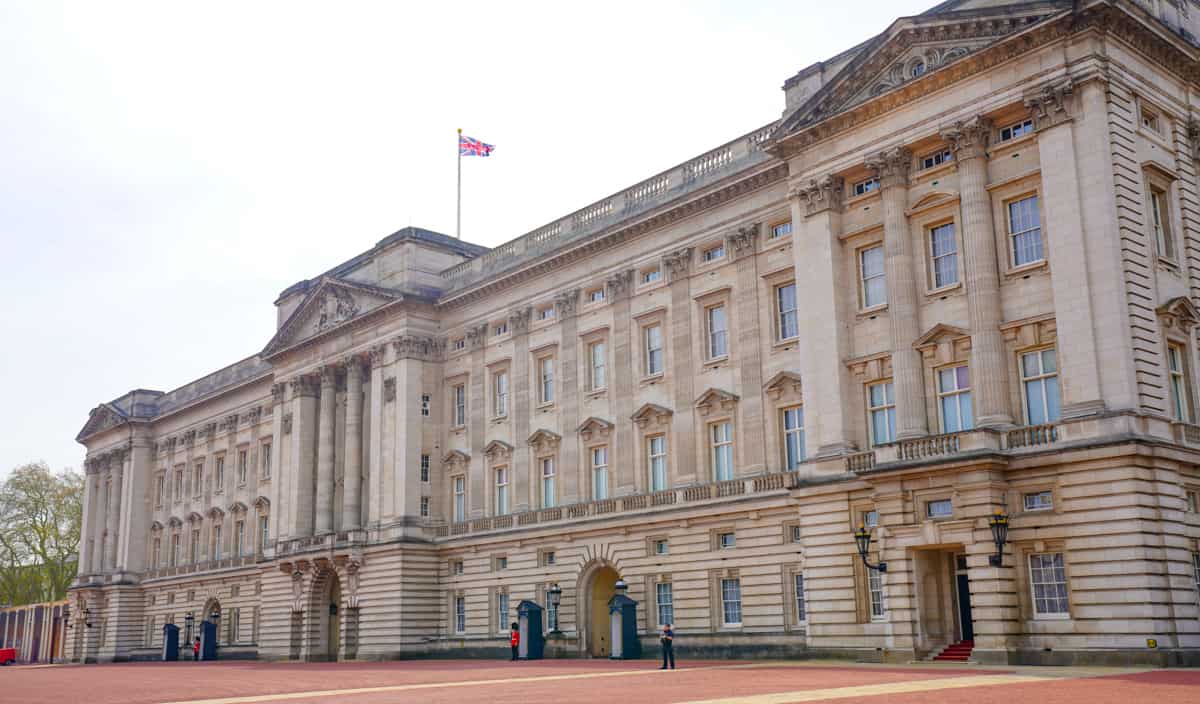 Here's a kid and parent-friendly itinerary to enjoy London with your own royal family.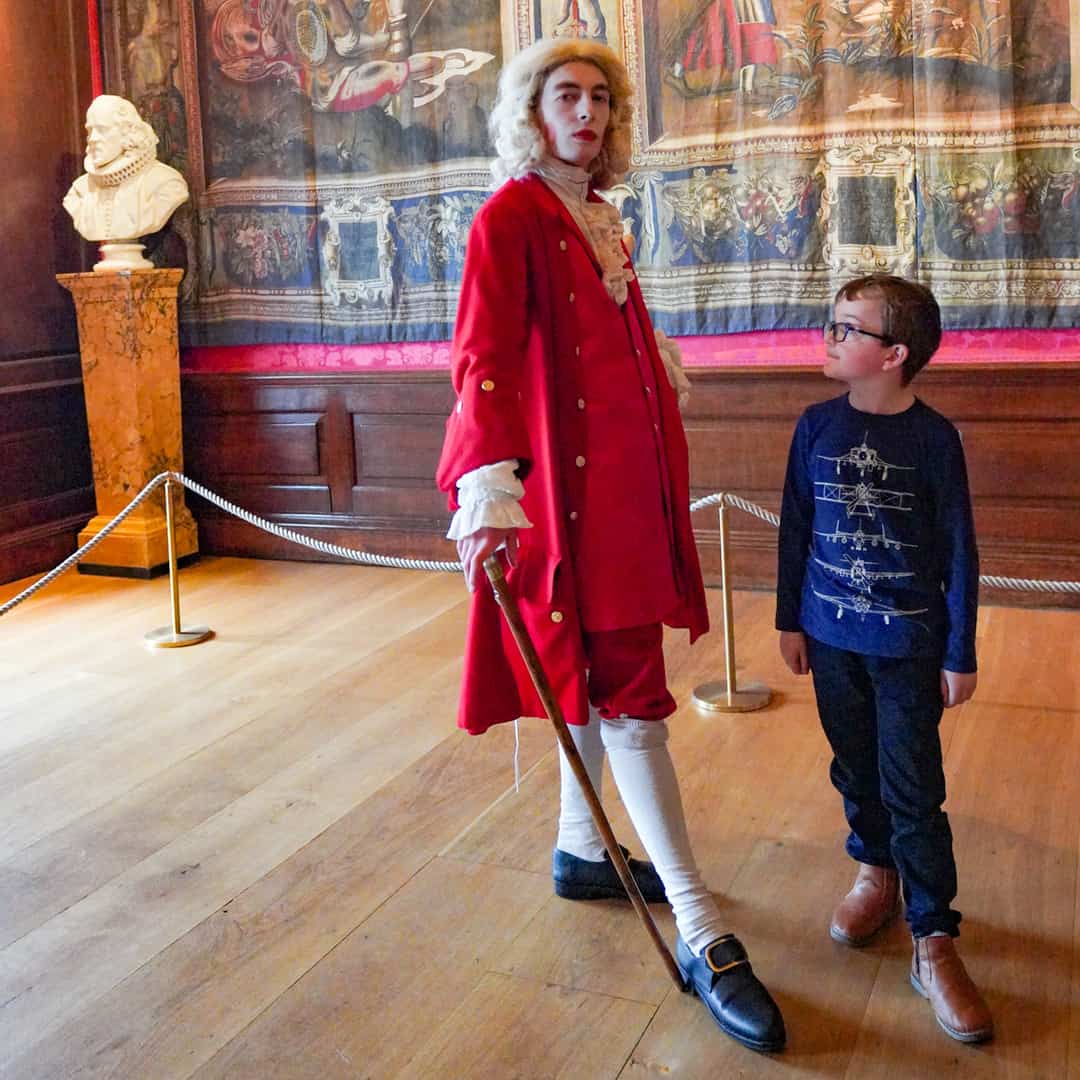 When you cannot stay at Buckingham Palace
We'd all love to sleep at Buckingham Palace, but that isn't always possible. Around the corner from the Palace, adjacent to the Queen's Gallery and the Royal Mews, Rubens at the Palace is the next best thing of all the hotels near Buckingham Palace.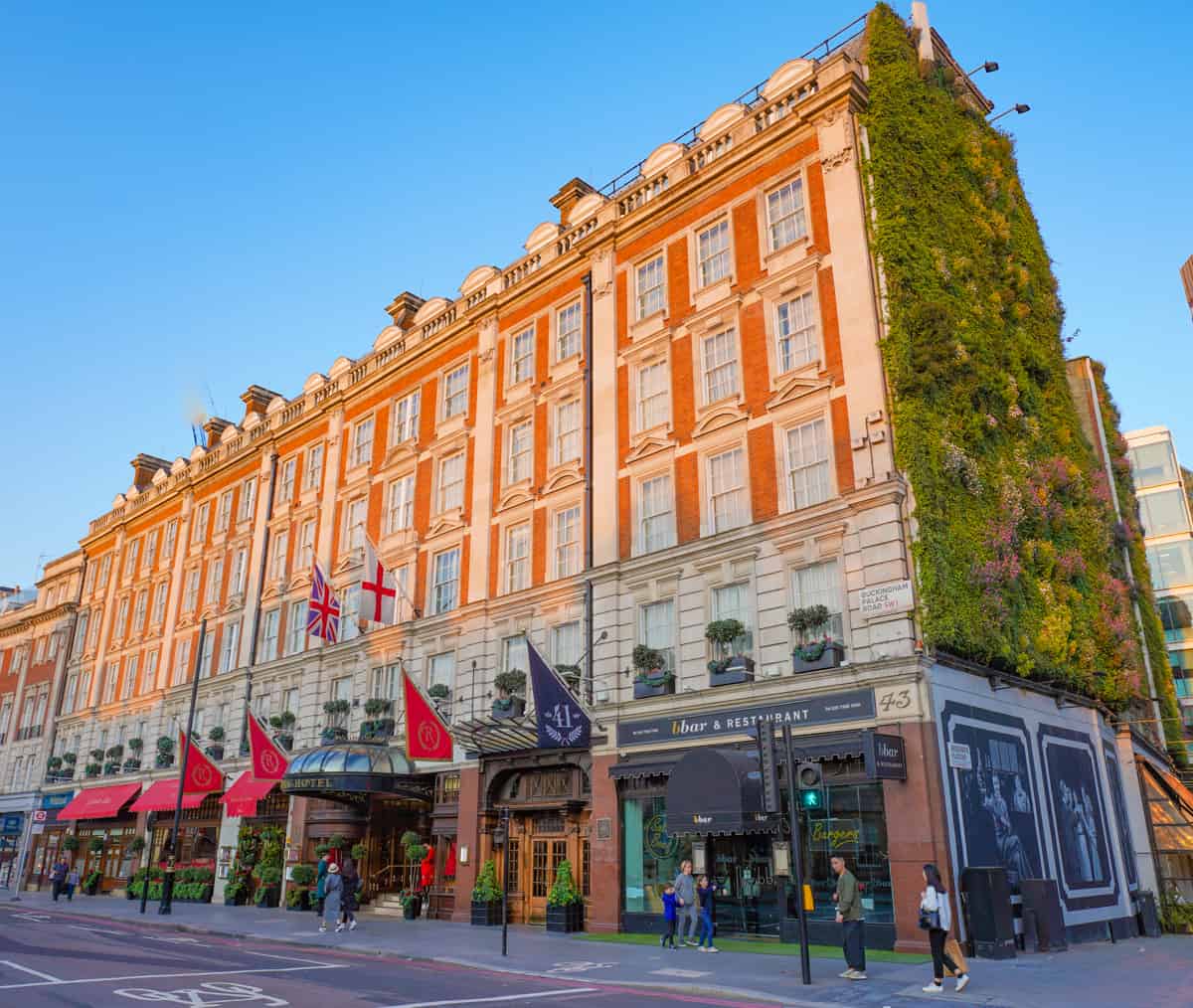 In the heart of the Queen's London, this convenient location in Westminster means that the Royal Parks, Knightsbridge and Regent Street shopping are an easy Uber or Tube ride away.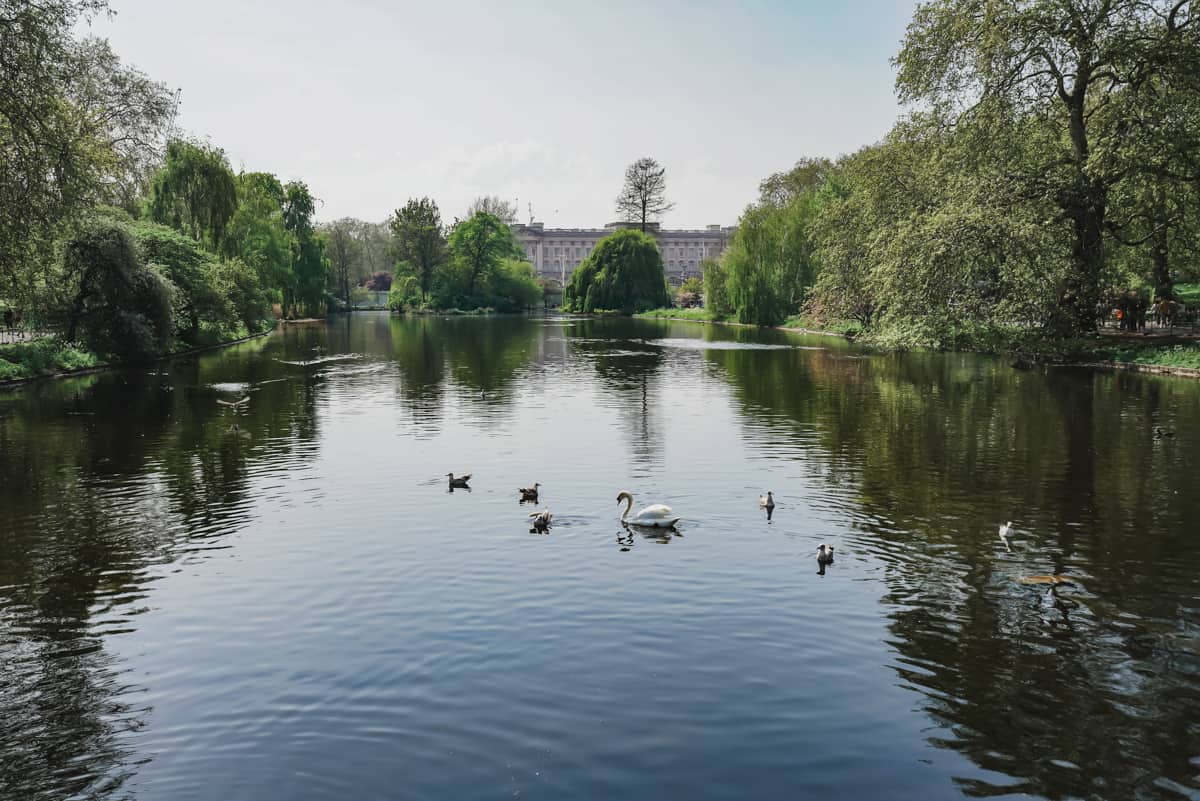 A Very Red Red Carnation Hotel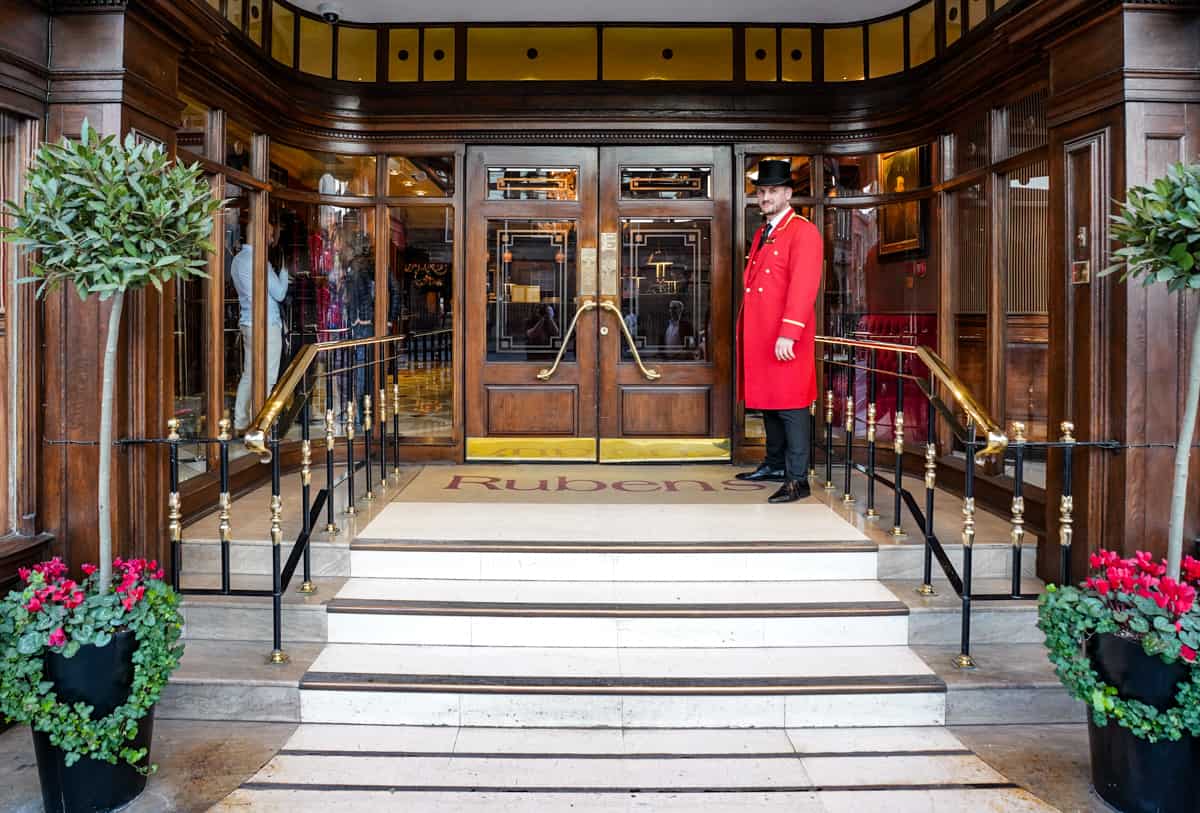 The Rubens at the Palace is a Red Carnation Hotel (that includes the glorious Ashford Castle in its portfolio). The hotels in this brand share a design style. An abundance of topiaries, dried roses, multiple patterns and textures in rich brocades, chintzes, and velvets.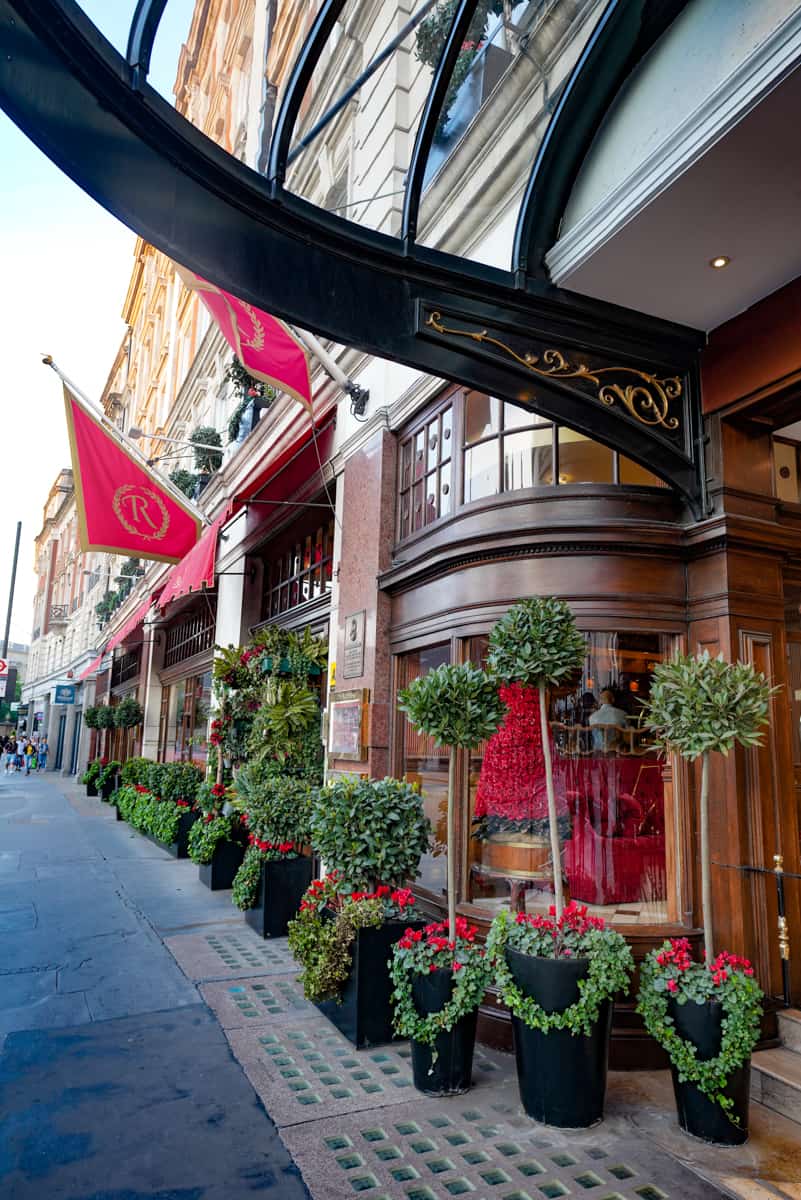 Wood paneling, Murano chandeliers, fringes, and tassels keep the traditional style of this historic hotel. While jewel tones, golds, and celadon greens are favored, deep red reigns in the restaurants and hallways.
American visitors from the South will feel particularly at home as will those who like this bold aesthetic of excess. It isn't a coincidence that every American I chatted with in the elevators was from the South or Texas.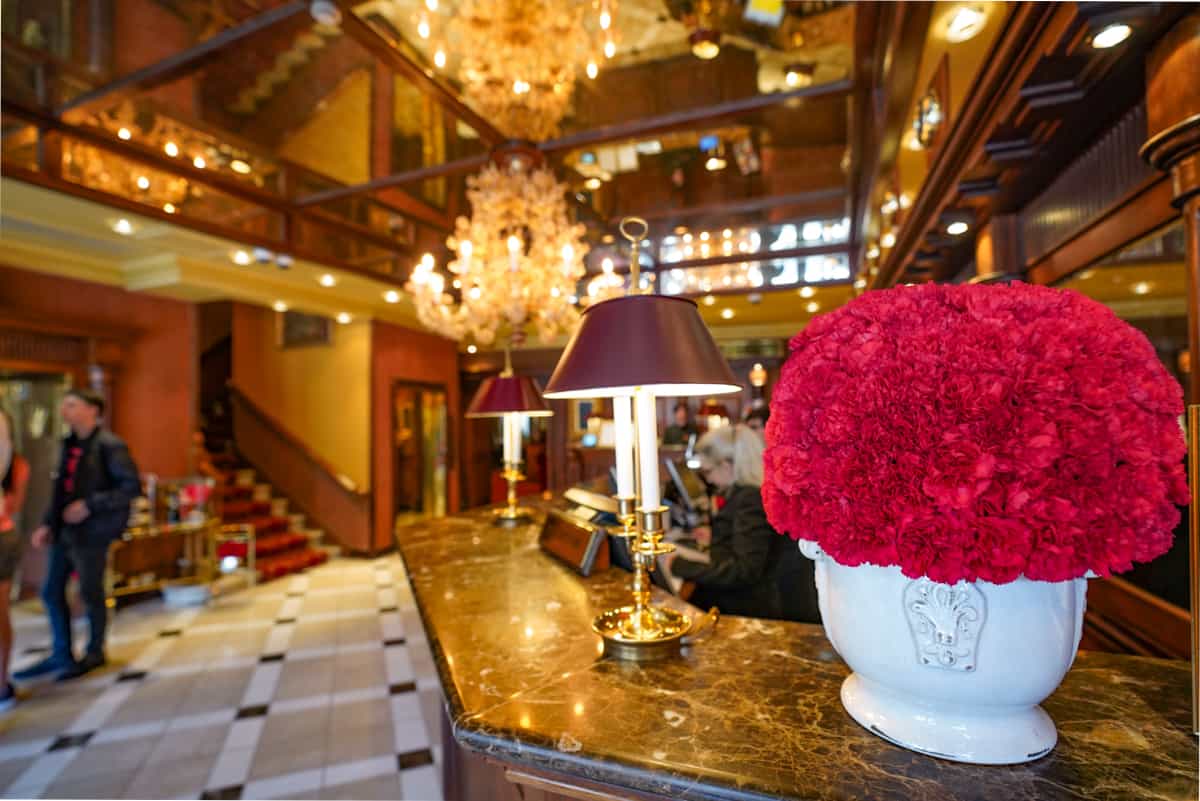 Rubens at the Palace underwent a complete refurbishment recently, it retains an old-world feel where I imagine many regal grandmothers feel instantly at home. And that energy is just what my family and I loved. Probably channeled from Red Carnation founding president and matriarch Bea Tollman. The Rubens at the Palace service is embodied by that grandmother energy that spoils you and your children rotten.
Family Suites at Rubens at the Palace
Guests receive bottles of water, bowls of fruit, and a variety of chocolate truffles in their room after their glass of champagne at check in.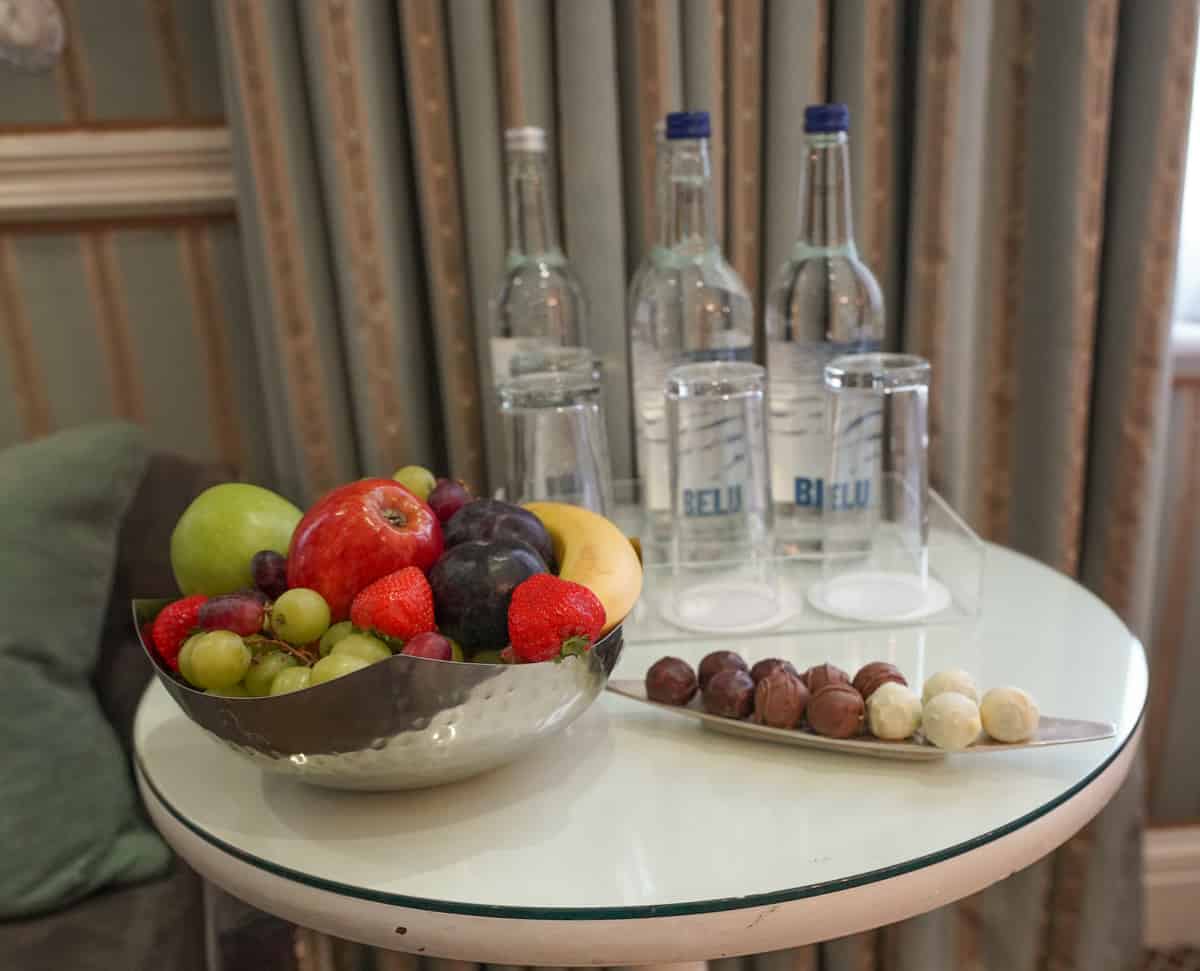 The Rubens at the Palace has family rooms for four, with a king bed and two twin beds concealed in a club chair and small sofa. Bedding was fantastic, monogrammed in a gold "R" that felt very regina or royal. Even the sleeper chair was comfortable. I know because in a middle of the night family shuffle, I ended up in it.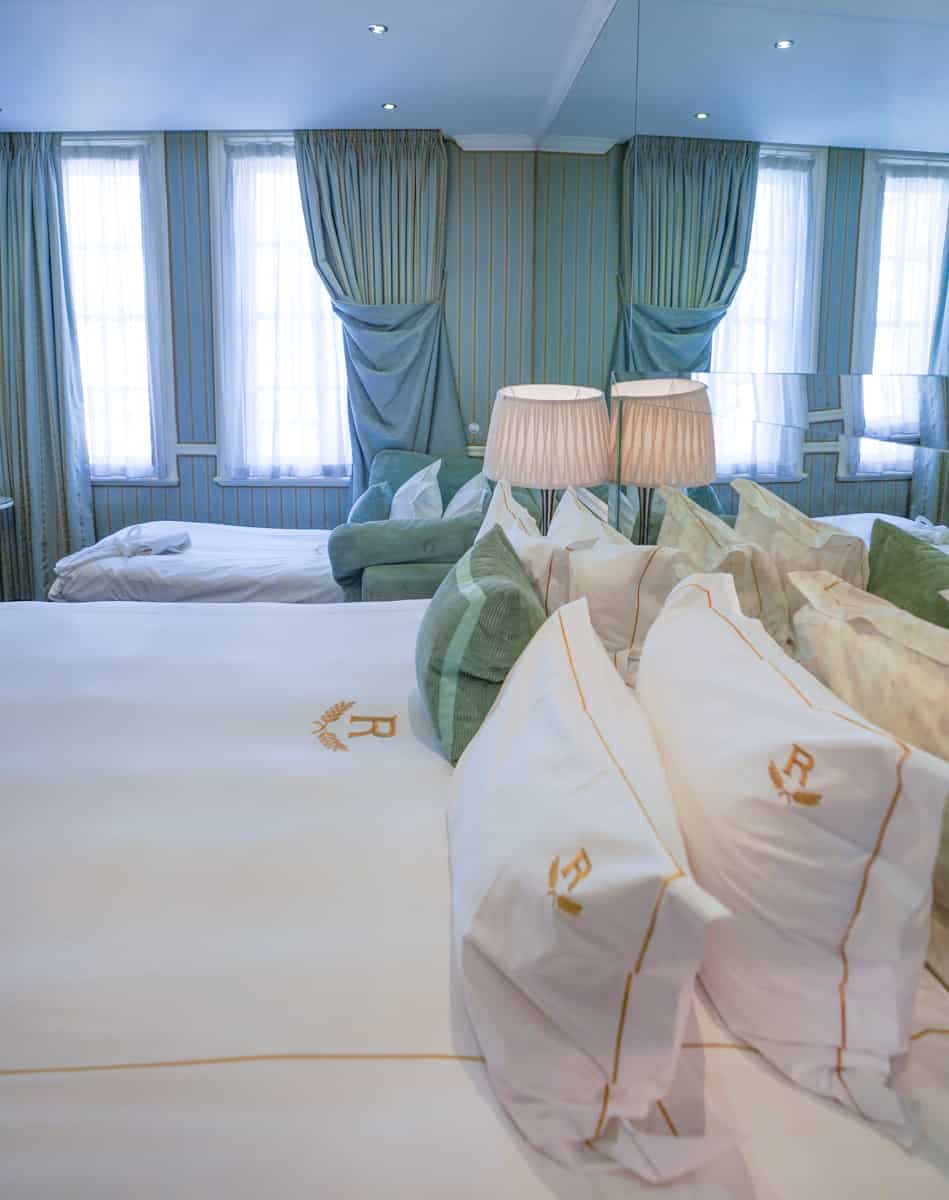 The room contained the space for comfortable sleeping for four but not much else. The main wall was entirely mirrored which gave the room the feeling of being more spacious.
The room service menu was particularly tasty and family-friendly on a night we needed to rest from sightseeing. Some London hotels can fall flat here, but not this one.
Family Amenities
The hotel's amenities for babies and children are extensive, from high chairs to stroller rental and nanny hire. The hotel will deliver kids' games or a PlayStation to the room, as well as robes and slippers.
The hotel is known for John the Concierge of Fun, who specializes in family activities to assist all guests. He knows his stuff. I checked into the hotel with a plan, and John still knew some tricks and suggestions to make our visit even better. I'd advise you call and speak to him before arrival and after you have made your reservation.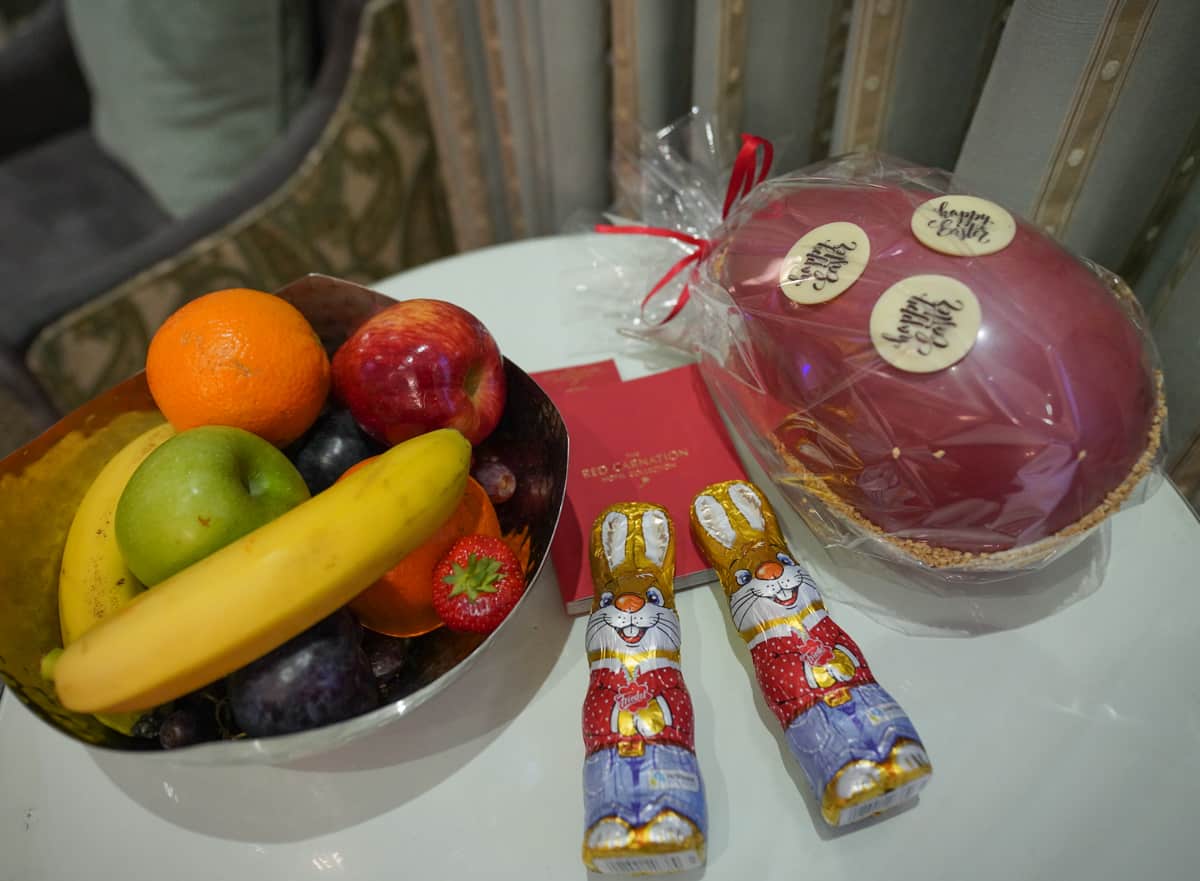 The hotel offers seasonal pastry classes for children, so ask John about that, too.
Afternoon Tea at Rubens at the Palace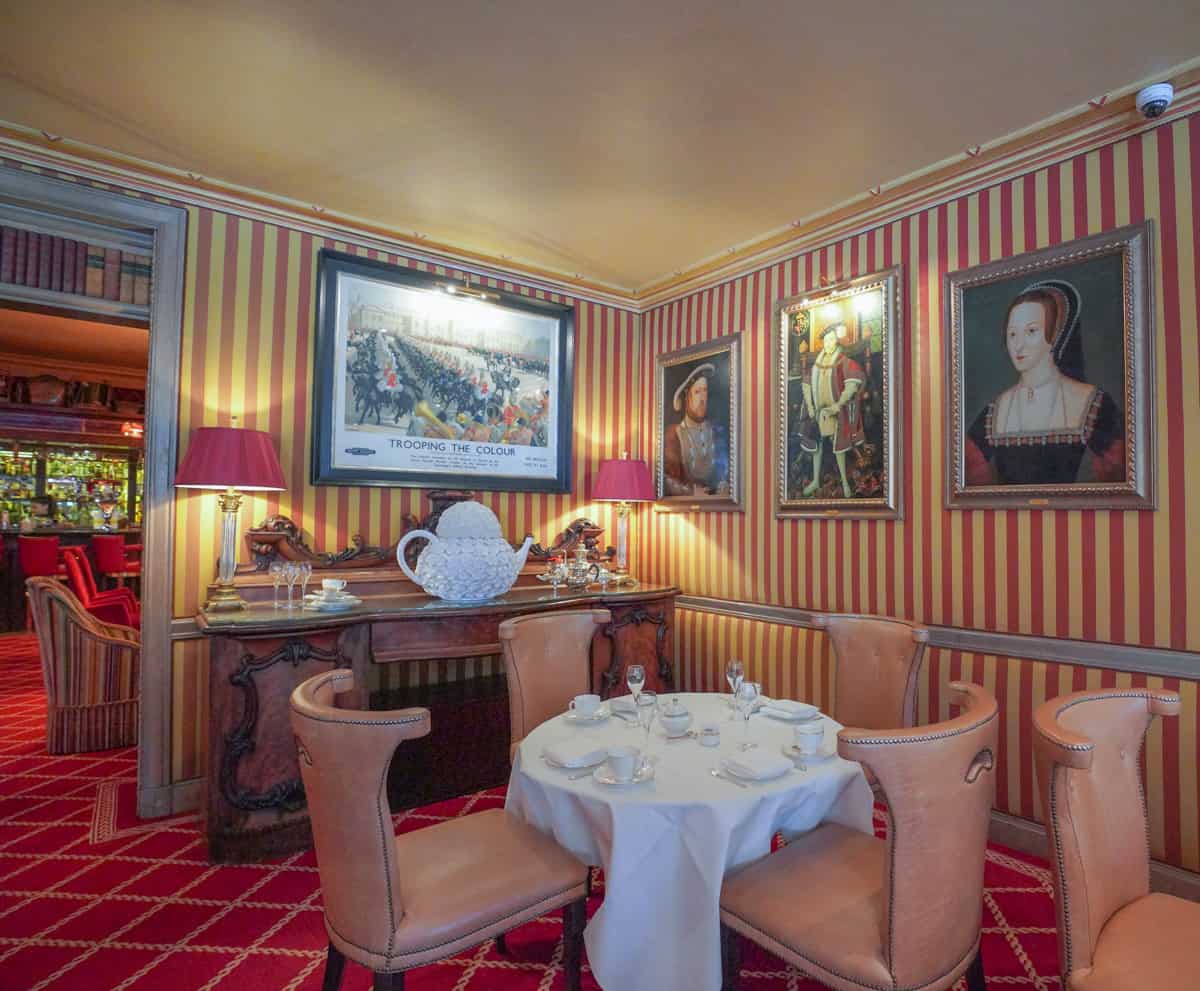 The Rubens at the Palace and the other Red Carnation hotels are known for very traditional English teas. The Prince and Princess teas for children served in the Leopard Lounge are filled with treats they will actually eat. Ham and cheese and cucumber sandwiches, donuts, cupcakes, and the Queen's favorite—Jammie Dodgers. My husband and daughter repeated the name of this jam filled cookie sandwich with the accent of every Harry Potter character during our stay.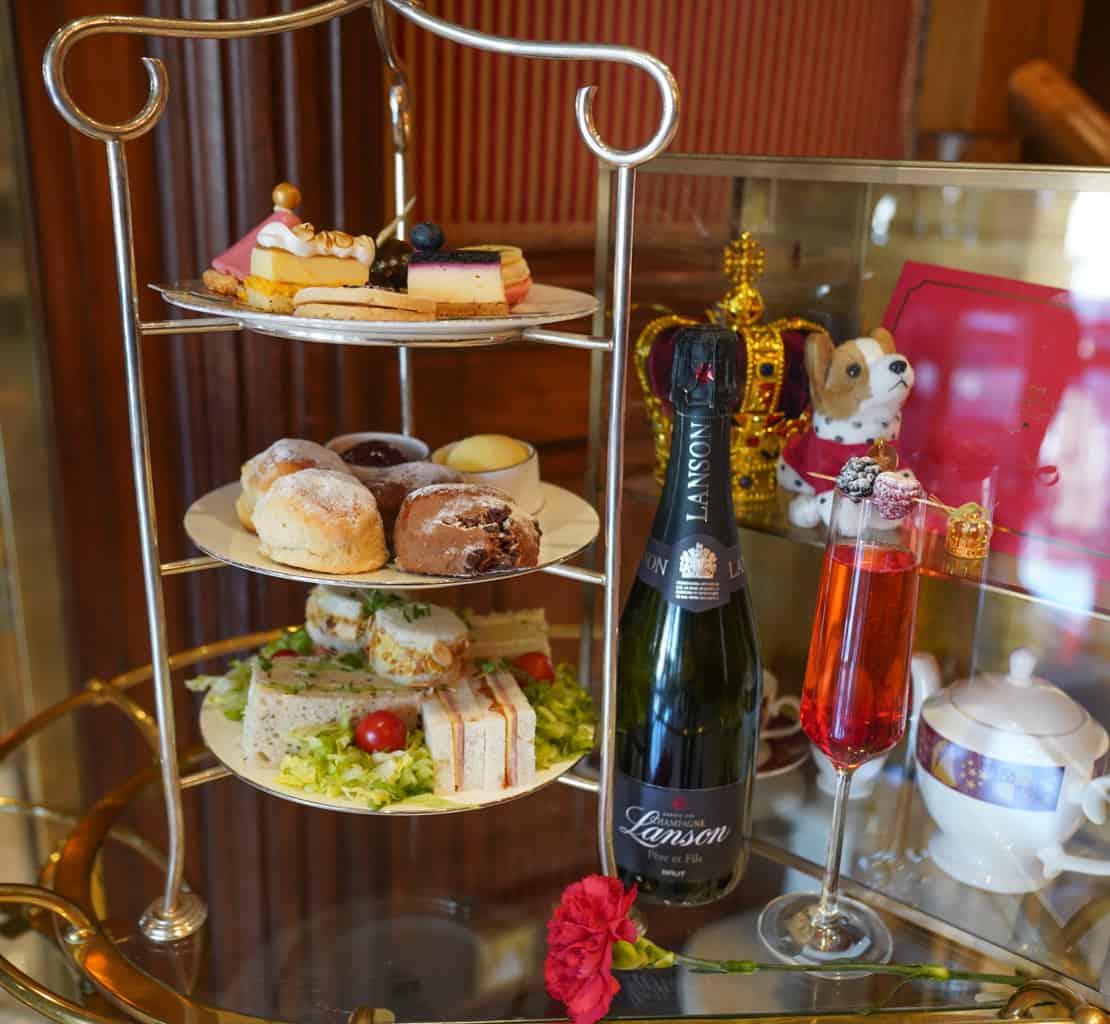 Families can enjoy the prince and princess tea in the window seats facing the Royal Mews (more on that below). Royal sightings are possible, as John, the concierge, has actually seen the Queen herself waiting outside for her car. Ask him.
Dining In the Hotel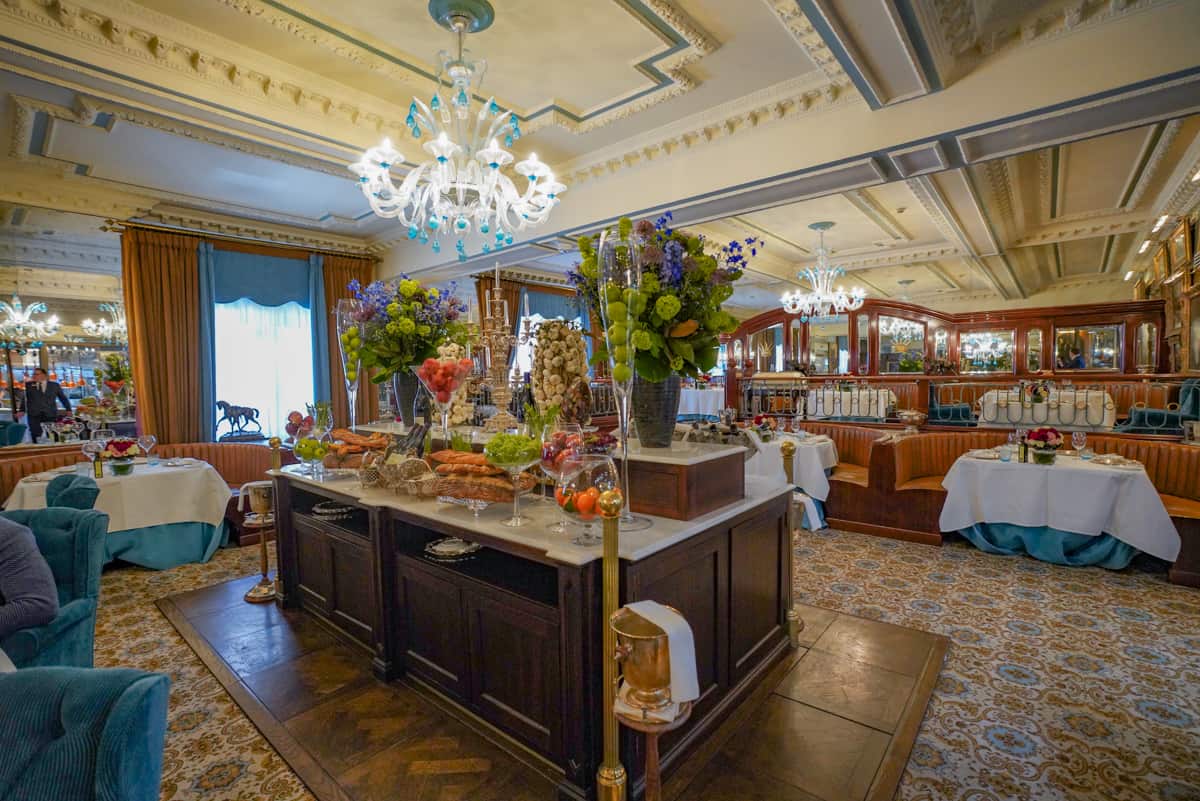 The Signature Restaurant: The English Grill
The English Grill at Rubens on the Palace serves both a bright and bountiful breakfast buffet in the morning that transforms into a darkly lit grill room at night with an opulent feel. It was perfectly family friendly, and the French sommelier greeted us warmly and brought my children mini flashlights to play with that were intended to assist with menu reading. He said they work well for the extremely young and extremely old.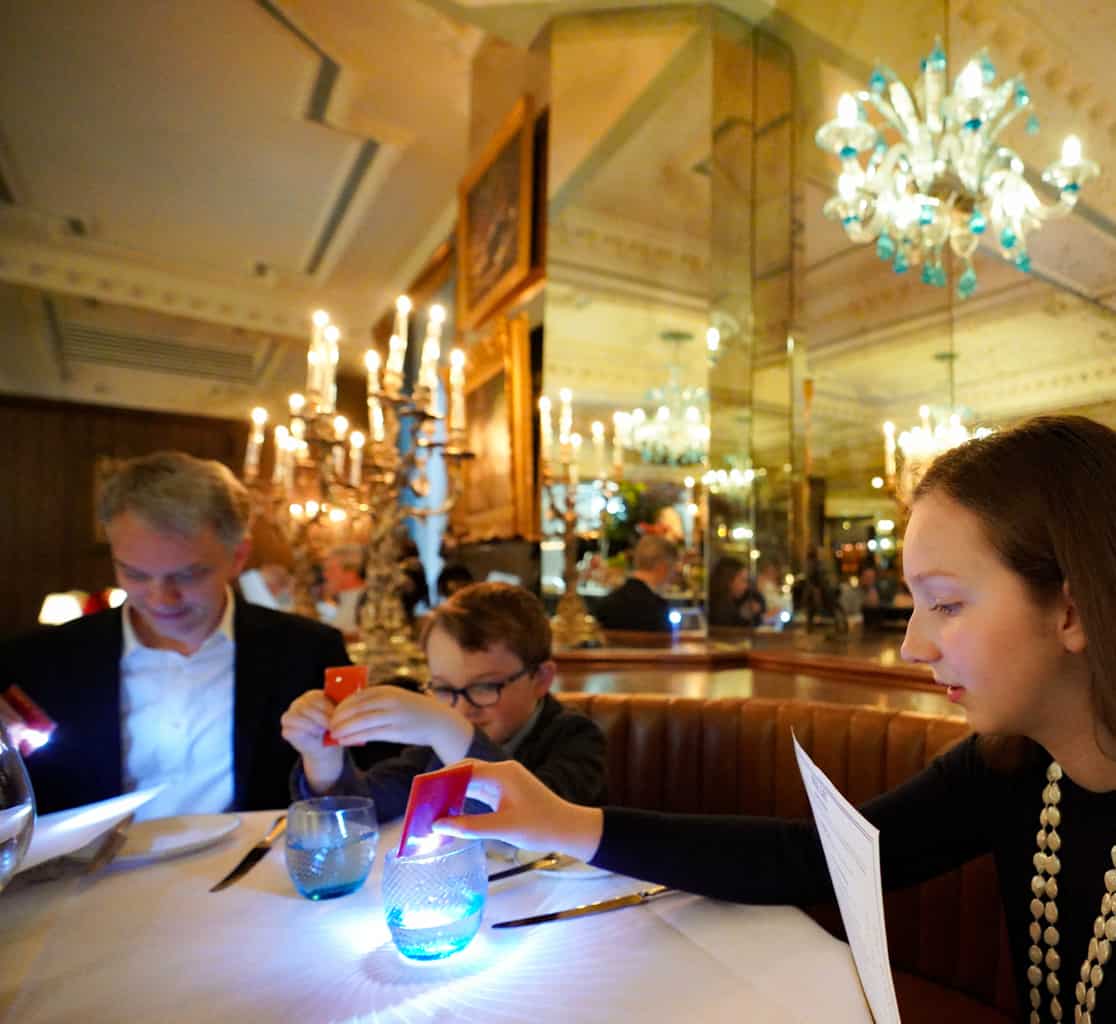 We enjoyed dry aged filets with shared side dishes for the table. The children's menu covers every child, from the basic chicken fingers and cheese toasties to burgers. There were more adventuresome choices, too, like tofu noodle stir fry and grilled chicken with mushroom sauce.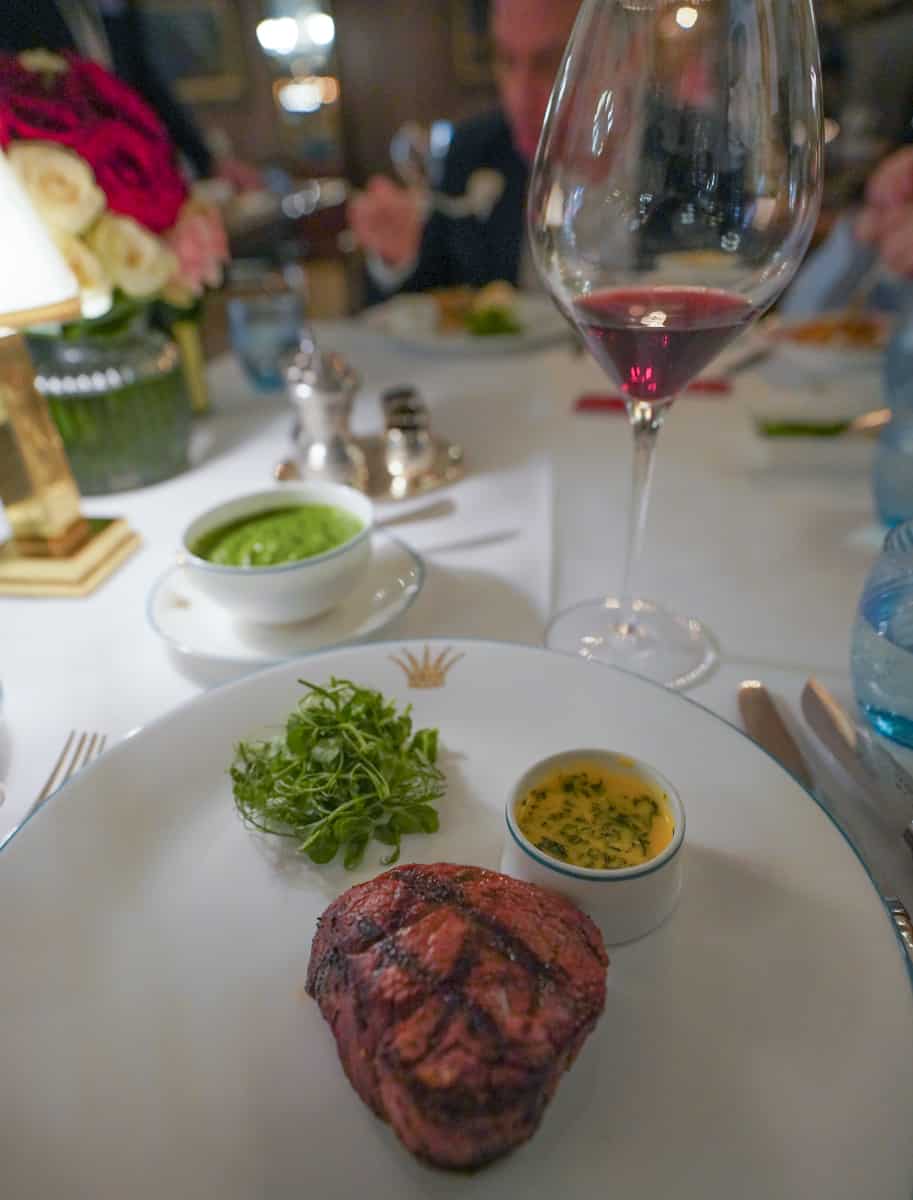 There were vegetarian and gluten free options, and The Grill also offers a prix-fixe theatre menu that would be ideal with families of younger children who need to eat quickly before their four-year-olds cannot sit still any longer.
The Red Carnation Hotels has South African roots, and their hotels have exclusive relationships with South African winemakers. I tried the hotel's Pinot Noir, and it was excellent.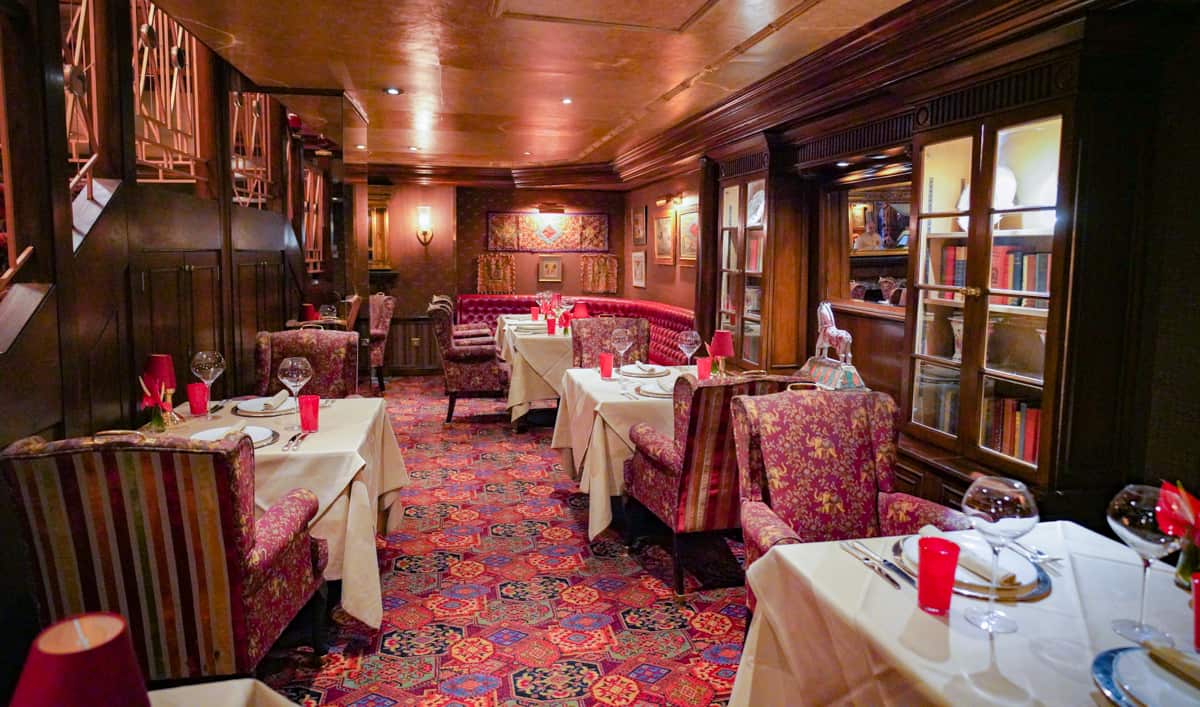 More Hotel Dining Option
There is a beautiful basement restaurant serving Indian cuisine called the Curry Room that feels like a library in a private club, warmed by the Madras and Indian inspired fabrications in the chairs and carpets.
There are a few hotel bars, but their New York Lounge offers live jazz and is where you want to drink. A lounge singer brought a recorded track to accompany her set that included "My Baby Just Cares For Me", "Jolene", and "You Gotta Be." Children can dine in here as well, if live music entertains them.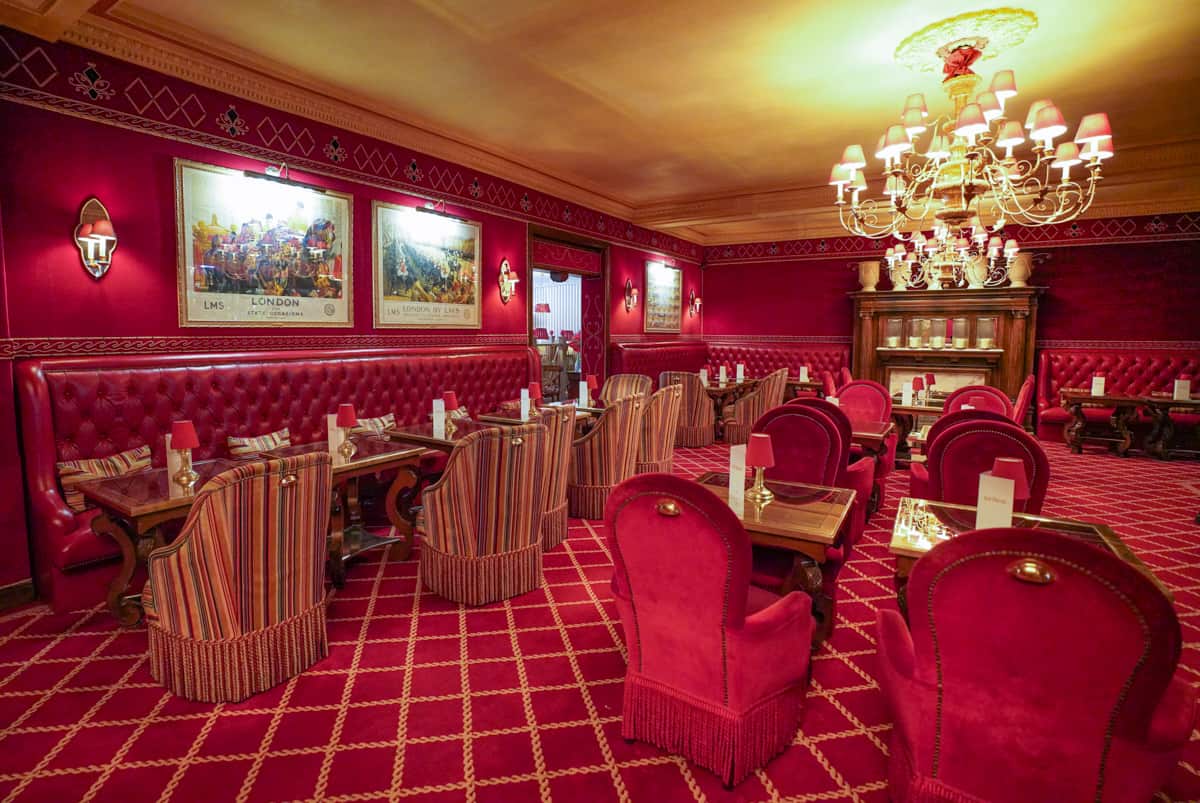 Nothings changes at a Red Carnation Hotel, it's traveling back in time to what your parents and grandparents consider luxury, and sometimes that's exactly what you want.
Final Thoughts on Rubens At The Palace
The hospitality industry is filled with young, hard-working adults who haven't had children. We have encountered 27-year-olds at hip, modern hotels who stare blankly at our fatigued kids, but the young staff at the Rubens know how to welcome children. This training comes from the top where hotel leadership either embraces families as a priority, or they don't.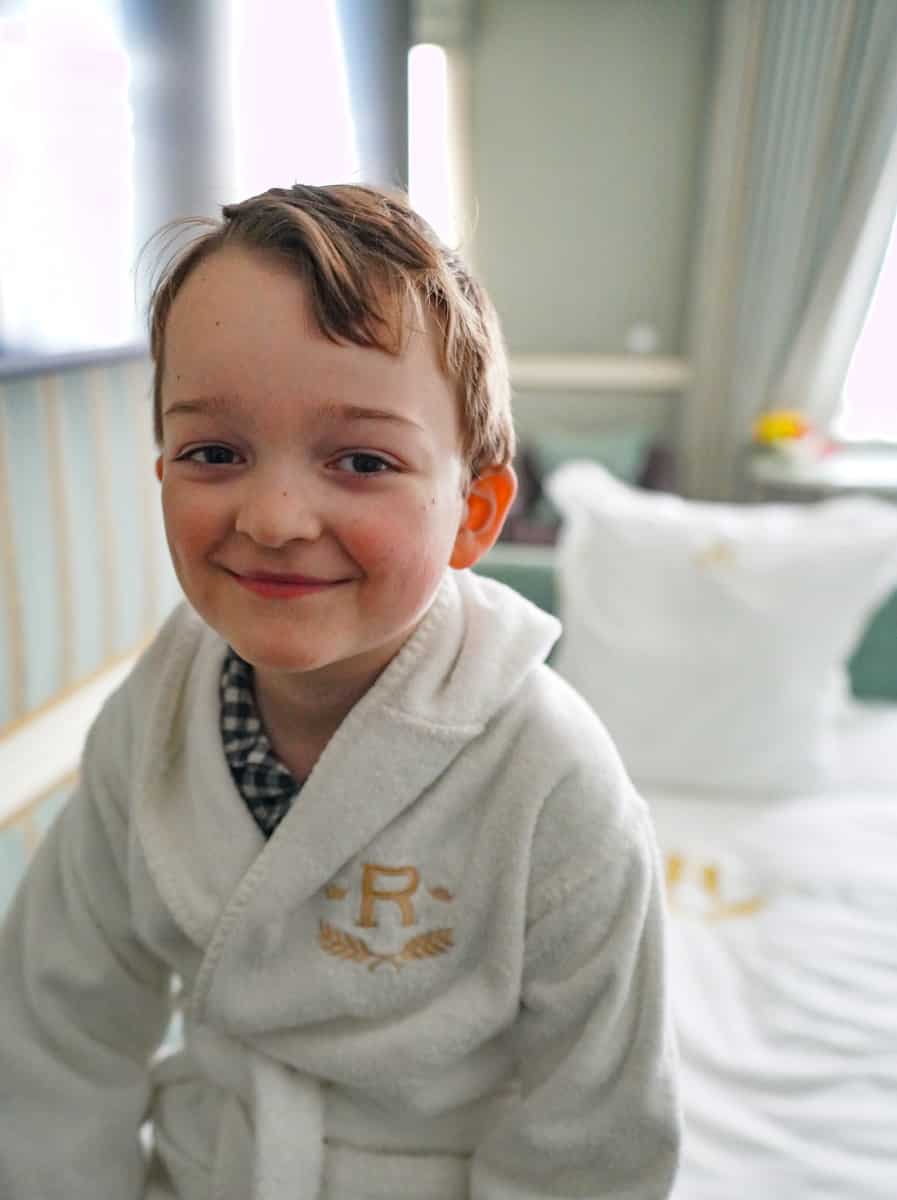 JOIN OUR LUXURY HOTELS & RESORTS FOR FAMILIES,
A FACEBOOK GROUP FOR SEEKING ADVICE AND INSPIRATION
FOR THE BEST LUXURY FAMILY BREAKS.
Check your dates for rates at Rubens at the Palace.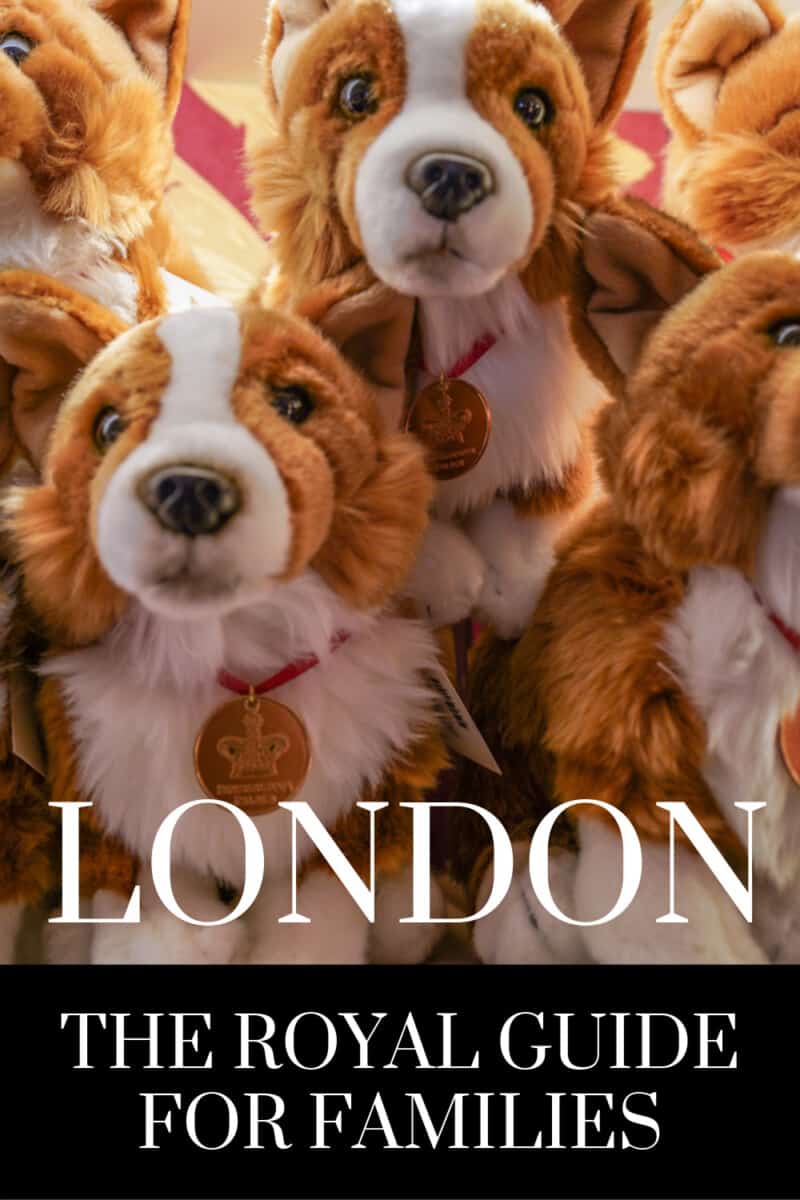 Shopping
Adjacent to the hotel are two official Buckingham Palace gift shops. One is a standalone store, but the better one is inside the Queen's gallery (museum admission is not required to visit the store). For the record, we travel frequently, and we do not buy souvenirs. Occasionally I yield for a really interesting toy at a museum gift shop. But I wanted to drop several pounds at these stores.
The Queen's own staff approve every item sold inside, and they do an excellent job. We have a soft spot for Corgis, like the Queen herself, so my daughter and I loved the Corgi umbrellas and socks. There were adorable Royal Guard pajamas for children, but I really regret not buying the silk Corgi pajamas for myself.
I was told by one of the store associates that Princess Anne, herself, comes to buy gifts from the store for the Royal family's gag gift exchange at Christmas.
Dressing Little Princes and Princesses
For American moms who dread when their sons outgrow their smocked John-Johns, there is a chance to extend the pleasure of dressing your sons like British schoolboys. British children have distinctively different shoes than American children, and the European styles are hard to find.
These two boutiques are near the hotel are a must to find British styles worn frequently by royal children.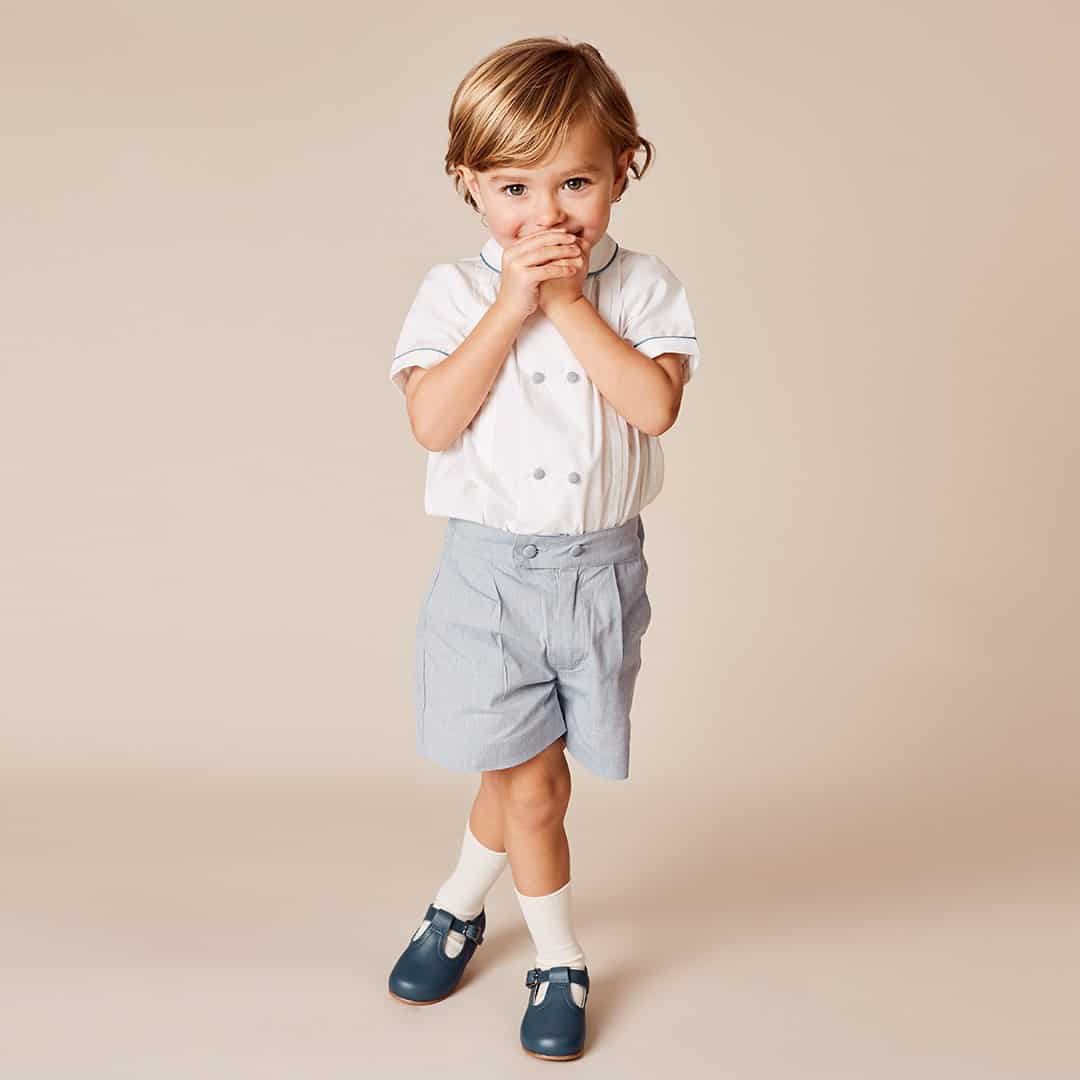 Pepa & Co. has its flagship store near the hotel at 40 Elizabeth Street, Belgravia. This label was founded by a Spanish woman who married a British man and noticed a desire for classic children's designs that feel fresh and new. Free US deliver for orders over 250 pounds.
Trotters Childrenswear & Accessories (34 King's Rd, Chelsea) carries not only clothes and shoes, but it contains hairdressing salons in each store to give your children a trim and style. They ship worldwide.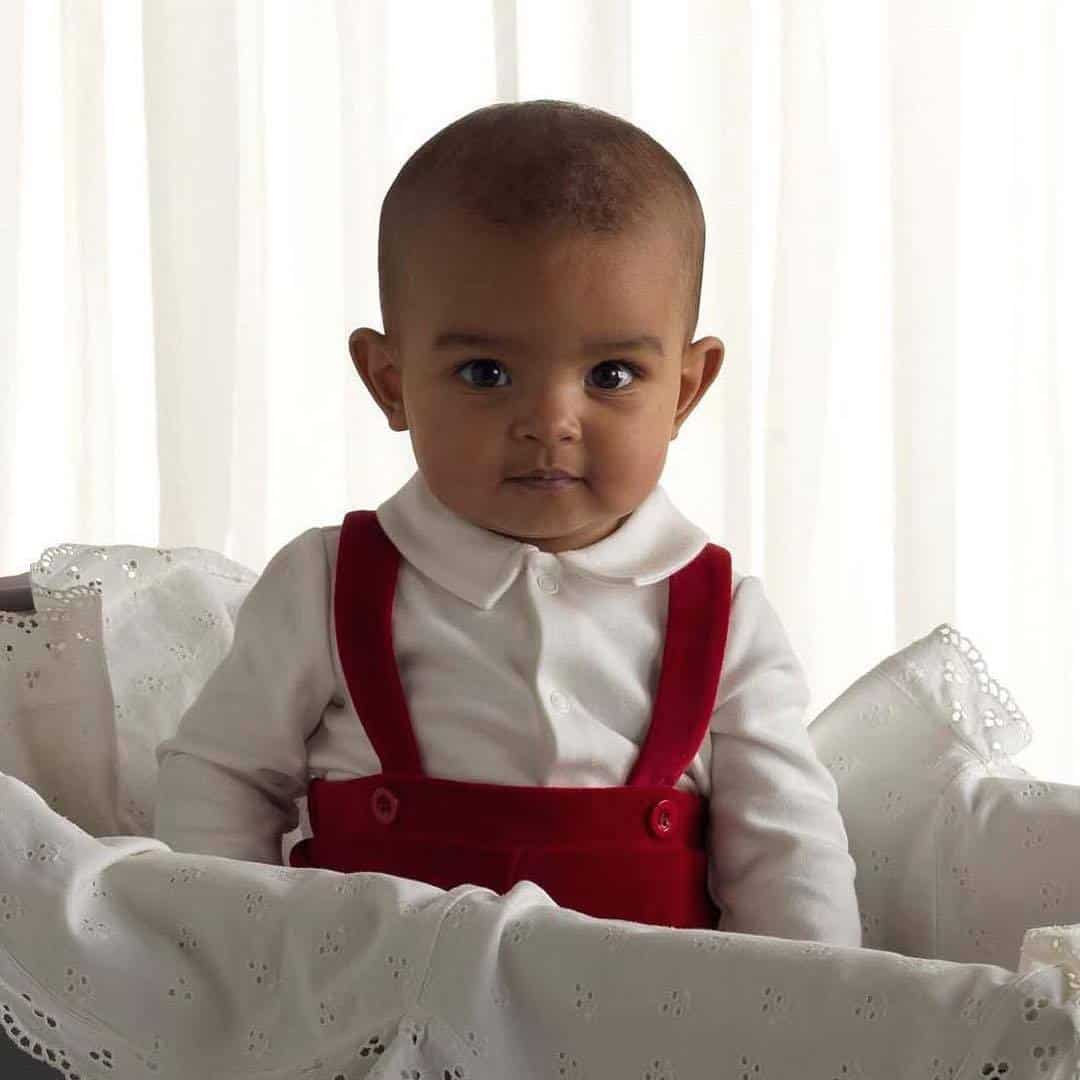 Rachel Riley (82 Marylebone High Street) is not near the hotel, but located in Marylebone. It's worth the hike, to me, as I have loved this brand for my kids. There's a New York store, and a US online store.
Sightseeing
The Best Royal Palaces For Families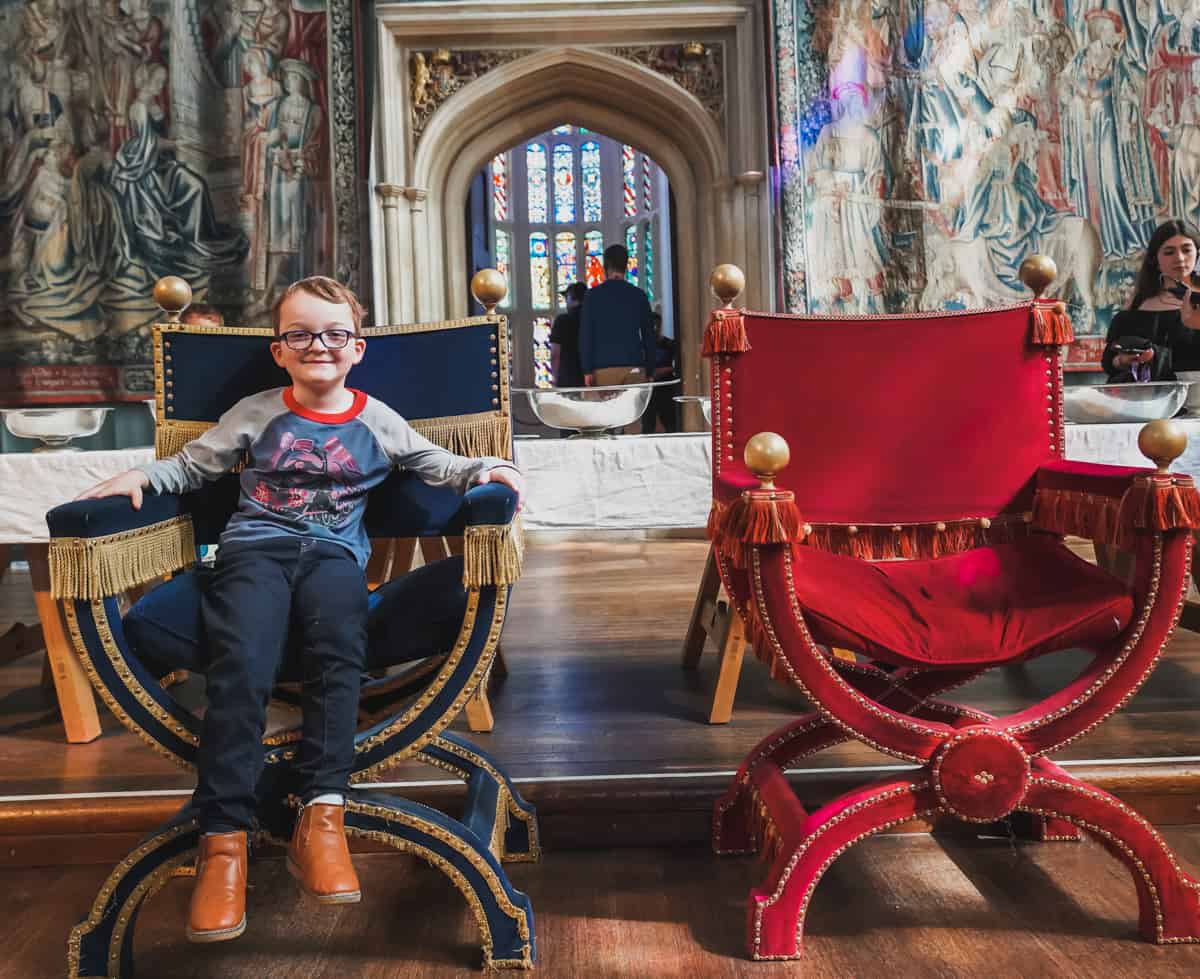 Buckingham Palace & Changing of the Guard
There are tours inside Buckingham Palace throughout the year, but if exploring the palace is a priority, I suggest looking at the website prior to determining your travel dates. The State Rooms are open for tours 10 weeks each summer (July – September) and on select dates during winter and spring. If your heart is set on visiting one of the Queen's residences during your stay outside these times, consider Windsor Castle.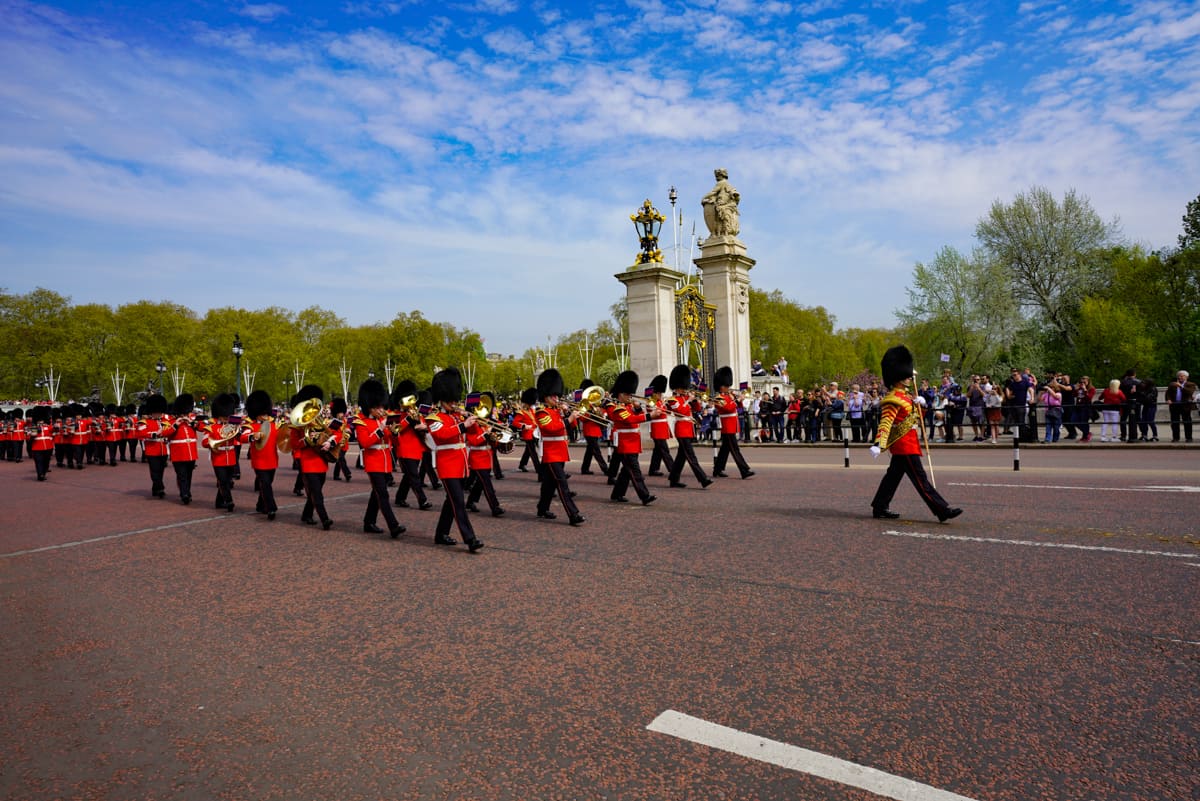 Changing of the Guard at Buckingham Palace is a much more accessible and regular royal activity, but the guards do not change daily. The schedule is released about a month in advance and is known to change, so plan two days in your itinerary that observing would work.
Crowds gather early for the best views, and children will likely not find it very interesting. The bands accompanying the guards mix popular songs with traditional marches, and I had no idea to expect Midnight Oil's "Beds Are Burning."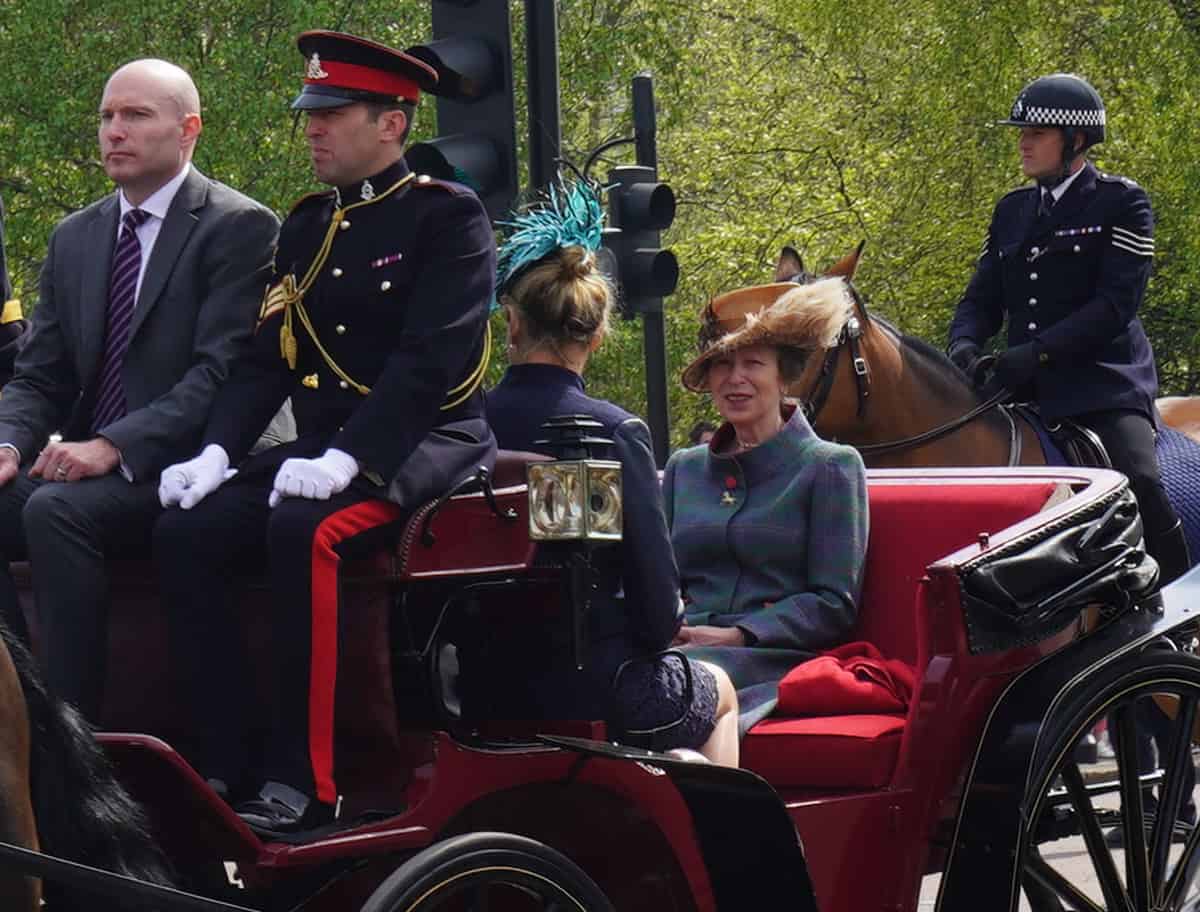 John at the Rubens gave us a very specific tip on where to stand and when for the best views.
The Royal Mews
The Royal Mews is directly across the street from the hotel. It's both the Queen's garage and stables and houses all of the royal carriages which are on display. There are activities for children with additional family programs during school holidays and summer break.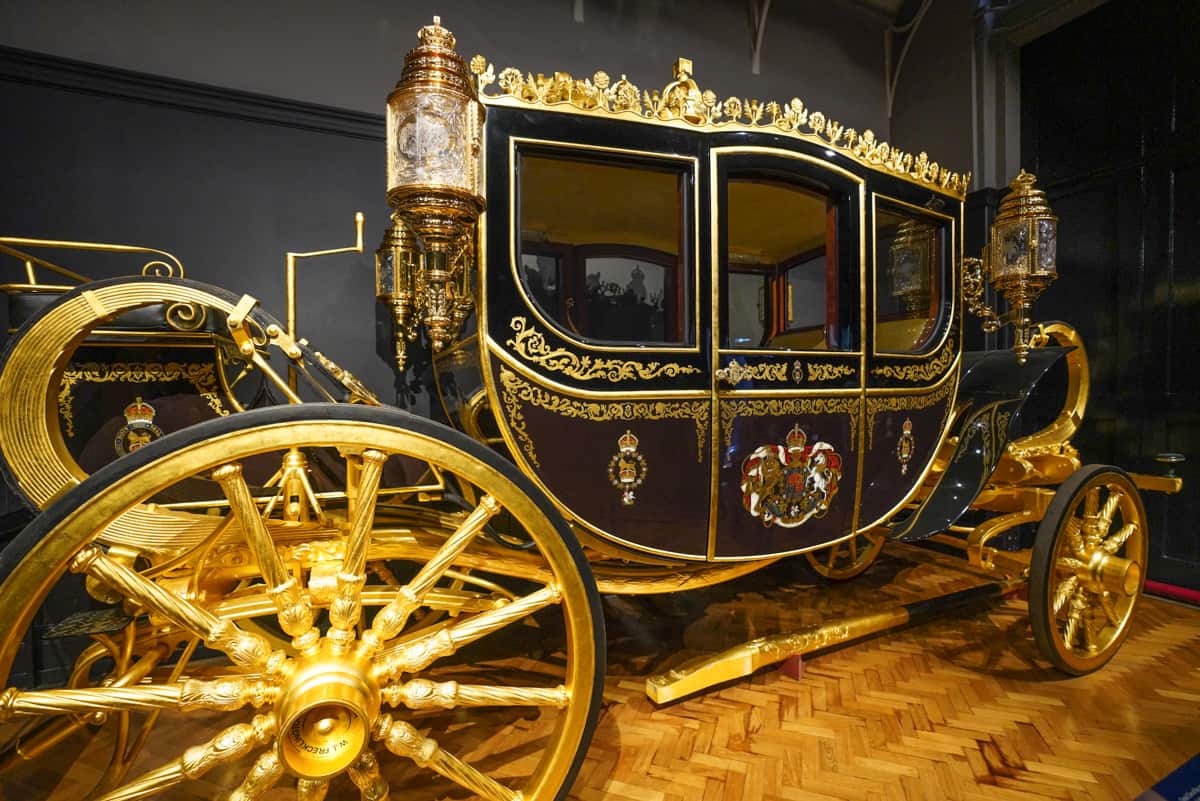 A visit with children will likely take no more than an hour and may be a better option for younger children who would not appreciate the Queen's Galleries.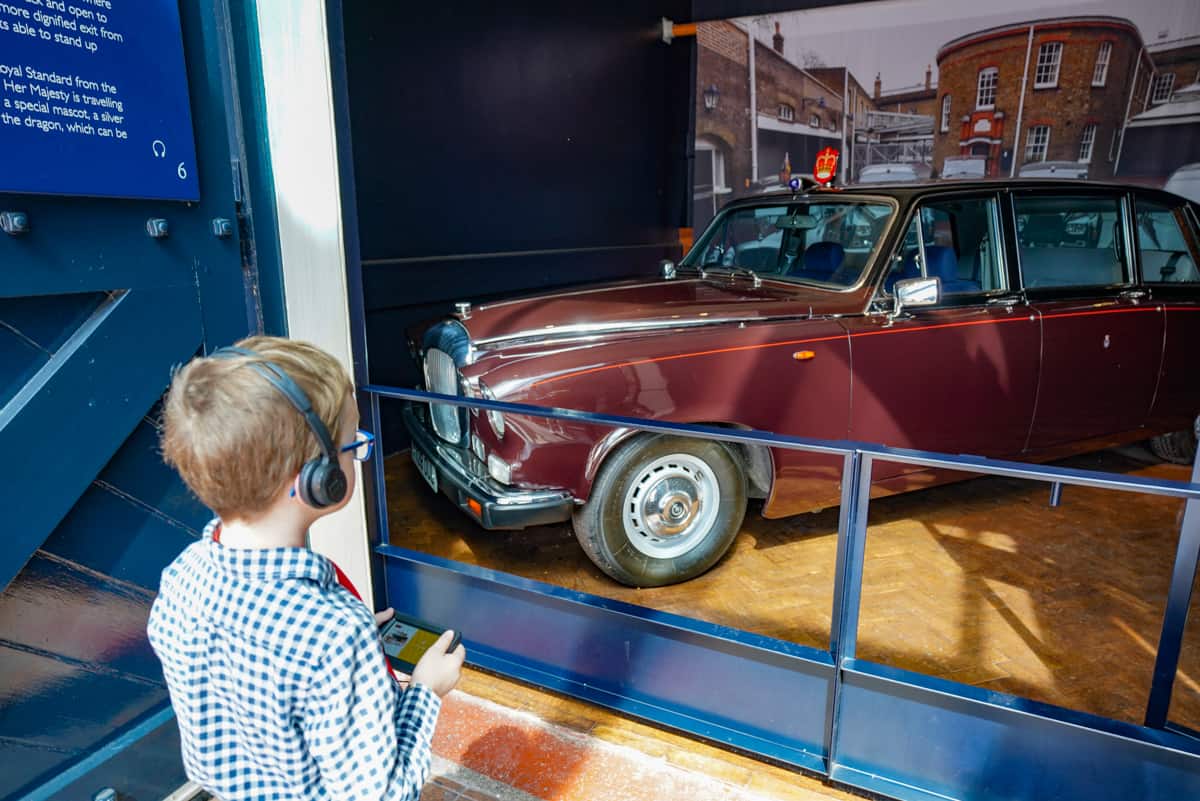 The Historic Royal Palaces
The Tower of London, Kensington Palace, and Hampton Court provide extremely family-friendly experiences while satisfying history-loving parents, too. They are all member properties of the Historic Royal Palaces.
The organization put considerable investment into interactive videos for children to watch prior to arrival found within their app, and children use iPads loaned on site to solve mysteries and complete scavenger hunts.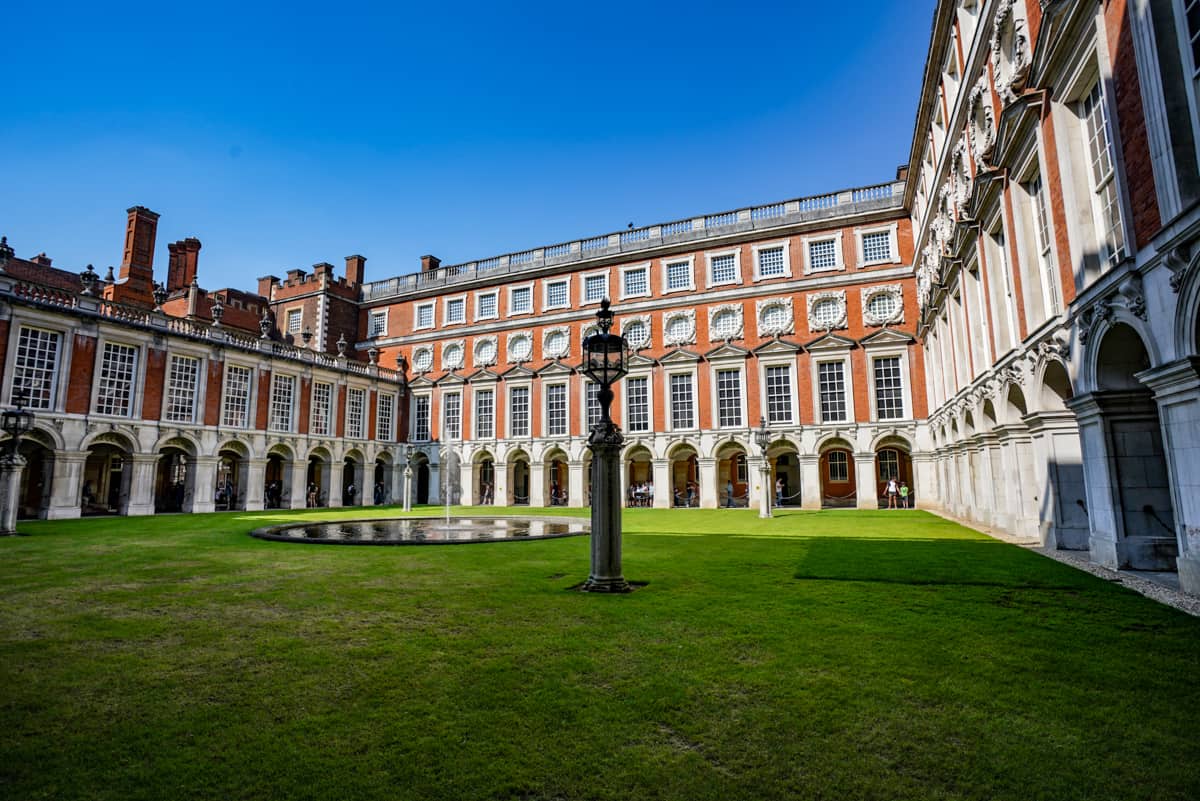 I highly suggest purchasing a membership to this nonprofit organization for your trip. It offers both skip-the-line access which can be very nice at the Tower of London where lines can be long during peak season. as well as member-only events that sell out like nighttime tours of the Tower of London) and discounts for food and gift shop purchases.
Kensington Palace
On the far west side of Hyde Park lies Kensington Palace, the London home to the Duke and Duchess of Cambridge and several other members of the Royal Family. Kensington Palace is part of the Historic Royal Palaces, and much of it is open to the public for touring.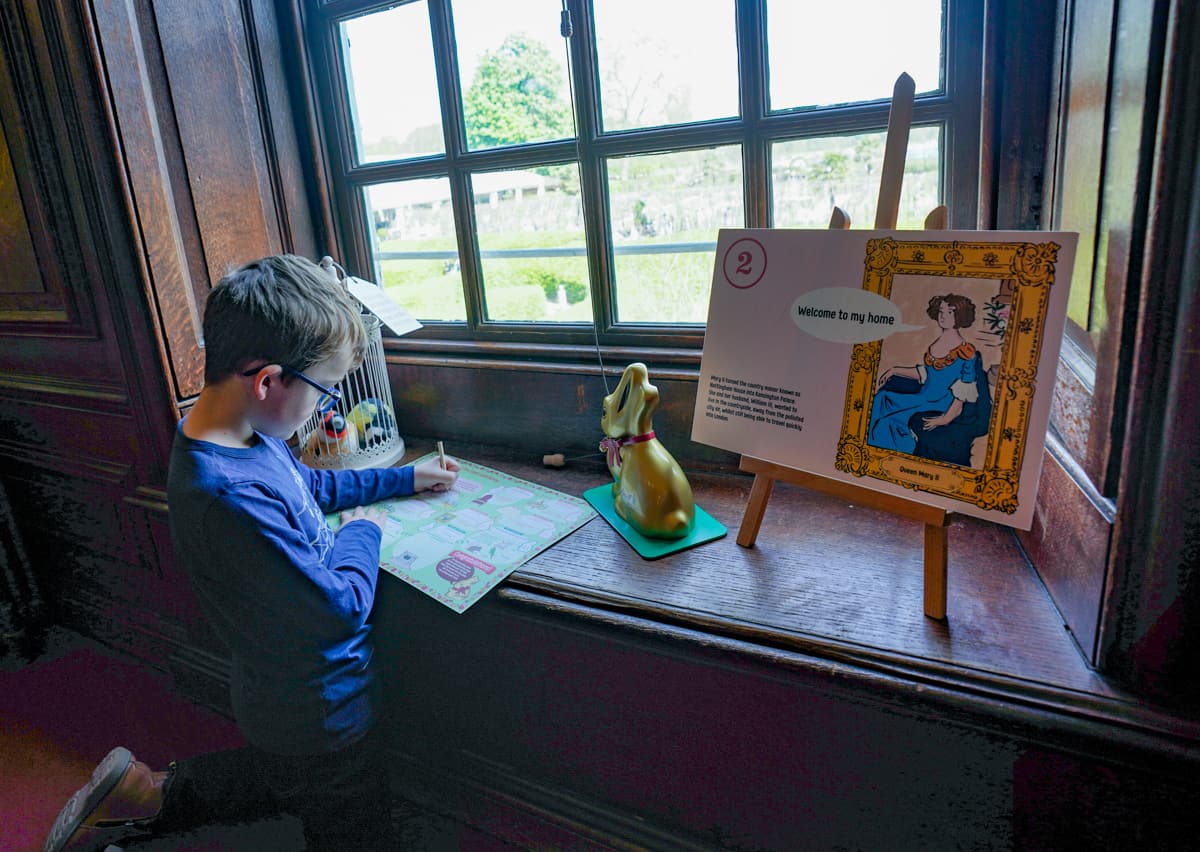 We timed our visit with the Easter holiday, so there was a seasonal egg hunt with a chocolate prize that made the palace particularly great for children. My son and I enjoyed the costumed actors inside the palace portraying various monarchs. A young woman portraying a young Queen Victoria wandered the gardens.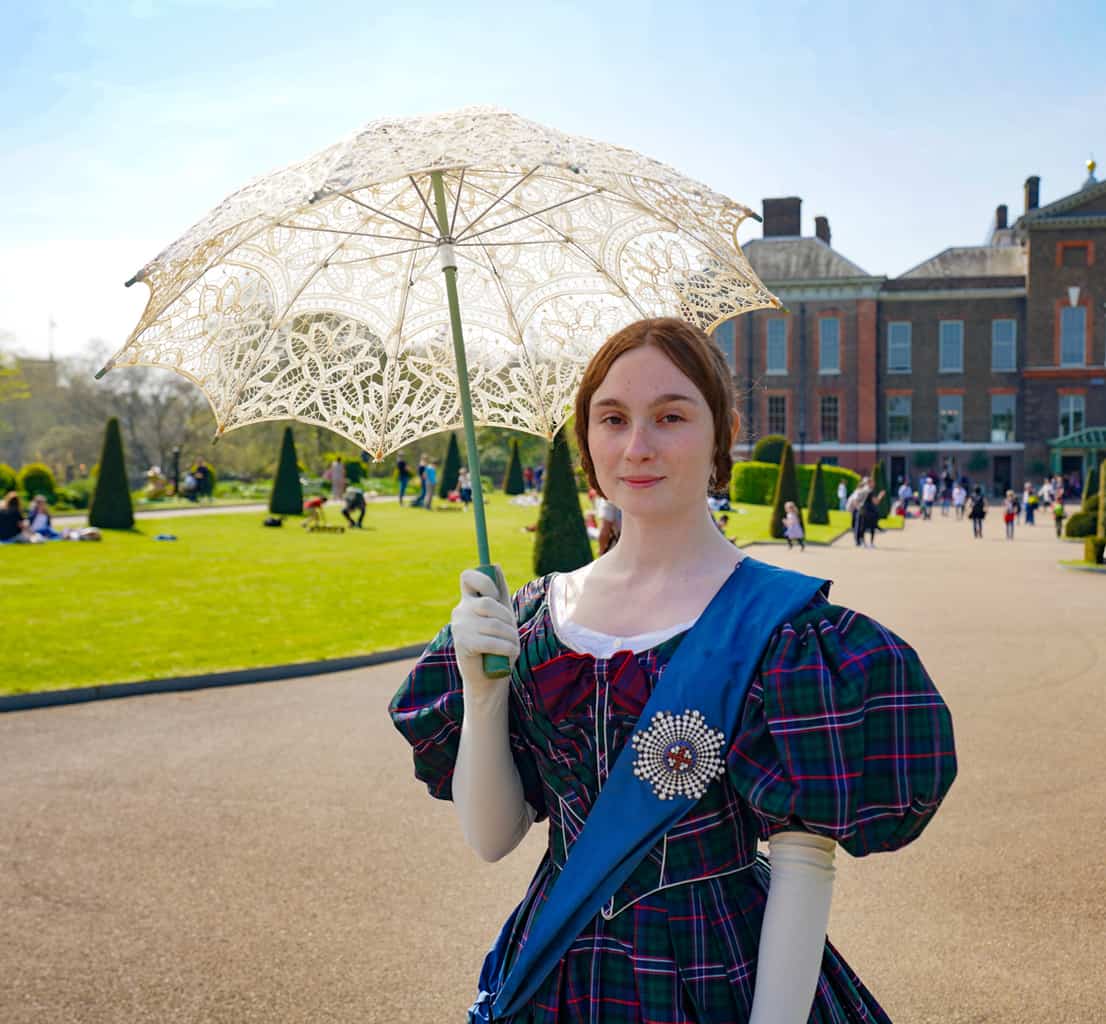 For Royal family lovers, I was surprised to see just how small the private walled garden was for the Princes George and Louis and Princess Charlotte to play. I recall the late Diana, Princess of Wales, referring to Kensington Palace as a prison. Seeing it in person made me understand why the Duke and Duchess of Cambridge spend so much time in the country and why the Duke and Duchess of Sussex chose a move to Windsor for a little more breathing room.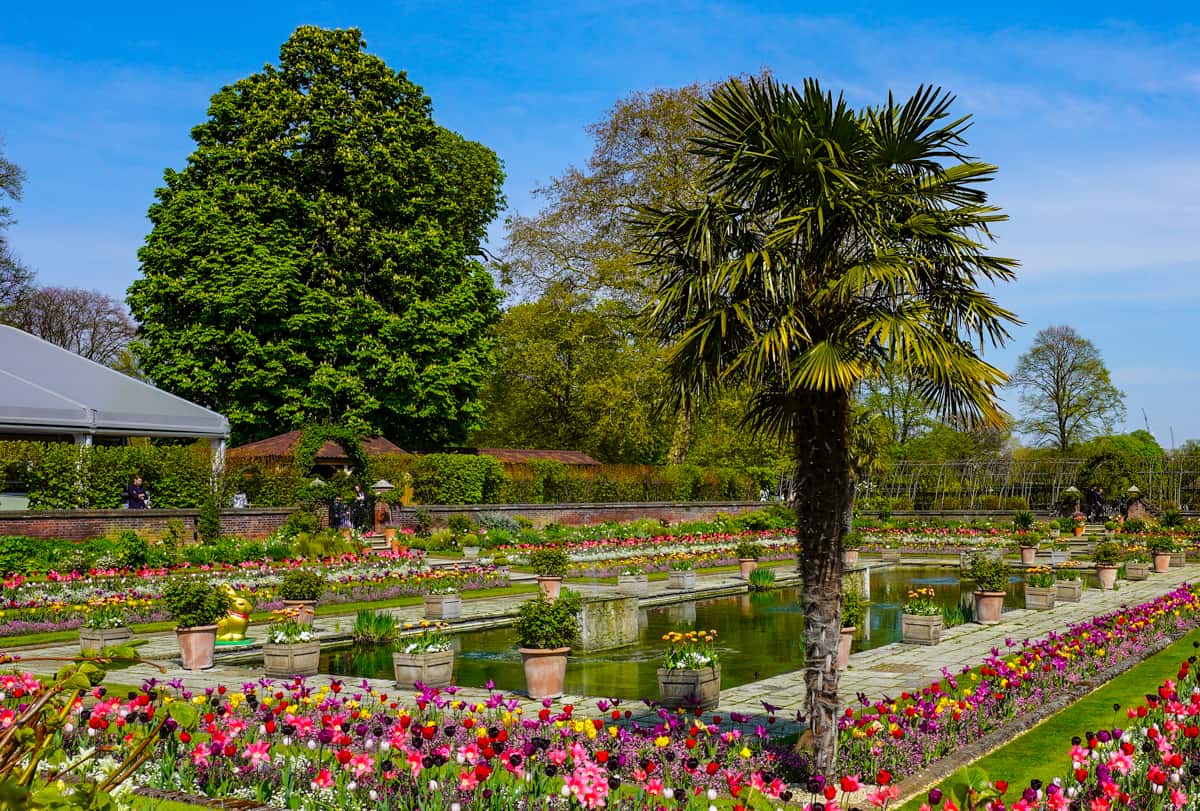 That being said, the sunken garden open to the public was gorgeous, and April showcases its tulip glory.
Hampton Court Palace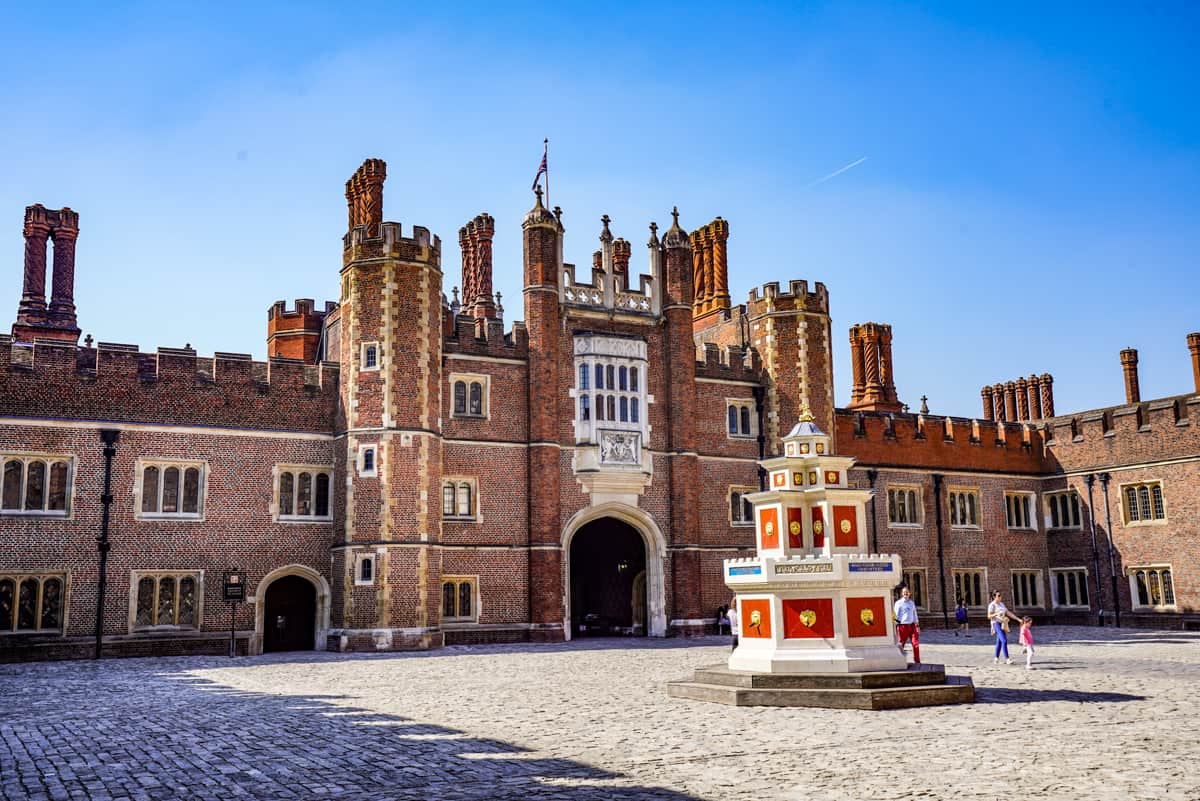 Most notably home to Henry VIII, Hampton Court Palace is a wonderful day trip for families from London, and with Uber, it can even be a half-day trip. Hampton Court is a lovely suburban town along the Thames that is easily reached by commuter rail from Paddington Station or by Uber. (It took about 40 minutes and cost about $75)
Hampton Court has significantly more to do than just a castle tour. There are beautiful gardens, a famous hedge maze, and former hunting grounds and parks to explore.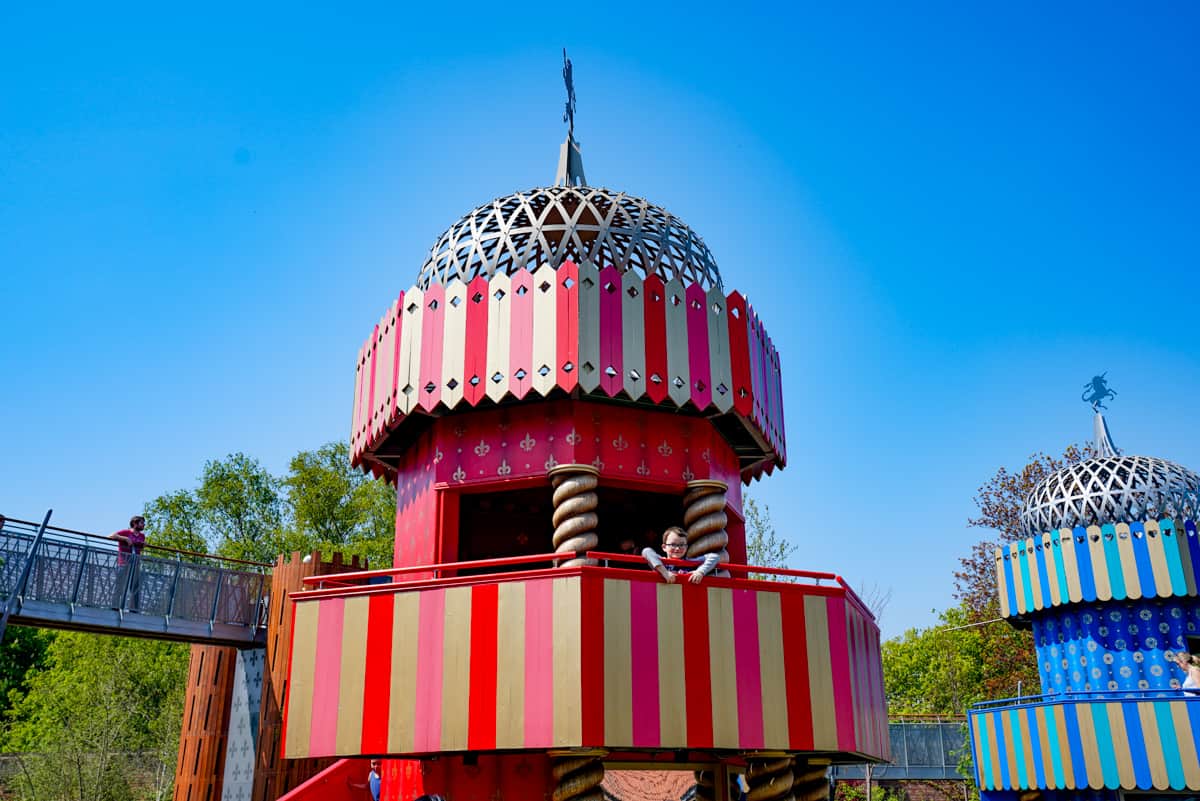 Children will love the impressive playground opened by the Duchess of Cambridge a few years back. The playground is ideal for those aged 7 and under, and those over 7 will genuinely engage with the interactive children's tour using iPads inside the castle.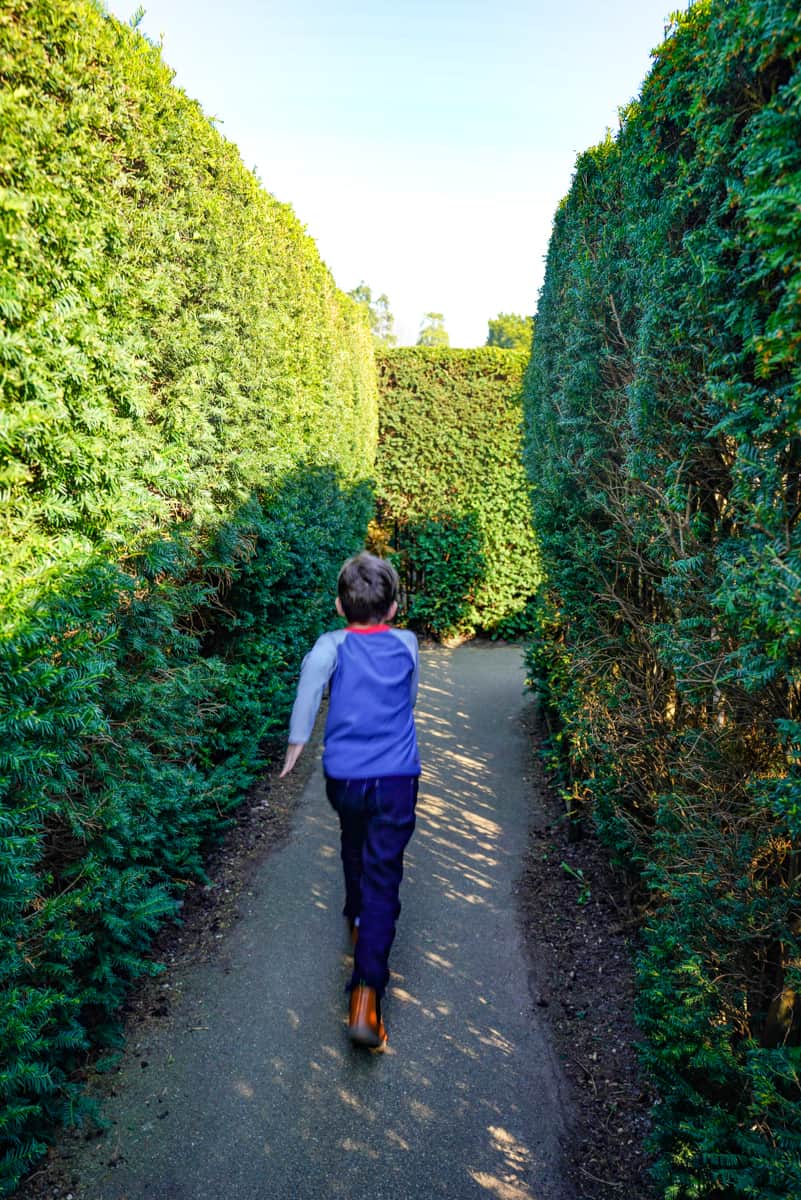 One of the first stops on the interactive tour is an authentic Tudor kitchen where costume staff prepare dishes of the age including roasted chicken and stuffed eels. Be prepared to hear children ask to eat soon after visiting this hall. The spices and chickens crackling on an open fire will make you hungry.
We enjoyed both the cafeteria by the playground for lunch and the elegant pub across the street, The Mute Swan, for an early dinner.
---
We really wanted to include a visit to Highclere Castle, as avid fans of Downton Abbey. We didn't get to squeeze it in, but my friend Jody Robbins did and wrote about it.
Books about London for Kids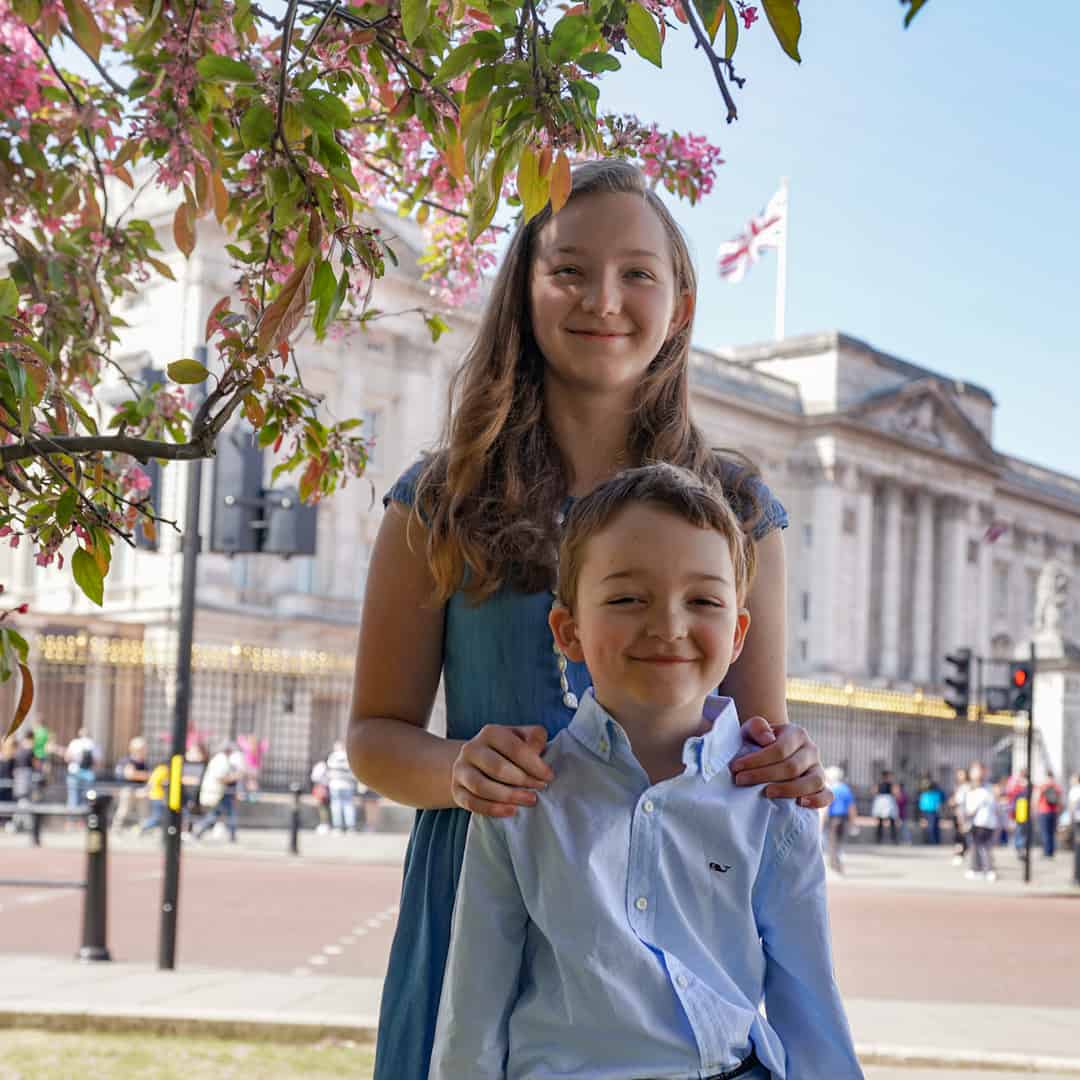 My children read several books that helped interest them about London, British history, and the monarchy (in addition to the Harry Potter series).
Tween and Young Adult Books
The London Eye Mystery, for middle schoolers
The War That Saved My Life, for middle schoolers
The 48, time traveling teen assassins at Hampton Court for 13 and up
Children's Books
Where is the Tower Of London? We love this series, but it is historically accurate and doesn't gloss over the violence in history.
The Mac B Kid Spy Series A young boy becomes a spy for the Queen
The Tudors: Kings, Queens, Scribes, and Ferrets!, A colorful picture book filled with historic detail written for children.
Other activities we loved in London include a tour by Mini Cooper. And for a guide to London for the winter holidays, read here.
We were guests of Rubens at the Palace, but no brand had any oversight on our feature. We always publish our honest opinions.