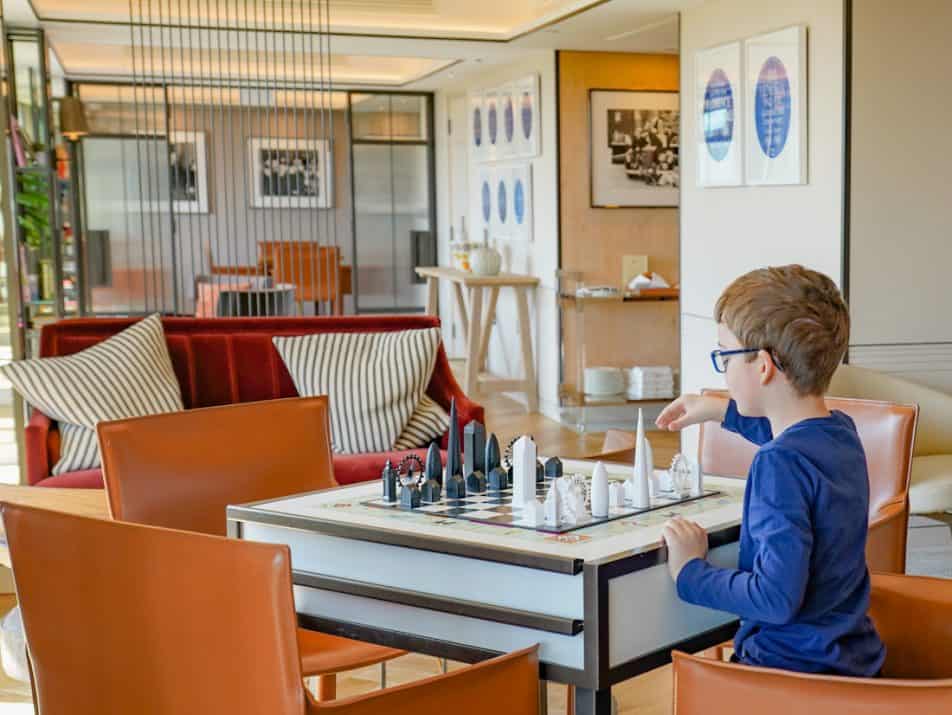 Celebrating Spring in London
After trying our first daytime flight from Boston to London, we congratulated ourselves for avoiding an overnight flight. We felt energized, and both kids and parents were ready for a London adventure. Instead of trying to squeeze a night's sleep into an uncomfortable six-hour flight, we flew all day watching movies, reading, and playing games.
We were eager to check into the Athenaeum Hotel, a family run and independent property in the heart of Mayfair. The location in one of London's most prestigious neighborhoods put us near many places on foot. Buckingham Palace, Hyde Park, Regent Street shopping, the theatre district, and the National Gallery are a leisurely stroll away.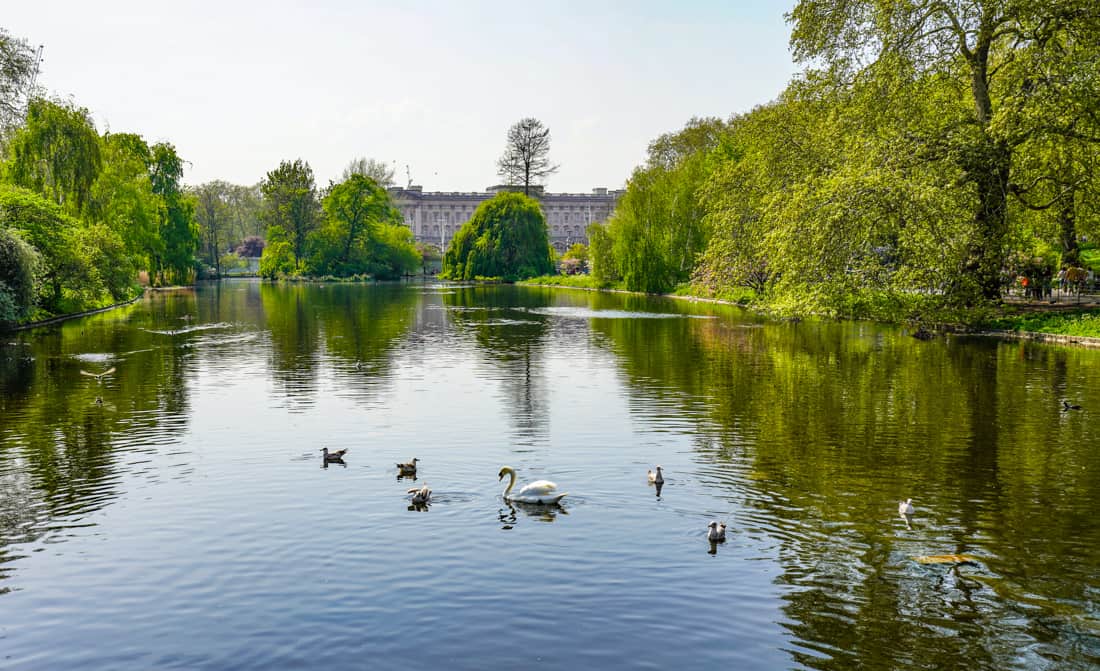 Arriving at the Athenaeum Hotel Residences
The hotel, recognized by its vertical garden wall, faces Green Park. We entered the hotel's small lobby after passing the doorman who tilted his top hat to us.
Five minutes later, the front desk agent escorted us back outside. No, my son hadn't broken anything. We had booked our own private apartment, so we exited the front door and turned right onto the side road.
Four adjacent townhomes contain the hotel's private residences. An underground passage secretly connects them to the main hotel. The staff can roll carts with in-room dining orders under domed silver lids without leaving the hotel.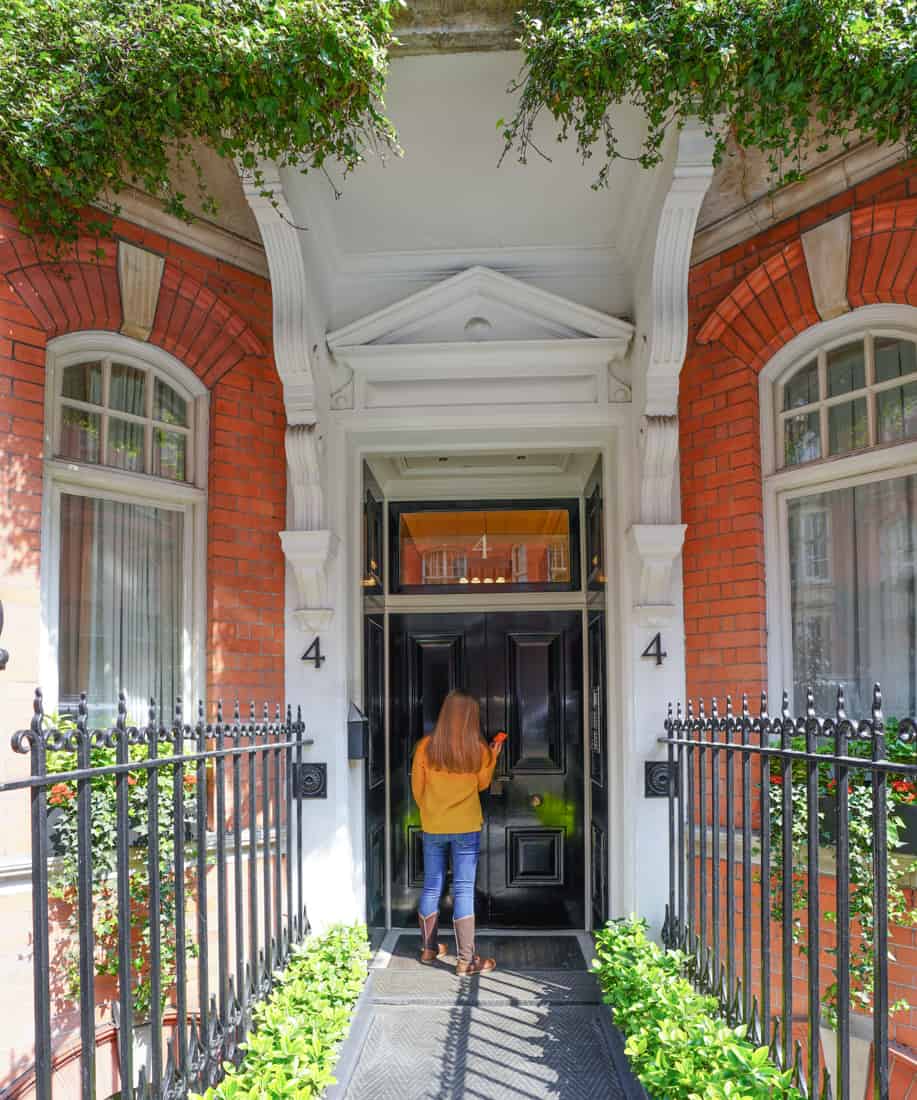 Five-story Georgian, red brick townhomes bordered each side of Down Street, with well-maintained flower boxes in the windows sills behind glossy black iron gates. A discrete modern touch of an electronic keypad near the door granted us entry into the last building.
Only a stack of magazines in the entry made the townhome feel more of a hotel than living my fantasy of my own London pied-a-terre.
The Family Suites
We reached our one-bedroom suite via a European-sized elevator that narrowly held four while our son raced up the winding, curved stairwell. The residences got a recent refurbishment, and everything felt very new.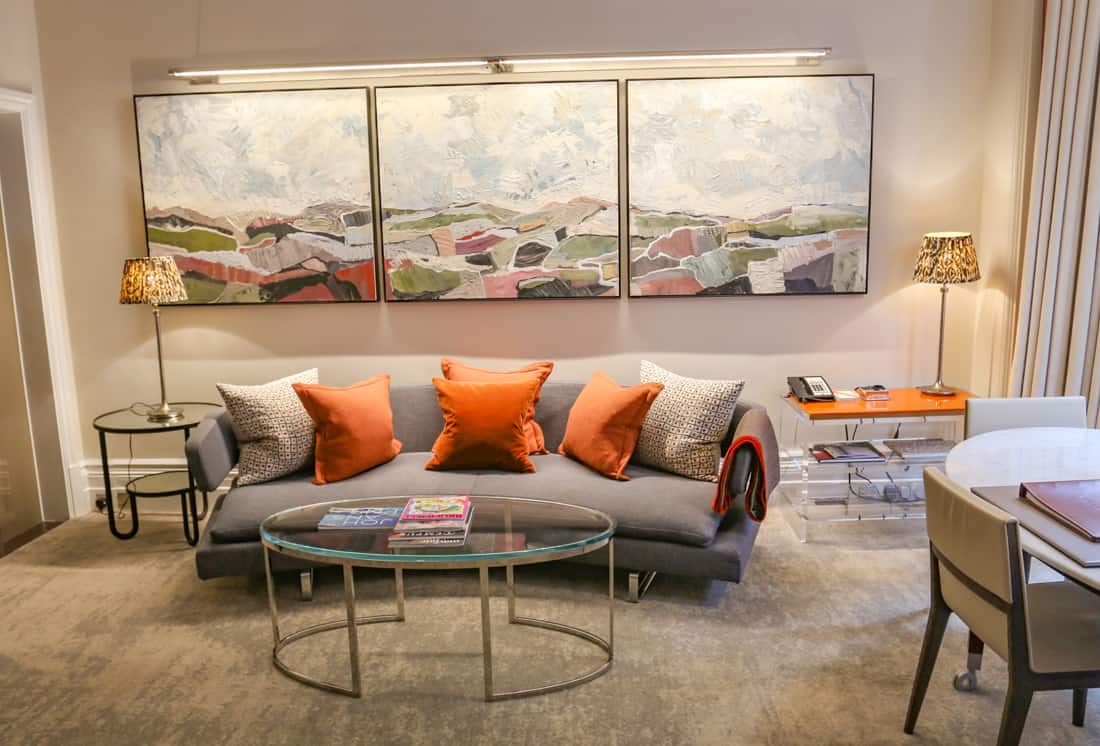 The décor was elegant and modern while embracing the hotel's art deco roots. We were thrilled with its high ceilings and abundant natural light courtesy of windows stretching from floor to crown molding in the main room. A rounded sofa faced a large flat screen TV showing current movies as well as a selection of English television programming.
The bedroom featured a firm, comfortable king-sized bed, and the blanket selection was excellent, offering two additional options for those who don't like the ubiquitous and often overly-warm down duvet at hotels.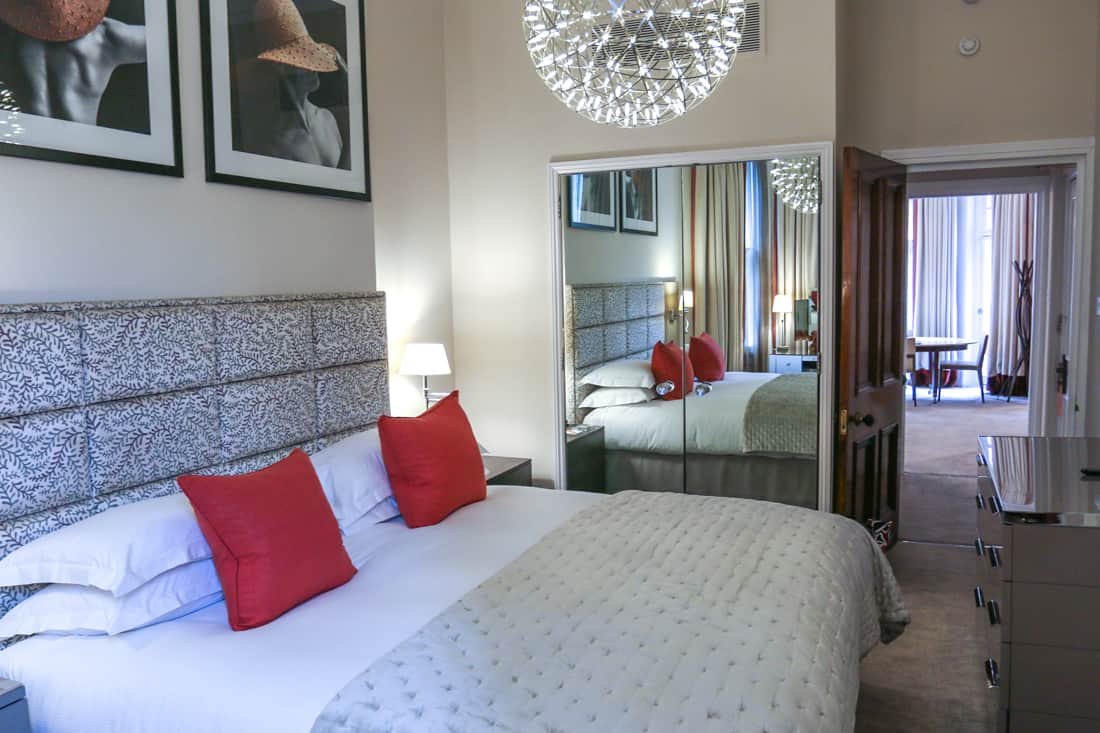 A mirrored vanity table and chair with an old-fashioned alarm clock occupied the room with a photograph of a woman, shown from the back, wearing only a sun hat above her waistline.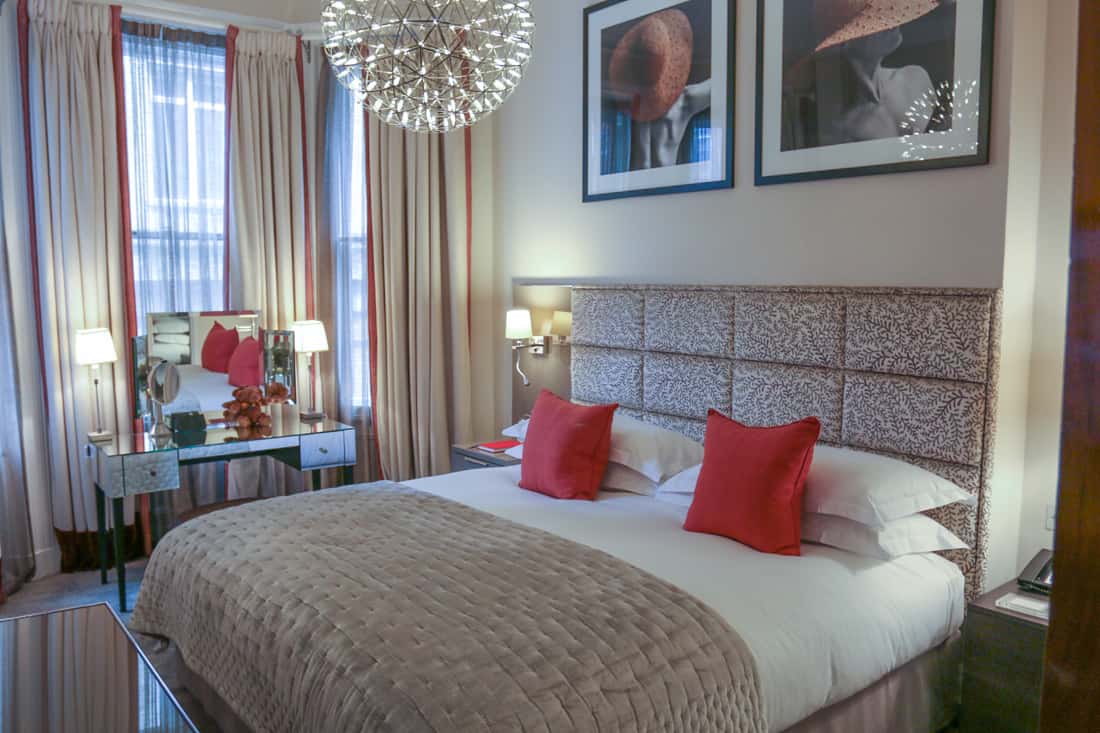 The bathroom, though small, could hardly have been improved upon. The waterfall shower was easy to use. The marble floors and towel rods were heated, and the toilet softly illuminated when it sensed a visitor during the night.
Why the Athenaeum Residences Work For Families
Our children slept, in bunk beds, tucked in an alcove nestled away from the main sitting area. A stack of fresh towels and Le Petit Prince children's toiletries waited on each bed for them. Not all of the residences offer this family friendly touch, but the hotel can arrange extra beds.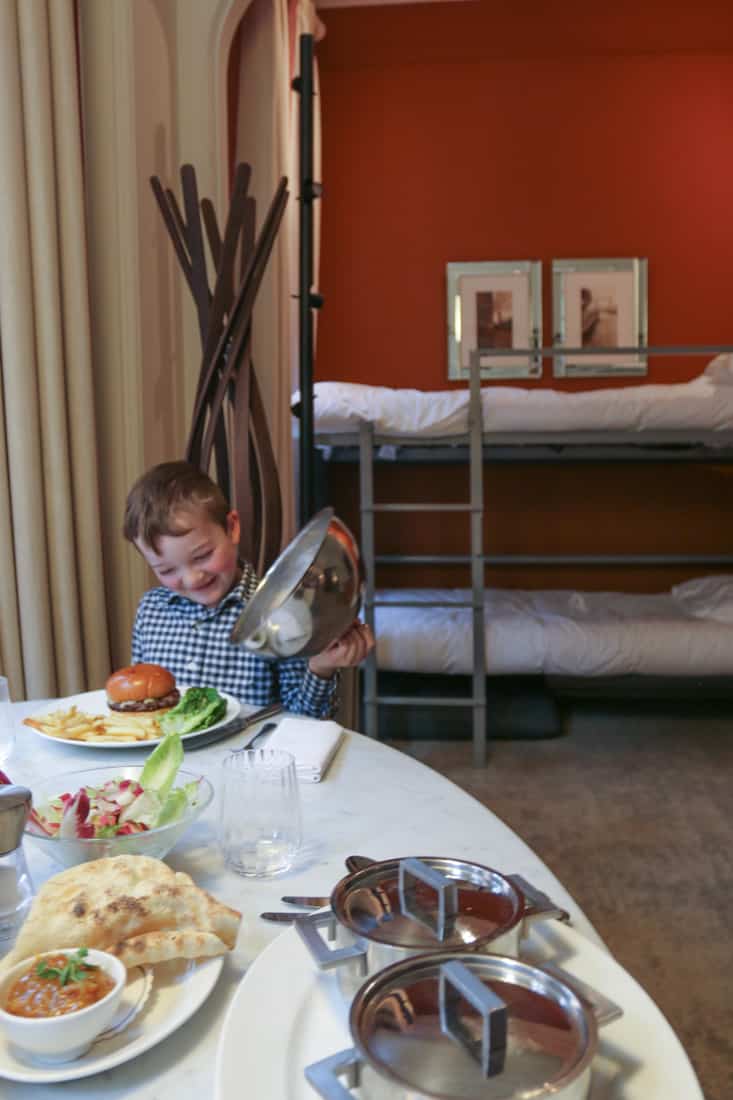 A small kitchen tucked in the corner offered a stove top, oven, and coffee maker. The refrigerator was helpful. We stopped at nearby Marks & Spencers grocery and brought prepared foods back with us for the inevitable pre-bedtime requests for snacks. The kitchen is fully equipped for making kids any special meals, too.
The media stand contained a DVD player and a game of Twister, and I am sure the front desk had more options had we had the time to use them. And yes, we did play Twister.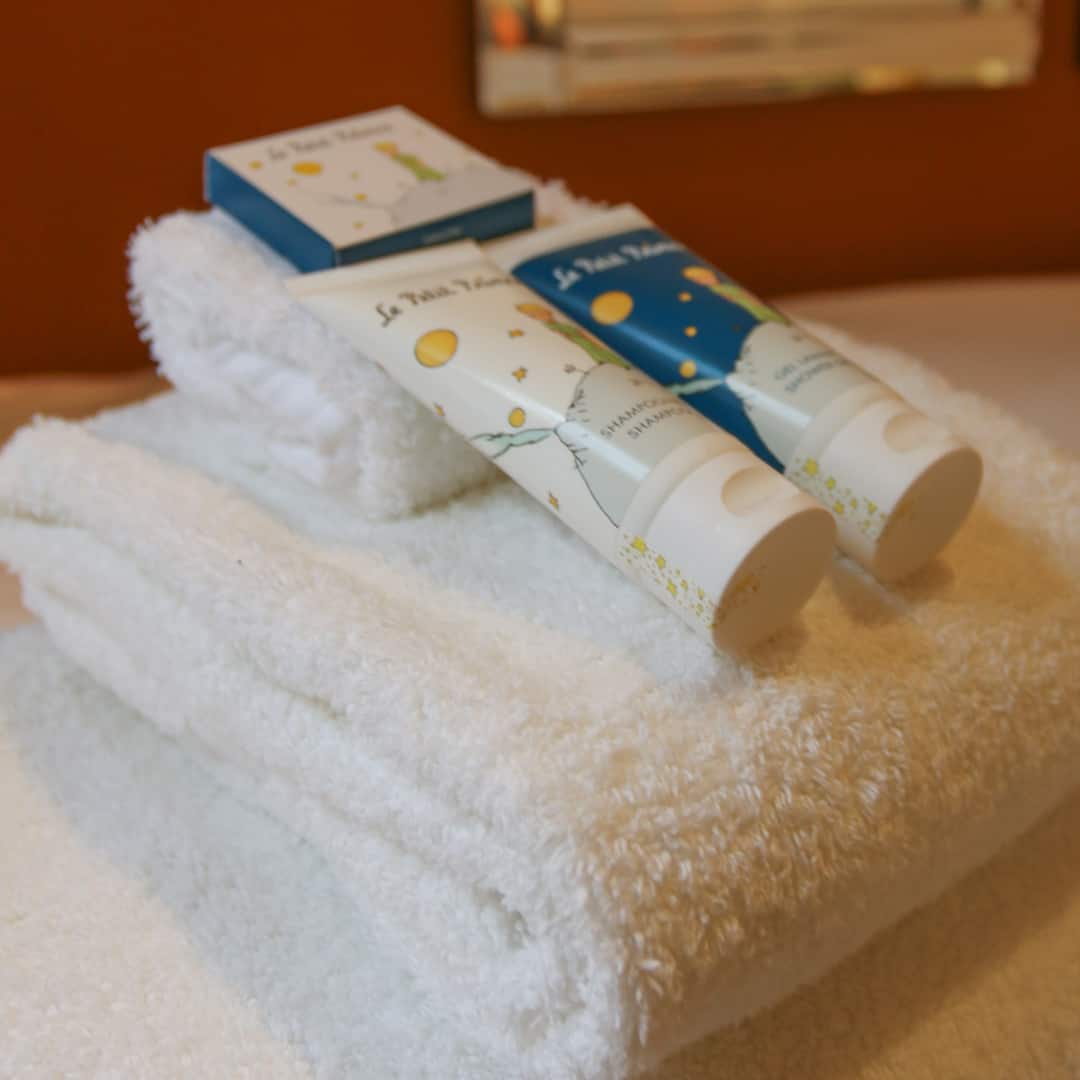 It was rare to hear outside noise in our apartment except for the occasional motorcycle racing up Down Street's slow incline. It was exceptionally comfortable. We ordered a few meals in because the comfort of our suite kept us inside and we discovered the hotel made a very good burger and fries.
Enjoying the Attentive Service of a Hotel
I know so many trends point to renting apartments, but I like the option of room service and housekeeping if I am on a vacation.
JOIN OUR LUXURY HOTELS & RESORTS FOR FAMILIES, A FACEBOOK GROUP FOR SEEKING ADVICE AND INSPIRATION FOR THE BEST LUXURY FAMILY BREAKS.
A closer look on our last full day revealed a washer/dryer combo I had assumed was a dishwasher. I threw a load into the wash using the provided detergent. After a full 12 twelve hours struggling with the dryer settings, I couldn't get our clothes to dry, and I knew I needed help.
I reached out to housekeeping with only two hours to check out asking for someone to show me the correct settings. Someone arrived in under ten minutes and explained the dryer had not yet been connected. She whisked our damp clothes away and returned them folded in just under an hour.
More Athenaeum Amenities
The in-house restaurant offers three mails daily as well as afternoon tea. We ate dinner one night on site and found their children's menu solid and made families feel welcome.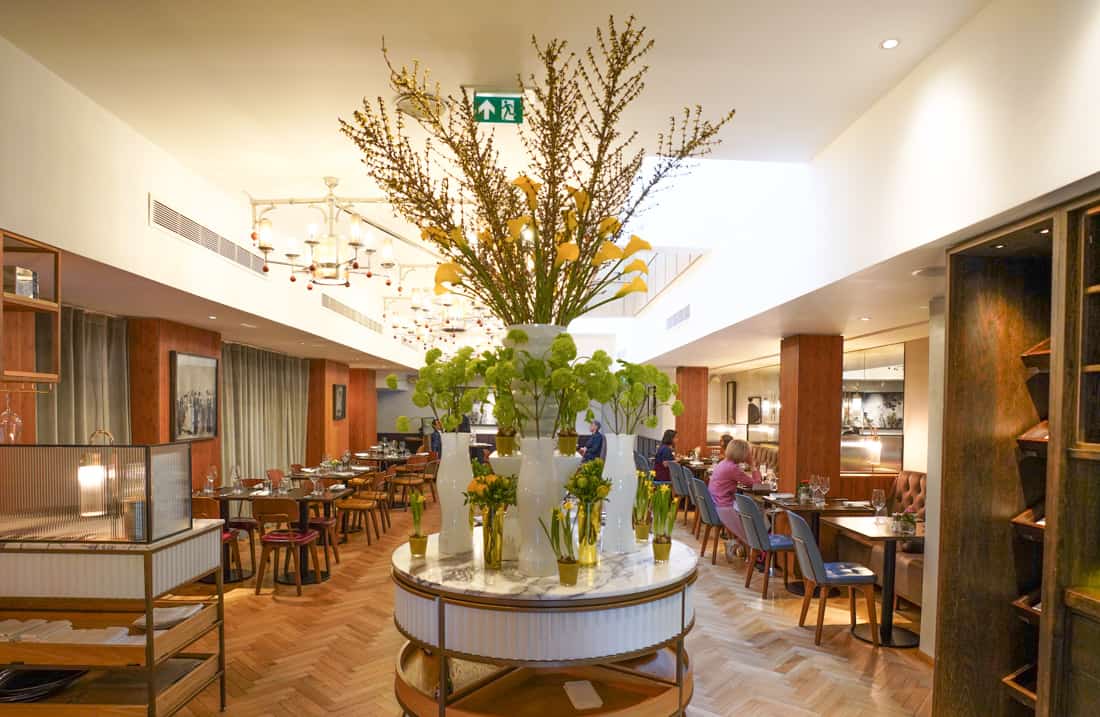 The Athenaeum has a club called The View, a new rooftop lounge open to all guests. I visited on our check out day to my great regret. Its penthouse views of London are as lovely as the room itself.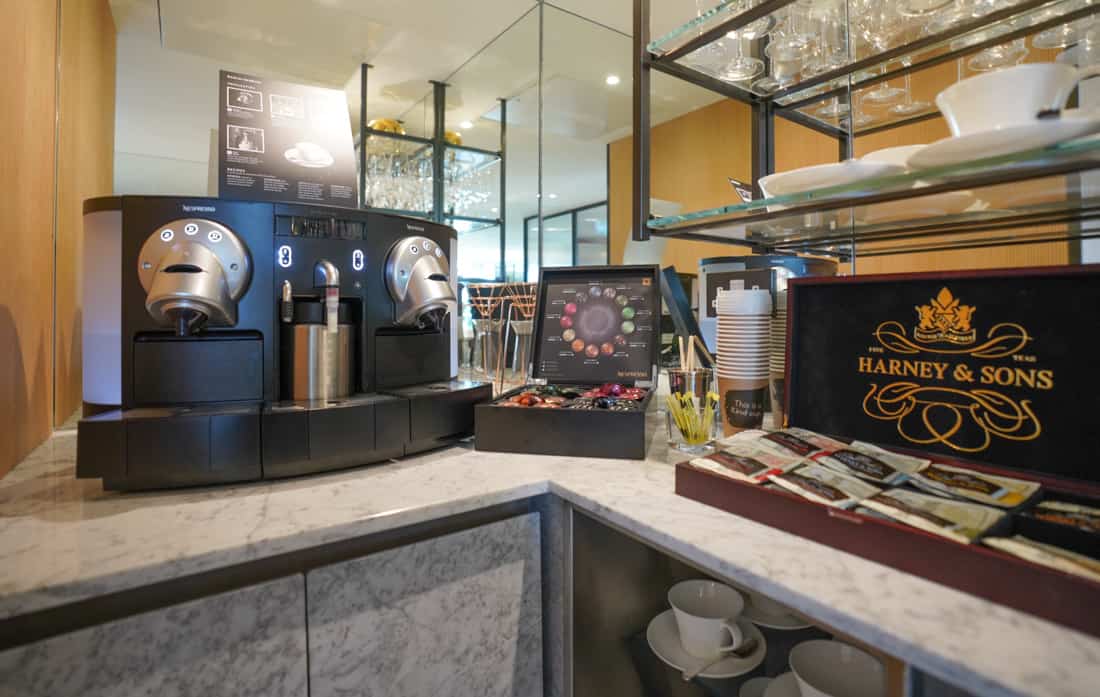 The club has an honor bar of snacks and alcoholic drinks as well as complimentary teas, coffees, and croissants. The decor matched our stylish apartment, and there were coffee table books and games to entertain should the views ever get tiring (which they won't).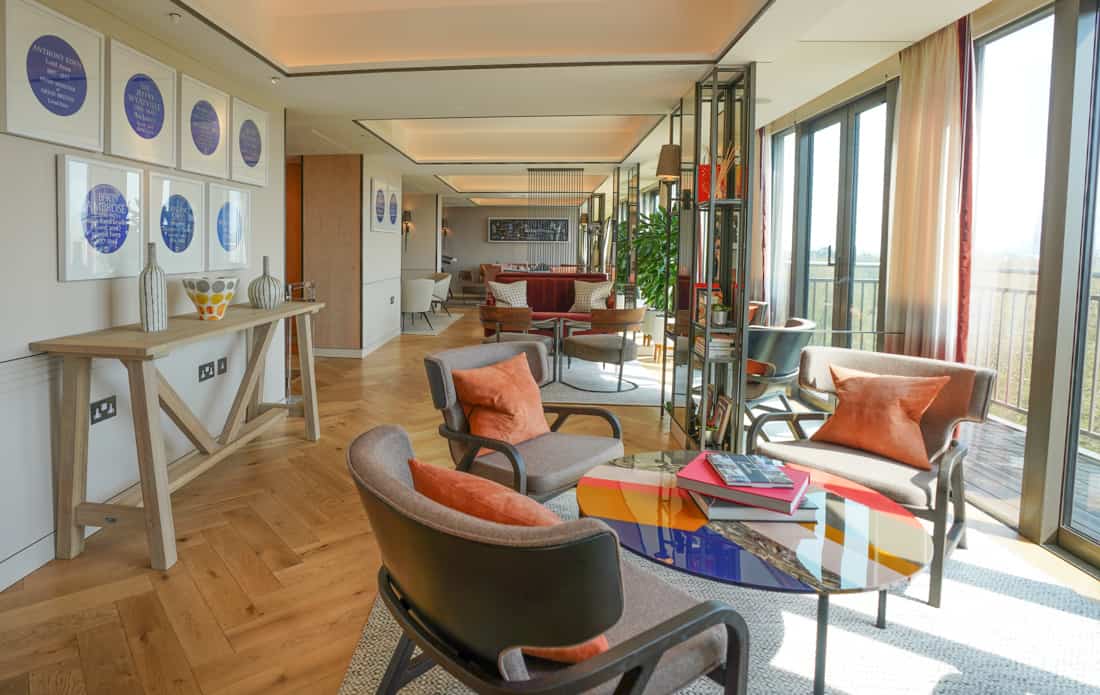 Nearby Family Activities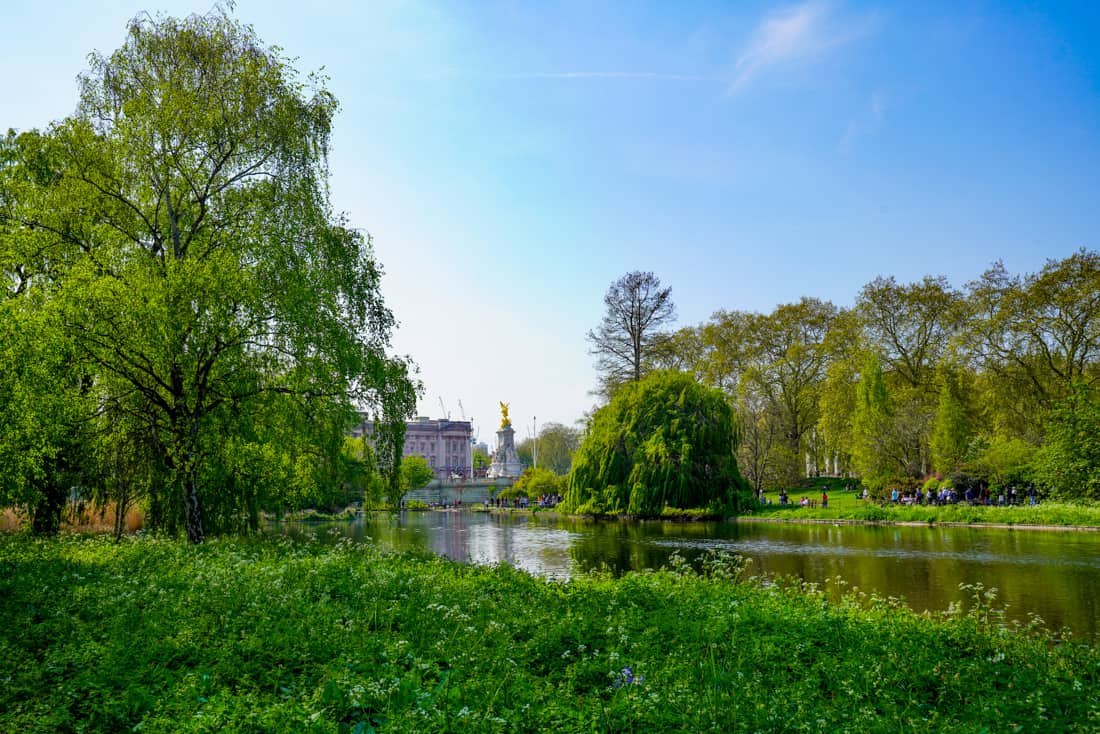 Hyde Park Corner is steps away, and the hotel faces Green Park. Families with small children are steps from green space to wander. Just beyond Green Park is St. James Park which has ducks and swans to feed. The front desk staff at the Athenaeum gave both of the children mini ziplock bags of duck food, and we were off.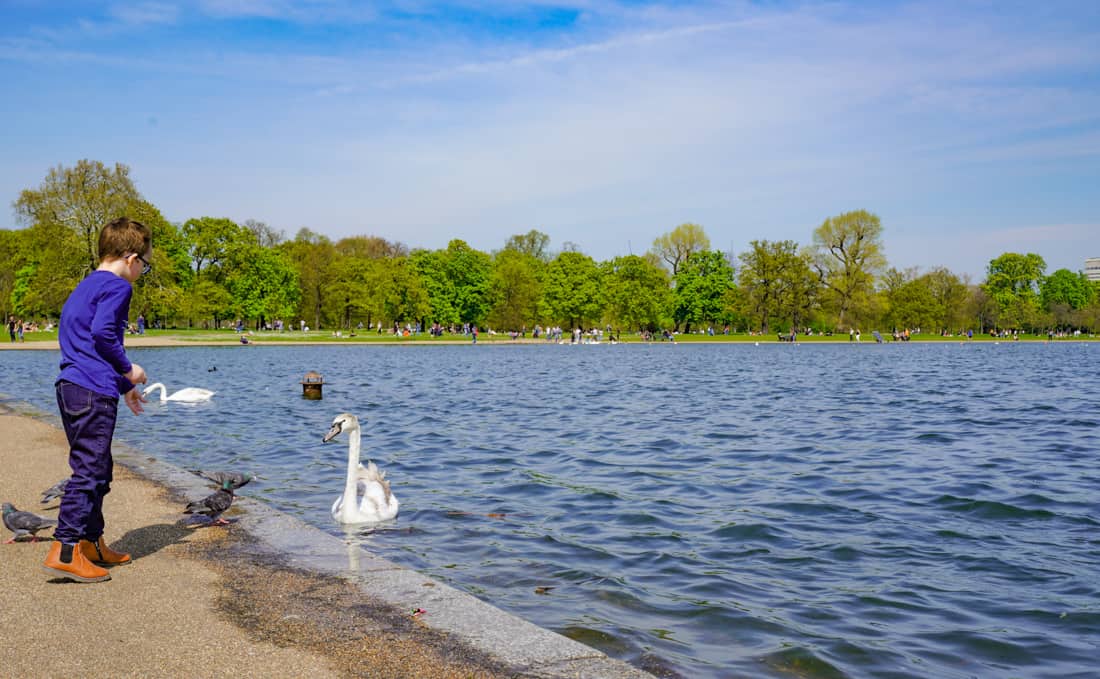 In addition to beautiful views of Buckingham Palace, St. James Park has a playground area, too. Had we stayed here a full week, I would have purchased scooters for the children. And where does one get a scooter?
Hamleys Toy Store
Hamleys, a world-renowned, seven-story toy shop first opened its doors in 1760 as "Noah's Ark". But instead of seeing two of everything, we saw hundreds. Teeming with activity, we walked past a dozen employees demonstrating new toys and what felt like most of the store's five million annual visitors.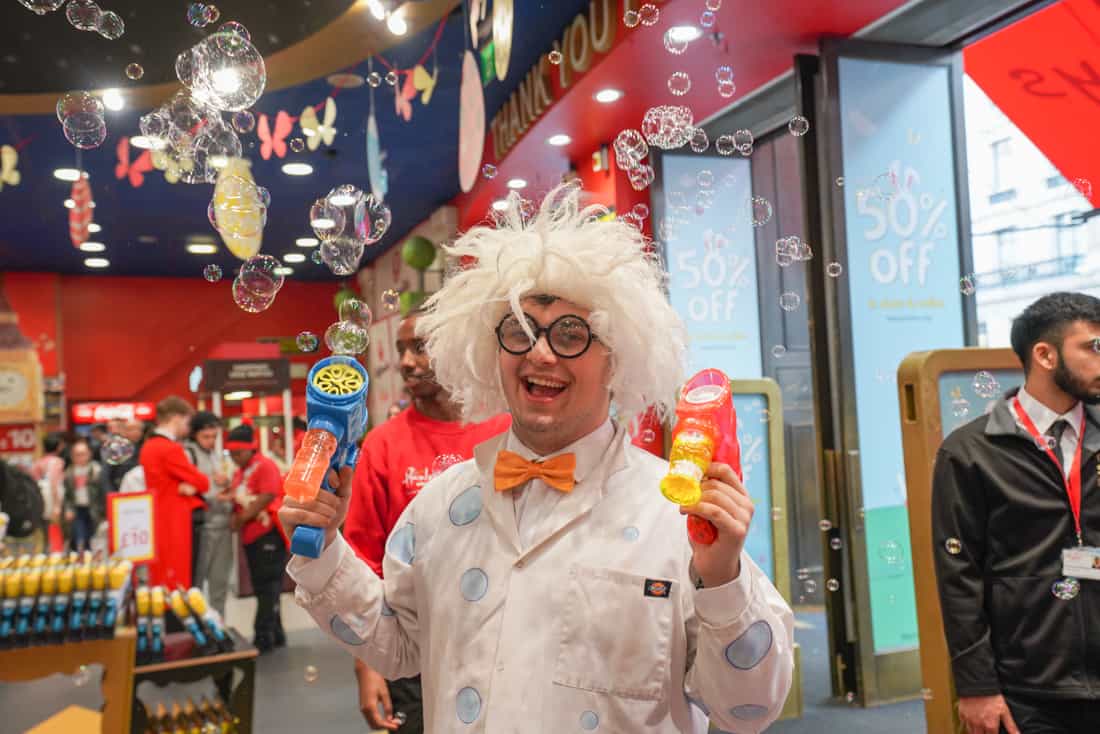 Regardless of your children's ages, they will find something to leave with, be it from Lego, Star Wars, Disney, Barbie, or Harry Potter. We bought a small drone that spent its time between battery charges hovering by the bunkbeds. The soaring ceilings of our residence at the Athenaeum Hotel made drone play possible.
Hamleys offers many seasonal activities for children around the Christmas and Easter holidays. The store's foot traffic is also at its peak. I suggest you check their website, especially because Father Christmas experiences sell out.
Because the crowds made shopping even too overwhelming for my children, I can see why some families book the private shopping experience at the store.
A family has access to the store for two hours outside of the store's normal operating times. Guests choose either 8-10AM or 9-11PM. The fee includes a tour, treats, and a private meet and greet with Hamley the Bear.
As a parent who favors experiences over toys, I do not like the minimum spending requirement on merchandise at 500 pounds, however.
The Tower Bridge and the Tower of London
And speaking of Legos, we crossed Tower Bridge, a structure my children became invested in from building this giant Lego set a few months prior. We tried to time our visit when the bridge lifted. Visitors can observe through the glass floor from above.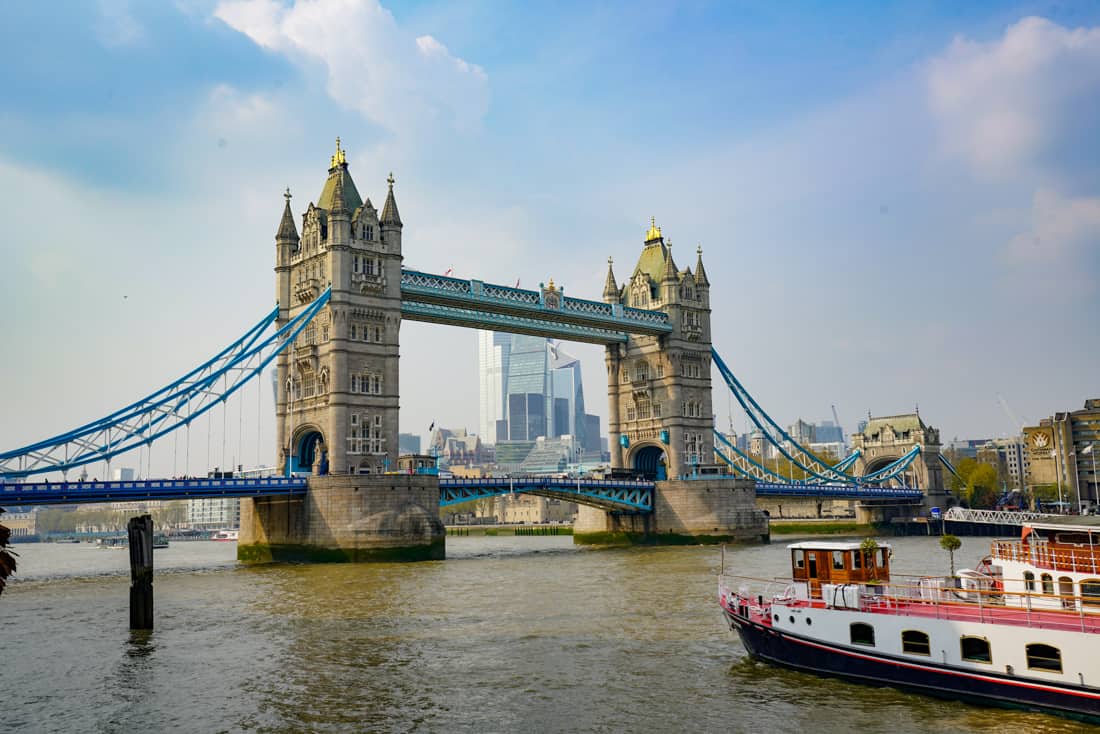 Though that didn't work with our schedules, we visited the adjacent Tower of London. I suggest reading from the excellent series Where is the Tower of London? before your trip, too. I found it just as helpful in refreshing my memory of English history.
Mini Cooper Panoramic Tours of London
That afternoon we booked a tour with smallcarBIGCITY around London in two MINIs. These pint-sized transports debuted in 1959 and became an iconic symbol of 60s British popular culture. Tom founded this passion project as an extension of his passion for collecting these cars. And the idea took off.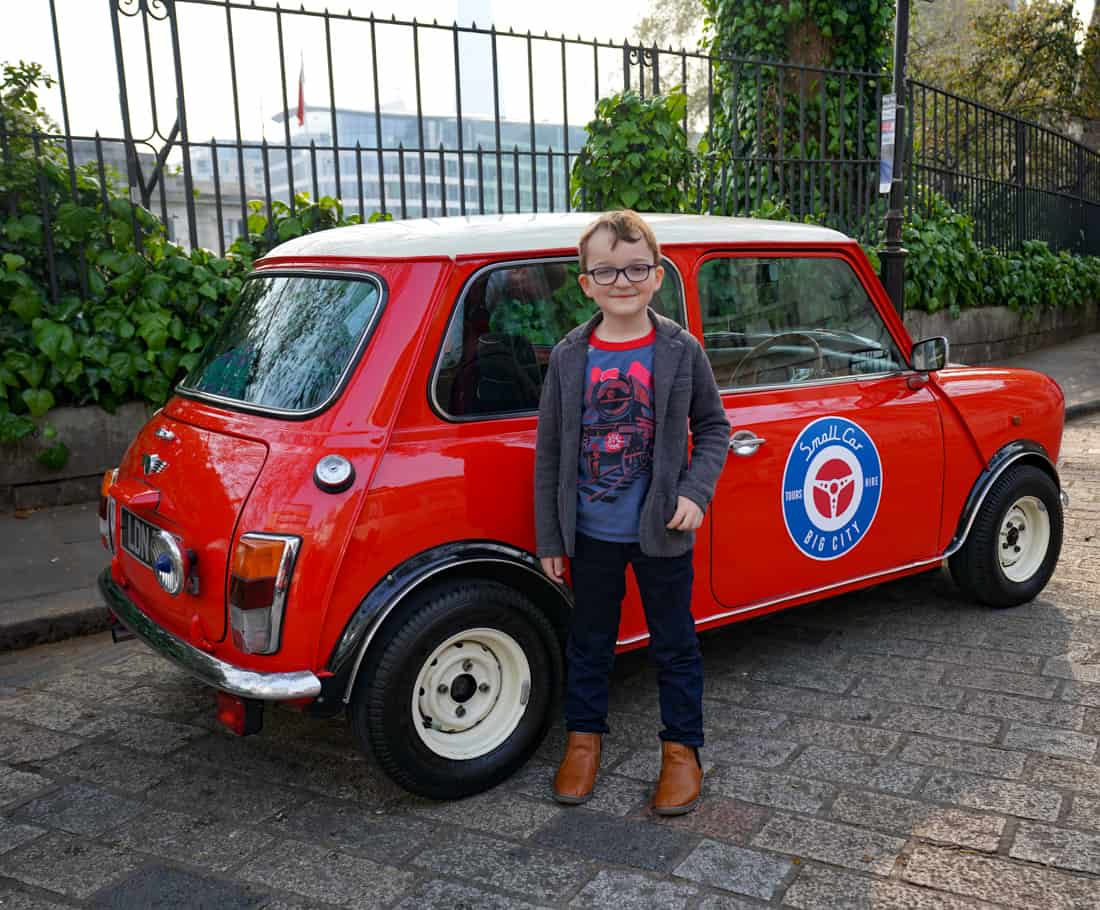 The tours show visitors a front (or back) seat view of many of the city's landmarks. Families of four or more have to hire at least two vehicles because each car only holds three people.
We raced back over the Tower Bridge, dashed past Parliament, and stopped at the lesser-visited spots like Borough Market. The city's largest food market has appearances not only in the Harry Potter films, but the flat of the one-and-only Bridget Jones. And more importantly, the infamous fight scene between Hugh Grant and Colin Firth was filmed here.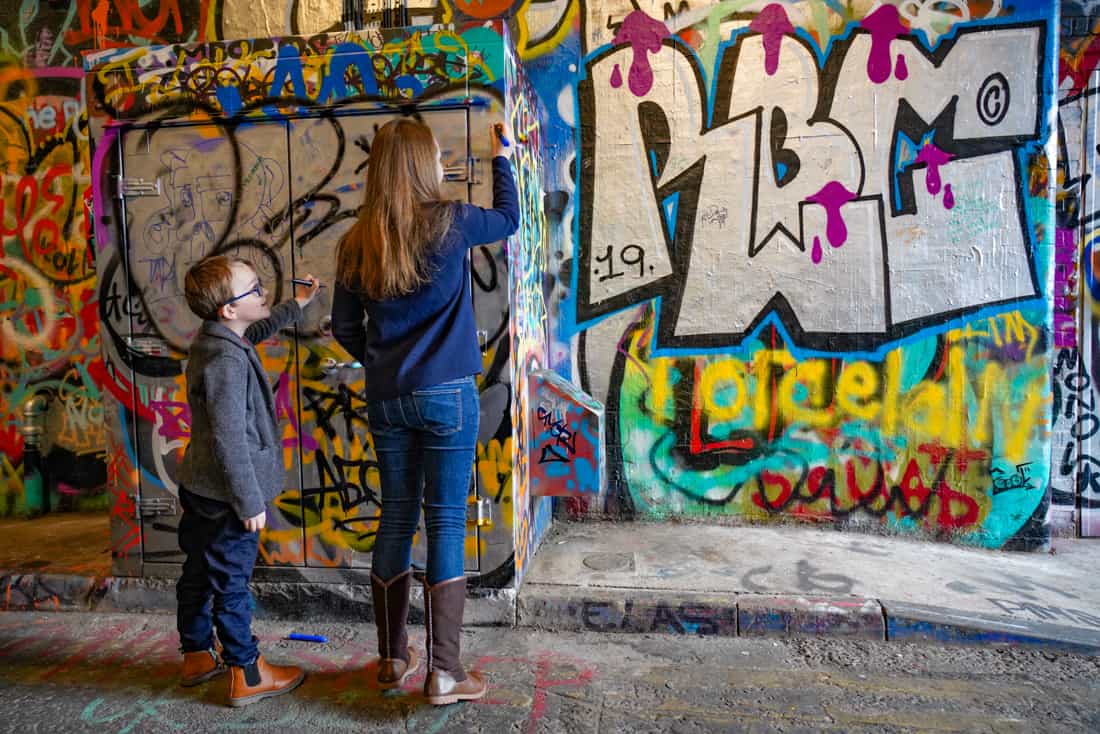 Our drivers treated us to ice cream then brought us to the Leake Street Graffiti Tunnel, a 300-meter long canvas of street art tolerated by local authorities, which now includes portraits of our host vehicles drawn by our kids.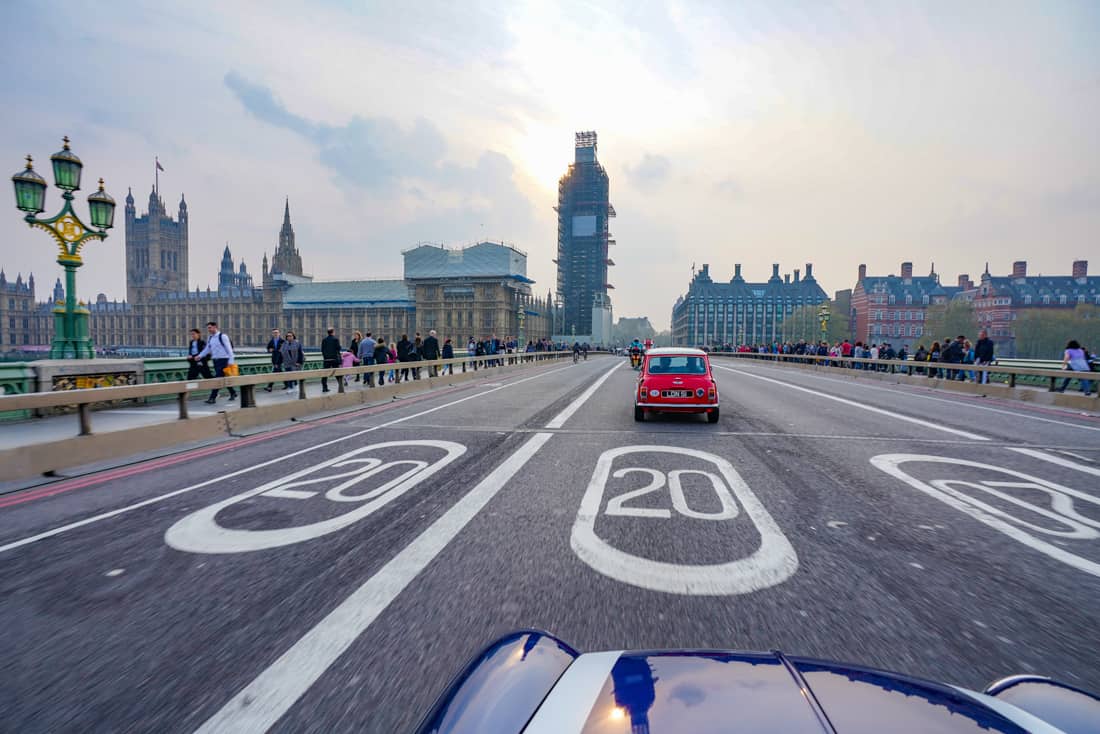 Tom and a second Tom (coincidence) shared local trivia as we weaved our way through local traffic and stayed on back roads as much as possible. The Chanel looking logos on all of the lampposts in the Westminister neighborhood are a reference to Coco Chanel. The Duke of Westiminister proposed to her after their long term love affair, and her epic refusal was something like, "Darling, there have been many Duchesses of Westminister, but there is only one Coco Chanel."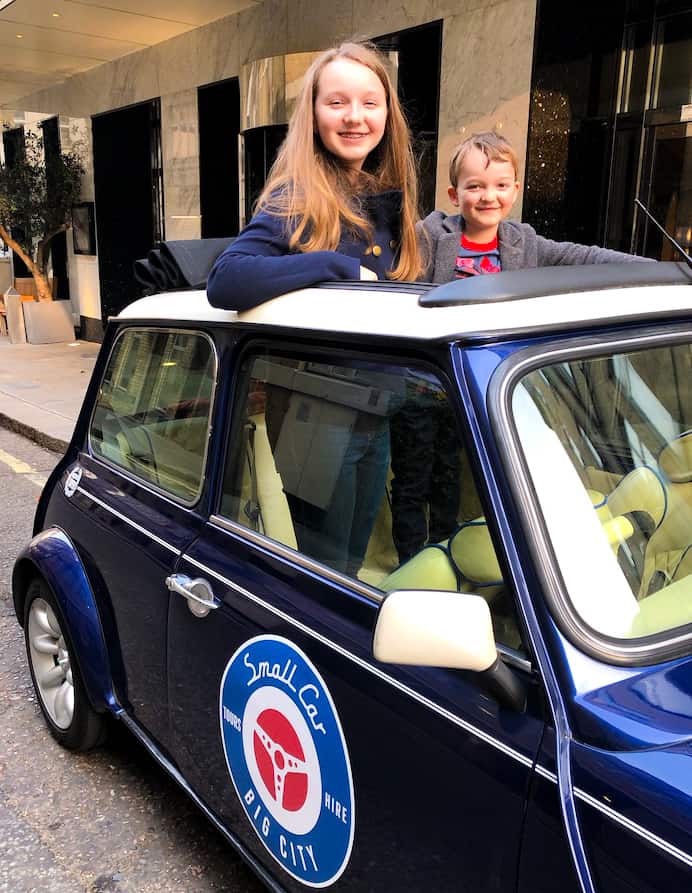 A hidden bonus is to make your tour one-way. While our ride commenced at the Tower of London, we were returned to the Athenaeum in Mayfair with the transfer baked into the cost of the tour.
Final thoughts on the Athenaeum Hotel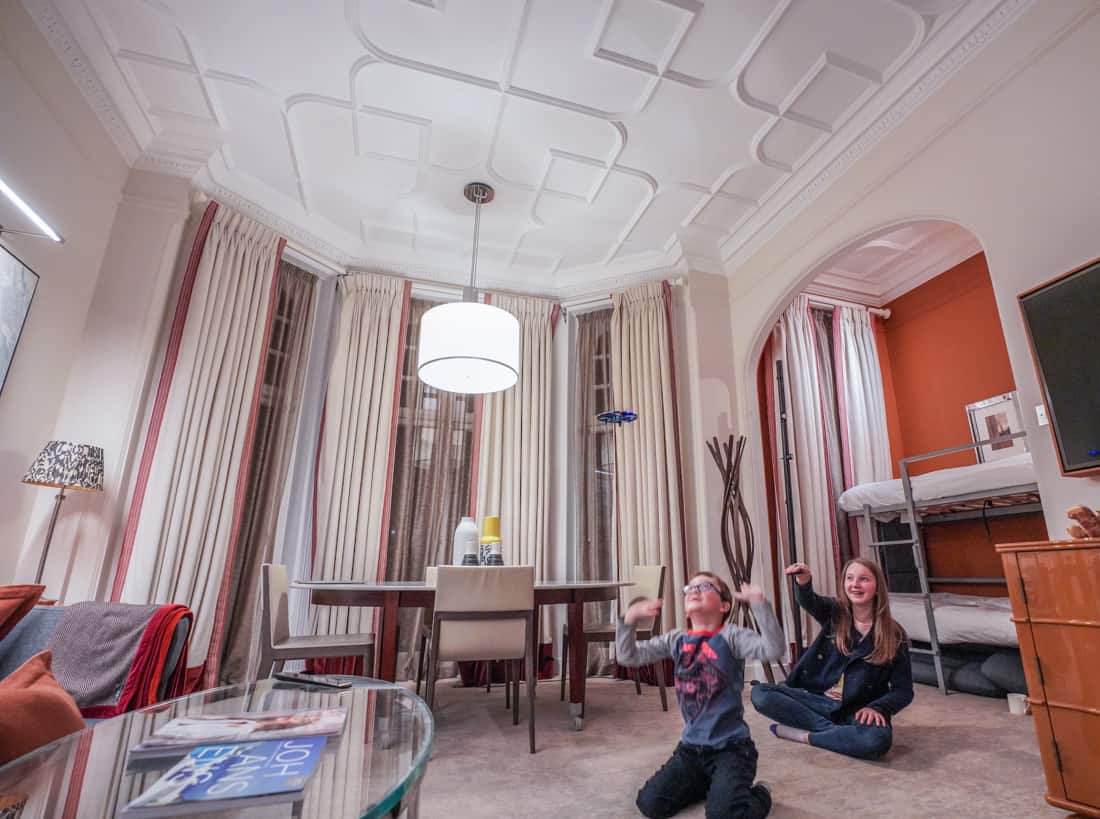 Mayfair has always been a favorite neighborhood of mine because it evokes such traditional grandeur. Our stay at the Athenaeum Hotel showed me even more to love about neighborhood. It made Mayfair seem modern and a perfect fit for families.
Although we were guests of the Athenaeum Hotel, these opinions are my own.
More ways to avoid the crowds in London