As a mother and travel writer, few phrases I think spawn vacation fantasies more than "family-friendly Relais & Châteaux."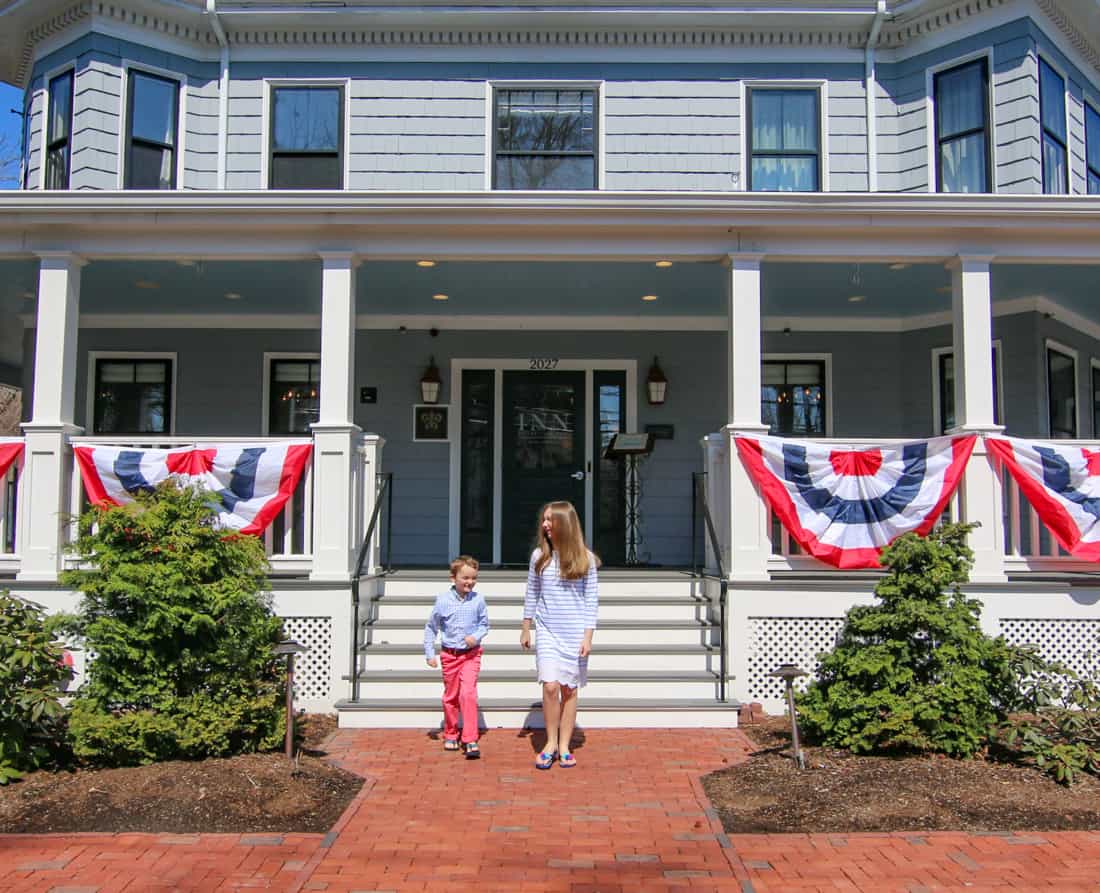 Since 2015, the Boston area now has its own gourmet outpost at the Inn at Hastings Park in Lexington, Massachusetts.
A Relais & Châteaux designation is bestowed upon the hotels that meet the rigorous standards of exceptional service and outstanding food and beverage offerings, a small-sized hotel with a grand experience.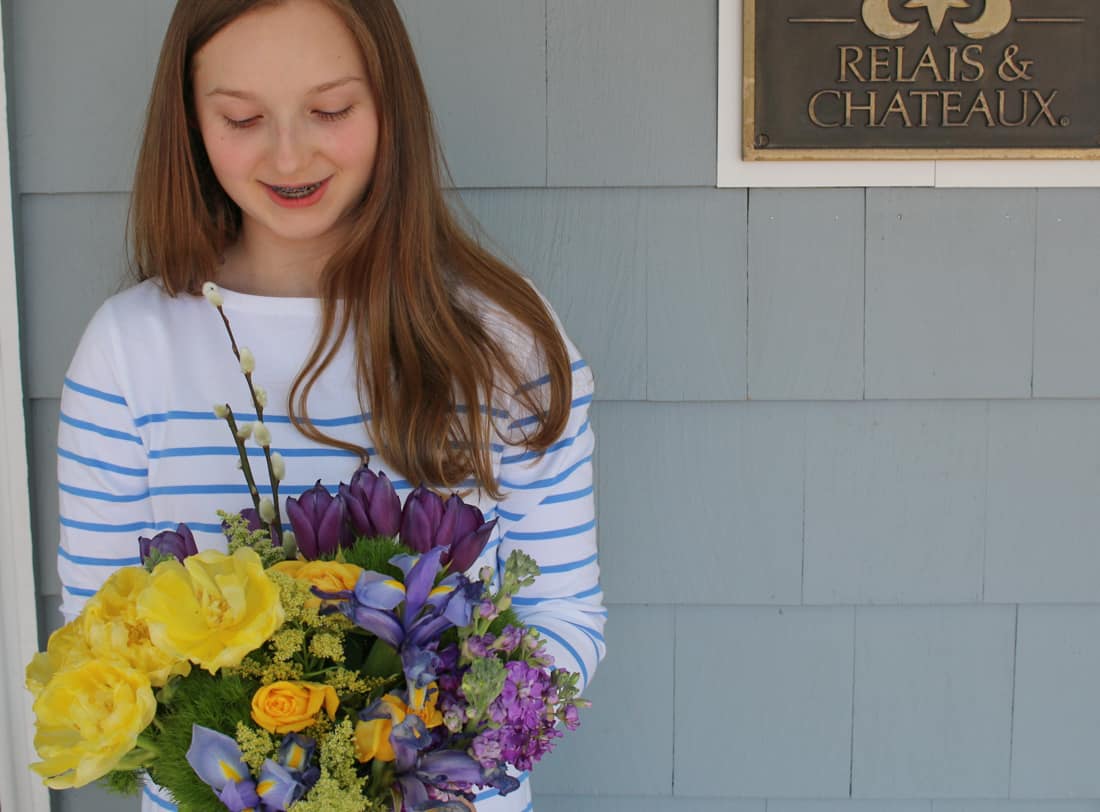 So many of my favorite hotels have been members; I have ambitions to visit them all. While many properties serve couples on a romantic break, some welcome children to join in on a gastronomic adventure.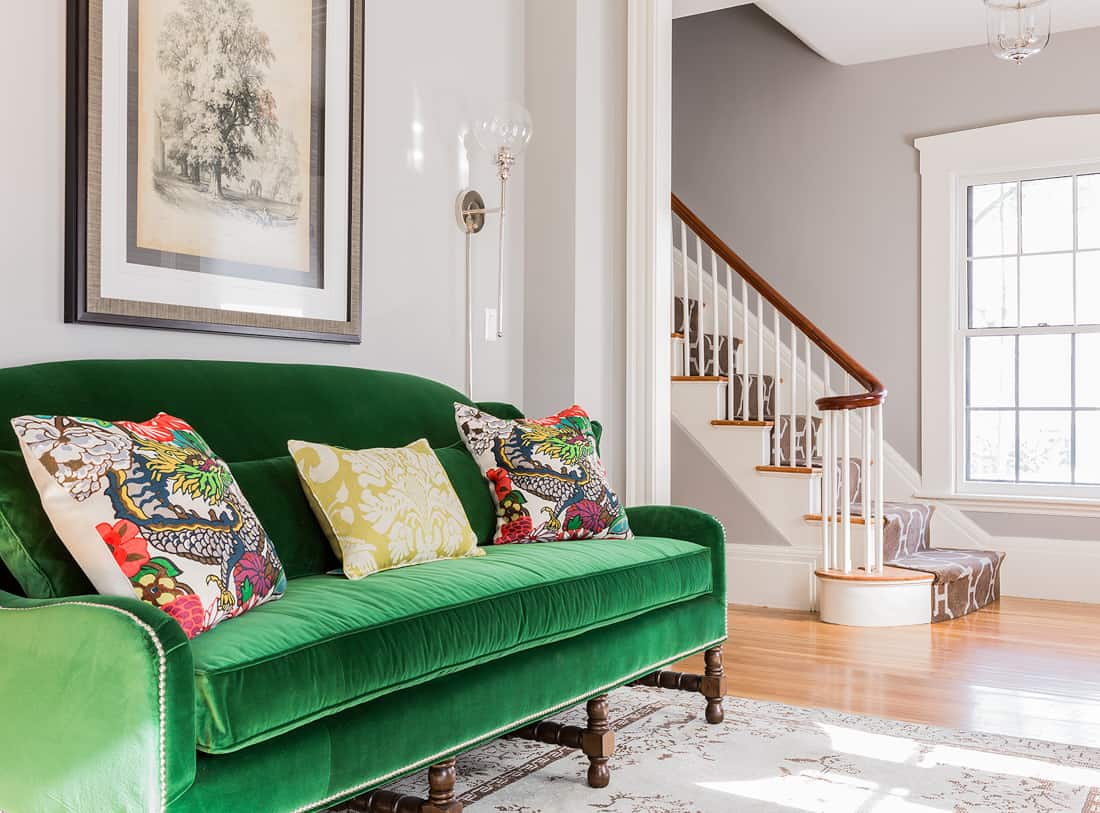 The Inn at Hastings Park masters both couple and family breaks perfectly.
Where's Lexington, Massachusetts?
Lexington, and its neighbor Concord, are two suburban towns twenty-five minutes outside of Boston. While the inn's location is not in close to downtown Boston, it is still well-positioned to offer an equal number of significant historic landmarks. The Minute Man National Park, Walden Pond, the homes of Louisa May Alcott are nearby.
Any family visiting Boston to explore the Freedom Trail and other sites downtown should add a night or two at the inn on the same trip to experience American history in a manner that will truly engage children and teens, too.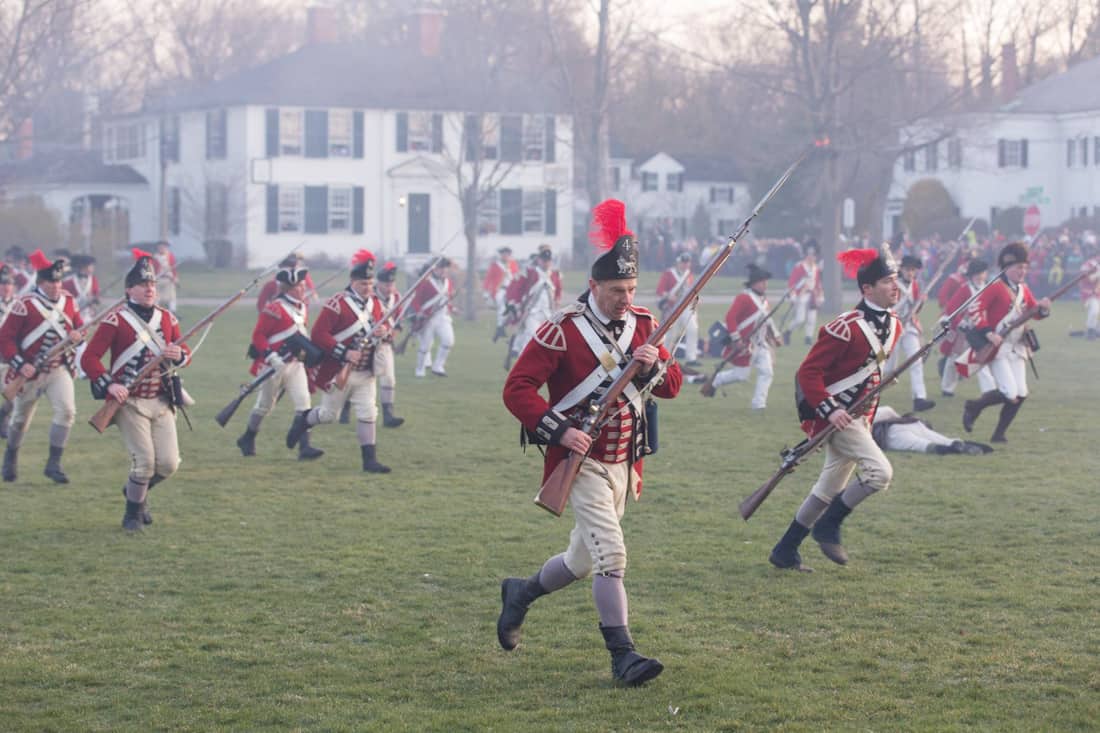 Lexington is steeped in history. On the Lexington Green, a four minute walk from the inn, the shot heard 'round the world was fired.
Exceptional Foundations
The Inn at Hastings Park is exceptional beyond its guest experience and prestigious Relais & Châteaux affiliation. A woman founded and owns the hotel. Trisha Pérez Kennealy, a Lexington resident and community leader, has both her MBA from Harvard and her Grande Diplome from Le Cordon Bleu. She positions the inn to celebrate the local community's history and attractions while supporting its businesses.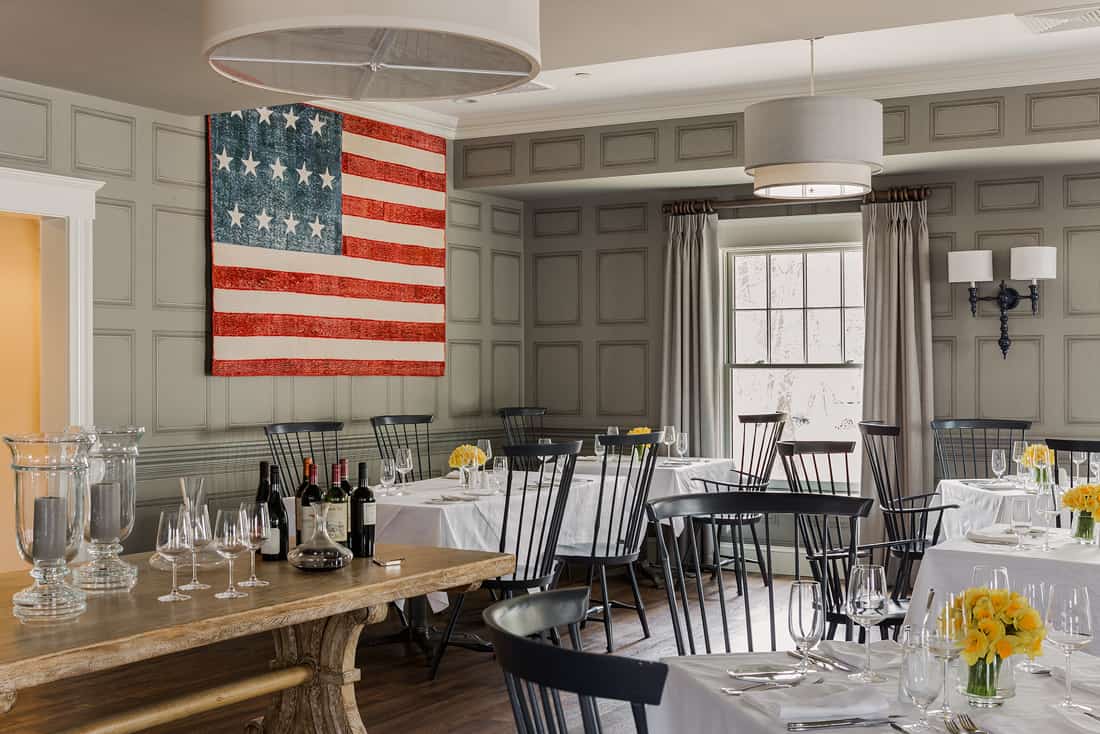 The inn's acclaimed restaurant, Artistry on the Green, has established partnerships with many local farmers. Trisha is particularly invested in the success of new, local farmers. She partners with New Entry, a program that supports emerging farmers to strengthen local food systems run from Tufts University.
JOIN OUR LUXURY HOTELS & RESORTS FOR FAMILIES, A FACEBOOK GROUP FOR SEEKING ADVICE AND INSPIRATION FOR THE BEST LUXURY FAMILY BREAKS.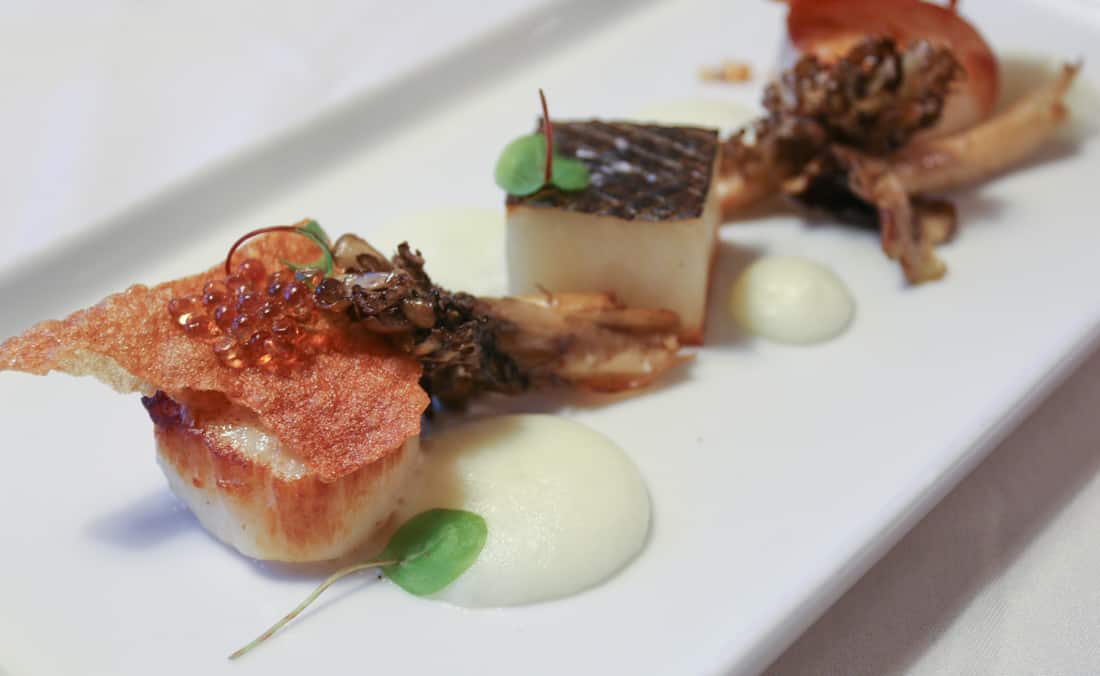 What's at the inn?
Common spaces at the inn include a reception room, parlor, gallery, bar, and restaurant in the main building.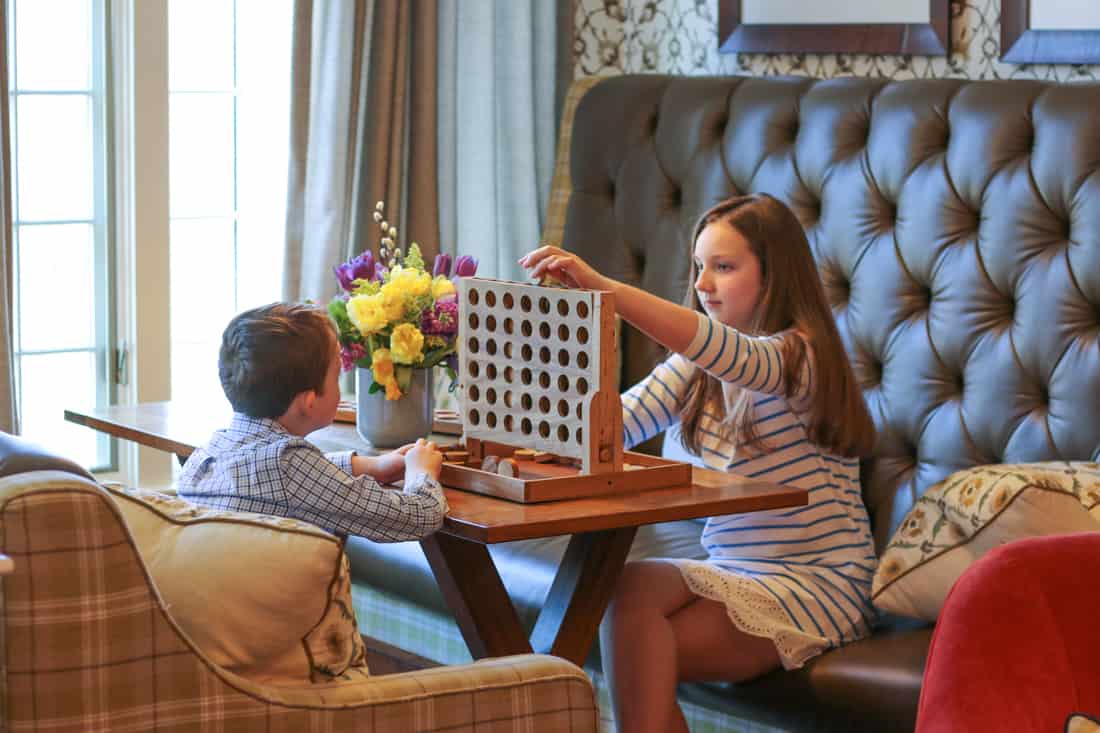 The parlor is extremely inviting, and we spent a lot of time enjoying its ambiance. While children won't care about the morning coffee and newspapers available, they'll love the library shelves.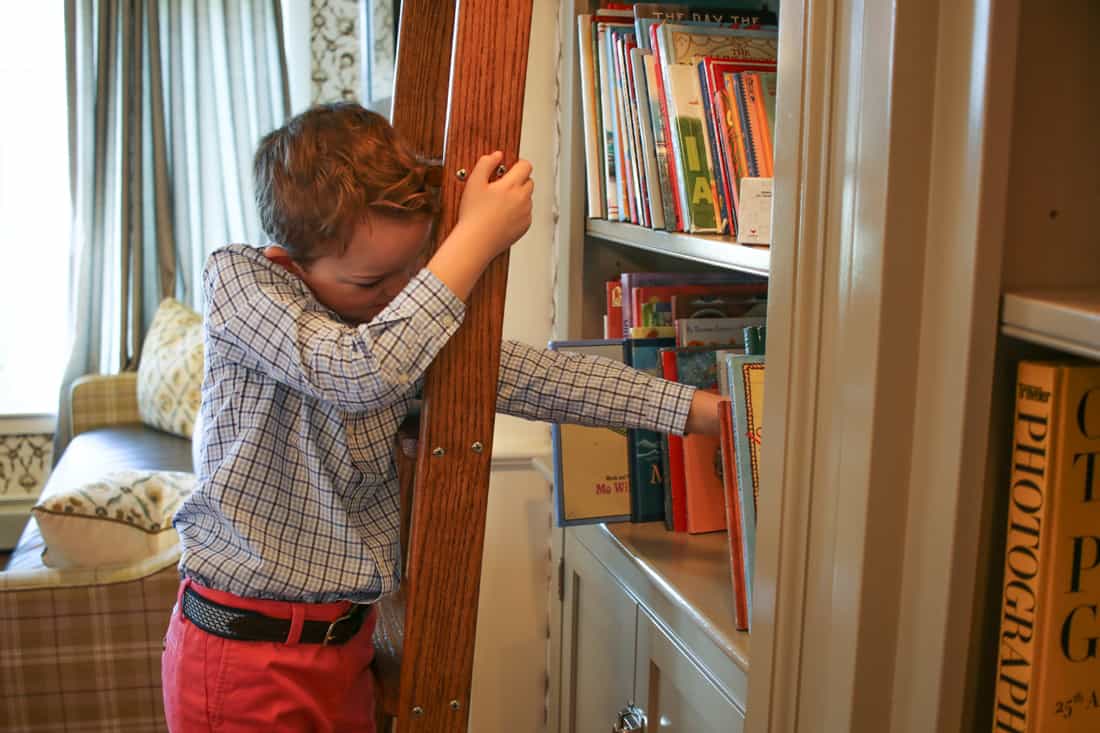 The library is filled with games and a wonderful collection of the owner's children's books they have outgrown. They are a perfect perk to take back to the room for bedtime stories. There's an extensive collection of American history titles for all ages, as well, to help connect Lexington with its historic importance.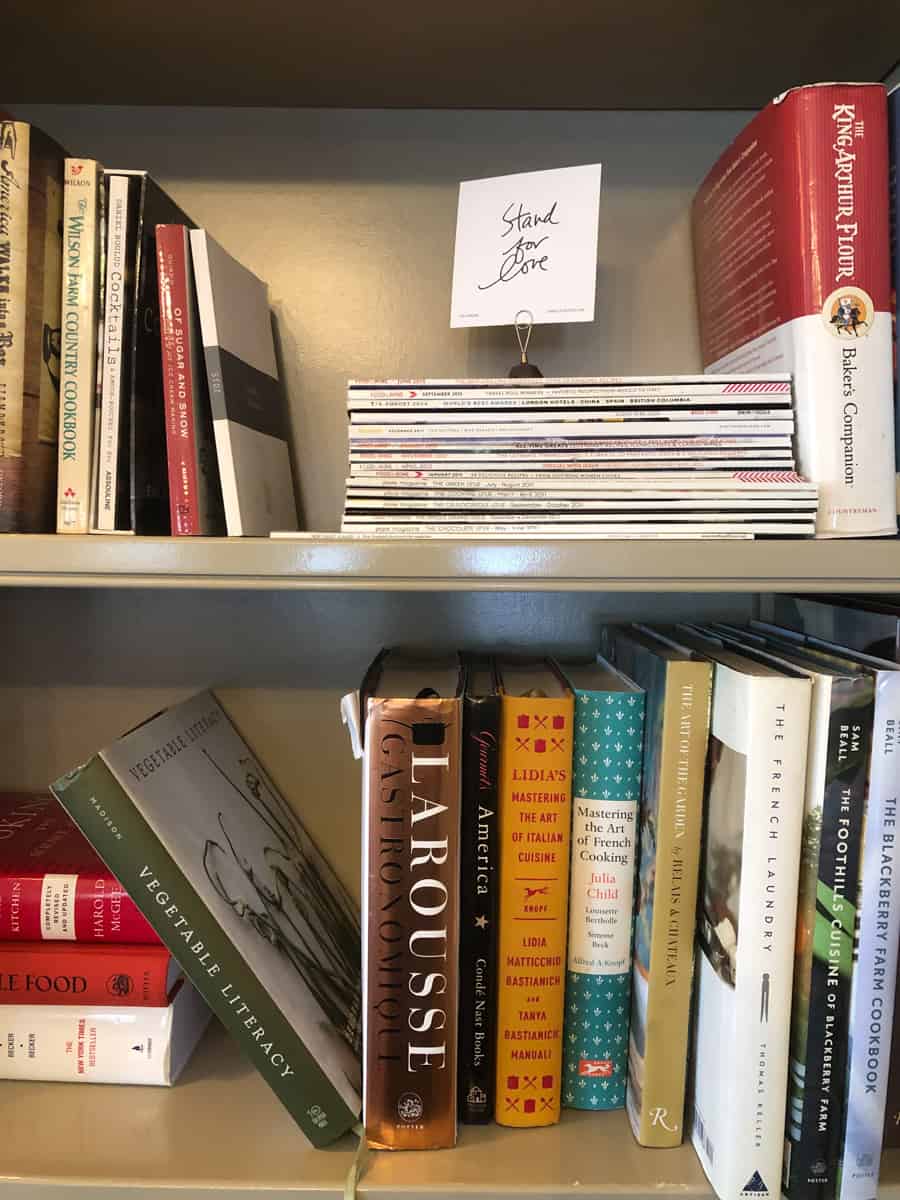 A word of caution. The library's ladder is more for decor, as its track won't clear the sconces on the wall, so don't let your children discover this the hard way.
The parlor's two large booths, adorned with spring flowers, are perfect for the assortment of games like Connect Four, backgammon, and Mancala. My daughter and I played several dozen games over the course of the weekend after she taught me how to play.
Inn Style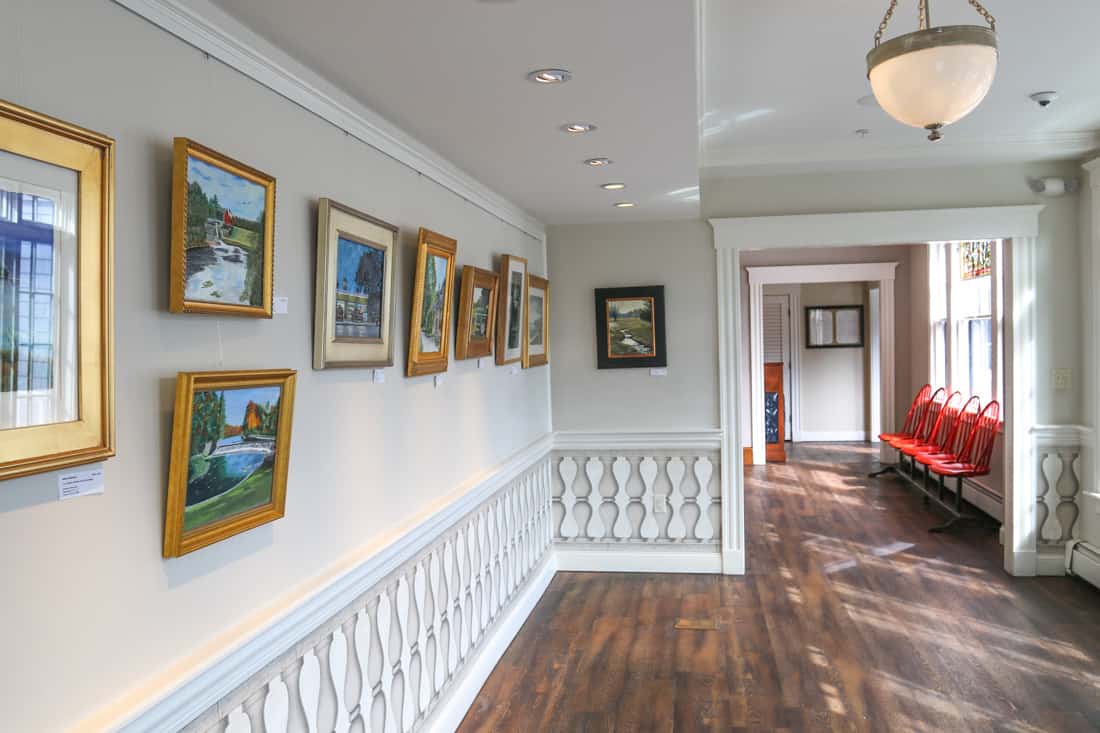 The inn's design details are fabulous: a tree branch chandelier, chrome lighting, Peter Fasano wallpapers, and one extremely memorable paper with velvet silhouettes of Revolutionary ladies and gents that adorn the inn's foyer stairwell.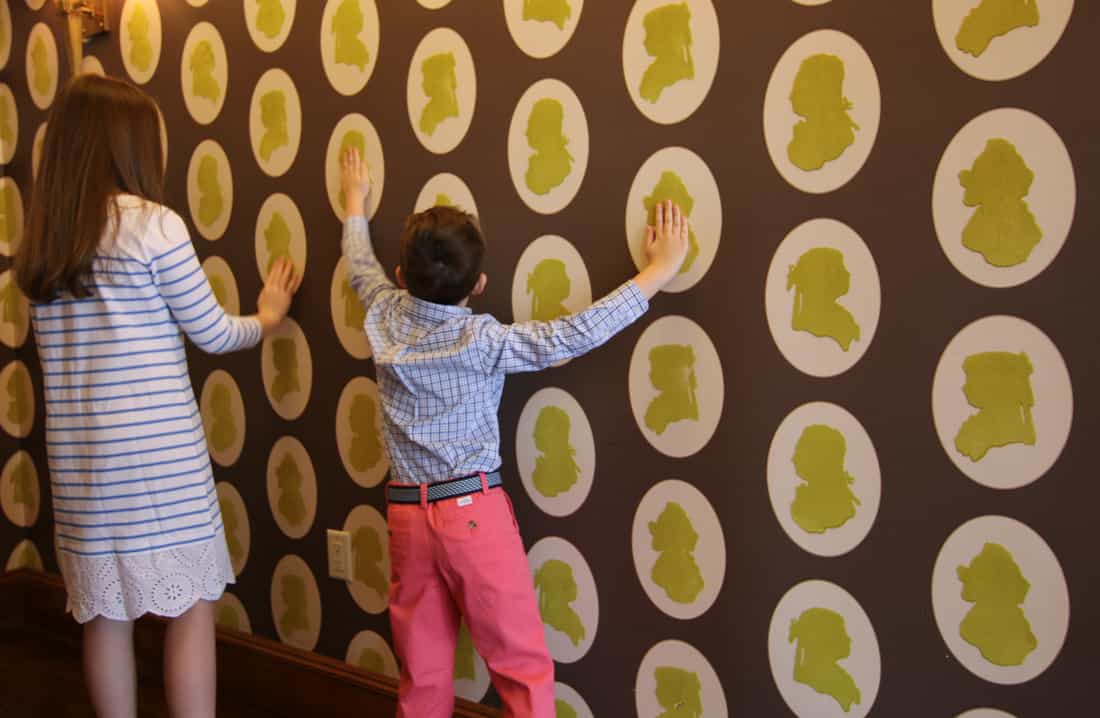 New Happenings at the Inn
The Inn at Hastings Park recently joined Ocean House Management Properties. Its sister properties include the Ocean House and the Weekapaug Inn in Watch Hill, Rhode Island.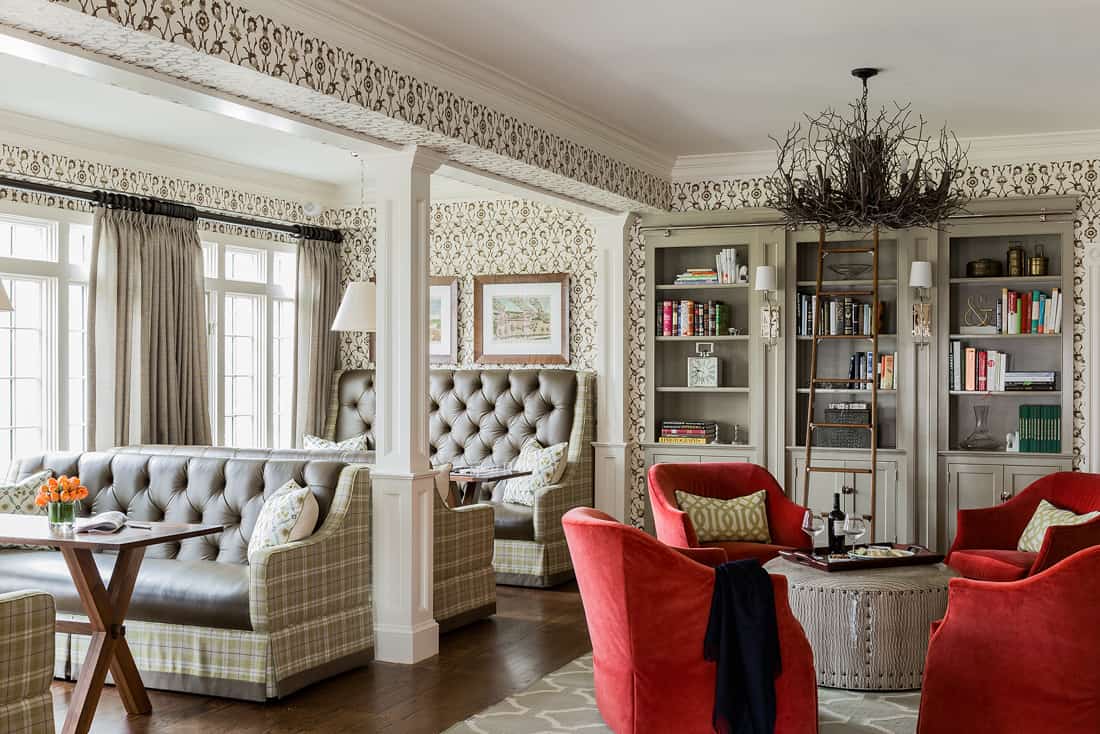 The inn's general manager shared that additional guest perks are coming and they will increase guest offerings on site.
Guests will soon have wine tastings, mixology classes, and cooking classes to experience. There will be a daily activity, like a historic walking tour as well as area transportation.
The Inn at Hastings Park Rooms
The inn has only 22 rooms spread among three fully-restored historic buildings. The barn, our room's location, is a stand-alone building adjacent to the main inn with one room on each of its three floors. Because we had the top floor we loved the soaring ceilings.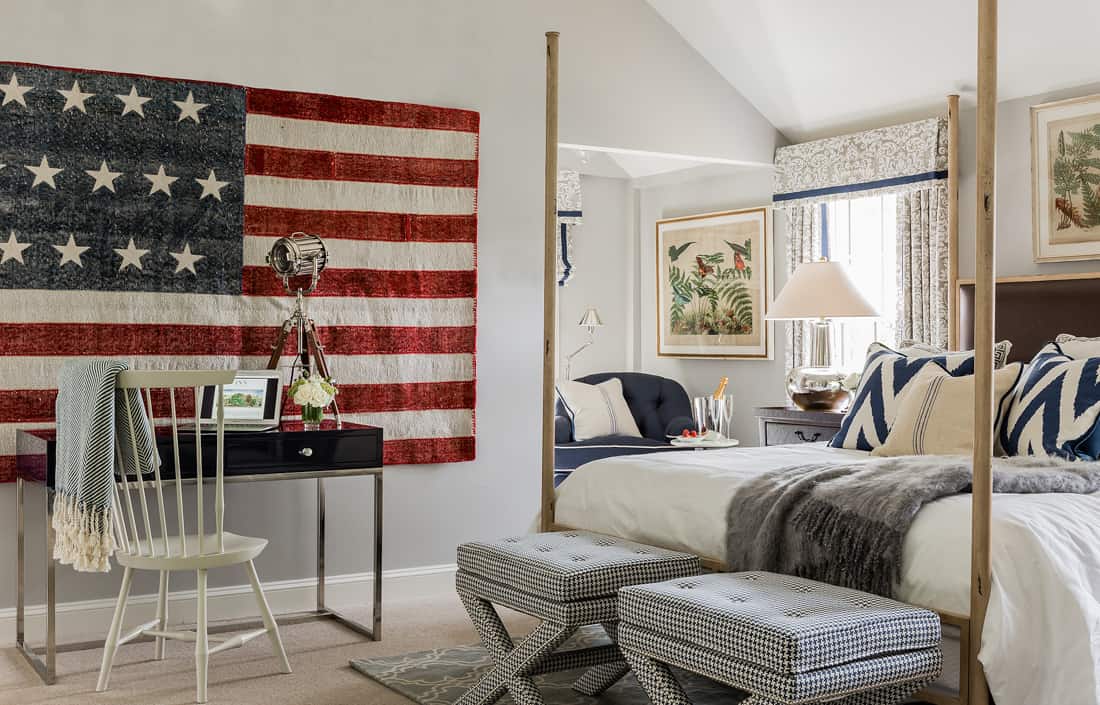 The American flag graces a few walls at the inn, and a Jasper Johns like facsimile of a 13-star colonial flag adorned our suite.
The rooms are stylishly furnished with custom touches to feel like you are a house guest of a friend with impeccable taste and not at a luxury hotel.
There are rooms with French doors that separate the living area and the sleeping area for families who prefer more privacy. Our king suite had a pull-out sofa at the foot of the bed for the kids as well as a gas fireplace that generated lots of warmth. It was Hygge heaven.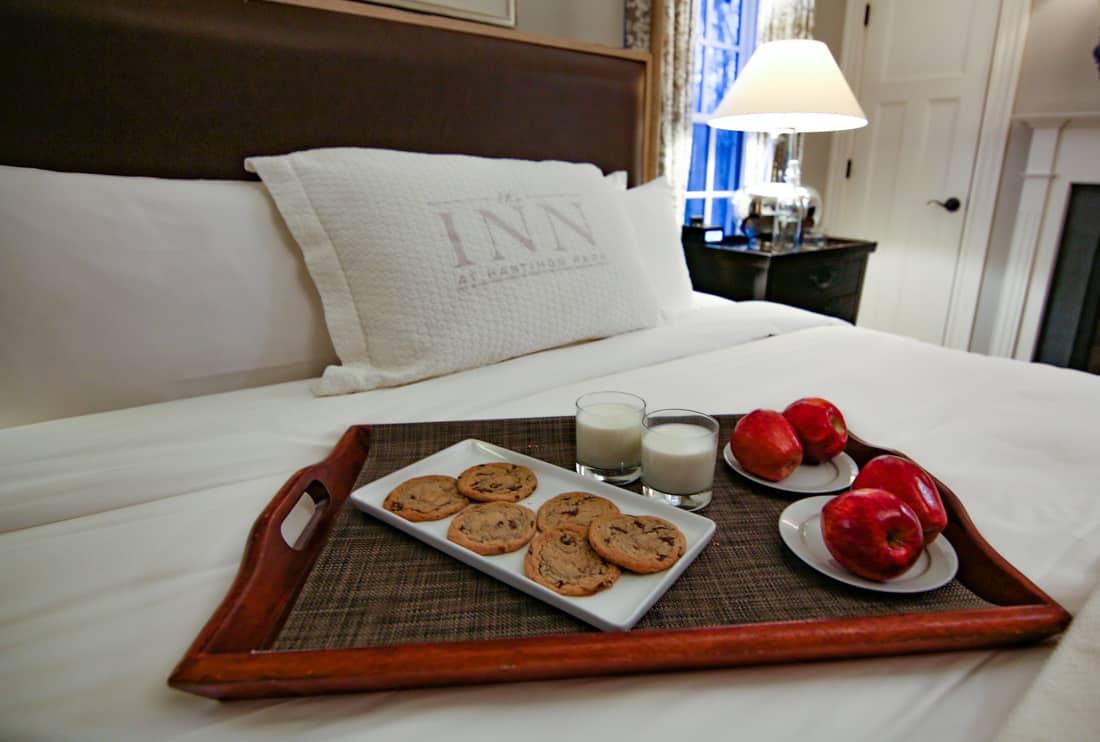 I've never seen more towels offered in a hotel bathroom before, and they came in use because the freestanding bathtub was popular with everyone in the family. No one could resist taking their turn for a bubble bath.
Artistry on the Green's Gourmet Experience
Dinner
Families have the option of having dinner in the main restaurant or in one of the parlor's two booths. We did both, and the parlor option was excellent, especially if you're traveling with younger children. We had the entire room to ourselves, and the kids brought games to the table to play while waiting for our meal.
Although our children are used to eating out and sitting quietly in restaurants, it was fun to take the parlor over and focus on the delicious meal without a need for mom stares when fidgeting began.
Lobster bisque panna cotta with blanched sea beans and a chocolate balsamic bubble foam was just the amuse bouche to give you a sense of the kitchen's capabilities with the complex. The chef crafts a visual presentation, too.
We enjoyed beef filet, salmon, scallops, and chicken until there was nothing left on our plates at every meal. There were also vegetarian and vegan options.
My kids ate as well as we did. The restaurant children's menu offers a range of the more adventurous to the comforts of grilled cheese and pasta for kids. And the ice cream is housemade.
Breakfast & Brunch
It was hard to leave our room on the first morning, so we enjoyed a room service breakfast. But on Sunday we enjoyed Brunch in the restaurant.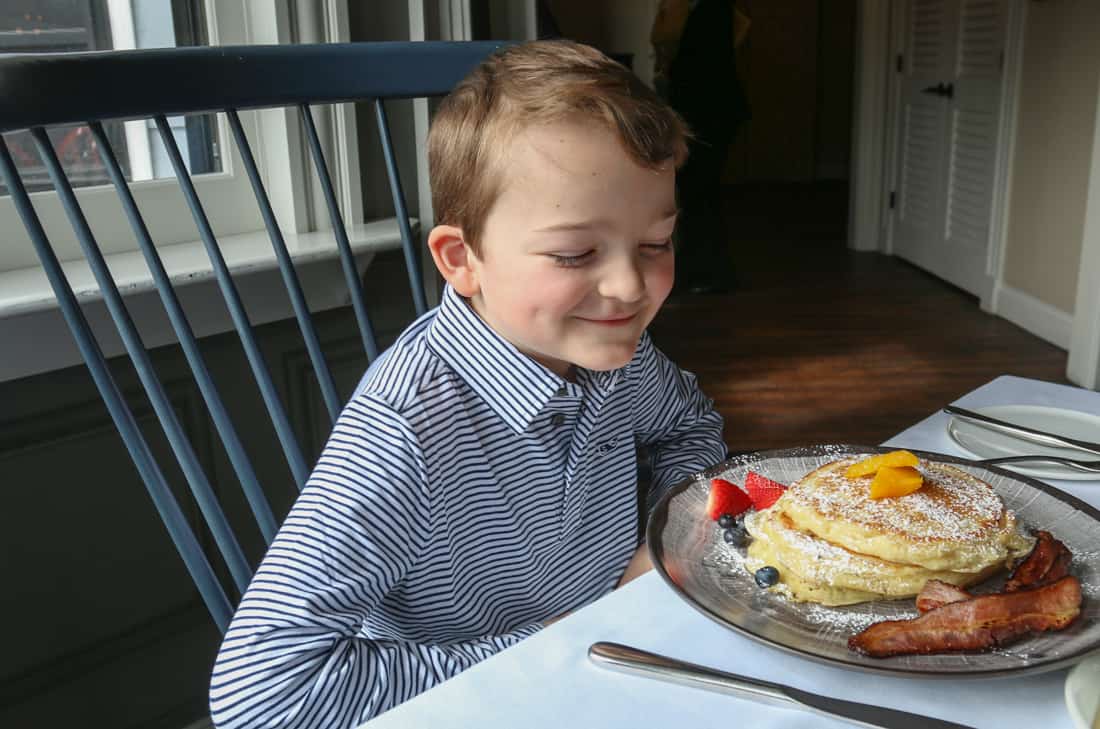 Brunch is particularly popular with the locals, as it should be, so I'd mention a reservation when you check in for the weekend.
I recommend the delicious buttermilk pancakes and eggs Benedict with smoked salmon.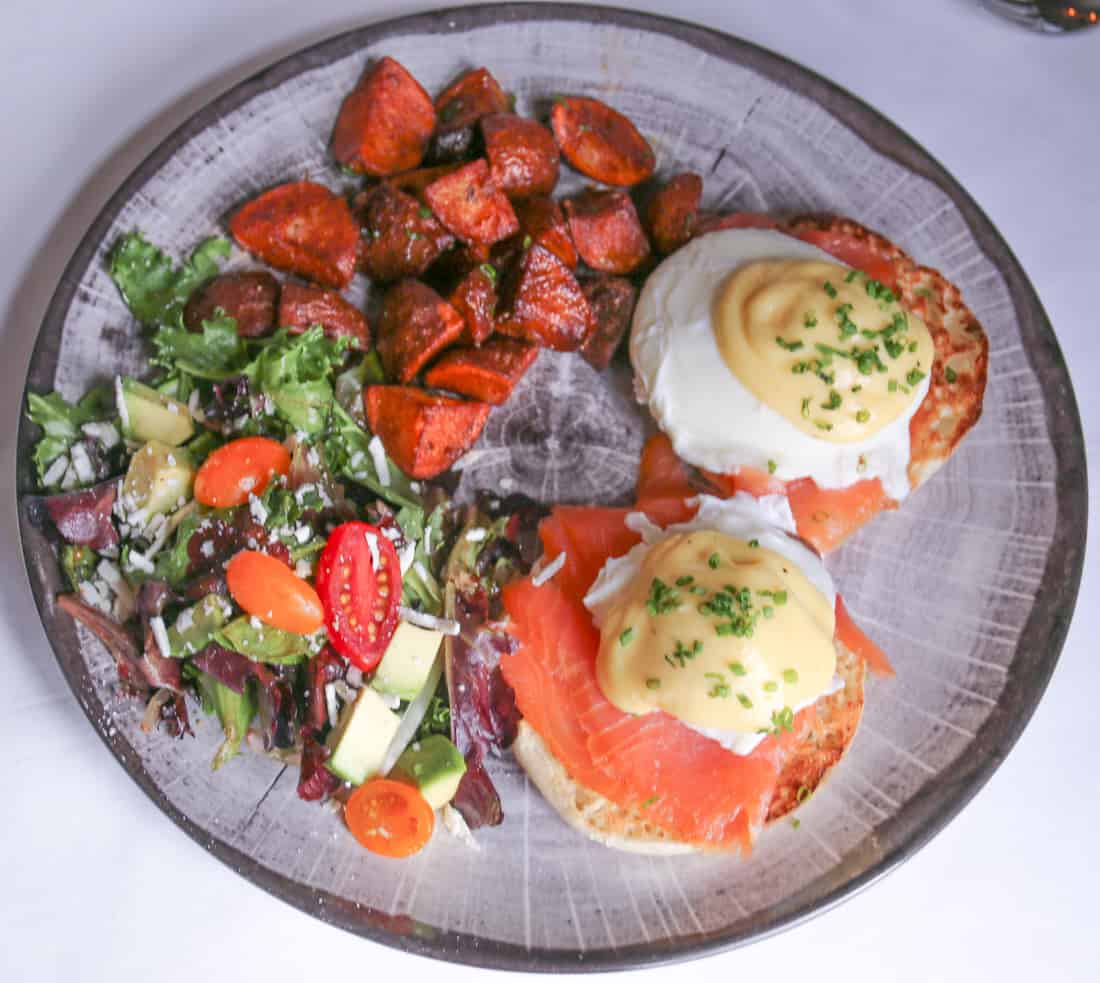 Afternoon Tea
While the inn doesn't serve lunch on weekends, they do serve afternoon tea. It's an indulgent affair with a tea tray filled with delightful extras alongside the standard menu.
Both sweet and savory scones like raisin and cheddar chive and wonderful fried cheese canapés start the tea. Sandwiches included curried chicken salad, mini quiches, roast beef, and cucumber. Each were very good. (I just returned from London where I had six afternoon teas, and these sandwiches were superior).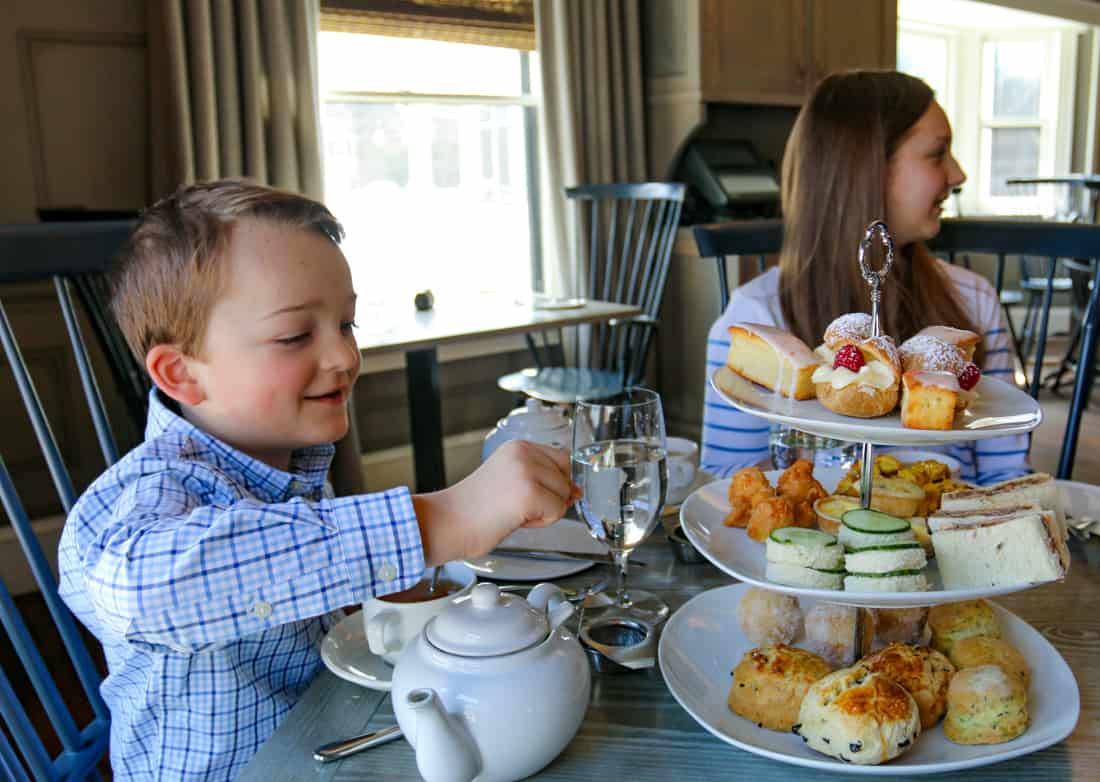 Treats included eclairs, pound cakes, and heavenly banana pudding. The restaurant serves tea on Saturdays from 1pm to 3pm. There are special holiday teas at Christmas.
Tip: If you are a Boston area resident, there is a lovely holiday home decor tour in early December in nearby Concord. I'd suggest an afternoon tea after for a festive weekend.
The Pint-Sized Patriots Package for Families
A stay at the Inn at Hastings Park has the ability to make learning American history an experiential lesson children will embrace.
The Patriots Package for families includes a room for four and breakfast. The best soft and gooey chocolate chip cookies await you in your room.
The inn presents a book on the historic events of the American revolution that occurred mere yards from the inn. Each gift suits their reading level.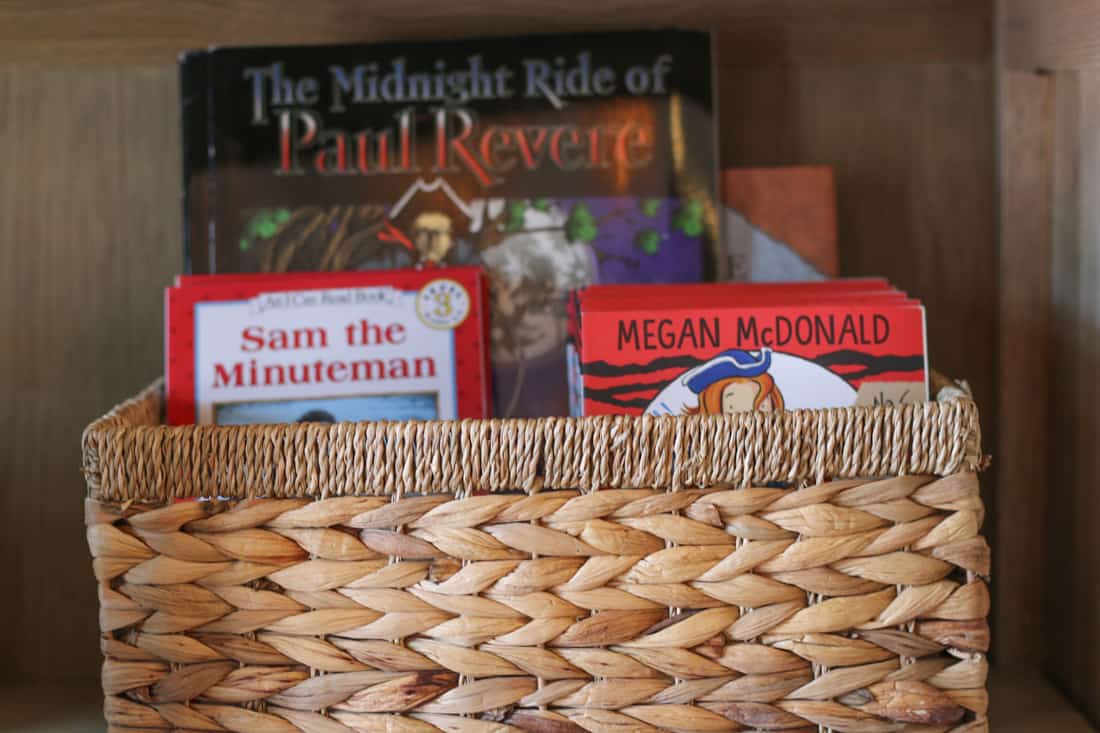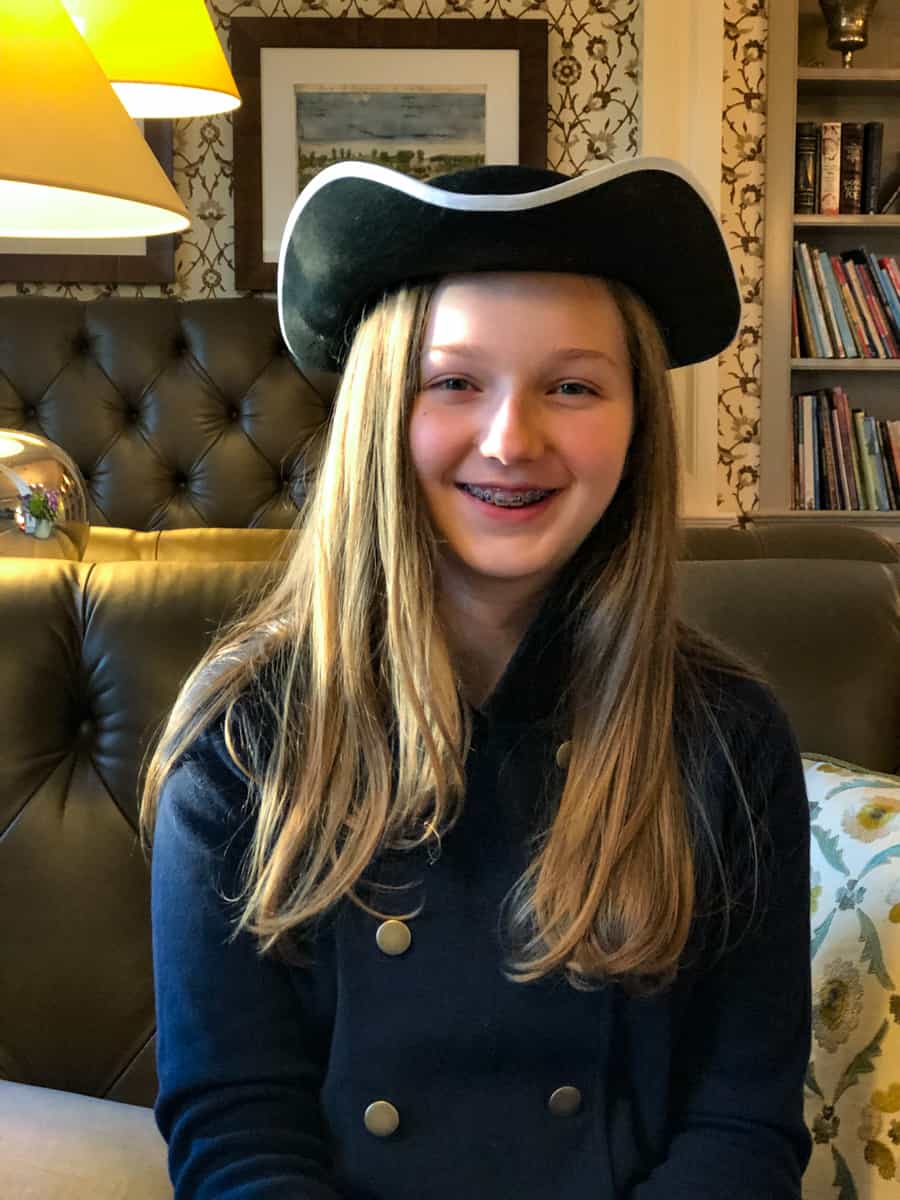 The inn offers boys and girls Sam the Minuteman or Judy Moody's Fight For Independence. Older children are given the Christopher Bing illustrated Longfellow poem Paul Revere's Ride.
Tricones, the three-corner patriot hats, and customized bookmarks round out the amenity.
What You Must Do: The Liberty Ride Trolley Experience
Both my husband and I commented as we checked into the inn that neither one of us had fully appreciated the historic significance of Lexington and its connection to Revolutionary American history.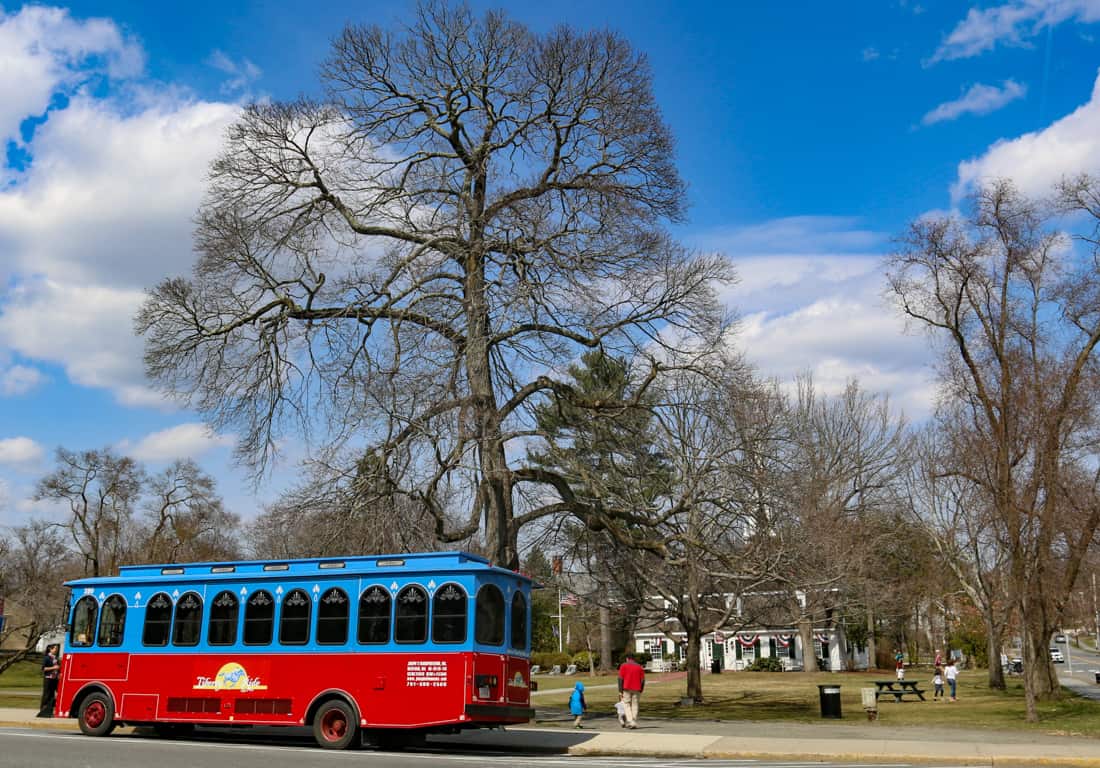 We decided to sign up for the Liberty Ride trolley experience. It's a short walk from the inn to the Lexington green and visitors' center where we caught the trolley.
I hesitantly boarded the trolley without knowing what to expect. It cost approximately $80 for a family of four. Would it be worth it? Will the kids complain the whole time?
Between my own history studies and School House Rock I was well aware of the expression, the shot heard 'round the world. The course of events that occurred in one remarkable twenty-four hour period fascinated me.
George, our guide, was a passionate storyteller and historical reenactor who participates in the Patriots' Day events every April. For non-Massachusetts residents, this is a state holiday that occurs on a Monday in April that hosts the Boston Marathon.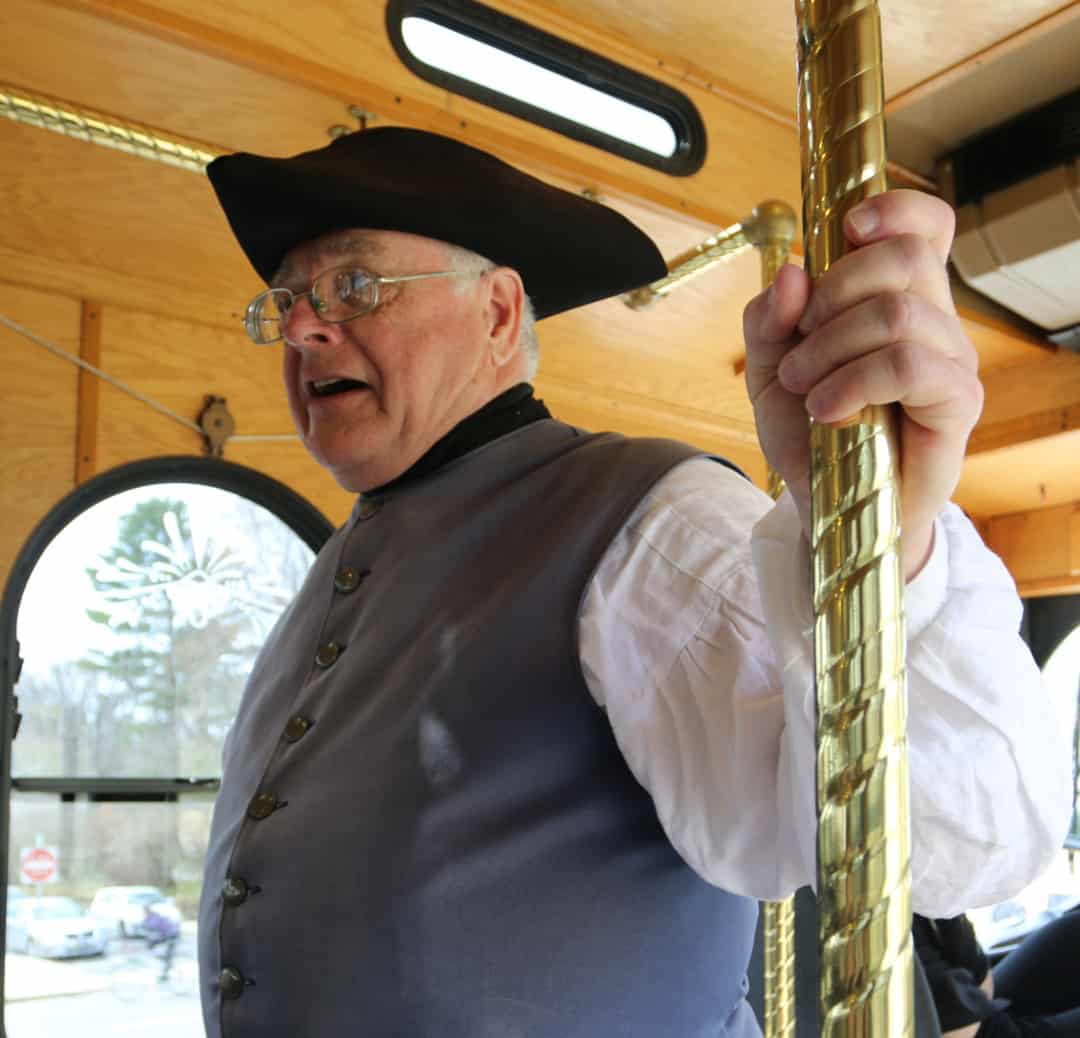 George narrated in—what felt like real time— the events of the first twenty-four hours of the American Revolution. Not only did we hang on his every word, I even cried. I think even George cried, despite telling this story hundreds of times.
The 90-minute trolley ride drove us through Lexington, the Minute Man National Park, and Concord and back again. There is a bit of walking in the park to meet at North Bridge.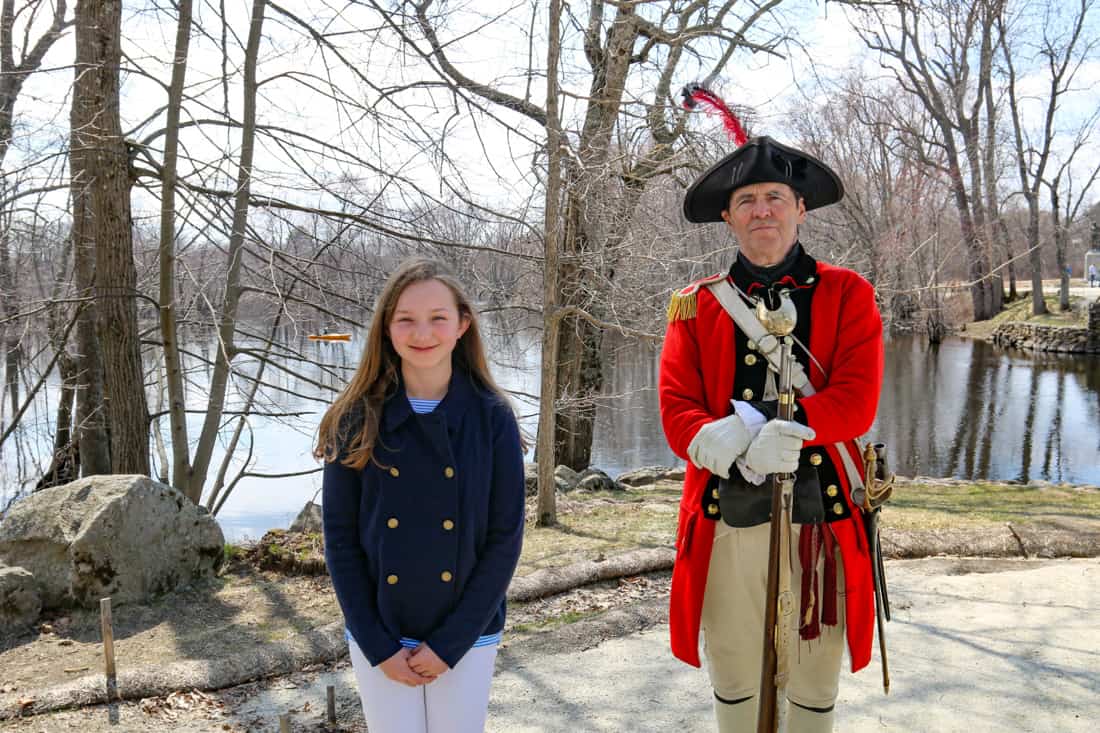 Activities beyond the history
Minute Man National Park boasts extensive bike trails and calm rivers to kayak, so families can get active, too, if they choose to explore the park without the trolley tour.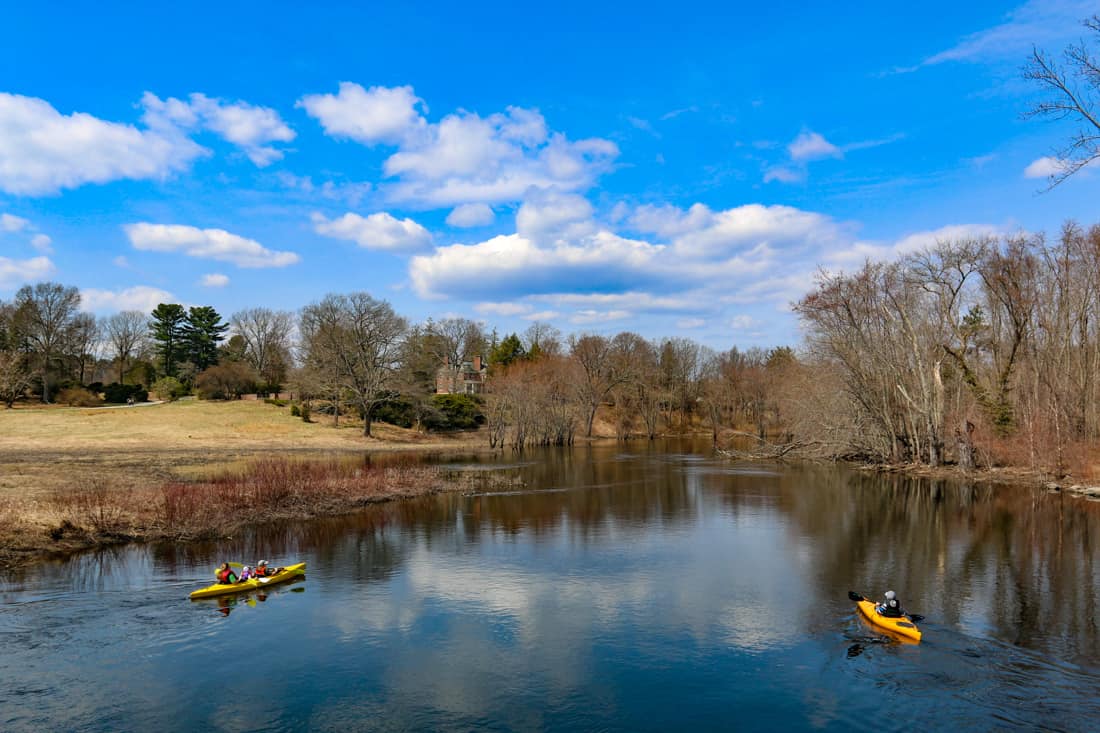 An Annual Staycation Tradition
For a dreary February or March weekend, I could think of nothing better than an annual staycation filled with family movies, room service, afternoon tea, and those chocolate chip cookies.
It's an ideal culinary indulgence at the inn during their high season from November through April. From May through October the inn is busy with college related activities, weddings, and fall foliage.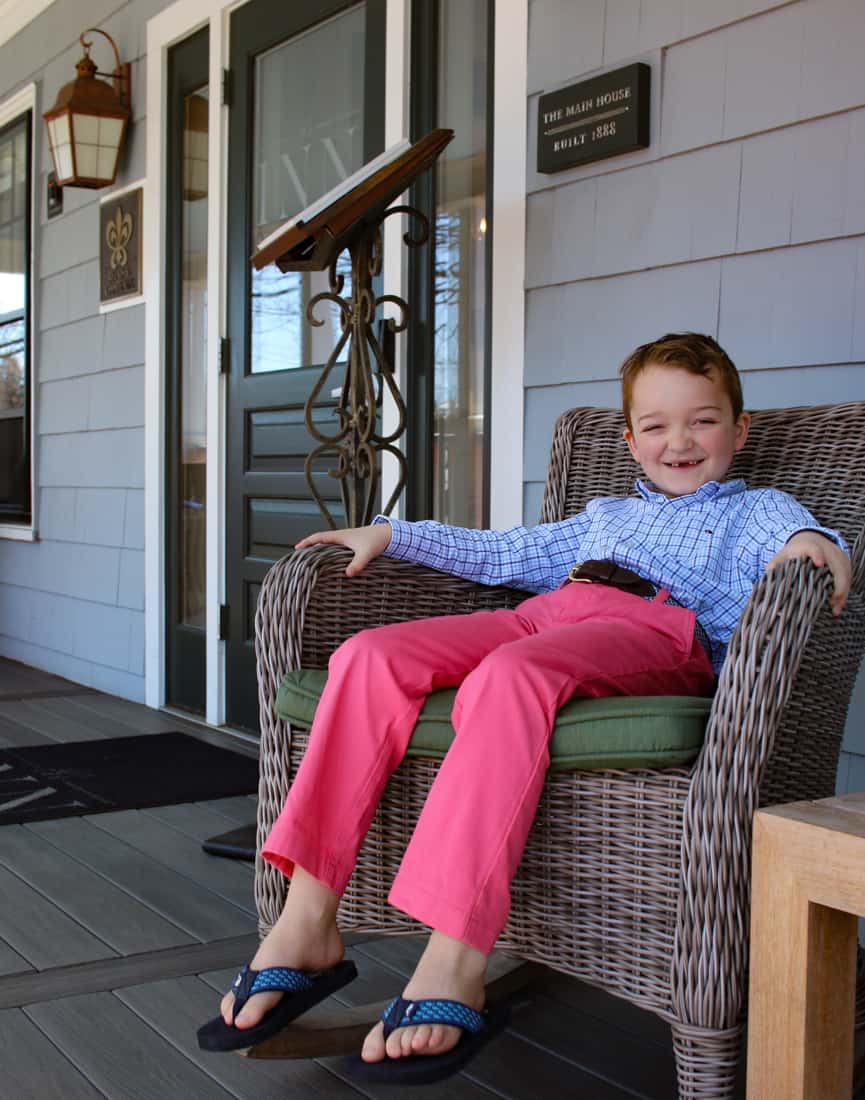 Check rates at the Inn at Hastings Park for your dates.
---

Although we were guests of the inn, these opinions are my own.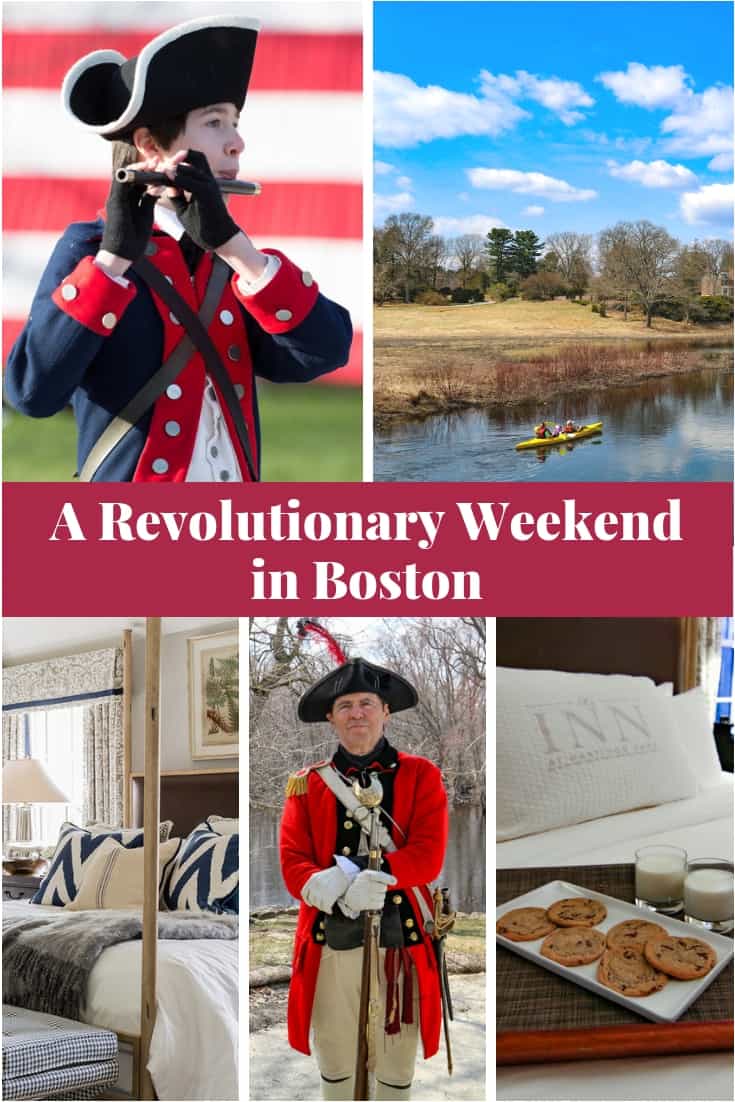 Thank you to Vineyard Vines for outfitting us for spring!