Elvis loved it. Marcia Brady did, too. There's something special about those iconic landscapes, waterfalls, and beaches. The best Hawaii resorts are vacation magic.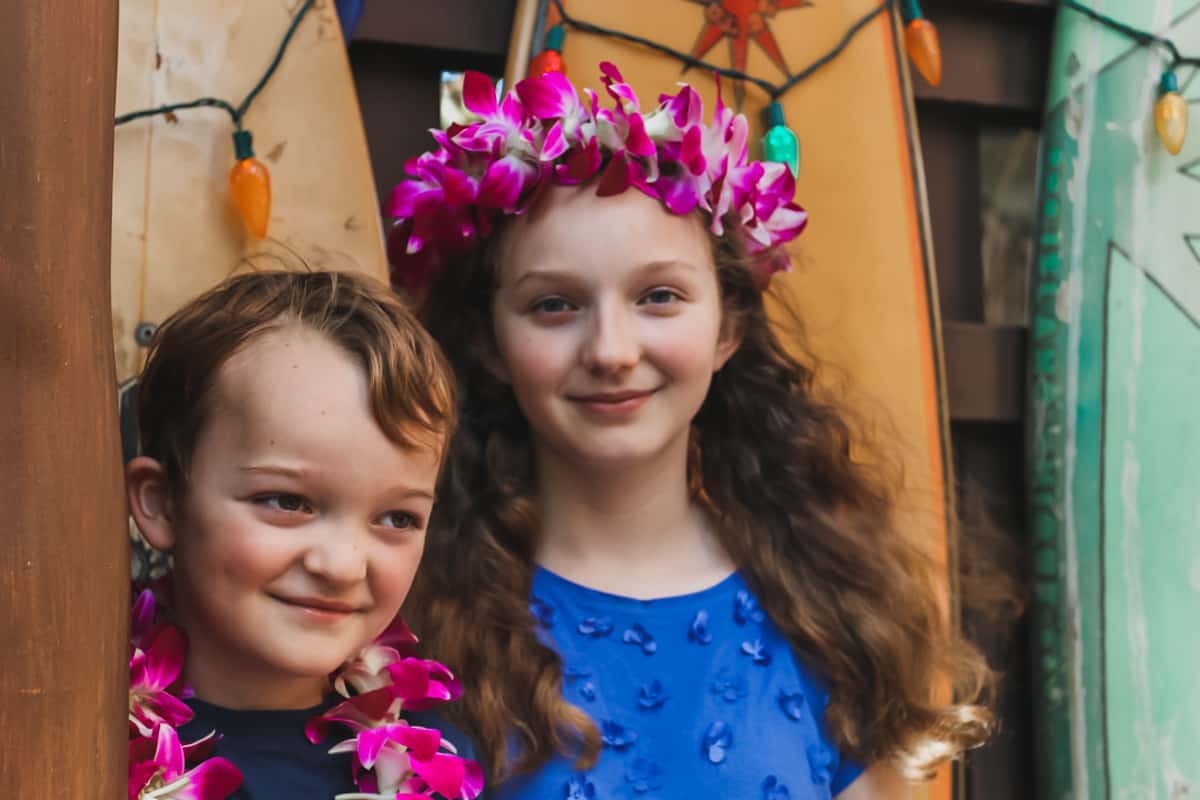 Resorts in Hawaii: Where to Stay
I have asked other Luxe Recess contributors and some fabulous family travel writers to choose the best family resorts in Hawaii from their past vacations.
Whether you are choosing resorts in Hawaii for the sun, the culture, the beaches, or the outdoor adventure, we've gathered a list of the best boutique or 5-star resorts in Hawaii for families. They offer great pools, wonderful luxury, or accommodations. Whether you are a family of three or a multi-generational group of 10, here are some great options.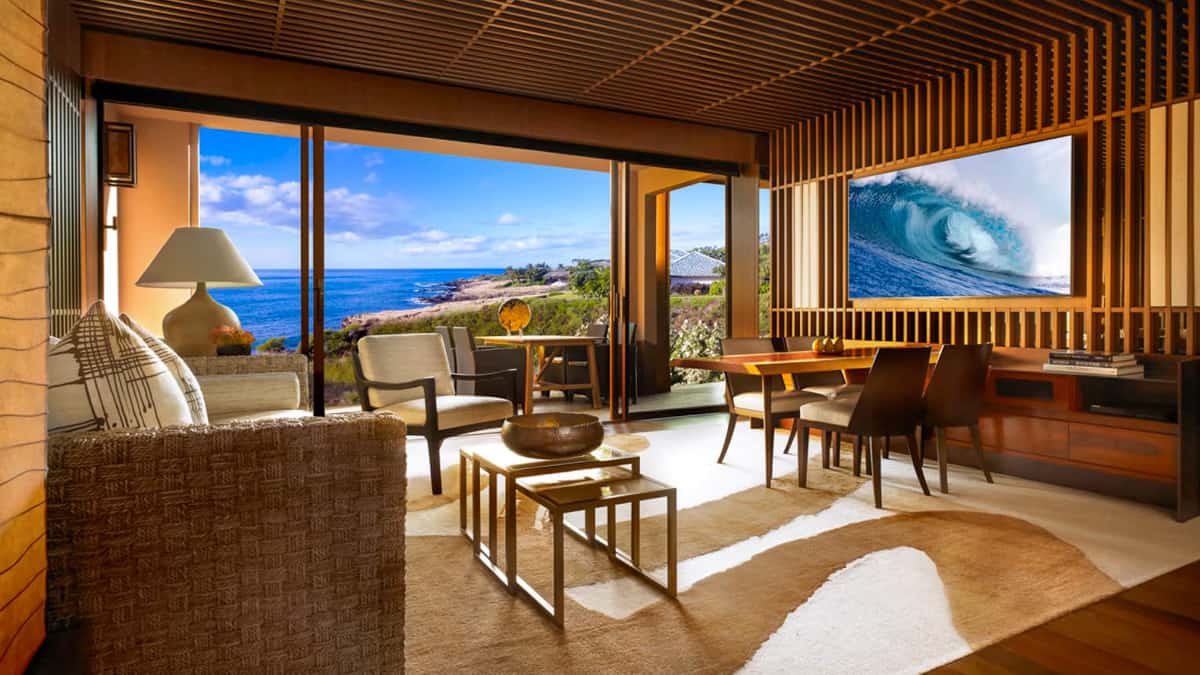 The Best Resorts in Oahu for Families
Aulani: the Disney Hawaii Experience isn't what you think
Aulani, a Disney Resort & Spa, lies on the island of Oahu, and claims one of the most popular resorts in Hawaii for families. It's Disney after all. But it might not be Disney in the way you assume. Hawaiian history, language, and art inspired every detail of this resort. Visitors are warmly welcomed into another culture, another land.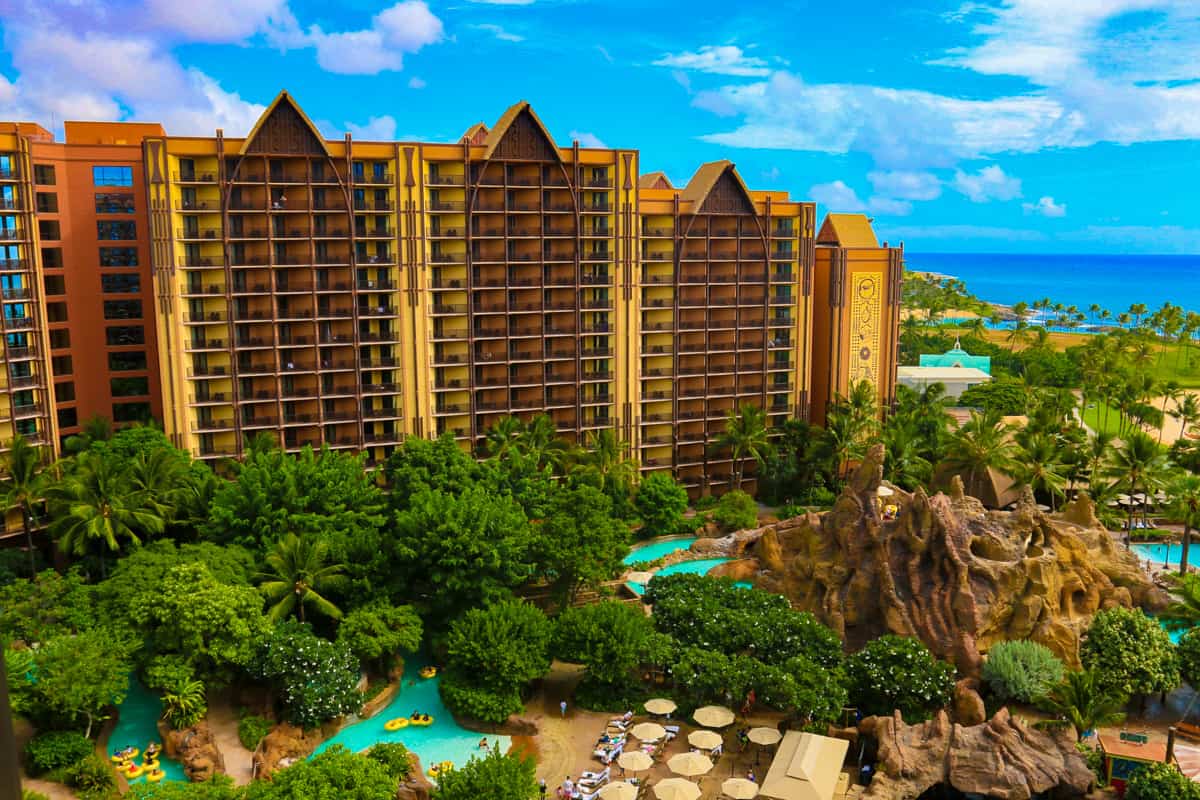 Traditional Hawaiian symbolism thoughtfully weaves throughout its design. Mo'olelo Fire Pit Storytelling along the beach gives families an opportunity to hear Hawaiian folklore with a bit of ukulele and song thrown in. Stays at Aulani are either in traditional hotel rooms or at Disney Vacation Club Villas with more home-like amenities such as a washers and dryers and kitchens. Disney Vacation Club units come as studios, one, two, or three-bedroom villas.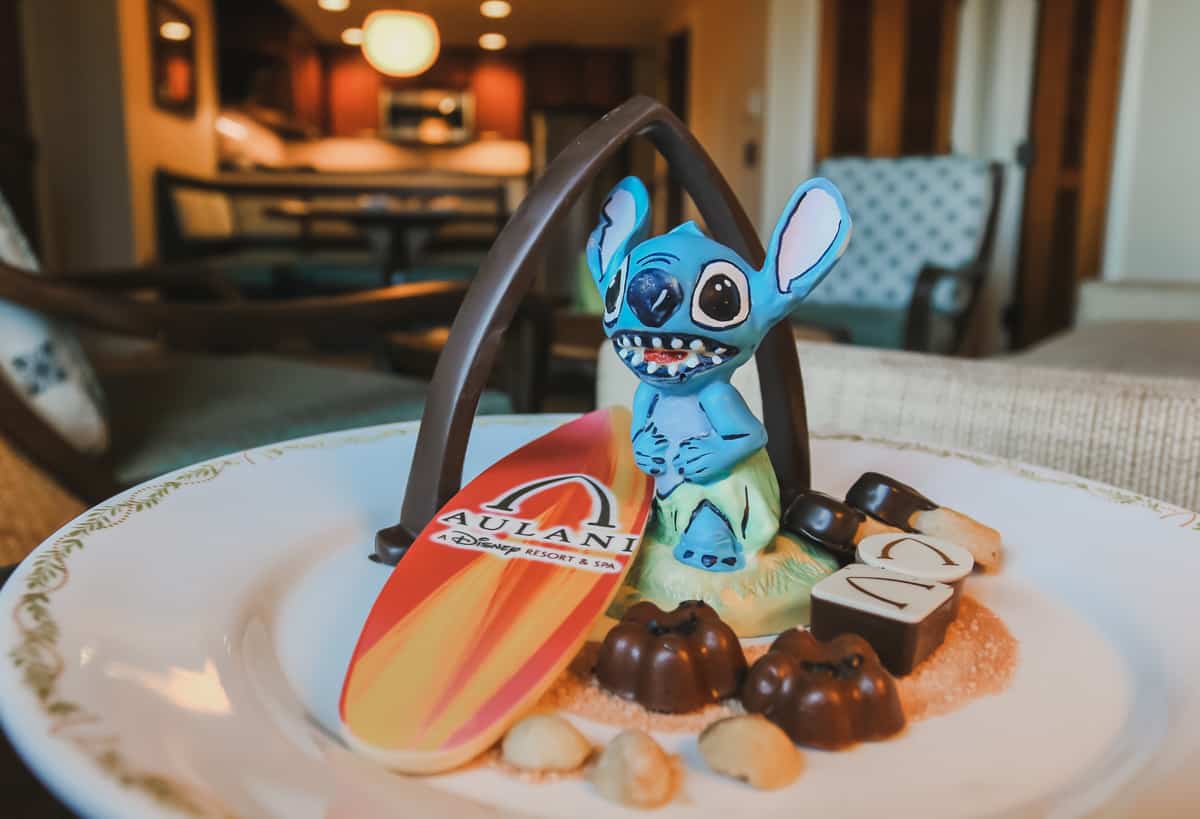 There are lush gardens, a beautiful koi pond, water falls, an expansive area of pools, activities, and snack stands. The lazy river, water slides, splash and play area, and adult pool are sure to please everyone in your family.
The resort's many programs for all ages
There truly are enough activities for a family to partake for a full week's vacation. Painting, animation, hula, ukulele, crafts and star-gazing are just some of the experiences. The resort also boasts two sit down restaurants, including a Disney character breakfast and dinner, and a café next to the pool. A complimentary kids' club is offered for those aged 3 to 12 years-old. Kids choose between arts and crafts, dress up, movies and iPads, table games, and outdoor play. There are also tween and teen programs later in the day.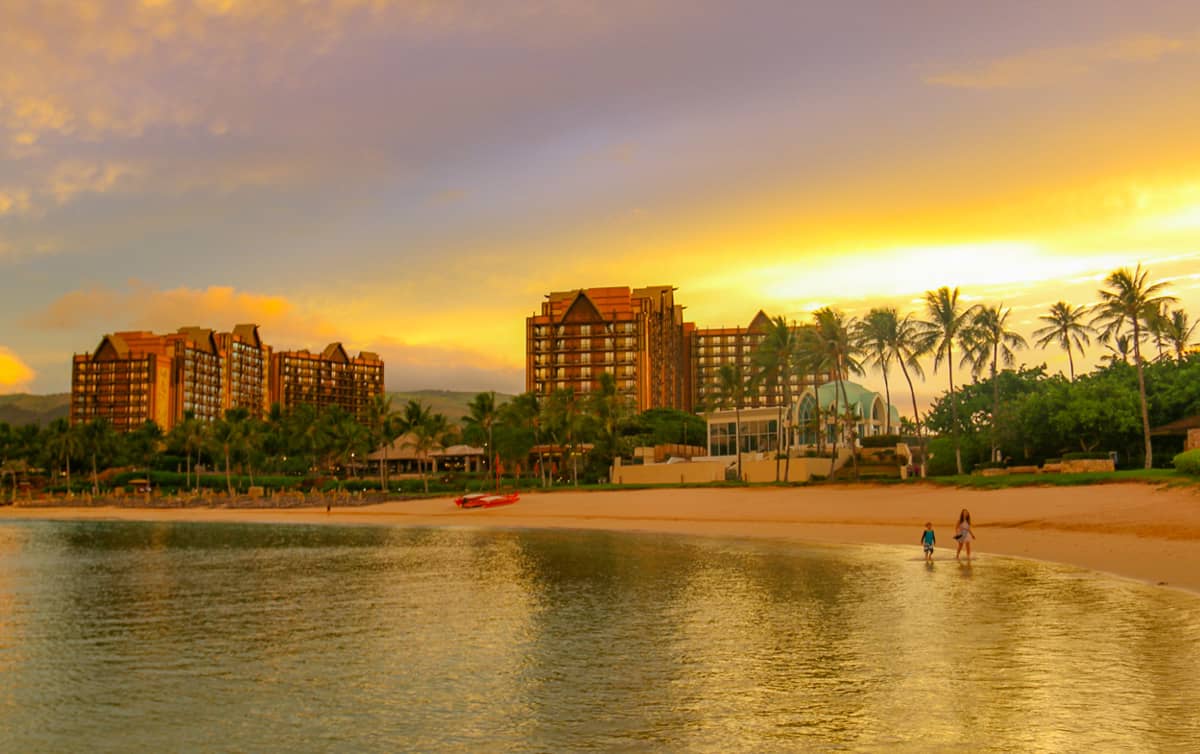 While the kids are away, parents can head to Aulani's five-star spa which is the largest spa in the state of Hawaii. It has a massive outdoor hydrotherapy garden and amazing solo or couples' experiences. The showcase event during a family's stay at Aulani is the Ka Wa'a luau which is a memorable experience for the entire family to enjoy.
The downside is that during peak vacation dates, the resort will feel crowded. Lines form at the free kids' club; the guests hunt for pool chairs. It's a better choice during slower seasons where families can enjoy the immense number of activities easily.
Best Aulani Room Options for Families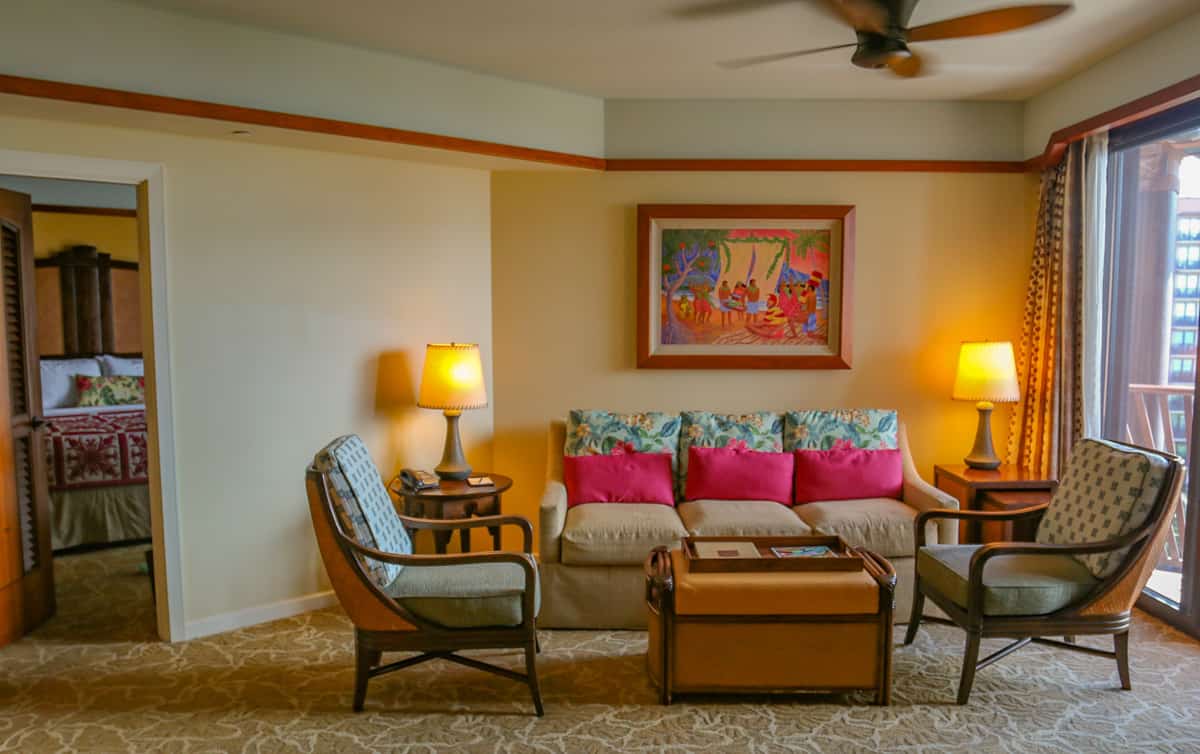 We prefer the kitchen and laundry amenities of the villas to the hotel rooms. Though these are Disney Vacation Club villas, anyone can book them. An entry level studio sleeps four with one queen bed and one queen sleeper sofa. A one-bedroom sleeps 5 with a king bed, queen sleeper sofa, and twin day bed. The largest have three bedrooms and sleep twelve.
When you can book the villas up to 40% off by renting Disney Vacation Club Points through a service, it's a no-brainer. Seriously, compare hotel rates with the rental calculator at David's whom we use.
Read our full review and watch our video of Disney's Aulani.
---
If you don't "do" Disney:
The Four Seasons Resort O'ahu at Ko Olina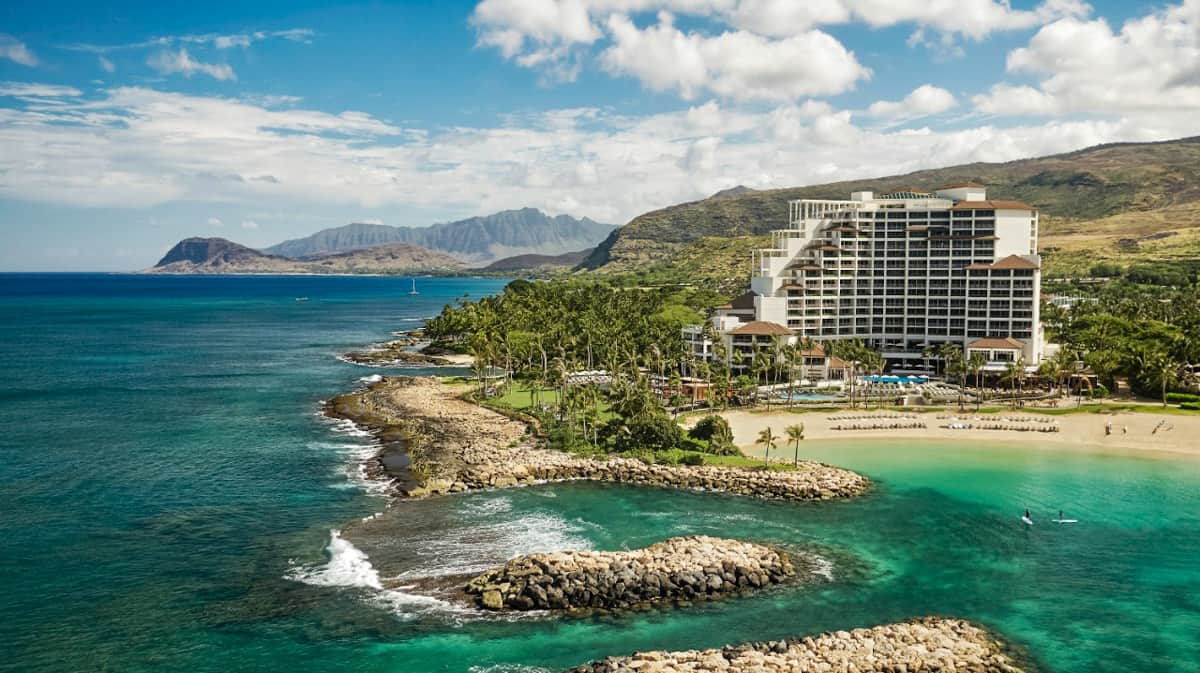 The Four Seasons is always top of my list for family-friendly, and for Hawaii luxury family resorts, the Four Seasons is a great choice for all the Hawaiian islands. The Four Seasons Resort O'ahu at Ko Olina shares a protected cove with its neighbor, Aulani, but turn the corner, and gorgeous rugged Pacific ocean views are revealed.
It's all about the 5-star service
While there are no water slides or a lazy river, Four Seasons guests enjoy both family and adult pools where finding the perfect sunny or shady spot is never a problem. The attentive (but never stuffy) staff will escort you and set you up with fluffy towels, sun screen and ice water.
You may be surprised later with a sweet treat or an Evian spritz before you take a stroll to the "secret" beach and catch a glimpse of a Hawaiian monk seal sunning in the sand.
While the Four Seasons does not have villas with kitchens like Aulani, the guest rooms start at an enormous 640 square feet, connecting rooms are available, and some rooms have private outdoor spa tubs.
Four Seasons always makes the youngest guests feel welcome with surprises such as bath toys and treats. The complimentary Camp Kahola (for those ages 5 -12 years old) with large, bright spaces organizes daily activities throughout the resort.
JOIN OUR LUXURY HOTELS & RESORTS FOR FAMILIES, A FACEBOOK GROUP FOR SEEKING ADVICE AND INSPIRATION FOR THE BEST LUXURY FAMILY BREAKS.
There are also themed keiki dinner parties for kids, so parents can dine alone at Mina's Fish House by James Beard Award Winning Chef Michael Mina. Families can snorkel and paddle board (also included in contrast to Aulani), and there are endless ways to splurge. Can you imagine arriving at the resort in a private 47-foot yacht? Or by helicopter?
Choosing between the Four Seasons and its neighbor, Aulani
If you are drawn to Aulani's amenities for your kids, you can easily walk over to enjoy their luau or their character Breakfast Celebration (make reservations early). Consider a split stay if their pools sound appealing because Aulani facilities require an Aulani wrist bracelet.
The Four Seasons is a better choice for the crowd-adverse and a great choice for sleep-deprived parents whose children are too small for waterslides. Enjoy the pampering service, 5-star beds, and room service. Make this trip about you while you still can.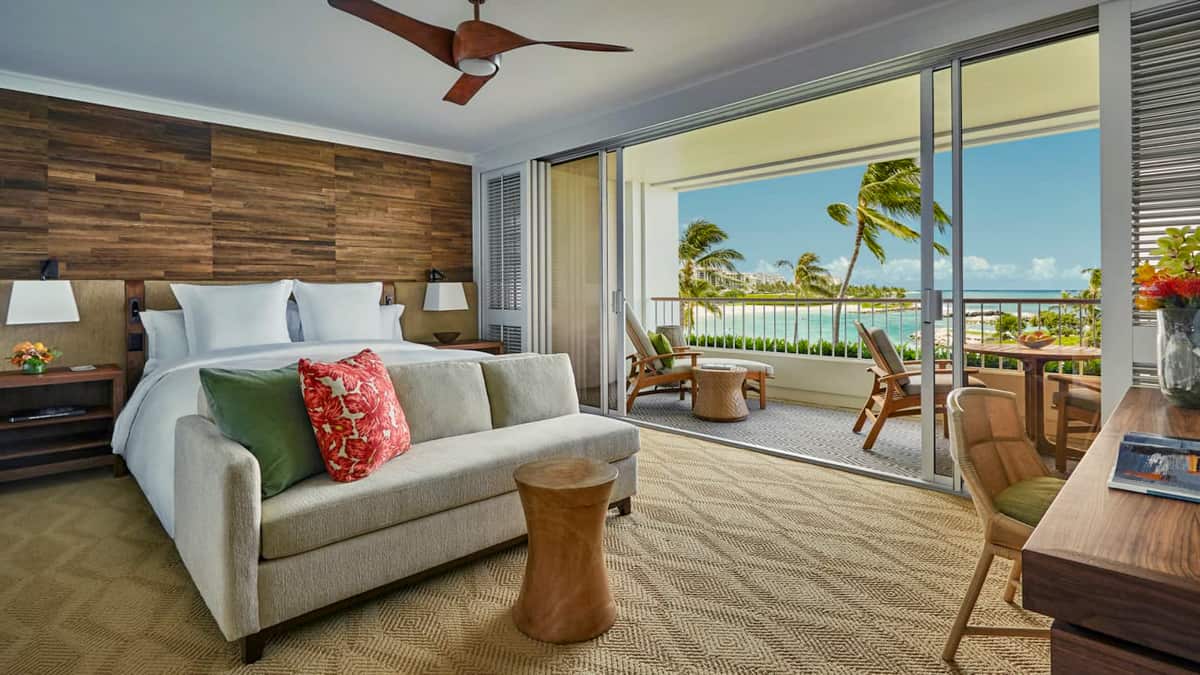 Best room configurations for families
Entry rooms sleep 2 adults and 2 children with a rollaway and king bed. Ocean rooms offer two double beds. Suites with three bedrooms sleep six adults plus two children.
Check rates for your dates at the The Four Seasons Resort O'ahu at Ko Olina.
By Karen Shelton, My Path Unwinding Travel
---
Turtle Bay, Oahu's Northern Tip
Turtle Bay Resort: The Chill Option Near Surfing
Families who want to explore the North Shore of Oahu will find hotel choices are limited compared to other parts of the island. Luckily, Turtle Bay Resort welcomes guests in a unique and picturesque setting at the Northern top of the island, far away from the other Oahu family resorts on crowded Waikiki Beach.
If it looks familiar, it was the setting for Forgetting Sarah Marshall. If you drive to the resort via the west side of Oahu, you'll pass the surfing waves along the North Shore Hawaii is known for, too.
Turtle Bay is the perfect location for families who want an escape and experience the best of Hawaii. Families can choose from beachfront cottages and luxurious oceanfront villas to traditional hotel rooms in the main building. The shape of the hotel allows for every room to have at least a partial ocean view.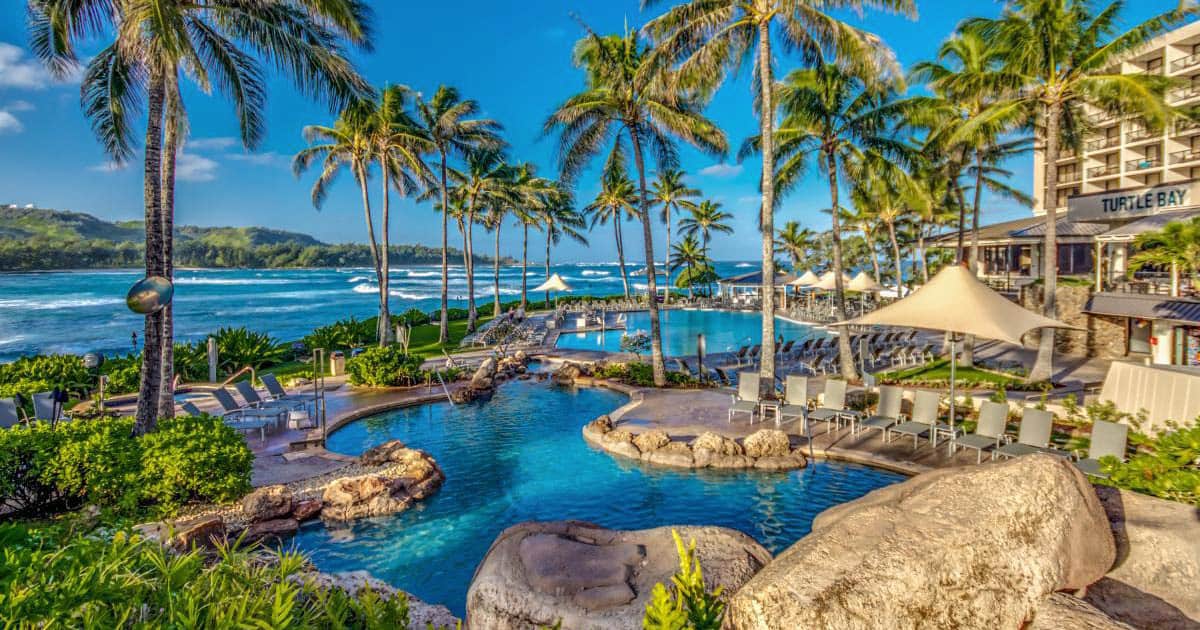 Guests can also choose a Vista Level room that guarantees unobstructed ocean views, a dedicated VIP concierge, a light breakfast and preferential seating in the restaurants.
The Turtle Bay pool is unlike any other on Oahu. From the pool deck, guests can watch surfers tackle some of the biggest waves in Hawaii. There are two pools and two hot tubs at Turtle Bay Resort. A large pool for swimming and a smaller kids' pool with waterslides.
Turtle Bay Adventures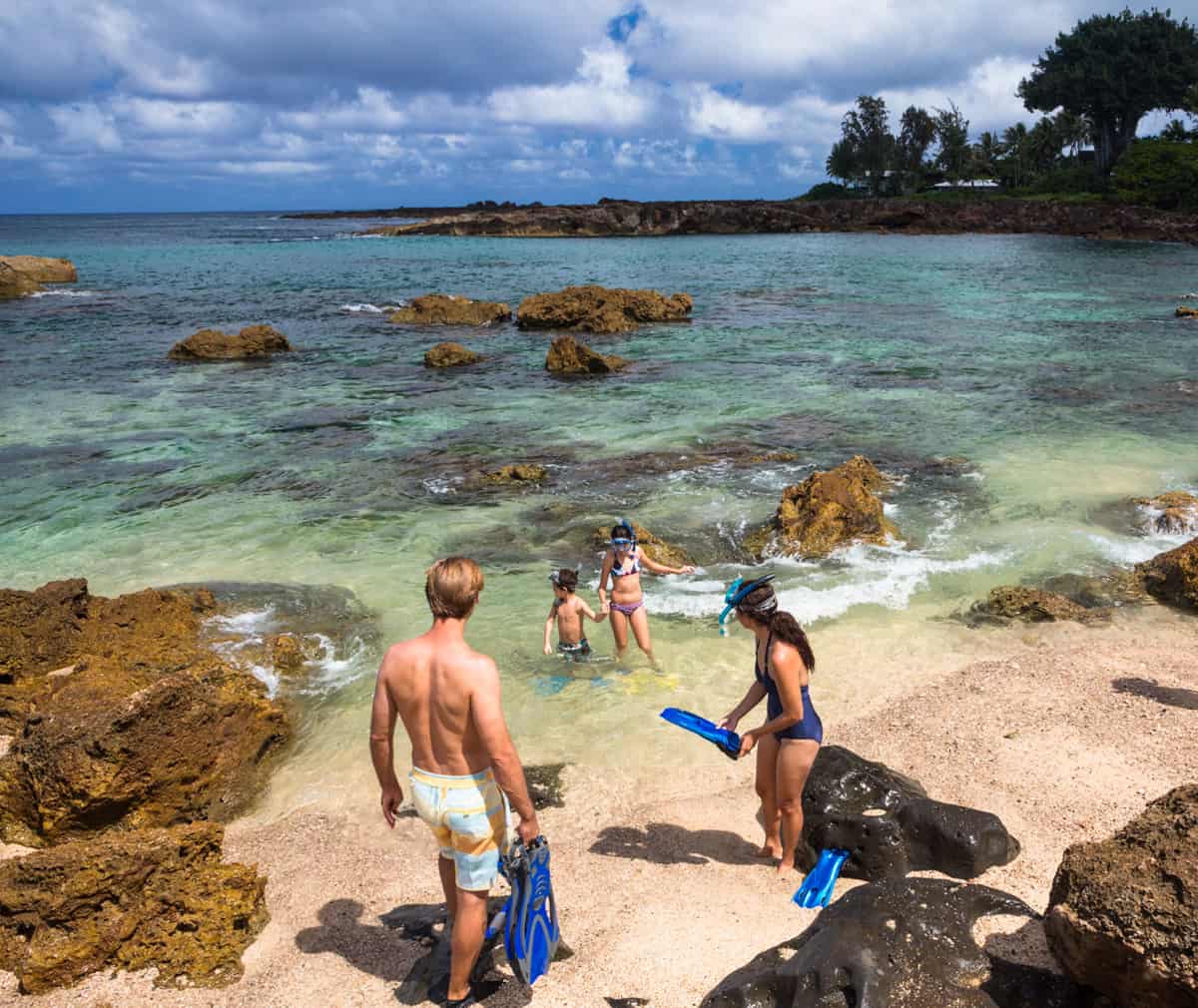 Leave plenty of time to explore the 800-acre property either by foot or on horseback. Trails lead to filming locations for popular shows like LOST. Families looking to explore the ocean will find themselves at the perfect hotel. The bay itself welcomes snorkelers and large fish and turtles abound. Paddleboarding and kayaking are also offered by the hotel. Onsite there is also a surfing school, golf course, spa, and tennis courts.
Rooms options for families: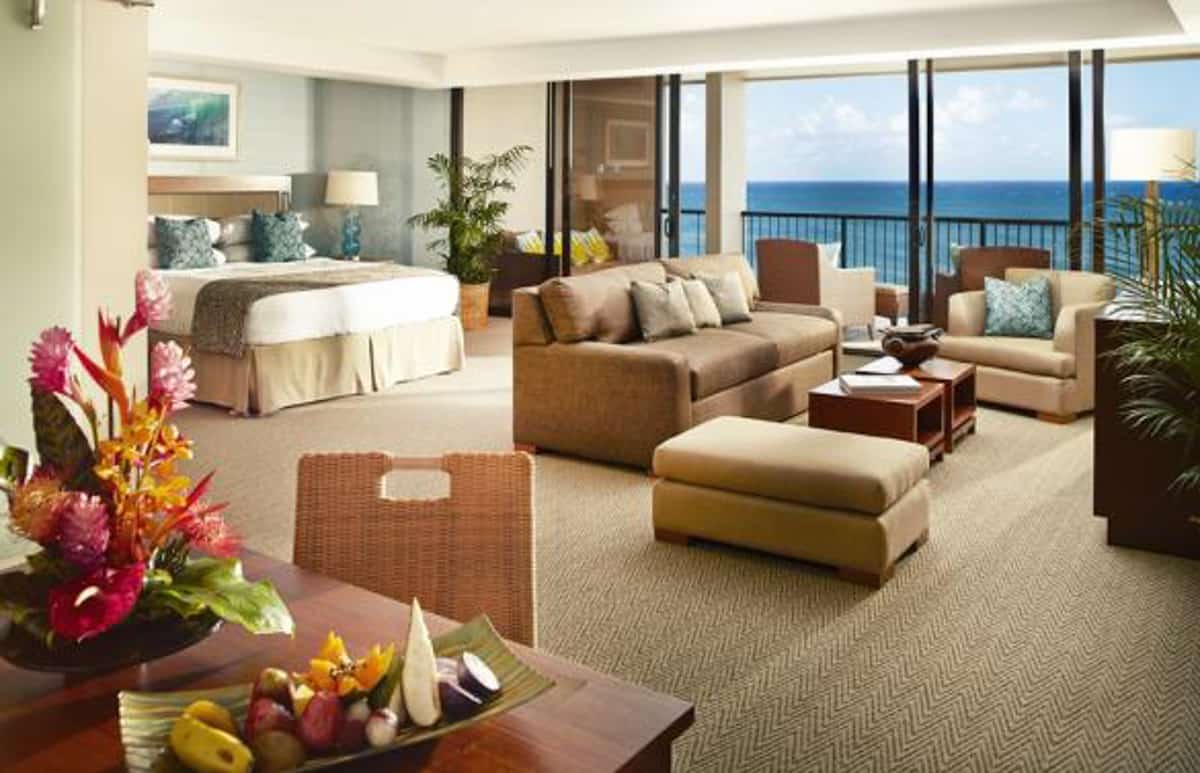 Entry level rooms offer two queens and sleep four. Oceanfront cottages and villas are also on property, with the largest at four bedrooms sleeping ten.
Check your dates for rates at Turtle Bay Resort.
By Sarah Pittard, Solo Mom Takes Flight
---
Luxury Waikiki Resorts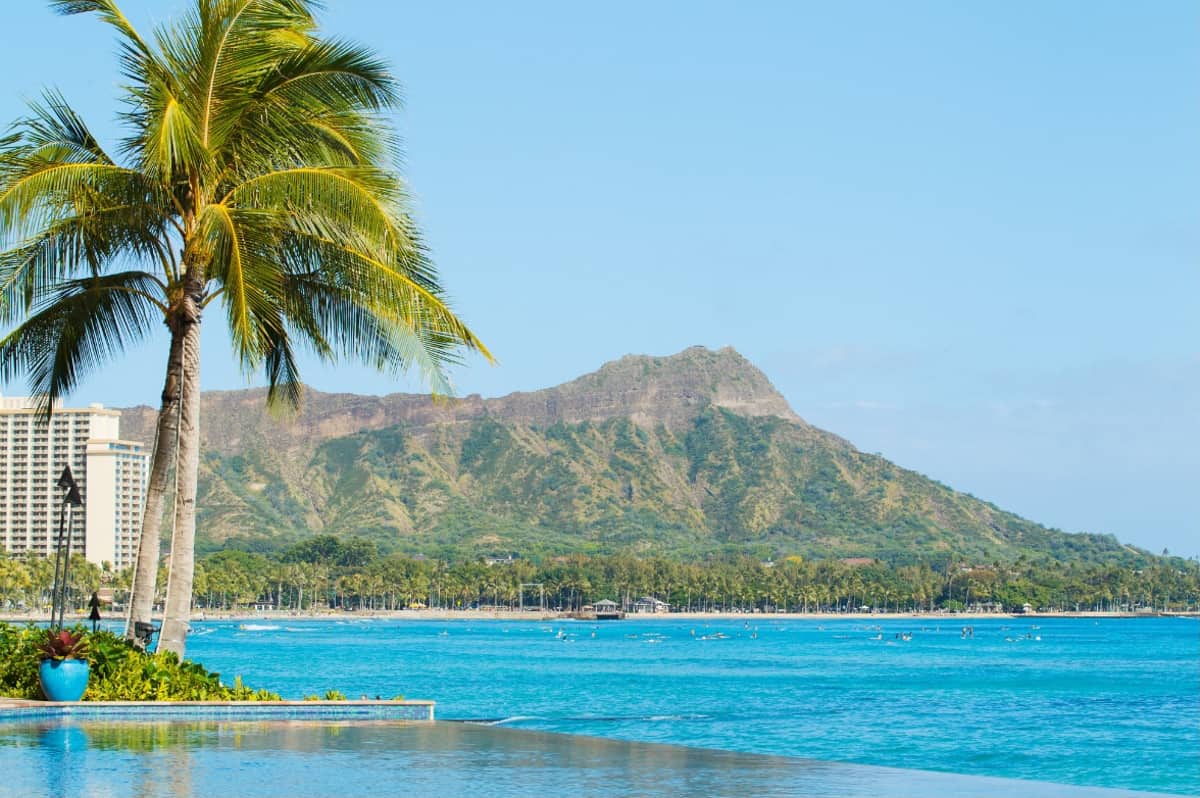 Halekulani: A Stand Out in the Hotel Jungle
Undoubtedly one of the most luxurious hotels on Oahu, the Halekulani is a haven for families looking for relaxation in dense Waikiki Beach. Not known for being tranquil, Waikiki has very few hotels that offer the quiet and serene atmosphere you'll find at the Halekulani.
The pristine ocean front rooms are modern and decorated with neutral colors. Large balconies welcome guests to sit and watch the sunset in a private setting. Locally made truffles and freshly picked fruit await your arrival.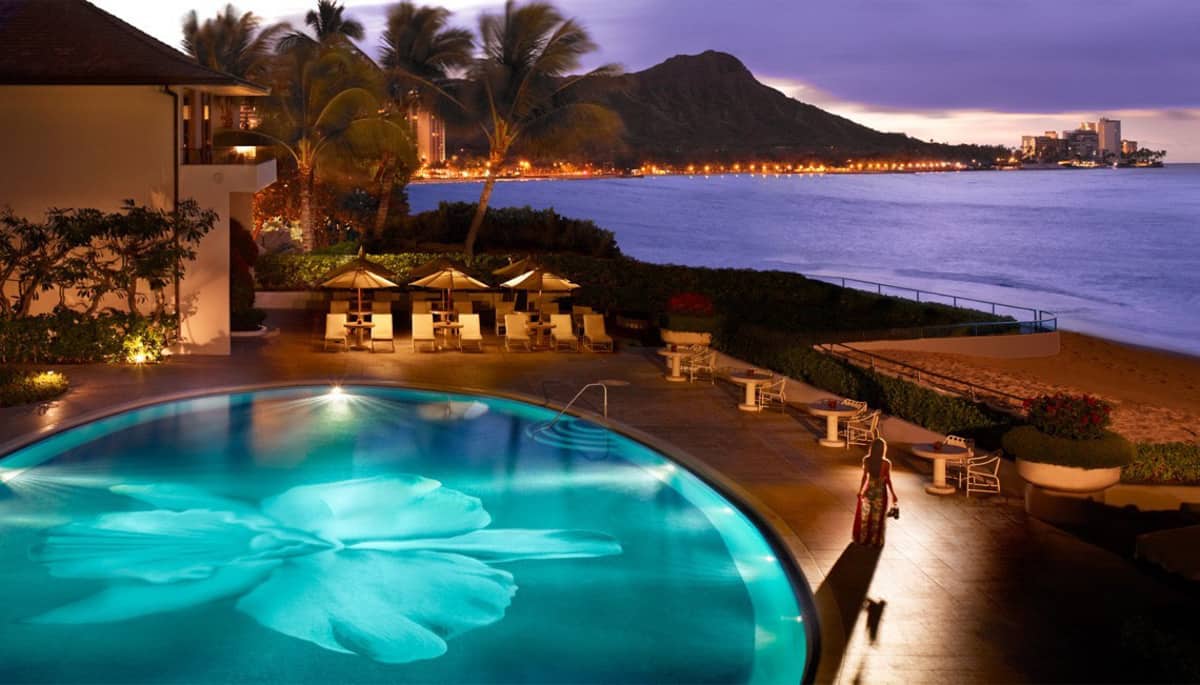 Halekulani's Legacy
The beauty of the Halekulani is found in its deep connection to the island of Oahu. Welcoming guests since 1883 with a formal hotel opening in 1907, Halekulani was thus named by the people of Hawaii, the "house befitting heaven" or Halekulani.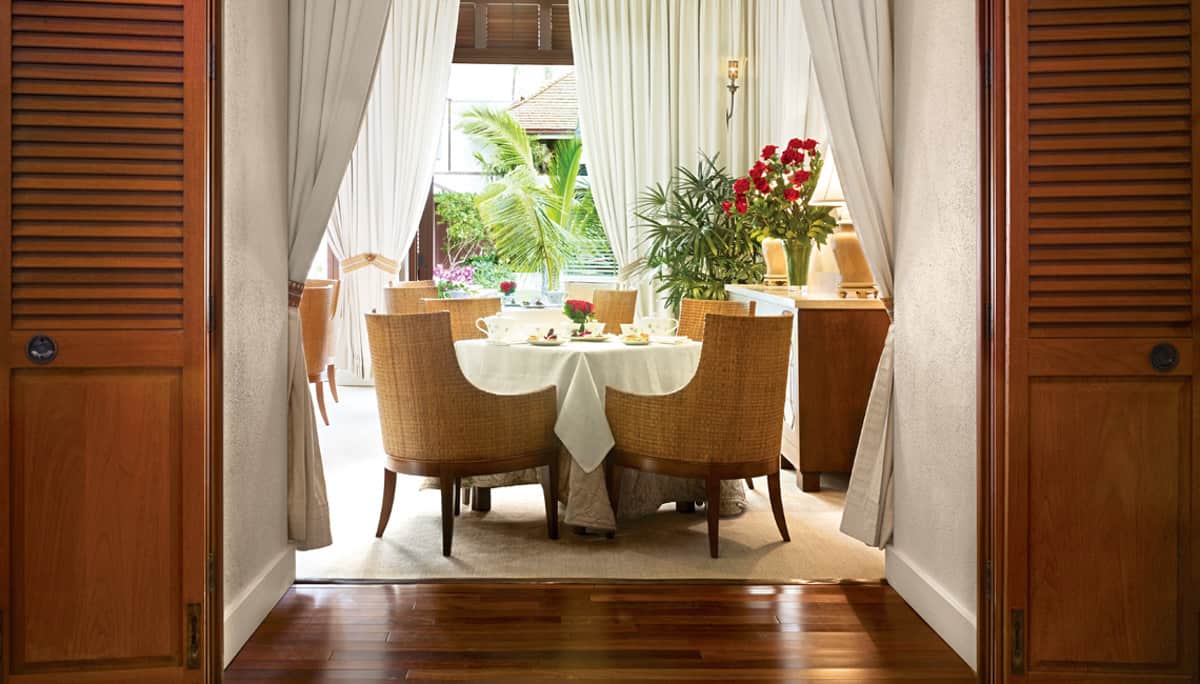 Since that day families have found refuge on this well cared for land that houses multiple gardens and a stunning ocean view pool deck. You will not find waterslides here. The hotel is an ideal choice if your kids are too young or too old for them and you want to enjoy outstanding service and a prime beach or shopping location.
Each evening, House Without A Key comes alive with the sounds of local Ukuleles and traditional Hawaiian music. My children loved watching former and current Miss Hawaii title holders perform traditional Hawaiian dances.
Other dining options at the Halekulani include Orchids, an ideal spot for brunch overlooking the Pacific Ocean and La Mer where French cooking is combined with local seafood and tropical flavors. Families looking to explore Waikiki will love coming home to peace and serenity of the Halekulani.

Rooms options for families:
The entry-level rooms are designed for three, so families are encouraged to book adjoining rooms. They can connect a king room to one with two twin beds. Families receive a discount on the second room.
Check your dates for rates at the Halekulani.
By Sarah Pittard, Solo Mom Takes Flight
---
Spacious and Swanky: The Ritz Carlton Residences Waikiki Beach
The Ritz Carlton Residences, Waikiki Beach is one of the newer luxury hotels and seasonal residences in Oahu. As a fast transfer from the Honolulu Airport, the Ritz is a great place to call home to rest up for or recover from longer air travel before moving on to the other islands.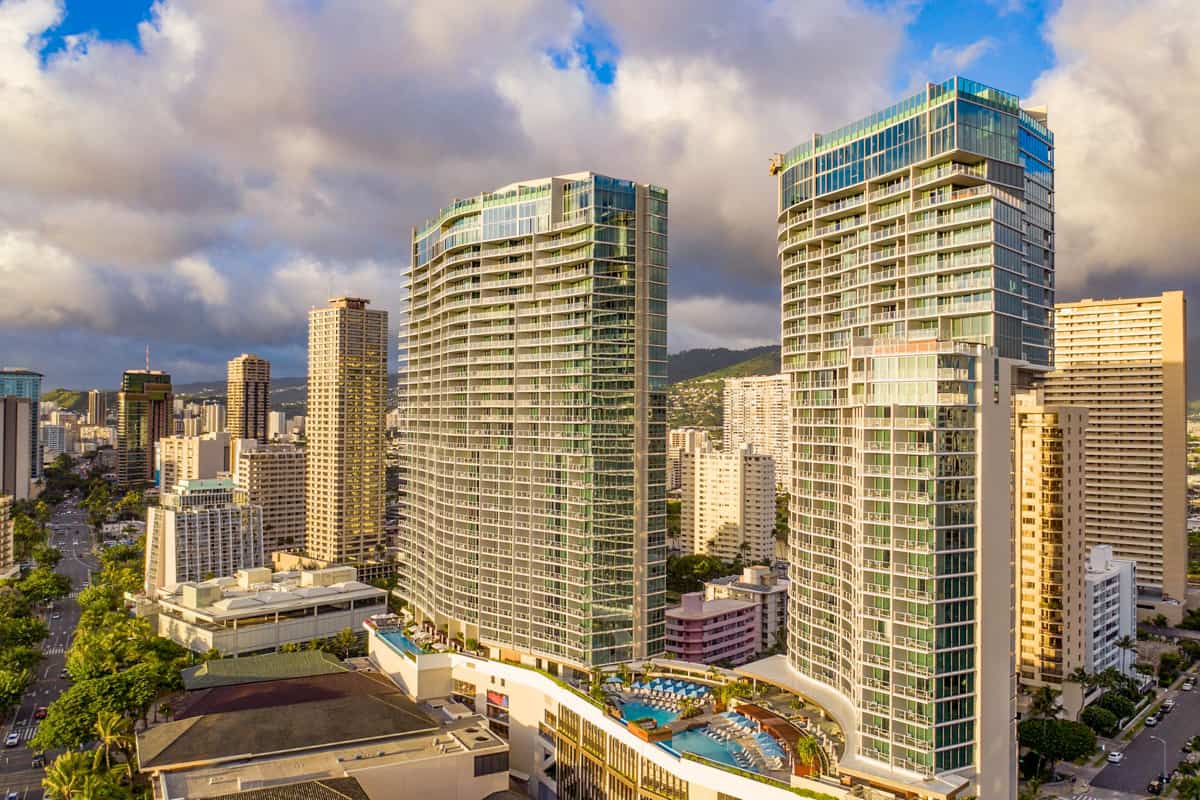 All units have balconies with ocean-facing views. Corner rooms spoil guests with both mountain and ocean views.
The Ritz Carlton also offers both an adult and family pool for a more complete resort experience. The infinity pools are the highest in Oahu, on the eighth floor of the hotel! This property also has a full spa, expansive fitness area, and yoga room. The resort tower is not on Waikiki Beach. The concierge is willing to share better, hidden gem beaches nearby.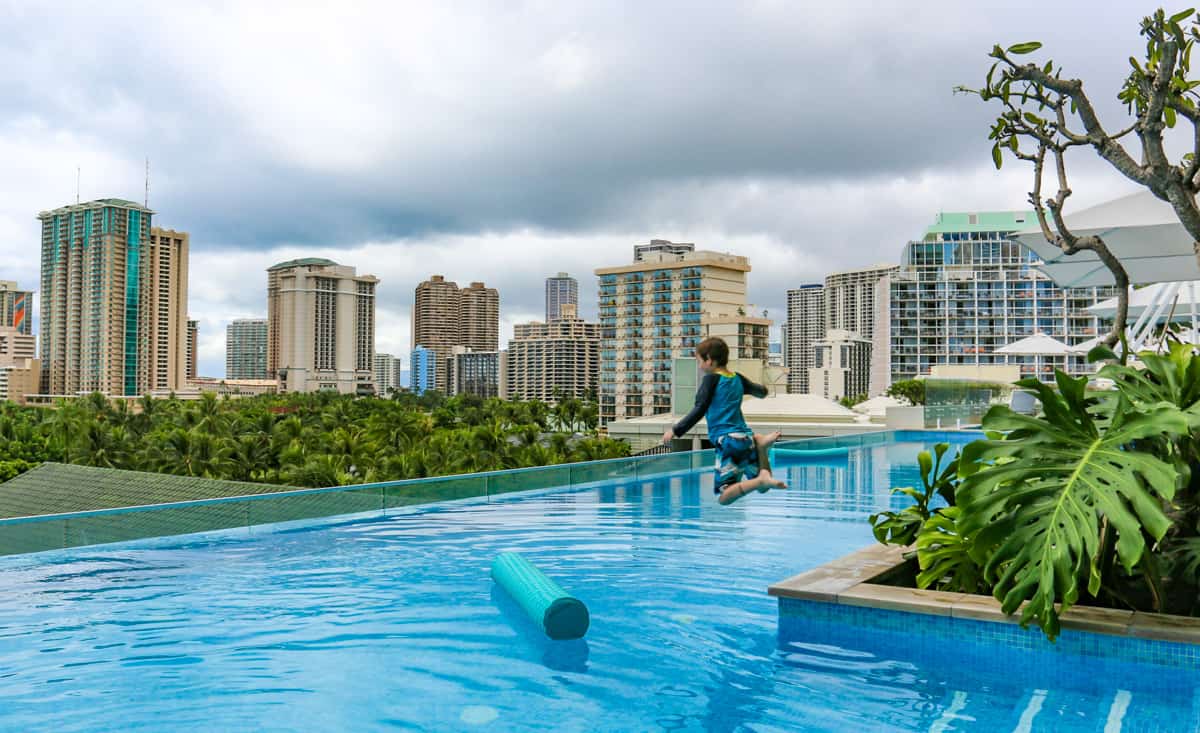 The Market is open for three meals a day with an open-air format just off of the lobby. At the base of the building, Dean and Deluca offers coffees, baked goods, and prepared foods to stock your room's refrigerator.
Things to do in Waikiki
Next to the hotel is Kalakaua Avenue, the leading retail and dining district for Honolulu. For those looking for more adventure, Pearl Harbor, Diamond Head, and the Honolulu Zoo are easy to access from the hotel by Uber or taxi. The hotel concierge staff is more than ready to assist if you need help navigating the city.
Overall, the Ritz Carlton offers high design, attentive service, and exceptional comfort. It's one of the best Hawaii resorts for an extended stay, too.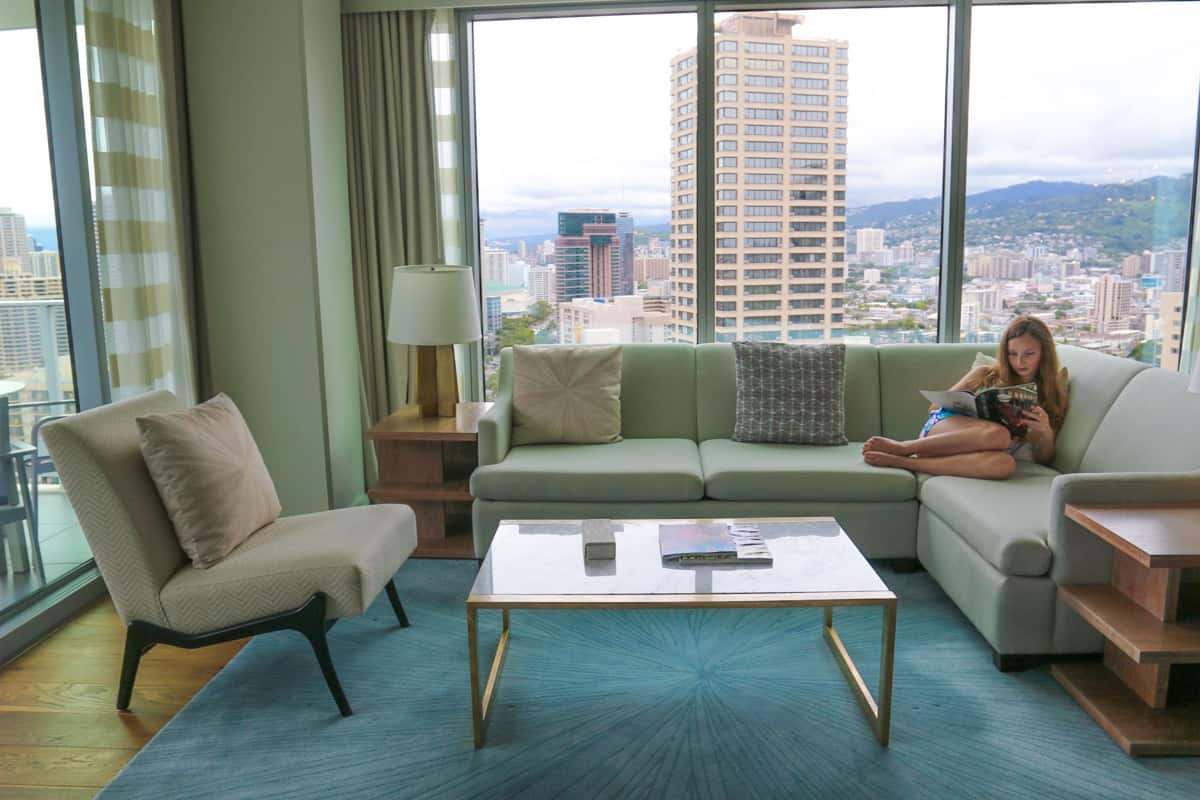 Rooms for families:
The entry-level room includes a king bed and full-sized sleeper sofa, whereas the studio units are built for four with washer and dryer and kitchenette. The hotel offers 2 to 3-bedroom residences.
Check rates for your dates at the Ritz, or read our full review.
---
Best Semi All-Inclusive Hawaii Resort: Sheraton Waikiki
Although not one of the Hawaii 5-star resorts on this list, the Sheraton Waikiki provides special amenities that elevate your stay to a luxury experience.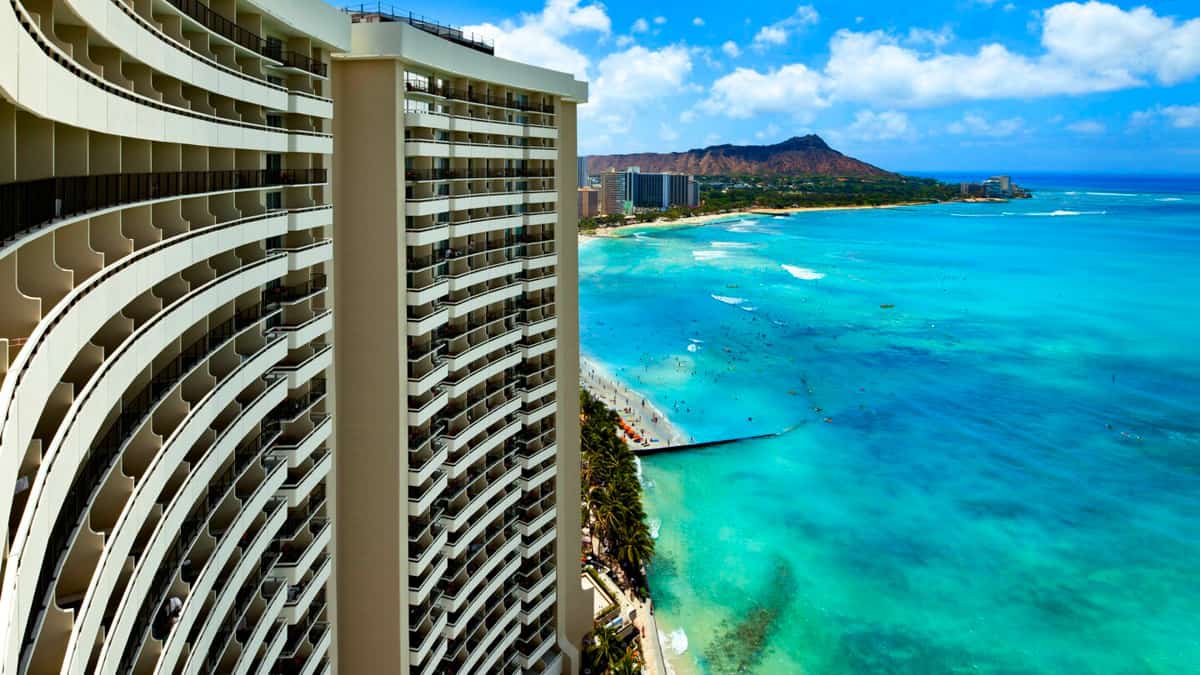 Where the Sheraton Waikiki also shines is in its activities for families. The $25 a day resort fee covers everything from hula lessons to ukulele lessons and more. Kids will love meeting local instructors who, teach while sharing the history of Hawaii.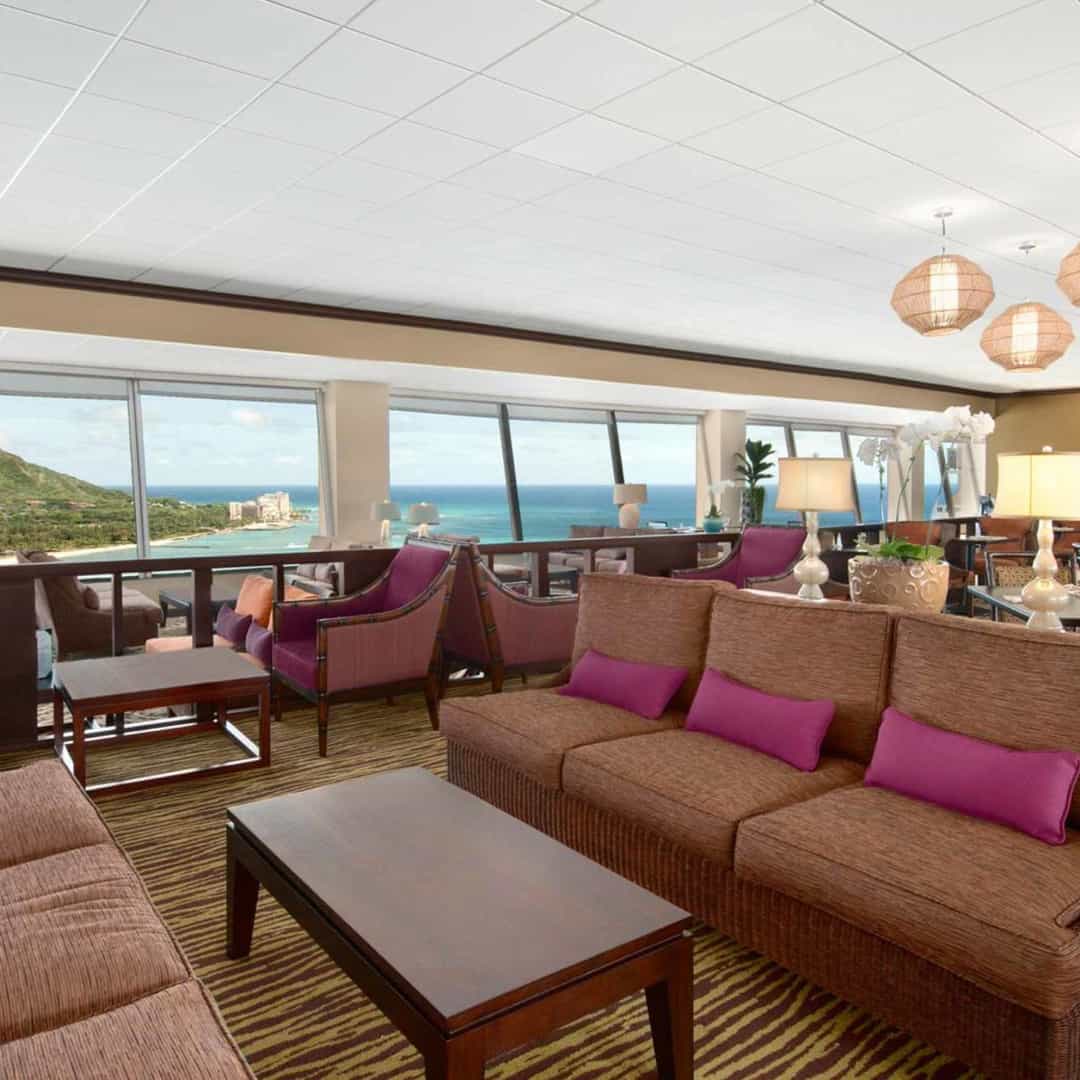 A beautiful club lounge
Club level rooms include large suites that provide plenty of room for a family of four. The Club Lounge at this hotel is well loved by Marriott travelers. With its extended hours, the meal presentation includes local tastes of Hawaii at breakfast and dinner as well as certain alcoholic beverages.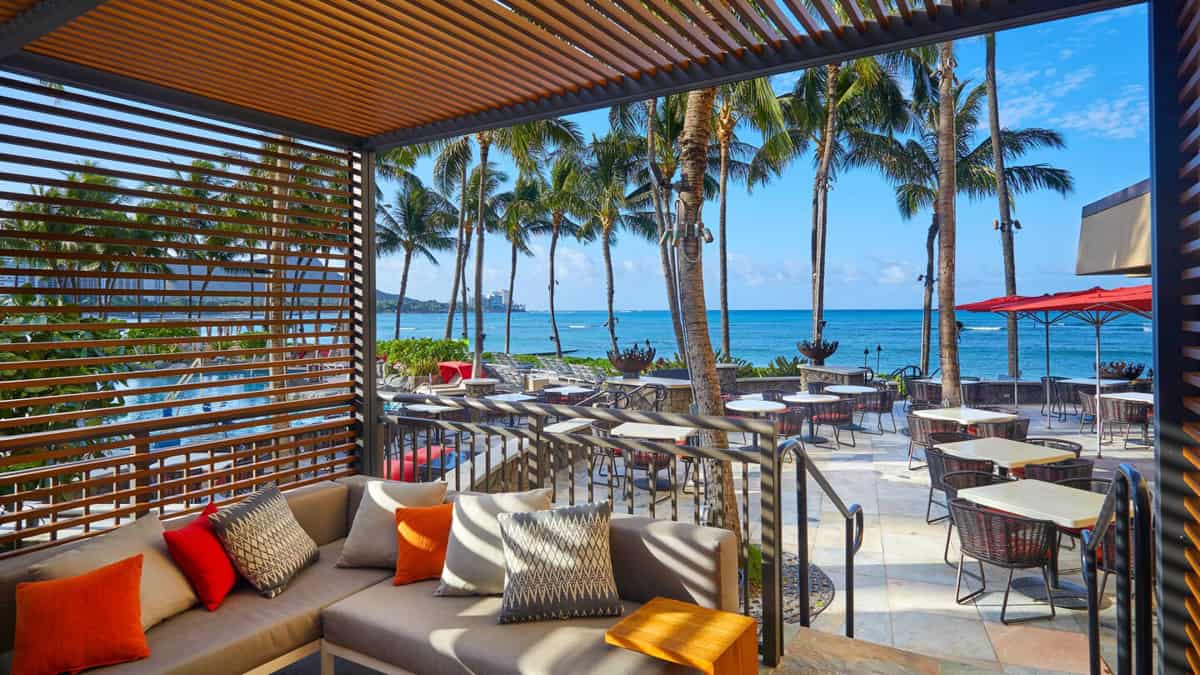 The pools at the Sheraton Waikiki are divided into a family pool and a separate adult-only pool deck. During the day, kids rule at the family pool where two slides and a perfect view of the Pacific Ocean welcome you. Cabanas are available for rent on a full and half-day basis.
At night, the bars and restaurants with ocean views come alive with local performers providing a festive atmosphere. The Sheraton Waikiki provides access to a small quiet beach where sea turtles often rest. A pathway from the hotel also leads to the busier beach of Waikiki where families can partake in a traditional Hawaiian canoe ride just a few minutes away.
While it may lack the serene quality of other hotels I have tried on Oahu, the Sheraton Waikiki truly provides a family-friendly comfort that has made me a repeat guest.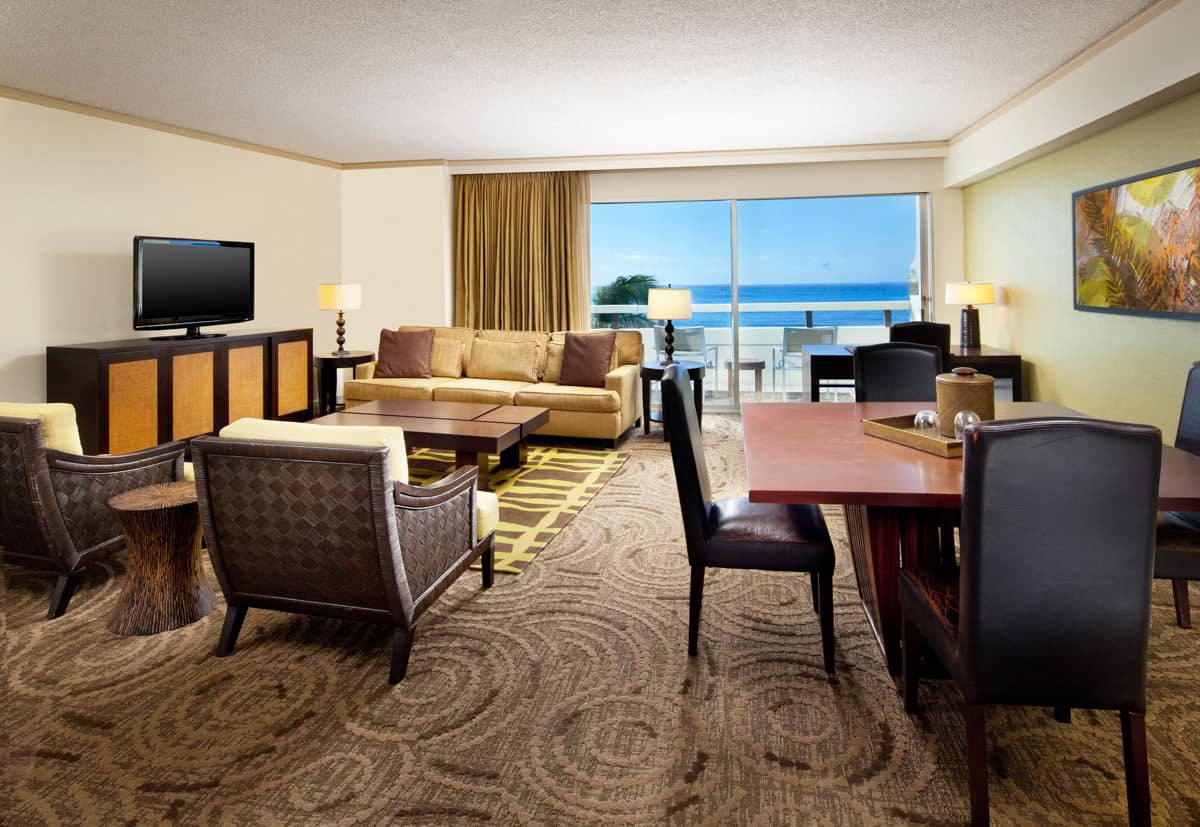 Best room configurations for families
Entry level rooms contain two doubles and allow four-person occupancy. The Sheraton Waikiki also offers an atypical room with three double beds. Given this hotel's lower rates, it is worth splurging for a big suite to get a giant living area and club lounge access to create closer to an all-inclusive Hawaiian vacation still less than many on this list.
By Sarah Pittard, Solo Mom Takes Flight
Maui Resorts For Families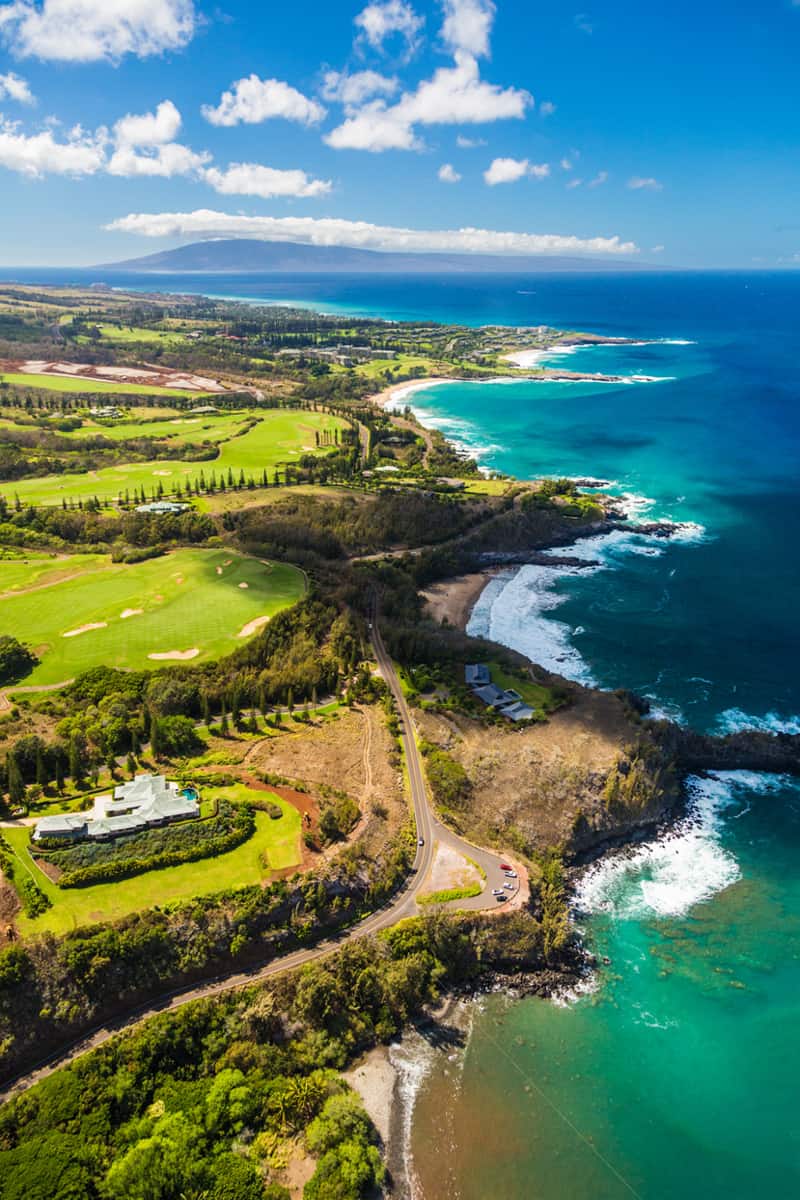 Grand Wailea: Maui's Best Kid Pool Complex
If you're looking for the perfect combination of luxury and family fun on Maui, look no further than the Waldorf Astoria Resort in Maui, better known as the Grand Wailea.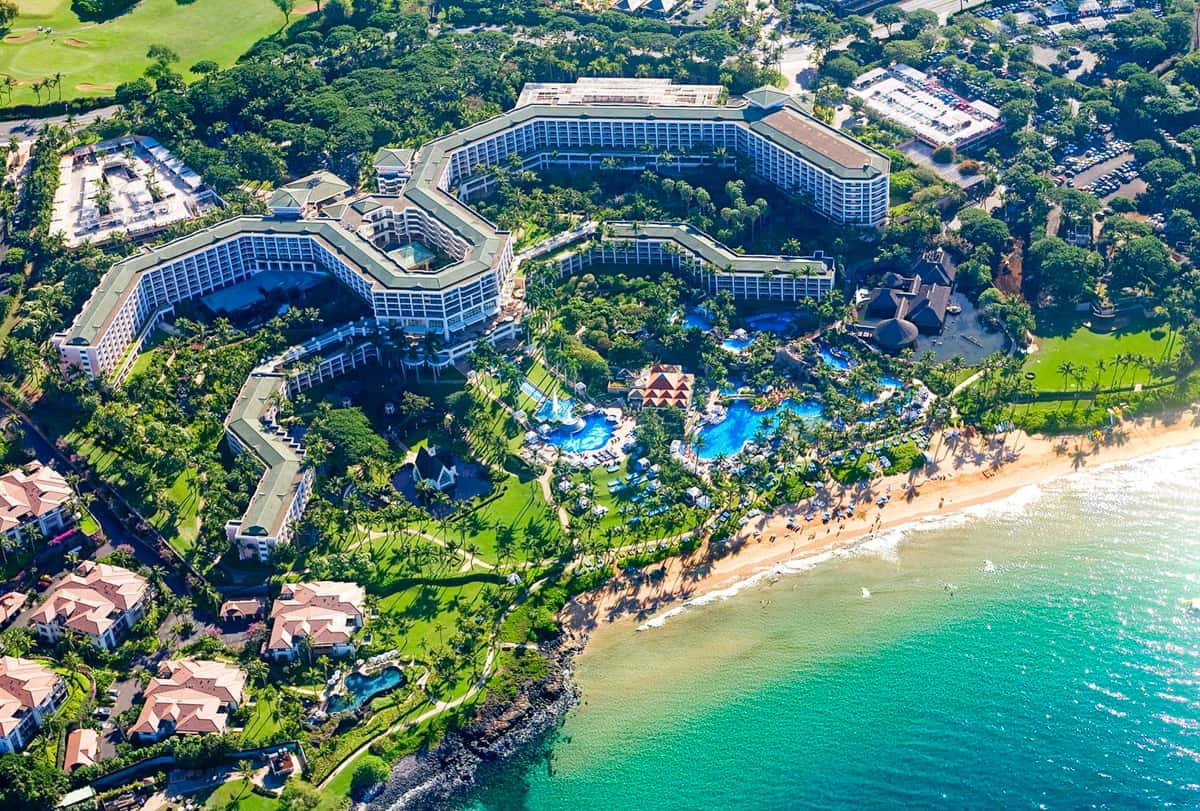 The extensive grounds are a kid's paradise, not to mention the exquisite spa for the adults. This resort is known for its pool complex featuring a water slide, rope swing, lazy river, and even a water elevator. When the kiddos have exhausted all the possibilities at the pool, the beach is nestled between two areas that have tide pools for exploring.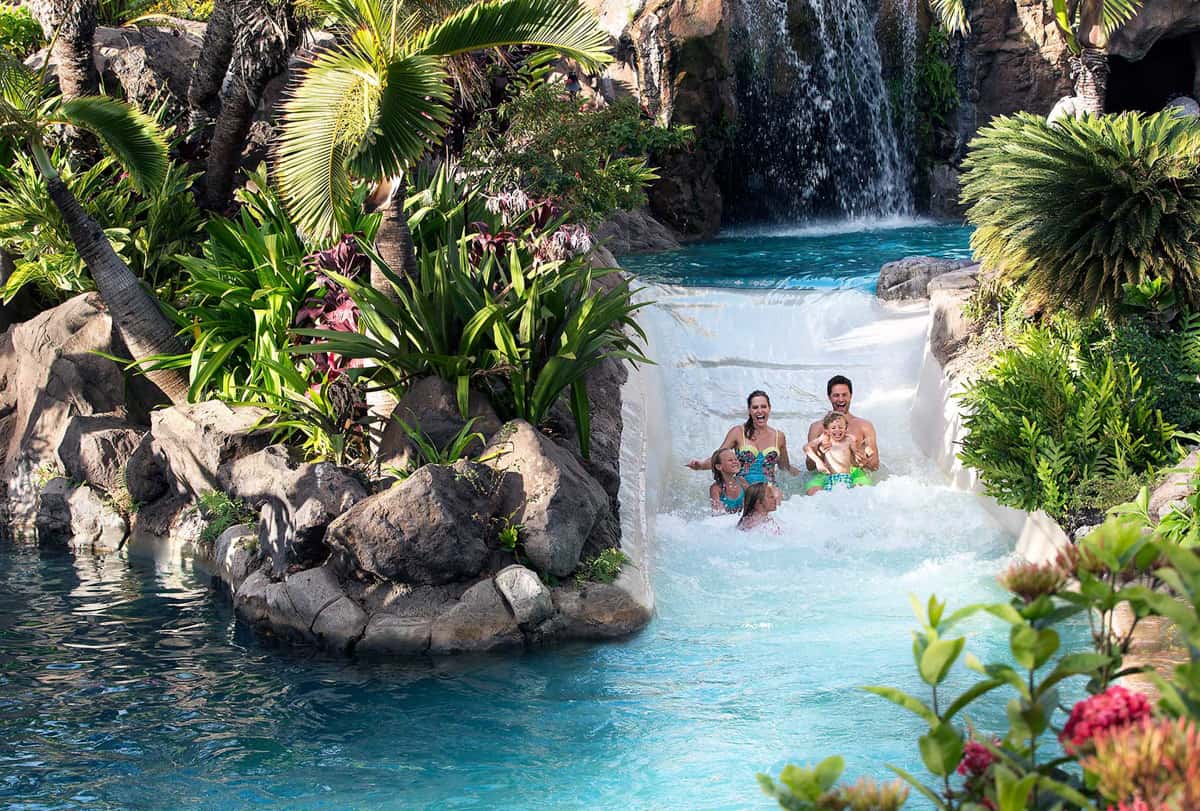 Consider booking one of the suites located in the Napua Tower. It's a resort within a resort with a dedicated elevator and concierge service. With two lounge areas that are stocked with snacks, you'll love the convenience of being able to find food for your hungry crew with no effort. They had pancakes in the morning and warm chocolate cookies at night.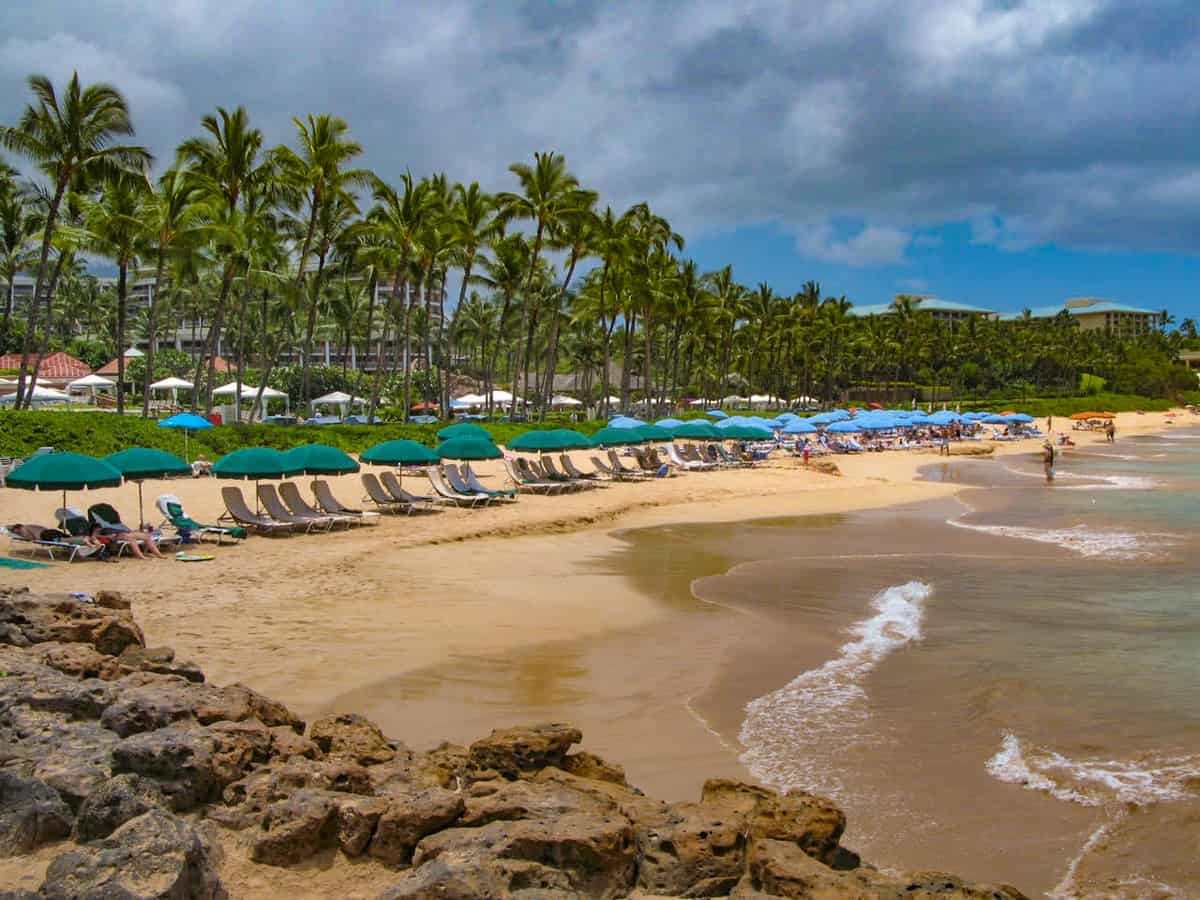 The Kahului airport is just a quick 30-minute drive away. Many visitors choose to drive themselves so that they will have a car to explore the island. The roads to Hana and Haleakala National Park are nearby. But don't worry. Even if staying at the Grand Wailea is your only agenda, you and your family will find plenty to do.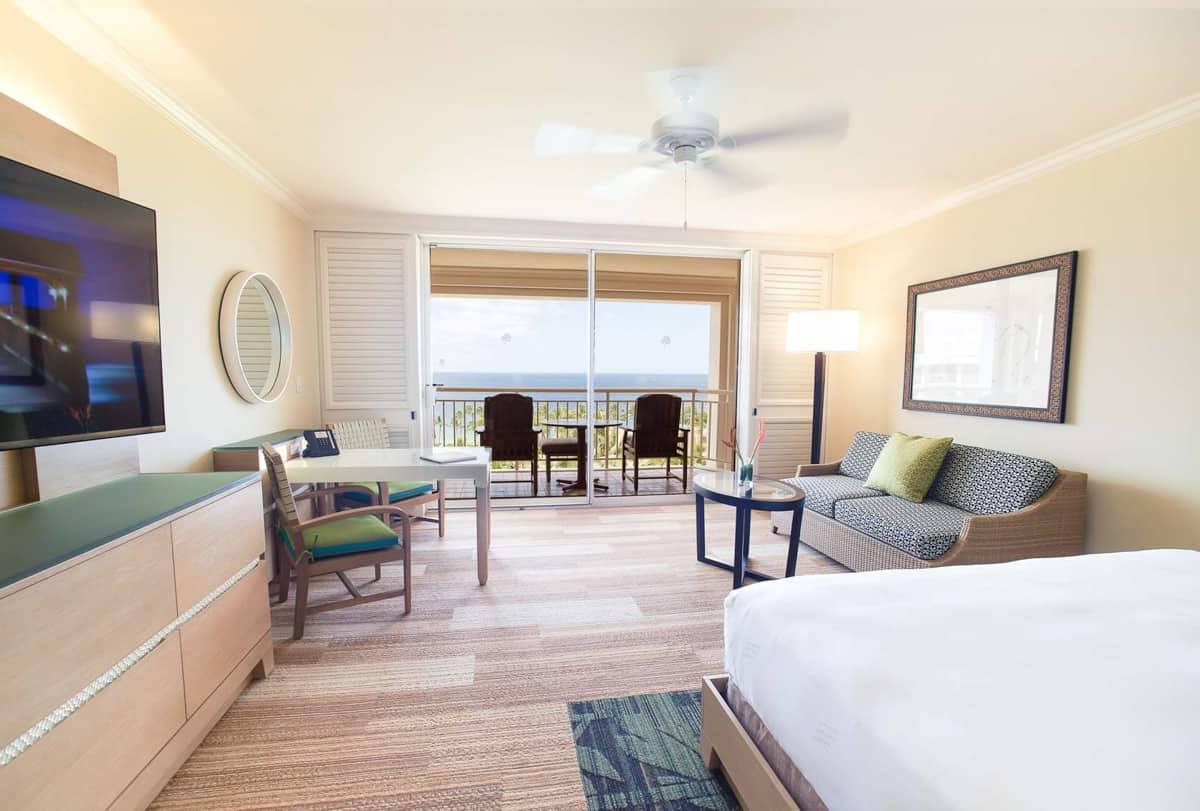 Best room configurations for families
The spacious entry level rooms, as well as the club rooms in the Napua Tower, sleep four with a king bed and sleeper sofa. The Ho'Olei Villas feature three bedrooms.
Check your dates for rates at the Grand Wailea.
by Dianne Sivulka, Our Edventures
---
The Ritz Carlton Kapalua: Club Level Decadence
A stay at the luxurious Ritz Carlton Kapalua provides families with many wonderful memories and numerous activities to enjoy. Kapalua is the most northern of all the resort areas of Maui and is quieter and much less crowded. The Ritz Carlton is a gorgeous property proudly situated up high overlooking the ocean.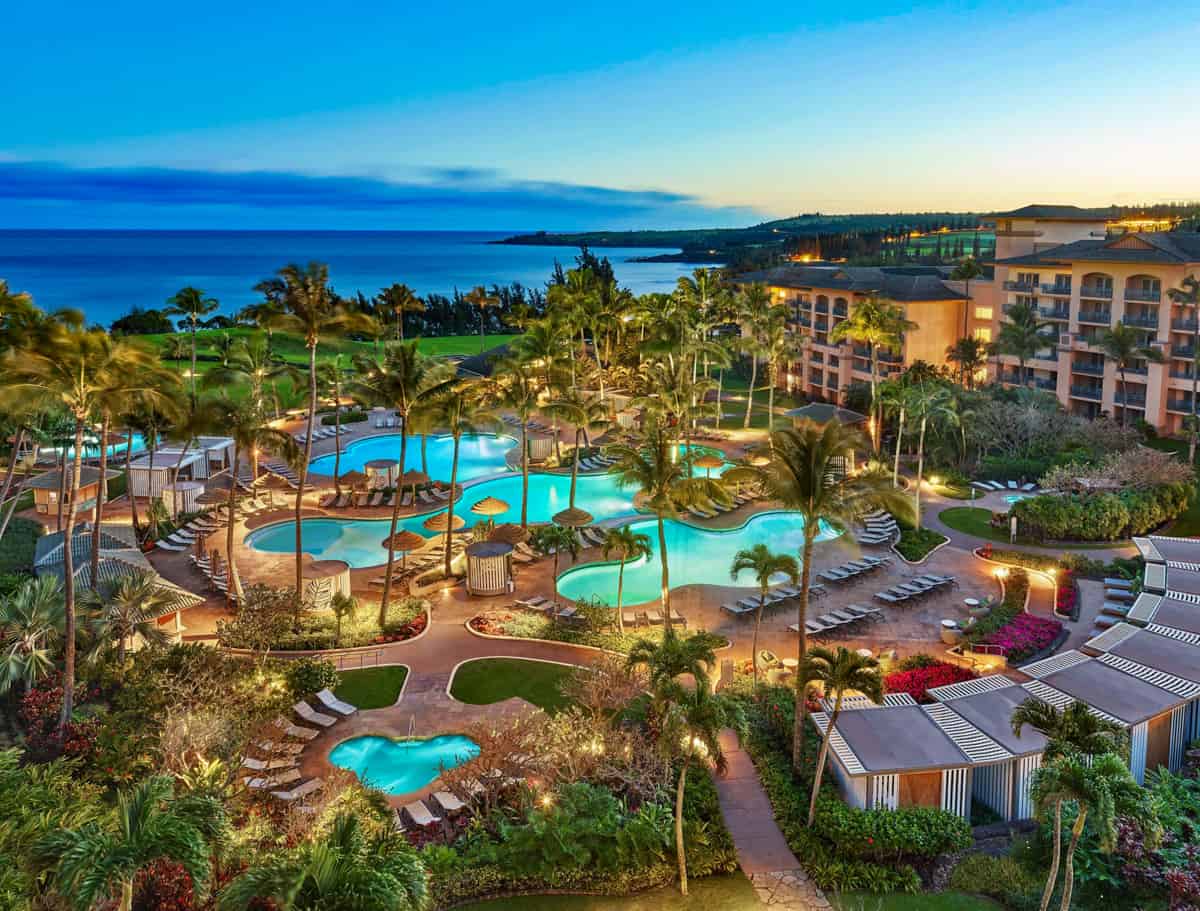 In addition to their beautiful guest rooms and suites, the Ritz also offers 1 and 2-bedroom residential villas with kitchens that truly cater to a family on vacation. Upon check in, every child is welcomed with a special arrival gift that includes a special coloring book and scavenger hunt for exploring the resort property.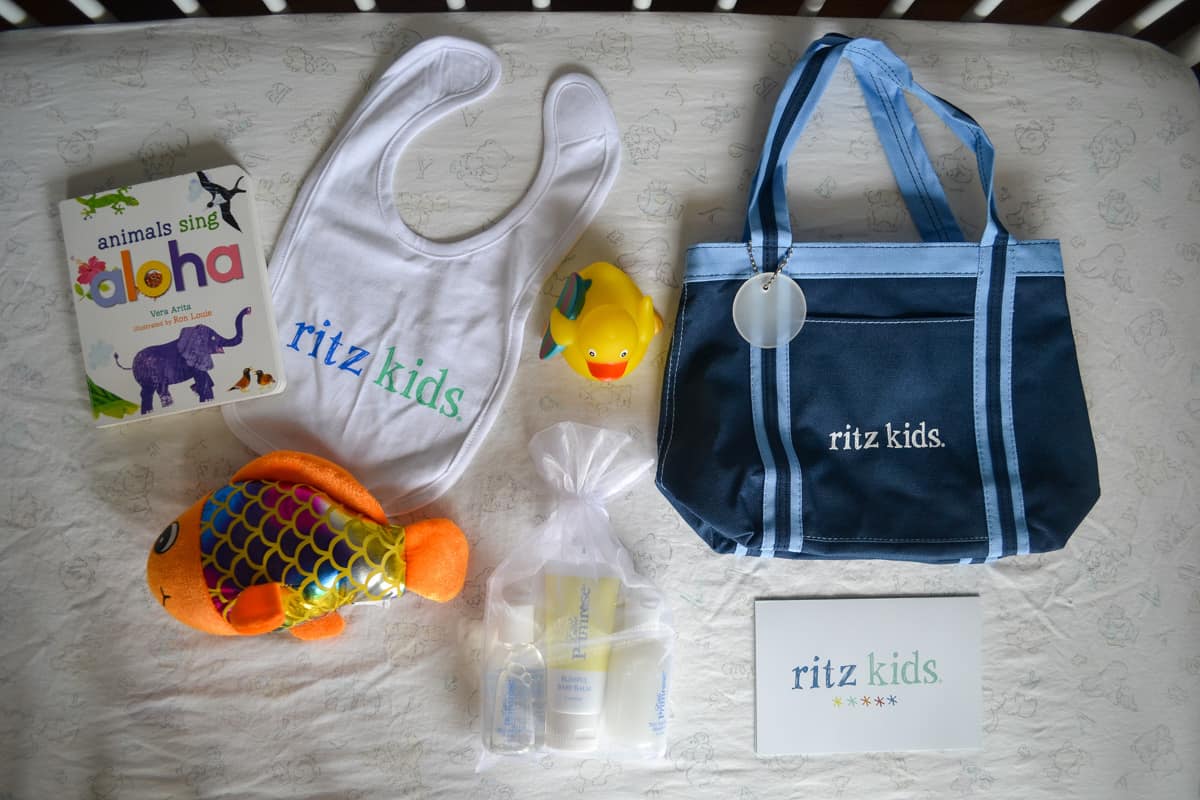 Family Amenities
One of the more unique offerings at the resort is the Ritz Carlton's family-friendly Ambassadors of the Environment Program. Through several guided excursions, Maui becomes a living classroom where kids and adults can engage in the natural wonders and cultural traditions of Hawaii. From a whale watch excursion to an underwater photography and snorkeling adventure, the Ritz helps you to create exciting memories to last a lifetime.
The resort's enormous three-tiered pool area also has an array of seating and poolside attendants that will cater to your needs. Splurging on a cabana is a real treat for a family with room for everyone. We enjoyed a sofa, chaise lounges, TV, and a stocked mini fridge and a champagne toast. Little ones will love the pool area's fun play structure that includes slides and tubes as well as a baby pool.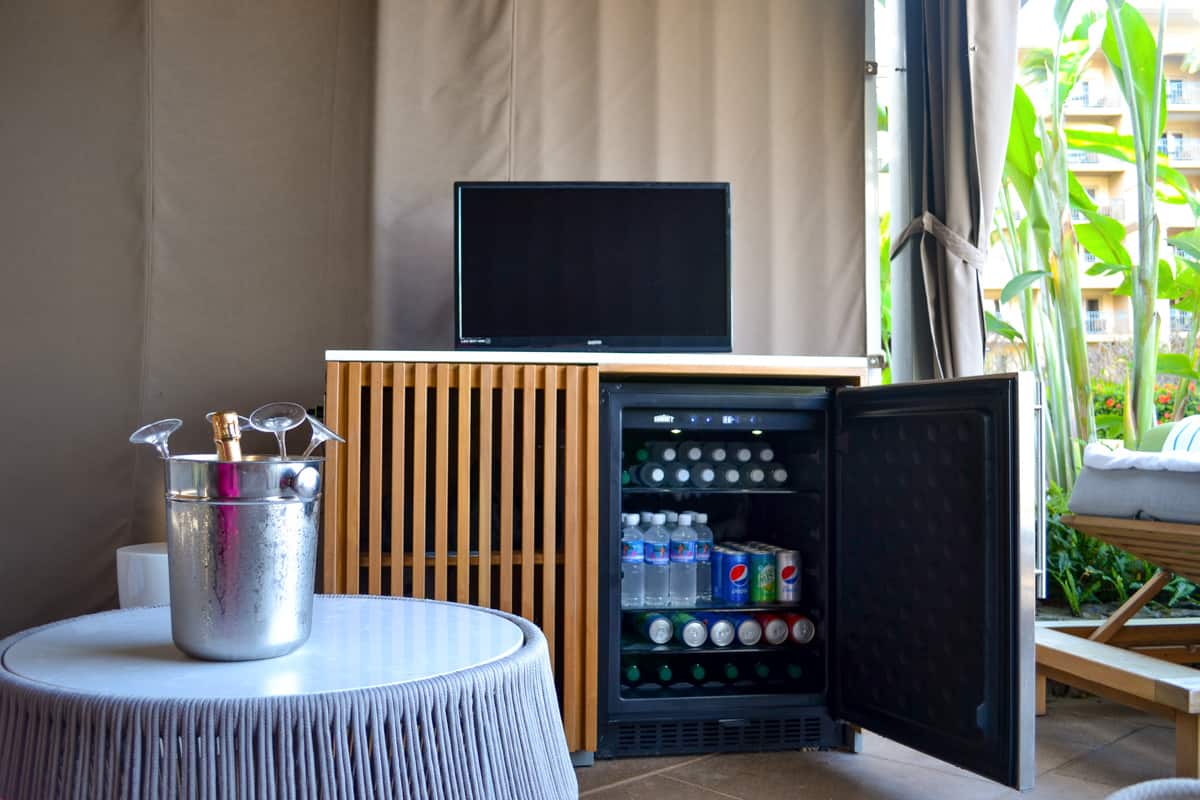 The Ritz Club Lounge
Another wonderful offering at the Ritz is their Club Level which provides opportunities all day to indulge. The Club Level lounge provides all you can eat selections from early morning breakfast to after dinner drinks and desserts in the evening.
Kapalua Resort is also home to a favorite restaurant on Maui: Merriman's Kapalua. It is unrivaled in my book and just a short complimentary resort shuttle away from the property. It is a MUST on Maui!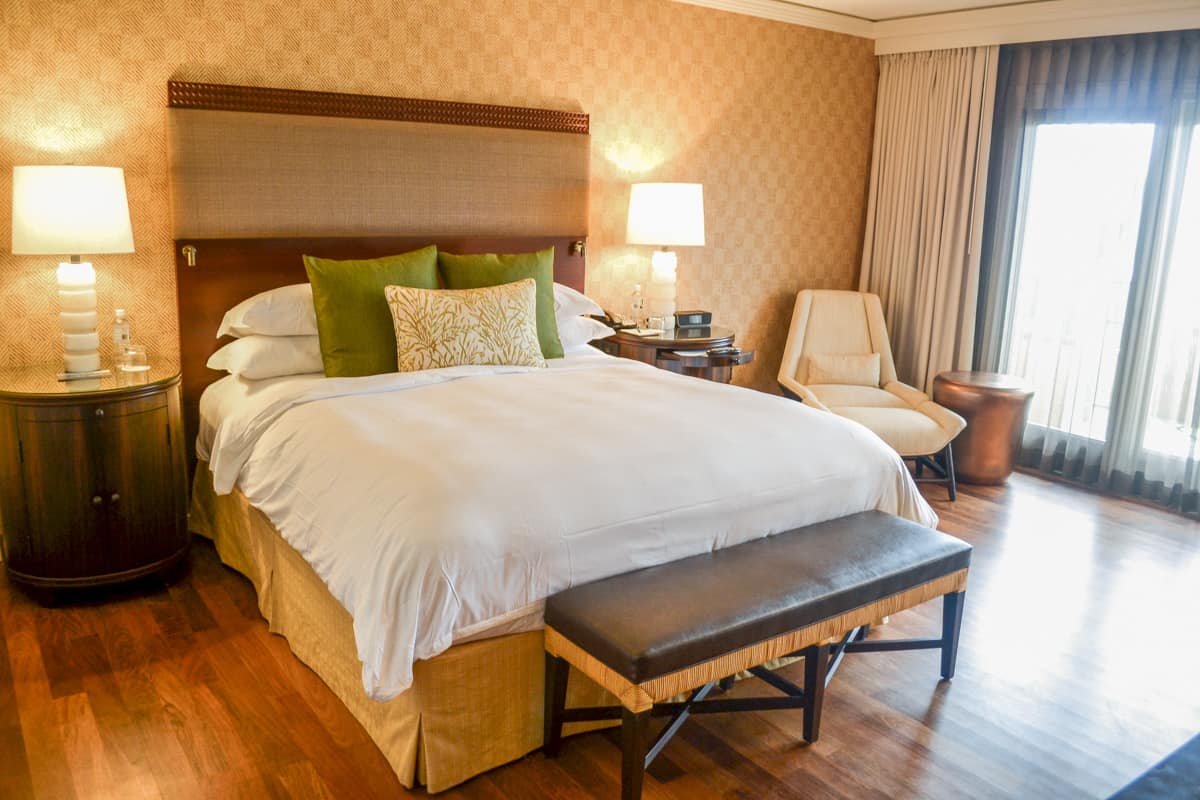 Best room configurations for families
The entry-level rooms come with two queens and accommodate four. The residences begin at one-bedroom suites with sleeper sofas in the living area, and a second bedroom can be added with two queens.
Check your dates for rates at the Ritz Carlton Kapalua.
By Susan Callahan for Luxe Recess
---
The Best Big Island Hawaii Resorts For Families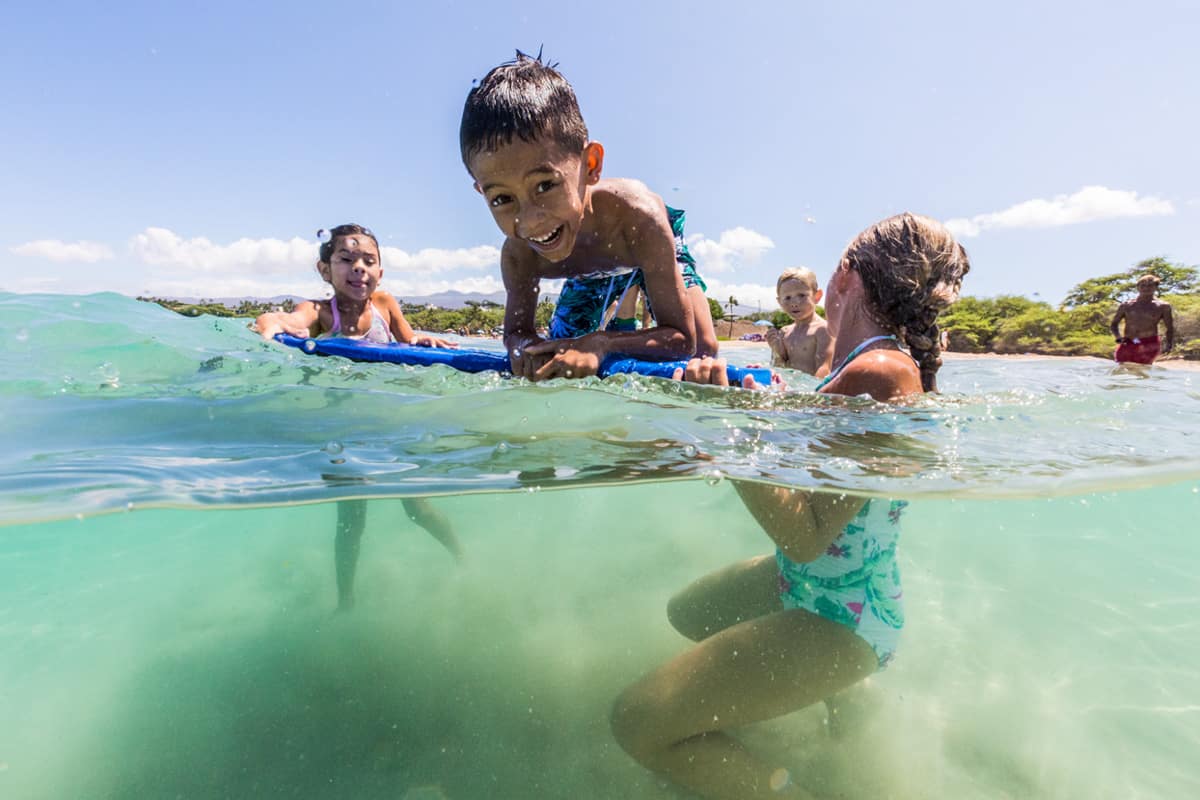 The Big Island's Best Beach: Mauna Kea Beach Hotel
For family travelers who enjoy a luxury hotel with history and tradition, the Mauna Kea Beach Hotel on Hawaii's Big Island is an ideal choice. Laurence Rockefeller founded the hotel as one of his original "Rock Resorts" in 1965. Many families have since made it their Hawaiian getaway for several generations and counting.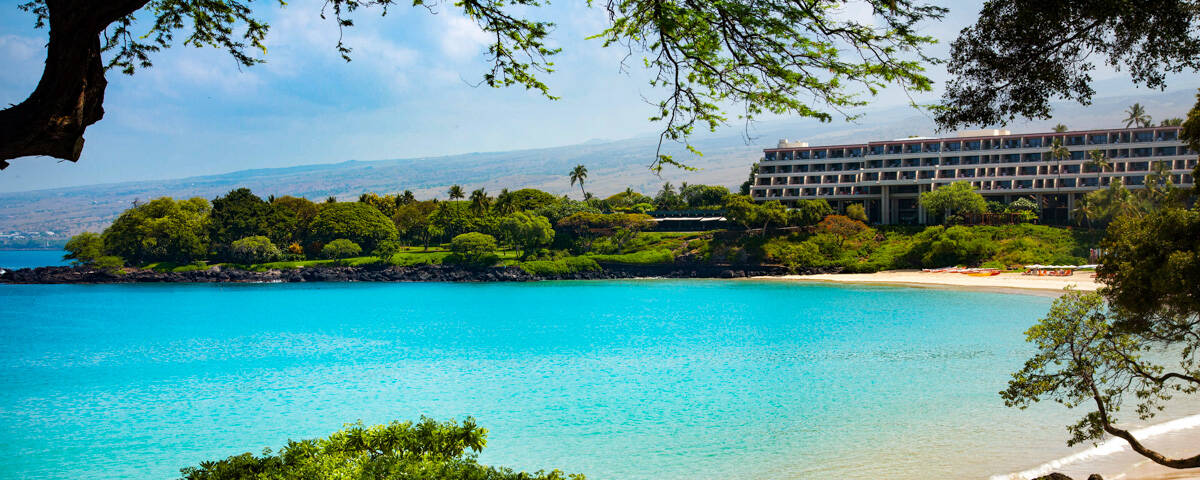 The resort on its bluff overlooks the Kohala Coast, universally considered the Big Island's best and most swimmable beach. Most guests spend the vast majority of their time on the sand and in the surf, making the occasional trip to the beach bar to sample a Fredrico, the resort's signature drink.
Tennis lovers have 11 courts at their disposal and golfers can access an 18-hole championship golf course. The resort also has full service spa and a kids' club as well as four on-property restaurants at various price points. Families will especially love the luau held twice a week as well as the manta rays that swim up to the hotel's seawall to feed nightly.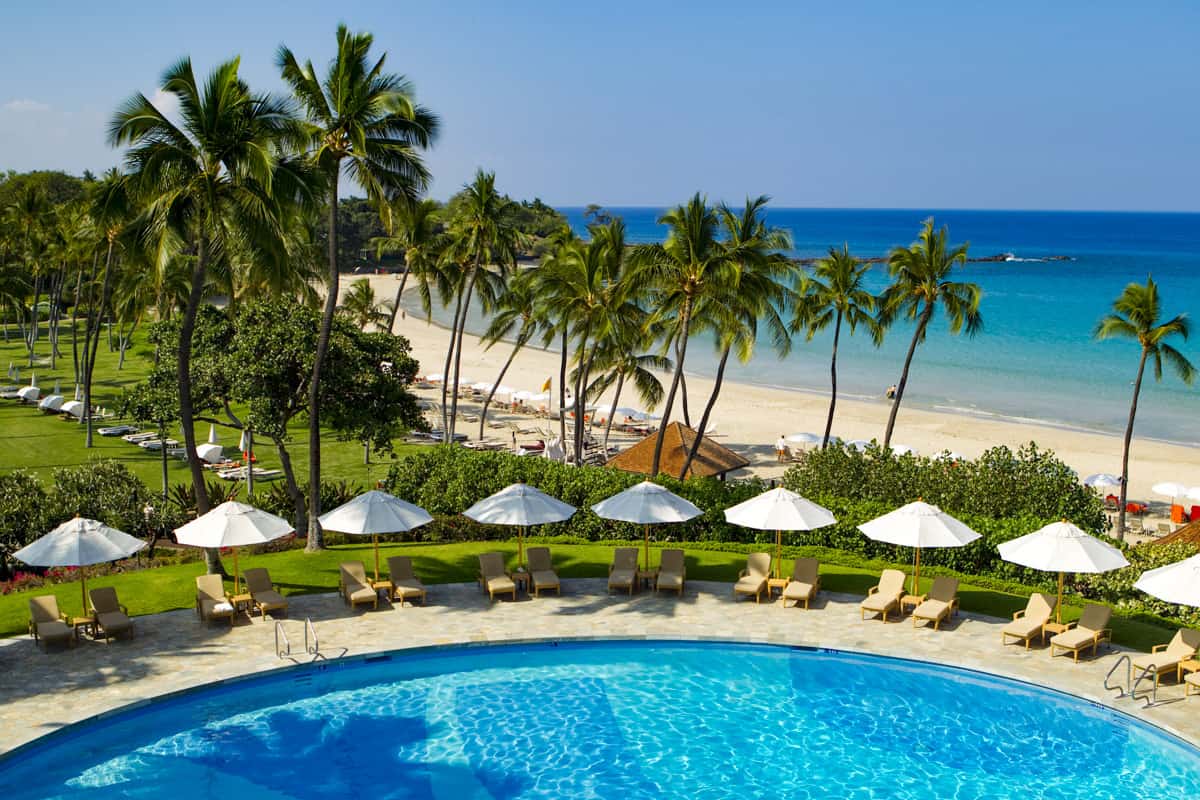 The Mauna Kea Beach Hotel is now a Marriott Autograph Collection property, a brand used to designate unique boutique hotels. As a result, guests get the benefits of a large hotel loyalty program without the cookie cutter sameness of a chain hotel. Service is warm and attentive and feels in keeping with the low key vibe of Hawaii's Big Island.
Best room configurations for families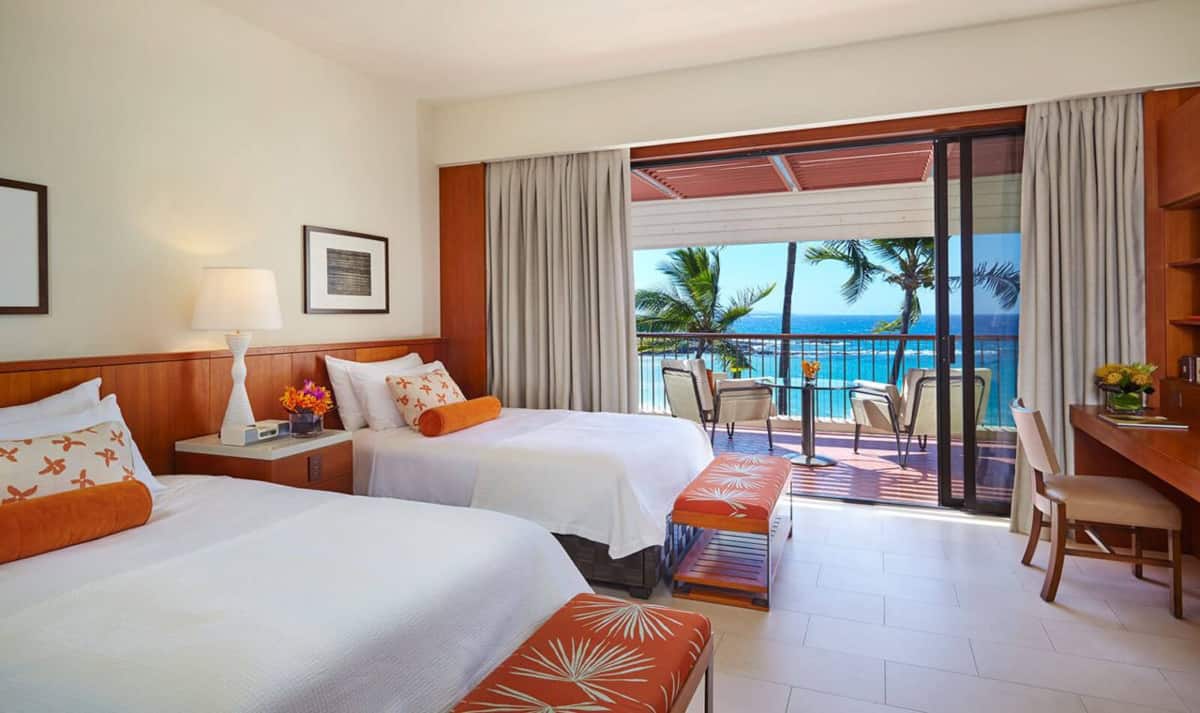 The Mauna Kea rooms are slated for three people, even though certain rooms with two doubles can take one rollaway bed according to their website. Families will be best outfitted in two rooms or a suite. The largest suites are one-bedrooms and max at four people.
Check your dates for rates at the Mauna Kea Beach Hotel.
By Leslie Neeland Harvey, Trips With Tykes
---
For the 1%: Four Seasons Hualalai
You can't go wrong with The Four Seasons Resort Hualalai for something truly special. This resort community can boast more billionaires in residence than anywhere else in Hawaii.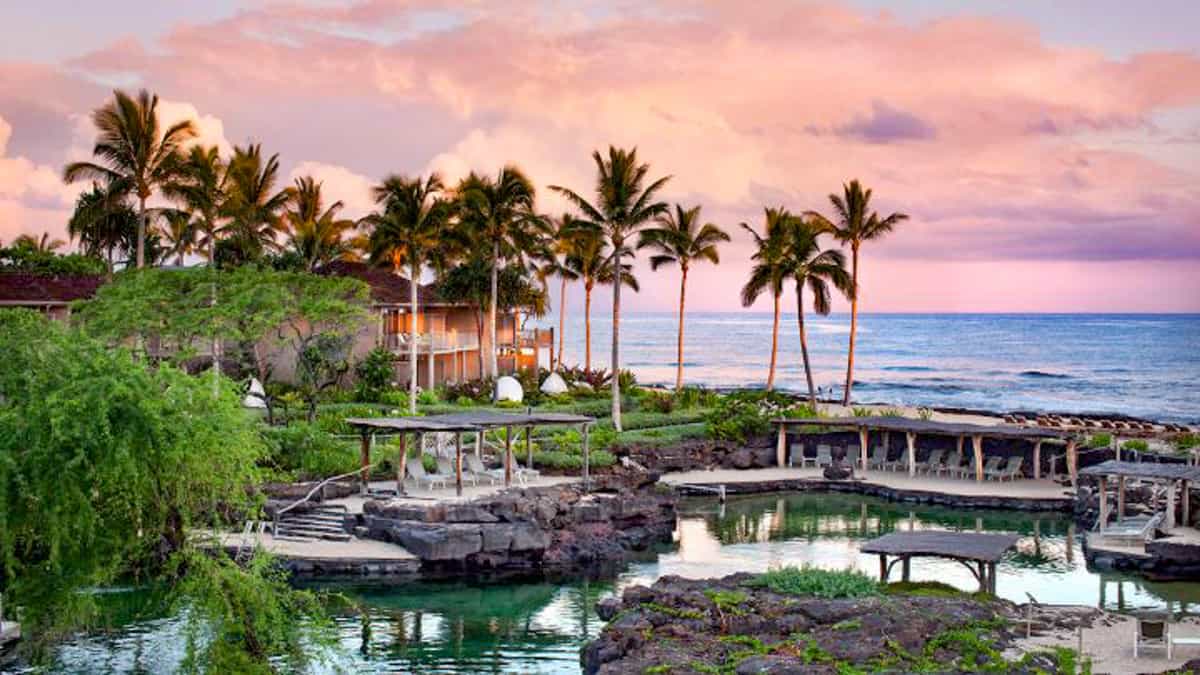 The mellow beach has a sea wall so the kids can swim in the ocean without surfing waves. Don't step on the many turtles nesting in the sand.
Kids for All Seasons, the Four Seasons kid program, is complimentary and accepts children ages 5-12 years old for when parents want an adventure of their own. Attentive staff take the kids to Kings Pond for fish feeding, to the pool, and on walks. Children can also relax with board games, television, and video games if they have had their limit of sun.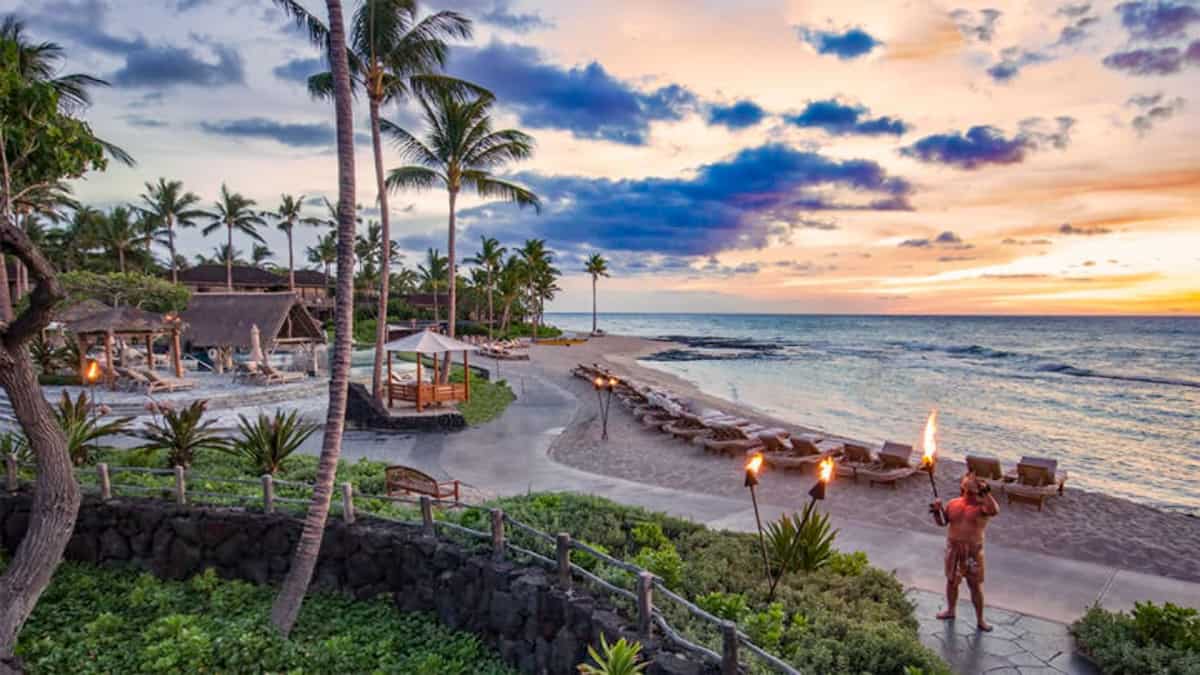 Guests can lie on the beach or choose pampering poolside service. In addition to wonderful food, the staff come by each day offering complimentary sunscreen, fruit, sunglass cleaning, and ice cream!
Families can choose between a family pool, adults-only pool, and a baby pool with sand for toddlers on property. Hawaiian cultural classes for both children and adults, including lei making and hula dance, are popular so book in advance, if possible.
Other resort amenities
The resort contains a variety of restaurants from low-key and family-friendly to high end. The resort offers an outstanding array of spa, fitness, and wellness options. In addition to standard spa treatments you can book acupuncture, yoga therapy, and energy healing appointments. They also offer spinning classes, Barre Fusion classes, and personal trainers.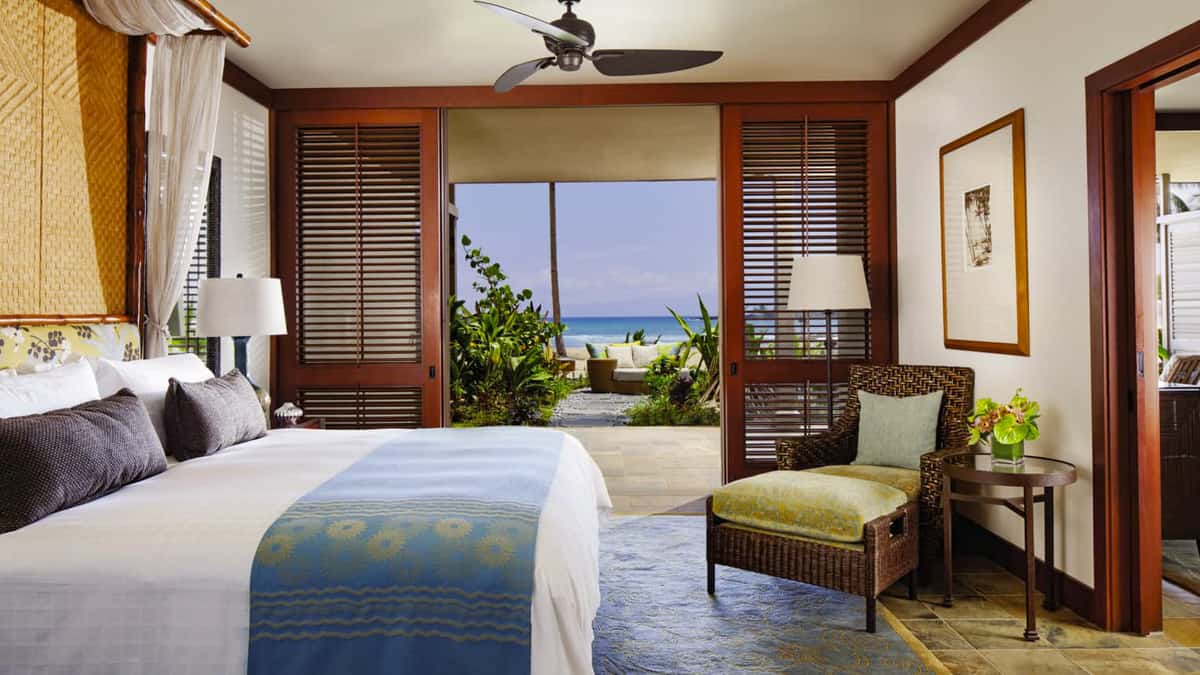 Best room configurations for families
These hotel rooms are not the most family friendly with its maximum occupancy of 3 per room or suite. Families of four or more must book two rooms or book a two-bedroom suite.
Check your dates for rates, or read our full review.
---
The Best Lanai Resort for Kids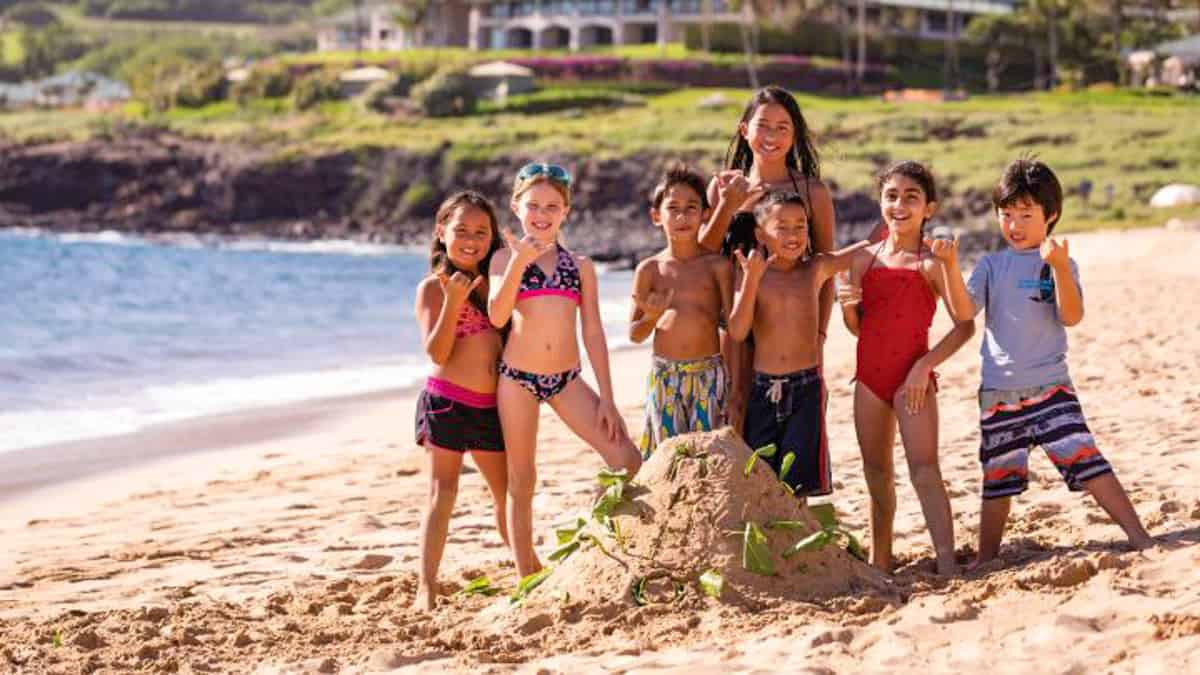 To Get Away From It All—And Everyone:
The Four Seasons Lanai
Accessible by a short inter-island flight Oahu or passenger ferry from Maui, the exclusive island of Lanai offers an authentic Hawaiian experience amidst ultra-luxury.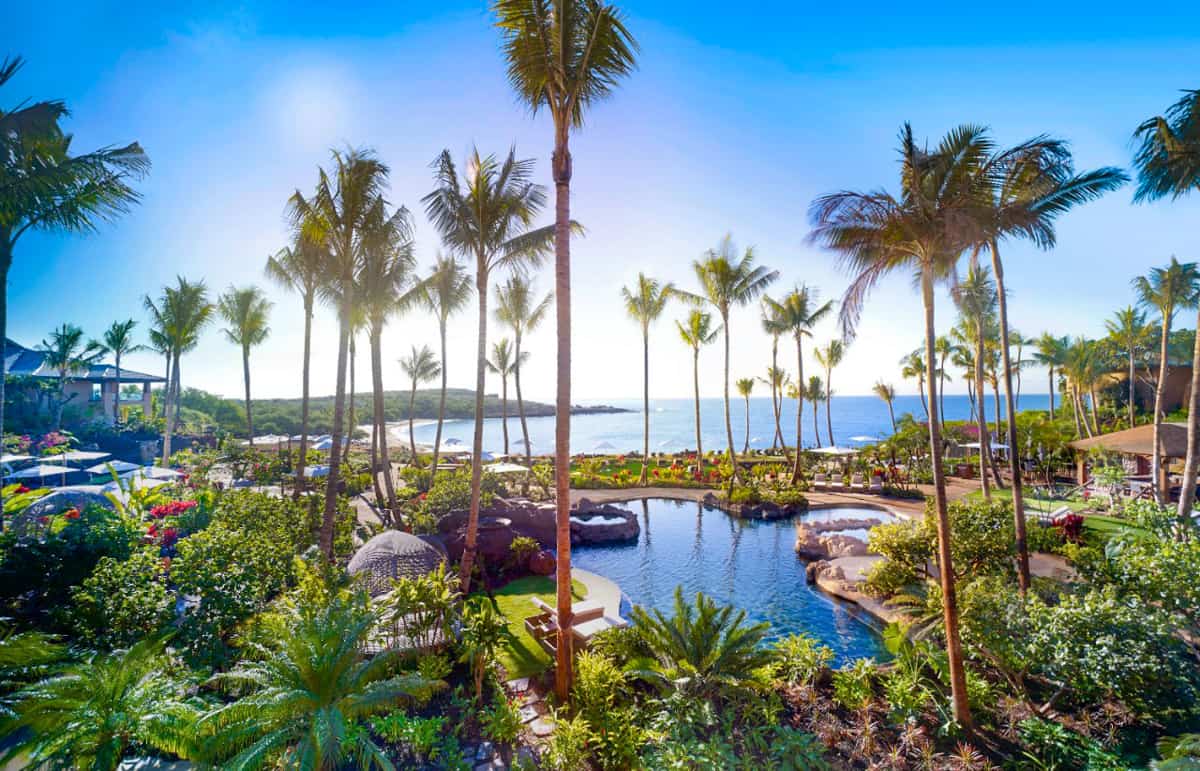 The re-designed Four Seasons Lanai located on Hulopoe Bay is currently the only full-service resort on the private island. (The Four Seasons Lodge at Koele located in upcountry Lanai closed for renovations).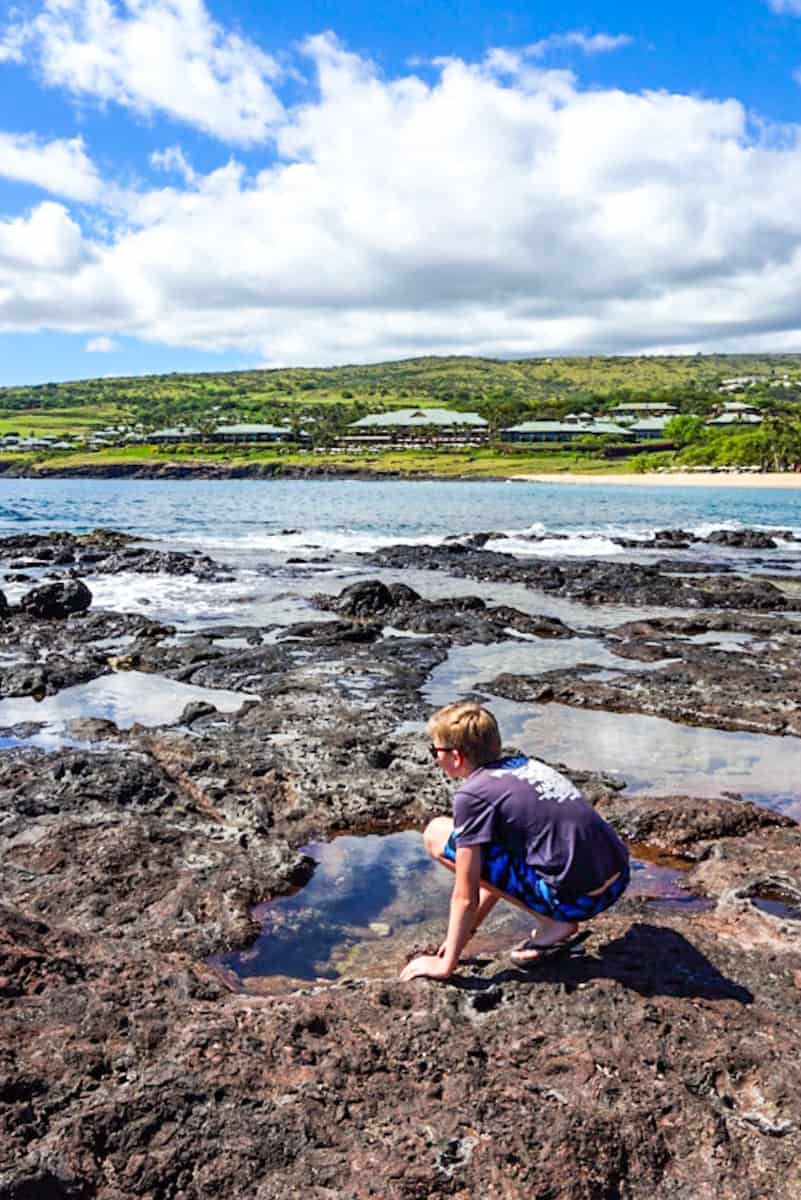 It's tempting to spend an entire vacation without leaving Four Seasons Lanai. We have done this more than once! The Kids for All Seasons club for children age 5 – 12 is complimentary. Engaging activities including tide pool exploration, fish feeding, lei making, and arts and crafts. Older children enjoy playing tennis, golfing, snorkeling in Hulopeo Bay, body surfing, hiking, and participating in the Hookipa Cultural Program.
For adults, there is as little or as much as you would like. Lounge beside the quiet pool, join a class in 1,100 square foot (100 square m) Yoga Studio or indulge at the Spa. Or there are exercise classes, tennis courts, snorkeling, diving, and the Jack Nicklaus designed 18-hole Manele Golf Course. And world-class dining at on-site restaurants includes Nobu and Malibu Farm.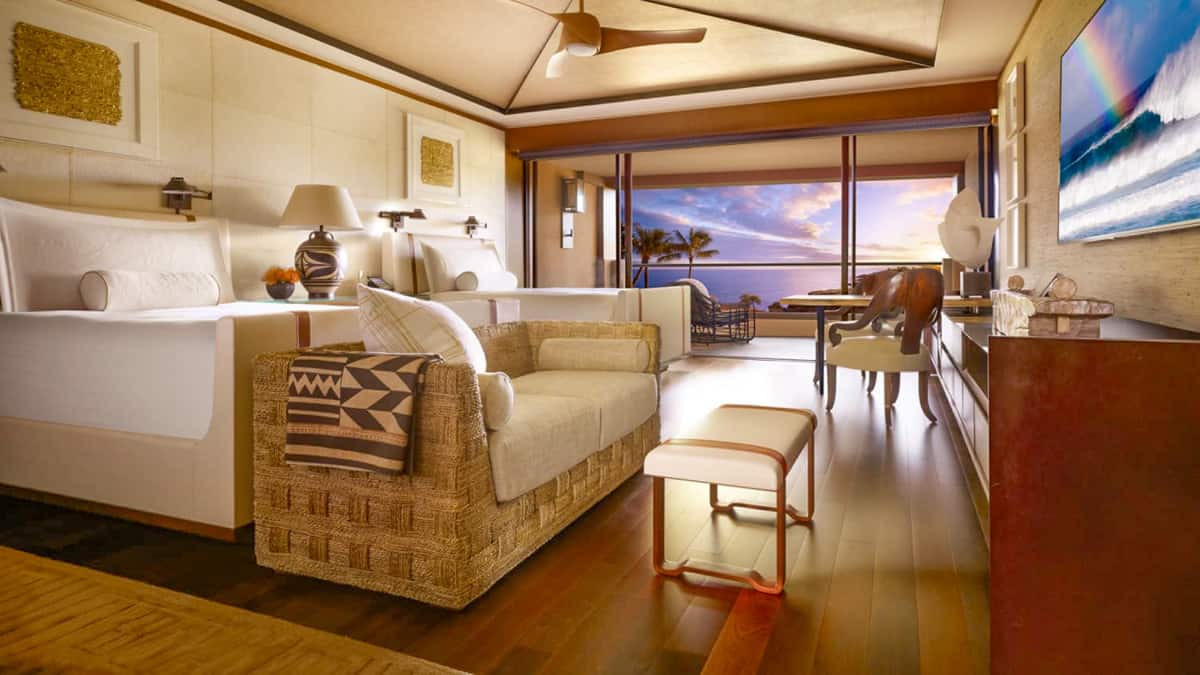 Best room configurations for families
This hotel is not family friendly with its maximum occupancy of 3 per room or suite. Families of four or more must book two rooms or book a one-bedroom suite.
Check rates for your dates at the Four Seasons Lanai.
Things to do in Lanai
If you can tear yourself away from luxury hotel living, there is a lot to see and do on the 90,000-acre island with no traffic lights. Read about the island's secluded beaches, Polaris off-road adventures, Lanai Archery and Shooting Range, and other family-friendly things to do on Lanai here.
Nancy Besharah, Luxe Travel Family
---
The Best Kauai Resorts for Kids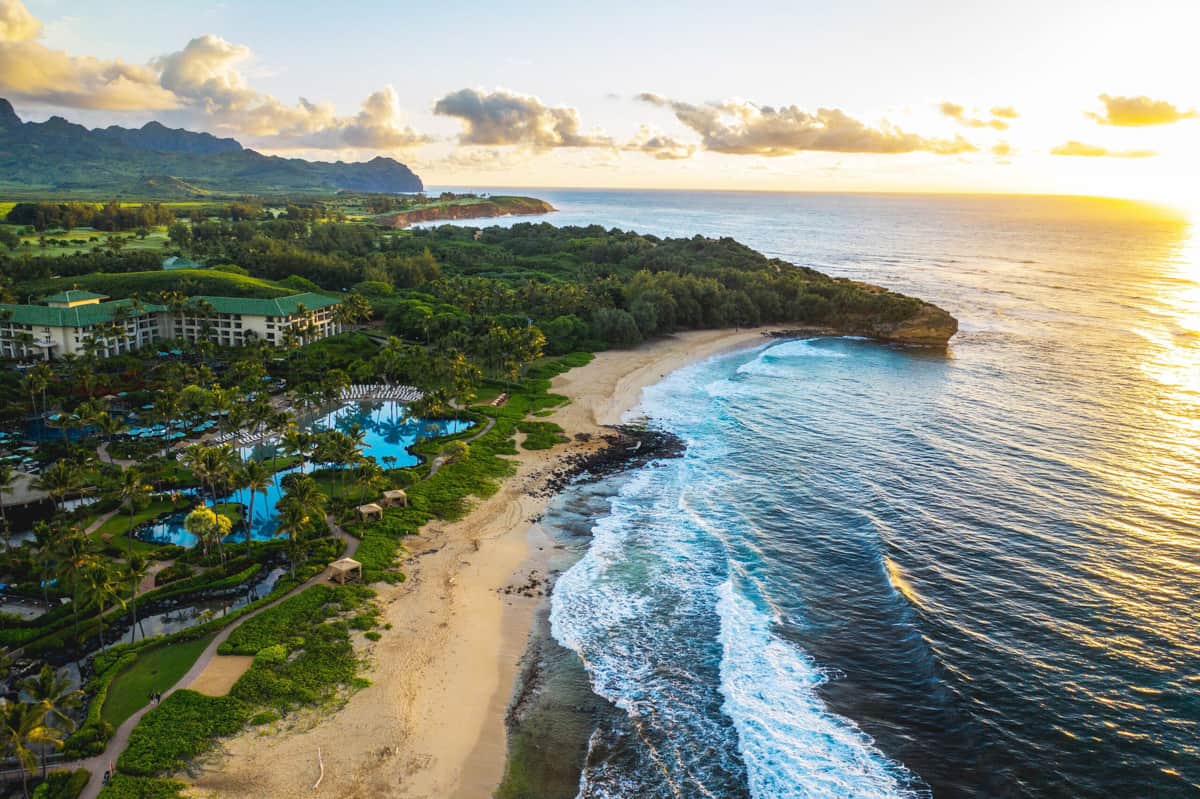 Grand Hyatt Kauai Resort and Spa: Just Right
Ohana means family and that's exactly what you will feel like when you walk through the doors of the Grand Hyatt Kauai in Poipu on the south side of Kauai. Children receive greetings like cherished visitors, and not just by the parrots hanging out in the atrium.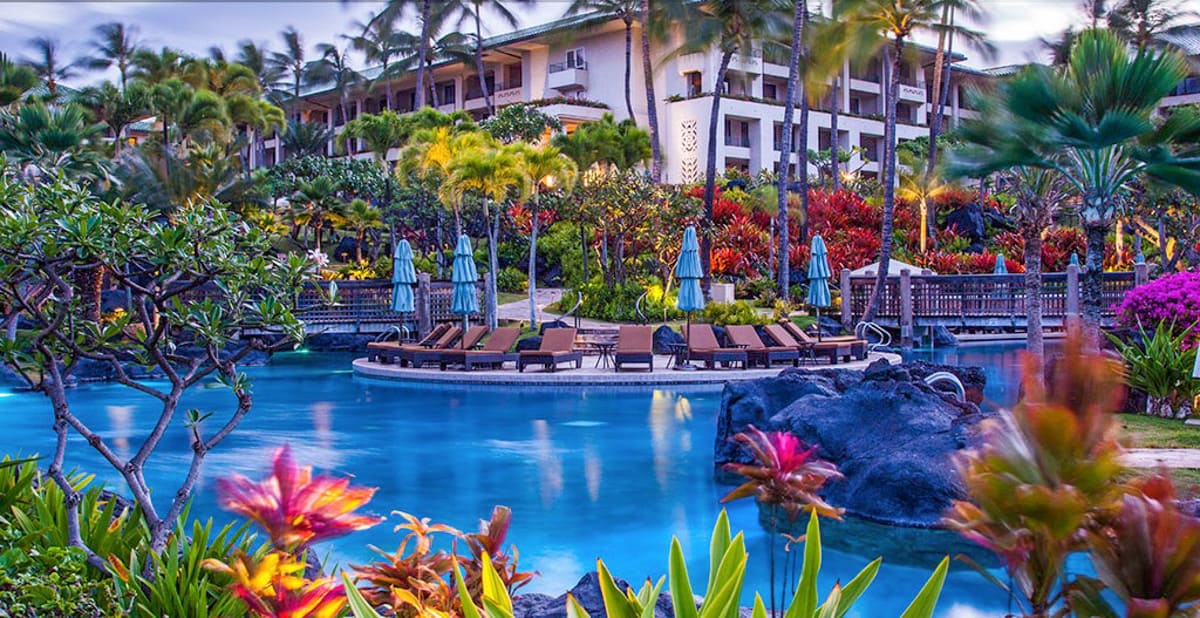 Parents are instantly put at ease, with helping hands meant to make their vacation as restful as possible. Ocean-view rooms are the perfect size for a family of four with small children, as the private lanai gives parents extra space to relax at night while the kids go to bed. Those who need a bit more space to spread out can upgrade to a suite, so the children will have their own living area. No family should spend all of their time in a hotel room though; this property was meant to be explored and enjoyed!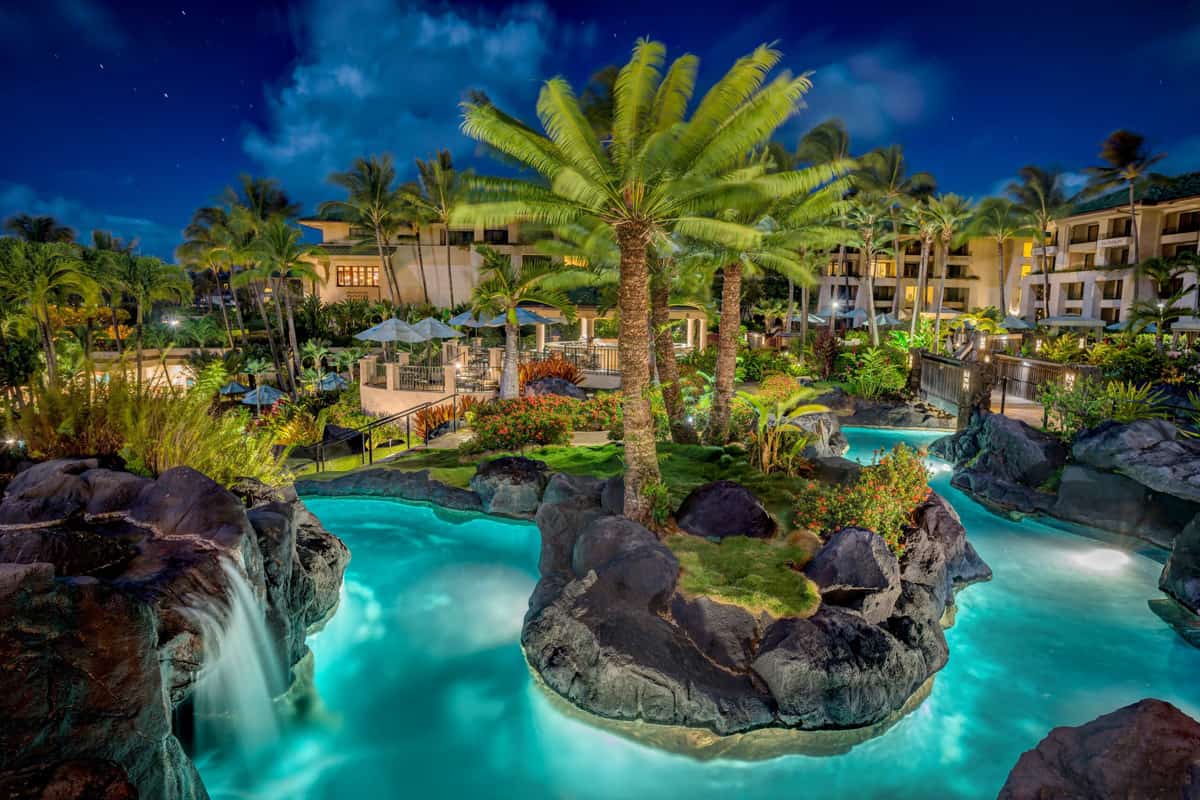 White sand shores of Keoneloa Bay and Shipwreck Beach are perfect Kauai family beaches. Camp Hyatt entertains the kids (ages 3-12) when mom and dad want to hit Anara Spa for some downtime.
Grand Hyatt Kauai Dining
On-site dining includes 10 restaurants featuring sushi, craft cocktails, a breakfast buffet with a view. At night, don't miss out on the famous Grand Hyatt Kauai Luau, open to anyone visiting the island. Island favorites like Kalua pork and coconut cake are on hand, but the performance draws people most. Dancers show off the ancestral moves of the islands of the South Pacific and Hawaii. At the end, the fire dancer shows his incredible skill— even toddlers who are up well past their bedtime will be mesmerized.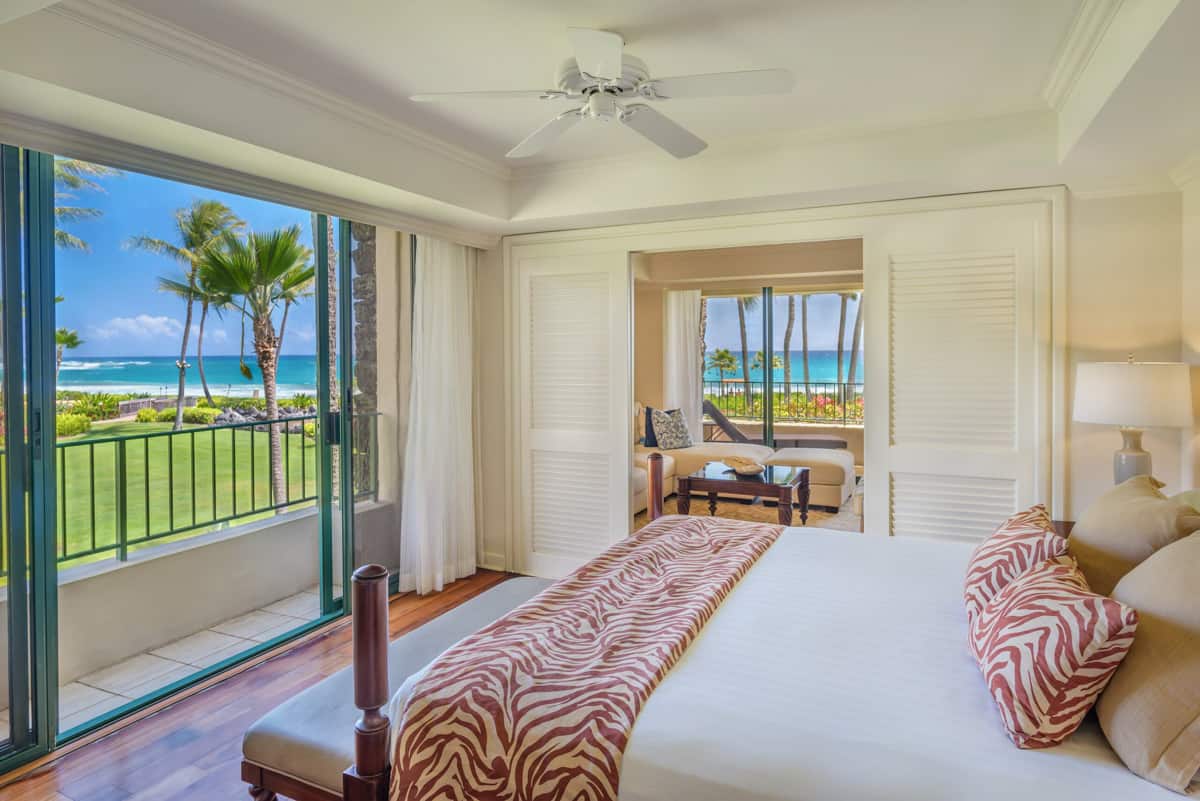 Best room configurations for families
Entry-level rooms accommodate four with two queen beds. Suites offer a sofa bed in the living room.
Check your dates for rates at the Grand Hyatt Kauai.
by Keryn Means, Walking on Travels
---
The Roomiest on the Island: Koloa Landing Resort
When we travel as a family, we look for a combination of luxury and comfort. Part of Marriott's Autograph Collection, Koloa Landing Resort in Poipu, Kauai fits the bill nicely. Not only does this luxurious resort tout the largest and grandest pool on the Island of Kauai, it offers waterslides, in-pool waterfalls, and several hot tubs all within its gorgeous 25-acre tropical grounds. Actually, there are three amazing pools on the property in total, and one is clearly the best choice for kids.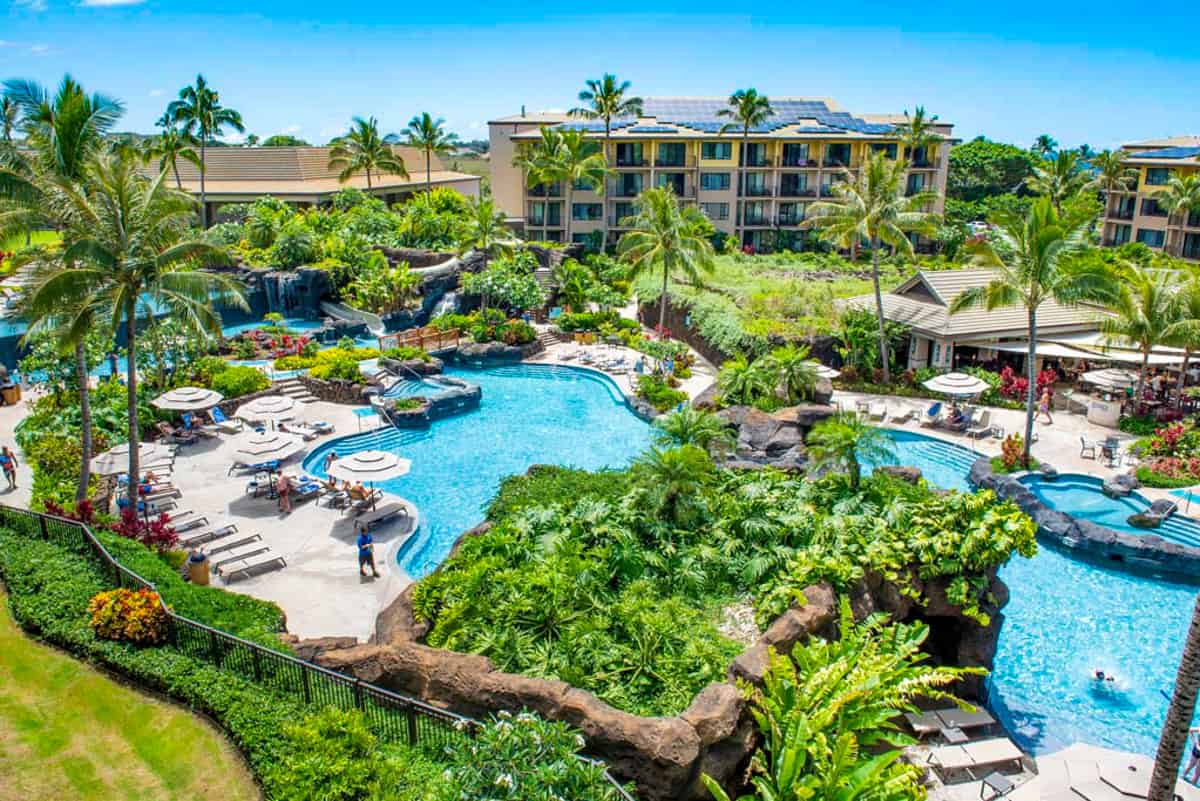 Checking into our 2-bedroom, 2-bath villa, we loved that our suite was situated on the ground floor with two giant sliding doors that open on to a large lanai. The kids could easily run from the lanai along the green lawns and over to the pool area without having to slosh down a long hallway and through a lobby. With a nice mai-tai in hand, we could sit on the lanai, keep an eye on the kids and enjoy the island breezes.
All Koloa Landing Villas Come with Kitchens
Although Koloa Landing Resort has a world-class restaurant on site, hotel restaurants don't always accommodate our kids' picky tastes and demanding meal schedules. Our family has learned to look for resorts with in-suite kitchens to keep the kids fed and happy. Situated in eight low-rise buildings on along the waterfront, Koloa Landing Resort offers all that and more with luxurious rooms, fun family amenities and fully outfitted, regular-sized kitchens. No mini-refrigerators or Barbie-sized ovens for these folks. Koloa Landing kitchens even have a full-sized dishwasher. We made scrambled eggs and bacon one morning, oatmeal and toast on another, and I don't even know how many quesadillas over the course of a week's stay.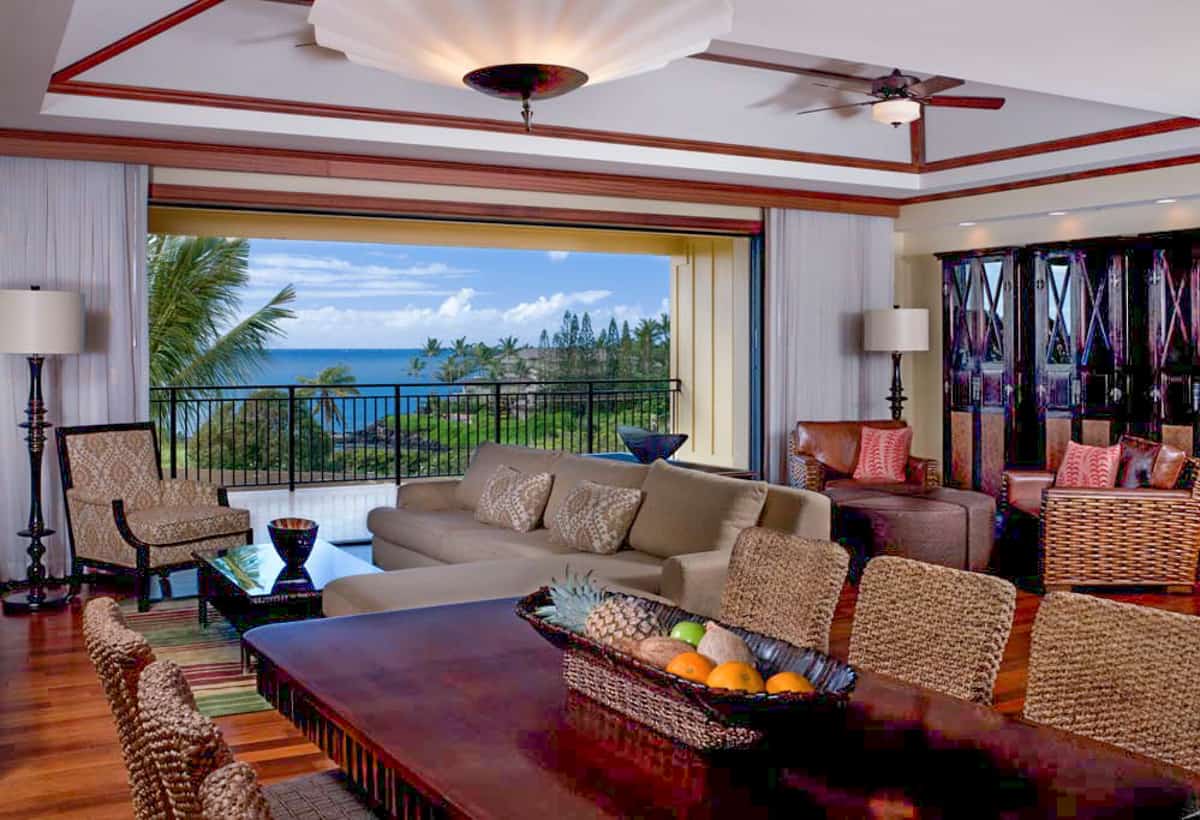 Best room configurations for families
Best Family Options: Every room is great for families here. Koloa Landing offers the largest suites and villas on the island, ranging from 500 square-foot studios to 3-bedroom suites measuring up to 2,700 square feet. Entry level studios contain a king bed and sleeper sofa with a kitchenette.
Check rates at the Koloa Landing Resort.
by Jon Bailey, 2 Dads with Baggage
---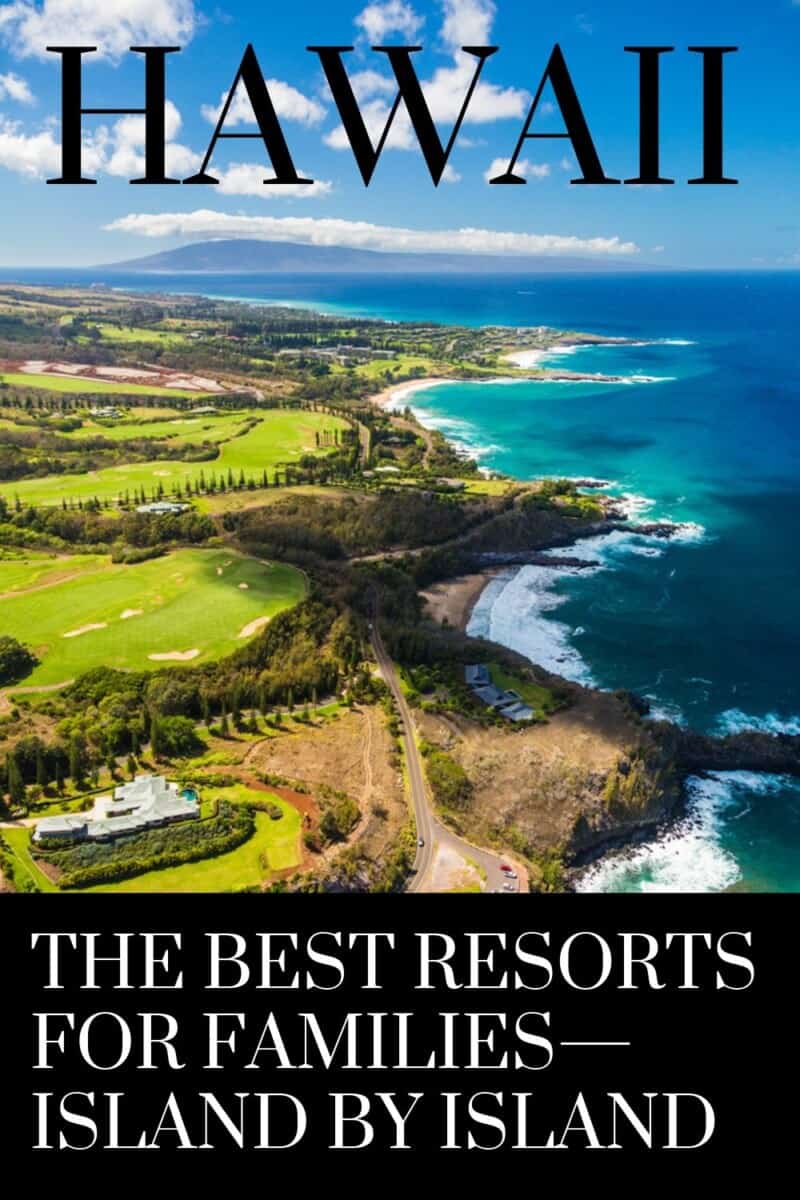 Tips for Planning a Hawaiian Vacation
While Hawaii is a common vacation for Californians and West Coasters, it's a big vacation for the rest of us. And it needs to be a long one, too.
I would recommend a vacation no shorter than seven days, and ideally ten. Island hopping is one of the best vacations to appreciate Hawaii's varying landscapes and beaches. If you hotel hop, save the fancy, super luxe choice for the last days to end on a good note.
Jet Lag
If you travel from the midwest or East Coast, the time change and jet lag will be very real the first few days. A great vacation formula isn't waking up at 2AM stuck in a hotel room for hours until sunrise. It's really helpful to have a kitchen during your first few days so that you can make breakfast for yourself before anything is open. If you have no kitchen, purchase or pack protein bars.
Ways to Save
Hawaii doesn't really have all-inclusive resorts, but there are several resorts with club lounges from the Marriott brands and Hyatt, for example, that offer breakfast, drinks, light dinners, and desserts.
Hawaiian Airlines has expanded to new East Coast cities, so join their insider club. Southwest Airlines also flies to Hawaii now.
While Honolulu isn't as popular as the other islands for luxury resorts, it's a vibrant city with fun shopping, and great food. We've outlines three great options in the heart of it all.
Although the hurricane season is officially June through the first week of November, the end of August through Labor Day is a great time for East Coasters to visit when the California families are already back to school.
The fall in general offers the best air and hotel deals at even the best Hawaii resorts where free night offers (Stay for 5, Pay for 4, for example) entice guests.
Getting the Family Excited
Get the kids excited by watching The Brady Bunch episodes, Jurassic Park, Moana, Lilo & Stitch. There's something for every age. And make a playlist of great Hawaiian inspired songs.
It's worth brushing up on Hawaiian history, as told by Hawaiians, in advance to understand the various cultural influences that play out in Hawaiian cuisine and culture. My children and I checked out several nonfiction books for kids at the library. Kids are never too young to think about post-colonialism, right?