Guests of the Ritz Carlton Waikiki Beach become temporary residents of one of the island's most distinguished addresses.
The Ritz Carlton Residences Waikiki Beach guests aren't looking for traditional Hawaiian beach vacations. They use their home away from home as a lushly appointed base for all of their Oahu adventures.
They are seasoned travelers who know the island and rent a car or arrange transportation to more beautiful, less crowded beaches on the island. And if don't happen to be in the know, your concierge team will catch you up to speed quickly.
For those unfamiliar with the city of Honolulu, it might seem strange to visit Hawaii and not stay at a beachfront resort. Honolulu is a fascinating city that I can't resist, and I enjoy combining it with a stay before or after a resort stay.
The unique food and plentiful shopping options, and of course, fabulous weather make a great vacation for those who can't just sit around in the sun.
Those seeking to explore the authenticity of a destination beyond its tourism shell will find that Hawaii offers something much more substantive for those willing to look.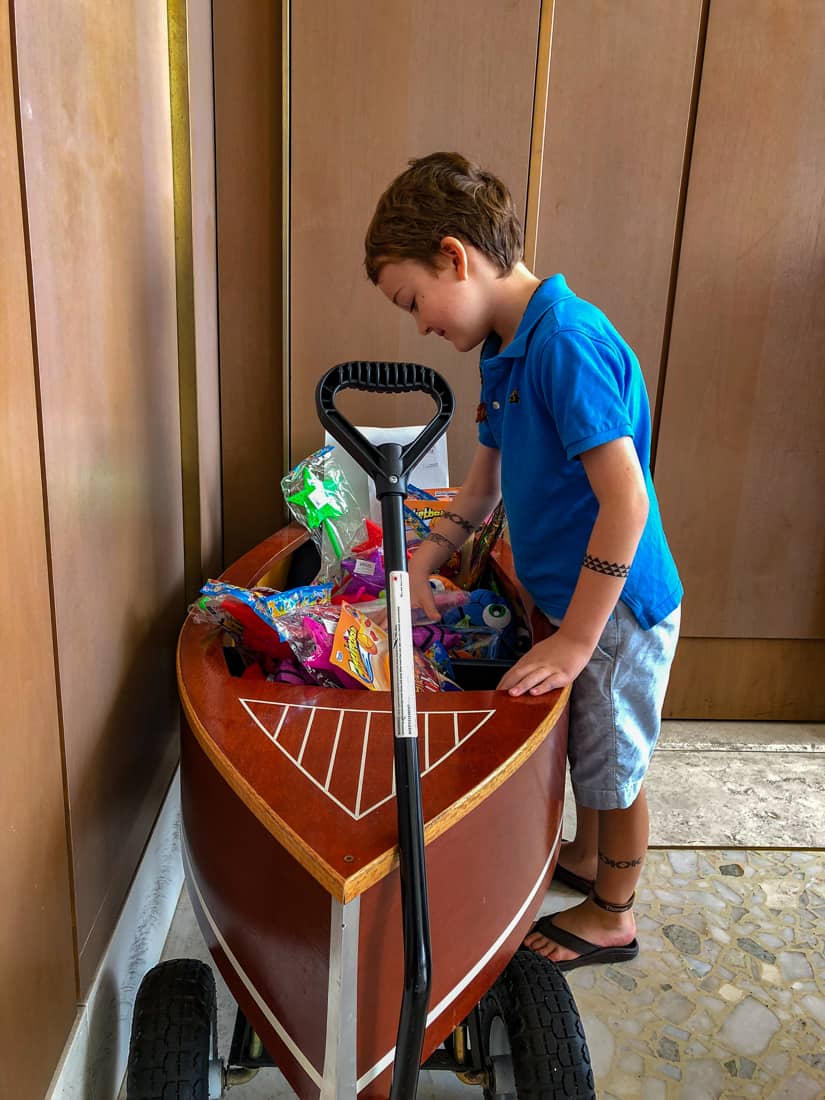 But this trip for us was focused on the pleasures of local foods and shopping as a family, and the Ritz Carlton added a serene layer of luxury to our city adventure.
The Ritz Carlton Honolulu Location
The Ritz Carlton Waikiki Beach is an easy transfer from the Honolulu airport. It makes for a great stay to rest up for or recover from longer air travel in between Asia and Australia and the US or for those making the journey from the East Coast. Southwest and Hawaiian Airlines just added more nonstop routes.
---
---
The hotel is about four short blocks from Waikiki Beach adjacent to the luxury shopping street of Honolulu, Kalakaua Avenue. There are several shops and restaurants accessible by foot.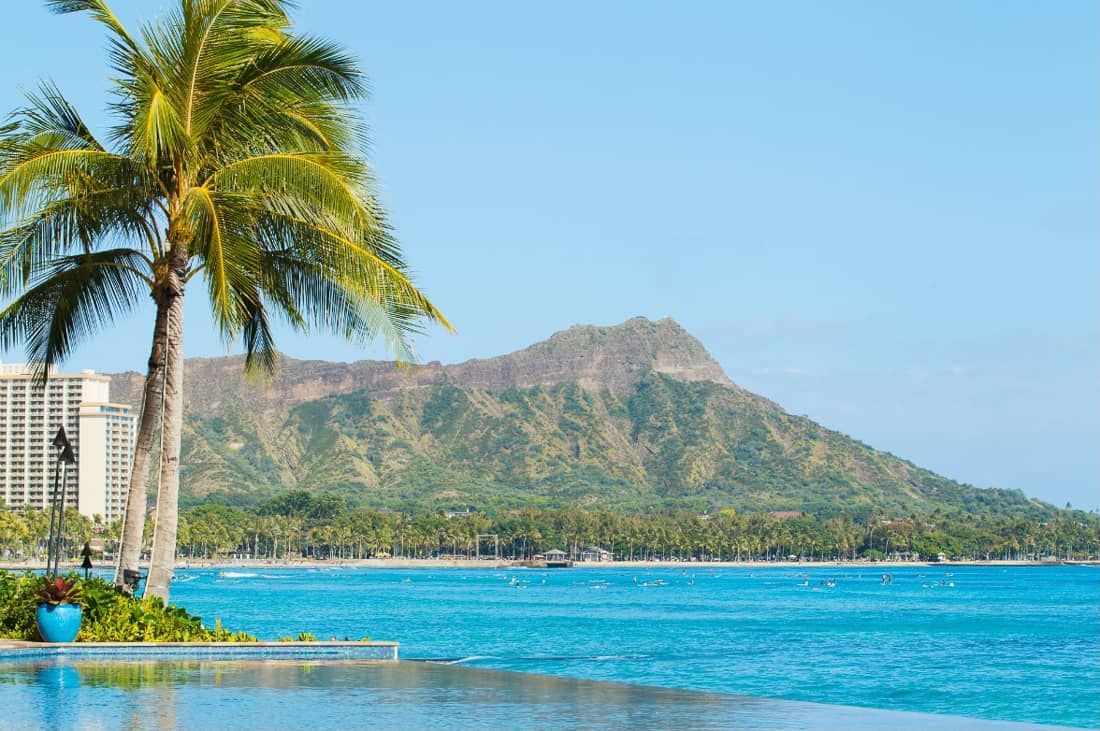 Pearl Harbor, Diamond Head, and the Honolulu Zoo are easy to access from here by Uber or taxi.
The Ritz Carlton Hawaii Ambiance
The resort's public spaces are almost all open-air, as many Hawaiian resorts are. The porte-cochère has a lobby lounge area before one takes an elevator to the lobby.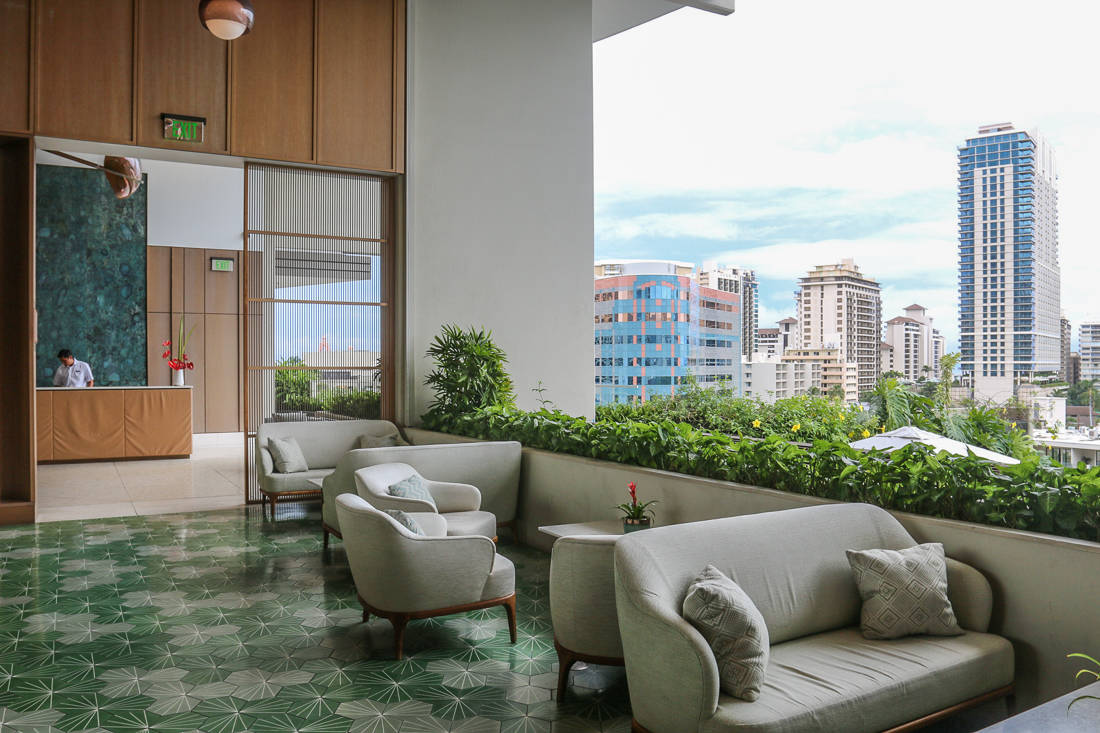 Bellman and valets double as makeshift concierges, since so many guests ask for last minute advice before getting into Ubers. They are ready for questions, and they steered us well.
Once in the lobby, staff greet children with a wagon full of toys, and everyone partakes in a delicious welcome drink—a passion fruit slushee that I would have gladly enjoyed in a Big Gulp-sized cup.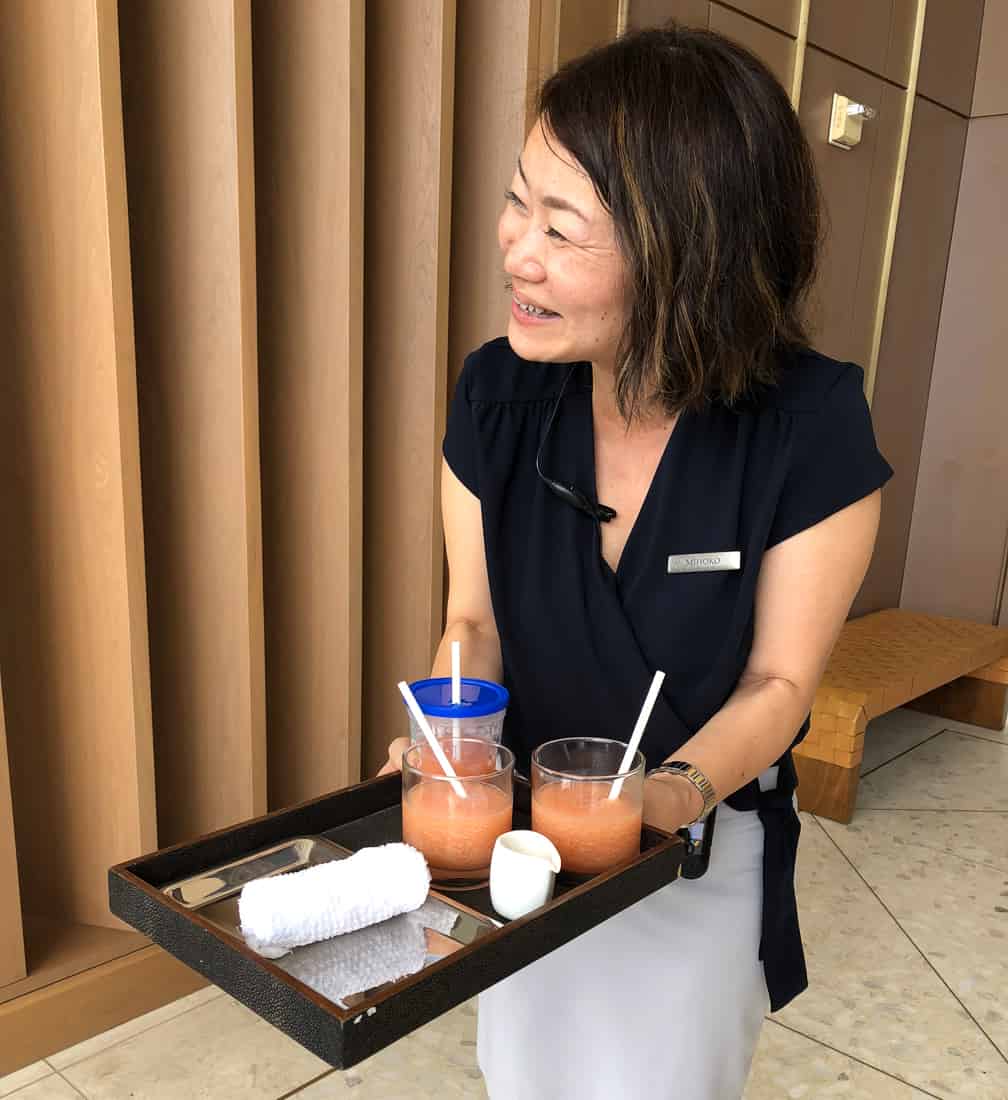 The hotel recently completed an expansion by adding a second tower, the Diamond Head Tower, and pool. The Ritz Carlton now offers both an adult and family pool for a more complete resort experience.
Resort amenities to enjoy
The infinity pools are the highest in Oahu, on the 8th floors of the hotel.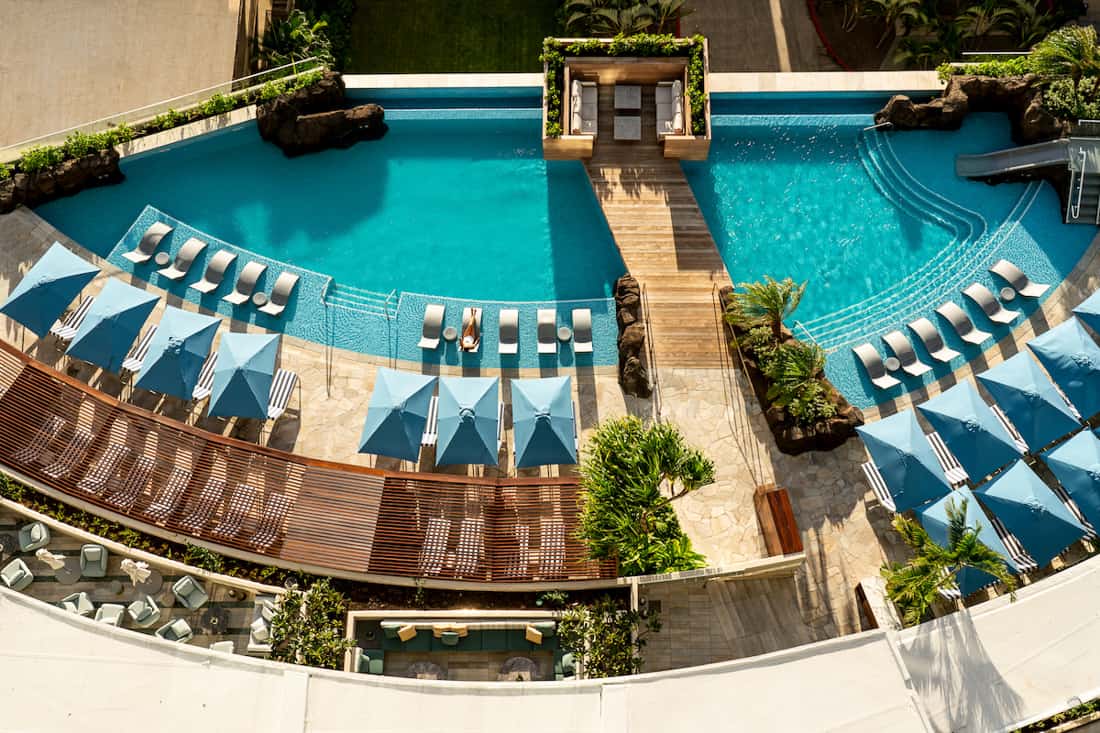 Our time at the infinity edge pool overlooking the skyline of Waikiki hotels was relaxing and serene in contrast to the street-level crowds we maneuvered through while shopping.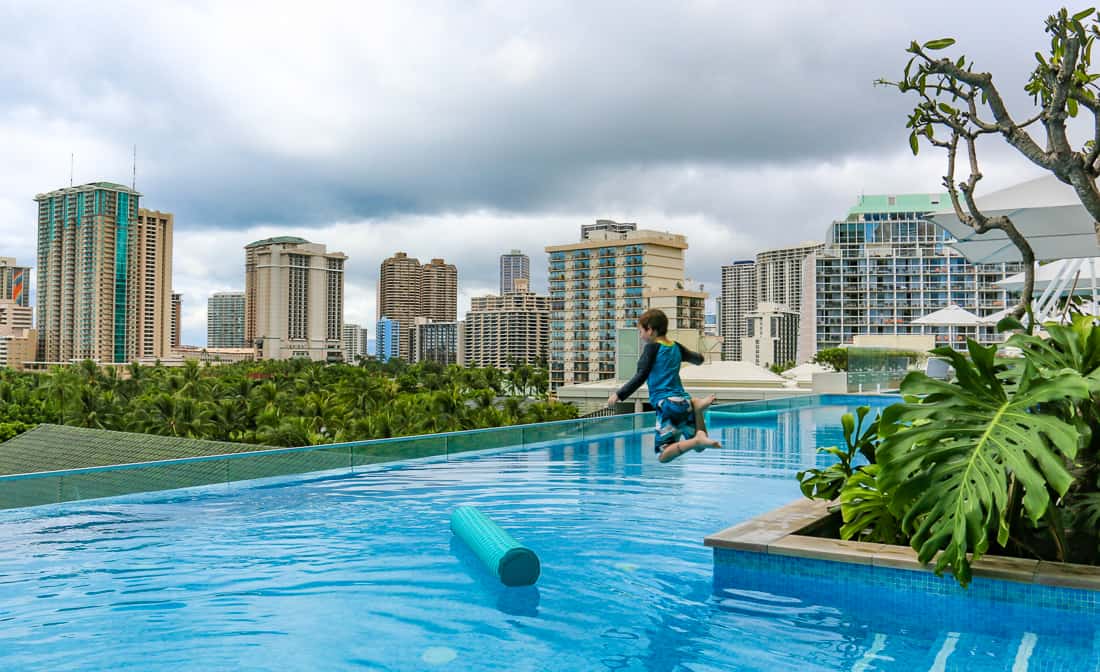 Pool staff are exceptionally attentive and are ready to take your requests. My son's request for me to pack one of the aqua pool floats home was impractical, however.
The pools are divided into the active and serene pool, which is code for a family and an adult-only pool.
The Ritz Carlton Waikiki Spa
While the spa takes an unassuming space, its treatments pack a big punch. Meticulously curated from local traditional healers. They incorporate ingredients like 'olena, the local version of Tumeric and Ohi'a lehua.
Guests can get the traditional lomilomi massage in one of their three treatment rooms or the couples suite. The lomilomi massage is incorporated into all of their signature treatments like the Huki Huki Renew that focuses on the local ki plant. Guests receive a mud wrap, lomilomi massage and a scalp treatment.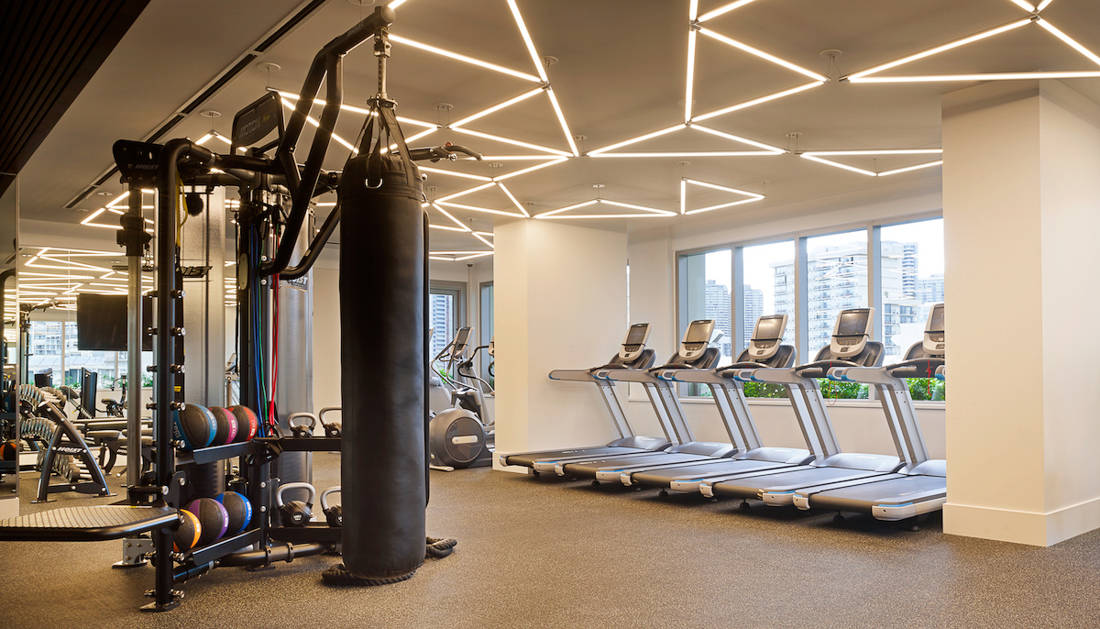 The fitness center includes serious machinery from Hoist typically only found in large, upscale gyms for those ambitious to maintain their routine. There's a small yoga studio, as well.
Restaurants at the Ritz Carlton Oahu
Sushi Sho
The premiere restaurant at the hotel, Sushi Sho, brings one of the most sought after omakase-style dinners from Tokyo's sushi master Keiji Nakazawa.
JOIN OUR LUXURY HOTELS & RESORTS FOR FAMILIES,
A FACEBOOK GROUP FOR SEEKING HELP AND INSPIRATION
FOR THE BEST LUXURY FAMILY BREAKS.
This restaurant only seats ten for two seatings per evening that last just over two hours. The chef prepares a multi-course meal at his discretion. Guests plan their trips to Oahu around the table times they secure. This restaurant welcomes children aged thirteen and older.
The Market
The Market is open for three meals each day with an open-air format from the 8th floor of the hotel, just off of the lobby. Views face the ocean.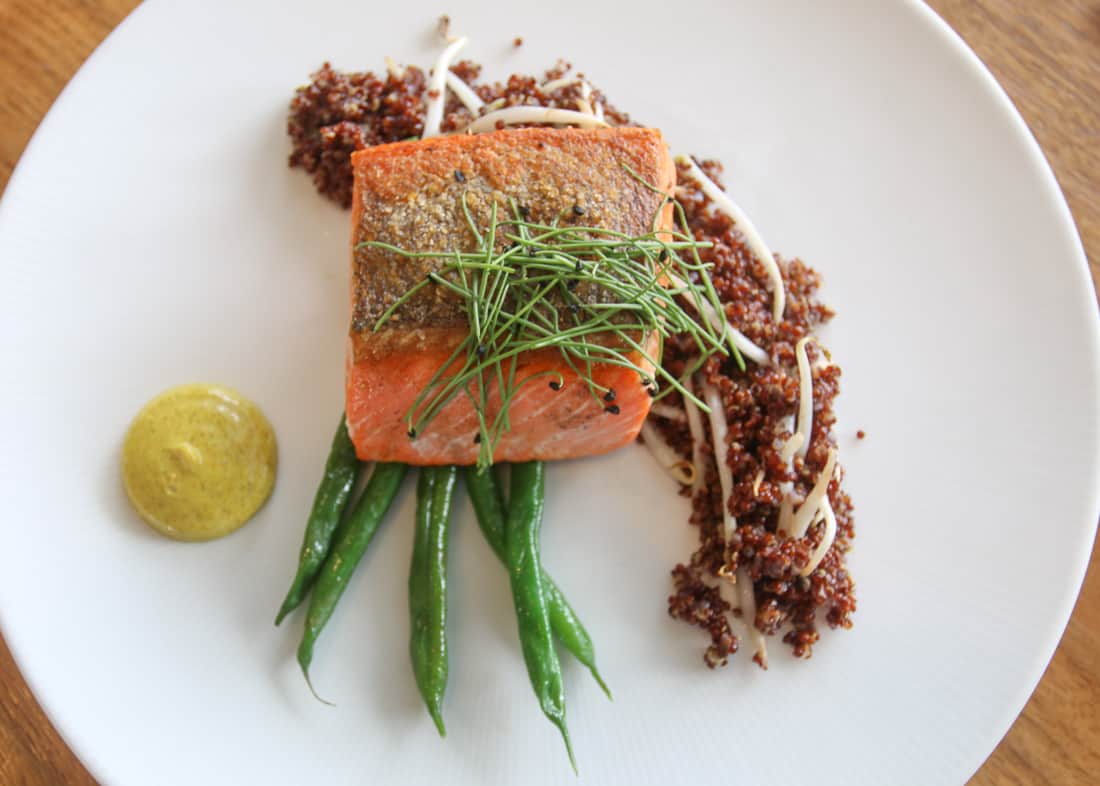 We enjoyed excellent salmon with quinoa and curry glaze, and crispy shrimp the size of lobster tails. They offer a full children's menu and coloring sheets.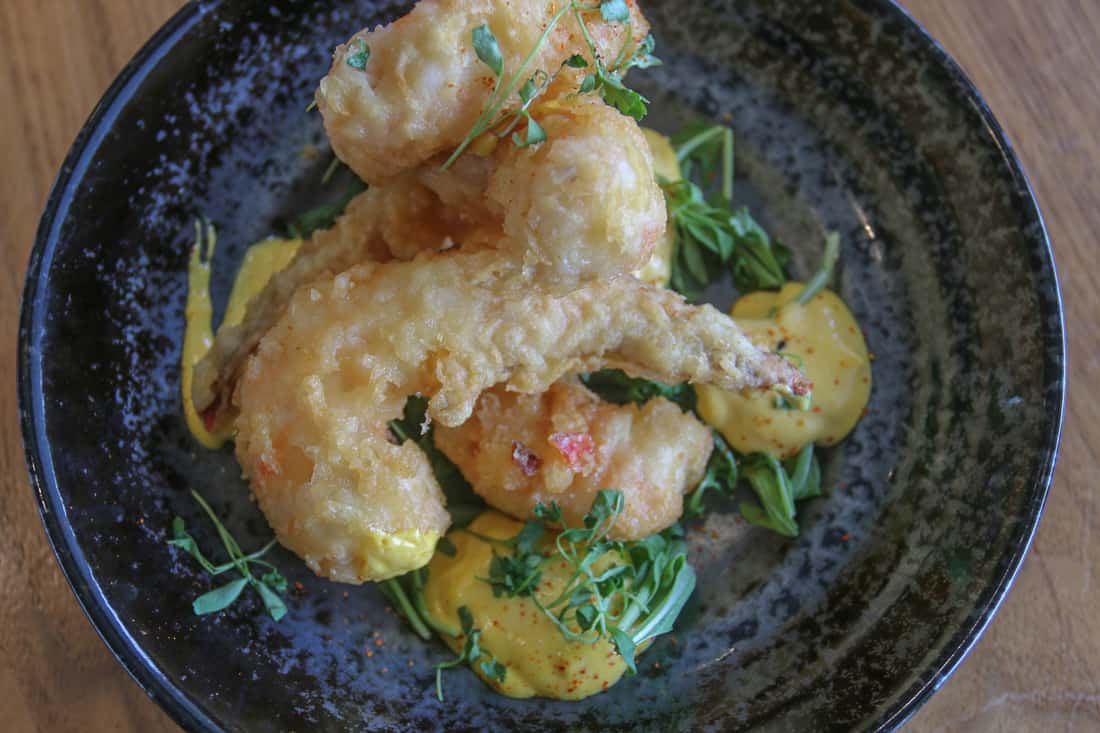 Dean & Deluca
At the base of the building, Dean and Deluca offers coffees, baked goods, and prepared foods to stock your room's refrigerator.
Room options for families
There are no bad rooms at the Ritz-Carlton, as all face the ocean.
Both tower floors are divided into three sections. The higher the floor, the nicer the kitchen and bath finishes.
Although the majority of the units are owned, more than half of the owners submit their units into the rental program and are not capable of altering the design in order to provide a standard for hotel guests.
Entry-level studio units offer a king bed and sleeper sofa and a kitchenette with a two-top stove, full refrigerator, dishwasher, and oven.
Washers and dryers are in each room, too. Groceries can be ordered in advance. But fear not, it's very easy to avoid cooking because Dean and Deluca sells prepared entrees.
Family Suites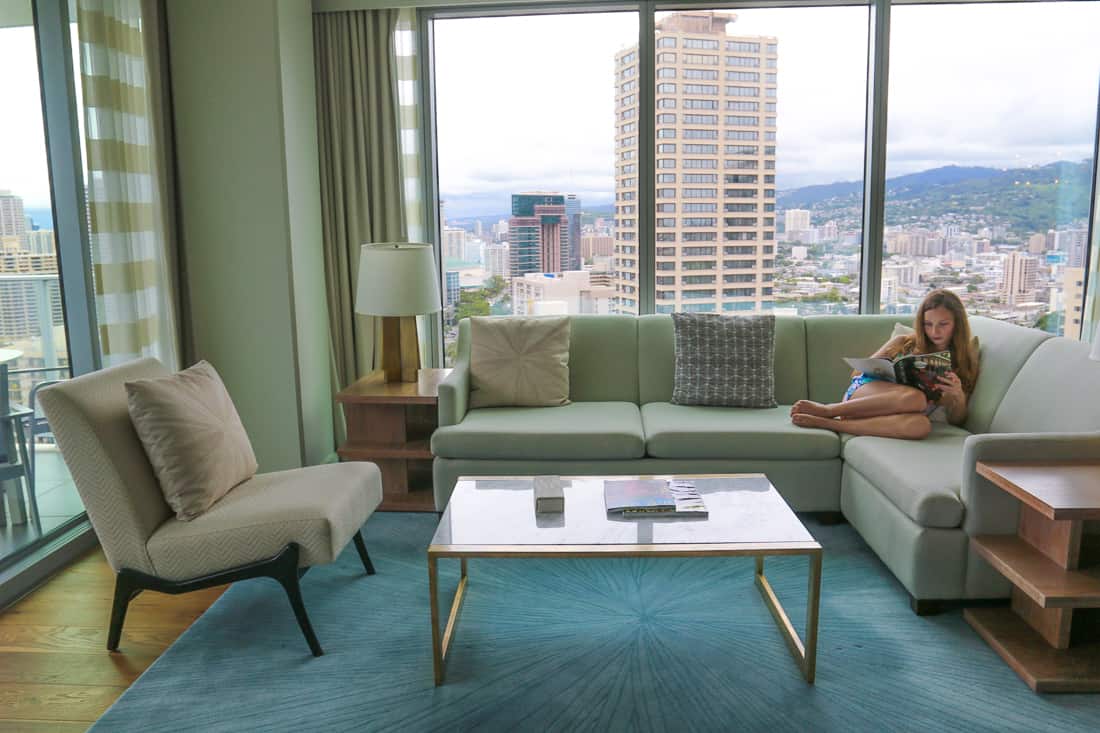 Families can spread out in two and three-bedroom suites. Ours offered ample living space with an open format dining room and galley kitchen.
Bedrooms had ensuite bathrooms and significant closet space. Ritz Carlton regulars will see the familiar Asprey toiletries in the bathrooms, and my seven-year-old was incredibly intrigued by the fancy, motorized Toto toilet.
Each room had their own television equipped with Netflix, and my children enjoyed claiming their own space. This hotel stay spoiled us in comfort and space. Every detail of the suites was luxurious.
Those Balcony Views of Waikiki Beach Are Everything
All rooms have ocean-view balconies, and the most coveted rooms are corner rooms. They offer views of the mountains as well as the ocean.
It's lovely sitting outside on the balcony with sunset views and an array of colors in the sky and ocean. No Instagram filters are necessary.
On Friday evenings, the Hilton offers a brief fireworks show that guests can see, too.
Overall, we found the hotel to deliver exactly what we wanted. High design, attentive service and exceptional comfort. No stay will feel long enough.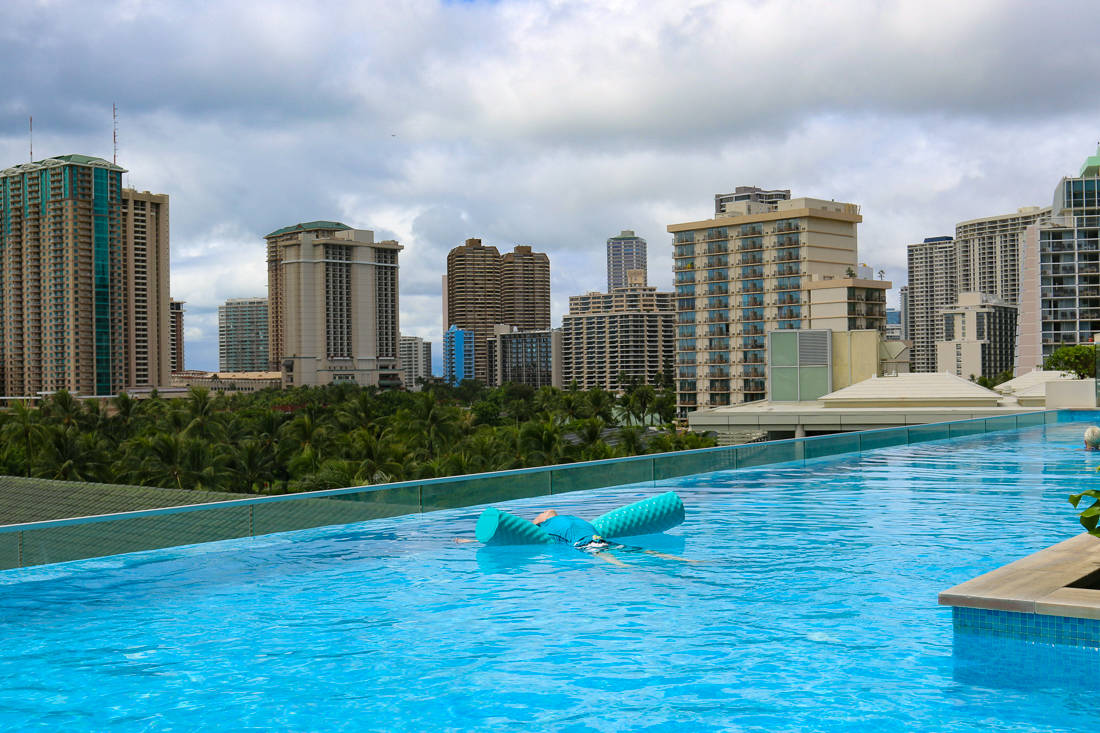 Check rates for your dates at the The Ritz Carlton Residences Waikiki Beach.
Family Shopping in Honolulu
Luxury Row: Kalakaua Avenue
Next to the hotel is Kalakaua Avenue, the leading retail, dining district for Honolulu. Many luxury brands have stores here and are a quick walk from the hotel.
Chanel, Gucci, Yves Saint Laurent, Louis Vuitton, Christian Dior, Armani, Hermès, Cartier, Harry Winston, Kate Spade, Loro Piana, and Jimmy Choo comprise some of the retail options here in the area called Luxury Row.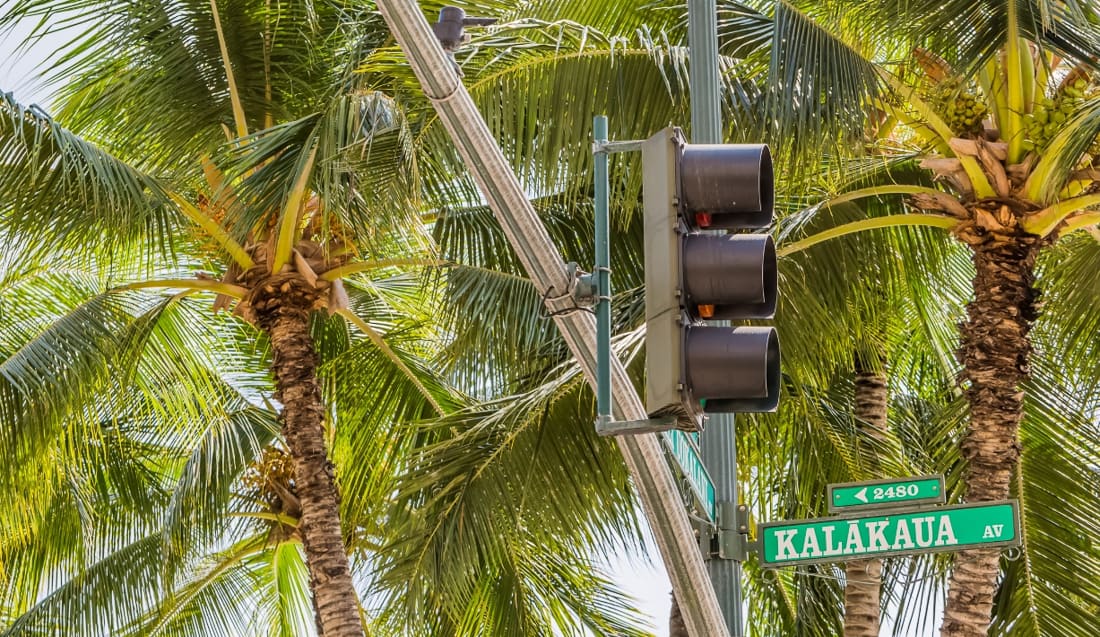 Your kids have their own options at Kids Atelier at the International Market Place. The many high-end designers include Karl Lagerfeld kids, little Marc Jacobs, Boss, Stella McCartney children's lines. (2330 Kalakaua Avenue #164)
Malie Organics is a Hawaiian spa and home fragrance line based in Kauai. Its fans love the local ingredients used for the lines featuring plumaria, mango nectar, pikake, koke'e, and hibiscus. The organic body oils and glosses give a beautiful sheen to skin. (2259 Kalakaua Avenue)
Hawaii is the only state in the US capable of growing the cacao tree. Malie Kai Chocolates are made from these local trees on Oahu's north shore. Dark, milk, Kona espresso dark, and white tangerine chocolate bars made from the openly US growing cacao trees on the north shores of Oahu (2201 Kalakaua Avenue)
Other Small Shops Worth the Uber Ride
Bailey's Antiques and Aloha Shirts is the island's largest collection of vintage Hawaiian shirts. Some dating back to the 1930s and are fun to browse through the endless racks. (517 Kapahulu Avenue)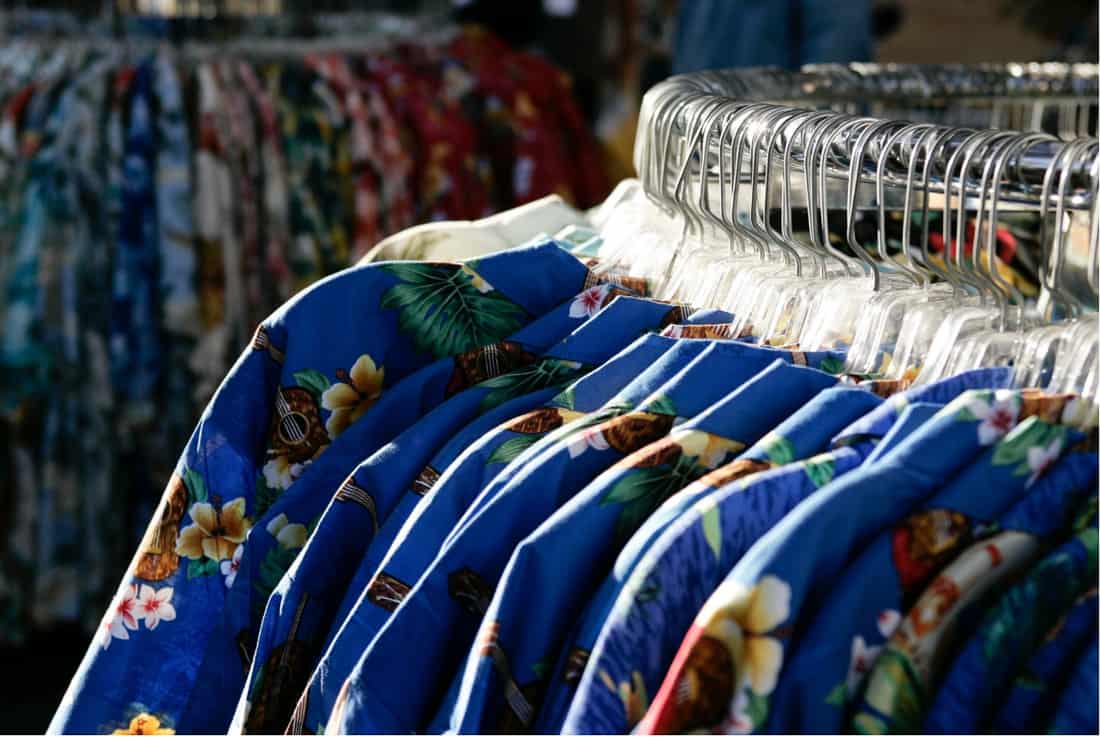 Fighting Eel is known for its comfortable dresses in travel-friendly jersey. These colorful patterned dresses are popular locally and in California. While there is a location near the hotel, the Chinatown location also has outlet items at a discount. (1133 Bethel Street)
Ala Moana Center
This is the large shopping center of Oahu with many stores that you can visit at home. But there is a daily hula show at 1pm, and a farmer's market to buy a variety of local produce to sample back at the hotel.
A noteworthy local store inside this mall is Reyn Spooner. Imagine if Vineyard Vines launched their own Hawaiian shirt line, and you can picture the tailored, muted colors of this preppy take on Hawaiian shirts.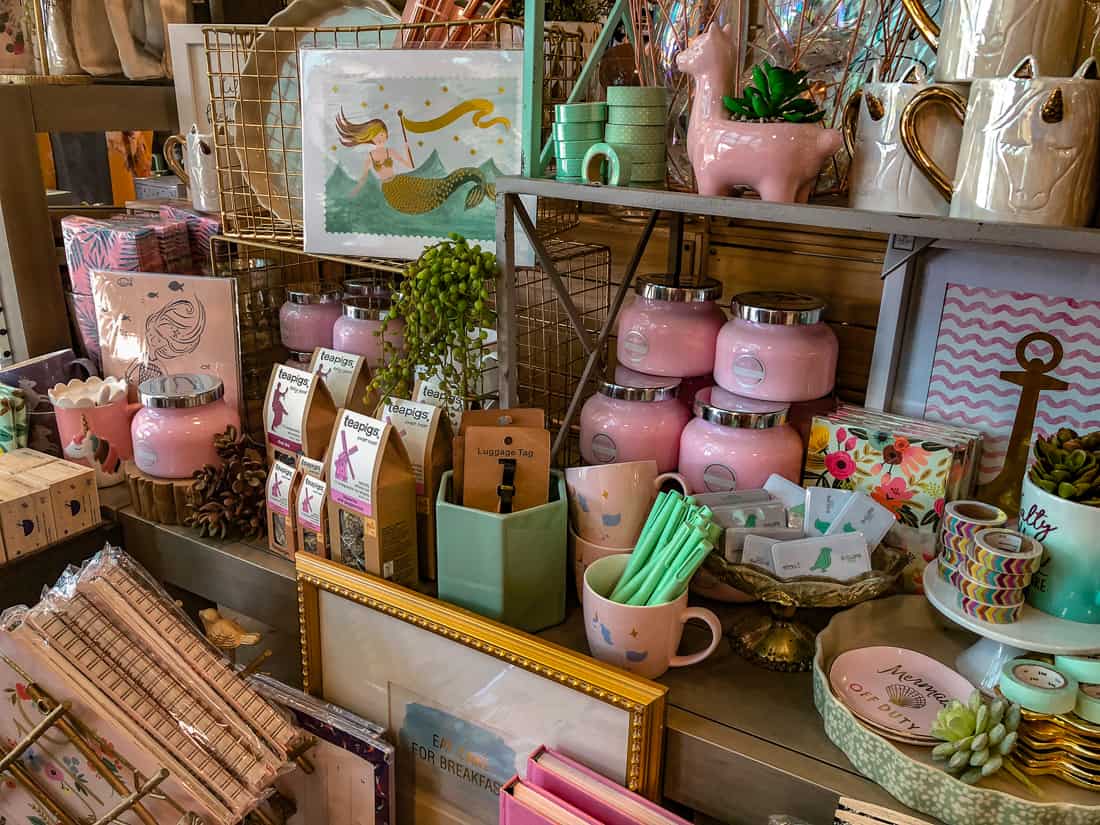 South Shore Market
If you want to try a small center filled with locally sourced gifts and clothing, head to the South Shore Market near Ward Center. The South Shore Market is a millennial–approved shopping center featuring gift and clothing stores, health food shops, and artisan ice cream and coffee.
My children and I enjoyed browsing an eclectic assortment of merchandise in the different stores in search of some classmate birthday gifts.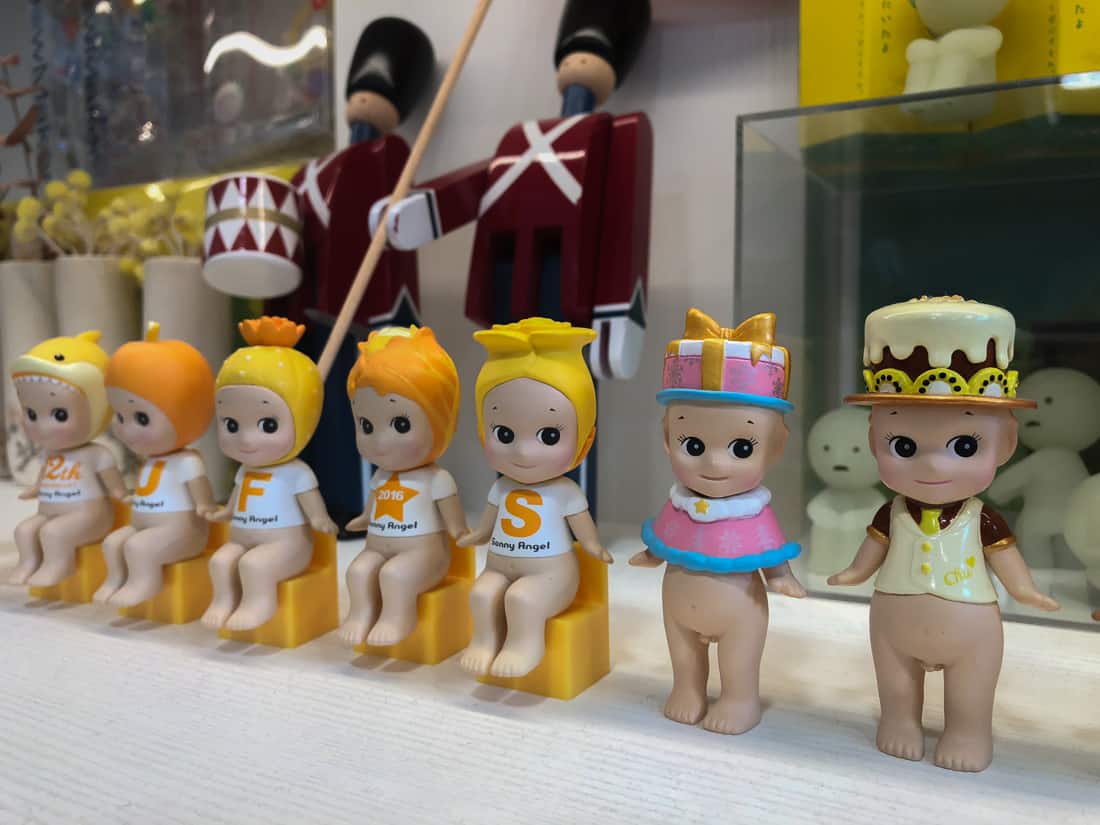 Lucy's Lab Creamery is a must for small-batch ice creams. Traditional flavors and those inspired by local fruits like pog sorbet and vegan lychee ice cream. Try the Strawberry Moscato ice cream.
Scratch Kitchen on site serves breakfast, lunch, and dinner with innovative comfort foods that will inspire your Instagram feed.
Some local breakfast specialties your kids must try
So many traditional Hawaiian food trends entice children like "shave ice."
Breakfast is a serious meal in Honolulu, because waffles and pancakes are taken to a new level here. Food trends from Japan and California arrive in Hawaii and get a local twist.
Nothing captured my kids' interest more than Ube. Ube is a yam that turns food naturally purple. My kids were obsessed with trying purple pancakes drenched in purple syrup.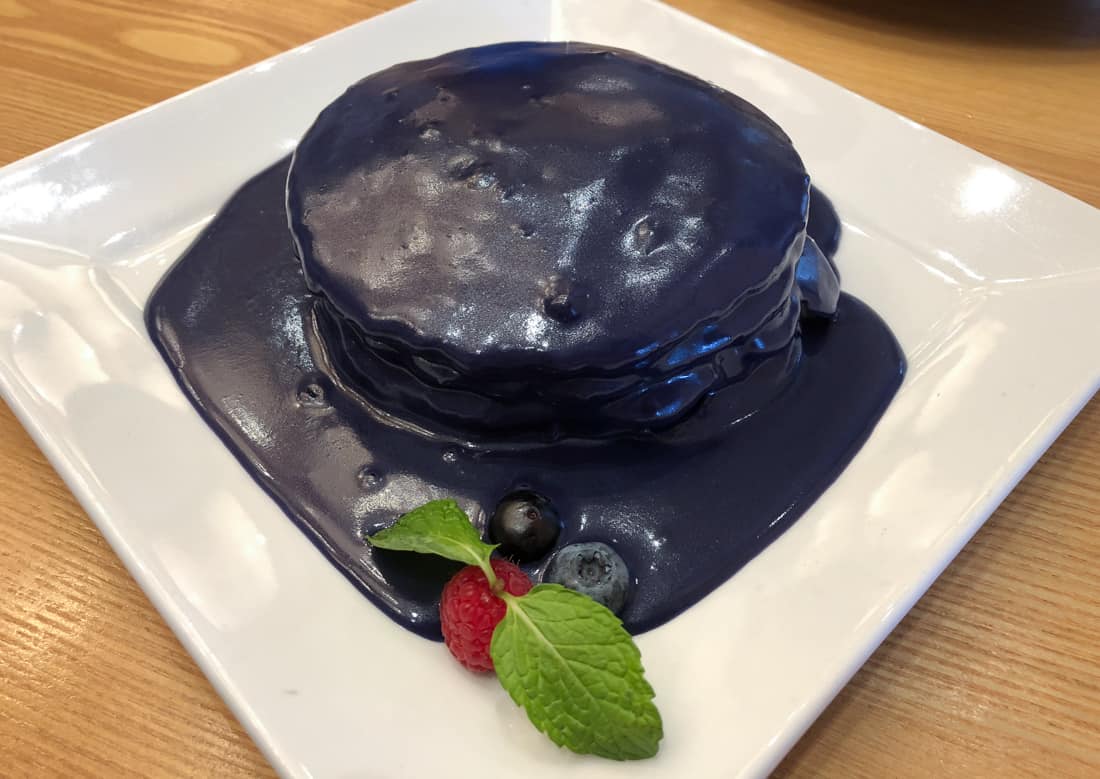 I looked for a local breakfast dive where my kids had their purple paradise. We took an Uber from the Ritz Carlton to Yogurstory, and I recommend arriving hungry. (745 Keeaumoku Street #105)
The pancakes tasted better than the syrup, so I would suggest ordering syrup on the side. It isn't as sweet as traditional syrup. There are several other decadent options like red velvet waffles to share that will be a more likely hit with the kids.
I had an incredible loco moco. Or at least I had a few bites of this incredibly filling dish meant for sharing. Spanish speakers will have to overlook that this dish's made up name only coincidently translates to "crazy mucous.'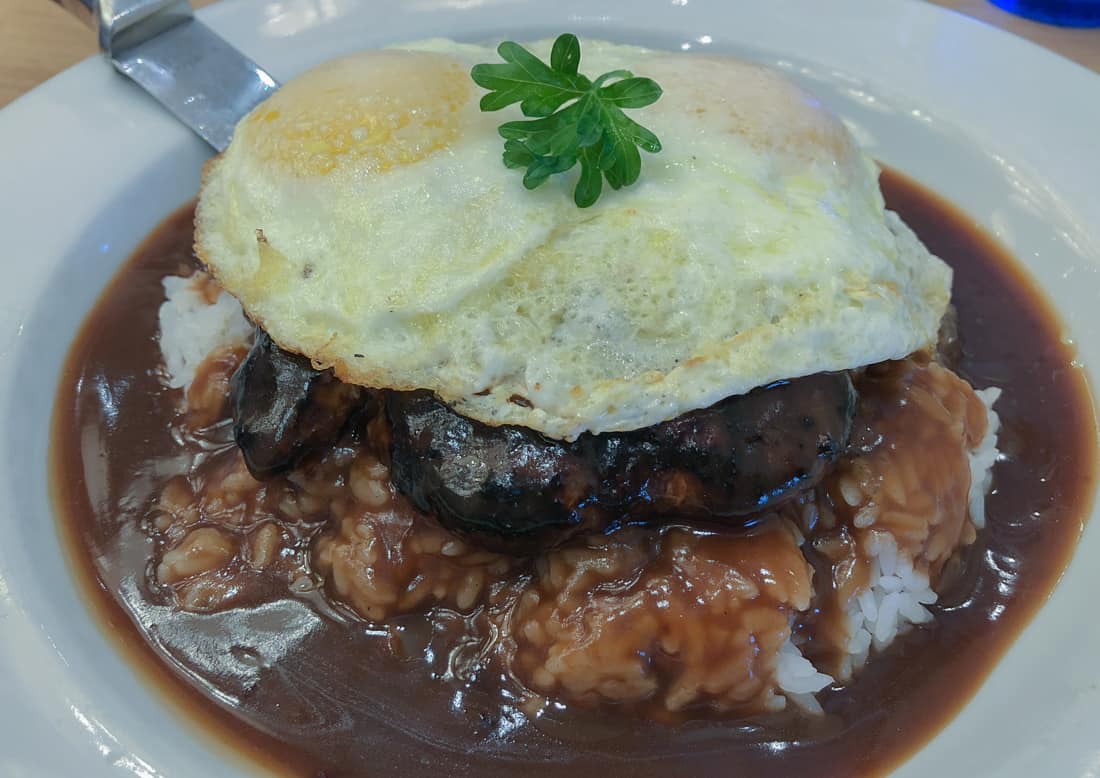 Loco moco involves a bowl of rice topped with a hamburger patty, brown gravy, and a fried egg. It was as comforting as macaroni and cheese or shepard's pie.
Although we were guests of the Ritz Carlton Residences Waikiki Beach, these opinions are entirely my own.