Magic Kingdom is a family pilgrimage made by many to Walt Disney World. Some go once, some frequently, but it's always a day of memories for families to get that shot in front of Cinderella's Castle.
When I work with families to plan their ultimate Disney vacation, we go over which parks to visit and if they would like to book Disney VIP tours. Rides also raise many questions. Of course, the Lightning Lane and Genie Plus systems and the ways to use it raise even more confusion. First-timers may (and should) feel overwhelmed.
It's the happiest place on earth, right?
Well, if you know what to ride.
Here's a ride guide of the best Magic Kingdom rides by age for toddlers, preschoolers, teens, and senior citizens alike. This guide will help you prioritize your rides to plan in advance as well as know which rides can be enjoyed with no reservation.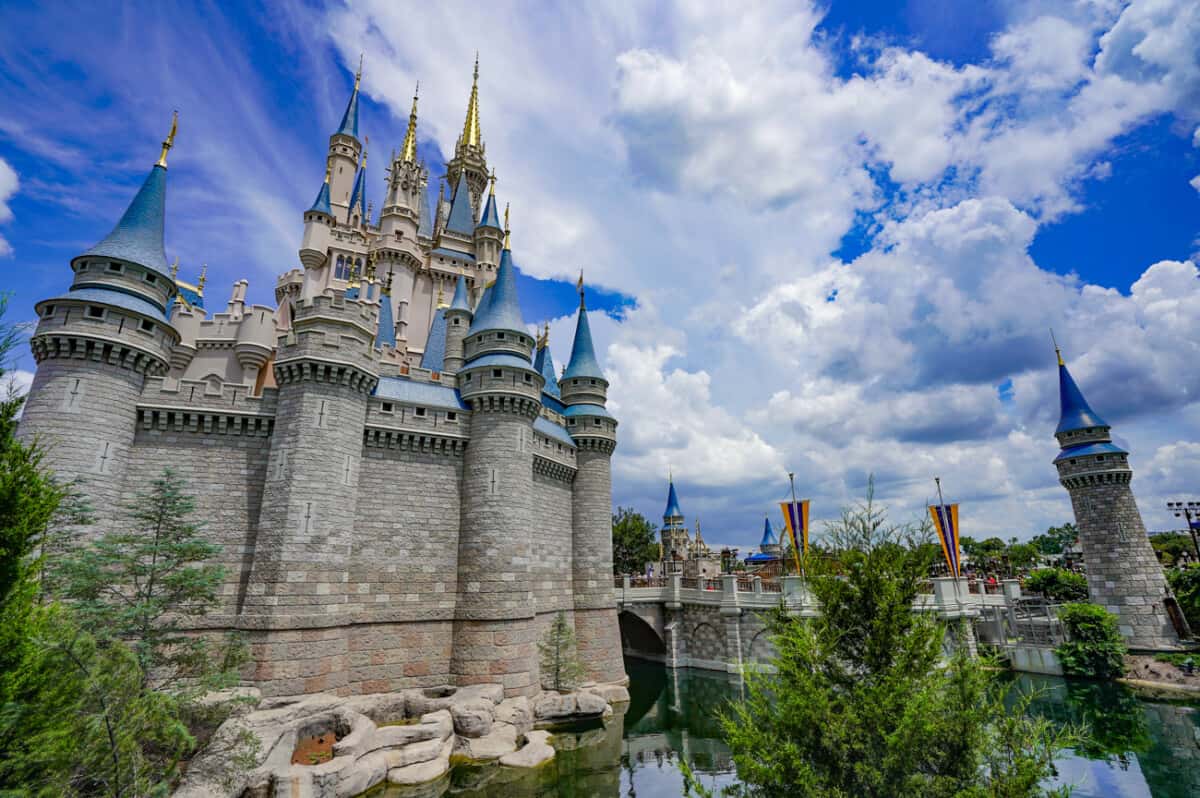 The Best Magic Kingdom Rides for Everyone:
This list of rides works when you have all ages in your party, from babies and toddlers to grandparents. There are no height requirements.
---
Let me plan and book your Disney World vacation. As a Virtuoso travel advisor, I offer room upgrades and extra perks at the Four Seasons, Ritz Carlton, and Waldorf Astoria if you choose to stay offsite.
And I can still help with some pixie dust if you stay on Disney property, too. I can help you choose what to skip and where to splurge on the best restaurants and VIP experiences.
---
It's a Small World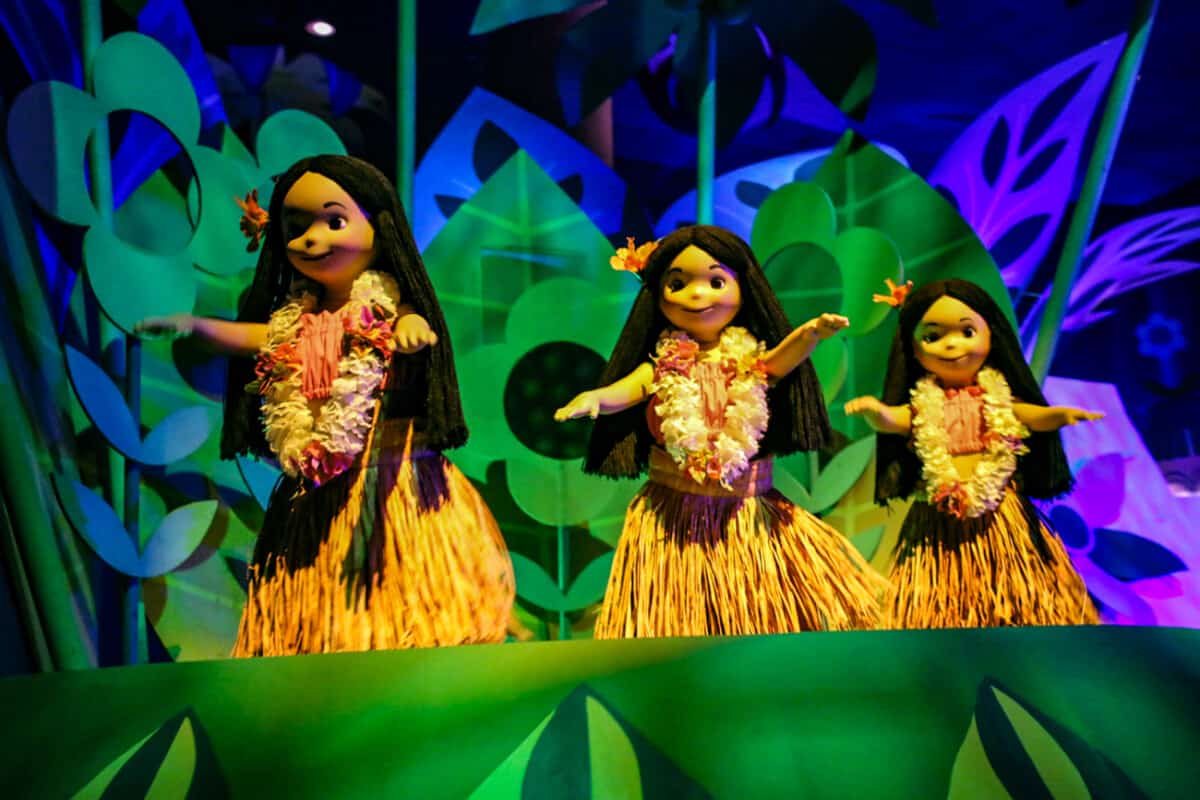 'It's a small world' is one of the classics at Disney World, a piece of Disney multi-culti nostalgia that many parents may remember from trips to the parks as children.
It features the iconic song 'It's a small world' looping throughout the ride, changing languages and styles as the viewer progresses through the different rooms.
A fun game to play on this popular ride is to try and guess the countries represented. Younger ones will excitedly watch the scenes around them change.
This slow and steady boat ride is a good fit for everyone and gives tired feet a rest for more walking. The lines rarely go above 30 minutes.
Location: Fantasyland
Thrill factors? No.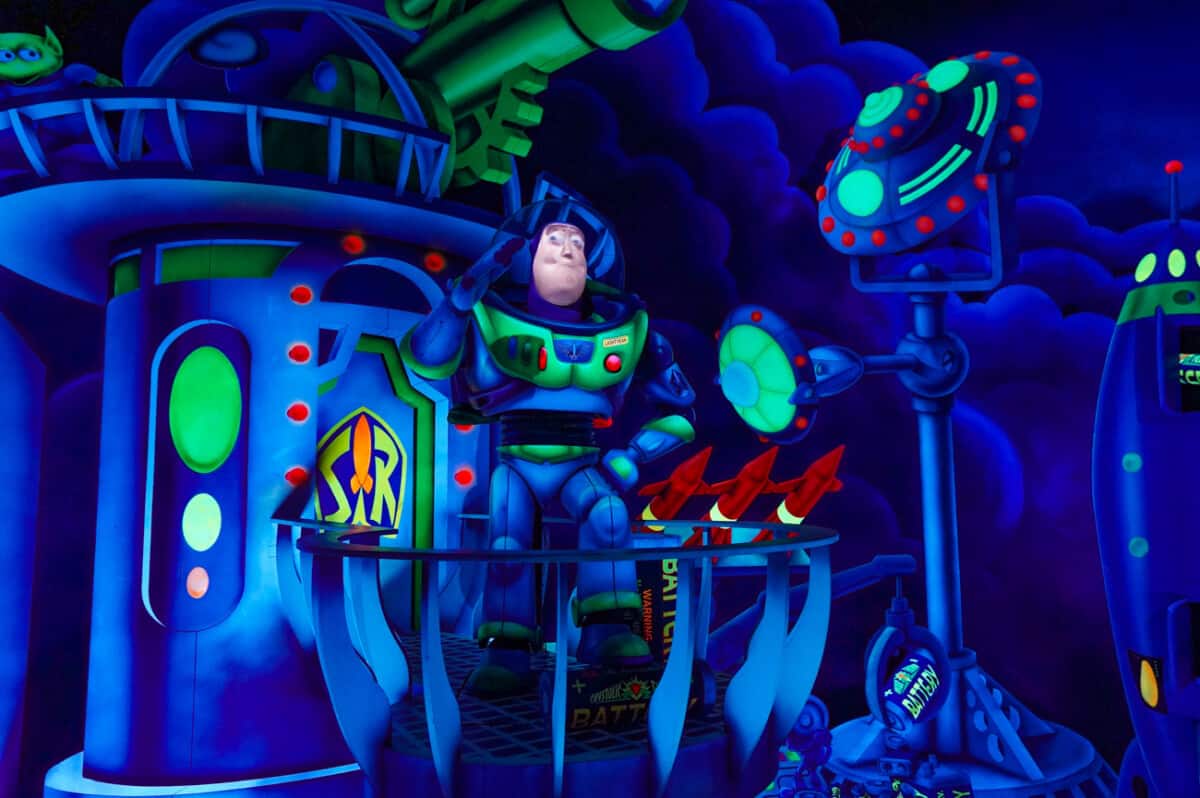 Buzz Lightyear's Space Ranger Spin
The Space Ranger Spin is a great interactive experience for all ages. Guests can spin their space ships on a track through several glow in the dark rooms. The ride never goes completely dark because of the glowing objects around the room.
This Magic Kingdom ride incorporates a game of shooting targets with your laser gun. Each target is worth a different amount of points based on difficulty.
It's fun to try to compete with the person you're riding next to, sometimes sabotaging them by turning the cart when they are on a roll.
A photo is taken of each cart in the ride, and guests claim their photo at the end.
Location: Tomorrowland.
Thrill factors? Dark, loud, but slow.
---
---
Jungle Cruise
The Jungle Cruise is popular water ride in Adventureland, that transports the viewer through dense vegetation of a jungle scene with added magical enhancements. The ride saw a bump in popularity due to the movie starring Dwayne Johnson.
The cruise is guided by a skipper, who will act as a guide for the tour, delivering many jokes of ranging quality. Your experience does depend heavily on your skipper's comedic talent, so if you have a weak skipper, it may feel like a three-hour tour.
This ride does get very popular as the day progresses, so go early in the day or be prepared for long wait times.
Location: Adventureland.
Thrill factors? No.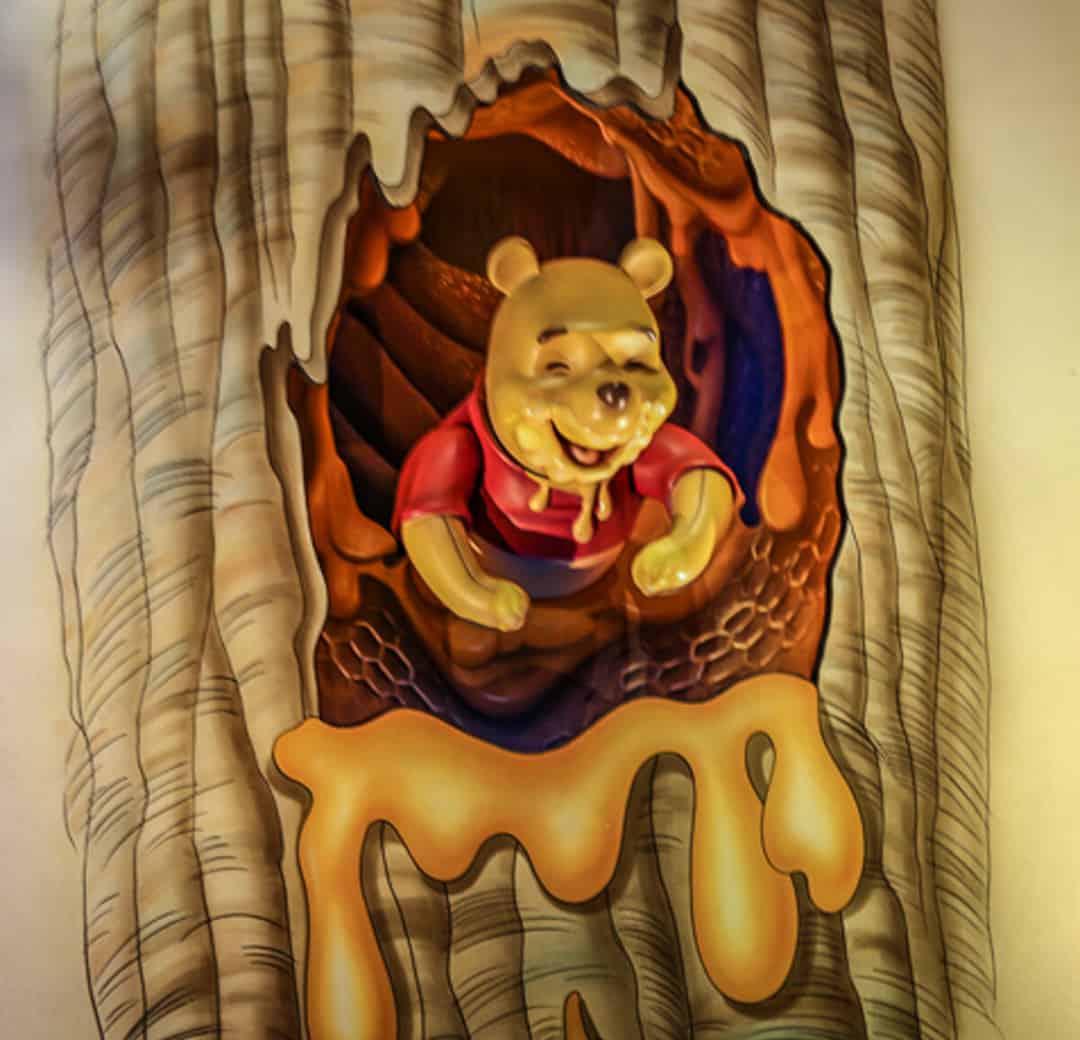 The Many Adventures of Winnie the Pooh
Winnie the Pooh is definitely a crowd pleaser, complete with colorful visuals and a trip around the Hundred Acre Woods in a bouncing honey pot.
The ride features Winnie the Pooh and all the beloved characters such as Tigger, Kanga and Roo, and Piglet. There are multiple sequences where the honey pot bounces up and down, or makes sharp turns on the tracks so the ride never dulls.
This ride can be very popular, as I woke up once while it was still dark out in order to get a spot in line at this ride. Even though the waits are long without a Fast Pass, there are interactive experiences in lines to make the wait move faster.
Location: Fantasyland.
Thrill factors? No.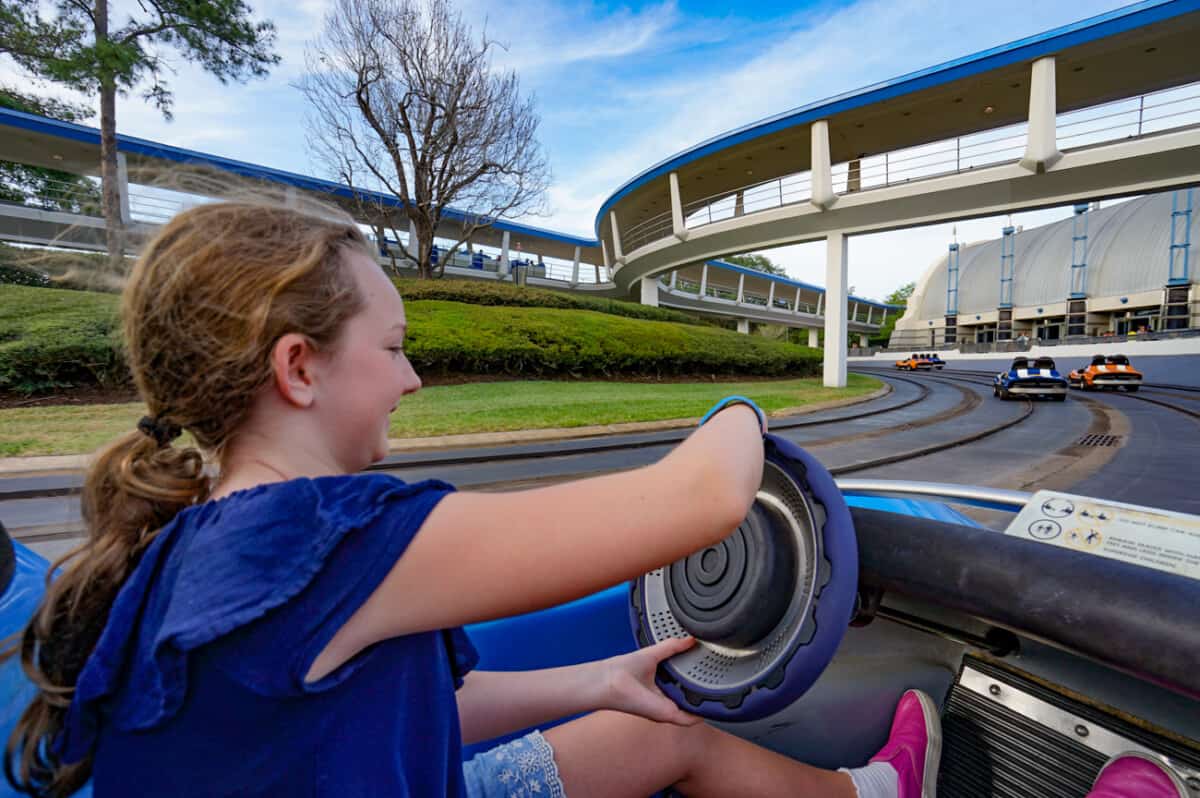 Tomorrowland Speedway
The Tomorrowland Speedway is perfect for children who want to see what it's like to sit in the driver's seat. The speedway features a track where guests can drive their very own race cars that lasts about 10 minutes.
There's also no need to worry about hitting other cars or driving off track. Each is bound to their own lane.
The cars are very loud and might bother younger children sensitive to loud noises. Another thing to note about this ride is that the car exhaust can be very odorous, so the speedway isn't for everybody.
Location: Tomorrowland.
Thrill factors? A noisy and jerky ride, if there is an inexperienced driver. For 32 inches and taller
Peter Pan's Flight
Peter Pan's Flight, one Magic Kingdom's original rides, is quite nostalgic for some adults who went as a child. Besides nostalgia though, there really isn't all that much to get from this ride.
Visitors can board a pirate ship and then sail over a scale model of London (which is the best part of the ride) and off to Neverland.
The ride tells the story of Peter Pan in a sequence of animatronic visuals complete with audio from the movie. This ride is one of the few that almost always has lines above 90 minutes, so you will absolutely need a Fast Pass or simply skip it altogether.
Location: Fantasyland.
Thrill factors? No.
Magic Kingdom Rides for Toddlers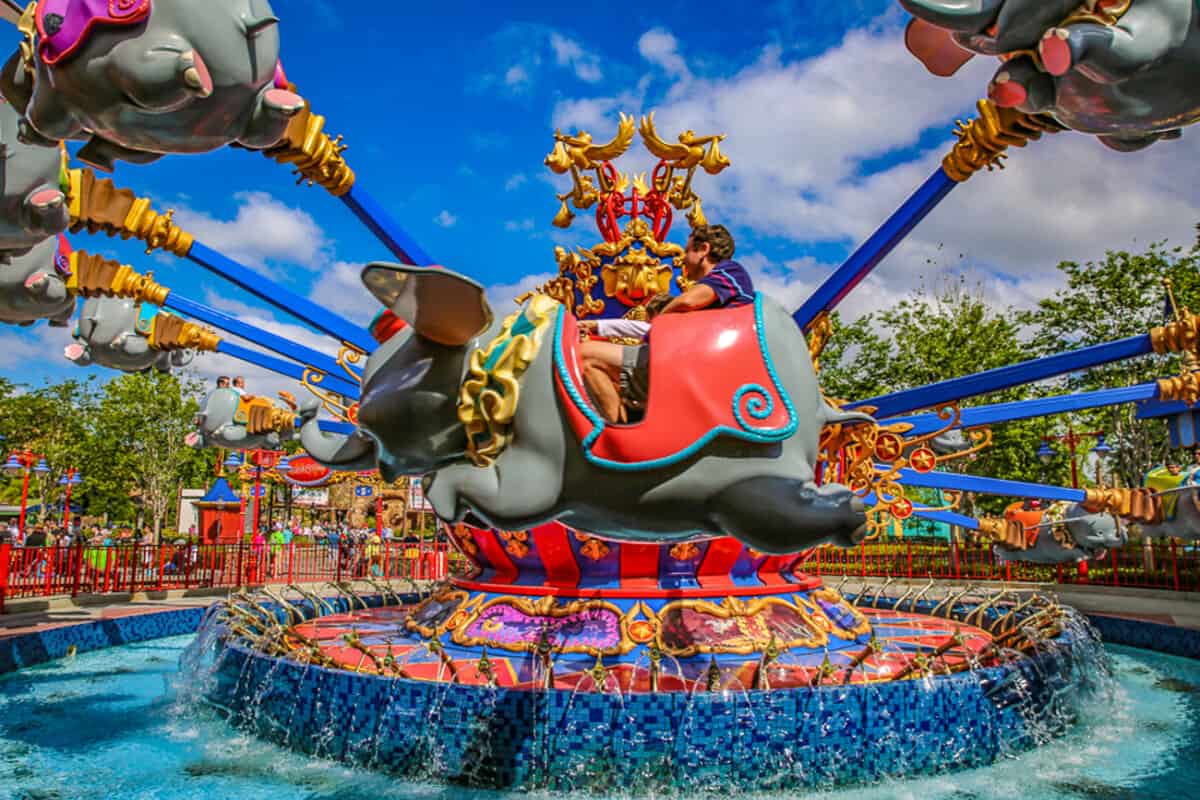 Dumbo The Flying Elephant
Dumbo is a classic attraction at Disney World, and it's a great ride to go on when you have time to kill. It's nearly identical to the Magic Carpets and Astro Orbiter rides. Dumbo does have two lines, so it does go twice as fast.
There's also a playground inside the circus tent in the line so the younger kids will find the wait easier, and so will the parents who don't have to worry about occupying their children.
In between both Dumbo rides is a photo opportunity not to miss.
Location: Fantasyland
Thrill factors? No.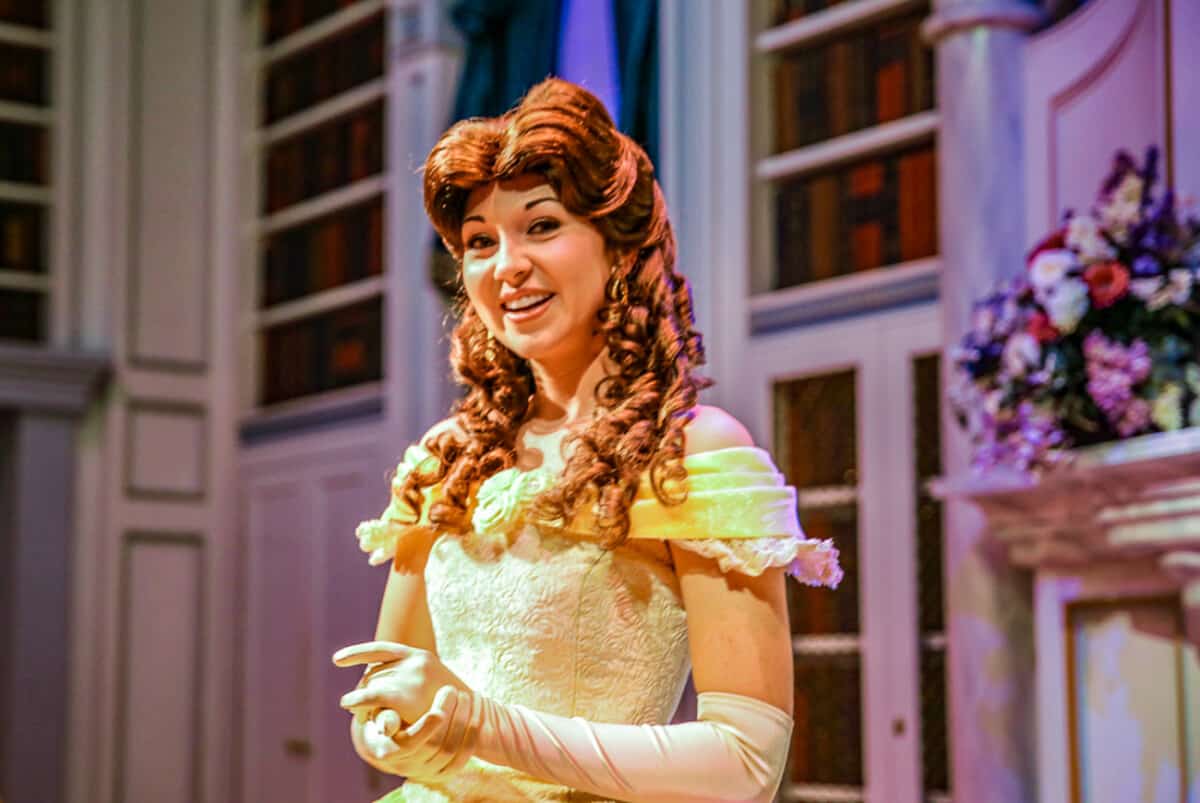 Enchanted Tales with Belle
Enchanted Tales with Belle is perfect for younger kids that want to live in the story of Beauty and the Beast. The attraction has impressive animatronics in the lines, and the actual experience is led by a cast member dressed as Belle where children from the audience assume roles for a show.
It's definitely charming, but is also very much targeted towards younger kids. I would not recommend bringing anyone over the age of 6 into the ride, as they will be surrounded by small children half their age dressed as various kitchen utensils.
I took my daughter for the first time well past the right age window, and I got LOTS of 8-year-old side eye. It's not super "princess-y", and I have seen young boys enjoy the experience most getting into character.
Location: Fantasyland
Thrill factors? No.
Prince Charming Regal Carousel
The Prince Charming Regal Carrousel is basically your average carrousel. It adds to the aesthetic, but that may be its only purpose. In the center of Fantasyland, stroller parking buries it on one side.
It never does have a line above 10 minutes, so enjoy it while killing time in between Fast Passes. There's a Sword in the Stone photo app in front of the carousel not to miss.
Location: Fantasyland
Thrill factors? No.
Character Meet and Greets
Meet and greets are targeted towards guests who want to meet their favorite Disney character. All of the cast members are very in character, and have amazing costumes that look like the real thing.
While this hasn't always been my thing, sometimes seeing a preschooler's excitement and awe meet a character will give you ALL the feels you need for a long time.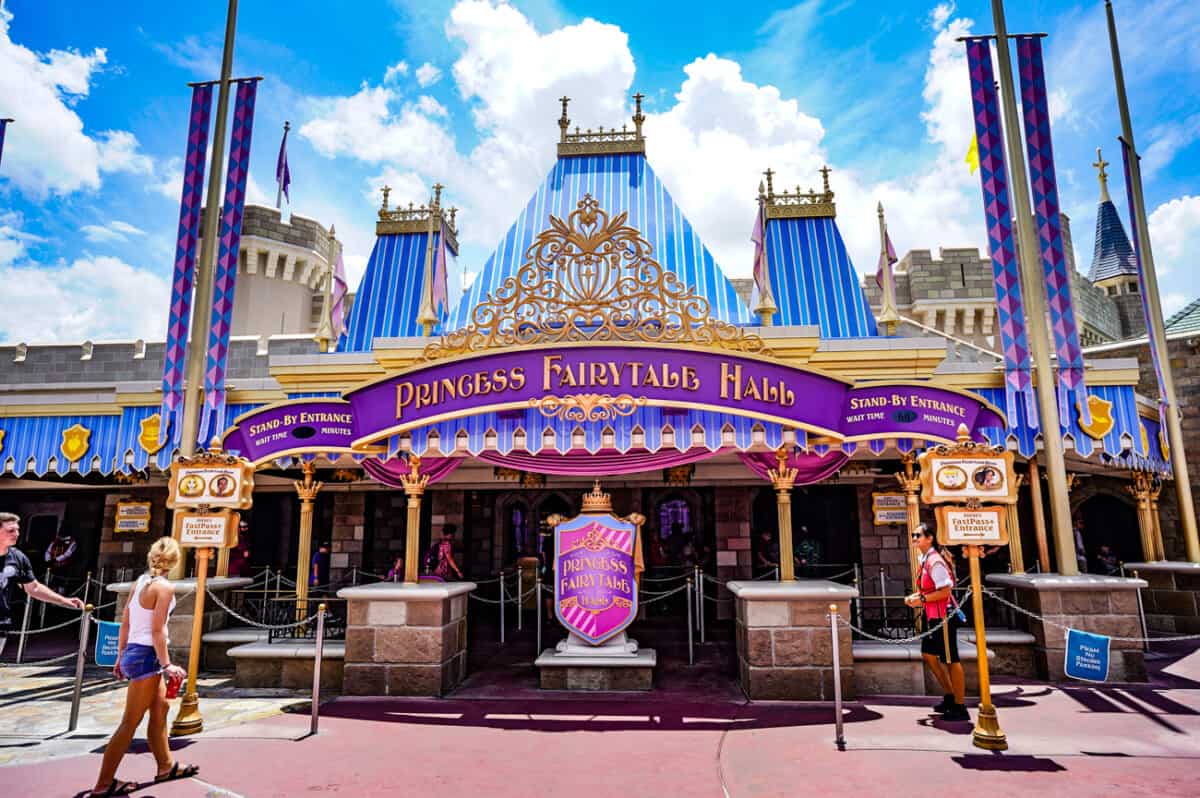 Children enjoy asking characters to sign Disney autograph books, and a Sharpie is what the characters prefer to write with, given that some of the costumes cover their hands. (We have a whole list of park essentials to have on hand. Pack these for your park bag!)
There's a wide variety of characters to meet in two different formats. Some are Genie Plus experiences, while others require that everyone wait in a line.
Character Meet and Greets
The meetings that require Genie Plus also include a photo opportunity taken by Disney's official photographers. Make sure you let them scan your Magic Band or ticket card, and the images will appear in your My Disney Experience App. For those going to meet characters, a Memory Maker purchase gives you all of your vacation photos for a flat fee.
Interactions include
Mickey Mouse at Town Hall
Aladdin in Adventureland
Merida at Fairytale Garden
Pooh and Tigger at the "Thotful Spot"
Ariel in her Grotto
Cinderella and Princess Tiana at Princess Fairytale Hall
Thrill factors? Maybe. Whatever floats your boat. No judgement.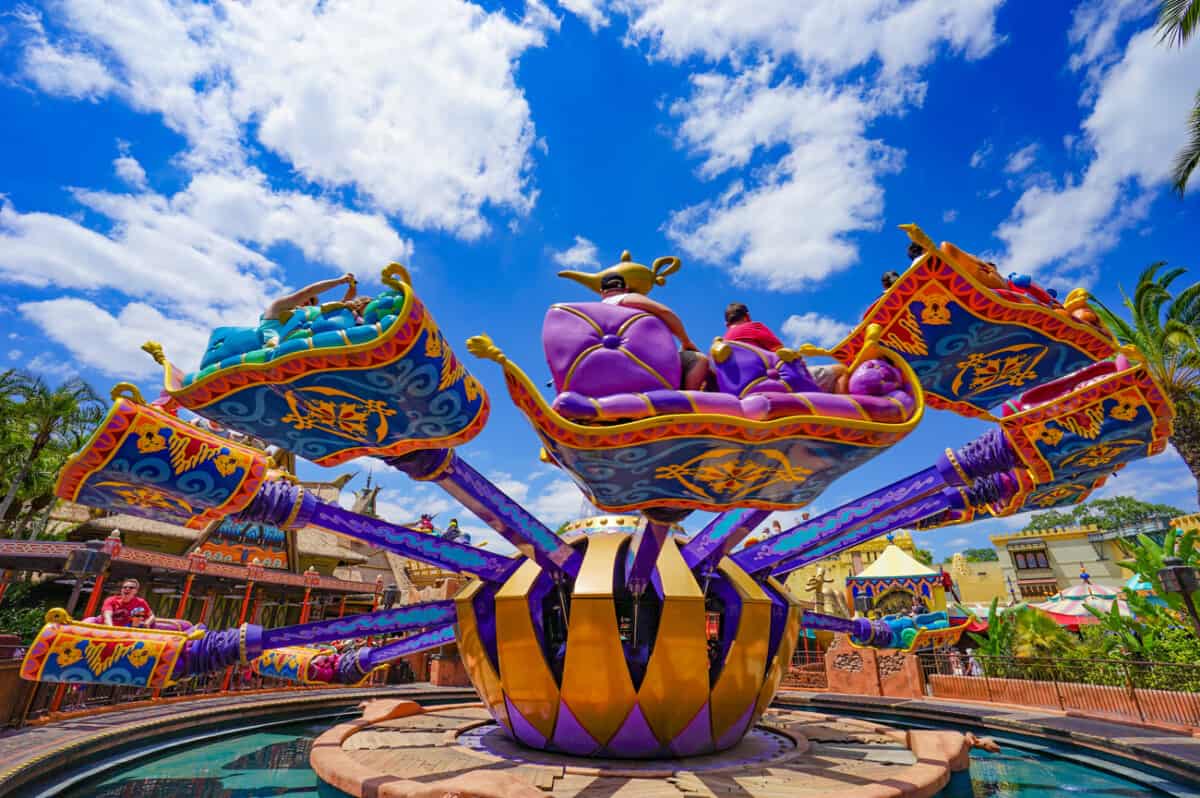 The Magic Carpets of Aladdin
The Magic Carpets are almost identical to Dumbo and the Astro Orbiter, except for a few minor details. The lines do move slower than Dumbo because there is only one ride, but the Aladdin ride does give a great view of Adventureland.
The Magic Carpets do have the added advantage of a water-spewing camel who might soak the riders.
Location: Adventureland.
Thrill factors? No.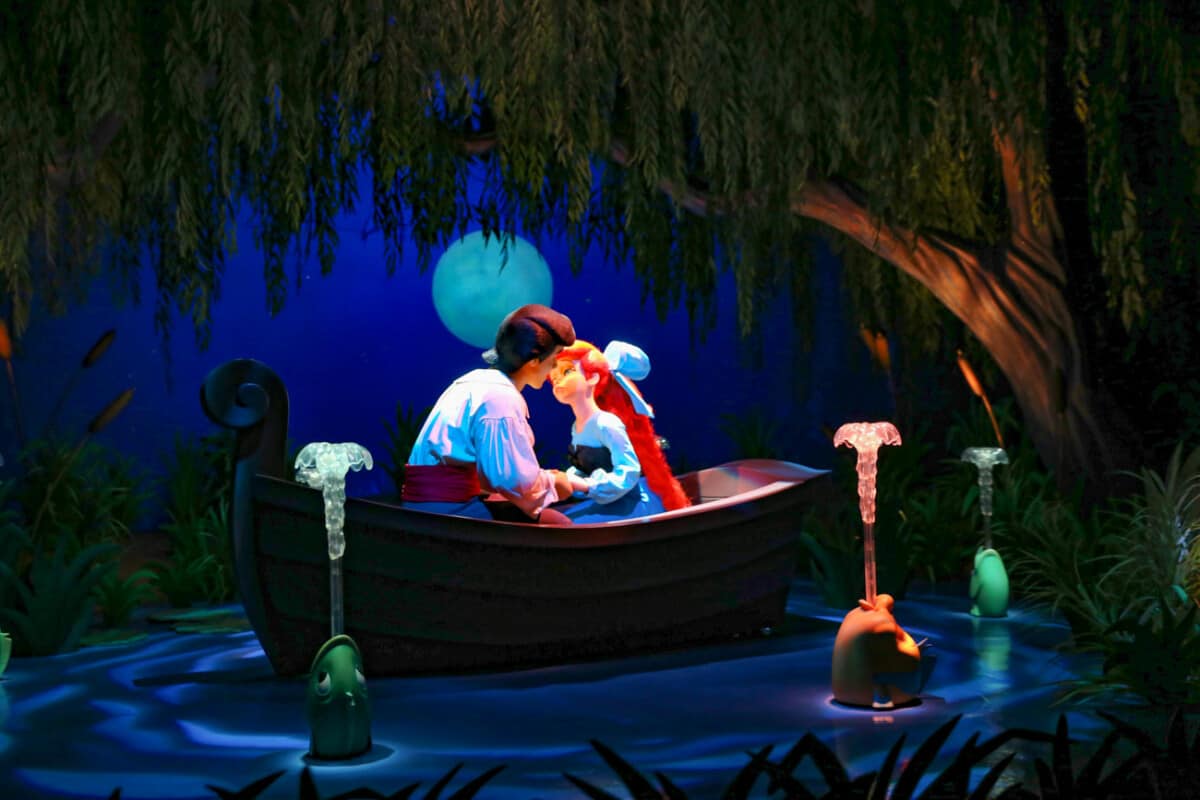 Under the Sea ~ Journey of the Little Mermaid
The Under the Sea ride is takes you under the ocean inside a clamshell, where you can see all the characters singing the movie's classic songs like Under the Sea. I would highly recommend it to anyone who's a fan of the Little Mermaid.
Location: Fantasyland.
Thrill factors? No.
Magic Kingdom Rides With Short or No Waits
Tomorrowland Transit Authority PeopleMover
The PeopleMover is our favorite thing to do when you need a moment to rest or fill time in Tomorrowland. There is rarely a line. It's right in the middle of Tomorrowland, and it gives the passengers a voice-over tour of Tomorrowland's rides like Buzz Lightyear, Space Mountain, and Monsters Inc.
It does go dark briefly while inside the structure that houses Space Mountain, so this isn't the ideal ride for people who are scared of the dark. Riders on Space Mountain who scream may also frighten young children who may incorrectly think they are suddenly on a roller coaster.
Location: Tomorrowland.
Thrill factors? Dark.

Mad Tea Party
The Mad Tea Party is the classic teacup ride, complete with spinning and teacups. The teacups never gets too busy, and the line rarely lasts longer than 15 minutes. It's a great spot for killing time, or something for younger kids to try with a bit more thrill.
Location: Fantasyland.
Thrill factors? Spinning, but it only spins fast if the rider chooses to.
The Hall of Presidents
Disney's Hall of Presidents may not be their most exciting or popular attraction, it never has a long wait. The Hall of Presidents features all 45 presidents, only some of which speak.
There are certainly more interesting rides at Disney World, but this one is good for killing time or when you need to rest your feet in air conditioning. It's more of ceremonial school project comes to life than a Disney World ride.
The most entertaining parts of The Hall of Presidents happen on the internet, such as a viral video of Abraham Lincoln slowly tipping over as he delivers part of the Gettysburg Address.
Location: Liberty Square
Thrill factors? No, unless it provokes political bickering among family members.
Swiss Family Treehouse
The treehouse from the Swiss Family Robinson is an attraction at Magic Kingdom that never has any line. The treehouse isn't a traditional ride, but it's fun to explore if you are a fan of the book or want to let your kids stretch their legs.
The story comes to life with Disney Imagineering detail. This is the perfect thing to do between a ride and meal reservation, or two You can walk through it at your own pace, like a museum exhibit.
Location: Adventureland.
Thrill factors? Heights.
Walt Disney's Enchanted Tiki Room
The Tiki room: you love it or you hate it. This is a show as opposed to a ride, and is 15 minutes of singing parrots. The songs are quite catchy, and will most certainly get stuck in your head.
This ride is ideal for families who have kids old enough that they will be able to sit through the show. It's a good filler ride, as there is never a long wait, it is dark and cool, and a nice respite.
Location: Adventureland.
Thrill factors? No.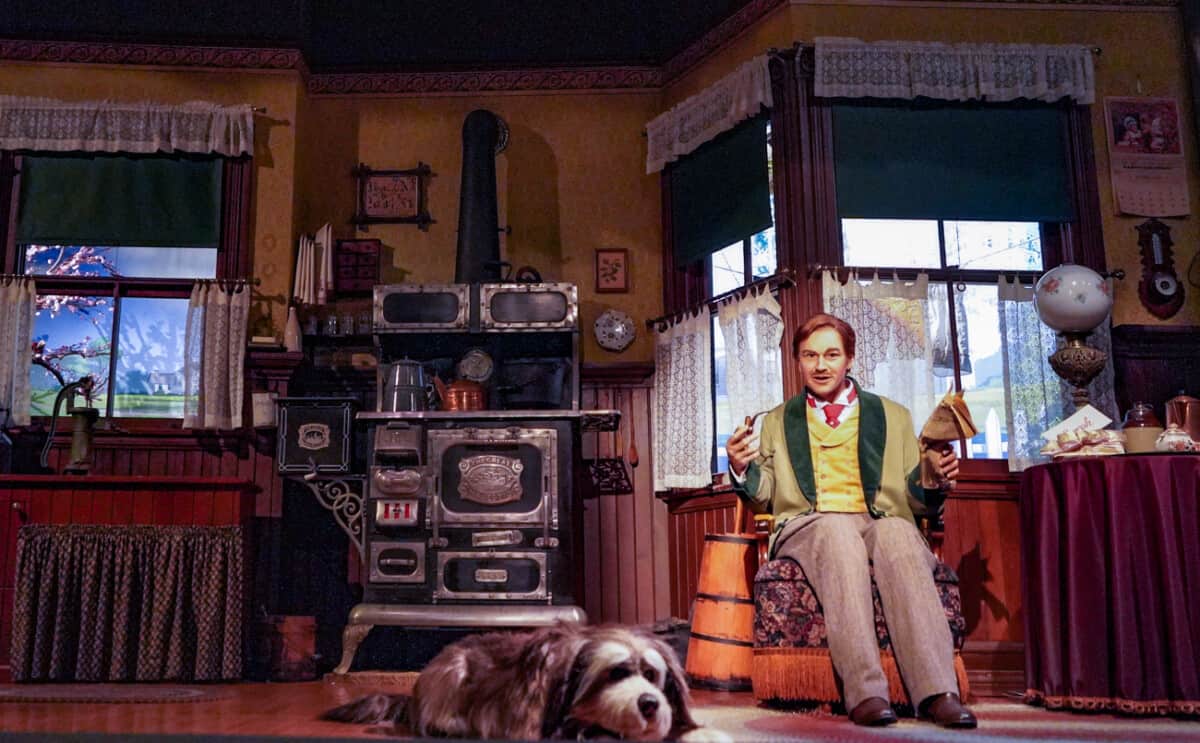 Walt Disney's Carousel of Progress
This is my all time favorite time killer inside Magic Kingdom. It's got something for everyone — vintage Disney, singing, hardee-har-har dad jokes, plus air conditioning in a comfortable rotating theater. The Walt Disney Company created this ride to celebrate American progress in technology for the 1964 New York World's Fair.
The show goes on for about 20 minutes. It's the right length for a cat nap if you are immune to its charms. Each installation shows new technological progress that affect the daily life of American families ranging from the turn of the 1900's to today. It's a must-do if you have time to kill, and one that will leave you singing 'It's a great, big, beautiful tomorrow' as you leave the rotating theater.
Location: Tomorrowland.
Thrill factors? No.
Mickey's PhilharMagic
Mickey's PhilharMagic is an immersive cinematic show that includes 4D aspects. This short film follows Donald Duck as he tumbles through various fairy tales and stories, such as Beauty and the Beast and The Lion King, after trying on Mickey's Sorcerer hat.
It's a fun show clocking in at about 12 minutes, and it never has a long wait. All ages will be entertained, but be warned that you may get a little wet.
Location: Fantasyland.
Thrill factors? No.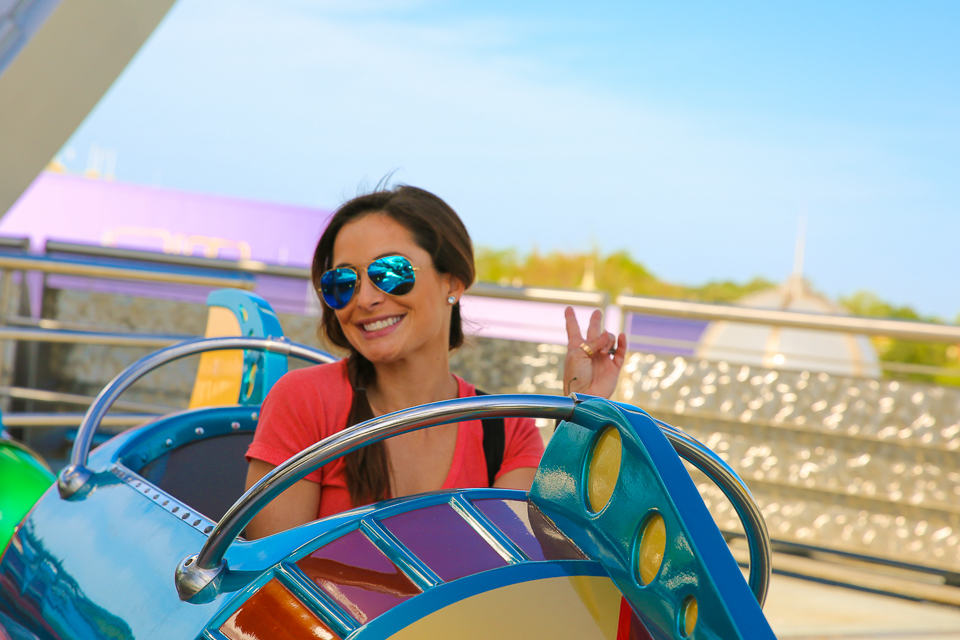 The Astro Orbiter
The Astro Orbiter is very similar to Dumbo and the Magic Carpets, except this one is high above the ground with sweeping views of Tomorrowland.
It's located on top of the People Mover.
The Astro Orbiter does not accept Fast Passes, so it's best to do this ride first thing in the morning, or late at night. It may scare young children or people with a fear of heights, although it will be fine for the majority of people.
Location? Tomorrowland.
Thrill factors? Heights.
Small Thrills
The Barnstormer
The Barnstormer gives a 90-second litmus test to see if your kids like roller coasters. It's aimed for younger kids who aren't quite tall enough for the big rides, but still want a bit of action. Parents can tell their children that if they don't enjoy it, it's over quickly.
Location: Fantasyland.
Thrill factors? Yes, a small, fast rollercoaster. For 35 inches and taller
Haunted Mansion
Climb aboard your 'Doom Buggy' and get ready to embark on a hilarious tour of the Haunted Mansion. The Haunted Mansion is one of the original attractions at Disney, although most of its special effects seem current.
The tour is narrated by a Vincent Price-like ghost with lots of jokes, whether they're funny or long dead. The actual path of the Doom Buggy isn't intense other than one small part of the ride where you slowly descend a staircase backwards.
This is not as much a scary ride, although there are some parts that are creepy and may scare younger children.
Location: Liberty Square.
Thrill factors? Dark, creepy.
Pirates of the Caribbean
The Pirates of the Caribbean is a dark water ride at Disney World that works similar to It's A Small World. Although it doesn't have addictive song, there are many other fun aspects to The Pirates of the Caribbean.
Passengers enter boats then slowly float down a dark tunnel with various animatronics that feature characters and funny scenes from the movie franchise. Be warned! There are a few steep, short hills for quick thrills.
Location: Adventureland.
Thrill factors? Dark, sudden drops.
Biggest Thrill Rides at Magic Kingdom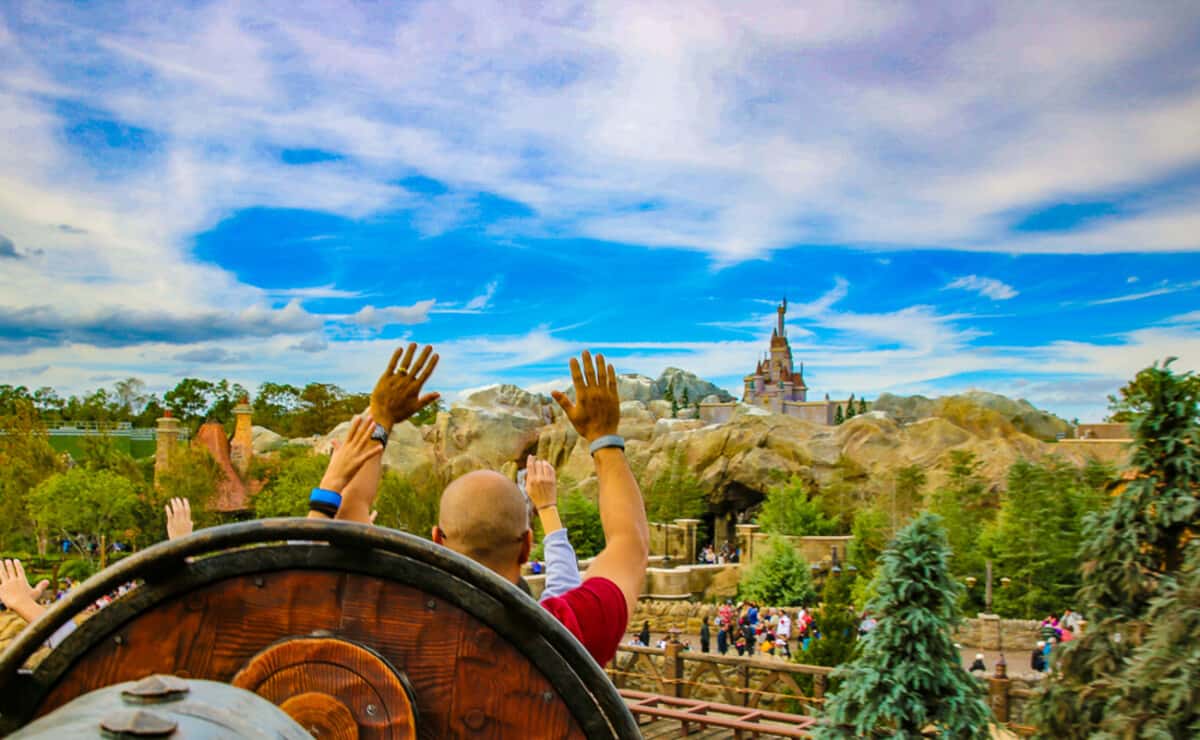 TRON Lightcycle / Run
This is the first new ride to be added to Magic Kingdom since the Seven Dwarf's Mine Train. This will likely be very thrilling for those who are comfortable with all of the coasters including Space Mountain. It's height requirement is four inches taller than for Space Mountain.
A virtual queue will be in place when TRON Lightcycle / Run opens. Guests will use the My Disney Experience app to enter the attraction by grabbing a space in the virtual queue. A standby queue will not be available. Guests may also purchase Individual Lightning Lane entry for this attraction while they last. Each Guest can enter the virtual queue no more than once per day during regular park hours.
Location: Tomorrowland.
Thrill factors? Sudden drops, fast paced, dark. For 48 inches and taller.
Big Thunder Mountain Railroad
Big Thunder Mountain is a classic roller coaster Magic Kingdom ride, and one that should definitely be on your to-do list.
This is probably the longest roller coaster in Magic Kingdom, and it's also the most mellow. Big Thunder Mountain doesn't experience any intense drops like Splash Mountain, or dramatic lights and darkness like Space Mountain.
Nonetheless, this is still a great coaster, and the lack of intense elements make it a good next move for younger kids who have decided they can handle the Barnstormer and want something more.
Location: Frontierland.
Thrill factors? Sudden drops, fast paced. For 4o inches and taller.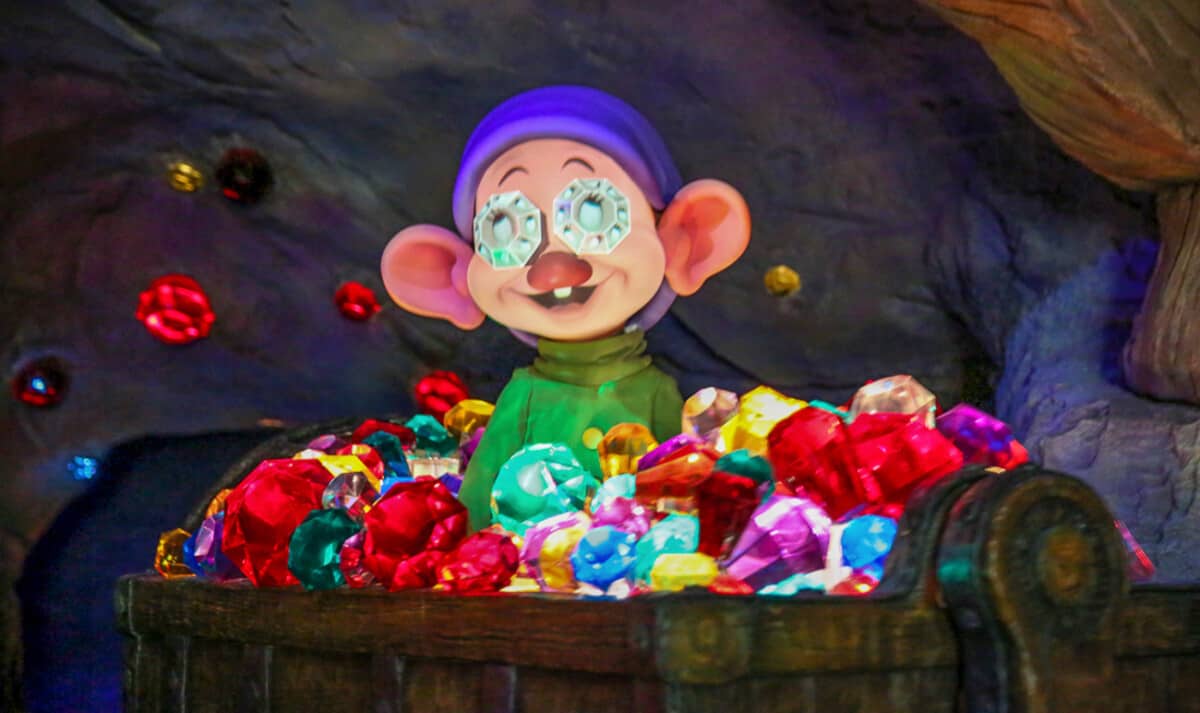 Seven Dwarfs Mine Train
The Mine Train is one of the best roller coasters in Magic Kingdom, although that is just my personal opinion. It's also the newest until the Tron roller coaster opens in the near future.
The ride is themed after Snow White and the Seven Dwarfs. Along with being scenic, it's also action packed and full of many drops and sharp turns, making the ride a thrilling experience.
The Mine Train has some intense drops and high speed turns, so small children or people who get motion sick will not do well on this ride.
The ride includes a photo opportunity that has given our family many cherished pictures of fear and glee.
Location: Fantasyland.
Thrill factors? Sudden drops, fast paced. For 38 inches and taller
Need Magic Bands? Head to
shopDisney.com
Space Mountain
Space Mountain is the fabled right of passage for kids who outgrow Dumbo and proudly board these tiny vessels for a roller coaster in near darkness. There are also bright, flashing lights, as well as fast drops are quick turns.
Although Space Mountain never goes upside down, it is the most intense roller coaster in Magic Kingdom (although Expedition Everest certainly takes the cake for the most intense coaster in all four parks). Tron will open in the near future and probably out thrill Space Mountain.
Location: Tomorrowland.
Thrill factors? Dark, flashing lights, sudden drops, fast paced. For 44 inches and taller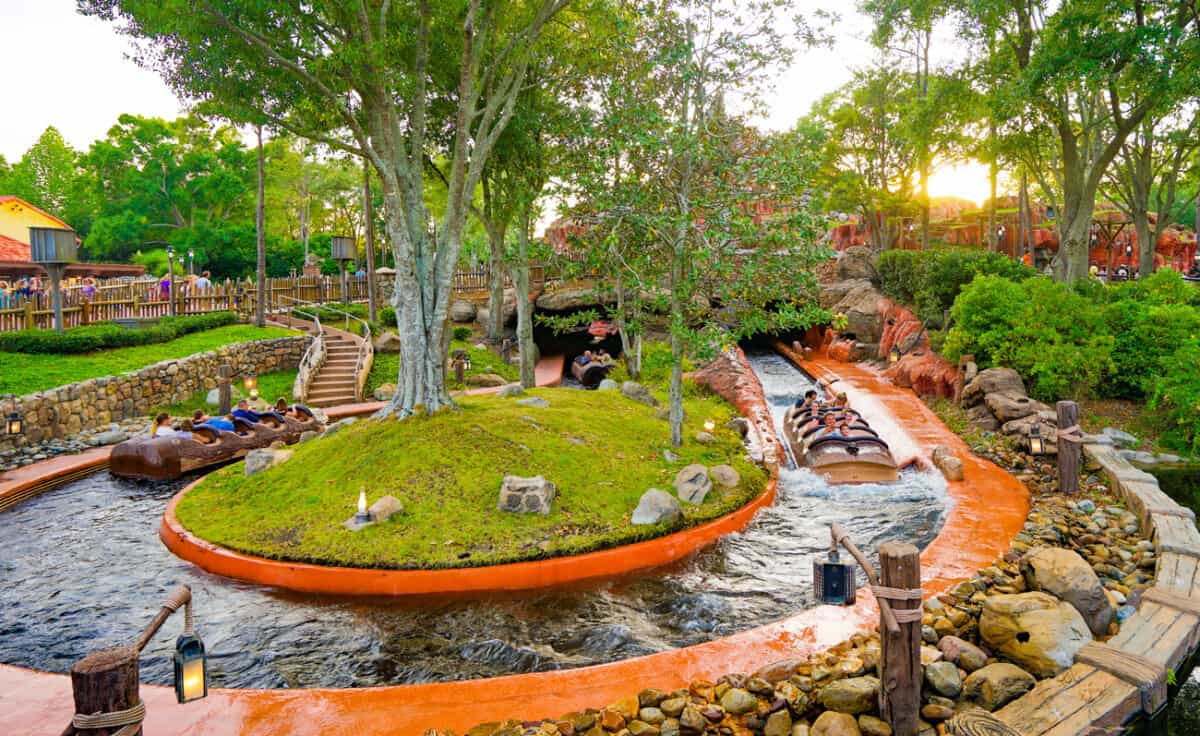 Splash Mountain-Under Refurbishment
The Magic Kingdom ride that will get you soaked, Splash Mountain, completes the list of mountain-themed coasters. Splash Mountain is the main water ride at Magic Kingdom.
Usually, the back and front seats don't get as wet as the middle does.
Most of Splash Mountain is very tame, and tells the story of a rabbit who gets caught by a fox then escapes. There are several small hills the log goes down saving the famous big drop at the end. I would not bring anyone aboard that is scared of heights. The ride can also be quite dark at times, so take that into consideration, too.
Location: Frontierland.
Thrill factors? Dark, sudden drops, heights.
Best Rides to Plan at Magic Kingdom
If you are a family with young children, prioritize these rides:
Peter Pan
Winnie the Pooh
Buzz Lightyear
Enchanted Tales With Belle
Princess Meet and Greet
If you have thrill seekers, focus on the four roller coasters.
Seven Dwarfs Mine Train
Space Mountain
Splash Mountain
Big Thunder Mountain Railroad
Tron or Pirates of the Caribbean
If you are booking for a large group of all ages, try these:
Peter Pan
Jungle Cruise
A Meet and Greet With Mickey at Town Hall (for a big group photo)
Tomorrowland Speedway
Dumbo
Now read our guide to the best hotels, VIP guides, planning tips, or restaurants at Disney World.
Or just let us do it for you! We can plan and book your entire luxury Disney vacation.
Tips for Saving Money on Your Disney World Vacation
1) Shop the Disney Store's great sale section!
Save money on select park merchandise and Magic Bands by buying ahead of time.
2) Book Accommodations with a Disney Vacation Club reseller
If you do not have a luxury budget, then we'll share one of our favorite secrets to save money. Book a Disney Vacation Club villa at a discount. We have had great experiences renting with David's. You will save hundred or thousands of dollars booking your stay with them. Reserve a studio or multi-bedroom unit for your family vacation.