Dubai is a fantastic destination for a family vacation. With luxurious hotels, beautiful beaches, and multiple theme parks, families have endless choices for fun.
To help persuade you, here are a few reasons why we have loved our regular family breaks to Dubai.
1. You'll feel like Royalty at a "7-star" tea
Sometimes referred to as the Las Vegas of the Middle East, Dubai has its fair share of bling and glitz. But unlike Las Vegas, has no gambling and casinos.
In fact, Dubai is home to some of the most spectacular hotels on the planet. And the best part is that many of them don't come with the price tag that you might expect.
Dubai is a popular vacation destination year round, with many indoor experiences once temperatures climb beyond 100 degrees from, May through September.
The approach to luxury in the best Dubai hotels is over-the-top by American standards. But this adds a whimsical layer of fantasy on vacation for even the most jaded travelers.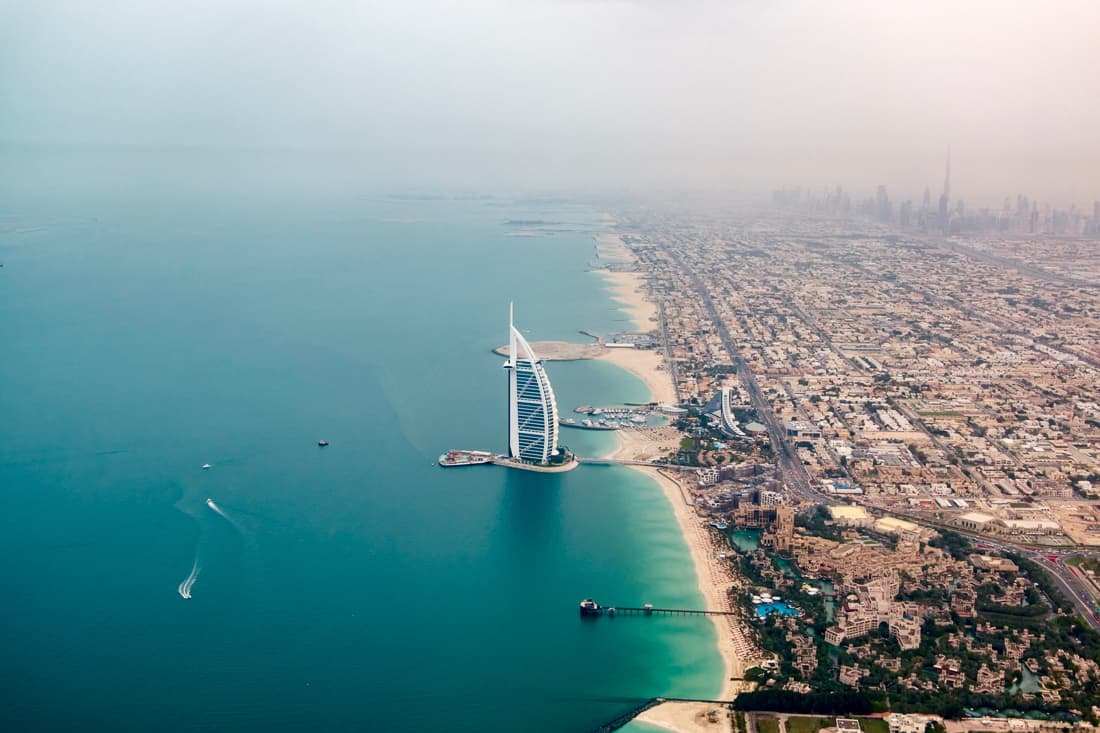 You can enjoy several 5-star hotel brands like the Park Hyatt, One&Only, Fairmont, the Waldorf Astoria, or Atlantis at pretty reasonable prices.
But Dubai is also home to the most luxurious hotel in the world, the Burj Al Arab. Despite having a five-star rating (because it doesn't officially go any higher), the hotel is often described as 'the world's only seven-star hotel.'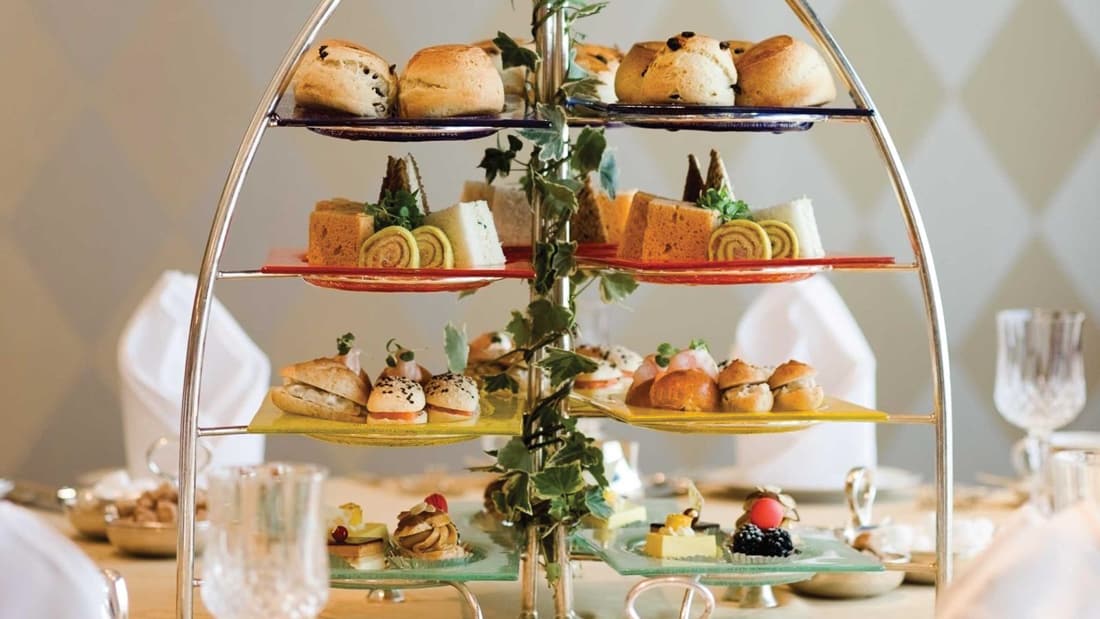 However, rooms at the Burj Al Arab Jumeirah do come with a hefty price tag, so if staying overnight is beyond your family's budget, take the kids for an afternoon tea experience instead.
2. The Family Amenities and Kids' Clubs
Dubai's luxury hotels have some of the finest children's amenities and kids' clubs anywhere. The Kids clubs at Atlantis The Palm, Four Seasons, Waldorf Astoria and Madinat Jumeirah are unmatched and will provide parents with a well deserved break to enjoy the spas for a few hours.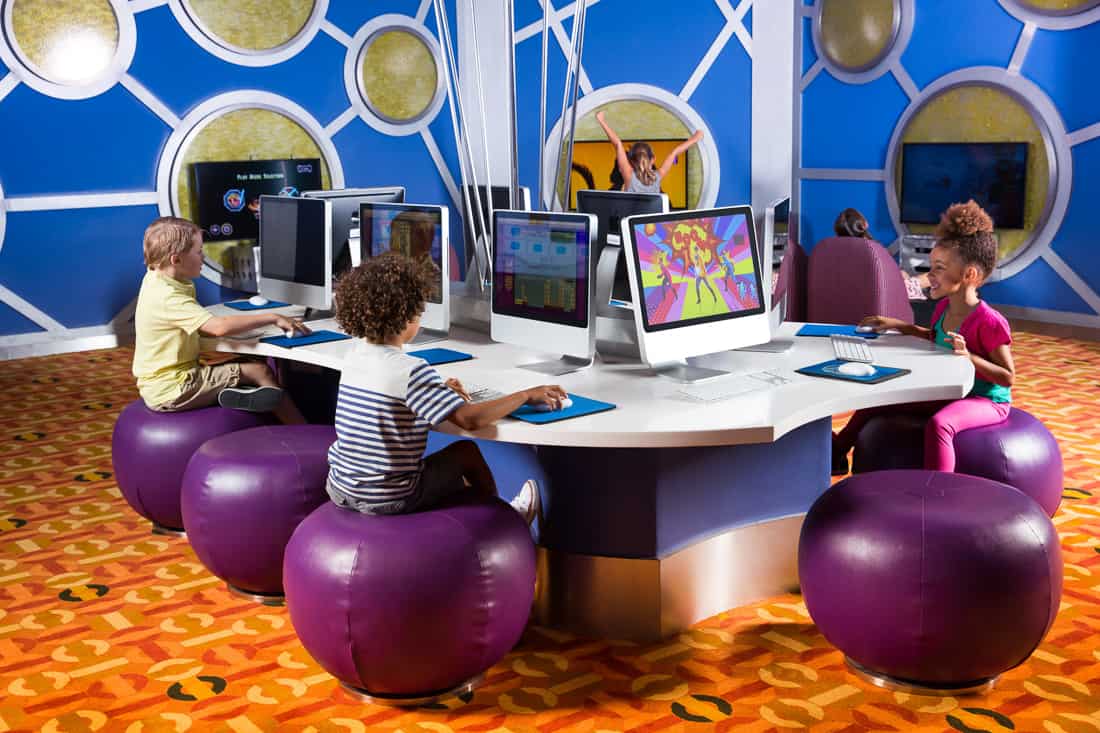 Some resorts offer authentic Arabian culture as the source of activities while others have built on site water parks for children.
They really think of everything to give your little ones a full cultural experience.
See our list of the best family hotels at the end of this article.
JOIN OUR LUXURY HOTELS & RESORTS FOR FAMILIES,
A FACEBOOK GROUP FOR SEEKING HELP AND INSPIRATION
FOR THE BEST LUXURY FAMILY BREAKS.
3. The Theme Parks
Dubai now boasts a number of exciting theme parks that will delight thrill seekers of every age.
Aquaventure at the Atlantis
Aquaventure is the water park belonging to the luxury hotel Atlantis, The Palm (day passes for non hotel guests are available) and is the self-proclaimed 'best water park in Dubai'.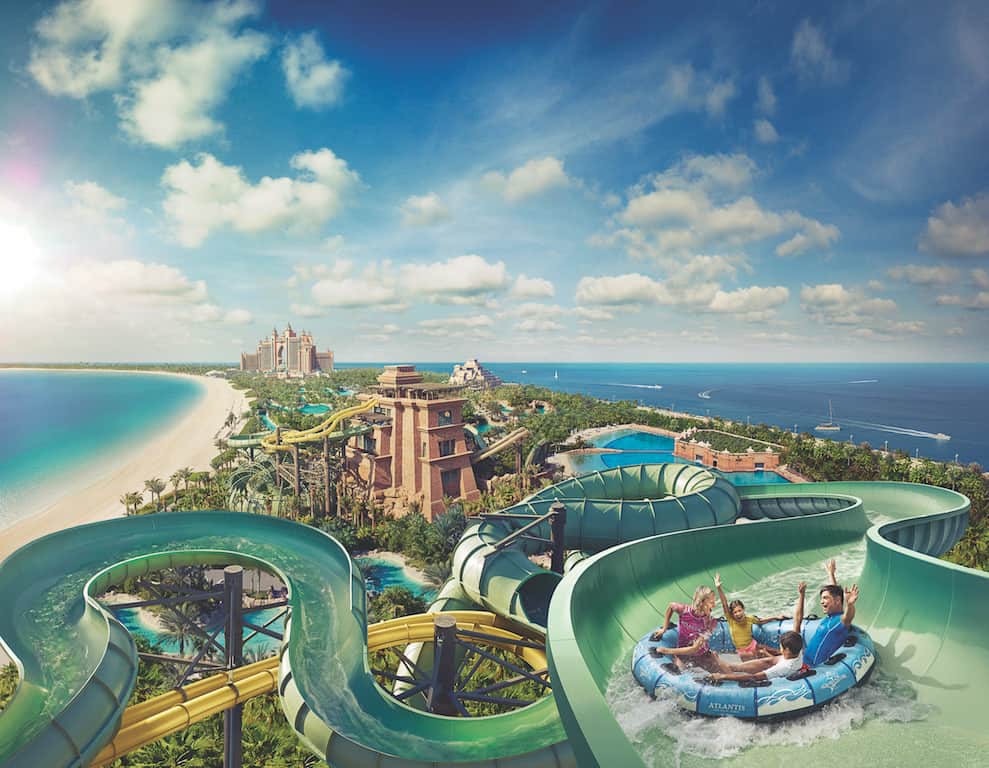 While some of the larger rides may be more suitable for adults and older children, there is also plenty to do for smaller kids such as the Splashers Children's Play Area.
At Aquaventure you can also get up close and personal with sharks and hand-feed Cownose stingrays. While I have been to both Atlantis resorts in Dubai and the Bahamas, they differ.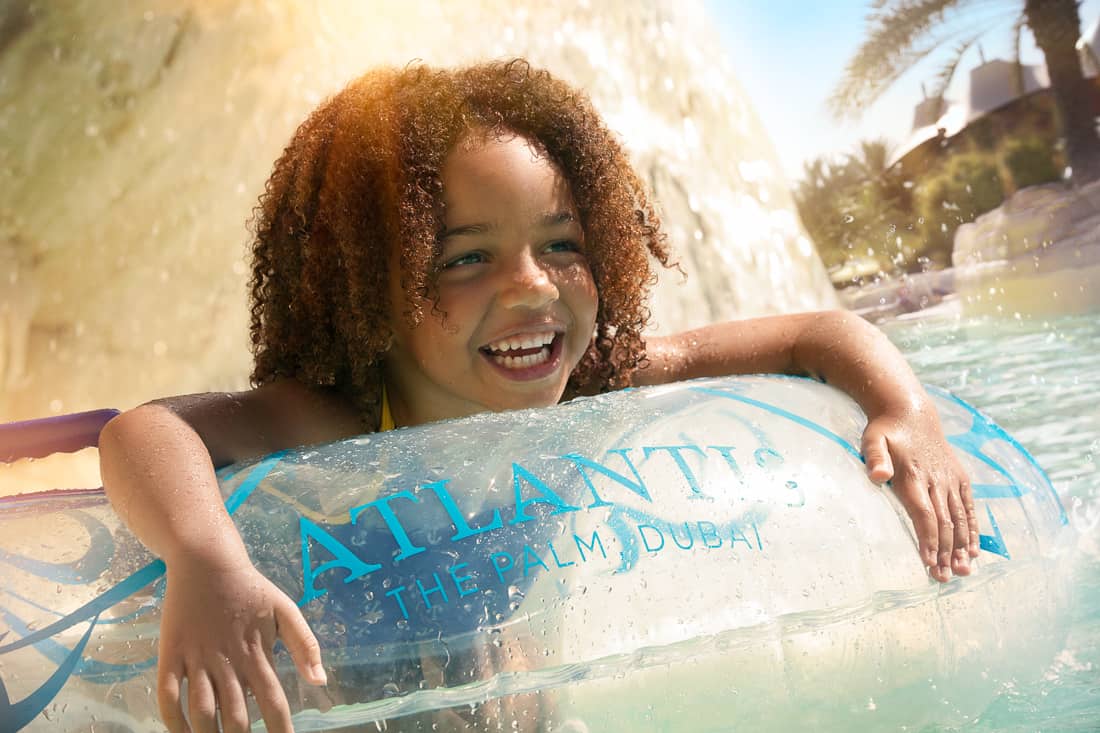 The Bahamas property offers the island's largest casino and has a large number of day guests from cruise passengers. The Dubai property has fewer crowds, better food, and a more luxury service experience.
IMG Worlds of Adventure
Dubai's latest opening, IMG Worlds of Adventure, has broken the record to become the World's largest indoor theme park. The park includes plenty of exciting rides and attractions themed around Marvel comics and Cartoon Network characters, from Powerpuff Girls to the Avengers.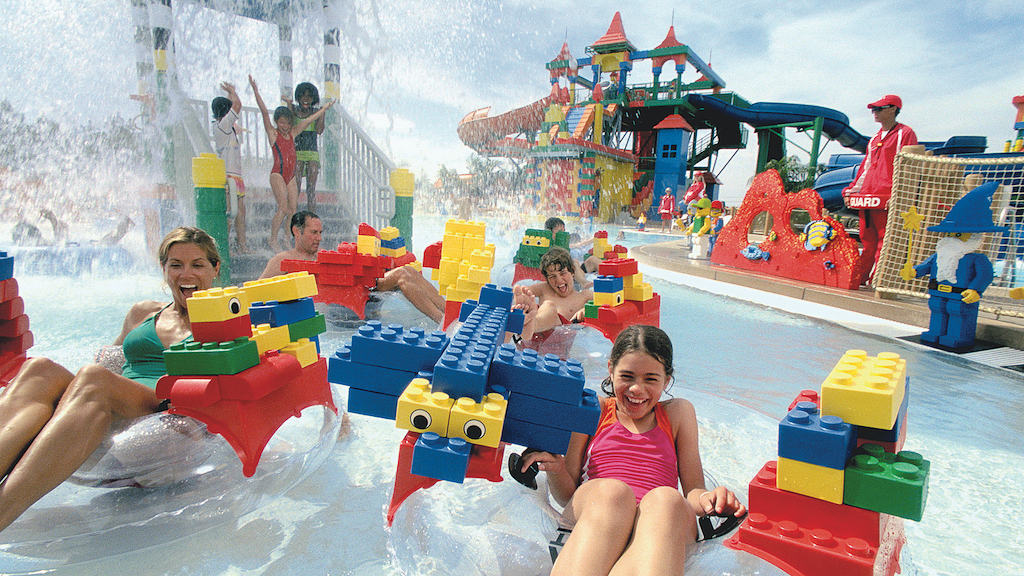 Legoland Dubai & Waterpark
Legoland Dubai is a fantastic family theme park that's perfect for keeping young children entertained for an entire day. Plus, the impressive Middle East-themed Miniland is sure to capture the attention of parents, too. Neighboring Legoland Water Park is also a fun place to take children, with over 20 Lego-themed water slides and attractions, including a unique lazy river where kids can build their own soft Lego raft.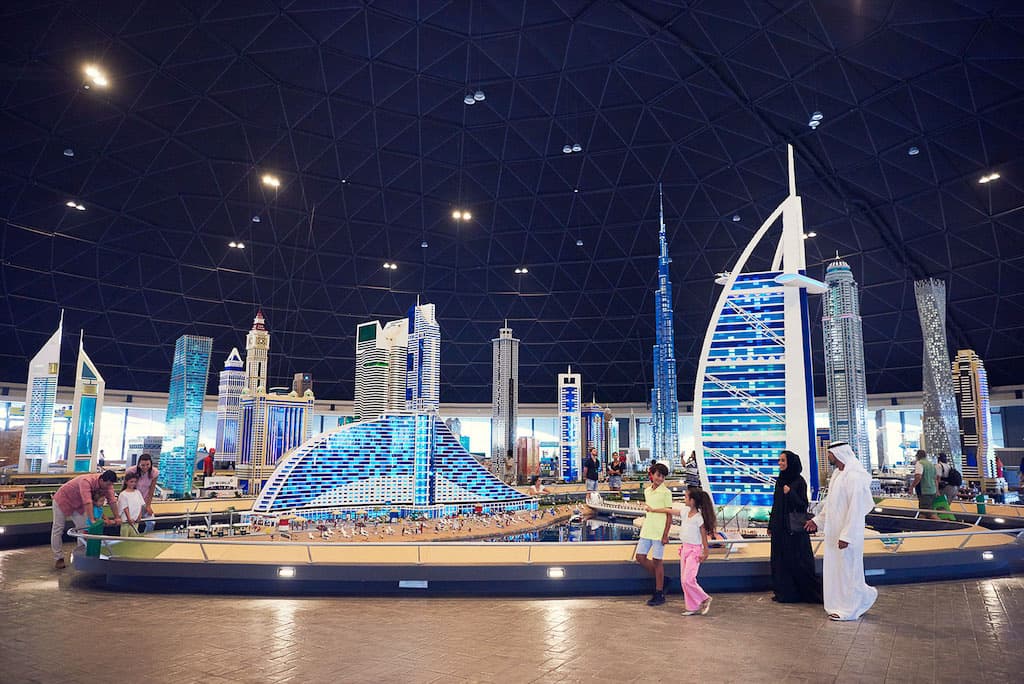 KidZania
For a truly unique experience, let children immerse themselves in a child-scale world at KidZania. Children choose roles and fulfill supervised tasks to earn currency after they arrive at the Kidzania airport with a boarding pass and 50 Kidzania dollars. This experiential program promotes independence and problem solving for those aged 4 to 14. There are several locations worldwide, with three planned for the US in 2019 and 2020: Dallas, Chicago, and New York. Parents can observe but not participate.
4. For a Magical Christmas Break
Yes, Christmas in the Middle East is a thing, and it's a pretty big deal, too. The streets and stores are illuminated with thousands of twinkling lights, and there's a Christmas tree around every corner.
The Tree Lighting Ceremony at the Irish Village
Start the holidays at the Irish Village, which is known for its annual Christmas tree lightning ceremony. The popular bar has two choirs performing traditional carols while the audience enjoy mulled wine and home-baked mince pies during the ceremony. Plus, children are welcome to join for the festive celebrations.
The Winter Garden Market at the Al Habtoor City
The Winter Garden Market at the Al Habtoor City is a magical Winter Wonderland at the Habtoor Palace Dubai our kids love! Start at the traditional market, enjoy family friendly activities, a kids' fairground, carol singing and festive food and drink.
The best part? In true Dubai fashion, Santa arrives at the Winter Garden Market each day in a luxurious red Bentley!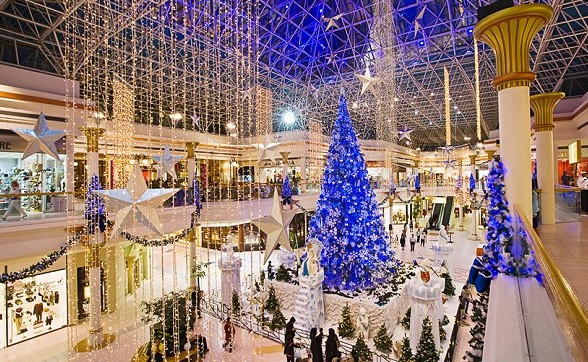 Christmas Shopping at Dubai's Malls
Having problems finding the right gift? Not in this shopping destination. Dubai is an internationally renowned for its stores and is home to a number of world-class malls with flagship brands from across the globe. Even if shopping isn't your thing, the malls in Dubai offer experiences you couldn't find anywhere else like Aquariums and underwater zoos.
The Dubai Mall boasts the world's largest and most visited shopping center. Mall Of The Emirates (MOE), Mercato Mall, Burjuman Mall and WAFI Mall are all great options for both shopping and special Christmas activities for kids throughout the month of December.
The malls have plenty to do at Christmas to keep the whole family entertained— beautiful festive decorations, holiday events, Santa's Grottos and more. The Christmas shopping spirit in Dubai outshines anything I have seen in the United States.
Jingle Bell Favorites at the Dubai Opera
Head to the Dubai Opera to listen to The GEMS Education Choir, made up of a talented group of 48 students, performing their annual Jingle Bell Favorites. Singing alongside the London Concert Orchestra Show Band and Capital Singers, the students perform Christmas favorites, including Silent Night, Santa Claus is Coming To Town and Winter Wonderland.
Christmas Dining Experiences
For those who love to eat, don't miss the chance to indulge in one of Dubai's many spectacular festive dining experiences.
Cirque du Cuisine at the Atlantis resort is a gourmet dining experience bringing together Christmas dishes and signature creations from the hotel's best restaurants. The event's Christmas themed circus decor comes with street performers, live entertainers and even a Santa's Grotto where kids can meet the big man himself.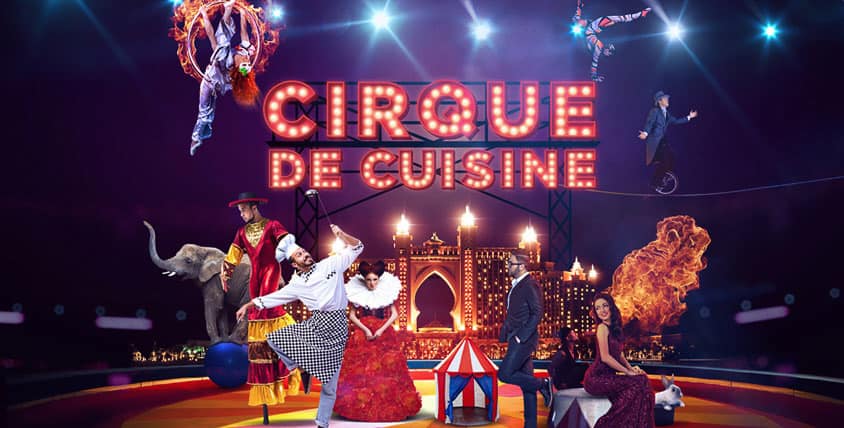 On Christmas we have enjoyed the the Ugly Sweater Christmas Day Brunch at the Mövenpick Hotel Jumeirah Beach and a Dubai style international buffet spread at the JW Marriott Marquis. For a really traditional turkey lunch that reminded us of home, head to the Fairmont which includes a kids' buffet and a visit from Santa.
5. Unique Dining Experiences
Dubai is a city of amazing and unique dining experiences. Where else can you and your kids enjoy a fine dining experience surrounded by 65,000 fish!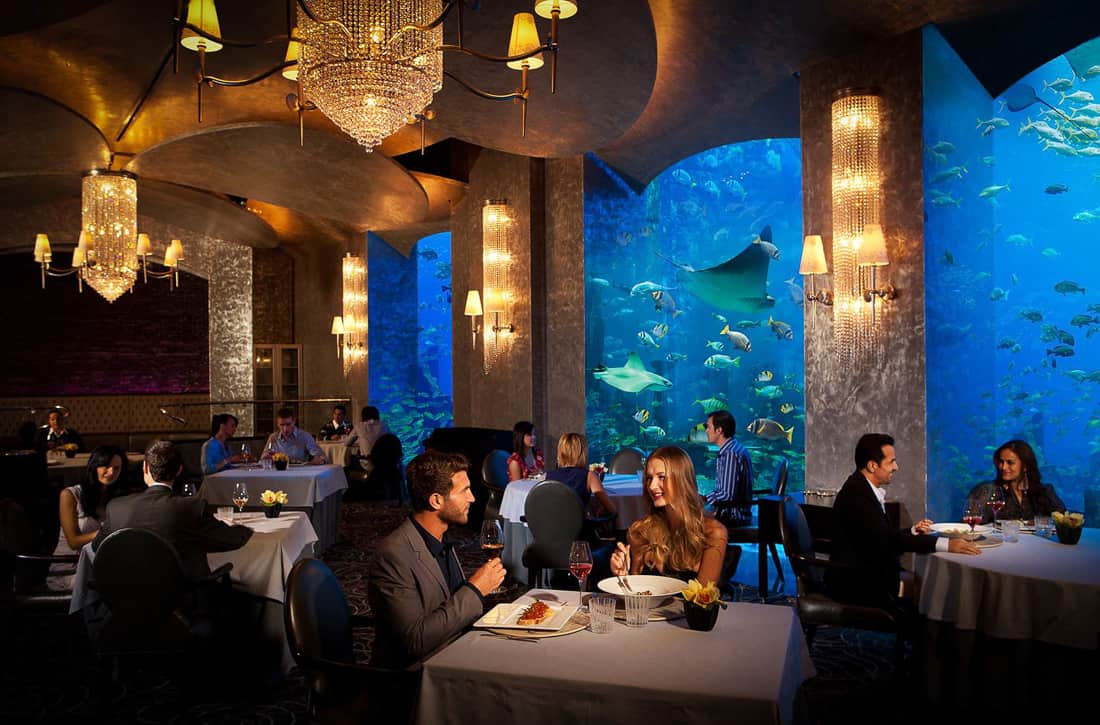 The Ossiano restaurant at the Atlantis Palms is one of many dining experiences unique to Dubai. The Ossiano hosts a weekly Underwater Afternoon Lunch for families each Saturday from 1:00pm to 3:00pm. In this one of a kind experience, guests of all ages can enjoy Chef Gregoire Berger's award winning cuisine with a delicious 3 course set menu (and a separate kids menu) whilst enjoying breathtaking views of the Ambassador Lagoon.
There are plenty of other dining experiences in Dubai that will delight both kids and kids at heart, from evening BBQ's in the dessert to dinner onboard a traditional middle eastern Dhow boat.
6. The Beautiful Beaches
Despite the abundance of large, modern skyscrapers, Dubai is also a beach vacation. The city has many beautiful golden sand beaches where you and your kids can enjoy some downtime building sandcastles or taking a paddle in the ocean.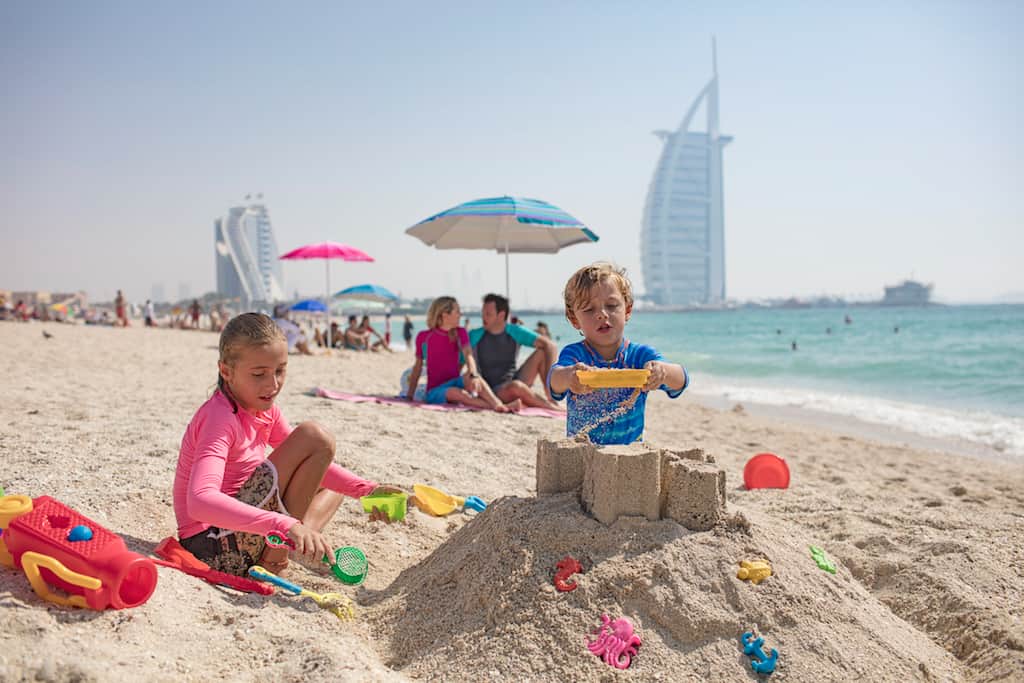 For public beaches try the Jumeirah Beach park. This area is surrounded by many beach resorts (see our favorites below), vendors, restaurant and market and long stretches of sand to splash and swim!
7. Skiing with penguins year round
From sand to snow, avid skiers will be happy to know that Dubai is also a great skiing destination. Ski Dubai is an impressive indoor ski resort with 22,500 square meters of snow covered slopes attached to the Mall of the Emirates.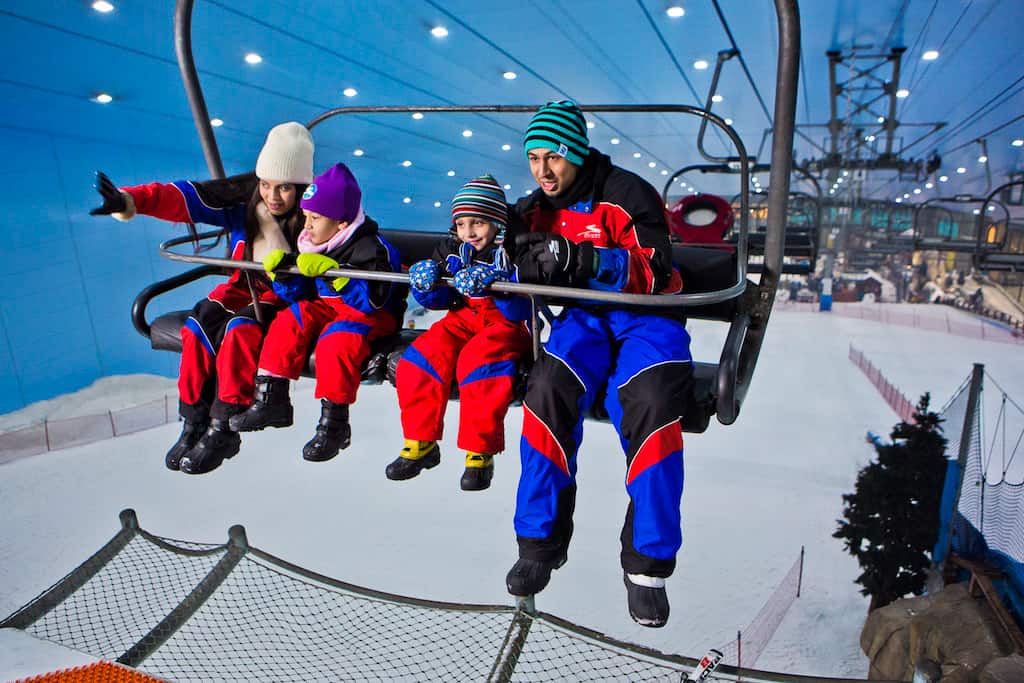 Ski Dubai affords you the ultimate Ski experience with the opportunity to ski, snowboard, toboggan, zip line and take a chairlift ride.
For the little ones who might not be confident enough to hit the slopes just yet, there's also plenty of other things to do in the Snow Park such as snowball fights and up-close encounters with Ski Dubai's resident colony of Gentoo and King Penguins.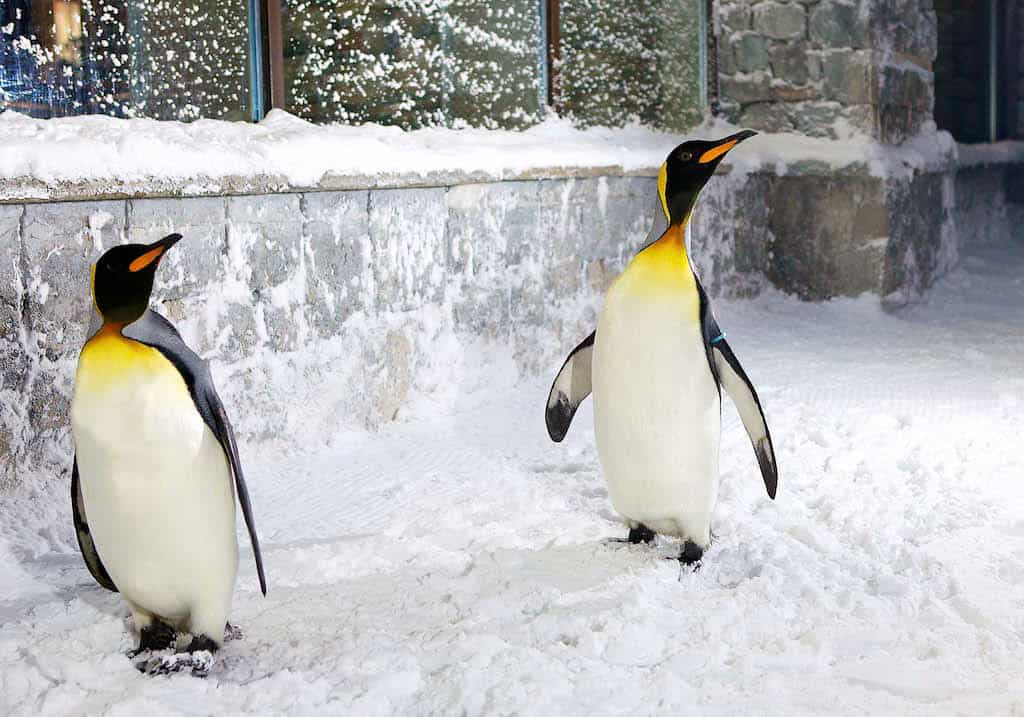 Plus, you can save space in your luggage and leave your ski gear at home, as tickets to Ski Dubai include all of the clothing and equipment you'll need.
8. Take a break from the city and go into the desert
Take a break from the city lights and head out to the desert for the ultimate glamping experience at the Al Maha, a luxury collection hotel.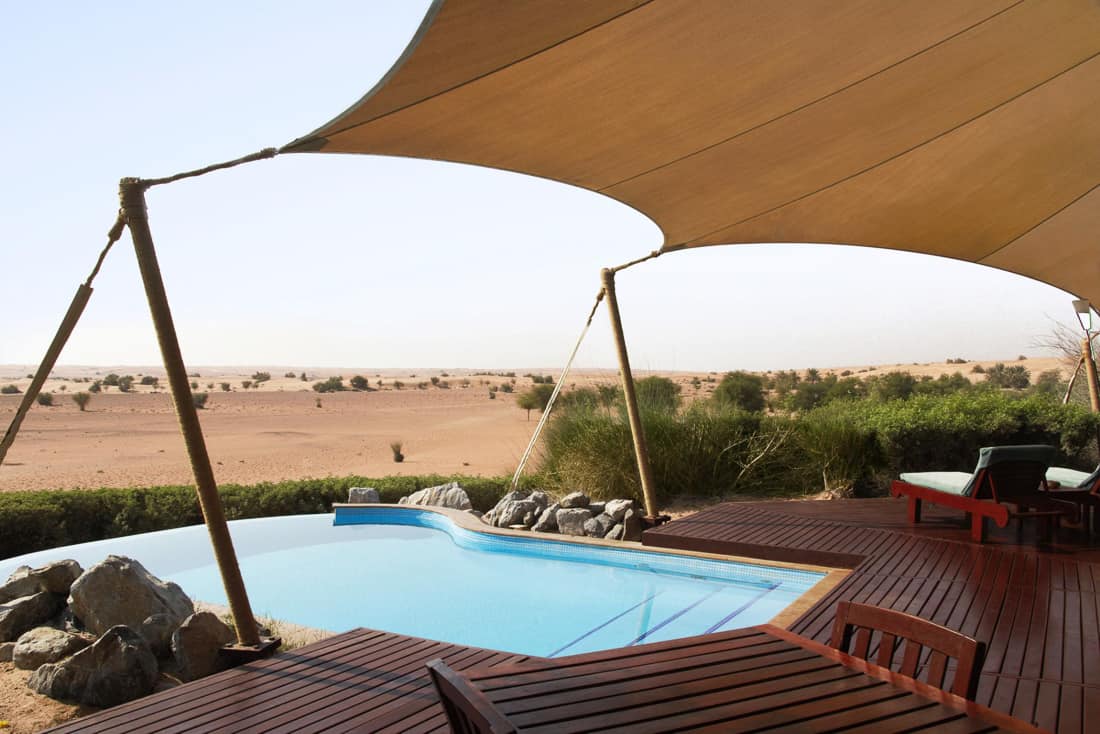 The desert resort is a 45-minute drive from the city, with lavish Bedouin style tents which combine the heritage of Arabia with the luxury experience Dubai is so well known for. Each tent even has its own private temperature controlled swimming pool. Book far in advance.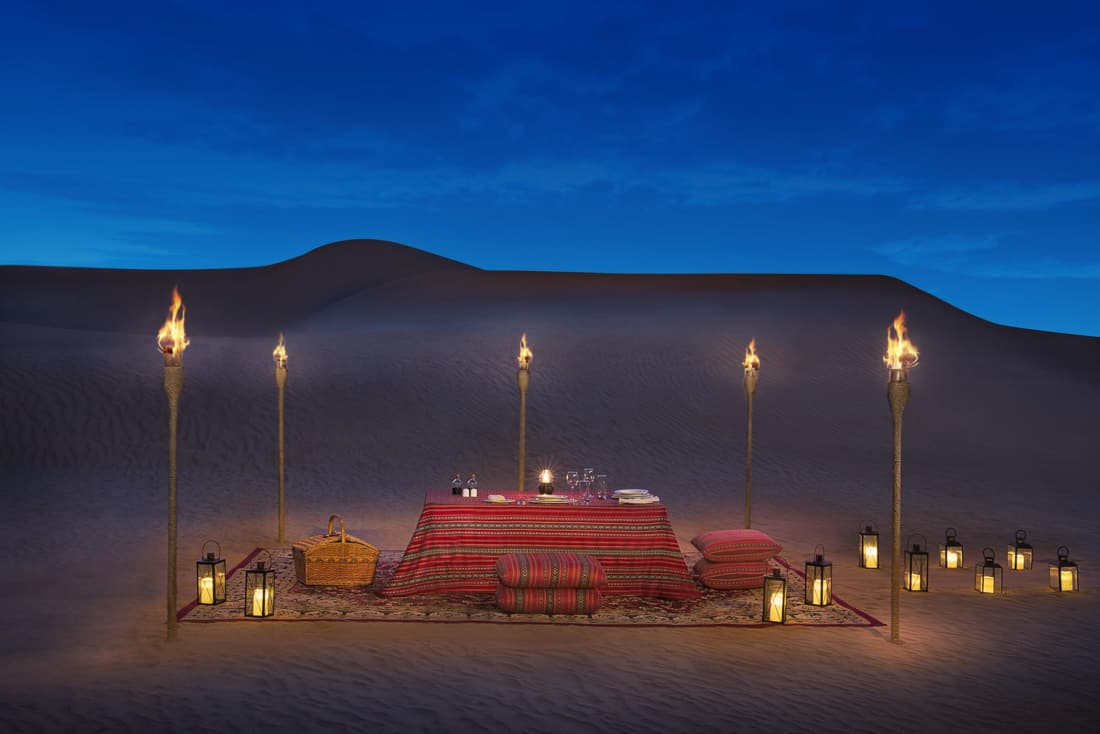 The resort has free roaming wildlife, guaranteed desert views and the chance for the whole family to join in with some exciting activities including camel rides, desert lunches, dune drives and falconry.
9. Climbing the tallest building in the world
Climbing The Burj Khalifa, the tallest building in the world, is an amazing experience that both adults and children will cherish for life. The 'At the Top, Burj Khalifa SKY' tour takes you all the way up to level 148, the world's highest outdoor observation deck at an astounding 555 meters, where you can take in the breathtaking views of the city below.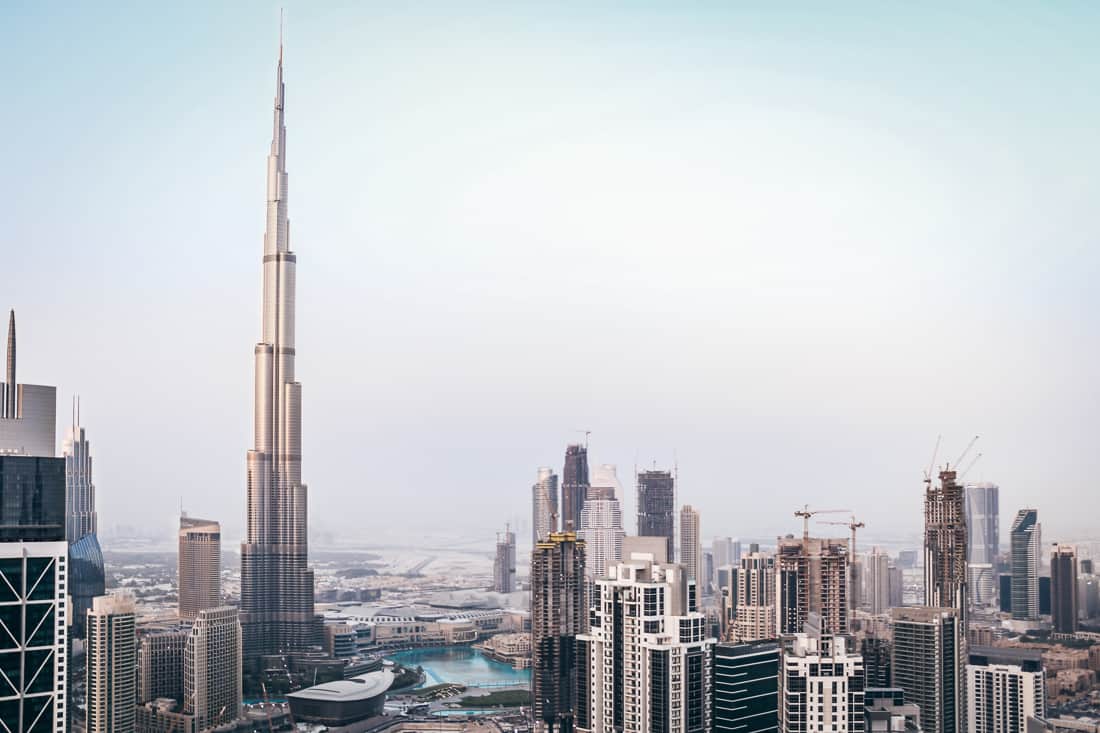 If your kids are not fond of heights like mine, there's still adventure for them. My kids' favorite part of the tour is the walk at the bottom of the building where they get to walk across large fountains screaming "Can we really walk in there? Yes, yes, you can!"
10. Witnessing a the gift of travel
Dubai is an exciting global luxury destination with everything from towering skyscrapers to beautiful beaches and traditional Spice Souks that will keep your whole family entertained.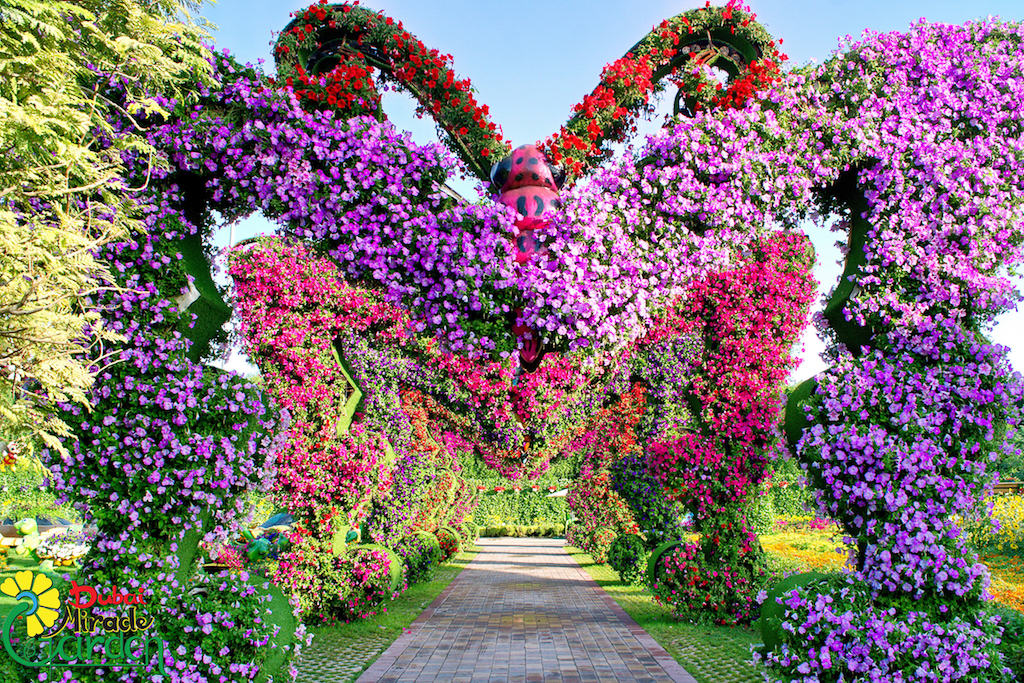 Dubai is called a Miracle Garden, a beautiful large botanical garden in the middle of the desert. The most meaningful miracle to me is seeing my family experience a completely new culture.
The Best Hotels in Dubai for Families
Nearly every global hotel brand has luxury hotels in Dubai. Jumeirah is the hometown luxury brand, so you will encounter several of its properties when choosing your Dubai hotels. Visitors can choose to base themselves at hotels near the Dubai malls or beachfront. Many are familiar with the man made island in the shape of a Palm, called the Jumeirah Palm where many resorts are located.
Resorts on The Jumeirah Palm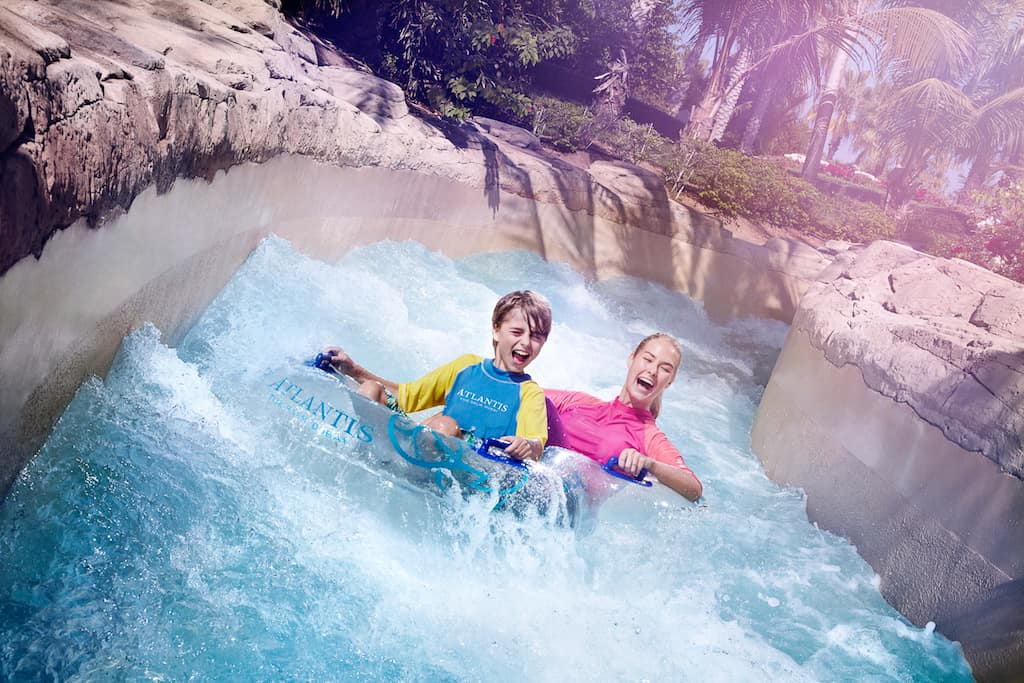 Atlantis, The Palm obviously offers a water park many Americans are familiar with. Those who have visited the Bahamas property will be impressed with the obvious upgrades and more luxe and exclusive ambiance at this property.
Standard king rooms include a sofa bed to accommodate two children. Families wishing to spread out can book a Terrace Family Suite with club lounge access, three bedrooms, and an impressive list of amenities including airport transfers and spa treatments.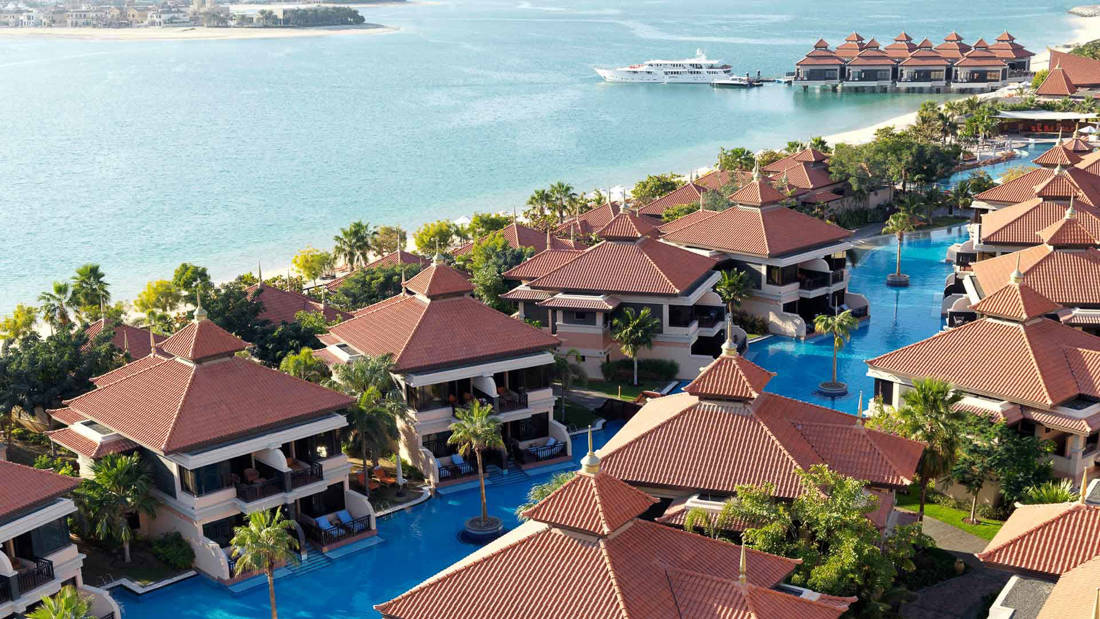 Anantara Dubai The Palm Resort & Spa is settle on one of the palm leaves in the archipelagos and brings this Thai brand's influence to the Palm Jumeriah section of town. Kids will enjoy the lagoon setting, a playground, and kids' club.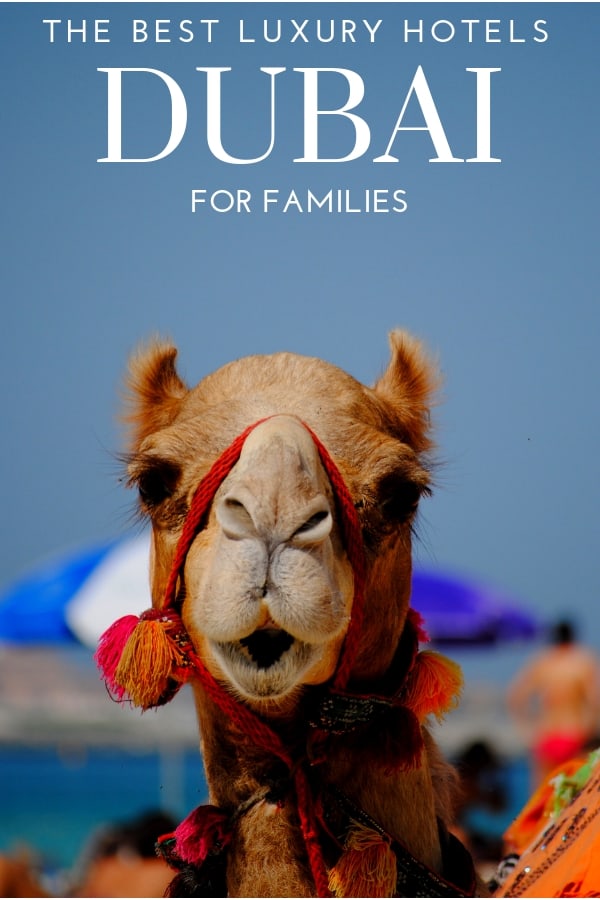 While the deluxe king rooms allow two children on rollaways and day beds, families will want to splurge for the over the water villas or the pool villas that include their own private pool.

Fairmont The Palm is a relative bargain among the luxury properties located on the Palm. Entry level rooms with two queens can take families of four, but the family apartments with kitchens and large living areas might appeal to most. The Fairmont Falcons' Kids Club accepts children 18 months to 16 years of age.
Hotels in Downtown Dubai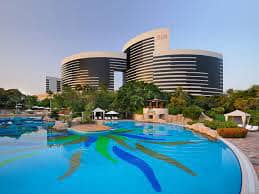 Grand Hyatt Dubai offers a kids' club and family pool with splash areas in the middle of the commercial area near the Dubai malls. Family rooms are special in that they contain two king sized beds. The hotel offers a club level, too, and the rooms come at a moderate price.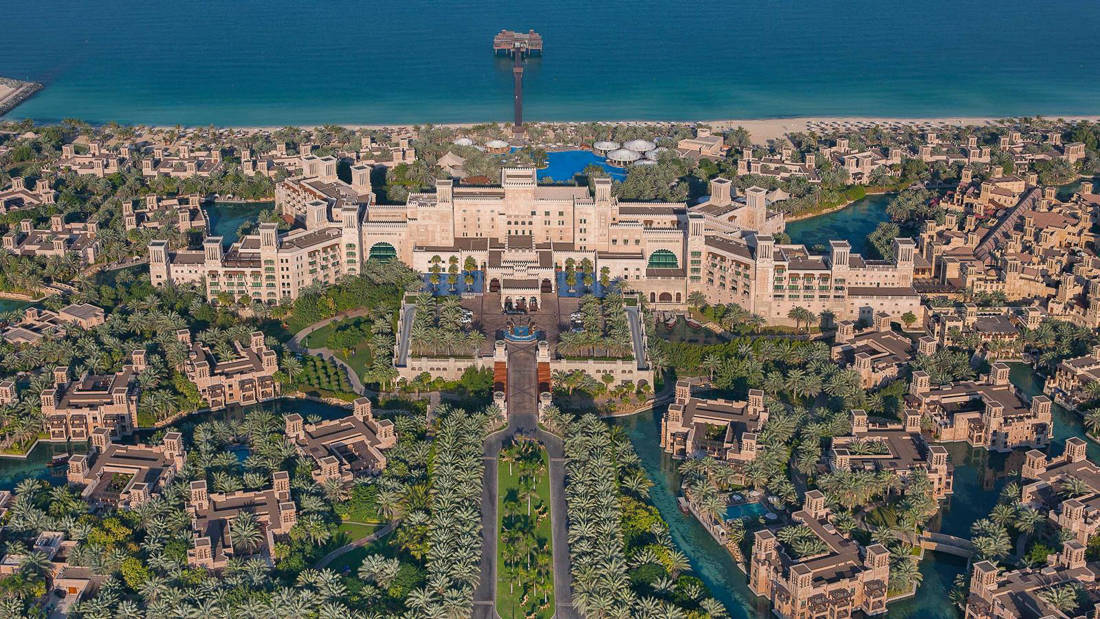 The Jumeirah Al Naseem at Madinat Jumeirah is centrally located and Standard king rooms feel like palace guest rooms and accommodate two children, and rollaways are permitted. Family Suites have a separate bedroom and come with free access to the Summersalt Beach Club.
The resort also boasts the largest kids' club of the area Jumeirah hotels. There's both the Sinbad Kids' Club as well as a smaller water park on site.
Guests receive free access to the nearby Wild Wadi Water Park by water taxi. After the water parks head to the Souk Madinat Jumeirah for excellent shopping.
Other Dubai Beach Hotels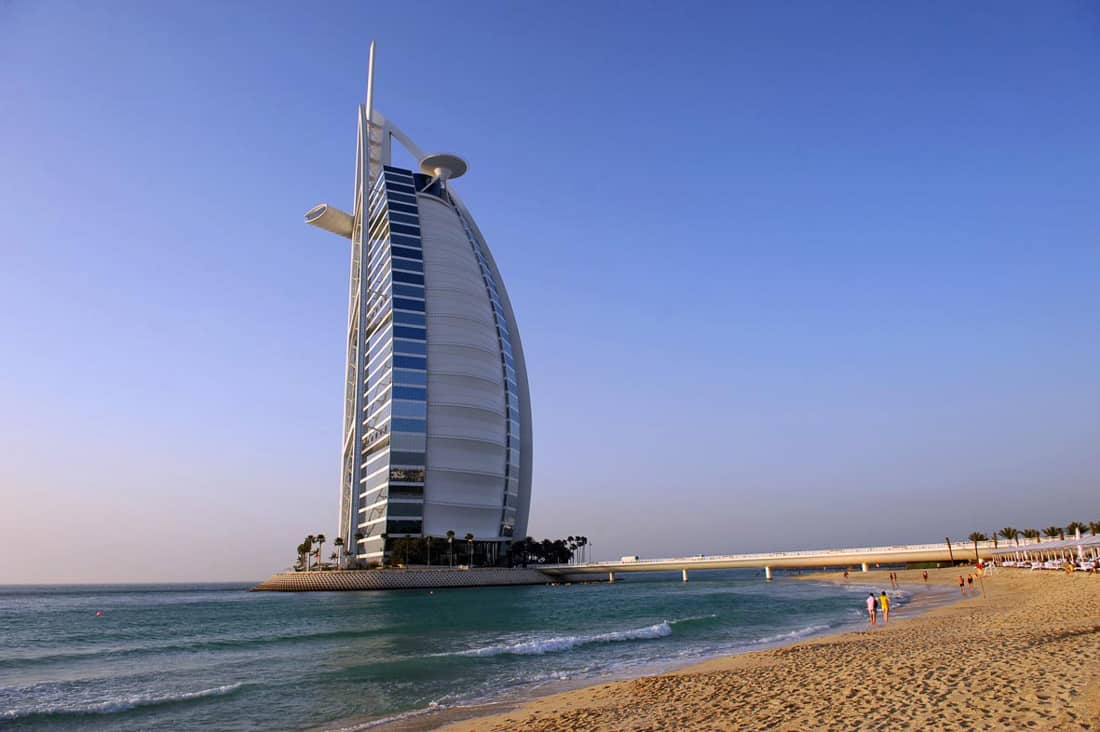 Burj Al Arab Jumeirah is the iconic property considered the seven star hotel in Dubai when five stars didn't feel like enough. This striking sailboat-shaped building is an all-suite hotel, so there is plenty of room for families.
There's a kids' club on the 18th floor for children aged 1 to 12 years old, but guests have access to use the more expansive kids' club facilities at the nearby Jumeirah Al Naseem.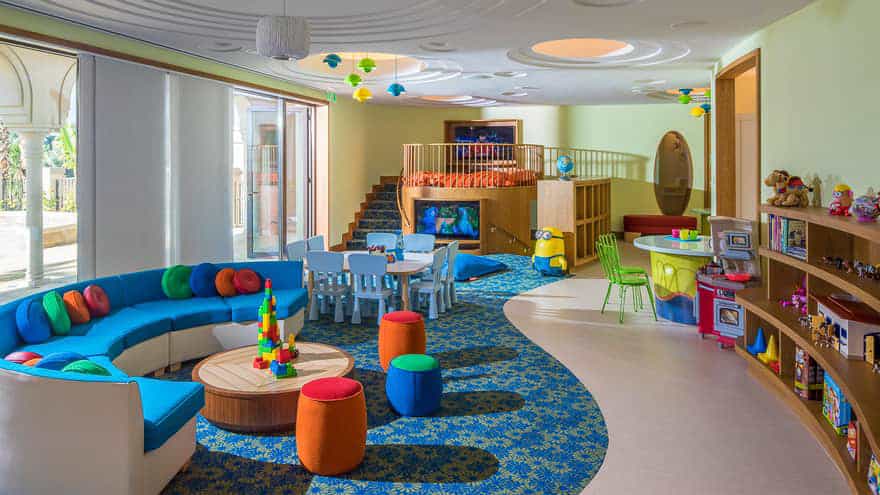 Four Seasons Resort Dubai at Jumeirah Beach offers its Kids for All Seasons kids' club complimentary for all guests, and the club is open late on Thursdays and Fridays for parents to enjoy a special meal alone. Families of four must reserve two connecting rooms or a junior suite.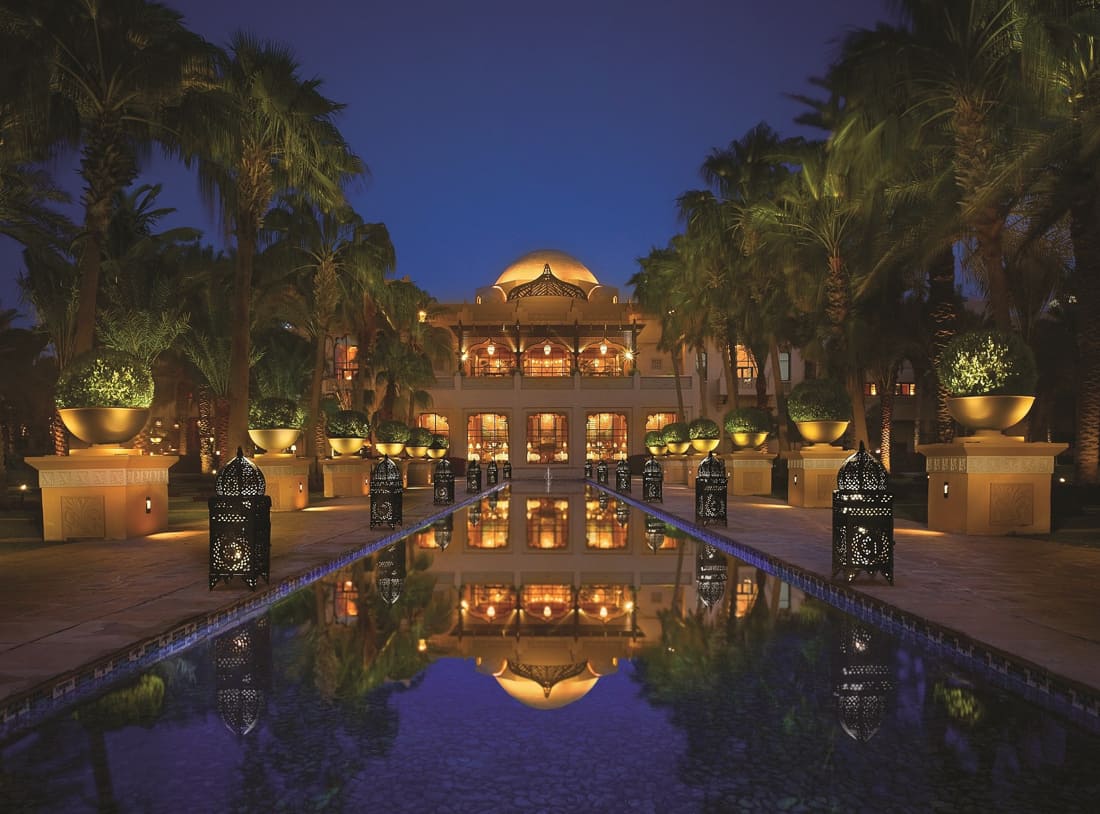 The One&Only Royal Mirage Dubai is a lovely choice to celebrate Arabian culture and design. This Kids Only club serves children aged 4 to 11 with a variety of activities unique to this part of the world. Camel riding, henna painting, Arabic lessons, dessert camp fires, and belly dancing are all options. The resort also offers two playgrounds.
Family Rooms at the Royal Mirage are connecting rooms for families of four. Parties of three can add a rollaway bed.