Some resorts have a lot of hype around them, but it is helpful to know if they are worth the splurge when they cost significantly more than other options. After reading this review of the Four Seasons Maui Hawaii, vacation budgets might increase because you may want to experience it for yourself. I'll cover the rooms, restaurants, and what to do at this crown of Wailea Maui resorts.
The first season of HBO's The White Lotus introduced several guests of questionable character, but there was no uncertainty about the stunning locale at which it was principally filmed: The Four Seasons Maui, Hawaii. The Wailea resort area generates the biggest buzz on this island, and the Four Seasons reigns supreme.
Like many, I'd hear the show's theme music, admire the palm-leafed wallpaper shown in its opening credits, and wonder when we would get to Maui.
Well, we did, and it was glorious.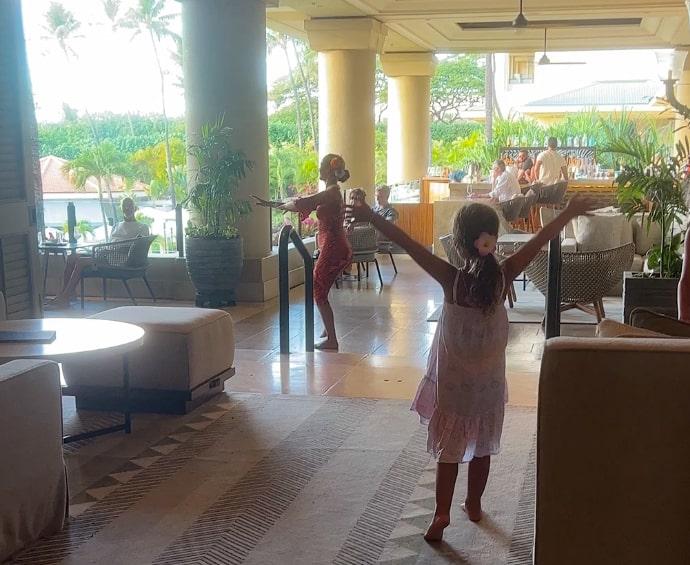 Read The Best Hotels in Hawaii for Families for the best on all the islands.
Your senses let you know that you are on vacation as soon you enter the property. Live music is playing, a dancer performs a traditional hula, and a young girl twirls in solidarity. The cool and serene style of the Four Seasons Maui is evident right away; the open-air lobby feels more like a living room with its tranquil but unstuffy vibe. Enjoy your welcome beverage of Awapuhi Pake, a mixture of lemon juice, simple syrup, ginger, and mint.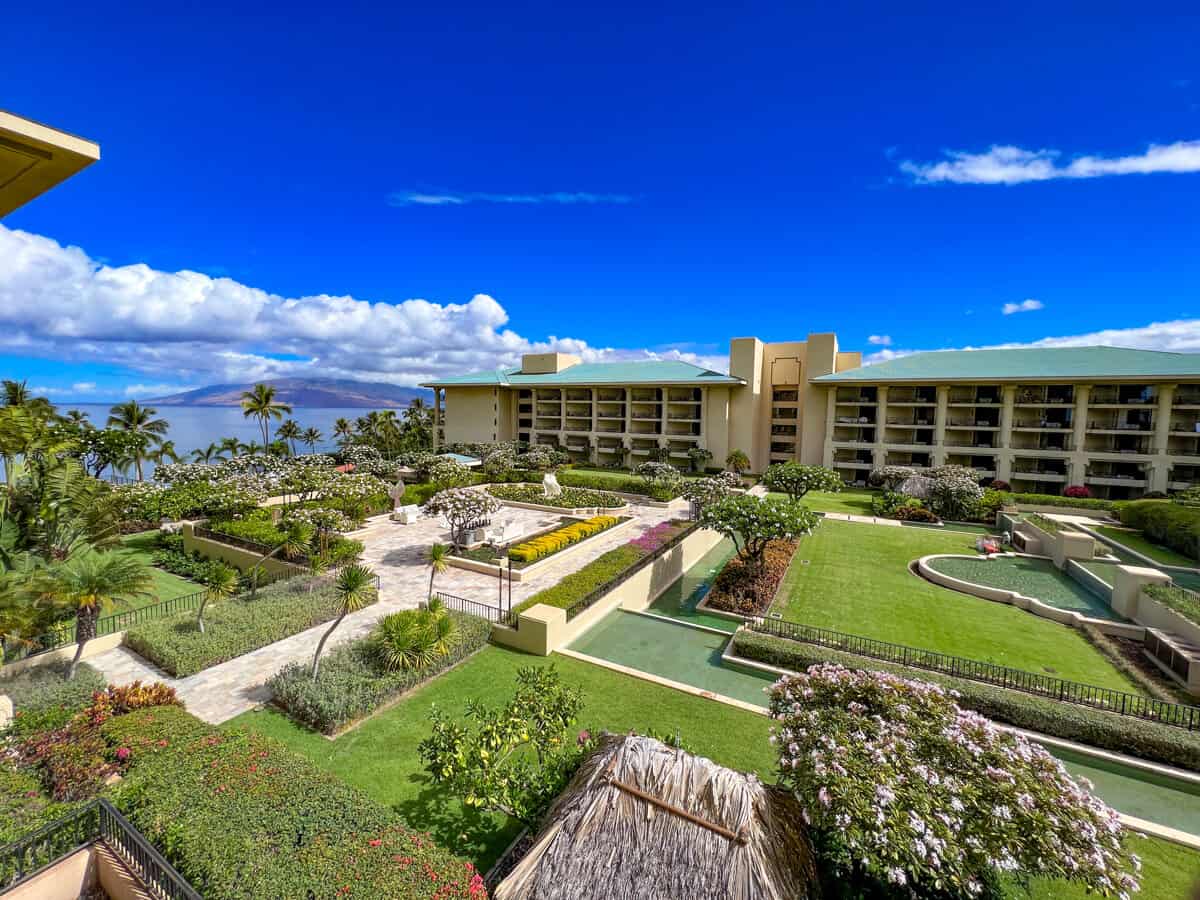 Closest Airport To Four Seasons Maui?
Located an easy twenty-five minute drive from Kahului Airport (OGG), the property offers resort shuttles and cars to and from the airport. Car rentals are a must if you wish to explore other parts of the island.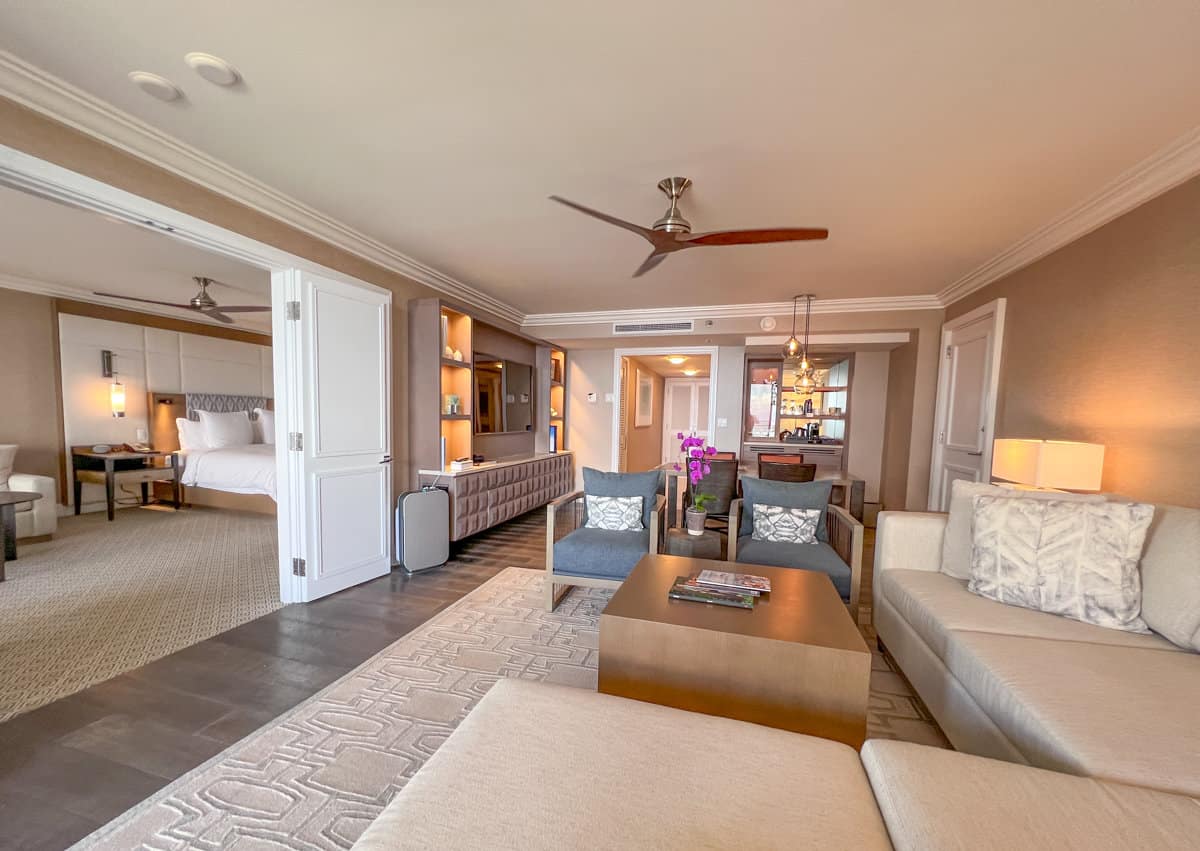 Choose The Four Seasons Maui Rooms That Fit
Even standard guest rooms start at a generous 600 square feet in size, with pricing based on the quality of the view. The resort's U-shaped building has a lovely garden in its center.
JOIN OUR LUXURY HOTELS & RESORTS FOR FAMILIES,
A FACEBOOK GROUP FOR SEEKING ADVICE AND INSPIRATION
FOR THE BEST LUXURY FAMILY BREAKS.
Mountain-Side rooms are on the "outer" portion of the building, generally overlooking the West Maui mountains, however, in some instances, they offer a parking lot or roadway view. For this reason, Garden-View rooms are superior (Deluxe Garden-View even better). Ocean-View rooms and Deluxe Ocean-View rooms have nice side views of the Pacific, particularly from the balcony.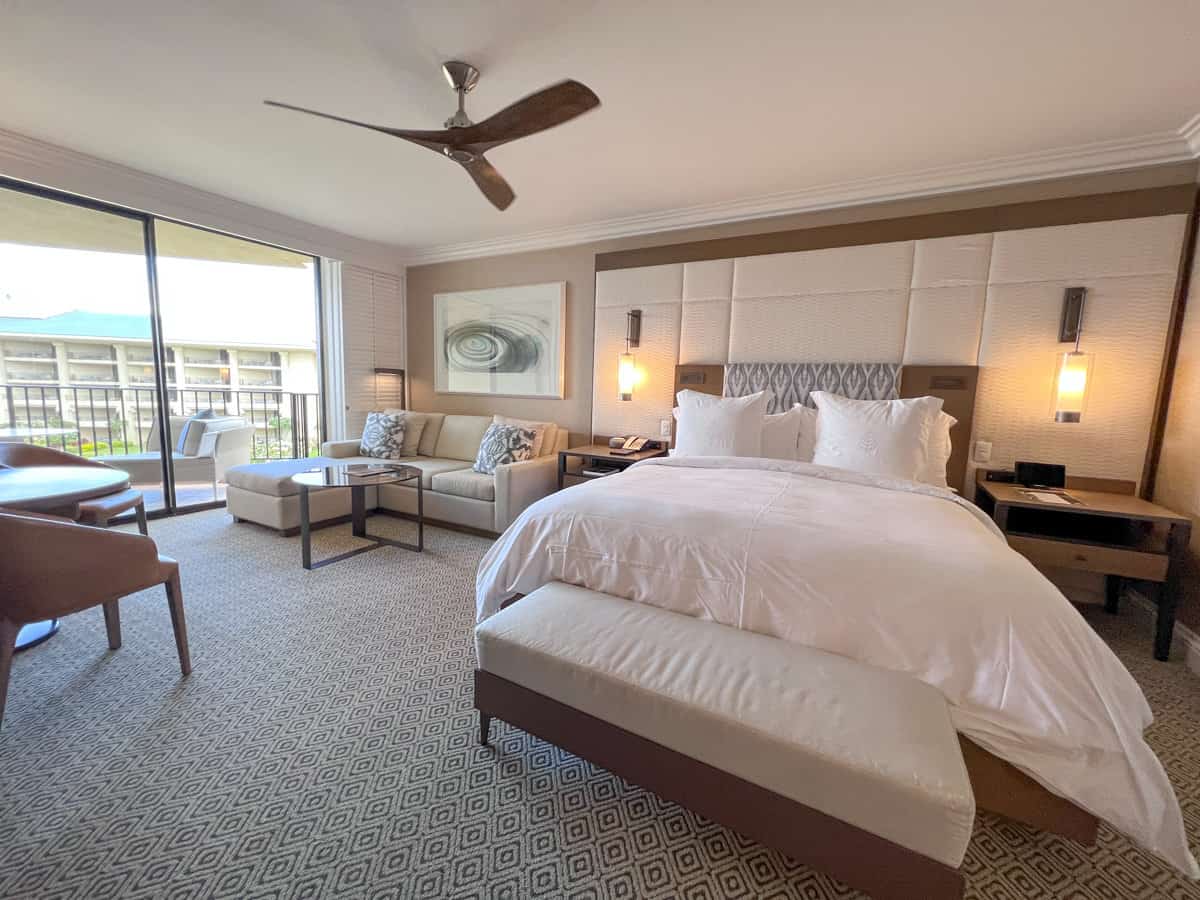 Every room at the property offers a private balcony/lanai, an essential touch in a part of the world that has no mosquitos – yet another wonder of Hawaii. Coffee makers are Nespresso, and bath products are from Lather.
Small suites range from 840 SF to well over 4,000 SF for the largest rooms. The Presidential Suite can accommodate as many as eight adults or six adults and six children. We stayed in a Deluxe Garden-View Executive Suite which feature the bedroom separated from the general living area (this area also doubles as additional sleeping quarters via a sofa/pull-out queen bed). We also had a dining and seating area with a table for four.
The marble bathroom was spacious and akin to those you'll find elsewhere at a Four Seasons luxury hotel; deep soaking tubs, separate showers and a pair of wide sinks. You can even set your own style of music to pump into these marble bathrooms including, of course, traditional Hawaiian songs. There's that calm Maui vibe again that pervades this property — even when you're brushing your teeth.
Discovering The Four Seasons Maui Club Floor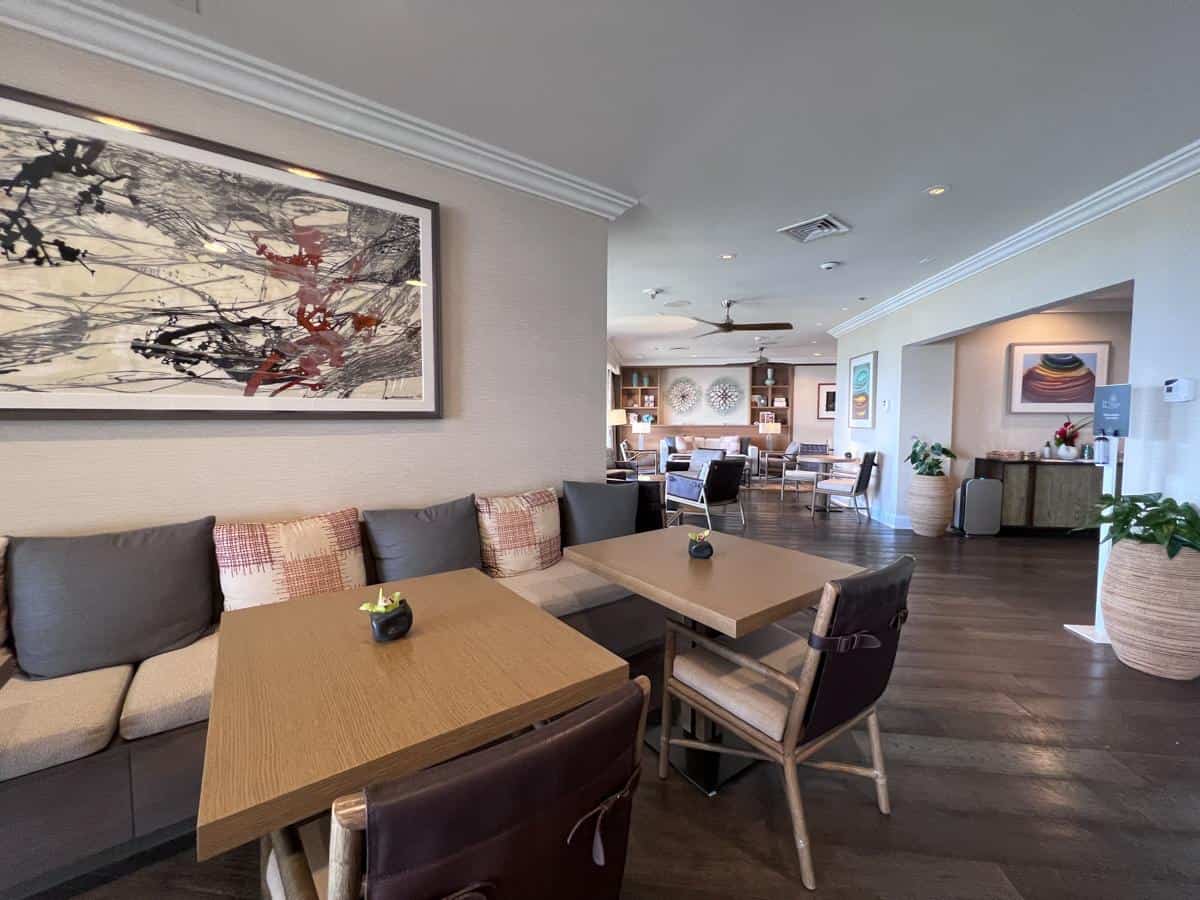 A select number of rooms on a Club Floor can be designated with access to the Club Lounge. Guests in a Club-level room can visit the lounge to enjoy made-to-order breakfast, a mid-afternoon tea, cocktails with Hors d'oevres in the early evening, and later, dessert and after-dinner drinks. It's a nice place to recharge between meals but, be warned, little ones will have no shortage of reachable sugary snacks that parents may have to monitor.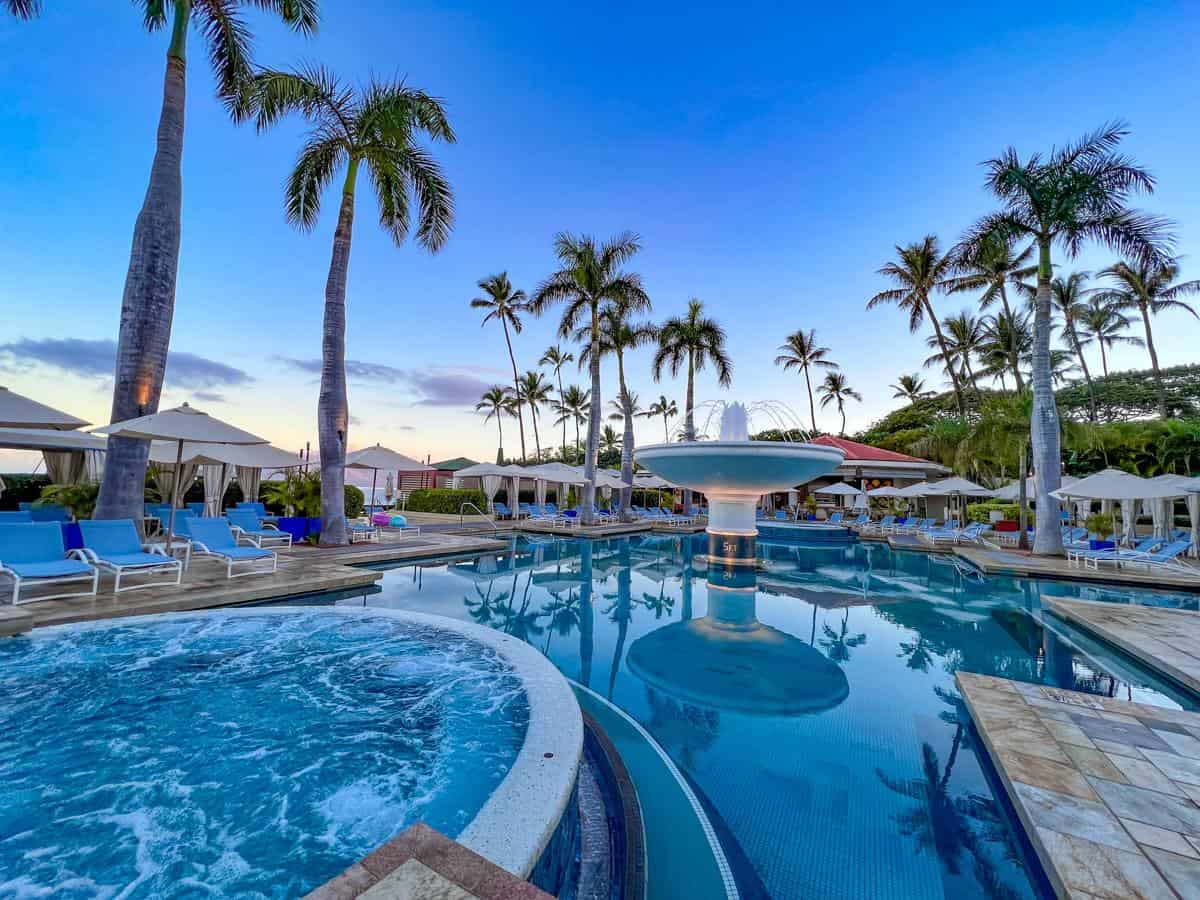 The Pools
At the main fountain pool for families, the cabanas and lounge chairs are complimentary and available on a first-come, first-served basis. We had no issue finding one available for our use. Kids raced around the main pool area with its hot tub and central fountain feature. There's a smaller family pool with a waterslide for younger children nearby, too.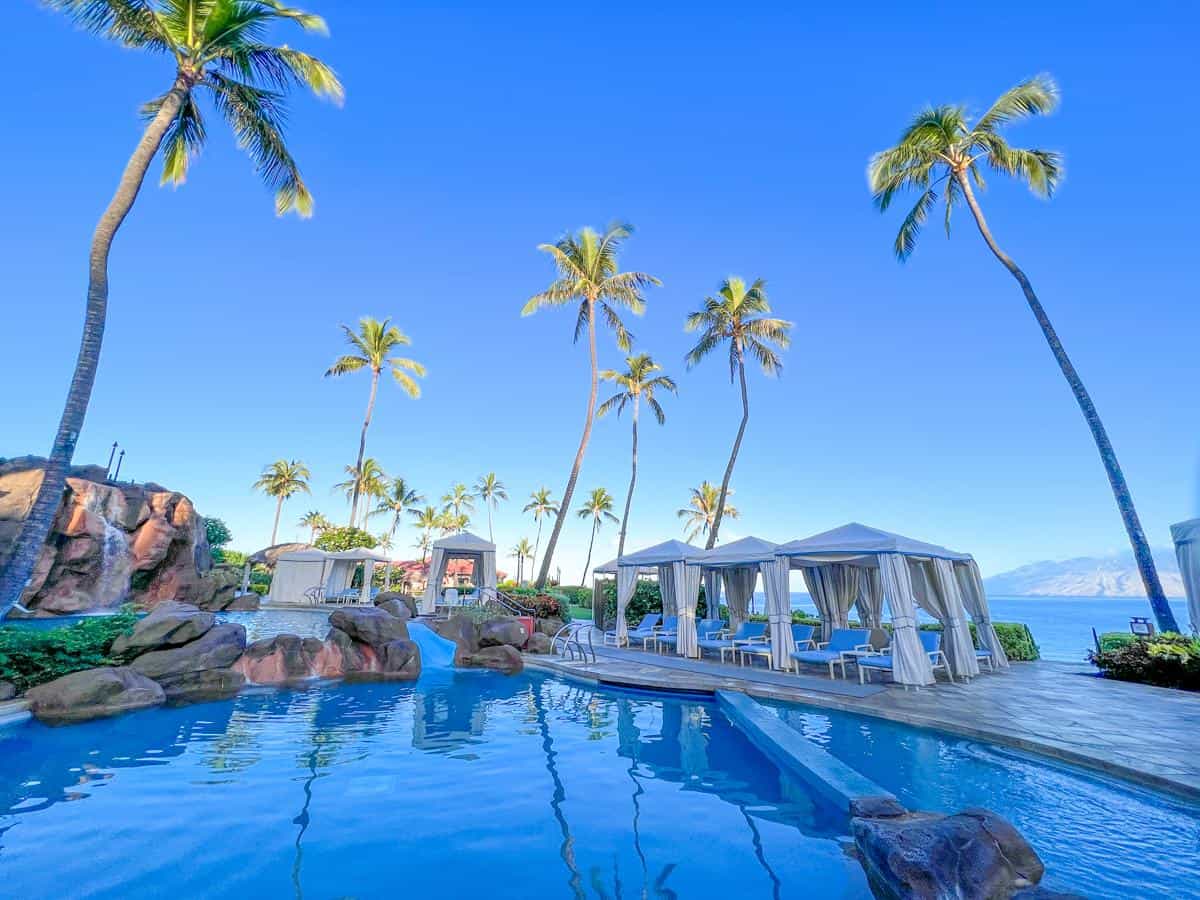 Staff in all areas were attentive and guests can enjoy poke bowls, fish tacos, or other pool-side staples.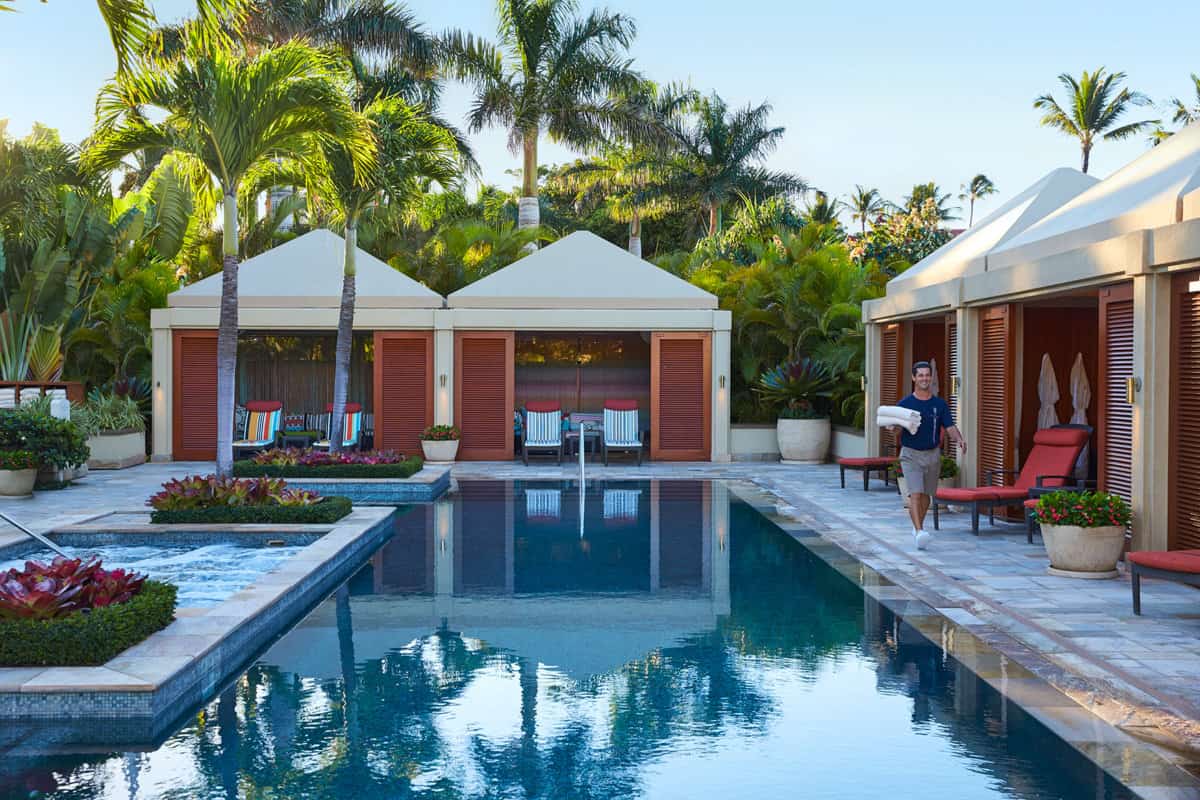 However, the adults-only Serenity Pool is fairly small in size and felt crowded even in the late morning hours. This infinity pool with a swim-up bar, featured in White Lotus scenes, fills up quickly.
Embrace The Beach at the Four Seasons Maui
Golden-sand beaches with palm trees help justify the long flights and time change when traveling to Maui. As an added plus, Wailea Beach does not allow motorized sports in its warm waters; no motor boats or Jet Skis will disrupt the serene vibe.
There was virtually no surf at the time of our stay, so even littler ones could wade at the ocean's edge. My son and I sat in the sand with the water rushing over our legs, occasionally shuffling forward to float in shallow, warm water. New England waters can be too cool for long soaks and southern beaches with occasionally too strong of a surf, but this was an ideal setting, to talk and relax and connect in such stunning beauty.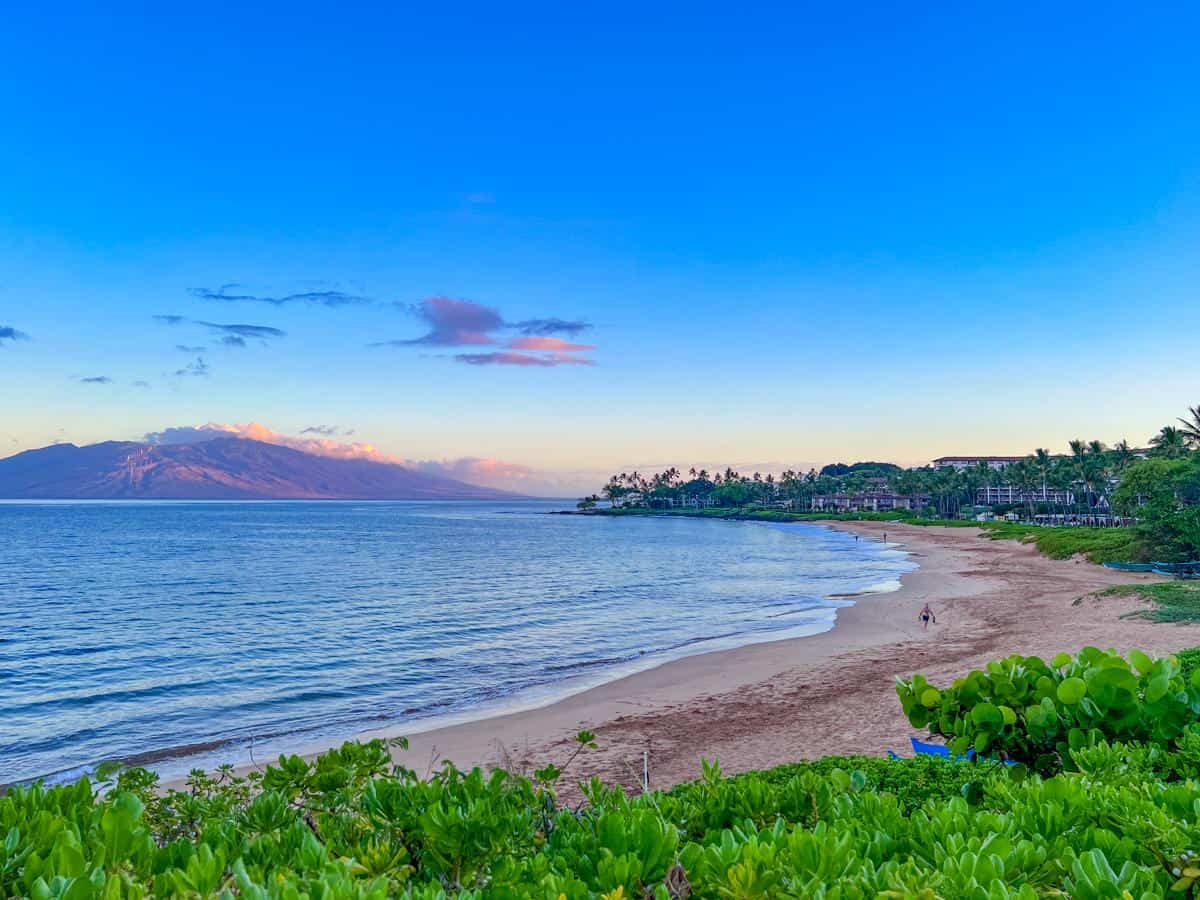 Dining at Four Seasons Maui Restaurants
There are several dining options at the resort, available without the need to leave the property.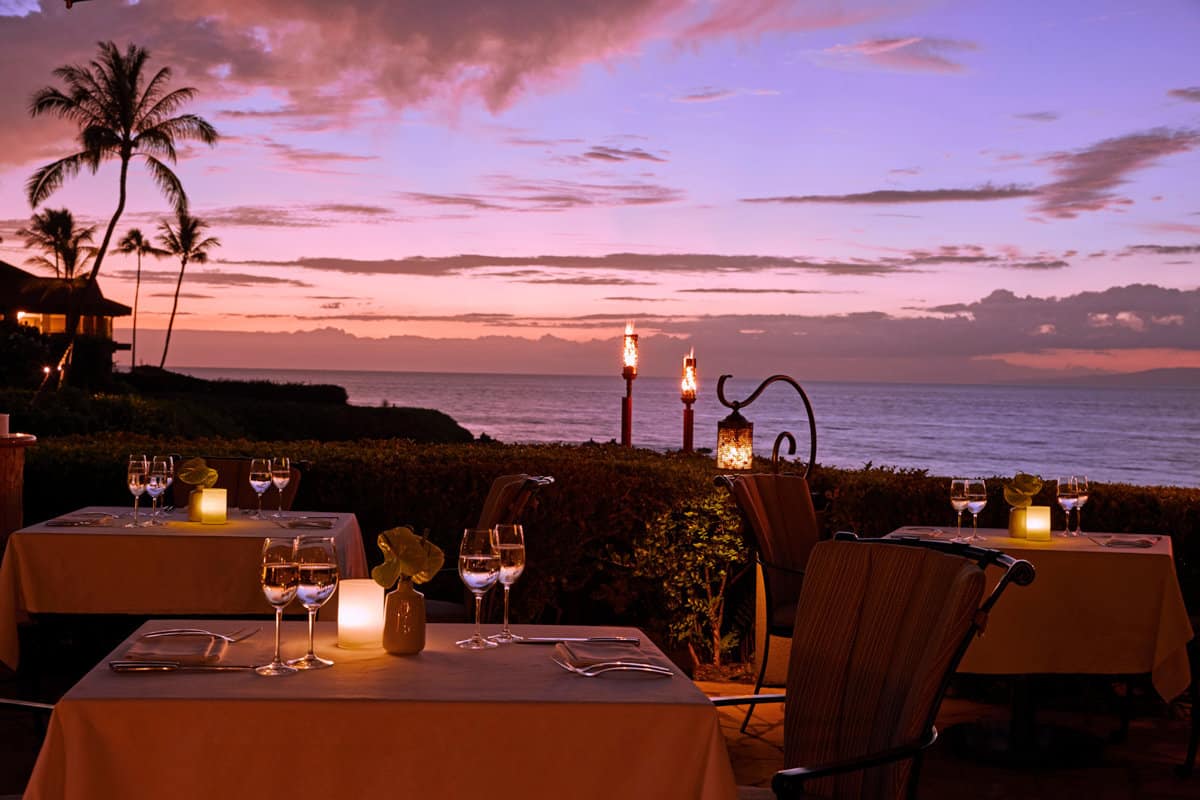 Ferraro's Bar e Ristorante, the resort's contemporary Italian restaurant, serves both lunch and dinner. Billing itself as Wailea's only oceanfront restaurant, the view during our sunset meal was spectacular and we enjoyed a menu that focused on pastas and fish. There are full menus for kids and teens.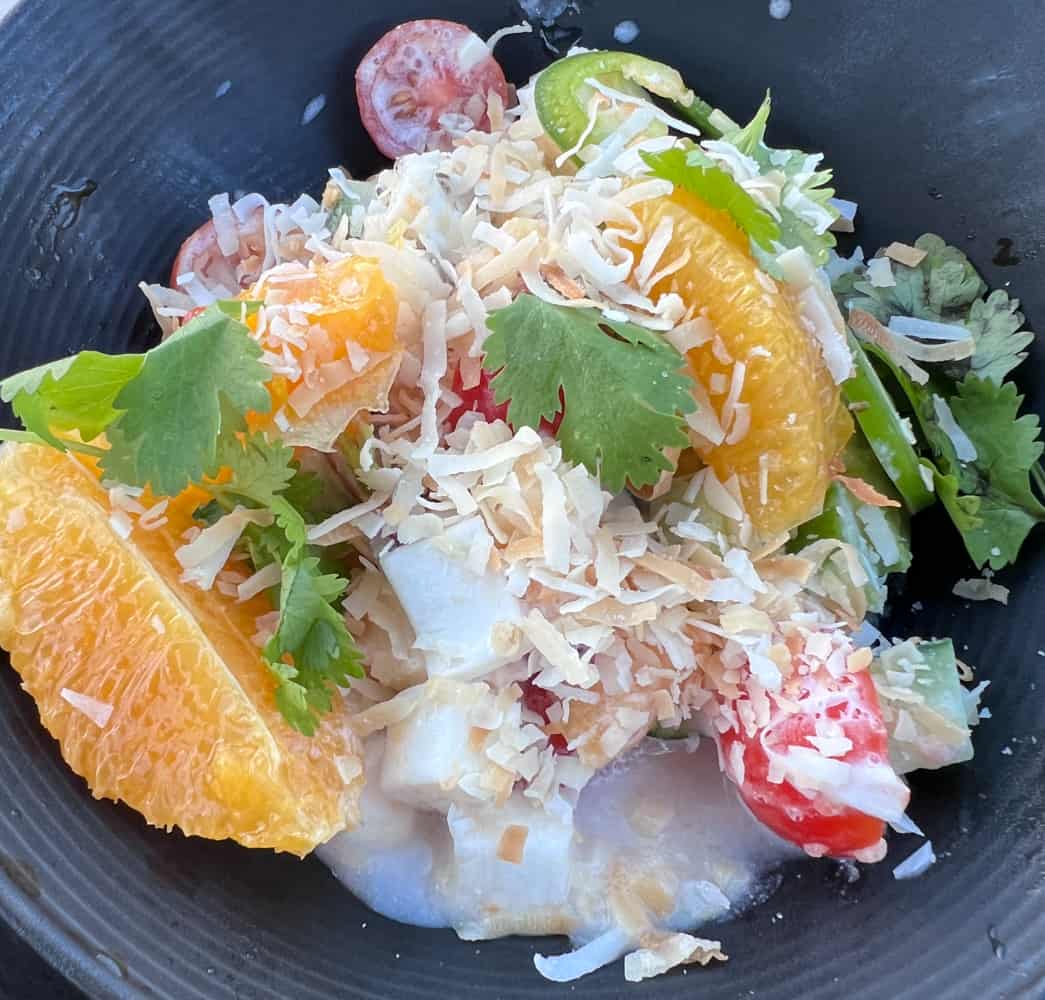 The lobby lounge offers sushi for dinner, on specific nights, which we very much enjoyed. Additional dinner options include Spago Maui, Wolfgang Puck's well-regarded Hawaiian and California cuisine restaurant. It is open nightly and, of course, offers ocean views from nearly all tables.
Breakfast the following morning was an excellent buffet, presented at Duo, which transforms into Duo Steak and Seafood in the evenings. Our kids enjoyed the buffet, and my husband and I ordered omelettes off a full menu. The restaurant was quite full and had a level of activity that was atypical of the usual vibe of the resort, but the service was attentive and prompt. A highpoint was the multiple fresh fruit smoothies that we ordered and shared.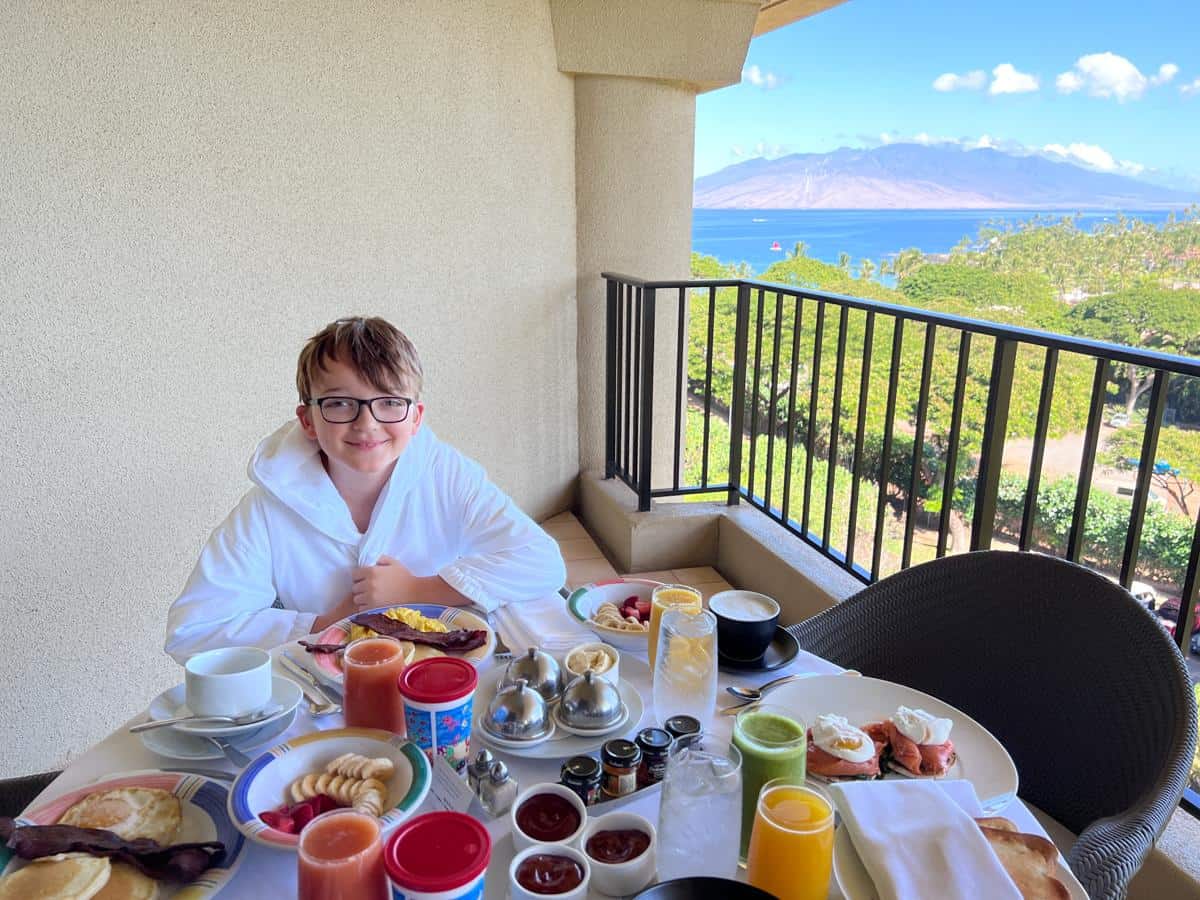 Equally as good but quite a bit more serene was our following morning's breakfast ordered off the room service menu. Eating in robes, looking out at a blue ocean and a towering volcano? Hard to beat. A stunning setting and a great way to start the day. Try the avocado toast and the poached salmon.
Enjoying Four Seasons Maui Activities
The resort itself offers many activities that take advantage of this spectacular locale: snorkeling, stand-up paddle boarding, tennis courts, and other daily activities.
Four Seasons Maui is just a five-minute drive from horseback riding, as well as, the Wailea Golf Club and its three distinct golf courses. A farther drive to the western part of the island yields multiple courses which experienced golfers will know by name, including The Plantation Course at Kapalua Bay, host of the PGA's annual Tournament of Champions. Regarded by many as Hawaii's finest course, it is open to the public.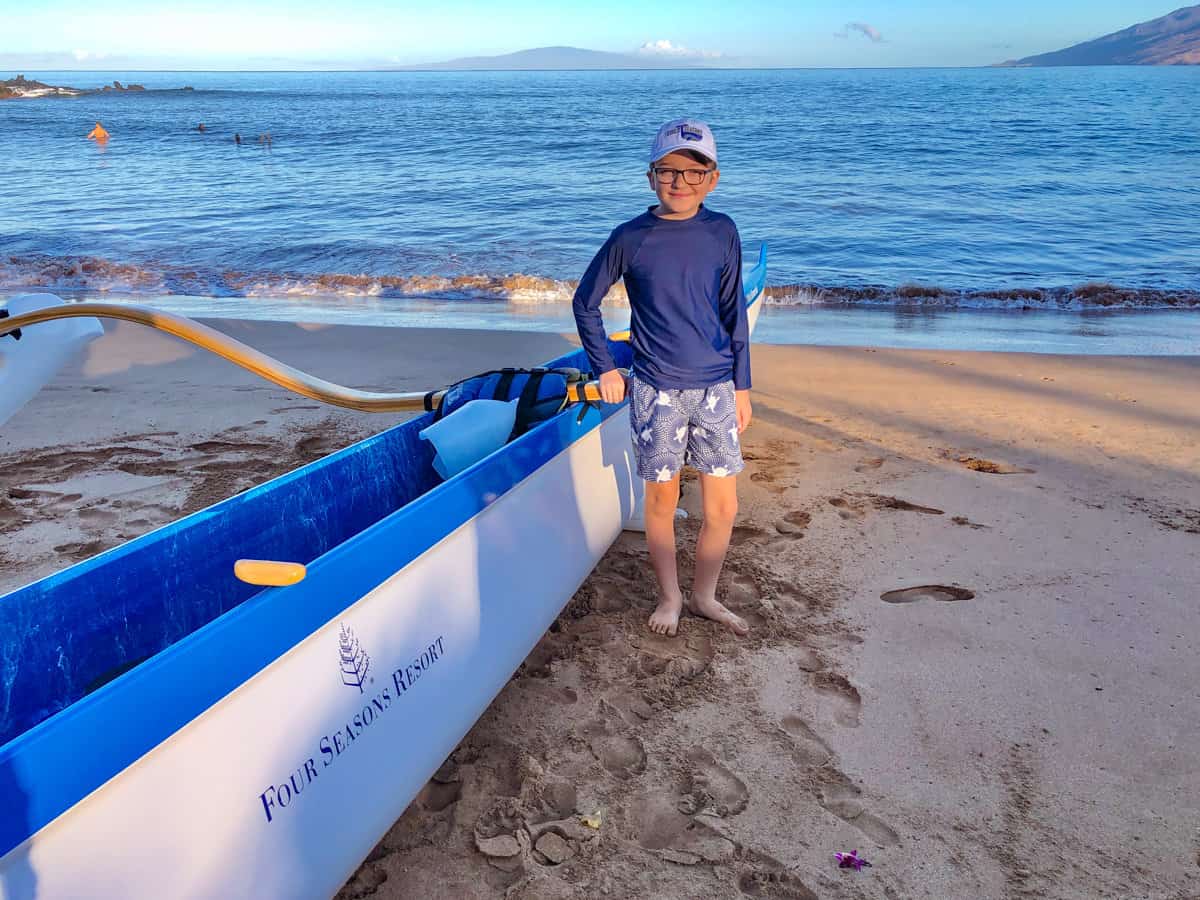 Your Family Must-Dos at the Four Seasons Maui
Four Seasons Maui guests have an opportunity to paddle an outrigger canoe every morning. Spots are limited so book in advance of your arrival; it was one of my favorite experiences on the trip. We silently paddled along the coast near the resort, looking for sea turtles who would pop their heads up for air.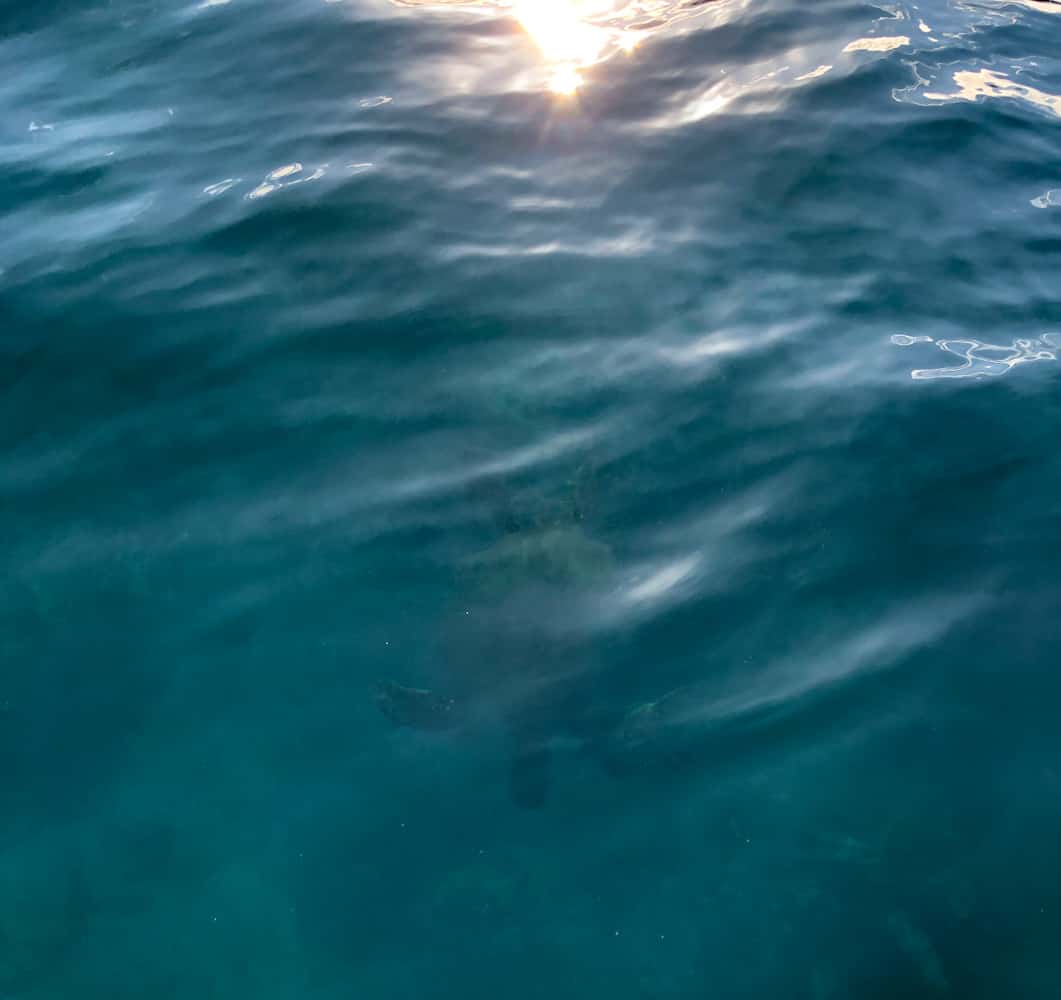 Our guide told us we were particularly lucky that morning to have so many sightings on our one-hour trip. The pace was very relaxed so even young and old will not find it an arduous event. Our guide shared stories of the canoeing competitions he engaged in as a child, his family's history in Wailea, and the stunning volcanic formations around us.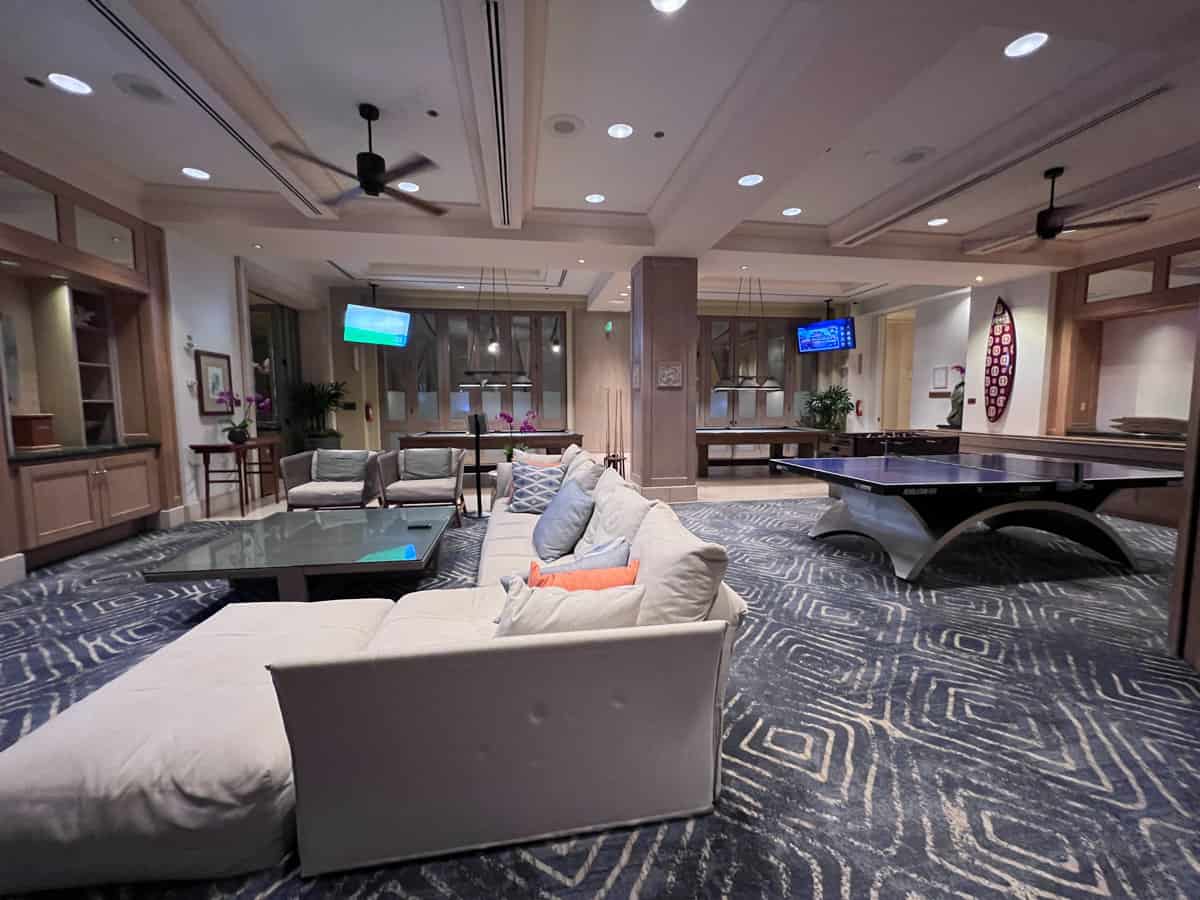 Kids for All Seasons, the Four Seasons Maui kids club, offers both day sessions, as well as, nighttime events for parents to have romantic dinners alone. Themes like Spy Academy and Pajama Jam will keep small children occupied from 6 to 9 PM (which includes dinner).
Older kids and the whole family will enjoy the game room. With pool tables, ping pong, and a small video arcade, kids of all ages can have fun during a short Hawaiian tropical rain.
Cultural Activities at the Four Seasons Maui Hawaii
I pushed my daughter and myself outside our comfort zones and signed up to become novice hula dancers, one of the many complementary daily activities for guests. Our knowledgeable instructor lead us through the storytelling power of hula and we were, in fact, dancing a traditional song by the end.
Her instruction included the history and meaning behind hula; this dance tradition means so much more to us now than just a memory from the Brady Bunch Hawaii episodes.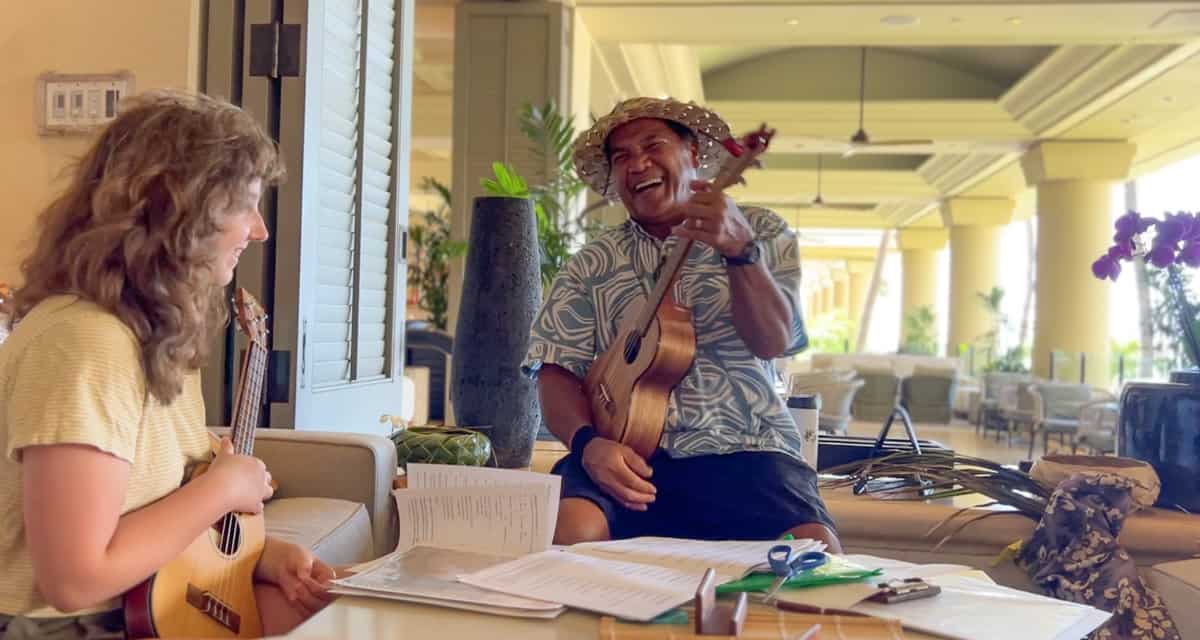 My daughter also signed up for a ukulele lesson. Because she's actually been studying ukulele for several years, I requested a private session.
Finding Time Especially for the Adults
A unique program offered at the resort is a daily show of local artists displaying works for sale. For those who enjoy shopping on vacation, there will be many places to browse clothing, jewelry, art, and local craft.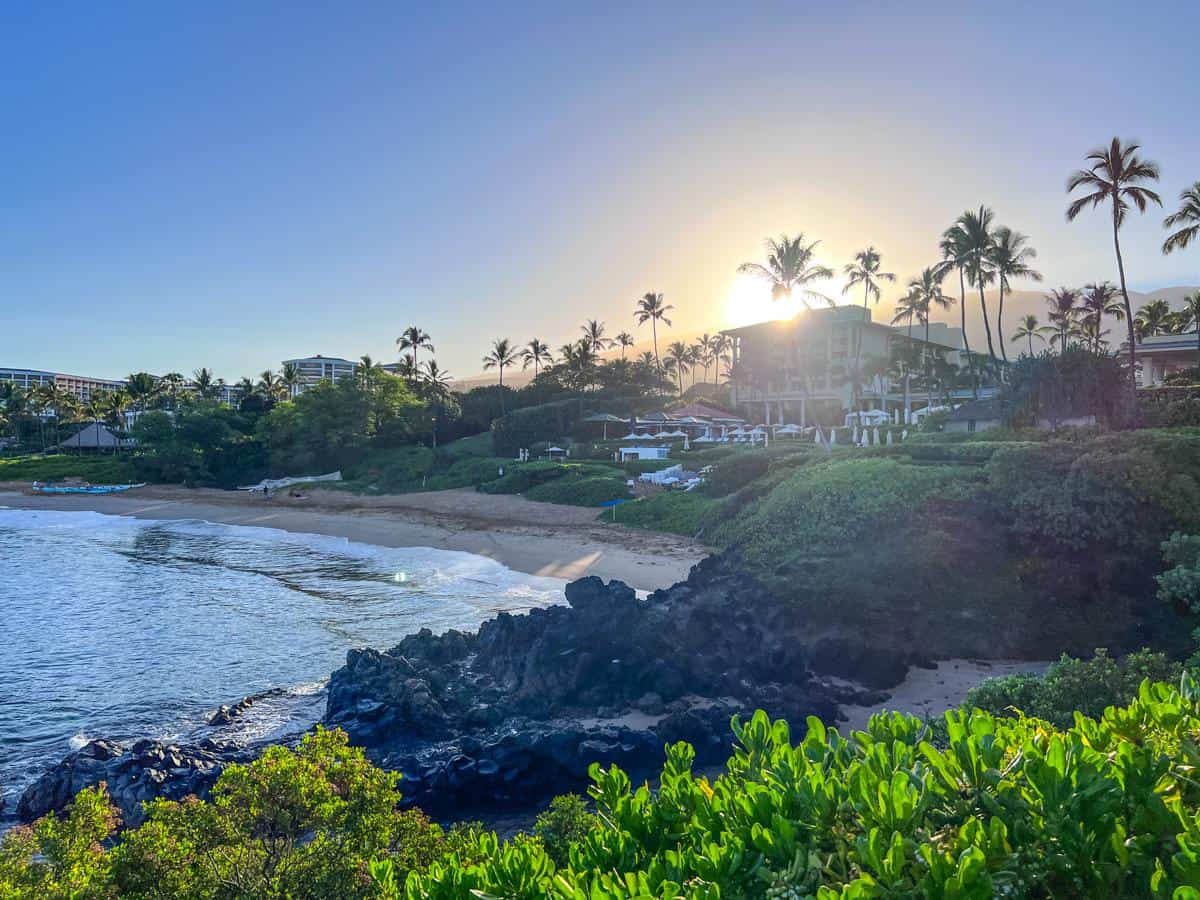 There's a wonderful track along the resorts of Wailea to walk early morning. You'll pass several other residents and guests in the know for a blissful start to your day. The open air fitness center is waiting for you once you are back from your walk.
Thoughts on Our Stay at the Maui Four Seasons
The Maui Four Seasons delivers on the hype. Add the stunning natural beauty of Wailea beach, and our stay was both peaceful and an opportunity for our family of four to be together at a slower pace in a part of the world that understands that like few others.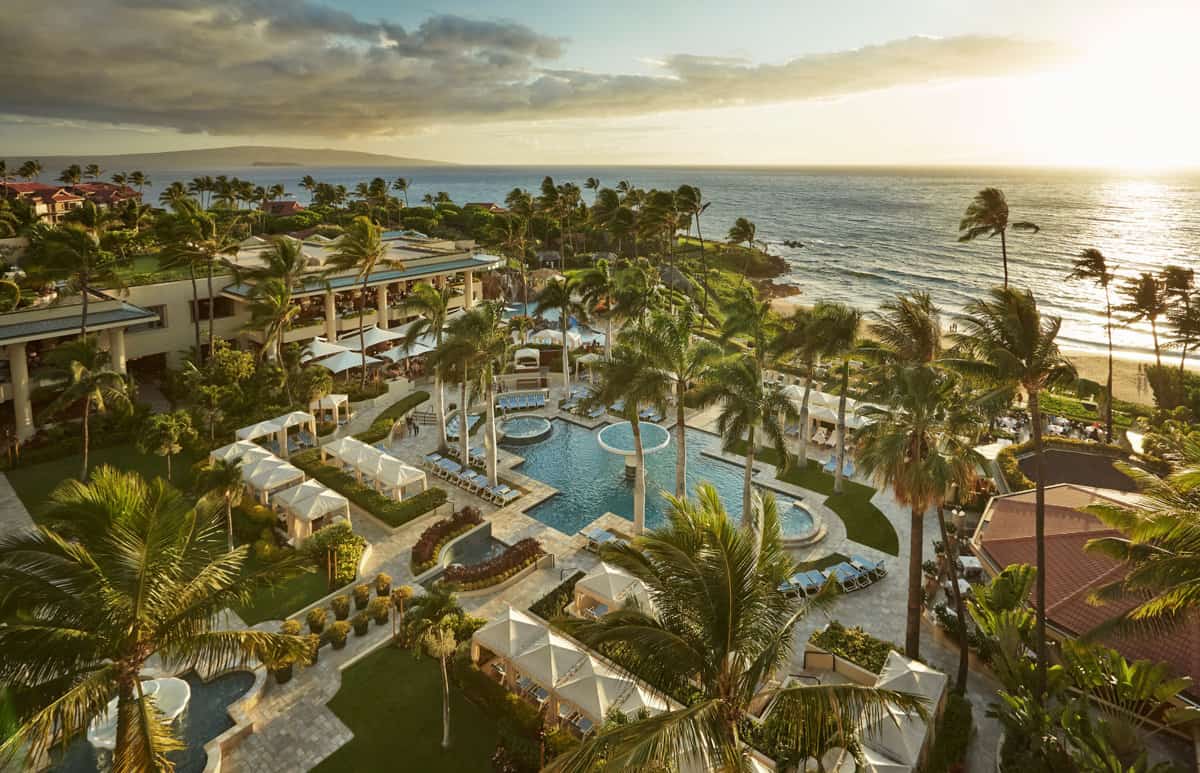 For White Lotus fans, I did feel a similar pull after our outrigger canoe ride. While waiting for our flight home, the thought of grabbing my family and running back to the resort crossed my mind. Read about the the top family resorts in Hawaii.
For brand loyalists of the Four Seasons, we also have a review of the Four Seasons Hualalai. Subscribe for an upcoming review of the adult-only Four Seasons Sensai on Lanai. Epic.
Booking Your Maui Vacation
Did you know Luxe Recess is a magazine and an exclusive Four Seasons Preferred Partner? What does that mean for you? It means that as both a luxury family travel magazine and travel agency, we can give our clients numerous complimentary amenities.
Our rates at the Four Seasons properties always include complimentary breakfasts for two and resort credits and —based on availability— upgrades and early check-in and late check-out. If you would like to add these amenities to your stay at no cost to you, please complete this hotel booking form.
Must do on your Maui Vacation
My kids would tell you their helicopter tour of Maui was a true highlight of our time in Maui. I always suggest a doors off tour when offered. Here are three great options.
But you can choose many more activities like snorkeling, luaus, and more.