A Boston-based luxury family travel writer and photographer
Robin's deep passion for luxury hotels is life-long. As a teenager— before the internet— she maintained a shelf in her library of the directories of every luxury hotel brand and memorized them. She would then check them off  as she traveled to each property over the years.
Her travel advice and articles have been featured on Travel Zoo, Family Traveler, The Huffington Post, Business Insider, and Parents.  Robin is a media member of the Family Travel Association and contributes to other family and luxury travel sites. In this interview, Robin describes why she founded Luxe Recess.
Professional Background
Luxe Recess is the first venture to merge Robin's expertise as a magazine publisher, content marketer, and consultant to the mommy market with her greatest passion: luxury hotels. She has demonstrated success leading niche publications in circulation, advertising, promotions, and event marketing in New York, Boston, and Washington. She is a graduate of both the Radcliffe and Stanford Publishing Courses and is a past instructor of the Columbia Publishing Course.
Robin continues to serve clients with her skills she acquired as a magazine publisher in content strategy, SEO, social media marketing, market research, lead generation, analytics, and business development.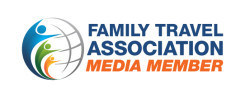 The only thing she enjoys more than a great set of data and taking pictures of hotels and resorts is filling out a breakfast card. Check out her photography portfolio.
Our luxury family travel bloggers and contributors
live around the world:

Hong Kong, Los Angeles, New York, Miami, Boston, and London.
 They can demonstrate exceptional editorial authority of the luxury hotel market
from their personal and professional travels.
Audra was— at one time— a self-proclaimed  "superficial, sexy, fierce man-eater". Now she has found her groove in Coconut Grove, Florida; her driver's license really reads Coconut Groove. She's had many career incarnations: interior designer,  fashion buyer, woman's fashion boutique owner, video producer, fashion stylist for TV, but now she enjoys the privilege of raising three goddesses.  She can not head overseas without melatonin and dark chocolate truffles to help her sleep or jolt her awake. She tries to be a polite traveler, so if her youngest isn't cooperating, she is often seen buying a round of drinks for the people next to her on planes. She has made great acquaintances this way and has kept fellow travelers from throwing her off the plane. She is currently indulging her fantasies of writing a book and laughs at herself every day.
Evelyn is a Hong Kong native and enthusiastic traveler. She has lived on both coasts of the United States where she completed her preparatory and higher education and now resides in Hong Kong with her husband and two daughters. Her favorite thing about living in Asia is the proximity to a very diverse array of cultures, cuisines, and experiences. Her favorite Asian destinations are Thailand and Japan.
Jillion is an enthusiastic world traveler who has had wanderlust since age 5 when her parents took her to London and Paris. A Los Angeles native, Jillion travels extensively throughout the United States for her work, avidly reviewing hotels, restaurants, and spas on Trip Advisor. Because Jillion's two children traveled with her for work for the first 10 months of their lives, she has extensive experience traveling as a mother and road warrior. Jillion used to blog as Bel-Air Mommy, and she splits her time between LA and Paris. She is delighted by all lavender-scented hotel amenities and a great hotel gym.
Meriden's trips to Italy in high school sparked her wanderlust, and she chose a life and a career in travel. She loves exploring new cities, both state-side and abroad, and studied in Australia, though "studying" is a loose term. As the director of events and conferences at an investment bank, she is lucky enough to travel several times a month to the world's best hotels and loves the research that goes into finding the best accommodations and dining experiences in a given locale. She is a sucker for any trip that involves the ocean and a frozen beverage, but she is a well practiced-ski bunny because of her family's passion for the slopes. In her free time she enjoys yoga and tries her best to maintain this practice while on the road. She has three young children who go along for the ride.
Since childhood, Natalie regularly traveled around the world to every continent (except Antarctica). Outside of her demanding role in finance and as a mom, she rides and serves as a Scout leader for 24 girls and boys. So when she travels with her husband and two children, she enjoys forgoing the ruggedness of camping and hiking for hotels with luxurious beds and beautiful pools. Her favorite destinations have been Petra, Mumbai, and Seoul, and her favorite hotels include Pencarrow in New Zealand and the Nesbit Plantation in Nevis.
Stacy
Stacy Shoemaker Rauen is a well-respected and talented editor and writer, and is the editor in chief for Hospitality Design (HD) magazine, the leading publication for the industry. Besides overseeing the content and direction of the magazine, Rauen is a noted speaker at industry events, and as an avid tracker of trends, places, projects, and people in the hotel world. She is also the co-founder of Bump Water, a folic acid and prenatal vitamin-enhanced water for moms and moms to be. Her life-long love of travel is already shared with her son who is happiest on an airplane. Whether Hong Kong, Buenos Aires, or childhood road trips to the Jersey shore, her ideal trip involves a bit of exploration, relaxation, and pool or beach time. Her soon-to-be-born twins may slow her family down a bit, but Southeast Asia is calling them for their 10-year anniversary trip next year.
Stephanie Eisenberg was born with an unshakeable wanderlust and a passion for fantastic hotels.  After traveling extensively for her career in fashion, she decided to stay at home with her children and realized that she could accompany her husband on his very many business trips.  And so, a second career was born as a pseudo travel agent for her family and friends.  To date, Stephanie has visited 6 continents with her children and spends her summers traveling Asia.   Her fashion eye has led to some amazing hotel discoveries;  most recently the Lombok Lodge in Indonesia and the Wildman Wilderness Lodge in Australia. This year she has her eye on Uruguay, Java & Oman – all with the kids!   When she's not traveling you can find her at home in New York City researching her next trip or pond hopping to London for a bit of shopping. 
Zoe
Like most of us, freelance writer, Zoe West, loved staying in stylish hotels, chic resorts and rustic eco-lodges. She still does, but having her two girls has certainly added a new dimension to that. Having worked at many national women's magazines writing about all manner of things, she has now turned her attention to scouring the globe for wonderful holidays to inspire her family, and who embrace children rather than just tolerate them. Based in London, Europe is her playground, with Italy being at the very helm. Her passion for Italy saw her marry there in Tuscany, and she dreams of one day living between there and England, where she will eat as much pasta and gelato as she can possibly manage.
Join our Facebook group where well-traveled parents
advise one another.