I was raised by a Southern interior designer and hostess extraordinaire and have lived my adult life in New York and Boston. So I was craving a homecoming of sorts, a deeply felt desire to be in grand Southern surroundings, where designers felt no restraint, where more is more, where tassels and fringe reign.
The Cloister at Sea Island began welcoming guests back in the 1920's, and its original building was one of many Spanish Colonial masterpieces by Addison Mizner, the architect behind many of Palm Beach's and Boca Raton's most prestigious, historic red-roofs. The Cloister was razed and rebuilt in 2003 with spectacular results honoring Mizner's timeless style by architect Peter Capone and interior designer Pamela Hughes, whose work you have probably enjoyed in your travels.
A cloister is an exterior, four-sided courtyard most commonly seen in medieval monasteries, and I can only assume the reference is to the property's Colonial Lounge. The first viewing of the soaring, three-story ceilings, candle-clad iron chandeliers the size of Fiats, the smell of Casablanca lilies and an excess of velvet covered seating areas is something to behold. This hotel-obsessed, medieval studies art history graduate was hooked.
The Cloister's rooms and suites maintain a look consistent with the Spanish Revival exterior with lots of Southern flavor: think luxe drapes made with European chintz, custom Turkish rugs you'd love for your own home, and stunning wood beamed ceilings. Standard rooms at the Cloister are generous, so suites are massive. Our views of the adult pool and salt marsh were perfect for sunsets.
We settled and needed an afternoon snack after our drive from Savannah. I called room service and asked for chicken nachos for my kids. "Fried, grilled, buffalo, or poached chicken?" That was my first introduction to the service philosophy of the Cloister: offer guests everything. Our only flaw with our stay was some noisy plumbing work in the room next door which interfered with one of our own bathroom's sinks. I called the front desk right away to notify them, and they said all of the right things to me, but no one showed up to fix it. To be fair, it was our check out day, there were still two clean sinks in our bathroom, so they may have just decided to address it once we vacated the room.
Sea Island is part of the Golden Isles, four barrier islands off the southern coast of Georgia. The "golden" references the color of the tall marsh grasses though they were a powerful verdant green in the height of summer during our visit. Sea Island is a gated community with the Cloister as well as various condos and homes for longer stays and ownership.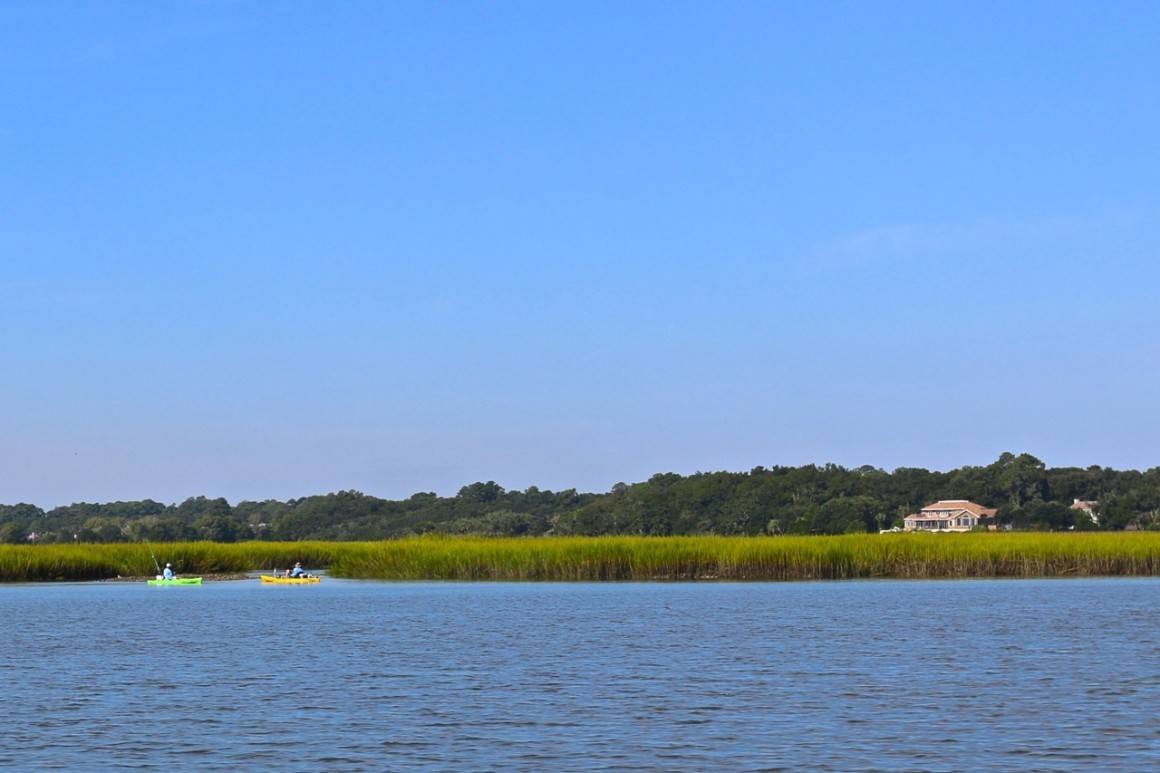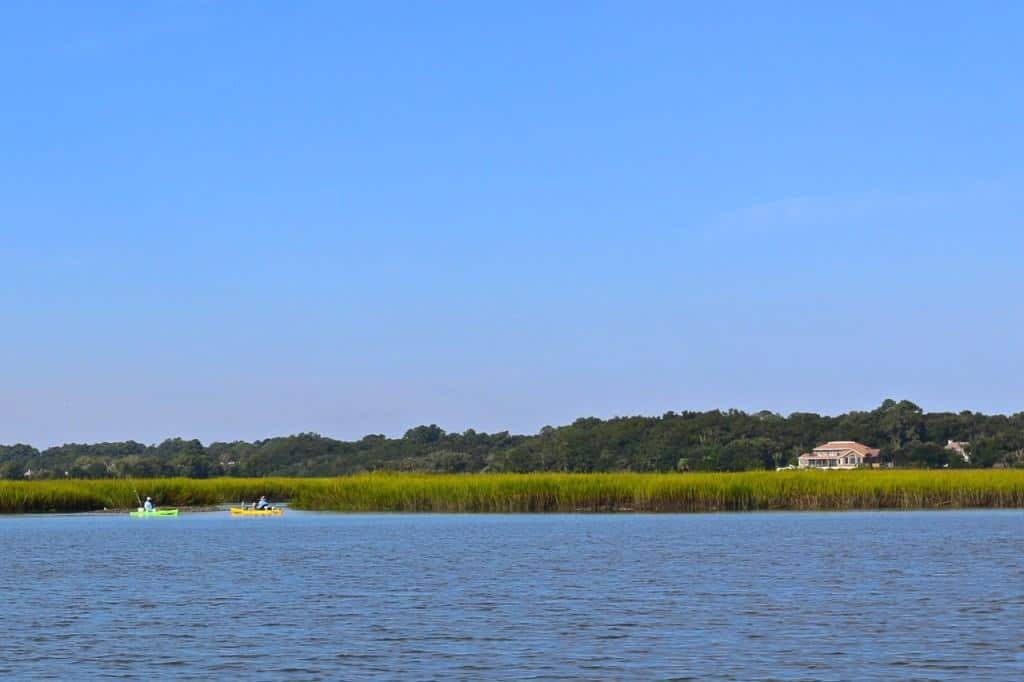 The Cloister's main building faces the saltwater marshes and river while the Beach Club is obviously oceanfront. The Spa building is between the two. Even though the walk isn't far, it's addictive catching a ride by golf cart in the porte-cocheres going from building to building for the pleasure of interacting with the bell staff because these gentlemen know what's going on with everyone in residence. The resort also has a text concierge that I didn't think would be that useful, but it was actually amazing. There is nothing better than texting from the beach to delay dinner reservations, and this flexibility really added a more relaxing element for us.
The Beach Club is the hub of the resort's family activity during the day. A serpentine pool has a zero-entry splash area for its youngest guests and a water slide. There's a playground along the beach and an ice cream and candy parlor. The casual poolside restaurant most families choose during the day is stacked with happy meal boxes nearly to the kitchen roof. What I really enjoyed about the details for families are the small things like restrooms with sink step stools for toddlers and full diaper changing stations. Sea Island wants every family to feel right at home. Considering the pool area often felt like a showroom for the latest Orbit Baby and Bugaboo strollers, I would say that they have succeeded.
Southern Tide is the more formal of the restaurants at the Beach Club, offering a beautiful interior space when eating outside feels too warm or humid. The menu created by chef Pete Smith blends all of the classic comfort foods of the area like a Brunswick stew of lima beans, okra, and pork and with some lighter choices like grilled swordfish over orzo and cherry tomatoes.
The boutique across the way contains one of the most complete offerings of tunics from every designer you could imagine, and a resort photographer offers her portrait services with a portfolio showing family after family clad in Lily Pulitzer. A bike rental station offers every child's size including tricycles for the many families renting homes scattered around Sea Island.
The most impressive element, to me, of the Beach Club was Sea Island Kids: a boutique, movie theater, Camp Cloister, and a game room. The boutique was the most impressive children's clothing section I have seen at a resort. Not only did they carry all your kids need for a stylish vacation, they carried the best selection of current designers for back to school shopping, too, like Tooby Doo, Pink Chicken, and, of course, Lily Pulitzer. This is the ultimate jackpot if grandma is there with a multi-generational credit card.
A full-sized movie theater offering family films throughout the week has a real concession stand near the back of the store. These planners were no dummies putting this boutique in front of the access to the theater and kids' club, a trick they learned from those pesky Disney World gift shops. Prepare to be had.
The Sea Island kids' program, Camp Cloister, is as developed as any well-run day camp you may find at home. All of its managers have Masters' degrees in education and are passionate about blending fun in with learning while catering to all children. The staff has the resources and experience to serve children on the spectrum and other special needs. Children are divided by age groups, and the session is only offered as a full-day program.
My nine-year-old had a wonderful time swimming, learning from a naturalist with the marine touch tank, and playing games. My four-year-old talked about dancing on the movie theater stage with a smile, but the day was a little long for him. I wish Sea Island Kids offered a half-day option since most resorts do. We used this childfree time well and took advantage of the BMW Driving Experience the resort offers every summer. We took a black convertible out to explore the residential neighborhood of Sea Island. We couldn't get enough of moss covered trees.
My daughter and I awoke early one morning to take a boat ride with hopes of seeing dolphins with our captain, a lovely naturalist extremely knowledgeable of the area's wildlife. I loved following a shrimping boat further out in the ocean while dolphins jumped by our sides.
But if I am honest, I loved the architectural tour the boat ride offered of the waterfront Sea Island properties as much. Because our captain was driving quickly to respect our schedule, we crashed down on each wave with a giggle as if we were on a thrill ride. We also signed up for an archery class at the famous Sea Island Gun Club. Bill, our instructor allowed me to join in the lesson. With prep school P.E. credits in archery under my belt, my daughter and I were popping balloons one after the other with our arrows.
On our final night, we went to Tavola, the Italian restaurant most popular with families. The pizza chef was tossing his dough in front of his enormous wood-fired oven. My son was exhausted by a no-nap, go-all-day pace, and my husband offered to take him for a walk. My daughter quickly tagged along, and I sat there alone a few minutes. Kimbra took care of us that night, and I mean that overused phrase in an authentic way. I looked at her across from my empty table and said, "I think this is the first moment alone I've had in two days." She looked at me with sincere connection and nodded, "I'm a mom, too. You enjoy it."
Our delicious pasta arrived, including my kids' house-made penne that I wanted to steal, but my son wouldn't settle down, and he draped across his chair. A family sitting next to us gave that secret family salute. "We've sure been there," they told us in solidarity. Kimbra came back and saw that I wasn't really able to eat my dinner because of my son's grouchy mood and restlessness. "Can I bring him some dough?" Within seconds, she brought my son a ball of pizza dough on a tray with a flour smiley face. Everything changed at that moment. He settled down, ate his meal, I ate my own, and we had an incredible evening while he happily rolled balls out of his dough.
I felt so cared for; Kimbra truly turned our night around. Dinnertime is one of the toughest times traveling with small children, and the Cloister kept hitting home runs. Being rescued by another mom is as good as it gets.
Our after dinner activity was the legendary bingo at the Cloister ballroom. I had heard it was a favorite resort tradition and that a jacket was required. I was hoping it was like the Thursday night bingo my family enjoyed at our club growing up. Players lined up at 8 pm to buy their cards. I bought several to increase our chance of winning, and my husband, who had never attended a bingo night is his Connecticut past looked a little lost.
Billy Bingo entered the room like a cult leader to deafening cheers and applause. We witnessed his final month of serving as the emcee in his twenty-six years at the Cloister. This octogenarian rock star with slightly slower moves than Jagger stretched out his arms then began to sing with a crooning baritone voice. Billy Bingo had an esteemed music career with his late wife, as they sang for more than forty years as Jack and Sally Jenkins. I found a beautiful "Moon River" performed by them on the Ed Sullivan Show.
We played several games to Billy's unique calling method, a spoken code easily cracked. The most popular—yet least obvious—is "O 66" when Billy will belt out his longest "O" while the crowds of adults and kids form suns over their heads like preschoolers. When Billy's note ends, the ballroom erupts with "Sixty-six, clickety click!" Billy gave us the rules about "bongos", that's when a player shouts "Bingo!" and ultimately doesn't have a winning card. The penalty is only a dollar, but the crowd's cheers of your failure may cost you more in pride.
The energy is tangible with the navy-blazered boys standing on their chairs cheering on Billy, with the rest of the adults and kids use their cards like drumsticks on the tables. The all-out expression for fun is undeniably Southern, No Hamptons crowd has been this rowdy since the days of Jay Gatsby which is why I saw so many New Yorkers having the times of their lives.
Where else can you experience such a grandiose environment and savor such tradition— where families aren't just tolerated but embraced and pampered, and where every day is like an Easter Egg hunt at the South's most prestigious country clubs. That may not sound like everyone's definition of Nirvana, but it certainly puts the Cloister at Sea Island experience at the top of the list for those smart enough to try it.
Although we were guests of The Cloister, these opinions expressed are entirely my own.