I was so excited for our snowbird vacation to the Boca Raton Resort this winter and even more so since it was the first trip my family would have with my mom and dad in tow as well. Grandparents are key for a truly restful vacation.  My daughter kept telling people we were headed to "Boca" and the Boca Beach Club, a Waldorf Astoria property, was the perfect spot for our getaway.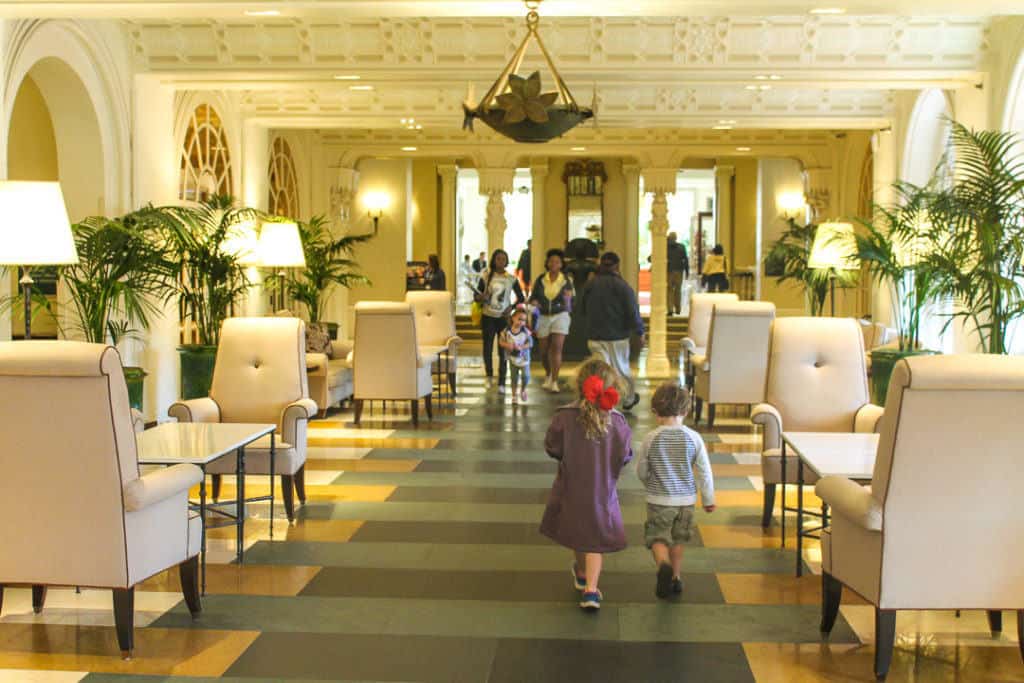 For this trip we stayed at the newer Beach Club (check your travel dates for rates!) instead of the original property since we wanted to be as close to all sand and swimming as possible. The historic property down the road shares amenities like the spa while each having their own eateries and pool areas.
Guests shuttle back and forth between the two either by the convenient shuttle bus that ushers guests from lobby to lobby or if you want more of an adventure with your kids hop aboard "Mizner's Dream" – the resort shuttle boat that takes a 10 minute journey through the inter coastal waterway and offers the best views of the largest yachts.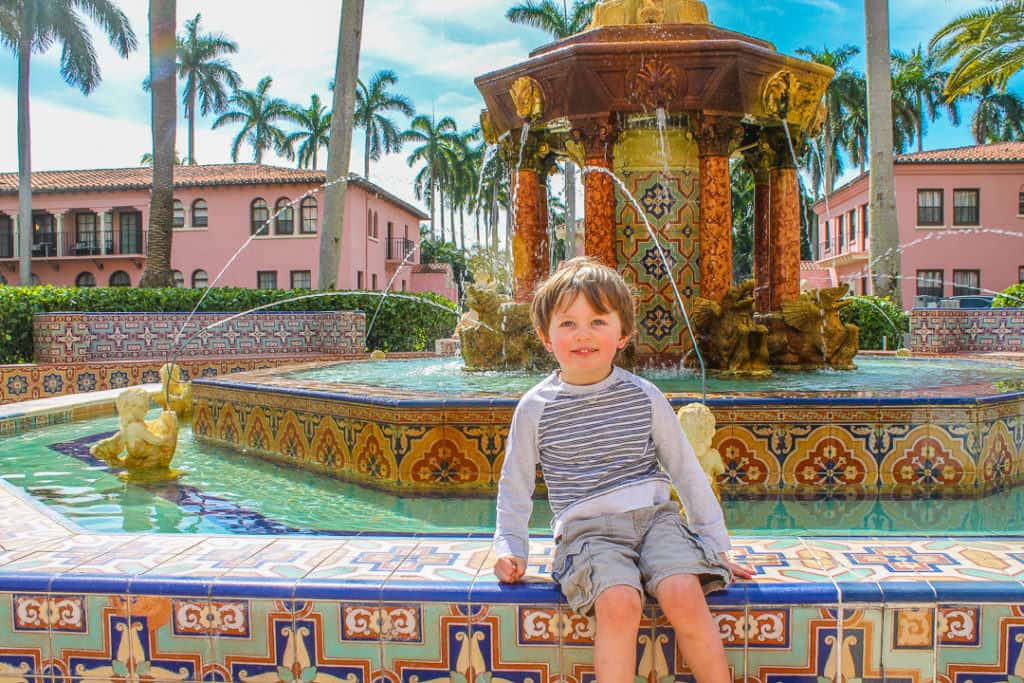 We coordinated airport transportation through the resort and had an effortless transfer (fully equipped with a car seat and booster) to the entry of the hotel. Guests can fly into both the Fort Lauderdale and West Palm Beach airports.
As I opened the front doors, I was overtaken with the view – an entire wall of windows showcasing the vision of ocean blue I had been anticipating for weeks.  Check-in was a breeze, and we were off to our "home" as my kids called it for the next week.
Best rooms for Families at the Beach Club
My kids helped the bell staff push the luggage cart, fought over who got to push the elevator button, and we arrived at our sky box room on the 5th floor.  Ocean facing with an expansive glass deck, the space was ample enough for our family of four and connected to my parents' room by a connecting foyer rather than interconnected doors.  This was a nice feature for the kids to run back and forth between rooms – especially in the morning.  The bathrooms were spacious and the Ferragamo bath products were a lovely touch.
I LOVE hotel robes and these were some of the cutest I have seen – terry cloth, lined seersucker.  The size of the deck made the living space appear so much larger and was also a great spot for a morning coffee – my mom enjoyed her tea out there on several mornings.
Family Pools & Activities at the Boca Raton Resort Beach Club
While the temps at home in New England were a balmy -9 degrees, the "chilly" 60 degree weather we had on our first arrival day didn't stop my kids from jumping right into the heated pools.
With sunny weather, there is much to do onsite for kids of all ages.  At the Beach Club, there are three pools in the swimming complex: a civilized, adults-only pool a deeper pool that is perfect for cannonballs, and a zero-entry pool that is ideal for the younger swimming crowd.
Onsite at the pool deck, the kids club offers an array of different activities throughout the day that constantly changes. While we were there the offers included hair braiding and sandcastle building.
Around this smaller pool is also a cluster of poolside cabanas located on two levels.  The cabana is a perfect spot for families and worth its cost on a busy, sunny weekend day.  The cabana is equipped with a full bathroom (so much closer for a last minute bathroom break than the hotel), seating area, and TV as well as seating perfect to have lunch delivered.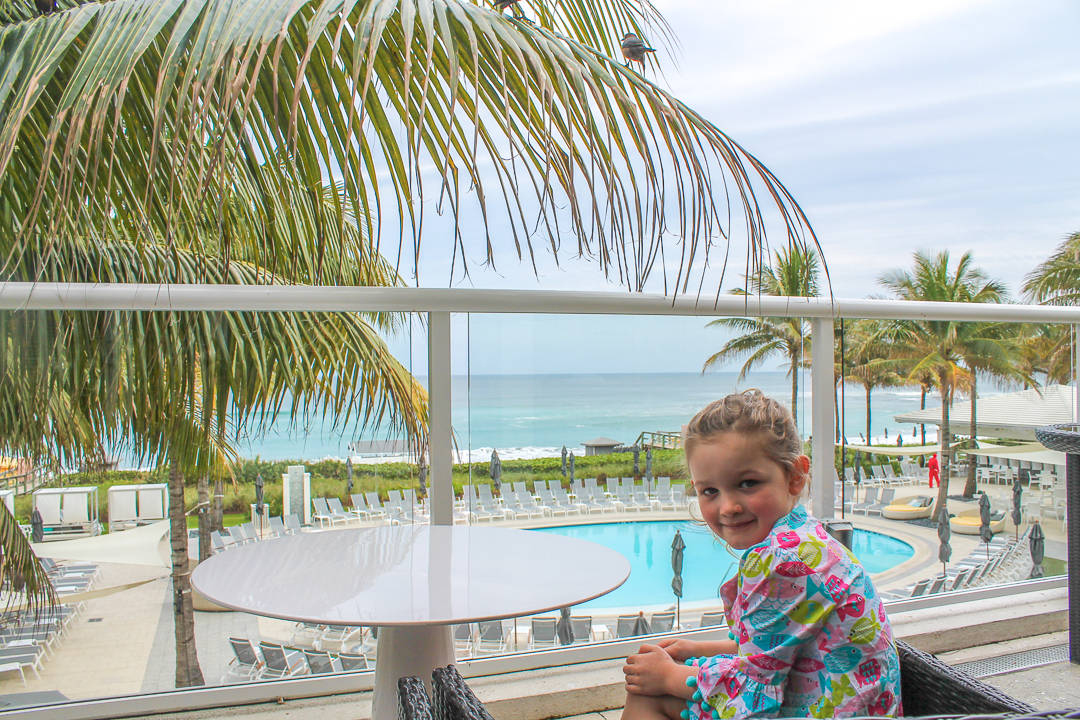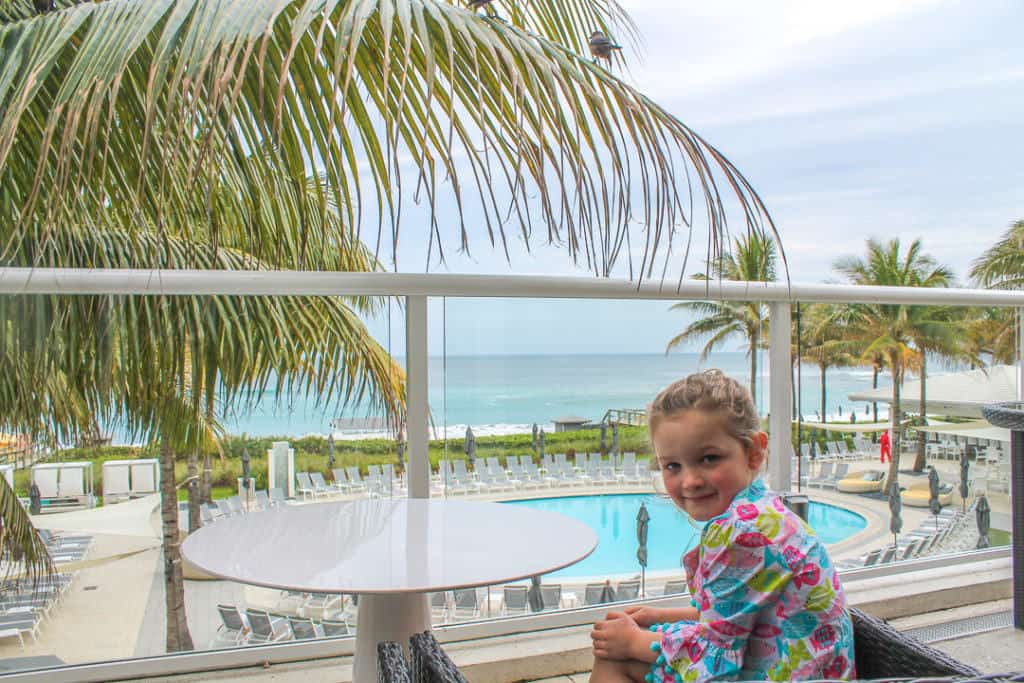 If you have smaller kids who are still on a nap schedule, they also have portable cribs so your little one can nap while your older kids swim nearby.  We enjoyed a delicious poolside lunch at our cabana and my kids were thrilled that their orders arrived in "lunch pails!"  After gobbling up their hot dogs, chicken fingers and hummus platter, the pails were put to use on the expansive sandy beach.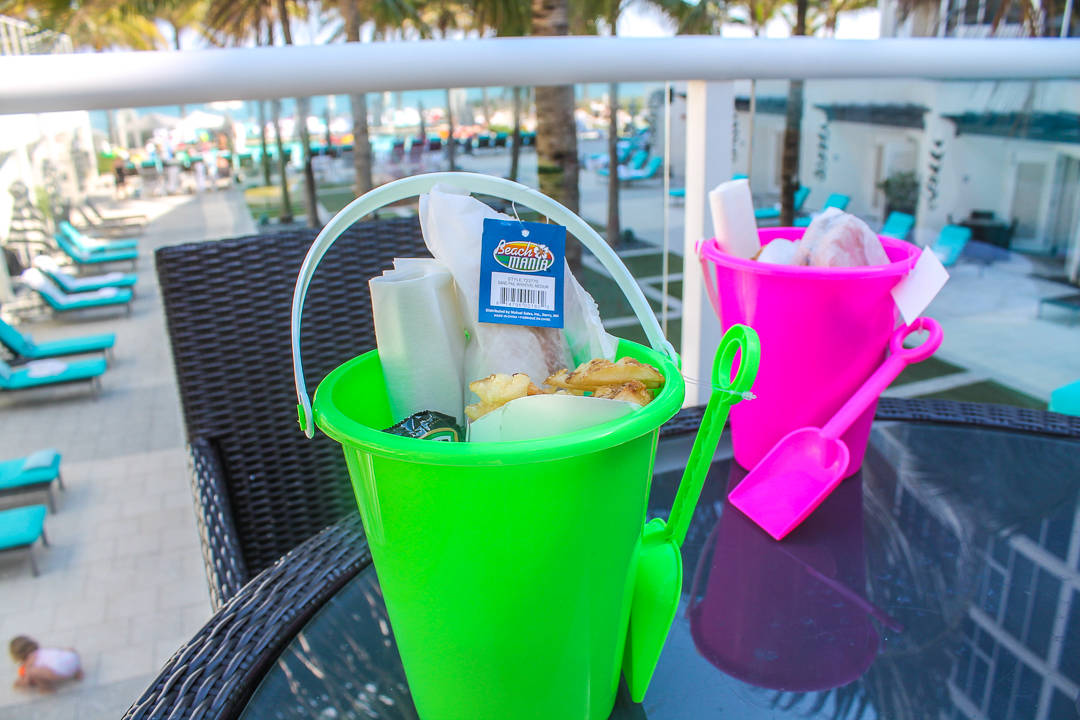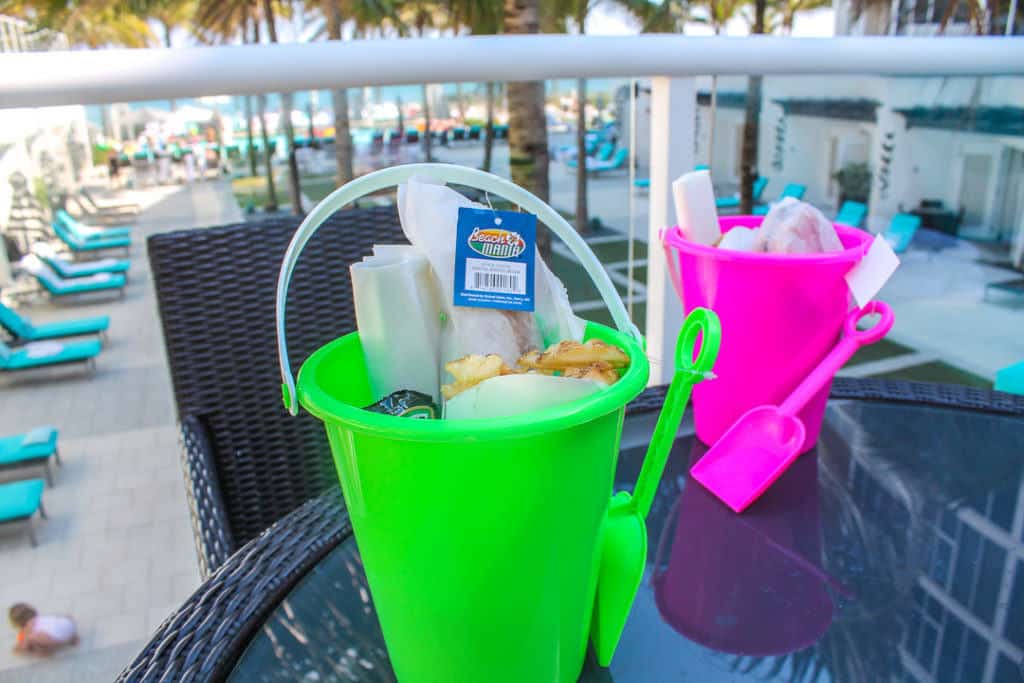 Kids' Clubs at the Boca Raton Resort
The next morning took a bit longer to warm up so we enjoyed some indoor actives offered right onsite at the Beach Club.  Both of these Waldorf Astoria resorts have a kids program called Quest Club (with the Resort side also offering a full day camp).  The Beach Club provides a two-hour complimentary drop off period to enable an ocean-side cocktail or quick meal. Like most kids clubs it is fully stocked with toys, games and ongoing movies, but my kids were absolutely drawn to the arcade machines.
The beach is just steps off the pool with a multitude of water activities offered – jet ski rentals, sandcastle making, paddle boarding and surf lessons. In addition to water activities, the resort also offers a Tennis Tots and Tennis Camp program for kids starting at age 3 for those that are looking for court sports.  The resort fee also includes unlimited driving range balls and pitch & put times at the golf course if you wanted to spend some time working on your game or just putting with your kids.  There are also ample lawn sports offered like croquet, although my son was more interested in the lawn rake he found nearby than the croquet mallet.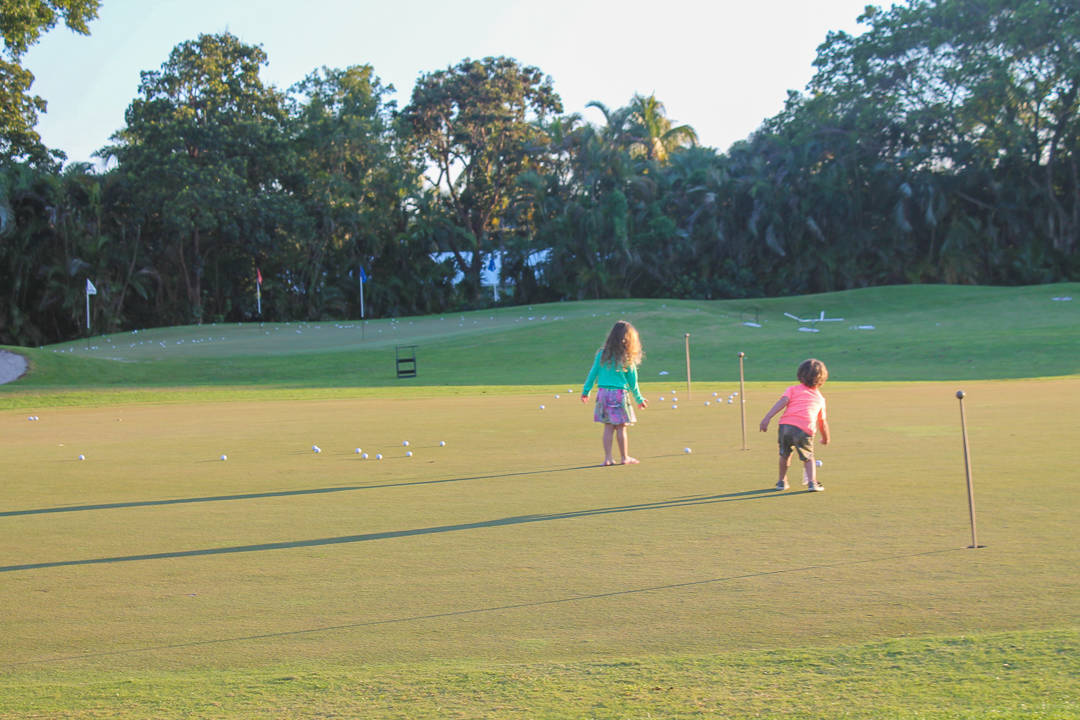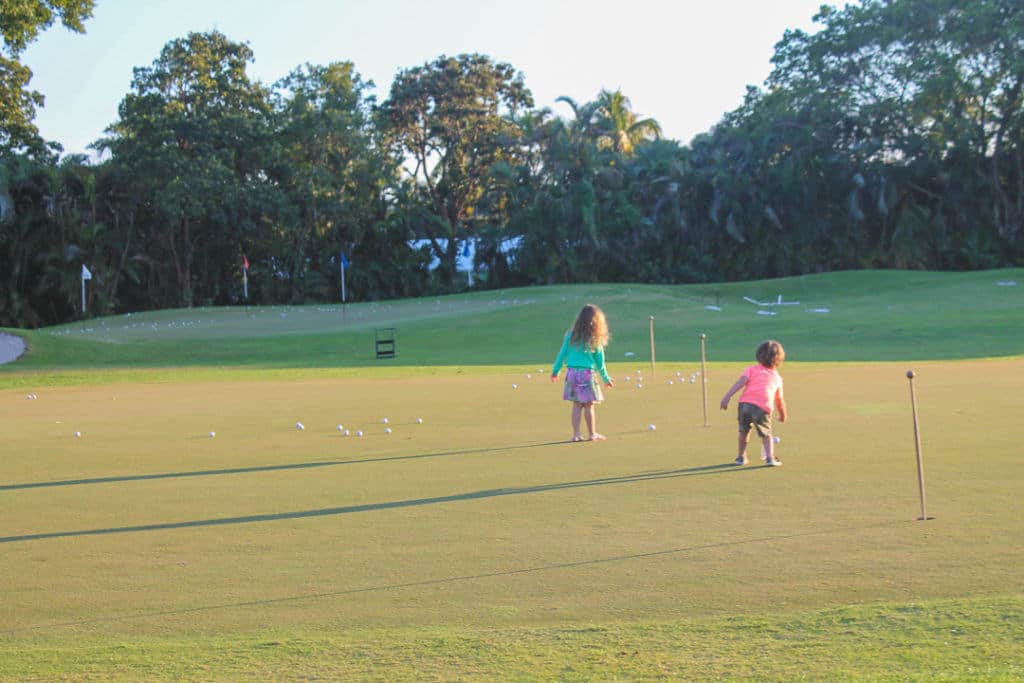 Surfing with the Flow Rider
If your kids (or you!) want to try your hands at simulated surfing, head over to the Boca Resort and test out the FlowRider.  There is a height restriction for the Flow Rider— 42', but the water flow is pretty intense. Even though my 4-year-old daughter was tall enough to body board, we were nervous to have her fall off and get splashed to the back of the simulator.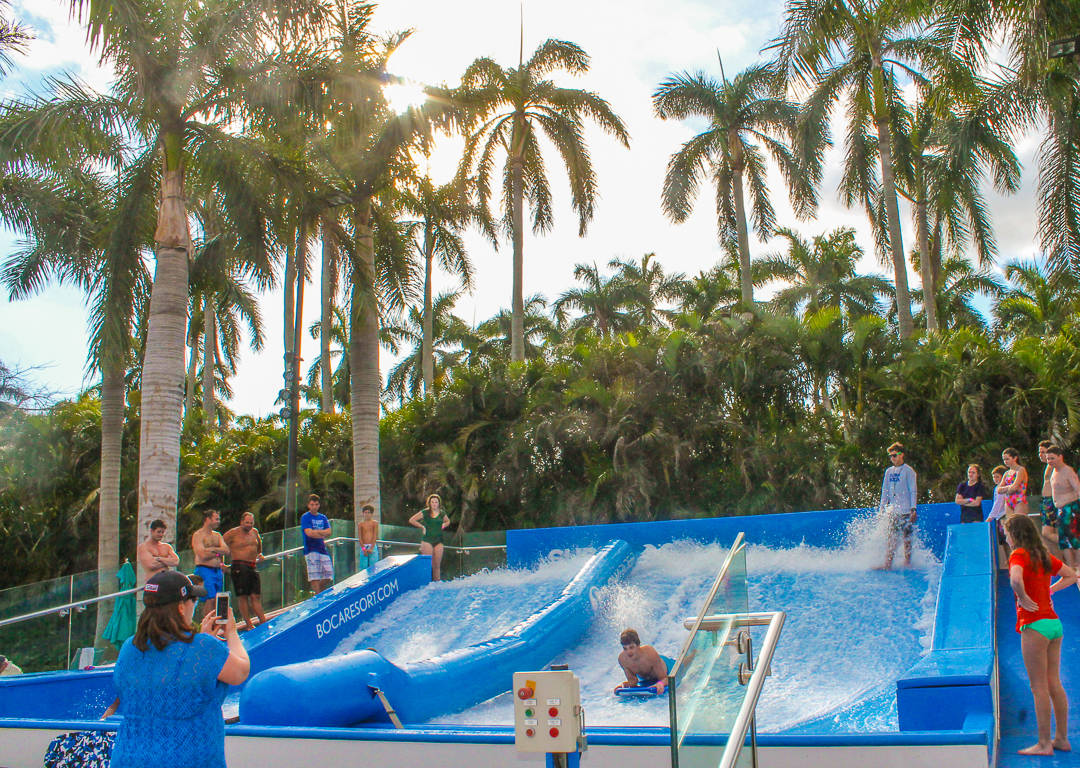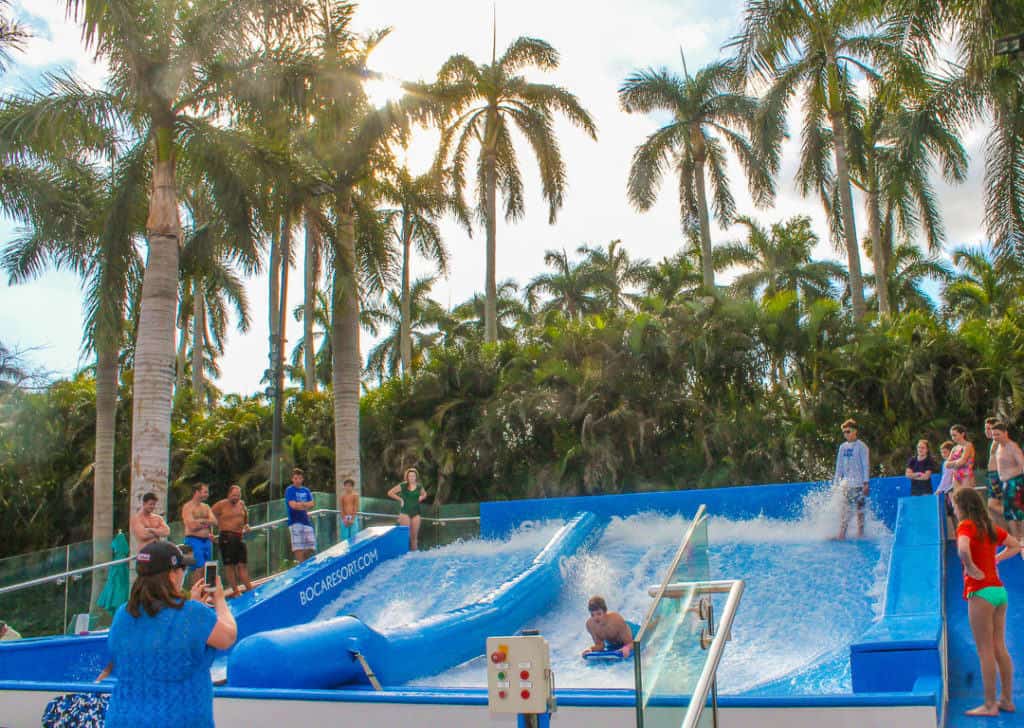 The resort conveniently put the FlowRider within distance of one of pool bars so those with mojitos in hand have a great view of every wipe out.  During the first half of the day, it is set up for the younger guests and body boarding only.
My husband tackled it (well I tackle is not the correct word. Attempted it) on a late Saturday afternoon. I'll give credit to him for trying, and although he did get up and flash a hang ten sign, it didn't last long and soon he was "flowing" to the backboard!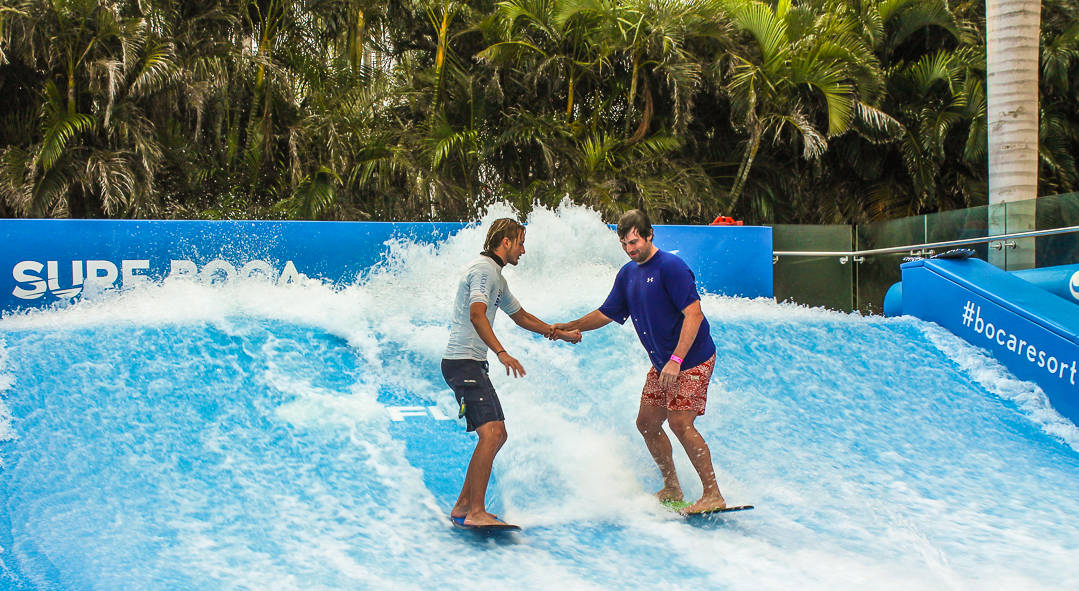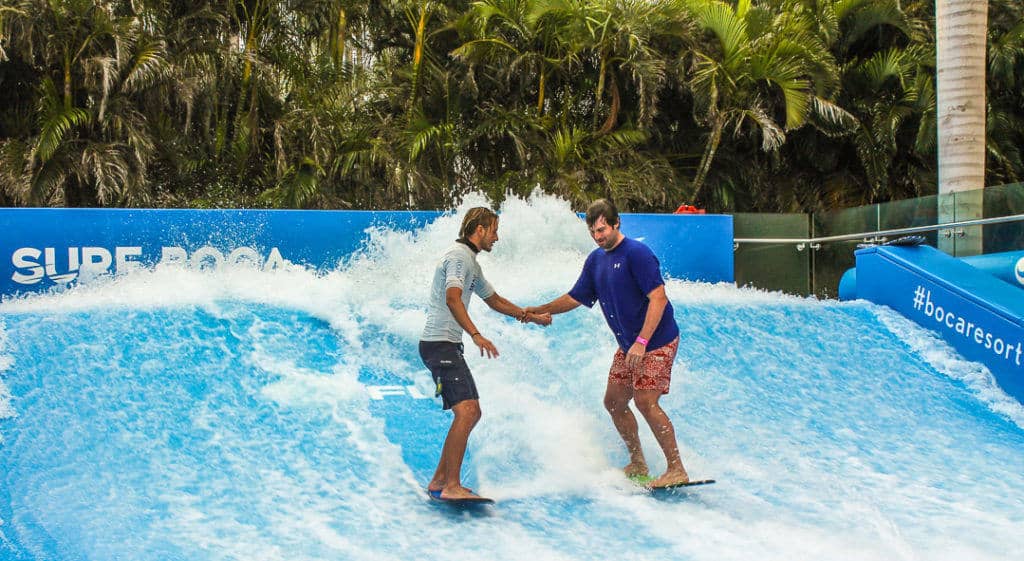 Mizner's Quest
Upon check in, my kids were each given a lanyard packet with the Mizner's Quest scavenger hunt — I am a sucker for hotel scavenger hunts (as is my dad and now daughter…. I guess its competitive genes!). The Mizner Quest at the resort is intense, culminating in an ice cream treat at Serendipity. It is one of the longer hunts I have ever done (18 spots to see over three different properties) so definitely give yourself time to tackle it.  The Quest does have you visit spots of the resort that you would otherwise never explore.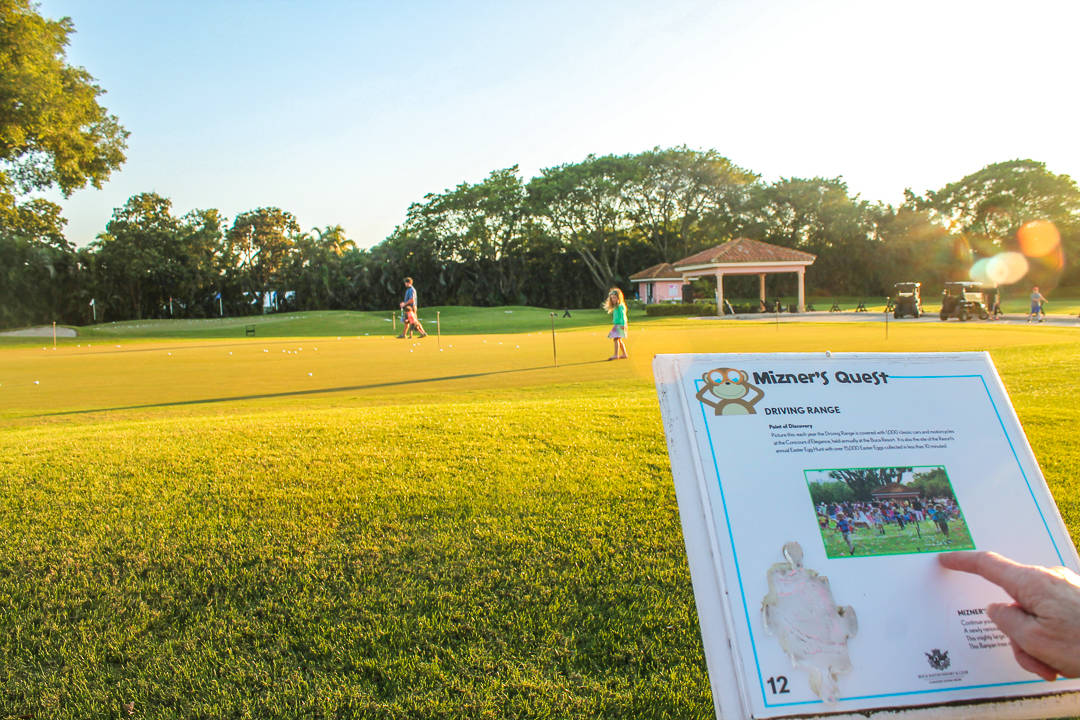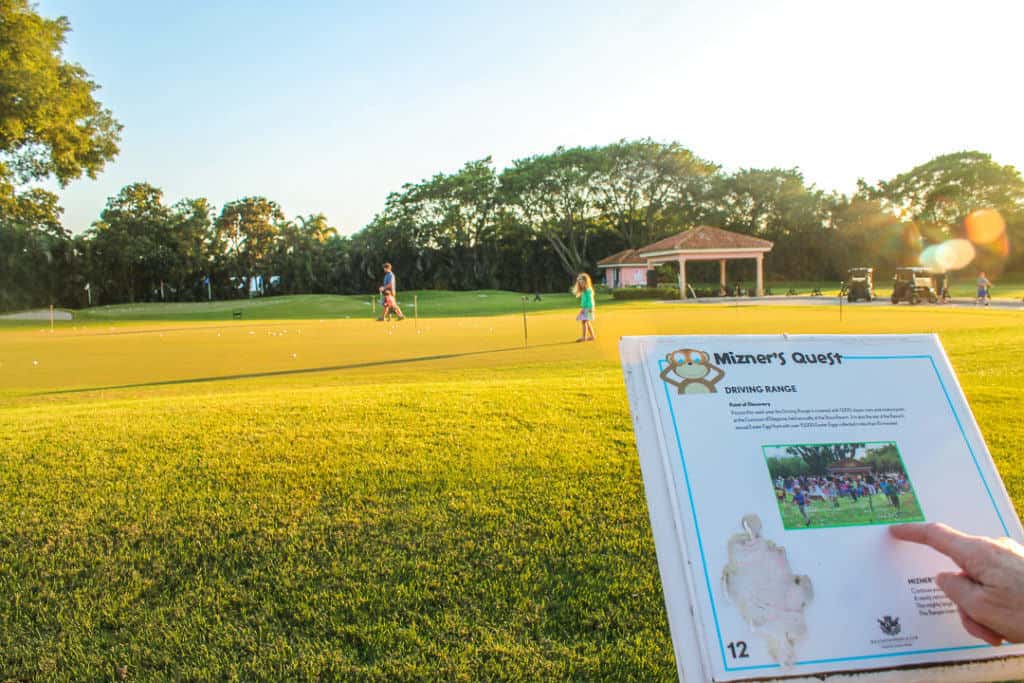 One clue was located at the Nature Deck and Rec Deck which was a great find for my kids. They loved playing in the flower boxes and tackling the basketball hoops and ping-pong.  The Rec Deck also organizes coordinated activities for families like dodge ball as well.  Another clue was located by the boat launch at the Beach Club so we enjoyed a nice boat transfer from the Beach Club to the original resort on Mizner's Dream.
One of our final clues was in the cloister garden at the resort, and I stupidly waited until a Saturday afternoon to get this one (figuring it was right near Serendipity for our afternoon treat) only to realize the clue was SMACK in the middle of a wedding ceremony. I'm sure the bride wouldn't have minded if my three and four-year-olds did their crayon rubbing while she was said her vows.
Family Dining at the Boca Beach Club
There are many options for dining across the resort depending upon what you are looking for.  Onsite at the Beach Club, Beaches offers easy poolside fair.  The Seagrille is the nicer dinner option and also offers a full, and amazing, breakfast buffet every morning.  The space here flows out onto the patio which is a perfect spot to enjoy the omelets and waffles made to order or the small smoothie shots. I think my daughter and I had five or six empty smoothie shot glasses lined up in front of us by the end of breakfast!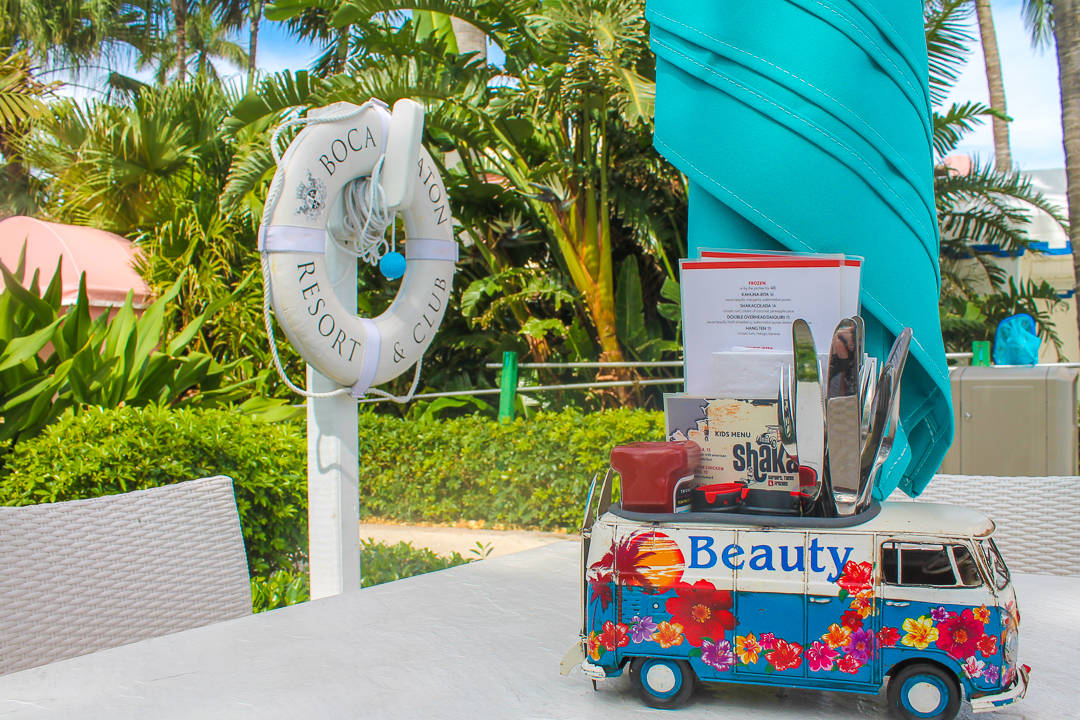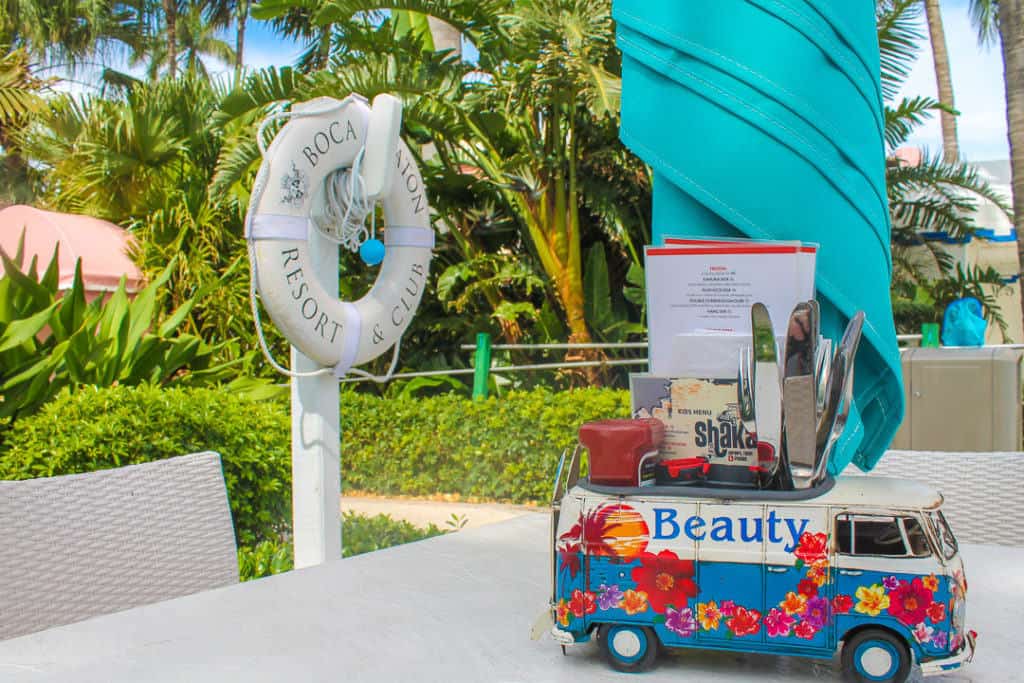 At the resort, Lucca is the Italian destination and Morimoto is the go-to spot for sushi, but the only thing my kids cared about was Serendipity.  Modeled after the New York City spot known for its frozen hot chocolate, it also offers amazing ice cream, a candy counter, an old school toy section and some grab and go items. My husband and I were also able to sneak away for drinks one night and enjoyed Bar Luna which serves great cocktails and flatbreads.
The Palm Beach Marriott, Singer Island: For families seeking a turtle's pace
The Spa at the Boca Raton Resort
Finally a spa day had arrived!  I decided to surprise my mom (and treat myself) to a facial at the spa as a thank you for always helping with the kids.  This spa was noted as the #1 Spa in the World by Condé Nast Readers' Choice Awards in 2014 and for due reason.
After checking in, guests are brought to an expansive locker room area, and I literally got lost trying to find the bathrooms.  There is a smaller, quiet spa pool off the locker rooms and waiting area that you can enjoy on the day of your treatment – lunch is also served here as well.

The most amazing thing I saw, however, was the ritual bath area.  This is one of the spa's signature treatments or as an add-on, and the room itself was stunning.  Embellished with blue and gold mosaics, it transported me to a palace in Southern Spain.  Tucked into the ground were several small dipping baths with a waterfall stream of mineral water cascading into each – allowing you a full water massage on your back.  I didn't add on this treatment for this visit but will be sure to try this next time.
My mom and I waited patiently in the waiting area that reminded one of a Southern foyer – soaring ceilings, a large fireplace and lengthy staircase from which the spa therapist descend and call your name.

Our facials were amazing, my mother getting an additional aromatherapy treatment and for mine, an oxygen treatment – our faces were glowing for days to come.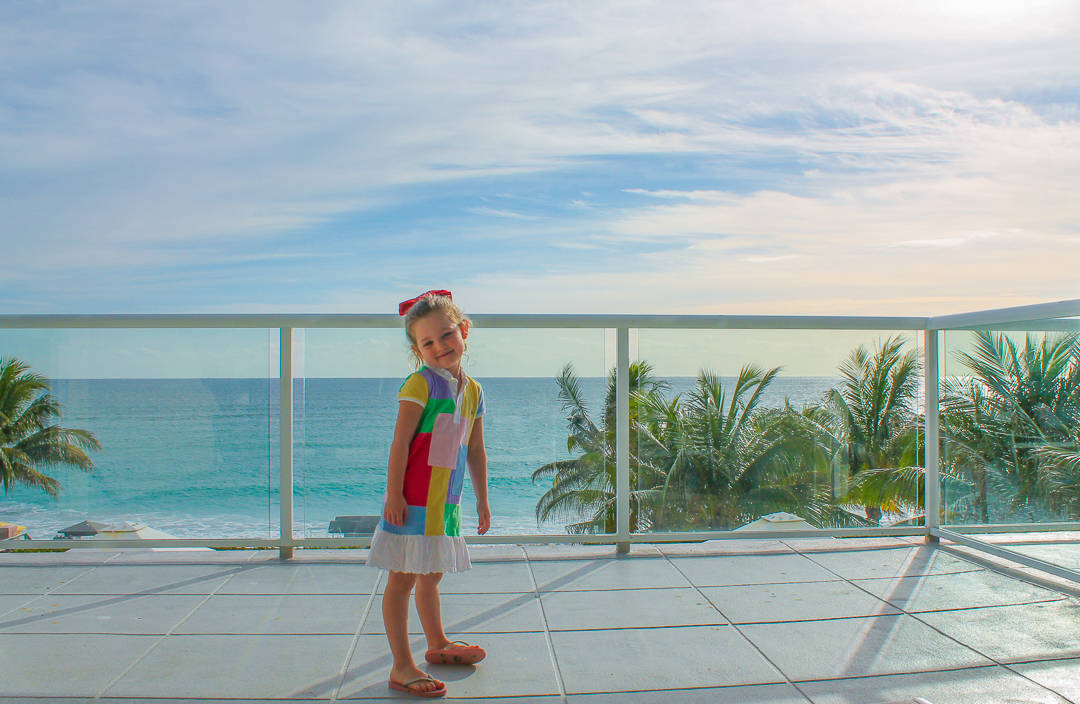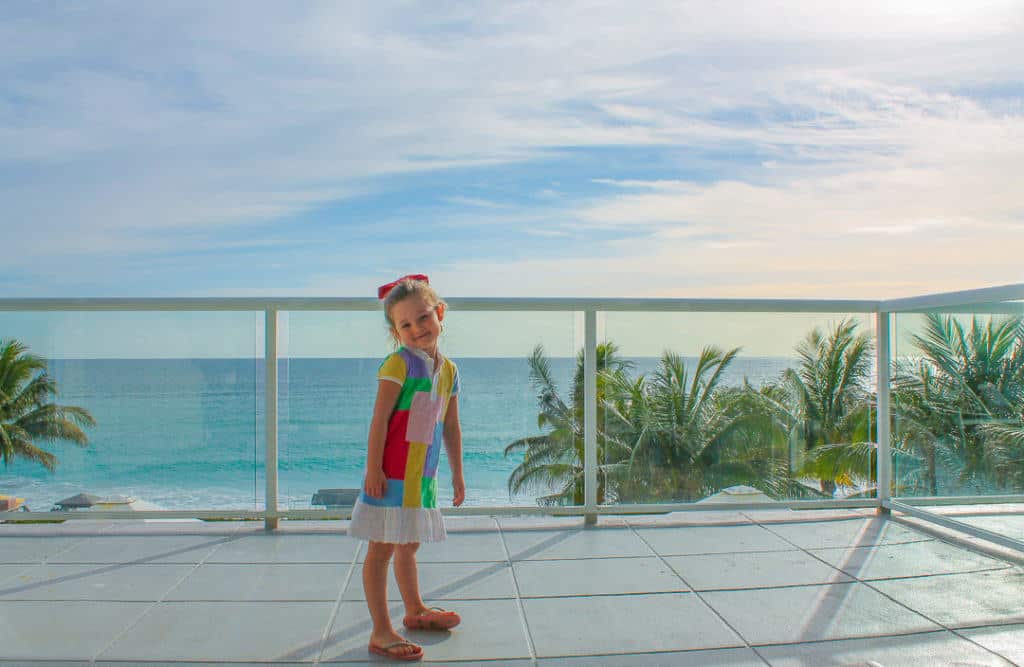 The Beach Club (check your travel dates for rates!) at the Boca Raton Resort is a wonderful spot to spend a family vacation, whether multi-generational or just you and your kids. The onsite offerings for kids would keep you busy for days!
Although we were guests of the Boca Raton Beach Club, these opinions are entirely my own.