No matter where I have gone since I started visiting hotels for Luxe Recess, fellow parents at the pool or in the spa ask, "Have you seen The Breakers' family amenities, yet?" This definitely built up some excitement for me, as very discerning travelers would lift a hand and say, "Oh you just have to go to The Breakers."
(Check your dates for rates at The Breakers.)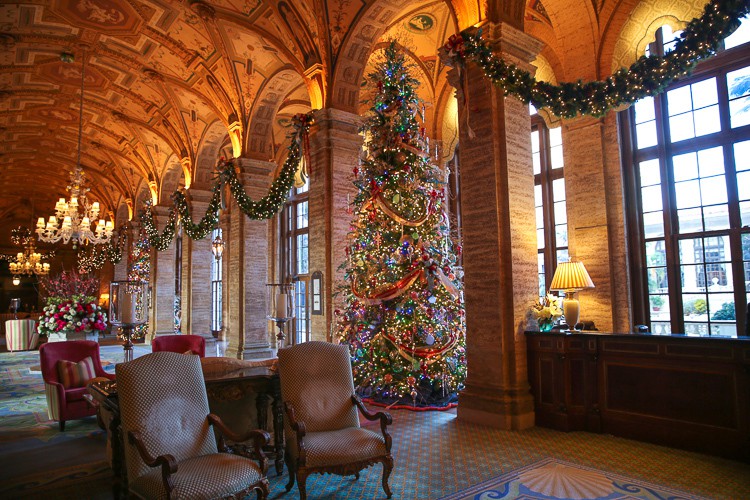 Pulling into the resort for the first time, I admired the iconic double-tower structure and what Henry Flagler contributed to the history of Florida tourism and development of the area.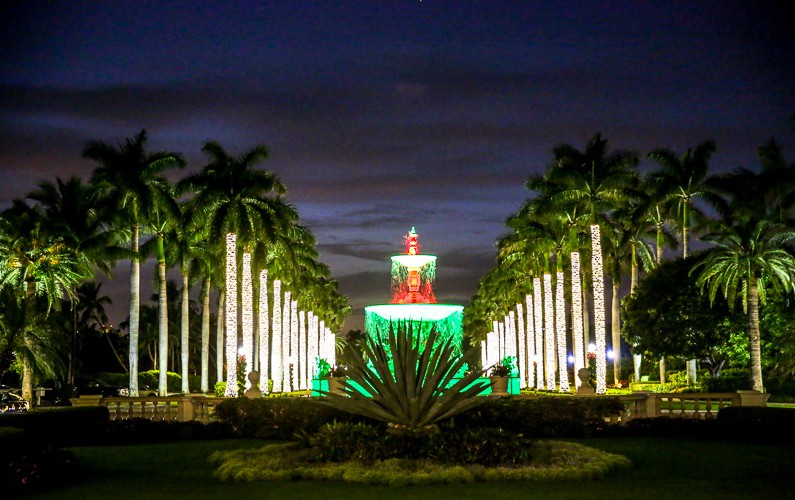 Miami was almost called Flagler, but he refused the honor. His determination to extend a railroad all the way down to the Florida Keys singlehandedly led to building Florida's economy.
The magical feel of stepping from the porte-cochère at The Breakers into its lobby is not rivaled by many hotels: The Plaza, with its new Palm Court, is the only hotel I can think of that matches the heft that The Breakers interior spaces possess. The resort is so legendary that nearly every painting and photograph adorning its walls are of the hotel.
---
JOIN LUXURY HOTELS & RESORTS FOR FAMILIES,
A FACEBOOK GROUP FOR SEEKING HELP AND INSPIRATION
FOR THE BEST LUXURY FAMILY BREAKS.
---
Schultze & Weaver, the architectural team who designed The Breakers also designed the legendary Sherry-Netherland and Pierre hotels in New York and the Biltmore in Miami. The Breakers was inspired by the story of a resorted palazzo in Genoa, and Italian craftsmanship is all around, particularly when looking up. No, the guests aren't really that haughty, it's just that everyone is mesmerized by the hotel ceilings.
The same family has privately owned The Breakers since it was built in 1896 and is committed to investing a minimum of $25 million per year to the ongoing refurbishment and maintenance of the property. The latest ambitious project was a completely new spa and fitness center we featured as well.
The Breakers Family Suites
The rooms at The Breakers are furnished with many details that we associate with elegant Palm Beach style: cheery color accents, grasscloth wallpaper, bamboo trim on the ceilings, and chinoiserie elements throughout. The excellent quality of the bed linens and the very well-stocked bathrooms impressed me, and the current season's Lilly Pulitzer catalog served as a second sort of hotel room Bible.
The Breakers Palm Beach is like other historic properties where standard rooms are somewhat smaller than modern hotels. We were given a classic junior suite, which had two double beds and a pullout sofa to start; yet the pullout sofa was a twin-sized bed. In the end, it was challenging for our family of four to fit into those three smaller beds so we changed.
We moved to deluxe suite with a king size bed and a double pullout sofa in the main room and found that worked much better for us, and the staff handled the room changed seamlessly. My advice is to splurge for the biggest room or suite category your budget allows and also to compare the cost of two adjoining rooms. Like Disney World, however, there is much to do for families, so you may not be in your room very often.
Kids at the Breakers Palm Beach
What I loved specifically about The Breakers is that every open space, with its manicured lawns that were as flawless as PGA putting greens, always had families playing soccer or tag. One might assume it's very austere, but it is absolutely designed for family vacations.
The family pool areas are separate from the quieter adult pool. A large kiosk sells every possible pool toy a child could want as well as any flotation device a child needs. Stairs from the pool area lead to the beach where children float in inner tubes, build massive sand castles, and bob down the shore on the daily ride on the banana boat towed by jet ski.
Several family craft activities like spin art or tie-dye making are offered throughout the day around the activity pool. Families can rent pool-side bungalows to make a day of it that come with private outdoor showers, televisions, and areas for sleeping babies and sleep-deprived parents.
Sports are serious business at The Breakers as well and offer excellent golf and tennis clinics for children and cycle rentals.
The Breakers Family Entertainment Center that offers an outdoor shaded playground that was charmingly transformed into a holiday wonderland with dangling candy canes and a gingerbread house.
The Breakers Family Dining
The Italian Restaurant, its actual name, is the resort's central choice for family dining. In fact, many Palm Beach residents consider it a ritual to take the kids or grandkids for meals during the season.
Imagine your fantasy version of Chuck E Cheese because that's what The Breakers cleverly designed. A wall of windows separates the restaurant from a play area for young children with blocks, a dollhouse, and cars. Kids can roam between their table and the playroom under the gaze of the parents. This was a super fantastic convenience for us. My husband and I looked across the table to find ourselves alone while waiting for our food.
An arcade further down a hallway attracts the tween-aged guests passionately engaged in earning prizes from miserly games. Parents were floating around or playing while holding goblets of Pinot Nero from the Italian restaurant, wearing expressions of serenity you don't see at Chuck E. Cheese.
I found The Breakers food options to be excellent and diverse. There are many restaurants and an organic herb and produce garden on site as well as a steak and a fusion Asian restaurant that are a shuttle ride away.
We enjoyed Echo for sushi, and it happens to be near Sprinkles, the legendary Palm Beach ice cream parlor. Echo impressed me that it was sleek with its black lacquer booths and dangling red pendant lights, yet the first thing we were served were wiki sticks and edamame: the start of any successful night out with a four year old.
I was so glad I didn't have more than one person to share one of Echo's famous soufflés. We chose toasted coconut, and it was the tallest dessert my son had ever seen.
In-room dining was distinctive for its adorable cart presentation, and everything we ordered was perfect.
We had breakfast each morning in the grand Circle that provided an incomparable setting. The buffet was thorough and filled with many choices for those on clean diets and included many herbs and vegetables from The Breakers garden. The vegan hash with granola, fresh pressed organic juice blends, and hotel-grown salad greens went perfectly well with Eggs Benedict.
The Breakers Kids' Club
There is no shortage of childcare at The Breakers. Many resort guests and club members travel with nannies, even multiple nannies. But for the rest of us, there is a wonderful kids' club, Camp Breakers.
Camp Breakers is very well run and organized. What I liked about it is on one extreme some resorts we've visited offer very structured kids clubs that feel like school. Children are divided by age and can only attend full day programs.
The Wequassett, Cape Cod
On the other extreme is a recent example where two young adults sat in a room using their iPhones whose sole purpose was, as my daughter put it, "To keep me from decapitating myself."
The Breakers' kids' club is a perfect balance of flexible structure, and the counselors chose activity based on the kids present. My daughter asked to stay the full day and then wanted to return for the nighttime program as well. She enjoyed a nature hunt, crafts, and lunch with new friends and didn't want to leave at three.
I know I wasn't the only person impressed because I saw a mom was pull a staff member aside to ask if it was appropriate to provide a large gratuity for the counselor who had really gone out of her way to make their daughter very happy while she was there for the week.
Service at the Breakers Palm Beach
The service at The Breakers was notably good. The staff are as well dressed as they are capable. Everyone is adorned in a Gretchen Scott or Lilly Pulitzer frock according to their resort role. It was easy to tell that the 2,000-member staff was empowered to handle the requests and issues of a clientele with high expectations on the spot. When we asked to change rooms, it was handled with great efficiency.
Many of the younger staff in guest relations struck me as those who spent their childhood on property. After our room change, I realized I had left a full-sized bottle of Kerastasse shampoo and conditioner in the shower of our first room, and any woman would be sympathetic with that loss.
I called and asked for the staff to see if they could return my shampoo while I got my children in the bath. My husband popped his head in and said, "They brought your shampoo," but he was holding bottles of the hotel's shampoo. I knew only a young man would do such a thing. A second effort brought my Kerastasse back to me.
The Breakers lived up to its hype. The property has never looked so good, according to the members I spoke with on the playground or at the spa. It contains everything for a family vacation on site, even though Palm Beach continues to offers many other family attractions.
Unlike the other beach resorts in the area that don't necessarily feel like like anyplace specific in Florida, The Breakers offers an authentic Palm Beach feel because of its membership club to seasonal residents. There is a very distinct "other side" to the resort for grownups that is equally fabulous and will be featured soon.
Although we were guests of The Breakers, these opinions expressed are entirely my own.
HOW TO RECEIVE VIP AMENITIES AT THE BREAKERS
Luxe Recess has access to exclusive discounted rates, complimentary room upgrades, a $100 resort credit, free breakfasts, and personalized welcome amenities. Sure, you could book your trip on your own, but you'd miss out on hundreds of dollars in exclusive amenities, as well as personalized VIP treatment by the staff at The Breakers.
As a luxury travel advisor, I help ensure your vacation goes off without a hitch. From the selection of the best cottages or rooms to the VIP welcome amenities, your trip to Palm Beach will have those little extra moments of joy.
Please book a consultative call to plan your vacation.