Does your family need some adventure? Cuddly animals in the wild? A Costa Rica family vacation will offer you many experiences unlike any other destination.
This spring, we decided to go on a bucket list family trip to Costa Rica. Typically, we find a sunshine-soaked sandy beach a great place to escape the dreary winter weather, but the timing seemed right to take our family on an adventure unlike anything we have ever done before. And let me tell you, our Costa Rica family vacation was worth every minute! 
We felt that our daughters were the perfect age to enjoy and appreciate the tropical rainforest, see the animals, and experience some daring day trips (zip lining! canyoning!) that would capture joy and make lasting memories. And this Costa Rica vacation delivered.
Our Chosen Itinerary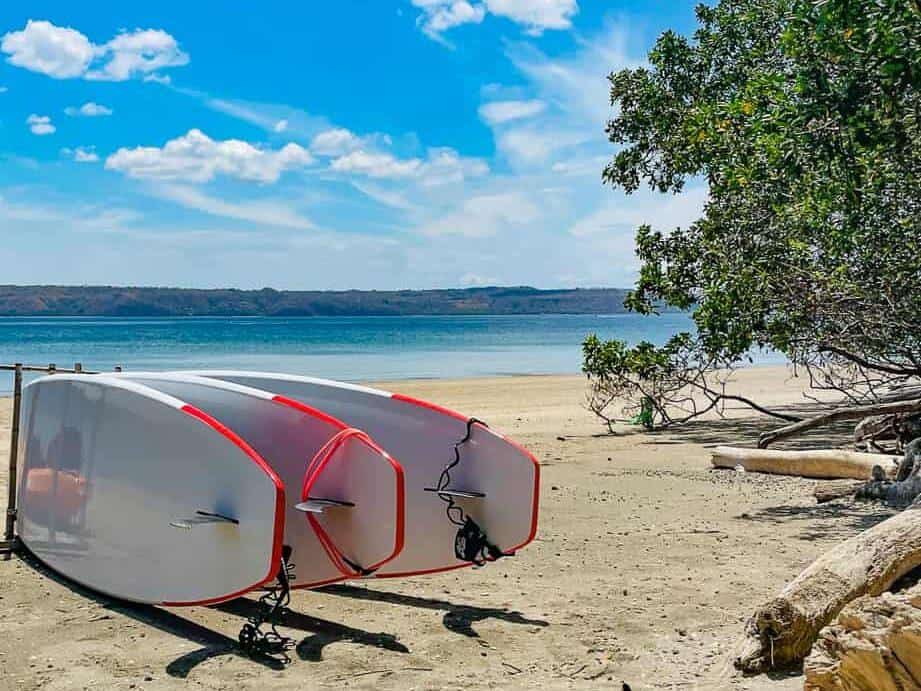 When I started researching travel, I knew that we wanted to be able to see both the rain forest and enjoy a little sunshine at the beach in order to capture different aspects of this beautiful country. Many people enjoy the central Caribbean coast, including the areas surrounding Quepos, the gateway to Manuel Antonio National Park, but our hearts became set on an adventure in the northern pacific coast of the country.
We structured our eight-day trip to allow five nights at Arenal Volcano Park and three nights at the beach on the Pacific coast. Our initial stop was designed with a built-in day for relaxation once we got to the hotel (or to buffer any travel day delays) before our full schedule of full and half-day fun trips commenced.
STOP!
JOIN OUR LUXURY HOTELS & RESORTS FOR FAMILIES,
A FACEBOOK GROUP FOR SEEKING ADVICE AND INSPIRATION
FOR THE BEST LUXURY FAMILY BREAKS.
There are two International airports in Costa Rica, one in Liberia (more northeast) and one in San Jose (more centrally located). Given Nayara Tented Camp is located 2.5 hours from both Liberia and San Jose we felt our best option was to fly in and out of Liberia as this airport was closer to our beach destination.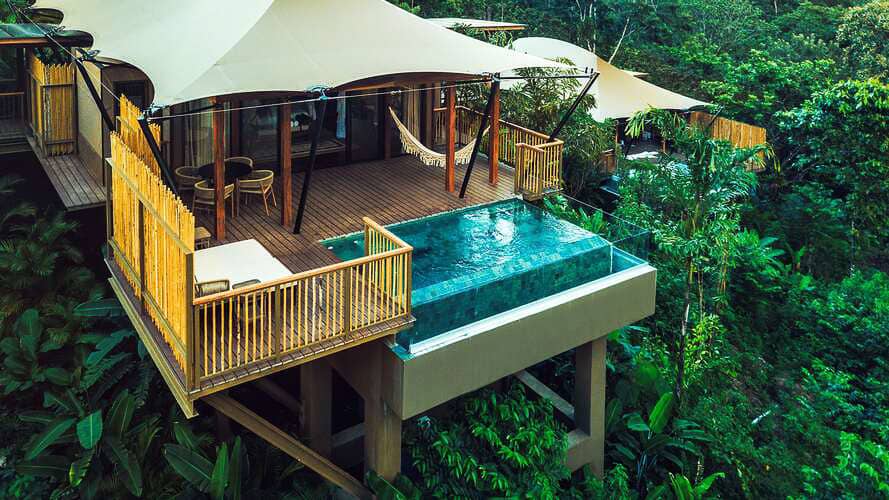 Nayara Tented Camp
From the moment I looked at the resort web page and their photos on Instagram, I knew that Nayara Tented Camp located in Arenal Volcano National Park, was where I wanted to be. It was also named as Travel and Leisure's best resort in Central America 2022, with additional mentions in Conde Nast Traveler, Architectural Digest, Elle, and Vogue.
After many hours of plane and car travel we arrived at Nayara and were greeted at the welcome area with flavored waters, cool towels and our first glimpse of what awaited. The resort is so expertly embedded within the rain forest that cars cannot travel past this point. We were taken via golf cart to the reception area and given delicious fresh pineapple and ginger drinks as we received an overview of the resort.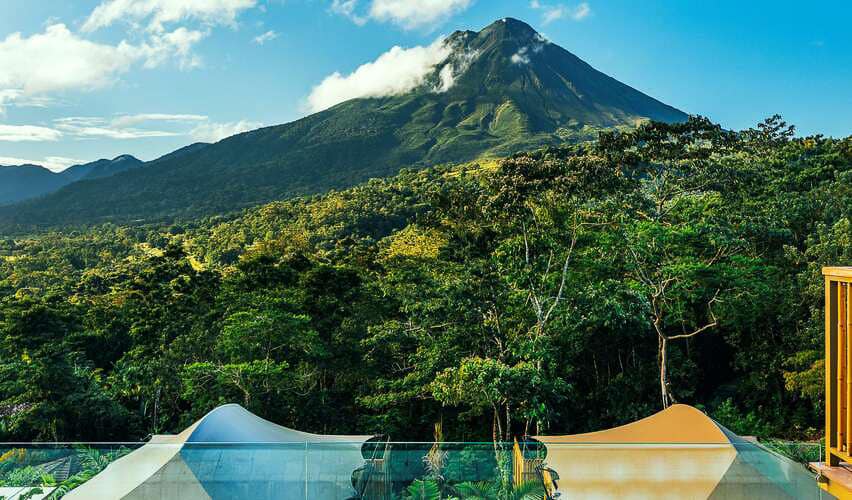 Getting to Nayara Tented Camp
I will warn you that the drive from Liberia airport to Nayara Tented Camp is not for the feint of heart. It was one of the most windy and curvy roads I have ever been on. As a mother of two motion-sick children, I would recommend being prepared with whatever usual precautions your family needs for a successful journey.
However, the scenery is beautiful and you can watch the landscape change, from arid to more tropical, and see Lake Arenal and the volcano as you approach the hotel. We had a car service for airport and hotel transfers which I would highly recommend as it did not appear that many roads were clearly marked. It was not overly expensive and a great way to ease a challenge of traveling in a foreign country. You will find that once you get to your location, the hotels and all tour companies offer any transportation that you might need for day trips.
Those Luxurious Tents
At Nayara Tented Camp, each private room is elevated on stilts and has a breathtaking volcano view that you can enjoy from your own private plunge pool (with water heated from the natural hot springs), all while surrounded by amazing rainforest flora and fauna. It's made to feel like you are camping and listening to rain, birds and frogs… all while enjoying five-star luxury.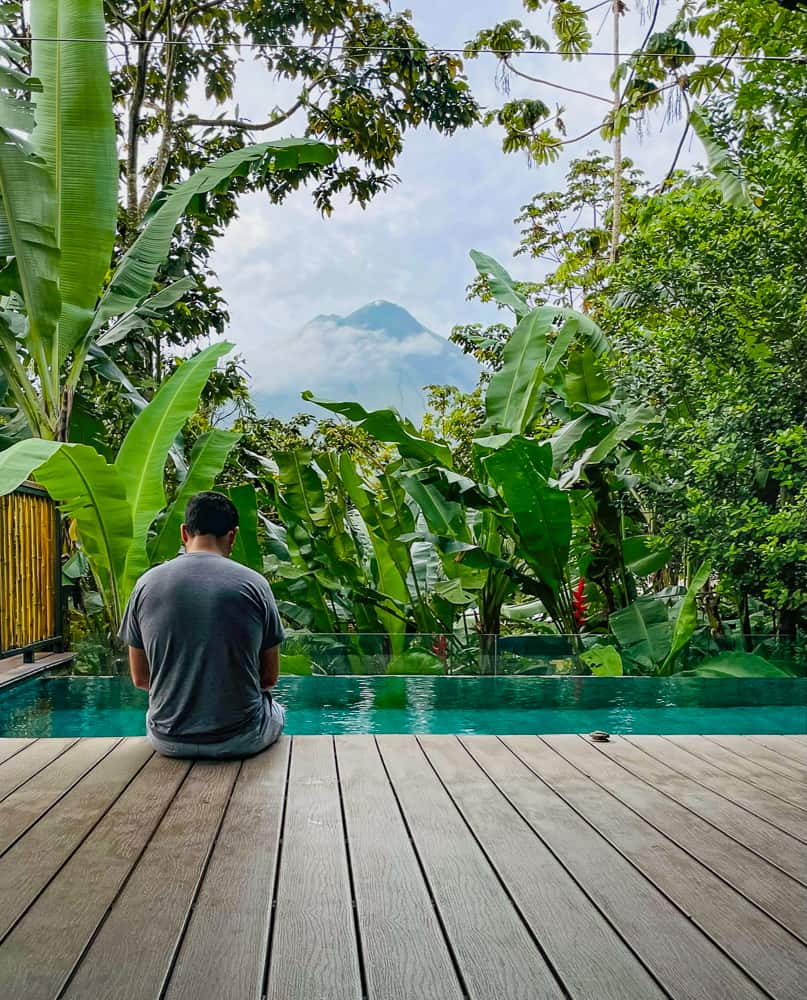 The rooms are stunning with canvas-covered walls, ceilings and roofs. A king-sized bed was in the middle of the room, elegantly draped with white netting dropped at turn down service to further emulate a camping experience. Our two daughters each had their own twin-sized day bed built into the room in nooks with windows allowing for a tropical view.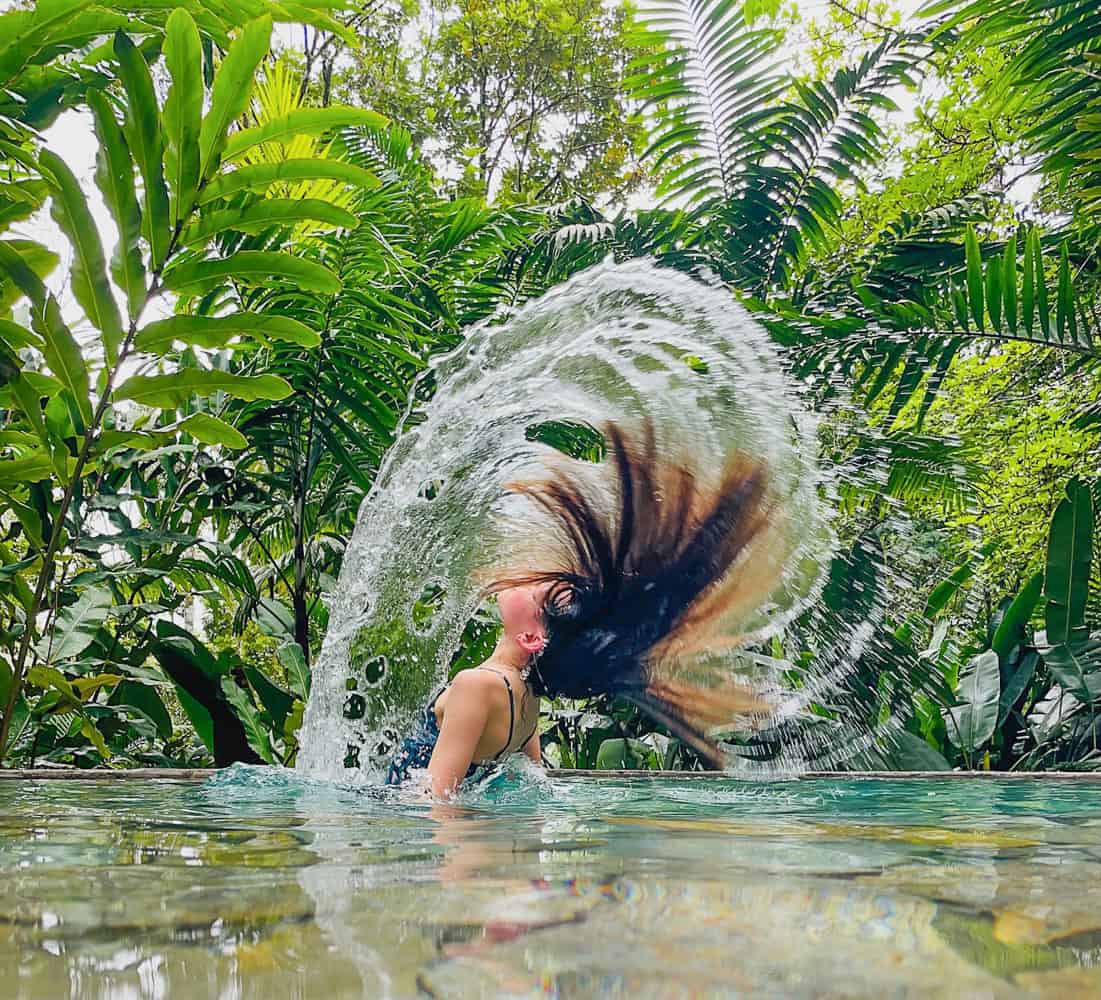 The real show stopper was the deck with our private (warm) plunge pool with a volcano view and hammock. It was so beautiful and peaceful that we chose to have breakfast delivered and set on the deck every morning. From there we would practice spotting tropical birds, plants and animals. Everything became easy to identify from the small guides left in each room which encourage walks about the property as you learn about native Costa Rican species.
The following day we enjoyed a relaxing and serene couples massages at Nayara Springs that was open air; we loved hearing the sounds of the rain and the animals.
Dining at Nayara Resorts
Nayara properties include Nayara Tented Camp, Nayara Gardens and Nayara Springs (adults only). With children, you have access to both the Tented Camp and Gardens for amenities, bars and restaurants. We ate at all three restaurants available to us and the food was outstanding.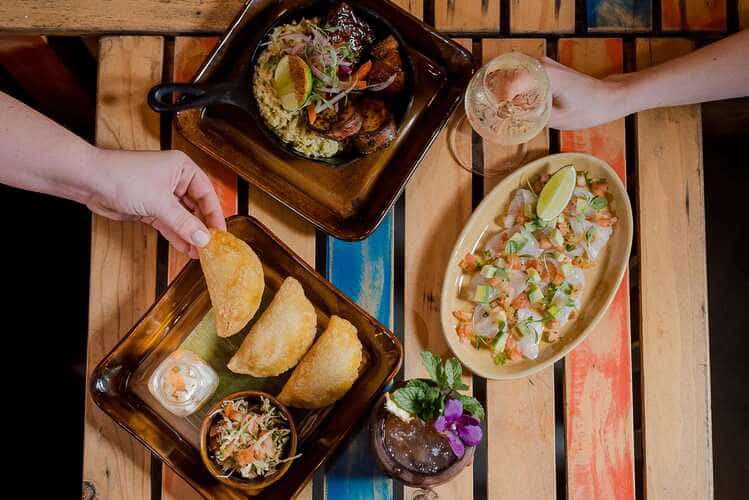 We are vegetarian and every restaurant was aware of this when we arrived and even asked if we wanted to order off the special vegan menu in addition to the many options the regular menu provided.
Everywhere we ate they made sure to inquire about allergies or restrictions and were very mindful. My children will definitely tell you the mocktails and special juice drinks were a big highlight.
Adventures With Sloths and Hot Springs
The next morning, we packed up our complimentary stainless steel water bottles and hats for the kids and walked over a suspension bridge to swim in thermal hot spring pools, go on a sloth walk led by the resort's naturalist, and enjoy one of the most serene and relaxing places at which we have ever stayed. At night, our golf cart driver asked if we would like to look for frogs and led us with flashlights to look under leaves in the surrounding area to find as many species as we could.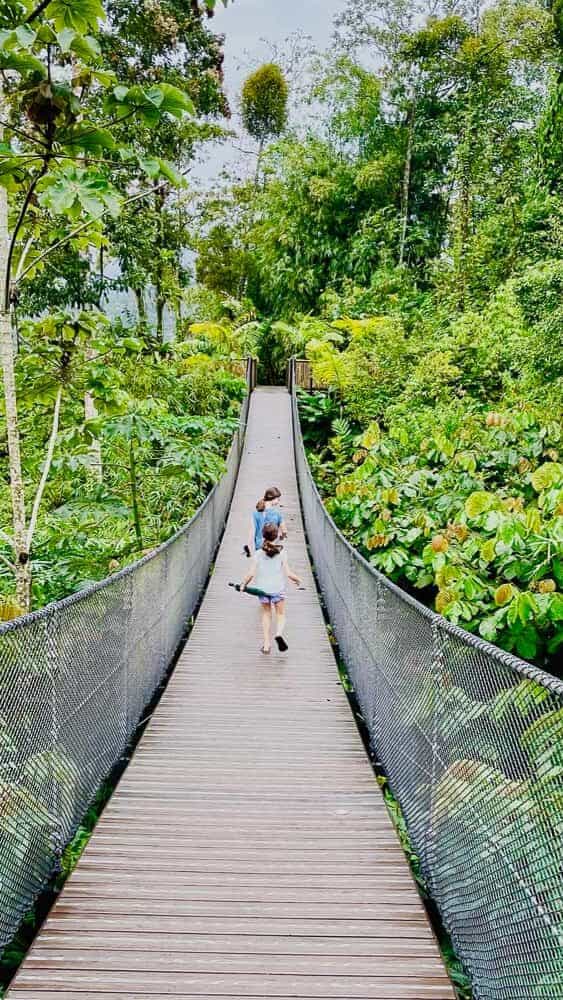 What To Do on a Costa Rica Family Vacation
When we were not enjoying our hotel, we booked one full-day trip and two half-day trips. Before our trip I showed our family a list of activities offered in the area and we talked about the ones that we found most exciting. There are day trips for whitewater rafting and all types of eco-adventures but we wanted to be sure we did ziplining, canyoning, La Fortuna Waterfall and the Mistico Hanging Bridges.
This itinerary was a good option as it offered adventure but still time to enjoy the hotel – including the amazing outdoor shower at our room that allowed you to bathe in the rain forest! Given how much time we spent in the car to get to the rainforest, we also chose activities that were no longer than twenty-five minutes from the hotel.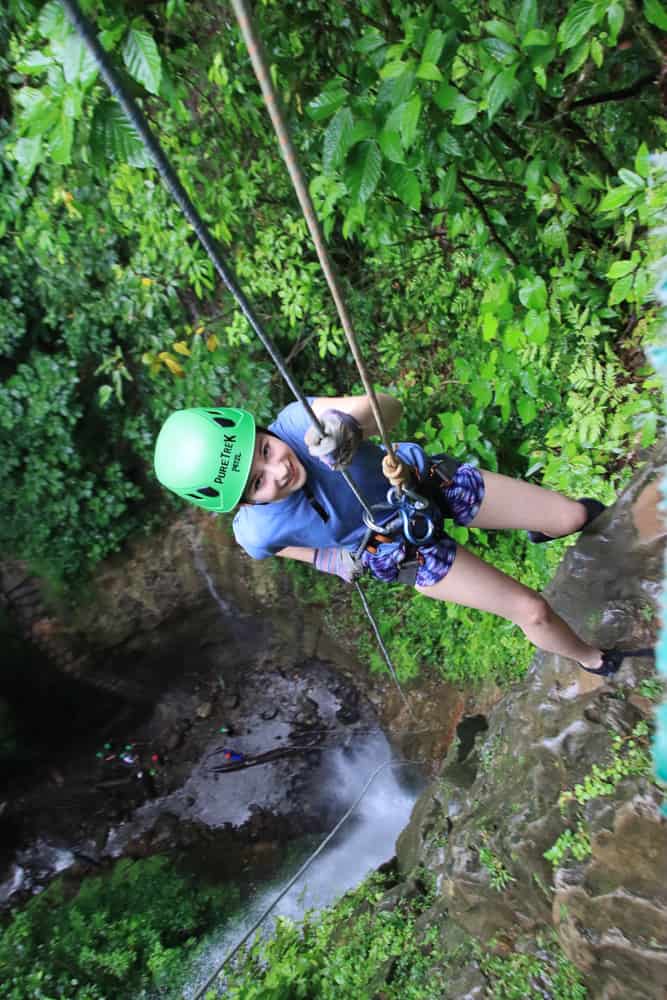 Canyoning Experience (four hours):
We used Pure Trek Canyoning which was recommended by Nayara but also the most highly-rated on Trip Advisor. I was specifically looking for fun and safety with my young kids in mind. Their website talked about various safety mechanisms used and how they prepare you.
Canyoning involves rappelling down a cliff into waterfalls and pools, all while attached to safety harnesses and being controlled by professionals both above and below you. This was thrilling and my kids' favorite activity. They allow for children as young as five, but I do feel it would be challenging for very little children (my nine and eleven year-old kids were the only smaller children there).
You do need to have a good range of physical activity as there is a long walk up stone and wooden stairs and, at the end, a climb up a wooden, wet ladder and a "monkey drop" into a pool of water.
My youngest only weighs fifty-three pounds and she was able to do all the activities but be mindful that if you have a child that is unsure about this, once you start, you cannot go back and must complete the whole course as that is the only way down. She was apprehensive but after the first rapell down of 150 feet she felt completely secure and was so proud of herself – she was ready for everything that came next.
Mom Tip: Pack for a Rainforest
It is wet. Even if it is not raining you will go in the waterfall and the pools. It is a good idea to wear a rain jacket, clothes that dry easily, and water shoes. Even if the rain jacket gets soaked through, it provides some warmth. Your sneakers will not dry in this weather so invest in water shoes or closed-toe Keens for all.
This advice holds true for all your time in the rain forest. We went in March which is considered the dry season and it still showered every day. The rain was warm and pleasant and in no way took away from our activities. Canyoning is definitely not something you would be able to do many places and was very unique.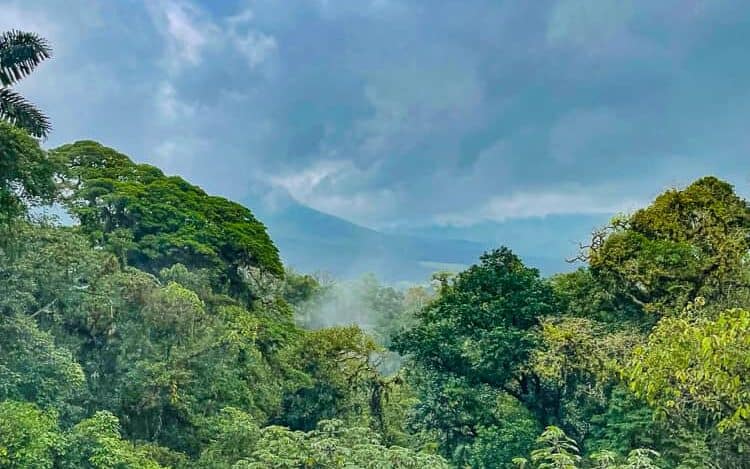 Mistico Hanging Bridges, La Fortuna Waterfall & Ecothermales Hot Springs
For this portion of the trip we hired a local driver for this nine-hour guided tour. You can do this on your own in a rental car but, again, I would be concerned for navigation. In addition, our guide was a naturalist that came prepared with binoculars, a telescope, and the ability to identify and find all types of plants, bird species, and other animals (think sloths, bats, pit vipers) that were camouflaged in the trees. We would never have found these on our own.
The Hanging Bridges, while beautiful, are a big tourist attraction so remember that they come with crowds. The whole time in the park took about three hours. It is a long, slow loop and we did have to stand and wait in line to cross the bridges which allow only fifteen people at a time. There are several exit points along the trail to shorten your stay if you wish to spend only a brief time and see just one or two suspension bridges.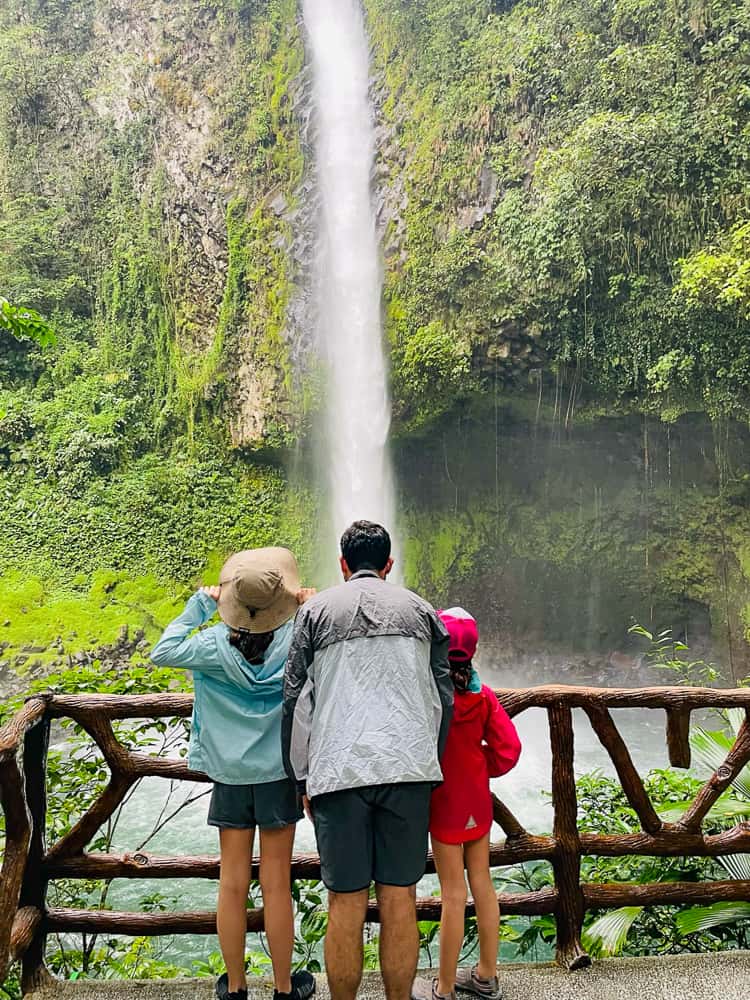 Our next stop was La Fortuna waterfall, the largest in the area and a landmark, so expect crowds here, as well. We changed into water shoes and walked down approximately five hundred steps to view the waterfall. Depending on conditions, you can get into the water but it is cold and the current is very strong, so I would not recommend entering for very young children (there is an alternate area to wade in the water that does not have a waterfall view). Be prepared for your climb back up!
Our day ended with Ecothermales hot springs. We brought bathing suits to change into and were provided with dry towels. There are six pools of differing temperatures. We were told that these hot springs, and those at a Tabacon (a nearby resort), have the nicest hot springs in the area. Our kids loved it and it was nice to warm up after the waterfall, but if there was one part to skip it would be this. The hot springs at Nayara are nicer and much less crowded.
Ziplining (four hours):
Again we used the recommended company from Nayara and were picked up by Sky Adventures. The course consists of seven zip lines, the highest around 1300 feet and the longest at about a half-mile. I felt completely safe. The instructors were fun professionals and talked us through each line. My girls are very petite and had to ride together on all but one to have enough weight to get across.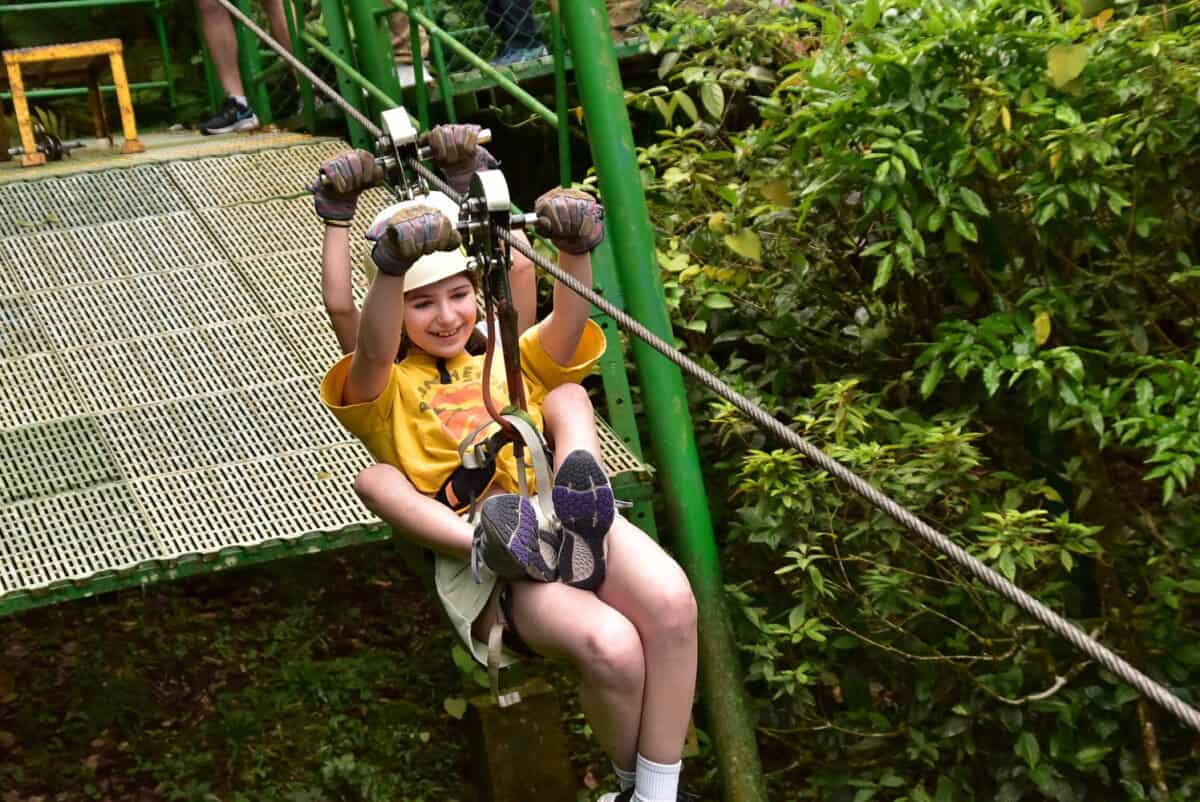 Because the tour operators had told us what to expect and how to turn oneself around and use your arms, if needed, our daughter was able to pull herself in and did so with a smile on her face to the cheers of the other guests. This was my personal favorite activity – it was exhilarating!
Pro tip: we locked up our phones in the provided lockers to avoid dropping them but I would have rather brought a small belt bag or shorts with a zipped pocket to facilitate taking photos and videos. You can also rent a Go-Pro.
The entire family was incredibly sad to leave Nayara Tented Camp. It should absolutely be a part of your Costa Rican adventure.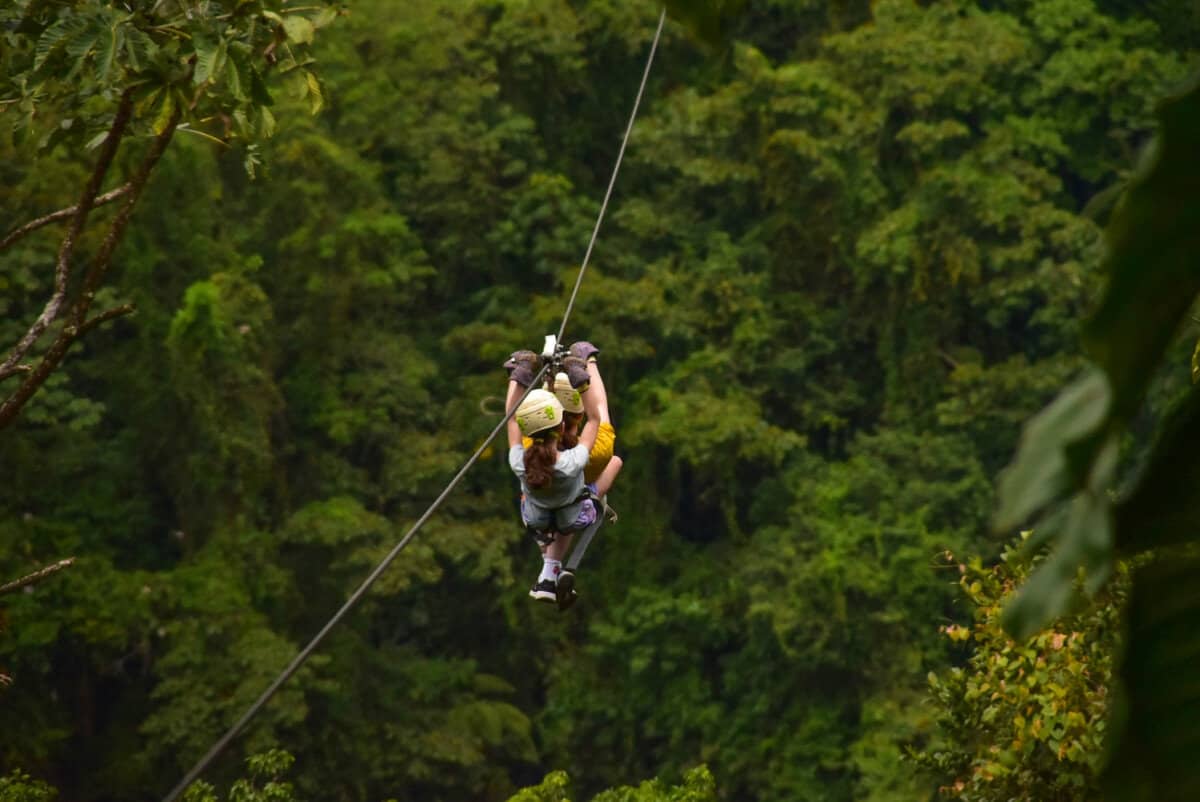 A Costa Rica Beach Vacation: The Papagayo Peninsula
We felt that the Peninsula Papagayo area in Guanacaste would provide the warm, relaxing beach compliment to Nayara that we sought to enjoy before heading back to snow in our home town.
We packed up and prepared for the car ride out. With traffic, and two stops, it took four hours; we were incredibly happy to reach Andaz Costa Rica Resort at Peninsula Papagayo.
Peninsula Papagayo is thirty-five minutes from the Liberia airport, tucked into a serene, private bay. This gated community is also home to the Ritz Carlton residences, the Four Seasons and the marina.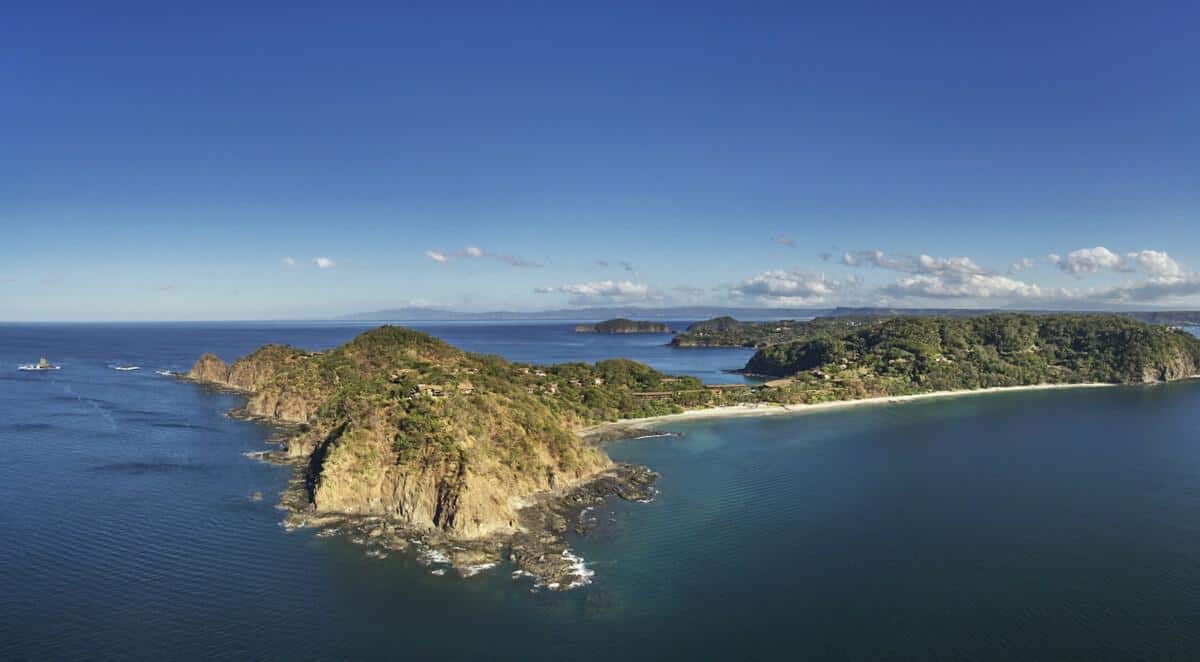 We knew we were in a good spot as we located the CEO of Starbucks' yacht moored in the water. The hotels and houses in this area are on a cliff, presenting a beautiful elevated view of the bay, another contrast to a typical "beach resort."
Andaz Costa Rica Resort at Peninsula Papagayo
Andaz is all open-air with a luxury beach vibe. A purple VW bus greets you as you pull up to the lobby. We were handed cool towels and fresh, chilled coconuts to drink out of as we awaited our room. Turtle-shaped chocolates and mini fedora hats and flip flops for the whole family were waiting in our room on arrival.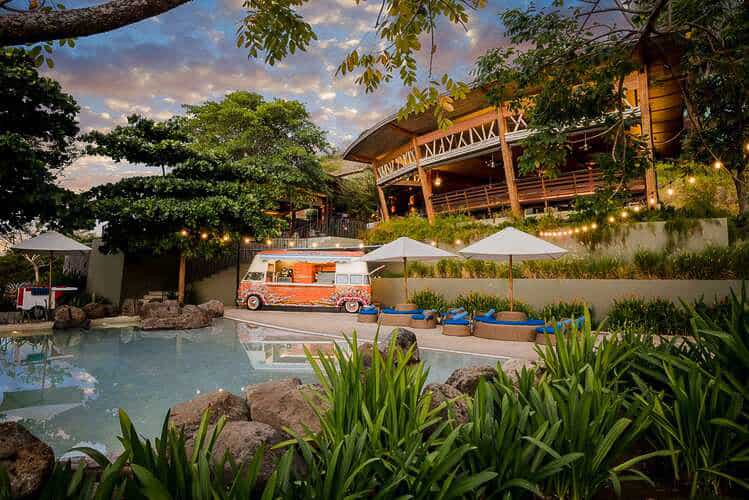 Our accommodations featured a comfortable balcony with a couch for reading and a shower door which opened to the balcony allowing a pseudo outdoor-shower experience.
Since we packed in many outdoor activities while at the rain forest, our objective at this beautiful and rustic beach was relaxation. There are actually two beautiful beaches. The first is just steps from the hotel and is a great spot for snorkeling to view marine life (sea turtles!), kayaking, paddle boarding, and even horseback riding along the water's edge.
A secondary beach that you may visit via a five-minute water taxi ride (another hit with the kids) offers all of the above-listed complimentary activities and, for a fee, double jet skis to rent which we used to race down the peninsula. Here there are more lounge chairs, day beds and a restaurant for lunch and drinks nestled in the shady trees. The water was so calm and was the perfect temperature. We enjoyed our time reading, swimming and looking for shells followed by a dip in the pool at the end of the day.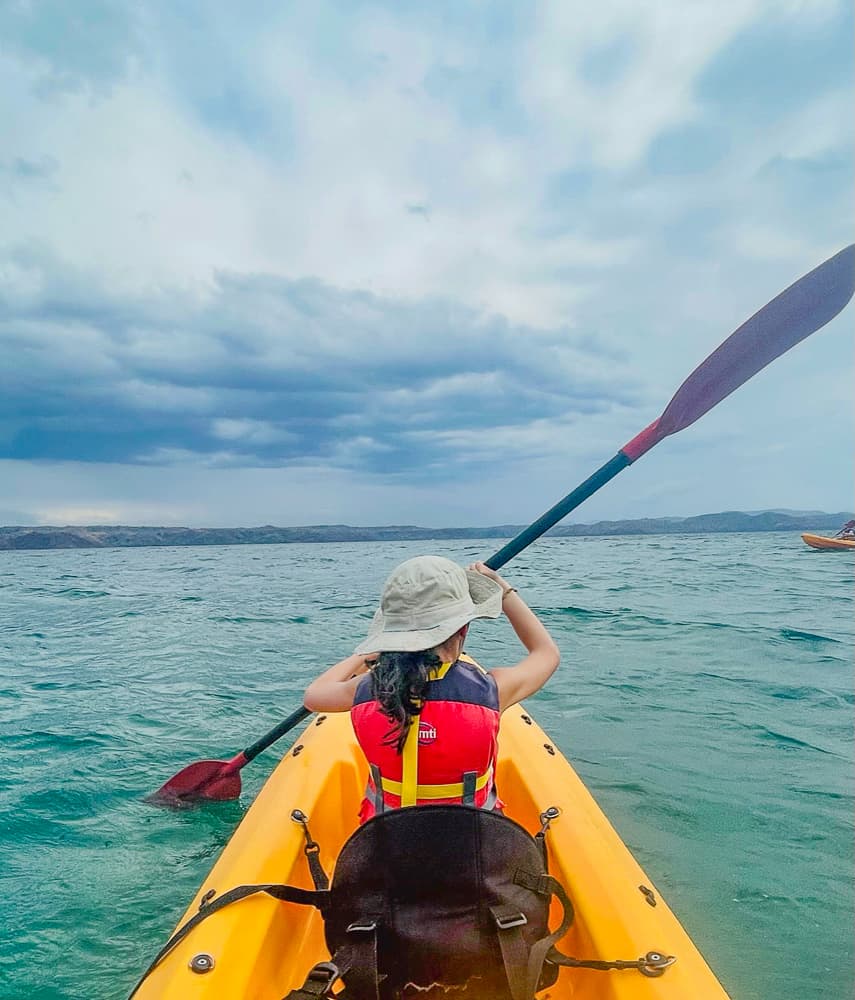 Make sure you put on lots of sunscreen and a hat. You are nine degrees from the equator! My husband wanted to try surf lessons but the water was so calm, and an excursion to find better waves would have been 1.5 hours away, so he opted out of that activity given our shorter time at this hotel.
There are three restaurants on property, in addition to the pool and beachside lunch options, that are very good. A delicious buffet breakfast was included… with great views of adorable white-faced howler monkeys climbing in the trees. We ate at two of the restaurants but opted to take the complimentary shuttle to the Four Seasons about seventeen minutes away for dinner one evening.
The Luxe Upgrade: The Four Seasons Costa Rica
The Four Seasons is a stunning property if it is in your budget. While Andaz was lovely and relaxed, you can't deny the extra sparkle that a Four Seasons resort provides. There are guest rooms, suites, and fabulous villas for when you bring extended family or more friends. The resort is undergoing renovations in 2023 and will be closed a few months.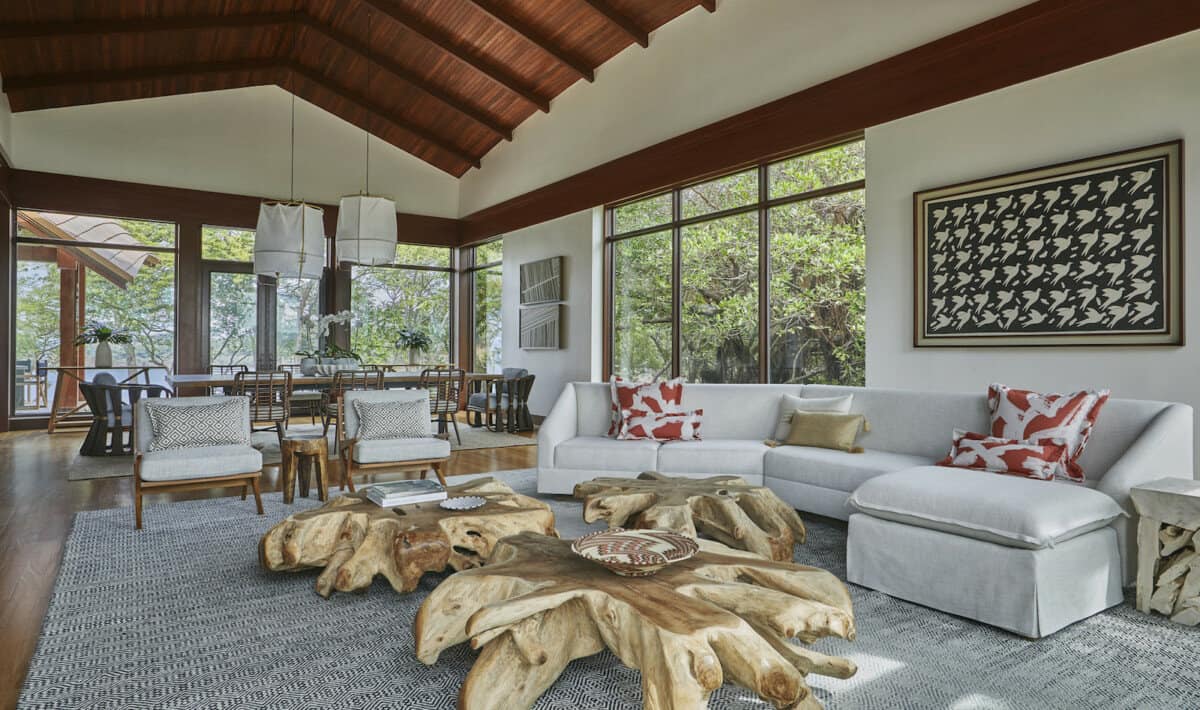 We had a fantastic dinner in their Latin American restaurant Bahia and even returned a second time on our final night before heading home.
That night we played a game in which everyone had to say a different animal that we saw on the trip without repeating a previous entry. It took 15-20 minutes before we were all out!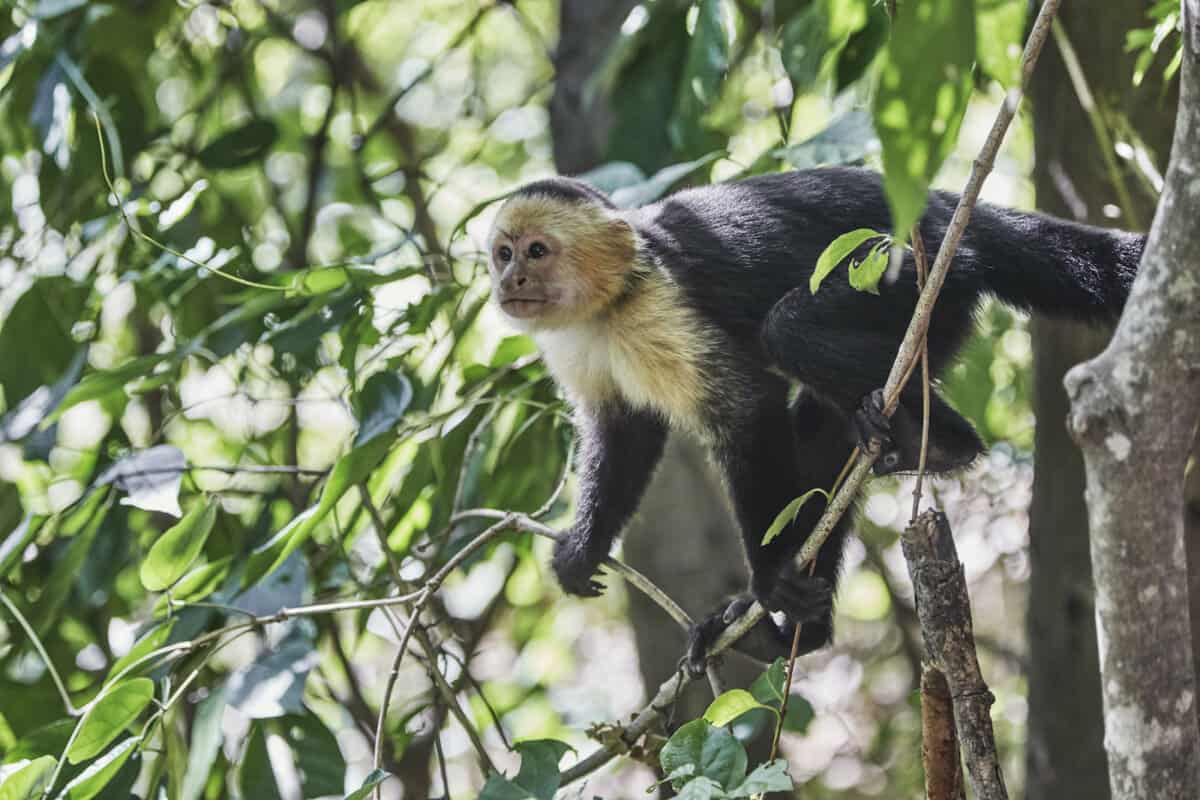 In summary, this may have been our best family vacation to date. It was so different and special. We did things together we have never done (and may not get a chance to do again) and experienced many firsts as a family.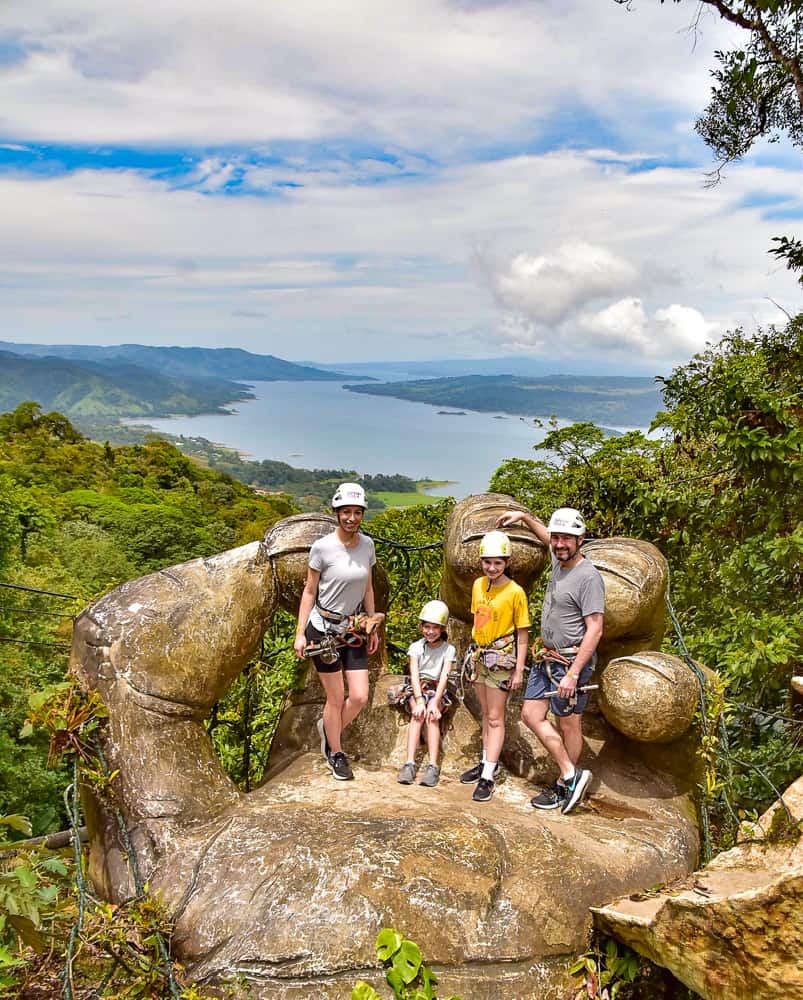 When again will we be able to fly over a forest canopy of trees, drop 150 feet into a waterfall, spot a toucan while eating breakfast, or open up our door to a curious monkey? From the natural beauty, to the people, to the food, to the culture, Costa Rica, you have my heart, and I am so thankful for memories that will last a lifetime.
Pura Vida!
How to Book this Vacation
Luxe Recess can book the Nayara properties as well as the Andaz or Four Seasons with many additional perks. We can also create a complete itinerary with transfers, guides, and hotels via our on-the-ground partners for the best, most stress-free vacation.
Set up a consultation call today to get started planning.