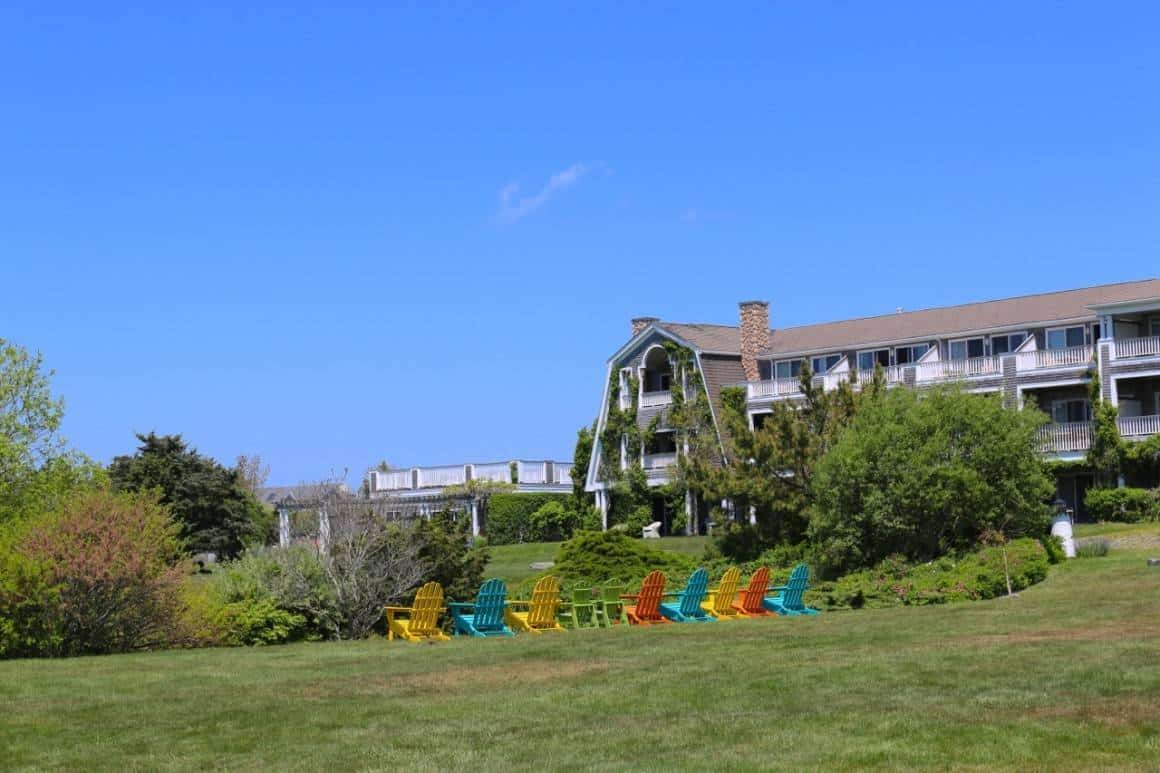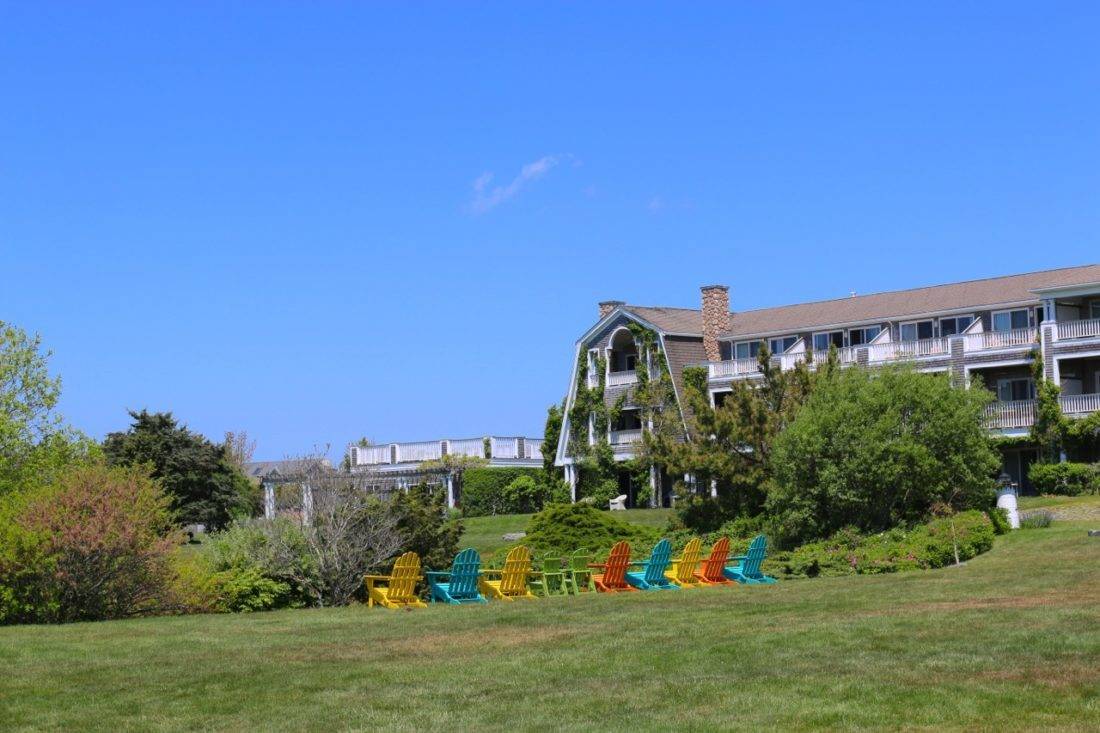 It was after a first-rate dinner with newly made friends that I found myself on an expansive lawn next to a turtle pond drinking Veuve Cliquot and watching our preschoolers run through sprinklers wielding croquet mallets. They were getting soaked, and we didn't care, as long as they weren't swinging at someone's head.
We were parents on vacation enjoying lawn sculptures, ocean breezes, and the present moment.
The Winnetu Oceanside Resort occupies one of the best stretches of South Beach on Martha's Vineyard, closest to Edgartown. Owned by Mark and Gwenn Snider, the resort proves that these parents know how to meet the needs of families better than almost anyone in hospitality.
I had the privilege of visiting their sister property in Nantucket in the spring, and can attest that the families with young children will get all that they have been looking for: unique activities, supervised children's programming, excellent food in a stylish, boutique resort.
Nantucket verses Martha's Vineyard
Our trip began in the most befitting way, practically screaming the distinction between Nantucket and Martha's Vineyard. The former is a smaller island community of immense wealth, popular with white shoe one-percenters and those who like wearing whale-adorned clothing. The latter is a larger island with various communities that lean to the left, from Presidential hosts to island artists.
It's only fitting that a kind and chatty woman from the ferry who offered my son and I a ride to the Winnetu Resort was a mystery-writing Unitarian minister. "We'll drop you off. We have a Volkswagen van." And she did, adorned with "Co-Exist" and rainbow bumper stickers. Welcome to the Vineyard!
---
Join the Luxe Family Trips Facebook group where well-traveled parents advise on another.
---
The Winnetu's location
The Winnetu is a beautiful three story grey-shingled structure set on sprawling lawns with turtle ponds and paths to South Beach. Surrounding the main resort are homes for seasonal rental that often book a year in advance.
Also like their Nantucket Hotel, standard rooms were designed with families in mind. The living area and sleeping areas are separated by a galley kitchen and bathroom— though there are no actual doors. The design is fresh, fun white and gray chevron wallpaper with colorful art and accents. Rooms are practical for a family, including mini-kitchens, pullout sofas, and hidden trundle beds.
What distinguishes the Winnetu from other resorts is the whimsical amenities and hotel design that is outside the typical luxury hotel formula. Someone had lots of fun enhancing your vacation.
Having stayed now at both of the Sniders' properties, I would say they are passionate as buyers of art and collectors of vintage transportation. Many pieces of art are commissioned for property: faux vintage posters, scale models of past island ferries, lawn sculptures, and the most beautiful wooden chess set. Though chess sets are ubiquitous at resorts now, they don't look like this.
Family activities
This chessboard courtyard is a key hub of family activity every day at 3 pm, where families gather for lemonade, cookies, face painting, and the daily round-trip ride to the shore in a vintage fire truck. The kids love it, and it offers parents a chance to socialize. This is nice because on check-in day, some kids will have that instant play-with-me connection; you learn names and can urge them to meet up with their new friends at the kids' club the next morning.
The activity center is a short walk or shuttle ride from the main building and houses a gym, a second swimming pool, massage appointments, and the kids' club. The kids' club has both large indoor and exterior spaces filled with playground equipment, a large pirate ship, and basketball court.
On the day my son attended there were several young preschoolers. The resort makes an effort to attract parents of preschoolers in June and September when their programs are not in session while public schools are. My son and others participated in an obstacle course, story time, and free play.
Friends I spoke with got massages during kids' camp and reported a satisfying experience, too, though there is no full-service spa. The fitness center is solid, though not large.
Access to the beach is a long winding path through coastline vegetation. South Beach is public, and there is no beach service from the resort— though your hotel room closet has chairs and towels for you to take.
The pool at the main building is stocked with pool toys to enjoy and an adjacent poolside café serves lunch during the summer season.
The resort offers regular shuttles into Edgartown and stops next to an ice cream shop. Fair warning: it is the worst ice cream on the island, and better options are an easy walk away. Head to the Ice Cream and Candy Bazar or the Scoop Shack near the docks, also near great shopping: North River Outfitter Kids has an excellent selection of clothes and toys adjacent to both ice cream stores.
For foodie families, I recommend Atria, a pleasant walk from Winnetu's shuttle, passing the glorious black and white architecture and gardens of Edgartown, the historic whaling capital of the nineteenth century. Atria was incredibly accommodating for my son, though I would suggest eating outside if you have more than one child who may make some noise; it is an elegant atmosphere you won't want to disturb.
I enjoyed a colorful local farm salad of beets, goat cheese, radishes, and edible flowers and a vegetarian entrée of local fiddleheads, fresh peas, morel mushrooms, and fava beans over polenta.
My son, however, had macaroni and cheese using cavatappi pasta and broccoli rabe that was so heavenly, no parent could refuse it. Fortunately, my son shared. There is a downstairs pub called the Brick Cellar with burgers that people rave about that is very family-friendly.
The Dunes is the Winnetu's main restaurant, and it welcomes guests from town to take a water taxi on Katama Bay to the hotel's dock, enjoying views on either side of impressive Chappaquiddick's oceanfront estates.
Waiting to transport you from the boat to the hotel is a vintage open-air bus. The resort uses this bus for weddings, and it feels very festive and circus-like with the comedic sound of its gears shifting. The Dunes got its name for an inn in the same spot
The Dunes, the resort's dinner option, is the only restaurant I know that attempts to offer high-end dining AND a play area. There were lots of young children the night we ate there, and the kids were having a great time while a kid's club staff person entertained the kids and played movies.
Since the parents had begun chatting with each other on the fire truck rides, at the pool, the chess area, and the town shuttles, we kept the conversation going and by joining many tables together. It was absolutely brilliant for us to enjoy adult conversation with our children in eyesight, but I felt bad for the guests who arrived without children to such a boisterous crowd. The noise in the play area was, at one point, too much for my son who chose to return to our table. Another boy joined him, and they continued to eat bread and talk about robots, fire trucks, and their favorite colors by themselves for a good fifteen minutes. Or maybe they spent that whole time repeating their names and their ages. Who knows? It was adorable, and I got to watch them from my table of new friends while we talked about my favorite subject, hotels. Bliss.
We carried our conversation outside on the lawns and watched our kids run wild in the stunning setting. When the sun fully set, our new tribe gathered in one of the family's suites while the kids donned and compared their pajamas and we shared contact information.
I thought to myself that the Winnetu owners are hospitality wizards. In addition to creating a chic, casual luxury resort, they threw in community building activities for families to achieve the brass ring for parents vacationing with small children: a damn good time.
Check your dates for rates at the Winnetu.
Although we were hosted by the Winnetu, these opinions are entirely my own.