The Eau will present many new refurbishments for 2022 we had to share, specifically because they will enhance their offerings for families. The photos are stunning are we are excited to share.
The renovations will focus on a new lobby with a feel that matches the hotel more. The main restaurant, Temple Orange, will become a new Italian concept restaurant called Polpo, an outpost of a Greenwich, Connecticut favorite.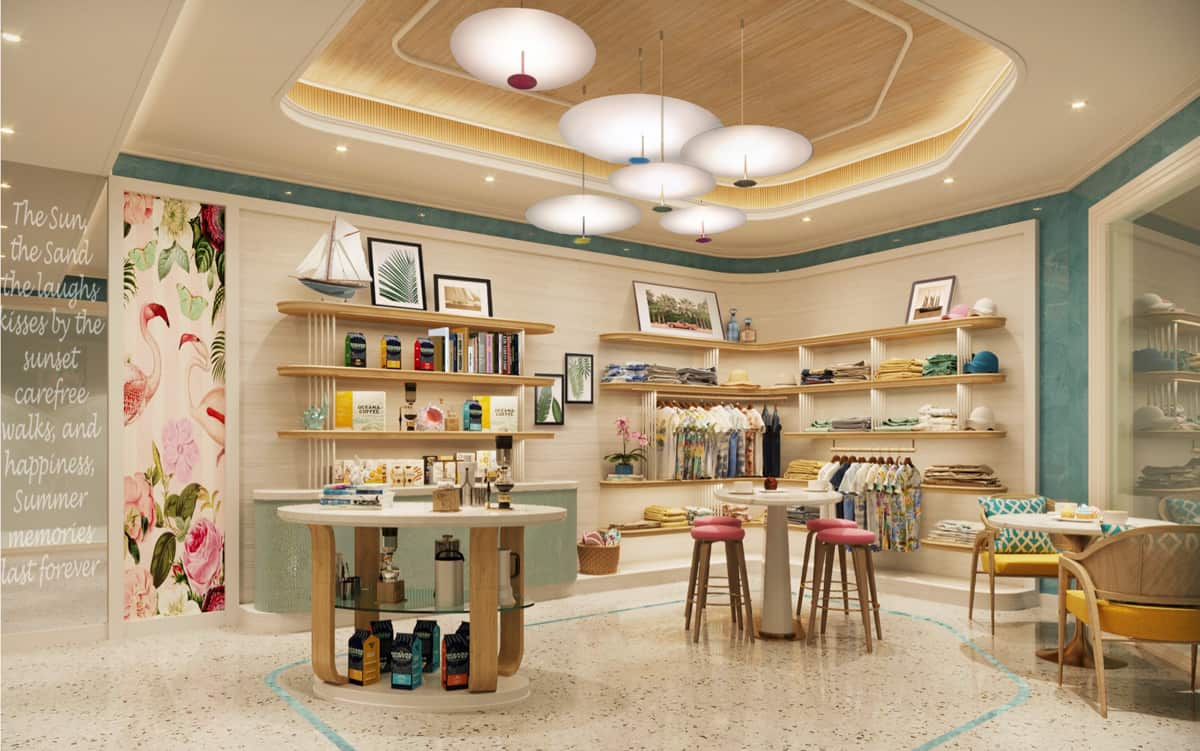 The Eau's original kids' club had several unique play areas, and this updated club for kids and teens is sure to offer a wow factor.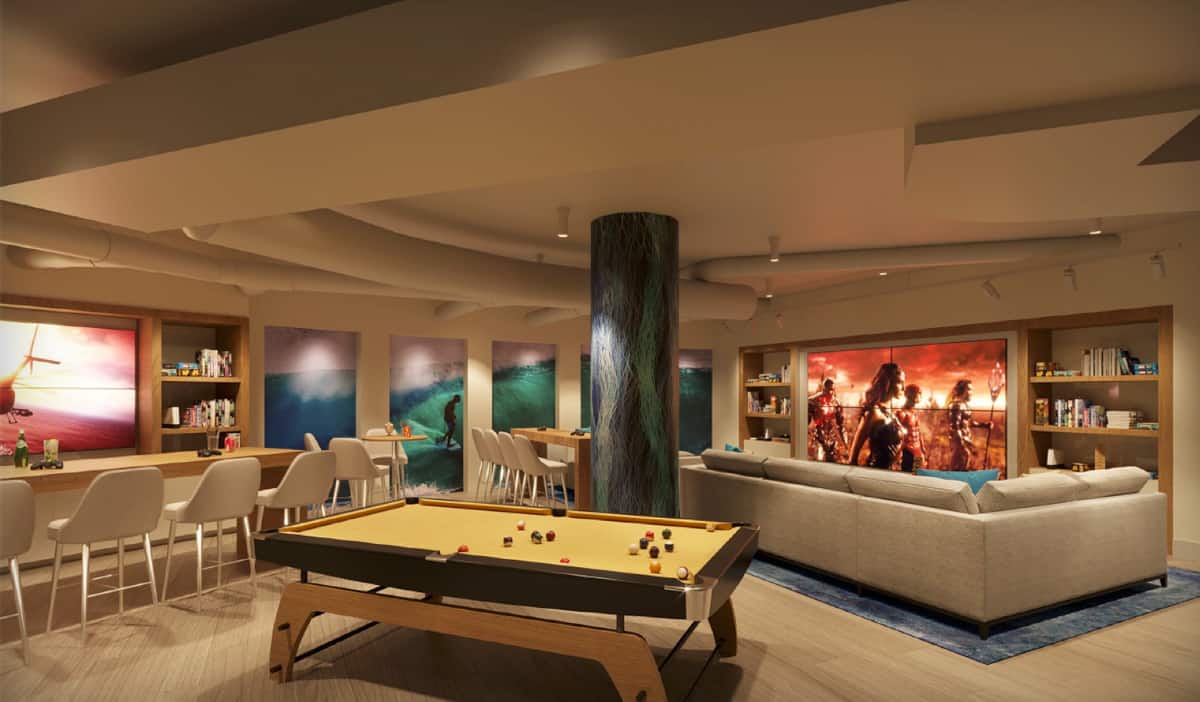 Other refurbishments will include family cabanas, a splash pad next to an ice cream parlor.
We have access to Preferred Partner amenities at the Eau Palm Beach that include breakfast credits, resort credits, and a priority for upgrades. Please reach out here if you would like to book.
---
Our original review
I grew up in Palm Beach— a WASP-y nymph in Lily Pulitzer with frizzy white hair, well-worn Palm Beach sandals, and a QT tan. As I would ride my bike down Worth Avenue, I would take in the austere tranquility of the rarified township, but Manalapan was its heady cousin. The cool people lived there. Surfers, boaters, and bad boys I wanted to date. Situated on Florida's Golden Coast, Manalapan sits between the Atlantic Ocean and the Intercoastal. Its landscape is dotted with magnificent estates, palatial homes, and a canyon of million-dollar condos, and the Eau Palm Beach Resort and Spa, pronounced ō, a Mizner-esque amalgamation of Mediterranean meets Palm Beach.
Pulling up to the valet, I could recognize its former incarnation as The Ritz Carlton Palm Beach. The outside lobby is still the same, so I was eager to see how it had evolved into a new identity. The valets were as courteous as ever, and upon arriving, we were whisked through a turquoise corridor, a new touch— very Palm Beach— to the front desk adjacent to a grand lobby.
The front desk attendants were very personable and had informed me that my room was already fitted with an extra bed and crib. (These touches are what make this a Preferred Family hotel.) I am a huge fan of Master Renaissance man, Jonathan Adler, and he has been revamping the Eau into the definitive new Palm Beach landmark. We walked through the gold-gilded, ecru, and damask sitting areas, filled with happy patrons sipping cocktails and sharing tennis tips. This is Palm Beach after all.
My kids were jazzed to hit the pool but mommy wanted to see the suite first. Once we got to the room, I —with all three of my daughters— let out a collective "gasp!' This is what a Palm Beach hotel room should look like. Our sight was pleasantly overwhelmed with a symphony of Cerulean blues, Cadmium yellows, accents of navy, and crisp white. A portrait by Slim Aarons stared out provocatively into the living room: Lady Daphne Cameron atop a tiger.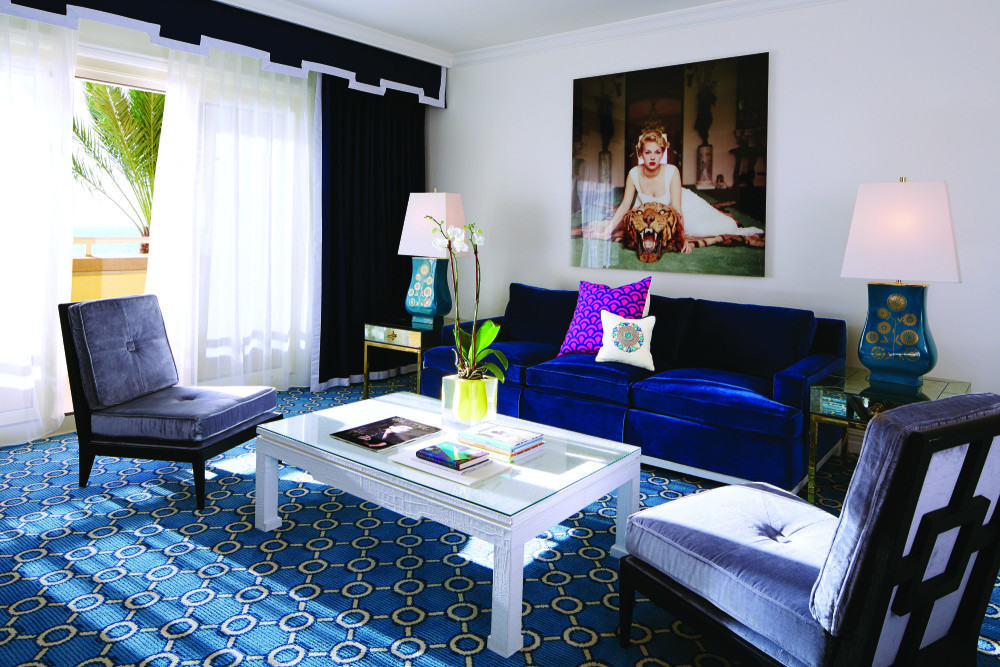 This intoxicating combination personifies the new "Palm Beach Regency." Mr. Adler couldn't leave out his trademark touches of humor; coffee mugs with mustaches, vases with faces, or little details like tassels on desk drawers. The bathroom is out of my dreams: complete with oval soaking tub, and spa quality products to be enjoyed later.
The Eau has a kid's clubhouse, Aquanuts, for my four-year-old, and Coast teen club for my eleven-year-old. Although we had checked in with the sunshine, we now had walked outside to a typhoon. Aquanuts was adjacent to the pool, so in we went. This is a kid's paradise, the kind of space kids crave as their own. Part art studio, teddy bear stuffing station, beauty salon, fashion runway, DJ booth, TV area, and a real stage complete with a chest full of props and costumes. My kids were drooling. My 4 year old said "Bye, Mom!"
Then my two-year-old and I took a stroll through the hotel. The spa area was calling my name and I set up an appointment for the following day. The concierge called the licensed, Eau-recommended sitter service, and I giggled to myself at the thought of a deep tissue massage. The two of us walked through the meditation garden— my toddler was in a good mood, so it felt right. It was Zen beautiful. Water lilies, reeds, and water features that whispered "relax." The tranquility pool was a few feet away— not a place to bring the children. This is for people-without-kids or people-with-a-sitter-area. The type of person I would be soon.
JOIN OUR LUXURY HOTELS & RESORTS FOR FAMILIES,
A FACEBOOK GROUP FOR SEEKING ADVICE AND INSPIRATION
FOR THE BEST LUXURY FAMILY BREAKS.
I took my daughter to the opposite side of the hotel, the side where fabulous events are held, gorgeous ballrooms and hallways with old oil paintings, I was told that sometimes the hotel sets up a bounce house in one of these rooms for the guests' kids. This is old Palm Beach. Mr. Adler would love to get his hands on one of these areas—maybe the hotel should let him do just one? My eleven-year-old was disappointed I came back to collect her at Coast; the pull from the dark side of teen-dom was strong. "Mommy", she said dully " I want to be a DJ." She had her first taste of spinning vinyl in the club, and she liked it. The four-year-old didn't want to leave and discovered the beauty salon. "Mommy, I want makeup." I was happy the kids had fun, but secretly wished that they desperately wanted to do art in the studio, or improvise a dramatic play. Oh, well. The storm was still going strong, but my kids were all happy and dry. Win, win!
The pangs of hunger were echoing from my littlest one's tummy—that and the fact that she rubs it when she's hungry. I am firm in my belief that children should never be set up for failure by taking them to a restaurant when they are tired, grouchy, or too hungry. We forgo the promising hotel restaurants and go straight to our room. The hallmark of a great hotel is ambiance, attentive service, great location, and an outstanding room service menu. My brood is not the ordinary kid's menu kind. The eleven year old doesn't eat meat, the four year old is picky and hates seasoning, the two year old prefers to eat it if it comes off the floor.
For once, there were no complaints, and the food was outstanding. The kids each were given a chocolate chip cookie, which I promptly hid for my later date with the soaking tub. Because for them, it was their bedtime; for me, it was a glass of champagne and a hot bubble bath.
After putting the kiddos down, closing my door, and filling up the tub, my excitement grew because of the hotel's choice in bath products: Red Flower. The relaxing smells from the bath soak filled up my room and I had 45 minutes of deep relaxation. I'm a product junkie, and Red Flower is an aromatherapy line that I adore. The feeling of luxury linens cocooned me. I don't know how long it took me to fall asleep, but I remember hearing the lull of the ocean.
I woke at 8 am to the sounds of children stirring in the next room. The blackout curtains worked wonders. The balcony was drenched in sunlight, and the white peaks of waves crashing against the shore were hypnotic. All of this completed by my in-room coffee made by my eleven-year-old. A little bit of larceny in my soul made me want to steal the mustache cup, but I vowed to buy my own the next time I'm in Adler's shop. We got dressed and made a beeline for Temple Orange, one of the popular on-premise restaurants.
The breakfast buffet was calling us, and it was surprising that children eat for free. There were fresh baked goods, eggs, meats, potato dishes, all of the fixings for a perfect breakfast. The patrons were decked out in true Palm Beach fashion; Loafers without socks, pink Izods, white flowing sundresses, chic sandals, purses, and I spotted that old chestnut, an ascot. There were happy families all around, and it made the day seem very promising.
---
---
The day was planned according to the weather; pool time, tennis, spa, and shopping. The Eau has two heated pools, and even though the weather was blustery, my kids had to go swimming. We chose the big pool near the Aquanuts clubhouse. The pool attendants were great at setting up our chairs, but our hopes of the usual pool activities were dashed when a storm rolled in from over the ocean. I was able to procure the sitter service early, and move up my spa appointments. My eleven-year-old wanted to go back to the Aquanuts club, but I explained that I couldn't leave the babies at the mercy of a possible maniac. She would have to stay in our room, and help protect the children. In an hour, the sitter arrived, and after a few questions, and my eying her up and down for any visible personality disorders, I ran out the door faster than you can say—"Mommy needed this!"
The Eau Spa is whimsical in appearance; glistening tiles, a center fountain with floating candles and rubber ducks, beautiful chandeliers, and a major gift and clothing boutique that delighted me with their selection of luxury products, and Palm Beach style day dresses from Young, Fabulous, and Broke, and other indie designers.
The staff is friendly and professional, and offered me a glass of champagne. Since I was solo mommy this trip, I asked to take one sip of the bubbly, nothing more. My deep tissue massage and manicure-pedicure were fantastic. I noted the high quality products that were used for my services and left with an ache that I would have to drive from Miami to get this level of service again. Being super relaxed, I floated out of the spa and into the hotel jewelry store. I came across my favorite French designer, Aurélie Biedermann. I love her carved shell peace bracelets on liberty string. So chic! I snatched up three and went upstairs.
Inside the room, I found that my children were having a blast with their sitter. Win, win! It's still gray outside so I loaded the kids up into my SUV and headed for Palm Beach for a little shopping. Worth Avenue is only minutes away, and is home to some of the best luxury boutiques and stores in the world. After some serious shopping therapy— hello Roberta Rollerrabbit and Bonpoint, we headed back to the hotel to enjoy a fabulous meal on the patio of Temple Orange. The grilled snapper and salmon dish were perfection, and my kids were well behaved! Maybe they knew they were in a special place. I can't wait for the next breeze to blow me back to the Eau Hotel in Palm Beach.
Although we were guests of the Eau Palm Beach, the opinions expressed in this article are our own.