A visit to Dublin, Ireland's capital city, for most Americans is merely a launching pad to other destinations in Ireland. That was our own experience with Dublin on past visits. Now we know we were just staying at the wrong hotel. Read on for why you must stay at the Merrion Hotel and what you can do in Dublin with kids and teens after you check in.
Our whole family fell for Dublin on this long weekend getaway. The Merrion Hotel will now be our Dublin address. Here's why it should be yours for your family.
The Merrion is revered as the most elegant luxury Dublin hotel, and an Irish friend noted that even when Dublin has seen harder times, the Merrion has always been a beacon of elegance and luxury.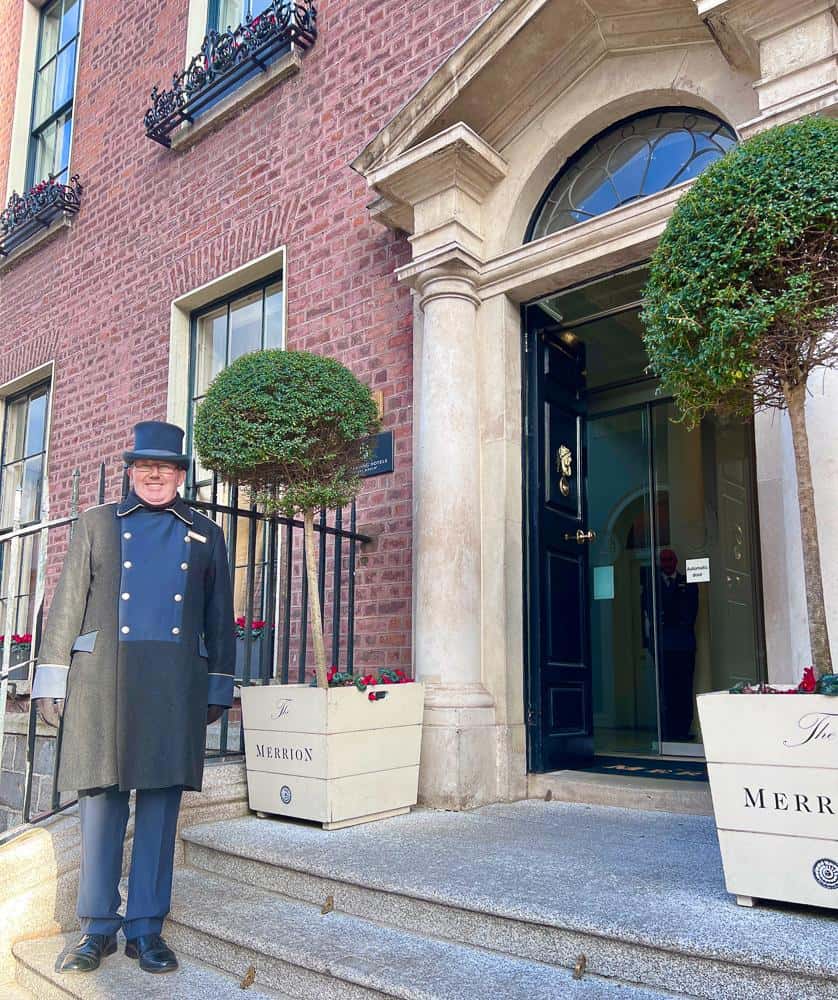 The Merrion is approximately a 20-minute ride from the Dublin airport. While the hotel can provide car service, we took a taxi to Upper Merrion Street, in the heart of 18th-century Dublin and its Georgian townhouses. The hotel is a minute's walk to two wonderful green spaces with playgrounds, is adjacent to free, national museums, and a member of the Leading Hotels of the World.
The Relaxed Elegance of The Merrion Hotel
The Merrion's guest experience was exceptional, providing friendly and attentive service. The doormen and concierge fill the entry hall and are ready to greet, assist, and arrange. The guest services director tracked us down in the breakfast room to inform us our rooms were available for early check-in after our overnight flight. The Merrion is one of the most heavily-staffed hotels we have stayed at since COVID which explains why every detail was well-executed.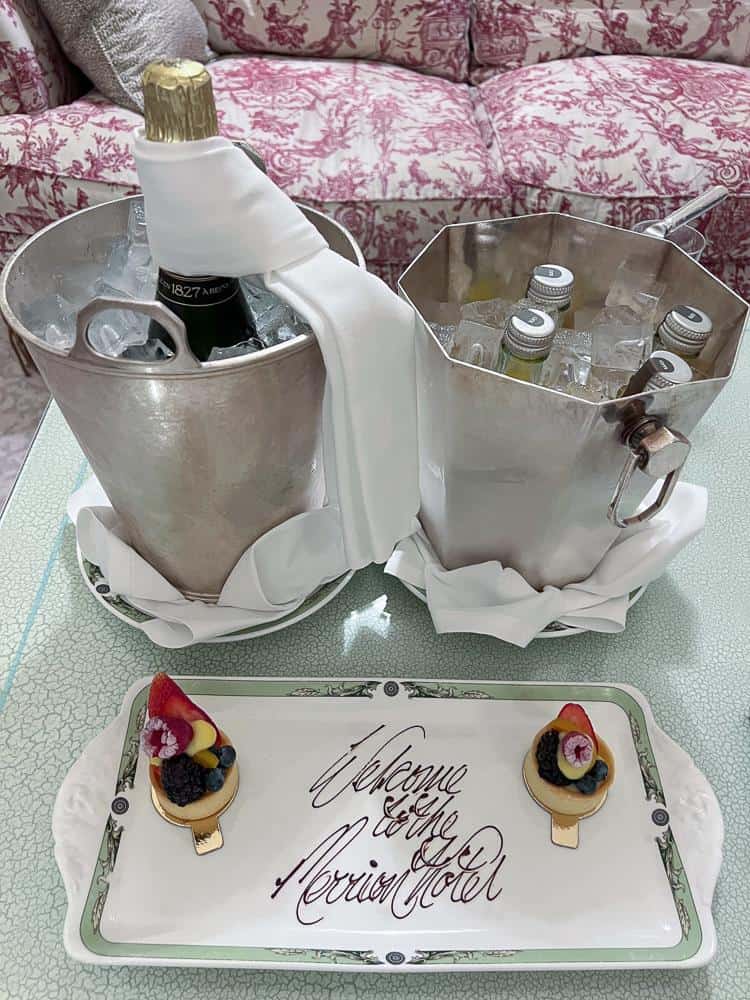 One of the brilliant aspects of the Merrion is the modern adaption of the space. The hotel has taken original Georgian townhouses and added new wings with a garden-filled courtyard and glass hallways. Hotel guests enjoy moments of sun that give the Merrion another advantage over high rise hotels. Even in the city center with the Irish Prime Minister as your neighbor, the taxis never honked and it didn't feel like an overly-urban experience in the absence of sirens.
Guest Rooms at the Merrion
The luxury touches in the guest rooms begin with welcome champagne and chocolates. Our main house rooms were junior suites and came with high molded ceilings with rococo plasterwork, chandeliers, Irish fabrics, dressing rooms, and dreamy beds. Nespresso machines, free Wi-Fi, and Italian marble bathrooms remind you that you are in Dublin's premiere five star hotel.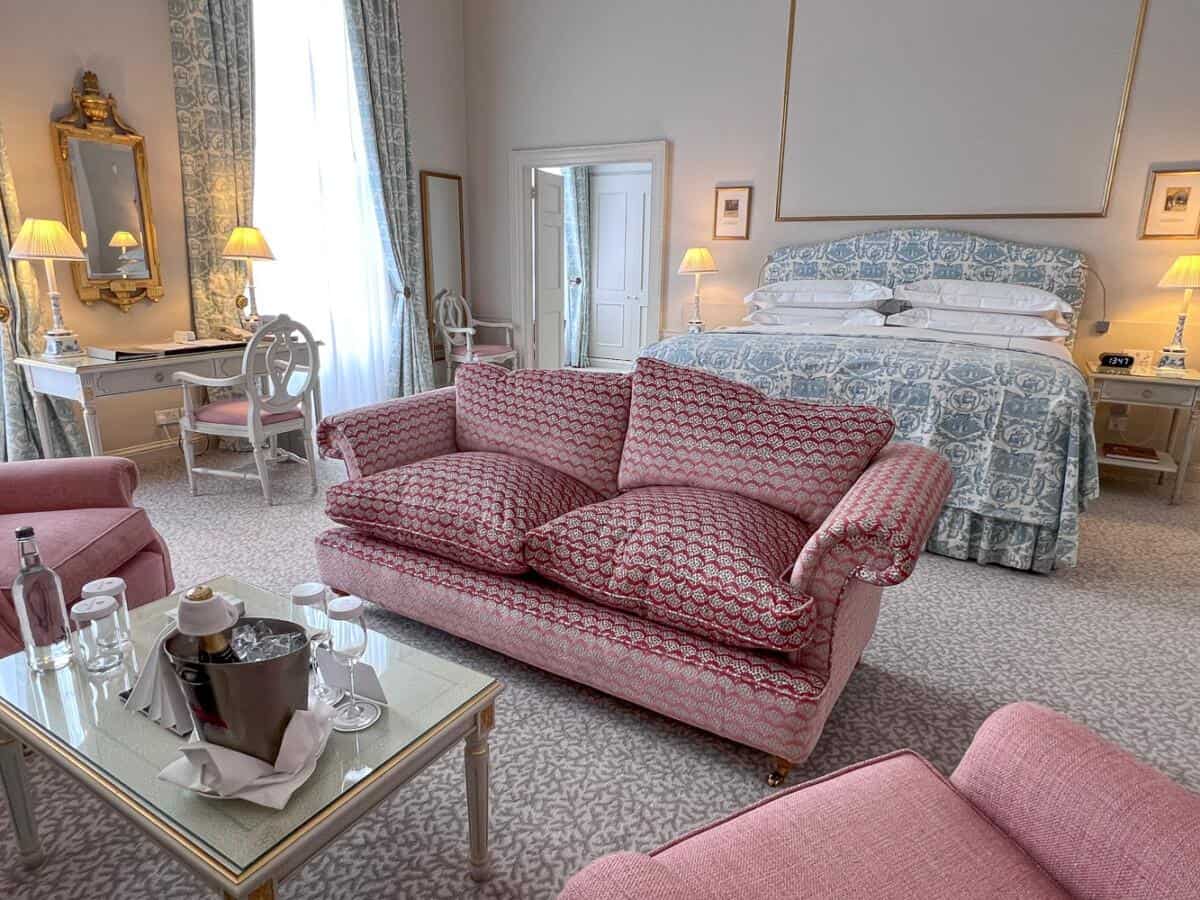 Suites can accommodate rollaway beds for families, and the Merrion Penthouse offers two bedrooms, with the second bedroom offering two beds for children. There is a den with a sofa bed for a total occupancy of seven. This sunlit rooftop option includes large windows and a large garden terrace with a privacy wall of box hedges for Ireland's most famous visitors. The penthouse also includes a full kitchen and dining room table in its open floor plan living area.
JOIN OUR LUXURY HOTELS & RESORTS FOR FAMILIES,
A FACEBOOK GROUP FOR SEEKING ADVICE AND INSPIRATION
FOR THE BEST LUXURY FAMILY BREAKS.
Dublin With Kids, Our 3-Day Itinerary
Day One, Getting Grounded in Dublin City Centre
On our first day, with our early morning arrival, we kept it simple. We participated in a musical walking tour in the heart of Dublin. This was one of the best ways to hear Irish music and Irish history in a cultural context, turning the streets of Dublin into an interactive museum of Irish culture and historic buildings.
The tour guides often meet in Temple Bar, a district better for families during the day where revelry hasn't taken over. Kids will love the numerous gift shops, art galleries, and places to try various street foods, ice cream, and baked goods.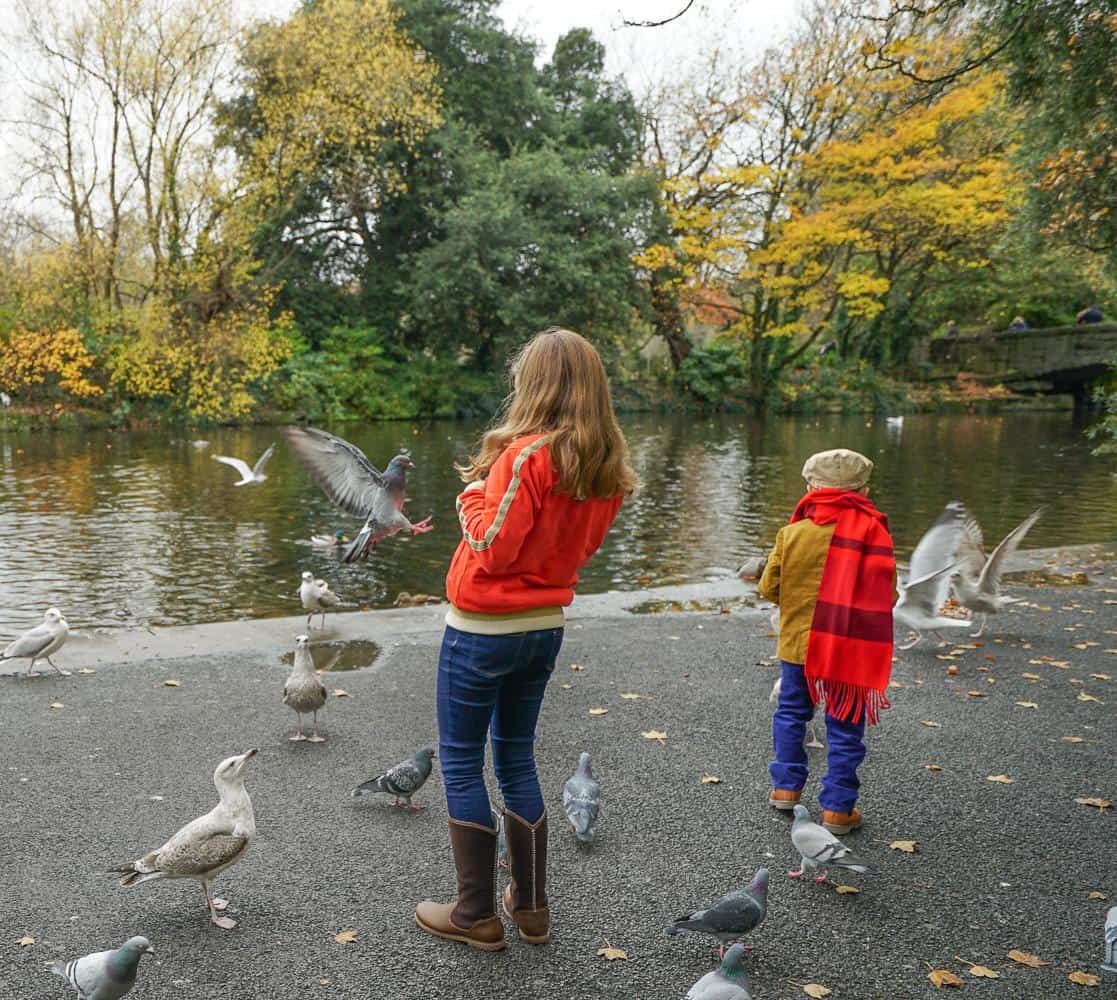 Our walking tour lasted two hours, though it wasn't many steps, and our guide would stop and play his mandolin and sing a traditional Irish song after sharing an interesting historical fact. We walked to a bridge on the river Liffey, passed the oldest theatre in Ireland, and ended at Dublin Castle and Christ Church Cathedral. The final song had a simple dance involved. Nothing hard, and everyone laughed and complied.
We enjoyed a little shopping at the Irish chain Avoca (It reminds me a lot of Anthropologie) and a stop at Trinity College to see the famous library and the Book of Kells. Children will think they are on the set of a Harry Potter movie at this popular attraction.
If your kids are smaller or your jet lag is just too intense, make it easy on yourselves and head to St. Stephen's Green. Know that Dubliners only call it Stephen's Green. In this city park, you will meet the ravenous and extroverted birds that are clearly the best fed in Ireland.
Dining Options at the Merrion Hotel
For your first night in, I suggest warm bubble baths and room service at the Merrion. We ordered a mix of Irish classics like Fish & Chips and Fish Pie. The Cellar Restaurant serves a casual gastro-pub menu as another option on site. For another night's dinner, the Merrion's 2-star Michelin restaurant, Patrick Guilbaud, allows children seven and older. There are only two restaurants in Dublin with two Michelin stars, and only four in Ireland.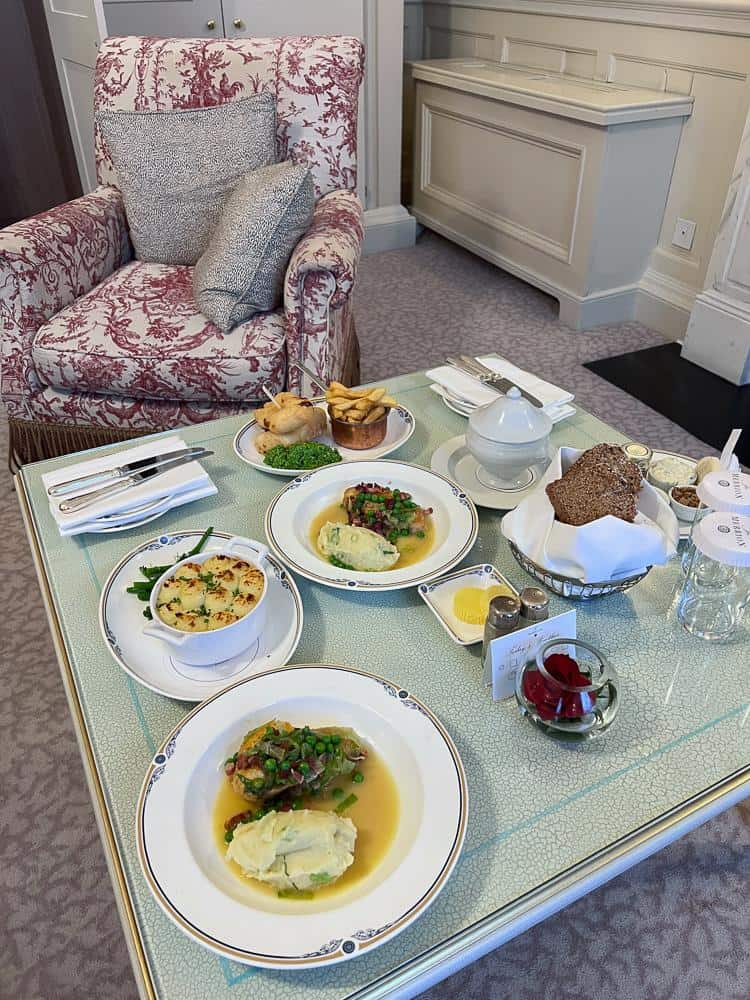 The Garden Room Restaurant serves breakfast with a Winnie the Pooh menu for children, and there's also a room service selection for children if you ask. Most of your breakfasts will be included if you book your stay with Luxe Recess.
Day Two, Getting Out of Town to Wicklow, the Garden of Ireland
You often don't feel like you're in Ireland unless you visit the countryside. This trip, we wanted to explore areas easily accessible to Dublin. We chose a day trip over the Dublin mountains, to the south, to the Powerscourt Gardens and a drive through the lakes of Wicklow.
You can book the tours we took here:
The beautiful gardens at Powerscourt have achieved best in the world status on respected lists, placing just after the Versailles Gardens and Kew Gardens. We didn't see it to its best advantage in February so I withhold judgement. We still loved it. There is a Japanese garden, pet cemetery, old castle tower to climb, and many lovely paths to enjoy.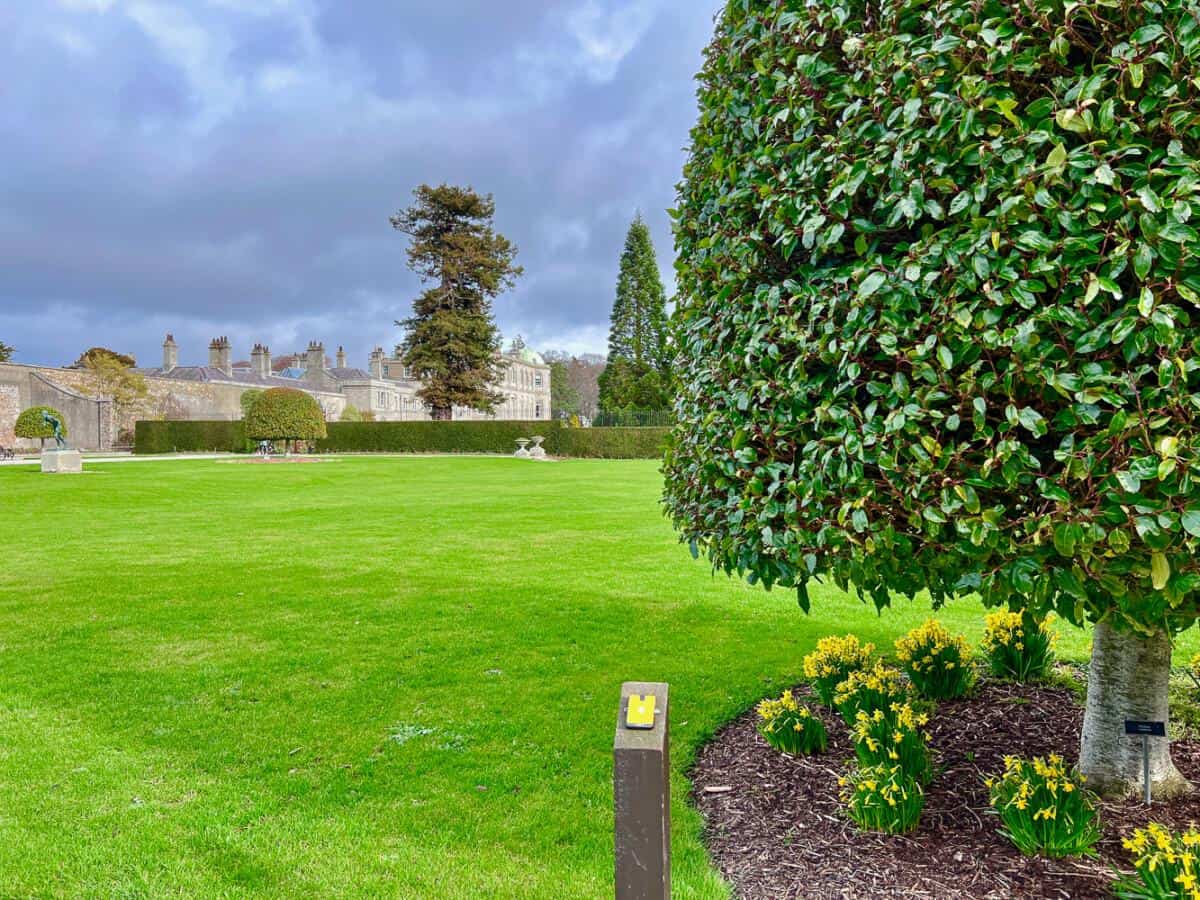 We set out with an estate map, a fresh latte and hot chocolates, and stopped to smell the fragrant trees. One of my kids smiled, "All my senses are deeply satisfied!" It was a perfect activity and perfect place to top the list of things we loved most of the trip.
The main building offers a wonderful café with elevated food for lunch, and the gourmet grocer offers picnic supplies as well. And there are some great toy and clothing and craft stores inside, offering high-end merchandise one would find at a museum gift shop.
Our next stop on the guided tour was a simple pub lunch of wraps, soups, and shepherds pie in Enniskerry, a small village used in the romcom "Leap Year." We then drove into the mountains around Glendalough to see some of Ireland's more famous landscapes included in films and shows like "P.S. I Love You" and "Vikings" (something for everyone).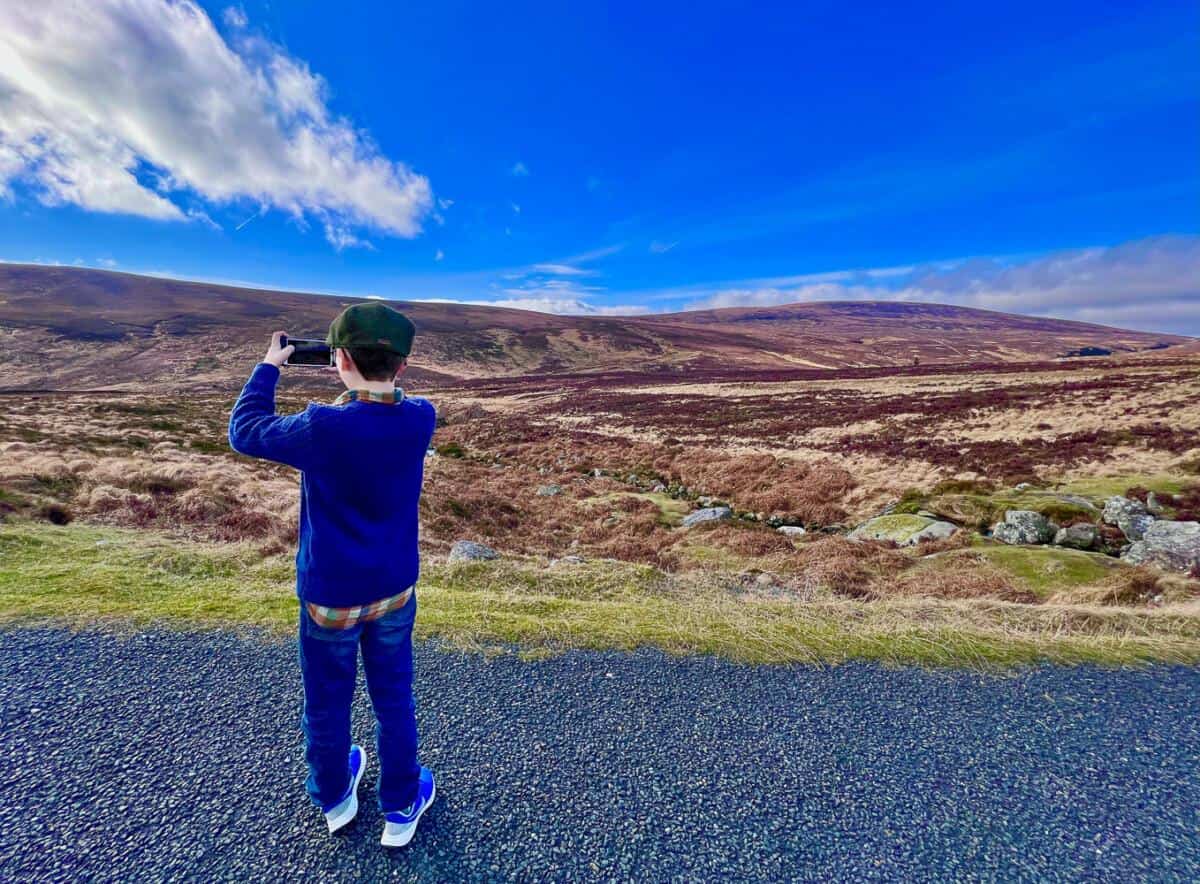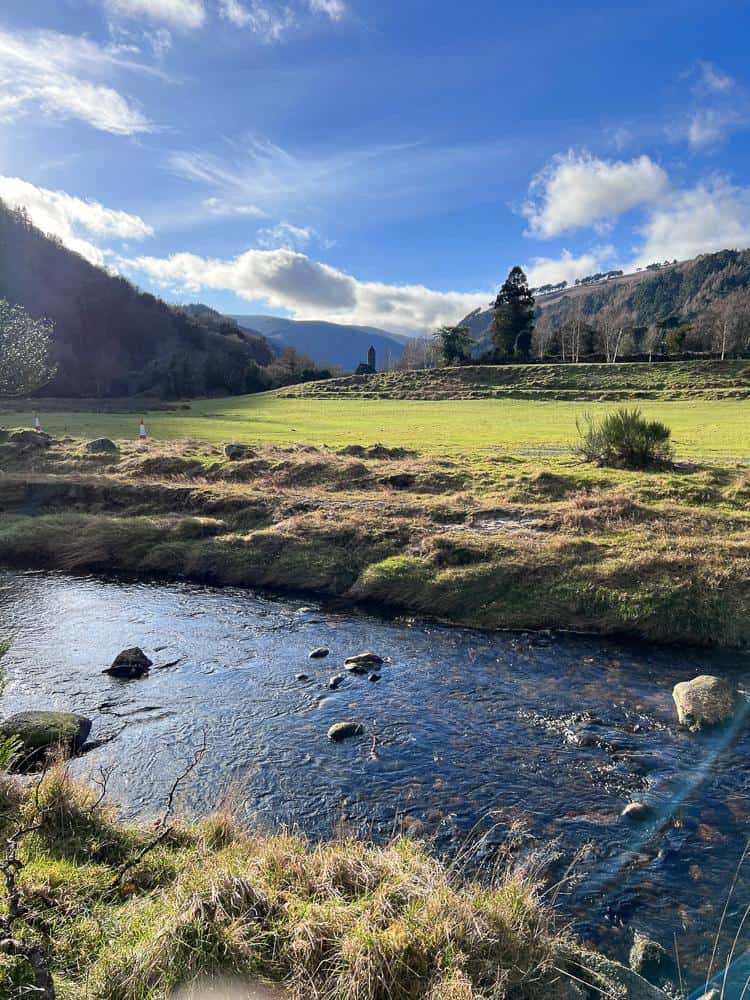 Day Three, Museums and the Art Tea at the Merrion
Starting the day with a swim at the Merrion
We started the morning in the massive swimming pool at the Merrion. There's an expansive basement health club for guests with steam room, sauna, fitness center, and lockers. The Merrion Spa is also here with a few private treatment rooms. I do suggest booking before your arrival at this full-service spa because last minute appointments for beauty treatments are seldom available.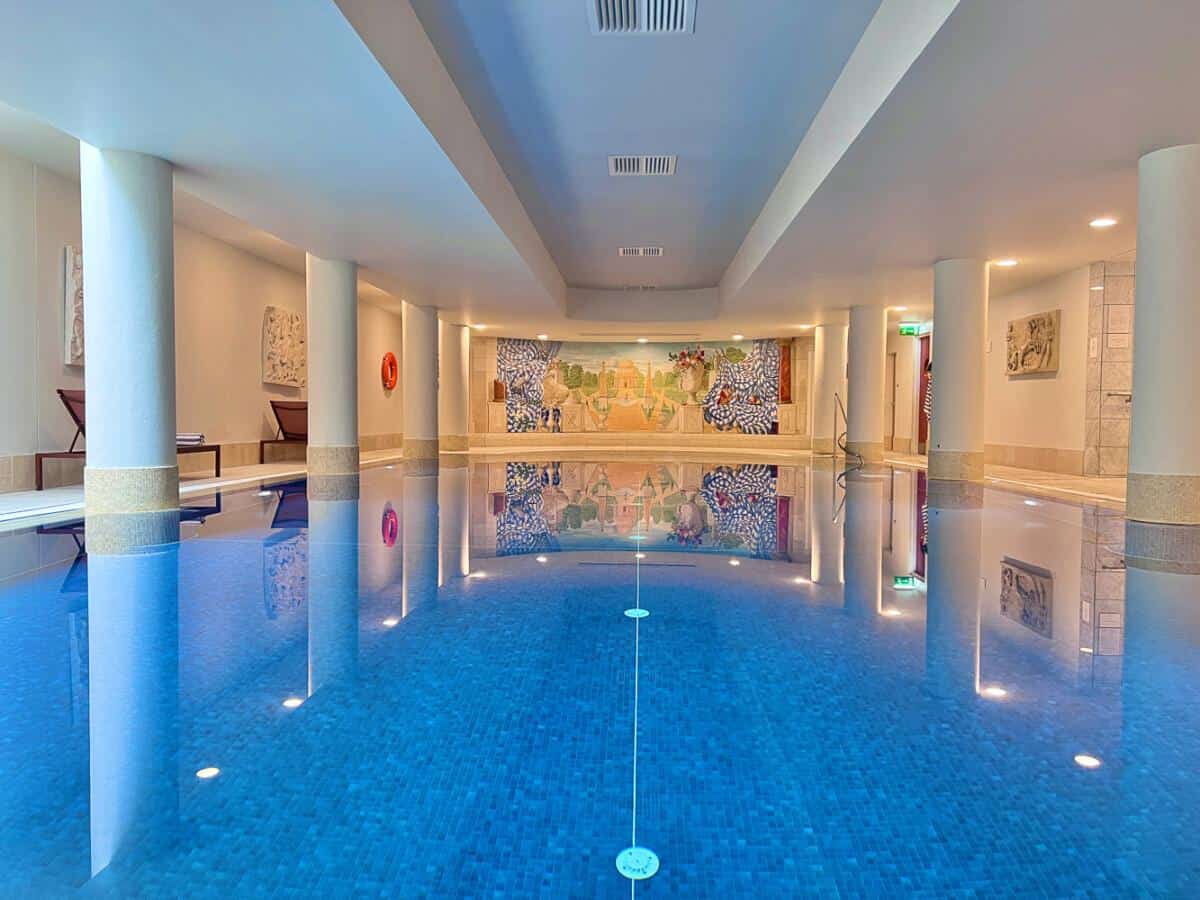 Children are given small robes, and families are encouraged to wear their swimsuits and robes from their rooms to the indoor pool. My husband and son thought I was playing a prank on them. One of the staff coaxed them through the lobby to the basement elevators assuring them this is just something done in Ireland. (I saw this on my visit to Kerry, too, and another hotel.)
Free Museums in the Irish Capital
After our swim we headed just across the street to enjoy two national museums with free admission. The National Museum of Ireland has four buildings, including their Natural History Museum, on Merrion Street next to the hotel. The Natural History Museum is mostly one large room of exhibition space with an expansive collection of Ireland's animals and sea creatures. It is open every day from 10am to 5pm except Sunday and Monday when it opens at 1pm. Expect just under an hour at this small but engaging collection with plenty of things to see for all ages.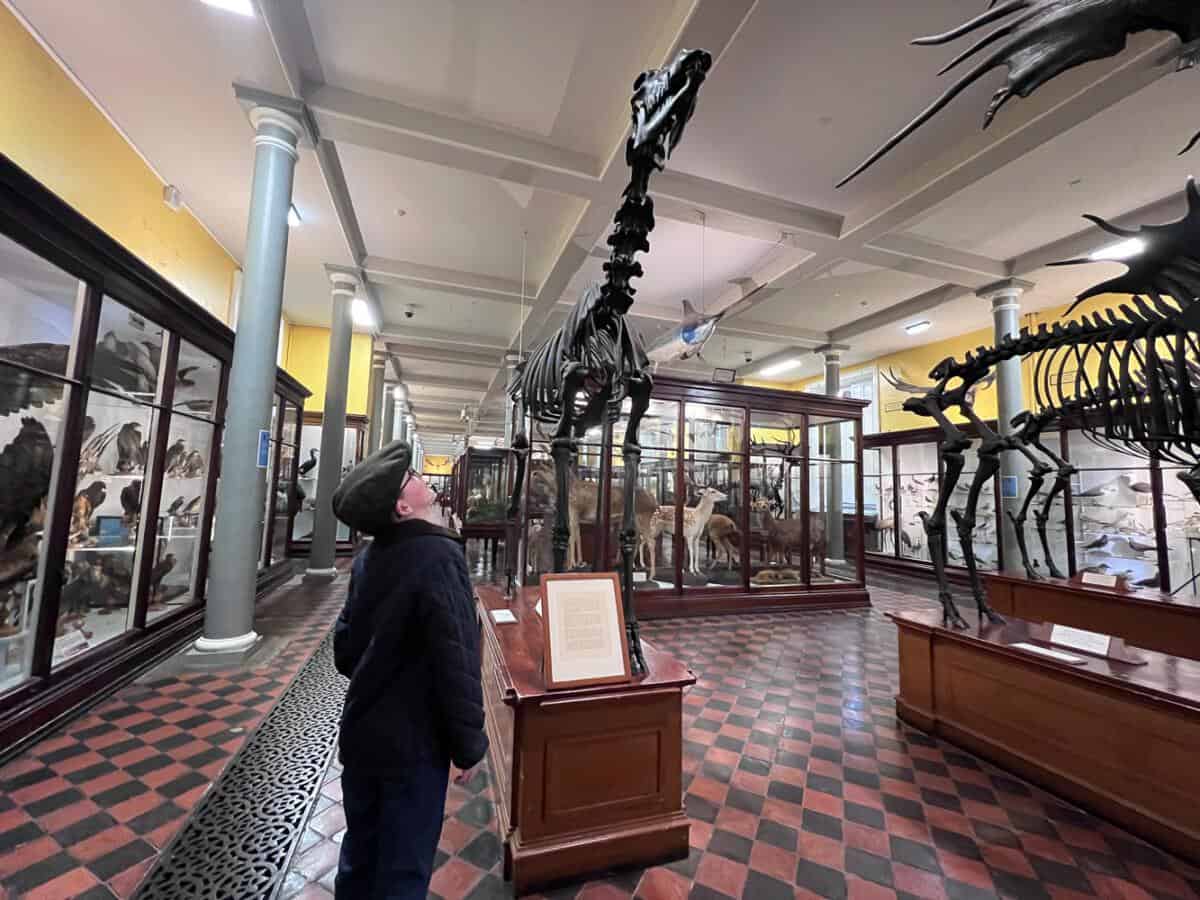 There are two choices in museums from here, both adjacent: The Archeology Museum and the National Gallery of Ireland. We're an art family, so we chose the latter. Across the street from both entrances is Merrion Square. Young kids will appreciate the solid playground while others may enjoy the memorial to Oscar Wilde whose childhood home is across the street.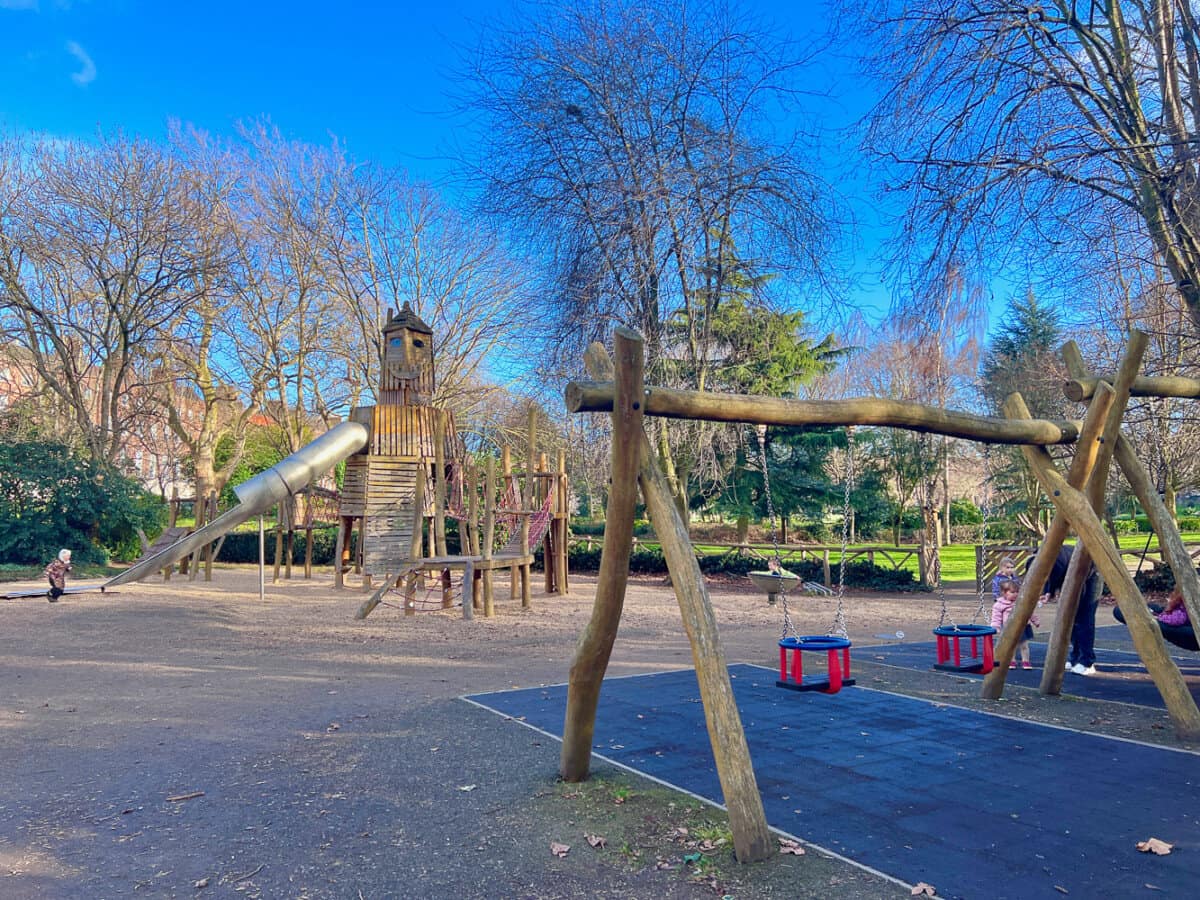 National Gallery of Ireland
This museum features a children's creative area on the ground floor where they can pick up paper and create something before or after a stroll through the collections.
In addition to Ireland's most celebrated artists, we saw many other celebrated European artists in the collection from Monet and Van Gogh to Velázquez and Rembrandt.
Since I began my travels to Ireland, I am always in awe of how Ireland was excluded from my education in European history. I was an art history major at school, and my education on Irish artists was nonexistent. A new favorite is Irish Impressionist painter William John Leech whose work stood out to me both at the museum, as well as, in the collection of the Merrion Hotel.
The Merrion Hotel Art Collection
Art is seriously celebrated at the Merrion. The hotel's owners have a large private collection, and I saw many artists' works on the hotel's walls which I had just seen in the museum across the street. The hotel provides a 30-minute audio tour of their collection for interested adults.
The Art Tea at the Merrion
But all ages will embrace the art tea at the Merrion. The drawing room's cosy fire and sunken sofa cushions create the perfect place to savor some restful moments to celebrate the end of your Dublin adventure. My son nearly fell asleep again mid chew, just as he did at the Ashford Castle tea.
This tea consists of traditional first courses of sandwiches, scones, and cakes. Children can specify they want the simple ham or cucumber, but there is no separate kids' menu. We notified them of my husband's allergy, and the chef altered the menu to accommodate this, as well.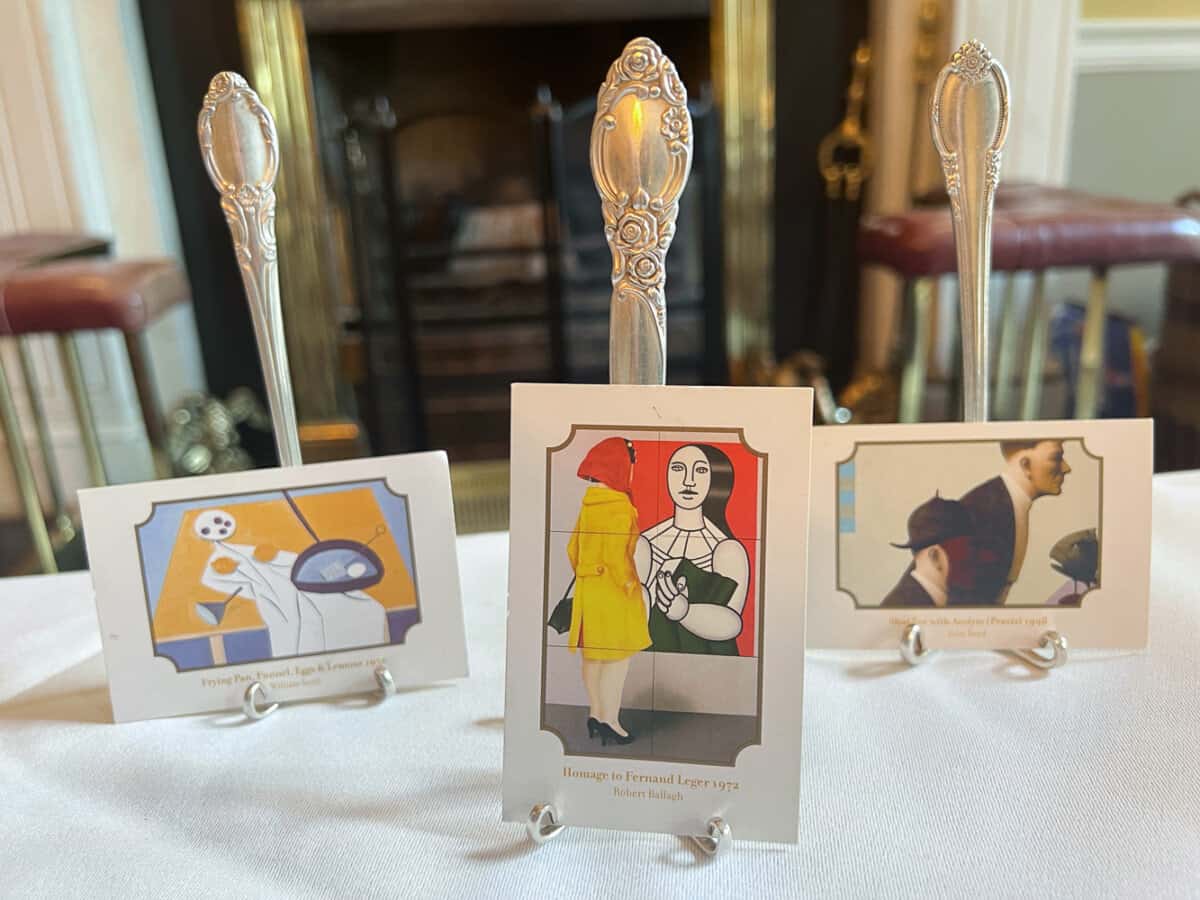 The Pastry chef chooses three works of art from the hotel's collection daily as inspiration for the final course of desserts.
Other great Dublin family activities for longer stays
Dublin Zoo
Dublin Zoo, located in Phoenix Park in the heart of Dublin, is probably Ireland's most popular family attraction. It is one of the world's oldest zoos (it opened in 1831), and is home to more than 400 animals on 70 acres.
The Viking Splash Tour
Like the famous duck tours of Boston, the Viking Splash Tour vehicles are hard to miss in their bright colors driving around the city center. These tours are for those aged 3 and above and last about an hour and fifteen minutes. Viking hats provided.
Planning your Ireland family vacation
We love Ireland as a family vacation destination. We now love its capital city as much as the country. You can check out our reviews of famous castle hotels like Dromoland and Ashford, and read about beautiful Kerry. And if the city really isn't for you, we loved The K Club in Kildaire, only 40 minutes from Dublin airport.
Let me help you plan your Ireland family vacation, where I can VIP you with additional amenities at all of the above hotels (and many more), at no extra cost.