When people dream of staying in a castle hotel, there are two different fantasies. Some may think of rustic stone-walled structures with knights in armor and endless hallways with secret doors. Others may think of a luxurious fairy tale setting of rich colorful tapestries, throne-like chairs with piped velvet cushions and roaring fires with decadence around every corner.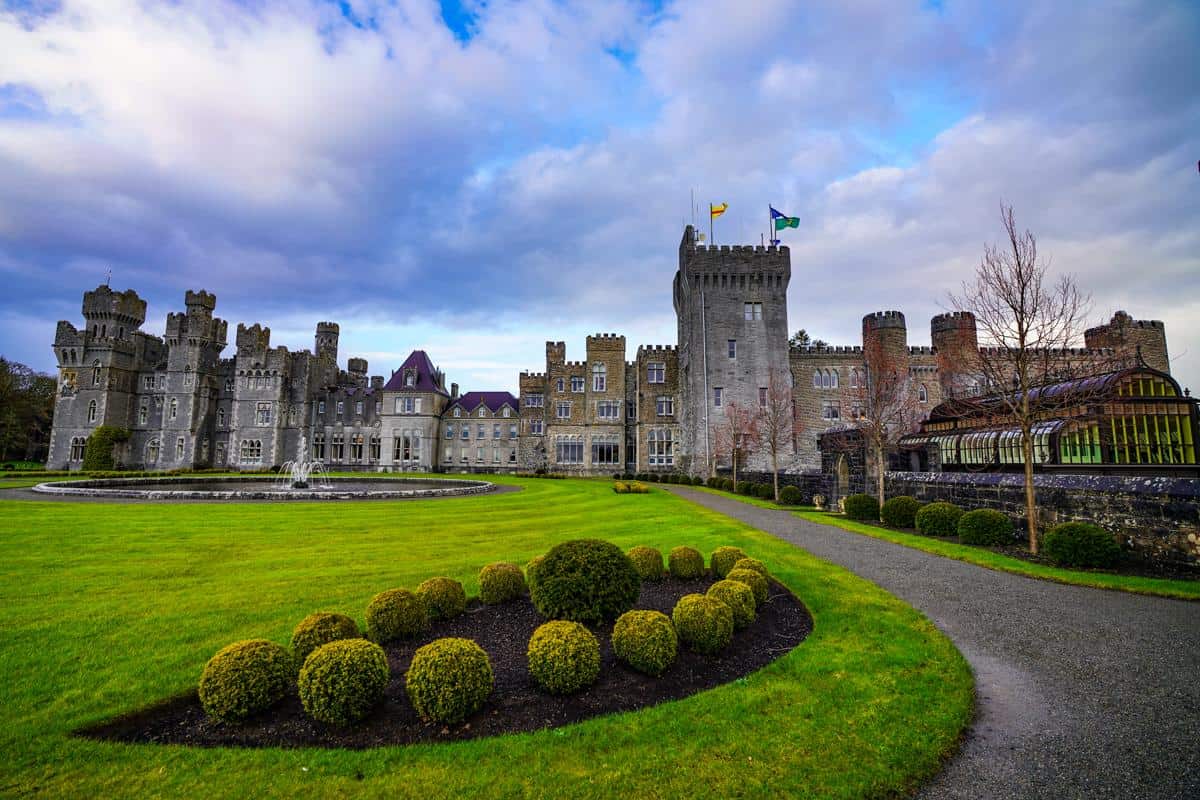 Legendary 5-star Ashford Castle is the latter. And so much more. The warm welcome from the oldest castle hotel in the Republic of Ireland is special. You are in for a memorable experience, even for those who frequent luxurious hotels.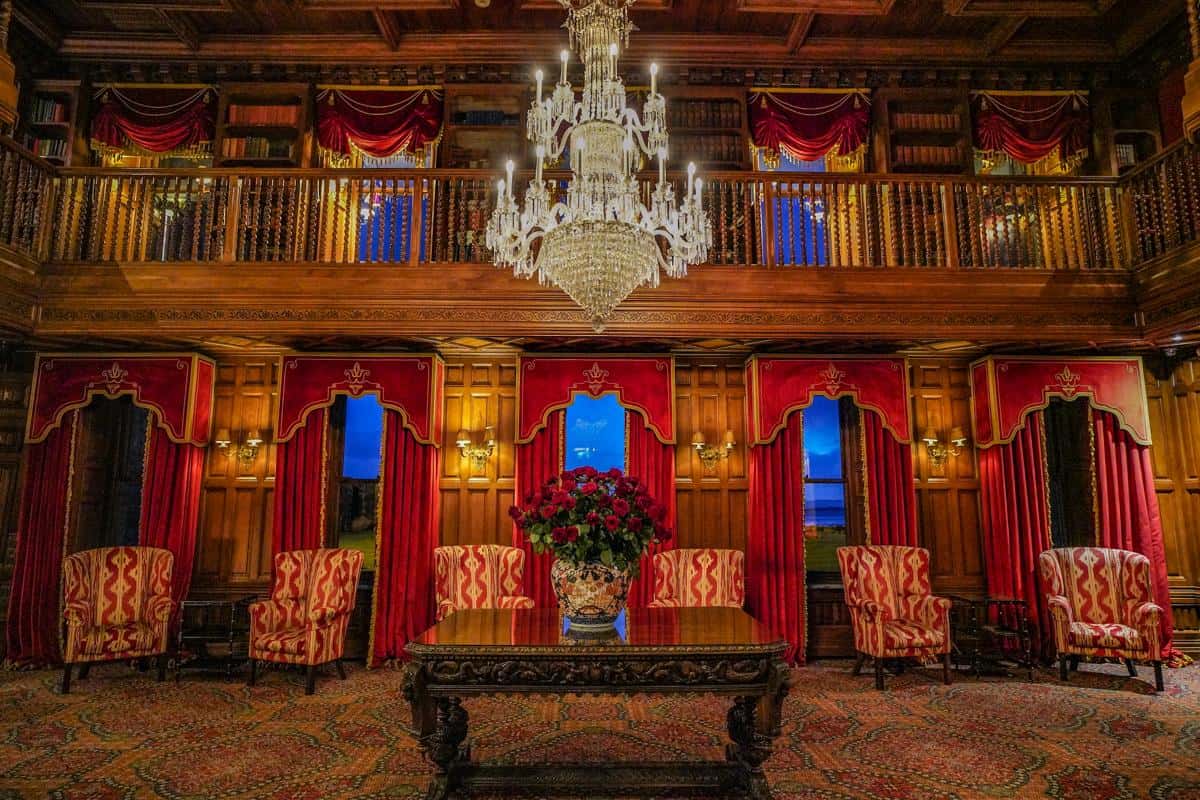 As a member of the Red Carnation portfolio, Ashford Castle makes a visual statement. Hotel lovers know this brand's identity embraces an excess in design. Colorful patterns and fabrics make bold design statements accented with crystal chandeliers and antique furniture throughout. This whimsy only adds to the story of being lord and lady or duke and duchess in your own big screen adventure.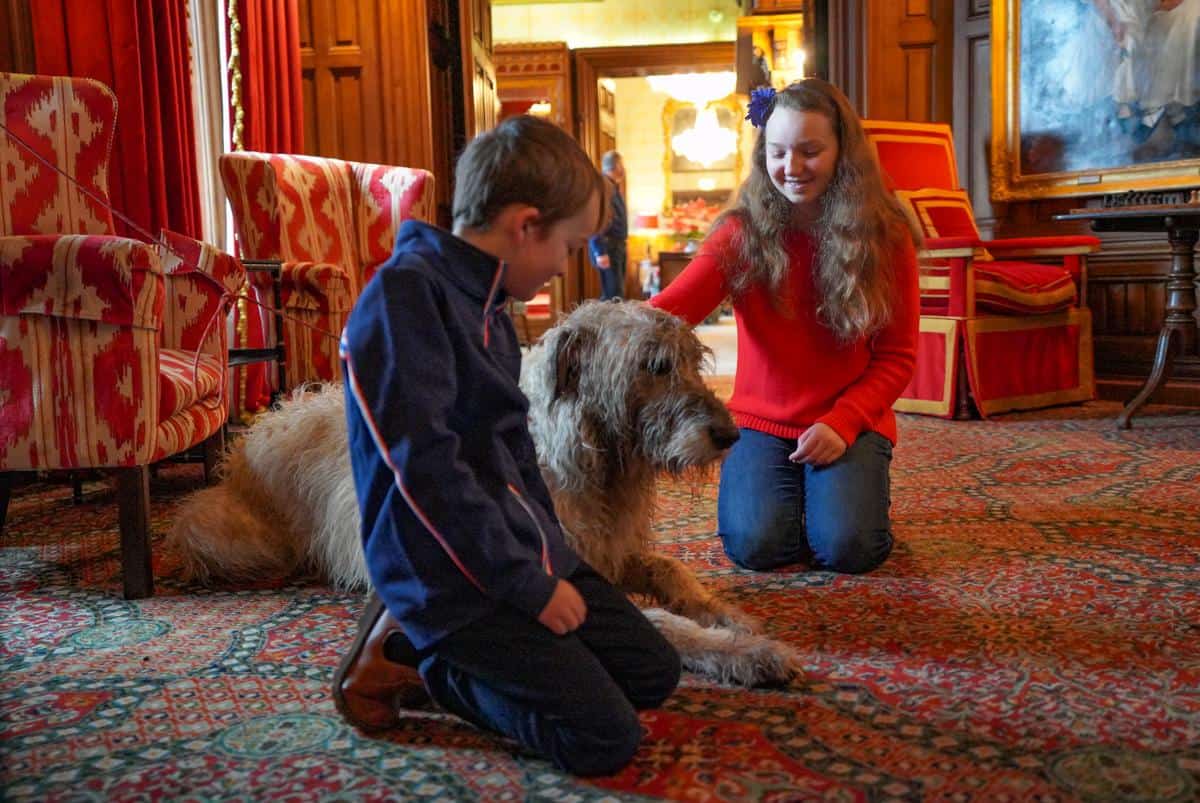 Ashford Castle History
Ashford Castle's origins can be traced back nearly eight hundred years, when the Anglo-Norman de Burgo family began construction on a stronghold they would inhabit for the next three centuries.
Sir Benjamin Lee Guinness purchased the 13th century castle and expanded it to 26,000 acres in 1852. Noel Huggard converted the castle to a hotel in 1939. It was the first luxury castle hotel.
STOP!
JOIN OUR LUXURY HOTELS & RESORTS FOR FAMILIES,
A FACEBOOK GROUP FOR SEEKING ADVICE AND INSPIRATION
FOR THE BEST LUXURY FAMILY BREAKS.
In 1951, the director John Ford came to Ireland to film The Quiet Man, starring John Wayne and Maureen O'Hara, with the grounds of the Ashford estate, as well as neighboring Cong, forming the backdrop for many of the locations in the film.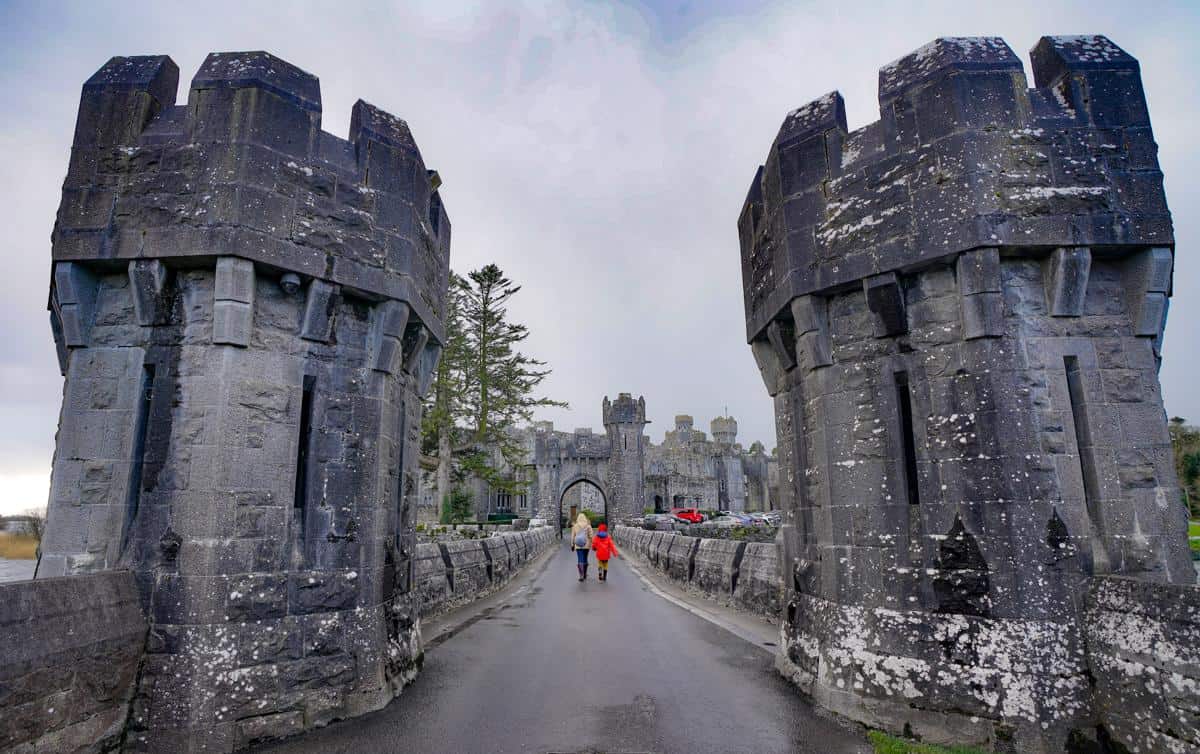 The Ashford Castle Hotel's Recent Chapter
By the early 2000's, the castle had shown its age. Loyal staff worked around the quirks and wrinkles of the aging building. In May 2013, the property was bought by Red Carnation Hotels for €20 million. The Tollman family gathered the staff and made the commitment to restore Ashford to its fullest glory. Some staff cried, I was told, at this meeting.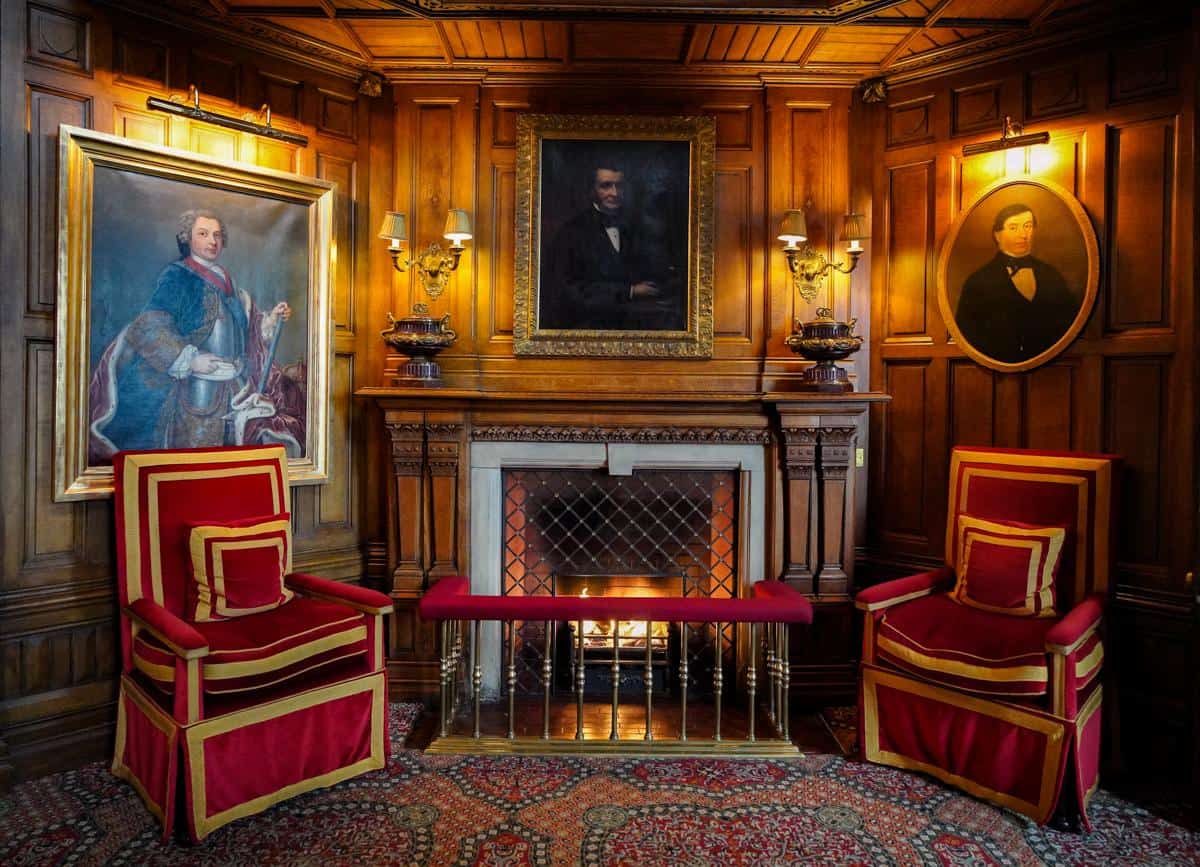 Over the next five years, €47 million was spent on significant restoration and enhancement of the property and its 350-acre estate. When complete, "the new" felt very much as if things remain unchanged from a distant era.
In 2015, Ashford Castle added its award-winning spa and was voted world's best hotel by Virtuoso Travel. The hotel also won third-best by Travel + Leisure magazine. Just recently, Forbes Travel Guide announced Ashford Castle would retain its prestigious Five-Star rating in 2022; also, this year, U.S. News named it the No. 4 Best Hotel in Europe.
When is the best time to visit Ashford Castle?
Ashford Castle weather doesn't lessen its appeal as a year-round destination for families. Sure, Irish weather is better in the summer, but even our February visit was magical. From the Ashford lounge's floor-to-ceiling windows we enjoyed watching a nasty squall of a storm brew and blow while drinking our Irish Breakfast tea.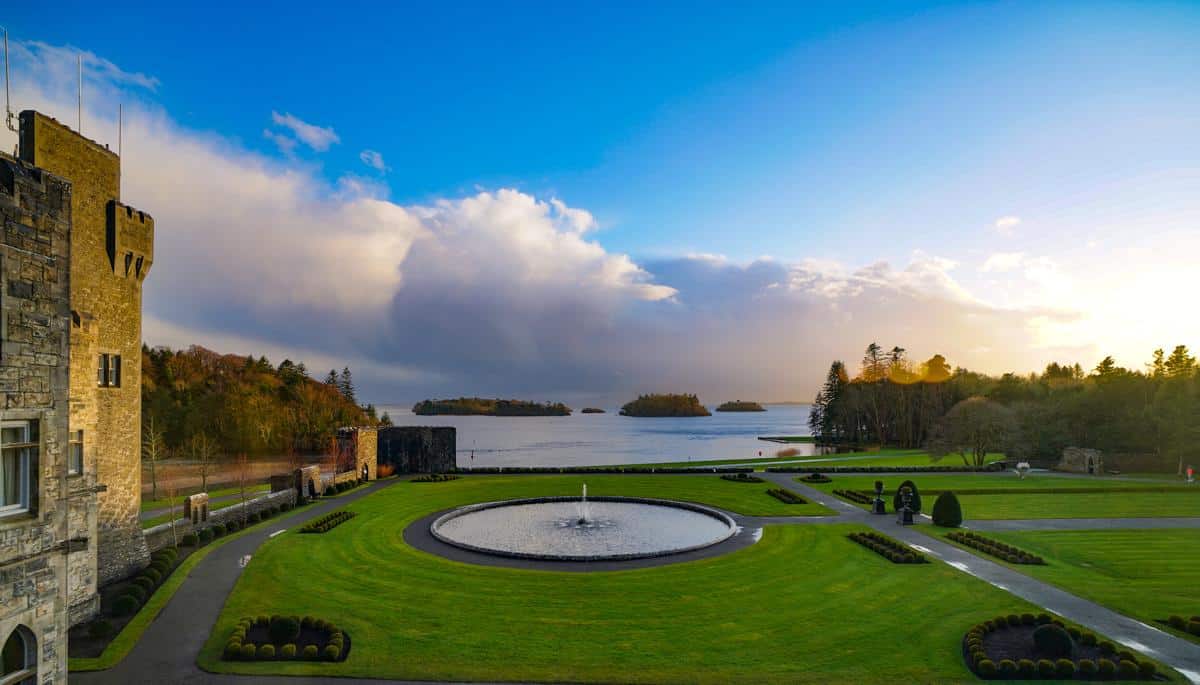 Best Ashford Castle Rooms for Families
Ashford Castle has several different room configurations, which makes it tricky to book online. No two rooms are alike. As a travel advisor, I work with the property directly to find the right bedding and room combination for your family (and I can offer free VIP amenities like resort credits and upgrades). Please reach out if I can help you with your Ireland vacation.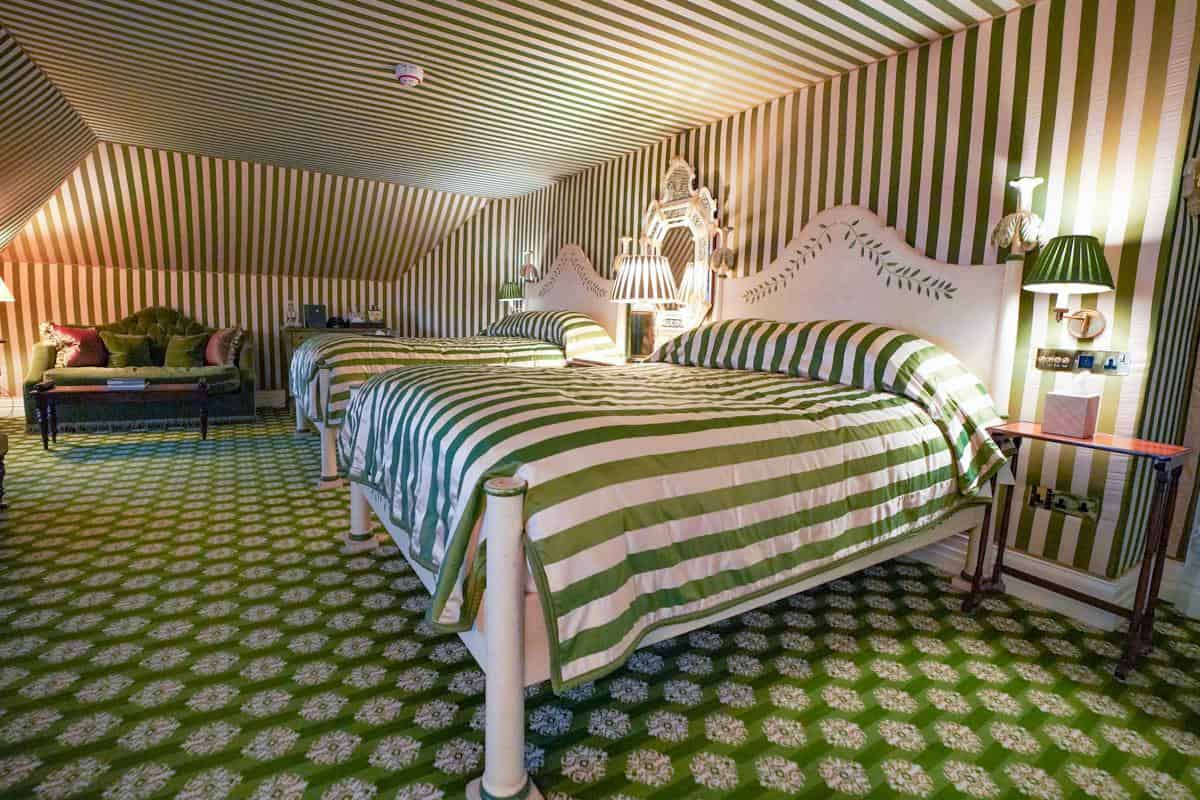 Entry-level rooms for families start at the double queen rooms. We enjoyed a pampered welcome of treats and resort gifts to get the vacation started. We had mentioned we were celebrating our anniversary, and they didn't disappoint with a Happy Anniversary pillow draped across our cozy bed during turndown service. Children received many welcome gifts as well.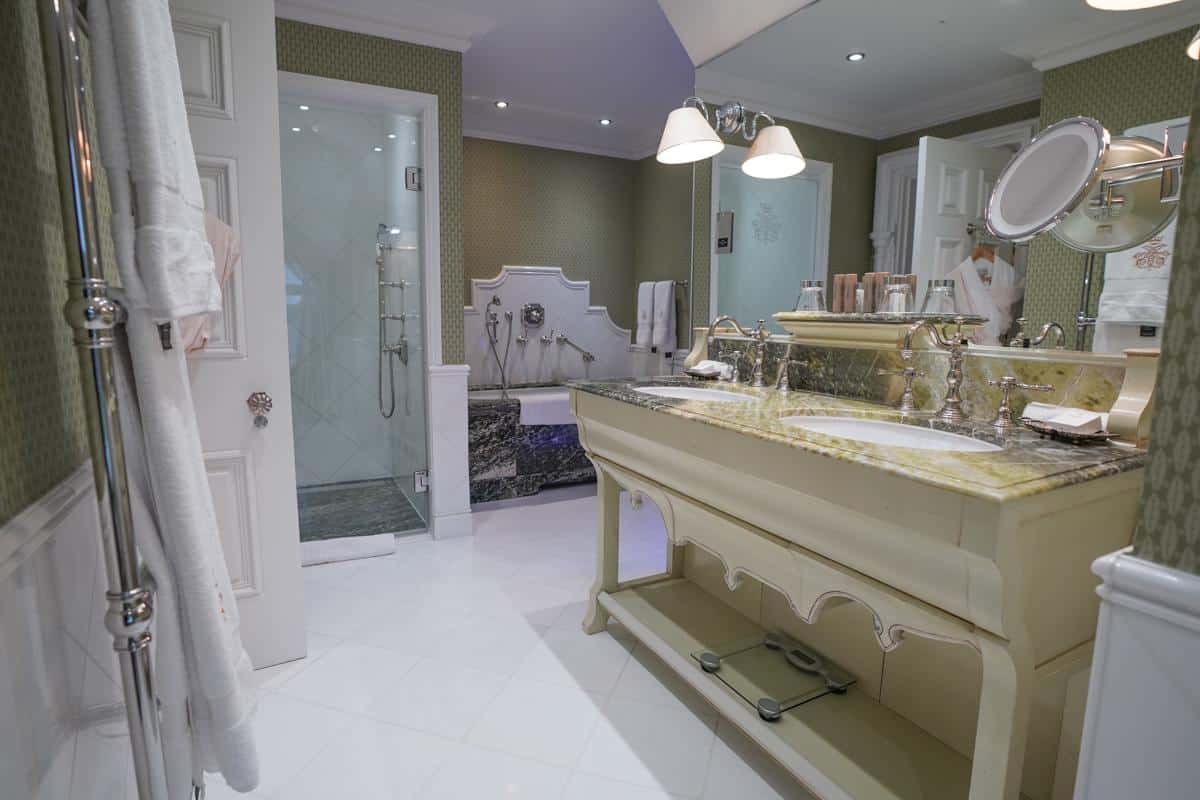 Our room included a spacious bathroom and noteworthy window seats. Our kids loved sitting in these spots overlooking the castle grounds and lake views watching for rain or sunshine.
Suites and Connecting Rooms for Families
Ashford Castle suites and connecting rooms enable families to create two-bedroom suites with a shared living space, and there is a way for a larger family to have their own wing of the castle, complete with a room for a nanny.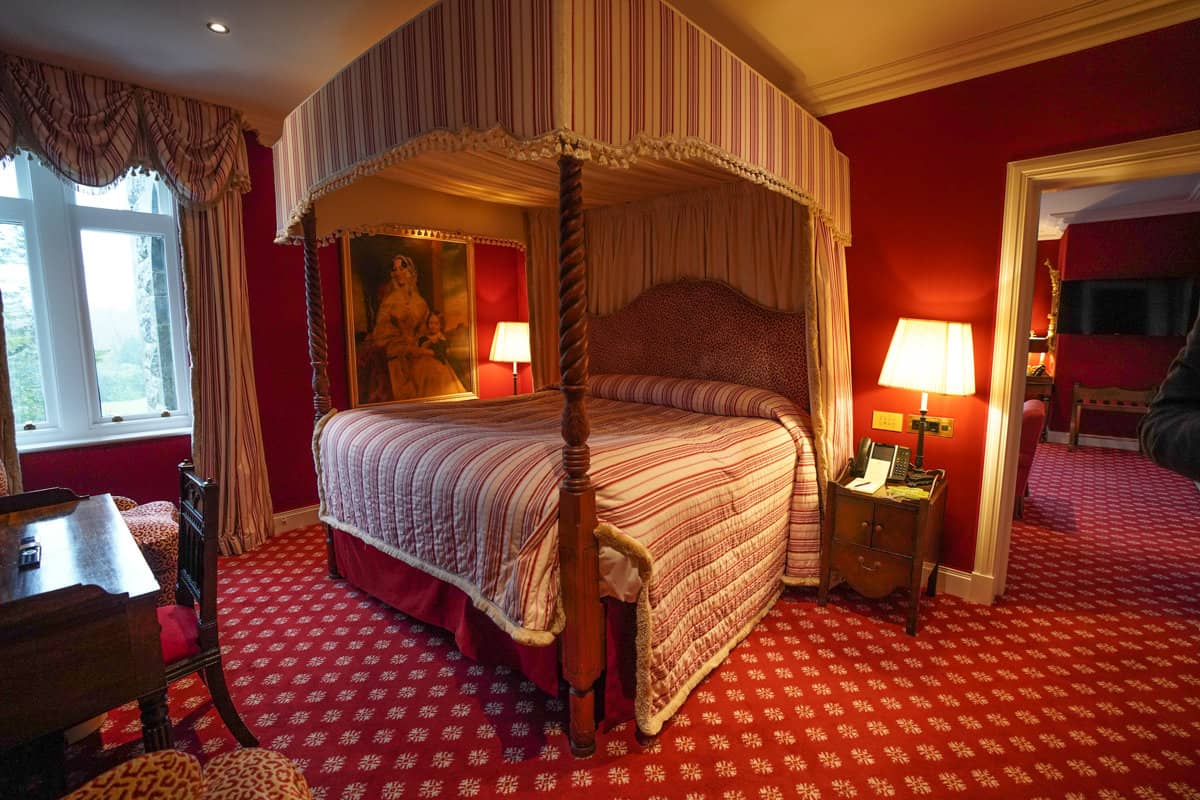 For the Kids in the Castle
Children have a Lego butler ready to bring a play set on a silver tray from a select menu for a fee. There was a nice variety to choose from to satisfy a broad age group.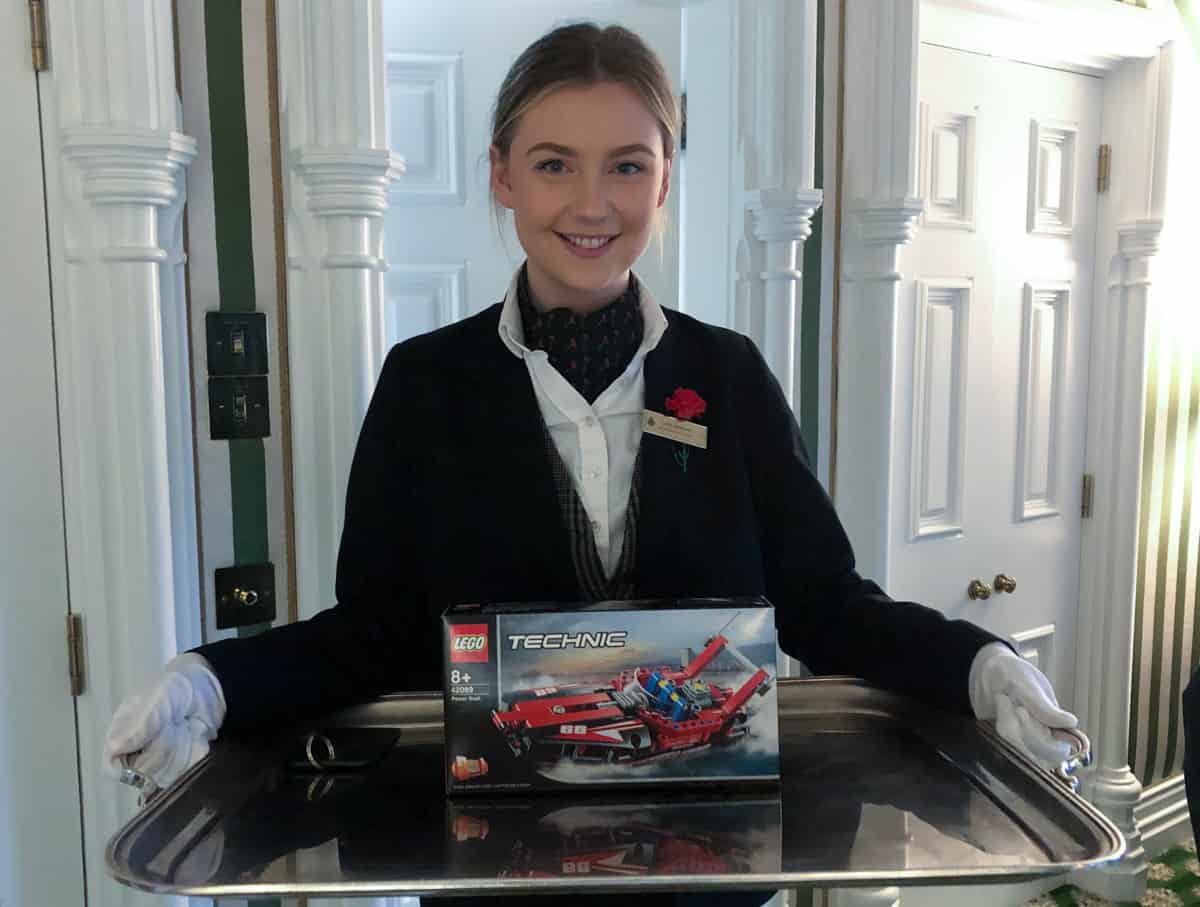 The spa includes a noteworthy indoor relaxation pool with family hours in a green house- style extension with walls of glass. The mosaic wall of this pool made this one of the most beautiful hotel pools I have seen.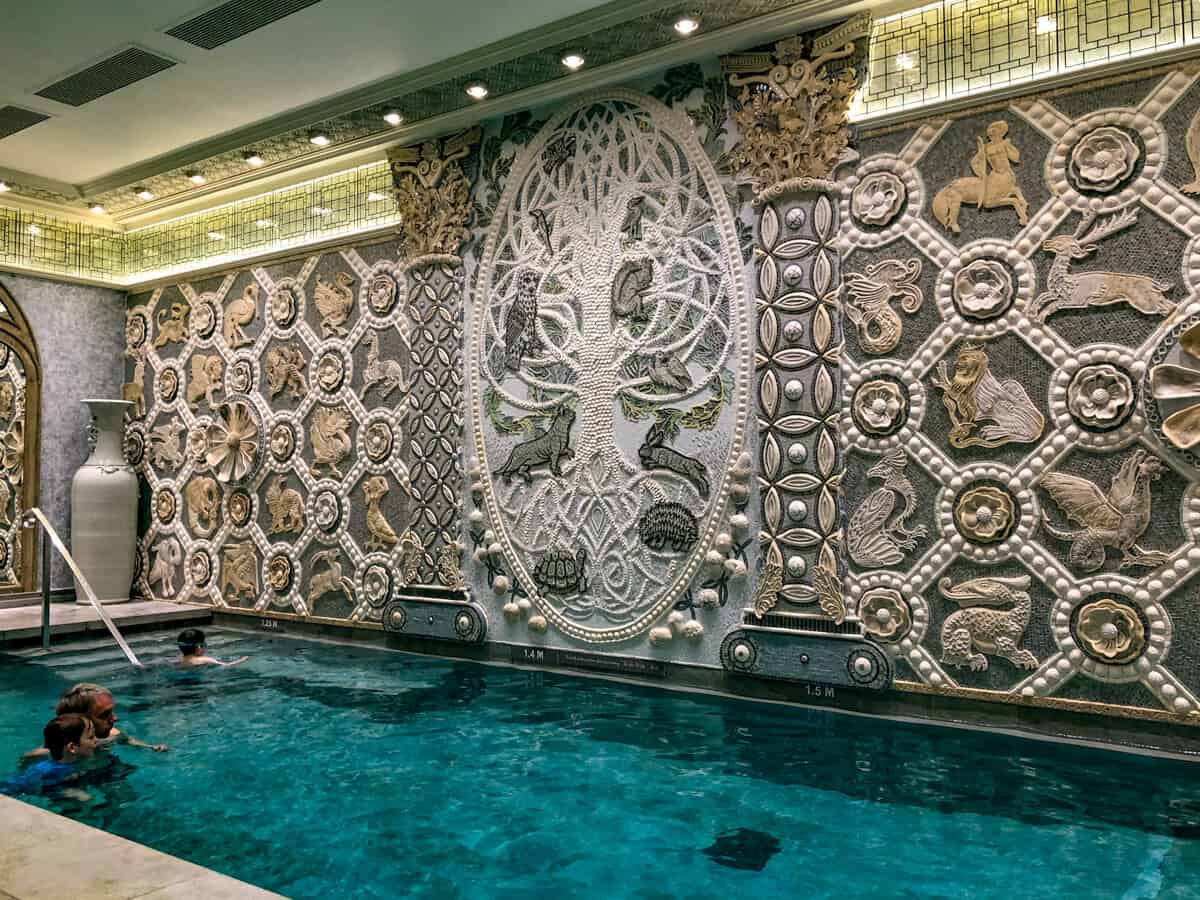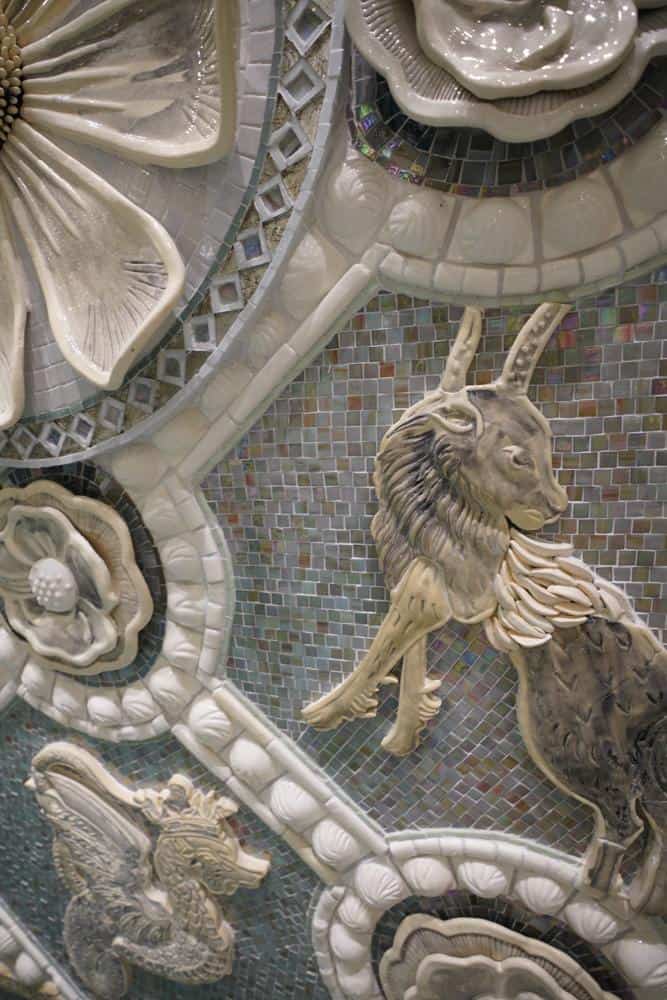 There is a lovely, free 32-seat movie theater that plays both adult and children's films. We watched a Disney matinee sitting in the scarlet velvet seats with fresh popcorn from its own popcorn machine and an obscene amount of free gummy worms.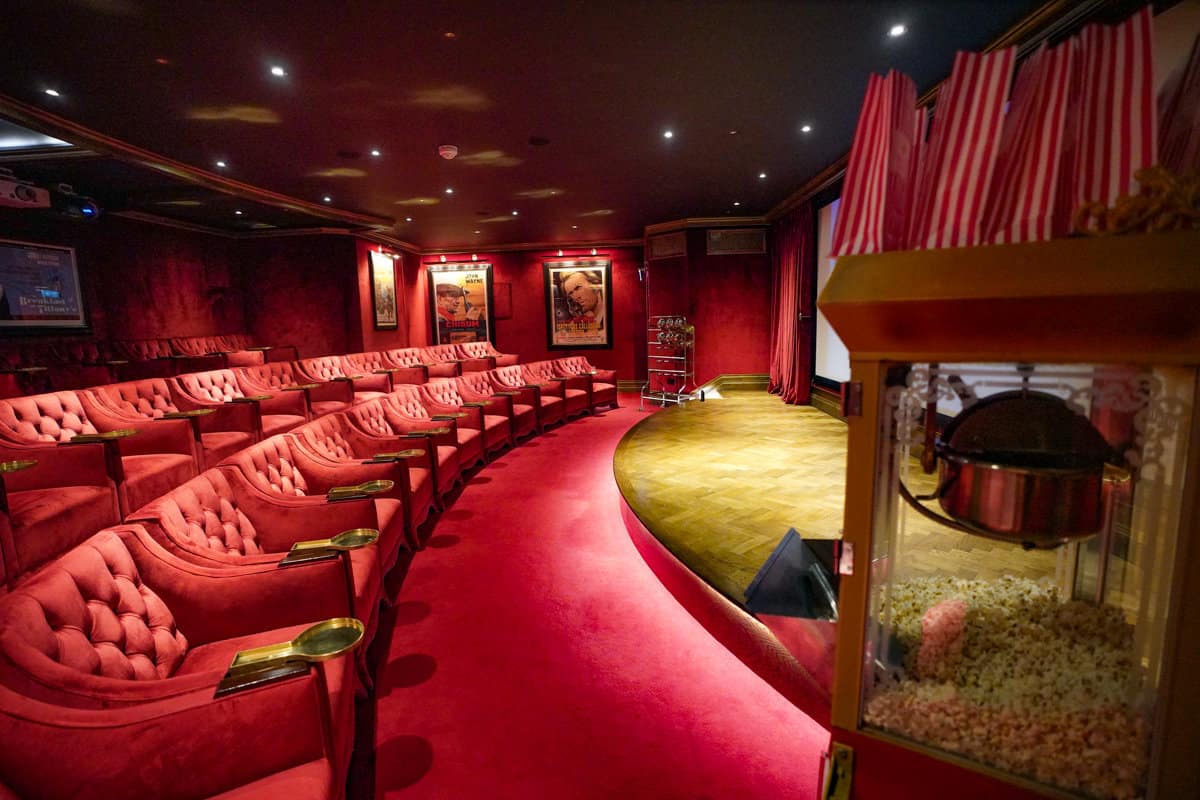 There is a billiard room that contains a collection of board games for families which can be taken back to their rooms.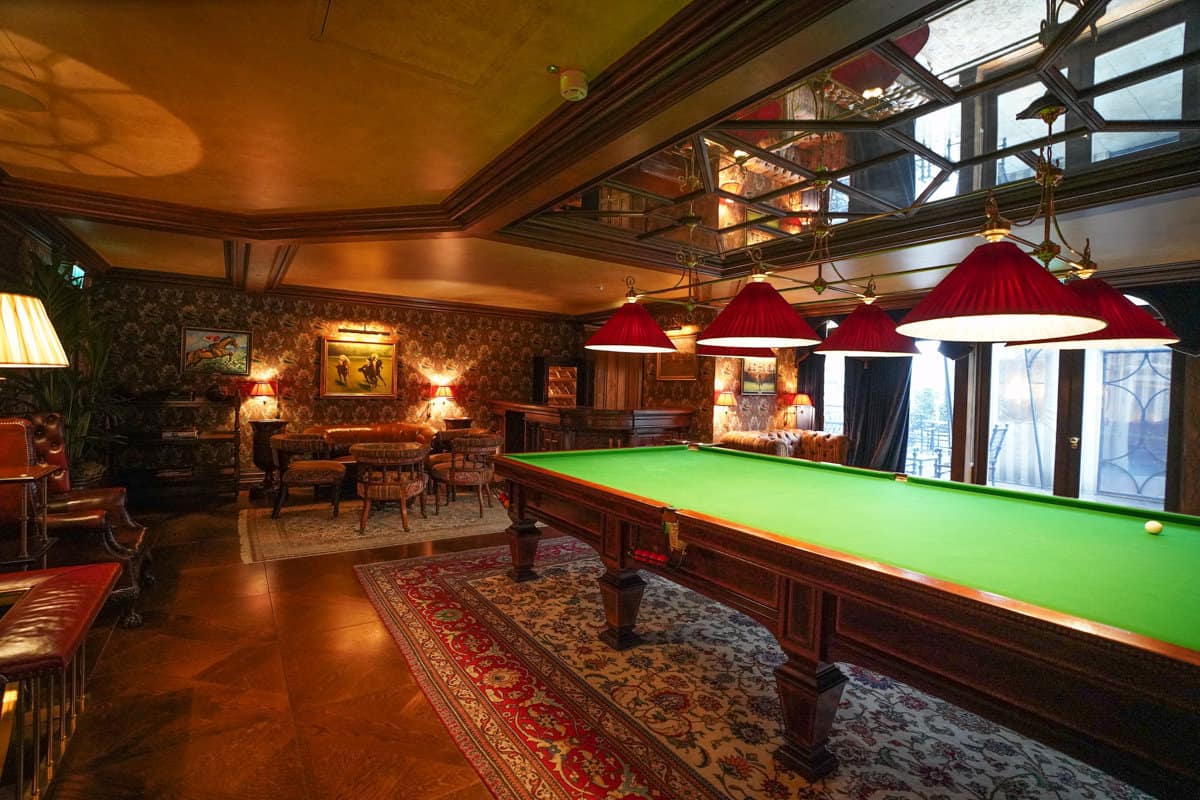 For all of the outdoor activities, children can earn one of ten activity badges in things like boating, archery, and more. It could take a trip of at least seven nights to try and do everything.
Ashford Castle Activities:
Lovers of the outdoors will find no shortage of activities at Ashford Castle. Against the backdrop of tranquil Lough Corrib in County Mayo, the estate offers hawk walks at Ireland's first falconry school, horseback riding, golf, fishing, tennis, off-road driving, zip-wiring, clay pigeon shooting and tree-climbing. And the hotel keeps a staff of Wellies and rain gear for guests.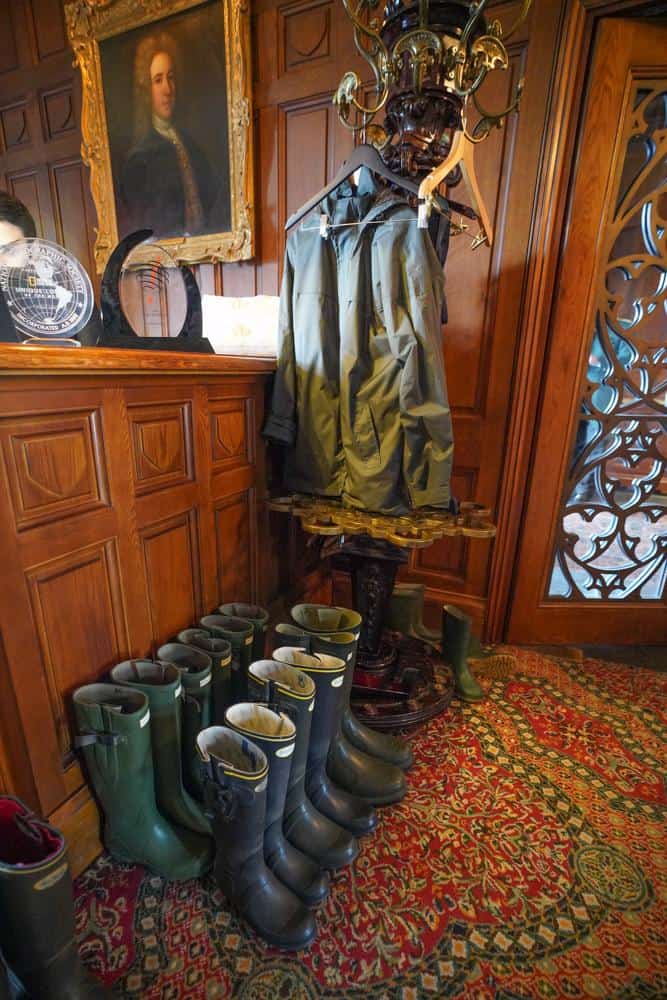 Ashford Castle Falconry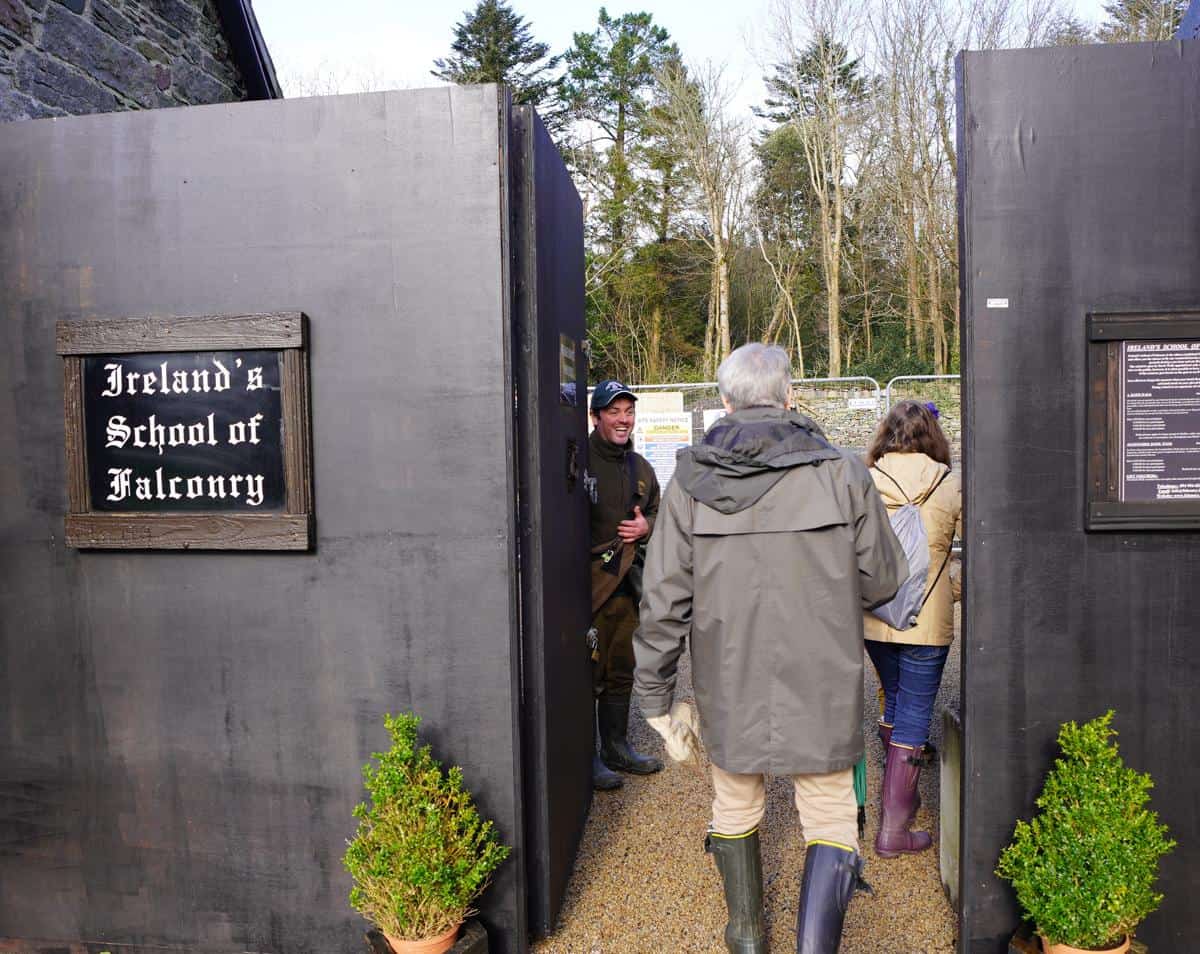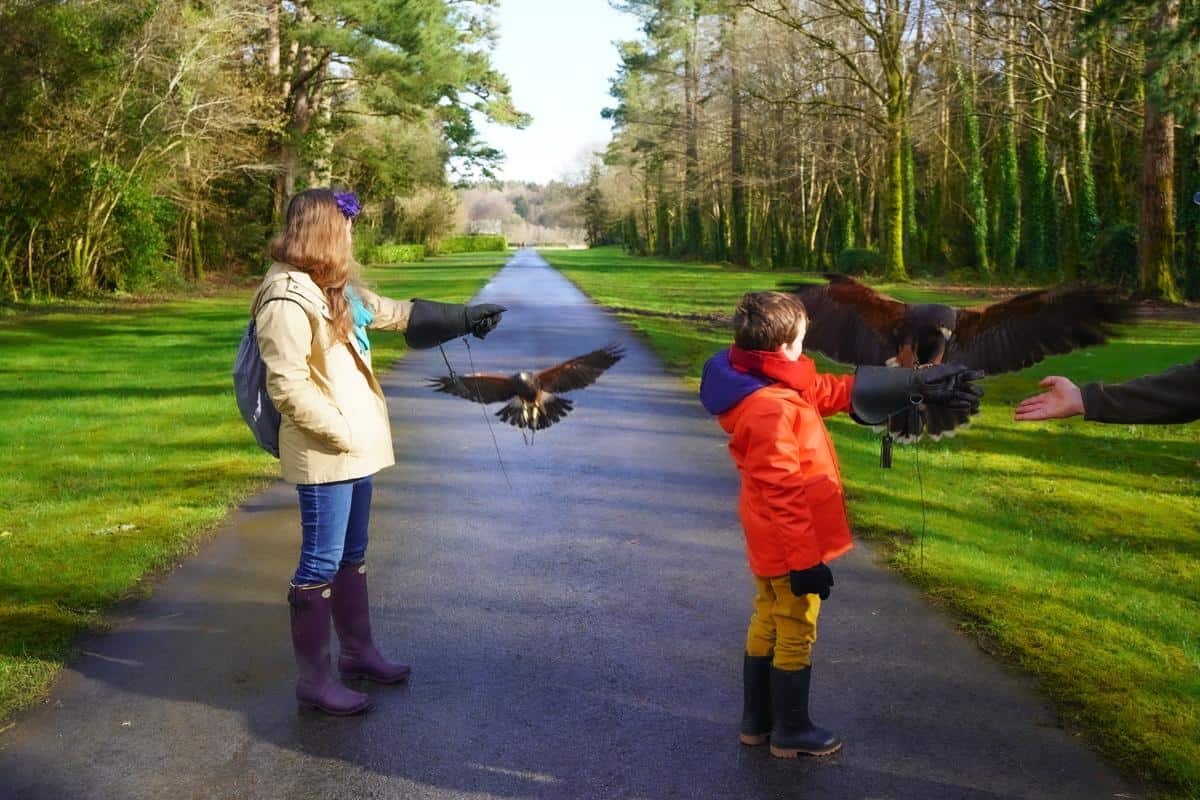 Advanced booking is essential for this activity which proved a highlight of our stay. Following a brief tour of the falconry building, we set off across the grounds with our individual instructor and a beautiful bird that soared above us, responding to the instructor's signal to fly down to our waiting hands (drawn by the promise of a bit of meat held in a thick leather glove).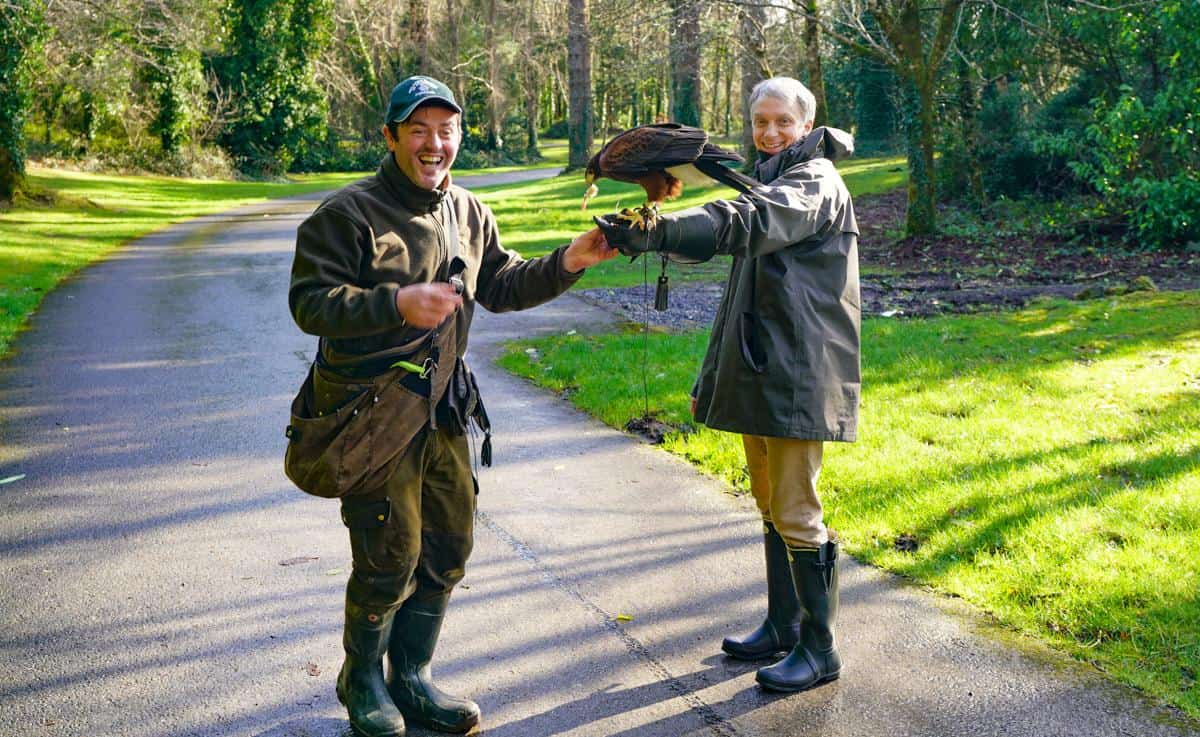 To see the hawks descend, with perfect precision and great speed, was both a thrill and a little nerve-wracking at first. Even our nine-year-old son, however, participated in, and loved the experience (children must be at least seven years old to participate in a Hawk Walk; those younger than seven are welcome to join the group as spectators).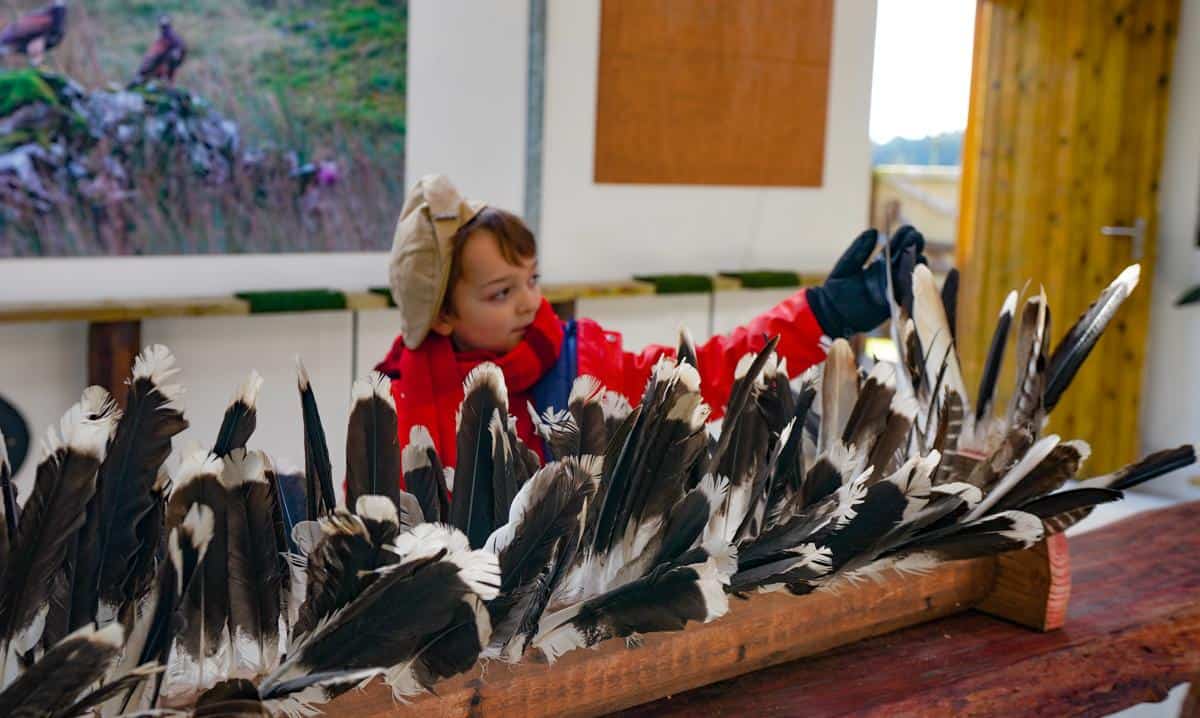 Your session can be scheduled to last either sixty or ninety minutes in length and may range in size from one participant to a large group; there is no charge for a small number of spectators who are accompanying participants. As we completed our Hawk Walk, a hotel staff member surprised us with a picnic of hot chocolates to warm up from the cool temperatures before a ride back to the castle. These magical service touches really elevate the guest experience at the castle.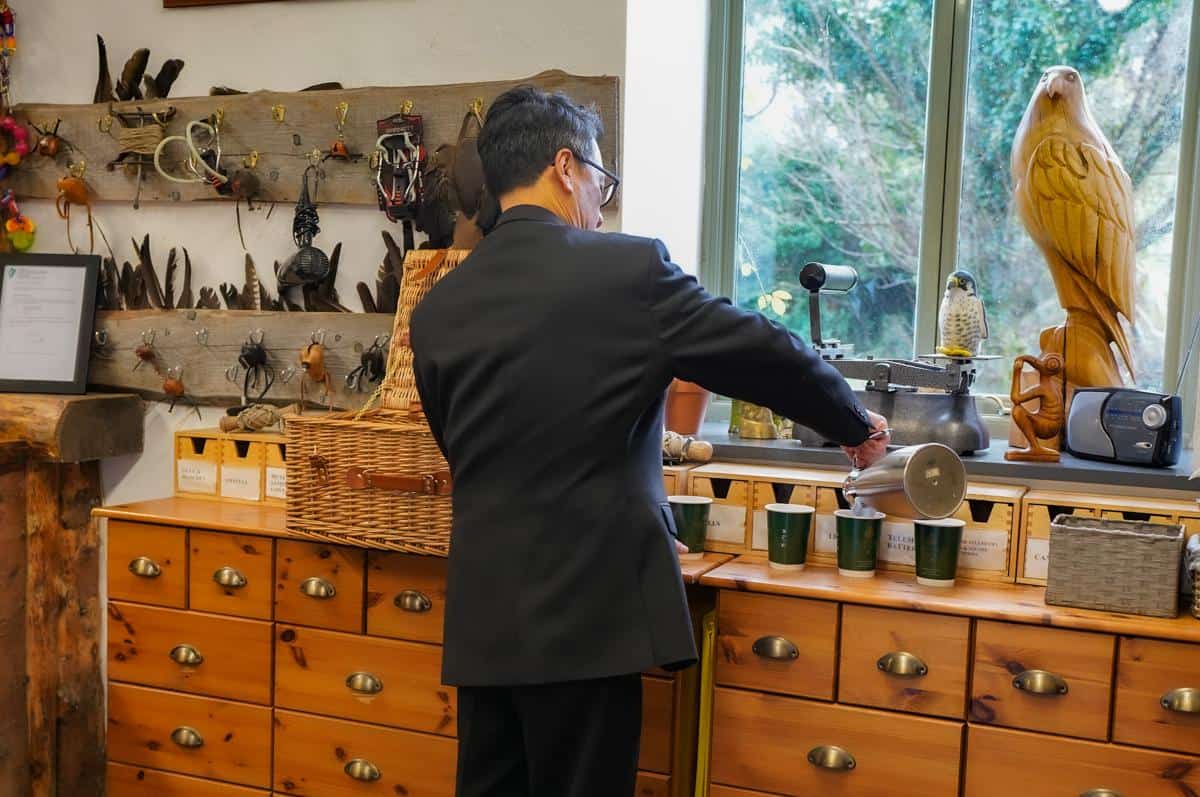 Archery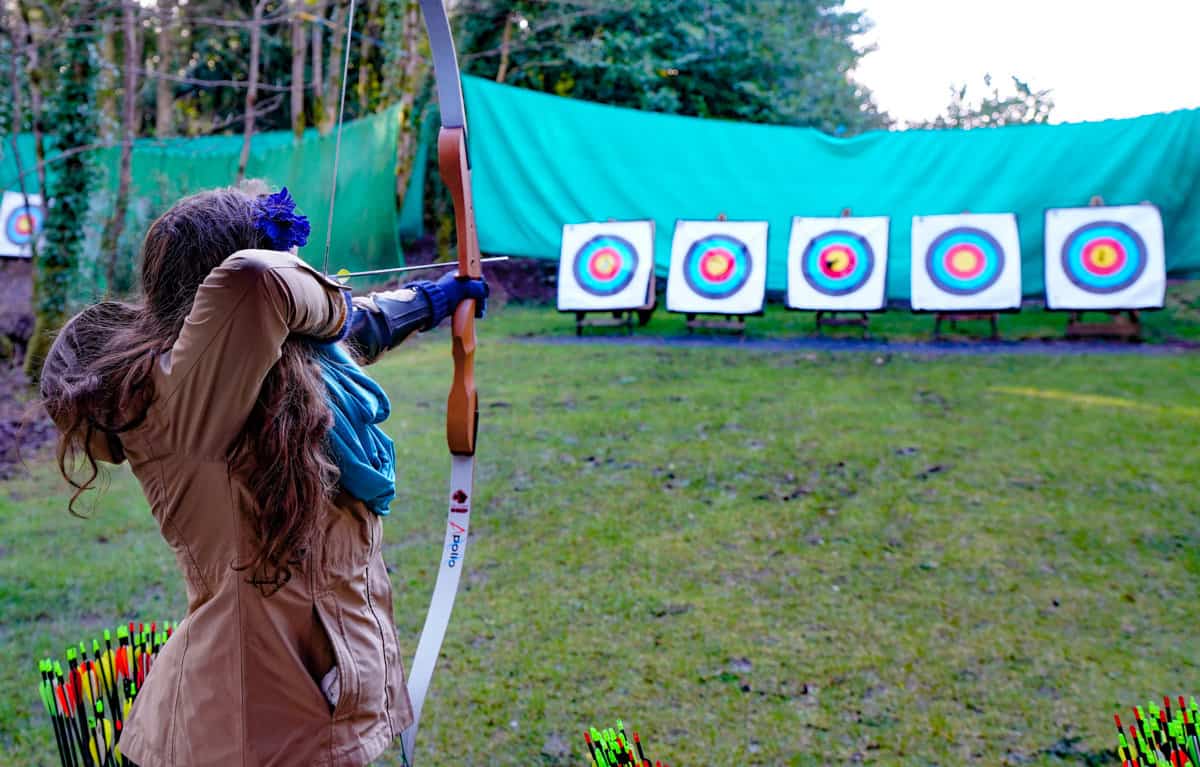 Our next outdoor activity was a visit to the archery range where any adventurer at least as tall as the bow may participate. We were fortunate to be scheduled on a rain-free afternoon and shot together over the course of a sixty-minute session (ninety-minute sessions may also be booked). In the event of poor weather, guests can use the Castle's 50m indoor archery center.
Zip-lining
Closed temporarly at time of posting
The treetops were our next stop. We enjoyed the seven different zip-lines spread over three distinct courses. There are zip-lines of varying height and length so while our older daughter advanced ahead onto more complex routes, our son traversed more age-appropriate challenges; both had a ball.
The natural canopy of the leaves means zip-lining is a "rain or shine" activity – helpful since all those lush, green Irish landscapes are a byproduct of frequent afternoon rainstorms.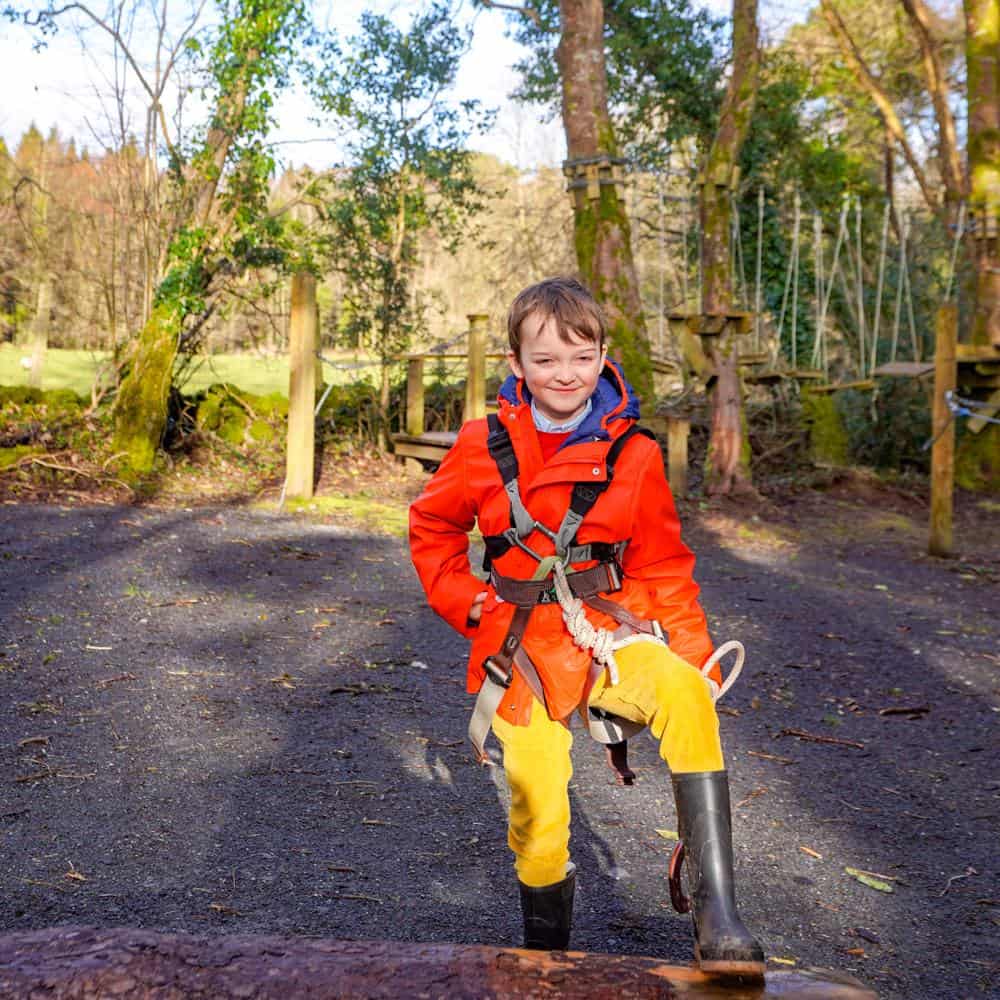 Golf & Riding
Ashford Castle is within driving distance of over a half-dozen top-flight golf courses but guests can enjoy the opportunity to play directly at the property on a par 35 9-hole golf course, laid out on the original deer park of the estate. Greens fees at this private golf course are complimentary to those staying at the hotel and the Castle provides Titleist clubs for guests' use.
For those that have other interests, fishing, tennis, cycling and kayaking are available. Instruction is available for an additional fee.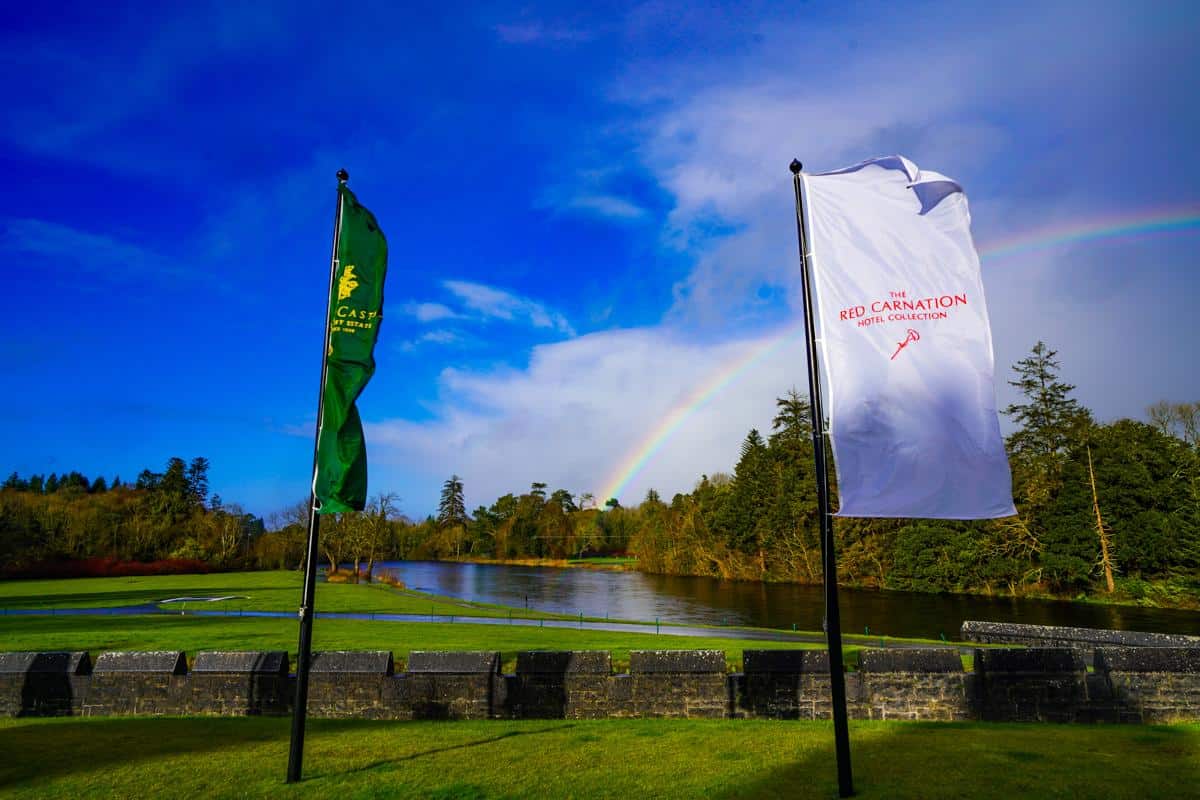 We did not participate in the horse riding at the Ashford Equestrian Centre. Trail rides and lessons are available for all ages and skill levels, and hard hats and Jodhpur boots are provided. There is no shortage of opportunities for those who wish to see Lough Corrib, Lough Mask and the mountains of Connemara by horseback.
As with many of the activities at the Castle, we recommend advanced booking to avoid disappointment.
Ashford Castle Grounds
A simple pleasure is just walking the remarkable grounds of this 800-year-old Ashford Castle.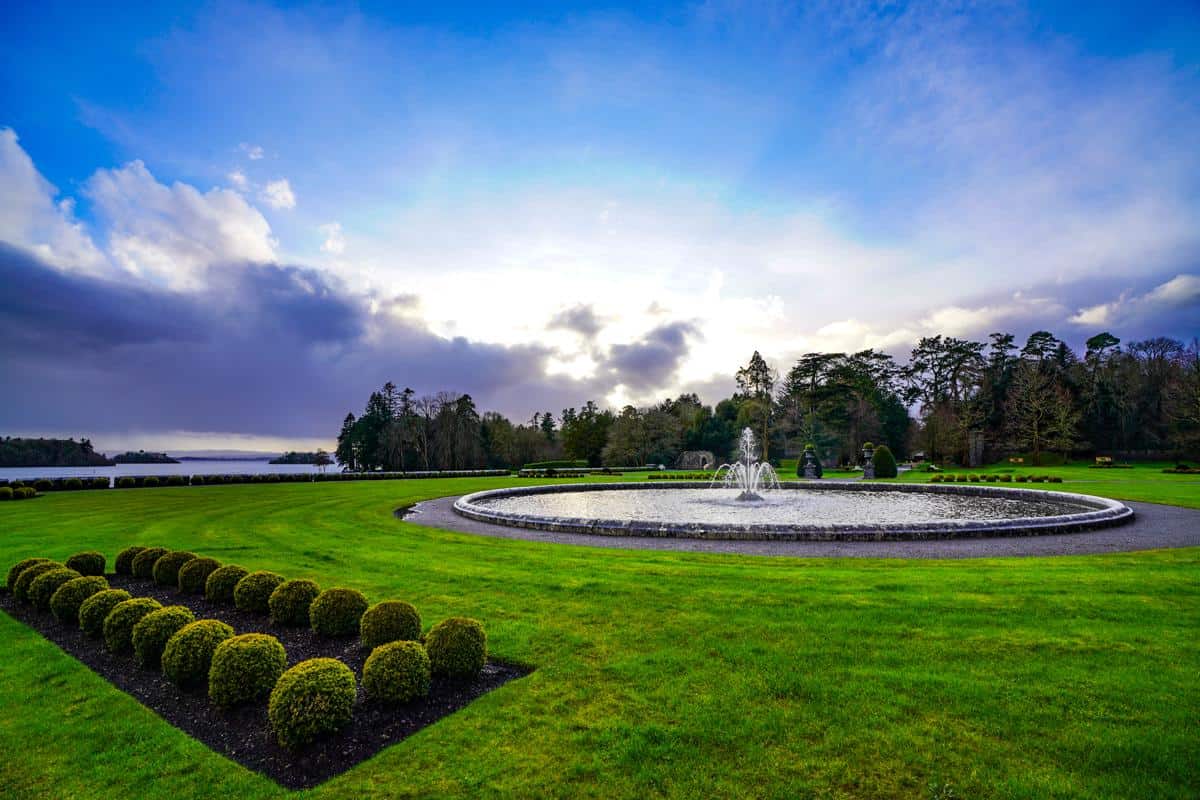 You'll find walled gardens and hidden towers when you adventure out. Feel comfortable leaving the sunglasses behind and embrace the grey and green landscape, unique to iconic Ireland. Whether crossing over the moat in the approach to the turreted gate, or viewing Lough Corrib be sure to bring warm clothes.
Ashford Castle Afternoon Tea
Our family has enjoyed over two dozen afternoon teas in the last five years. We're experts. We loved the Ashford afternoon tea. The Connaught room is beautiful, and we all enjoyed a very indulgent and traditional service.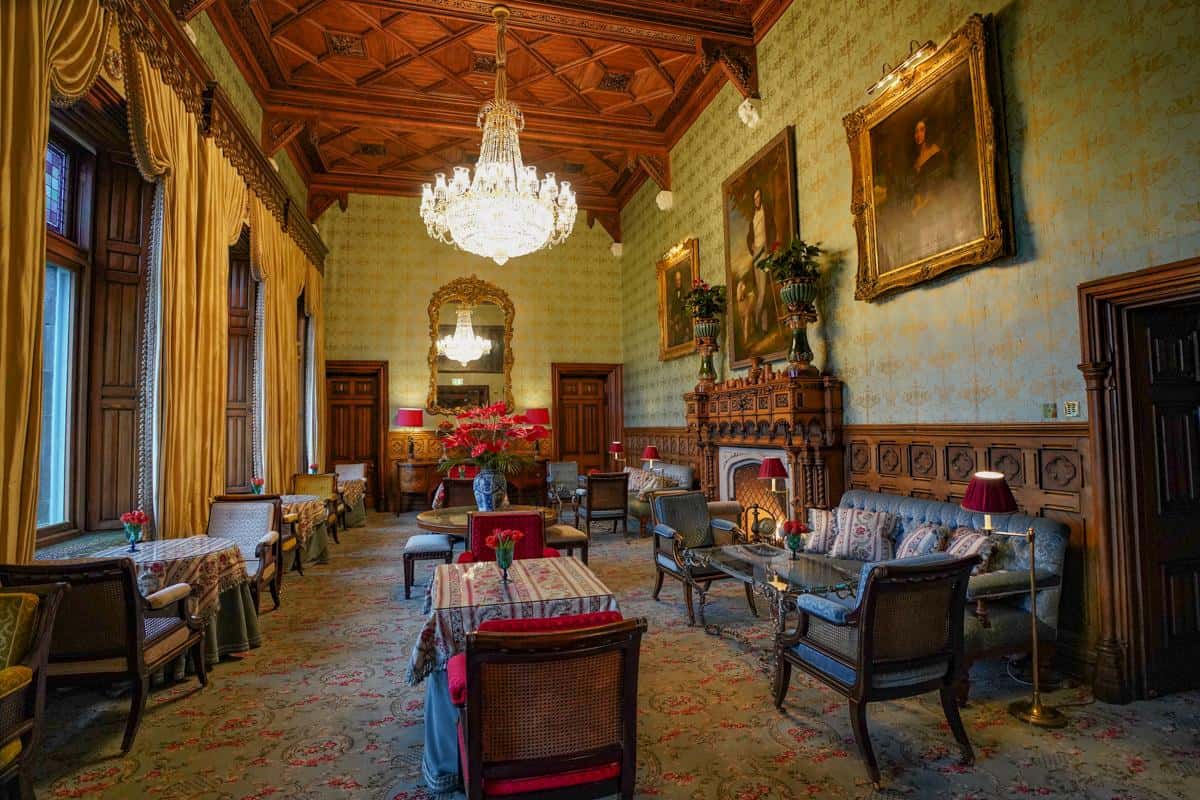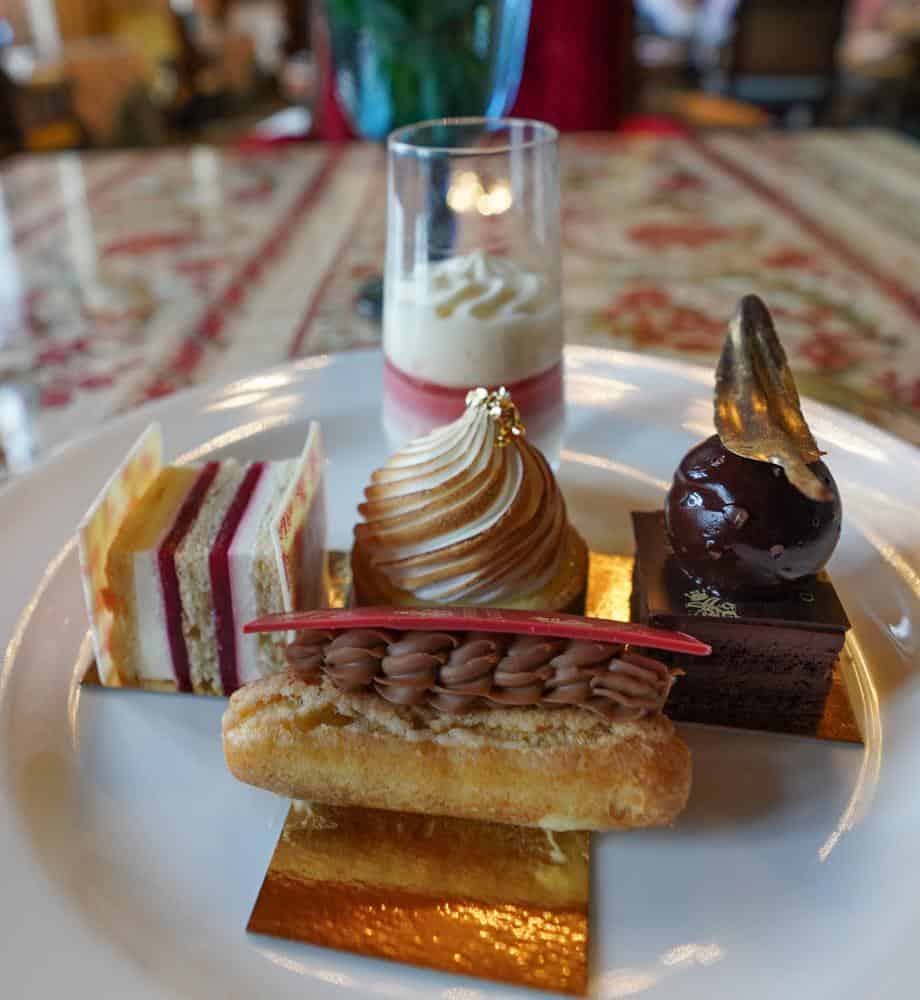 But what we remember most from this tea is that my son, donned in his corduroy blazer absorbed the serenity of the room's crackling fire, the subtle notes of the classical music, and put his head on a silk pillow and fell asleep while eating a cucumber sandwich mid chew.
Ashford Castle Dining
Dining options range from casual to formal at the castle. There's an American-style diner called Stanley's on the lower ground floor of the castle. This is the most casual dining experience to enjoy burgers under the prominently hung portrait of Elvis Pressley.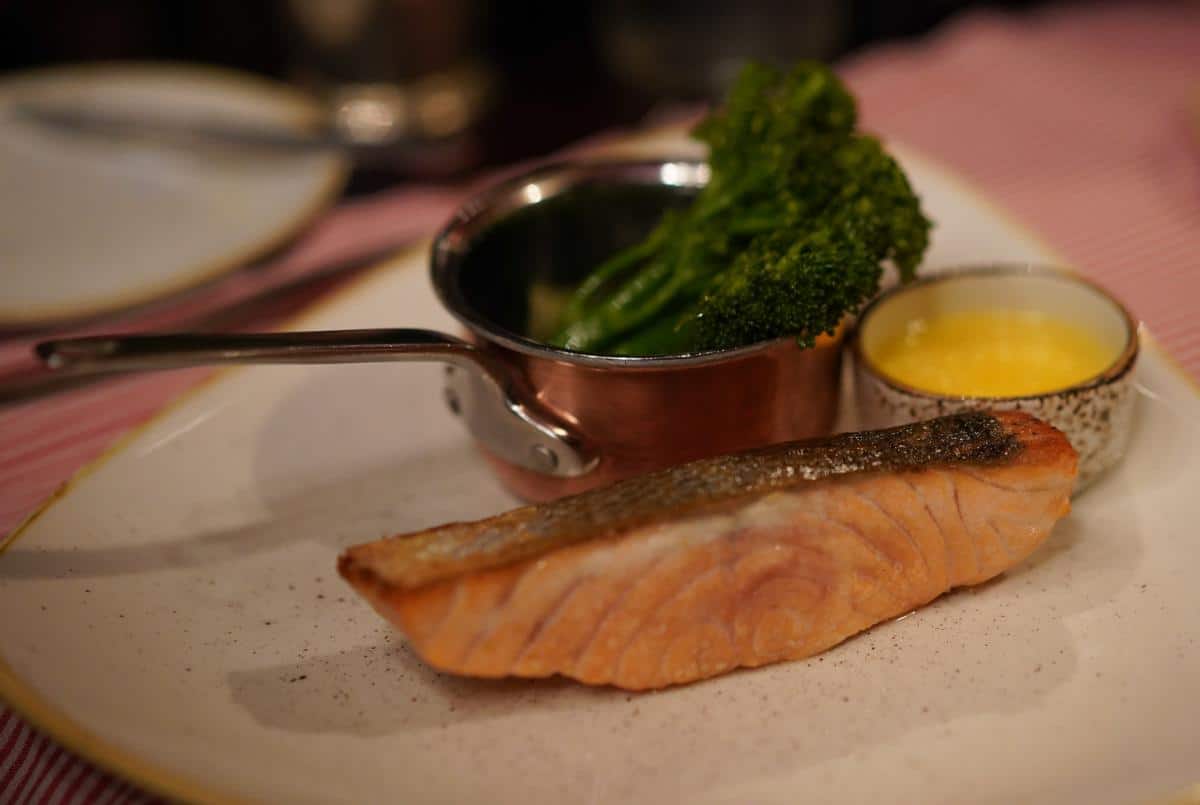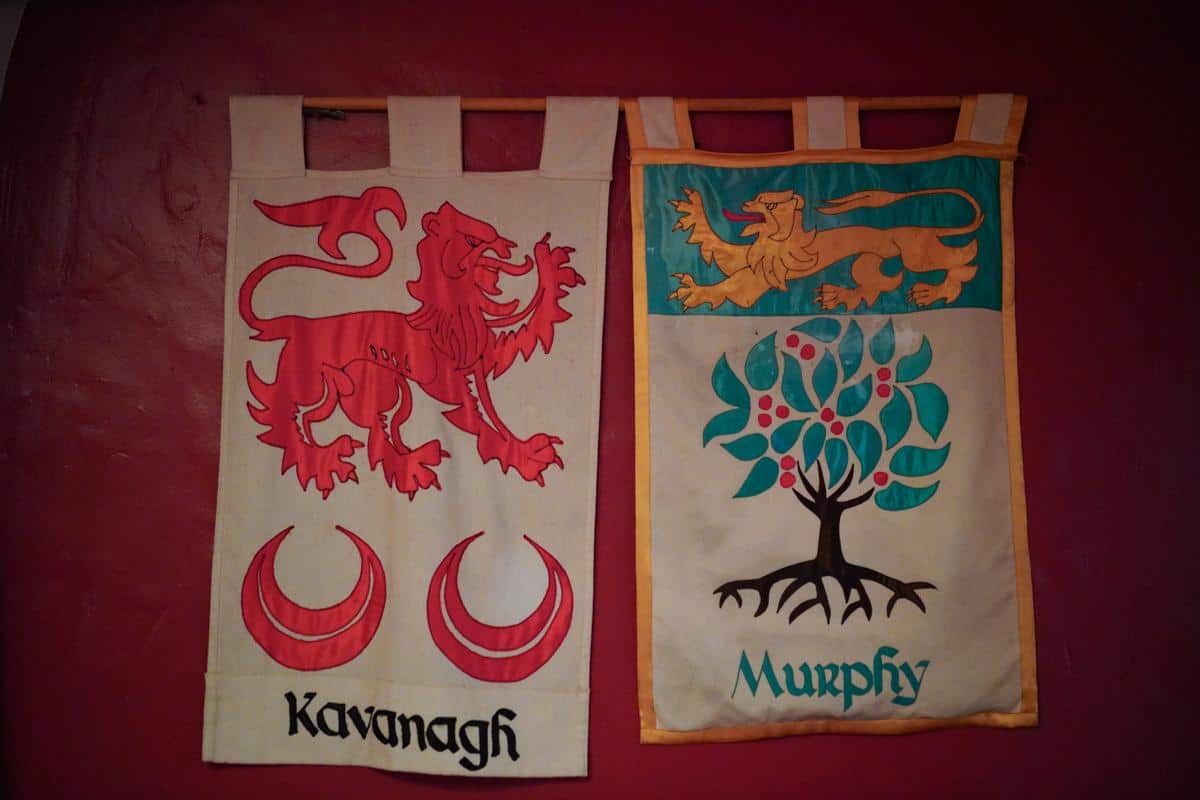 Breakfast starts the day with a grand affair in the formal dining room, George V. At night, the dress code requests jackets for men. Children are welcome for dinner and have their own menu of kid-friendly staples like pasta and chicken nuggets. Younger foodies can choose fish, beef, and chicken entrees.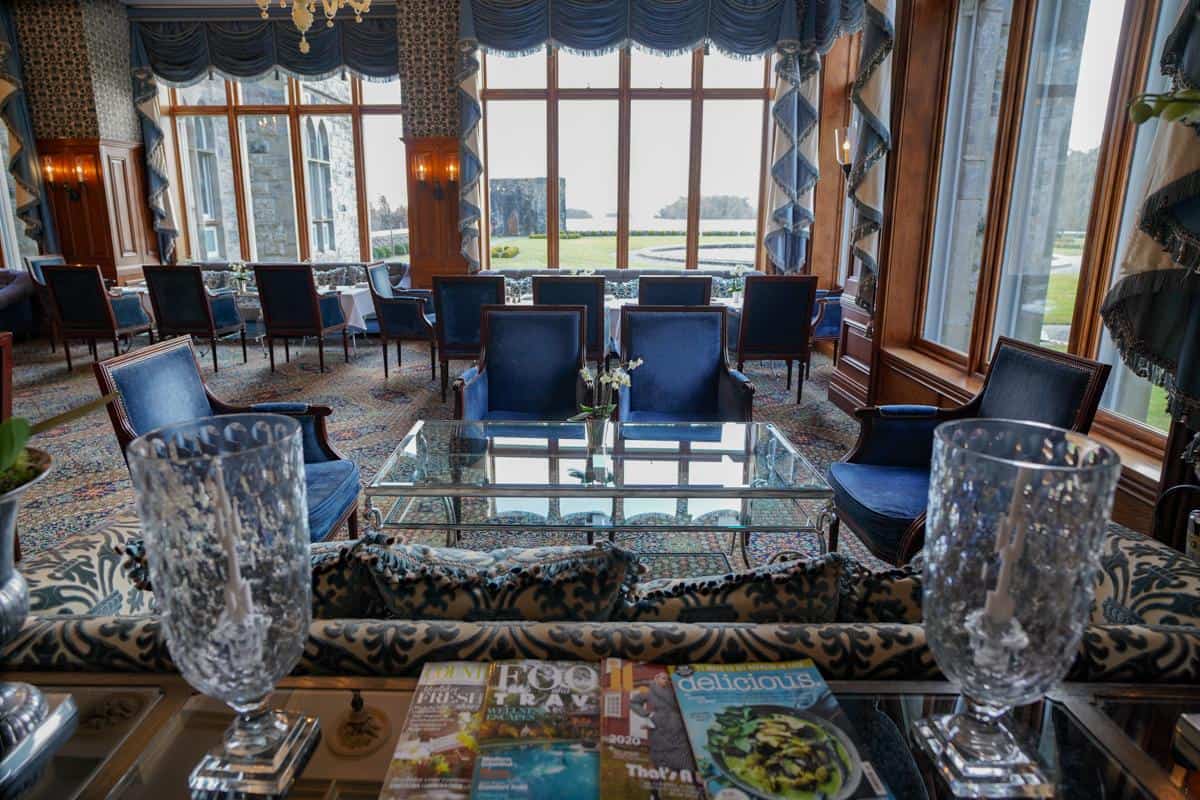 Enjoy lunch in the Drawing Room overlooking the shores of the lake through its walls of windows. The Dungeon serves more traditional pub food under banners of Irish family crests in the castle basement, of course.
Adults can start their night at the Prince of Wales bar for some fine drinks in a clubby atmosphere. It's much more about old-fashioned grandeur than a local pub experience. Make a short walk into Congo for that.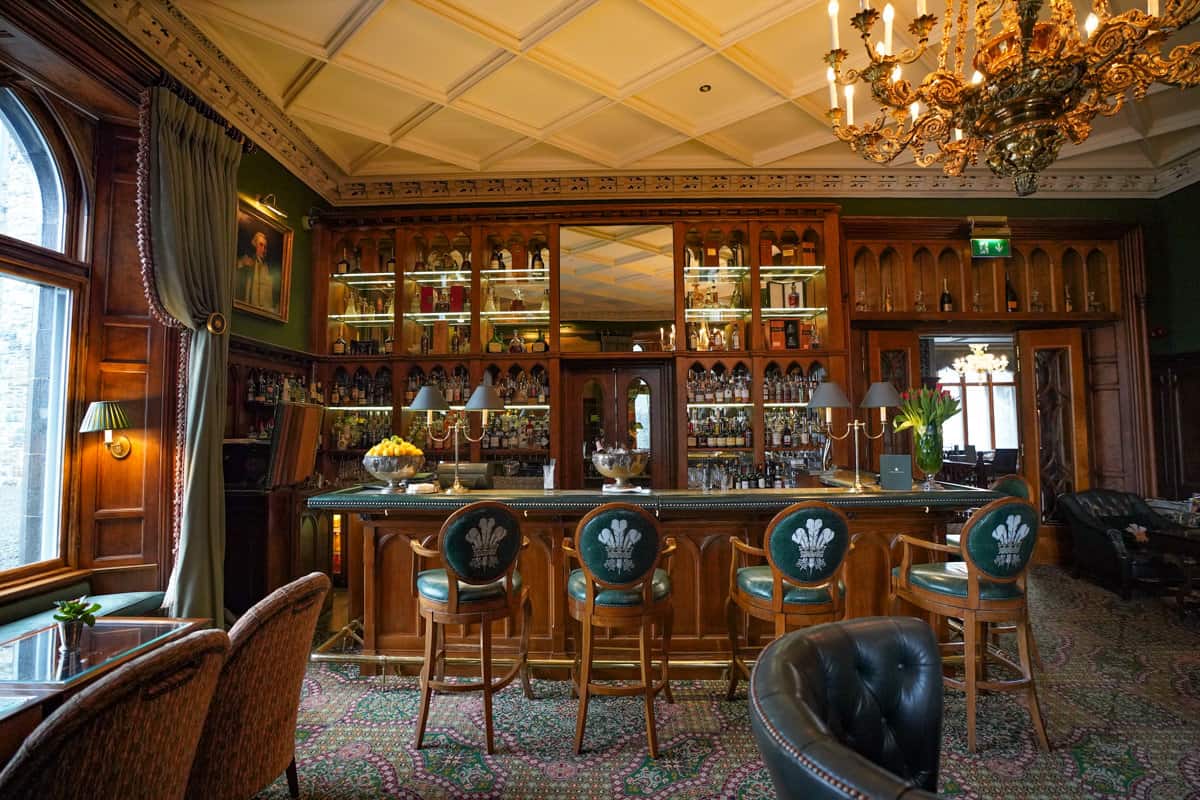 An Ireland Castle Vacation — Relaxation and Awe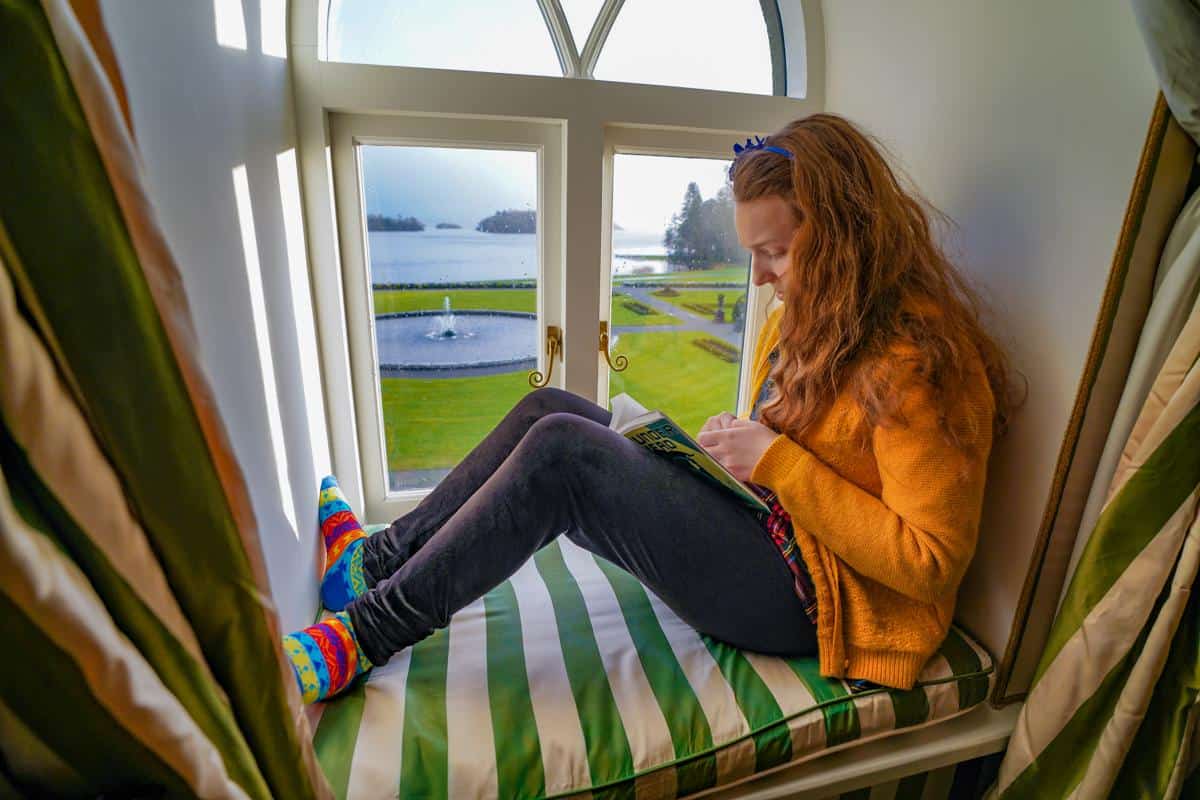 For those who don't like lingering by a pool or beach all day, the "estate vacation" is a must to try. The beautiful outdoor walks of fresh air in the grounds and in the gardens are as mind clearing as waves crashing. Ashford Castle has a few extra family amenities like the cinema that are not at the other Irish castle hotels which we've tried and you can read about.
I'm delighted to help you plan your Ireland family vacation for a family of four or twenty-four, as we can arrange every type of custom itinerary. But if you would like to book Ashford Castle with my additional VIP amenities, just fill out this page.