To walk the lobby of Disney's Animal Kingdom Lodge while hearing live drumming will carry you to faraway, magical places.
Animal Kingdom Lodge
We finally had the pleasure of checking Disney's Animal Kingdom Lodge off of our Disney resort list. We've long enjoyed the restaurants and grounds of Animal Kingdom Lodge, the Lake Buena Vista VIP guide to the Sub Saharan African continent.
A trip here is an excuse to grab an atlas beforehand and learn the names of the many countries that create the African continent. Larger than the US, China, India, and Mexico combined, children and adults will be familiar with how many diverse cultures, languages, and terrains compose the continent.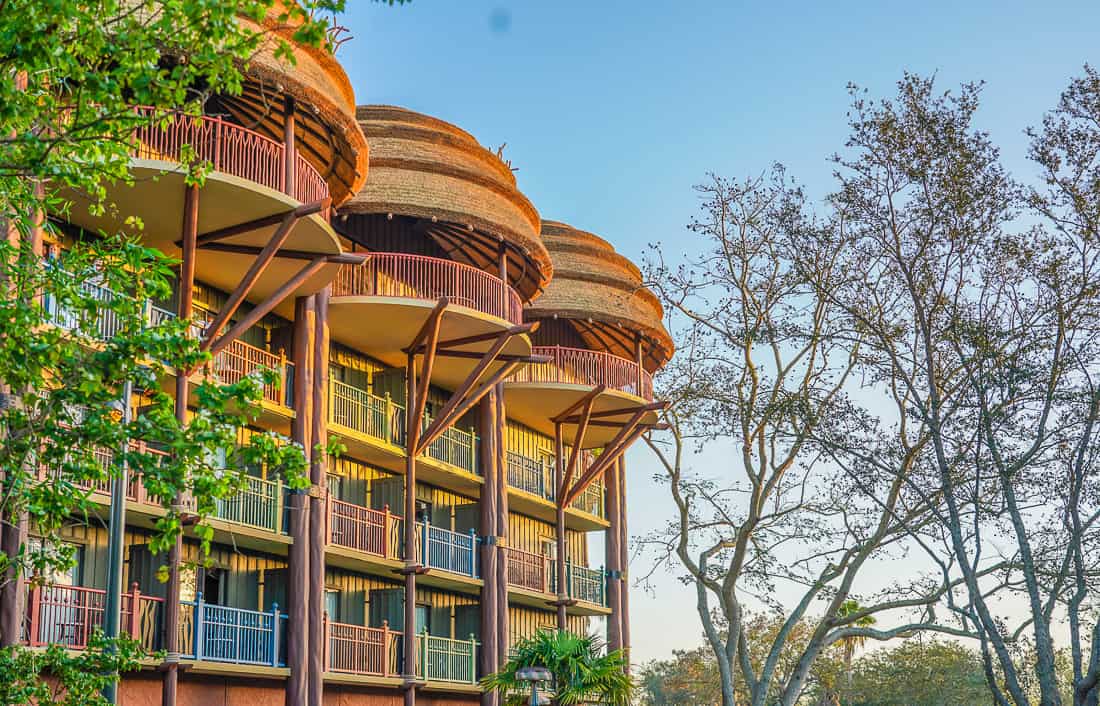 Cast members hail from Sub Saharan countries like Kenya, Tanzania, Mozambique, South Africa, and Botswana. Through Disney's exchange program, they share their heritage with guests.
The showcase of Animal Kingdom Lodge is its own savannah filled with a variety of animals to view: giraffes, zebras, ostrich, and emu.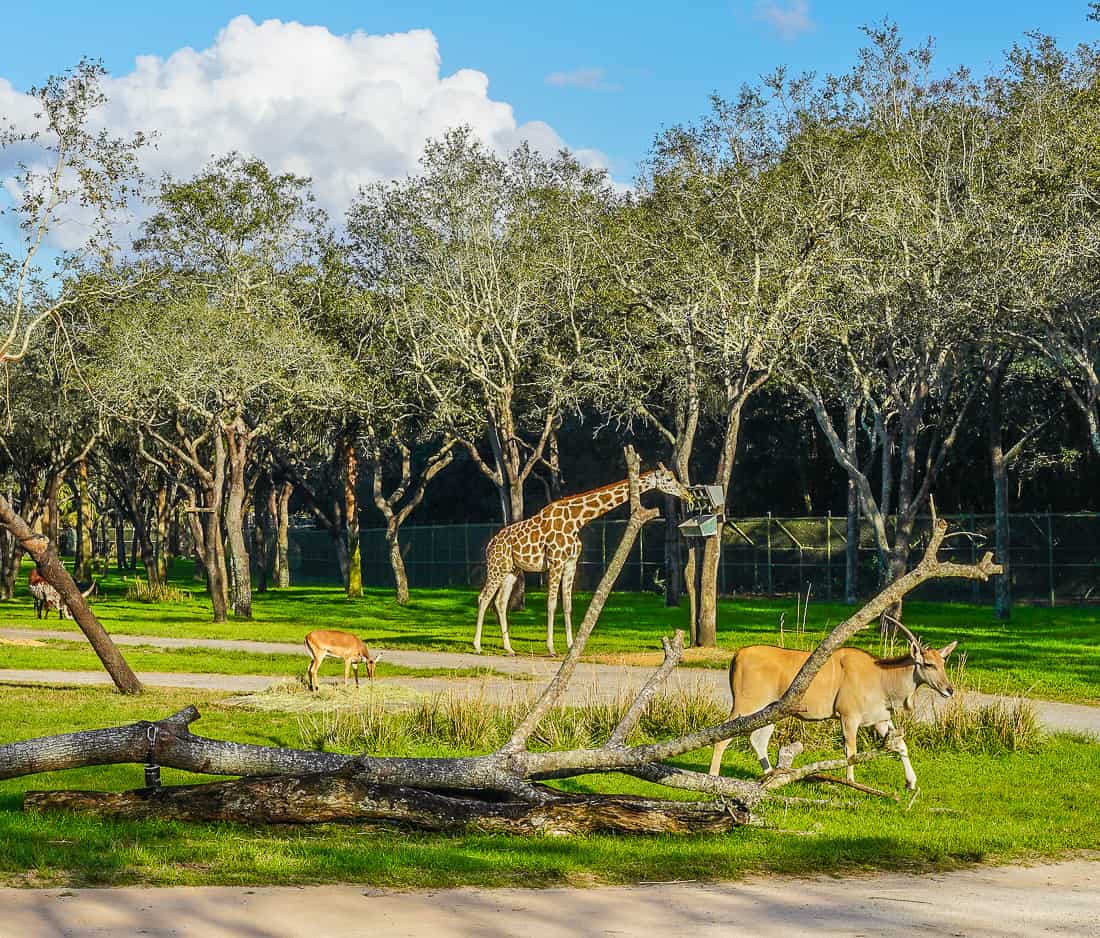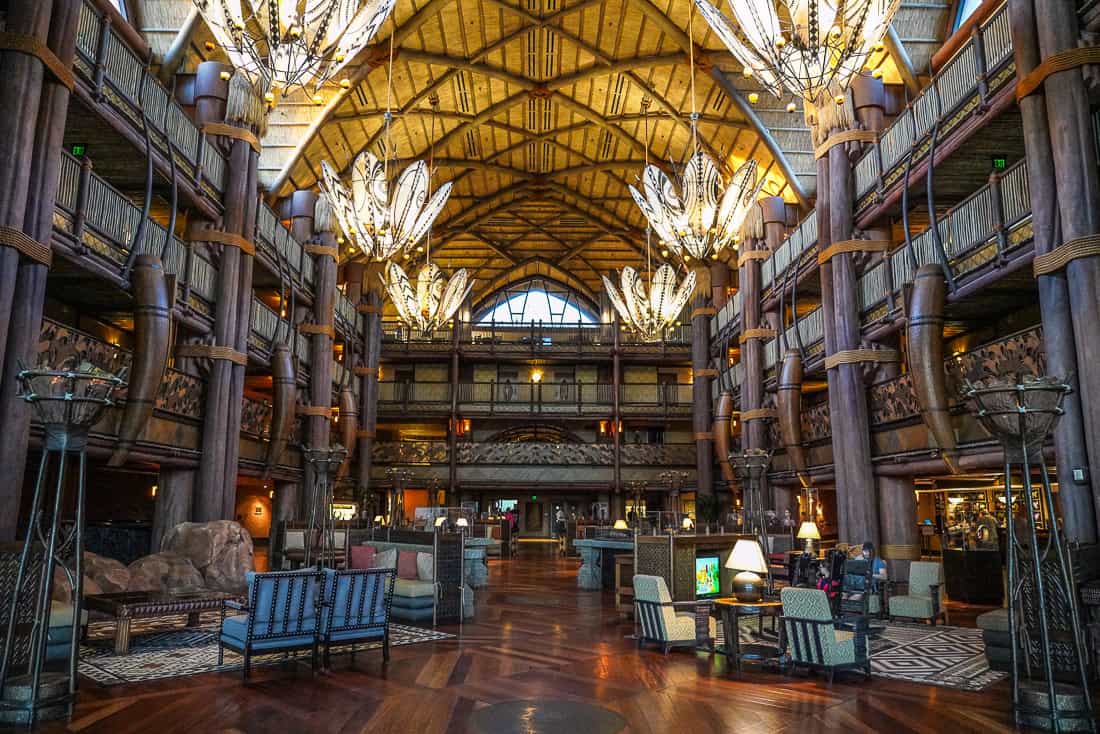 Jambo House
The lobby building of Animal Kingdom Lodge is Jambo House. It's impressive scale may remind guests of other Disney resorts designed by the same architect: Disney's Wilderness Lodge, and the Grand Californian at Disneyland.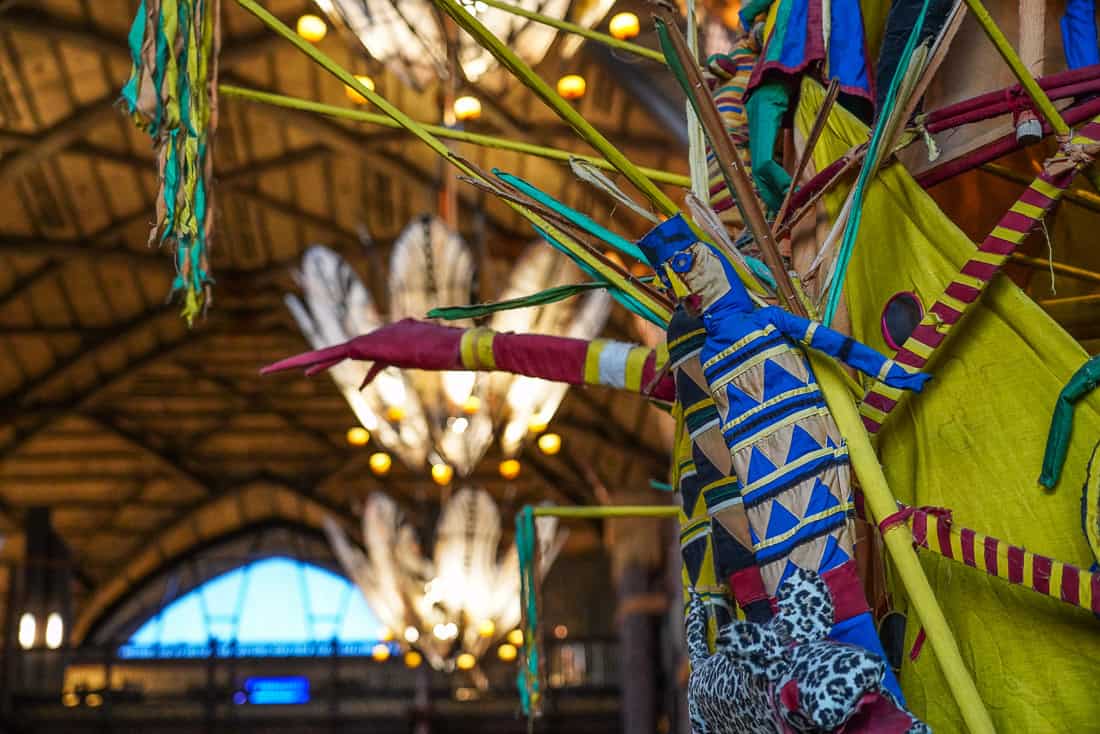 Its multi-story thatched roof lobby is beautiful and intricately detailed, inspired by elements of traditional African lodges. Carved wood furniture and ample windows that illuminate the with natural light give the lobby its organic feel.
My favorite moment of our stay was exploring the savanna viewing area just after sunrise when there were very few people around but the dedicated morning joggers. I could hear a soft drumming soundtrack, and I felt alone with the animals on the savanna.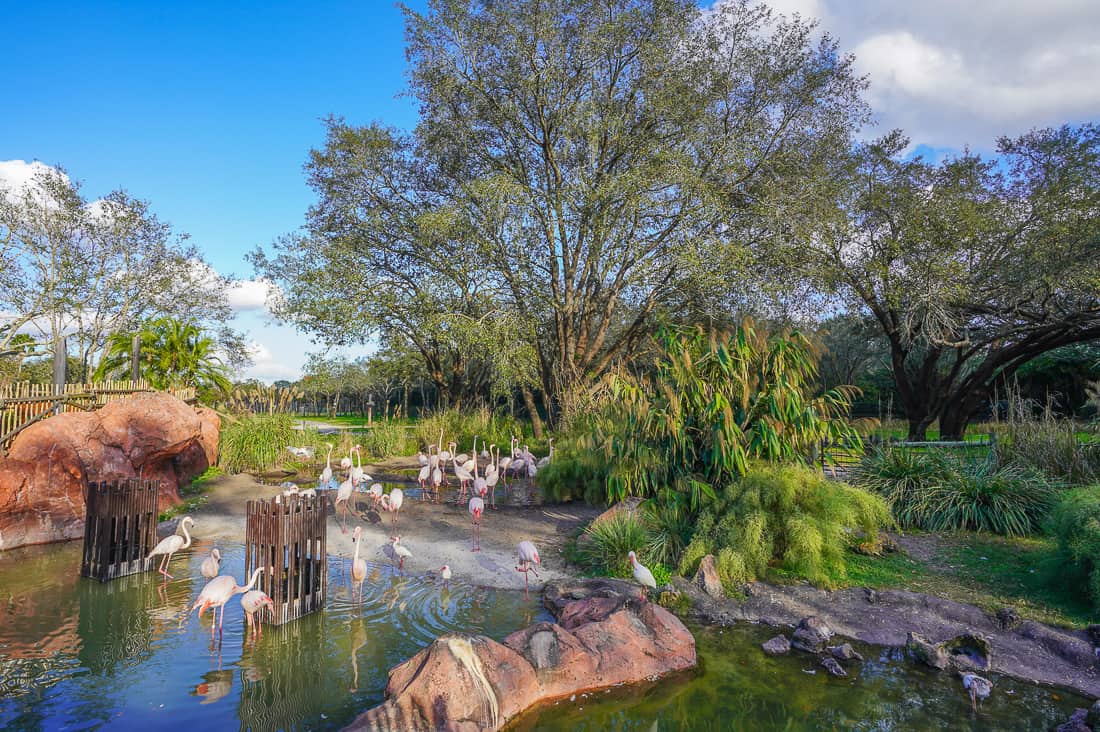 Animal Kingdom Lodge Rooms
The premium rooms at Animal Kingdom Lodge offer Savannah Views of the animals, and the premium price is worth it, especially if you plan to spend time in your room. All club level rooms have savannah rooms. Other views include the pool or a parking lot.
The refurbished rooms have a Lion King theme, wood floors, and slightly different furniture. Keurig coffee machines with Joffrey's coffees and Twinings tea await your morning beverage hour.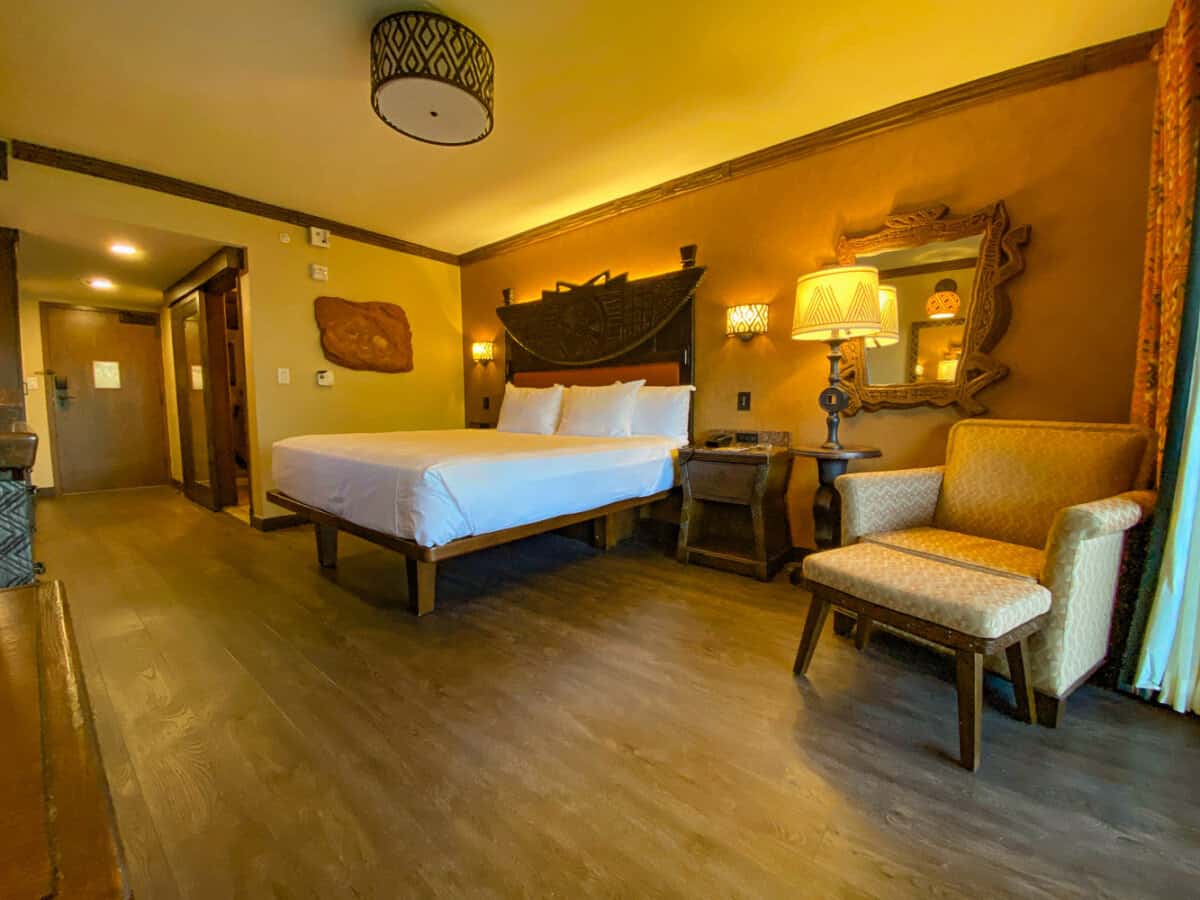 Standard guest room bed configurations at the resort vary. Rooms with a king bed come with a twin size sleeper chair, and other rooms come with a queen bed with bunk beds or two queen beds. Views are of the savannah, pool area, or parking lots.
Animal Kingdom Lodge Club Level
The Kilimanjaro Club is the club level lounge overlooking the lobby from the top floor. All club level rooms offer savannah views, too. Many Disney club level regulars rave that this club has one of the best food presentations. Club level offers an extensive continental breakfast, afternoon snacks, evening hors d'oeuvres, cordials and desserts. The best part? Mickey bars in the little freezer.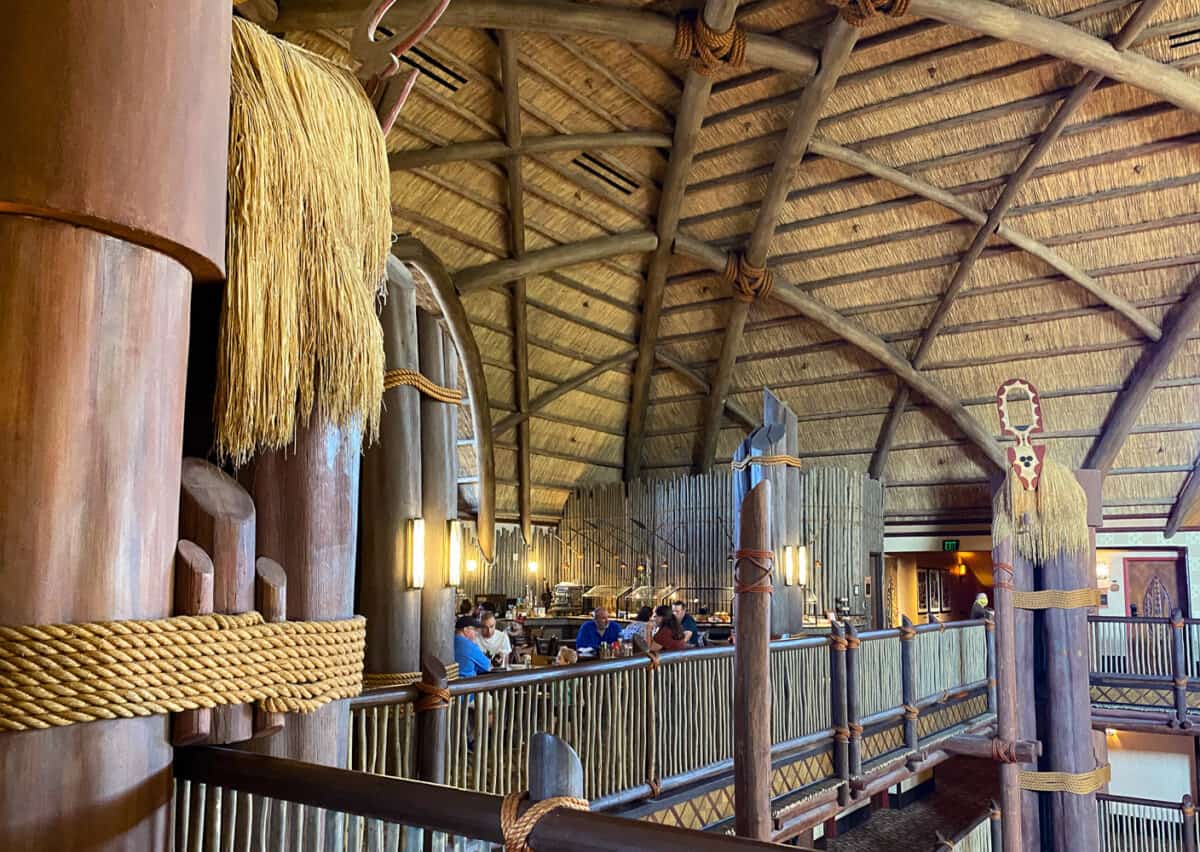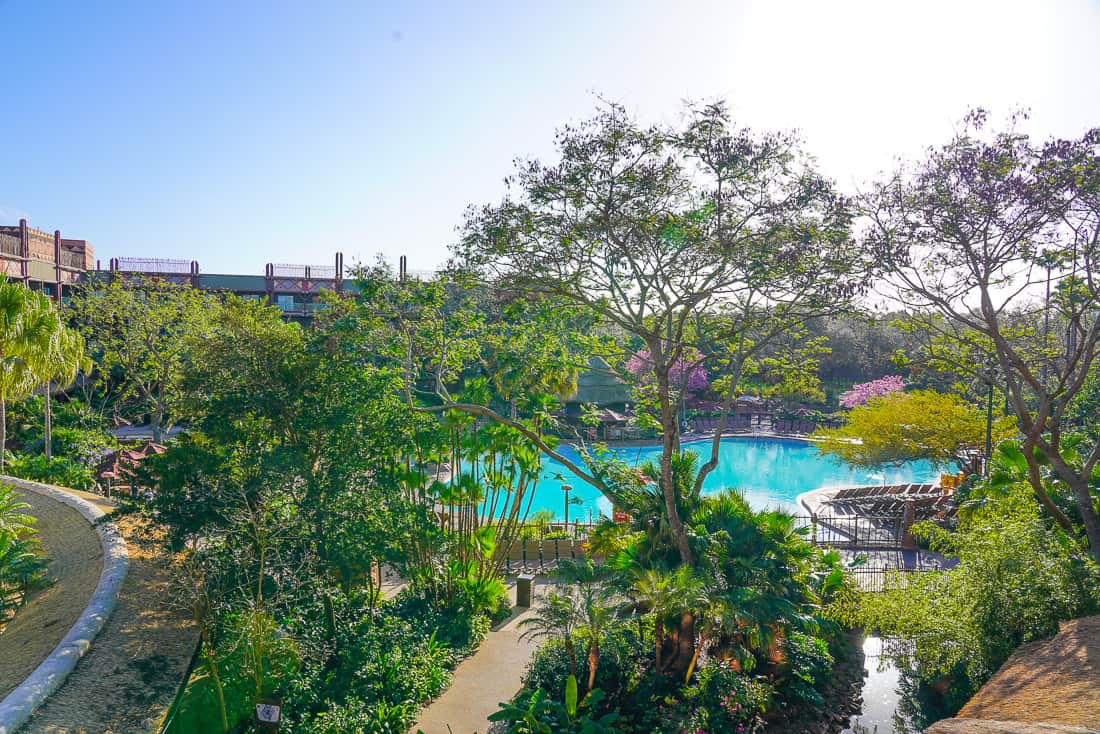 Disney Vacation Club Villas at Animal Kingdom Lodge
Disney Vacation Club rooms (available to all) are also available at Animal Kingdom Lodge. Kidani Village is part of the resort, but in a separate building connected by a pathway through the parking lot. Villas at Kidani Village have their own pool area. The units at Kidani Village are exclusively villas while Jambo House has both hotel rooms and suites and villas.
Most unique is this only Disney resort that allows some Disney Vacation Club villas to have access to villas that are part of a club level.
I offer a word of caution before booking the Disney Vacation Club villas. The studio formats do not offer the bunkbeds so popular with families in the regular hotel rooms. Of course, the villas can come in one and two and three bedrooms that offer for full kitchens with washer and dryer facilities in the units. One bedrooms at Jambo House DVC units only offer one bathroom while Kidani Village one-bedroom villas have two bathrooms.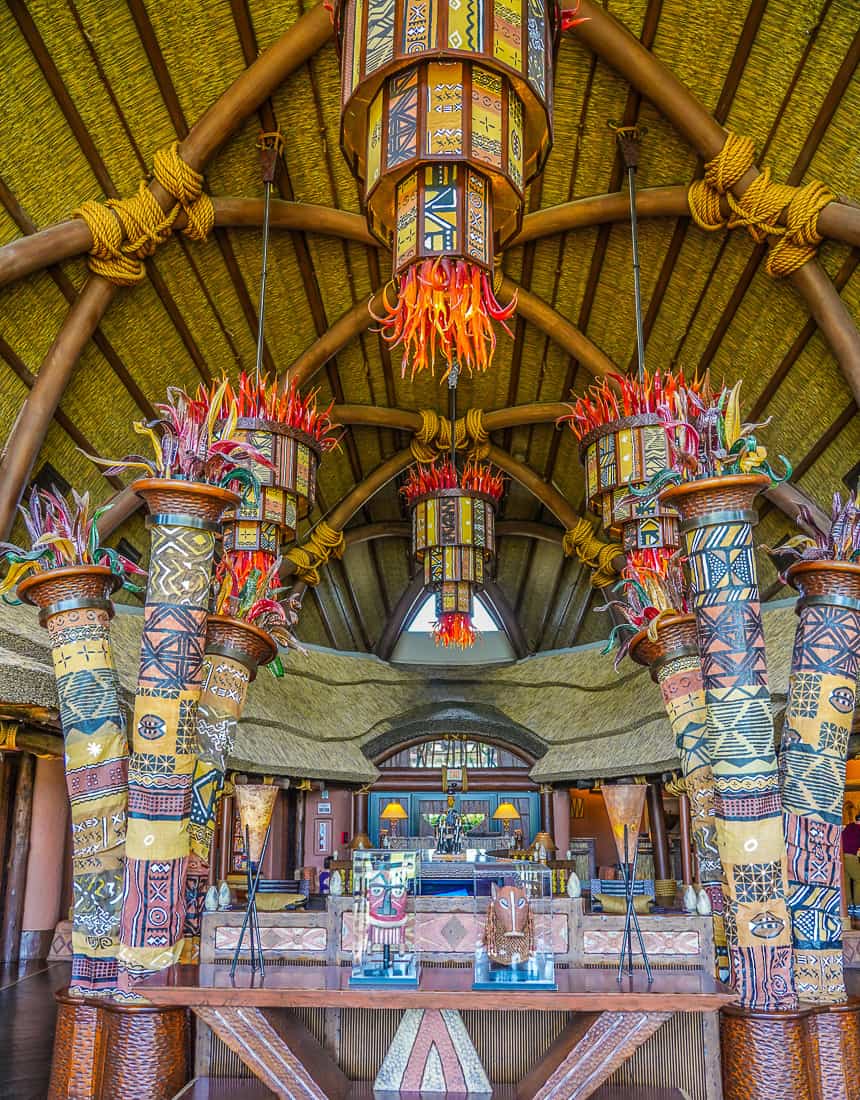 SAVE MONEY: RENT DVC POINTS
There's a way to save as much as 50% off of a stay if you book a villa. The villas at Animal Kingdom Lodge are part of the Disney Vacation Club, Disney's version of timeshare units, but it's still available for the public to reserve. This is the only resort where a specific category of vacation club villas also have access to the club lounge for complimentary food displays throughout the day.
Those in the know reserve DVC units by renting points from DVC owners directly or through a service. We have used David's Vacation Club Rentals to save more than 50% off of the rates we would have paid by reserving directly with Disney.
Our experience with David's Vacation Club Rentals was seamless, and at this lower price point, I enthusiastically recommend the villas while staying at the Disney World Resort. Given that the Disney Vacation Club rooms at the resorts are almost always newer and nicer than the hotel rooms, this is the best way to stay deluxe at Disney World while saving money.
David's works as an intermediary between you and the DVC owner who is selling you points. The owner doesn't get paid in full until your check in date, so David's Vacation Club Rentals works like an escrow account to protect you.
You can see how much you will save by using David's point calculator on your stay dates and then compare that cost with booking the villa units directly.
You must pay a refundable deposit for them to query owners for your stay, and they look at first, second, and third choices you list. When they have been unable to book me something, they refunded my deposit instantly.
If that happens, you can call to speak to an agent directly who can tell you what is available around your original query if you want to keep trying. I have always gotten my deposit refunded immediately, and the agents have typically found alternate options for my dates if my first choices weren't available.
The only drawback by using David's service is that you will not receive daily housekeeping without a fee, and you must commit to your travel dates due to stricter cancellation policies.
Dine at
Animal Kingdom Lodge Restaurants
Animal Kingdom Lodge has long been considered one of the more sophisticated Disney resorts in terms of food options because of the pan Asian and African influences of its menu items.
This is true even of Mara, the quick service restaurant at Animal Kingdom. Mara offers curry dishes and stir-fries in addition to traditional American favorites like pizzas and burgers.
---
---
Mara has the advantage of sharing kitchen access with the next-door buffet restaurant Boma. This comes in handy if you have a special dietary request for your family. I asked for a vegan tofu scramble, and the helpful staff member at Mara disappeared and had the Boma kitchen prepare it.
Zebra Domes are the popular dessert at Mara in the refrigerated section.
Boma
The Animal Kingdom resort serves a very popular buffet on Disney property without even offering characters. Boma offers breakfast, lunch, and dinner buffets, and Disney foodies would agree it's one of the strongest buffets on property for the quality of the food in the variety it offers.
If you happen to make a reservation at Boma at the beginning of an opening meal time you'll be treated with an energetic drumming presentation seen in this video. The first few guests to be seated at their table get an incredibly warm welcome.
When dozens of people clap along to the skilled drumming, it's definitely one of those moments where you think to yourself, "Well done, Disney. This is very cool."
Boma's dishes range from the predictable to welcoming introductions of African specialties like Chakalaka, which is incredibly fun to say, and Bobotie, the national dish of South Africa.
Sanaa
Located at Kidani Village, Sanaa offers an Indian influenced menu. People adore the popular naan bread service, but I wonder if the people who rave about this bread simply don't go to Indian restaurants at home. There's nothing unique about their naan bread and chutneys if you eat Indian food at home.
Sanaa faces the savannah with large floor to ceiling windows, so that's more of a reason to go. There's an observing area nearby, too.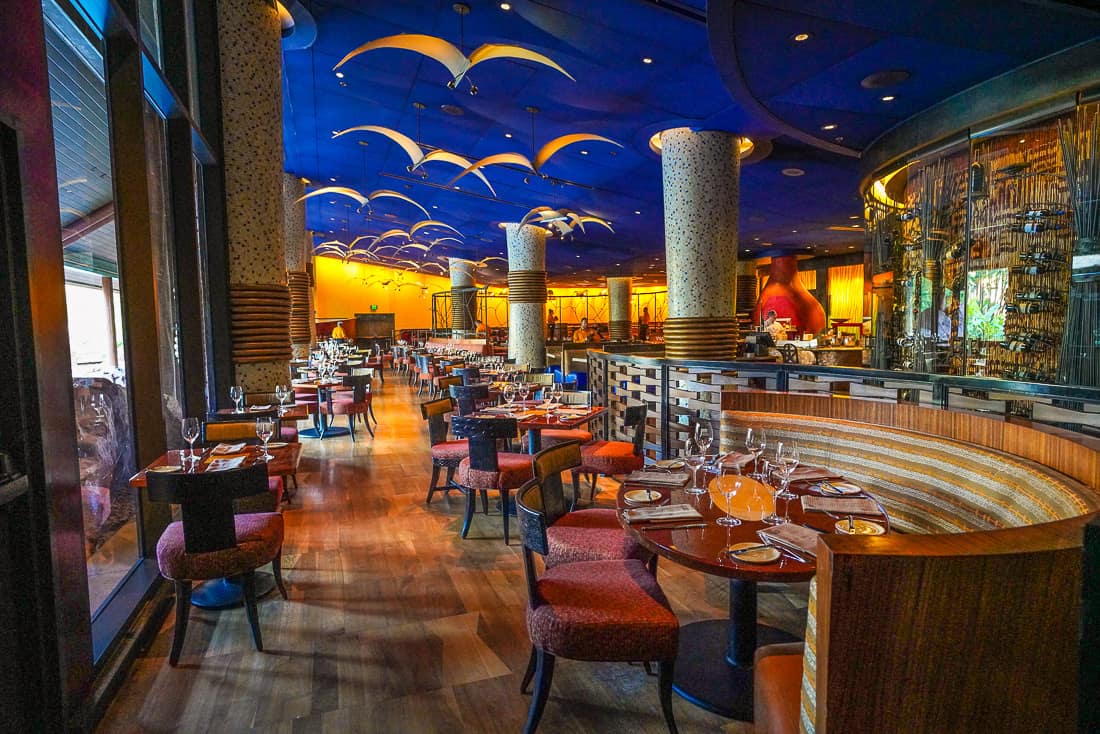 Jiko
Jiko is the signature restaurant at Animal Kingdom Lodge and considered the best Animal Kingdom restaurant (for fine dining) and one of the best resort wide across all of the hotels and parks. So many new restaurants have opened within the Walt Disney World resort, I'm not sure if Jiko still holds a coveted a spot at the top, but it is consistently strong.
Jiko had one of the most sophisticated menus and culinary programs for years. Specialized South African wine tastings and cooking lessons have been very popular. The menu could never be called exotic (except for the elk entree). It is still filled with familiar dishes. But each dish is carefully accented with African or Asian traditions in preparations.
---
JOIN THE LUXURY DISNEY WORLD FACEBOOK GROUP
TO GET ALL YOUR PLANNING QUESTIONS ANSWERED.
---
It's warm wood, deep sapphire ceilings adorned with abstract bird mobiles feel very sophisticated, too.
Things to Do at Animal Kingdom Lodge
Every Disney resort offers a variety of activities for families: pools, arcades, and movies. But Animal Kingdom has the most extensive list of daily programs of any resort that are thoughtfully created to engage families in greater cultural connections to countries in Africa.
Most of the cast members who arrange these activities participate in Disney's Cultural Ambassador program, so be sure to start a conversation with them with your children.
If you have a non-park day on your Disney vacation, the Animal Kingdom Lodge is a great place to come. Start with a late breakfast at Boma, watch a flamingo feeding, and enjoy the Hakuna Matata playground.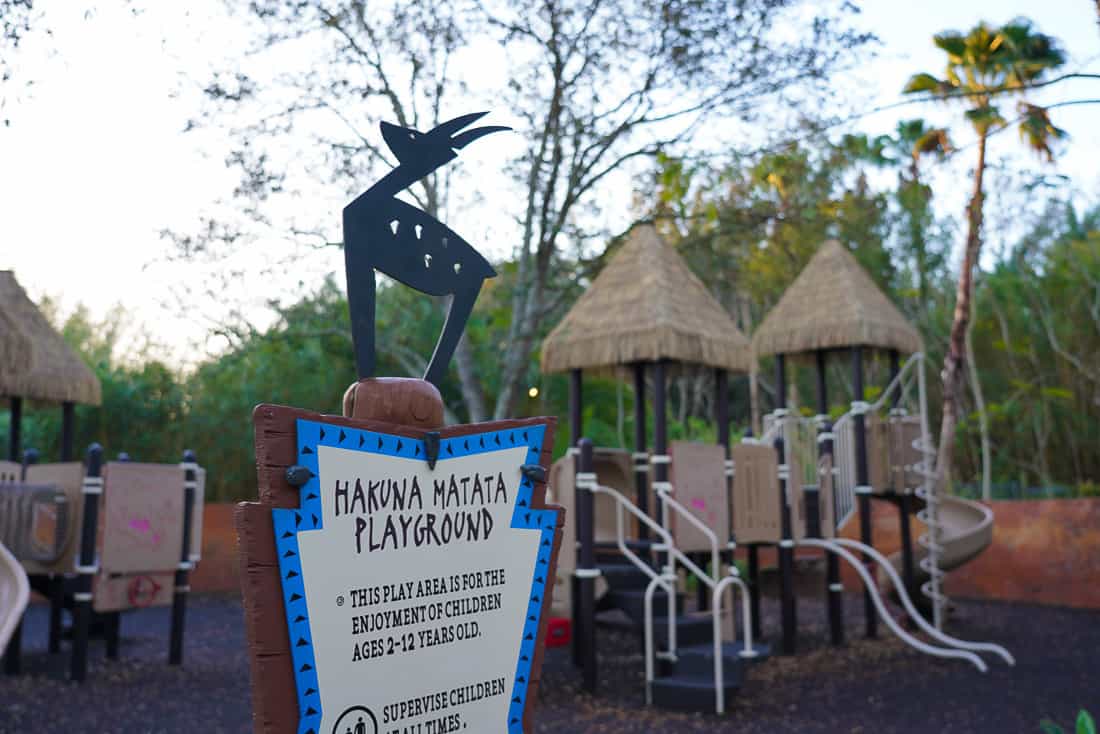 Starlight Safari at Disney's Animal Kingdom Lodge
There are many VIP tours at Animal Kingdom Lodge (and the theme park) that involve exclusive access to the animals and their habitats that include special meals.
The Starlight Safari allows children aged 8 and older. For $89.00 per person, guests take a night time safari experience with their own night vision goggles to look at more than 30 different species, and no park tickets are required.
In Summary: Disney's Animal Kingdom Lodge
Reviews
For all of the magic that goes into the guest experience at Animal Kingdom Lodge, there is one thing about the resort that may detract from your experience.
The location is the most remote of the resorts, and the bus rides to the parks last a few minutes longer from here. Guests headed to Animal Kingdom still require a bus transfer since there is not walkable way to the park.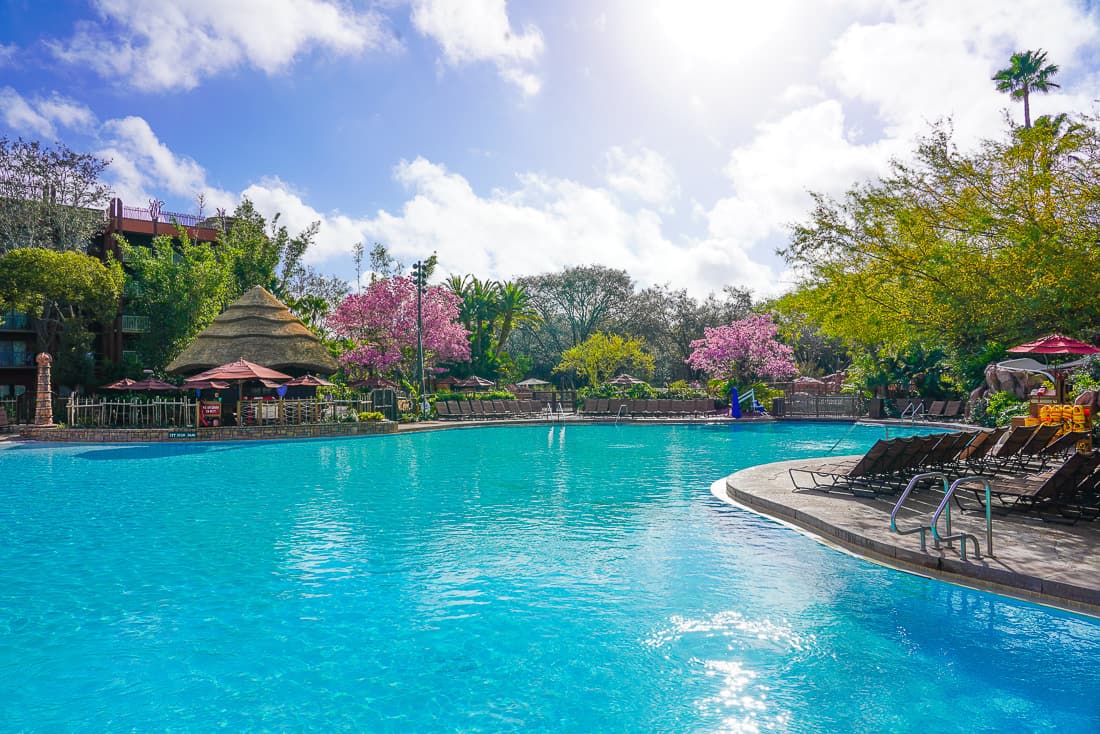 The Samawati Springs Pool serves the Kidani Village rooms and is half the size. But it also offers a larger water slide and nice splash areas for children. Consider walking across the parking lot or taking the resort shuttle for a more relaxing pool day. Both pools have bars for poolside cocktails.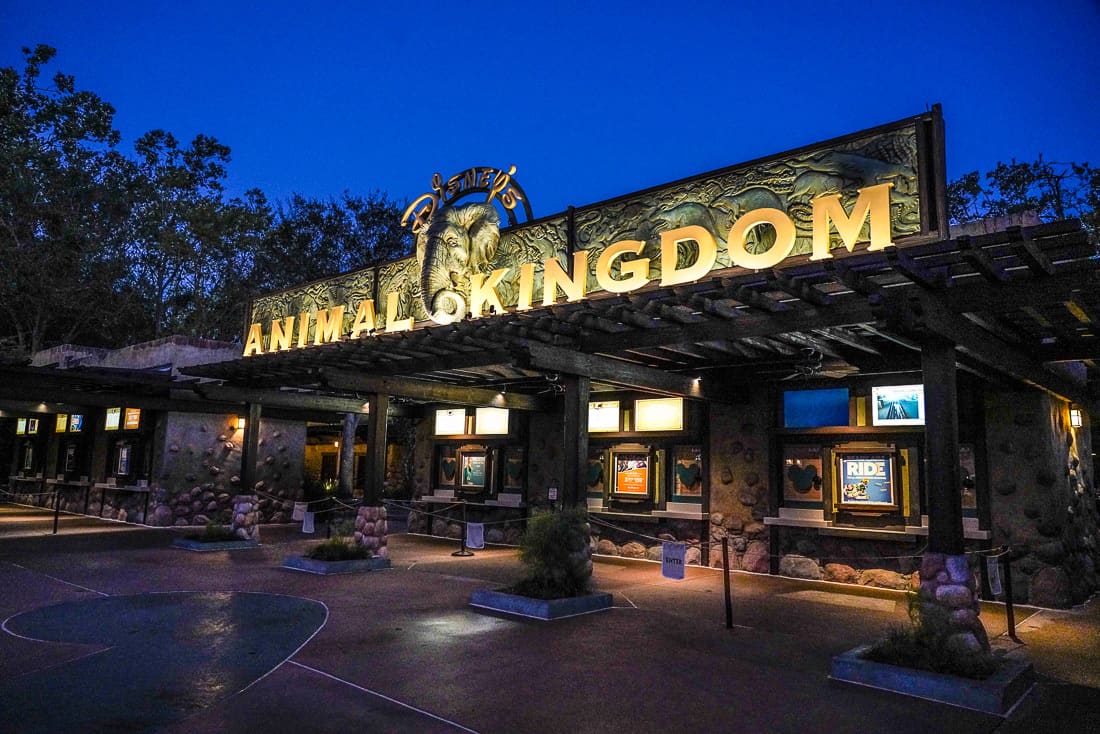 The Must Do's at Animal Kingdom
Animal Kingdom has become the one of the most popular Disney parks in the last year after the opening of Pandora, the world of Avatar. Crowds and extreme wait times are commonplace now for those interested in seeing the new rides.
Pandora – The World of Avatar
The newest section of the Disney parks opened last May and has probably double the crowd sizes at animal Kingdom Park since then. There are two rides in Pandora: the Avatar Flight of Passage and the Na'vi River Journey. The third, and my most favorite attraction that is not a ride, is the massive setting and fictional ecosystem that makes the land, the Valley of Mo'ara.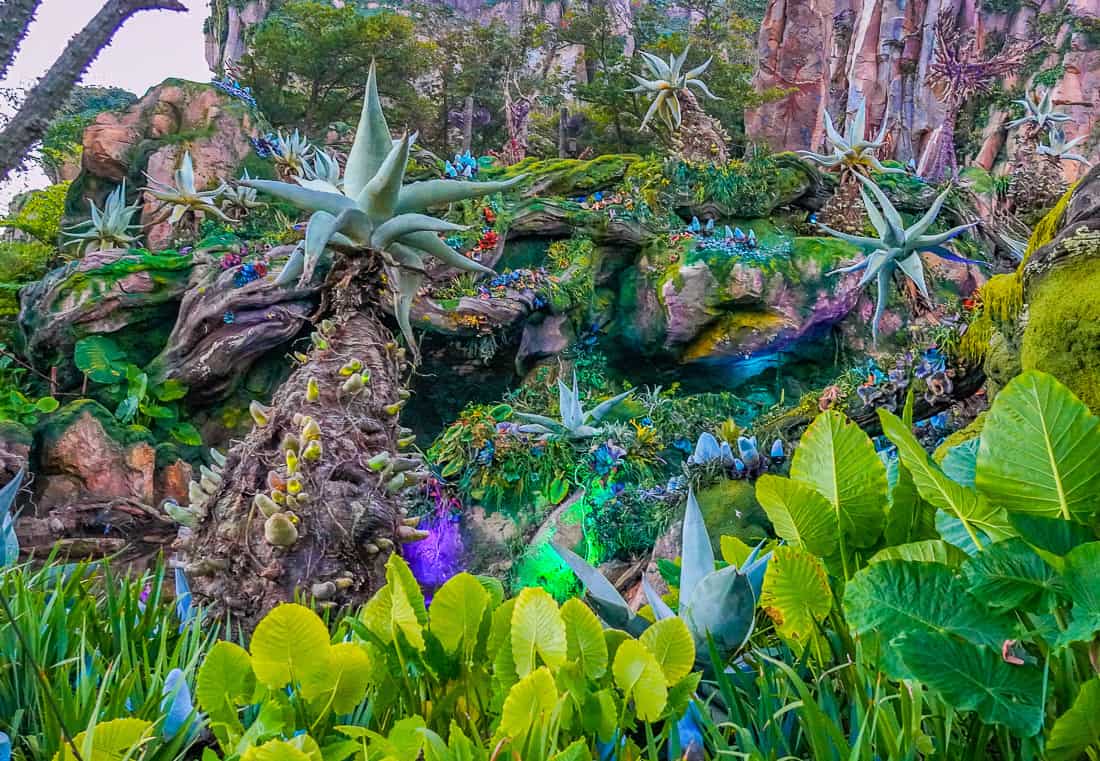 Guests who are staying on Disney property who have access right at 7AM to book Lightning Lanes should have no trouble getting a ride reservation.
The Na'vi River Journey can accommodate many more people, and Genie plus reservations are much easier to secure. Lines won't be nearly as long. It is a slower moving boat ride along the lines of the It's a Small World ride without a hypnotic track to stick in your head.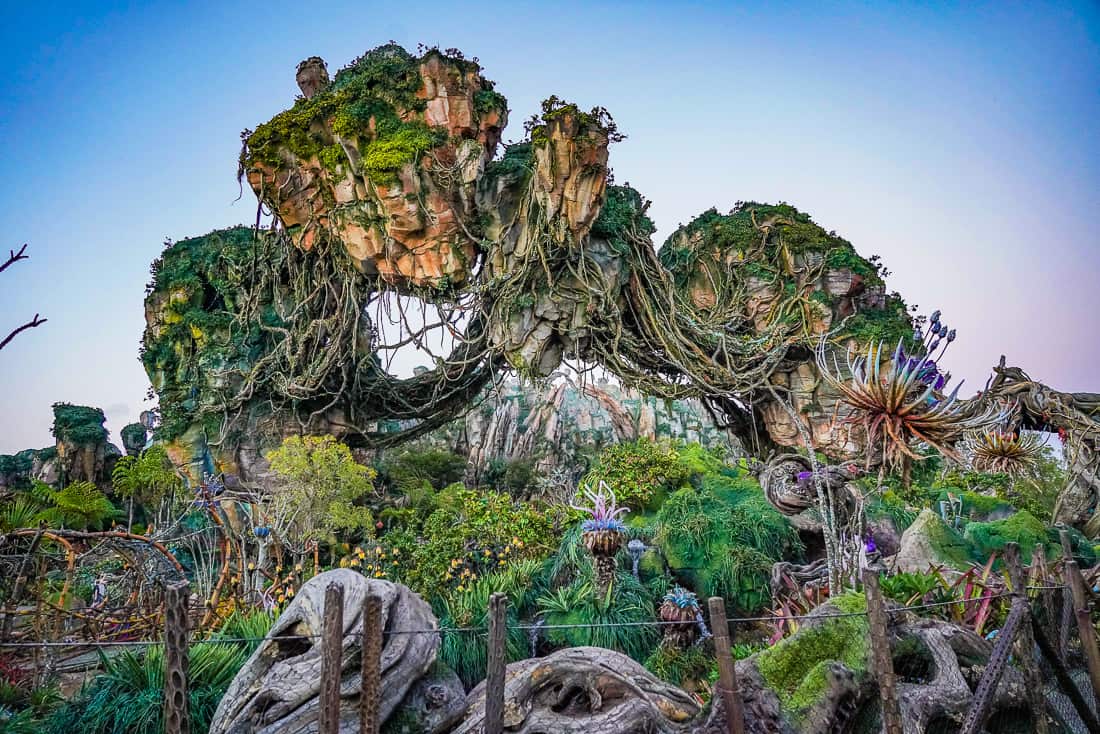 Flight of Passage is the next generation of Disney World rides taking virtual reality technology as well as large screens. The individual seats, banshees, have far greater movement than the rows of airplane seats on Soarin', so the movement is more intense.
I prepared my six-year-old for the ride by explaining that, like Soarin', it would look like we're moving and going places while we're actually staying in the same place. He was able to appreciate the ride, but he found one of the more dramatic drops tested his thrill limits. "Good, but I am not doing that again," he surmised. I bet that will change when he is seven.(Editor's note: he was thrilled to ride again at the next chance.)
---
To ride on the new Tron, Guardians or Star Wars rides,
read everything you need to know about Disney VIP tours.
---
The Kilimanjaro Safari
The Kilimanjaro Safari is a must for all ages. It take some time to ride. It's the best ride to do first in the morning before the afternoon sun makes many animals go into siesta mode.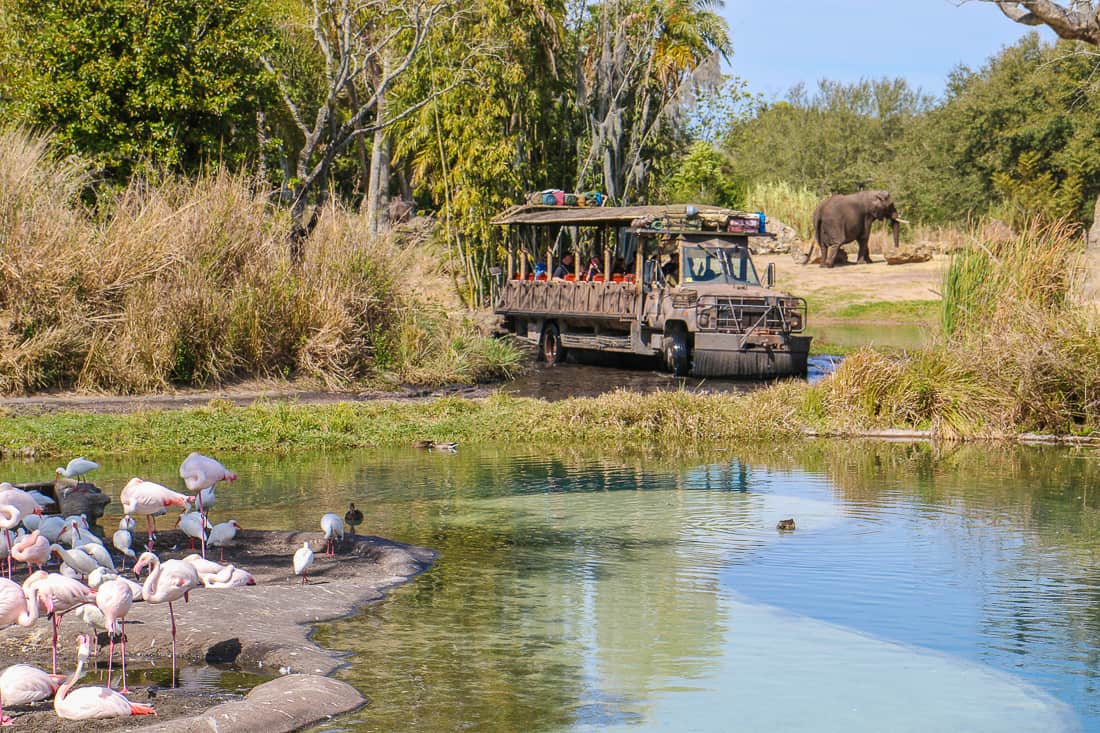 A friend of mine who has done safaris in Kenya always laughs that she sees many more animals at Animal Kingdom. Given how little time it takes to see so many animals, it is the perfect family safari.
The only patience riders need is when there is what's called a giraffic jam. Animals may cross the tracks and force the vehicles to stop since they are given free reign in their areas.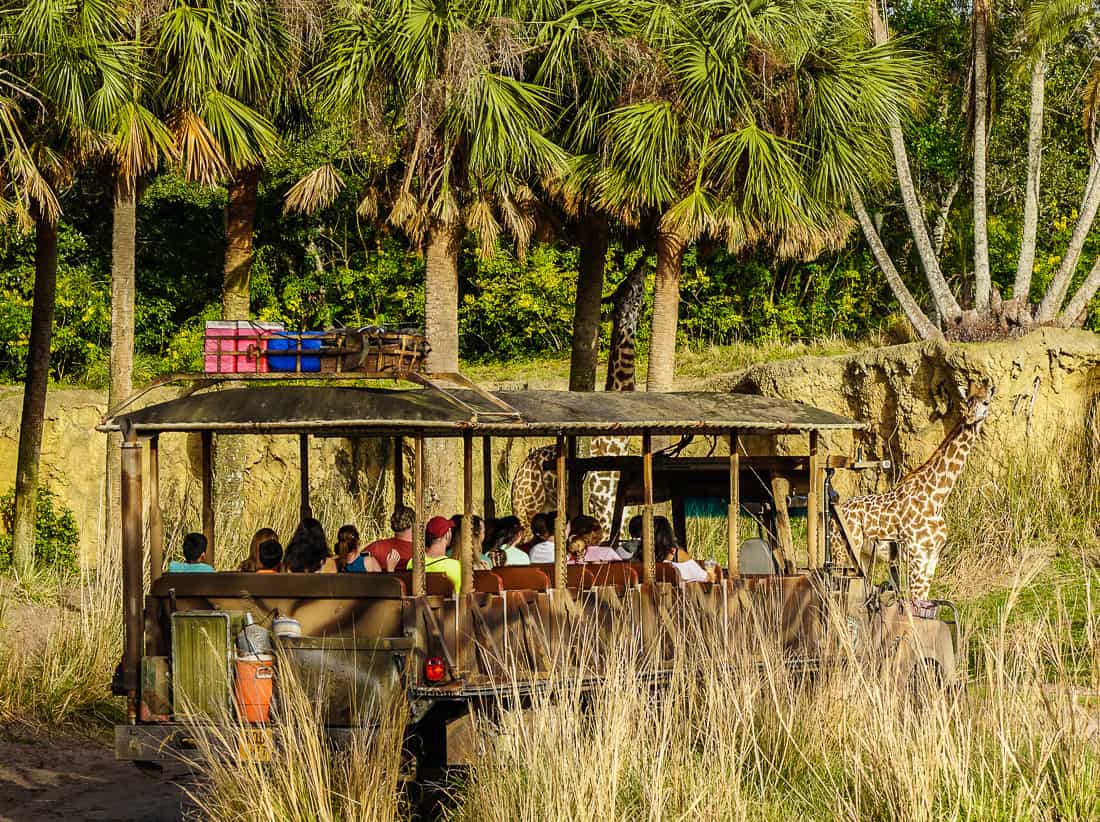 The Safari now extends into the night. Although it was a fun experience to see the savannas in different lighting, we found it hard to see the animals, so my kids were much less engaged. Try the safari experience with military grade nighttime goggles.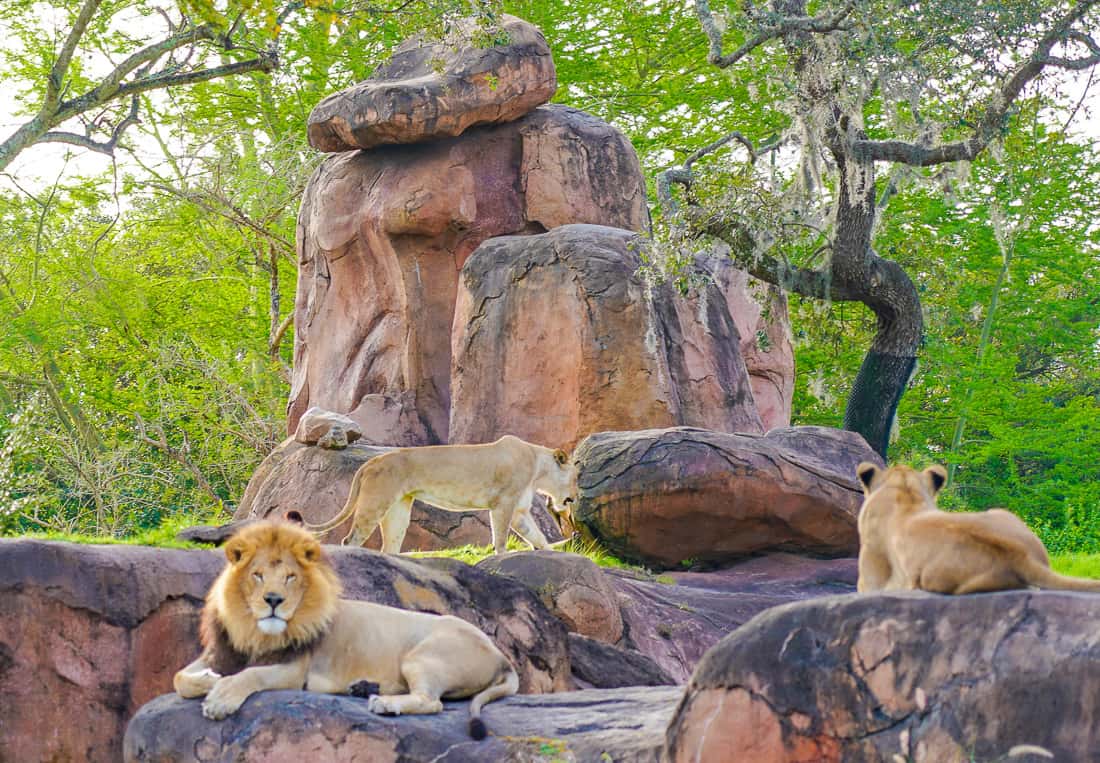 Other Animal Kingdom highlights for families
Discovery Island
Families can meet Mickey and Minnie wearing safari clothes on Discovery Island, not far from the Tree of Life.
The Festival of the Lion King
The Festival of the Lion King is a compressed tribute to the Broadway show. Lots of acrobatic acts and plenty of vocal talent entertain the crowds. The show is reimagined to accommodate a square arena with audience interaction.
It's worth seeing at least once for its exceptional production, and it works well for all ages. Its interior stage is a cool, air-conditioned break in the afternoon heat, too.
Maharajah Jungle Trek and the Gorilla Falls Exploration Trail
Inside both the African and Asian areas of Animal Kingdom are self guided treks to see tigers in realistic ruins of an Indian temple and gorillas.
These are enjoyable to pass time in between Genie plus and meal reservations.
The Boneyard
Not named after the Sirius XM radio station for Ozzy Osbourne, the Bone Yard is a great playground for children with imaginative climbing stations.
Caring for Giants
Unlike most of the premium animal encounter experiences available, this one-hour intensive to learn about caring for elephants is suitable for those aged four and older, and priced at $35 per person.
This is a great alternative for families whose children are under ten. Longer, more physical premium experiences are available with families of tweens and teens like the Wild Trek safaris.
Expedition Everest
This roller coaster is definitely one of the more intense coasters in all of the Disney World parks. It goes backwards at one point, and it is definitely thrilling for tweens and teens.
The Best Disney Animal Kingdom Restaurants
Tusker House
Tusker House offers a character meal at Animal Kingdom as a buffet. The buffet's quality and diverse offerings make it a favorite for many families, including ours. Mickey, Minnie, Goofy, Daisy, and Donald make appearances. It serves breakfast, lunch, and dinner. An 8:00AM reservation is a great way to enter the park a little earlier.
Tiffins
Tiffins is a new signature restaurant that has a beautiful bar and lounge area attached called the Nomad Lounge. Serving a fusion menu similar to Jiko, Tiffins is the park destination to have a non-theme park meal.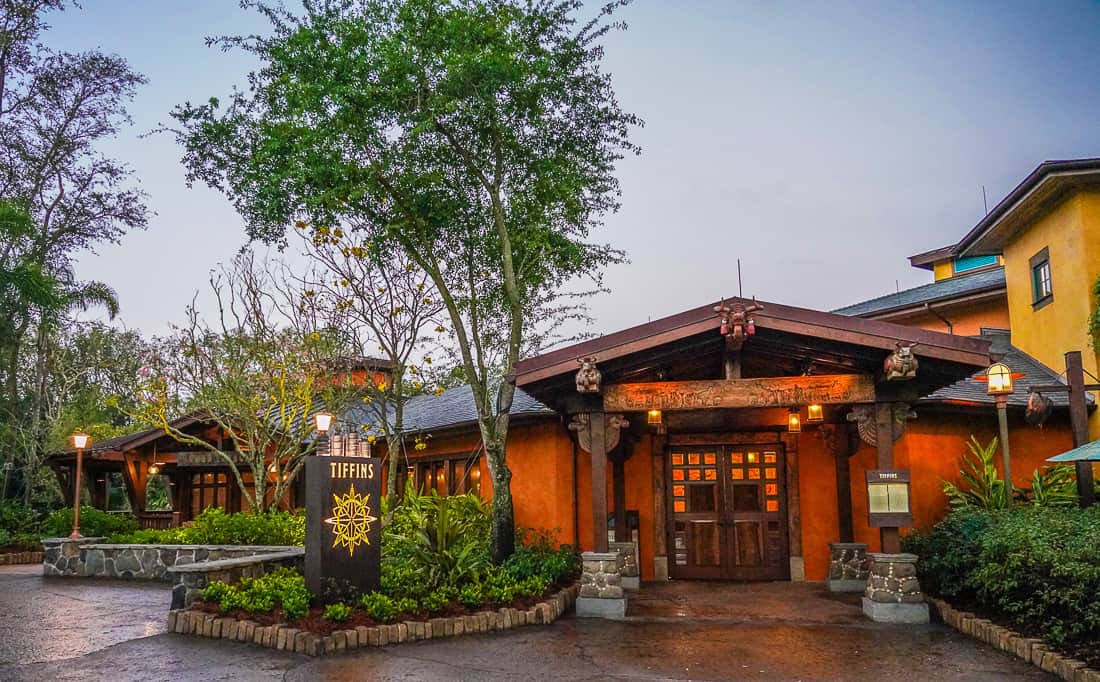 Our server had come from Disney's most acclaimed restaurant, Victoria & Albert's, and the menu is suited for a more sophisticated, leisurely meal which is sometimes in conflict with a family's pace visiting the parks. We loved the food, and I strongly urge you to try their falafel. But we rushed through our meal. Had we come for lunch, we could have enjoyed the special three-course prixe-fixe menu designed to be shorter culinary break in between a busy park schedule.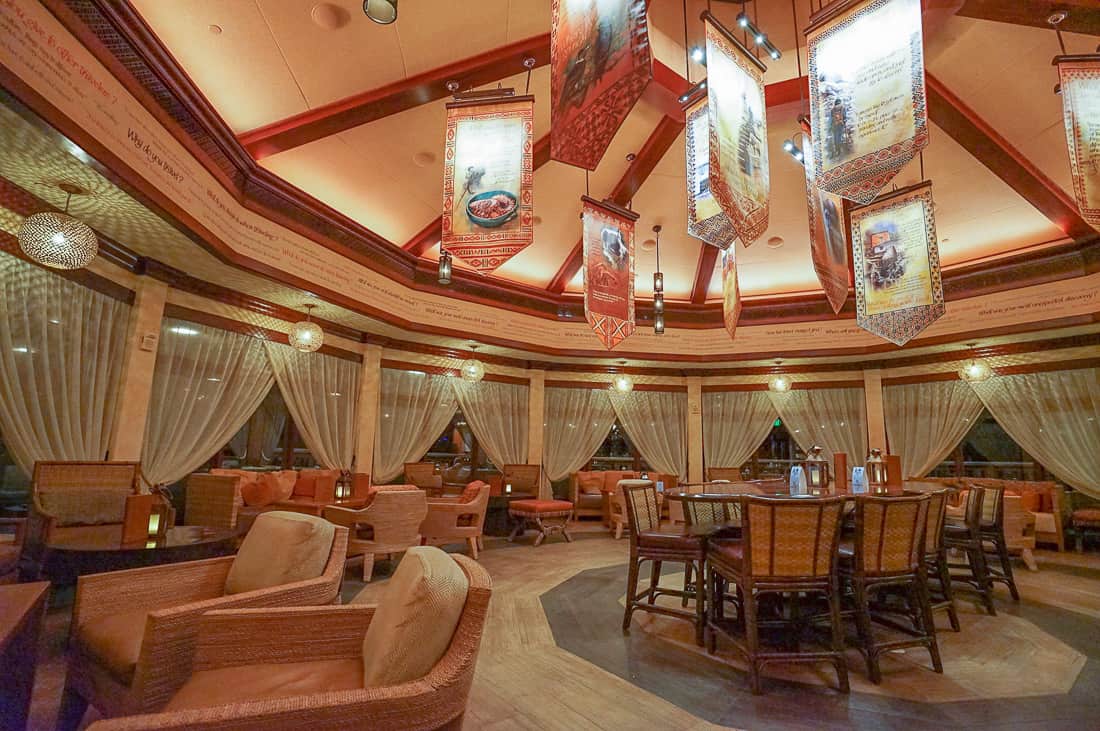 Nomad Lounge offers a menu of small plates throughout the day, and contributor Robert found a perfect haven for his family in Nomad Lounge during a rain storm. He was impressed with the dark roast coffee served in French presses, and children can get hot chocolate.
---
---
Satu'li Canteen
The newest restaurant in Animal Kingdom is the counter service restaurant inside the Pandora. Lines are predictably long, but guests can order ahead on their phones in the My Disney Experience App.
Guests choose between beef, chicken, or vegetarian bowls made with a variety of grains, greens, and legumes to choose from. This is the place to get the steamed cheeseburger boa bun if your kids think that sounds intriguing. The menu is wonderfully healthy by comparison to the old school restaurants, and its great to see Disney evolve and lead in healthy park food.
Animal Kingdom and Animal Kingdom Lodge provide a welcome contrast to the rest of the Walt Disney World Resort. As a family, we have always been so drawn to both as the more mellow destinations to slow down and enjoy each other while connecting to nature and other cultures.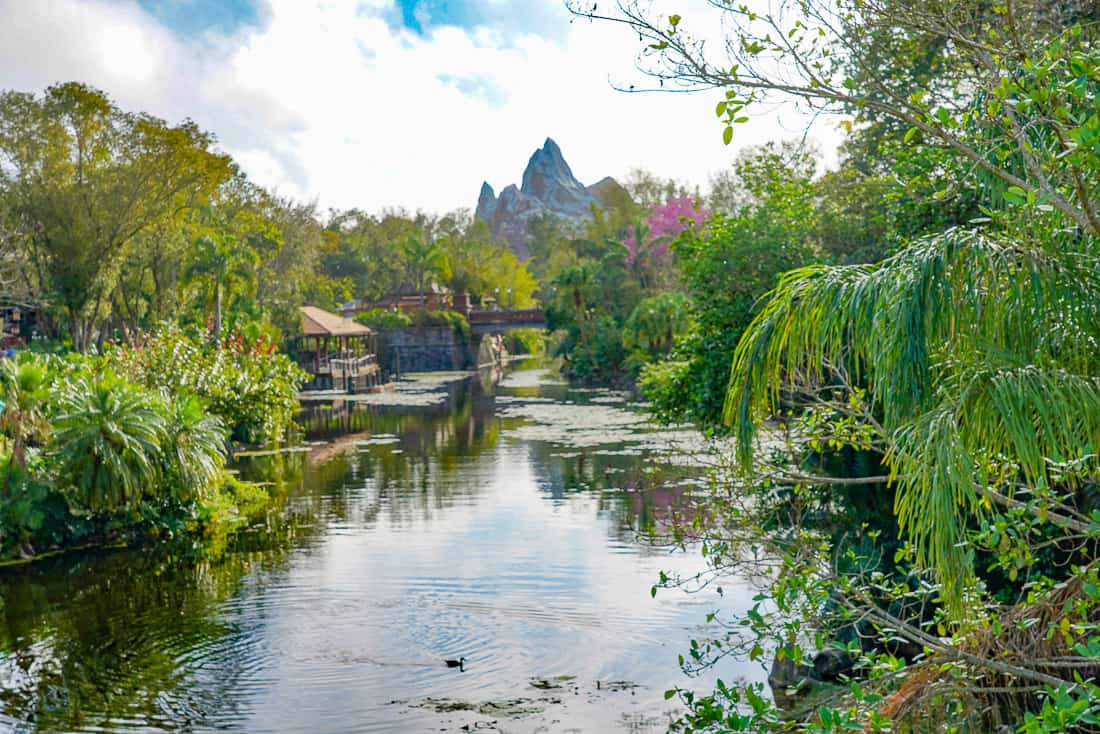 The ambitious expansions at Animal Kingdom to make it more of a nighttime park destination has brought many great things for families to enjoy. For those who wait for the crowds to die down at Pandora, the good news is that the new Toy Story Land opening June 30, 2018 will finally pull some crowds away.