What's it like to take a Disneyland VIP Tour? Where should you stay?
Here's how to get the best of Disneyland with a few upgrades.
Like many East Coasters, I enjoy spending time in Orlando like a Disney VIP during the cold winter months. Numerous non-stop flights make Florida an easy getaway. So, we had yet to visit Disneyland, while my kids kept getting older and older. I had a feeling that our very first Disneyland park adventure might be our only, so I planned it with the best one-and-done approach.
And, of course, it was such a great trip, I think we might have another in our future.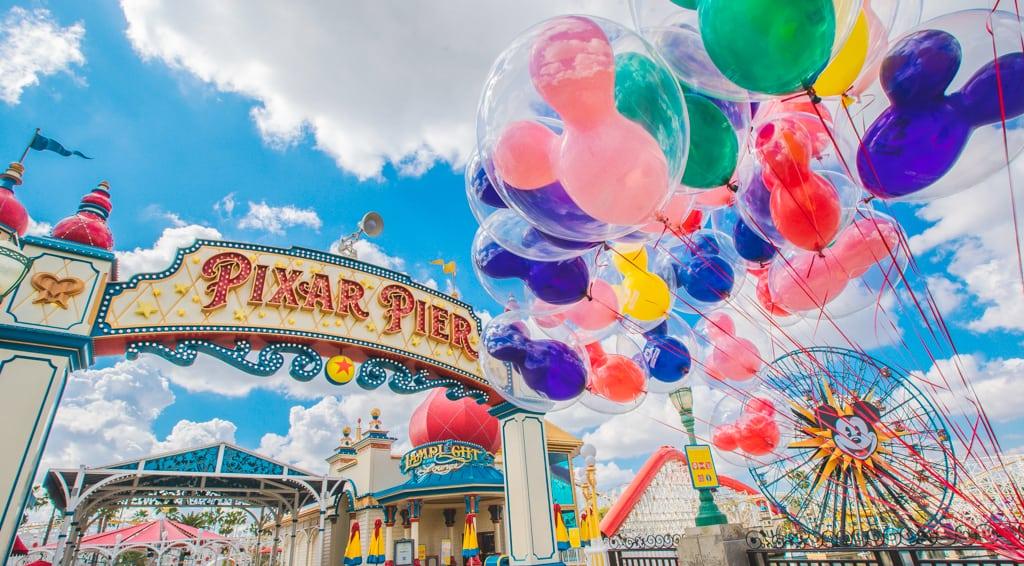 Here's our guide to a Disneyland resort vacation Luxe Recess-style.
Which Disneyland VIP Tours Should You Book?
As a luxury Disney World expert, I have the Disney VIP Tour desk on speed dial and call it every week. One of the things I'm always helping my clients determine is whether or not they need to hire a guide from the official Disney tours service or if they can use a third-party for private VIP tours.
JOIN OUR LUXURY HOTELS & RESORTS FOR FAMILIES,
A FACEBOOK GROUP FOR SEEKING ADVICE AND INSPIRATION
FOR THE BEST LUXURY FAMILY BREAKS.
Disneyland is a very different park than Disney World. It is important to note that you do not need an official Disneyland VIP tour guide as you can save money by using a third-party like we did. Disneyland is a much smaller park than its Orlando counterpart with a ride reservation system that seems to work with much greater efficiency and availability.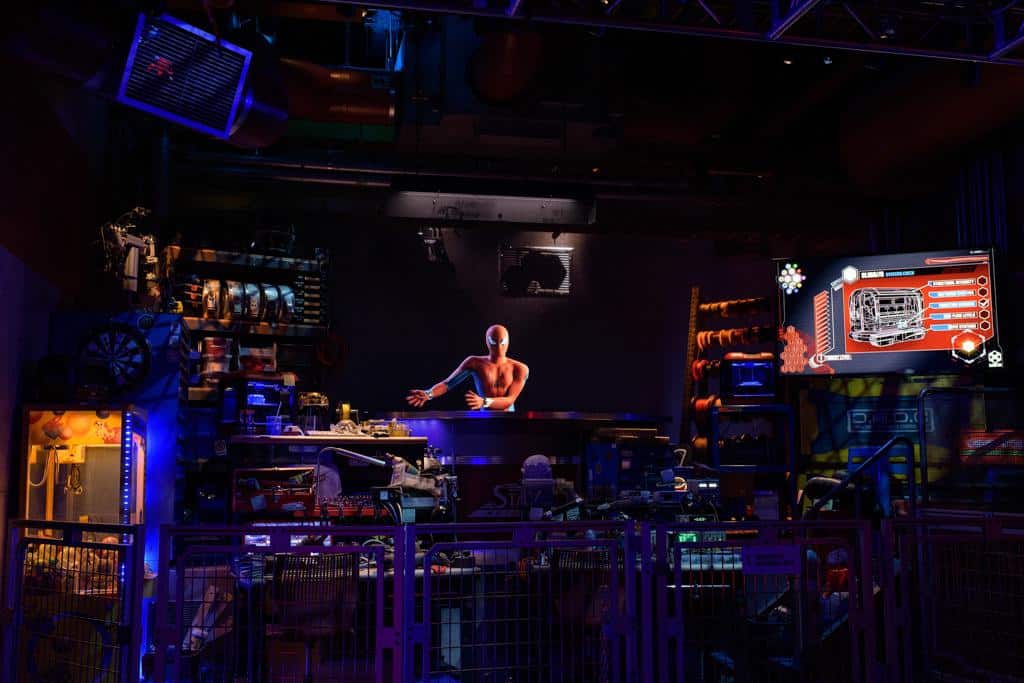 Because of our VIP guide's black-belt skills with the Genie ride reservation and Lightning Lane access system, we were able to see everything on our list and avoid long lines and long waits. This is certainly the best way to enjoy some Disney magic, and an even bigger plus with small children.
What a VIP Disneyland Tour is like from start to finish
Our Disneyland tour guide Eileen reached out to us a few days prior to go over the kind of rides we enjoy and to gauge our thrill appetite. The night before our meeting she texted us the address of where we should meet her (to share with our Uber driver) and how long it would take from our hotel.
The next morning she texted us her photo first thing. We easily found her in the line at the entrance to the park to begin our guided tour. She had already gotten us a Disneyland account which made our ride reservations seamless.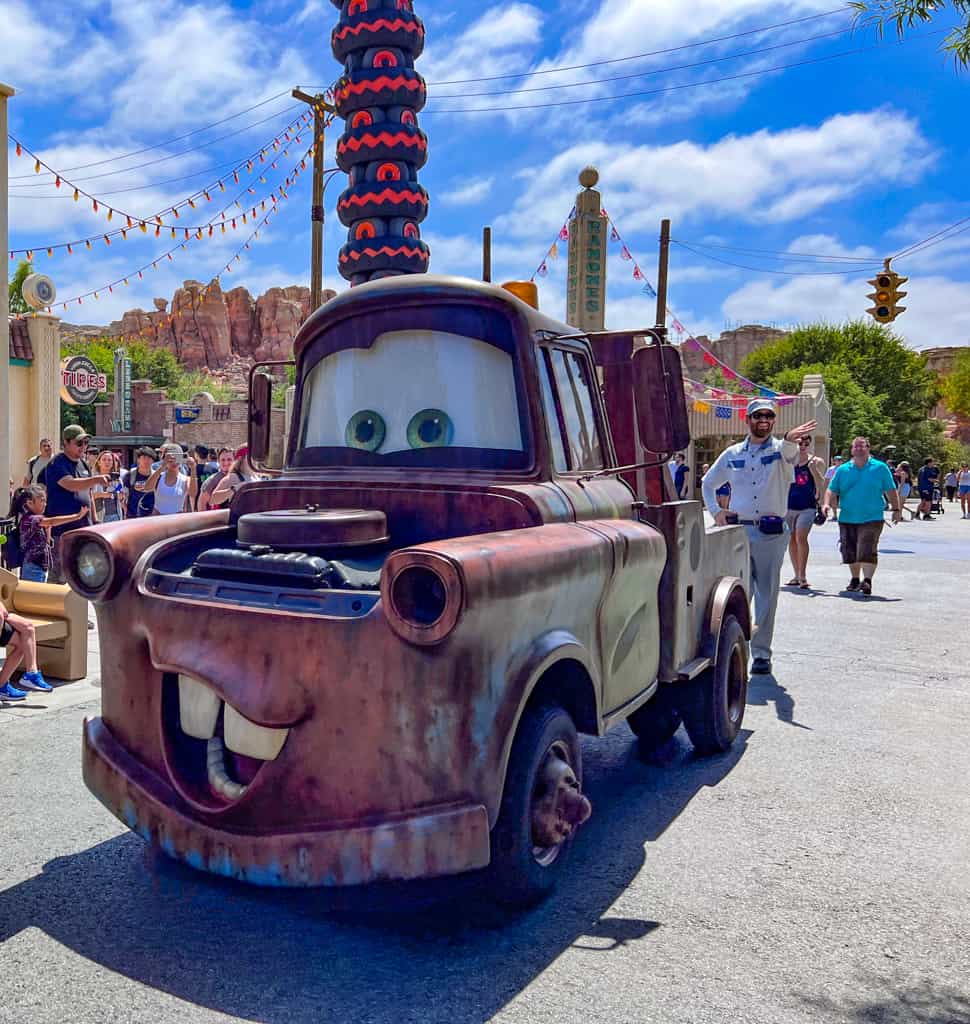 Eileen, our VIP concierge, took us through the greatest hits of Disneyland and we focused on rides that do not overlap with those at Disney World (staying away from classics like Big Thunder Mountain Railroad and It's a Small World and new hits like Star Wars' Rise of the Resistance. Eileen always made sure we were standing in the right location to enter the ride and told us great Disney parks trivia and fun facts throughout our day.
As part of a private tour with clients, Eileen handles lunch hour dining reservations. She guided us to our restaurant, and left us once we were seated. She even got us virtual queues for the fireworks show, bottles of water, and made sure that when a ride broke down that we received a free reservation pass to use on another ride.
How much do Disneyland VIP tours cost?
Private guides can take a large group of up to eight people with the hourly rate starting at $200. There's a six-hour minimum if you choose one park, and an eight-hour tour minimum if you choose park hopping. This had a built-in hour for lunch, as well. Disneyland's official tours with cast members are more. Starting at $3,500, you can tour with up to ten people for a minimum of seven hours and a maximum of ten hours.
The major benefit of using a guide of any kind is that parents don't have to think. There's always one parent in any family that is in charge of wherever you have to be, and it's a special experience when your kids ask 1,000 questions, you can just say: "Ask our guide!"
Eileen, in the pink hat, also took pictures of us throughout the day including a few insider spots. She showed the four of us a place with optical illusion photos pictured below.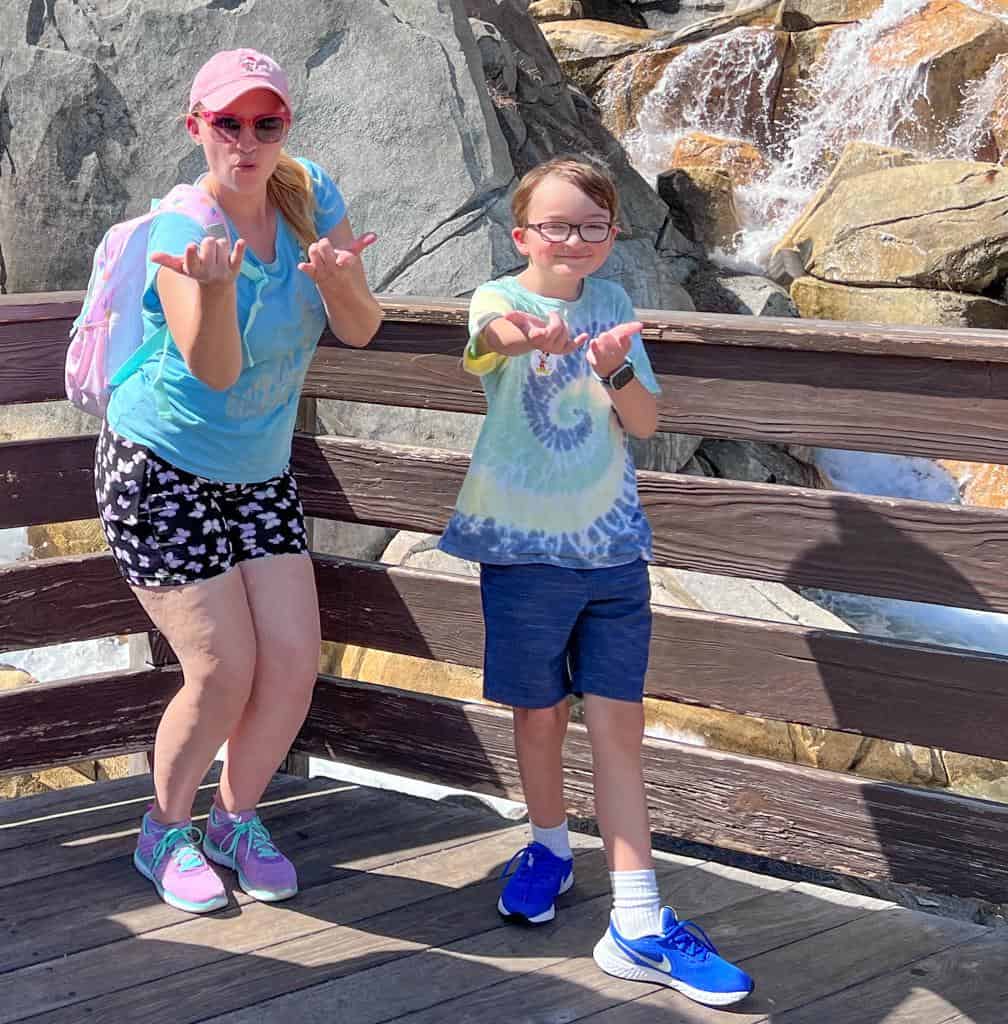 As the planner of my family, I love taking a real break and letting someone else be in charge. This is an intangible benefit that I find is always worth every penny.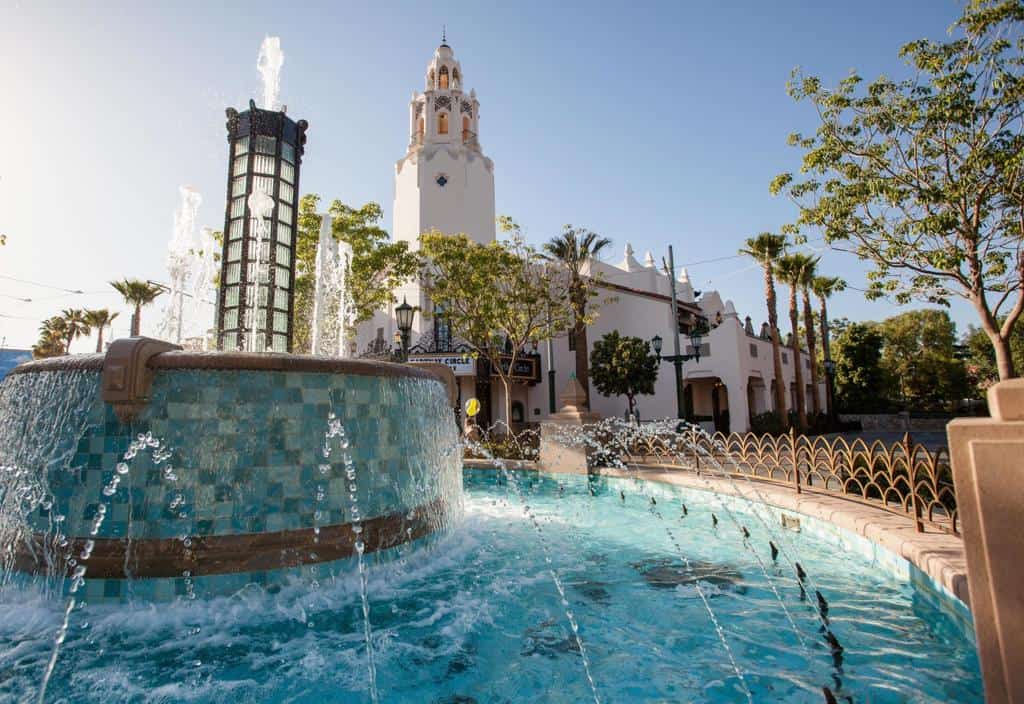 The Best Foodie Disneyland Restaurant
We ended our tour with a dining reservation at Carthay Circle. A foodie stop and harder reservation to secure. It offers dinner with an alfresco dining experience I recommend. It's a shaded outdoor terrace with perfect proximity to the beautiful vintage jazz and vocal performances. Watch Disney characters and the trolley as they pass by.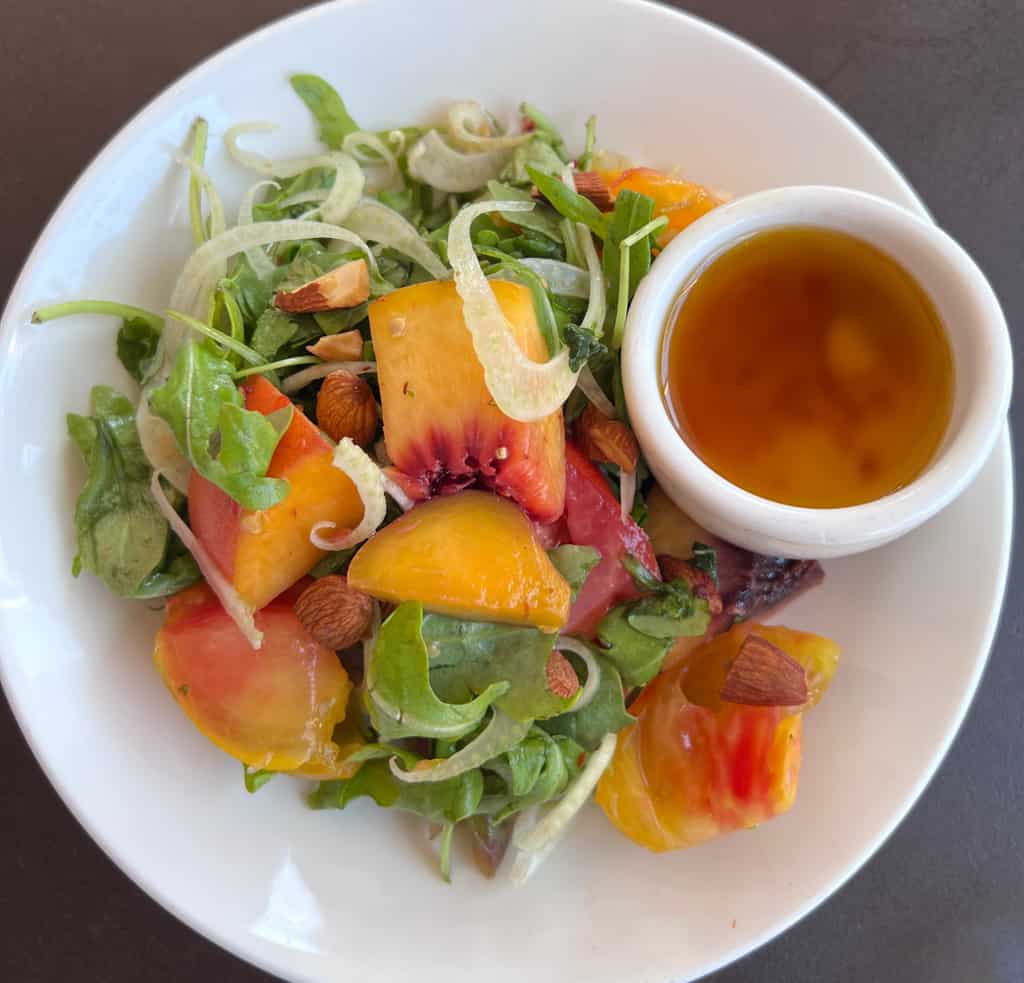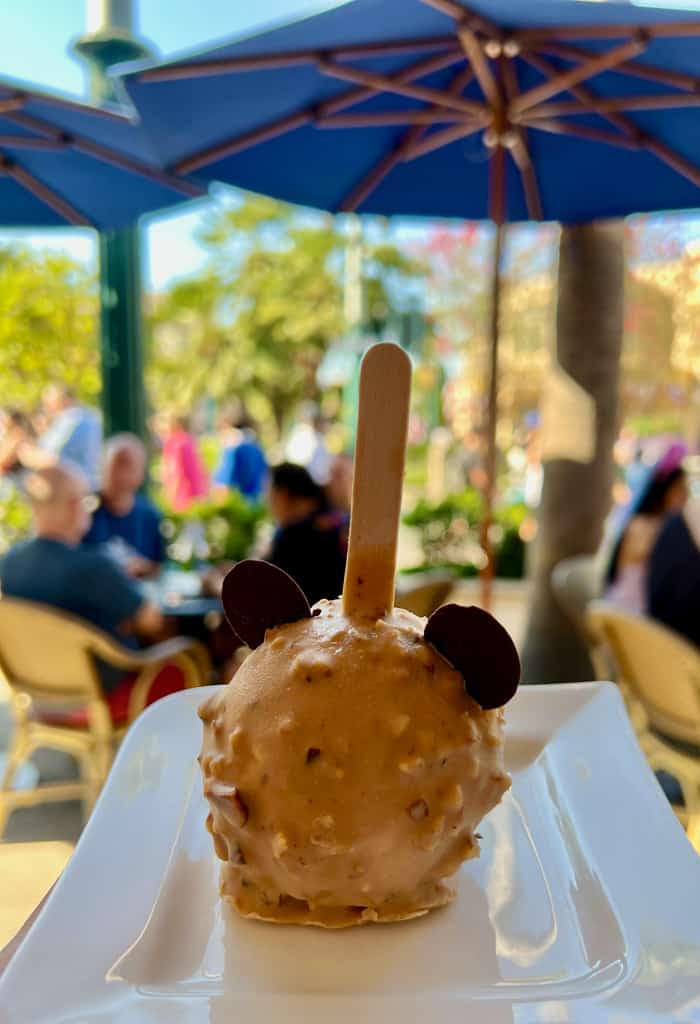 Every small plate we ordered was excellent. We enjoyed the chilled shrimp with avocado mousse and coconut lime salsa, chickpea falafel with a tomato-based sauce covered in fresh tzatziki, Bao buns with pork, and a summer salad with heirloom tomatoes, fresh peaches, almonds and shaved fennel. Our salmon entrées with corn succotash were very good, and for dessert the hazelnut crunch Mickey pops are a must.
Disneyland Can Be More Affordable Than Disney World
A luxury Disneyland vacation is a bargain in comparison with a Disney World vacation. We were planning on visiting the parks a second day on our trip, but our guide Eileen showed us everything we wanted in one day.
We only had to buy one day of tickets (with the additional costs of Genie Plus and Lightning Lane). This opened up a free day to enjoy our hotel and relax in the California sun before our flight to Hawaii.
Let's talk about the best Disneyland hotel for the luxury traveler now.
The Westin Anaheim: Best Disneyland Luxury Hotel
Disneyland has two hotels in the deluxe category, the Grand Californian hotel, and the original Disneyland hotel. Each has a club level (read our review of the Club Level at the Disneyland Hotel). And each offers amenities for staying on site as Disneyland guests. The biggest perk of these hotels is the ease of getting to the parks.
But I'm not a fan of Disney hotels' deluxe room offerings which are typically over-priced for the experience. When I leave crowded theme parks, I want the best possible bed, beautiful bathrooms with soaking tubs, great room service, and the amenities of a luxury hotel as my tranquil refuge from the crowds.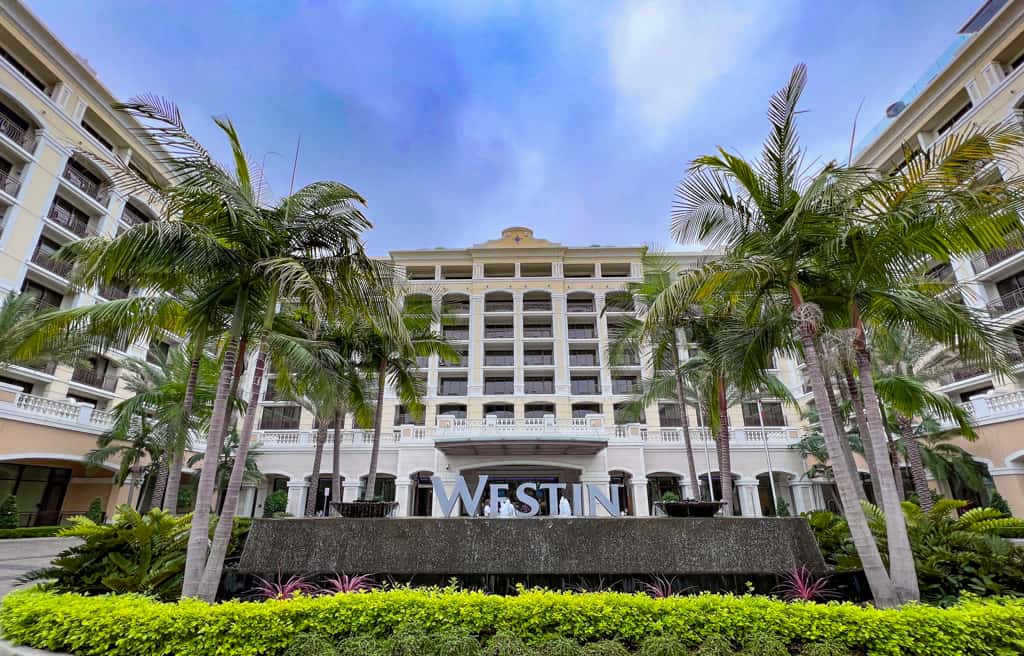 The Westin Anaheim opened across the street from Disneyland. It offers an exceptional hotel for those looking for a luxury Disneyland break. Our short Uber rides to the park were easy and about $20 with tip.
Once inside the hotel's lobby, you'll see this property is such a nice Westin, that it actually feels more like a JW Marriott or Autograph hotel. Art fills the lobby level, enough to create a family art scavenger hunt available at the front desk. The U-shaped building houses a pool area, trendy boutique, fitness center, and delicious taco restaurant on the lobby level.
Best Disneyland Club Level
But the real star amenity of this Westin is its lovely rooftop club lounge with amazing firework views. This is a club level worth splurging for. The club lounge offers extensive food displays to rival the best Ritz-Carlton from breakfast to evening desserts and cordials. Don't miss the house-made caramel popcorn!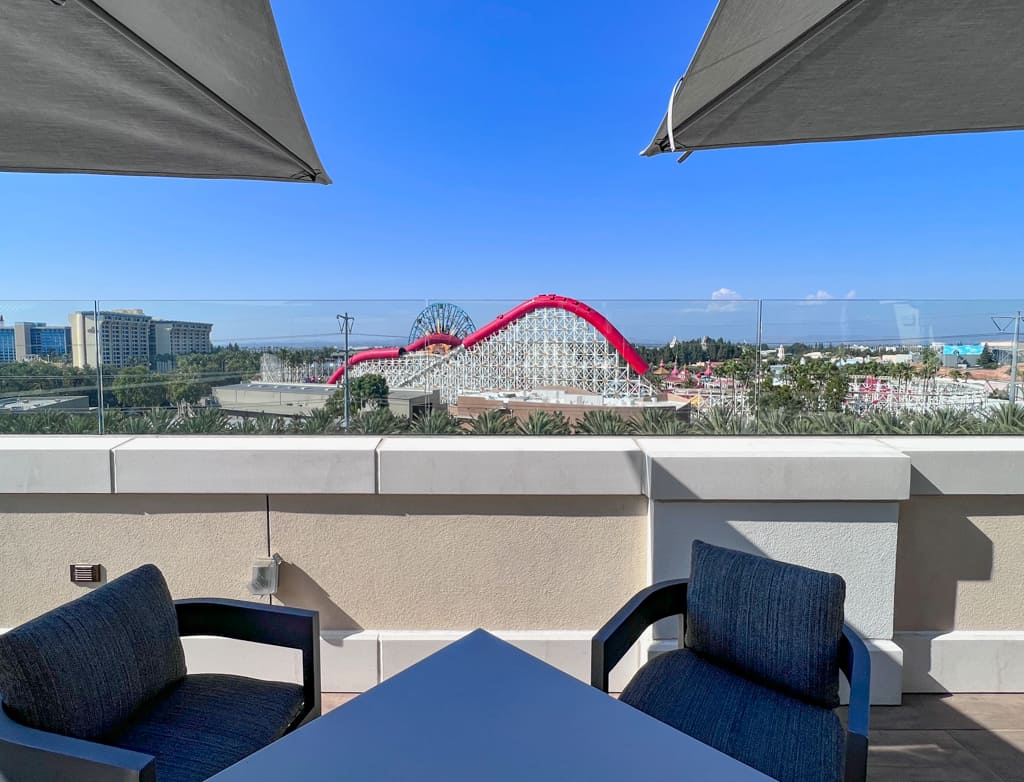 This eighth-floor setting has spectacular views of Disneyland's fireworks from its outdoor balcony area with plenty of shaded seating available.
Best Rooms for Families
For families, you can't beat the two-bedroom suites comprised of a king one-bedroom suite connected to a separate room with two queen beds, complete with a balcony overlooking Disneyland. Our spacious suite included a living area, dining room table for four, and two and a half baths and two balconies. It was perfectly spacious for our family of four. Our living room's sleeper sofa could have accommodated more children for larger families.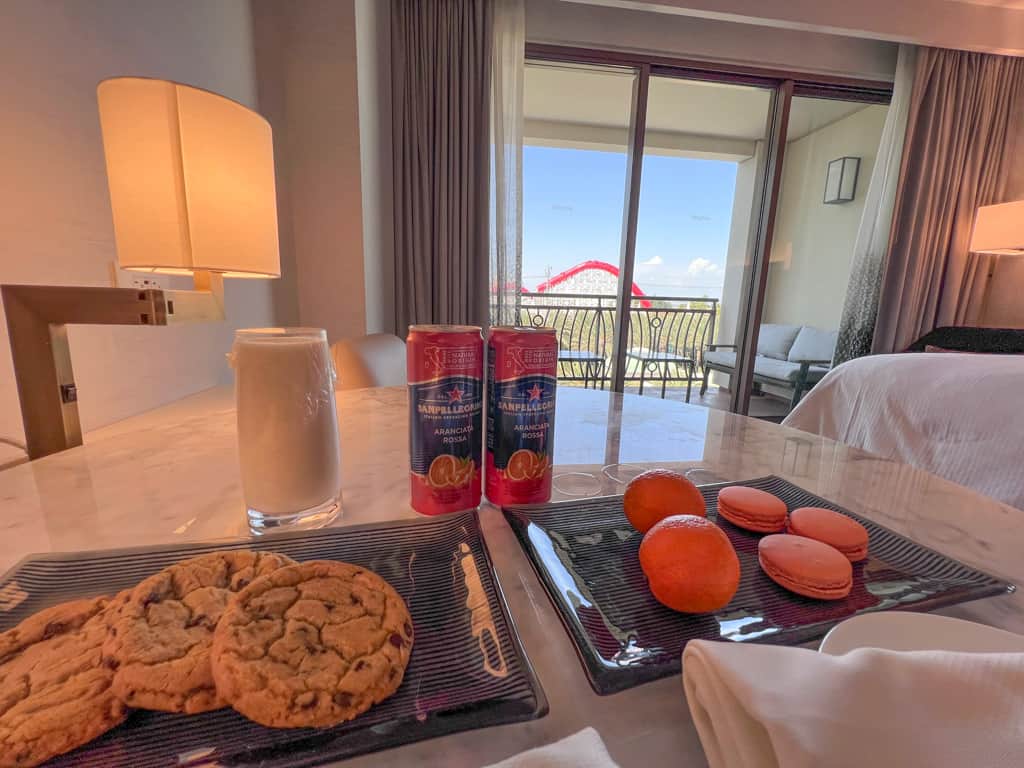 The welcome amenities for our kids included Westin's family program that focuses on creative crafts and games. Other amenities centered around the orange groves of Orange County. In addition to milk and cookies, our kids received orange macaroons and clementines. The master bath of our suite included a stand-alone modern tub and separate shower. Our rooms offered ample closet space and storage.
Of note is the presidential suite which I toured. The bedding includes a king master bedroom and sleeper-sofa connected to a two-queen room, as well. The common area of this suite is very large and ideal for a large family to gather in. The living and dining area includes a kitchenette and butler's pantry. The balcony's size offers another lovely place to lounge for several family members.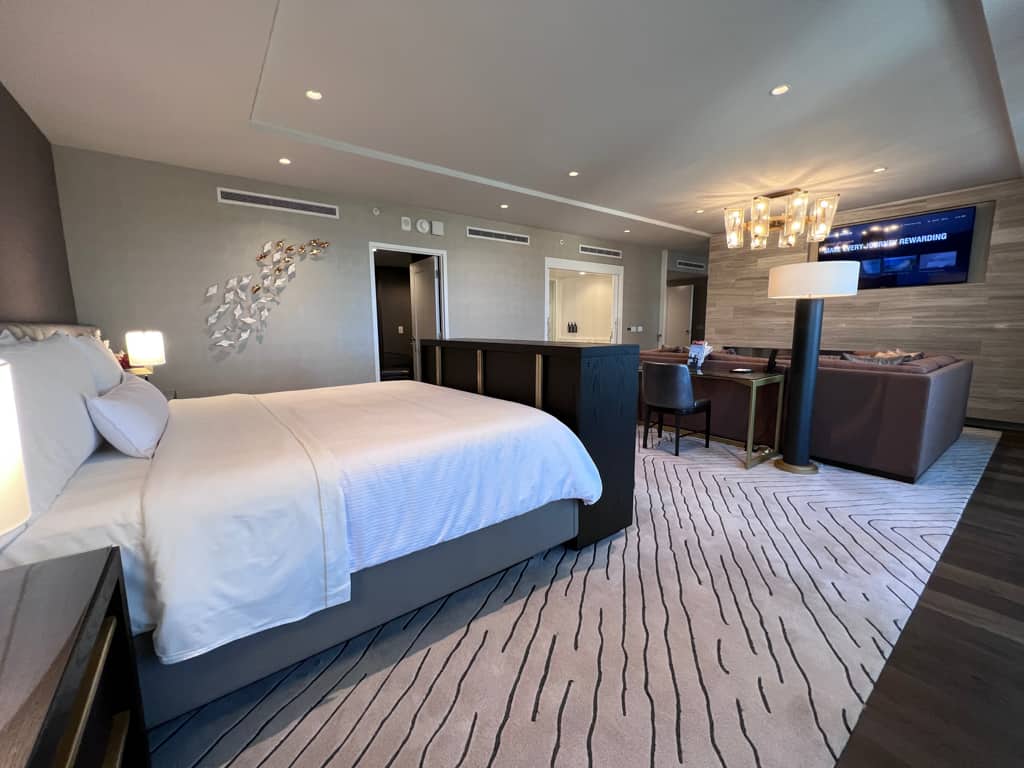 The premium rooms have fireworks views from their balconies and windows, and the location of the hotel offers good views of Disneyland's newest Wondrous Journeys fireworks show. For guests without firework views or club lounge access, fear not. Book a dinner at the hotel's rooftop restaurant Rise one night of your stay.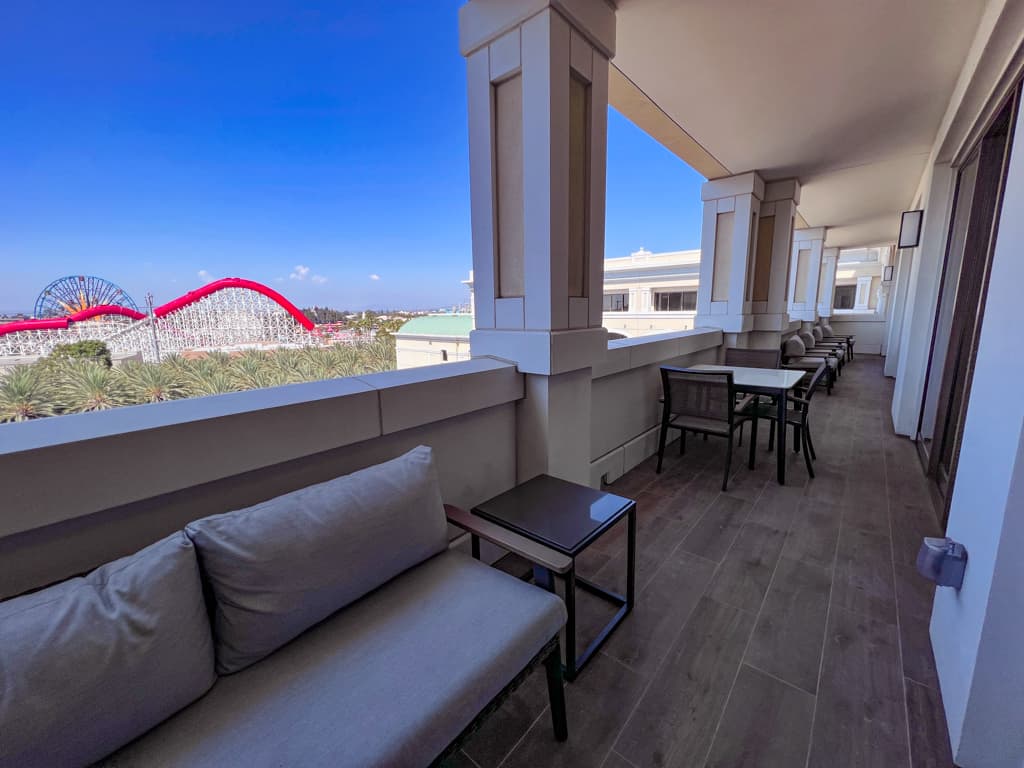 Hotel Amenities
There's a small pool and fancy hot tub off the lobby surrounded by greenery and a poolside restaurant named Bella's Splash. You can order a burger or salad delivered straight to your pool lounger. This isn't a grand resort pool, but it served its purpose.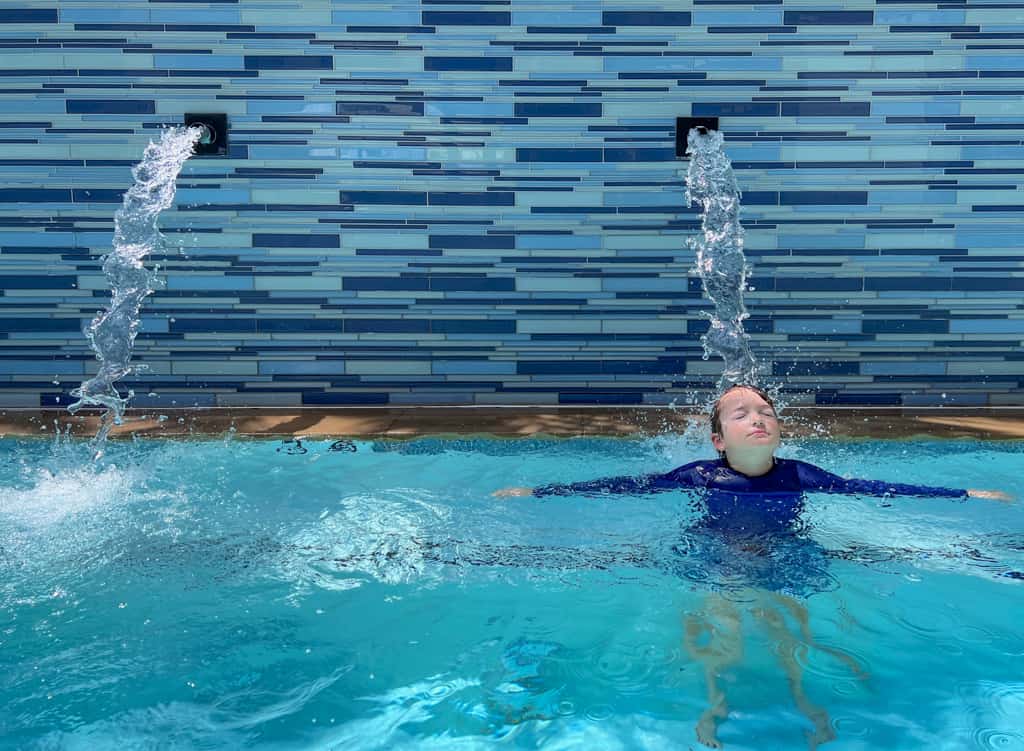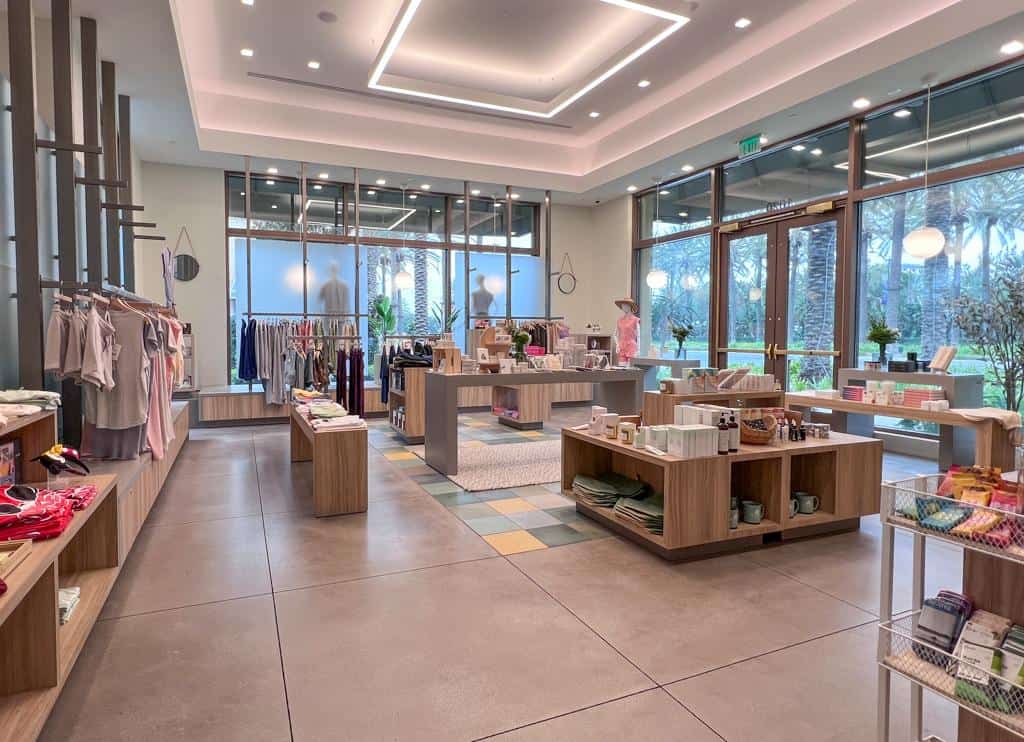 The fitness center overlooking the pool area is impressive in size. It features over a dozen cardio machines, and a full set of free weights and machines. This is also a rare Westin hotel with guest laundry facilities.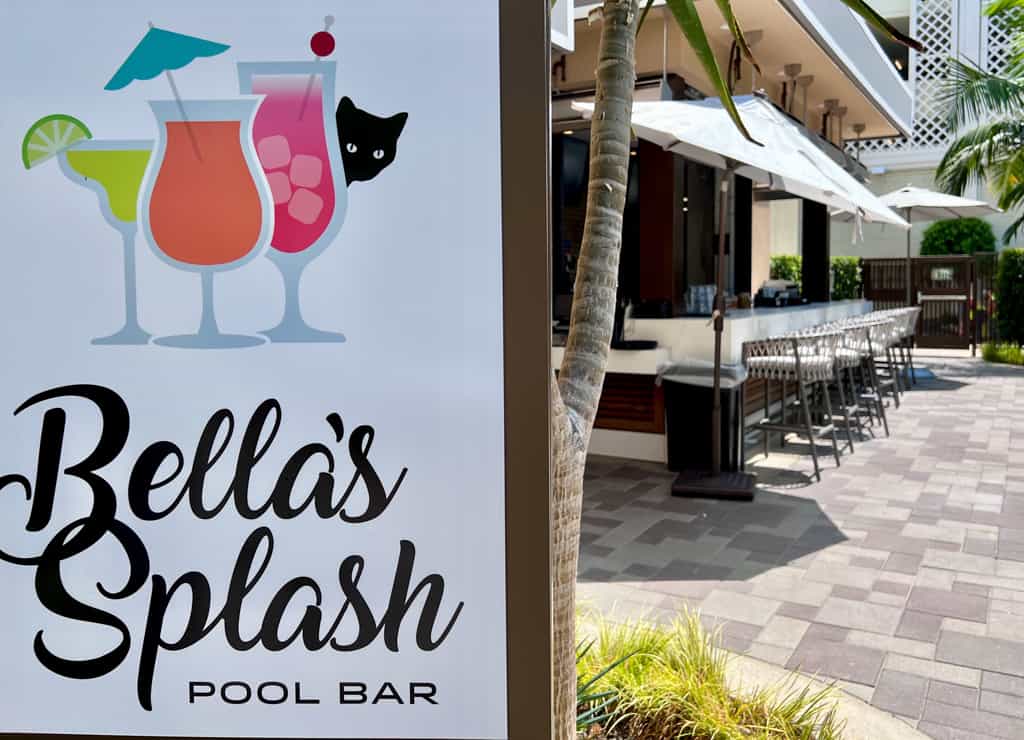 The Blossom Café and Market on the lobby level had both quick service smoothies and light bites but also an impressive gift and apparel shop worth browsing. You'll find stylish clothing, trendy gifts and toys, and books typically found at five-star resort gift shops.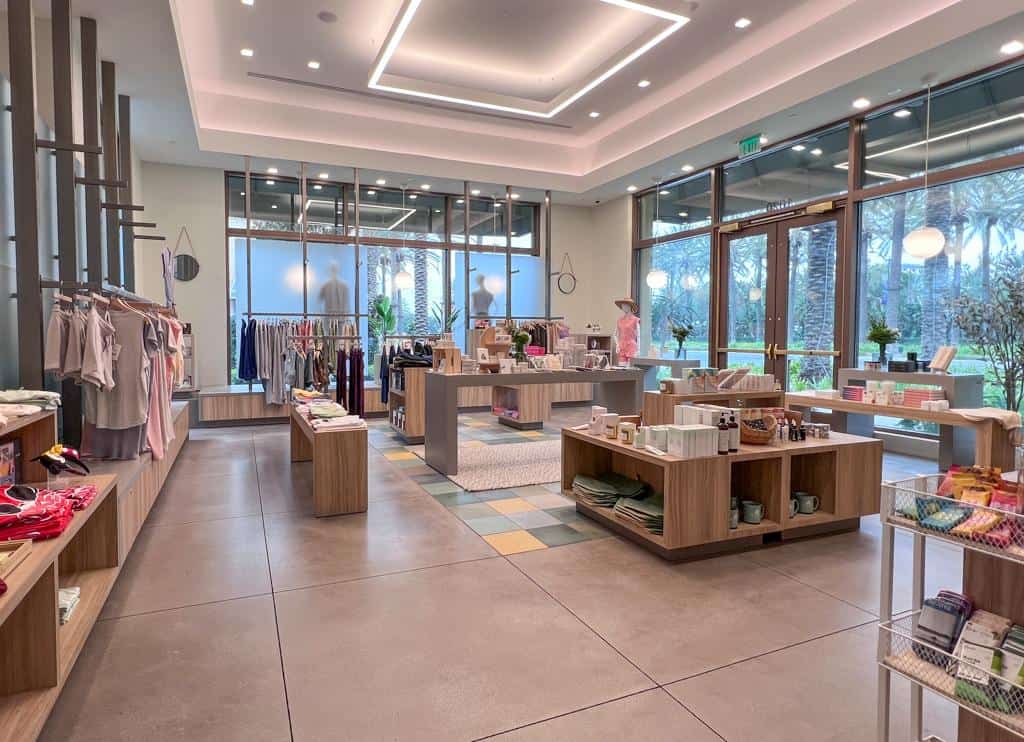 Hotel Dining
The Tangerine Café is a great breakfast buffet to start your day. When Luxe Recess books your rooms, you will receive two complimentary breakfast buffets for adults.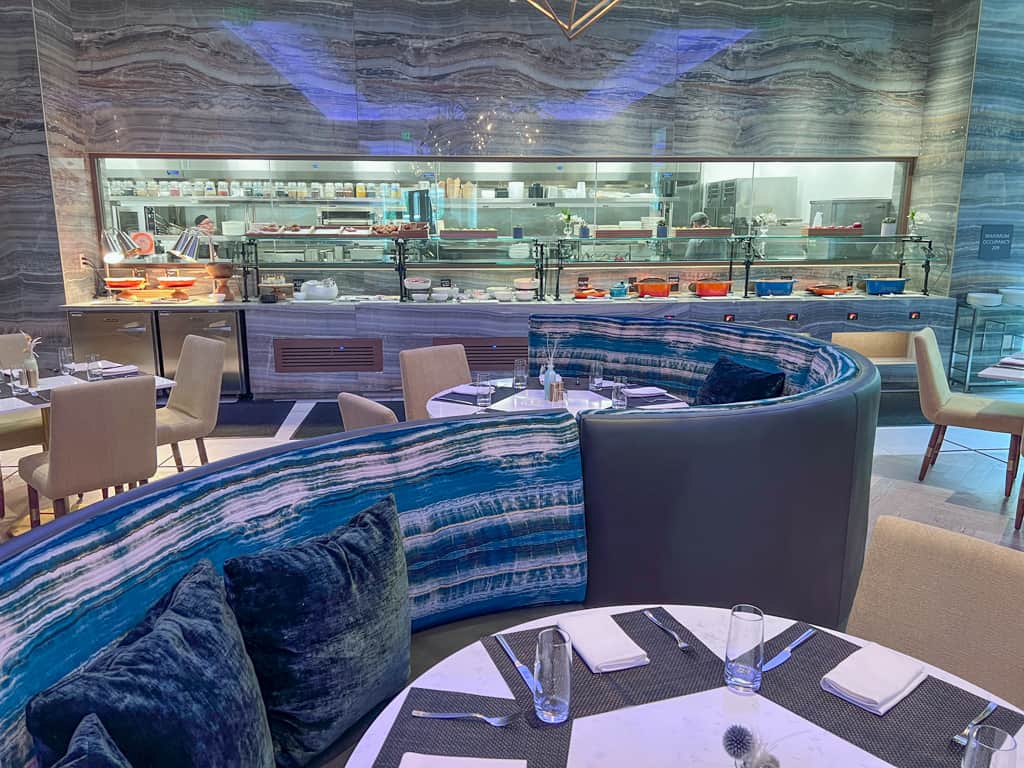 Rise Rooftop Lounge is a restaurant atop the Westin serving drinks and Californian and Mediterranean plates. If the overly-loud club music is not a turn-off, they offer the best fireworks views on property and include pizza on a menu that may otherwise be too mature for young eaters.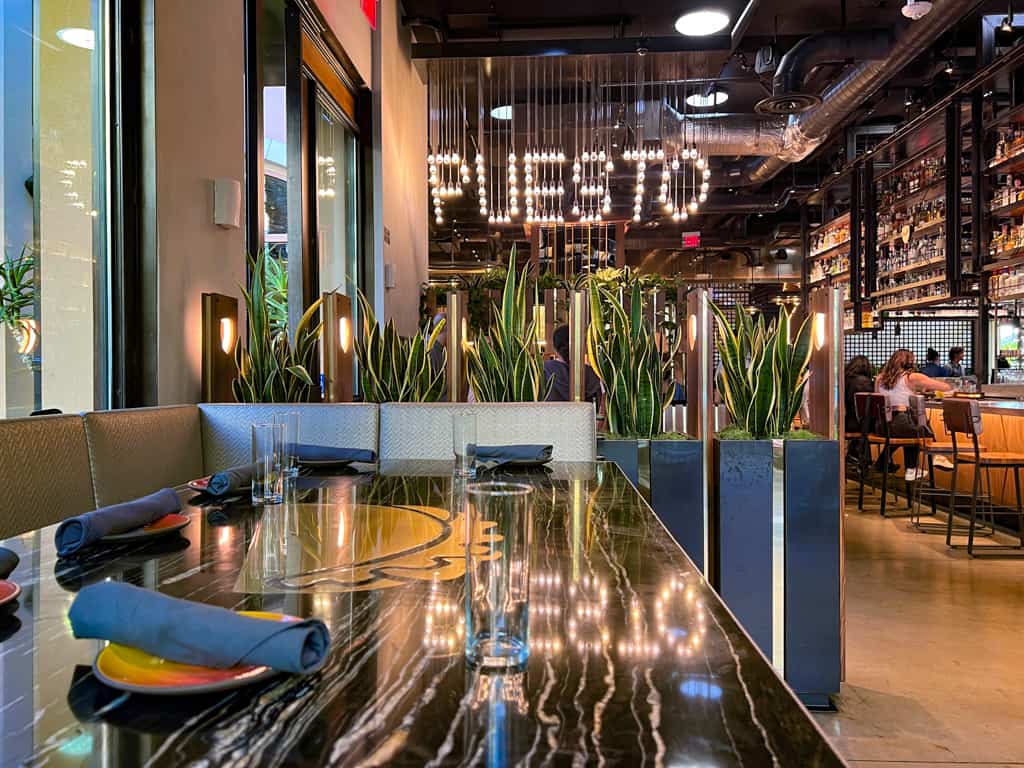 We particularly enjoyed Puesto, a Mexican restaurant with its own exterior entrance (also accessible from the Westin lobby). House specialties include margaritas and tacos: filet mignon, shrimp, vegetable, carnitas— they have it all. Be sure to get an order of homemade salsa and chips, and for those wishing for more than classic guacamole, there are fresh ceviches.
Fleming's Prime Steakhouse is also on site.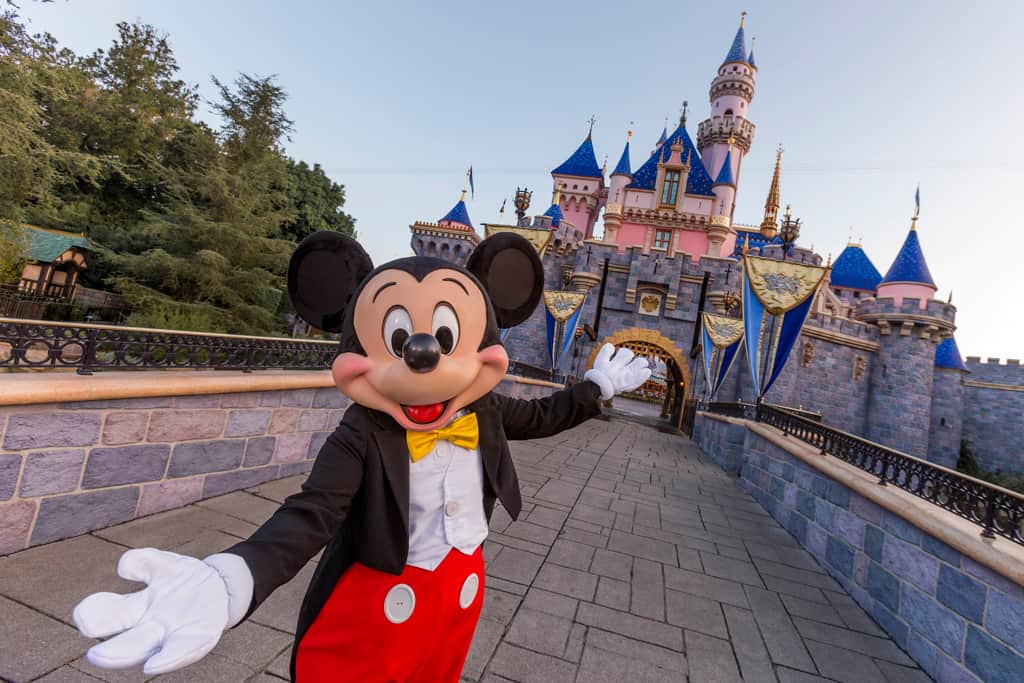 A Disneyland VIP Family Vacation
Luxe Recess is now both a travel magazine and a luxury travel agency. We can book this same vacation for your family! Let me plan the best VIP Disneyland vacation for your family with special hotel perks.

We offer special amenities like daily breakfast for two adults per bedroom, a resort credit per stay, and upgrades based on availability. Let us plan your California vacation and receive our VIP amenities included in our rates at no cost!
Disneyland can be a mini-vacation for those traveling to the Southern California area. After a short amount of time in the company of Mickey Mouse, families can continue on to Hawaii, or stay in Southern California at one of our favorite resorts.
Explore the beach resorts of Orange County after your two or three night stay at Disneyland. We suggest The Ritz-Carlton Laguna Niguel, The Four Seasons Aviara, The Fairmont Grand Del Mar, The Montage Laguna Beach, The Waldorf Astoria Monarch Beach.
To do more in Los Angeles, consider the Four Seasons Los Angeles at Beverly Hills, The Beverly Hills Hotel, or The Fairmont Santa Monica Bungalows.