For East Coasters who consider Disney World in Orlando their home park, a first trip to Disneyland is a special occasion.
The conventional wisdom is that staying on-site in Anaheim isn't as important. Many off-site properties are walkable to the parks. But for Disney theme park enthusiasts like myself, a stay on property is worth it.
Disneyland has three official resorts. Disney's Grand Californian, the most deluxe option on site, looks like the Wilderness Lodge as imagined by Frank Lloyd Wright with its Craftsman style details. Disney's Paradise Pier Hotel is the entry-level property with a Disney beach party theme. This is far easier to choose from than Disney World's extensive options.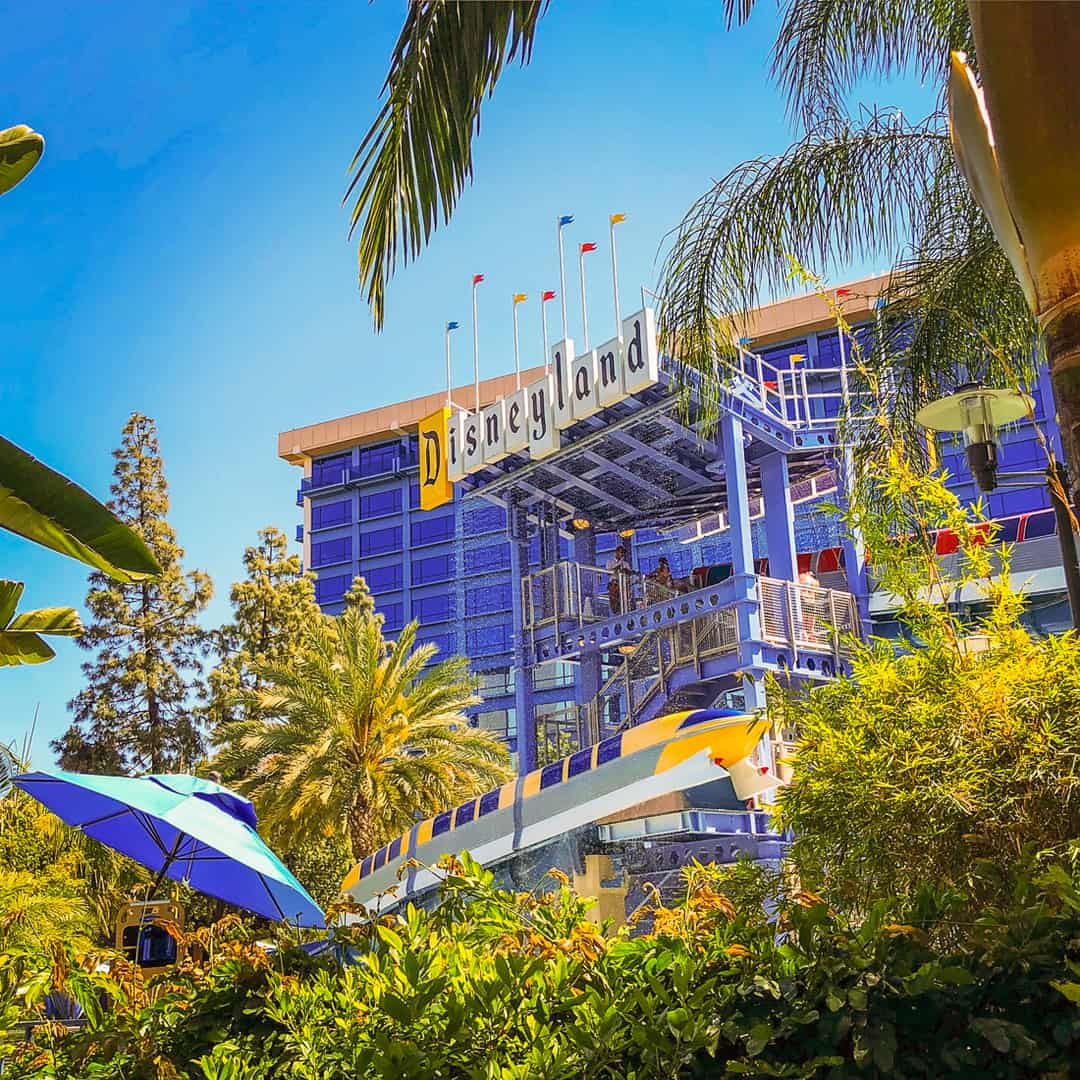 We chose the Disneyland Hotel, the original property to immerse in the nostalgia of the theme park.  Especially for Walt Disney World regulars, the idea of staying at a hotel that's unabashedly Walt Disney in theming is tremendous. There are nostalgic touches throughout the hotel and the man who created this magic.
Despite being at different price points, all three Disneyland park hotels have a club level with concierge service and a club lounge.
Our first trip's resort theme: Walt Disney
As someone who is constantly curious about how this whole thing came to be, I found our time at the Disneyland Hotel to be a fascinating direct connection to the original Disney castle park. You can imagine Walt's VIP friends staying here back in the day and by extension welcoming you in a similar way today.
Disneyland Hotel Club Level
While Club Level at Disney hotels doesn't provide the same level of VIP service that I loved while sailing Concierge on the Disney Cruise Line, the incremental cost difference isn't as significant either.
Upon arrival the front desk agent personally walked us up to the Club and introduced us to the hosts on duty, and we began our vacation.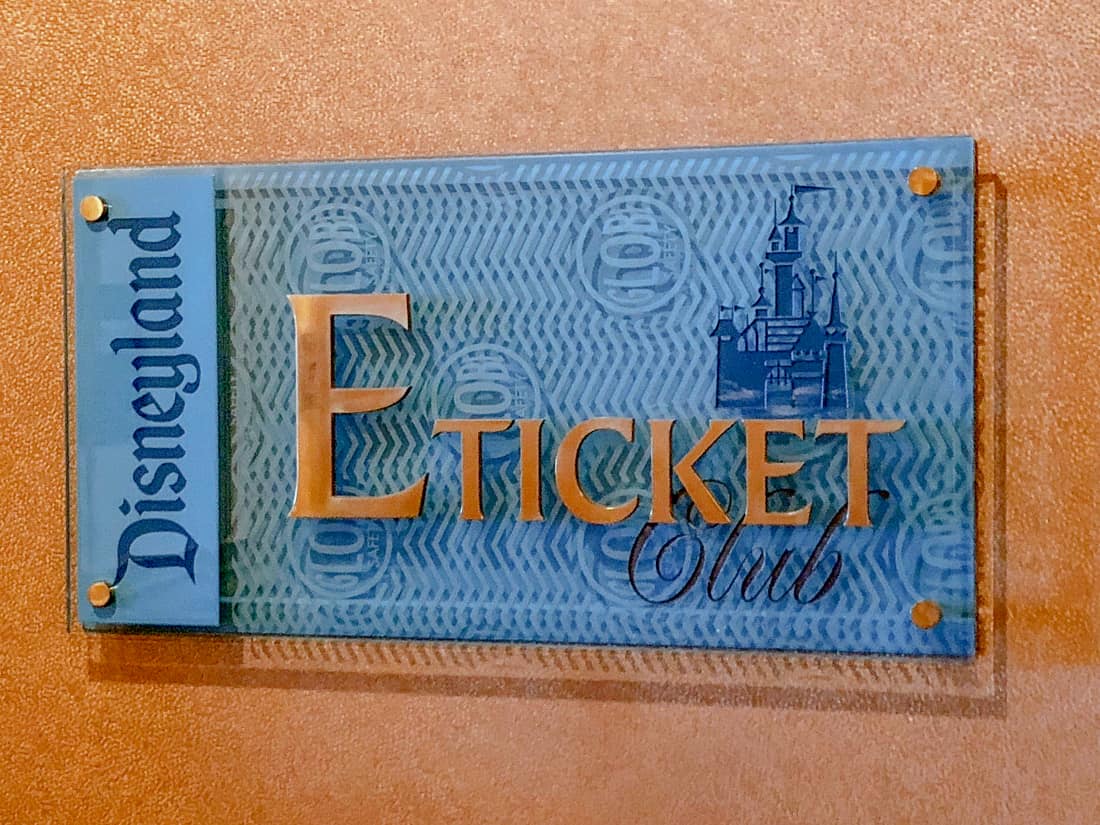 Disneyland Hotel Concierge service and the E-Ticket Club
The main benefit of the Disneyland hotel concierge level is access to the E-Ticket Club. This concierge lounge is open from 6:30AM-10PM serving a continental breakfast in the morning, light refreshments in the afternoon, hors d'oeuvres in the early evening, and desserts later in the evening.
---
JOIN THE LUXURY DISNEY & ORLANDO FACEBOOK GROUP
WHERE YOU CAN ASK ALL OF YOUR DISNEY TRIP QUESTIONS AND GET THE ADVICE YOU SEEK.
---
Beer and wine are complimentary all day which means mimosas in the morning, beer in the afternoon, and wine at night. Ask the food & beverage servers for drinks. The first day we tried being polite and waited (and waited) for them to come to us. You kind of have to ask them for your drinks even if it means hanging out by the entrance to their back room.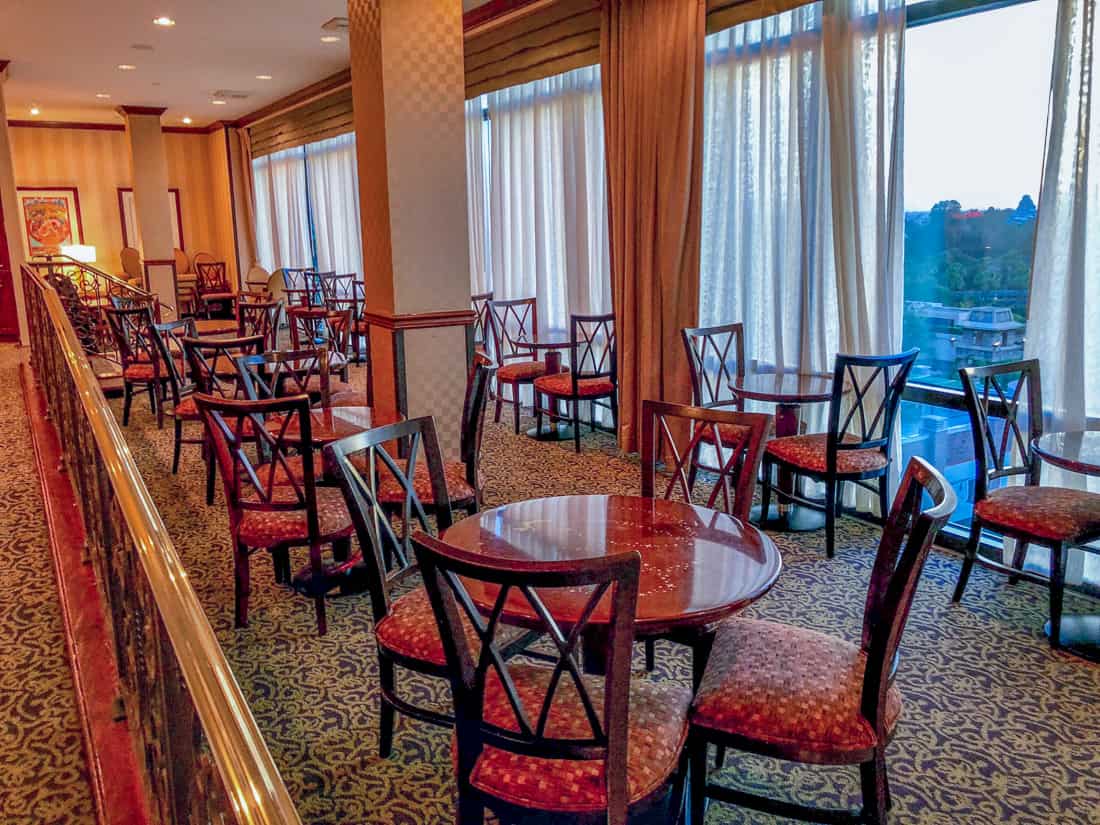 While it's sometimes hard to justify the additional cost of Club Level, it's nice to be able to grab snack or drink whenever you wanted to. The continental breakfast was light but hearty enough to satisfy everyone in the group, but there were no hot entrées like eggs, bacon, or sausage. And mid-day snacks and late-night treats were very much appreciated. The food selections, however, seem to be the exact same every day.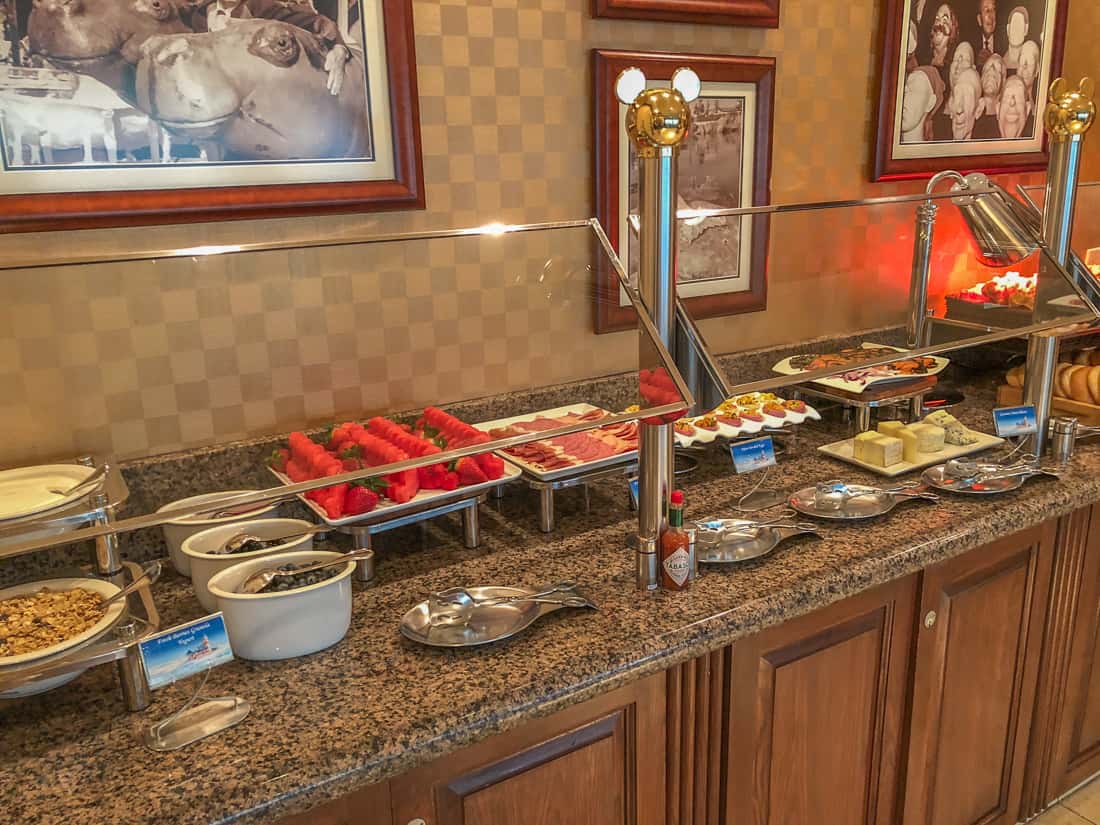 The hosts at the lounge seemed similar to those at Disney World. They can't do much for you can't do for yourself if you consult Disney apps or the web.
Disneyland Club Level Rooms
Ask for a room near the Club. It's possible to stay Disneyland Concierge and be placed in another tower entirely. We asked our travel agent to request a room near the lounge, and we were delighted to get a room literally right next door.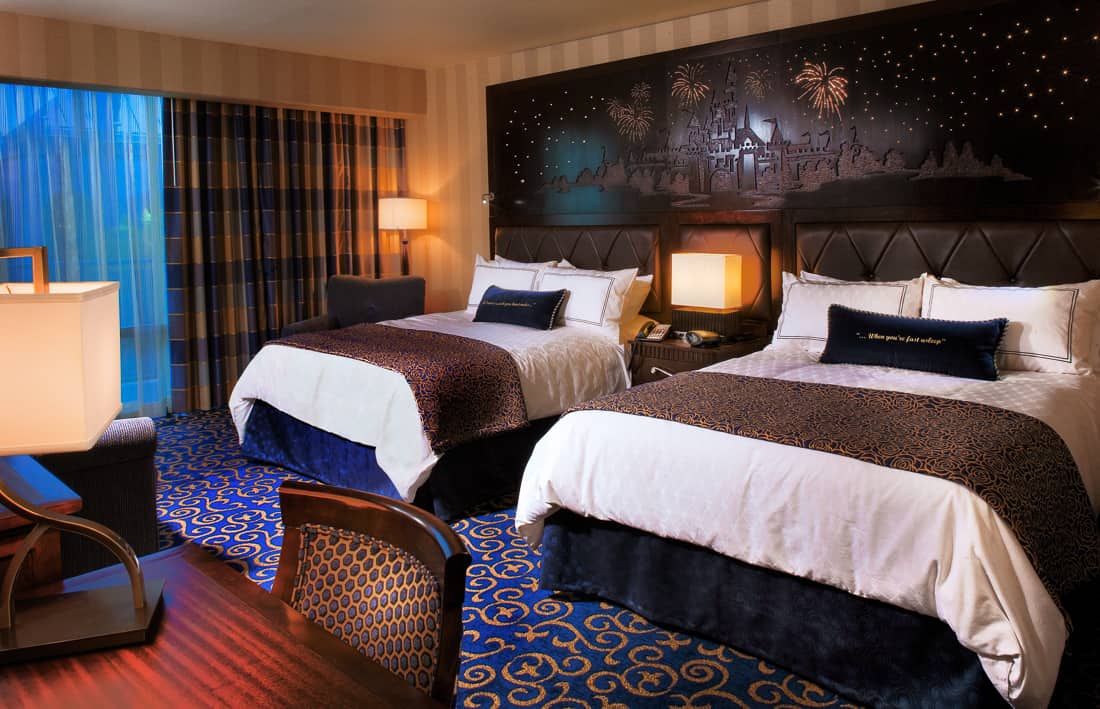 We had terrific fireworks views from our room in an east-facing room on a high floor in the Adventure Tower. This turns your room into an even better place to watch the fireworks than the lounge.
Grab some dessert and drinks at the lounge then bring them back to your room to enjoy. Coordinated music is available on the television. It's also a nice option for little ones who are afraid of loud sounds.
It's so nice to be able to enjoy the fireworks go straight to bed without fighting crowds.
Magic Inside the Disneyland Hotel Rooms
The best part of the beds is the Magic Headboards. These things are seriously awesome. Turn them on to hear "A Dream is a Wish Your Heart Makes" from Cinderella on a music box then enjoy the twinkling lights  of fireworks for the rest of the evening. Too bad these don't sell these in the gift shop.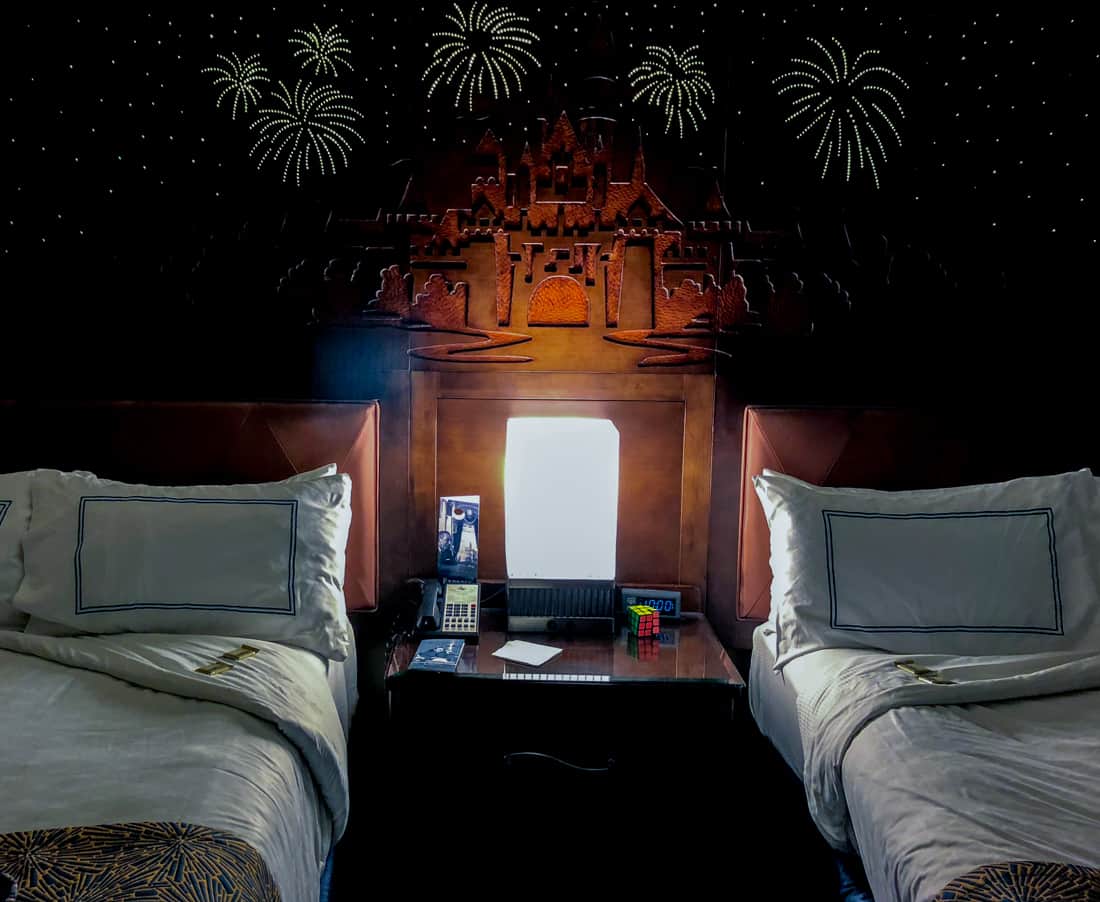 Disney hotels aren't necessarily known for being truly luxurious so it's nice to see turndown service in Club Level rooms. Towels, toiletries and bottled water were replenished. Beds were made, lights were dimmed, and curtains were drawn. We went three for three during our stay without having to call.
It's a small thing but a really nice touch to return to a refreshed room after an evening in the parks.
Disneyland Hotel
Signature Suites 
If you're looking for the most over-the-top hotel suites near Disneyland, they are here. Check out the six themed signature suites: Adventureland, Ambassador, Big Thunder, Fairytale, Mickey Mouse Penthouse, or Pirates of the Caribbean.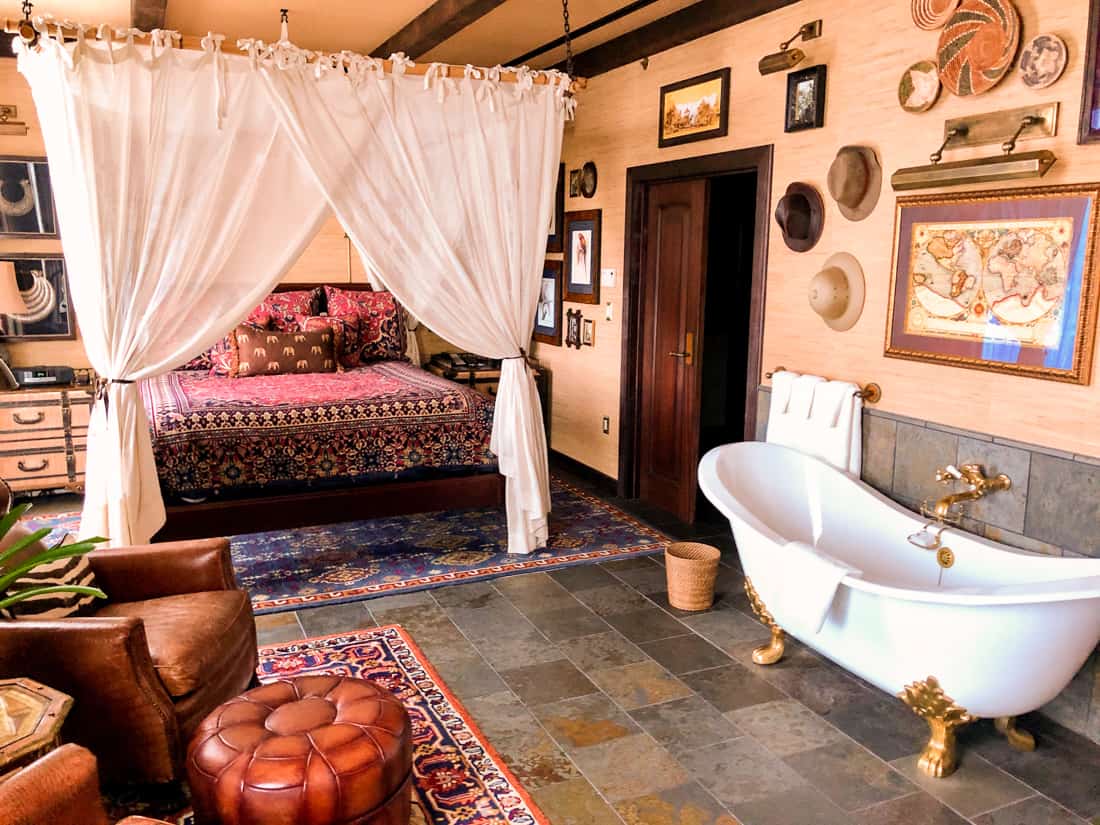 Our standard Club Level room was across the hall from the Adventureland suite. Housekeeping kindly let us take a peek around, and we were able to get a feel for these amazing rooms. The thoughtful details one enjoys from imagineers on Disney's rides can be found in a luxurious hotel suite. 
The Adventureland Suite is a two-bedroom suite with a dining room and butler's pantry. I'd say it comfortably sleeps five and includes a sauna, but the big selling point is the theming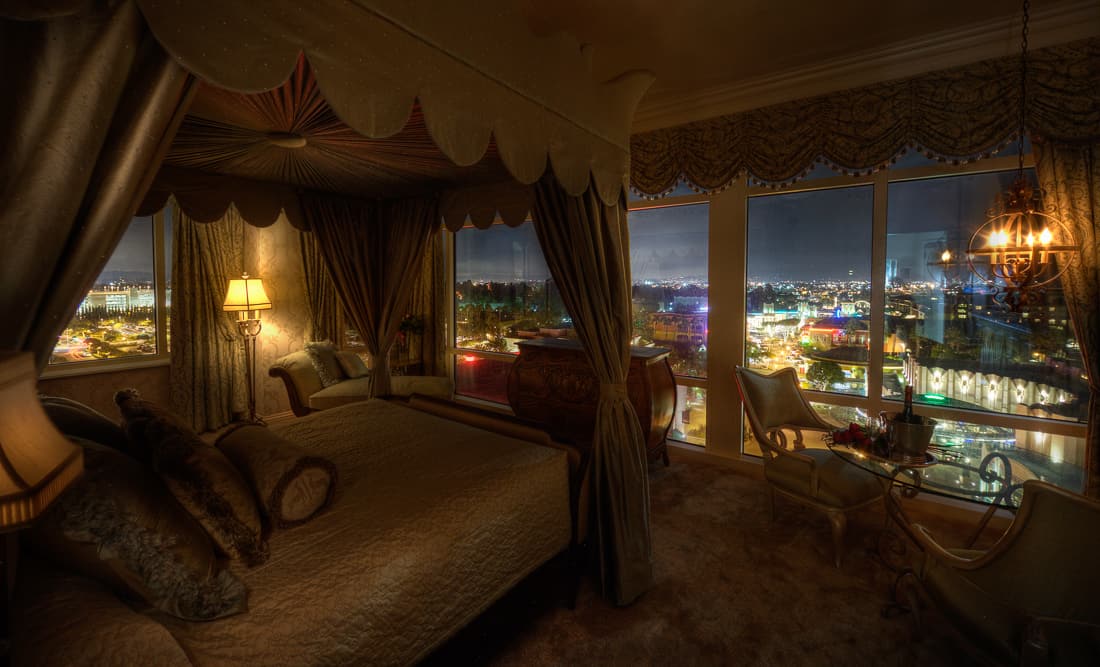 They are definitely something to consider for a splurge trip, but bring a high-limit credit card. Dates I checked for an upcoming stay were $5,000 per night. The housekeeper said it's often rented for a single night as part of a longer stay in standard rooms. Or by corporate types for functions.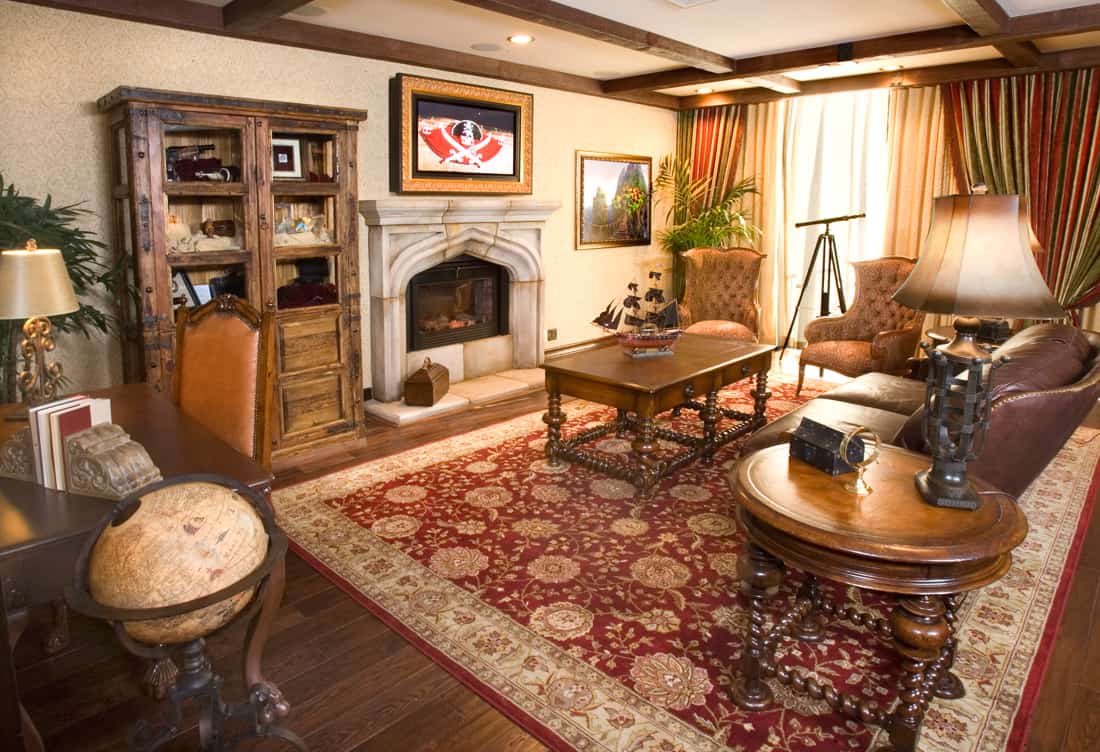 Trader Sam's Tiki Bar
The combination of Disney nostalgia combined with the Polynesian tropical vibe at Trader Sam's Enchanted Tiki Bar is hard to beat.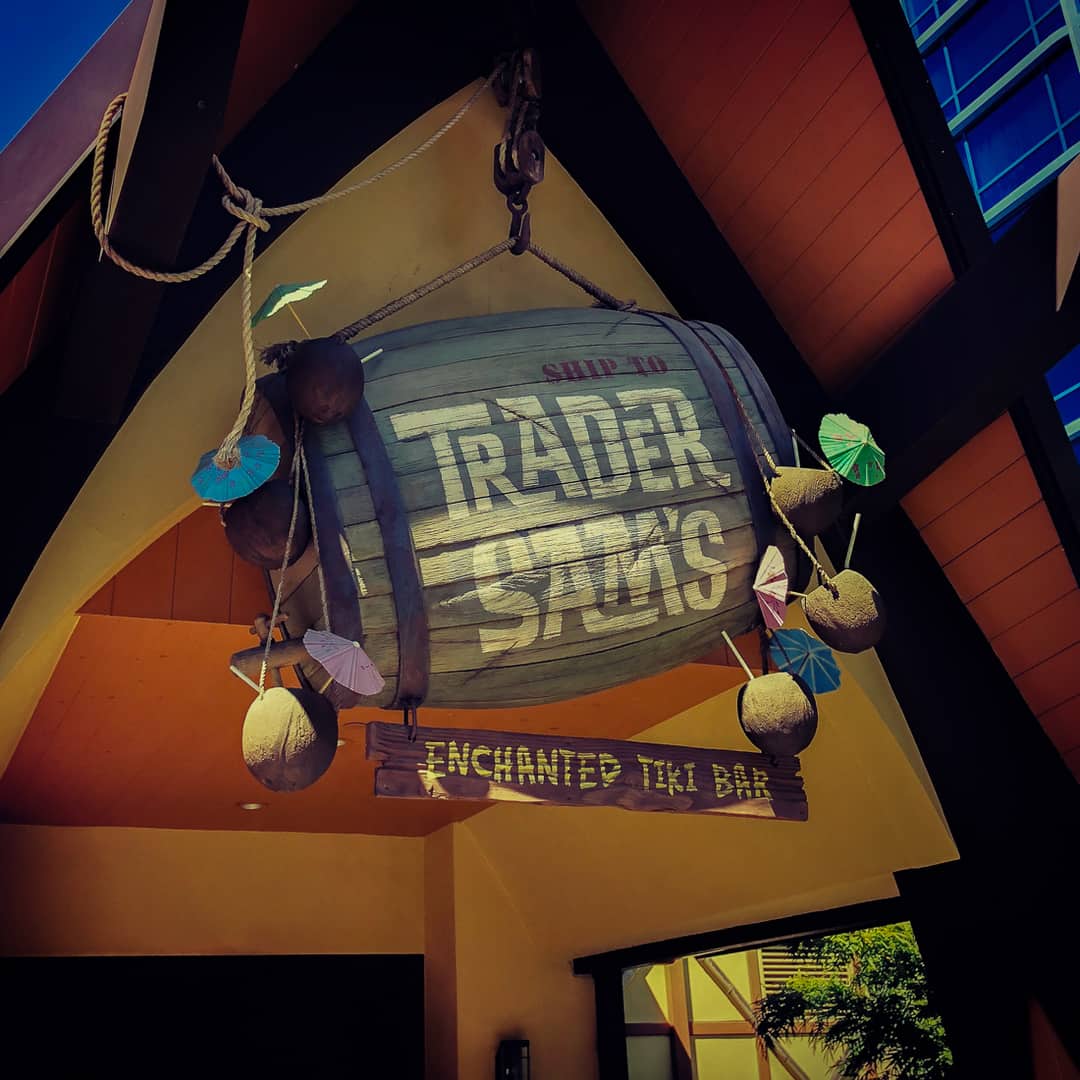 Our whole family loves Trader Sam's from our visits at the Polynesian. Between the kids' mocktails, the way things happen when certain drinks are ordered, and the immersive feeling of the small space, it's always a trip highlight. And at the Disneyland Hotel, it's right downstairs. 
The Disneyland Hotel Pool and Restaurants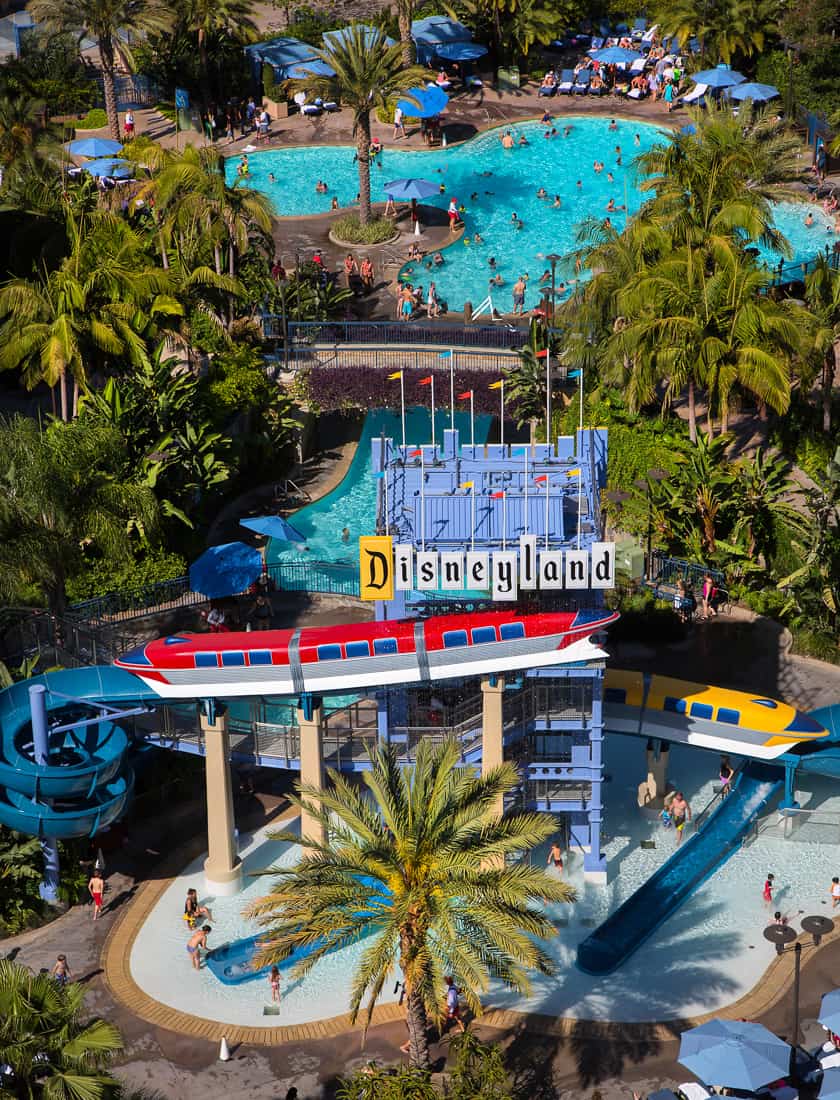 NOTE: The main pool area of the hotel features a large waterslide structure themed after the monorails. The first half of 2019, most of the pools will close for refurbishment and guests have access to the pools at Paradise Piers.
Goofy's Kitchen offers character meals for a breakfast and dinner buffet at the hotel. Reservations are strongly recommended, and hotel guests are given priority.
The signature restaurant at the hotel Steakhouse 55, open for breakfast and dinner. The restaurant features old Hollywood celebrities on the walls and afternoon tea from Friday through Sunday.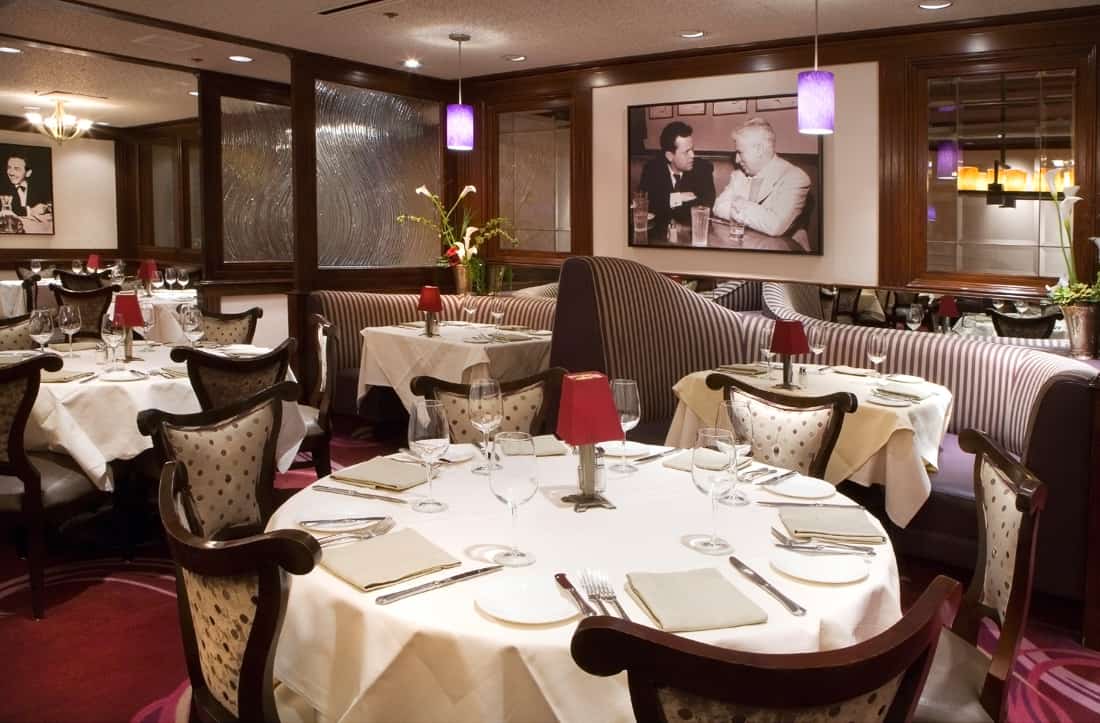 Disneyland Hotel Benefits: Early Park Admission
This is a benefit for everyone staying at one of the three on-property Disney hotels, but was my favorite time at the parks each day. A ten-minute wait for Radiator Springs Racers, undeniably one of the best theme park attractions in the world? Sign me up.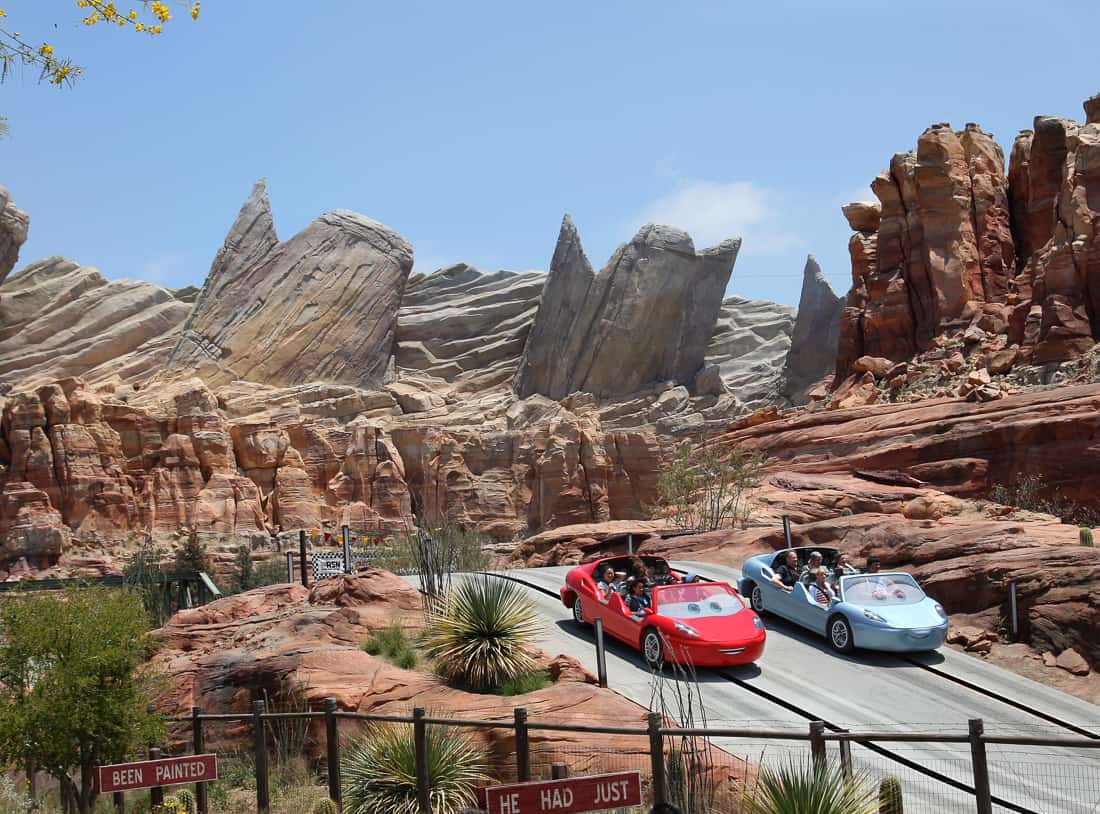 Disneyland Park early days are Tuesdays, Thursdays and Saturdays, one hour prior to the park opening, and Disney California Adventure Park opens early for onsite guests on Mondays, Wednesdays, Fridays and Sundays.
Monorail Right Into the Park
When you time it just right there's something awesome about taking the monorail right into Tomorrowland. Yes, you can probably walk there faster.  The monorail takes a winding route into the park to create an arrival that's completely different from walking up Main Street. Make sure you experience both, though.
The kinetic energy in that part of Tomorrowland – with multiple forms of transportation preciously intertwined with attractions, mountains and water – is unlike anything else I've seen at a Disney Park.
When we were checking out, we got off It's A Small World and caught the monorail back to our room at the Disneyland Hotel in 10 minutes.
It's hard to do that in Orlando.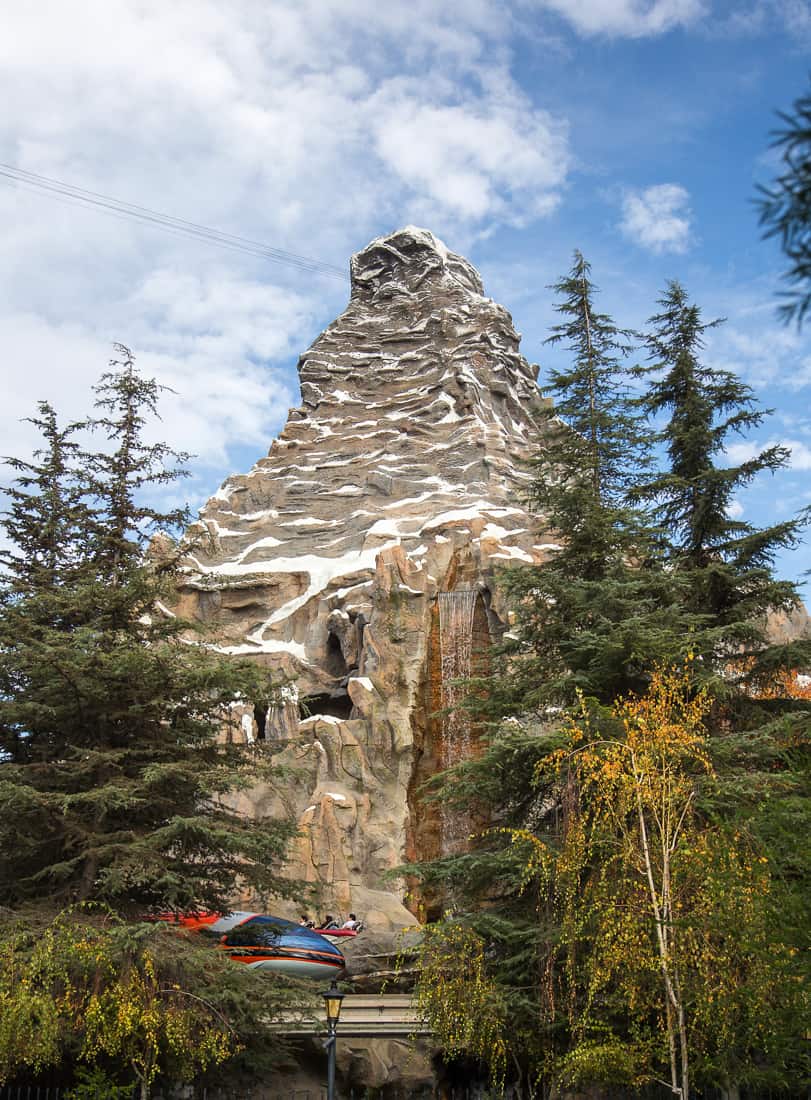 The Disneyland Crowd Calendar: When to go
Choosing your trip timing is similar to planning a Disney World vacation. You can follow crowd calendars to provide detailed information for each day based on historic data.
Midweek days, Monday through Thursday, are always better unless one is a public holiday.
Because Southern California is so populated, consult California public school calendars.  Ensure you avoid peak times when local families drive to Anaheim on school vacations.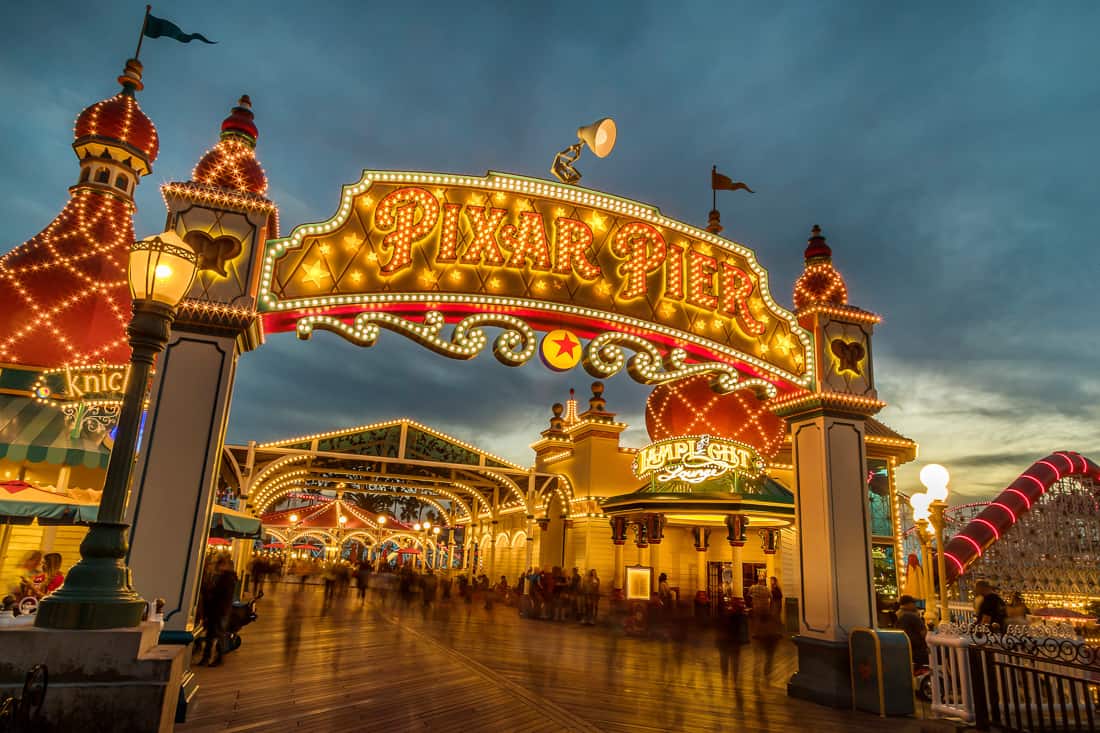 Just like with Orlando vacations, January and February (outside of the New Year's Day and President's Day vacations) are often less crowded. Fewer crowds come after President's Day weekend until the second week of March when the spring break rush begins.
Rides also close for refurbishment in this down time in the first quarter. Another downside is that park hours will be limited.
The last two weeks of August are interesting because it is peak summer vacation time for East Coasters, but Californians start back to school the middle of August. Midweek visits during this time will be a good idea, too.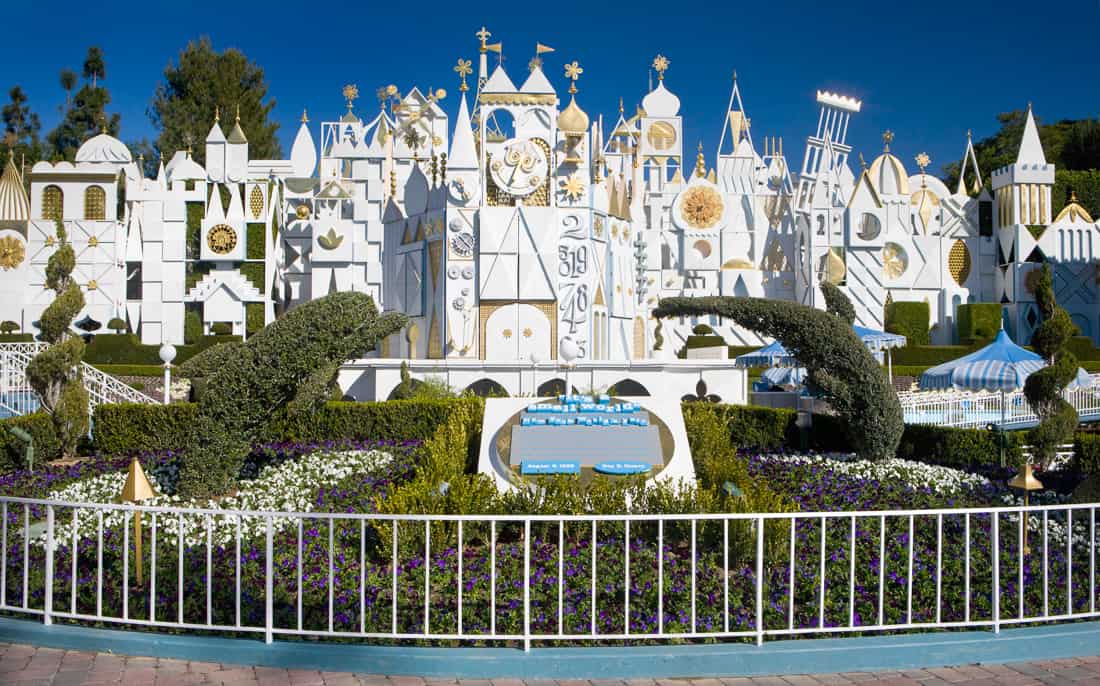 Everything Is So Compact
The density of attractions at the Disneyland Resort is probably the biggest difference between Disney World and Disneyland. We kept over-estimating how long it would take to get from point A to point B at Disneyland. Our past experiences at the vastness of Walt Disney World were guiding us.
I loved being able to "bounce" from the monorail to the Matterhorn Bobsleds, to Pirates of the Caribbean. Then we had lunch at the Blue Bayou and headed over to Disney's California Adventure in just a couple of hours. There's an unmistakable feeling that they've used every precious square inch of space at Disneyland that makes it, I think, the single best theme park in the US.
That said, it's up for debate which theme park resort makes for a better overall vacation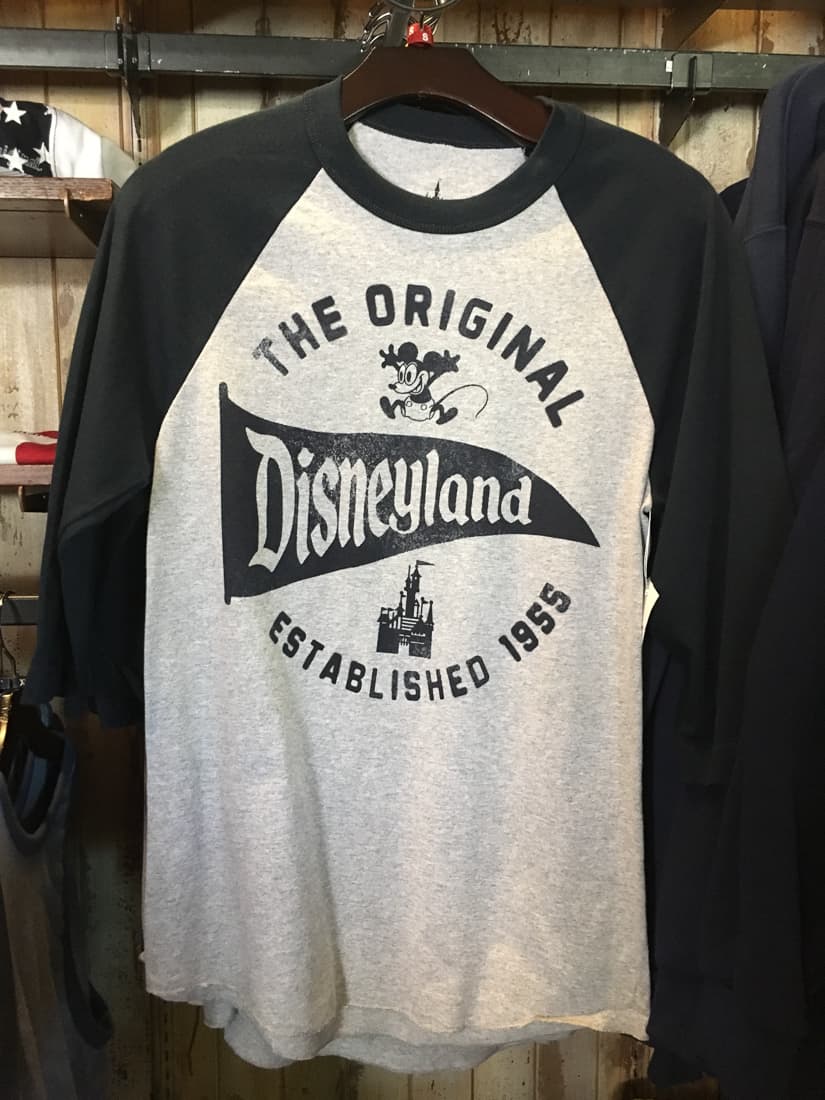 The Bottom Line:
The nostalgia and "Walt factor" were everywhere, just like I'd hoped it would be. The vacation felt more relaxed on the smaller scale than what is expected of guests at Disney World.
Now that we've done Disneyland, would we go back? Absolutely. In fact, we've already planned a return trip. This time we'll check out the Grand Californian. A Disney hotel with a dedicated park entrance sounds terrific.
Check rates at the Disneyland Hotel for your dates.