Considered Disney World's signature resort, The Grand Floridian has a lot of charm. But is it a luxury resort?
We have stayed at the Grand Floridian Villas, hotel rooms, and club level rooms. Which is best? And more importantly, can you book them for less? We'll cover the guest experience to see if it is the best Disney resort for your vacation.
The Grand Floridian Resort Welcome
The Cooler was a 2003 film starring William Macy, and he played a down-on-his-luck sad sack employed by casinos to loiter near the winning to turn their luck around. Disney World does the opposite of this casino practice.
They employ garrulous midwestern seniors who weren't really ready to retire from their sales jobs to greet you at the Villas at the Grand Floridian breezeway with a firm, welcoming handshake.
Gushing with sincere hospitality, "We're so glad you're here. Welcome home," the greeters shook my husband's hand four times. They are not bell or valet staff. They merely provide that nostalgic flavor of service that the Walt Disney Corporation created for you. They are the men of Mayberry, personifying the legend of Walt, the man, and creating a fantasy homecoming experience for those willing to spend big with the Mouse — the high rollers, if you will, of Lake Buena Vista, the Disney VIPs.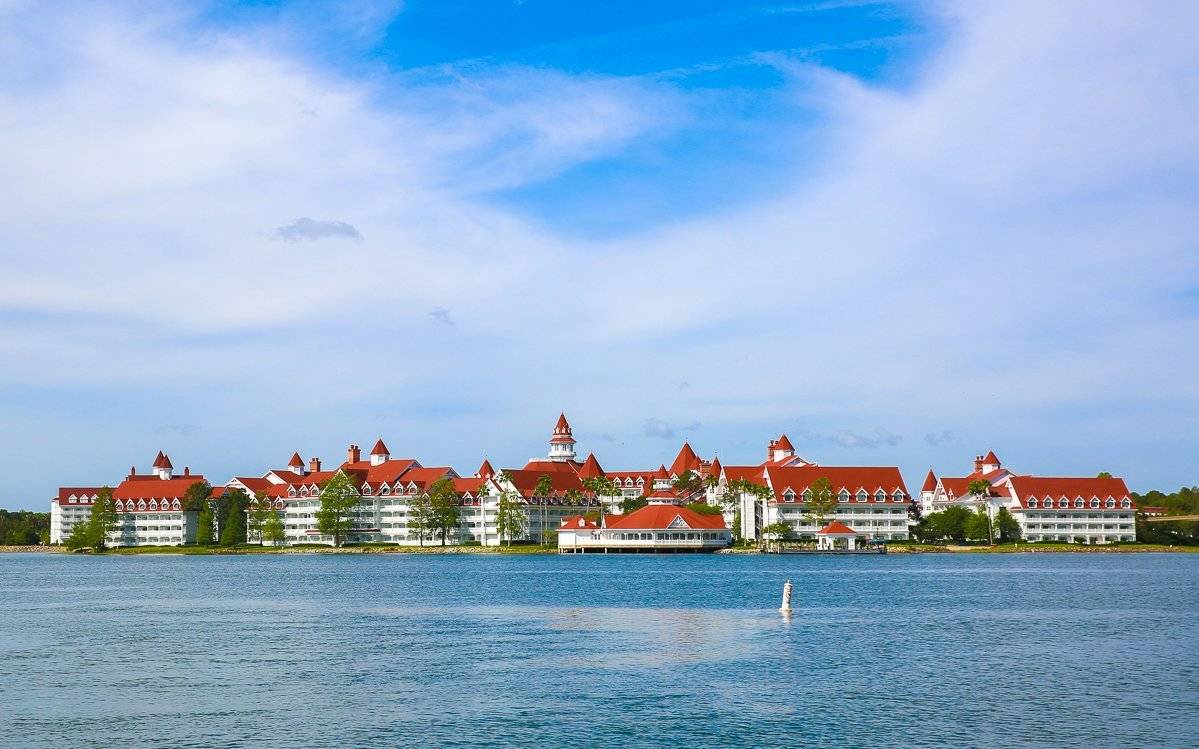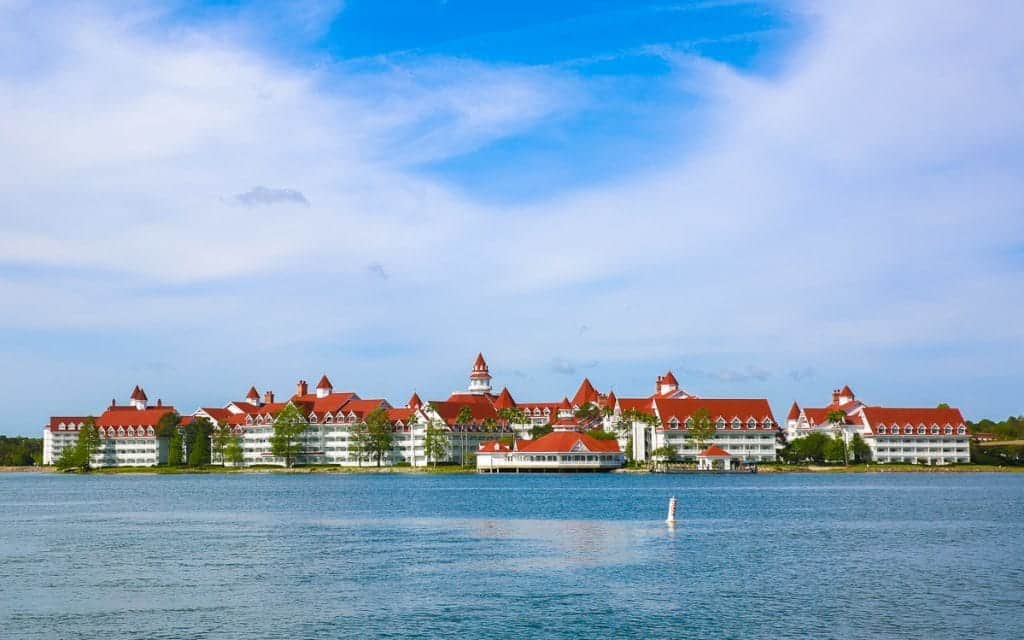 ---
---
The Grand Floridian theme and atmosphere
Each Disney World resort has a theme. The Grand Floridian celebrates the Victorian and Edwardian stories of Mary Poppins and Alice In Wonderland with a little Dumbo sprinkled here and there. Cinderella and Prince Charming make regular appearances, as well.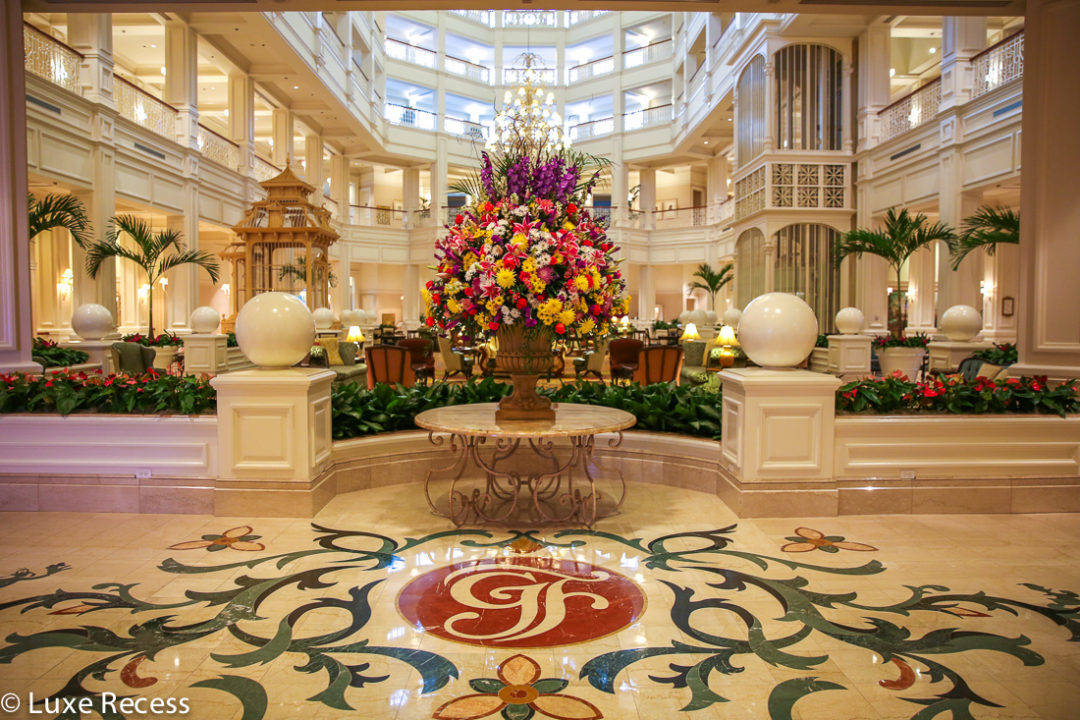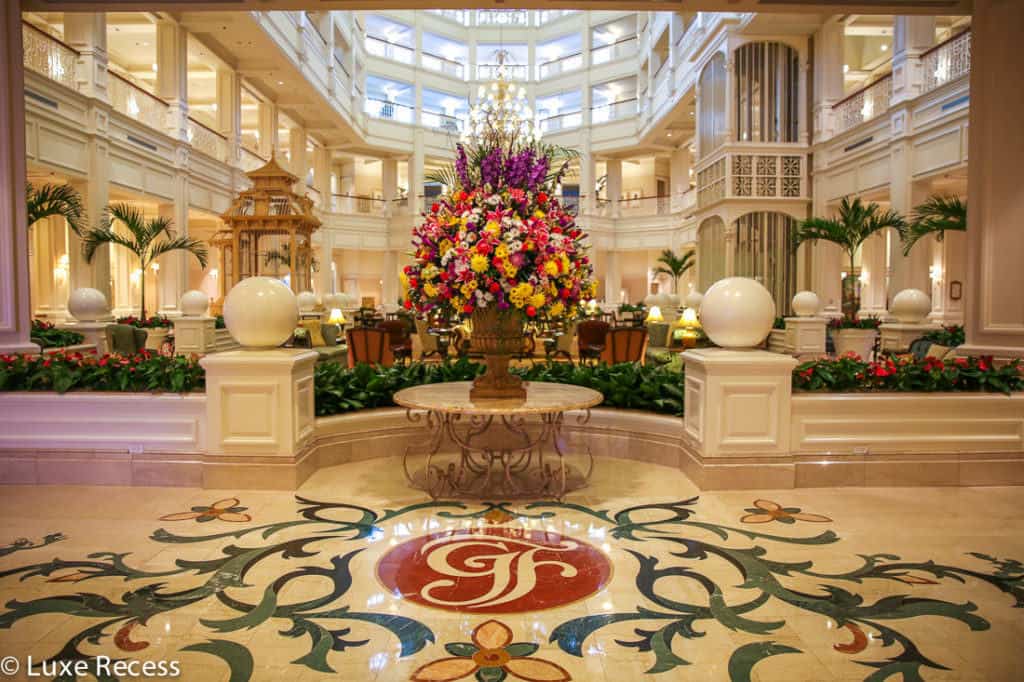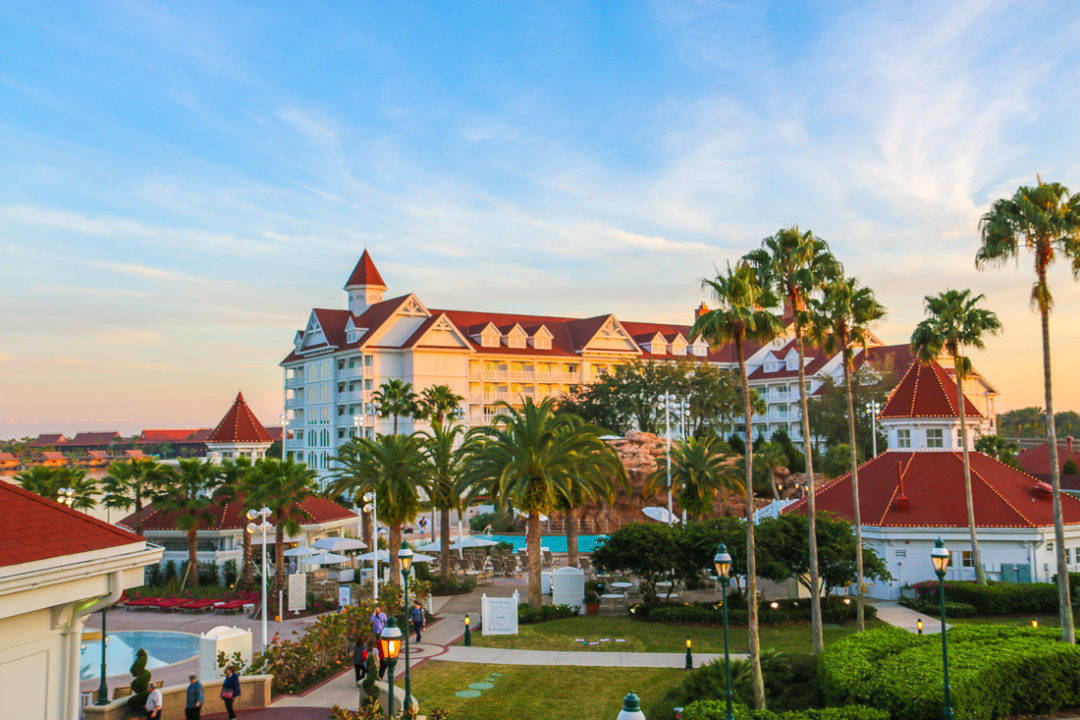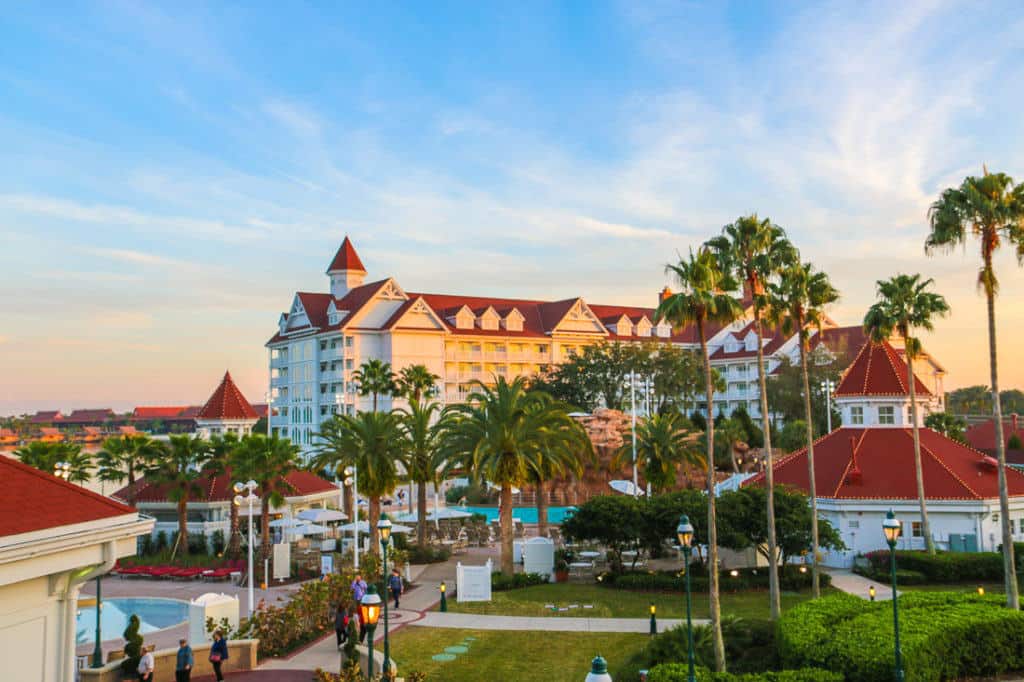 But, for those travelers well acquainted with luxury hotels, staying on Disney property will both delight and disappoint.
---
Let me plan and book your Disney World vacation.
I'll help you choose where to stay,and steer you to the right
VIP tours, park tickets, and restaurants for your family.
I'll share what experiences are worth every penny and show you what to skip.
---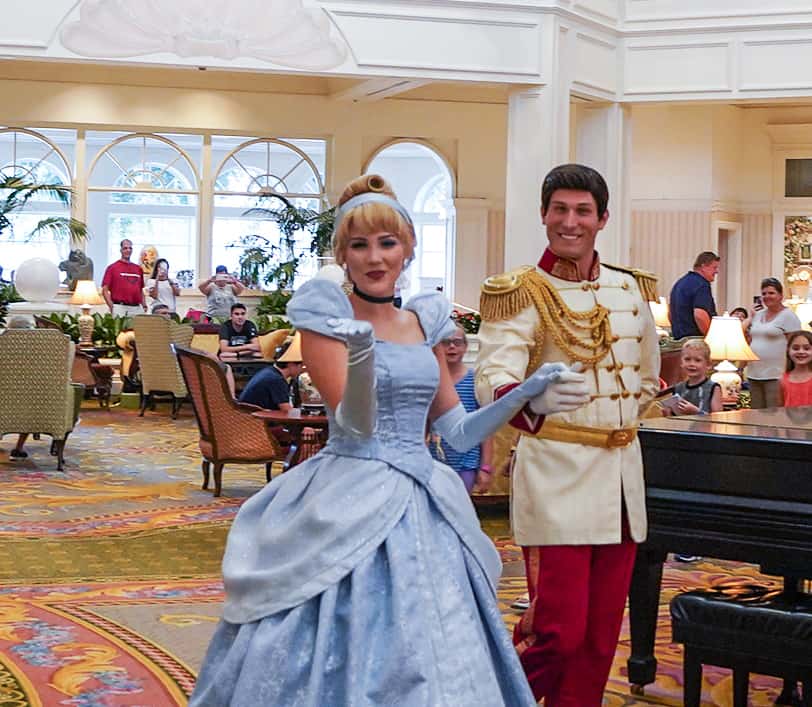 Pianists play the large grand in the center of the lobby, too, during the day. It's one of the Disney's most magical hotel lobby—well, maybe it's tied with Animal Kingdom Lodge.
Classic Disney characters are tastefully woven into the design in marble inlays, topiaries, and murals, and it is fun to send your children on a scavenger hunt for the different Disney characters they can find.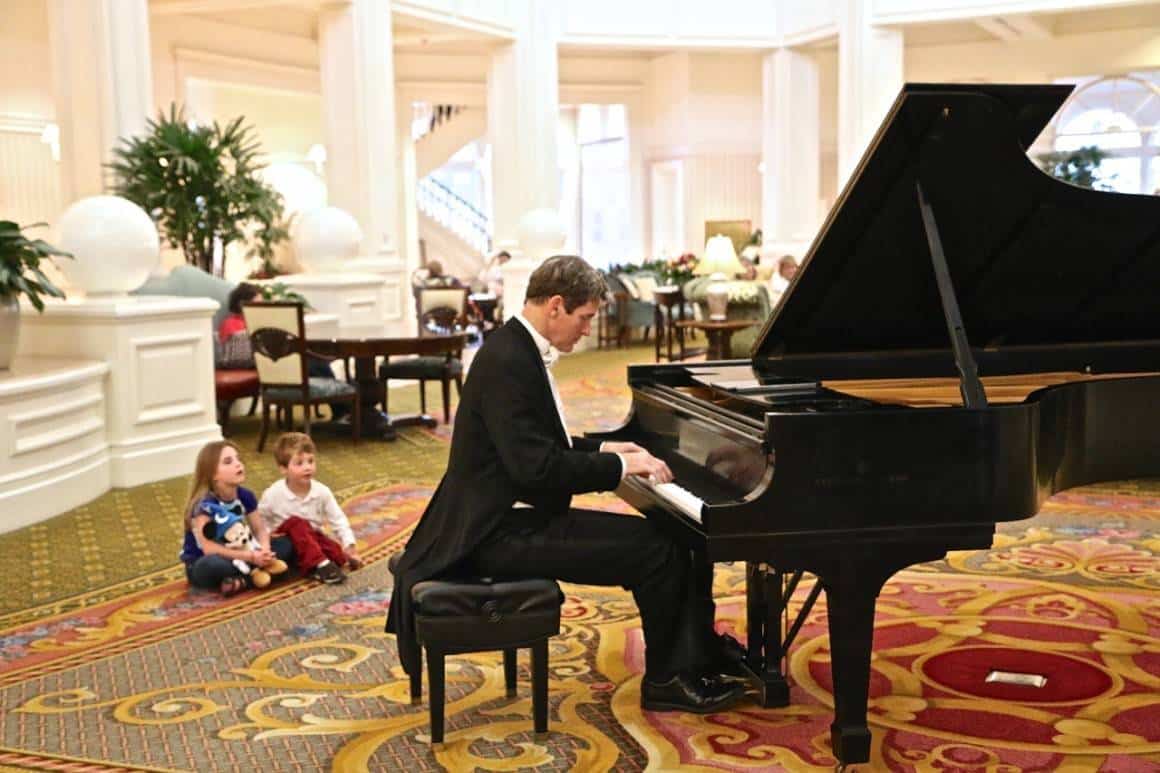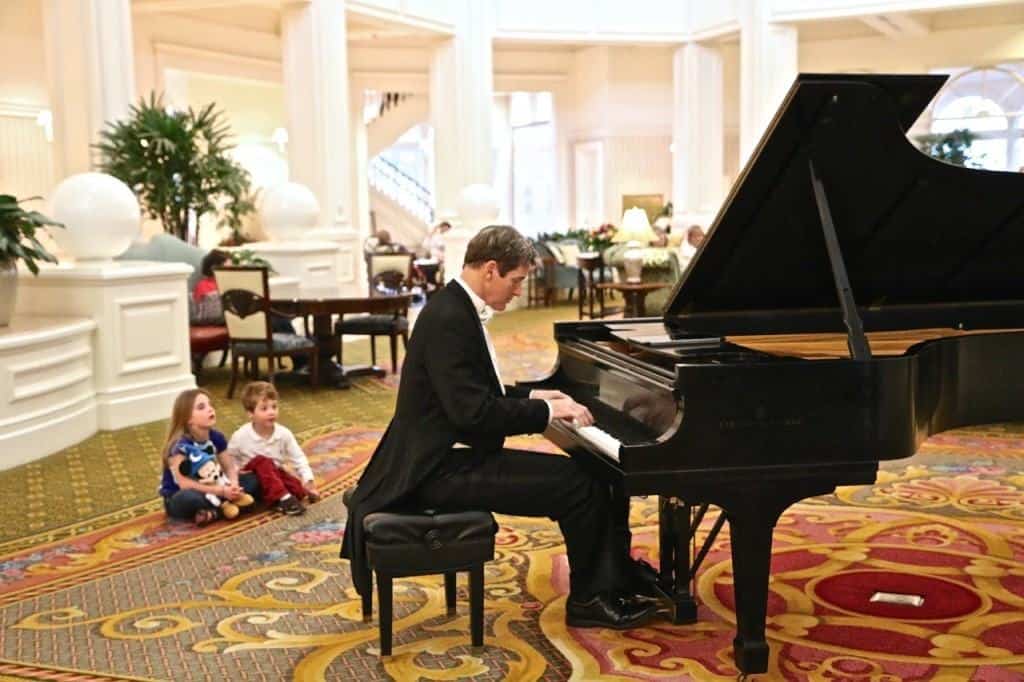 The Grand Floridian Villas Reviewed
The Villas are in their own building connected to the main hotel by a covered walkway in one direction or one can reach the pools quickly in the other.
The Villas at the Grand Floridian opened in late 2013, some of the most recent in Disney World, and they were the first Disney rooms I was eager to stay in. They didn't disappoint. They are beautifully and solidly built, with expansive moldings and tasteful neutral décor. (Disney does keep outdoing itself, so the newer villas like at Cabins at Copper Creek or the Riviera Resort are even more luxe in details like bathroom fittings.)
Our view of the monorail was not troublesome, as it's very quiet, but in a sleepy state one morning, I pulled the drapes open and had its passengers wave good morning to me. I was thankful I was wearing a robe.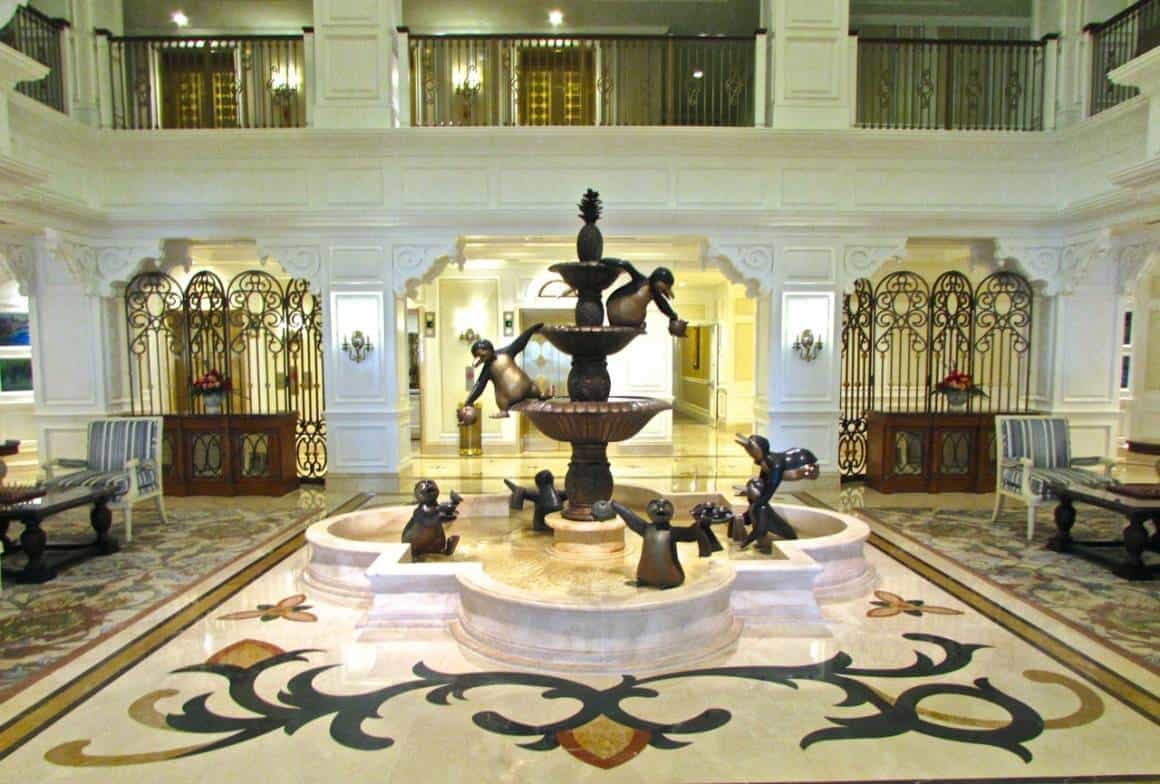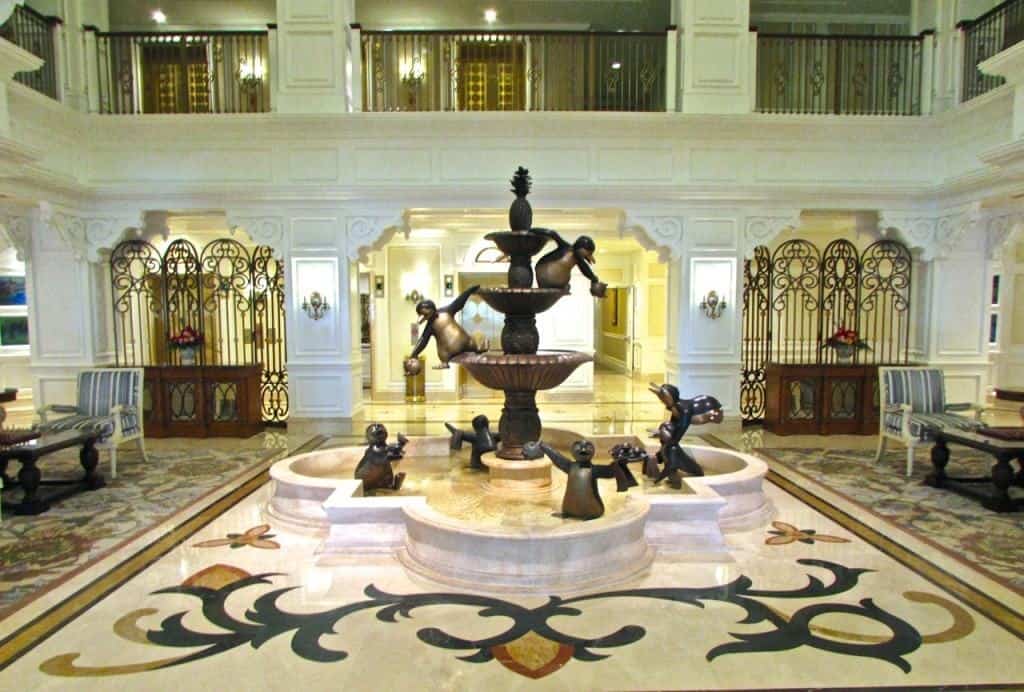 The very well designed bathrooms had silent, sliding doors, and when the commode doors were closed, the bathroom ventilator and a nightlight came on automatically. The thoughtful bath amenities included after sun balm and a revitalizing foot rub for tired park feet.
The Grand Floridian Villas offer studios with a queen bed, queen sleeper sofa, and a twin day bed. The extra moldings, better bathrooms, and design details make these rooms feel more luxe than the regular hotel rooms.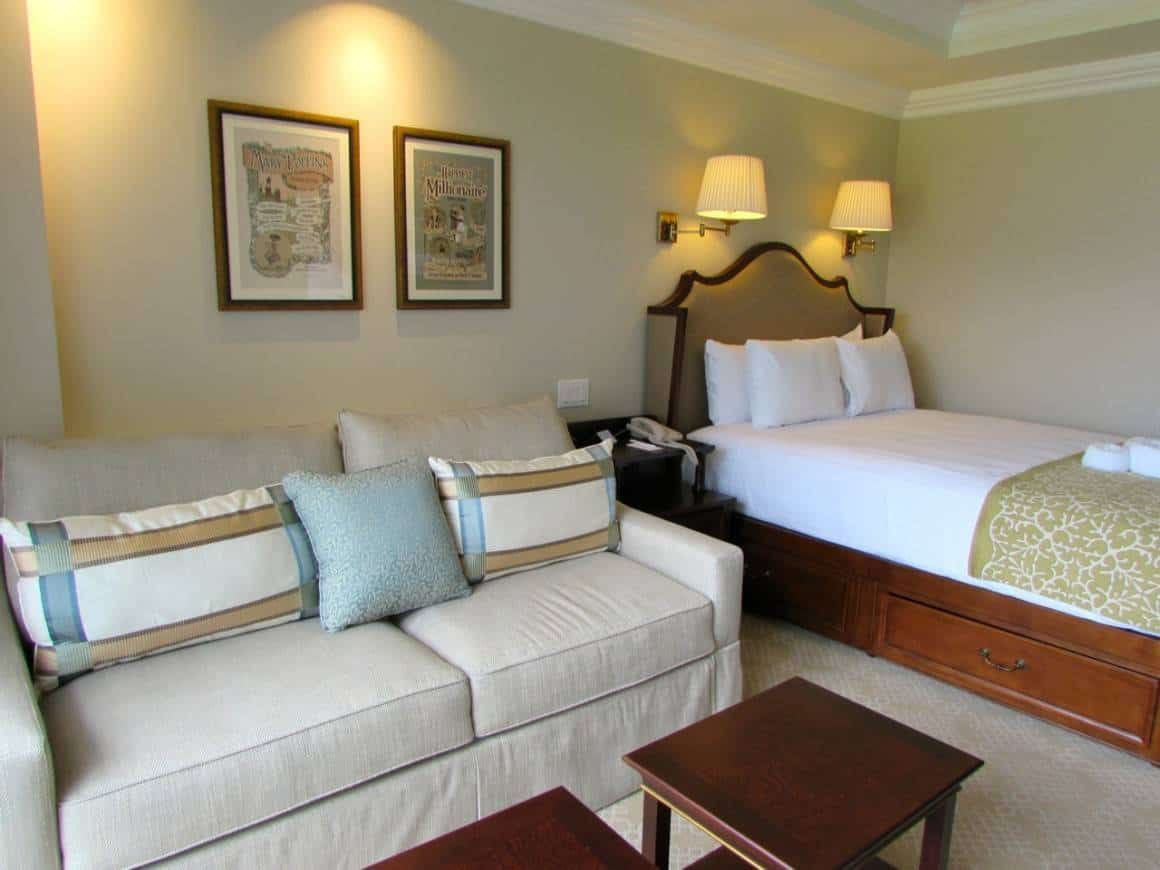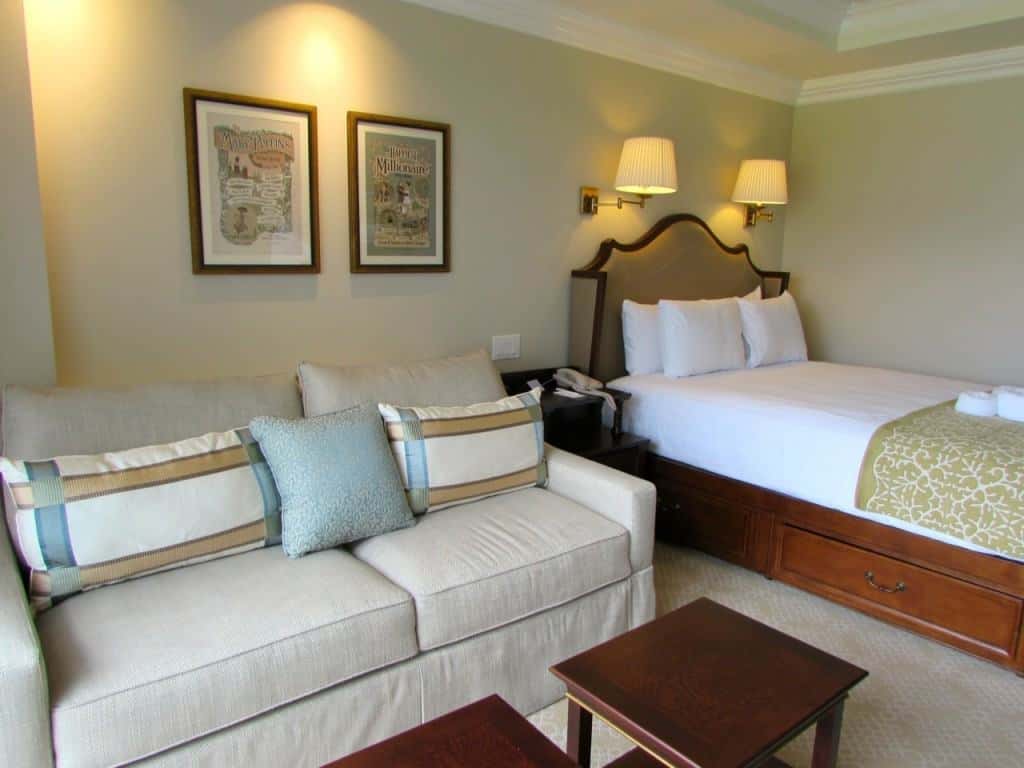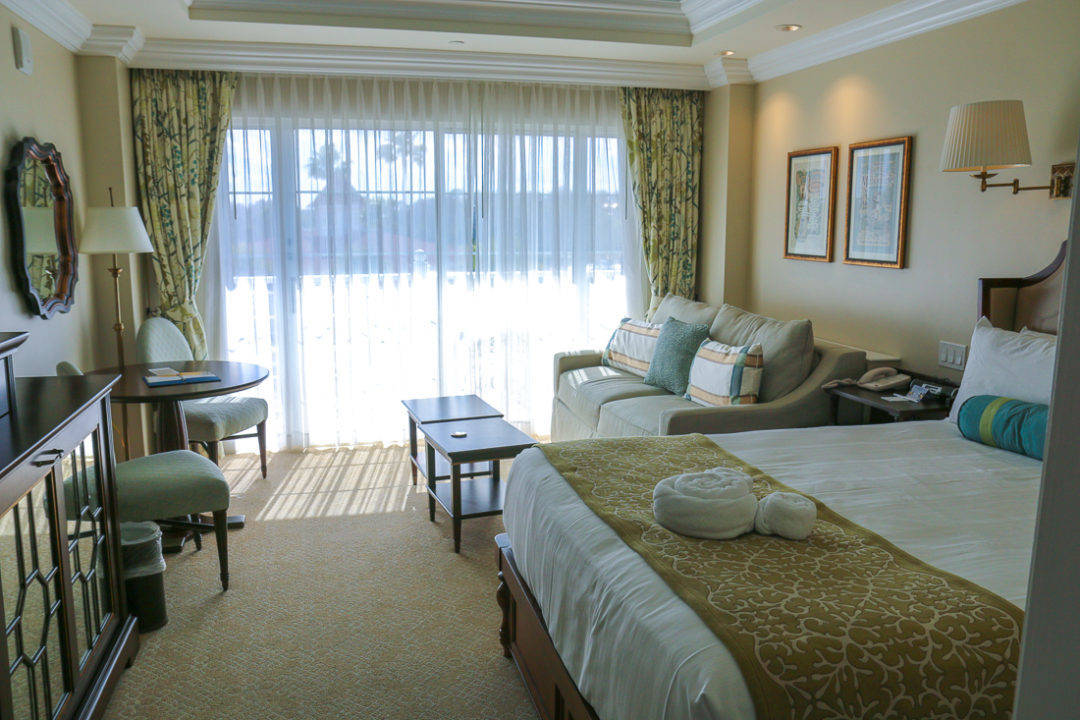 Grand Floridian Villas
Here's what was disappointing. There is a cleverly concealed twin bed in the entertainment stand with a beautiful Dumbo mural painted inside it. The mattress was incredibly hard, and no one in the family could use it. It's a shame the mattress wasn't the same as their sleeper sofa. Disney Vacation Club sleeper sofas found throughout any vacation club property are the best in the hospitality industry. They are a triple panel memory foam mattress with no springs or support bars to feel.
The kitchen was stocked with paper plates and napkins, plastic utensils, which I suppose is more appropriate given there was no dishwasher, and a Mr. Coffee with Joffrey's coffee. If you are shopping for a richer cup, the full Victoria & Albert's variety that Joffrey's makes is the richest, darkest roast. It's available at their full store at Disney Springs.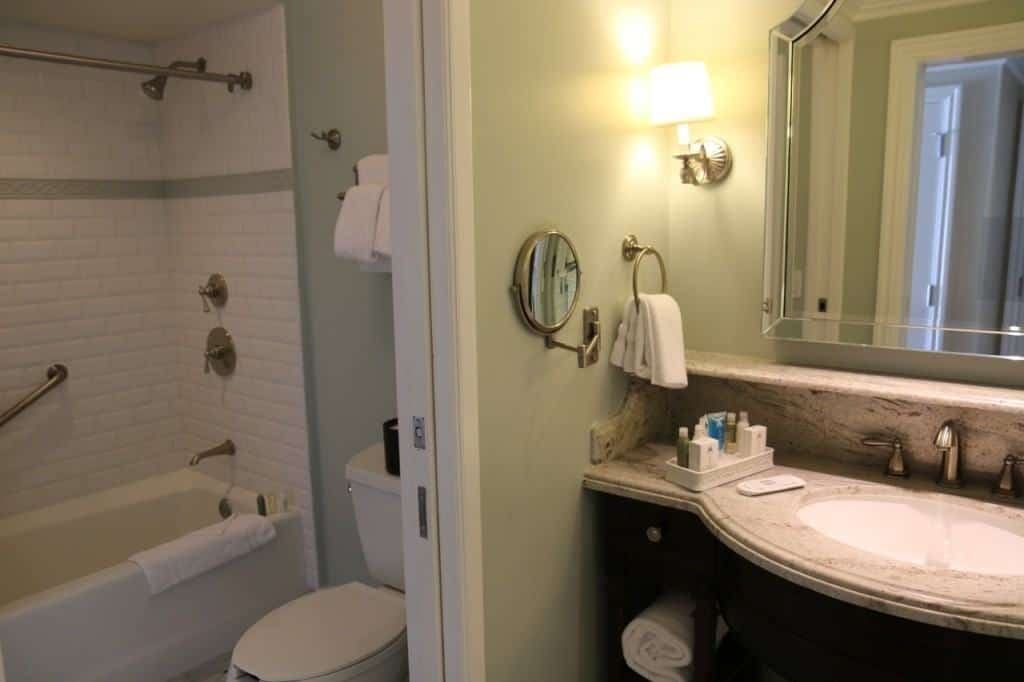 Grand Floridian Club Level Rooms
Our most recent stay at the Grand Floridian was club level in the main building. We requested a deluxe king that faced the marina with a direct view of Cinderella's Castle framed outside our window.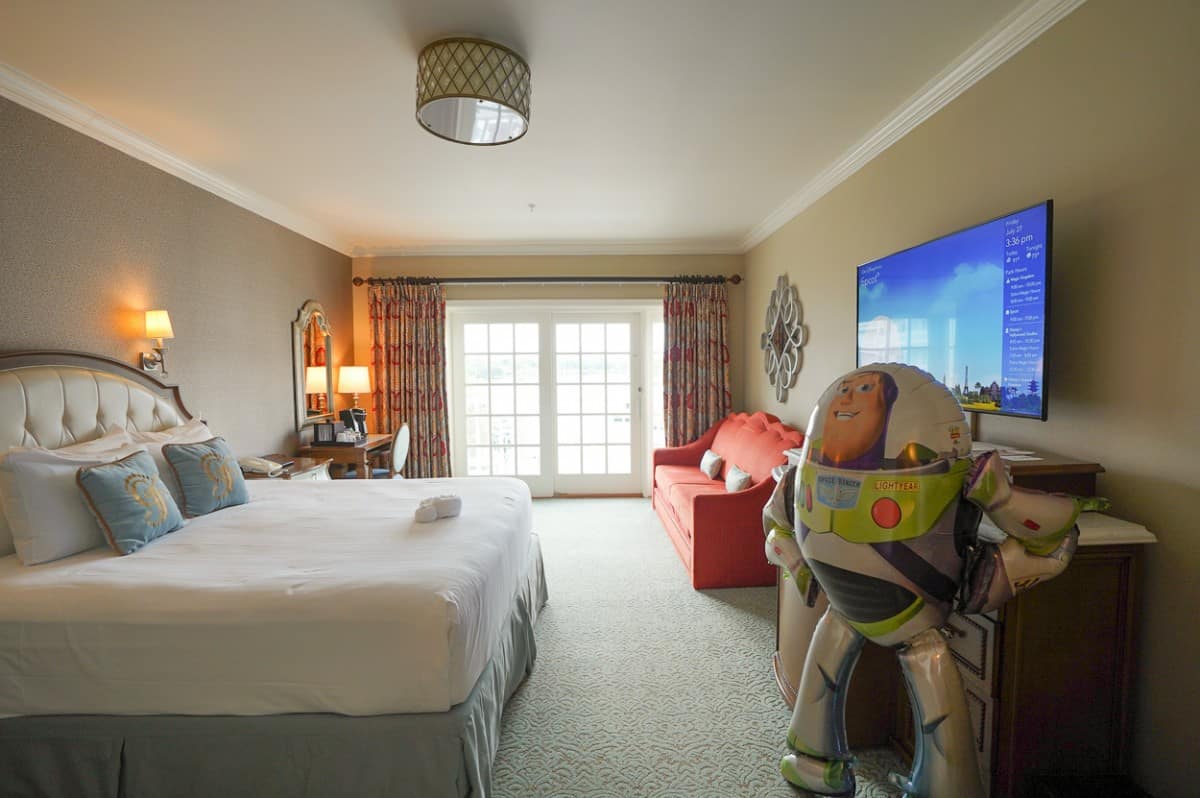 The resort rooms are not as nice as the newer villas. One feature I find perplexing is that the double sink vanity area of the bathrooms at this hotel have no door. There is a door separating the commode and bath only. Hand washing and tooth brushing must be very quiet if others are still sleeping.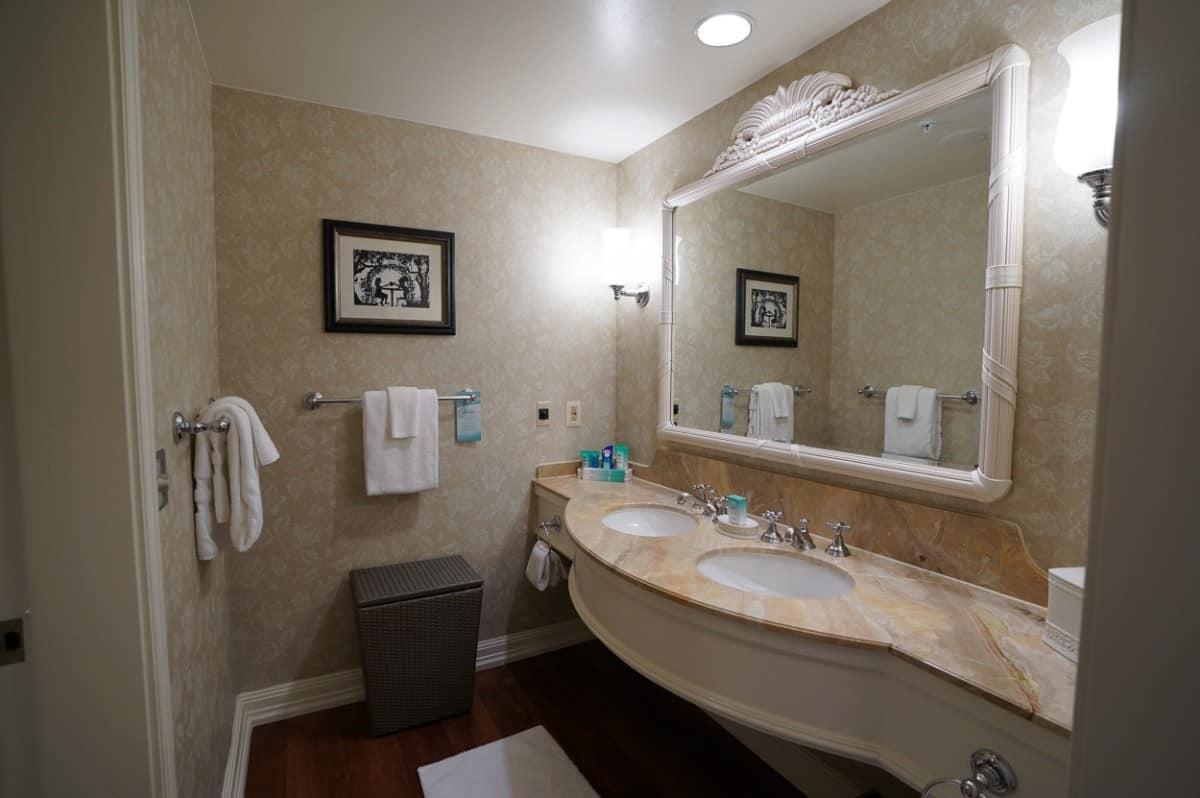 The view we had was magnificent to watch fireworks from our balcony, and we appreciated the energy from being in the main building with its fabulous lobby.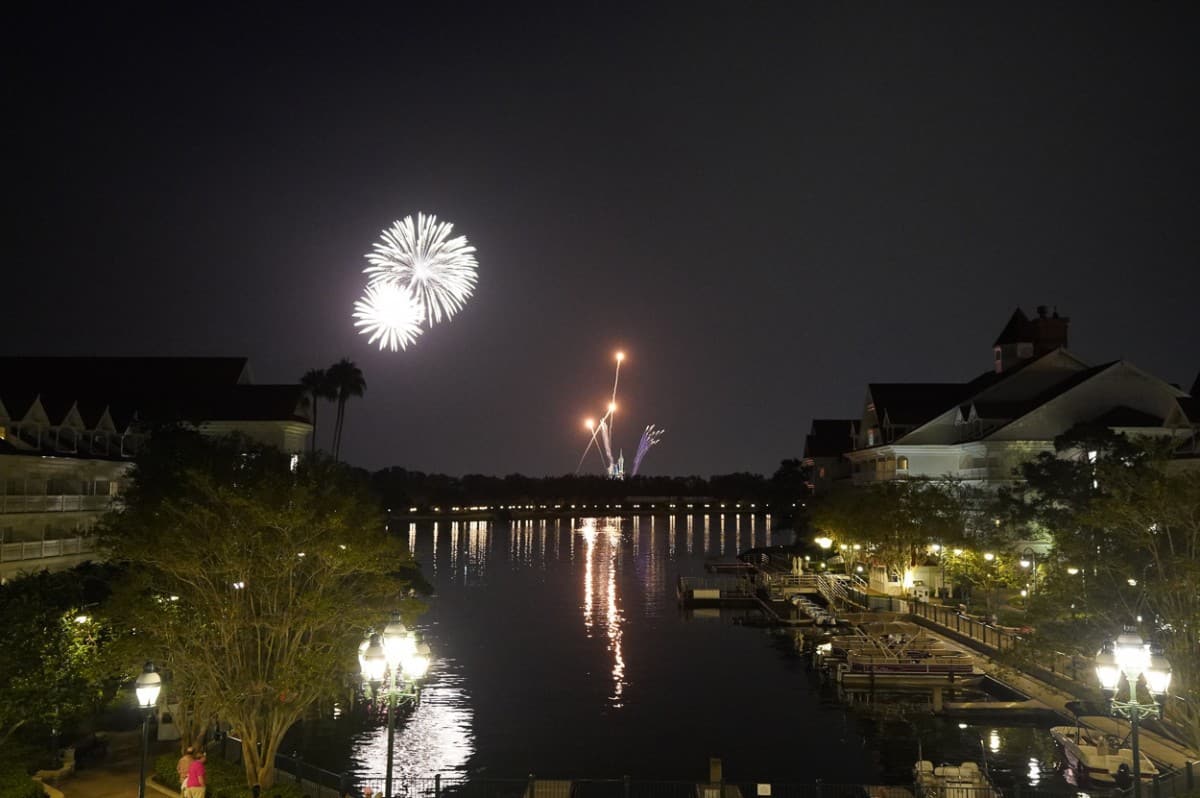 The club lounge served a hearty breakfast buffet which we all enjoyed. A chef comes to prepare Mickey waffles for breakfast, so they are fresh, but I would much prefer the chef come in the evening for hot appetizers like the club lounge at the Boardwalk Inn. The afternoon tea, evening appetizers, and desserts weren't as impressive.
Activities and Pools at the Grand Floridian Resort
There are three pool areas at the resort: a pool with water slide and organized activities for children, a spectacular Mad Hatter splash pool for children, and the main pool set amidst the buildings of the hotel.
The courtyard pool tends to be most crowded, so it is the one we avoid. Our favorite pool is the water slide pool which doesn't draw the same crowds. We had a memorable day swimming and participating in Disney trivia poolside.
We were one of the beaming families you see in the Disney brochures. Families can also rent a poolside cabana at the Grand Floridian. (The Contemporary is the other resort with this option.) Advanced reservations are suggested so that families benefit from a snack basket and fruit tray included in the cost. Walk-up reservations won't receive those.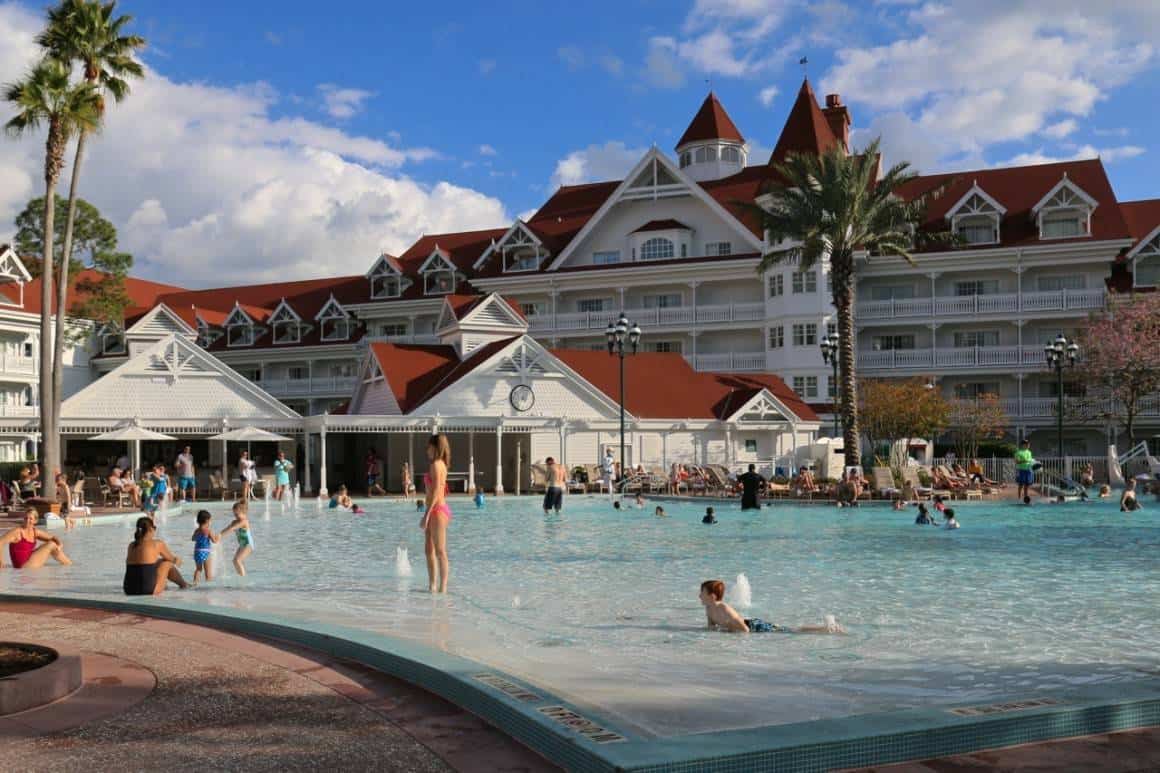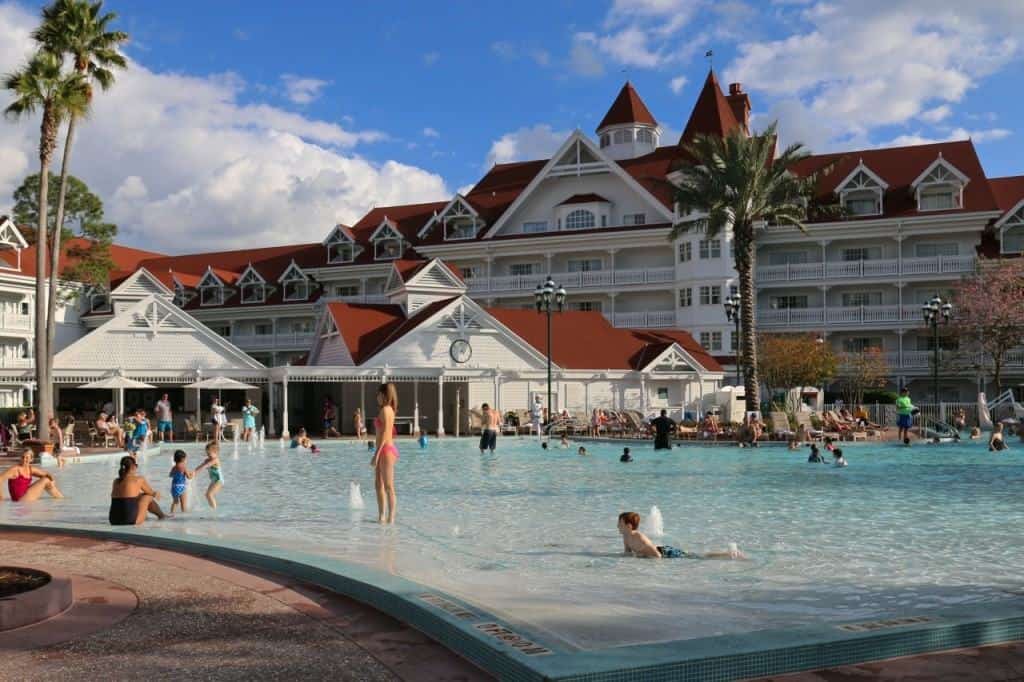 There is an arcade on site, and a few additional family options at the restaurants. 1900 Park Fare offers an afternoon tea party at 2PM for those 4 to 12 with Alice and the Mad Hatter for cupcake decoration and crafts.
For a more formal and costly tea experience, the tea salon hosts the Perfectly Princess Tea. Boys and girls aged 3 to 9 receive a variety of princess gifts or swords and shields while experiencing a more full tea service along side their parents. Princess Aurora makes an appearance for photos.
The marina offers boat rentals and private fireworks cruises that give groups a complete tour of Bay Lake before the show begins. I definitely suggest this experience for Epcot or Magic Kingdom, and the boats can hold up to 10 guests.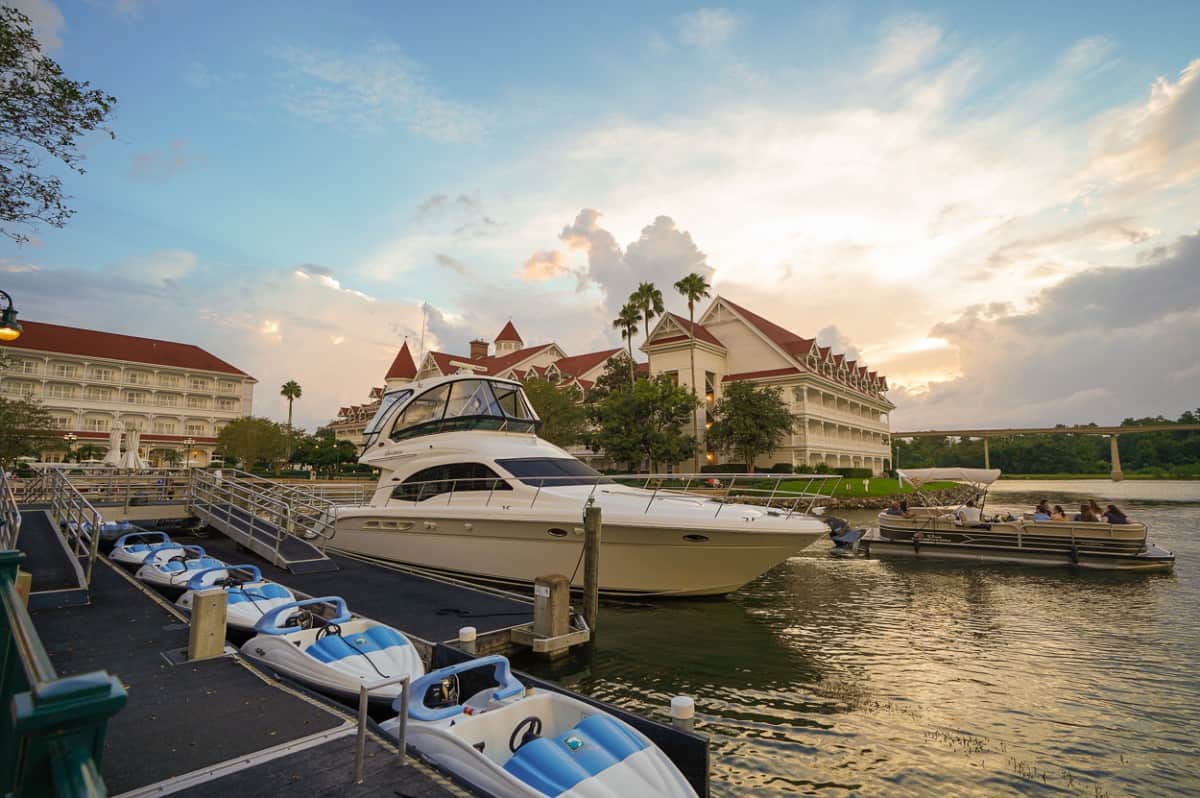 The Grand Floridian Hotel Spa
I did use the spa and get my nails done. The spa feels small and simple by luxury hotel standards, but my nail service was excellent, and I enjoyed how long the work lasted. The fitness center is adjacent, but empty. Most parents won't use their packed gym clothes while visiting Disney World with kids. I still continue to pack them each trip, and they remain unworn. This is called wishful packing.
Grand Floridian Restaurants
The Grand Floridian houses many of Disney's most popular restaurants that require advanced planning: Victoria & Albert's (a fifteen year Five Diamond Award winner), Narcoossee's (with Magic Kingdom firework views), and the Garden View Tea Room.
Citricos and the Grand Floridian Café will have more availability for last-minute meals, but this is Disney World, and families in the know have most of their dining reservations planned in advance.
Gasparilla's, the cafeteria-style restaurant near the arcade had nothing my husband and I found appealing, since we tend to avoid junk and processed foods.
But Victoria & Albert's former chef Scott Hunnel has recently revamped every Grand Floridian restaurant menu as he was promoted to resort chef, so I would expect a better option next visit.
My daughter and I had afternoon tea, and it was quite good. We found our favorite casual meals poolside, but the menu was still very limited.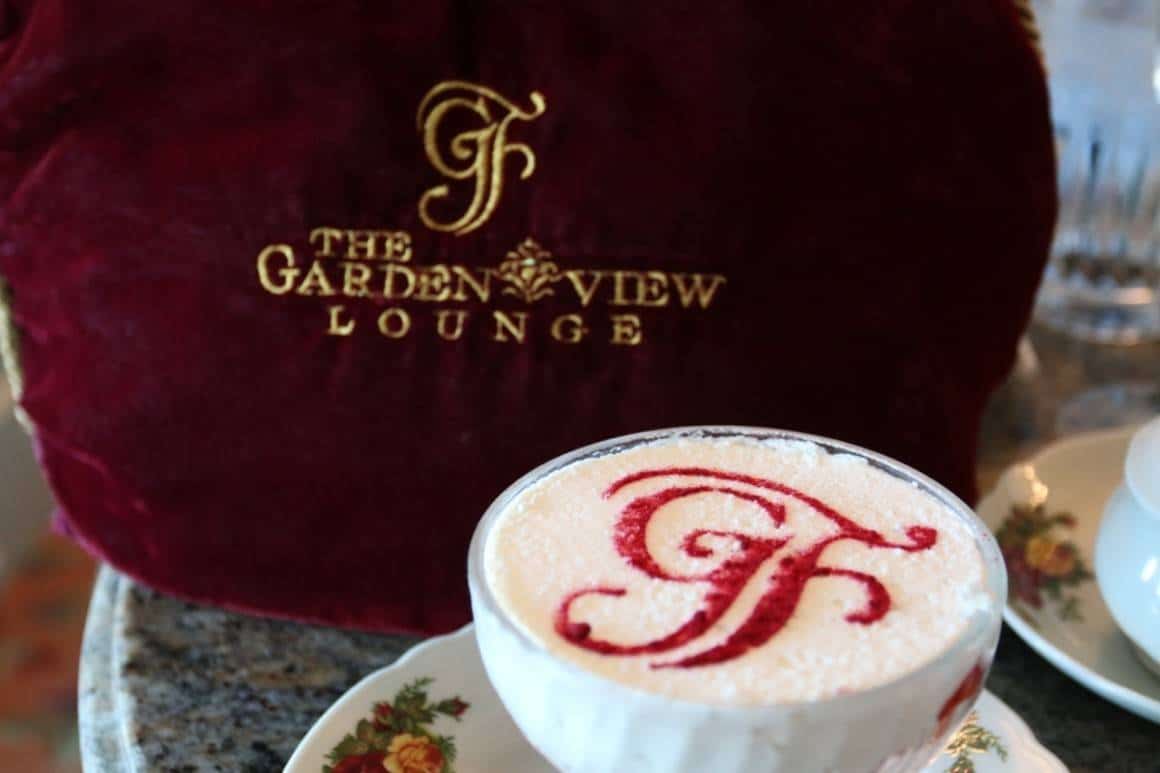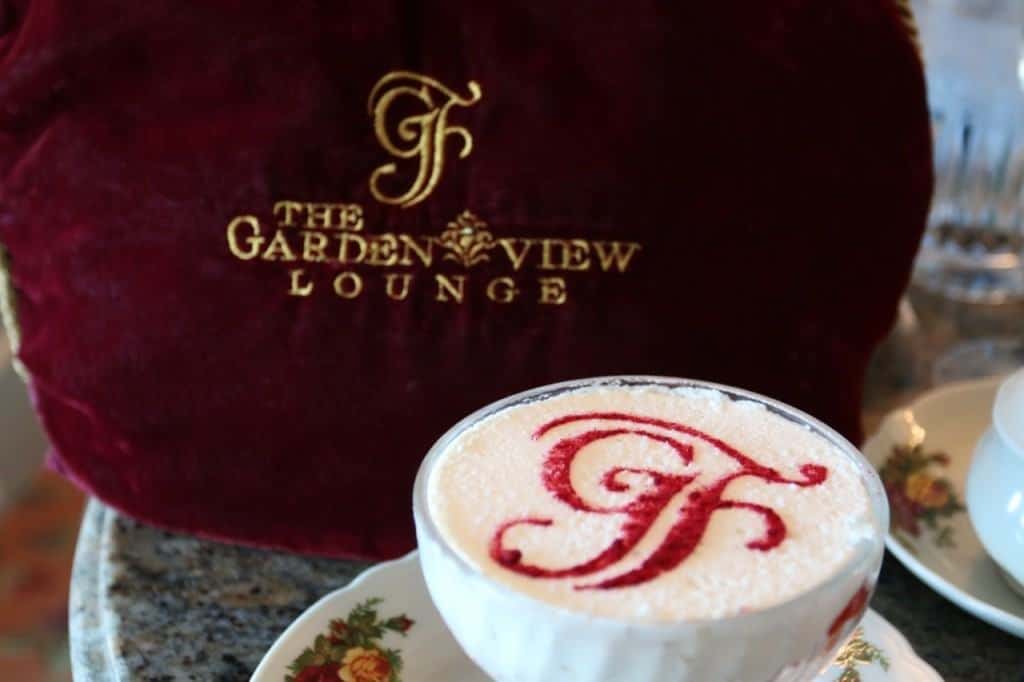 We had to cancel our breakfast at 1900 Park Fare, but I was told by the staff to book a table right at 8AM, as there is a charming opening ceremony each morning.
Narcoosee's menu focuses on seafood and offers waterside dining in what feels like the casual grill room of a Florida country club. I have had two excellent dinners here, but I didn't have my camera. When Narcoosee's began a Sunday brunch, I was eager to try it.
Narcoossee's Brunch Review
My brunch began in the most promising way. French-pressed coffee, a complimentary mimosa, and the house special Bloody Mary adorned with a crab leg and jumbo shrimp.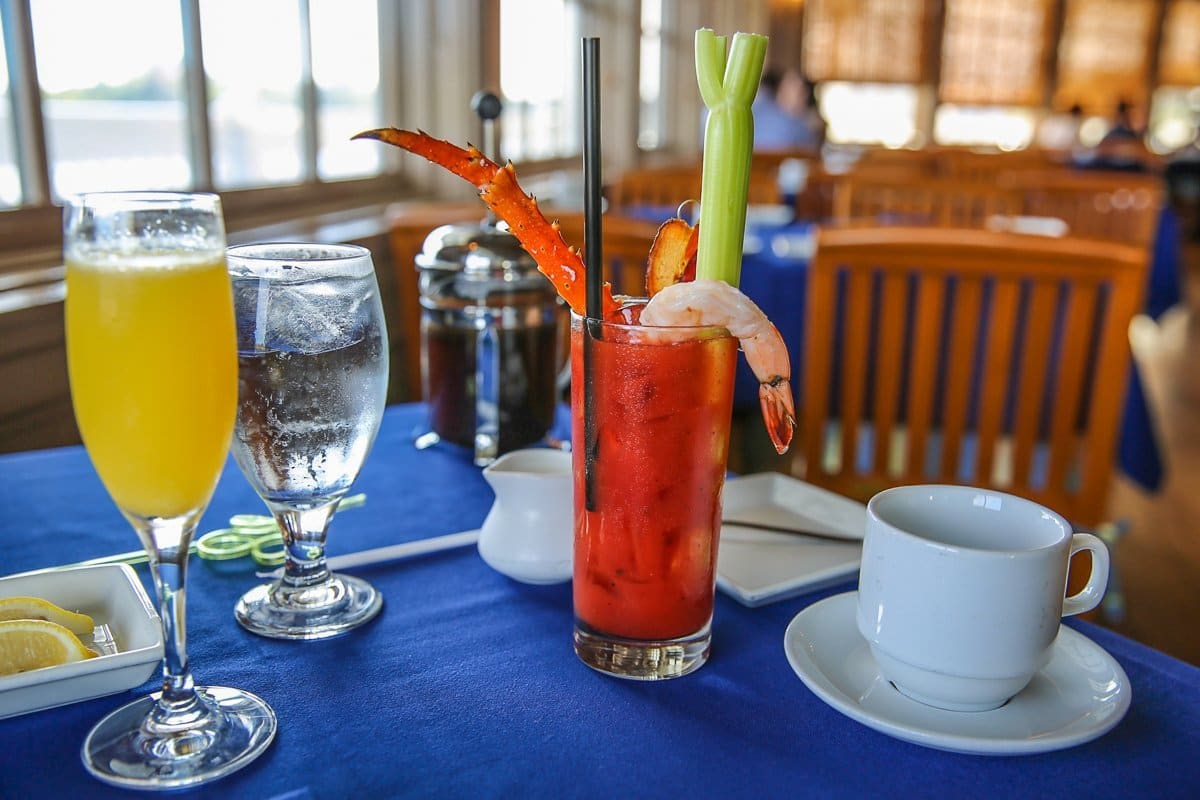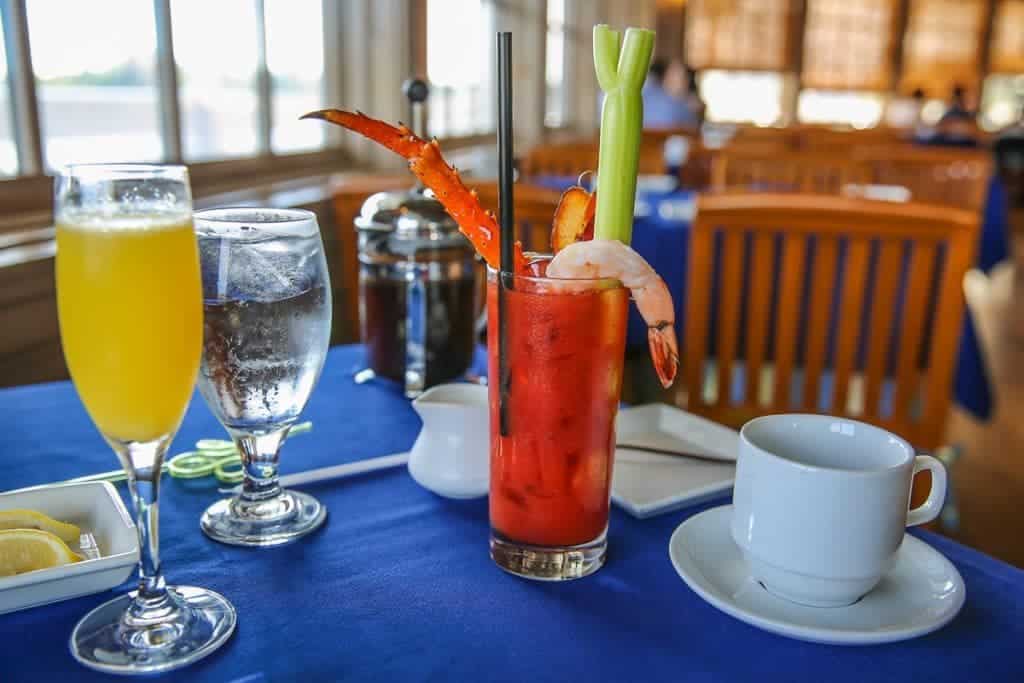 I chose the shrimp and grits, which was delicious, and the very disappointing lobster eggs Benedict. I live in Boston. I know lobster meat. This lobster meat ruined what would have been a fine dish; it was over salted to preserve it, and the meat was slimy and chewy. Stick with seafood entrées more local to Florida, and you'll enjoy your meal.
The dessert tray was adorable, complete with Minnie Mouse in white chocolate and several other sampler sized desserts. They were all very good.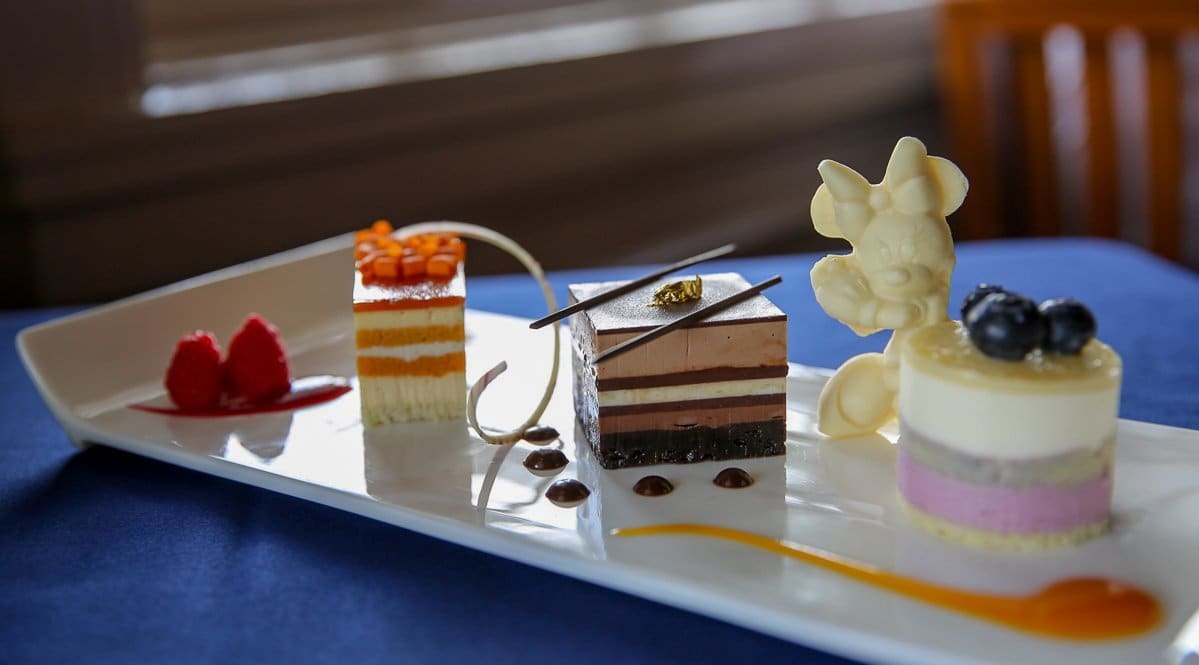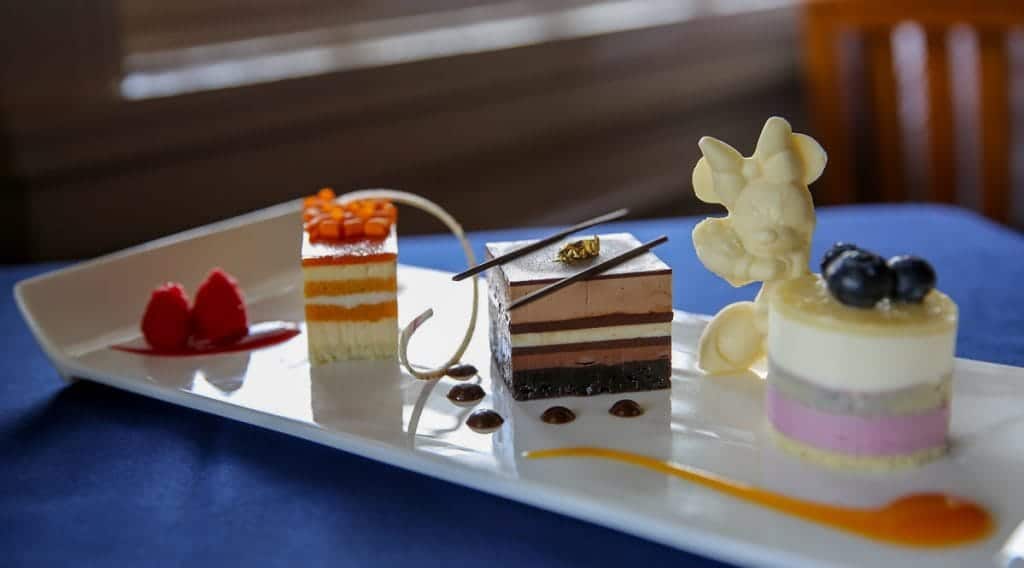 The service was flawless, so if you are considering this meal, be sure to avoid the lobster, and you'll enjoy it.
Citricos
Citricos is a best option for those who cannot get a reservation at Victoria & Albert's who also are dining with children. There is a lounge area that works for those with no reservations as well that serves the full menu.
This recently refurbished restaurant fuses themes from the Mary Poppins movies, matching the late Victorian and Edwardian style of the hotel.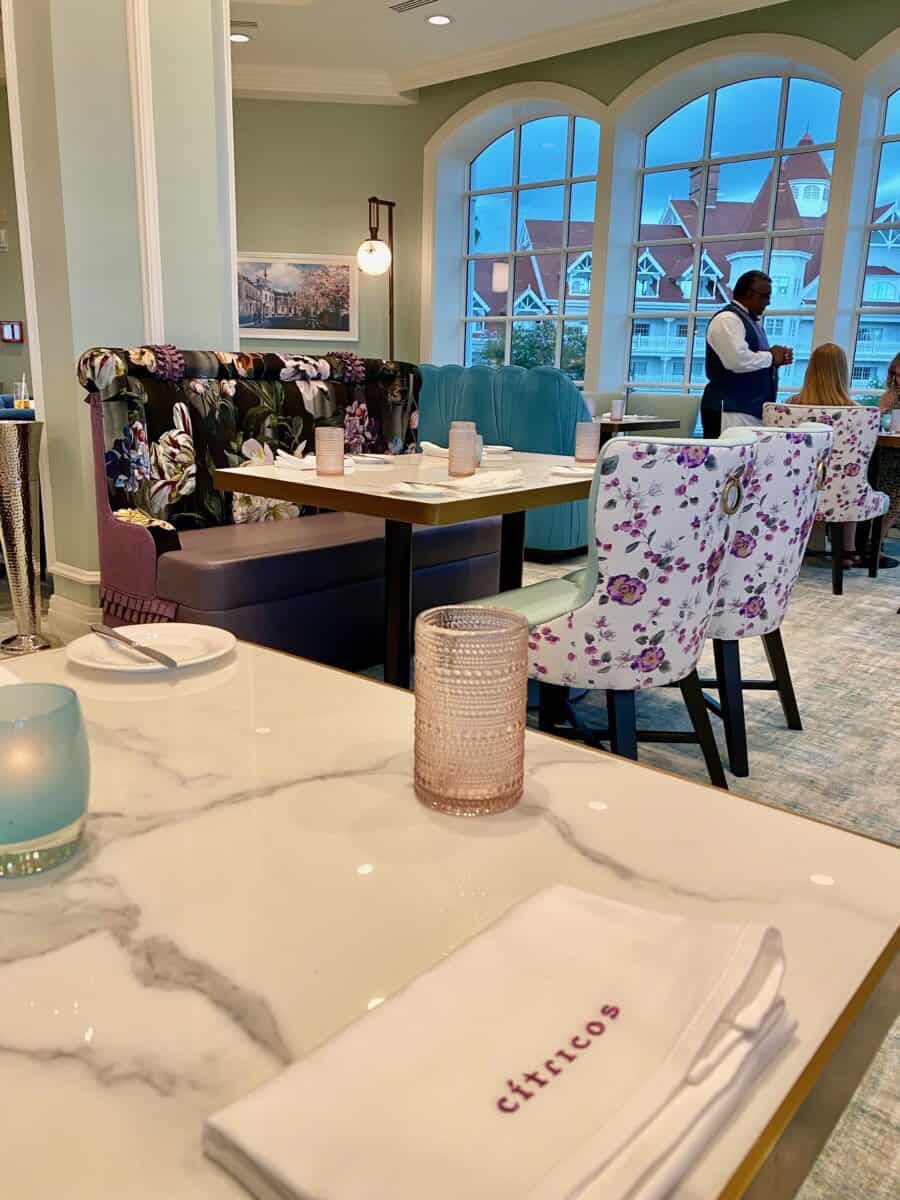 Now that we have tried both Narcoosee's and Citricos with our kids for dinner, we would probably return to Citricos first, unless we had reservations during the fireworks show.
First World Monorail Problems
The Grand Floridian is on the monorail system, in between the Magic Kingdom and Polynesian Village Resort stops. Many people enjoy this convenience and justify the extra expense for the easy park access. That made sense to me, too, but once there, the monorail was down much of the time, and we were left with using Disney bus services (that were slow) just like the budget resorts for half of our transfers.
And now families love that Magic Kingdom is reachable on foot by path.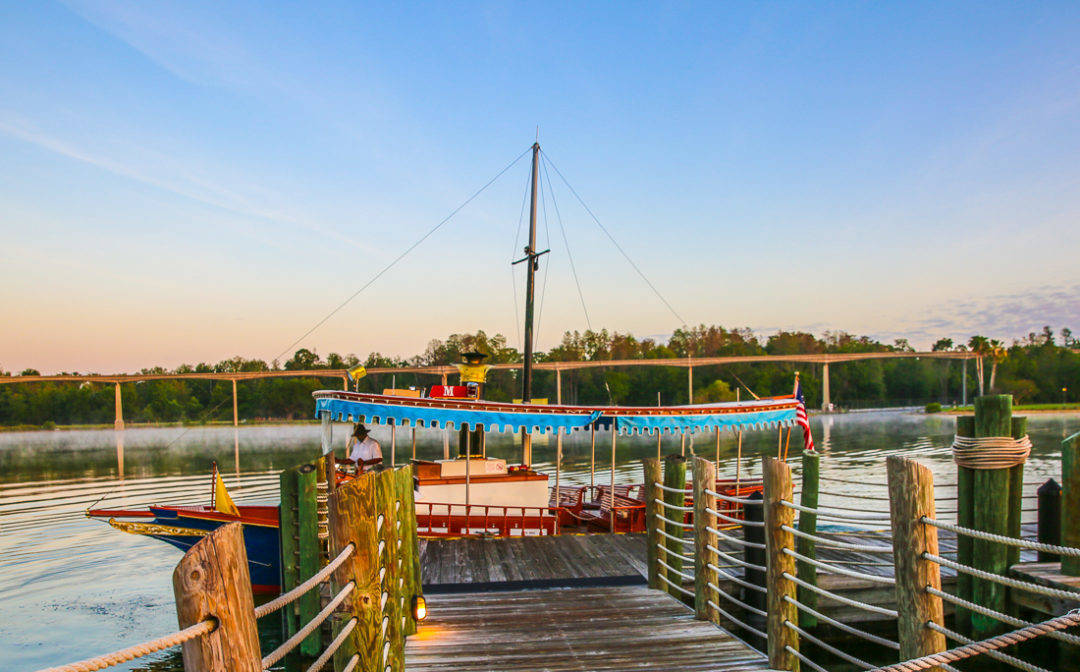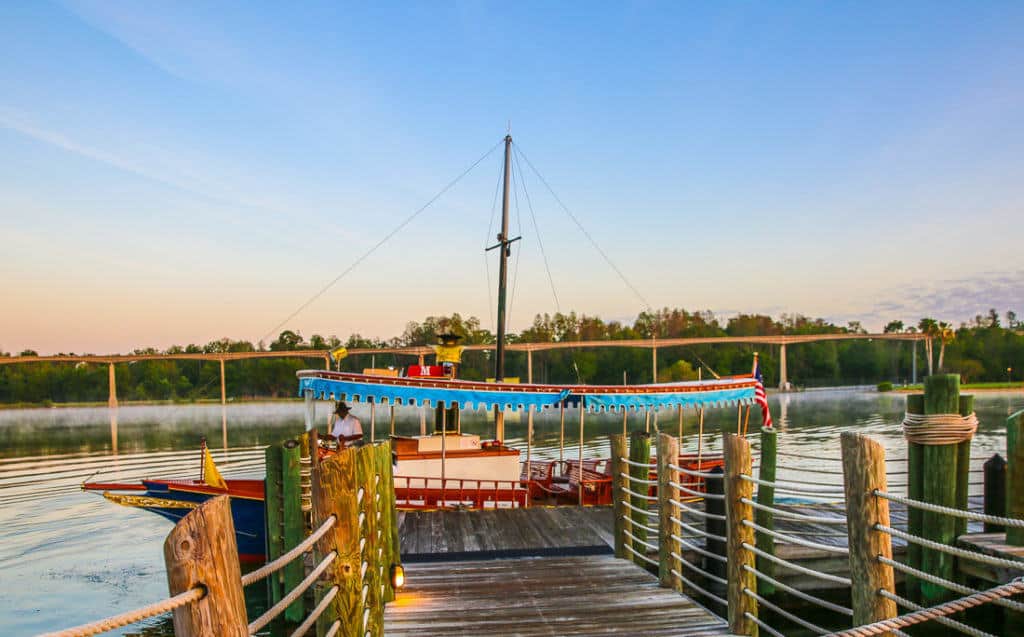 If you are a Disney-loving family who spends most of your vacation time at Disney parks and resorts, the Grand Floridian villas or club level are worth experiencing at least once.
Save Money: Rent DVC points
There's a way to save as much as 50% off of a stay if you book a villa. The Villas at the Grand Floridian Resort and Spa are part of the Disney Vacation Club, Disney's version of timeshare units, but it's still available for the public to reserve. Unfortunately the Disney website will charge an upwards of $700 for the smallest studio units. I can't say I find them worth that price.
Those in the know reserve DVC units by renting points from DVC owners directly or through a service. We used David's Vacation Club Rentals, so our nightly rate for a studio was a much more reasonable $300 per night, though the rates will vary by season.
Our experience with David's Vacation Club Rentals was seamless, and at this lower price point, I can enthusiastically recommend the villas while staying at the Disney World Resort. Given that the Vacation Club rooms at the resorts are almost always newer and nicer than the hotel rooms, this is the best way to stay deluxe at Disney World while saving money.
David's works as an intermediary between you and the DVC owner who is selling you points. The owner doesn't get paid in full until your check in date, so David's Vacation Club Rentals works like an escrow account to protect you. Once booked, you can still add Magical Express reservations or Disney dining plans, and they can walk you through that process. You can get a guess as to how much you will save by using David's point calculator on your stay dates and then compare that cost with booking the villa units directly.
You must pay a refundable deposit for them to query owners for your stay, and they look at first, second, and third choices you list. When they have been unable to book me something, they refunded my deposit instantly. If that happens, you can call to speak to an agent directly who can tell you what is available around your original query if you want to keep trying. I have always gotten my deposit refunded immediately, and the agents have typically found alternate options for my dates if my first choices weren't available.
The only drawback by using David's service is that you will not receive daily housekeeping without a fee, and you must commit to your travel dates. If, however, you book the villas directly with Disney as a hotel guest (at rack rates), you will receive daily housekeeping.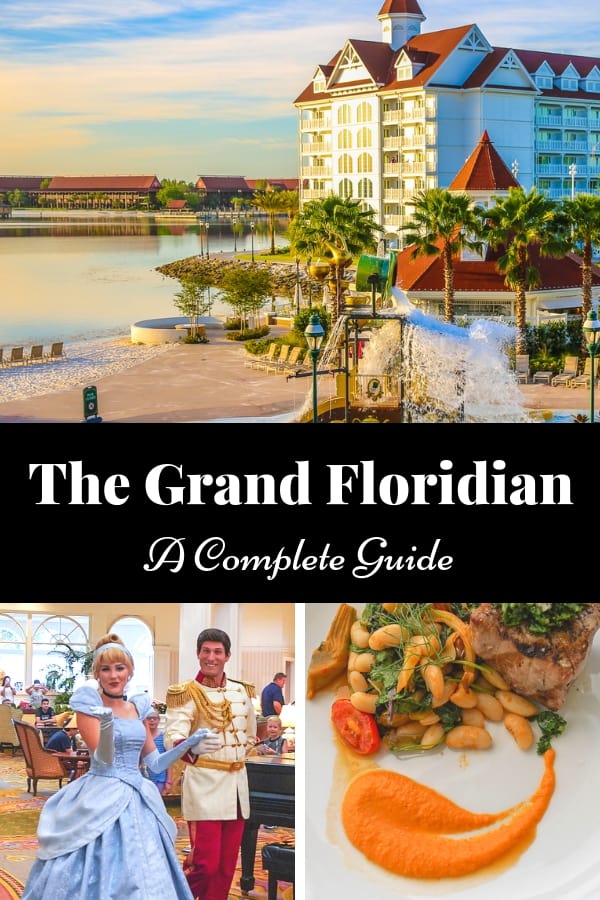 Feeling overwhelmed with the planning?