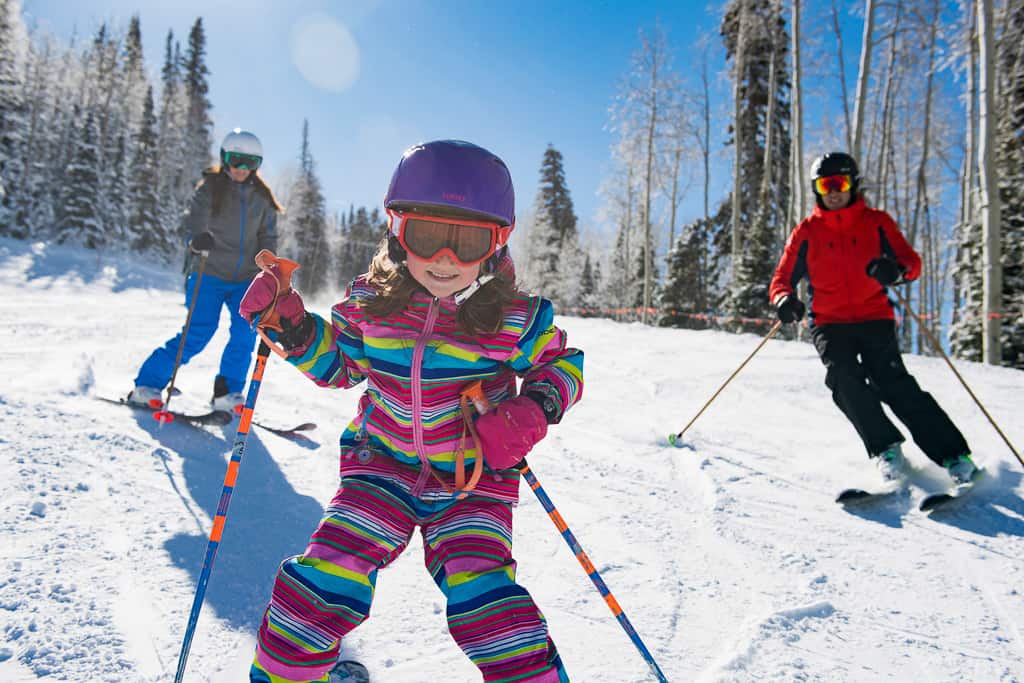 The best family ski resorts in Colorado? Vermont? California? Utah?
What are the best ski resorts for beginners?
We know, and we'll tell you.
It's time to start planning a ski vacation! Where should you go? Let me help you. I'm the mom of a skiing family. My husband is an avid skier, and he has shared his love of skiing with all three of our kiddos, even getting our two-year-old on skis this year.
During my three pregnancies, I slipped into more of a snow bunny on a family vacation who liked the spa and any yoga class I could find. But now with three of my kids hoping for powder, we are on a mission to try every ski resort in the United States and Canada. We want to see how each resort and mountain experience compares.
What makes the best family ski resorts?
The ease of getting on mountain — The hardest part of a ski trip with the family is all the schlepping so a ski-in/ski-out option on mountain or a great resort that offers easy shuttles is a must with kids in tow.
Strong ski instruction for kids – Ski school is a MUST. Your kids don't listen well to you at home so what makes you think they will listen on the slope? Leave it to the professionals and plan to ski a few runs together every day after their lesson. Their skills will improve vastly after a few short sessions.
The Pool – Indoor, outdoor, it doesn't matter. A good post-ski cannonball is great way to stretch out after being locked in ski boots all day. Pools are even better if parents can enjoy libations poolside.

4. Non-ski activities – Even for the hard core families skiing every day, other fun off-mountain activities are another great way to connect. Ice skating, snow tubing, and other activities can break up the routine with other ways to connect.
Luxe and spacious rooms – Packing for a ski trip involves lots of clothes, layers, luggage & equipment. Some of the best resorts for skiing have amazingly large closets and provide enough space for a family to relax and spread out post skiing. Bonus points for a great fireplace!
Après Ski for adults and kids. – My favorite part of skiing is après. Everyone is tired, sweaty, and hungry from a long day of working out. Having that second s'mores and cocktail seems well deserved.
A easily accessible mountain village with great restaurants with family-friendly options. Everyone is hungry all the time on a family ski vacation.
Here are the ski resorts we think are worth sharing with you.
The St. Regis, Aspen, Colorado
For the best ski town in the West, stay at the St. Regis Aspen.  Four mountains (Snowmass, Ajax, Highlands & Aspen) all within a 20-minute ride of the resort allow for multiple days of skiing without boredom.
There are also endless off-slope activities including their new mountain.  And the location in town provides the best après ski environment in the west.  Loads of galleries, shops, boutiques and amazing culinary options delight. Everything is within a ten-minute walk.  With the Aspen airport, just a 10-minute ride away, you can also sneak in some afternoon skiing once you land and the complimentary hotel shuttle service gets you to the hotel fast.
Snowboarding: Yes
Childcare: No children's club, but the concierge works with several sitter services
Ski Lessons; Yes, from aged 2
Pools: Outdoor
Favorite Non-Ski Activity: Alpine coaster
The Best Ski Resorts in Utah For Families
The Stein Eriksen Lodge, Deer Valley, Utah
To feel like you are in the Swiss Alps, stay at the Stein Eriksen Lodge, Deer Valley. Individual Swiss Chalets tucked into the mountain side and a larger main base lodge transport you to the Alps without needing a passport & leaving the country.
A recent $15 million-dollar renovation has updated the room interiors and a separate family pool and game room  Deer Valley Resort skiing is also tops for families with groomed-to-perfection snow and a no-snowboarder policy.  They also limit the number of lift tickets sold for each day which keeps the mountain feeling like it's your own.
Snowboarding: Deer Valley is ski only. Snowboarders must go to nearby Park City Mountain
Childcare: No children's club, but the concierge works with several sitter services
Ski Lessons: Age 3 and up
Pools: Outdoor
Favorite Non-Ski Activity: Resort movie theater and game room
Read a full review of Stein Eriksen Lodge.
The Montage Deer Valley, Utah
For amazingly fun on-site activities beyond skiing, stay at the Montage Deer Valley.  The highest resort in Deer Valley at over 8,000 feet, is also just minutes from all the bustle of downtown Park City, Utah. Families have mountains of activities to enjoy including snow tubing. Even adults partake and enjoy it. The Montage has the best gourmet s'more pits we've seen, underground bowling alleys, and one of the largest outdoor heated pools in the west.
There is also a great kids' club and one of the top resort scavenger hunts tackling both winter and summer activities. Our kids loved meeting the mascot canines. We can't wait to return for a summer excursion out here!
Snowboarding: Not permitted
Childcare: Kids' club from aged 5
Ski Lessons: From age 3
Pools: Outdoor and indoor
Favorite Non-Ski Activity: Snow tubing
Read a full review of Montage Deer Valley.
---
JOIN LUXE FAMILY TRIPS, A FACEBOOK GROUP FOR WELL TRAVELED PARENTS
TO ADVISE ONE ANOTHER ON FAMILY VACATIONS.
---
The Four Seasons, Jackson Hole, Wyoming
To feel like a cowboy & be surrounded by natural wonders, stay at the Four Seasons Jackson Hole, Wyoming.  Breathtaking beauty of the rolling elk refuge and a true western feel set this apart from most ski towns.  You will literally see people in cowboy hats and boots. Although it has become quite chic in the last few years, the "steep & deep" ski terrain still keeps this as a go-to spot for die-hard skiers. The Four Seasons has a ski concierge to help arrange runs at the Jackson Hole Mountain.
Families can book experiences with a naturalist on site, and the stargazing is super popular. This location is also close enough for day trips to Grand Teton and Yellowstone for families to experience the wonder of our beloved national parks.
Snowboarding: Yes
Childcare: Kids' club from aged 3
Ski Lessons: From age 3
Pools: Outdoor and indoor
Favorite Non-Ski Activity: Elk Refuge Tour and stargazing
The Best Ski Resorts in Vermont for Families
Smugglers Notch, near Stowe, Vermont
For the best family ski option in the East, look no further than Smugglers Notch in Jeffersonville, Vermont. The skiing is amazing for both beginners and experts and it boasts the only triple-black diamond in the East. Yes, it's a drive up there from Boston and New York unless you fly into Burlington, Vermont. But once onsite your family will be fully entertained by the on-mountain ski options and the off-mountain FunZone 2.0.  This is a multistory amusement center with private laser tag, rock climbing walls, inflatable bouncy houses, and a ninja warrior course.
It has one of the largest activity calendars we've have ever seen that is custom to each season. The nightly offerings are almost overwhelming: Human Hungry Hippos, indoor pools, and even 'tween get-togethers. This family spot has your group covered.  It's not luxe like the western resorts but the 3-bedroom newer condos are massive, cozy, well appointed, yet dated.
Snowboarding: Yes
Childcare: Kids' clubs and nursery from 6 weeks
Ski Lessons: From age 2.5
Pools: Indoor with some water park features
Favorite Non-Ski Activity: The Fun Zone 2.0
Read a full review of Smugglers Notch.
Stowe Mountain Lodge, Stowe, Vermont
For the most luxe in the East, head to the Stowe Mountain Resort.  Most east coast ski resorts don't hold a candle to the uber Luxe feel of their western siblings but Stowe Mountain Resort is luxury skiing in the east at its best.  The only on-mountain luxury hotel in VT, the resort offers one of the most innovative spas in Vermont, including treatments for children.
They also have the most comfortable bed sheets I have ever felt – so much so that I emailed the general manager for the brand and now have them on all my beds at home. The newer ice skating rink is right off the resort as is a game room for non-ski fun.
Snowboarding: Yes
Childcare: Kids' Club from aged 3
Ski Lessons: From age 3
Pools: Outdoor
Favorite Non-Ski Activity: Ice skating
Read a full review of Stowe Mountain Lodge.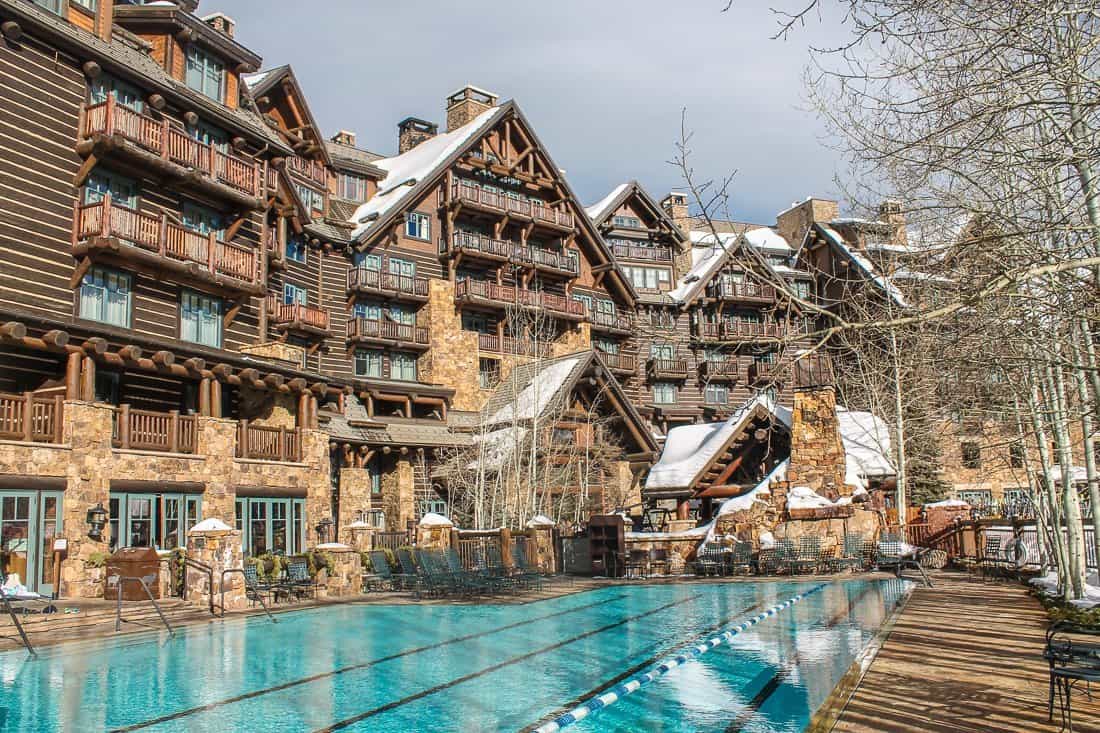 Our vote for best family ski resort:
Ritz-Carlton Bachelor Gulch, Beaver Creek, Colorado
One of the best all-around ski resorts in the US, stay at the Ritz-Carlton Bachelor Gulch. This resort had everything to make one of our best family ski vacations ever. The amazing onsite heated pool and hot tubs, a great onsite kids' club, and an easy location near the village of Beaver Creek gave us ample options for family fun. This option truly feels like a luxe recess.
If mom can sneak away to the spa it has some of the best services this mom has gotten to enjoy. There are family hours at the spa in their wet areas. We were one of the few who took advantage of them and had the place to ourselves!
Snowboarding: Yes
Childcare: Kids' club from aged 5
Ski Lessons: From age 3
Pools: Outdoor
Favorite Non-Ski Activity: Spa grotto time
Read a full review of the Ritz Carlton Bachelor Gulch.
---
Best Family Ski Resorts in California and British Columbia
And there are still many resorts we have yet to try, including Lake Tahoe and Whistler. I reached out to some experts who are regulars to these ski areas for their favorites for families.
Leslie Harvey, the Bay area travel writer behind Trips with Tykes suggests
The Ritz-Carlton Lake Tahoe, California
The Ritz-Carlton Lake Tahoe in Truckee, California has no Tahoe rival. This luxury hotel is located on the slopes of the Northstar California Resort. This combination of the the Ritz level service with a more laid back tahoe vibe make this a perfect luxe and family friendly option. Ski in and ski out options are great, and a ski concierge takes your equipment the moment you no longer need it. The S'mores extravaganza Marshmology is a hit with everyone during apres-ski. The Village at Northstar offers ice skating, movie theaters, and lots of family friendly restaurants.
Snowboarding: Yes, terrain park, too
Childcare: Ritz Kids for 5 and up
Ski Lessons: aged 3 and up
Pools: Outdoor
Favorite Non-Ski Activity: Skating rink
Read a full review of the Ritz Carlton Lake Tahoe and skiing Northstar.
Claudia Laroyre, British Columbia based writer of The Travelling Mom nominates:
The Pan Pacific Whistler Village, Whistler, British Columbia
Families looking for space, luxury and an excellent location will find it – and so much more – at the Pan Pacific Whistler Village Centre. This hotel property offers generous, family-sized suites that include a full kitchen, dining area, and spacious bedrooms— all within walking distance of both Whistler and Blackcomb mountain gondolas. These two mountains together make Whistler Blackcomb the largest ski mountain resort in North America.
The Pan Pacific Village Centre is the only hotel in Whistler village that includes a full, hot European breakfast for all guests. There's also a complimentary kid-friendly après-ski service of hot chocolate and cookies at the end of the day. The hotel has a heated outdoor pool and hot tub with outstanding views of the mountains. In addition to skiing and riding, families enjoy walking the village, or more adventurous pursuits like dog-sledding or an Escape Room experience.
Snowboarding: Yes, large terrain park, too
Childcare: Yes, from 18 weeks old
Ski Lessons: from aged 3
Pools: Outdoor
Favorite Non-Ski Activity: The Escape Room
Read a full review of the Claudia's favorite Whistler resorts.
We will continue updating this list as we venture into a new ski season! See you on the slopes!