Every resort has a giant chess board—yawn.
What about hungry human hippos? Or life-size foosball?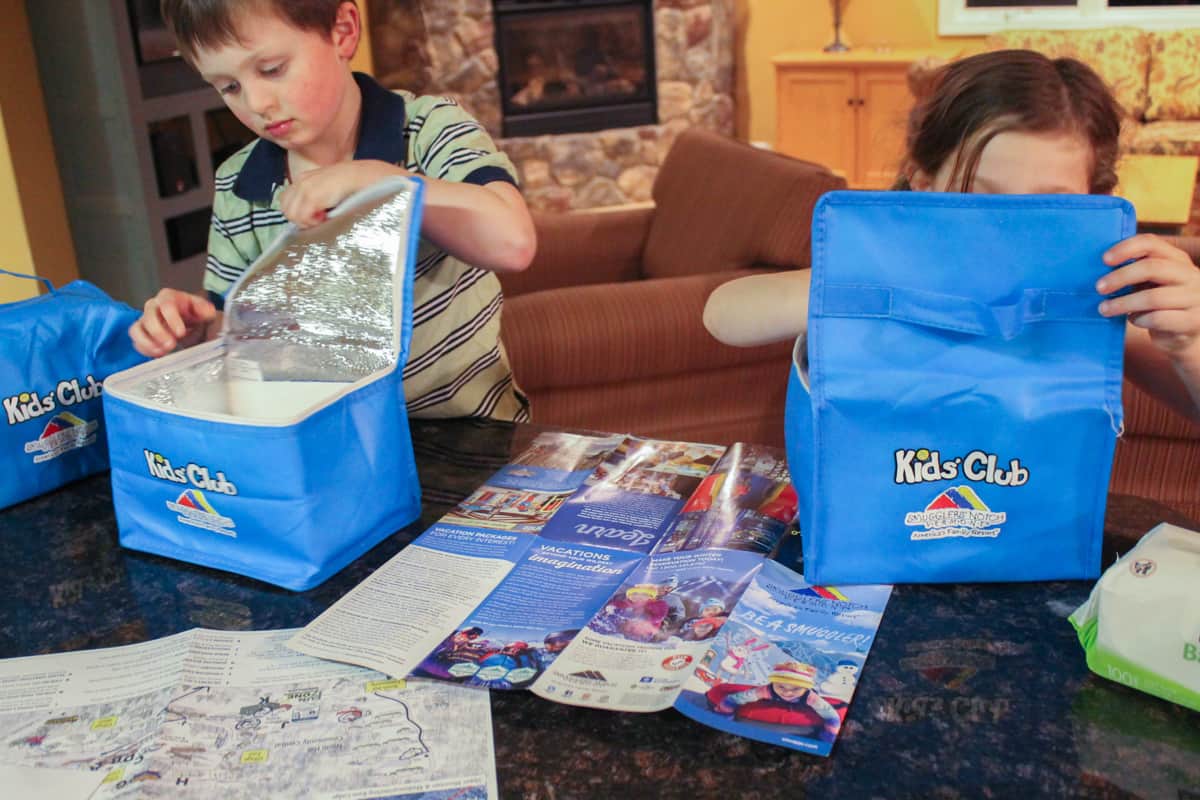 Smugglers Notch Resort is a true four season vacation like no other in New England.
It's not easy offering a truly year-round destination for families in New England. We have something called mud season. But Smugglers Notch has it in the bag. Meriden, the Luxe Recess ski expert, and I each visited "Smuggs" six months apart to test what kind of fun our families could find for the winter and summer months.
As you drive along the roads up Stowe's peak in the Vermont Green Mountains, the road narrows and giant rocks line the curbs. Locals park their Subarus in makeshift parking spaces and venture into nearby trails. The resort appears after you descend the mountain towards Jeffersonville.
Smugglers Notch is not a luxury resort, but it earned our affections quickly by focusing on good, old fashioned amusements. Kids get a welcome kit at registration promising free hot chocolate and adventures to come.
But most important,  and not surprising, our kids loved it. Read why my son fell asleep each night on our trip asking for his birthday party to be held at Smugglers Notch.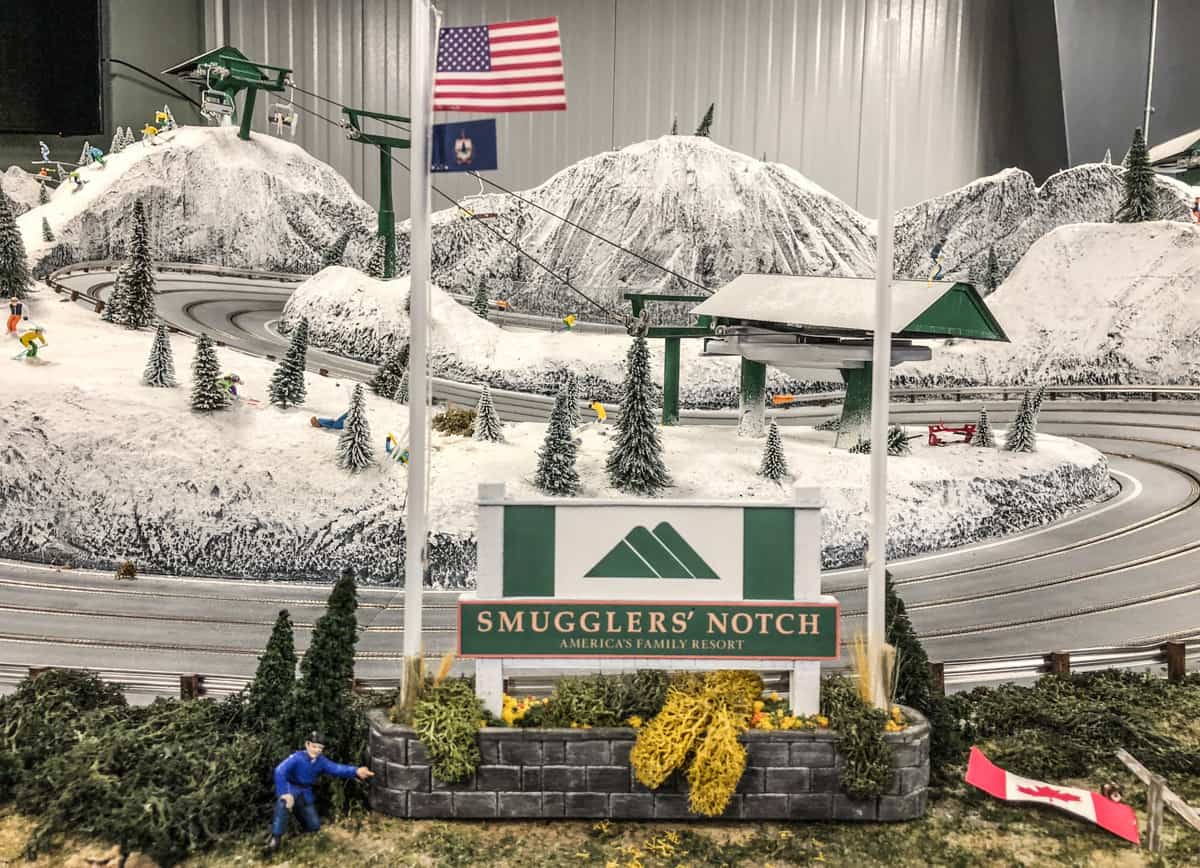 Summer Fun and Games
In the summer time, opportunities for play are scattered everywhere. Every beach resort has a giant chess board—yawn.
What about human hungry hippos? Or giant foosball? If You Tube has shown some fantastic game taken to a giant new scale, the staff at Smugglers Notch are ready to replicate it.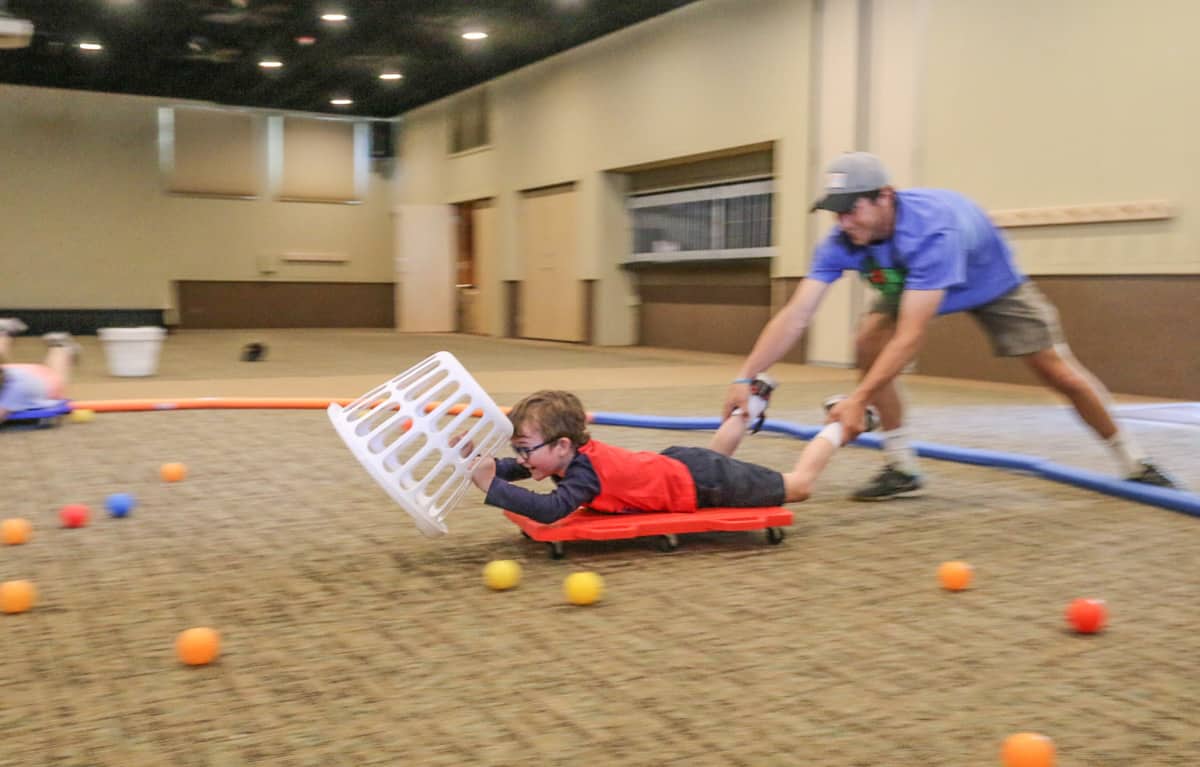 Human Hungry Hippos didn't disappoint, and it proved to be a bit of a cardio workout, too. I know because I was wearing my Fit Bit. Kids lie on wheeled trolleys and capture ball pit balls with laundry baskets. Genius. We maneuvered them by holding their feet and pushing and pulling.
You can see it in action in this video.
Next up was family karaoke. Because I begged him as a birthday present, my singer husband belted out Frank Sinatra in between adorable Taylor Swift and Moana performances by those well under 10. Some parents desperate to hear more songs in key joked with him, "Please sing again. For us." The room had the energy of families having a great time.
Each season has a daily roster of activities like those on a mega cruise ship. At first we wanted to try everything, but it wasn't possible. Had we more time, we would have spent Saturday afternoon trekking the area with llamas and trying the zip line.
Summer Pools and Court time
We focused on two events each day, and there was no struggle filling In the remaining hours with play at the pools. With such a focus on families being together away from screens, I loved that they offered a family tennis lesson.
Dick, the tennis pro, was one of the best instructors I have had in a long while. He got my husband and I serving better than ever in our hour, and helped me watch for my kids' strengths and weaknesses: what to adjust, and what not to. Although the tennis center is nothing fancy, the actual lesson was as good as any of the best five-star tennis resorts could offer.
There are several pools during the summer season with slides of various thrill levels as well as a lily pad water challenge that we had never seen before.
For those seeking a full service resort pool experience, there is only one choice, the Mountainside Water Playground, which has a grill on site for lunches, slides, and an expansive splash cave for the pre-swimming crowd.
Don't expect luxury pool lounges and cabanas, but do expect a pool and lifeguard staff eager to engage and assist a fun, safe pool day.
For those seeking a more rustic, authentic New England experience, there is a basin and reservoir for swimming on site, too.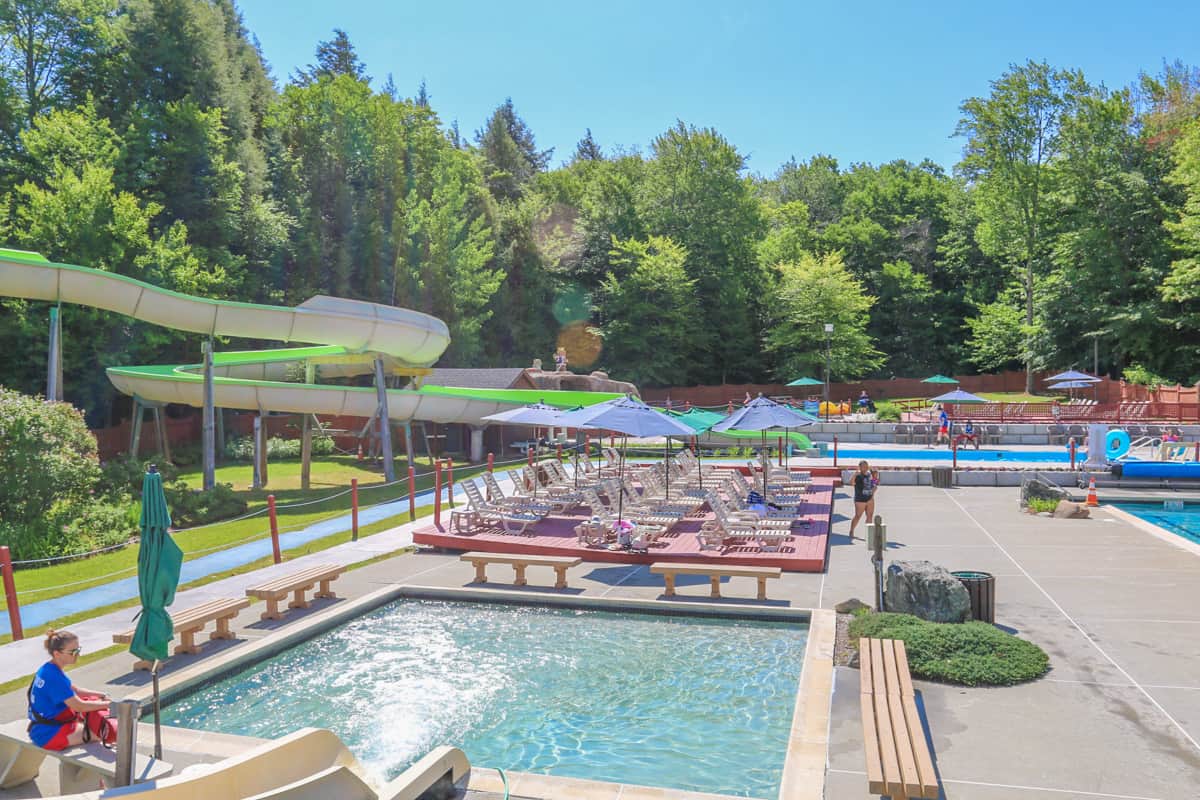 The Ultimate Fun Zone. Really.
The Fun Zone at Smugglers Notch has everything, and is a solid year round option for play. It was recently refurbished and updated, so it is now called Fun Zone 2.0. My kids could have spent the entire trip there.
It's an adventure challenge with rock climbing, a bouncy room, an arcade, and a private laser-tag  course.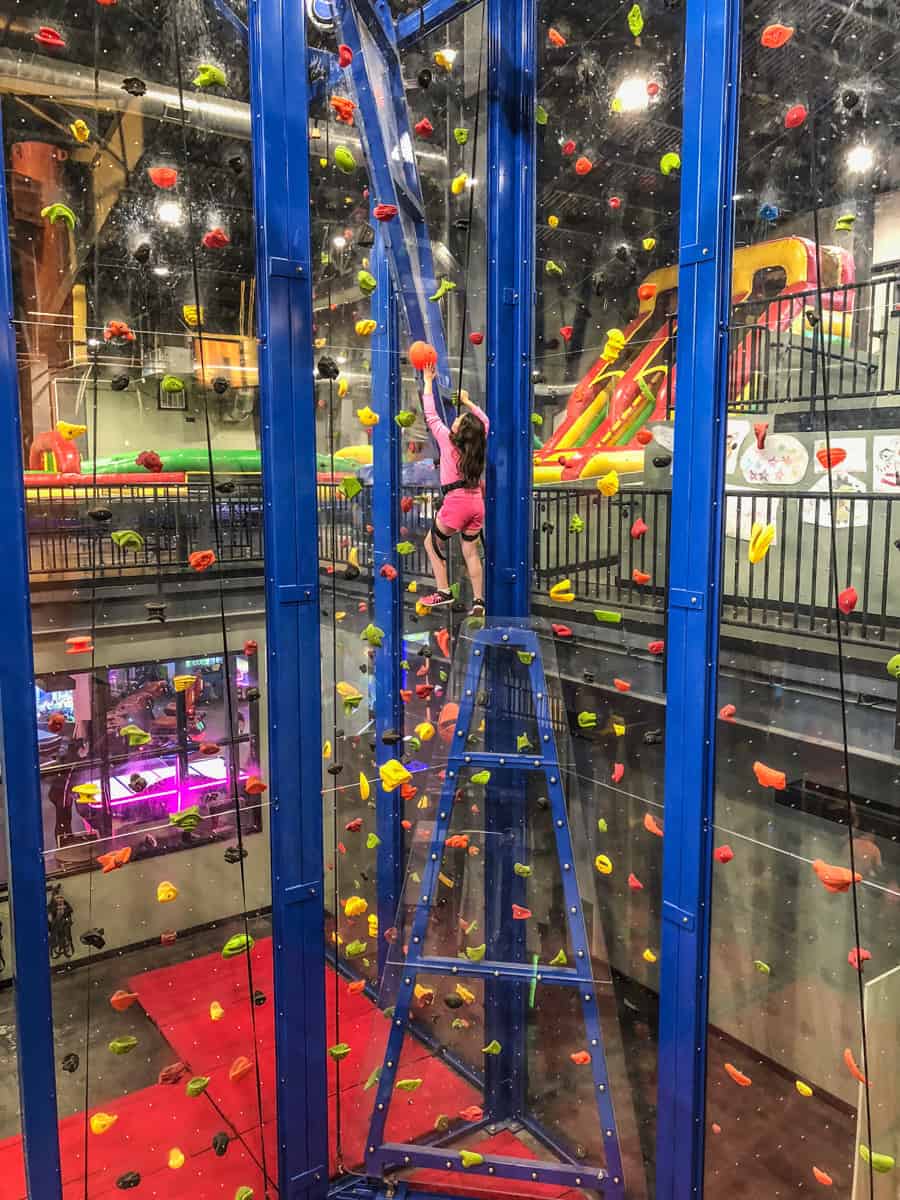 Downstairs offers more challenging options like an American ninja warrior style course, a play center, slot-car racing, and a two-story rock wall. 
The rock wall facilitates serious competition as it is made of clear plexiglass. Climbers face each other and race, if they choose. Sibling rivalry at its finest!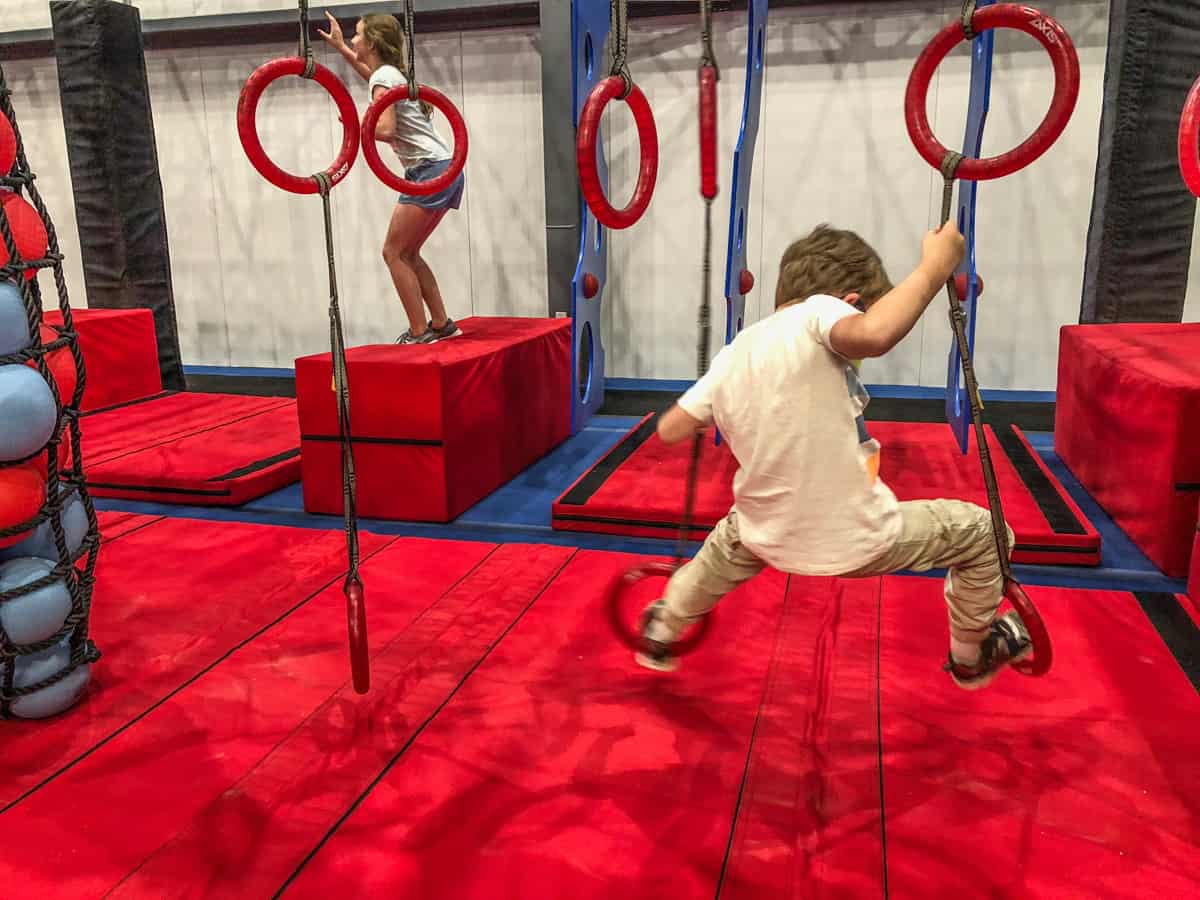 Families can enjoy a private laser tag game with two teams. This was actually one of our most fun memories of the weekend, as it was a luxury to have the space to ourselves. We played kids vs adults, and got really into it. We suited up and moved more like the original Ghostbusters than the Incredibles.
There is a smaller O-Zone area for younger kids with two small inflatables and riding toys for the preschool crowd.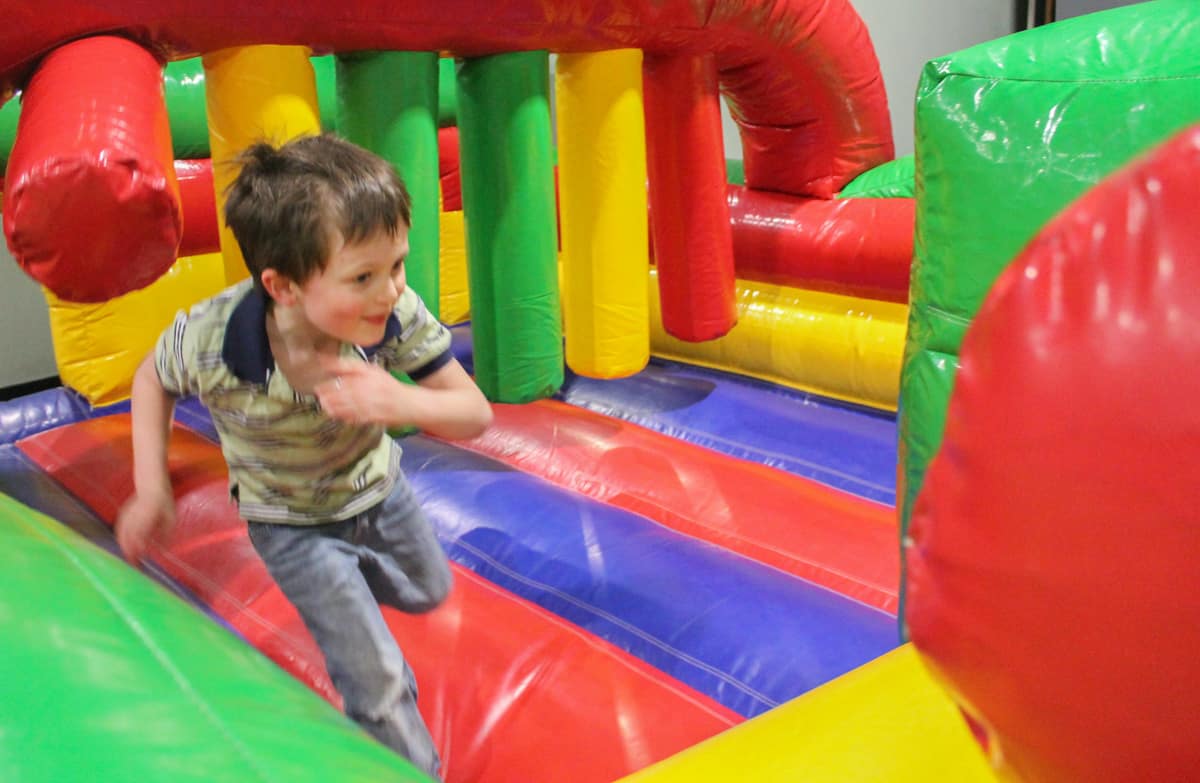 A small cafe on site serves snacks and drinks including beers. The soft serve ice cream provided the perfect bribe to get the kids to leave and choose arcade prizes with their earned tickets from the arcade games.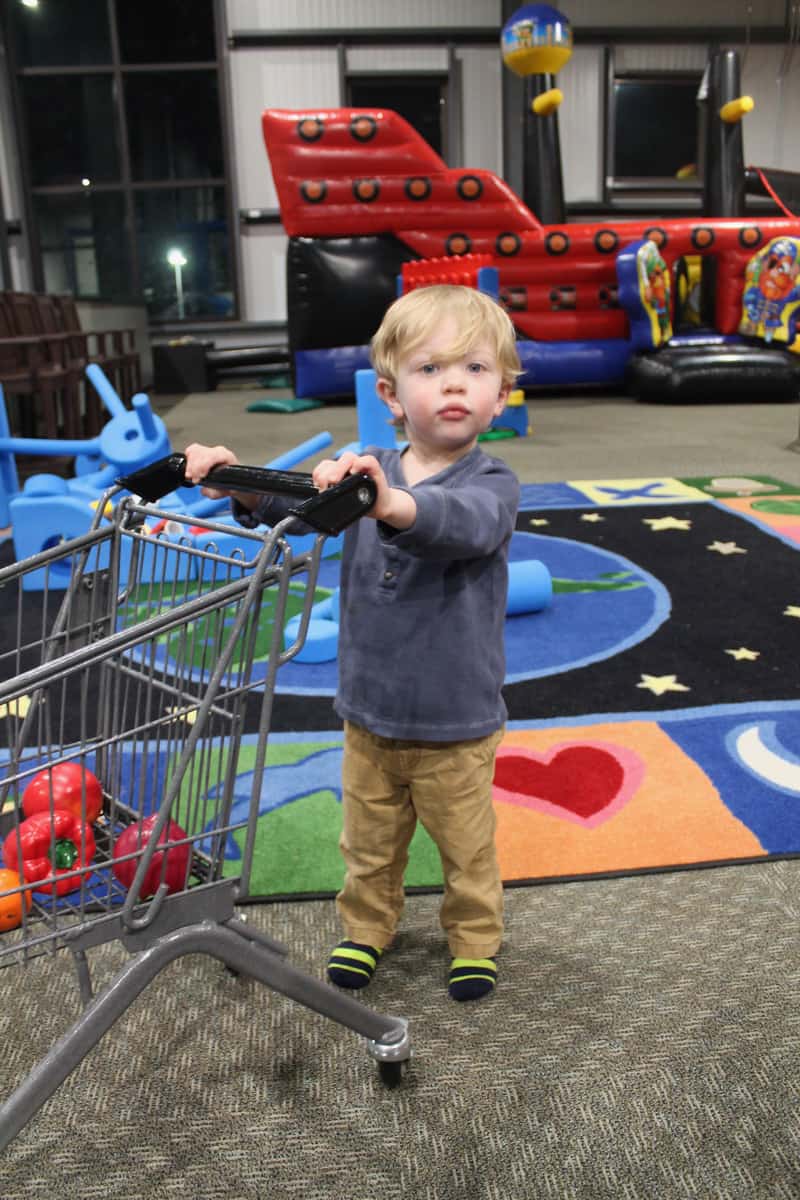 Smugglers Notch Skiing
Not only is it considered one of the best ski resorts in Vermont for families, Smugglers Notch frequently wins for the best East Coast ski resorts for families. With so many choices in New England, it is tough to decide what ski area will be best for your family's winter escape. Look no further since Smugglers Notch will check off all of your boxes.
Built as a family resort, Smugglers Notch makes vacations easy for parents and fun for kids. Smuggs is the complete ski package for all families regardless of ski ability.
We were lucky enough to get about four inches of powder on our visit so my husband and two older children headed out at first tracks to hit some blue trails.
As my husband notes, if you are lucky enough to be here after any type of snow, there may not be any better terrain on the East Coast for expert skiers.  The only triple black diamond trail on the east coast, "Black Hole," beckons.
There are three mountains that make up the ski terrain, Morse, Madonna and Sterling. Each offers varied and challenging trails. Both Madonna and Sterling offer serious vertical, bumps, and tree runs so your more advanced skiers hoping to shred can still enjoy a hard ski day.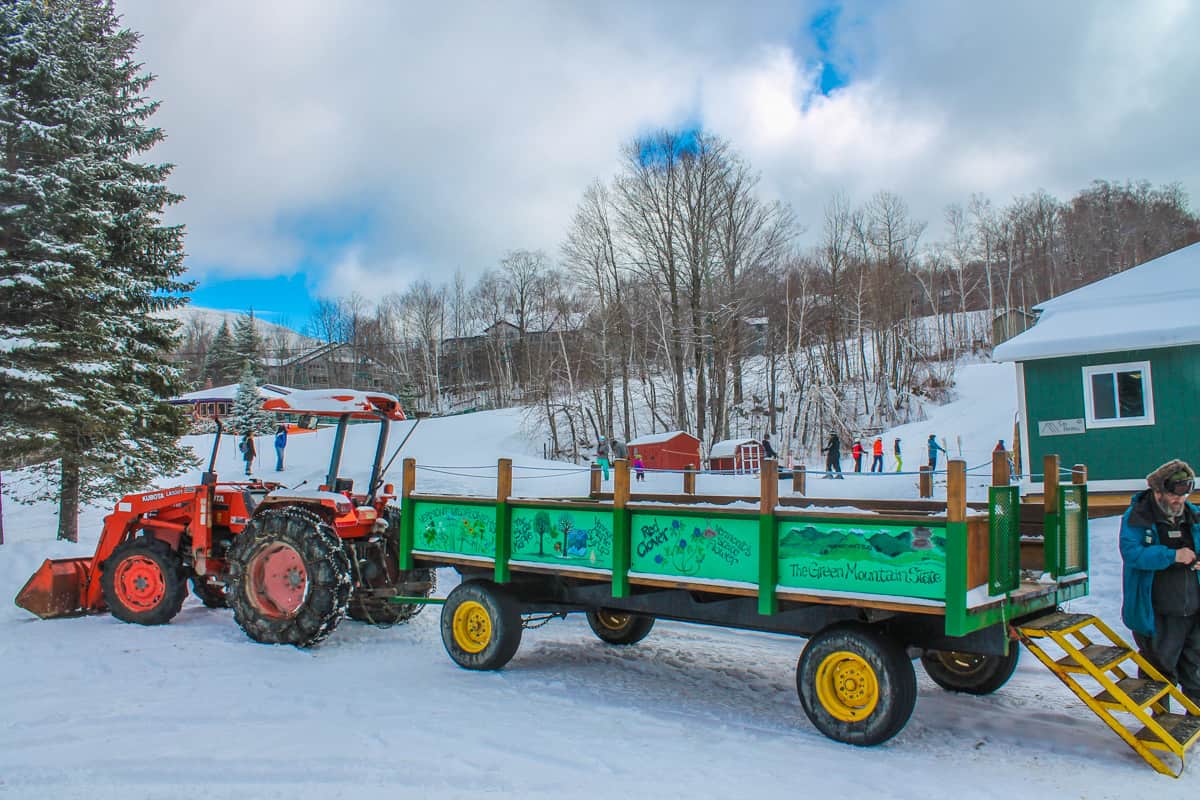 Learning to Ski at Smugglers Notch Resort
For newbie skiers, it couldn't be better. This was actually our first trip bringing our youngest who is almost 2 years old. We were able to pop him on skis and enjoy a few runs (or attempts thereof) with him. 
There is a perfect magic carpet area with two access points to alleviate lines when the hill gets busy.  Smuggs also offers an amazing ski school grouped by age and level. The kids move from the meeting point to Sir Henry's Hill, the learning area, by a hayride tractor ride! Yeehaw!
Another great option that we haven't seen at other spots is the Mom & Me or Dad & Me lesson option where an instructor will not only teach your child but also guide you with future tips and skills to teach them once you have the kiddos on your own.
If you are traveling with kids of any age, Smuggs also offers an amazing onsite childcare program through Treasures. This option works well to give some one-on-one time to your older kids while the babies enjoy some playtime. Or parents can finally get a date night. 
Winter Fun and Games
I'll admit it. We came ready to jam in full ski days here, but there was actually one day we didn't hit the slopes at all. There was just way too much to do off mountain.
My kids ended up at the pool complex because they never met a pool they didn't like.  Staying in the North Hill Community, the newest condo section, we had easy access to the aquatics center.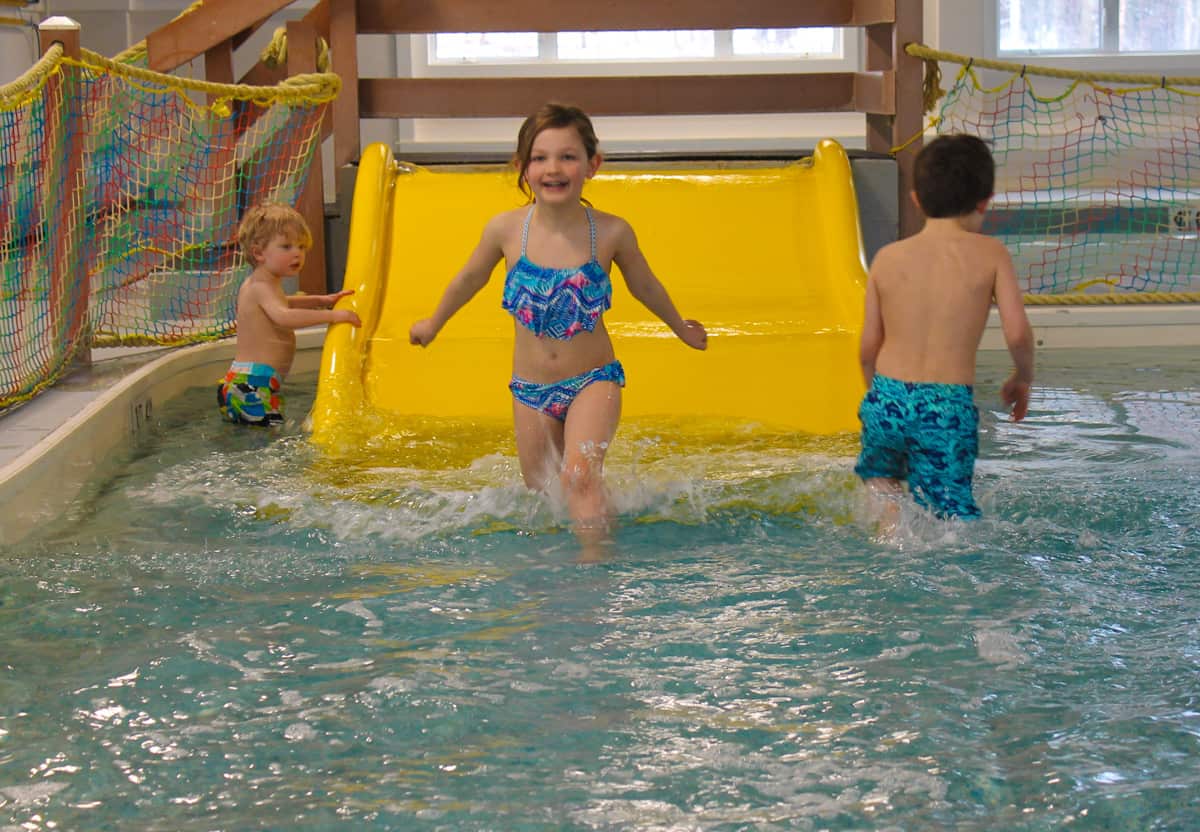 A zero-entry pool, small slide, a shallow pool and two hot tubs entertain everyone. Nothing too glitzy here, but we ended up spending hours watching the kids go down the slide, and the zero-entry was perfect for the babe. 
The coordinated weekly, resort activities are endless.  Literally. There's a 40+ page book of resort options running from snowshoe sugar shack tours, to cat trax cruises up the mountain.  I've heard on a clear night, you can see all the way to Montreal! 
There's daily hot chocolate by the fire pit and a teen alley for families traveling with older kids. Daily (and nightly) tubing, winter zip-line tours, mini snowmobile rides for kids ages 6-12 offer family adventures. Even a little Sunday yoga gets a mom in the namaste mind frame. And the list goes on from there.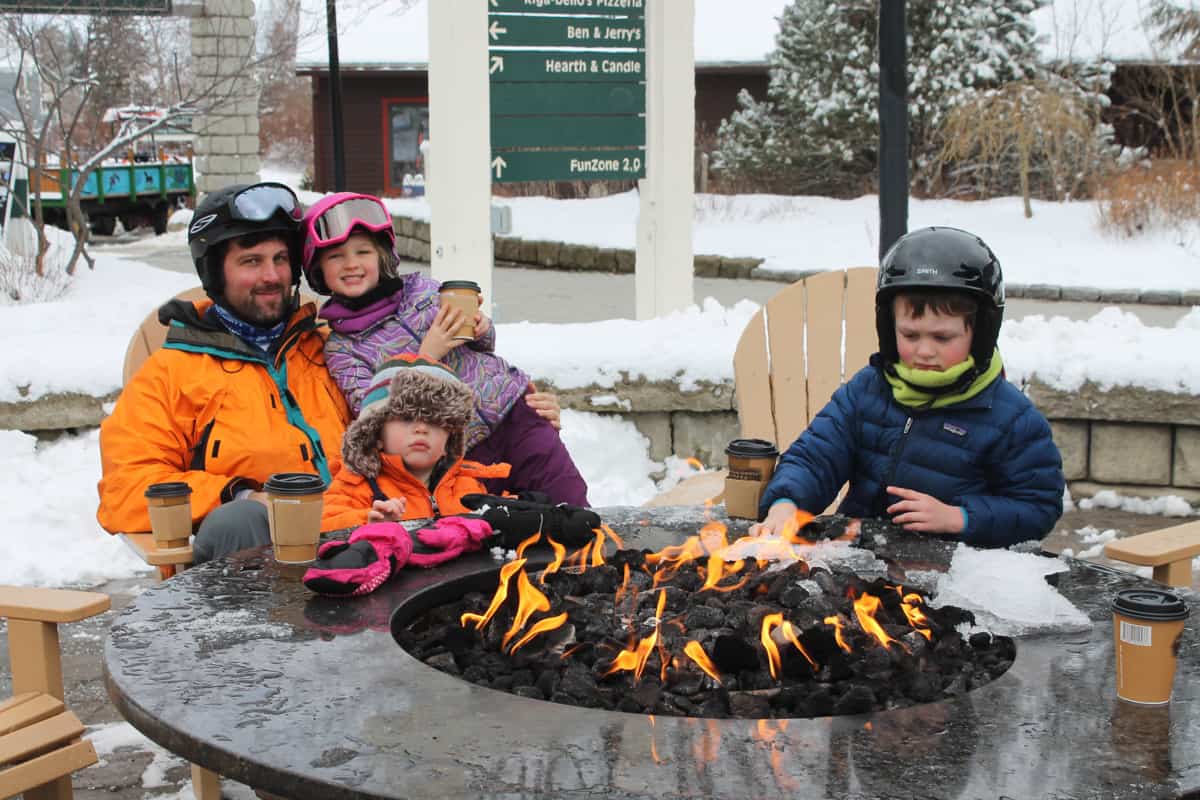 The Resort Village 
Pulling into the resort drive, you get the feeling that this is different than other spots in the East. There is a true sense of place that feels self-contained and easy on its guests.
At the base is the main registration area along with several onsite eateries, the equipment rental center, and, of course, a Ben & Jerry's ice cream.
There is also a perfect country store which has groceries, a wine and beer section, a small coffee shop and Vermont-inspired gifts. We stocked up on our maple syrup and some Smuggs playing cards for the evening. 
The outdoor fire pit gathers families for either hot chocolate or ice cream, depending on the season.
There are also fun character meals on certain days like the Friendly Pirate Breakfast  or Mogul Mouse Pizza Party. We happened to run into Mogul Mouse in the village, and my kids loved seeing him!
The best condos at Smuggs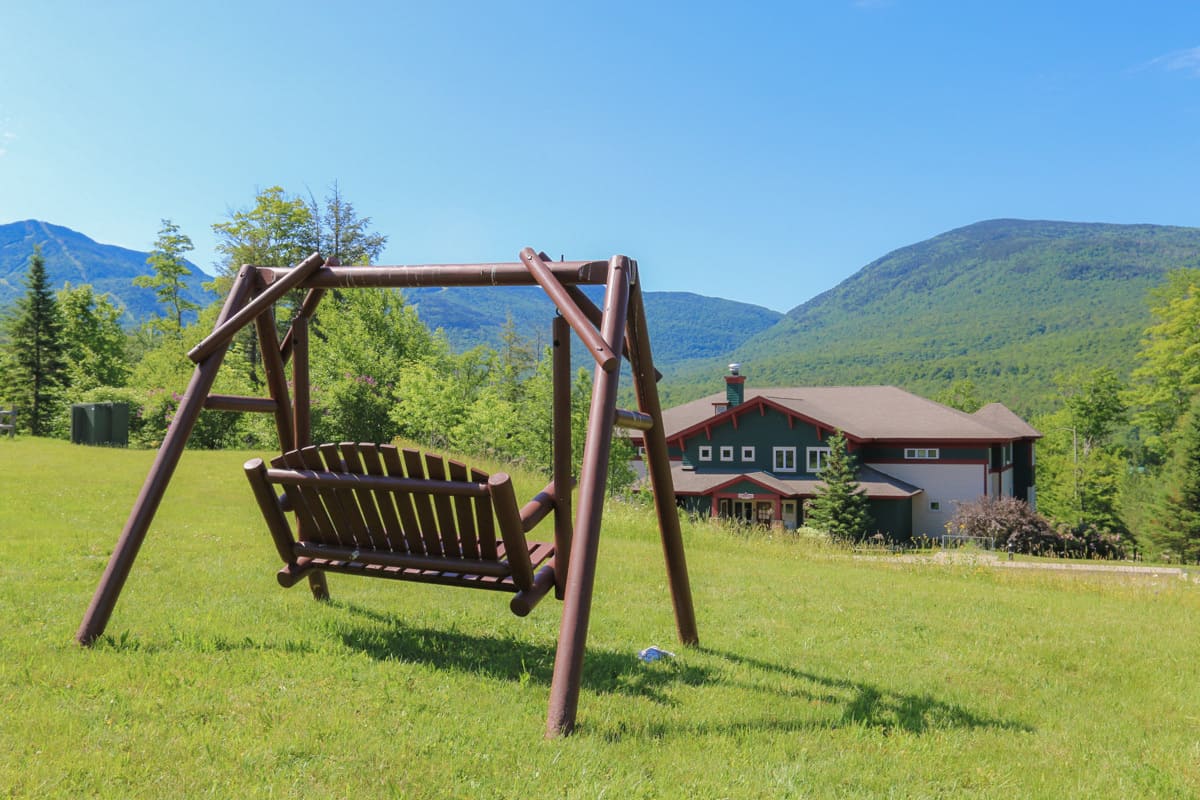 From the base, guests head up to their condos which are located in several different communities onsite. The condos vary, but ours on North Hill worked perfectly for our stay. A great ski locker area for storing all winter equipment made our accommodations feel enormous.
We were in the Eagle and Owl buildings, where we enjoyed large 3-bedroom condos with a fully equipped kitchen. And we mean fully equipped. There was even a crock pot for those who don't watch This is Us. And a massive cabinet of glassware able to serve margarita, cordials, brandies, and wines to large parties.
Parties are what these spacious condos are made for. They work really well for two families to gather their kids for a weekend of resort activities. After full days, the condos offer lots of space to entertain and relax for cooking, board games, and movies.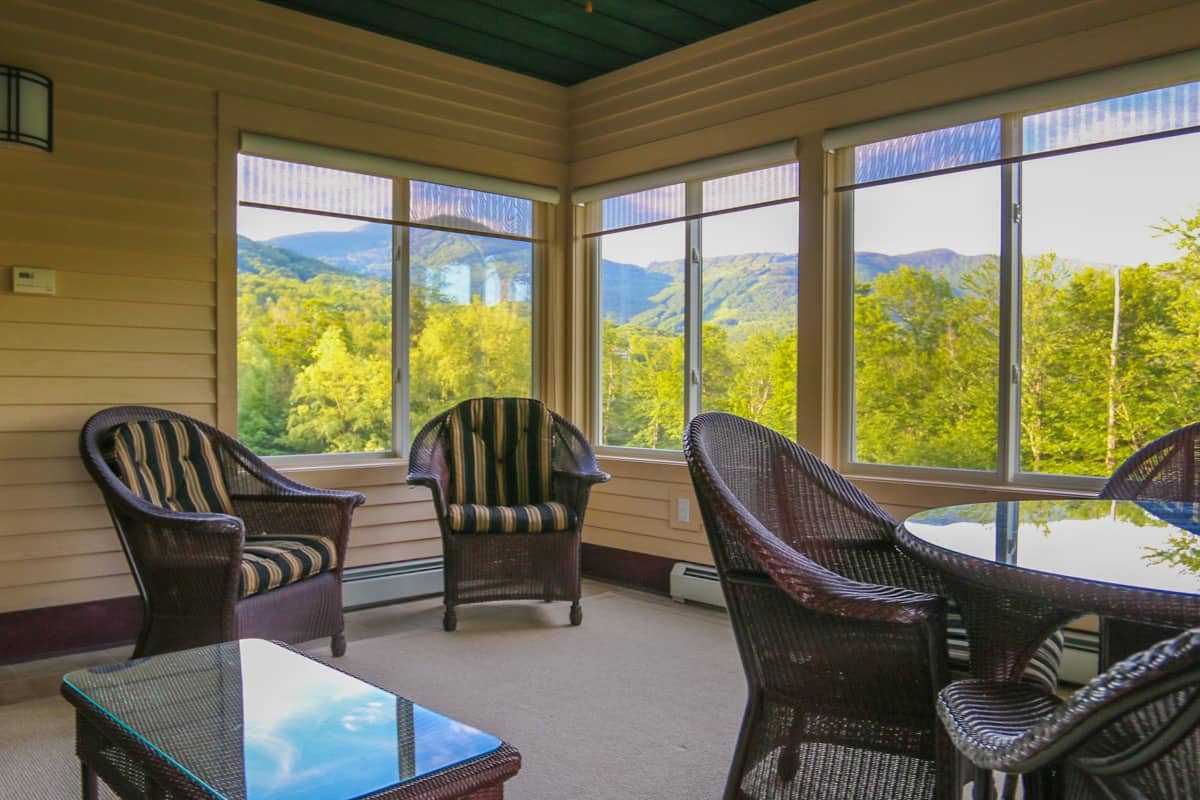 The third bedroom had four twin beds for the kids. And a washer and dryer always make me happy. A lovely screened-in porch with a wicker dining set was a great touch for dinner in the summer overlooking the mountain and meadow views.
The decor of the condos is pretty dated. Lots of blonde wood and Burgundy red and Hunter green have been here since the 1990's. But the space is cozy, inviting, and lends itself to having large crowds for dinners after a long day of skiing.
Despite the condos having some of the most fully equipped kitchens I have ever seen, the bathrooms were not stocked beyond bar soap, so pack shampoo, conditioner, and lotion. There were hot tubs in the lobbies of both buildings.
Resort Shuttle Service
All buildings in the village are connected by an amazing, on-demand shuttle service that constantly runs anywhere from FunZone, to Madonna base lifts to the pool or to dinner.  Theoretically, you could drive into your condo and never have to get in your car again once you are on campus.
Family-friendly Dining at Smugglers Notch Resort
This place is family friendly to its core. As a family of five with young children, it makes our trip more enjoyable and less anxiety-ridden to know that our kids are welcome everywhere. 
In the Village we enjoyed a great lunch at Morse Mountain Grille, and the staff make you feel right at home.  At one point my two-year-old was throwing a snowman decoration everywhere, and—without making me feel like a horrible mom— a kind hostess whisked in from above and materialized with a coloring set and crayons. Like a fairy godmother!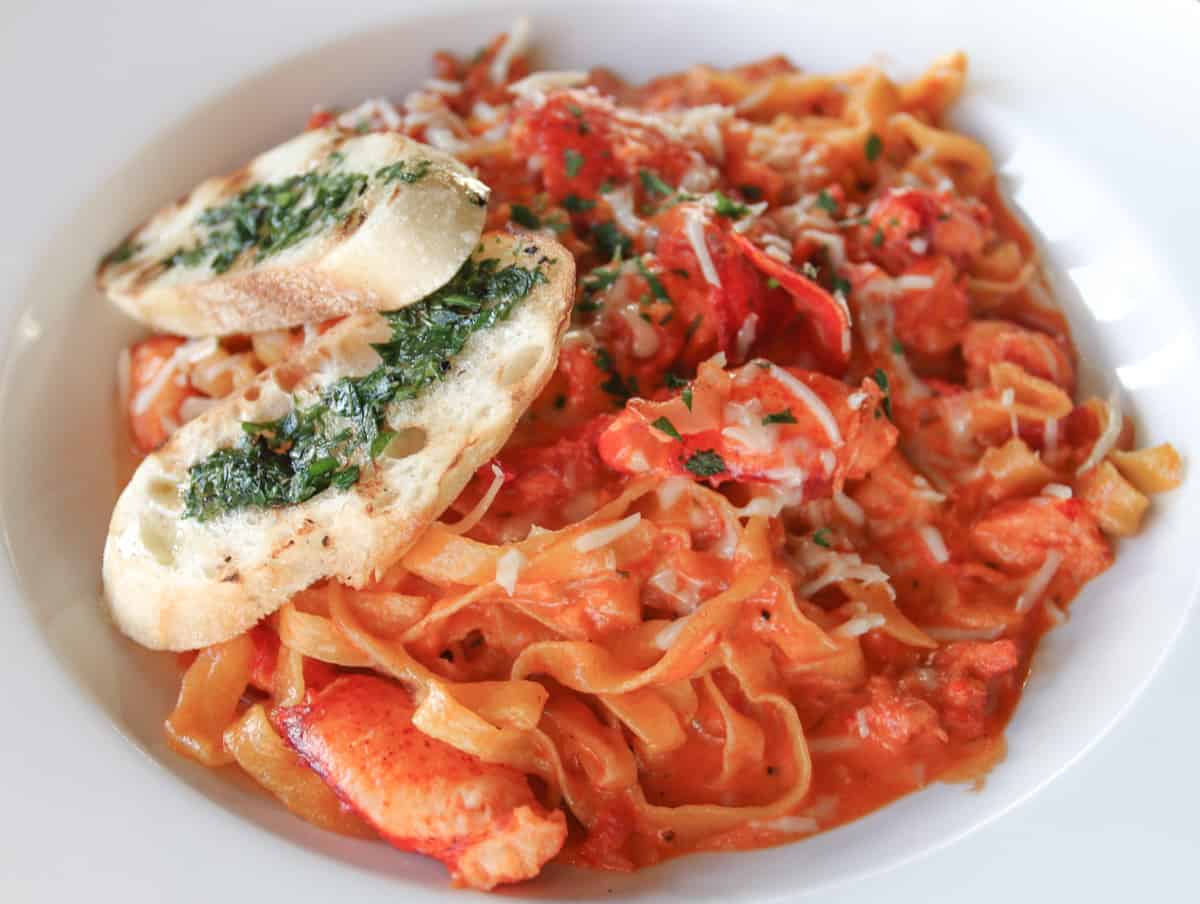 Our dinner at Hearth & Candle delightfully surpassed my expectations. As the most formal restaurant on site, I didn't know if it would be a good choice for families (or foodies), but it was perfect.
Children can order the most beautiful fruit, cheese, and cracker appetizer, and my kids devoured their fish and house-made tagliatelle. We were equally impressed with our adult entrees. A lobster tagliatelle was one of my favorite pasta dishes in recent memory. 
Restaurants and Markets Near Smugglers Notch
We ventured offsite to Jeffersonville for some lunches and dinners. For breakfast or lunch, it is tough to beat 158 Main that makes its own loaves of wheat, sourdough, and cinnamon raison bread. Omelets and salads were perfect.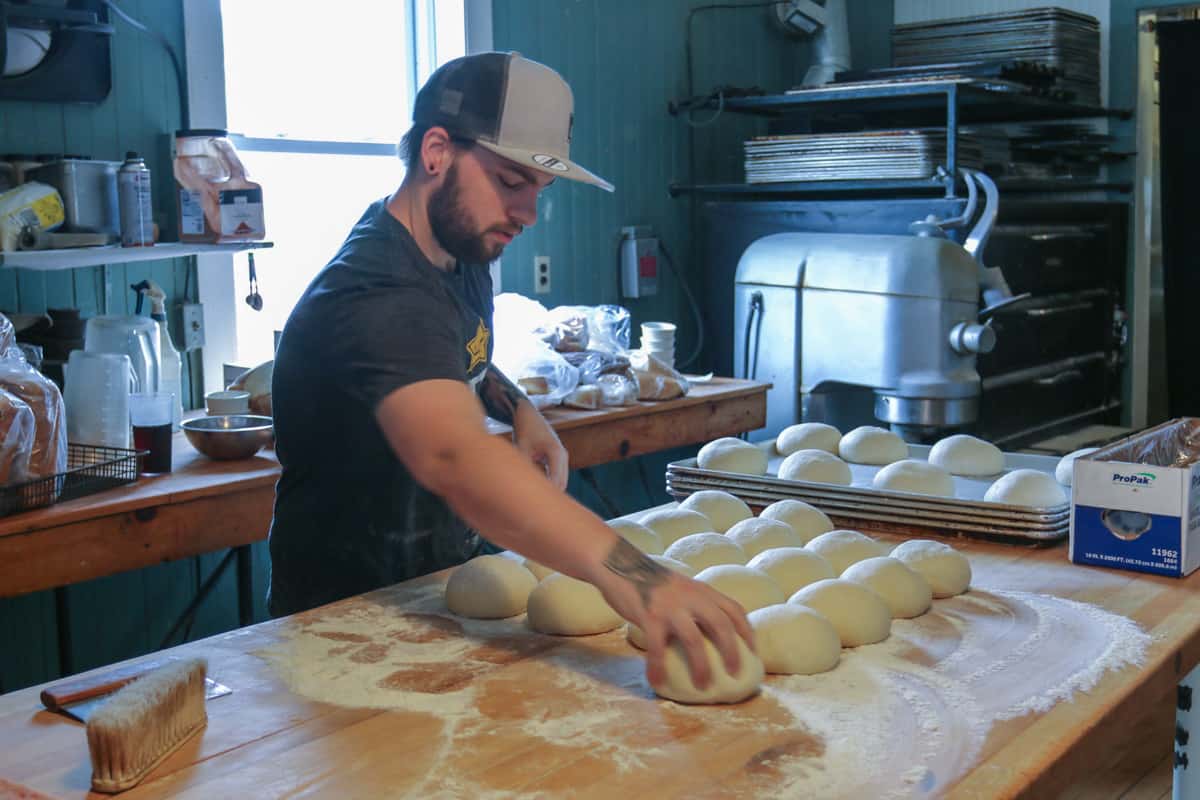 We also enjoyed low-key meals at both Village Tavern and the Brewster River Pub & Brewery right outside the village entrance. 
The beer lists are full of delicious, local craft beers. Both places advertise themselves as "family friendly pubs" — perhaps the best three words a parent could hear after a long day in squats trying to get a 2 year old to ski!
We stopped on our way into the resort at Stowe to grab some groceries at the many excellent places in Stowe like the Harvest Market for prepared foods, Commodities Natural Market for produce and groceries, The Butchery for meats and deli, and the incredible Stowe Farmers' Market on Sundays from 10:30 until 3 with great food and live music.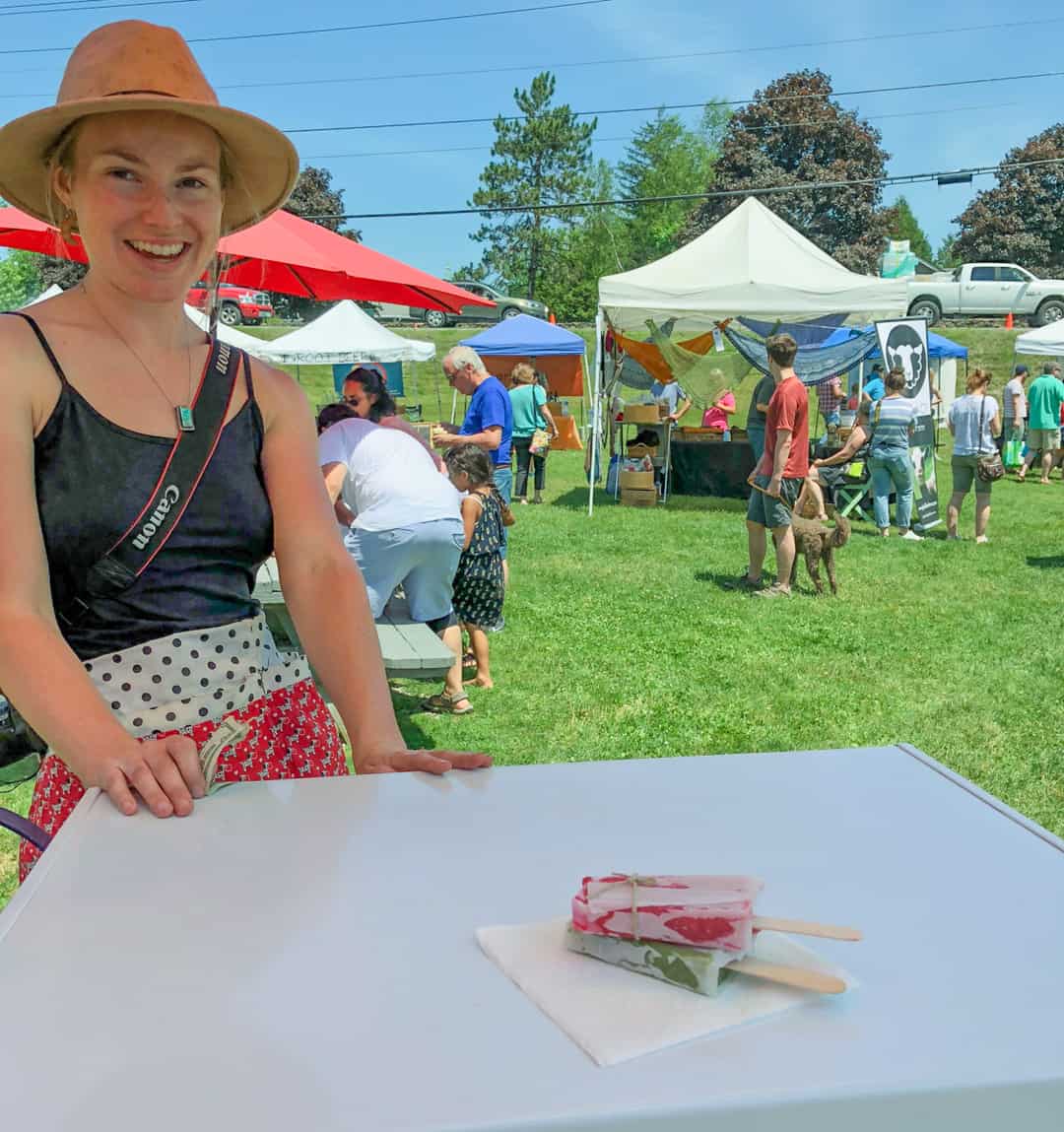 Even with fully stocked kitchens, we loaded up on beautiful portobello mushroom lasagna, local Stowe Cider, shrimp cocktail, and salads. We never had to labor much in our massive kitchens.
We loved that there was a way to connect with each other doing so many fun things. It was nice to go without makeup and heeled sandals and not care whose outfits matched. Meriden and I would never tell you that Smugglers Notch was a luxe resort, but we both can't wait to return with our families. There are too many things we didn't get to try. It was as relaxing and fun as any vacation could be, especially with young children, and that's priceless.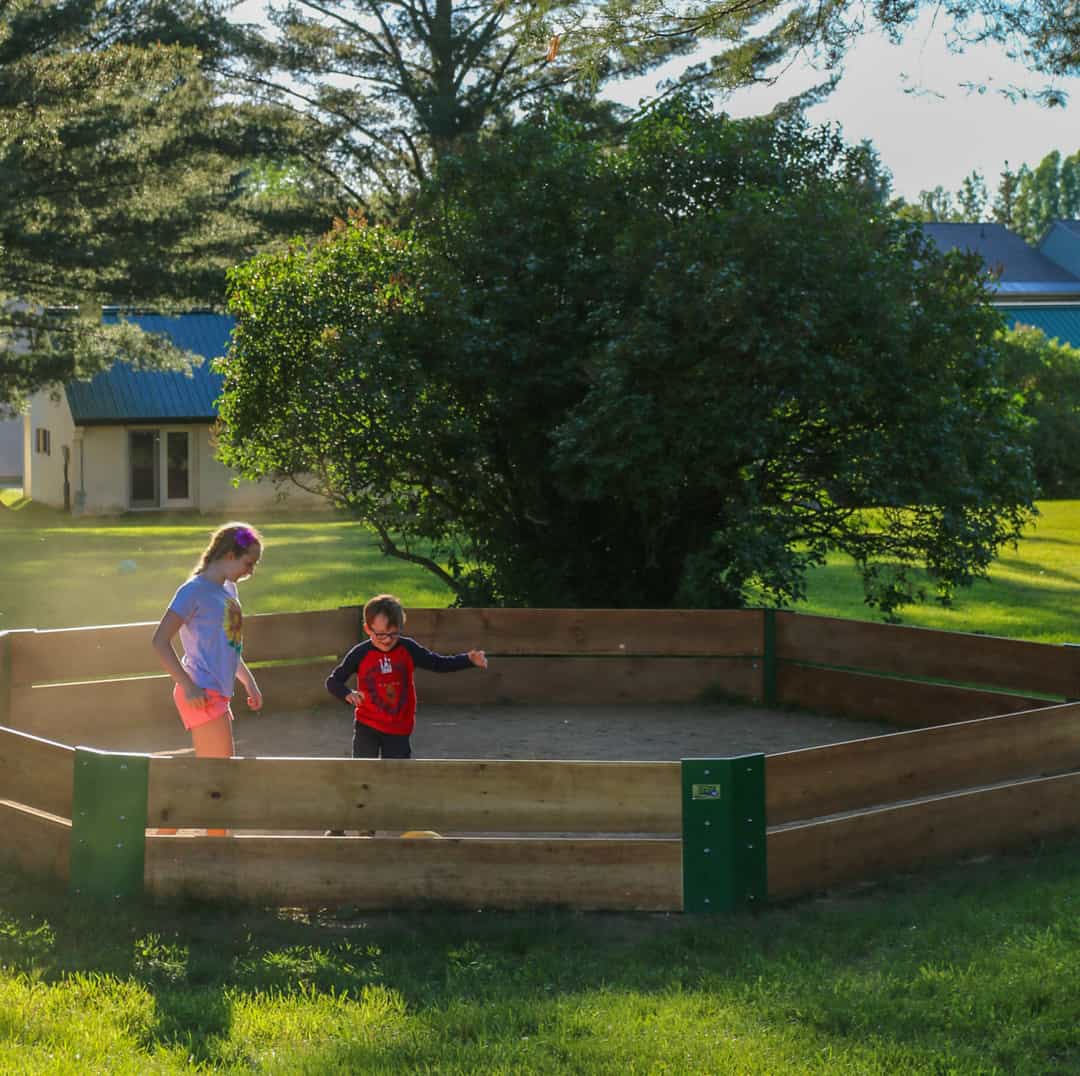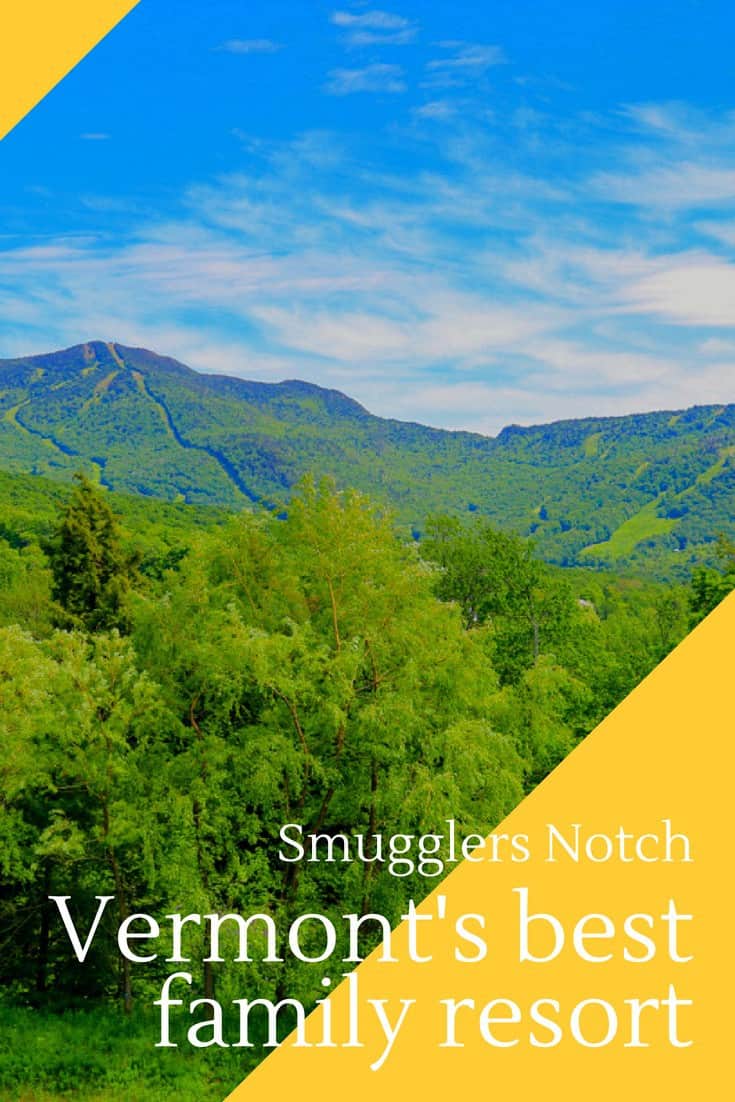 Although we were guests of Smugglers Notch, these opinions are entirely our own.