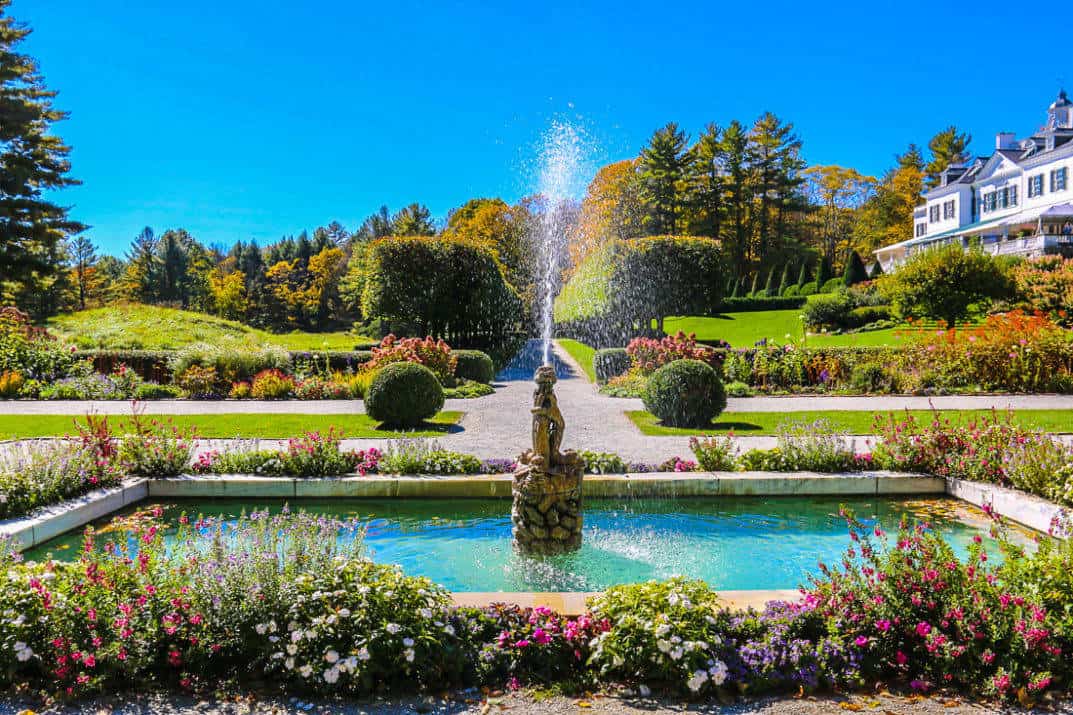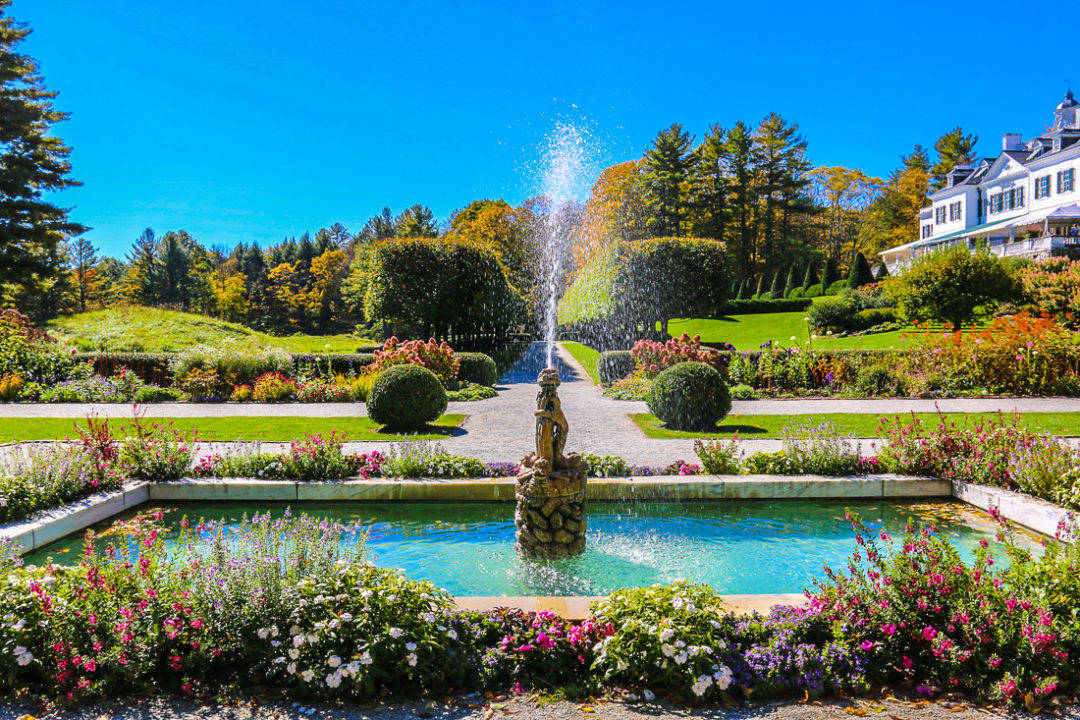 Where are the Berkshires?
The Berkshires is the collective term for the Western-most area of Massachusetts and is equidistant to New York and Boston by car. It is a region to visit over several days, like Napa or the Cotswolds, or Puglia. The eastern-most edge of New York State's Columbia County has become part of the Berkshires over time, so it's likely to cross state lines a few times during a visit.
Although there are many bucolic areas in New England that are just as beautiful, only the Berkshires can boast such a concentration of natural, cultural, and historic experiences to enjoy.
The Car
The Nissan Armada Platinum
The year I fell for a truck…hard
My family and I test-drove the new 2017 Nissan Armada to the Berkshires at the peak of fall foliage. The car is additional family member of any road trip, ideally not a slovenly one with a strange, yet unidentifiable bad smell and a suspicious amount of goldfish crackers stuffed into his pockets.
The Nissan Armada with the Platinum-level trim was truly a five-star resort on wheels, and its cushy family features added levels of luxury that made the trip enjoyable in the way every family trip should be but never is.
It's a larger SUV than I was used to driving, but it handled perfectly. At every stop we made, the parking lots were filled with every SUV on the market, and the Armada towered over them like a grinning St. Bernard in a row of beagles. It was never hard to find it. Although we never went off road, I got excited each time I got to drive on uneven fields to park or climb the highest point in the state with an effortless smooth ride.
Most luxury cars have back up cameras to assist drivers, which is critical in larger SUV's. The Nissan Armada took this one step further by making parallel parking on the main streets of these Berkshires towns was a breeze with a camera that showed a satellite view of our truck.
Our family loved the DVD player that came with Bluetooth headphones. The system still allowed my husband and I to listen to our own music. With winding roads and sunny scenic drives of red, orange, and yellow and Bob Dylan's Blood on the Tracks on the stereo, we achieved, for several twenty minute stretches, the impossible: a family road trip that felt as relaxing and rejuvenating as a yoga class.
Great Barrington
Great Barrington is the largest town in the Southern Berkshires that has one of larger pedestrian friendly main streets with shops and restaurants. For our trips, it has always been more a base for eating and shopping than staying overnight.
For us, we see it as a the home of Baba Louie's, an artisan pizza shop that offers Neapolitan style thin crust pizzas that can be customized for any food allergy. The gluten-free crust is as good as gluten-free pizza can get.
Robin's Candy is also novelty shop is filled with fun gifts to browse while you wait for your table at Baba Louie's next door. But SoCo Creamery is just a few steps around the corner, and although the company has been sold to a larger maker since it was founded, every chocolate lover must try Dirty Chocolate just once. If you live the in the Boston area, you can get your fix at Roches Brothers supermarkets.
Camp Fire is the newest restaurant that just opened by the same owner behind the Meat Market, a very high-end artisan food purveyor that is lobbing for the best burger in the country. We visited Camp Fire in its first month, one week prior to its liquor license and before the rest of the art had been installed on the walls.
What looked very promising was one of the best kids' menus I have seen, allowing children to choose a protein entrée, fruit or vegetable, and a carb. It felt more like a high-end diner there will serve as a standby for locals and visitors than a food destination.
The burger was good, but I withhold the verdict of best until I get to try Bistro Box. We made the drive south of town for this seasonal takeout that my local contacts rave about only to see that they were closed. Based on the menu, we'll be back, as it looks look it is worth their hype.
The best family accommodations in Great Barrington are limited to the 3-stair suite chains, like Fairfield Inn (check your dates for rates). These work well with their complimentary breakfasts and onsite pool, but they are likely at premium rate, around $300 per night during high season weekends, with little local flavor.
West Stockbridge
West Stockbridge is another foodie destination where to head for your first or last meal of the day.
Depot 6 is a coffee house that roasts its own and offers full breakfast in addition to bakery treats. The place is popular, so expect waits at peak times. The most child-friendly options are the waffles, eggs, and bakery treats. Their sandwich and salad options are too sophisticated for most kids to enjoy.
I must have ordered the wrong type of coffee. I asked for their darkest roast blend called the Heart of Darkness. It tasted off to me, but the place was so inviting, I'd be happy to give them a second try.
Rouge has been a staple restaurant in the community for fifteen years, and we had an excellent dinner with our kids in the bar area where it seemed a better fit than the more romantic and adult atmosphere of the restaurant.
Maggie, the owner, brought an incredibly useful tub of magnetic building toys for my son to play with while we enjoyed the house specialties of duck confit, shitake spring rolls, serious burgers, truffle fries, and a massive vegetarian platter that could have fed Peter Rabbit and his family for the entire winter.
Stockbridge
Stockbridge offers three classic Berkshire attractions: The Norman Rockwell Museum, The Berkshire Botanical Garden, and Naumkeag, a restored Berkshire cottage with magnificent gardens and views.
The Norman Rockwell Museum is the least family friendly on this list, but if you are visiting the Berkshires on a multi-generational trip, it is a must do. The museum offers temporary exhibits of other illustrators, and sometimes those can be engaging to children.
The Berkshire Botanical Garden is a fantastic family experience with toddlers and preschoolers. We loved, when our kids were young, to let them loose in the garden and explore it at their pace. For older kids, the fall fest is its big annual event for families.
Naumkeag, the former estate of the Choate family, is a historic residence managed by the Trustees of the Reservation. It offers a child's guide, scavenger hunt, and outdoor gardens with spectacular views behind the property. The Asian garden was fully restored this season, though the kids won't find it particularly interesting.
Visitors tour the home with a guide, but it is short enough to keep the attention of most kids. If you think your kids aren't up to it, take turns enjoying the gardens with them while the other explores the house.
Lenox
Most visitors to the Berkshires arrive during the Tanglewood season of the Boston Symphony Orchestra, from late June until Labor Day weekend. Tanglewood's appeal for families is that all concerts in both the main music shed or smaller music hall can be enjoyed on picnic blankets with lawn tickets. While children may find the standard performance difficult to enjoy for up to two and a half to three hours, infants and young children can easily fall asleep on the laps of parents.
There is a family concert event one day in the summer that offers an excellent instrument petting zoo to give children a chance at playing, crafts, and a family friendly concert. There is also a movie-themed performance during the summer that plays a soundtrack like the Raiders of the Lost Ark that is a great introduction to Tanglewood for families.
Preparing a picnic can feel like a competitive sport when you see some of the other attendees and their elaborate spreads.
Ventfort Hall is a best known for serving as the orphanage in The Cider House Rules, but is slowly being restored while serving as the Museum of the Gilded Age. There are some family-friendly programs, but the appeal to visit is really for those who have a passion for historic preservation and restoration. My husband and I split up to tour while the other takes the kids to the back porch and lawn to play.
My favorite road to drive in the entire country is Undermountain Road in Lenox. Start driving across from the main entrance to Tanglewood, and you'll pass Stoneover Farm on your left. This is a great bed and breakfast for families if you can secure the Schoolhouse Suite. There is a barn that has been converted into gallery space, and children will love observing the ducks in the pond.
You'll pass the Undermountain Farm and a magnificent view in any season, and the road will become Cliffwood Street that will being you back to the center of Lenox's historic center. We love Haven, a bakery and café that offers delicious food with many gluten-free options and decadent desserts and cocktails. The wax-paper lined chocolate cake is incredible simple and tough to improve.
In town, the The Gifted Child offers toys on its first floor, clothing and baby gear on the second floor, and a sale barn behind the main building. I've never found anything I would want to buy in the barn, but my kids always find toys to buy. The clothing is more for visiting grandmothers than local families.
Our family's favorite Lenox destination is The Mount, the estate of writer Edith Wharton. The gardens are magnificent, and the grounds surrounding the home often have art installations to enjoy amidst the shaded stretches of ferns. Ghost tours and jazz concerts are some of the many programs for families. During this visit, we observed the Berkshire Coaching Weekend, the tradition of driving the original coaches in period costume from the Elm Court Estate to the Mount.
Berkshires Resorts and Inns for families
Other Lenox highlights are two of the most luxurious small hotels in New England: Blantyre and Wheatleigh. Blantyre (check your dates for rates) has a pretty firm no-child policy, so families don't really stay there until their youngest children reach the age of twelve unless they are attending a wedding that has taken over the property. It's a perfect adult-only escape for those couples who find Masterpiece Theatre a turn-on.
Wheatleigh (check your dates for rates) has no such policy preventing children, but it wouldn't be my first choice if traveling with more than one child, unless they were both over twelve. It's a very stylish and elegant atmosphere, and the staff will offer an iPad loaded with kids' movies to provide some in room or dining room entertainment. Wheatleigh is best enjoyed by families during the summer outdoor barbecue that's usually on Wednesdays or in their more casual restaurant for lunch.
The best option for an authentic Lenox cottage experience with the kids is Cranwell Resort and Spa, (check out our full photo review) which has suites and junior suites perfect for families, an indoor pool, and other on site recreation. Other Berkshires resorts that welcome families are typically attached to ski facilities.
Pittsfield
Pittsfield is the largest city in the Berkshires but doesn't possess a concentration of the area's attractions. Its economic struggles from the closing of nearby factories persists today, though there's a sign of economic revitalization on the town's main strip, North Street, not far from the Berkshire County Museum which is both a natural history and art museum with a section for children with hands-on exhibits. It's a great foul weather destination for a half day.
If you're really into frozen yogurt, Ayelada only uses locally sourced ingredients for all of its house-made flavors and is a short drive from the museum.
North of Pittsfield you'll approach Hancock, one of the larger ski resorts of the Berkshires as well as a concentration of outdoor activities if you are traveling with older children.
Hancock
Hancock Shaker Village is an excellent place to take younger children who enjoy hands-on educational opportunities around farming, milking cows, and caring for animals.
Uncle Don's Barnyard nearby offers more of a family farm experience. Fall and summer activities for younger children including a large Halloween festival for the month of October. There is a large play structure area to run around in addition to goat feeding and more predictable offerings.
So it doesn't look like much the place to eat in the area on Route 7 is the Old Forge, considered a very solid standby for all the locals in the area as well as smart tourists who hear about it. It doesn't look like much from the outside but everyone loves their wings, and the food is made to order. Expect waits in peak meal times, however.
Jiminy Peak in the winter months offers a ski and snowboarding resort, and in the warmer months, a really fun mountain adventure park, alpine slides, and other such things. It's something we do on every trip to the area for my kids after dragging them through resorted homes and art museums. There are bouncy houses and activities to do, and it works well for children three and older.
New Lebanon
Near Jiminy Peak and the Hancock Shaker Village, one can drive a few minutes across the state line into New Lebanon, New York to visit a truly unique area museum. Behold! is a live exhibit museum of rural community life. Its programming is made of area residents who volunteer to lead or demonstrate a specific skill to demonstrate life in this community.
Cheesemaking, baking, pet training, and music are just some of the options that appeal and work for families. Choose the activity from the website and convene at the Behold! building. Our family boarded a school bus to transport us to the resident's home who was leading the experience, a jazz composer who talked through his process.
Williamstown & North Adams
If you're not visiting this charming town for a reason related to Williams College, it's really all about the summertime Williamstown Theater Festival (which isn't the most family-friendly) or it's art museums: Williams College of Art, and the Clark Art Institute. Both museums have collections worthy of global acclaim, and the Clark boasts an incredible expansion project that was completed in 2014.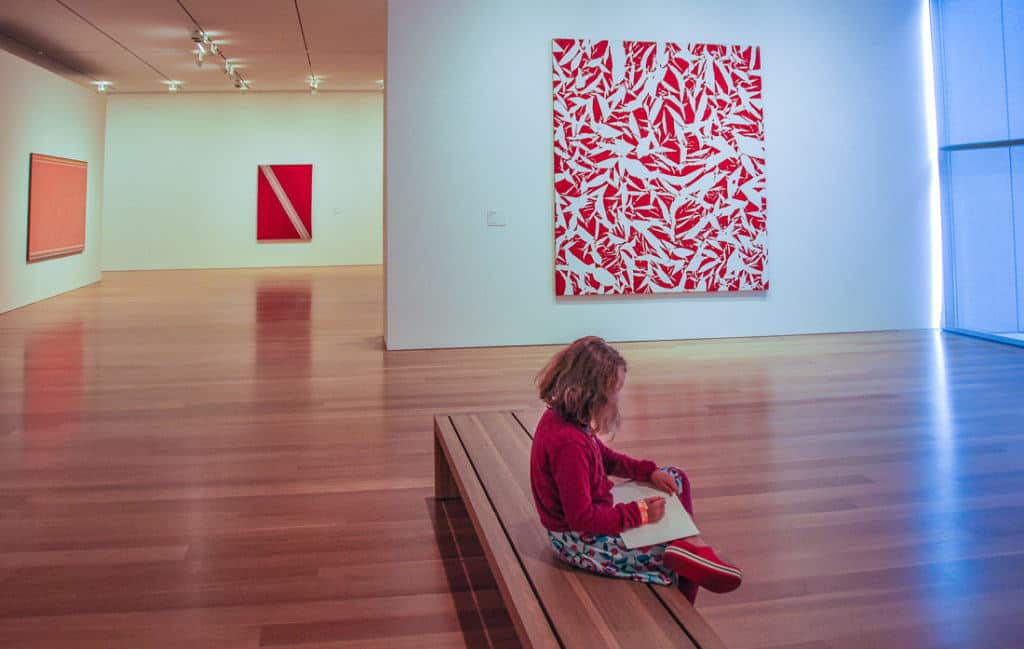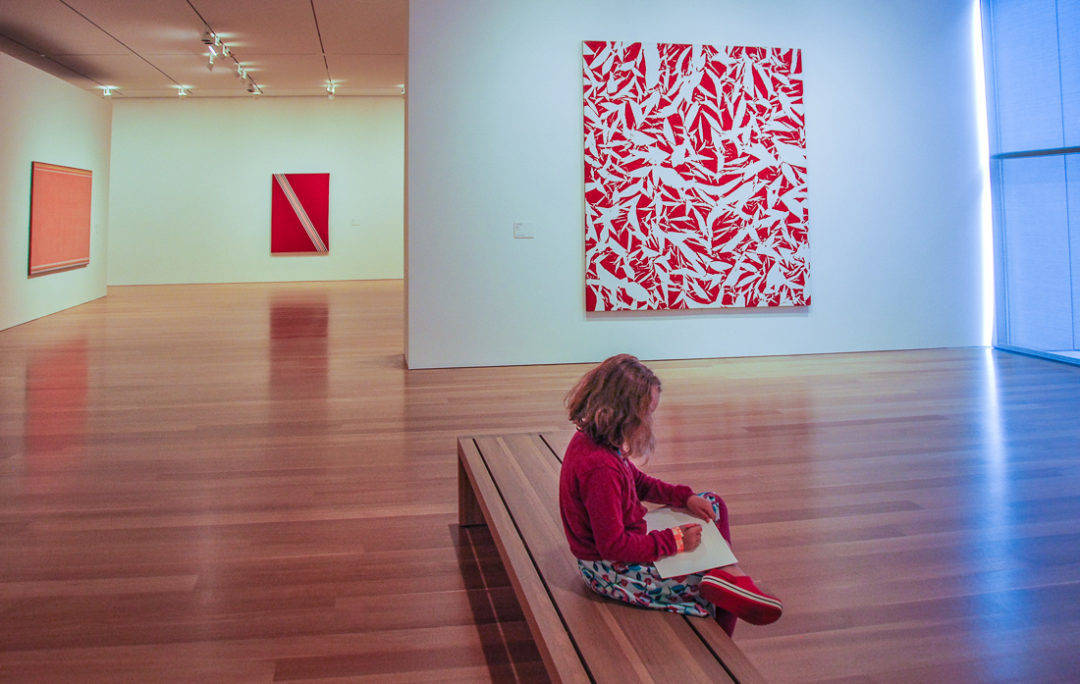 Children receive gallery kits with sketch pads and pencils and visual guides to enjoy the collections. For parents used to bribing children with presents from the museum store (guilty!) if they allow parents to enjoy the art, please be warned that every high design toy at the Clark seem to cost more than $40. You've been warned.
Mount Greylock
Given the choice between hiking or driving up Mt. Greylock, I have to say our choice to drive the Nissan Armada up was a good one. Ascending Massachusetts's highest mountain, I kept wondering if J.K. Rowling had chosen the Berkshires as the seat of American wizardry education with purpose or from a quick google search to find a tall summit near Harvard and Yale.
She placed Ilvermorny School of Witchcraft and Wizardry at the top of Mt. Greylock, and as we approached the monument at its summit I wondered whether she attended the Williamstown Theatre Festival one summer or visited Mass MOCA? The Berkshires can bewitch anybody.
North Adams
North Adams has two primary destinations for families, Mass MOCA, and the Porches Inn, both musts for families. It takes little effort to engage children at the Mass MOCA compared to any other museum. With gallery spaces the size of football fields, the scale of the museum and its work captures the attention of children easily. The kid center inside is well designed to entertain families before or after gallery visits, or hikes, since the distance isn't insignificant.
The Porches Inn (read our full review) is our other family favorite for places to stay. It offers a free breakfast and outdoor pool that remains open year round. While it lacks room service, it offers a parlor for games and a walkable distance to Mass MoCA and its many dining options.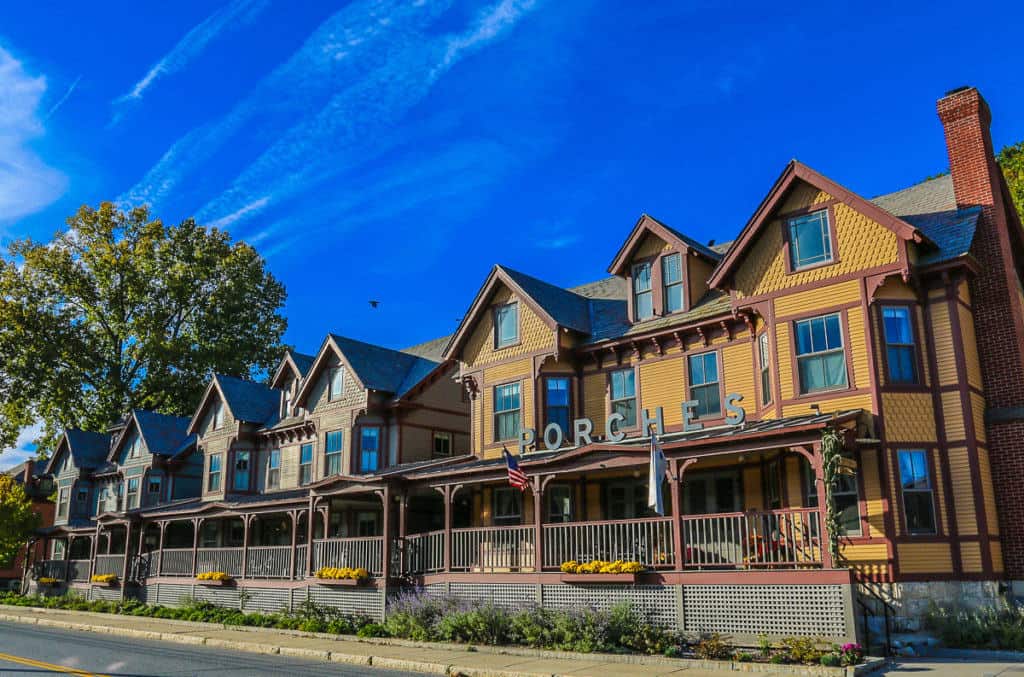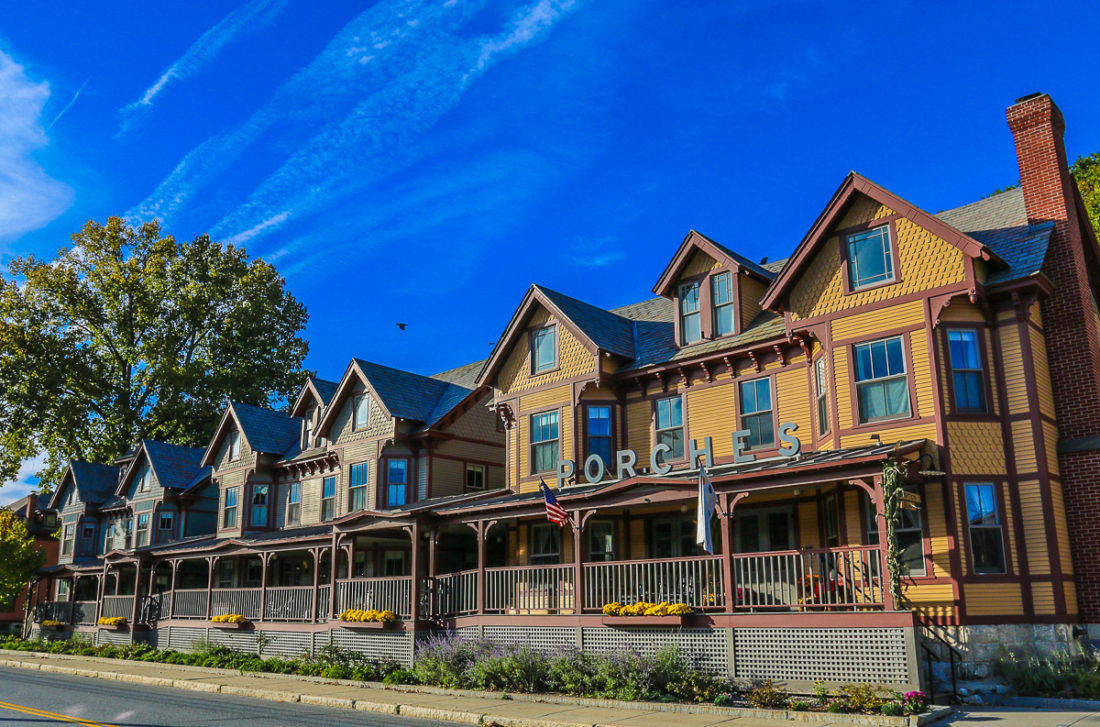 The Berkshires has been a very special destination for me— one I have visited almost yearly since 1986 when I started summer camp in Lenox. I don't think there is a region in the United States that can rival its cultural, natural, and historic offerings.  Frankly, there is so much more I didn't get to include, but this is a web magazine and not a guidebook.
When to go to the Berkshires
For the peak cultural experience, explore the Berkshires from the last week of June through Labor Day, and all of its performing organizations will be in full swing. Towards the end of July, most of the area summer camps will offer a visiting weekend, and all area accommodations will book up early. It's the one time of year high net worth parents from Manhattan who don't plan ahead will secure two-star motel rooms with a smile.
If you are more outdoorsy or want the scenic fall foliage experience, the first two weeks of October are best. Although we typically visit in the summer, to experience the Berkshires is fall foliage glory in that Nissan Armada achieved the impossible: a family road trip as relaxing and restorative as a guided meditation.