For families seeking a calm refuge from New York or Boston, these Berkshire vacation rentals are the answer.
The Berkshires embodies all the best in New England has to offer for a year-round getaway. Spectacular hikes and drives, a local farming and food scene, fall foliage, water and mountain sports, and four centuries of iconic American history and architecture keep any family busy.
The Berkshires offers advantages of history, culture, and dining that the rest of New England can't boast. Its proximity to New York City has given the Berkshires an edge with a food scene, modern art, and all the essentials a Brooklynite needs.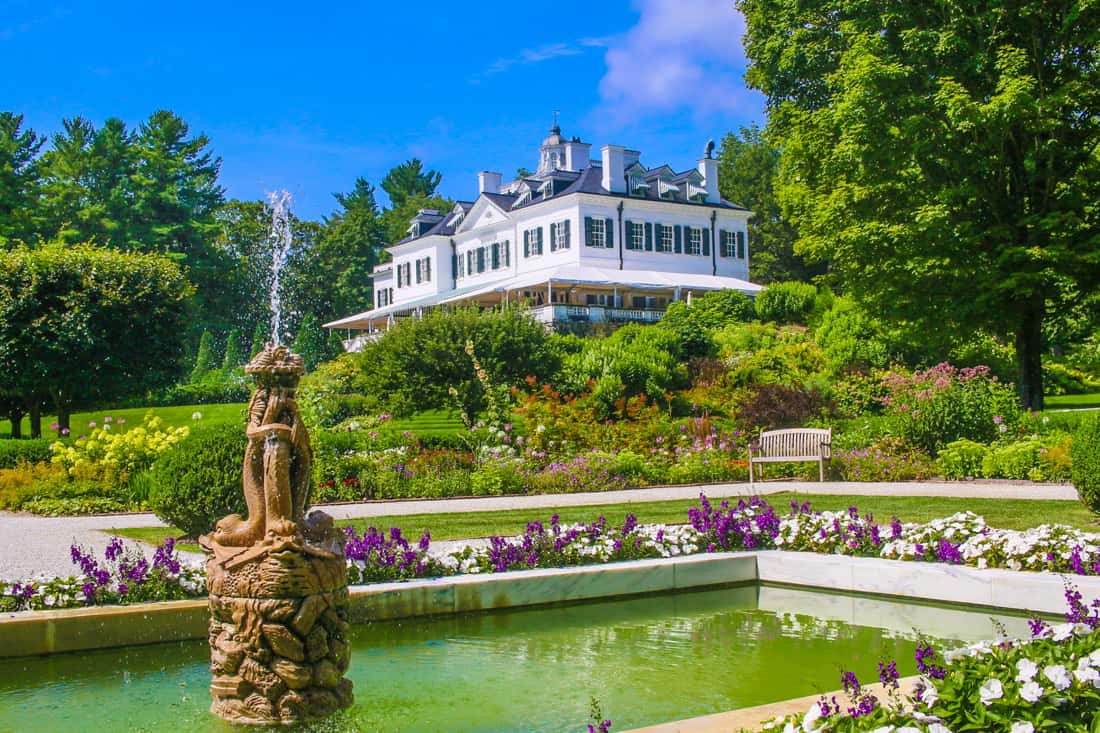 ---
Home rental is the saving grace for maintaining a travel lifestyle as we weather an uncertain pandemic. Renting a beautiful place for a week or two (or even months) is a way to satisfy our Wanderlust and look at some new walls this winter.
---
---
The volume of vacation homes in the Berkshires is daunting and not as easy as finding the perfect inn or resort for your family vacation.
Fear not, as we at Luxe Recess have scoured through hundreds of listings to show you the best for gathering the family and your pandemic bubble to celebrate the holidays or a change of scenery.
You will not find sectionals of burgundy La-Z-Boys in these homes. These have been selected for only the best Berkshire vacation home experience including design and amenities. All have at least a four-star rating from prior renters, and all welcome children.
---
---
To facilitate complying with state travel restrictions, we have included homes in New York and Massachusetts so last-minute changes do not disrupt your plans.
These are the best of the best of the Berkshire rental listings on VRBO, our preferred site for home rental due to increased renter protections.
---
Berkshires NY Home Rentals
1) Bellavista Country Estate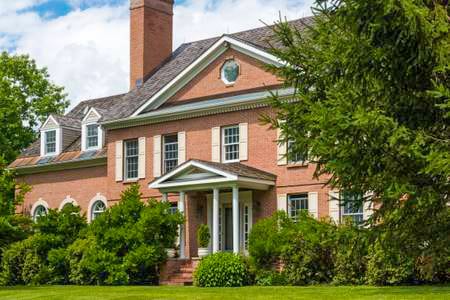 Old Chatham, NY
Estate: 12,000 sq. ft.
Sleeps: 16
Bedrooms: 7
Bathrooms: 5
Min Stay: 2 nights
Pool: Outdoor
Kids' Amenities: Playroom, playground, arcade
Style: Shabby Chic
The Bellavista Country Estate prior to the pandemic was a destination wedding site.
The stately Georgian home has seven bedrooms and sleeps 16 people. The estate has 60 acres, a pool, pond, arcade room, private gym, and hiking trails on site. Kids will love there's a playground and playroom. While the bones of this Georgian estate are beautiful, its interior is simple and a bit shabby chic side.
So even though it has a party barn ready to throw an event for 65 people, it's still extra space for your family to spread out for remote learning gym class.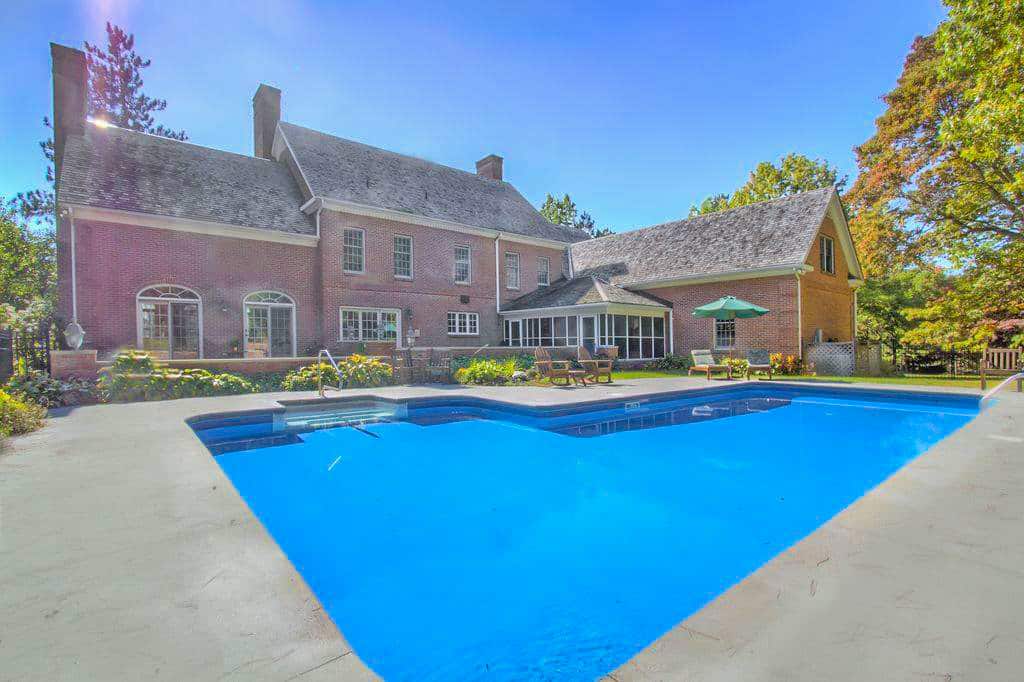 ---
2) New Construction Farmhouse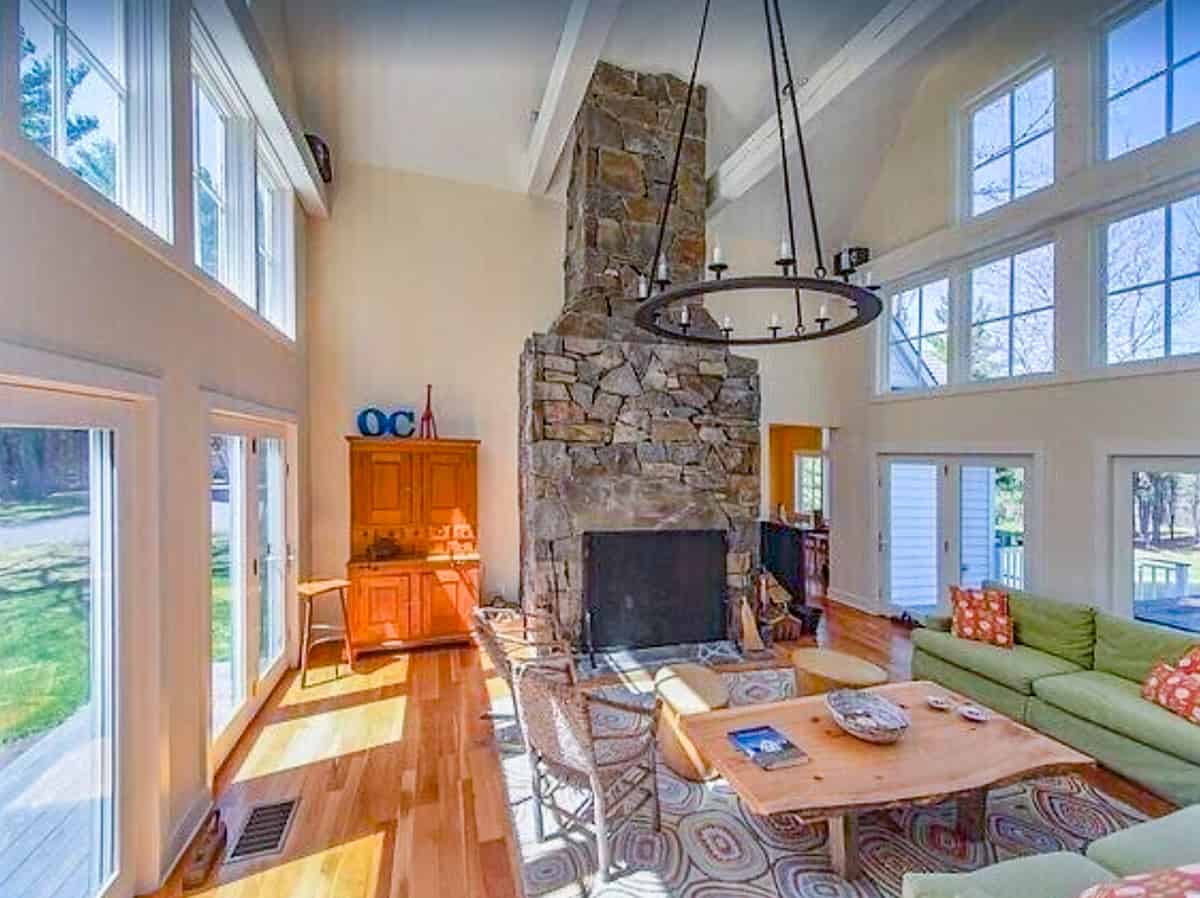 Old Chatham, NY
House: 4600 sq. ft.
Sleeps: 10
Bedrooms: 6
Bathrooms: 5
Half Baths: 1
Min Stay: 7 nights
Pool: Outdoor
Kids' Amenities: Game room
Style: Casual
This new construction farmhouse rest on 73 acres only 20 minutes from the Jiminy Peak slopes across the state line.
Notable is the gourmet kitchen and outdoor cooking area near a manicured pool area and fire pit. In the winter, take advantage of the slope lawns for sledding.
Kids will love that game room with the ping-pong table and a closet full of board games. Parents will love the design that floods the rooms with sunlight and views of the grounds.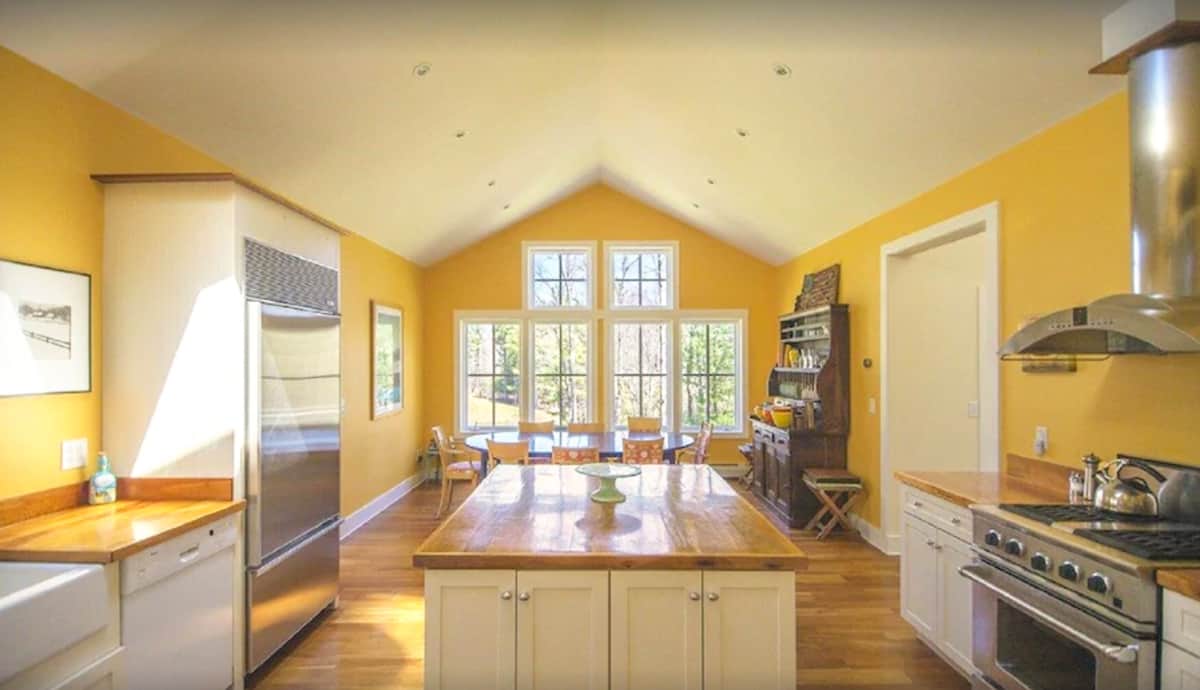 ---
3) Sunny Pond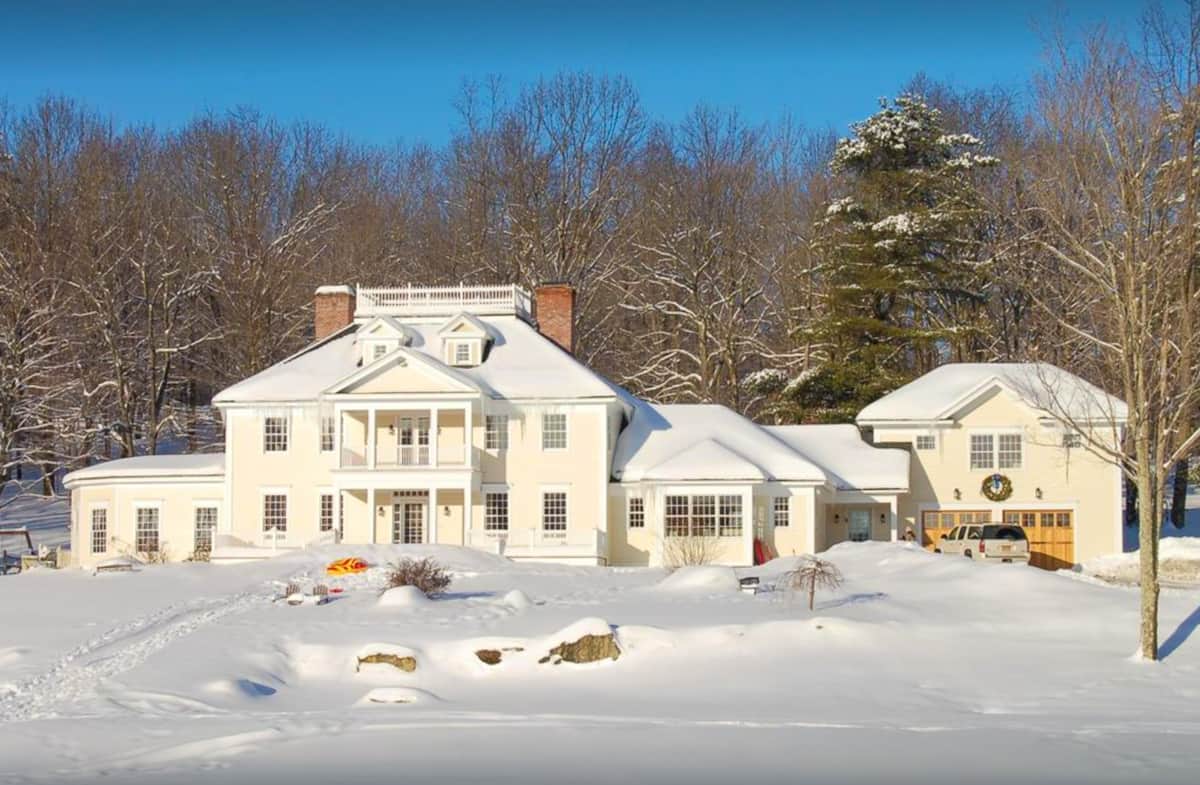 Austerlitz, NY
Estate 7500 sq. ft.
Sleeps: 16
Bedrooms: 7
Bathrooms: 3
Half Baths: 2
Min Stay: 1 night
Pool: Private pond on property for swimming and pedal boat
Children's Amenities: Playground, ping pong table, playroom with toys and games, media room with game
Style: Casual
This newly renovated Georgian Colonial home sits on 40 acres with a private pond.
Perks include a very spacious chef's kitchen, several fireplaces, a secluded office, a children's room with bunk beds and a trundle. The finished basement includes a children's playroom and well-stocked gym.
There's an additional guest apartment on site to sleep six more guests with its own small kitchen and living area.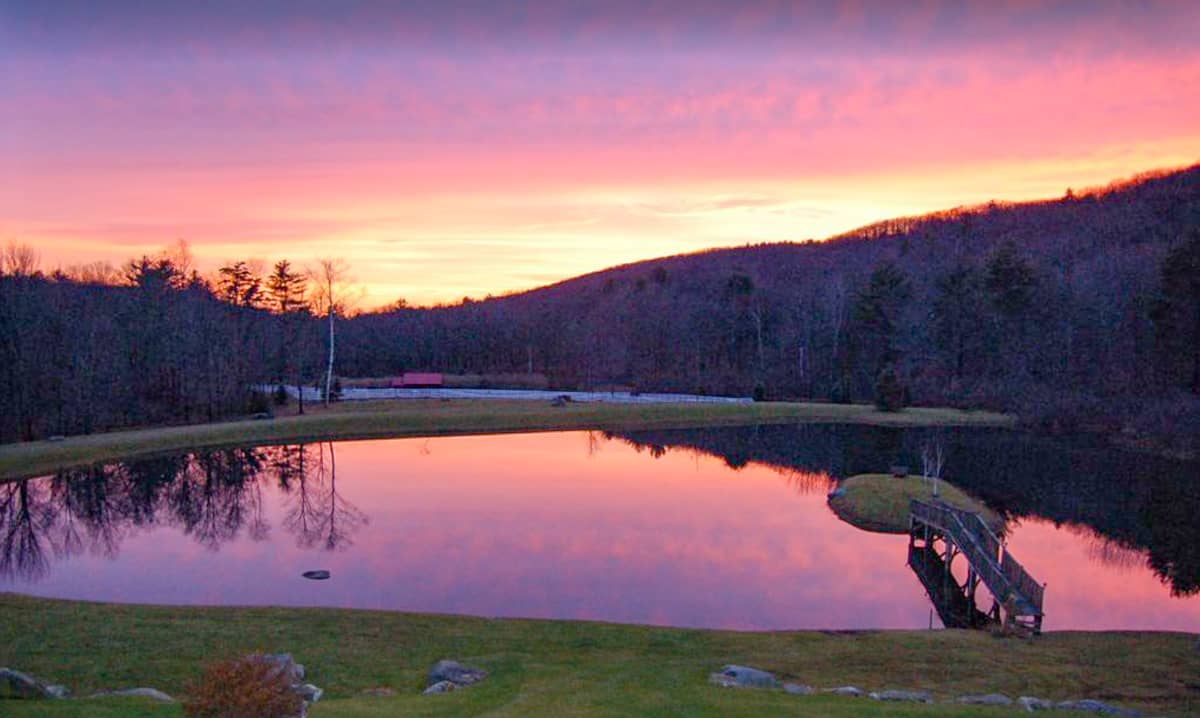 ---
4) Two Ponds Compound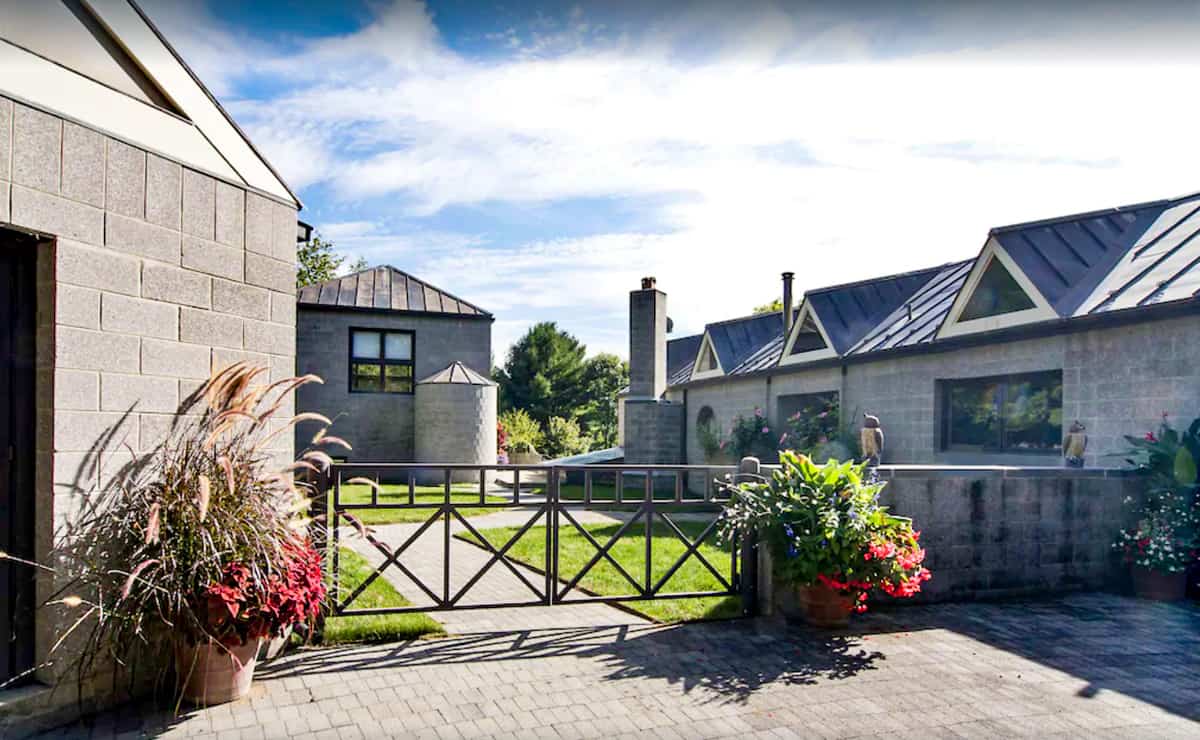 Chatham, NY
Sleeps: 10
Bedrooms: 5
Bathrooms: 4
Half Baths: 2
Min Stay: 4 nights
Pool: Outdoor
Kids' Amenities: Not ideal for young kids
Style: Clean and modern
Maybe you really want to escape this pandemic in city life in this modern compound complete with its own generator and a backup refrigerator.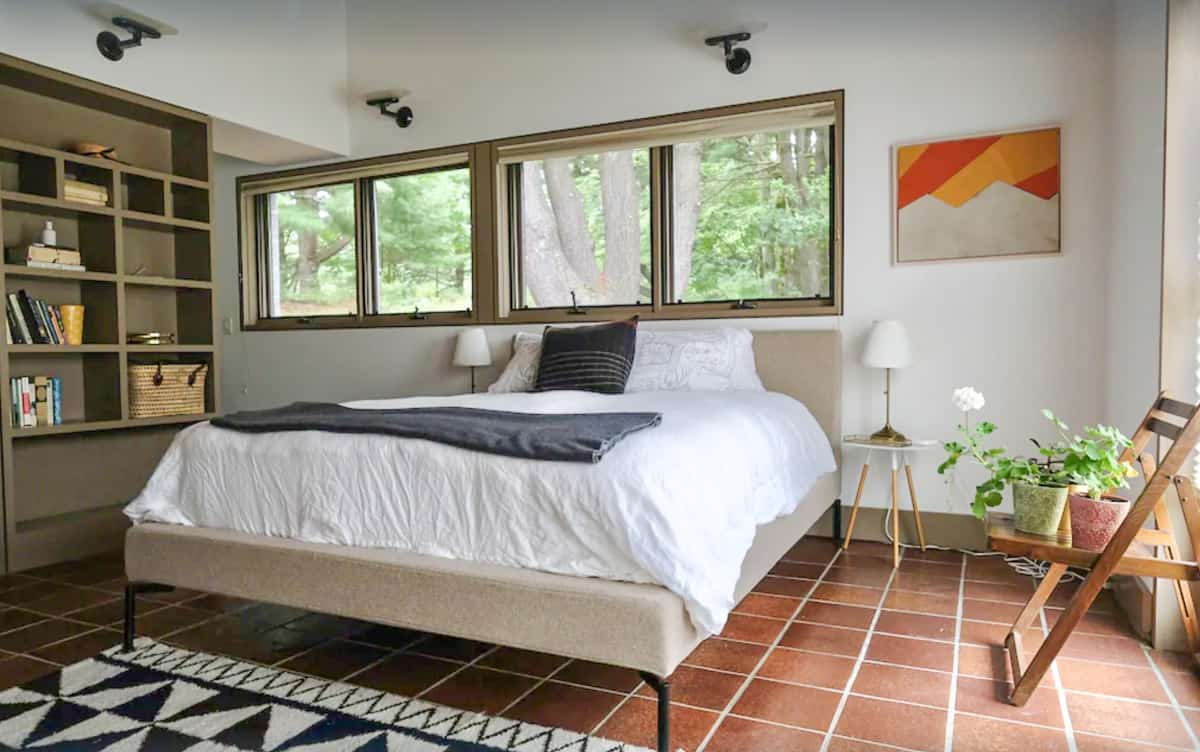 Arthur Hadley purchased the building from architect Parker Bloser in 1988, and you can read about it owner and architect.
Bedrooms are spread between two buildings to get families with adult children or at more generations the additional space they need for remote work and learning. The detached building has two queen bedrooms with a shared bath well three bedrooms are in the main house.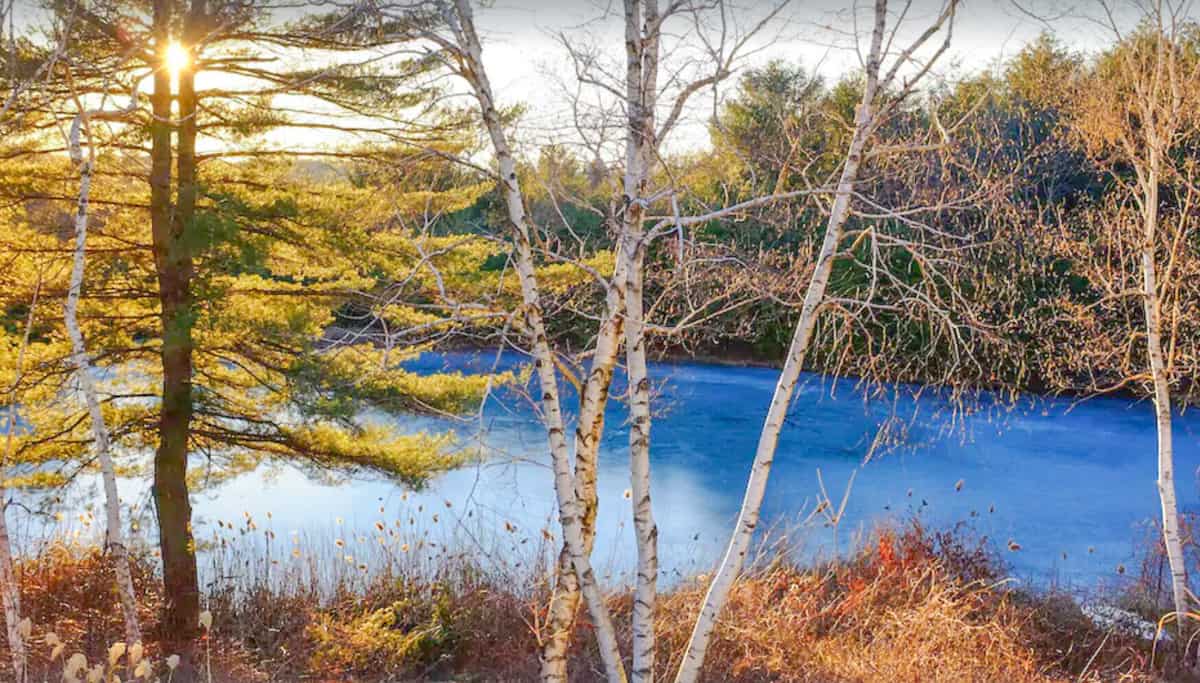 This rental is the perfect choice for those whose interior design standards remain high with upscale interiors.
For those weary of leaving their own well-appointed kitchens, the Two Ponds kitchen includes a Liebherr fridge, Jenn-Aire double oven, Gaggenau stovetop, two dishwashers.
---
---
Berkshire Rentals In Massachusetts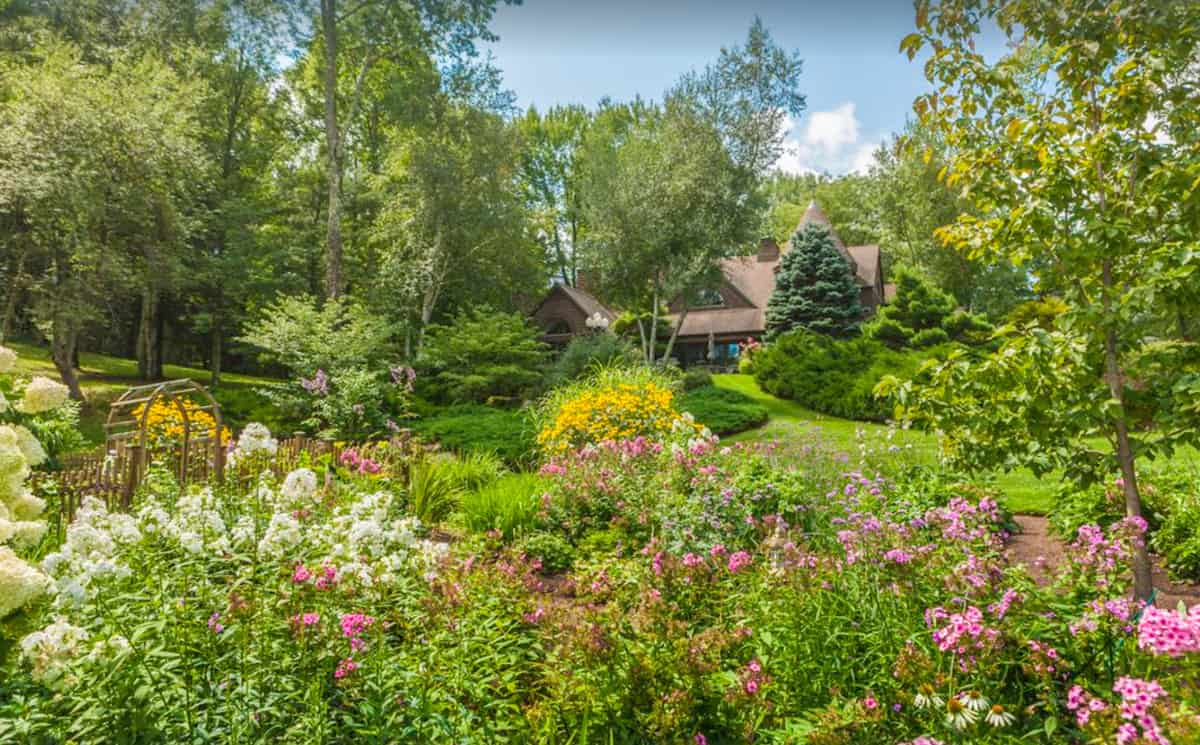 5) Dreamy Southern Berkshire Estate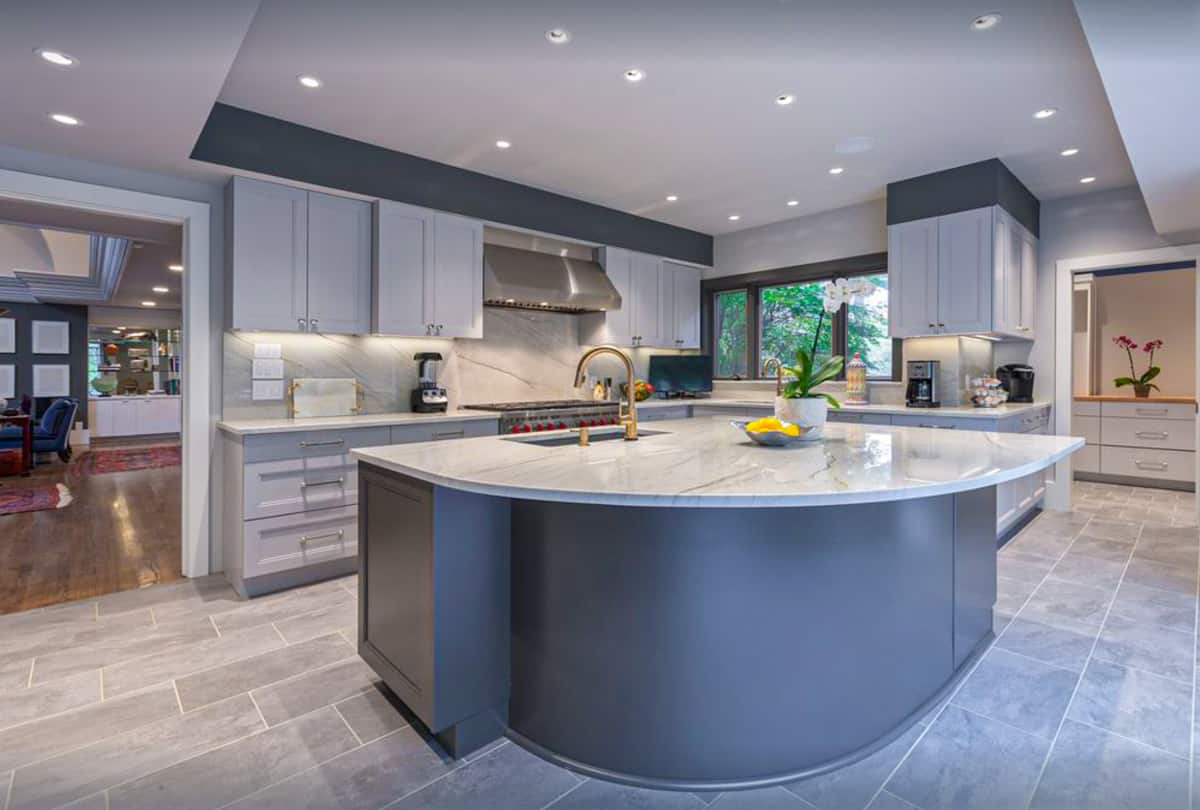 South Egremont, MA
House 6000 sq. ft.
Sleeps: 14
Bedrooms: 5
Bathrooms: 6
Half Baths: 1
Min Stay: 7 nights
Pool: Outdoor
Kids' Amenities: Playground, apple orchard, vegetable garden that guests can harvest and eat, piano for lessons
Style: Ready for a magazine spread
This spectacular home in the southern Berkshires is the most luxuriously appointed of all Berkshire vacation rentals, and its price reflects it. This immaculate home's landscaping and interior design as for the most discriminating guests.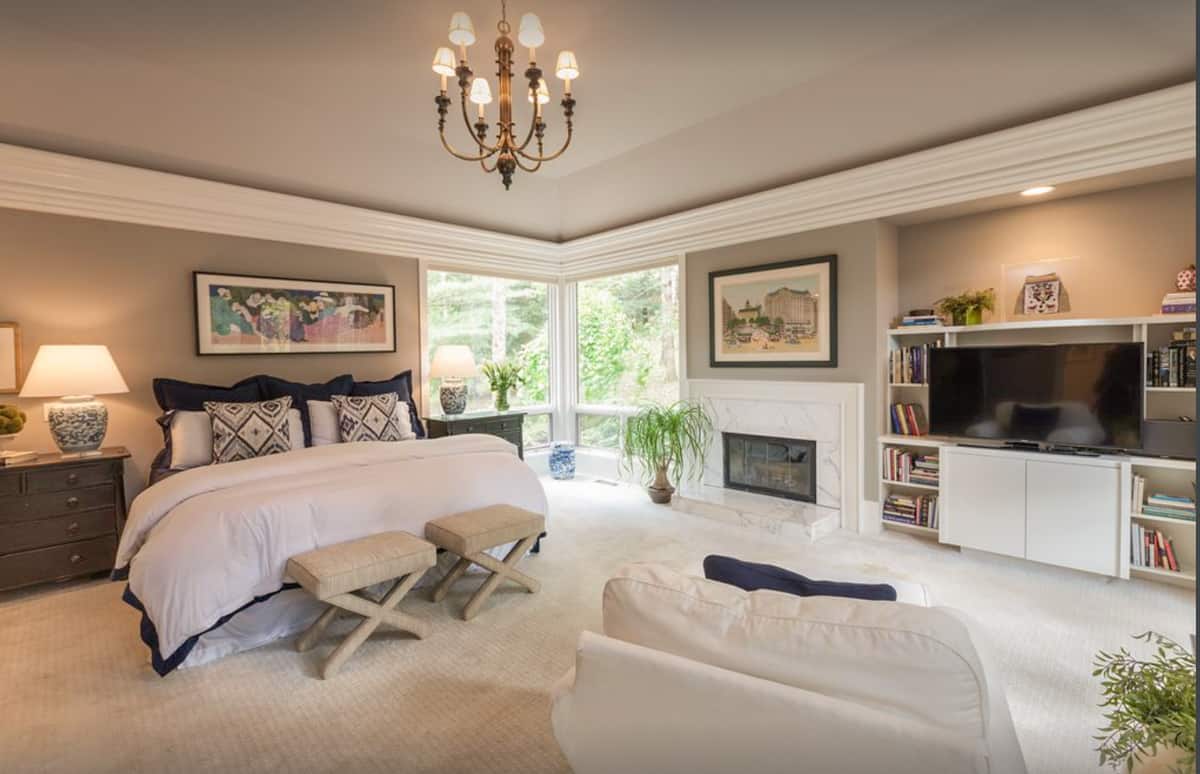 It's the ultimate choice for multi-generational travel. There's a gourmet kitchen with Subzero and Wolf appliances and a dining room that can seat 14. Depending on the season guests are allowed to harvest what's growing in the organic garden for themselves.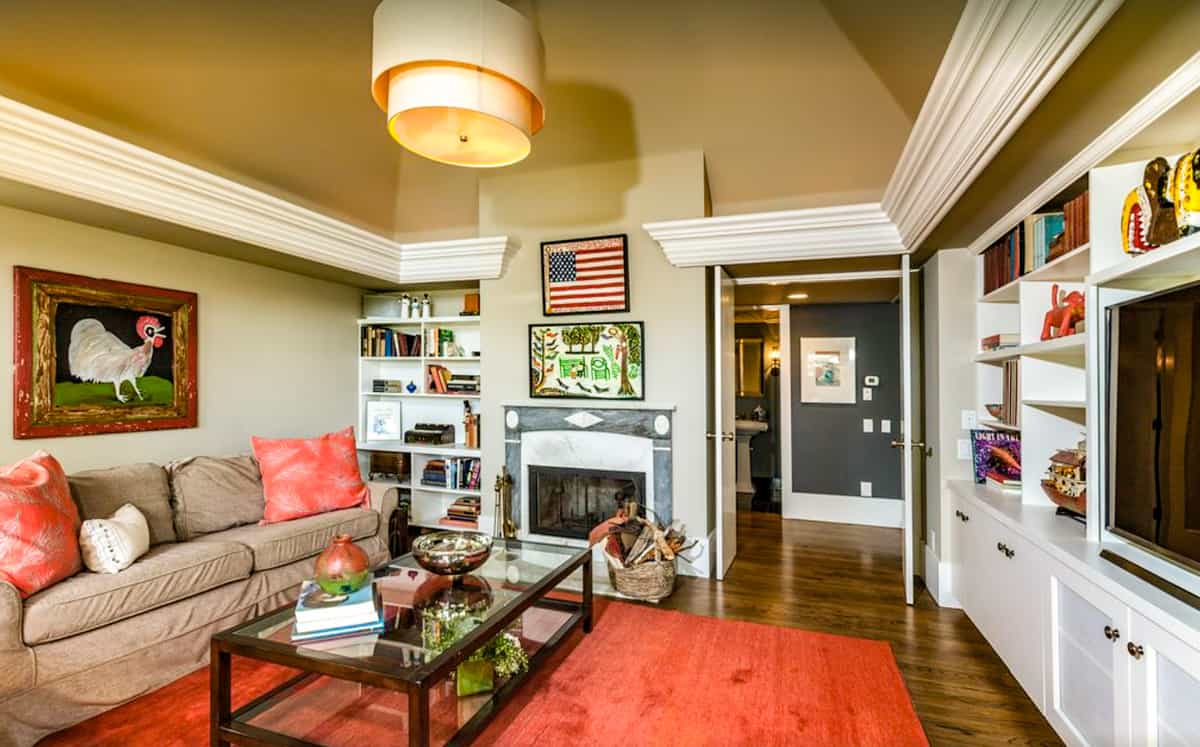 This estate includes a security system. Extra perks include a Peloton bike in the home gym and a grand piano in the main room for kids to continue their remote lessons.
---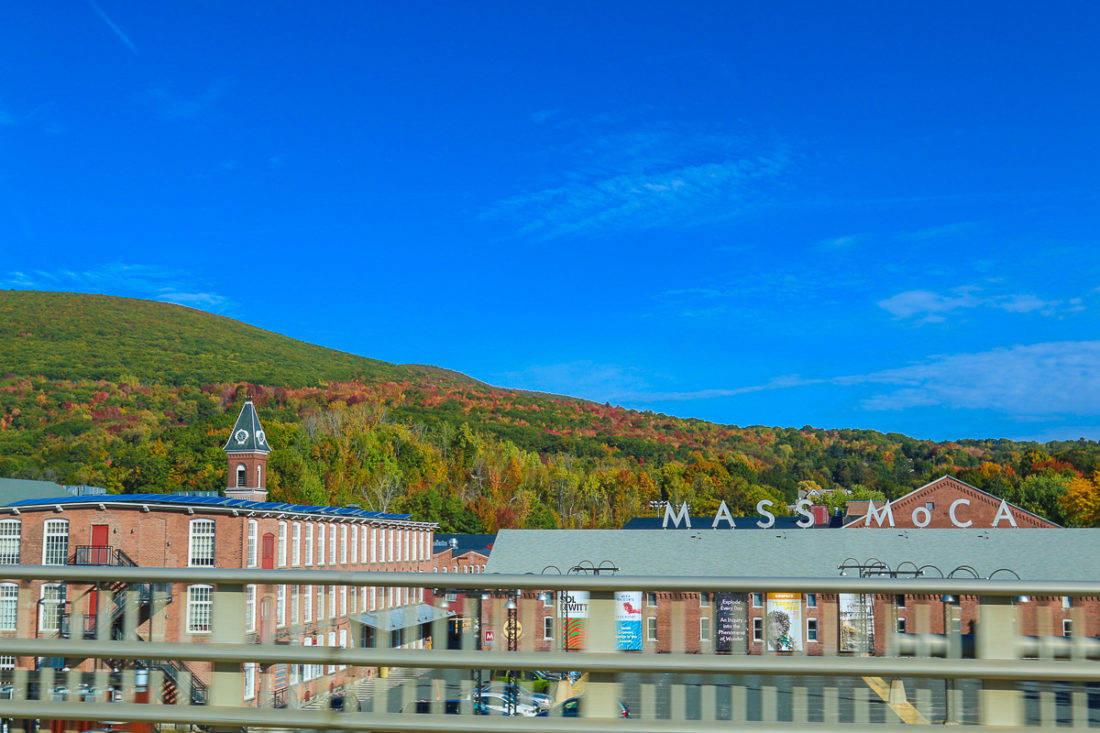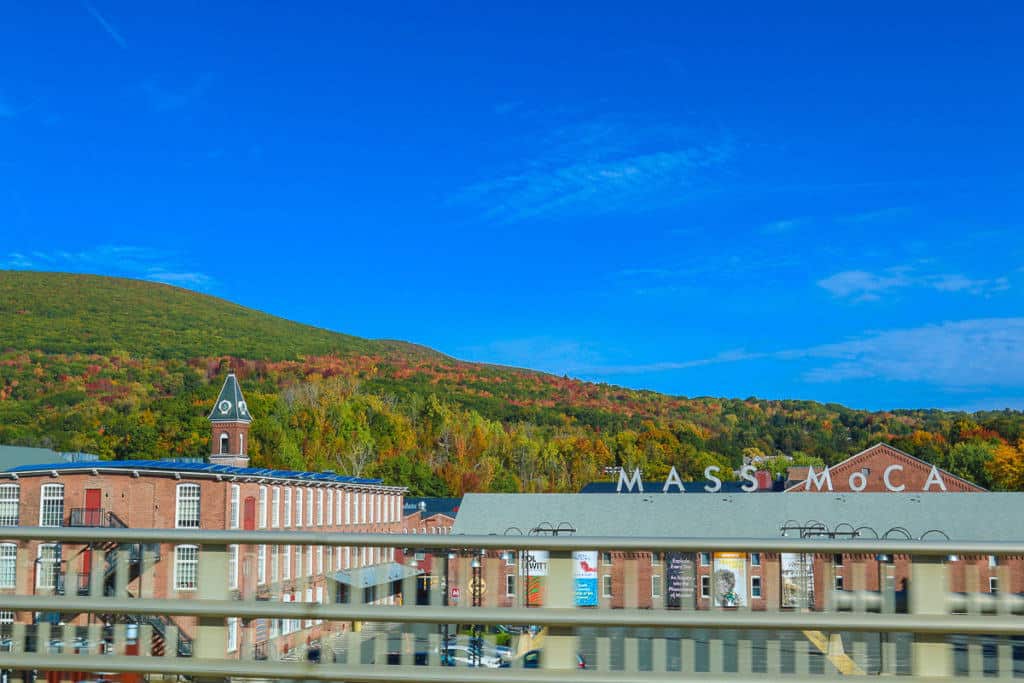 ---
6) Family Home in Egremont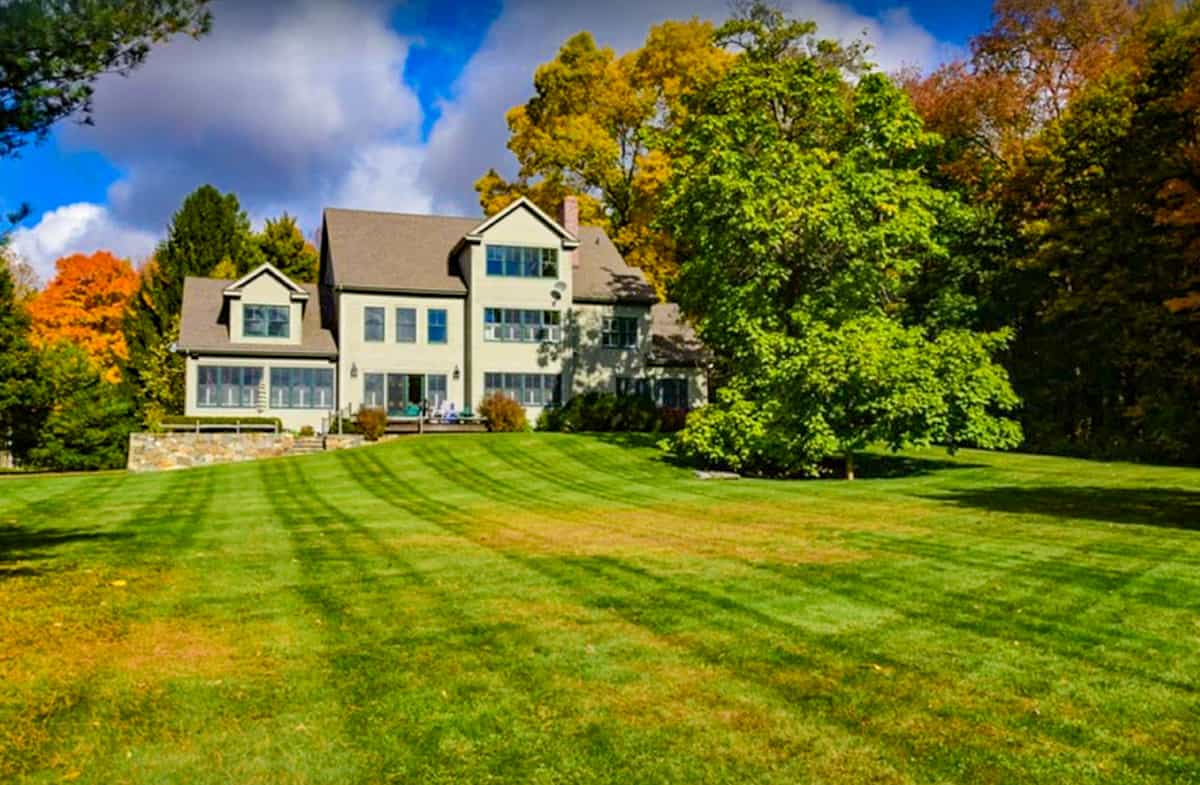 Egremont, MA
House 6,000 sq. ft.
Sleeps: 12
Bedrooms: 5
Bathrooms: 4
Half Baths: 1
Min Stay: 7 nights
Pool: No
Kids' Amenities: Children's bedrooms with desks for remote learning, media room with games and art supplies
Style: Casual
Well-maintained home with lovely porch views overlooking Marsh Pond sits on 13 acres. The house faces Marsh Pond – great for canoeing, fishing, and ice skating. This home has high speed internet and layouts to accommodate remote work and learning easily.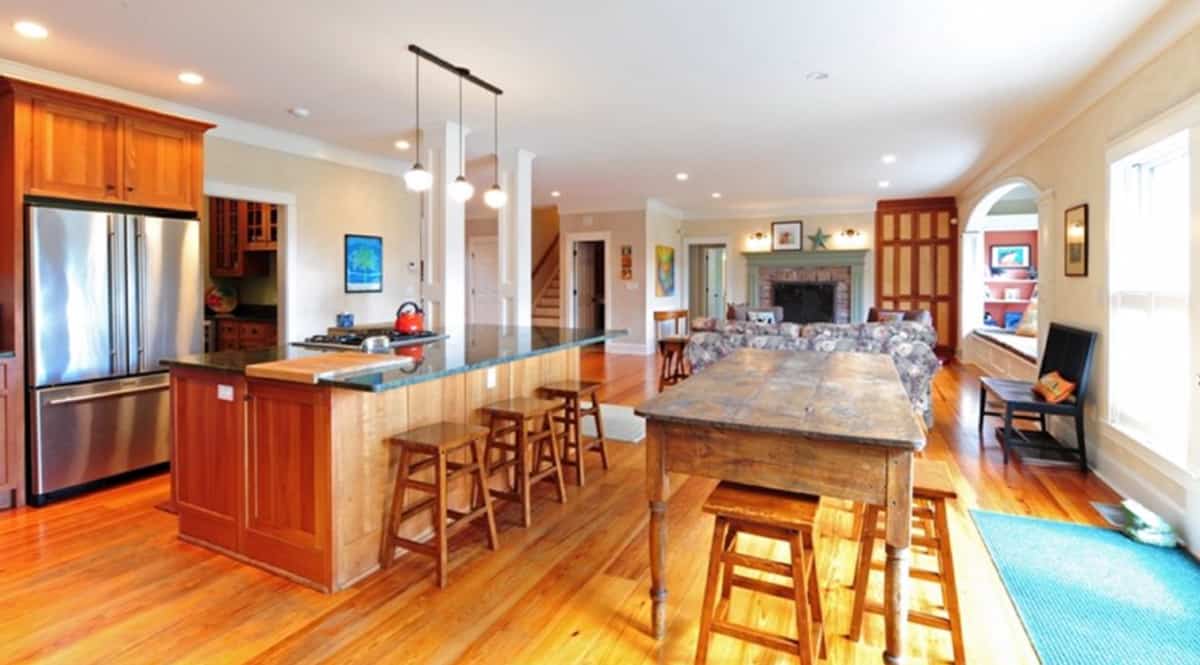 Both a piano and a fitness room can keep a family on schedule with their regular routine.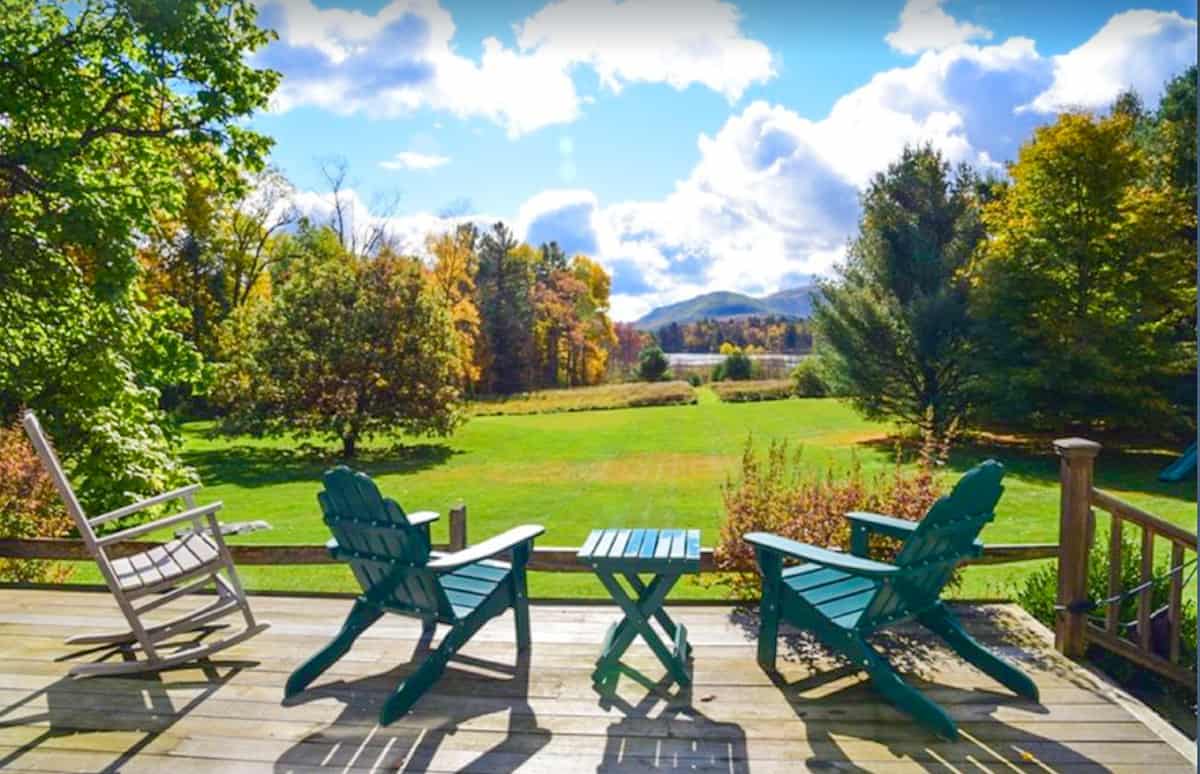 ---
7) The Hill in Great Barrington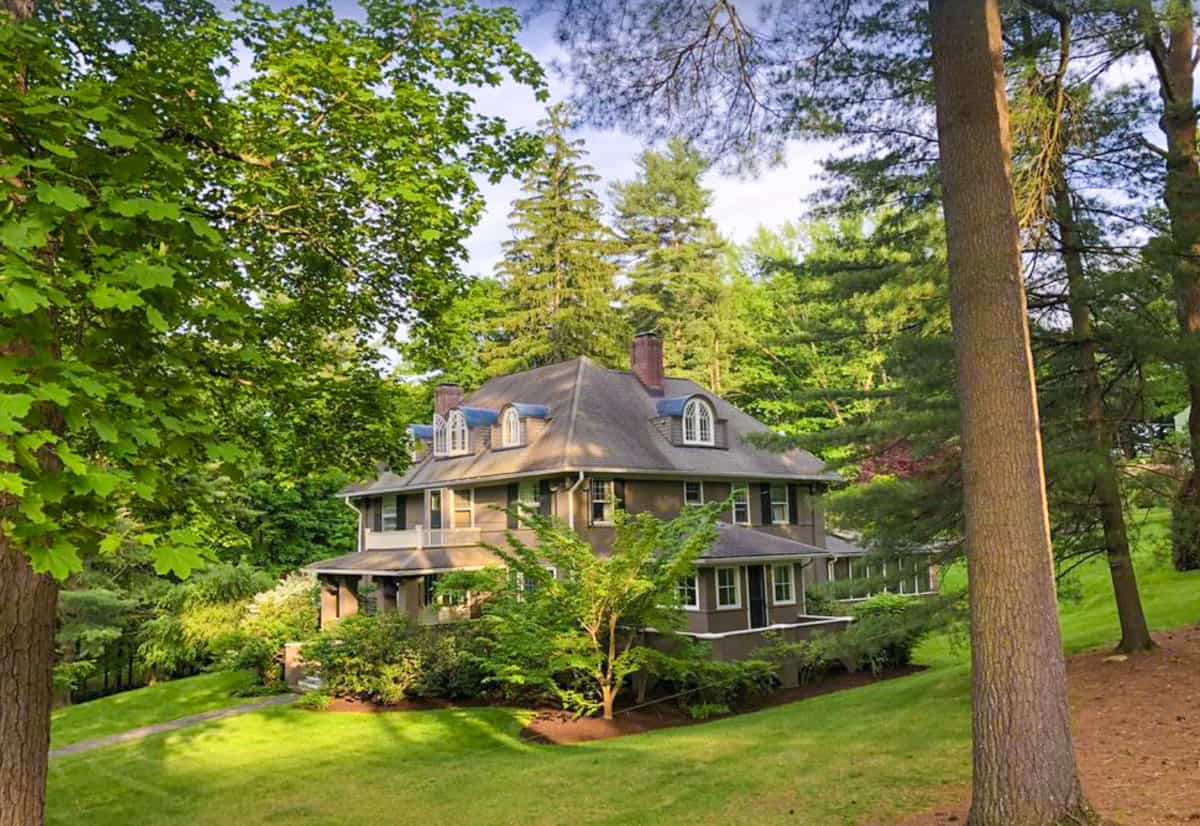 Great Barrington, MA
House: 5000 sq. ft.
Sleeps: 12
Bedrooms: 5
Bathrooms: 4
Half Baths: 1
Min Stay: 60 nights
Pool: Outdoor patio hot tub, swimming within a 10 minute walk
Children's Amenities: Playground, ping pong, children's books and movies, Sony PlayStation, toys
Style: Casual
A spacious in-town location with Great Barrington's shops and restaurants only 15 minutes on foot. Lake Mansfield with a swimming beach is a seven minute walk.
The house was built in 1910 has been meticulously restored with new baths, home audio, and a gourmet chef's kitchen.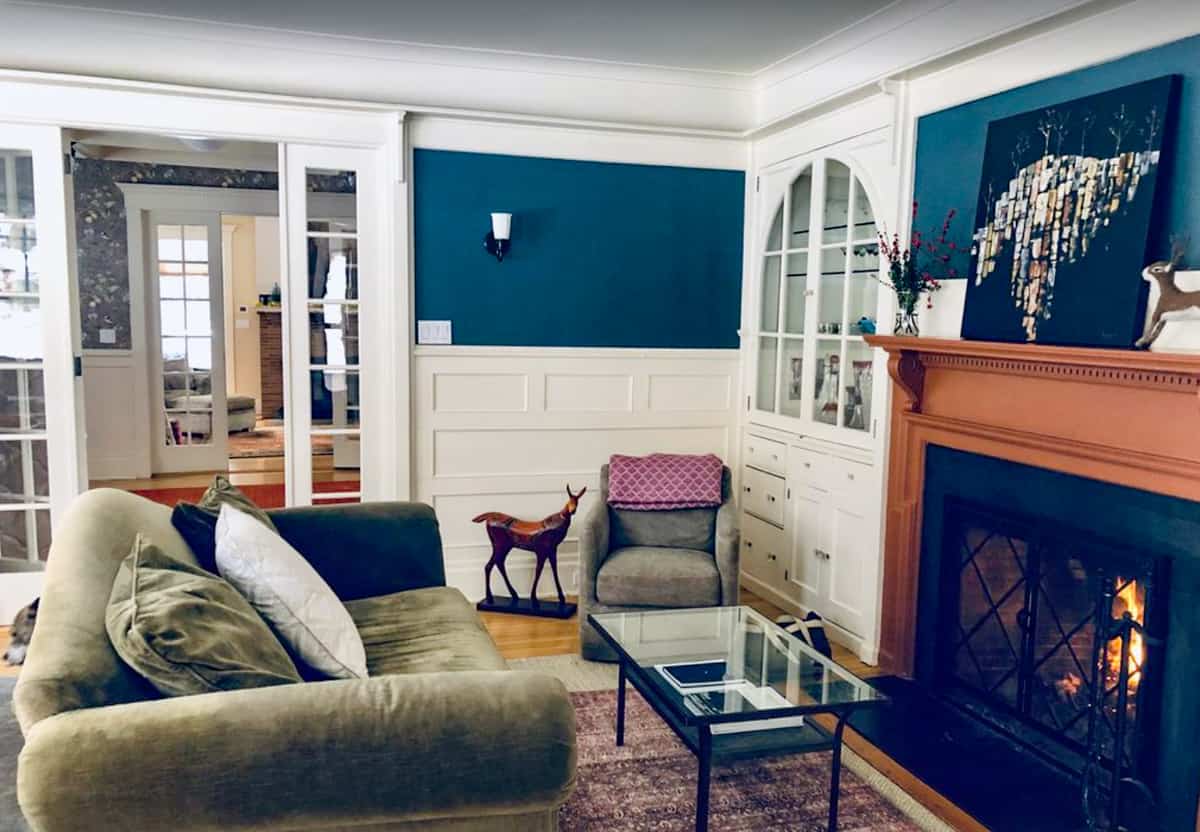 There's a deck with a 9-person hot tub, a ping pong table, and a playground in warmer months to enjoy the large lawn and blueberry bushes.
---
8) The Taggert House of Stockbridge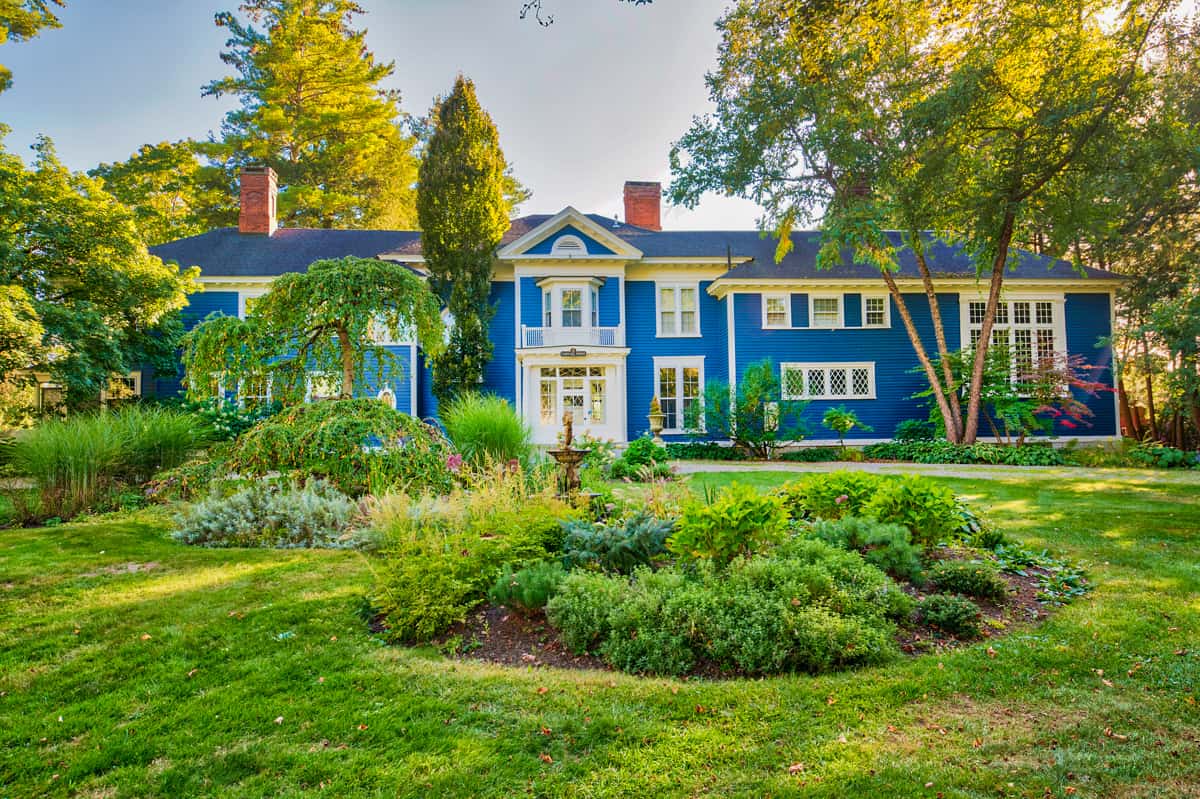 Stockbridge, MA
Estate 9000 sq. ft.
Sleeps: 12
Bedrooms: 6
Bathrooms: 6
Half Baths: 2
Min Stay: 3 nights
Pool: No, riverfront property for wading and fishing
Children's Amenities: Crib and Pack N'Play, Children's themed bedroom with two beds
Style: Traditional with antiques
Steps from the Red Lion Inn and the village of Stockbridge, the Taggert House is a meticulously restored Berkshire cottage that was recently added to the National Register of Historic Places. Downtown Stockbridge has adorable shops and restaurants minutes by foot.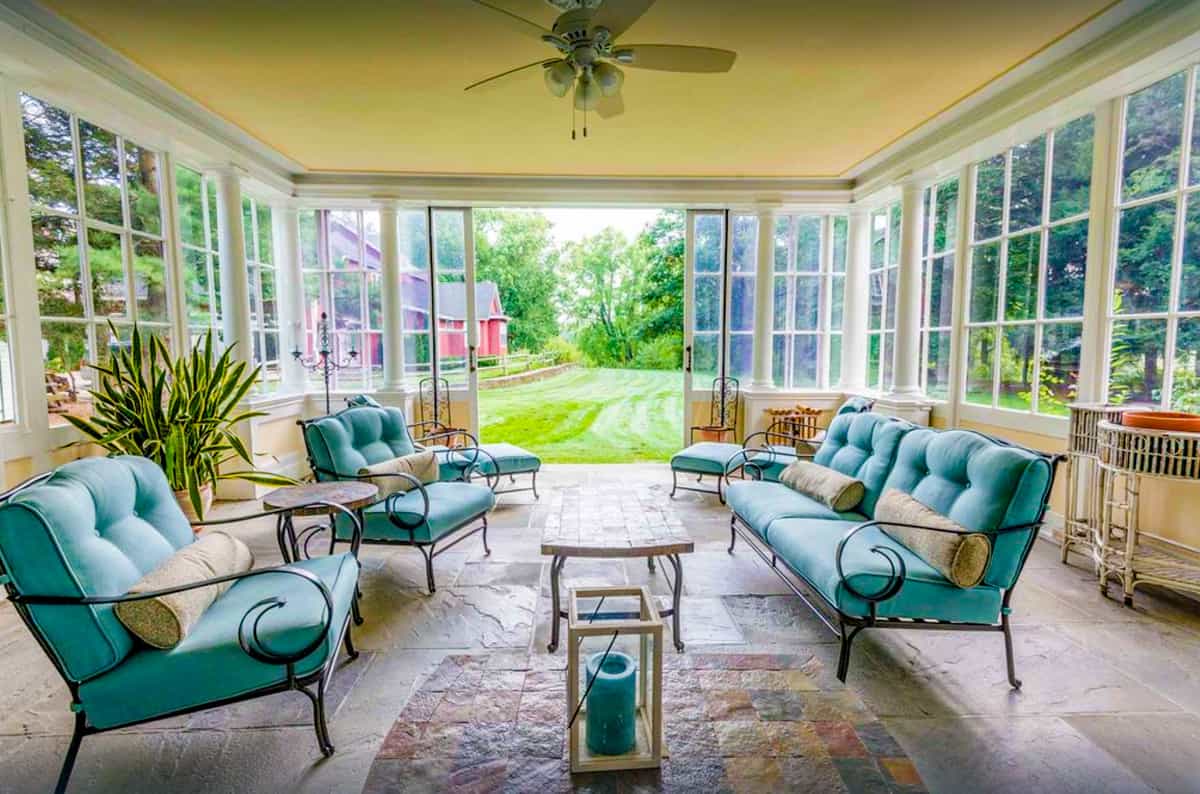 This home and its interiors are elegant but not fussy. With both a billiards room and a conservatory along with a library, families must bring along their Clue board game from home, and maybe figure out how to create a life sized version of the game throughout the house.
A ballroom can be rented separately but isn't included in standard rentals.
---
9) Views of Undermountain Road
Lenox, MA
Chalet: 6000 sq. ft.
Sleeps: 14
Bedrooms: 5
Bathrooms: 5
Half Baths: 1
Min Stay: 3 nights
Pool: No
Children's Amenities: Ping Pong, Pool Table, Media Room, Crib
Style: Contemporary
As a Berkshire visitor for thirty years, Undermountain Road is my favorite drive in all of the Berkshires in Lenox. This Berkshire vacation home is at the part of road near the main entrance to Tanglewood.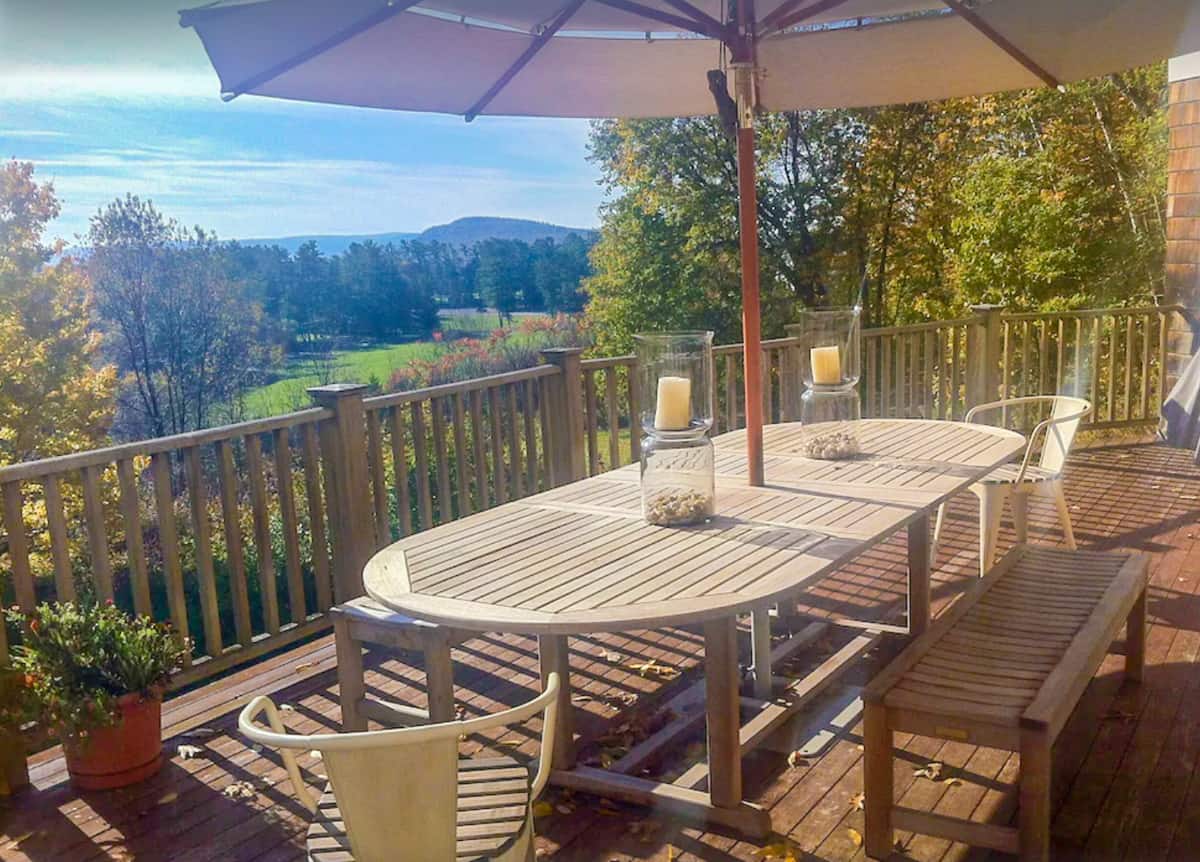 This modern, shingled home showcases its mountain views from several windows. There's' a large deck and screen-in porch to relax looking at the views.
The owners have grown children now, so there is more of an adult feel to the space. Downton Lenox is minutes away for restaurants and shopping and an excellent public library.
---
10) Historic Cliffwood Street Cottage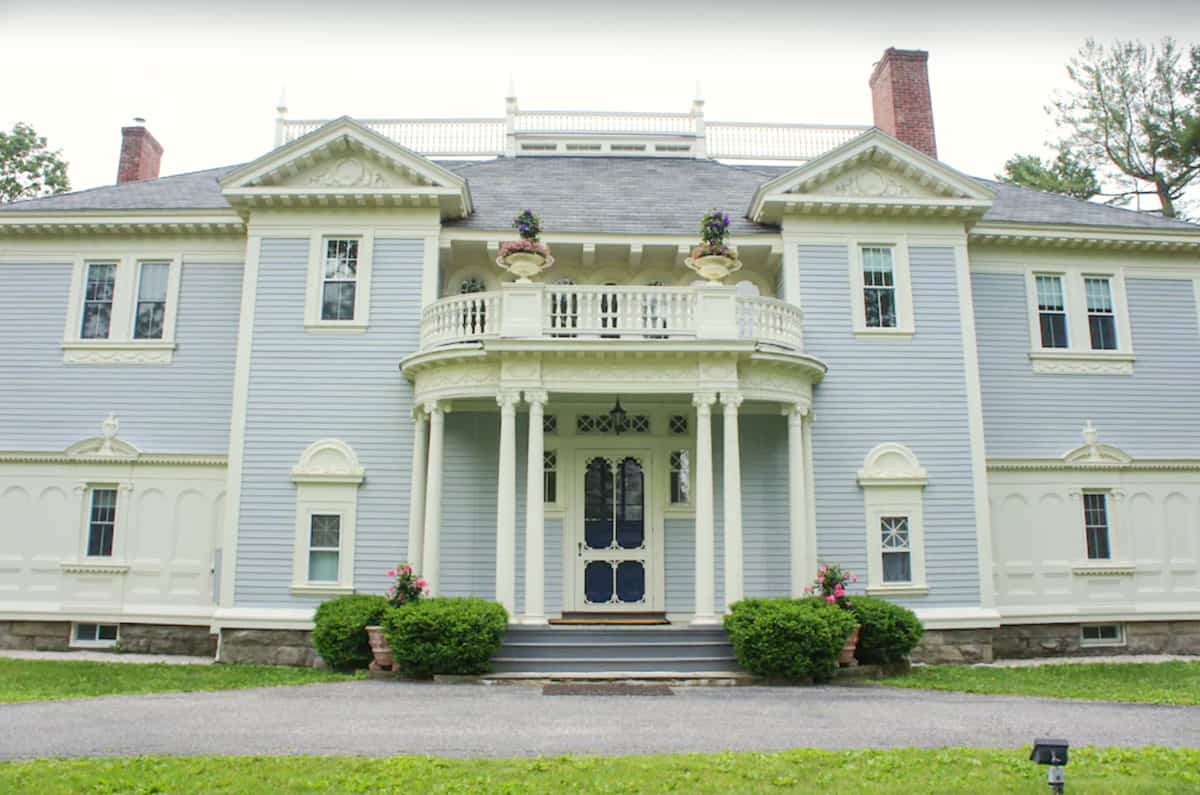 Lenox, MA
Estate 7200 sq. ft.
Sleeps: 17
Bedrooms: 10
Bathrooms: 9
Half Baths: 1
Min Stay: 7 nights
Pools: Indoor with Hot Tub and Outdoor
Children's Amenities: Outdoor Game Room with ping pong, air hockey, and foosball tables
Cliffwood Street is right in the heart of Lenox's historical village and its coffee shops and restaurants are five minutes on foot. This Cliffwood Street residence has been a bed and breakfast in decades and is now a single family vacation residence.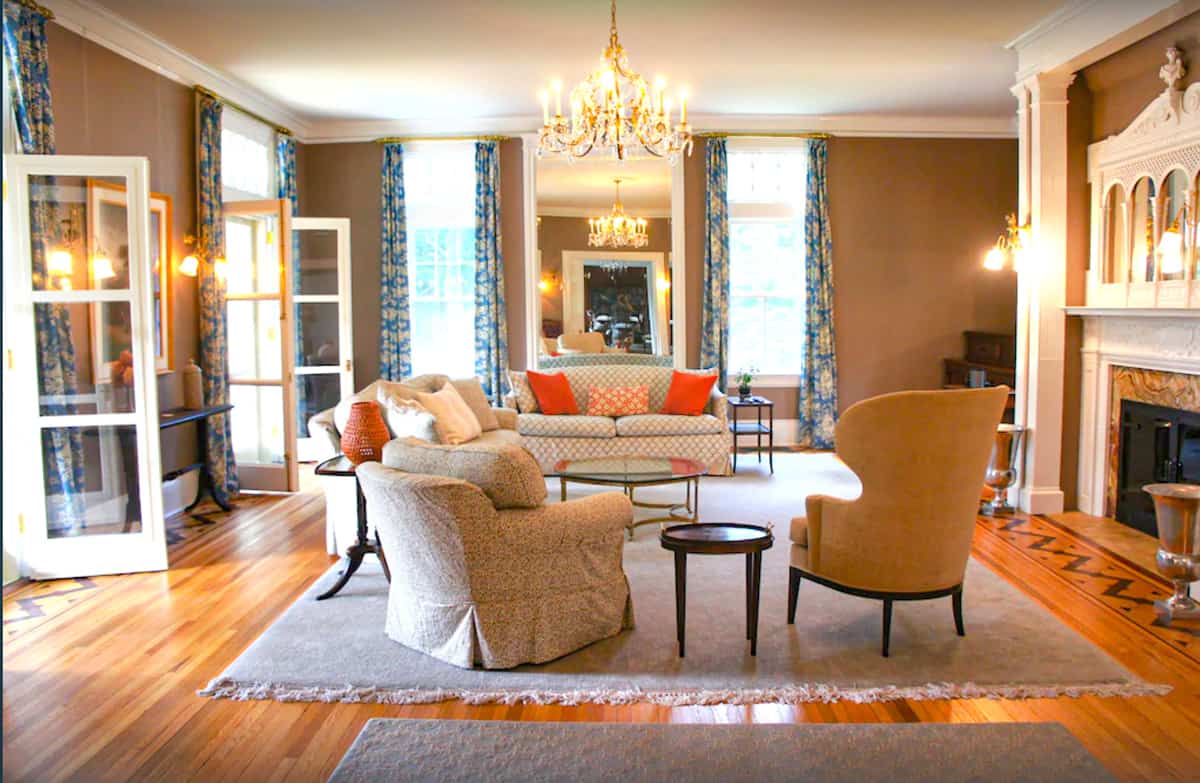 Rooms and bathrooms are tastefully updated, while most bedrooms still have operating fireplaces in the colder months.
This restored Berkshire cottage is one of the few homes to boast and indoor and outdoor pool for year round swimming.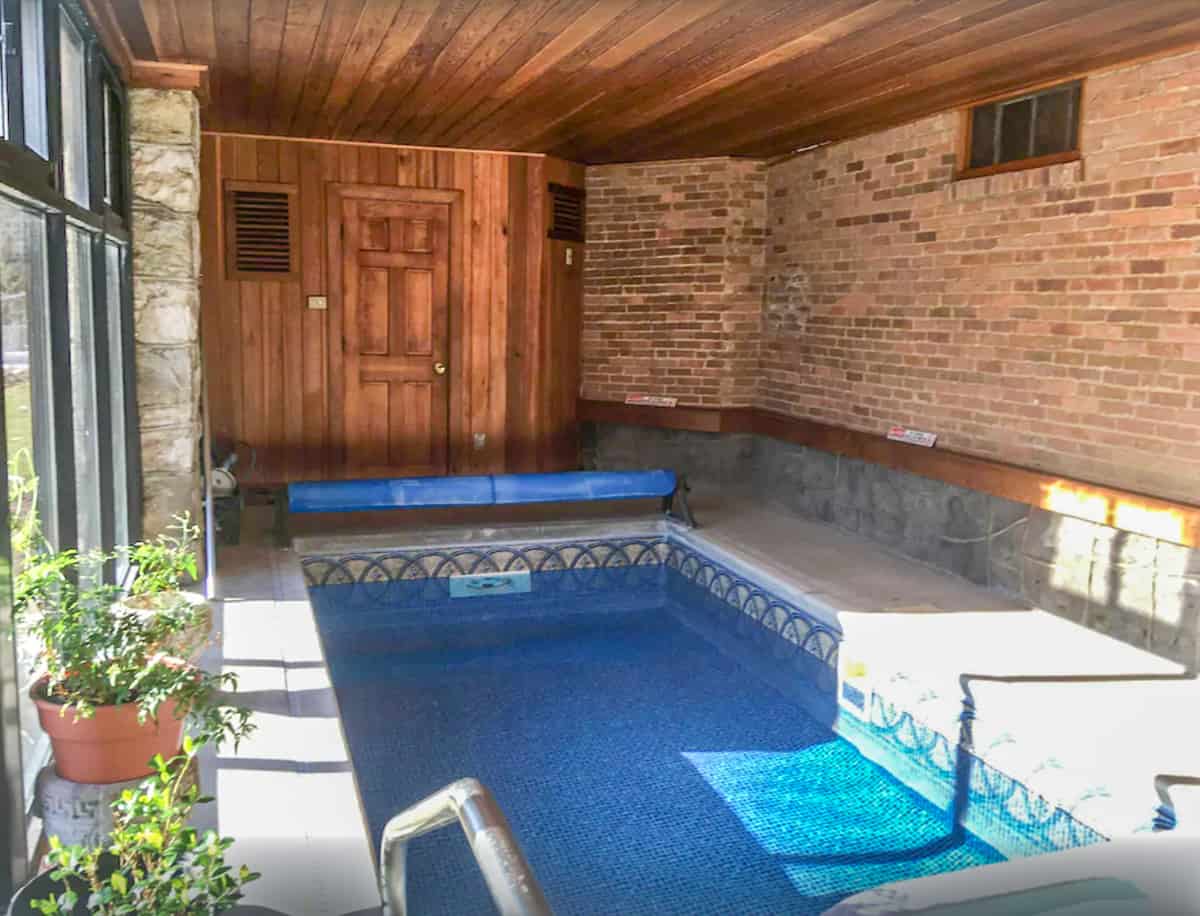 ---
11) A House To Unplug on a Private Lake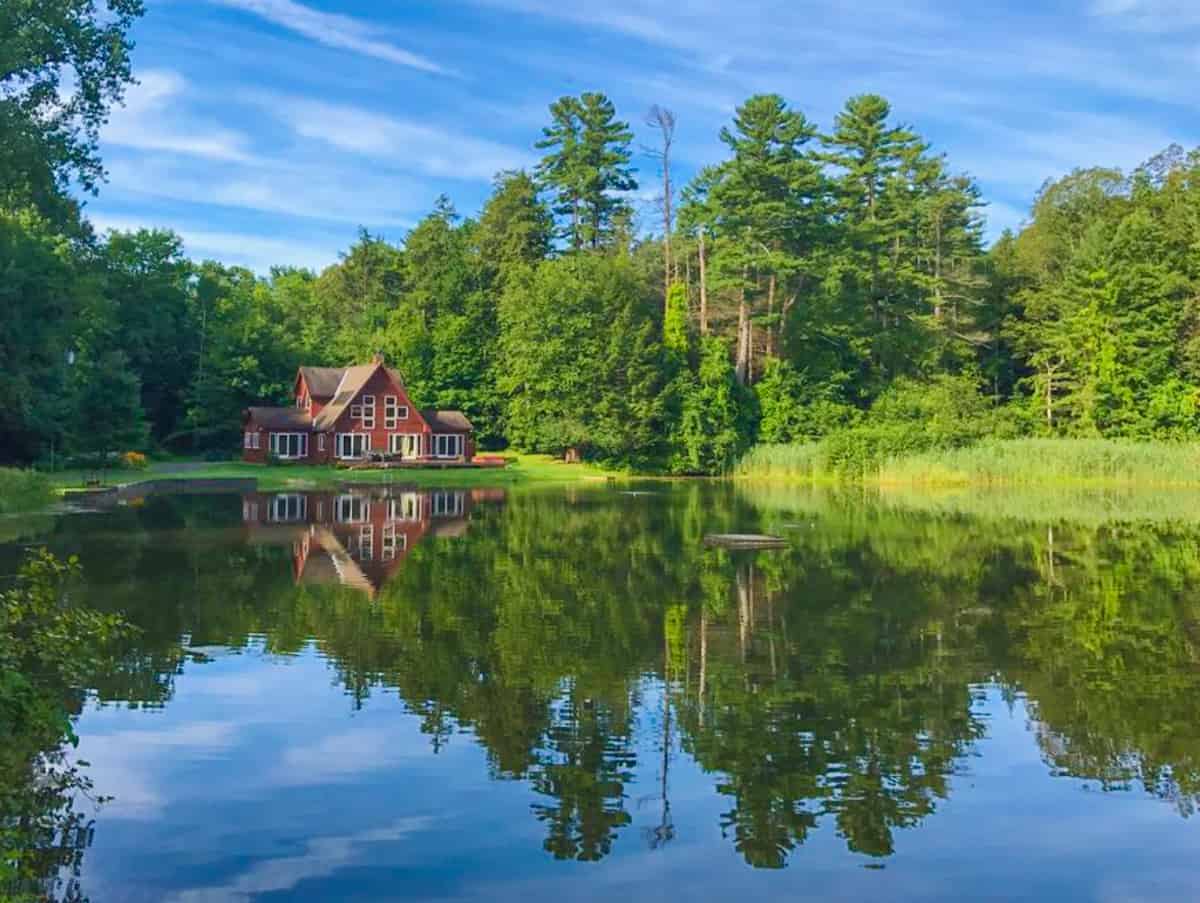 Lee, MA
Sleeps: 10
Bedrooms: 4
Bathrooms: 3
Min Stay: 3 nights
Pool: Private lake, hot tub on deck
Children's Amenities: Ping Pong table
After driving a quarter of a mile down this remote road you'll reach this home situated on 36 very private acres. This three-bedroom home isn't for large gatherings, but it's perfect for a family to get away from it all and feel restored by its spectacular views it's private lake. This is one of the more affordable Berkshire vacation homes on our list.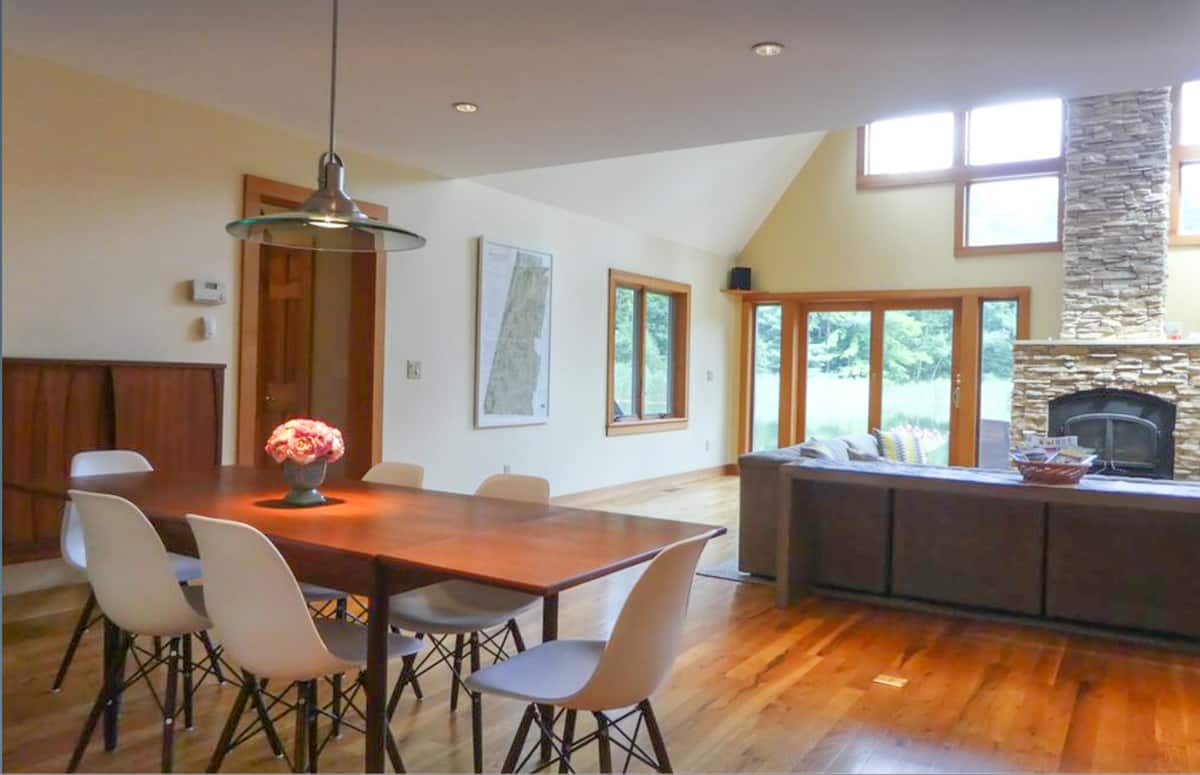 There's a porch, fire pit, and hot tub for families to spend the night looking up at the sky and wiping melted chocolate off their chins.
This is more of an unplugged vacation where the owner admits the internet connection is slow and for families to recharge without screens.
The location of this home is truly advantageous because, despite its remote setting, it's centrally located to everything in Lenox, Stockbridge, and Great Barrington, as well as the Mass Pike.
---
12) Secluded Farmhouse With Views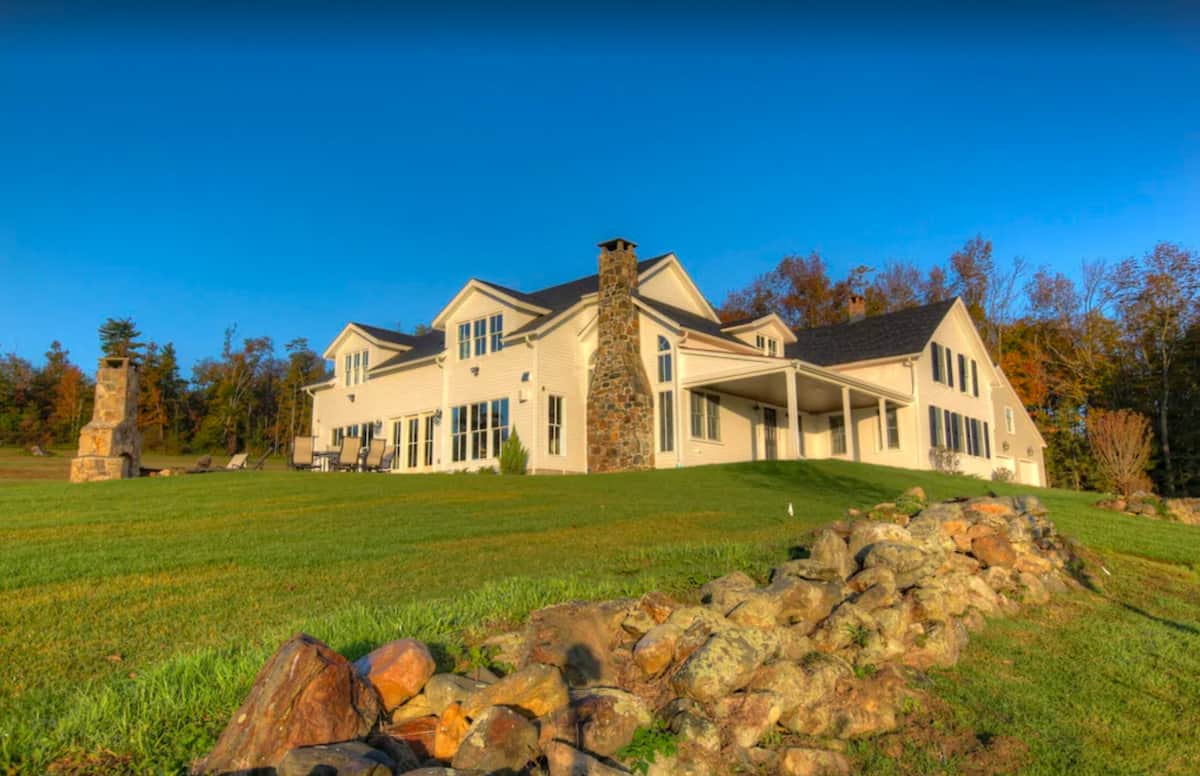 Sandisfield, Ma
Farmhouse: 5005 sq. ft.
Sleeps: 18
Bedrooms: 6
Bathrooms: 4
Min Stay: 3 nights
Pool: Outdoor, hot tub
Children's Amenities: Game and billiard room in the new pool house
Style: Casual

This farmhouse is the most remote of these Berkshire Vacation Rentals. It's a bit of a drive to the heart of the Berkshires action, and it is perfect for those who want to get away from it all.
This farmhouse has been fully restored and modernized with a chef's kitchen and a fully automated Savant sound system throughout the house with indoor and outdoor speakers.
The main home features a master suite and bath, and 3 additional bedrooms and 2 baths. A separate living area in the Annex (above the garage) has a game room, 2 bedrooms and a bath for large family gatherings.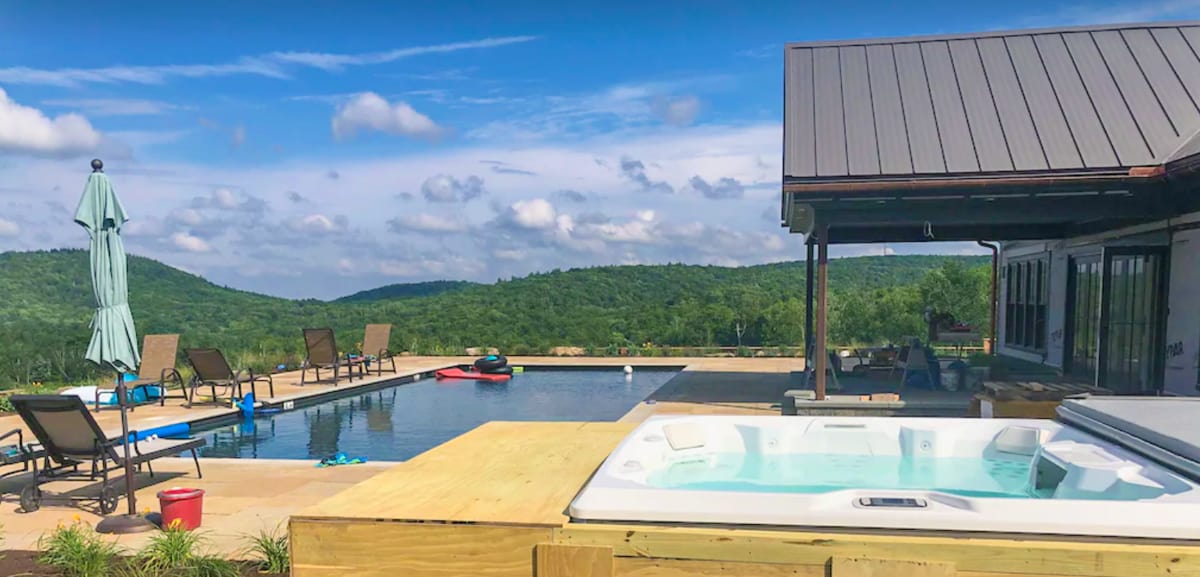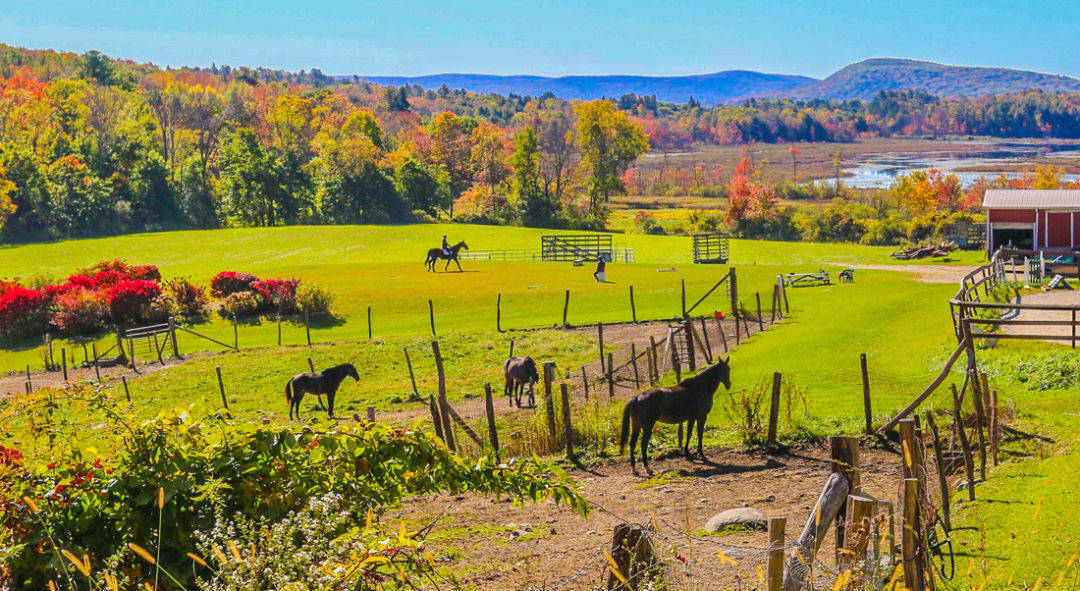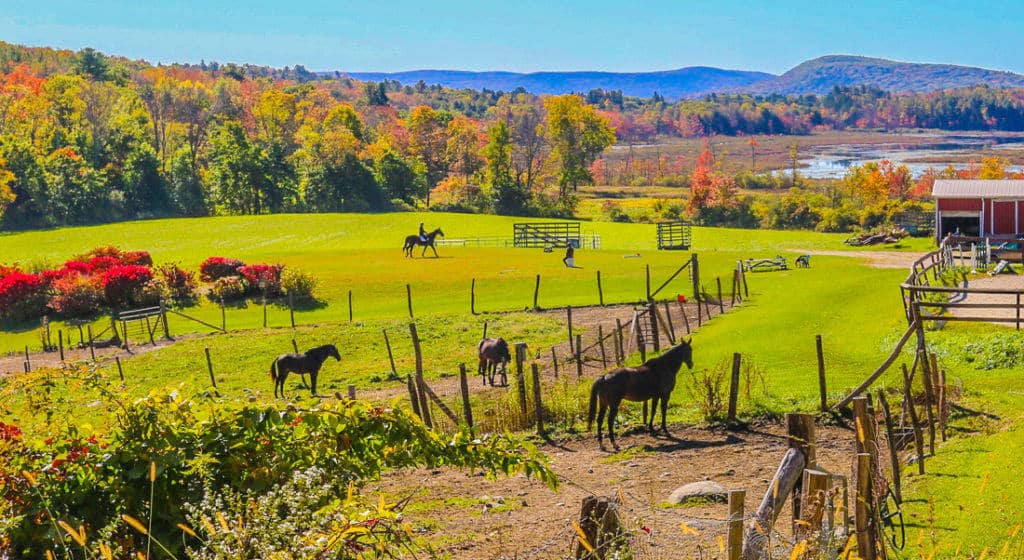 ---
Photos courtesy of VRBO.com.