The sleigh driver asked the words my son was longing to hear: "Who wants to do some DONUTS?"  And horses whipped the sleigh in figure eights as my little guy cheered "Now that's what I'm talking about!"
The Montage Deer Valley
Located at the top of the mountain, The Montage Deer Valley Resort (check for rates) provides unrivaled ski in ski out access to families who are looking for the full luxury snow experience from start to finish.  Attentive staff provide assistance and small smiles to guests every step along the way in Park City, Utah.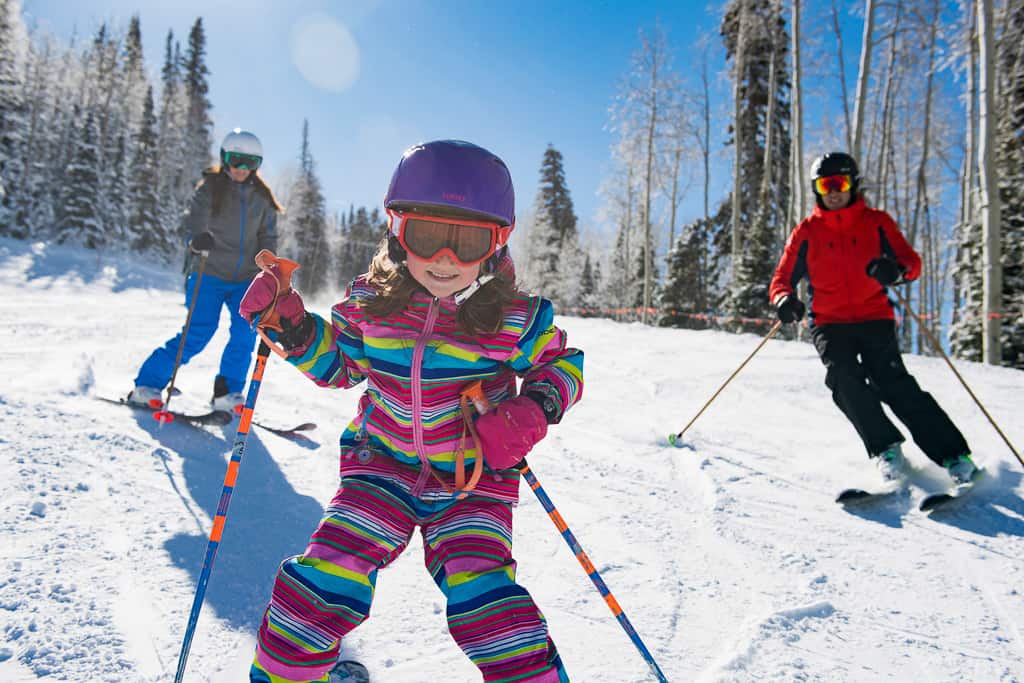 Starting at check in, my kids were pleasantly surprised to select a wildlife animal from behind the counter. My son continued to keep his stuffed eagle perched upon his arm for much of the trip.
The hotel was built in 2010 and everything is big and new although the entire structure is tucked so nicely into the mountain of Empire Canyon, it seems as if it has been there forever.  Hallways are wide, ceilings are high, artwork is tasteful and rooms are amazing. 
Like several of the mountain resorts, Montage has canine ambassadors that visit the lobby for pictures daily.  We were lucky enough to meet Monty, an 8-month-old, 80 pound Bernese Bernese Mountain dog that's about as lovable as it gets.  Now my kids want a Bernese more than ever – until then, the stuffed Monty dogs will have to do!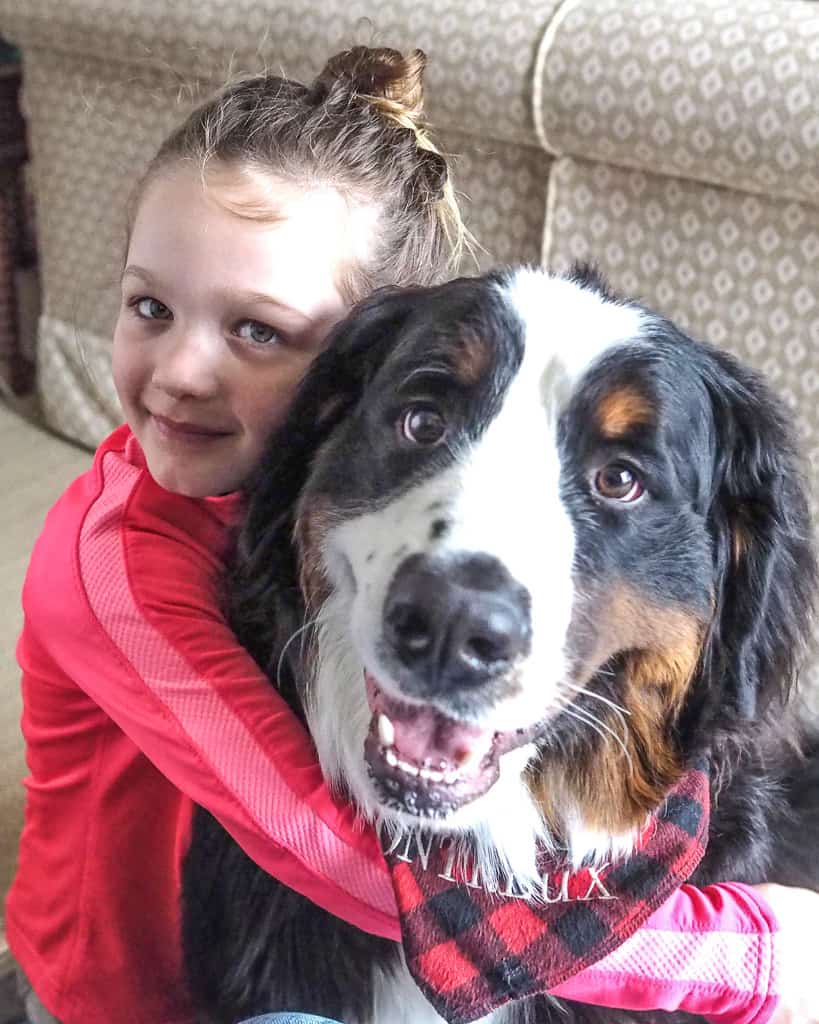 Family Accommodations at Montage Deer Valley
We had a one bedroom suite overlooking the pool and mountain views and easily could have lived here for a month.  In the suite, there is ample space for a family of four (even five if we had brought the baby!) to spread out between the bedroom, sitting area, 2 bathrooms and a patio.  The soaking tubs and gas fireplace added an extra layer of luxury.
---
JOIN OUR FACEBOOK GROUP LUXE FAMILY TRIPS,
WHERE WELL TRAVELED PARENTS CAN ADVISE ONE ANOTHER ON THE BEST PLACES TO STAY.
---
The closets are also large and accommodating to all those ski clothes and equipment that just take up too much space.  If you bring your own skis, those will get whisked away to the onsite Compass Sports, otherwise rentals are easy to arrange onsite. 
Even the standard guest rooms are large at 600 square feet, but our suite was perfect.
The Montage Hotel Deer Valley is the highest located spot on the mountain at over 8000 feet above sea level so be sure to use that humidifier in the room to help with any altitude sickness
When you are ready to ski, the staff help you get into your boots and skis will be outside on the slopes waiting for you. 
Skiing with Kids at Deer Valley Resort, the Best of the West
Not just one of the best Utah ski resorts, readers of Ski Magazine ranked Deer Valley Ski Resort as the best ski resort for families for 2017, and it is easy to see why. 
The resort is a ski-only mountain which means no snowboarders will be zooming down the trails as your family is trying to perfect their S-turns.  The mountain also limits the number of lift tickets sold each day so the trails don't feel overrun, and you don't find yourself waiting in long lines.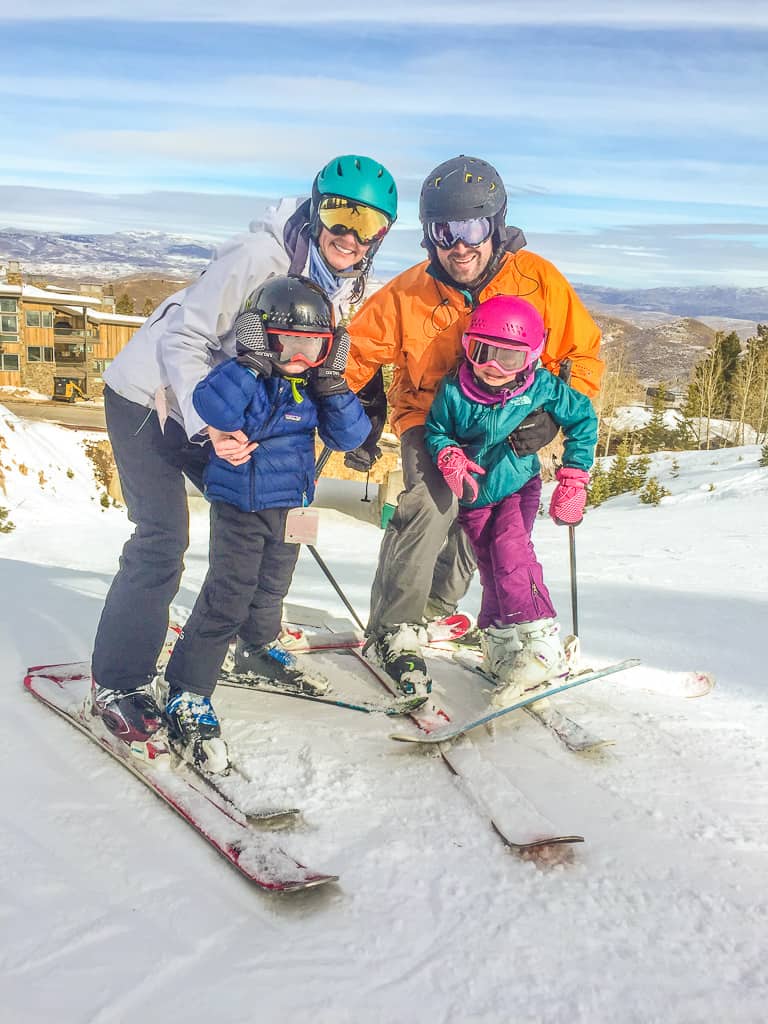 The mountain is perfect for newbie skiers as well as more adventuresome groups offering perfectly groomed greens and several steep black trails like Stein that my husband enjoyed on his solo ski day.
Deer Valley is also one of the only mountains out west to make their own snow so the mountain is perfect on great snow years and perfect on not so great snow years like this year was.  There were no fresh storms for our trip this year but the on-mountain snow was still perfect – and temperatures were well into the 40s so it was like a perfect sunny, warm spring skiing trip with lots of snow on the ground.
Deer Valley Ski School
Deer Valley Ski School is a must.  Based on age group and skier ability, our kids spent a day at Reindeer Club.  They skied as a group of 4 with an instructor for several hours, enjoyed lunch (and more hot cocoa!) and were so happy at pick up.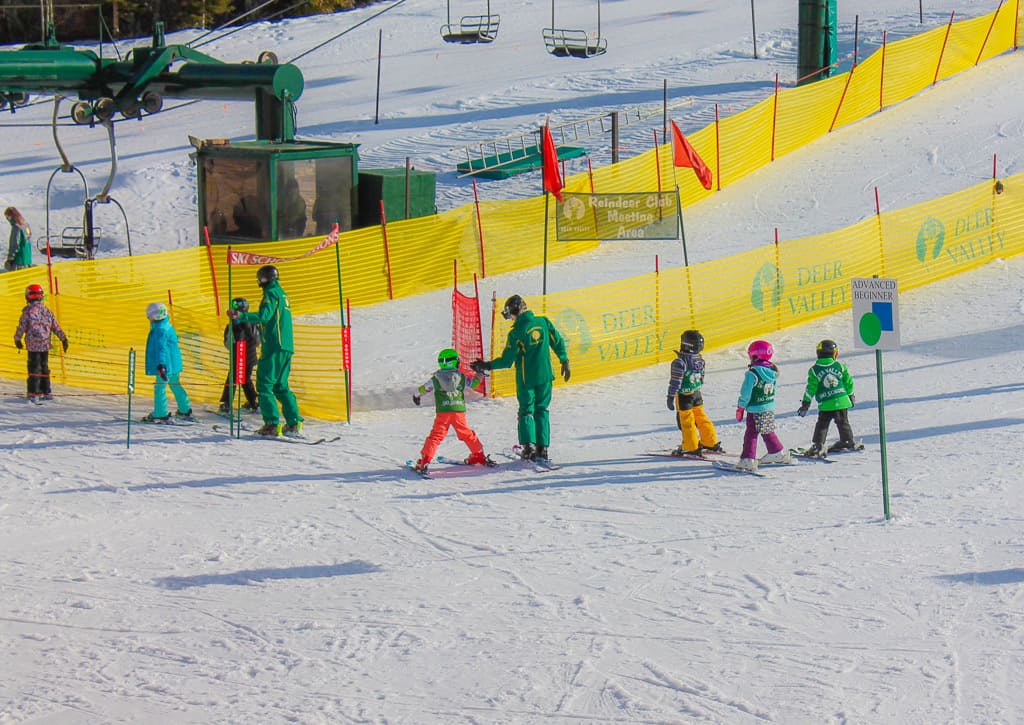 The school runs from 10am – 3:45pm but we were able to drop them off early and take a private lesson for ourselves.  What an amazing treat!  We have typically been skiing as a whole family so for just my husband and I to have a full morning to ski at our own pace was the best gift we could have given ourselves.  Our instructor was superb and we both came away with tidbits to keep practicing. 
Private Ski Guides
Another option besides ski school is to hire a private guide.  My family skied with Dan on another day on the slopes, and he truly focused on teaching the kids about ski safety and got them working harder on their turns.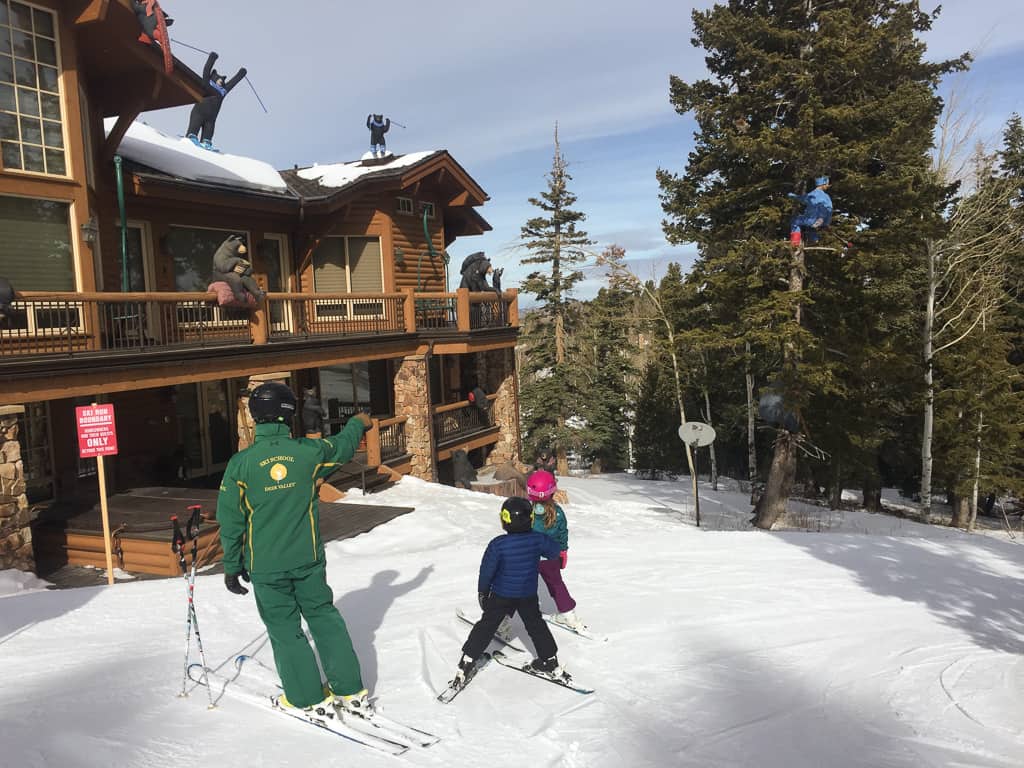 Guides also know all the ins and outs of the mountain so can take you to trails that aren't as busy and also take the time to point out spots that you would otherwise ski right by. 
One of our favorites was the Bear House – a house completely decorated in bear figures, not to be outdone by the Raccoon house up the hill and the Totem pole house around the corner. 
It was great to find all these hidden gems as well as little trails tucked into the woods that my kids love to find – favorites were Ruby's Tail and Bucky's Front yard.
Beyond Skiing at Montage Deer Valley
Winter at the Montage Park City provides ample activities to families traveling with kids of all ages.  One of the highlights for my kids, and I'm sure older kids as well, was the onsite tubing hill. Both my husband and I took a turn on this and let me tell you, it goes fast!  My kids spent most of an afternoon here riding and re-riding the magic carpet with their tubes in hand.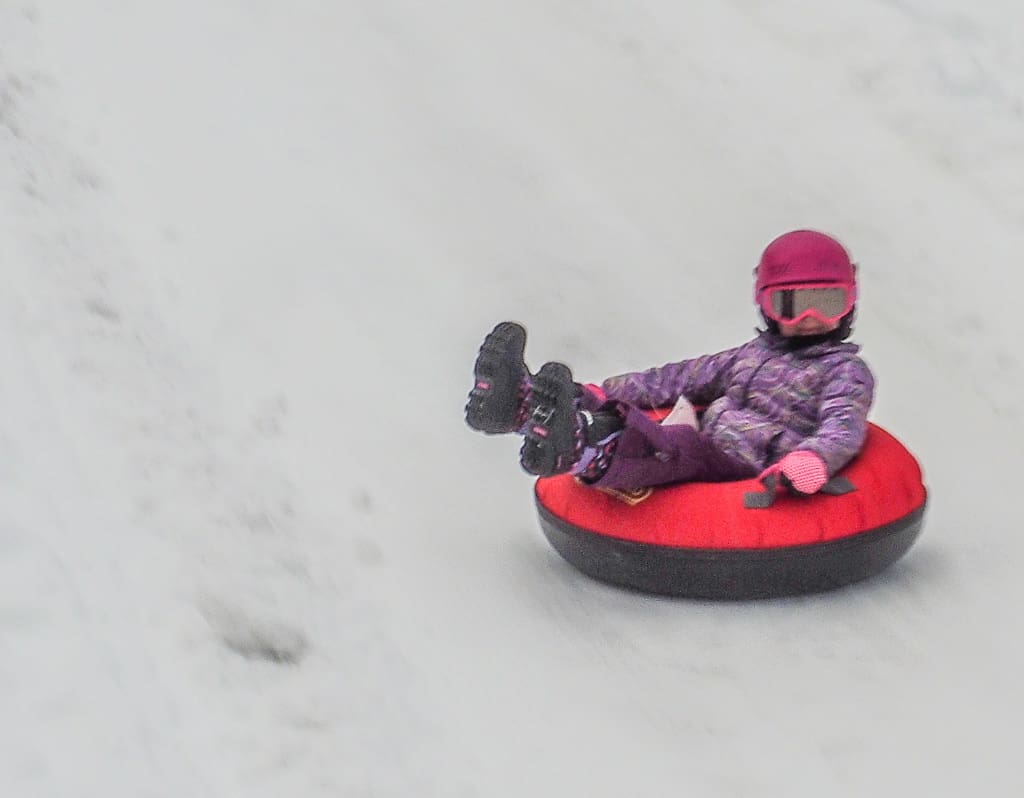 For families looking for non-ski activities, the options at Deer Valley are endless.  You can trout fish in the winter, snow shoe on trails by the hotel, dogsled for an afternoon or go for the most exhilarating option of all, snowmobiling! 
Snowmobiling
Neither my husband nor I had ever tried this before so we were psyched to head out with Summit Meadow Tours for an adventure with the kids.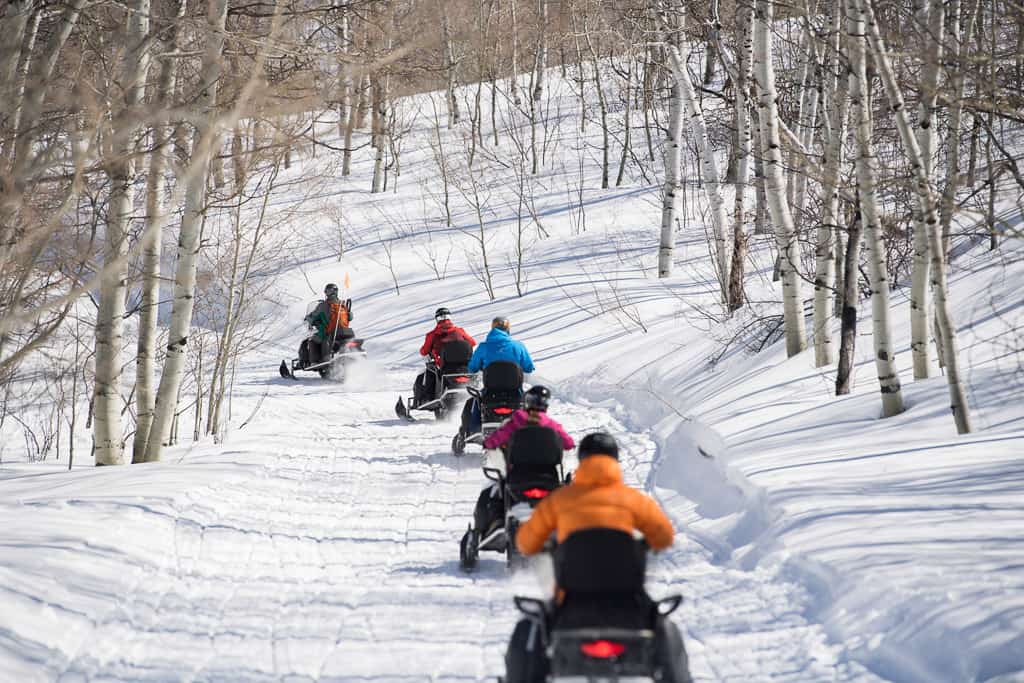 I thought the same thing you are now…. kids? On snowmobiles?! That sounds like a disaster, but I assure you they tuck right in.  Kids under 8 are allowed to ride with a parent and if they are small enough can ride in front of you.  Larger kids can hold on in back. 
We headed out for an abbreviated hour tour and the scenery was stunning.  Although it was a little muddy to start it was fun to get the machines going over the flat stretches of snow!  My daredevil son naturally loved the entire adventure and wants one for the neighborhood now.  I however was a bit more apprehensive for a few of the spots that felt so steep!  And perhaps it was reminder to me to do more strength training but it was a full arm workout.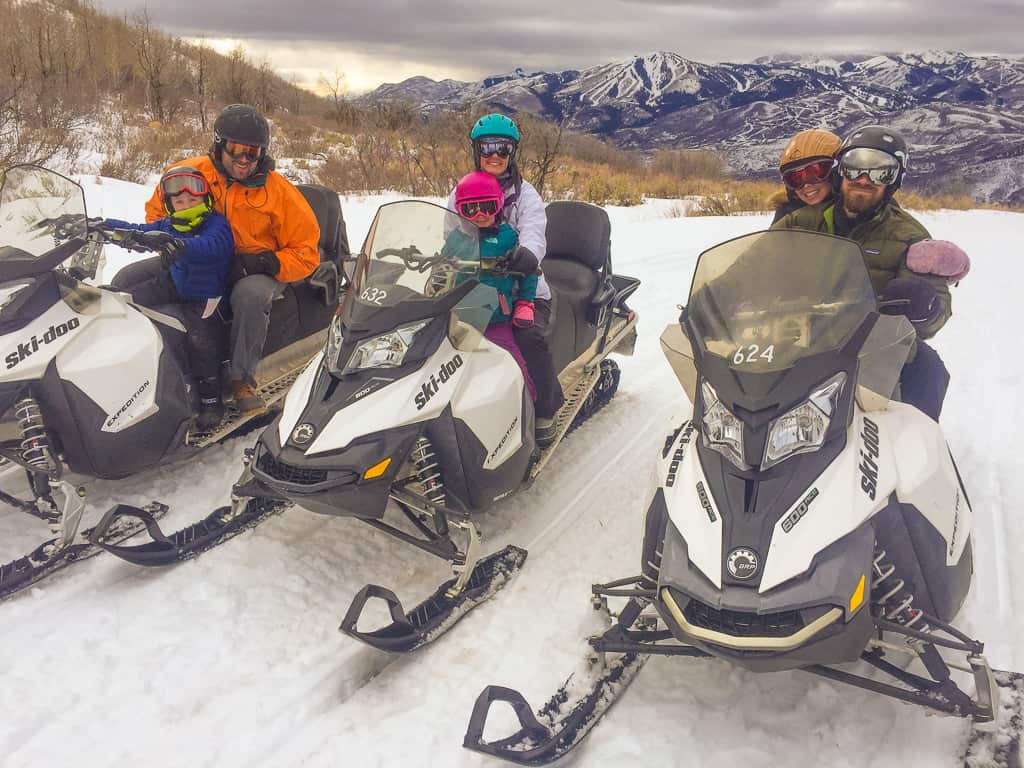 Those snowmobiles were heavy to handle and turn so the hour tour was the perfect amount for me but most groups go out for 2 hours and get phenomenal views of the ridge.  Our guide had spotted a group of elk on an earlier trip so wildlife spotting is always a possibility as well.  For us, it was perfect enough for my daughter and I to be belting out Elton John songs as we tried to keep up with the boys!
Horse-drawn Sleigh Rides
After the adrenaline rush of snowmobiling in the morning, we had booked a horse-drawn sleigh ride from Empire Lodge that evening.  Our family had the small sleigh to ourselves.
The horses Anne & Belle took us for a smooth and easy ride around the base of the lift for about 20 minutes – so much more my speed.  On a clear night, the stars look fabulous and it was fun to cozy up under blankets. 
Then the driver said the words my son was longing to hear – "Who wants to do some DONUTS!"  And before I knew it, Anne & Belle were whipping the sleigh around in figure 8s to which the little guy cheered "Now that's what I'm talking about!"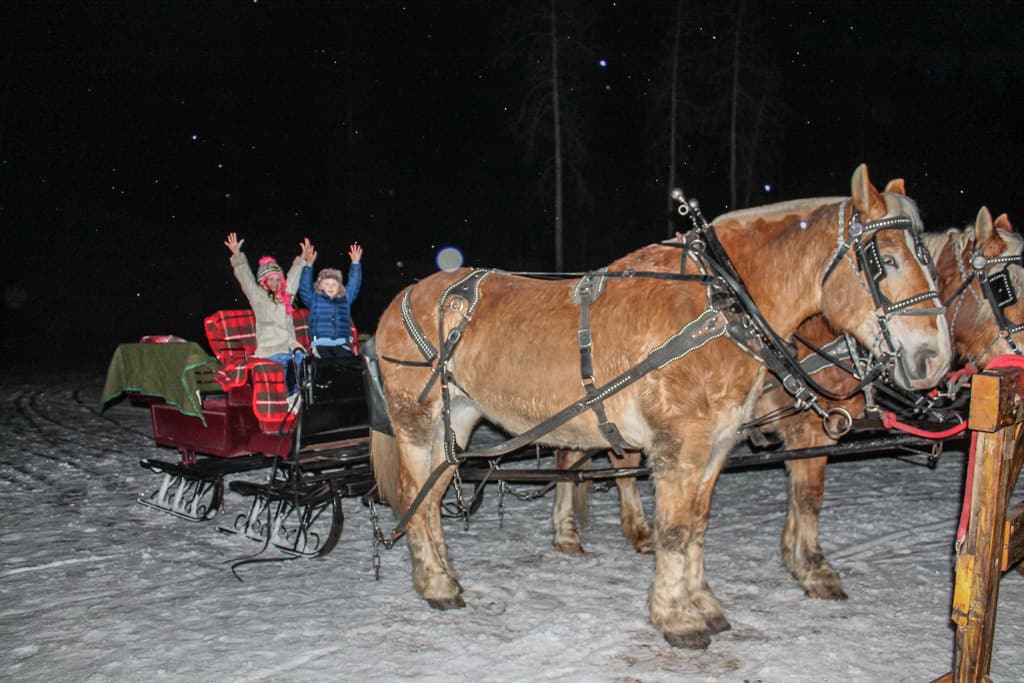 The Montage Deer Valley Pools
When they were ready to try something new, the outdoor pool was beckoning.  The Montage resort provided child-size robes, my kids loved the outdoor pool — heated to a warm 90 degrees. We found ourselves enjoying that almost every day after skiing (and you can have drinks poolside which was a nice way for mom and dad to relax too!).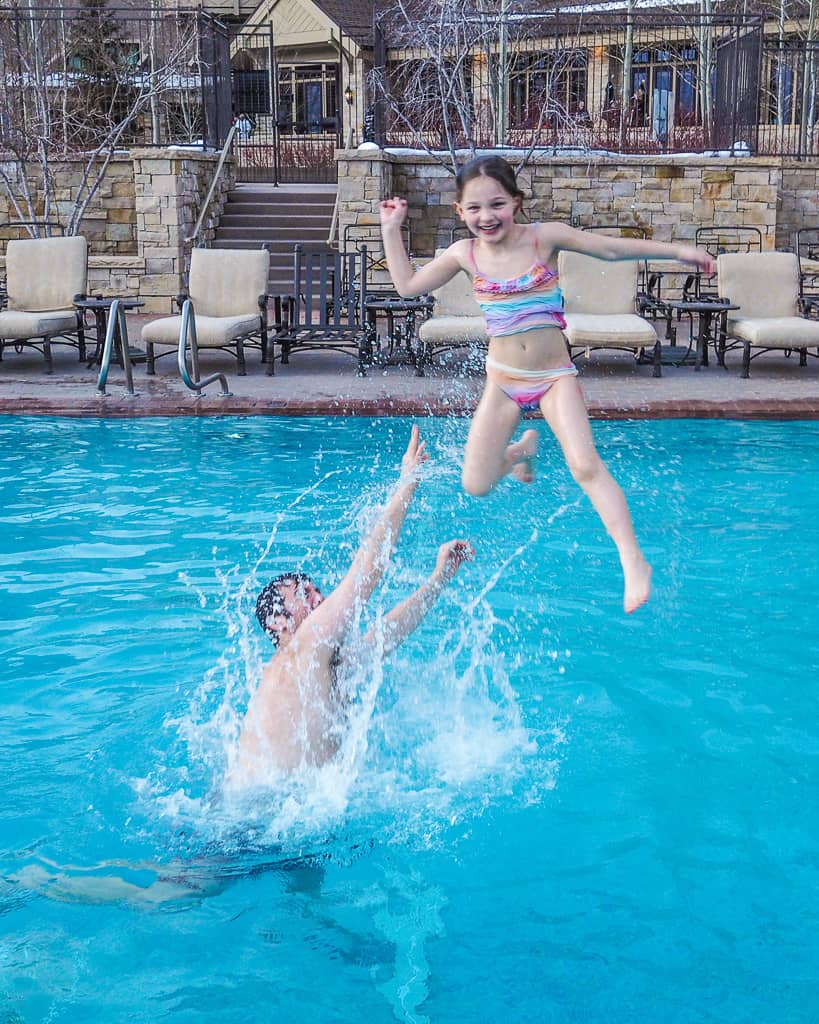 If your crew is a little weary of the outdoor chill by the pool, the indoor pool by the Montage Deer Valley Spa is open to families for a few set hours in both the morning and the afternoon.
We were so jammed packed with outdoor activities for this trip that my kids didn't even make it into the onsite Kids club, Paintbox.  In addition to the traditional games, craft and movie offerings, this club gets outdoors and also offers outside play like snowshoeing or scavenger hunts to keep little explorers excited about all the nature around them.
---
Looking for a warm weather Montage experience?
Read about the Montage Palmetto Bluff in South Carolina and why we loved it.
---
The Montage Merit Badges
The Montage also provides an interactive way for younger guests to experience all the fun stuff offered onsite.  Through the Montage Merit sheet you receive at check in, kiddos can tackle anything from skiing a green run, to spotting wildlife, to trout fishing.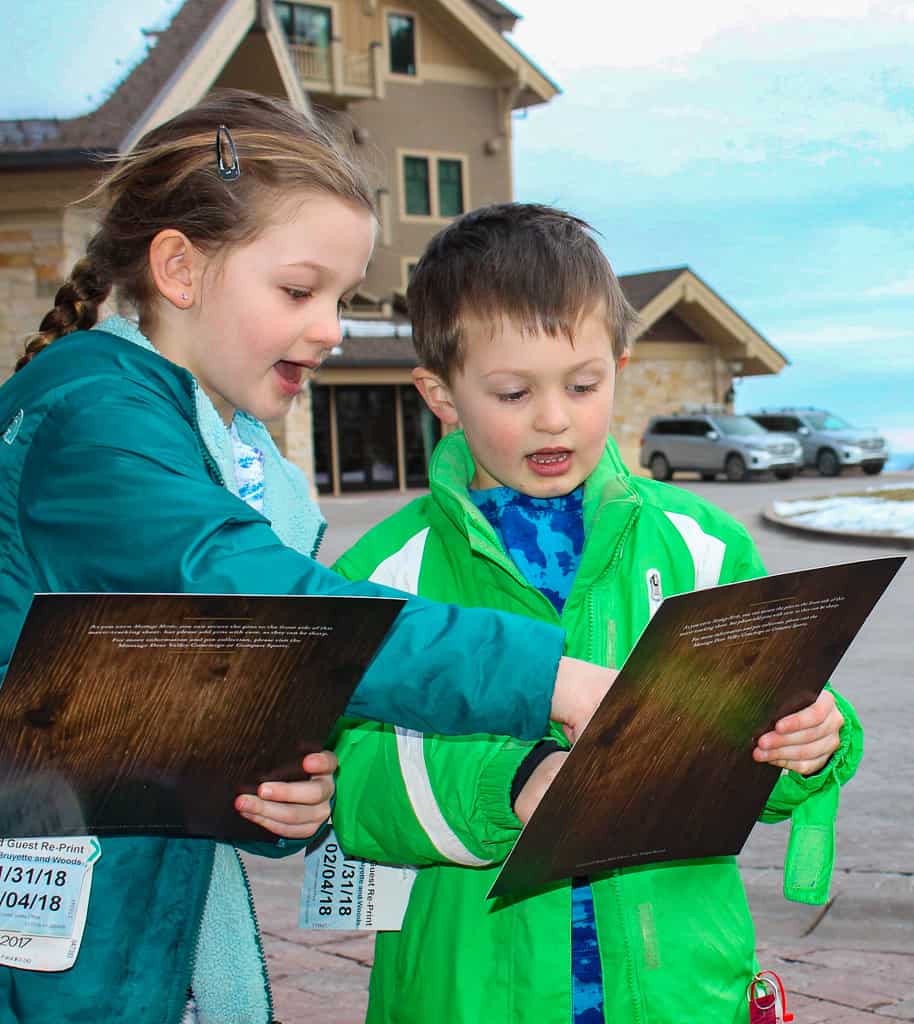 There are 12 badge pins in all, some only achievable in winter and some in summer before you can receive the big Monty dog badge.  We conquered 5 of them, so I suppose we will have to return for a summer outing!
One note – a few of the badges are for double blue, black and double black diamond ski trails so your newbie skiers won't be happy they aren't getting the eagle pin on this trip. It's a teachable moment of setting goals. 
Après-Ski at the Montage, Veuve Clicquot Style
I think this was the trip that my kids fully realized how awesome après ski truly is, as it has always been my favorite part of skiing. 
Every day by the fire pit, guests can enjoy making the famous Montage Deer Valley s'mores.  These are not your typical, run of the mill type treats.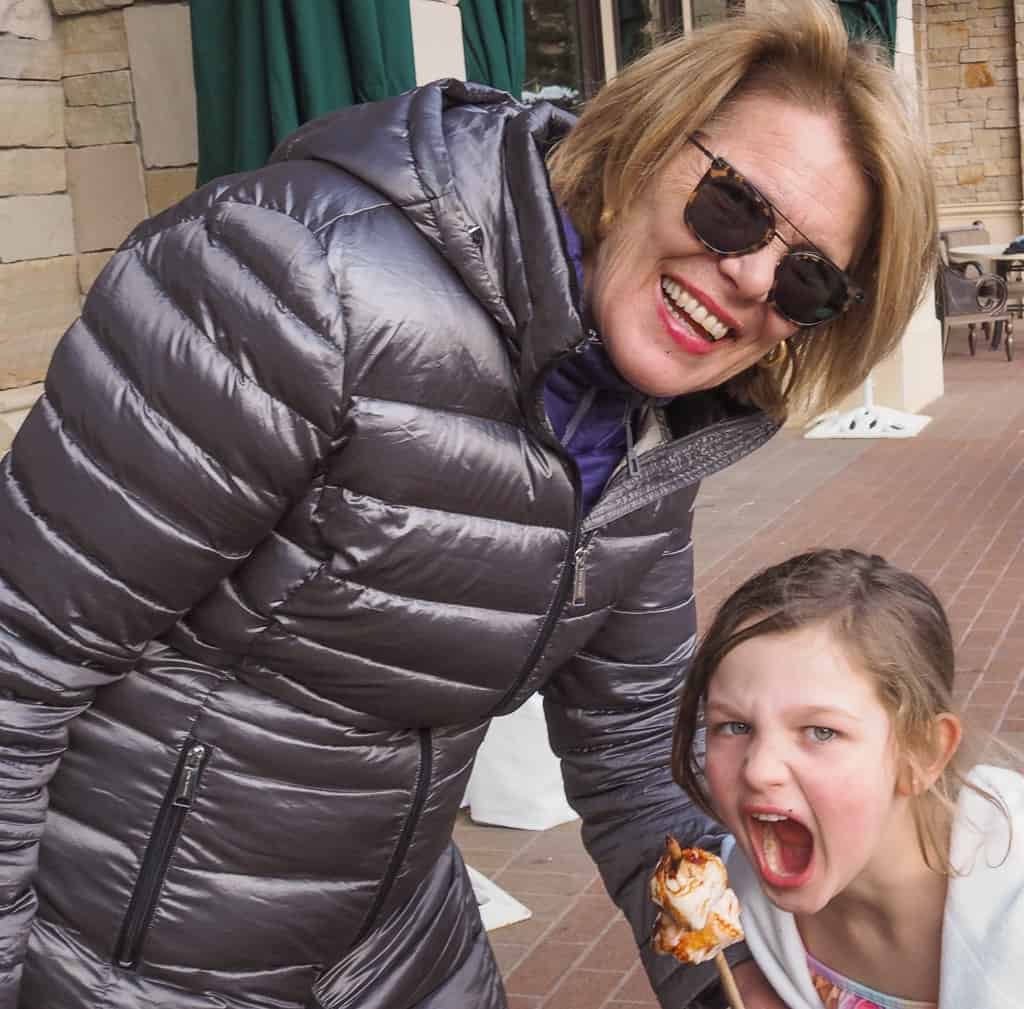 Of course, the Montage outdoes themselves even with this scrumptious snack by providing a selection of milk and dark chocolates as well as gluten free, flavored, handmade marshmallows! 
My daughter loved the caramel option, I went for the mocha, and the boys preferred the straight up vanilla bean.  No complaints here. We enjoyed the Vista Lounge for a "formal" après one afternoon and the kiddos had their first experience with chocolate fondue over a Monopoly board game — a perfect way to end a family day on the slopes! 
If you can, leave the kids at the onsite Kids Club, called Paintbox, for a few hours to enjoy an adult-only après and look no further than the amazing orange structure at the base of the hotel. 
I thought I was dreaming, but alas, the Veuve Clicquot yurt combined my love of champagne and skiing in perfect harmony.  Light nibbles and bubbles served in the iconic orange glasses makes for a perfect mid-afternoon treat!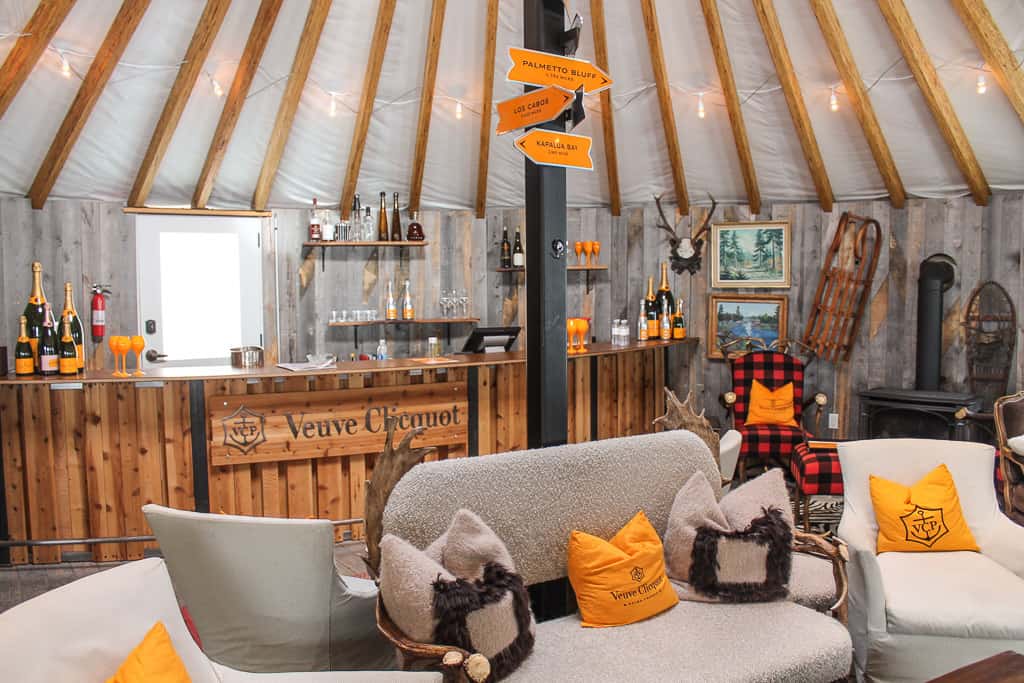 Montage Deer Valley Restaurants
There are several eateries at the Montage.  First is Buzz, which is a quick grab n' go type coffee shop.  They have delicious pastries, loads of Sugarfina brand candies and amazing espresso drinks to fuel you up for the slopes. 
Apex is the fine dining spot onsite that provides upscale Colorado cuisine for both lunch and a more formal experience for dinner.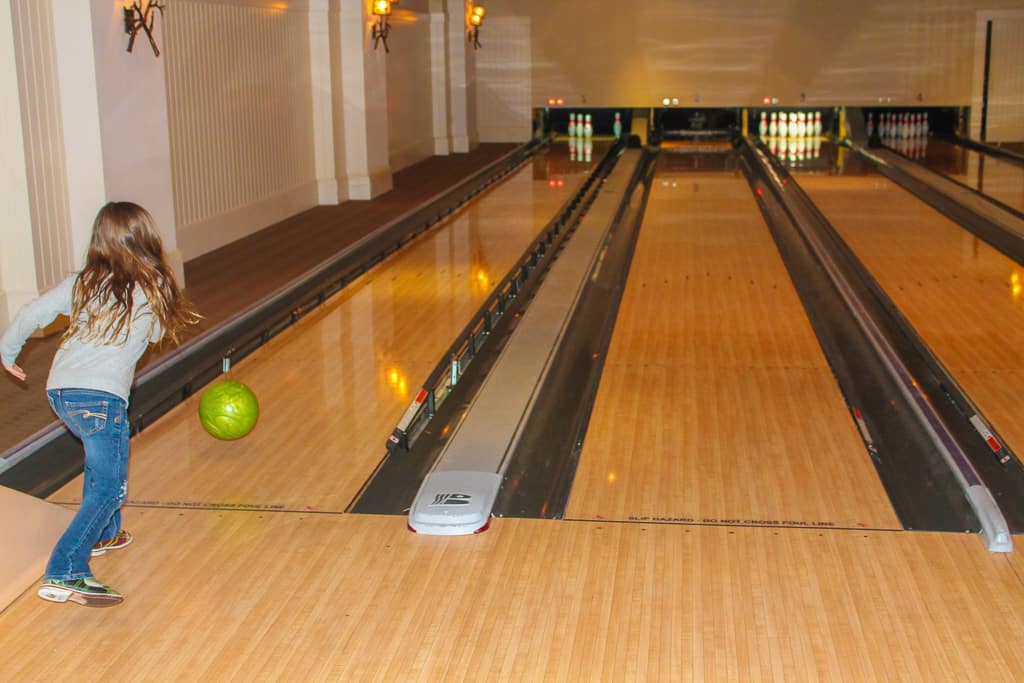 The final spot is Daly's, and I assure you this is where your kiddos will head.  It's laid back, pub style food with a great selection of local draft beers, burgers, and nachos.  Conveniently located there is a section full of arcade games and fun activities for the kids so they can play while you eat.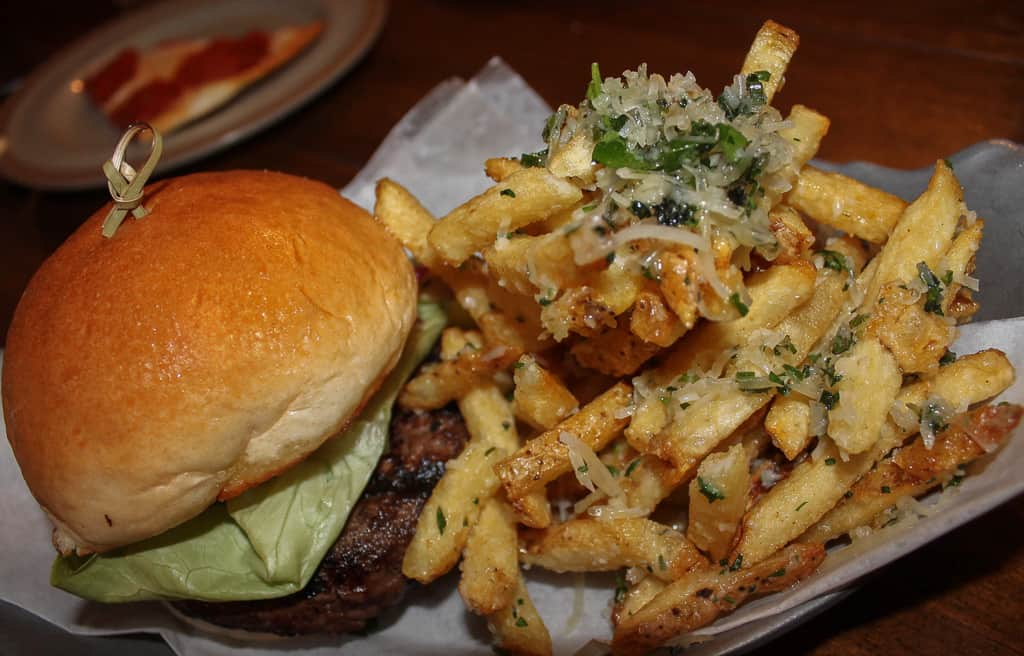 And the hidden gem is tucked behind the games – a 4 bowling lanes!  As if they couldn't pack enough into a day, kids can get a full gaming experience pre or post dinner.
Deer Valley Restaurants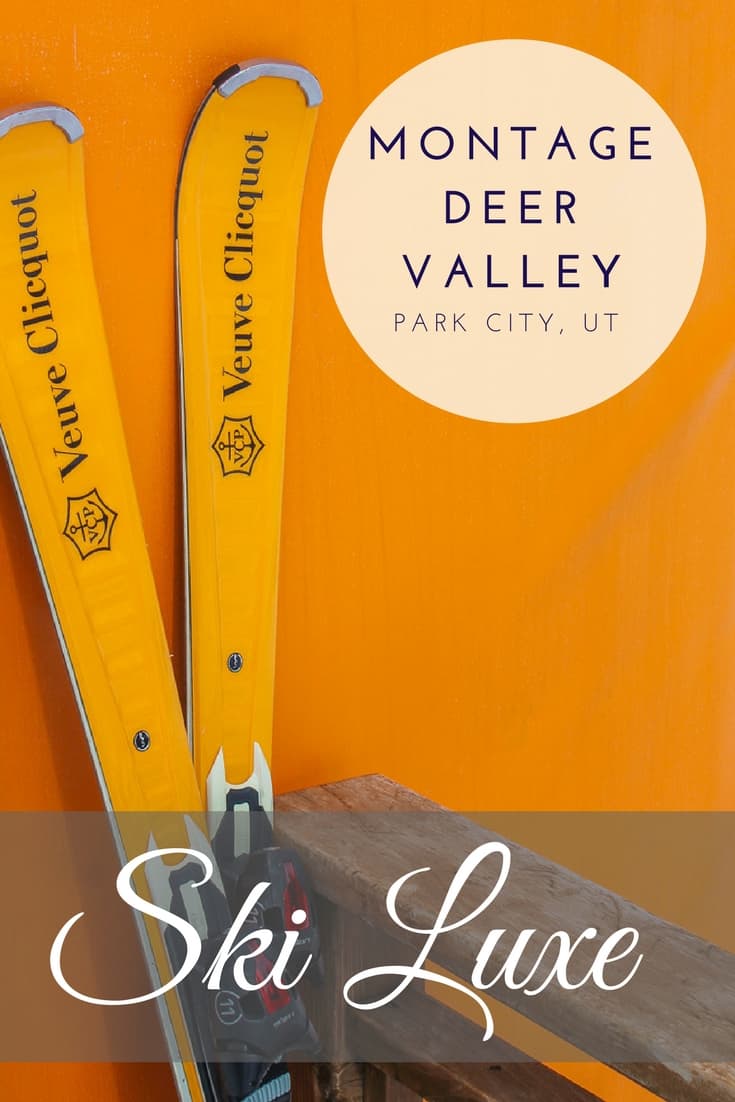 Dining at Deer Valley is also Best of the West.  On-mountain spots provide healthy and creative options for lunch as well as fun evening spots like the raclette wonder, Fireside Dining, as mentioned in the Park City review. 
There are three main lodges located on the mountain as well, at the top, mid mountain and at the base.  We enjoyed a nice lunch mid mountain at Royal Street Cafe one day and best of all on a sunny day was the outdoor seating at Edgar's at the base.  This is an après bar overlooking the ski school area so both parents and grandparents got to enjoy a sunny local beer as we waited for the kids to return from ski school. 
Downtown Park City also is worth the visit as the street is full of twinkly sparkle lights, and taking a walk here is a must.  There is a great bookshop called Dolly's conveniently attached to an ice-cream shop that is worth the visit as well as so many gorgeous galleries to window shop.
If you are looking for and easy family meal, Main Street Pizza & Noodle shop is a best bet.  This year we also enjoyed a full family dinner with the grandparents and auntie at an amazing eatery, 350 Main.  It's artsy, big and loud so no worries that you group will be too boisterous for a nice sit-down meal. 
Kids drinks are served in old fashioned milk bottles and they receive a three-course meal starting with berries, cheese and crackers, an entree choice and a sundae bar (as noted on the menu "for well-behaved kids!").  All the grown-up meals were notably the best we had on the trip – I had a gluten free fried chicken and easily cleared my plate.
Our Montage Deer Valley Reviews
The Montage Deer Valley is truly one of the best ski resorts in Utah for families, for a jam packed vacation of winter fun.  I was noting to my husband how these active trips are so easy to connect with one another since we disconnect so much from our phones.  It's tough fly down a tubing hill or ski slope while checking email. 
Now I guess we will just have to plan a return visit to get those summer hiking badges and another trip to tackle the elusive double black diamond eagle pin!
We were guests of the Deer Valley Ski Resort, but these opinions are my own.
Ritz Carlton Bachelor Gulch: Ski Paradise for Families at Beaver Creek