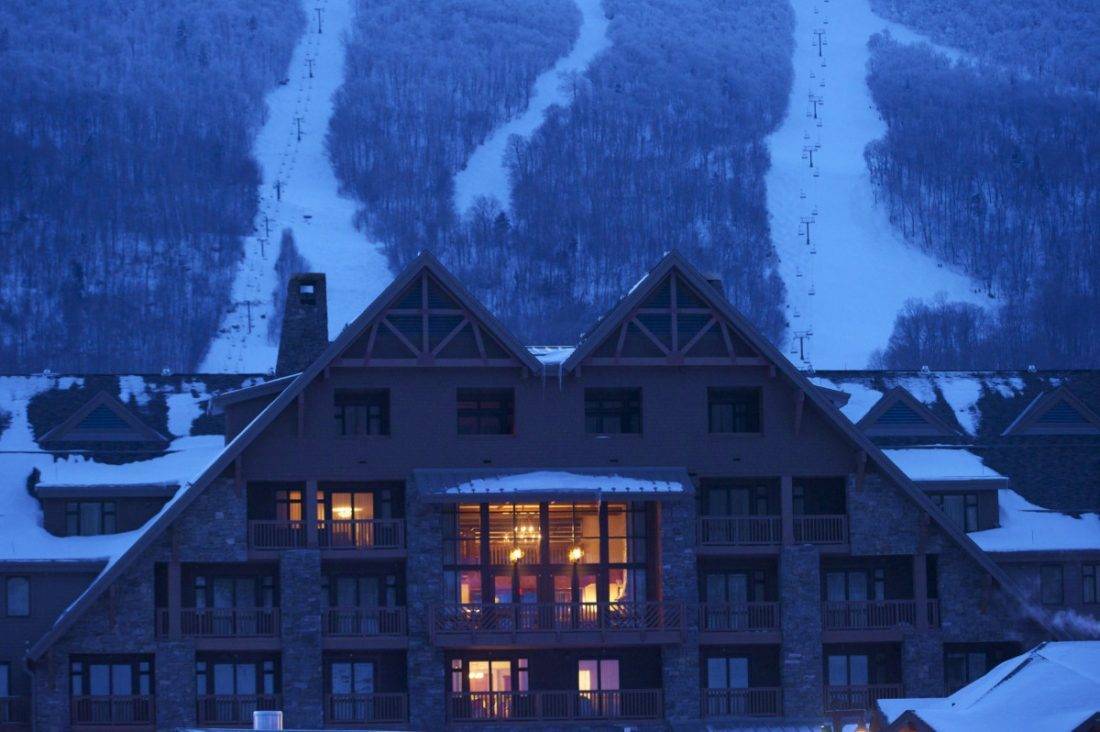 Since I am not a skier, I had never ventured to Stowe, Vermont, the skiing capital of New England, until our visit to Stowe Mountain Lodge. Vermont, however, offers an exceptional experience in many things: mountain scenery, winter sports, and ice cream. Surely at least one of those appeals to you—I'm partial to the first and last in that list.
On your way to Stowe, you'll pass the Ben & Jerry's Factory in Waterbury which offers tours. Stop and do it; it's like a well–oiled Disney attraction that ends in ice cream. After a short intro movie on Ben, Jerry, their history and company values, you will walk through a windowed hallway overlooking the factory. Then you will receive a sample in the tasting room. It moves quickly and is easy to do with the squirmiest of toddlers. Adults are $4, and children are free. Even without actually doing the tour, the ice cream store and a playground make a good rest stop before reaching Stowe, the next town over.
We stayed at the Stowe Mountain Lodge after hearing such great things from friends. The resort is beautiful, and we experienced it in Vermont's foliage glory. The hotel's lodge repeats the foliage palette inside, so prepare yourself for red, yellow, orange, green, and brown at every turn. Its scale is impressive and feels like you are in the middle of all the important action in Stowe.
Immediately at check in, the staff showed excellence in service, response, and enthusiasm. The rooms are thoughtfully appointed, and even the most standard category room is spacious for a family of four with a king-sized bed and a large sleeper sofa. Rooms also have fully stocked kitchenettes with a stovetop and dishwasher, not just a microwave and mini-fridge. The marble bathrooms are elegant. The balconies are great to watch skiers coming down the mountain or to make mothers of toddlers nervous.
We began our stay with lunch, and I was presented with one of the largest children's menus I have ever seen, offering numerous healthy choices mixed with the kids' safe stand-bys. This was the first example that let me know that children's needs and wellness are given a special focus at the resort. Portions are generous, so you will have plenty of leftovers to eat from your kids' plates if you want to order soup or salad.
Just outside the restaurant, we decided to ride the Gondola Sky Ride to the top of Stowe Mountain. This was one of our favorite vacation activities this year. In our own comfortable car, we rode the peaceful, twenty-minute ride to the top, and all of us were in awe of the beauty of the scenery. As a parent of young children, it was one of those spectacular moments where you could just exhale because nothing could really go wrong. Maybe I shouldn't say that; I am sure there is a parent out there whose toddler leaked a diaper, an infant who spit up everywhere, or siblings who fought the whole way up the mountain, but for us, it was free of bodily fluids and fighting, and we were exhilarated by how special it felt. (This is what a Luxe Recess is all about.) The top of the mountain has a restaurant and a gift shop, and I was in such a great mood, I yielded to buying two overpriced toys without a fight. The ride down was equally fun— complete with a family sing-along.
My daughter and I then visited the spa. Once headed towards the spa wing, classical "meditation music" piped through the hallways, think Bach's Cello Suites or anything by Vivaldi. It feels more like a destination spa than a resort because the spa program at Stowe Mountain Lodge is incredibly developed and thought out. You won't see the standard treatments or products found at bigger luxury chains. Instead you'll find carefully curated spa product lines, many you may never have seen before, like Lotus Wei, Phia, and Kypris Beauty.
You won't see a princess mani-pedi as the only spa option for children, either. As I mentioned, children's wellness is important here. My daughter had an appointment at the Chillax Kids' Spa. In the 25 minute signature treatment, my daughter was led to the kid's room, filled with big circular papasan chairs—each lined with massage pads, and children's artwork hung on the walls with girl pop on the radio. I chose to watch her through the large picture window from outside so I did not distract her from the relaxation treatment. She had her head tickled with a scalp massager, her face applied with a cocoa and coconut oil mask, her feet wrapped in paraffin booties, and there were many moments to focus on breath and relaxing. Her treatment concluded with a few guided head-to-toe stretches. "It was great. I loved the chocolate face part."  She was glowing, and I admit I was jealous I didn't book anything for myself. This very clever children's spa program is the brainchild of Maggy Dunphy, Spa Director for not only the Stowe Mountain Lodge, but all Destination Hotels and Resorts. She recognizes that children are never too young to learn relaxation techniques. Each treatment is intuitively customized based on what the child needs in terms of fully relaxing.
Other onsite family activities include a game room, rustic furniture making, and the heated pools (though they are outside). There are exercise classes in the fitness center, and many other seasonal activities scheduled during peak seasons. There's enough to do here even if you don't enjoy their array of winter sports. The resort even offers excursions to Montréal. As for the slopes, Stowe Mountain Resort begins taking children at the age of three for full-day ski programming. There are smaller starter lessons available to prepare children for this immersion, or a family can even take a private lesson together.
The Stowe Mountain Resort has more amenities than any other ski area in New England, including a year-round performing arts center. Currently there is a daycare center for 6 months to 3 year olds in the winter, and a full summer camp you can enroll your child for the day, buy a multi-day pass, or register for the whole season. Construction began in 2014 for Spruce Peak Plaza, an ice-skating rink surrounded by a new children's activity and daycare center that will be open year round as well as a ski school, shops, and restaurants. The town has a toy store and a few kids' clothing stores, the Yellow Turtle and Bumblebell, that carry many designer favorites.
Our time at Stowe Mountain Lodge felt so relaxing, fun and just easy, that I actually caught myself looking into adult ski lessons so I could justify a quick return. That's saying something.
Although we were guests of the Stowe Mountain Lodge, the opinions expressed in this article are entirely my own.