Vermont offers an exceptional experience in many things: lush mountain scenery, winter sports, great craft beers, ice cream, and —to my surprise— tacos. Surely at least one of those appeals to you, and it's reason enough to venture to Stowe.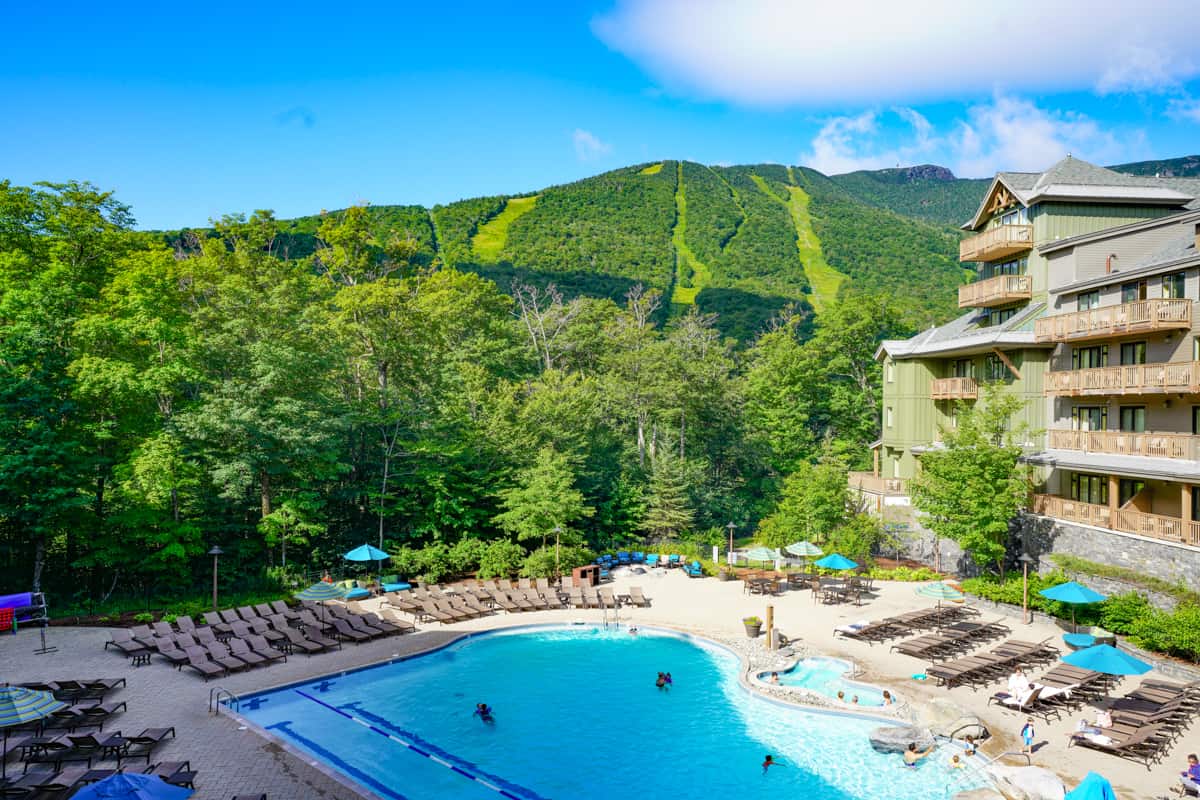 Stowe, Vermont, the skiing capital of New England, combines all the best ingredients of the Green Mountain state. And the Lodge at Spruce Peak, formerly the Stowe Mountain Lodge, reigns as the luxury ski lodge for families in the East.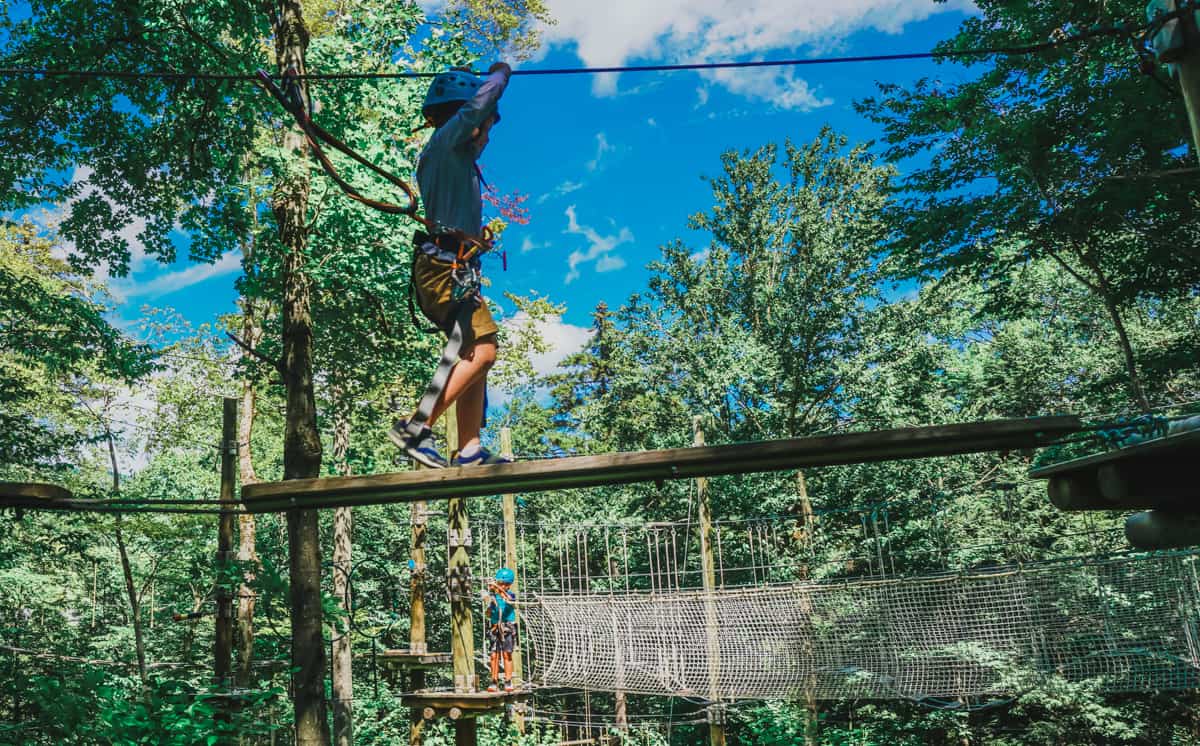 Why the Name Change to Lodge at Spruce Peak?
Stowe Mountain Lodge (check dates for rates) decided to rename so that the Lodge and the Stowe Mountain Resort wouldn't be confused as one company. (Though they are separate, they integrate seamlessly for the guest experience.)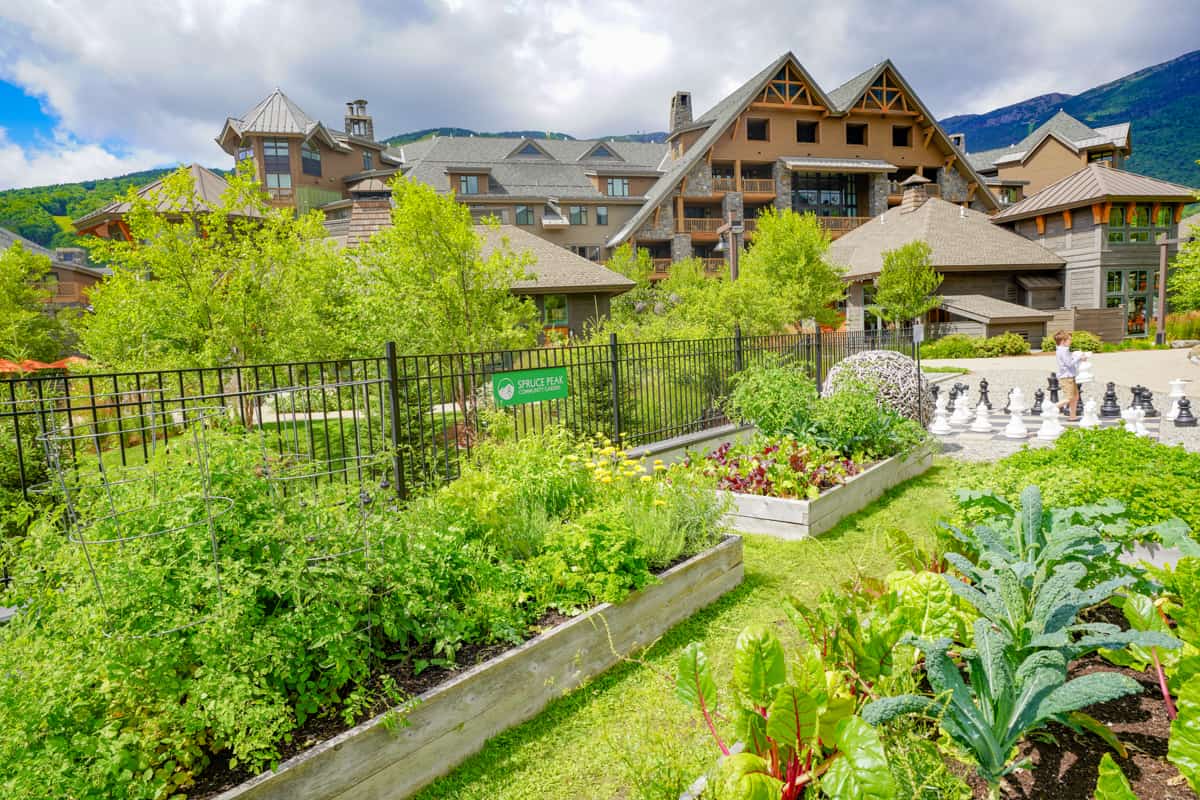 Vail Resorts acquired Stowe Mountain Resort and a number of the leading ski resorts in North America. One of the biggest perks for skiers is that their Epic Pass works at multiple resorts, in not only New England, but across the US and Canada: Aspen, Whistler, Park City, and Beaver Creek to name a few. (Check out our best ski resorts for families listing all of the best places for families at each mountain).
Returning to a fall favorite
Our first experience at the hotel was back in 2014 during the fall foliage season. Our family vacation style was very different when our youngest was three compared to eight on this trip.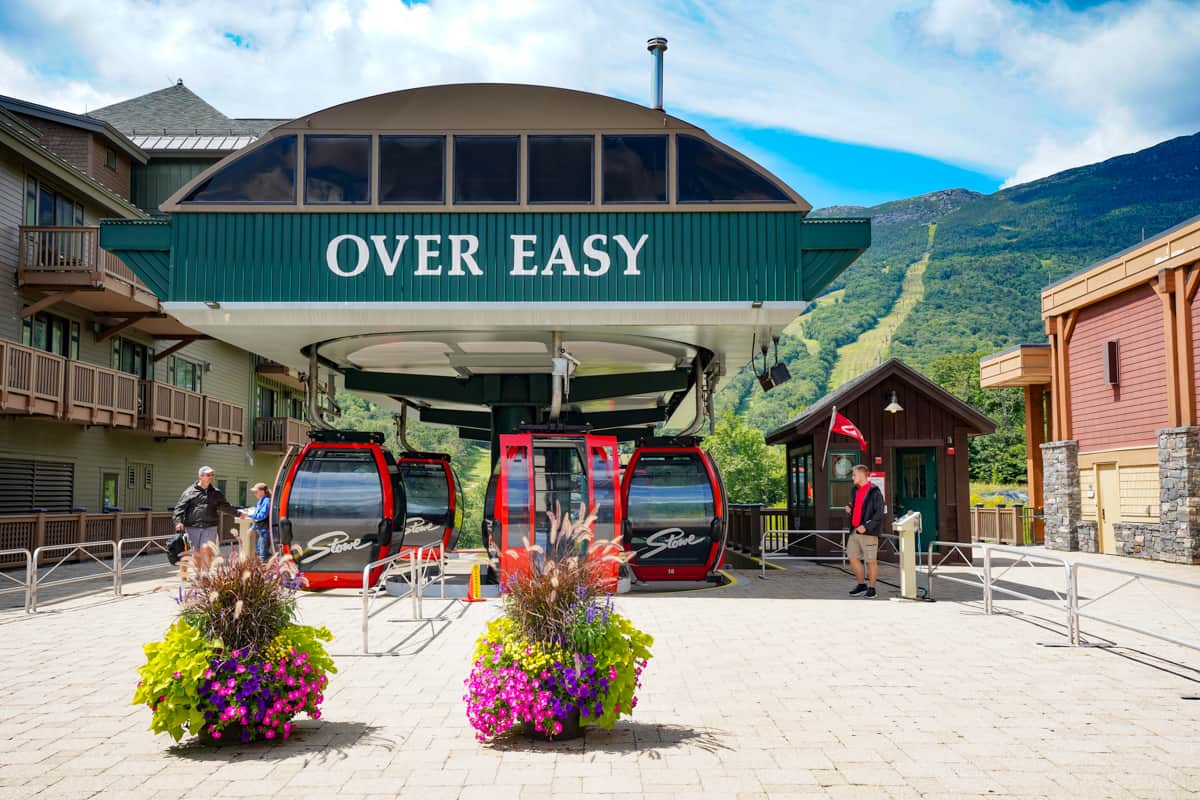 The gondola, Over Easy, which takes guests to the base of the mountain from the back of the resort was their favorite thing. It was free, and we rode it again and again. We also rode a separate lift to the top of the mountain where there is a restaurant and gift shop.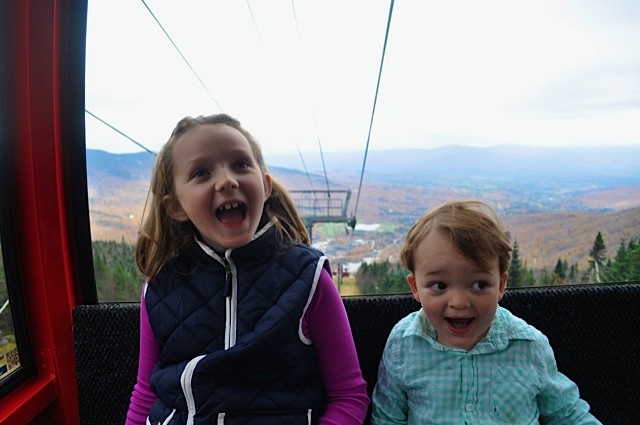 That Christmas, my daughter had asked for the Playmobile red gondola ride because of how much fun we had.
The same but better
I knew this trip we were going to be able to cover way more ground of the resort's offerings.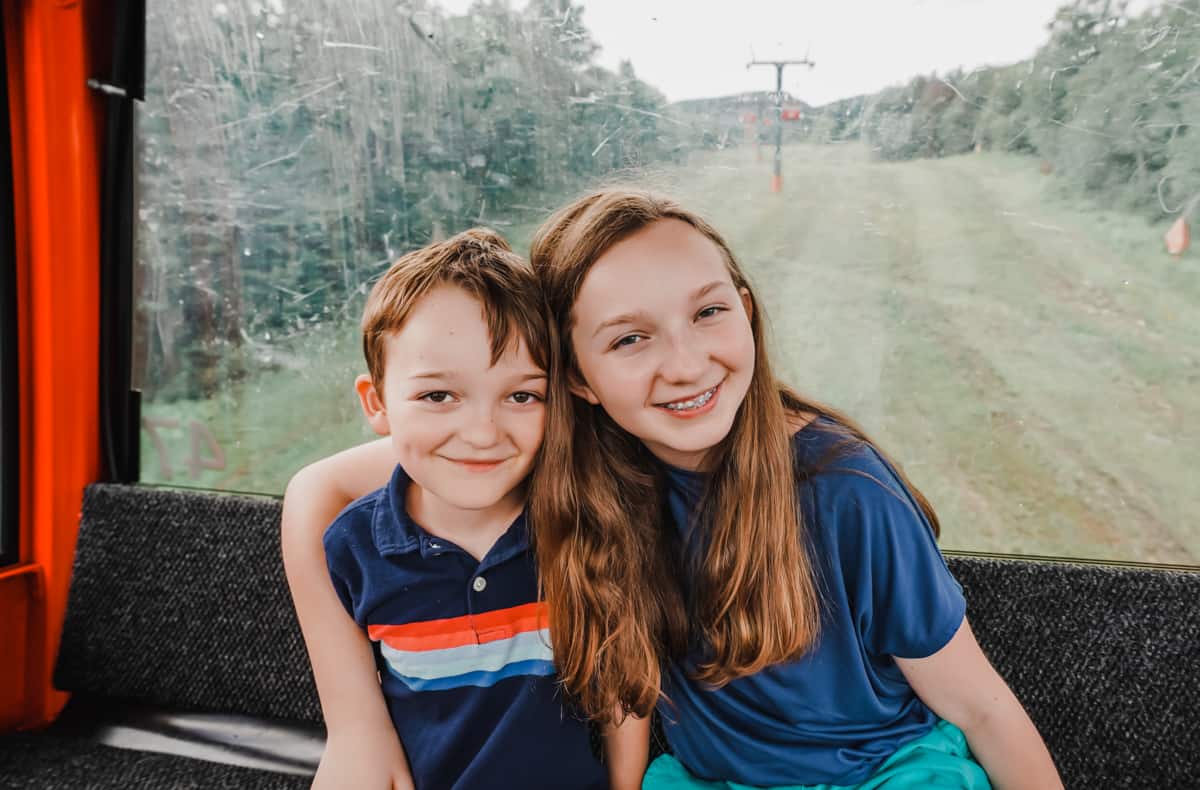 We've now had the pleasure of visiting this beautiful resort at the height of summer fun in addition to fall, and I am eager to return once again for winter. For me, this place is even worth a visit during Vermont's notorious "mud season" (end of ski season but before summer arrives) because of the spa's extensive and unique offerings.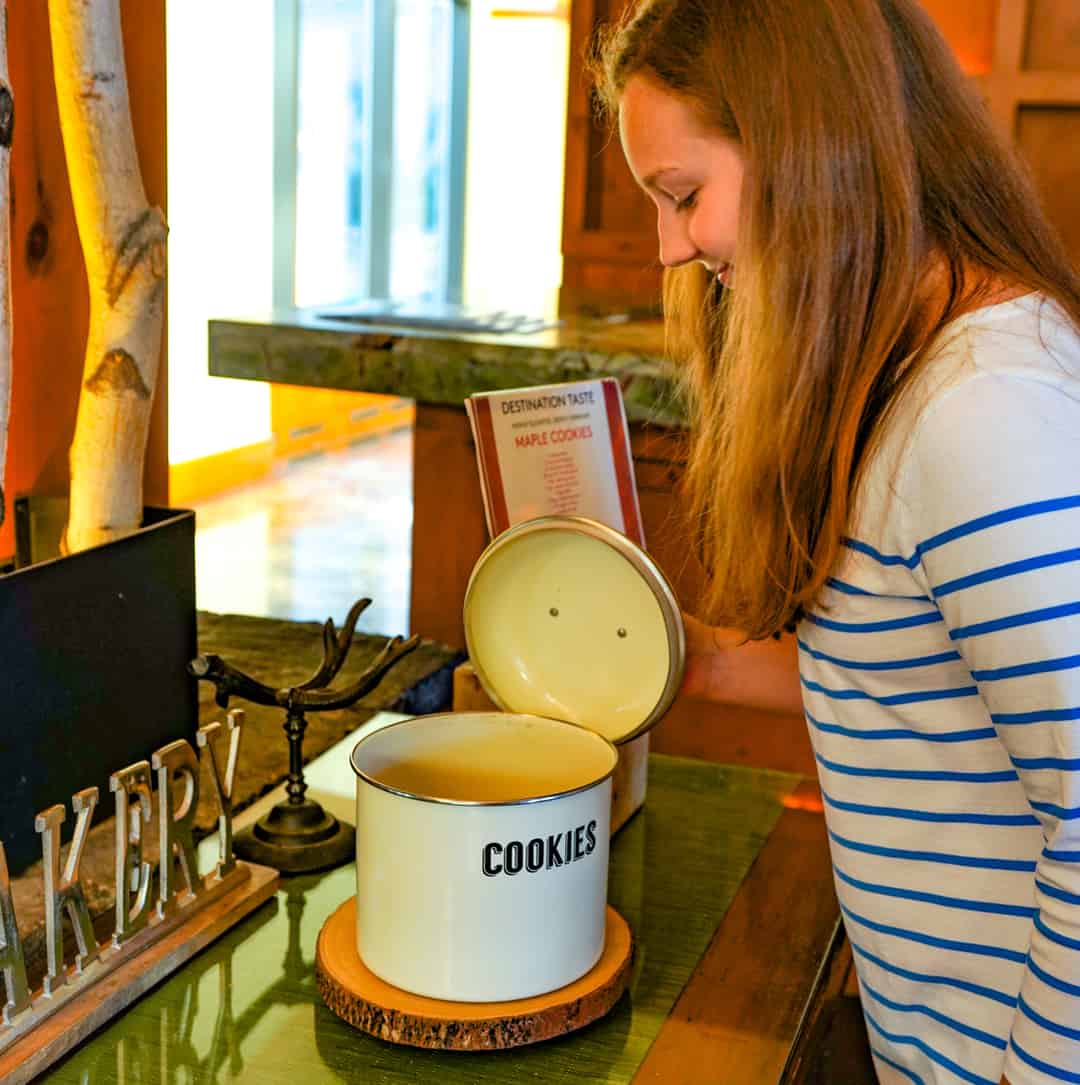 Best Rooms For Families at the Lodge at Spruce Peak
The rooms are thoughtfully appointed, and even the most standard category room is spacious for a family of four with a king-sized bed and a large sleeper sofa. Rooms also have fully stocked kitchenettes with a stovetop and dishwasher, not just a microwave and mini-fridge. (Arrive with groceries, or grab items at the Pantry store: pasta, sauces, breakfast items, for).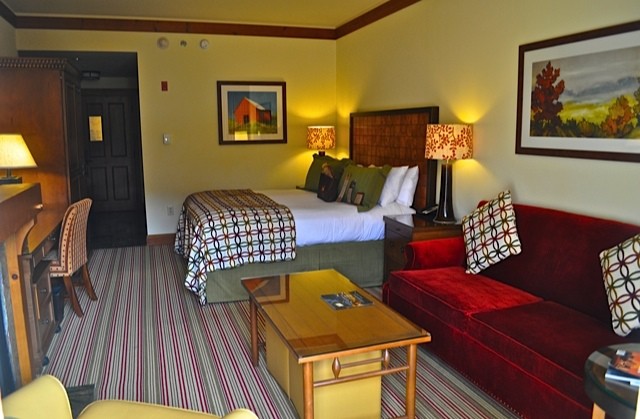 The marble bathrooms are elegant. The balconies are great to watch skiers coming down Stowe mountain.
The Penthouse Units at the Lodge at Spruce Peak
Penthouse units are large, ranging from two to four bedrooms. Our three-bedroom unit was gigantic with two master suites and a bedroom with two queens for children.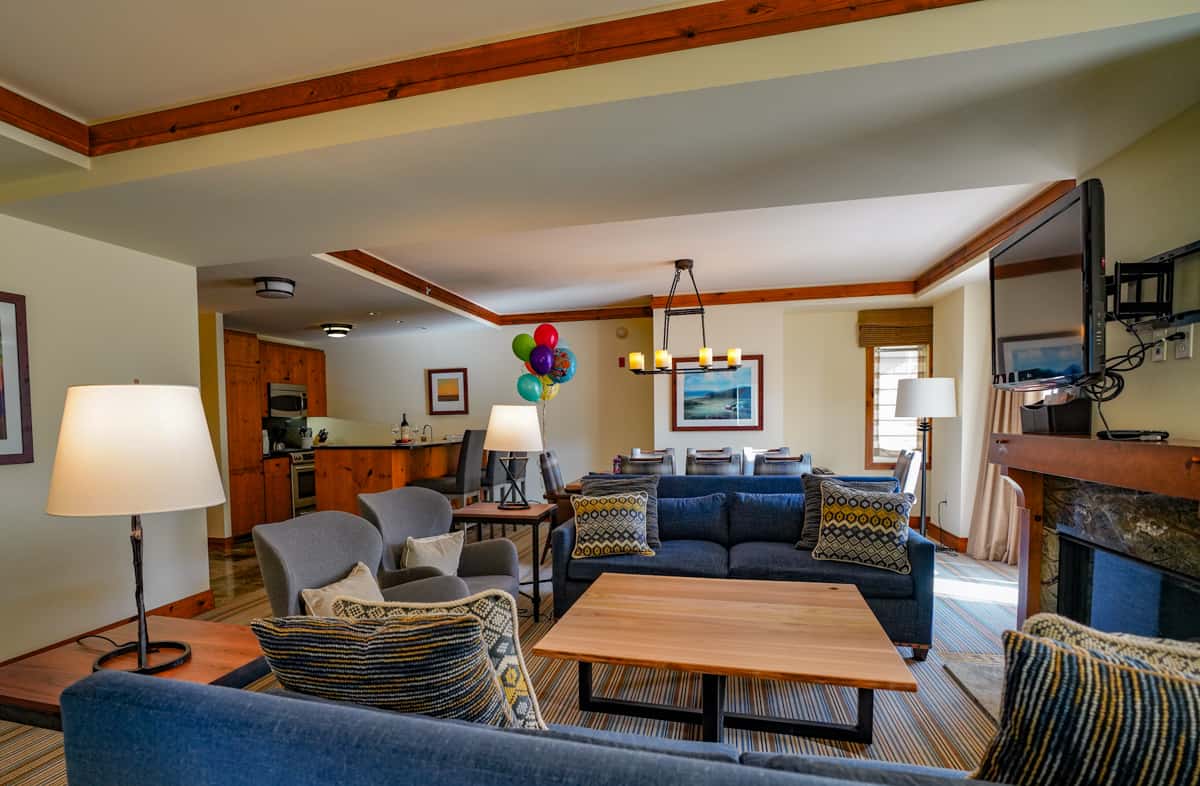 We had a full kitchen, dining table, washer and dryer, numerous balconies. We had enough space at 2,500 square feet of space to learn to rollerblade, had we had the urge, because our unit had a particularly long hall connecting all of the living space.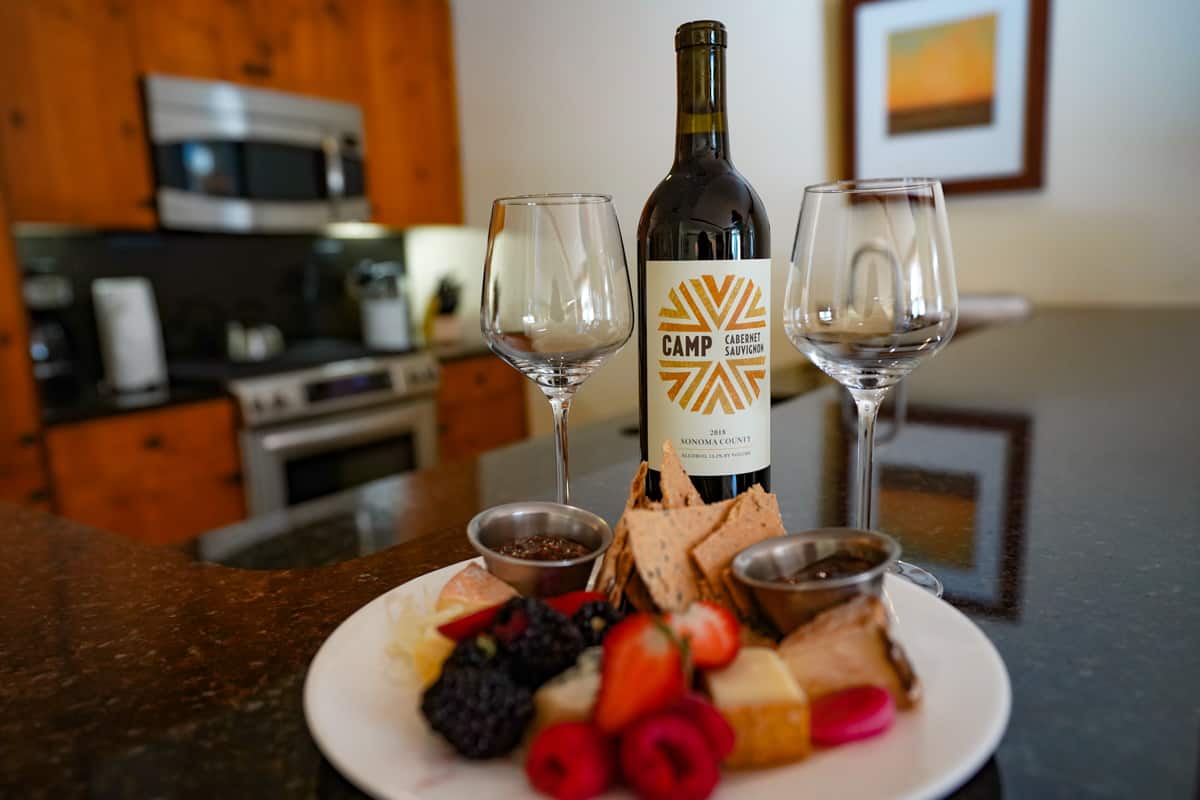 The rooms are stocked with as much locally sourced materials and amenities as possible. Ursa Major toiletries in the bathroom, luxurious Anichini blankets in the bedroom, and Simon Pearce dishware in the kitchen are all made in Vermont. Even the tables in our penthouse were made from some of Vermont's largest and oldest trees (that were used sustainably).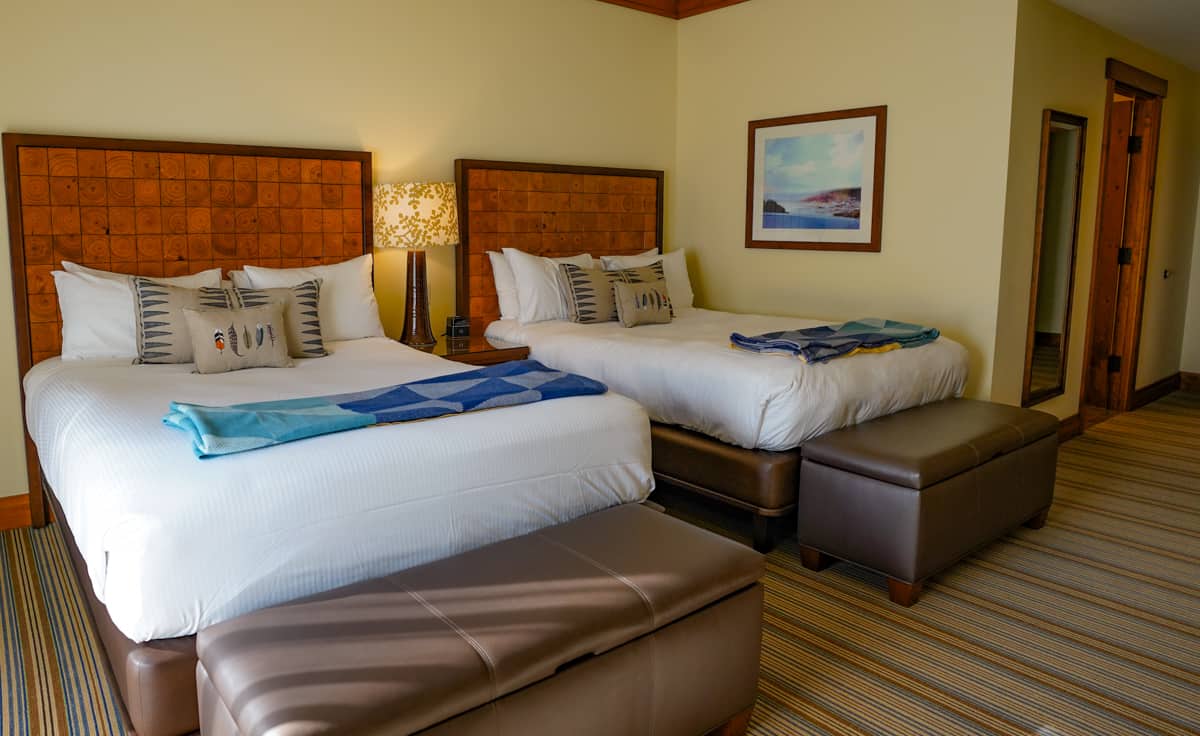 So many Vermont hotels and inns feel stuck in a time capsule from the 1980's and 90's with an excessive use of burgundy, hunter green, and oak with moose accents. Thank goodness not here. The Lodge at Spruce Peak folds in all that is modern and stylish in today's Vermont.
The Penthouse Lounge at the Lodge at Spruce Peak
The penthouses are part of a hotel within a hotel. Guest of the penthouses have their own dedicated staff for check in and concierge planning services. The penthouse guests share a very large lounge that serves a complimentary breakfast each morning with a quiche, bagels, baked goods, and coconut milk chia pudding.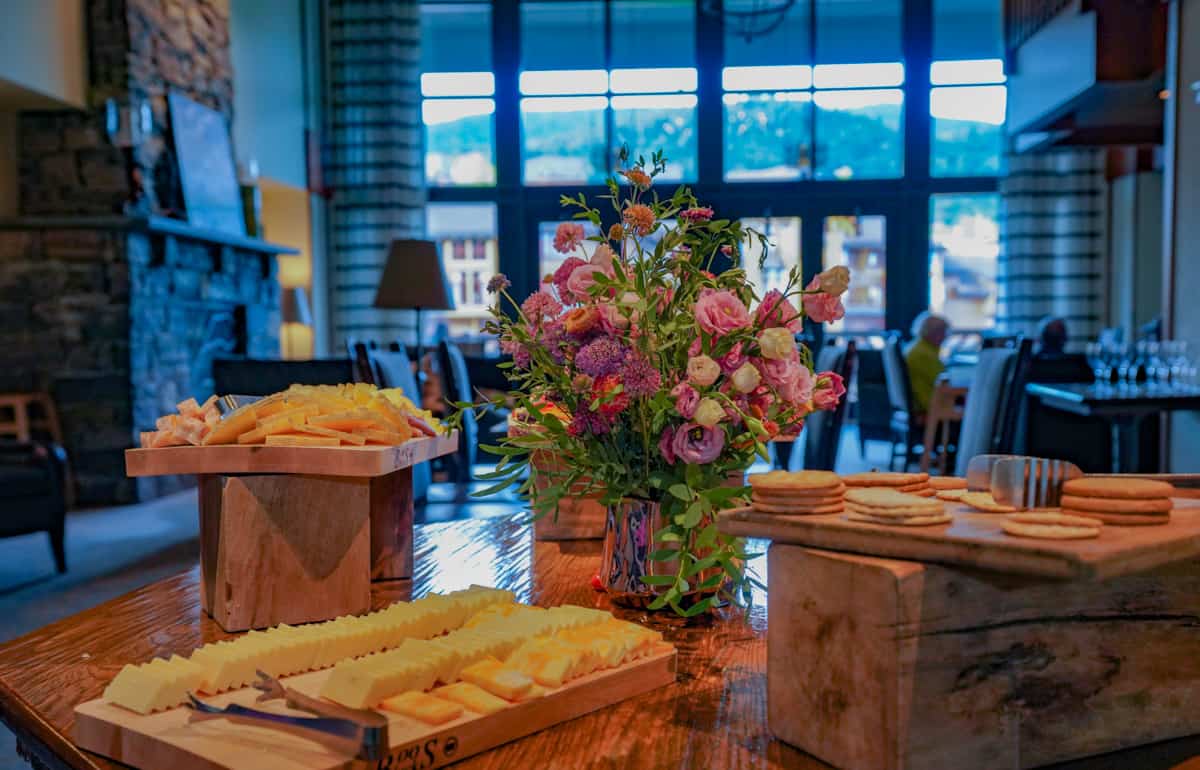 Guests sample evening hors d'oeuvres with complimentary wine and local cheeses. And their fancy barista coffee machine is accessible 24 hours a day. The lounge also boasts a large balcony overlooking Spruce Peak village green which can offer a perfect seat for the outdoor concert series.
Have a family celebration? The Penthouse staff are ready to send up cookies for a birthday treat or anything else you need.
Dining Options at Spruce Peak
Restaurants at Spruce Peak range from high end to counter style, though none of them were too formal feeling to discourage families or young children.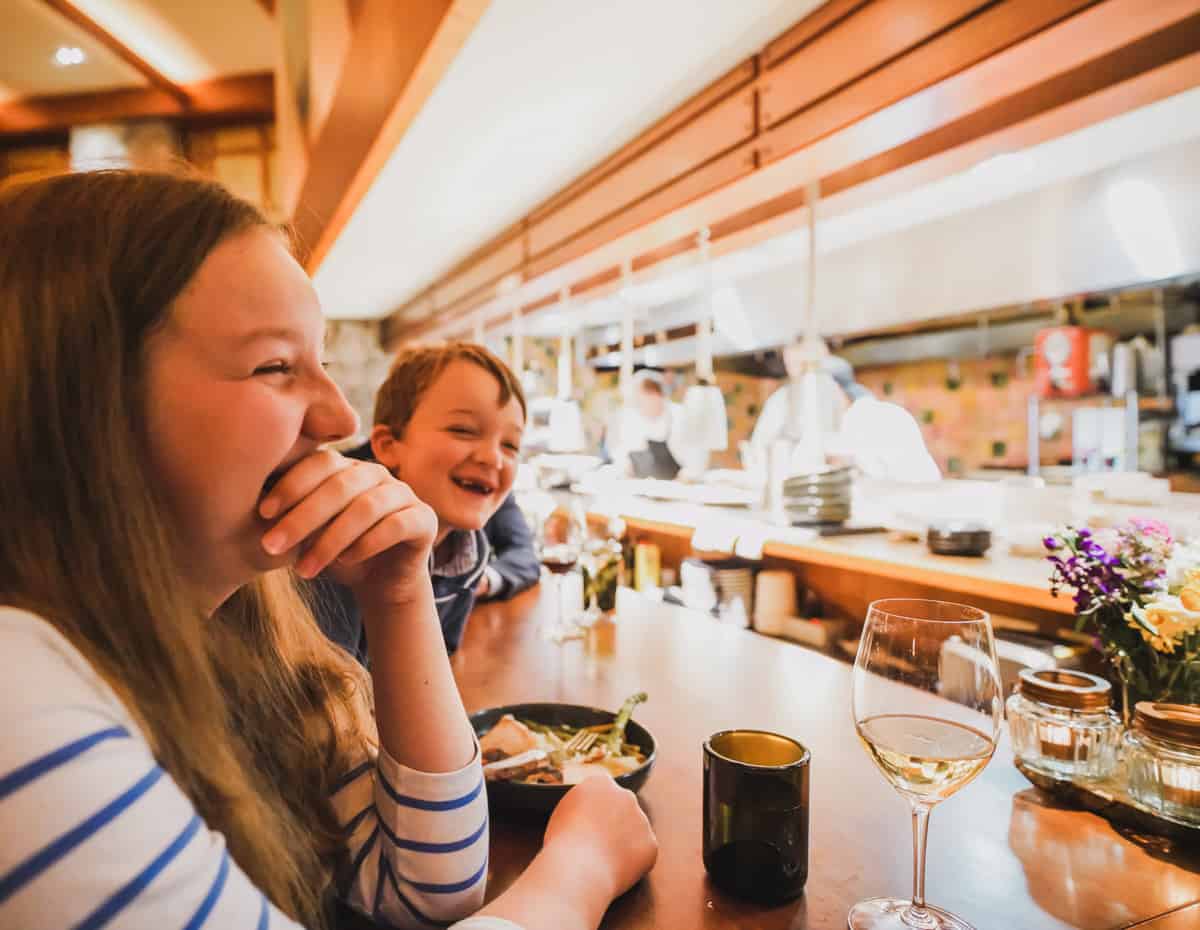 Solstice
Solstice is the signature restaurant off the main lobby of the hotel open for breakfast and dinner. It offers the most elevated experience, literally, a chef's table experience at a high-top table next to the open kitchen.
This family meal was one to celebrate our return to the hotel, where we dined on a two-track dinner where the children were delighted with their own favorite ingredients while the chef had more free range on the adult entrees.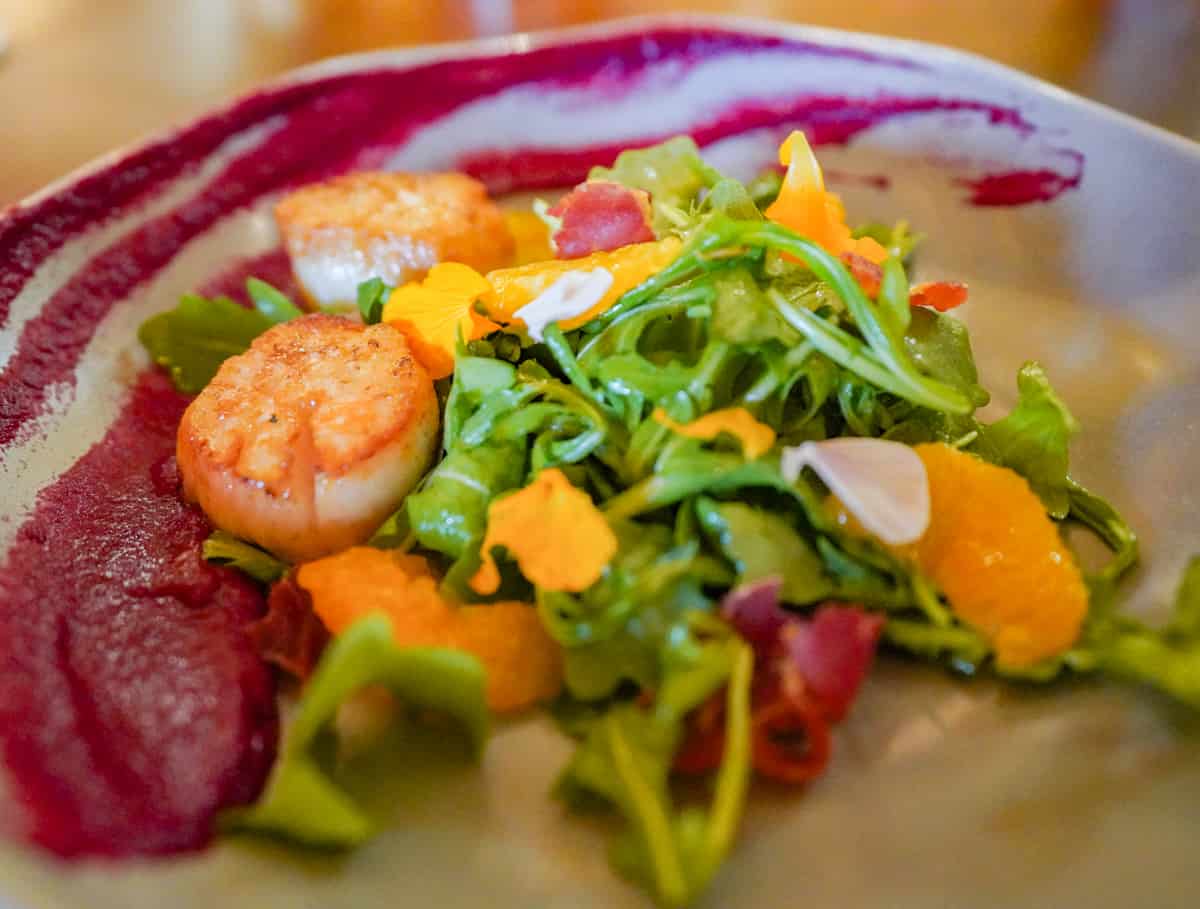 The children had fruit and homemade ricotta, hummus with sailboat pita chips, chicken quesadillas all served like a tasting menu.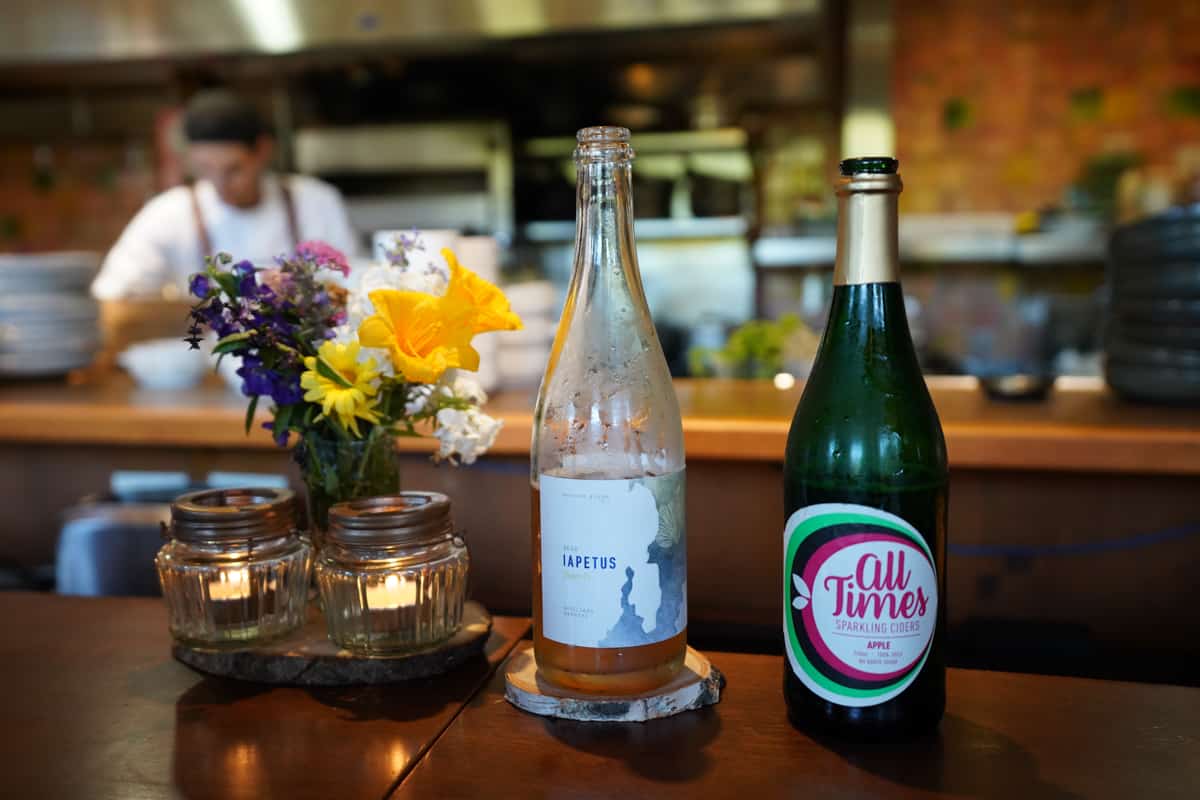 We enjoyed sliced Hamachi crudo, scallops with mandarin oranges, fresh market salads with local peaches and prosciutto, steak, and an incredible flourless chocolate mousse layer cake.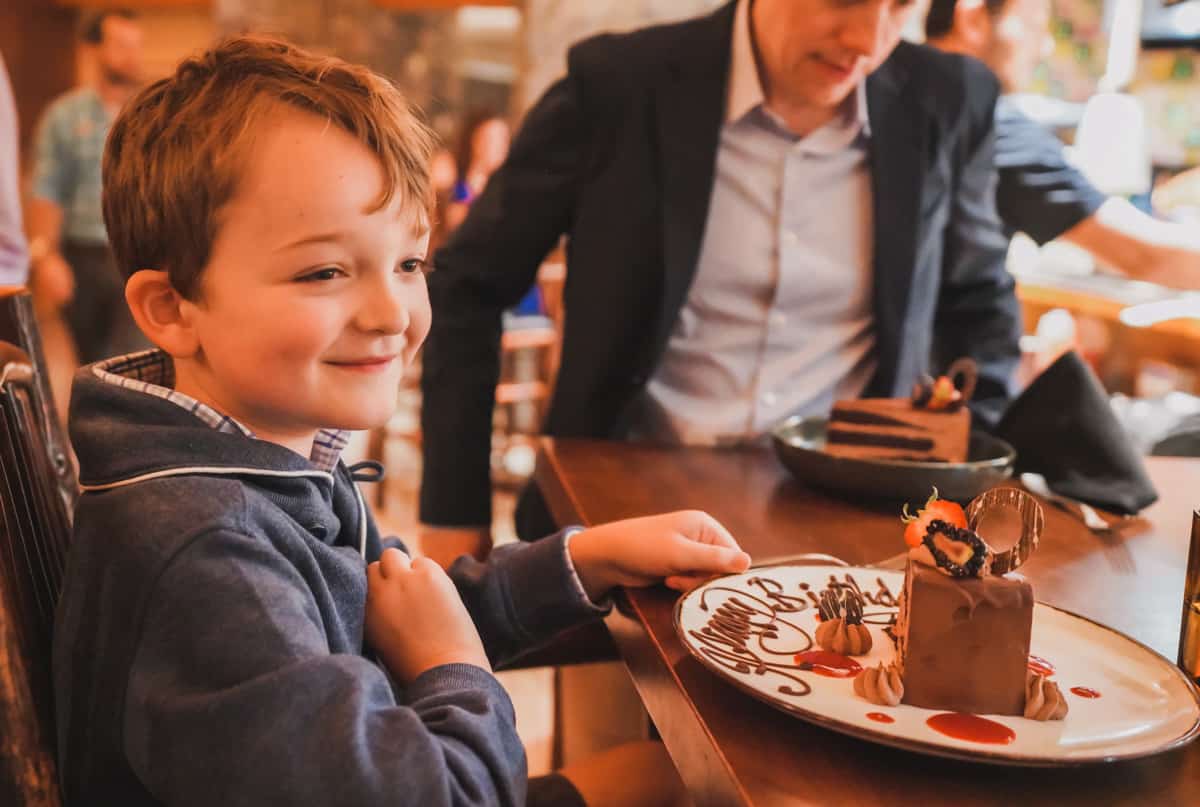 Courses came with a unique wine pairing. The adults started the meal with a sparkling wine from an experimental producer Iapetus. This local winemaker from Shelburne Vineyards joins of list of other Vermont producers considered some of the best in the country for beer and cider.
Hourglass
Hourglass is both a hotel bar, lounge, and all-day restaurant that has a few tables perfect for families to grab lunch or dinner. It offers particularly great bento boxes for kids. Grilled chicken, French fries, cut fruit, and crudité made a perfect dinner for my junior crew.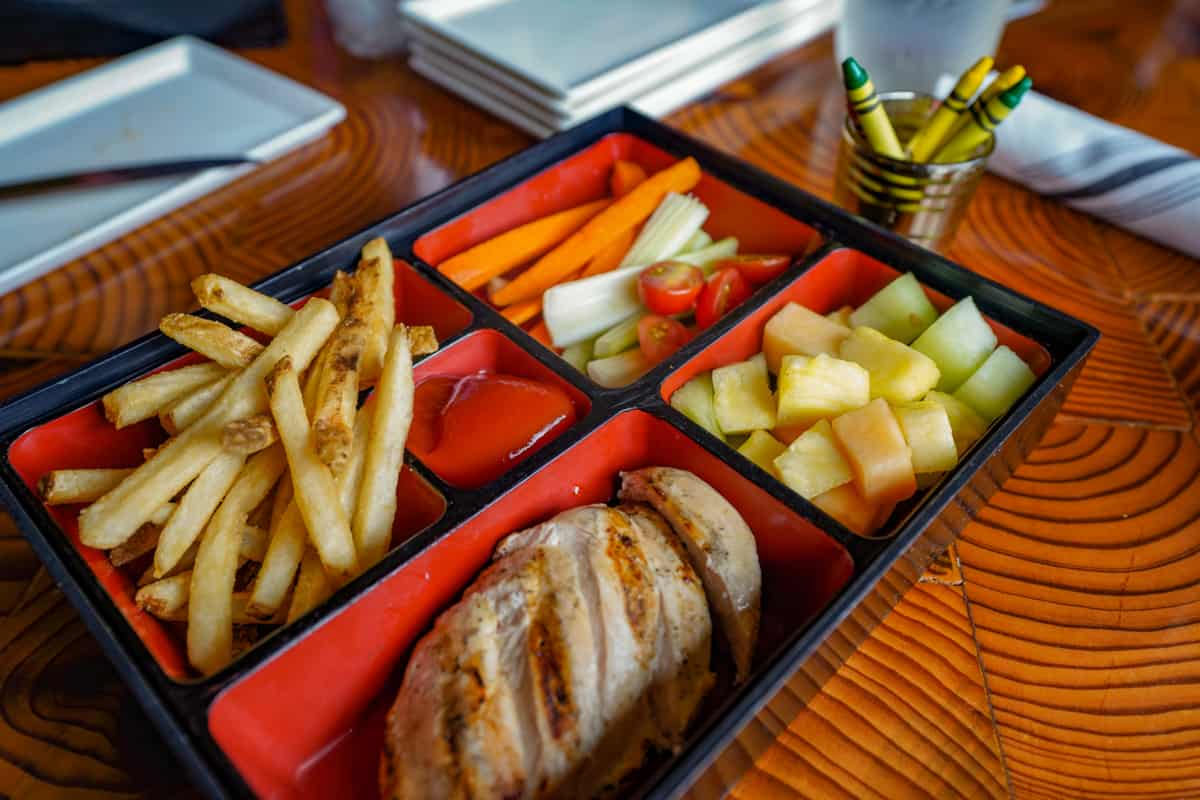 I was on a taco kick my whole visit because the resort uses those irresistible tortillas from Vermont Tortilla Company. These all-natural corn tortillas made their way on many menus, and I grabbed tacos whenever I saw them. Hourglass served my favorite grilled shrimp tacos for the win.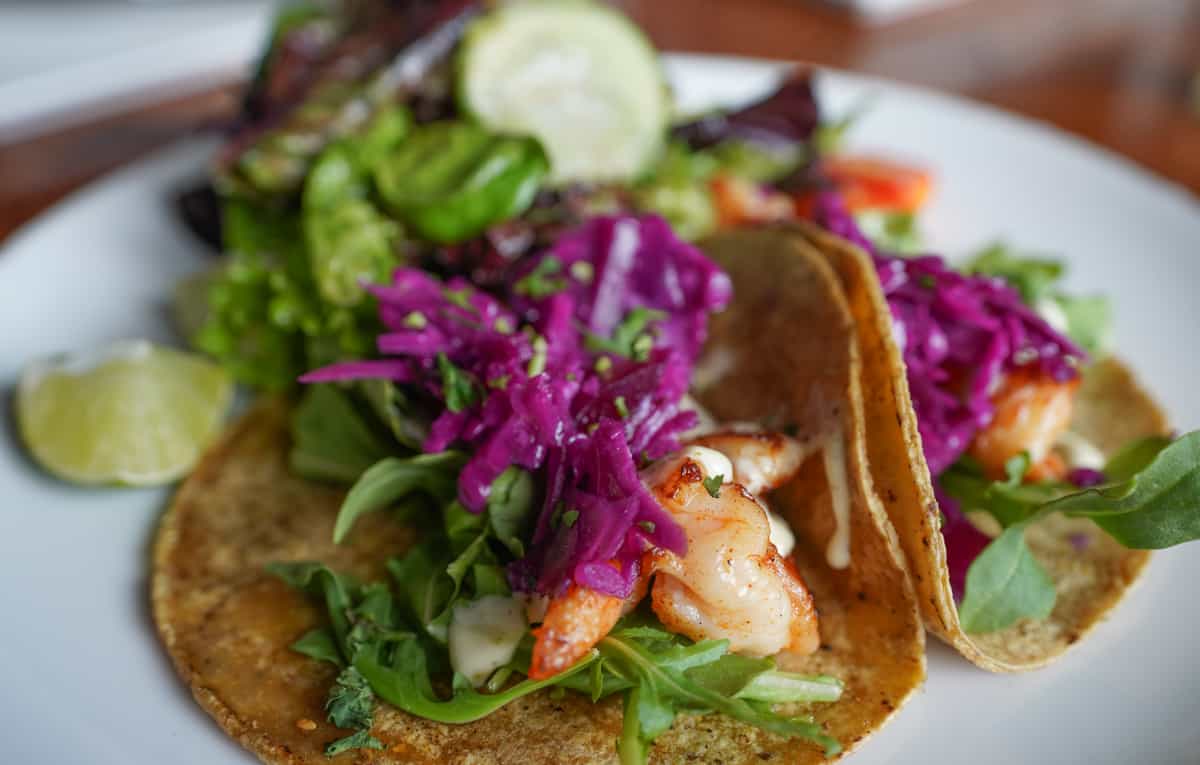 The Clubhouse
The clubhouse offers dinner on Saturdays and Fridays to add a little diversity to the meal options. While it runs a busy lunch service for golfers, dinner can be quiet. We had the restaurant mostly to ourselves.
Although the club did not offer a children's menu, the entrées were steak, pasta, and fish so both my kids had the most delightful bucatini Bolognese. The hearty portions were too large for my children, and we made absolutely sure to take the leftovers home and fight over them.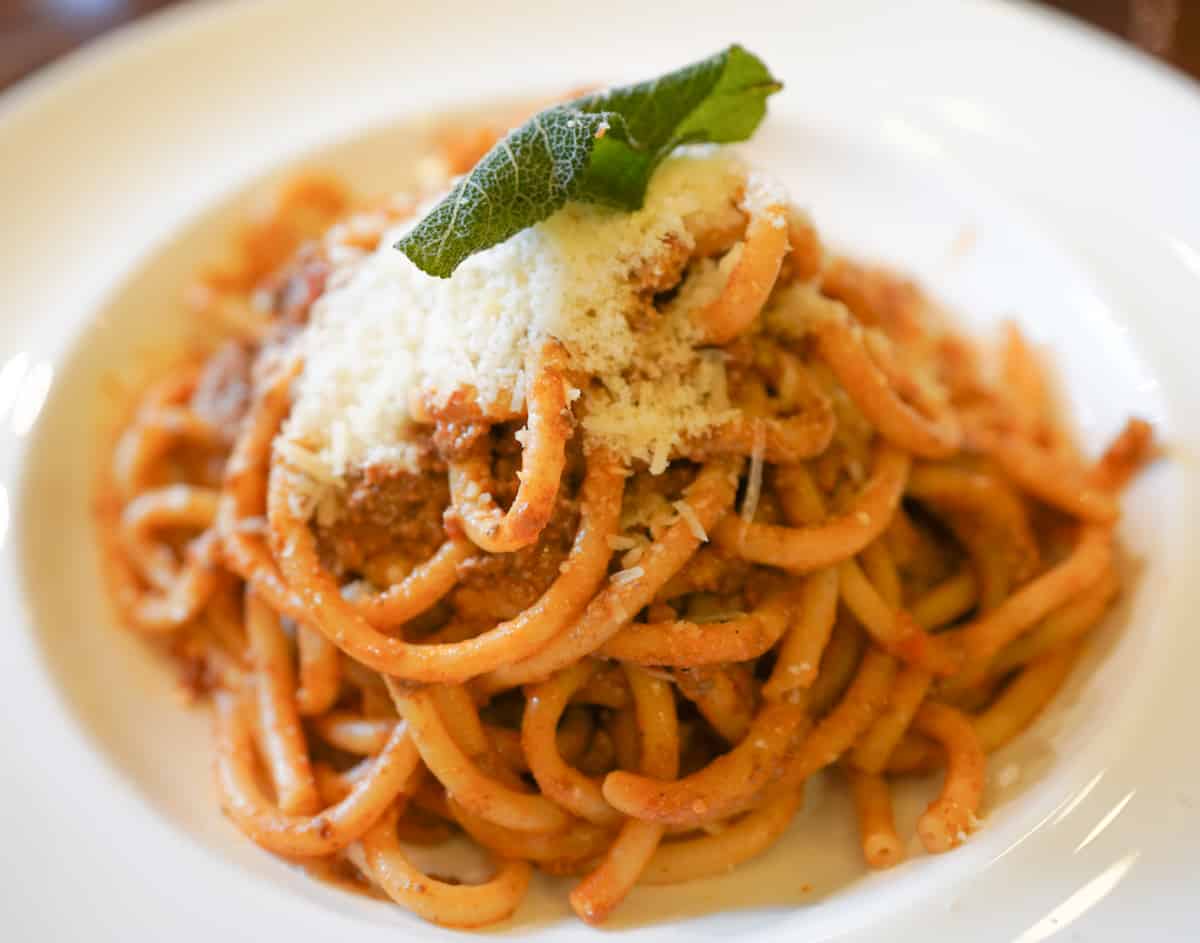 The Secret Speakeasy
So, the best club at Stowe is the secret one. There's an unmarked speak easy on property down some really unassuming stairs called the Line House.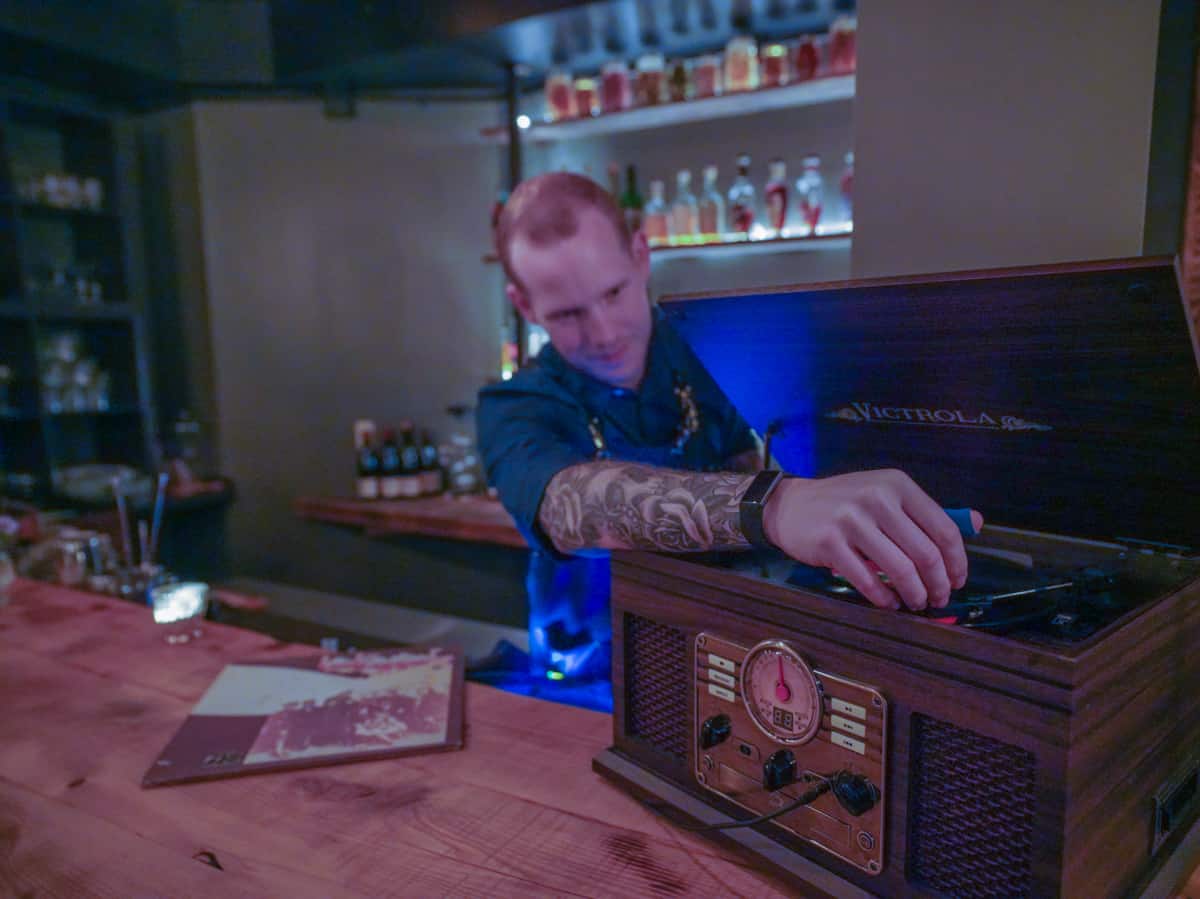 Inside, Dan, the bartender, lets you pick the vinyl (We chose Led Zeppelin II and The Doors), but he chooses the drink and glass. He collects a menagerie of vintage cut glassware from area antique stores.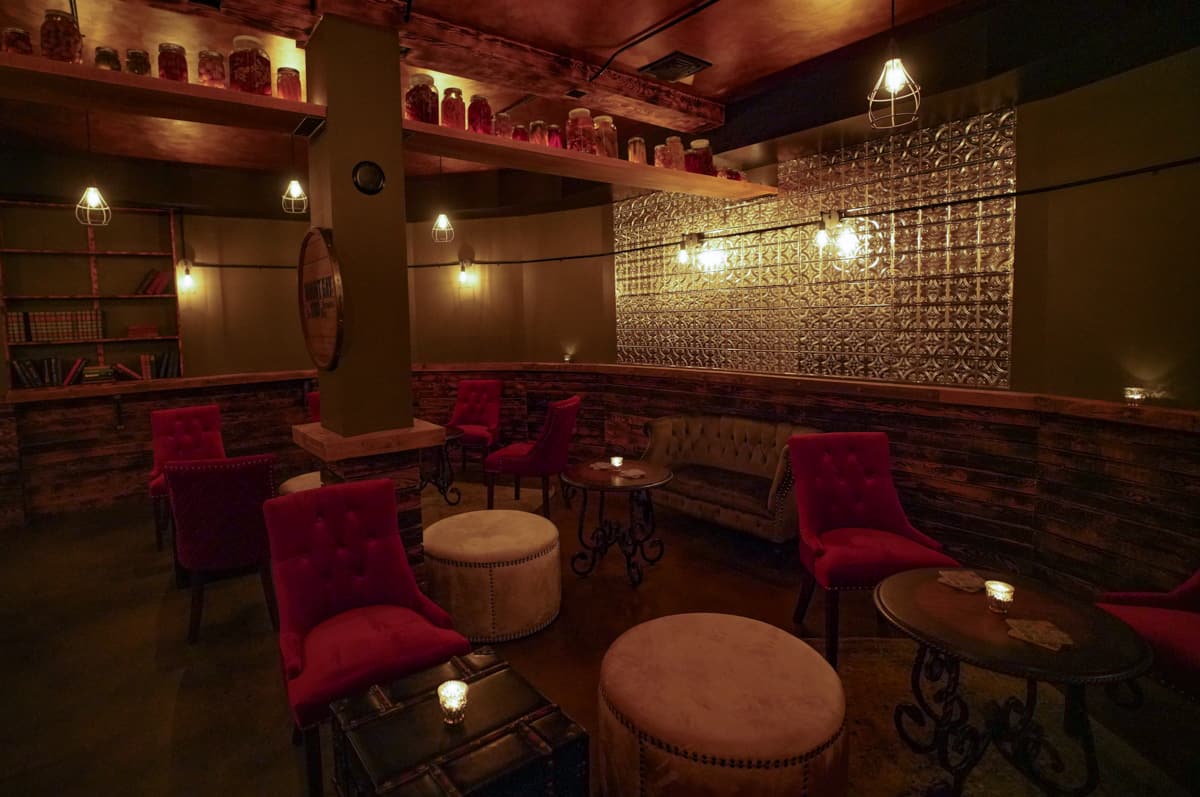 The place is intimate and a perfect after party for the worthy crowd, as determined by staff. Tip: Be fun and polite. (And child-free).
Best Quick Meals and Snacks at the Lodge
The Beanery and the Pantry offer breakfast sandwiches, smoothies, and coffee as well as grocery items to prepare in the guest rooms kitchens. I spotted eggs, breakfast meats, frozen lasagnas, flatbreads, and Applegate chicken nuggets most moms are more than familiar with.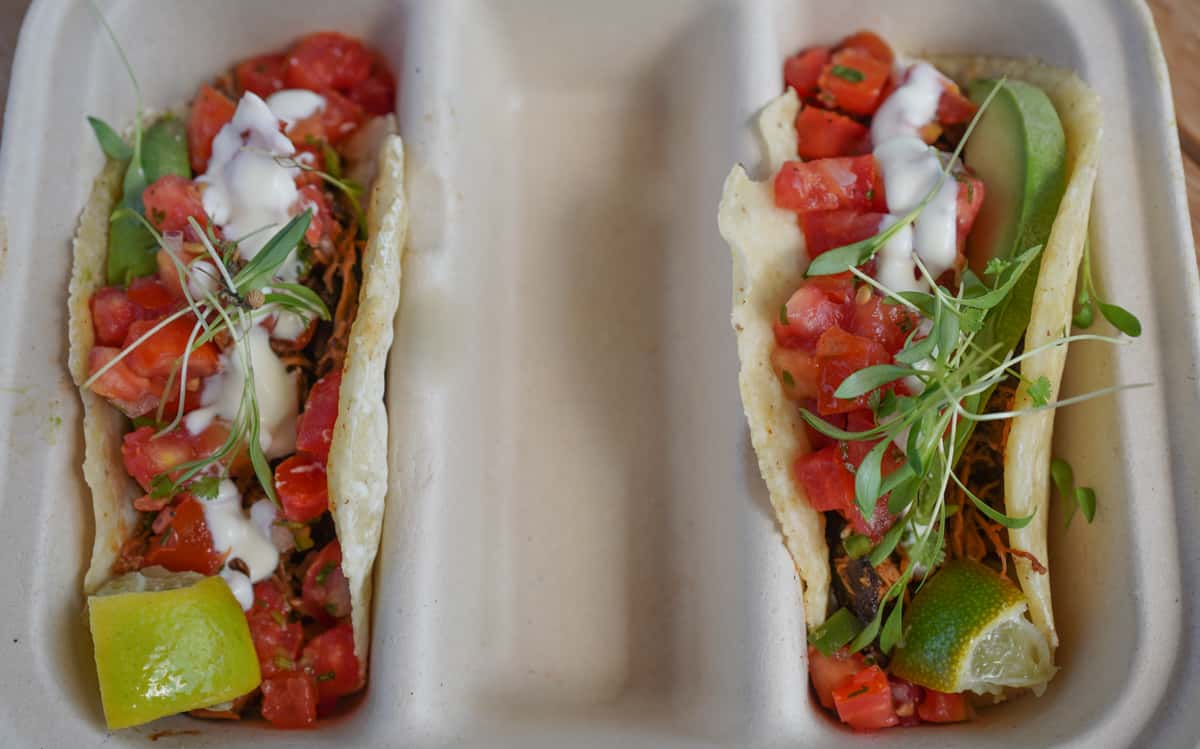 Families can order meal packages for breakfast or lunch that serve a family of four for approximately $60. The dinner option is salad, a pasta (with gluten-free options available), a choice of sauce with meatballs or sausages, and garlic bread.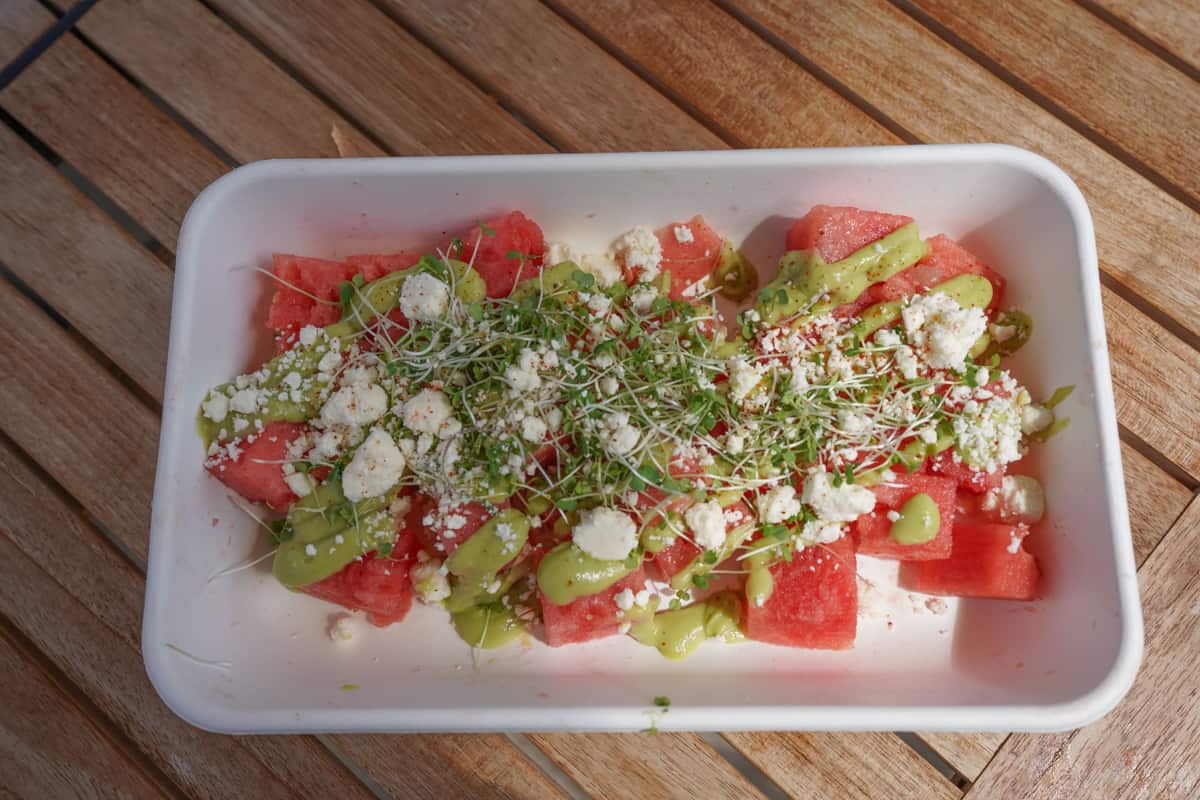 The taco truck on the green offers bowls, burritos, tacos, as well as a lovely watermelon and Feta cheese and avocado cream salad.
There's a soft serve maple ice cream and chocolate, the Skinny Pancake for crepes.
Shopping, Noshing, and Tree Pose at the Village Green
The Green is at the heart of all off-mountain activity. The winter, the green becomes an ice skating rink. In the summer, the green slowly wakes to owners and guests walking their dogs holding their coffee. There's a well-attended yoga class, too.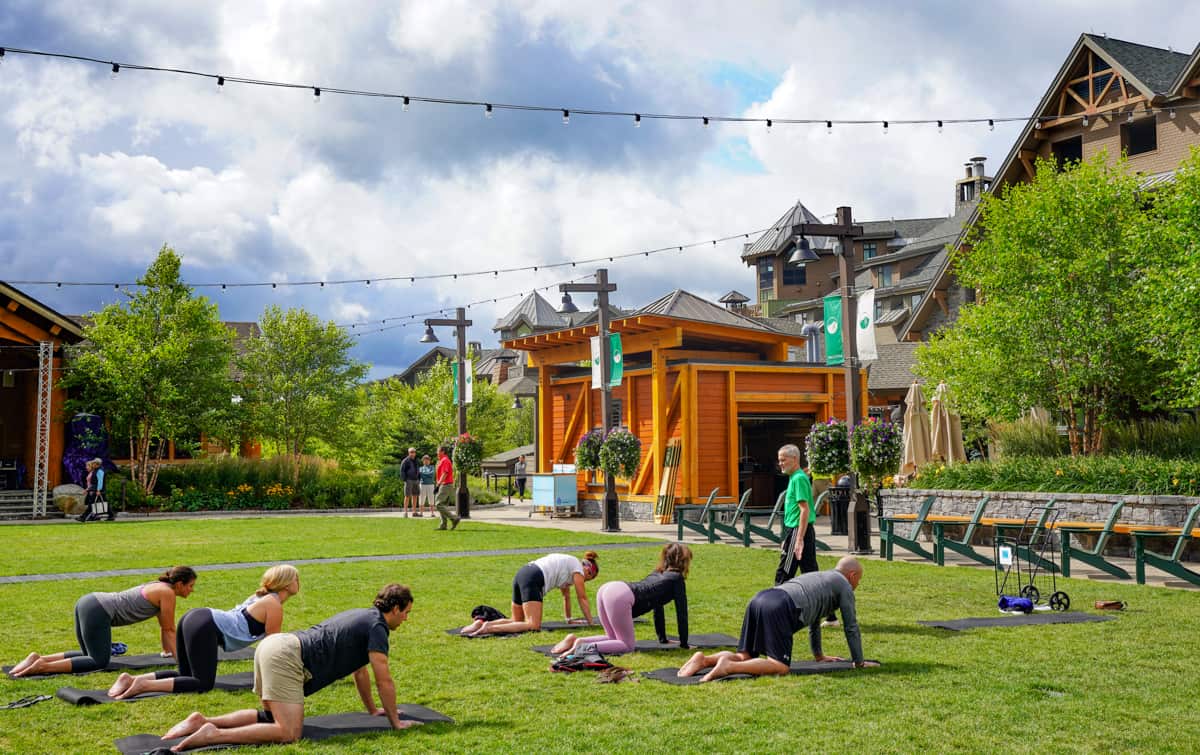 And on Friday's Weekend on the Green guests enjoy an outdoor market with face painting, kids' crafts, sidewalk sales, and local brews on tap.
Surrounding the green are boutiques for children and adults. The full-sized children's toy store sells games, crafts, books, candy, and ice cream. A guest could entertain five children under five for an entire week with their extensive merchandise. Don't pack toys.
In addition to traditional resort merchandise and active gear for the family split among the various shops, The First Chair boutique sells designer clothing and home accessories. You are sure to find something, and the bonus of a summer visit is to grab last season's ski wear at half off!
Spruce Peak Performing Arts
We were lucky enough to visit during the Spruce Peak Folk Festival, which is every August. Acts perform on the stage all day on the Green at this very family-friendly event where children are given large bubble wands. The Milk Carton Kids, an acoustic duet, delivered a skilled set while we watched families bliss out on the lawns with bubbles, exceptional beers, and ice cream.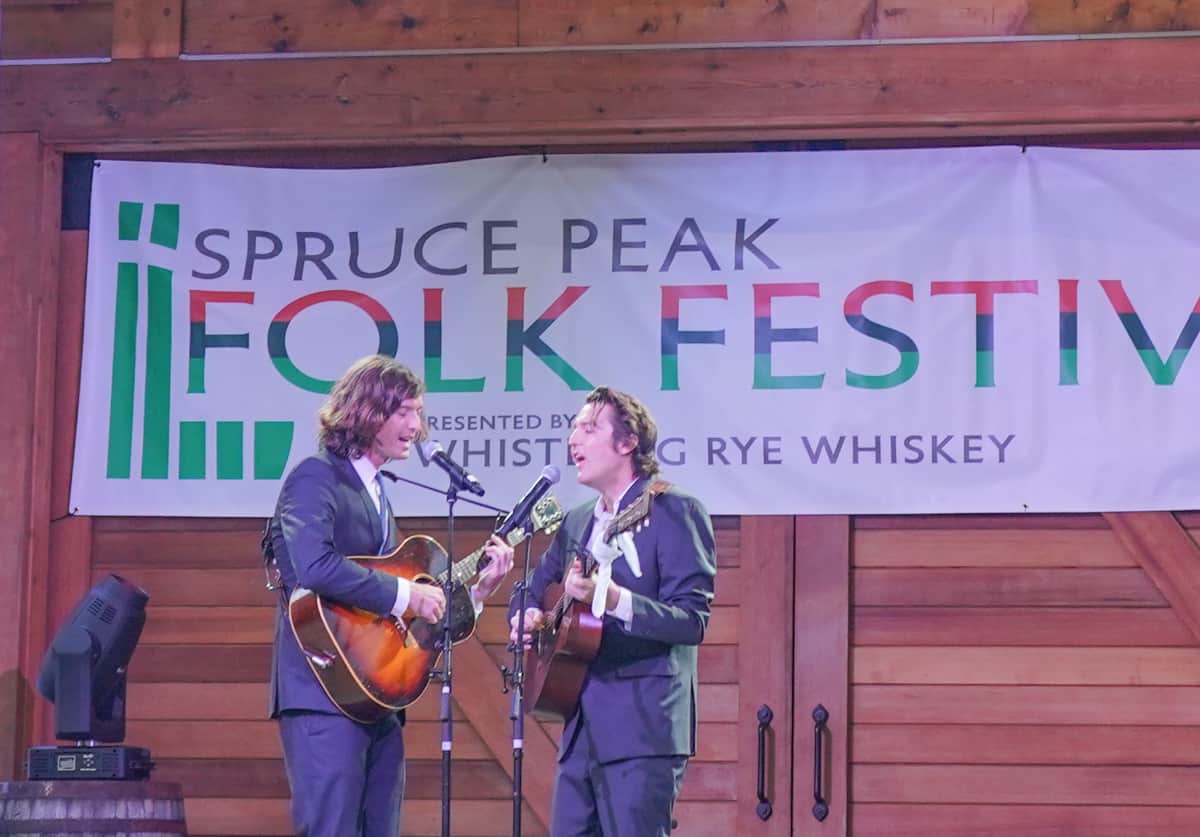 The Spruce Peak Performing Arts Center is steps away. This indoor venue hosts an exceptionally eclectic lineup of events throughout the year. Opera, chamber music, theatre, jazz—even magic— programs entertain visitors and locals year long. The Spruce Peak Film Festival covers two weekends at the end of October.
The Adventure Center at Stowe Mountain Resort
Adjacent to the rink is the children's adventure center with indoor climbing, a winter kids' program for children aged 1-14, and a summer adventure program for those aged 3-14. It's unusual to have organized activities for children above the age of 12, when traditional kids' clubs can't really engage beyond screens. The Stowe Adventure Camp is a great perk for older siblings who can still enjoy nature hikes and activities while parents enjoy the spa or a hike (or sleep).
Currently their Cubs Childcare center located in the Adventure Center off of the Village Green offers day care for 3 months to 4-year-olds during the ski season and summer season.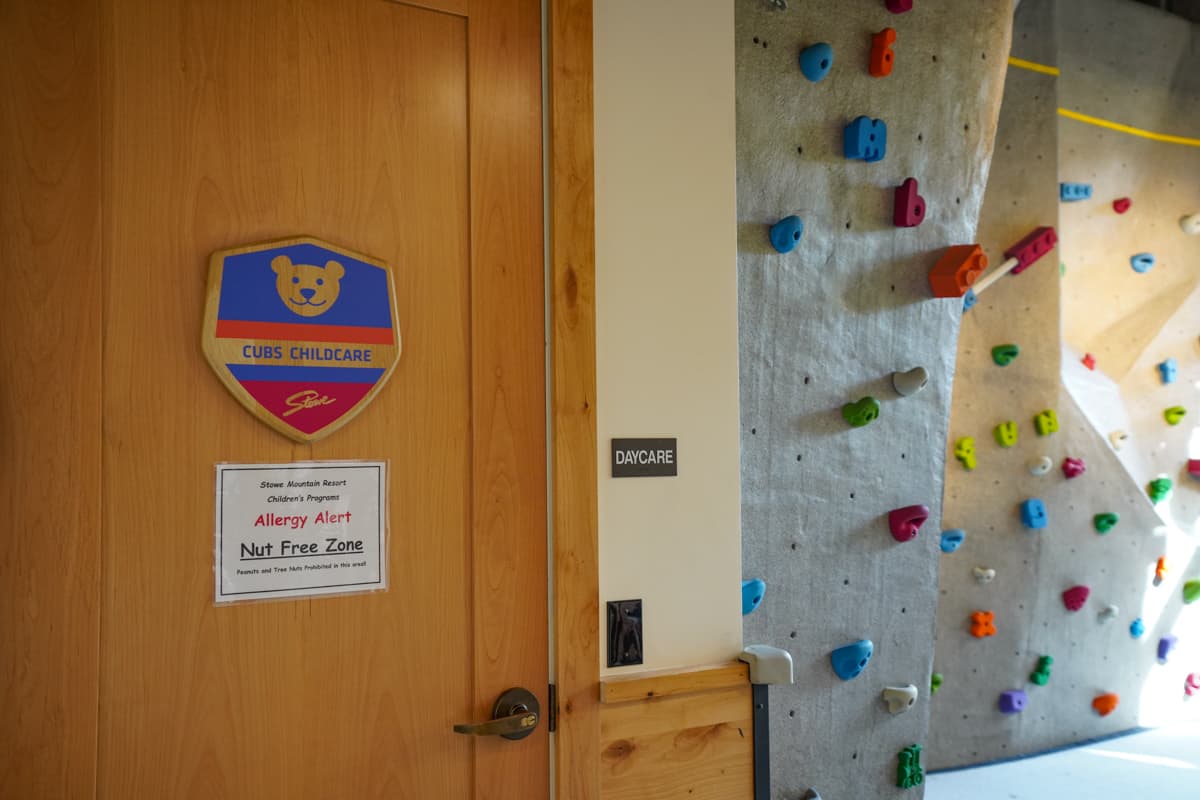 The Enchanted Playground
After guests cross a small covered bridge, they will see wild raspberry bushes. They bore fruit that we ate on our visit. A few steps down a path you will came to the Enchanted Playground on either side of the pathway.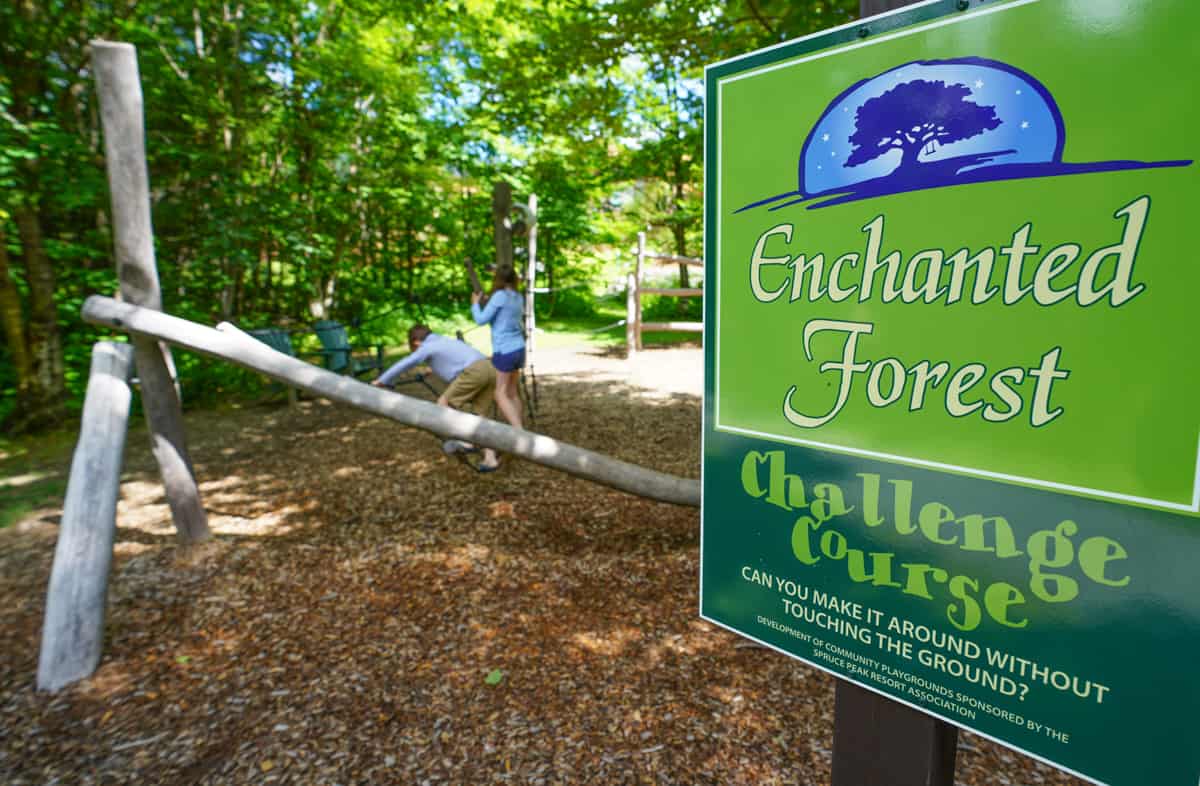 The first is a traditional playground for most ages. The second is a scaled down obstacle course similar to a tree-top course. The sign dares children to complete the course without touching the ground. Some of it is hard; and I think both of my kids touched the ground.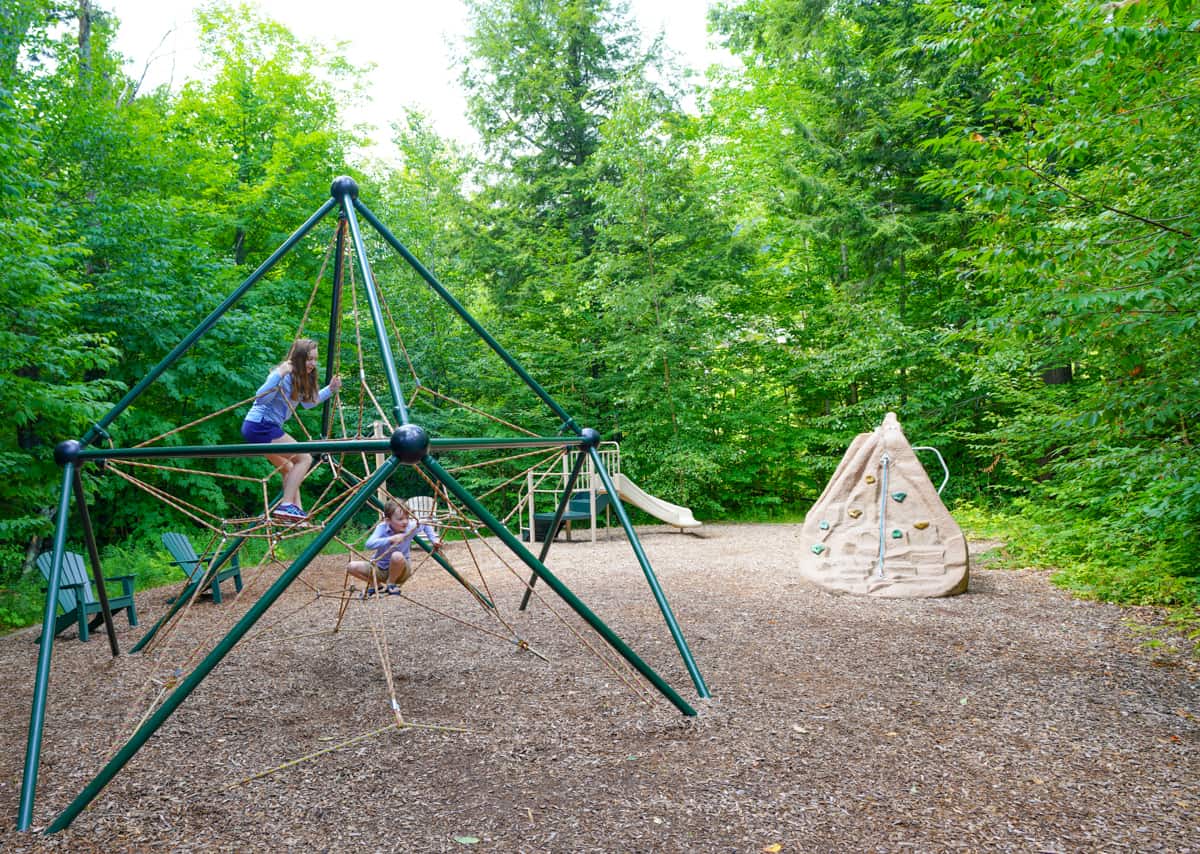 Tree Top Adventures
Outside the ski season, kids will love the treetop adventure course offered on Stowe Mountain. Guests gear up at the Adventure Center and take the Easy Over gondola to the mountain separated by the road.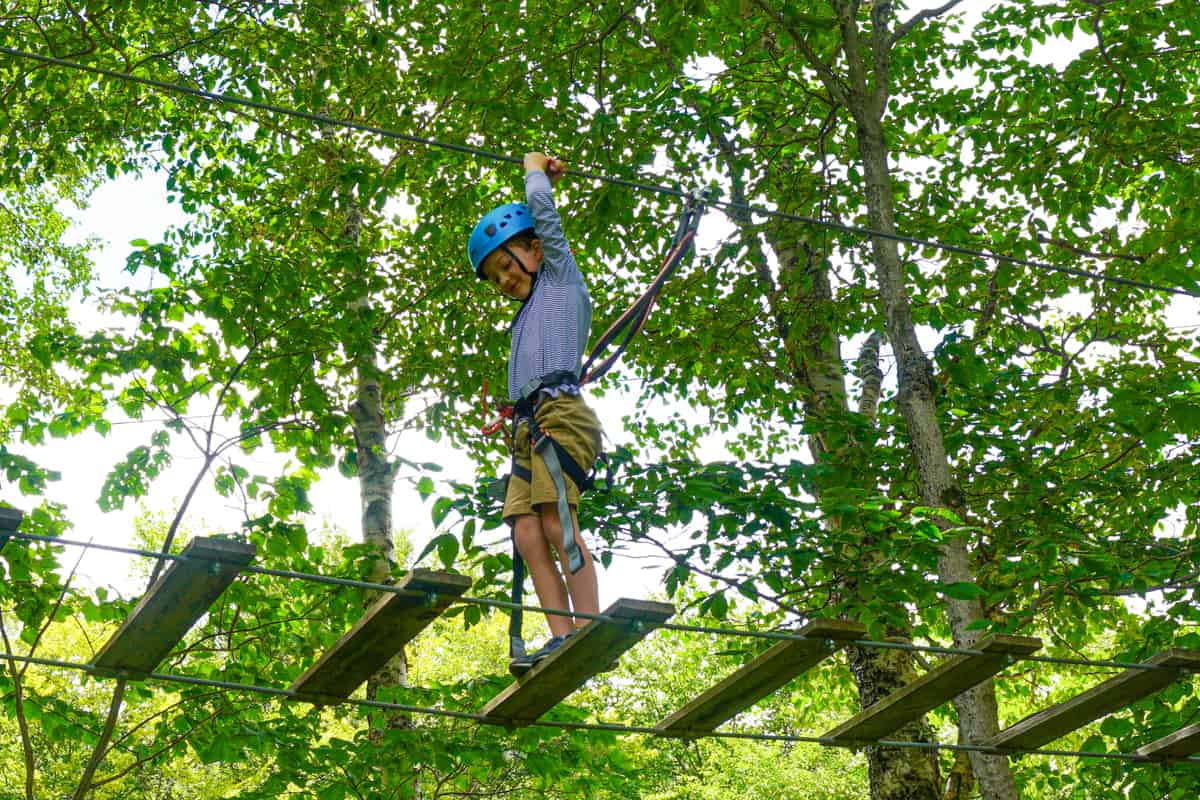 After an instructional video on the use of equipment, kids test out their skills twice in two different settings before starting the entry course. Those who love it and get the hang of it will continue you on to the adult courses.
More family fun at the Lodge at Spruce Peak
There's a small arcade when the weather keeps you inside that takes quarters while some machines take dollar bills. There's an ATM and a change machine inside.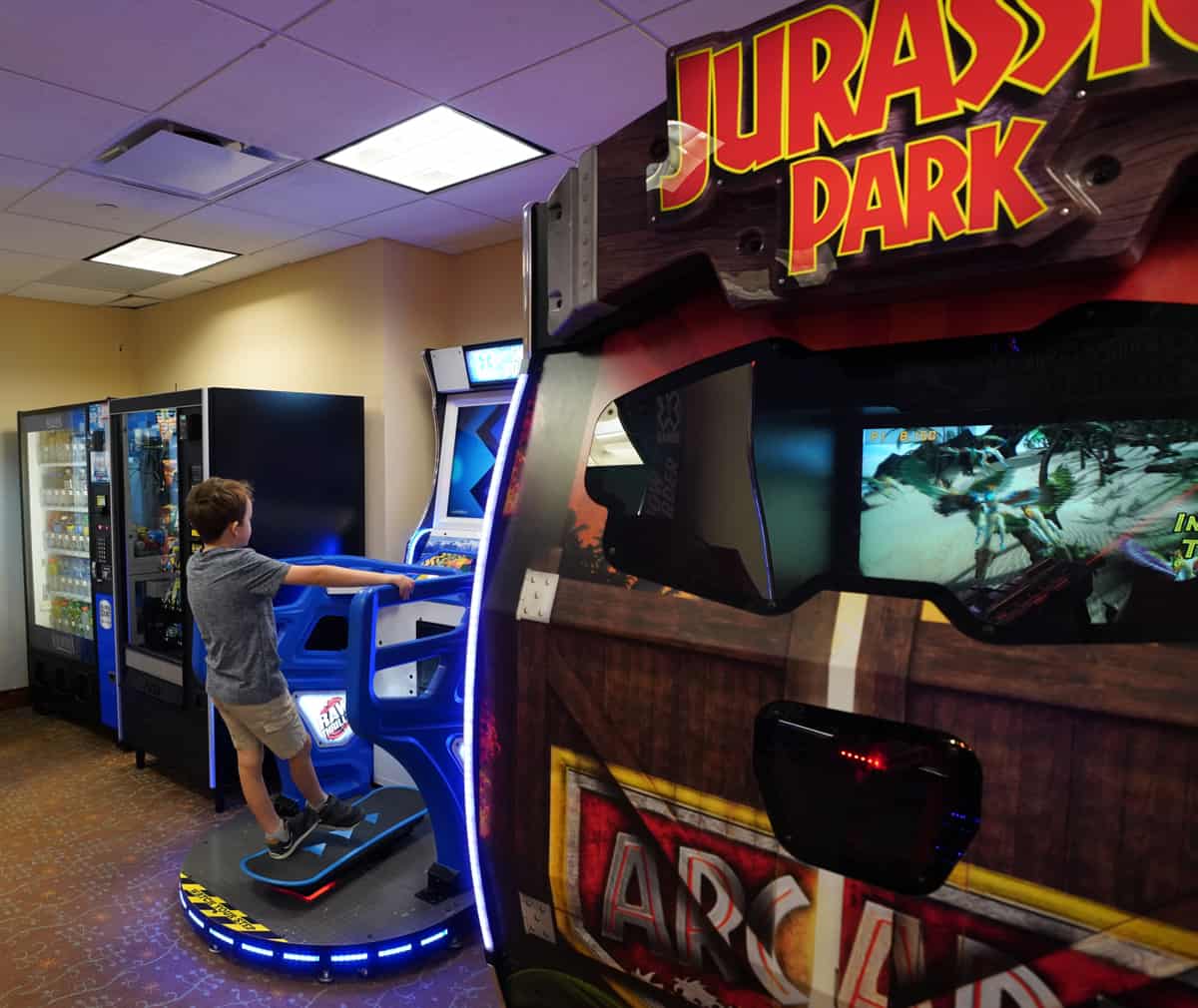 The heated outdoor pool is designed to accommodate wintertime swimmers as well. The entrance to the pool is inside with towels and robes and hooks. Guests can swim to this an exit to avoid unpleasantly cool temperatures outside.
Family Skiing
Of course, there's skiing. Stowe was the place decades before Aspen or Vail. The Stowe Mountain Resort has more amenities than any other ski area in New England, and options for ski-in/ski-out.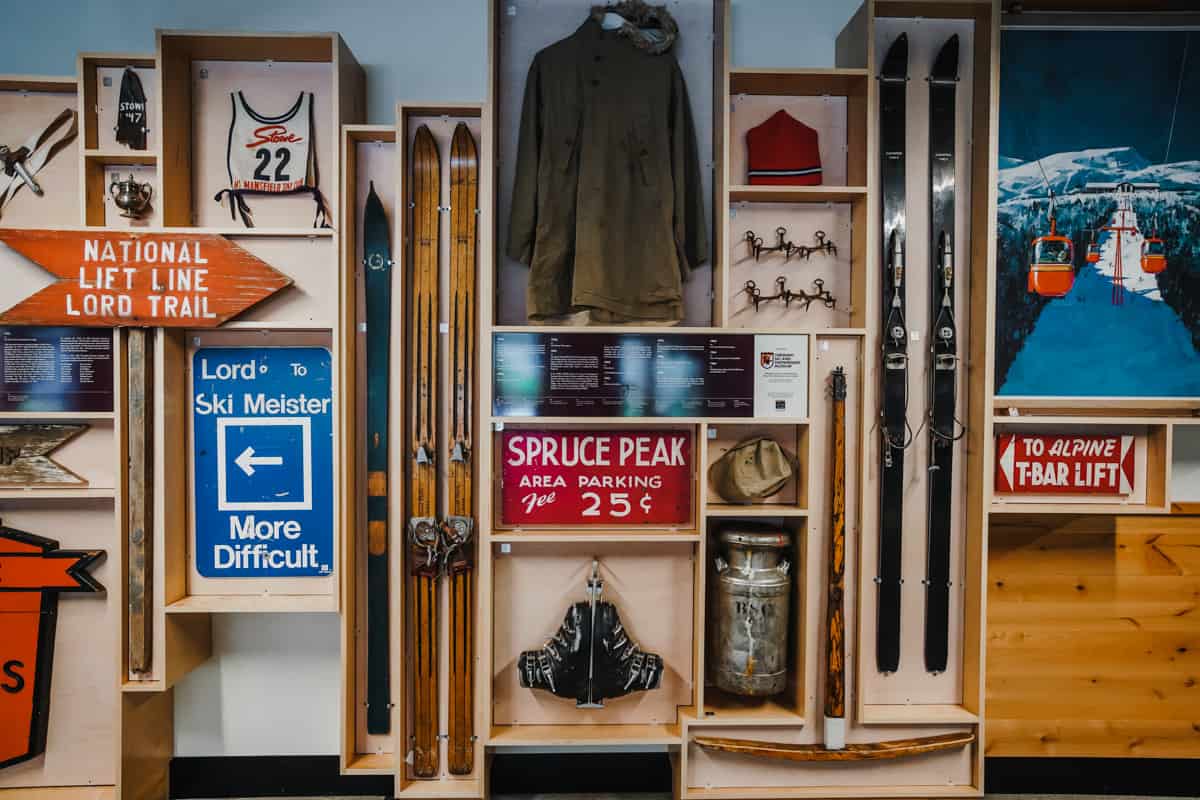 As for the slopes, Stowe Mountain Resort begins taking children at the age of three for full-day ski programming. There are shorter starter lessons available to prepare children for this immersion, or a family can even take a private lesson together.
Of course, the winter offerings are extensive at the resort, but I cannot yet speak to them. I look forward to reporting back!
The Ben & Jerry's Factory Tour
On your way to or from Stowe, you'll likely pass the Ben & Jerry's Factory in Waterbury which offers tours. Stop and do it; it's like a well–oiled Disney attraction that ends in ice cream. After a short intro movie on Ben, Jerry, their history and company values, you will walk through a windowed hallway overlooking the factory.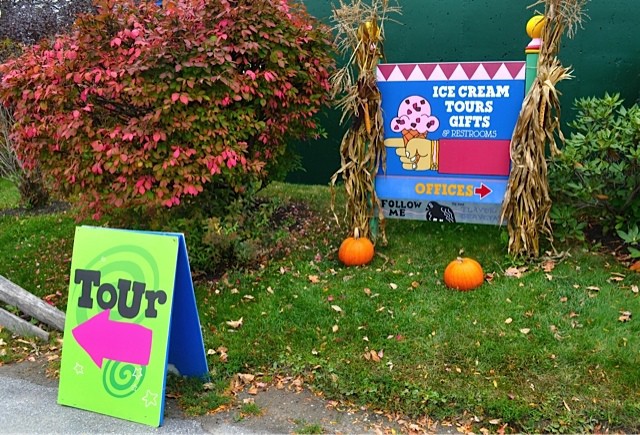 Then you will receive a sample in the tasting room. It moves quickly and is easy to do with the squirmiest of toddlers. Adults are $4, and children are free. Even without actually doing the tour, the ice cream store and a playground make a good rest stop before reaching Stowe, the next town over.
The Spa at Spruce Peak
You won't see the standard treatments or products found at hotel chain spas at this hotel. You won't see a child spa treatment limited to princess mani-pedis either. Instead you'll find carefully curated and small batch spa product lines— many you may never have seen before. And unique treatments fuse local ingredients and the latest in holistic wellness.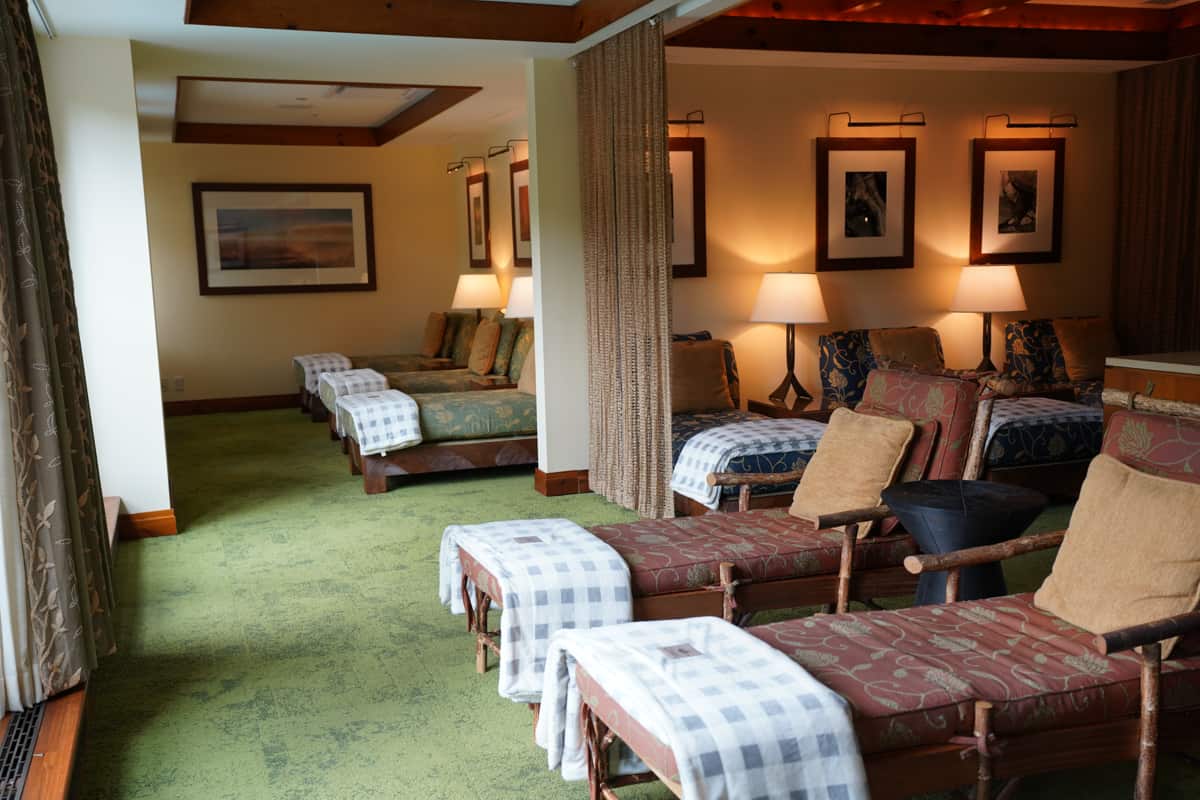 For me, I enjoyed the booming trend of CBD oil as the new cure-all with a CBD oil body massage and CBD oil facial. It's true I felt very mellow, and I loved the products by Heart Grown Wild, made in Southern Vermont by a local, sustainable, woman-owned business. When the CBD massage was complete, my aesthetician then served me a CBD kombucha. Do I need to tell you that this was an exquisite experience?
Truthfully, I have followed this CBD trend, and since I knew I was headed to Stowe, I waited to purchase this type of product until I could see what the spa had vetted and sold. I have loved all the smaller companies their boutique has introduced me to since during my last stay.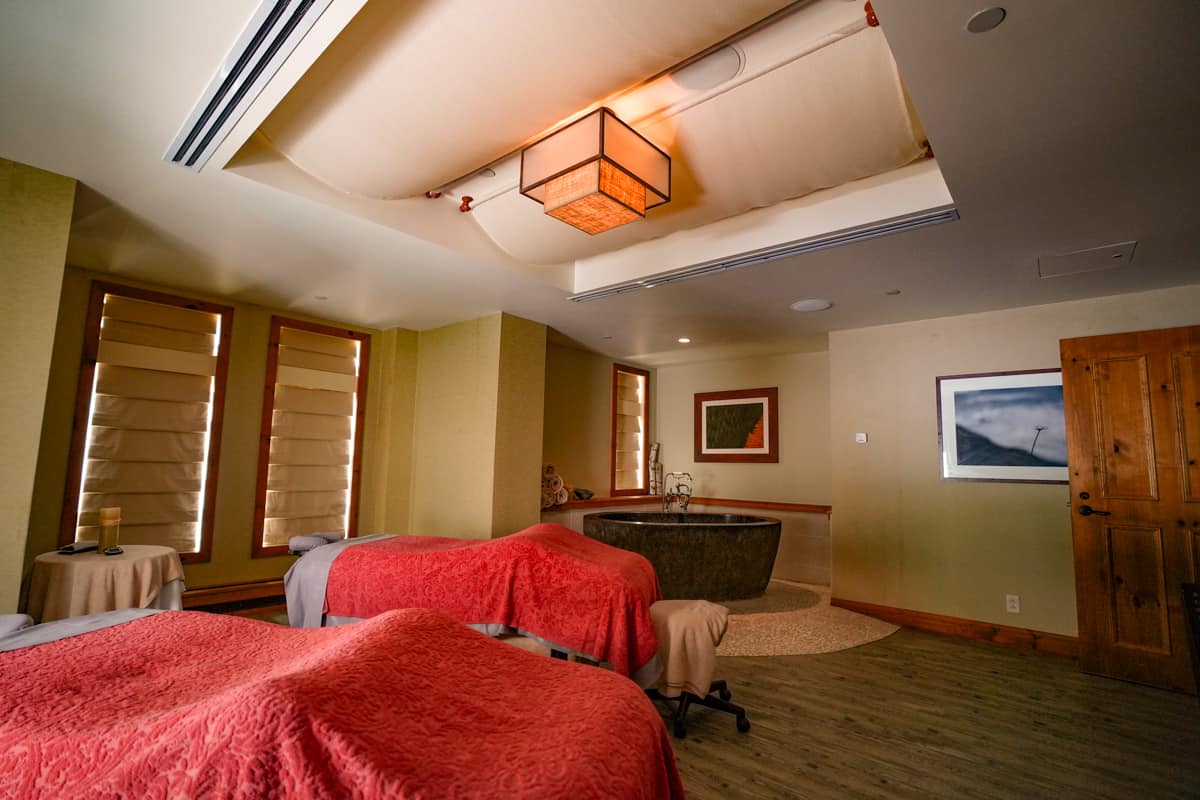 Stowe Cider is used in another locally inspired treatment, as are local honeys. And for everyone who heads to Vermont to enjoy their incredible beer scene, they've matched beers with many of the treatments, too.
Not only is this a full service spa, the creative range of treatments here is impressive. Here's a first: a hair shine treatment using boiled beer that includes a blow dry and an IPA. I would want to return during Vermont mud season specifically for a spa vacation.

The Kids' Spa
This is one of the best spas for children we have found. As I mentioned, children's wellness is important here. My daughter had an appointment for Chillax Kids' Spa last time, and I knew both of my kids would want to do it this trip.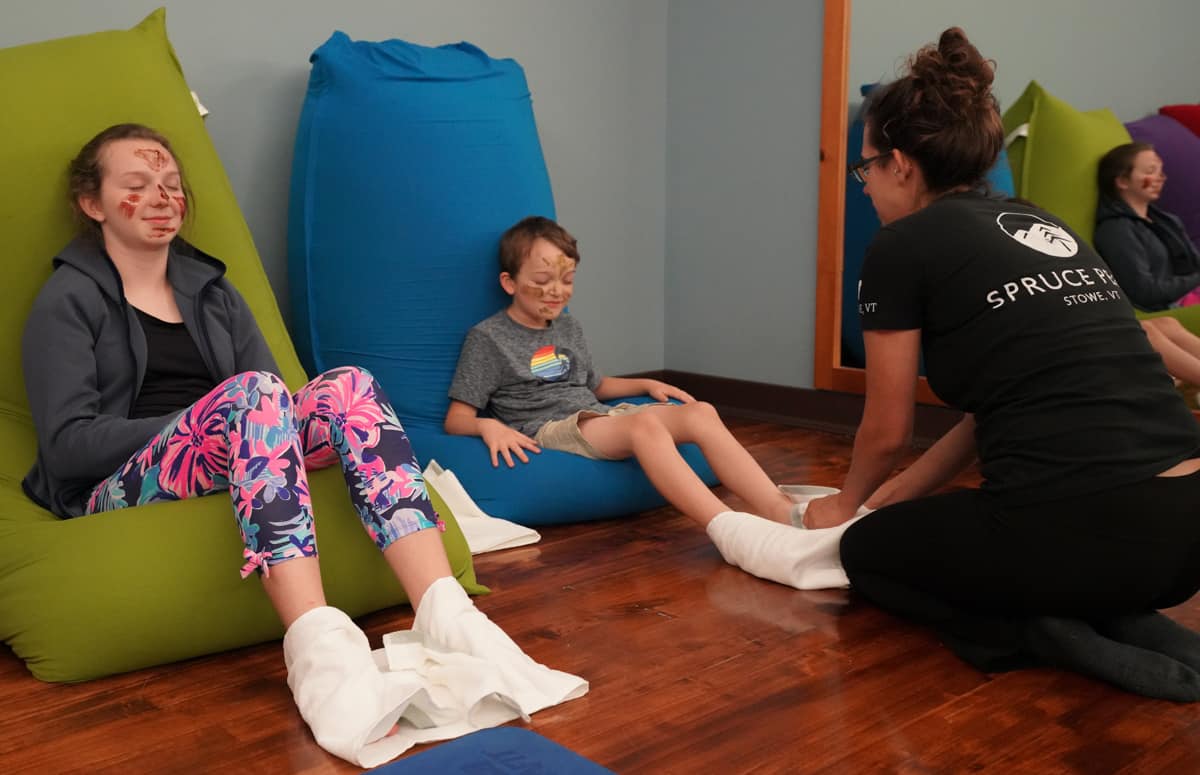 In the 25-minute signature treatment, my kids were led to an exercise class room off of the fitness center where comfy chairs and mats were ready for them.
The treatment involved sprays of lavender, meditation stories, face masks, hand, foot, and head massages. They enjoyed it and seemed pretty mellow afterwards. It was the first spa experience for my daughter five years earlier, so she had now graduated to a teen facial, too. This treatment provided a deep cleaning as well as instruction on the importance of healthy skincare habits.
There are even kids' fitness classes in addition to facial and massage treatments. A parent remains in the room at all times for these treatments.
This impressive children's spa program is the brainchild of Maggy Dunphy, former Spa Director but now a much larger role in Hyatt. She recognizes that children are never too young to learn self-relaxation techniques. Brava!
Even better the second time
I thought nothing could top fall in Vermont until I discovered Stowe's version of summer.
The resort continues to offer top service, top food, and amenities for those seeking the most luxe mountain resort in New England. And guests of The Lodge at Spruce Peak find it here.
Although we were guests of the Lodge at Spruce Peak, the opinions expressed in this article are my own and no brand had any oversight on content.
HOW TO RECEIVE VIP AMENITIES AT THE LODGE AT SPRUCE PEAK
Luxe Recess has access to exclusive discounted rates, complimentary room upgrades, a $100 resort credit, free breakfasts, and personalized welcome amenities. Sure, you could book your trip on your own, but you'd miss out on hundreds of dollars in exclusive amenities, as well as personalized VIP treatment by the staff at the Lodge at Spruce Peak.
As a luxury travel advisor, I help ensure your vacation goes off without a hitch. From the selection of the best cottages or rooms to the VIP welcome amenities, your trip to Stowe will have those little extra moments of joy.
Please get in touch to set up a consultation to elevate your vacation.