Disney's Riviera Resort is one of the new Disney Vacation Club resorts to bring a bit of European charm to Walt Disney World. This new Disney hotel promised elegant rooms and public spaces based on its renderings. Did it live up to its marketing? Yes and no.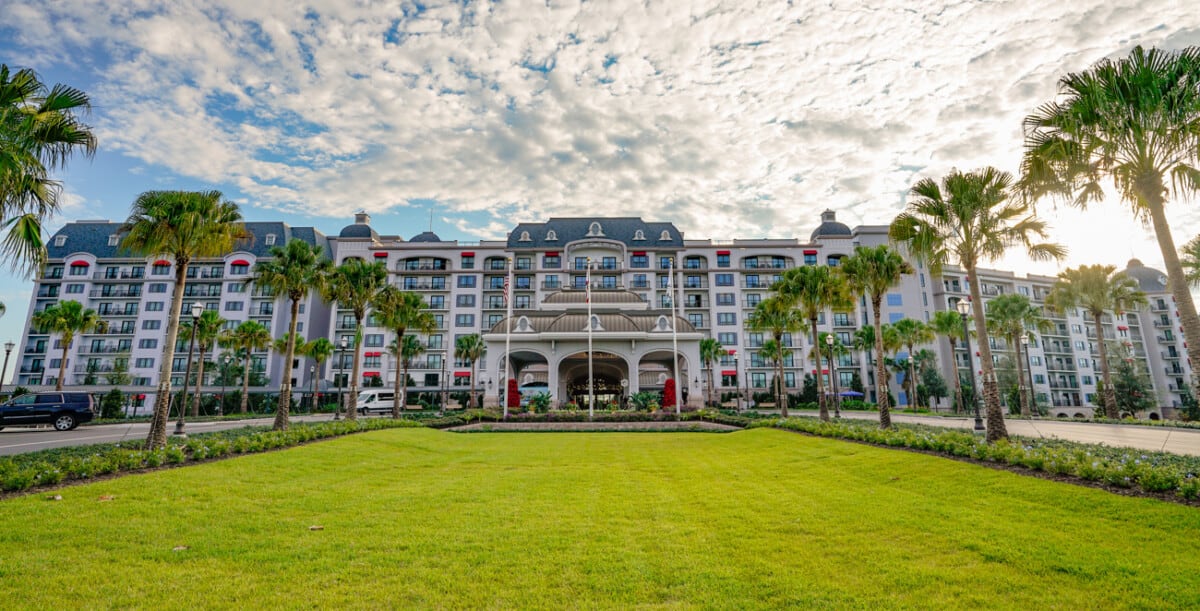 Where is Disney's Riviera Resort?
This new Disney World hotel overlooks a lake shared by Disney's Caribbean Beach Resort. It sits in between the Epcot and Hollywood Studios theme parks. Animal Kingdom is closer than Magic Kingdom as the crow flies, and the Disney Riviera resort location is closest to Epcot.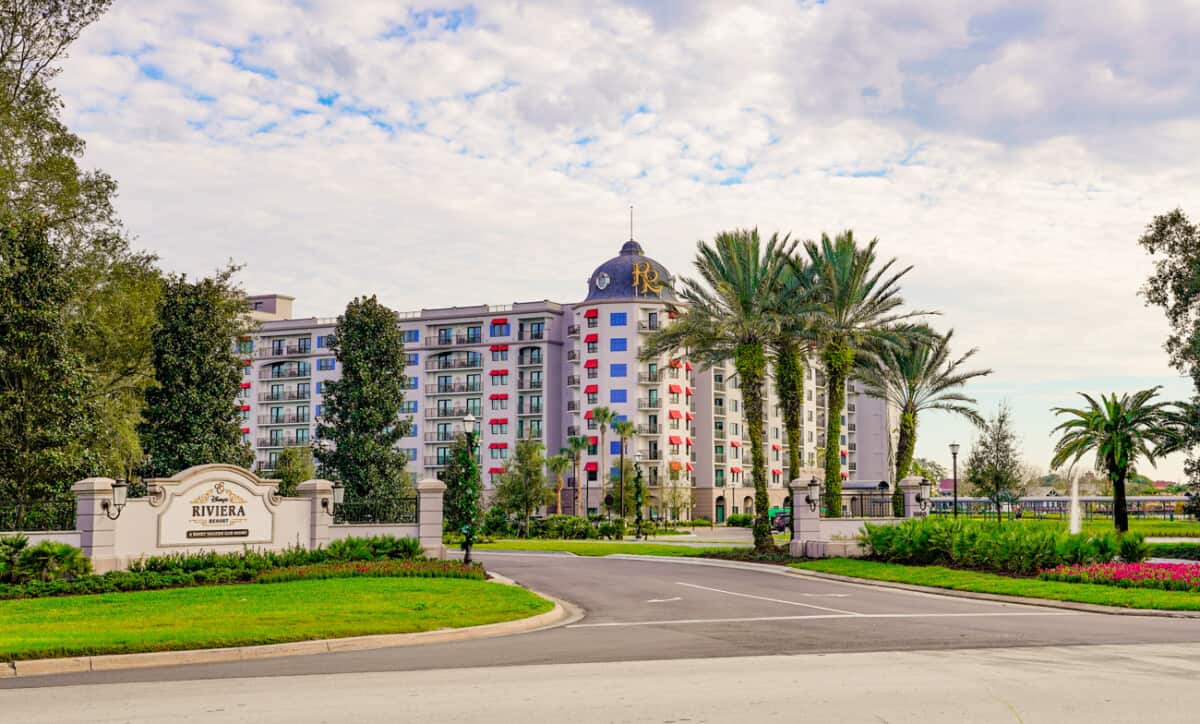 The Riviera Resort boasts being one of four resorts to have a stop on the new Disney Skyliner. The Art of Animation, Pop Century, and Caribbean Beach are the other three.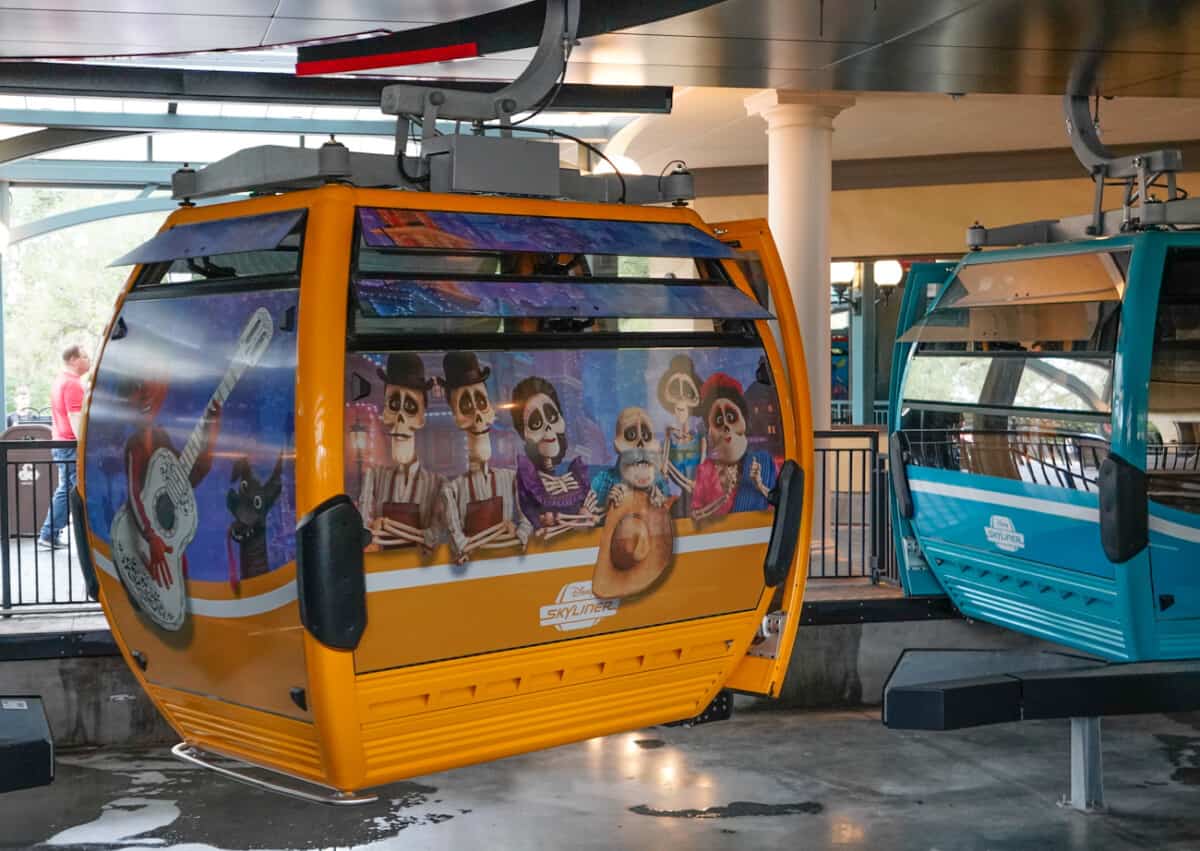 Guests float above the traffic in gondola cars, most decorated with characters, to Epcot and Disney's Hollywood Studios.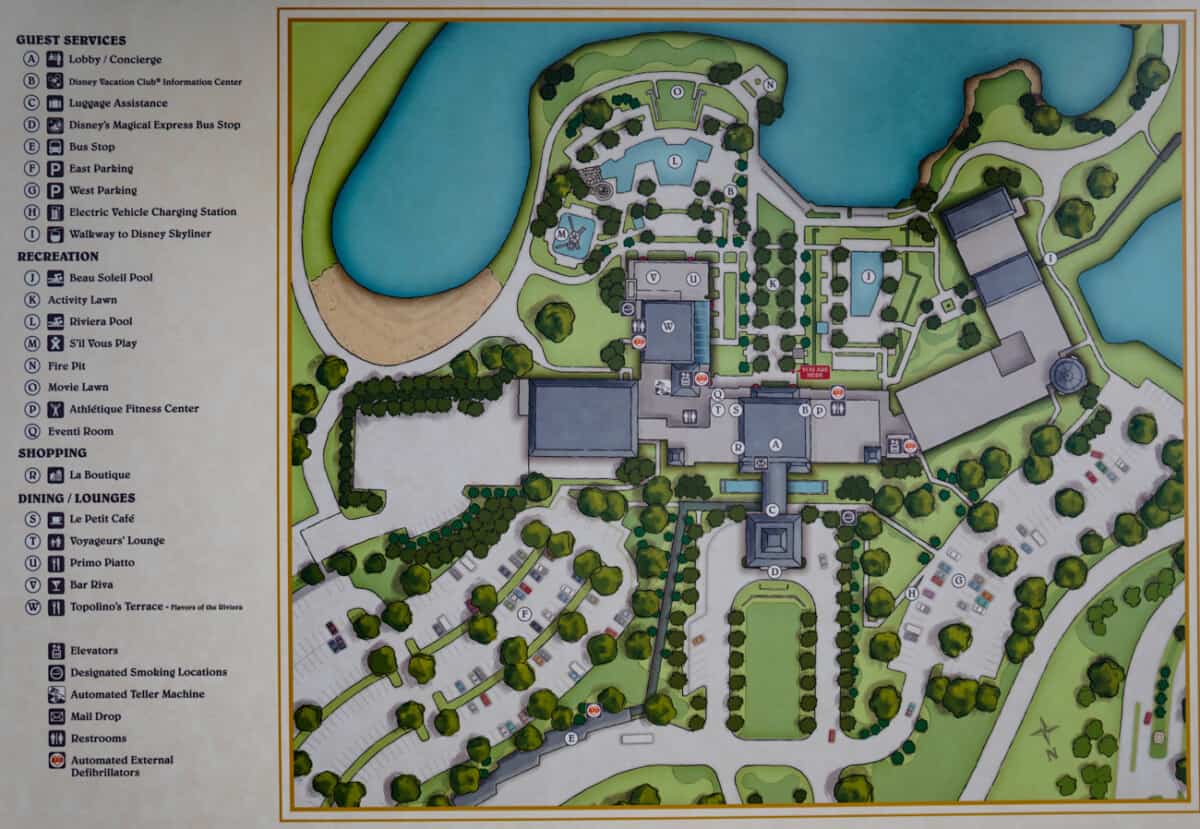 The Story Behind the Disney Riviera Resort Theme
Walt Disney and his family toured Europe many times where he found great inspiration for his visual storytelling.
Disney World's resort themes have mostly been American-based — with the exception of Animal Kingdom Lodge and the Caribbean Beach Resort. Think the seashores of New England, the Pacific Northwest, and New Orleans.
One of my favorite features of the Animal Kingdom Lodge is the number of cast members from various African countries. I'd always thought the Beach and Yacht Club would feel more authentic with Boston cast members from Southie. "Wear that sunscreen in the pahk. It's wicked hot today."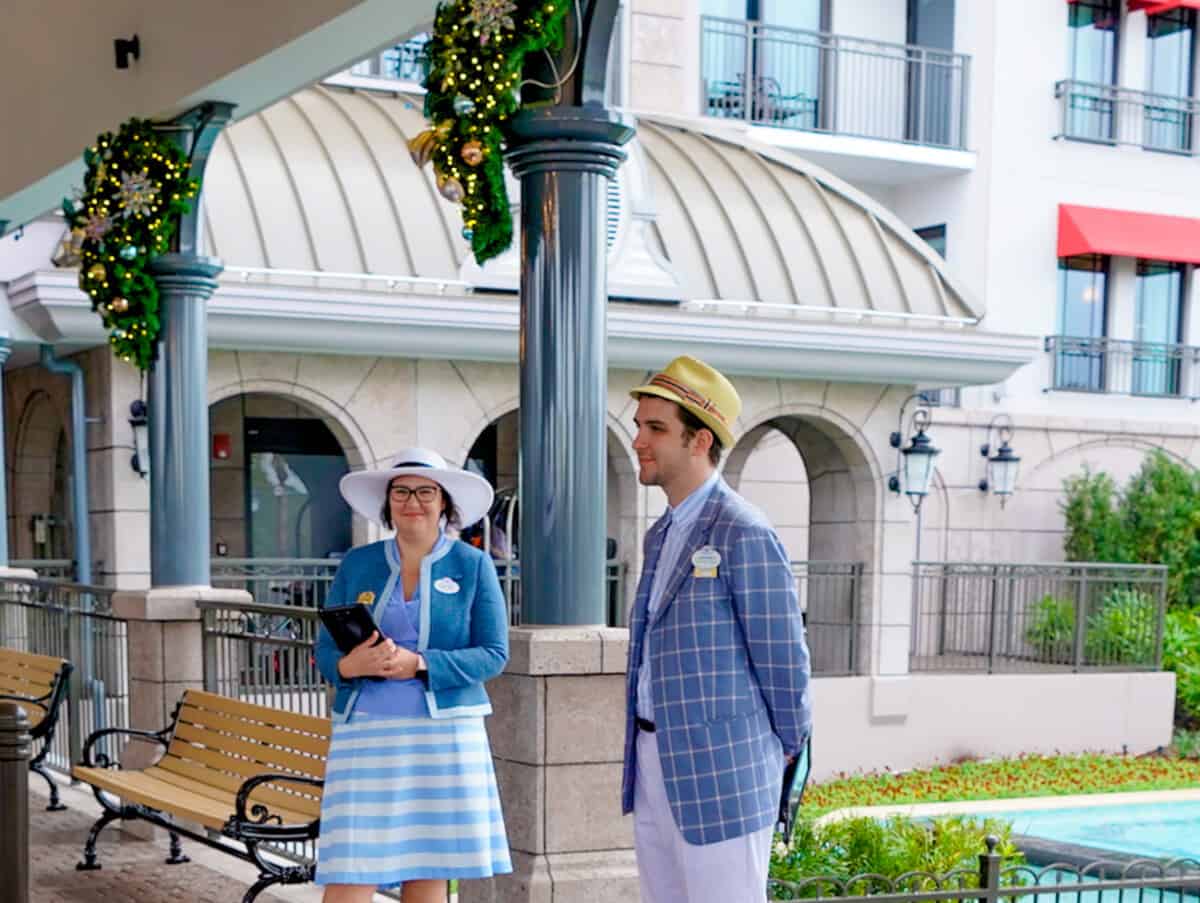 I was delighted that the ambassadors welcoming people in the Porte-cochère were, indeed, from France. But that's really where the immersive experience stopped, which is too bad because we hadn't yet stepped inside.
The Debacle of the Riviera Resort Exterior
Let's just get the completely terrible out of the way. A deluxe Disney resort should not look like the third phase of a fast-tracked, new construction apartment complex. The only thing missing is a banner that reads, "Move-In Special!"
The connection to the European Riviera is just not there. Did this resort suffer internal Disney hiccups? It feels as if a non-creative team was left in charge to design the hotel. Is this the same company who gave us the Wilderness Lodge, the Grand Floridian, or Aulani?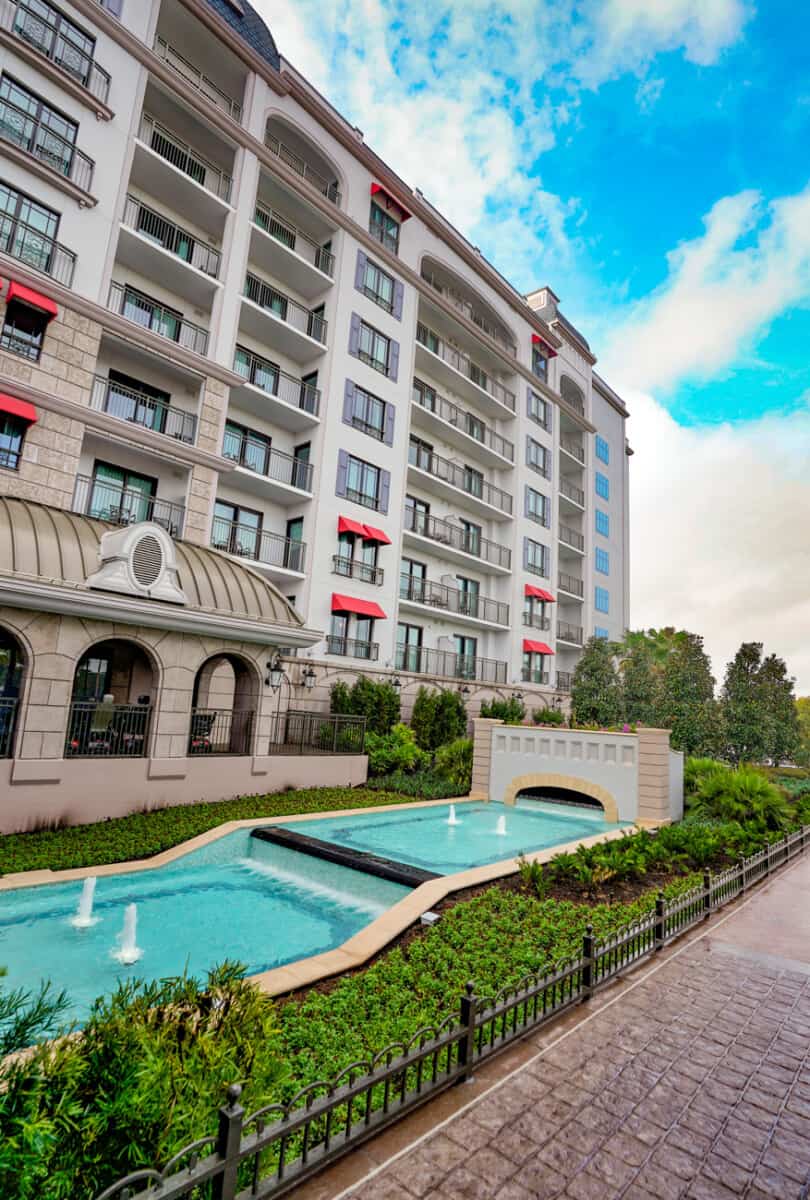 The Disney Riviera is an Eeyore-colored eyesore. Gray? Gray is not really used on buildings in the South of France or the Italian coast.
The exterior of the building is completely arbitrary with a haphazard use of green and blue shutters. The mansard roof brings in a "nice try" Parisian element completely out of place.
The pool area and grounds are more pleasing to the eye, but the large astro-turf green and sparsely landscaped areas makes you feel once again that this project fell short and suffered budget issues.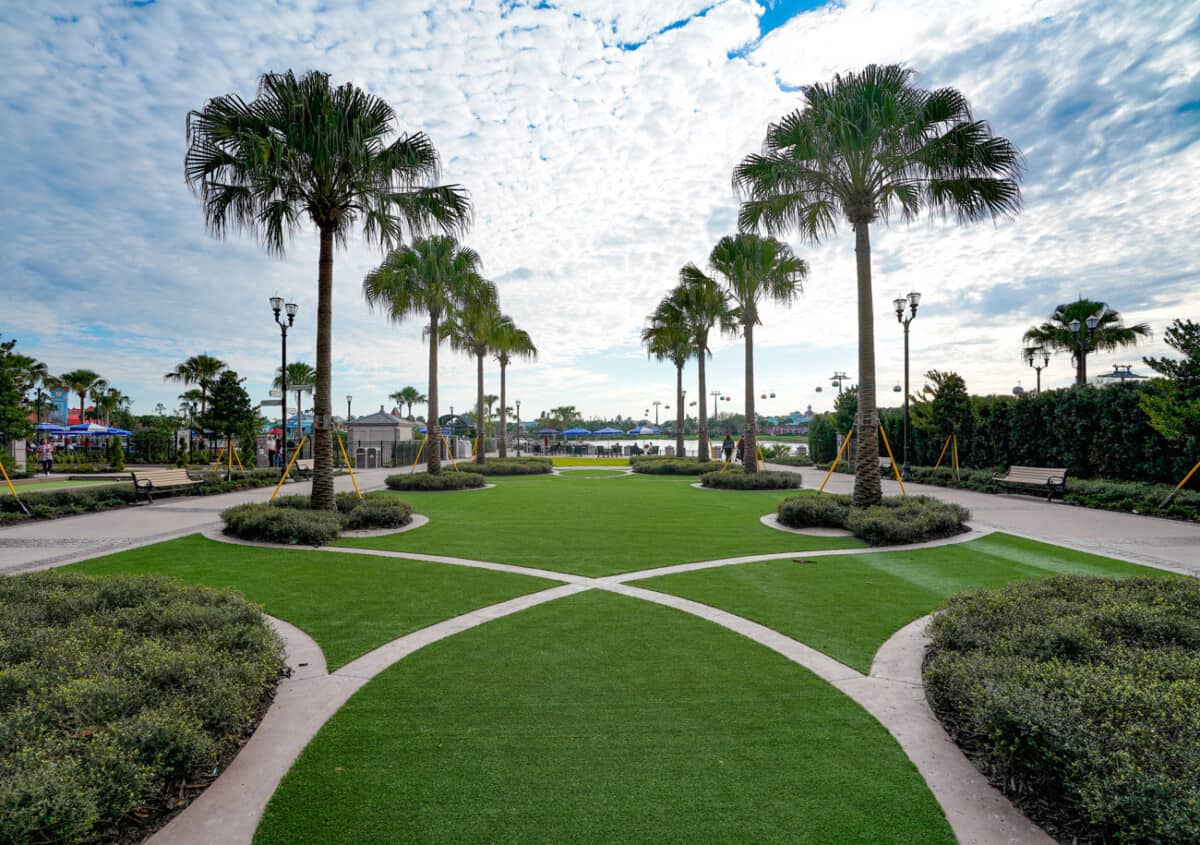 Once inside, things get better…
The Disney Riviera Lobby, Boutique, and Grocery
A stunning floral arrangement of violet and magenta shades of purple welcomes guests to a velvet sitting area under gold circular chandeliers.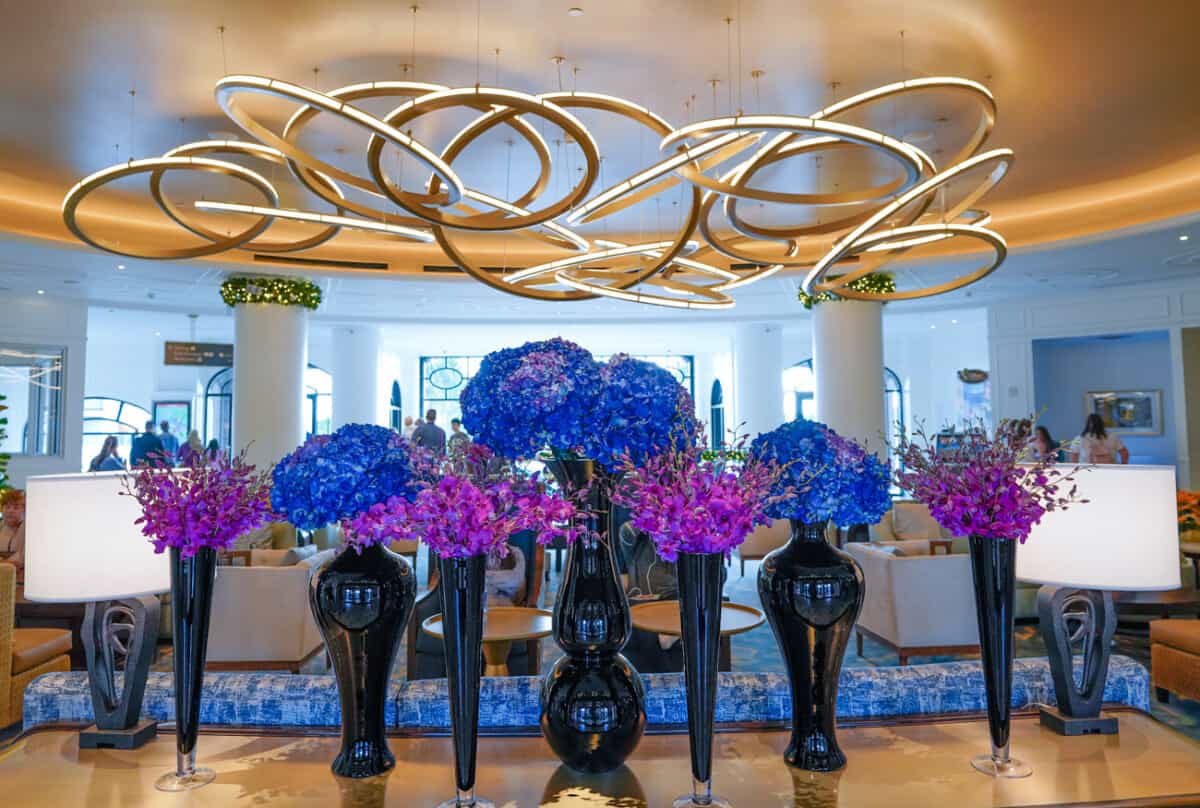 The small lobby boutique doesn't have any non-Disney merchandise, so if you forget any clothing item, you're wearing something Disney on your way home.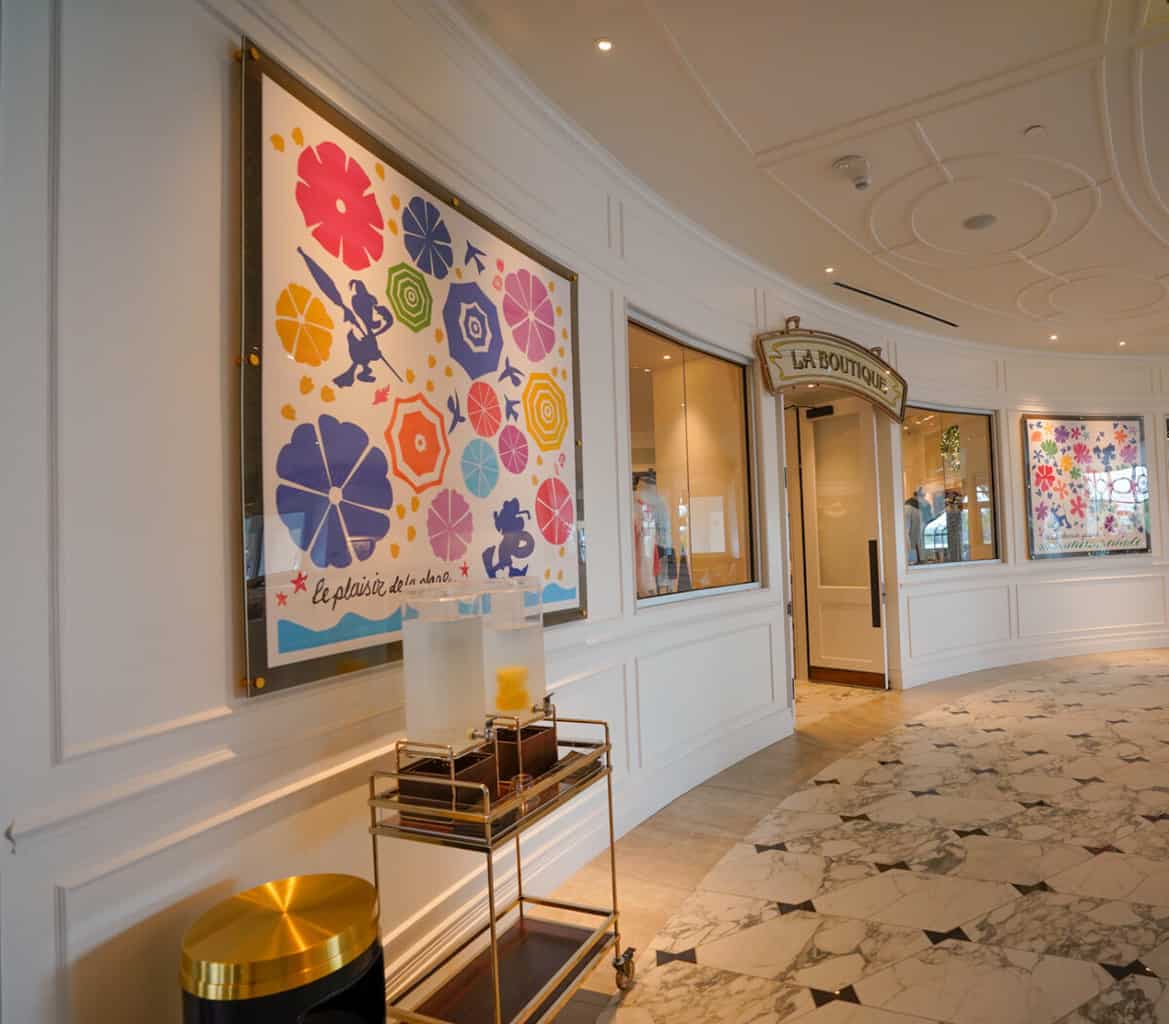 The boutique sells the typical grocery items sold at most Disney Vacation Club properties. One can purchase bacon, eggs, breads, juices, milks, and cereals for breakfasts. Groceries for lunches or dinners include chips, cheese, deli meats, hotdogs, frozen pizzas, canned soup, and snacks. Wine, beer, and spirits are for sale, too.
Le Petit Café
Off the lobby offering drinks and snacks, Le Petit Café doubles as a coffeeshop and wine bar. Their morning specialty is a cinnamon iced coffee topped with an almond whipped cream. It really was delicious.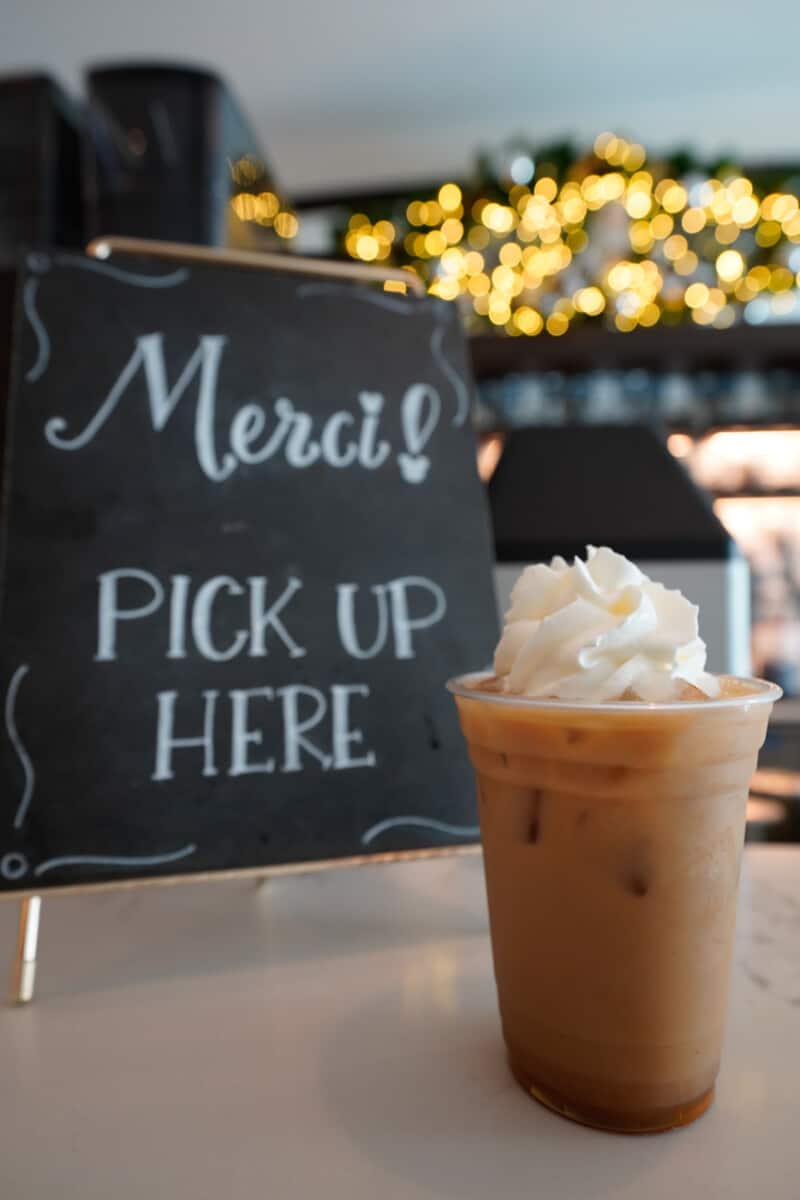 At night Le Petit Café gracefully transforms into a wine bar offering reds, whites, rosés, and sparkling. Beer, hard cider, and a few specialty cocktails are listed as well.
The bouchon brownies (a not-so subtle steal from chef Thomas Keller of French Laundry fame) are delicious. At night, request olives and flatbread crackers with your cocktails to enjoy in the library.
The adjacent library was charming, showing Disney Imagineer love. Its bookshelves were meticulously curated with relevant titles that would logically have been a part of Walt's own collection.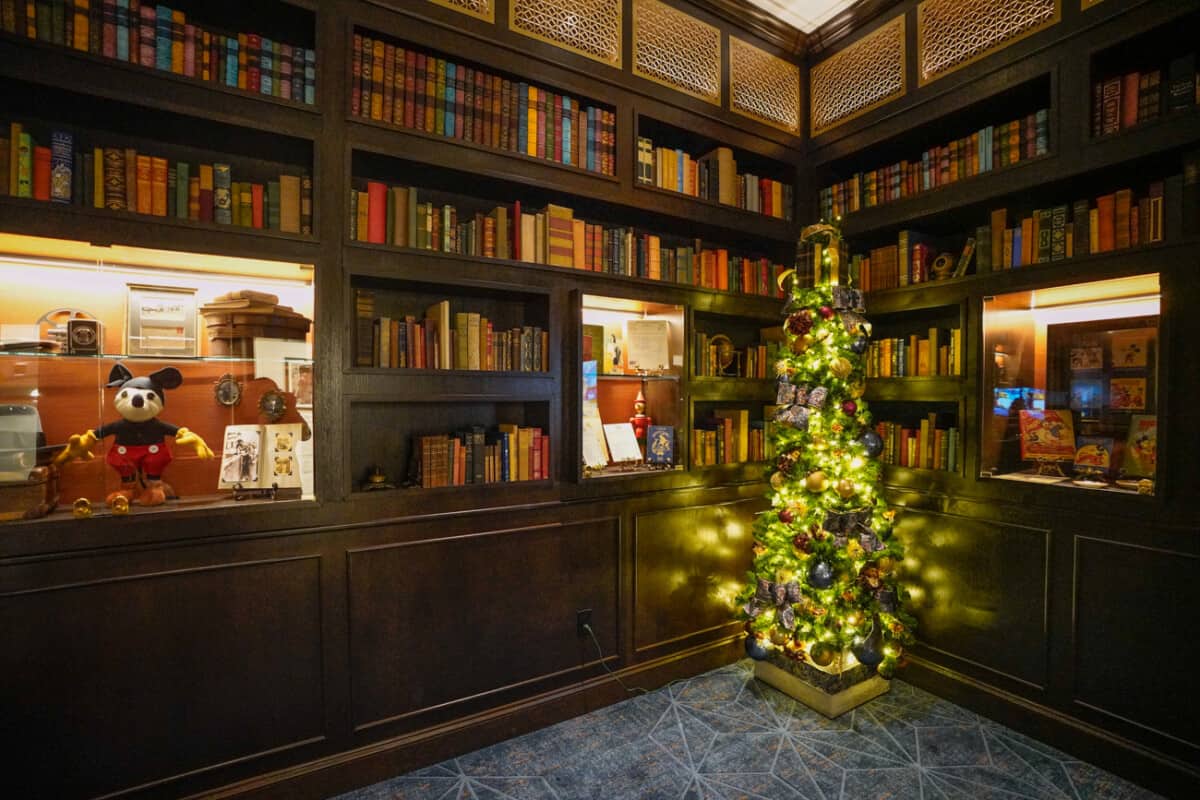 Large tables enable families and friends to play board games while waiting for their rooms. (Disney rooms are rarely available before check in).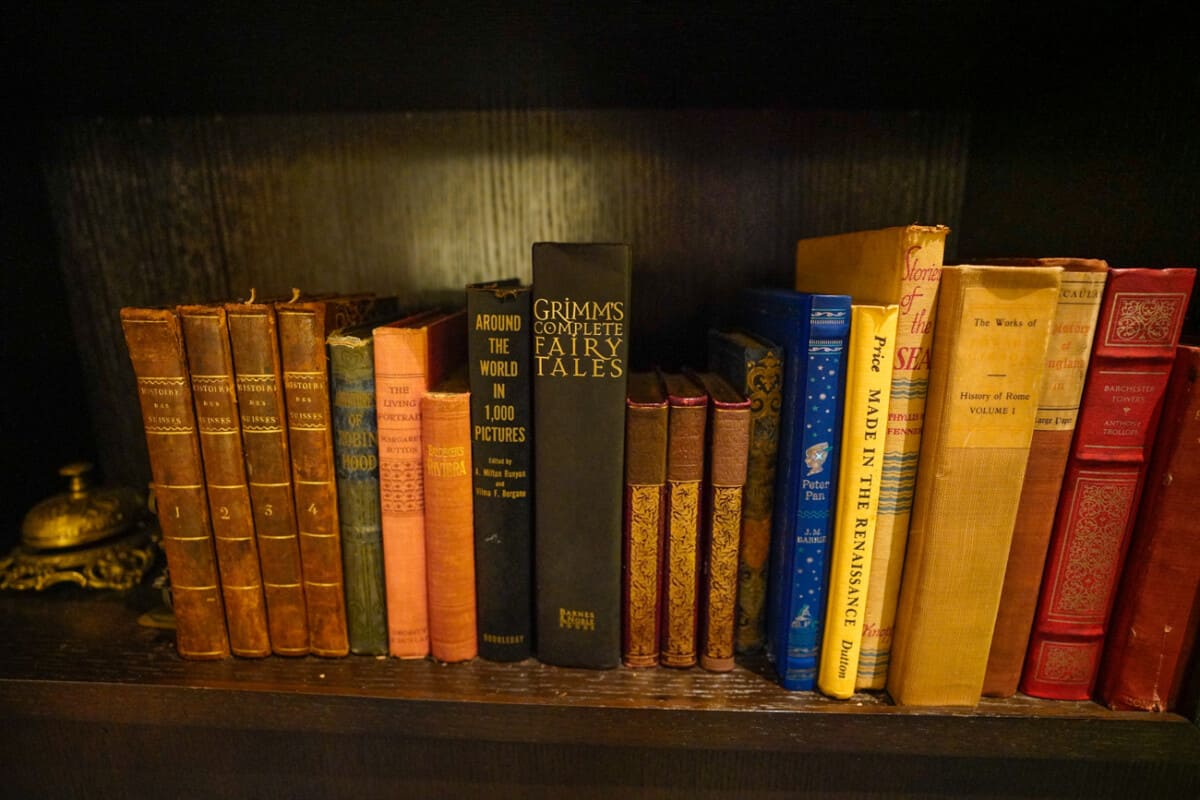 Other Dining Options: Primo Piatto and Bar Riva
Primo Piatto is the quick service restaurant on the pool level of the resort. In addition to standard features like burgers and flat breads, the menu included French and Italian items.
We tried a Croque Monsieur, a Salade niçoise, and Romano and herbed French fries which tasted like mediocre fries with a bit of grated cheese.
Appealing cheese and charcuterie boxes were available in the to-go section with salads and sandwiches. The freezers contained artisan gelato.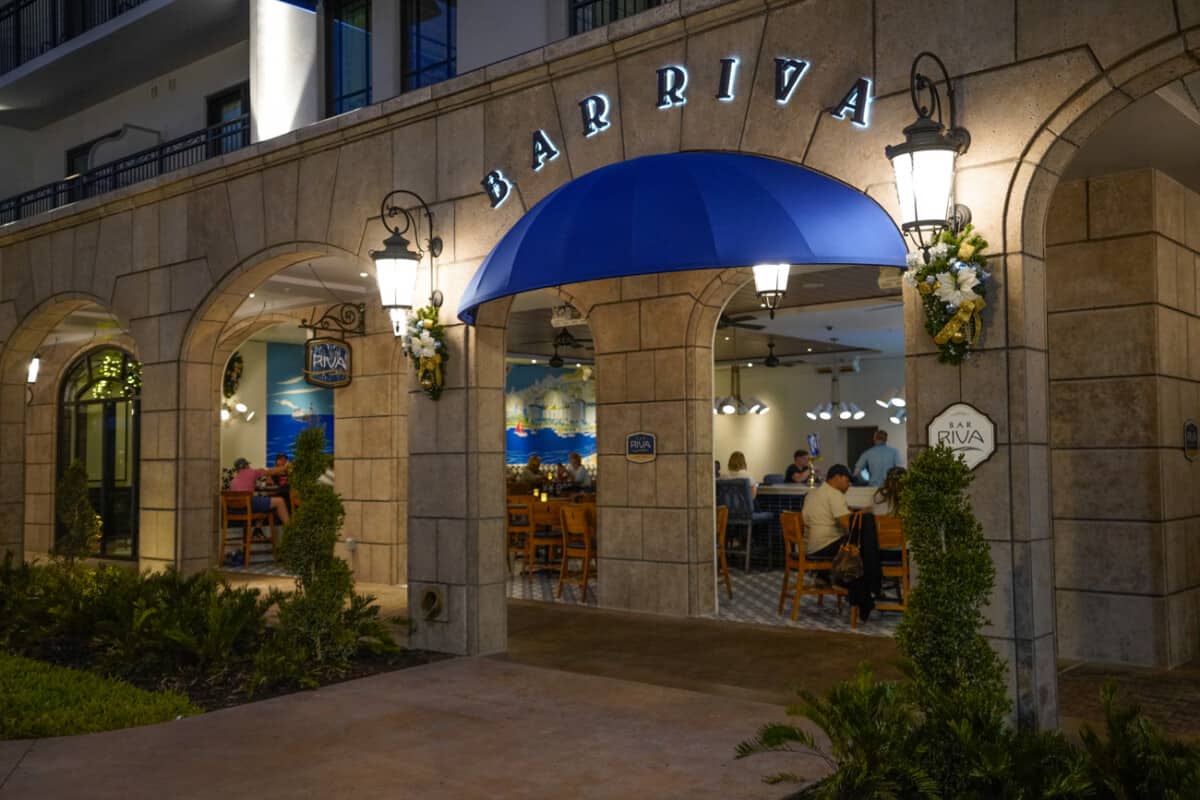 Bar Riva, next door, is far preferable to Primo Piatto for a quick lunch or dinner, however. The menus are nearly identical, but Bar Riva has table service in an open air restaurant overlooking the family pool. It's open from 11AM to 9 PM.
The Topolino Character Breakfast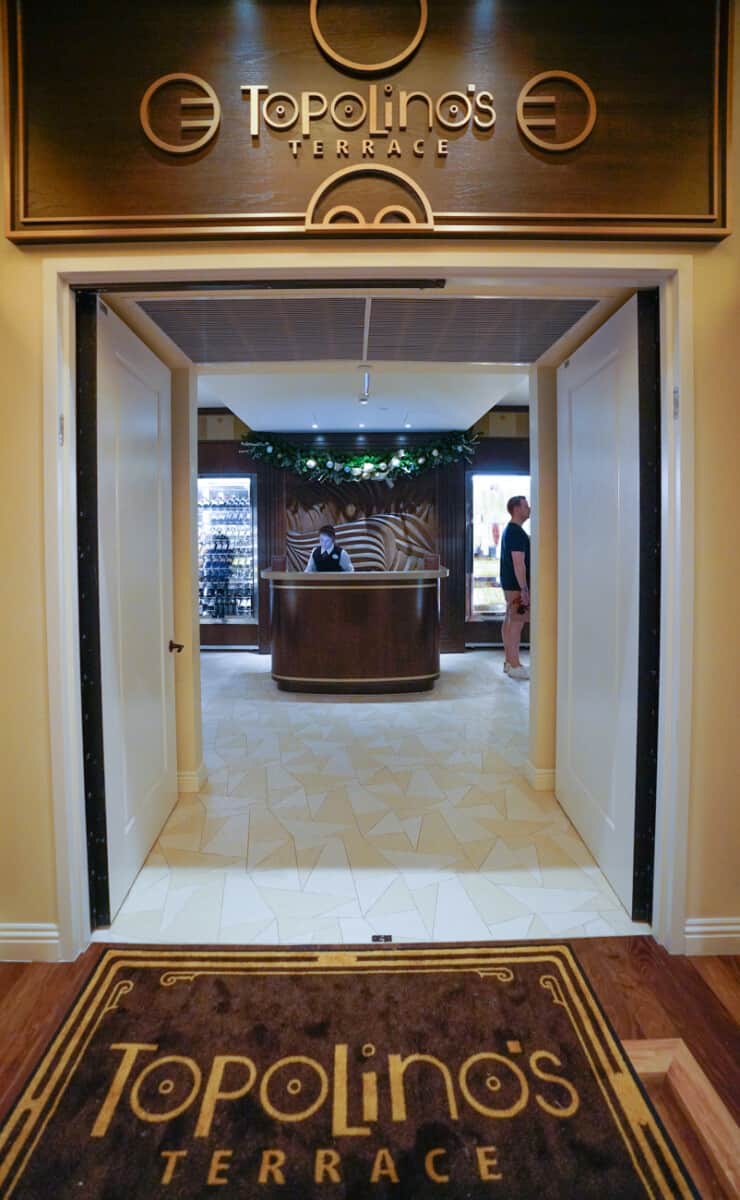 As a huge fan of California Grill, I awaited the rooftop Topolino's Terrace restaurant eagerly. I'm happy to say this character breakfast is definitely one of the best character meals within the Walt Disney World resort.
Mickey, Minnie, Daisy, and Donald Duck make an appearance. Each is dressed as an artist of various mediums: painter, dancer, poet, and sculptor. Merchandising alert! Guests are greeted with baskets of plush characters to tempt young children.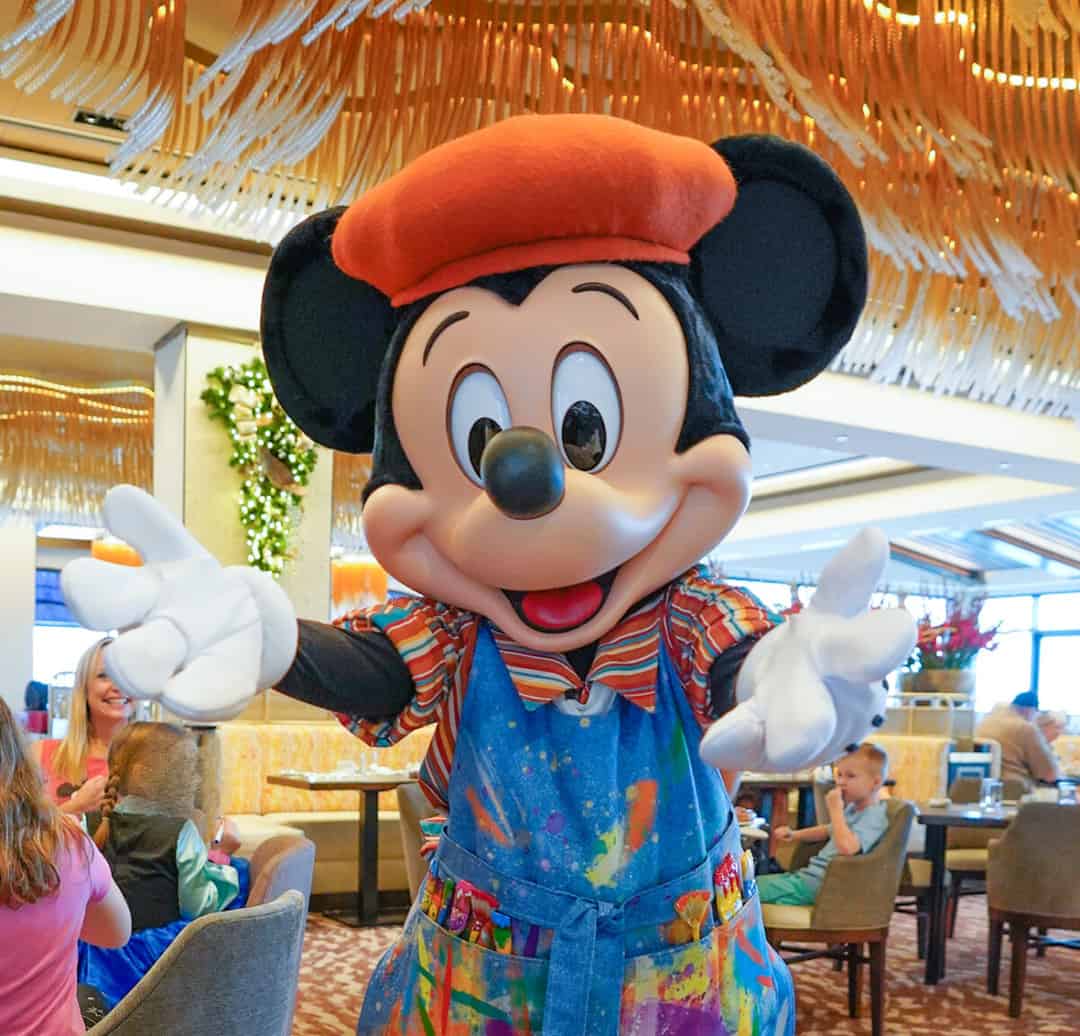 Breakfast is a set menu. All guests receive ceramic paint buckets of breakfast pastries with a choice of entrée. The paint brush and palette style reminded me of the Animators Palette table decor on the Disney cruise ships.
Honey butter, homemade jam, and chocolate hazelnut spread come with the Epi bread. The restaurant materials make such a big deal over this Epi bread, but it was just C-grade American grocery store baguette. I was disappointed that the breakfast pastries tasted commercially made. This croissant recipe did not come from Paris. With Nutella on the table, my kids didn't care.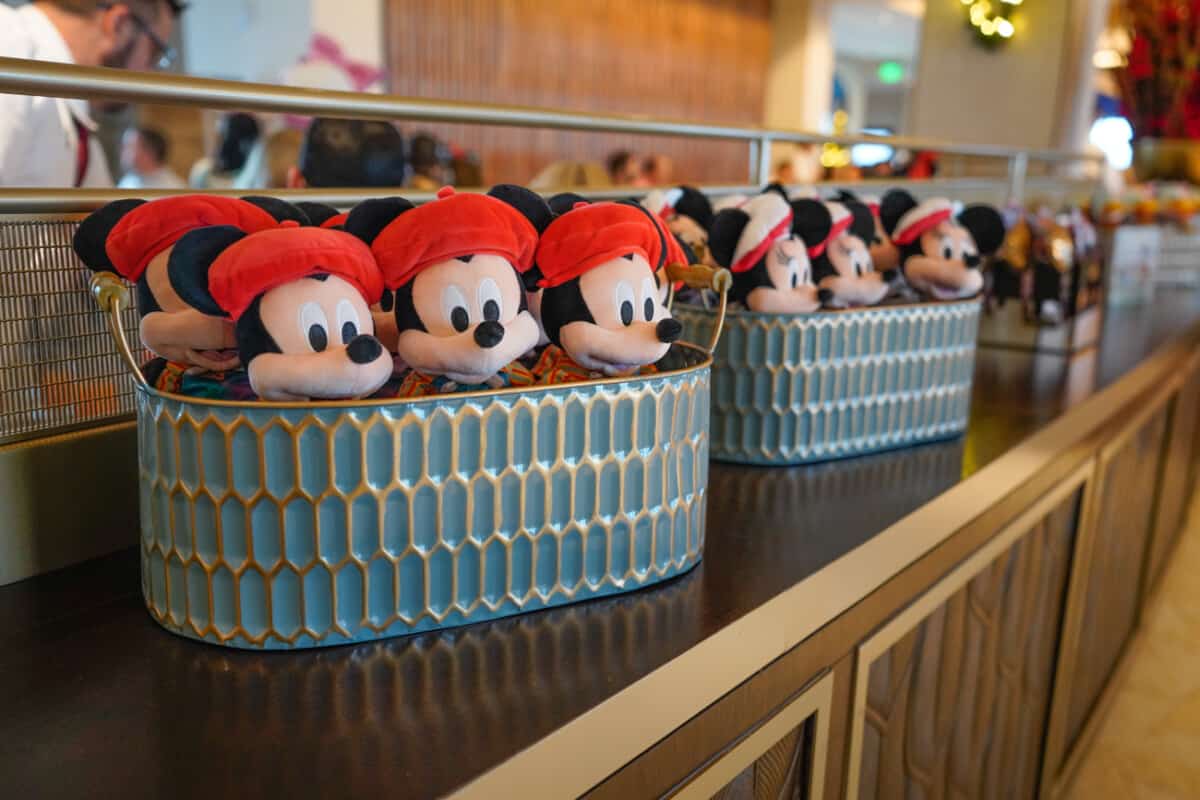 The entrées were far better, and my family enjoyed their breakfasts. I appreciated a rich French-pressed coffee. Additional breakfast concoctions like mimosas are available.
Each character was introduced and made rounds similar to what happens during a meal at Cinderella's castle. I still recommend the Four Seasons breakfast over this one, but the Topolino breakfast tops the experiences of Chef Mickey's or the Cape May Café.
Topolino's at Dinner
I really wanted to love our dinner at Topolino's. The outdoor lounge is a lovely touch, and the restaurant space feels festive and celebratory. Our service was strong, but our dishes ranged from excellent to "just okay," so I hope the kitchen continues to tweak their recipes to make this meal stronger.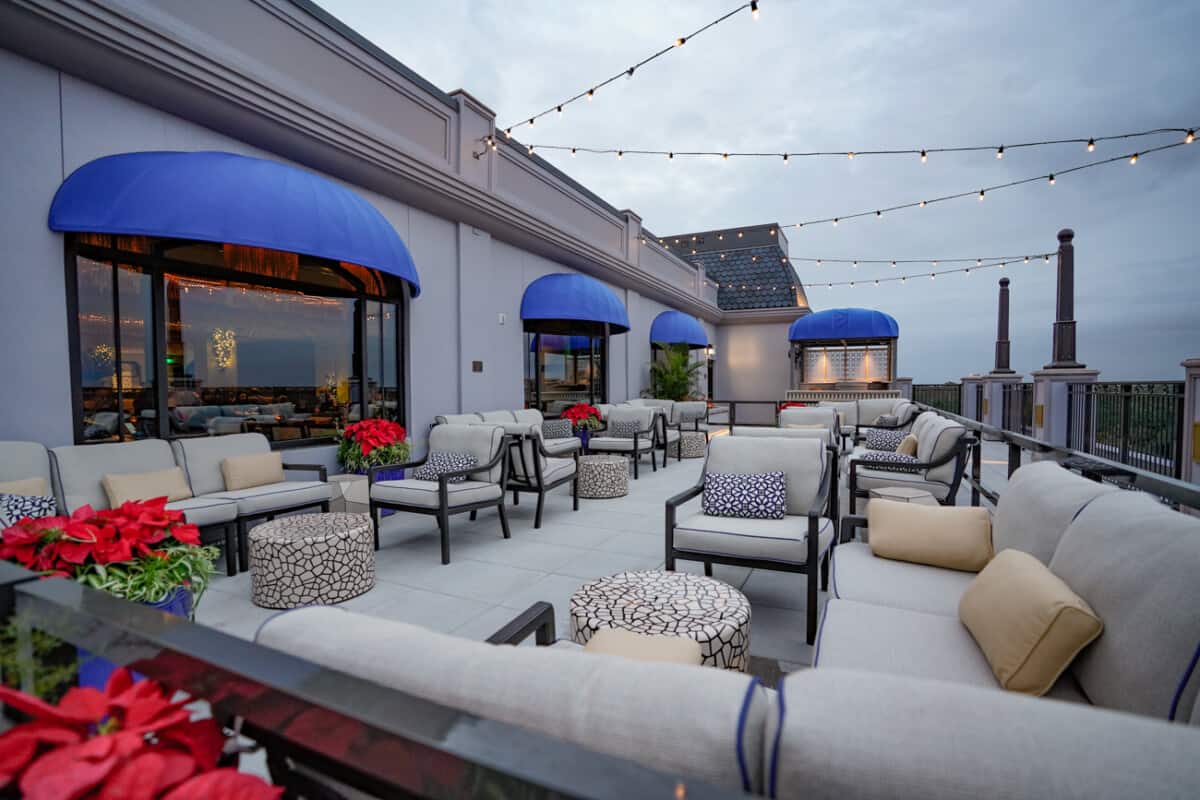 The burrata, kale salad, and duck confit gnocchi were outstanding. Bread comes with both French and Italian olive oils for dipping. It's the flavorless epi bread, so this was not exciting or carb-worthy. (Hey, Disney, how about grabbing the warm ciabatta rolls from Mama Melrose?)
There are four pastas on the menu, all touting to be house-made. We were able to try three of the four, and only one was a solid choice: the rigatoni with chicken.
The Shrimp pasta and the herbed fettuccine with mixed seafood were very disappointing. With some dishes, the pasta was overcooked, and others undercooked. None of them were the right al dente texture.
We enjoyed both desserts, the fruits of the forest, and the pistachio mousse and chocolate cake. We'd love to return in a year or so when there is a new and more seasoned menu. I have faith this place will become a hot ticket. For now, book the breakfast.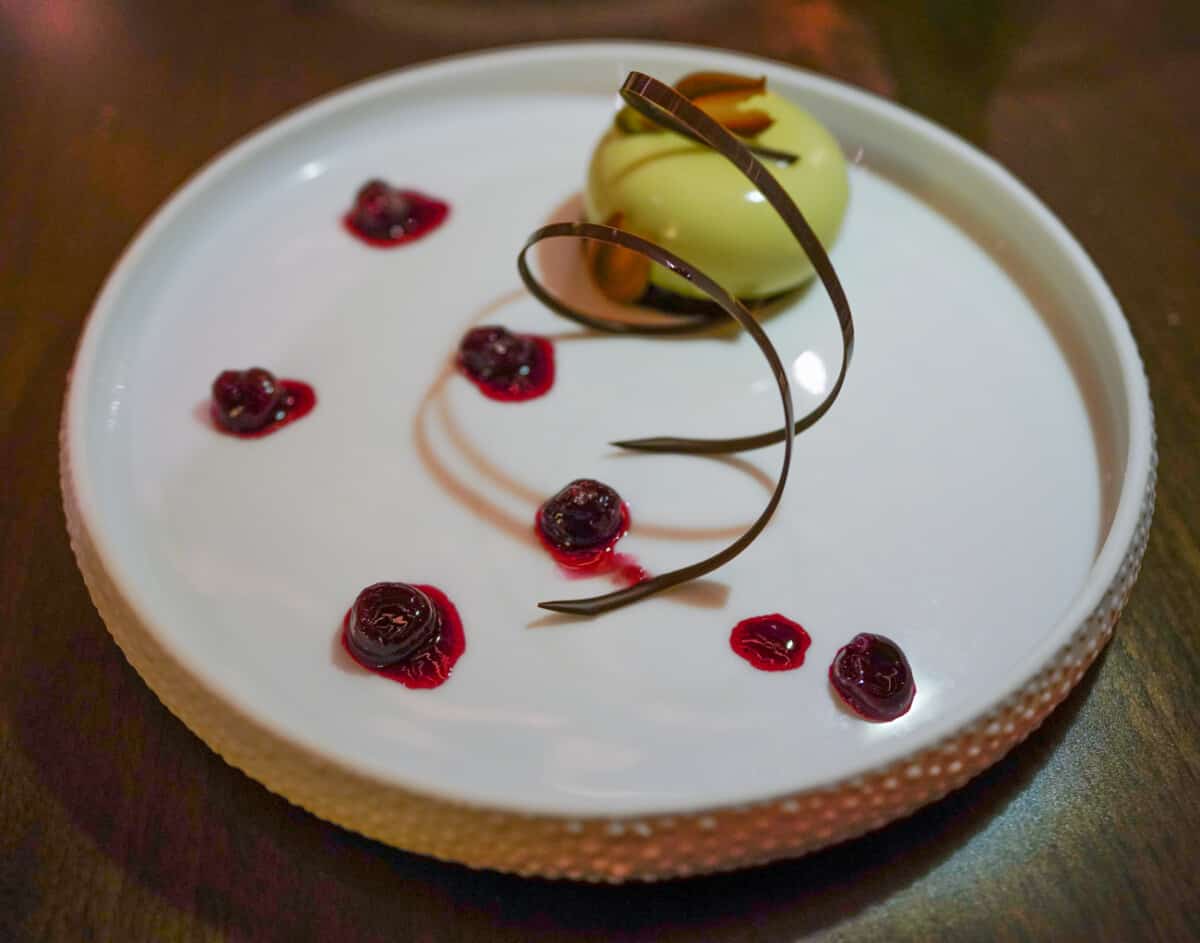 Tower studios, deluxe studios, and suite options
The studios and suites at the Riviera are definitely where this new Disney resort experience shines brightest. One unique offering of the Riviera is a new category of room called a tower room.
These Disney Riviera Resort Tower Studios on the top floors accommodate only two people with a Murphy queen sofa bed but offer penthouse views from a tiny balcony. There aren't many, and these tend to sell out quickly.
Let me plan and book your Disney World vacation. As a Virtuoso travel advisor, I offer room upgrades and extra perks at the Four Seasons, Ritz Carlton, and Waldorf Astoria if you choose to stay offsite.
And I can still help with some pixie dust if you stay on Disney property, too. I can help you choose what to skip and where to splurge on the best restaurants and VIP experiences.
The standard studios, like other DVC resorts sleep five with a queen bed, a twin concealed in the media console, and a queen sleeper sofa. There are two bedrooms that can sleep 9 or 10, and the grand villas that can sleep up to 12 guests in three bedrooms.
The Disney Riviera Resort One Bedroom Villa
I walked into our one-bedroom suite and was truly impressed.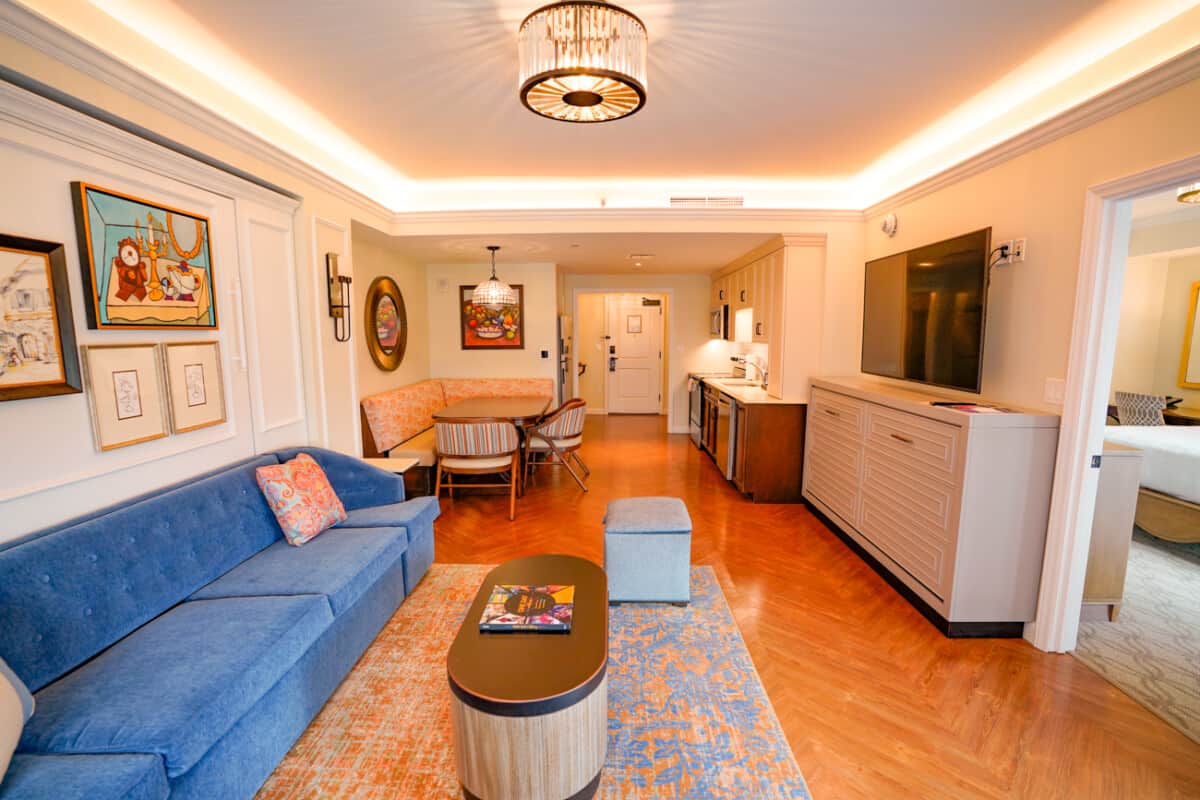 The construction is beautiful, and the design feels elegant. Like most Disney Vacation Club villas, these feel well-made with attention to crown moldings, sturdy doors and walls, and finishes built to last.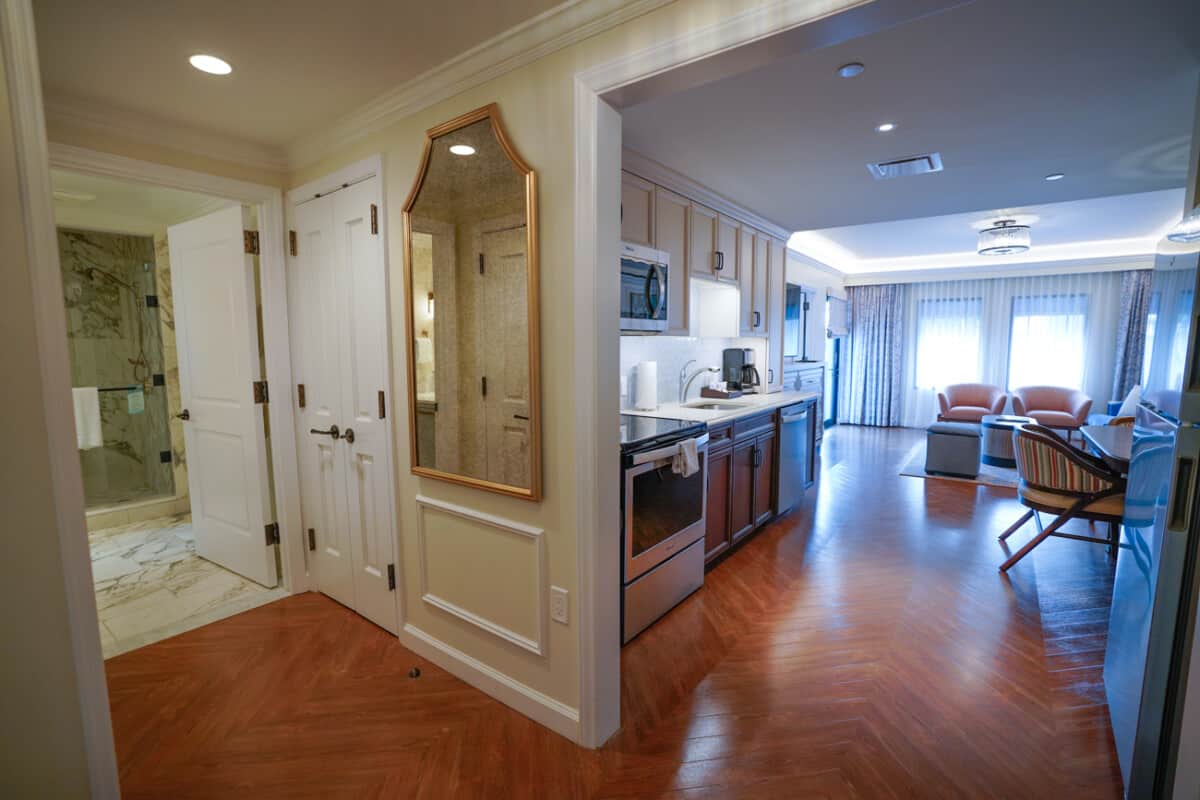 The bathroom is split into two rooms. It's mostly marble, modern, and truly a glorious bathroom for Disney property. The first room has a single vanity sink, toilet, and giant party-sized shower. The second bathroom has a large vanity sink with magnifying mirror and a beautiful tub with Jacuzzi jets.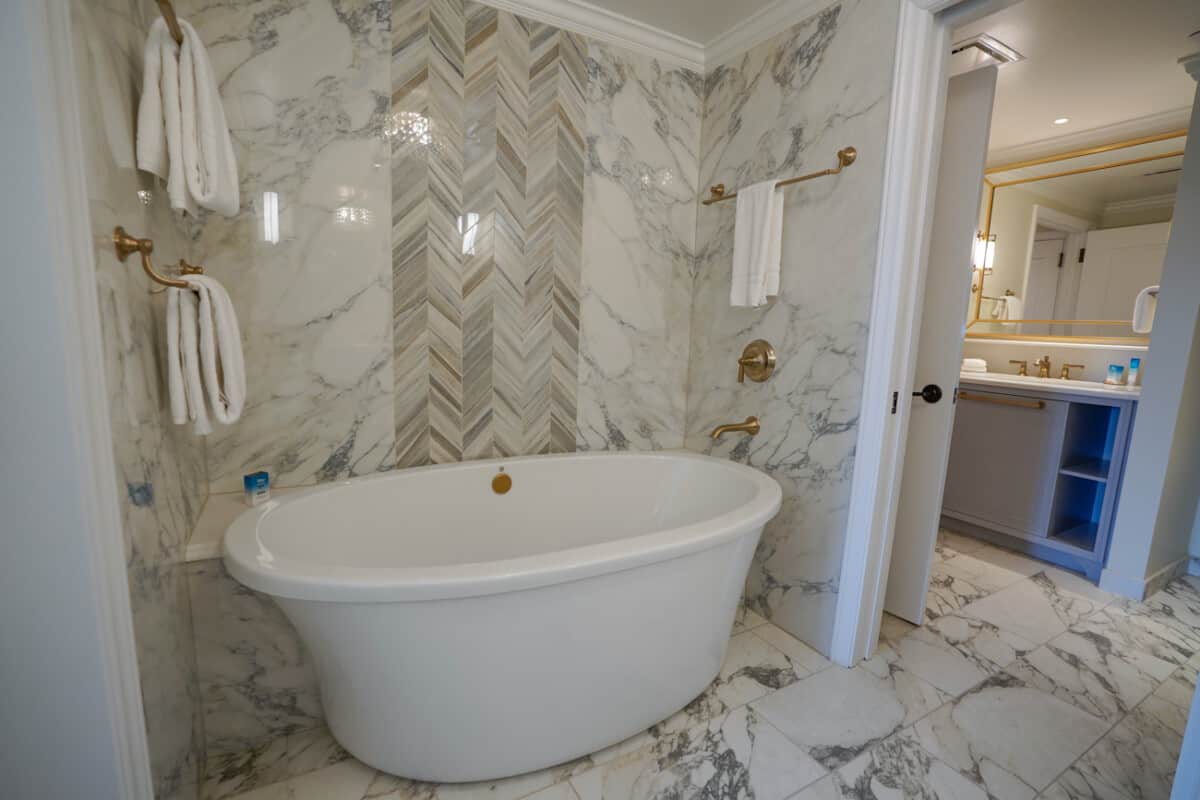 The elegance of these marble bathrooms will delight the most discerning of luxury travelers. The bedroom has a platform king-sized bed with room for luggage storage underneath. Other features include a marble-top desk, bureau, a large closet with built in shelves, and a balcony.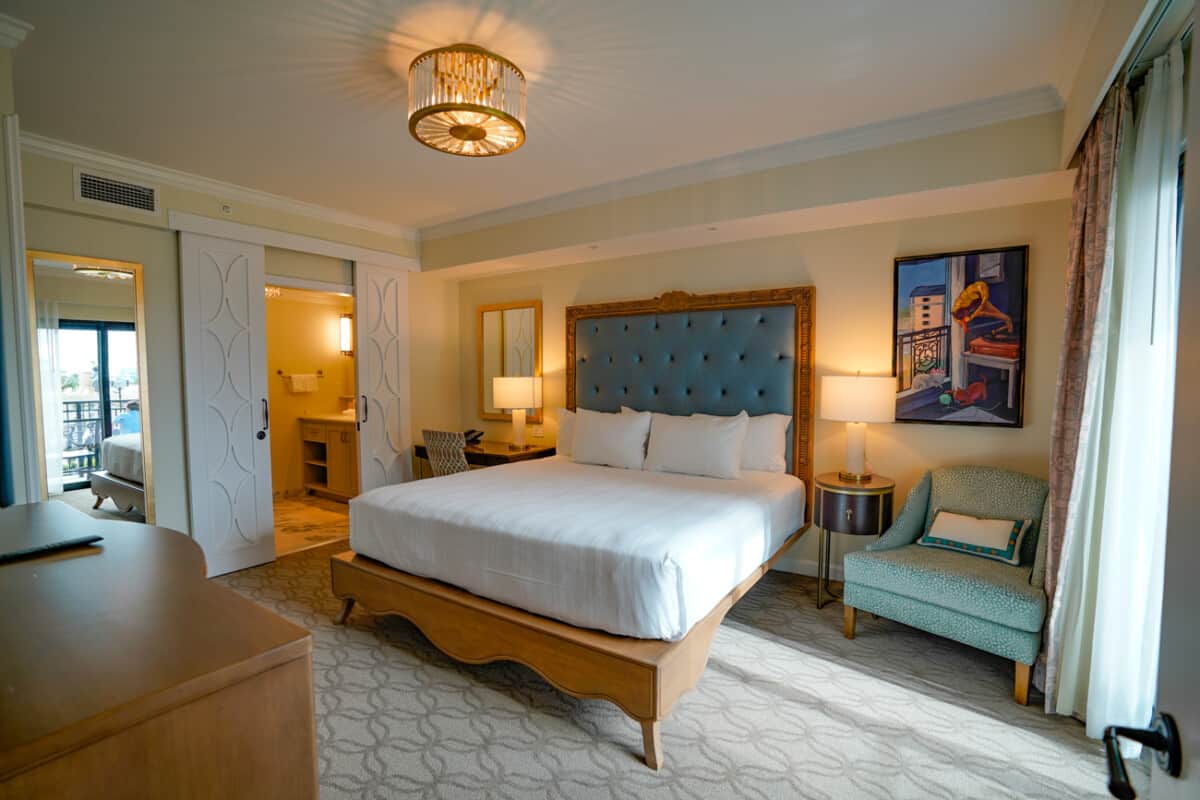 The one-bedrooms sleep five with a king bed in the master with room for three more in the living room.
The fun feature of these newer DVC units is the clever Murphy bed that is integrated with the living room sofa. The sofa is a memory foam mattress with no annoying bars.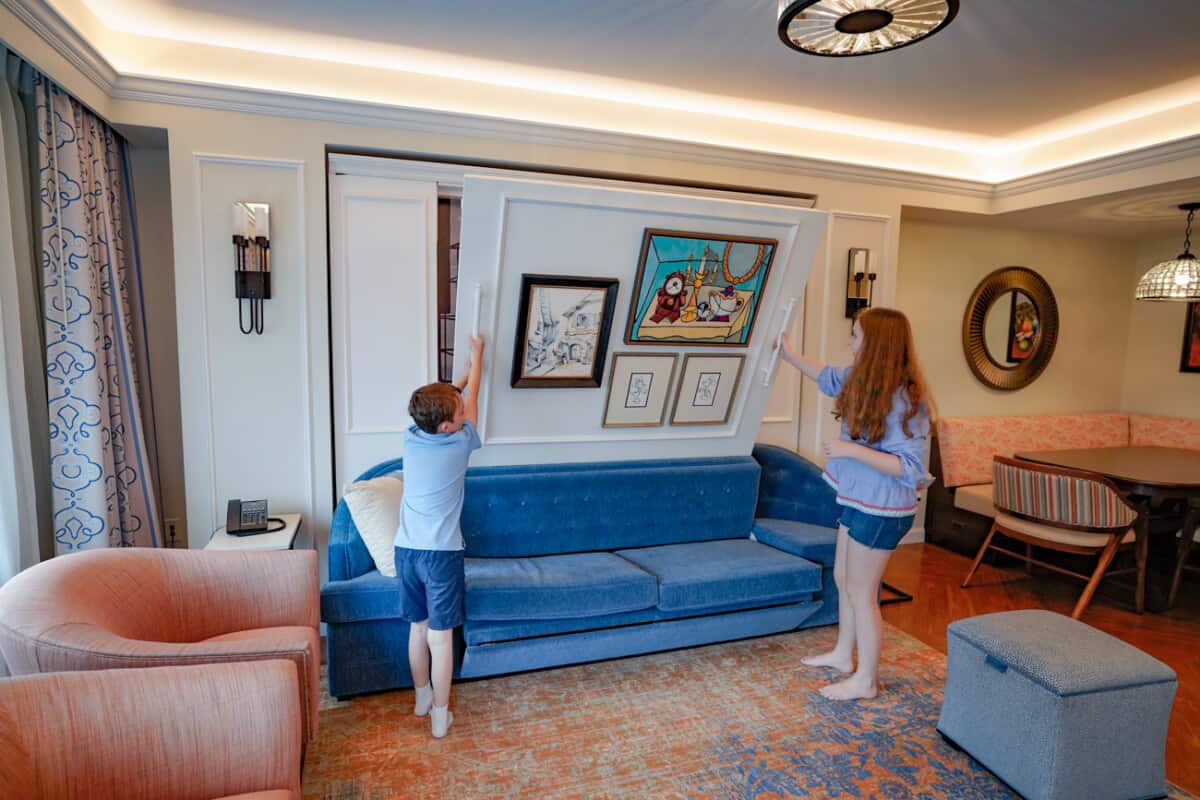 The additional twin mattress hidden within the media console shows a vintage Mickey Mouse, but a child should sleep on that mattress.
DVC Villa Amenities
The entryway has laundry as well as a coat closet that accommodates a pack and play, ironing board, safe, highchair, steam iron, vacuum, and broom.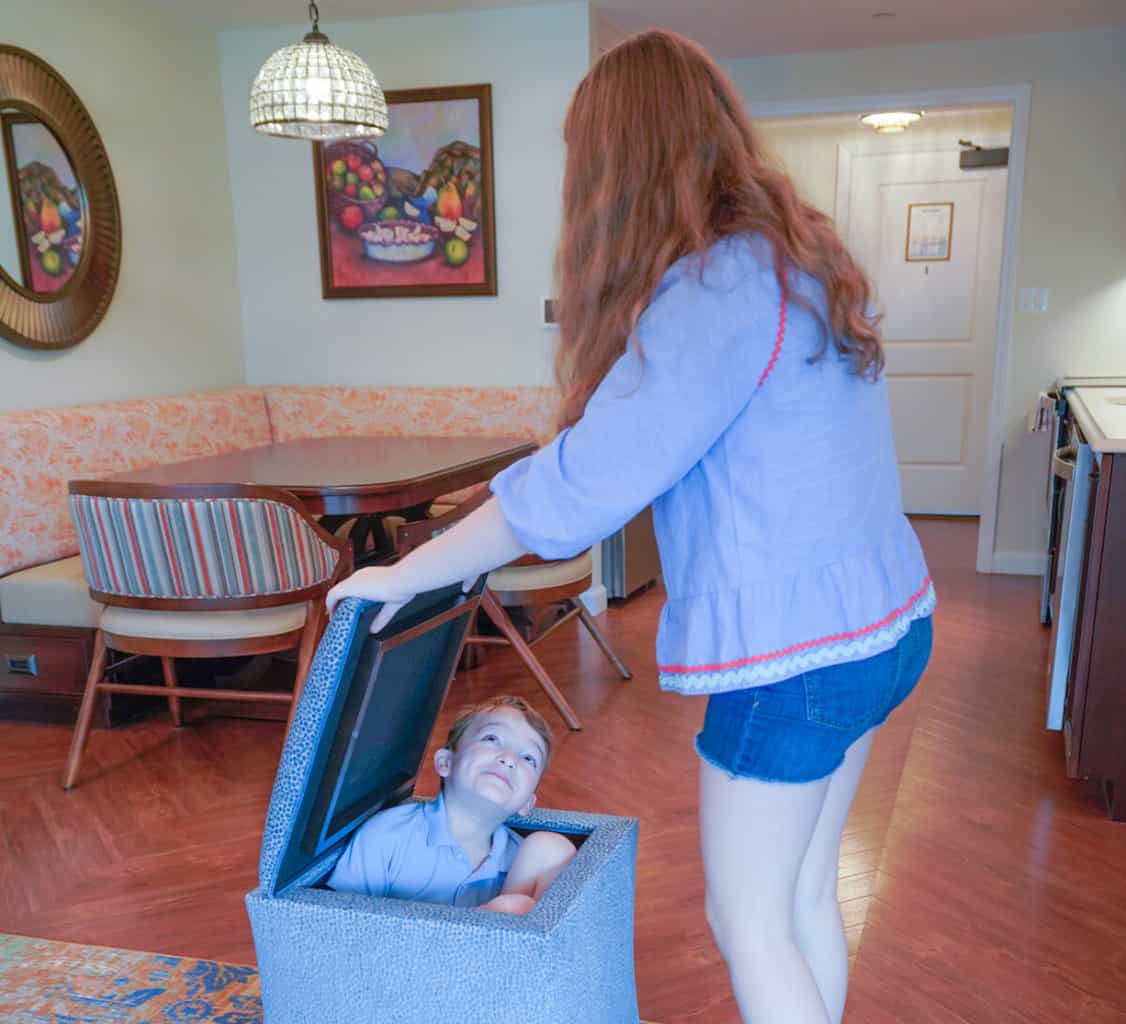 The Riviera Resort Room Theming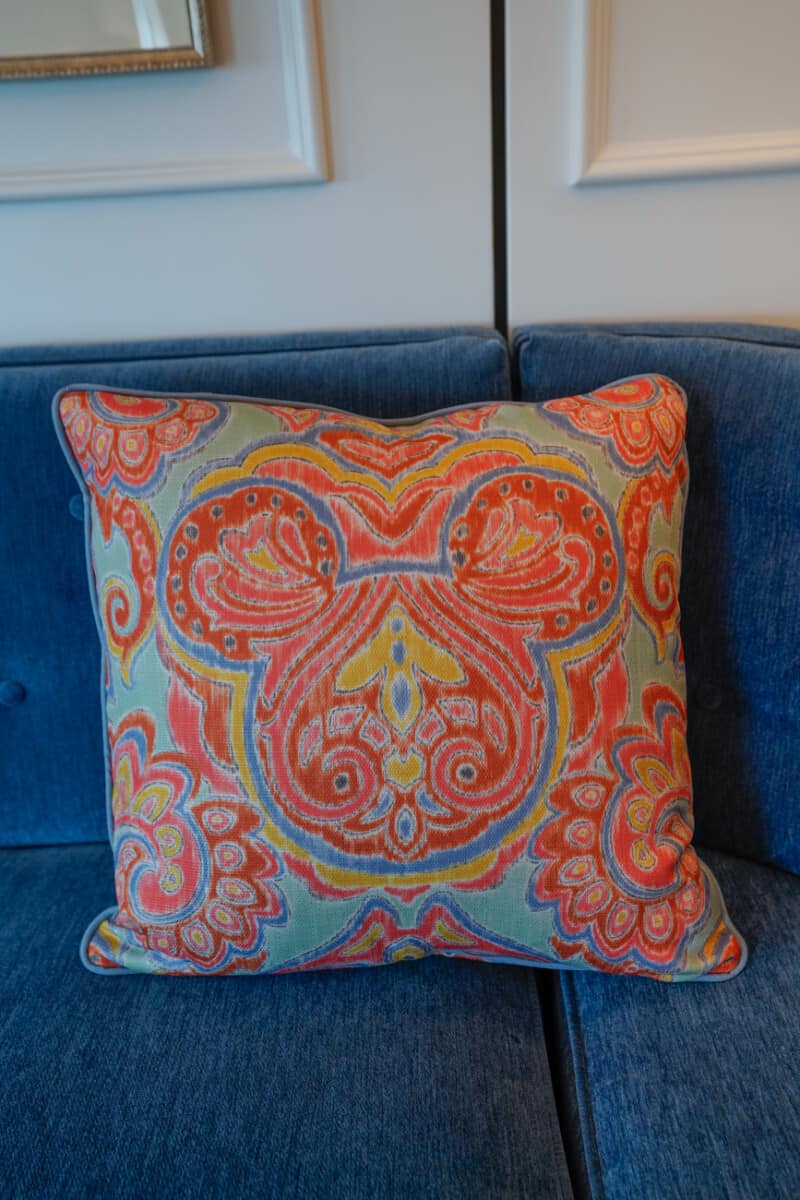 Much of the theming in the rooms is limited to the art on the walls. Aristocats and Ratatouille inspired works hang in the bedroom and dining area. A collection of Disney sketches hangs above the sofa.
There are hidden Mickeys in the carved wooden headboard and an accent pillow on the sofa. While I found our one-bedroom to be completely comfortable and pleasurable to be in, I couldn't help but question the theming once again.
The furniture and interior design are currently trendy more so than part of any Riviera style. It felt like Disney made a partnership with Wayfair for some velvet sofas, side tables, and matte metallic lighting.
JOIN OUR LUXURY HOTELS & RESORTS FOR FAMILIES,
A FACEBOOK GROUP FOR SEEKING ADVICE AND INSPIRATION
FOR THE BEST LUXURY FAMILY BREAKS.
The Disney Riviera Pools and Recreation
Riviera contains three pool areas that progress by age and interest.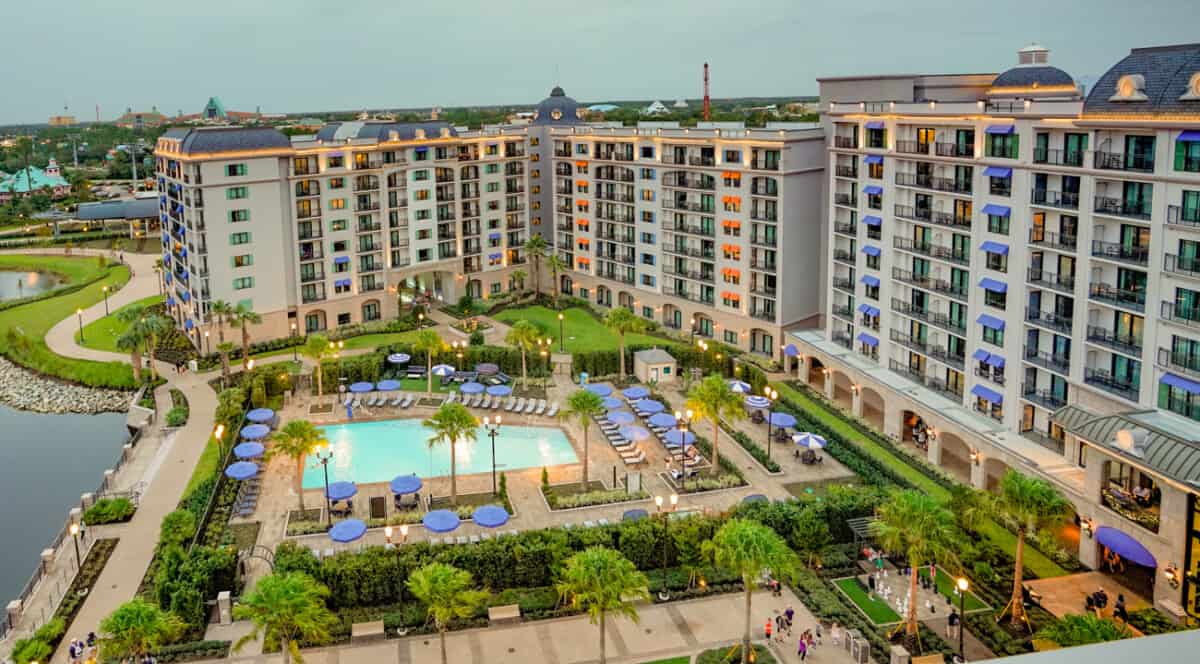 The splash pool S'il Vous Play reminds me of one of the structures from Aulani, but instead of Hawaiian mythological mischief makers, the hippos and elephants from Fantasia surround this splash structure.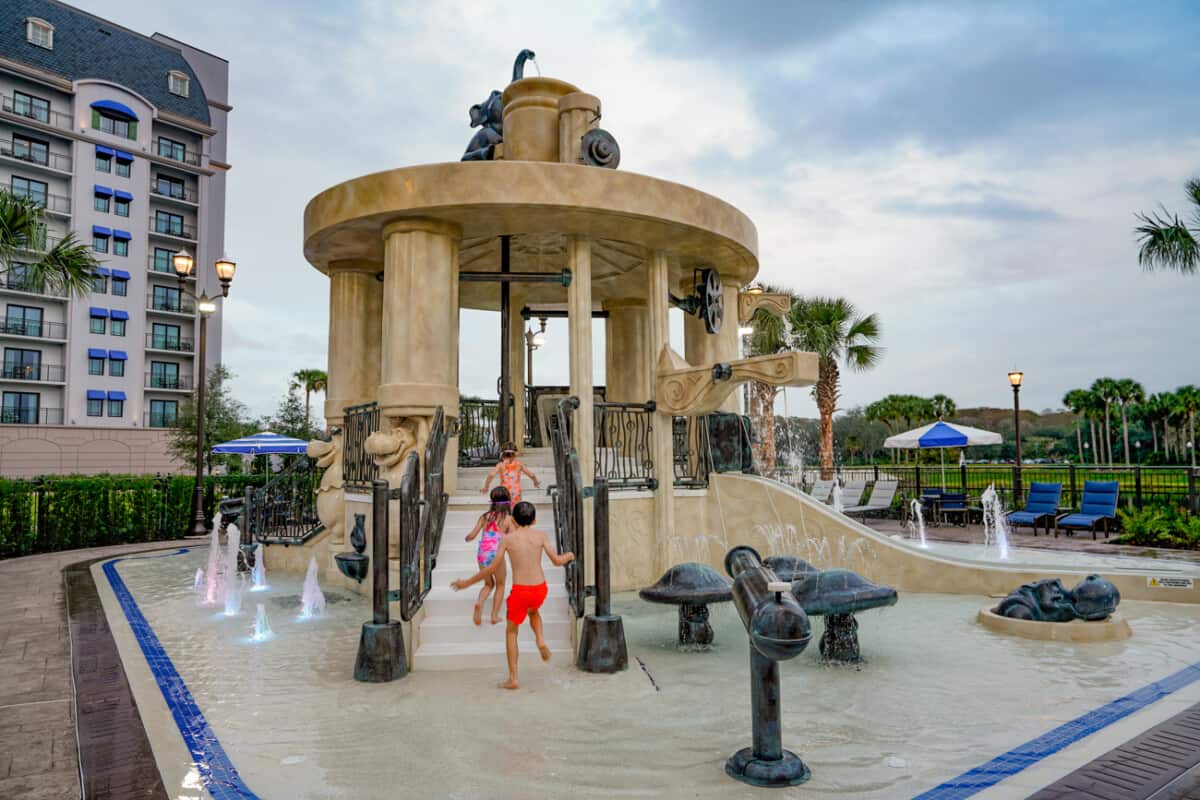 The main pool with a castle like water slide next door has lagoon views and many lounge areas. Guests can play Connect Four poolside or chess or bocce on the main green. Nearby is the quiet pool, called Beau Soleil.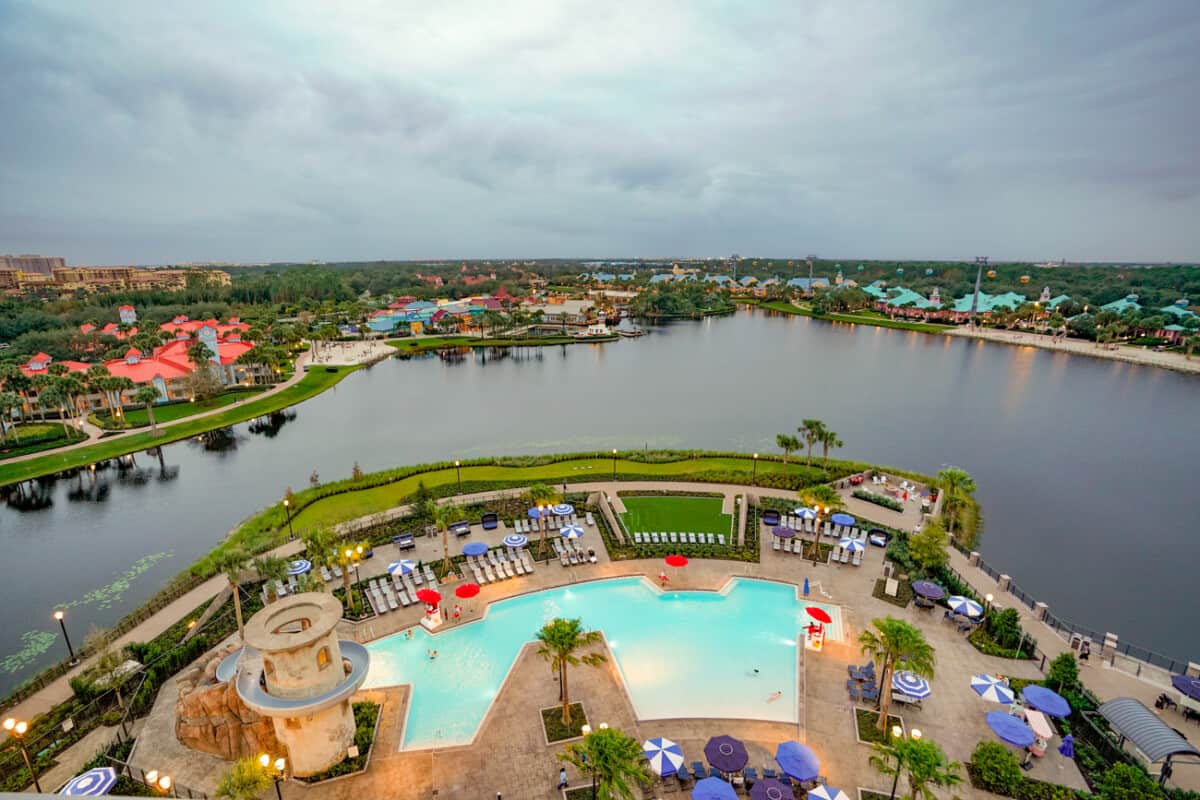 There is also a fitness center available but no spa. It's small with three treadmills, a rowing machine, two stationary bikes, and free weights.
The recreation options at the resort are still in formation, I hope. The resort has no game room, and the recreation calendar remained empty every day I looked.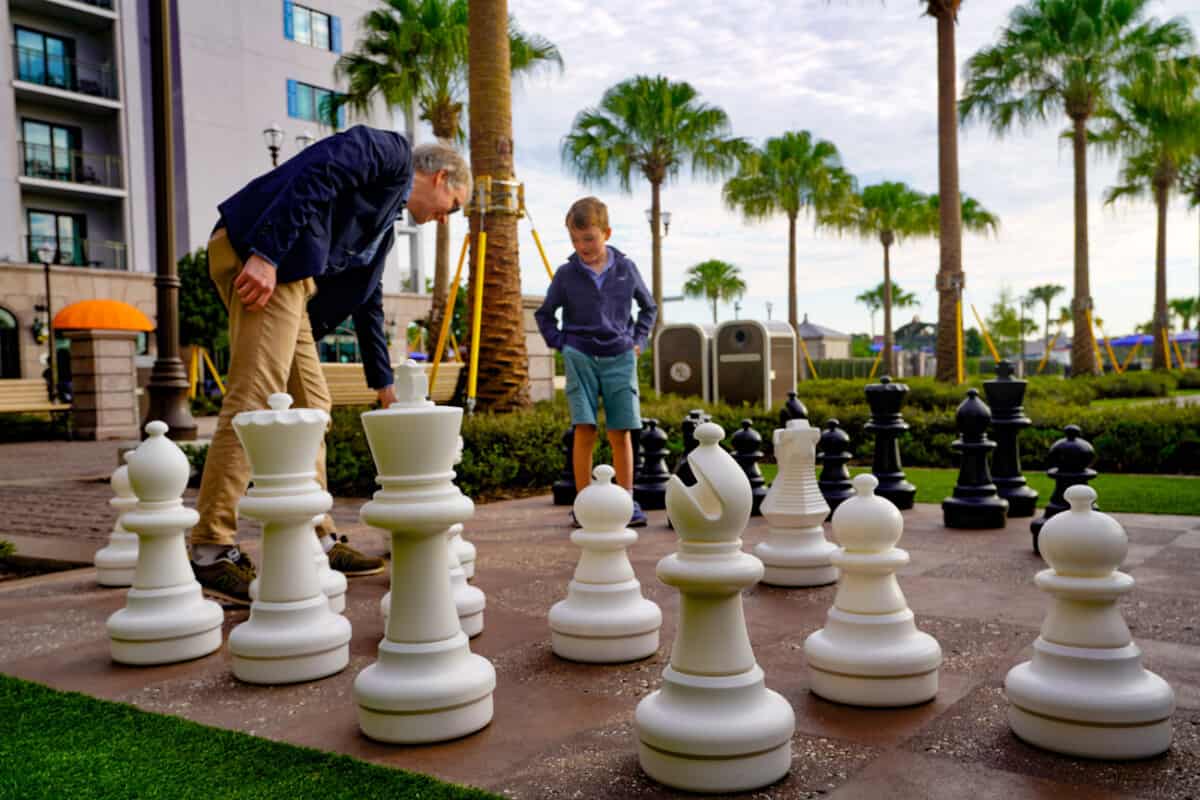 The recreation handout given at check-in provided some options common to most Disney resorts, including the nighttime movie by the pool. But others seemed a little desperate like a family fun run or exercise class. Does anyone want to exercise before tackling the parks?
The one activity we couldn't squeeze in that sounded great was a Skyliner scavenger hunt that took guests to other resorts following clues.
The Art Scavenger Hunt
There's an art scavenger hunt for families to complete with a worksheet available at the Disney Vacation Club kiosk. The scavenger hunt provided more proof that Imagineers were not as involved in this resort's design and creation. The scavenger hunt is a simple sticker sheet of Disney characters and icons to attach to a map of paintings.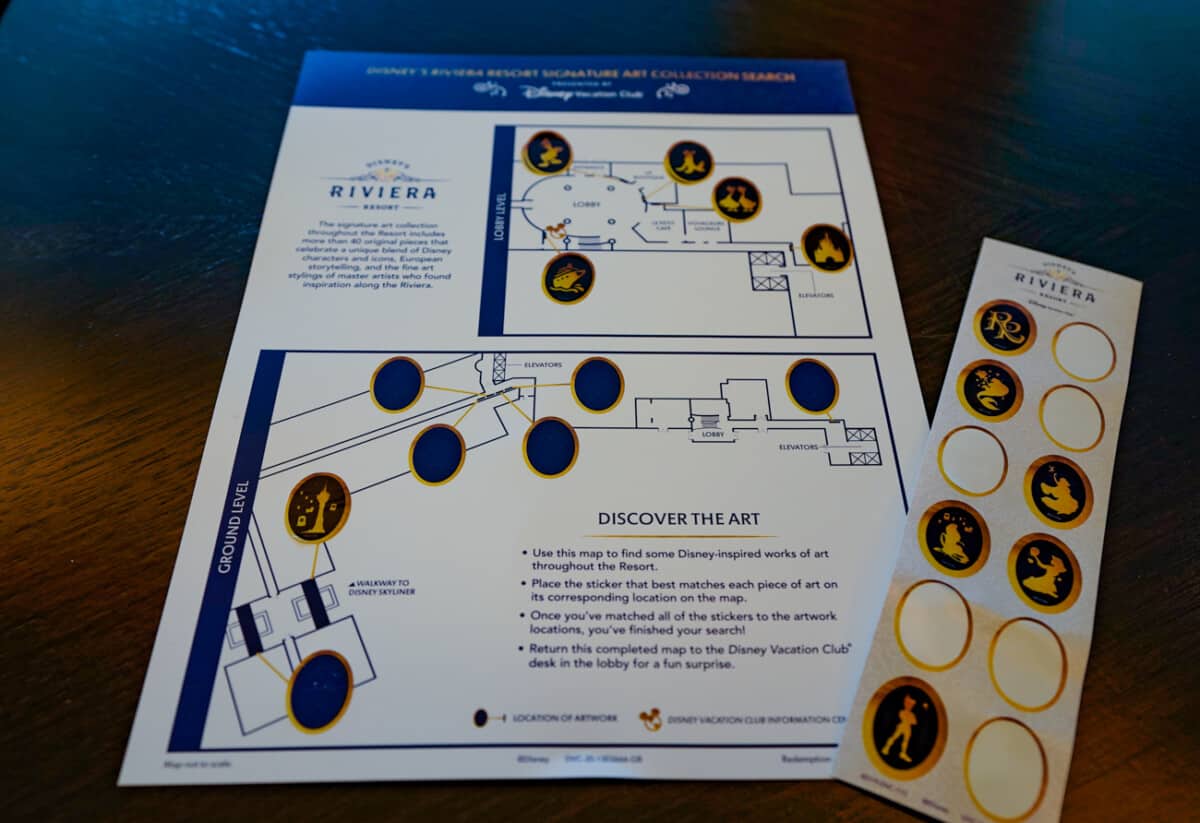 In addition to Disney movie posters in French and Italian, the Riviera includes some original commissions of Disney art. These works, in the styles of Impressionism, Fauvism, and Expressionism, can be found in the public areas.
It would have been more impressive had the scavenger hunt been used as an experiential form of art appreciation and education.
Given that there are Airbnb's replicating painted Van Gogh interiors, for example, I would have liked for Disney to have designed a more immersive experience with French art. As it is, the art just feels like props.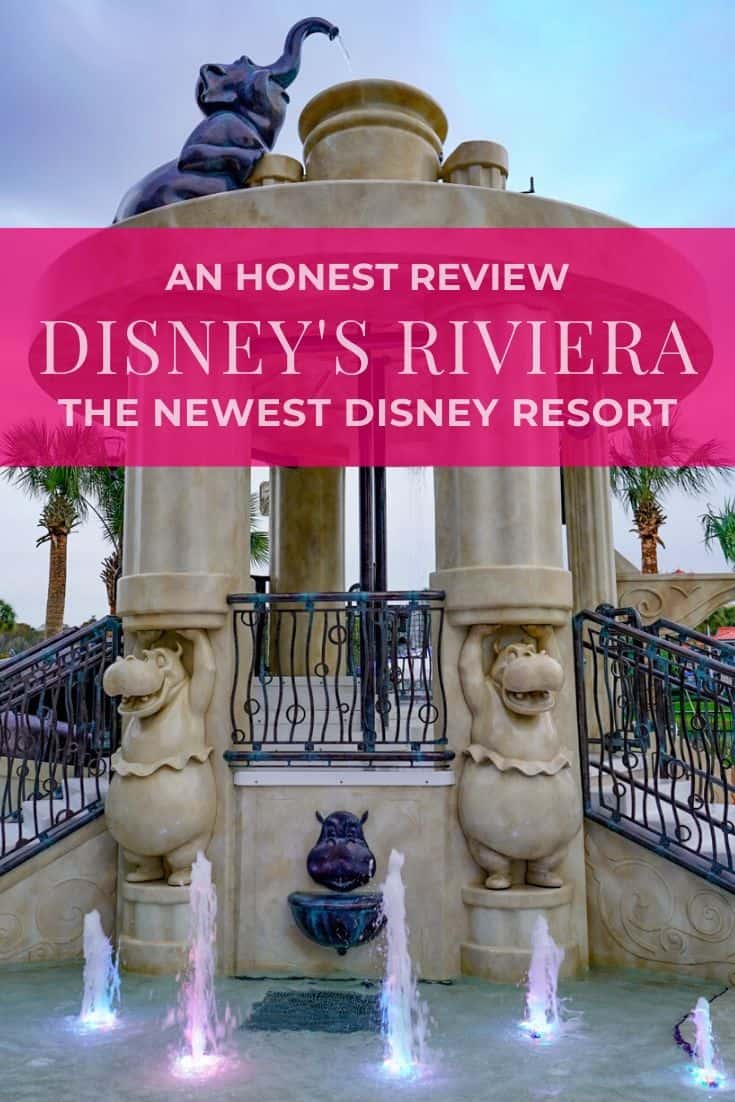 Conclusion
I think the resort's ease of getting to Epcot by Skyliner makes it great for adults visiting Disney World for the Food & Wine festival.
The Riviera will likely not be a hot reservation for families when it is no longer the new Disney resort. Others offer more.
When I compare the Riviera's weak immersive experiences and design compared to the recent Copper Creek villas and cabins at Wilderness Lodge, I'm left shaking my head in wonder. Just not the good Disney kind.
Getting the Riviera DVC Villas For Less
As a DVC resort, guests can (and should) avoid paying published rates at the Riviera by renting points from a DVC Point reseller.
You can rent any Disney World Vacation club property as well as Aulani, or the Grand Californian at Disneyland provided that they can match you with an owner.
How to book for serious savings
The site has a point and cash calculator that shows the point and cash amount based on your travel dates at the DVC properties. Using points offers a considerable discount. Seriously, check out your stay for yourself on David's vs. on the Disney site as a hotel reservation.
You fill out a form with your top resort choices and dates and make a refundable deposit to start the booking process. David's team begins seeing what owners and points match, and they respond with availability. You can tell them to keep looking, choose something, or ask for your refund.
Owners are restricted to how many reservations they can make each year on other people's behalf, so most owners look for large point reservations to use up these points.
You may have difficulty if you are trying to rent with a reservation valued less than 44 points, which is about $700. Most owners want bigger reservations to sell as many points as possible. If an owner has 100 points and makes a big reservation the costs 80 points, that's a scenario where there is an owner on hand ready to make a much smaller DVC reservation for you of 20 points.
How DVC reservations differ from resort reservations
These reservations are considered DVC reservations, not hotel reservations made through the regular Disney site of DVC villas. Unfortunately, they're nonrefundable and non-changeable, so their inflexibility doesn't work for everyone. And the reservation will be treated like a DVC one, meaning that the resorts will not provide daily mousekeeping since it isn't logged as a hotel reservation.
Customer Protection
Owners who work with David's Rentals receive a partial payment when they book the reservation with their points and the remainder of their payment once a reservation begins at check in. This protects David's customers who use them as an intermediary like an escrow account. This is a more secure process than renting directly from an owner you do not know.