The Waldorf Astoria Orlando is so beautiful, so sophisticated, and so family-friendly, it is just as perfect for a Disney World vacation as it is for a mom spa break or couple's getaway.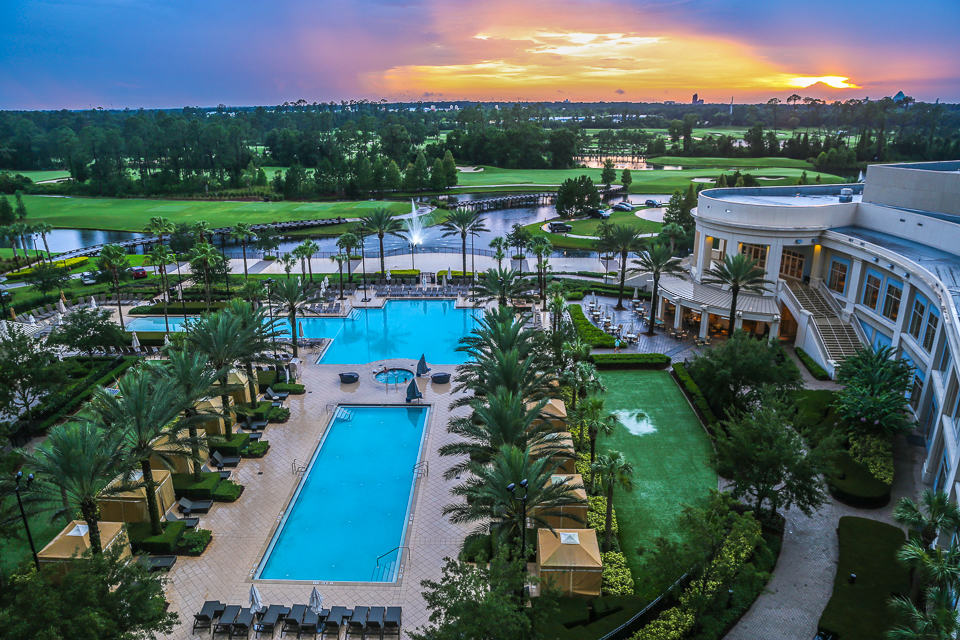 The Waldorf Astoria and its adjoining Hilton Orlando Bonnet Creek are within the resort area called Bonnet Creek. Although the hotels aren't officially Disney resorts, the Bonnet Creek Resort are located inside the Walt Disney World resort area and your neighbors are the Wyndham Bonnet Creek, the Art of Animation, Pop Century and the Disney Caribbean Beach resorts. The JW Marriott Bonnet Creek will open in 2020 nearby.
The Waldorf Astoria takes service very seriously. The staff is everywhere, and are eager to assist with warm smiles. Their service philosophy will feel immediately different from the Disney hotels by providing more formal—yet friendly— service.
The hotel's design is beautiful and fresh, with a nod to peacock blue and tan. The hotel's art collection is noteworthy and guided tours of the hotel's work can be arranged.
Waldorf Astoria Orlando FastPass Benefits
Now that Waldorf Astoria and Hilton Bonnet Creek have access to Extra Magic Hours and the same 60-day Fast Pass window as guests at the Disney resorts, the value of a stay here is strong.
There are scheduled buses that provide service to the parks and Disney Springs, and guests receive schedules at check in. Uber rides to the parks are between $7 and $20.
---
---
Rooms and Suites at the Waldorf Astoria Orlando
Rooms are very comfortable, and a step above many at the Disney World resort. They also offer exceptional value. Suite prices typically however in the $600s, and come at a much lower price than those at the deluxe Disney resorts.
Small details make them memorable: in-room Nespresso machines and T3 blowdryers with concentration attachments (pack your round brush!) to smooth your hair from the Florida humidity.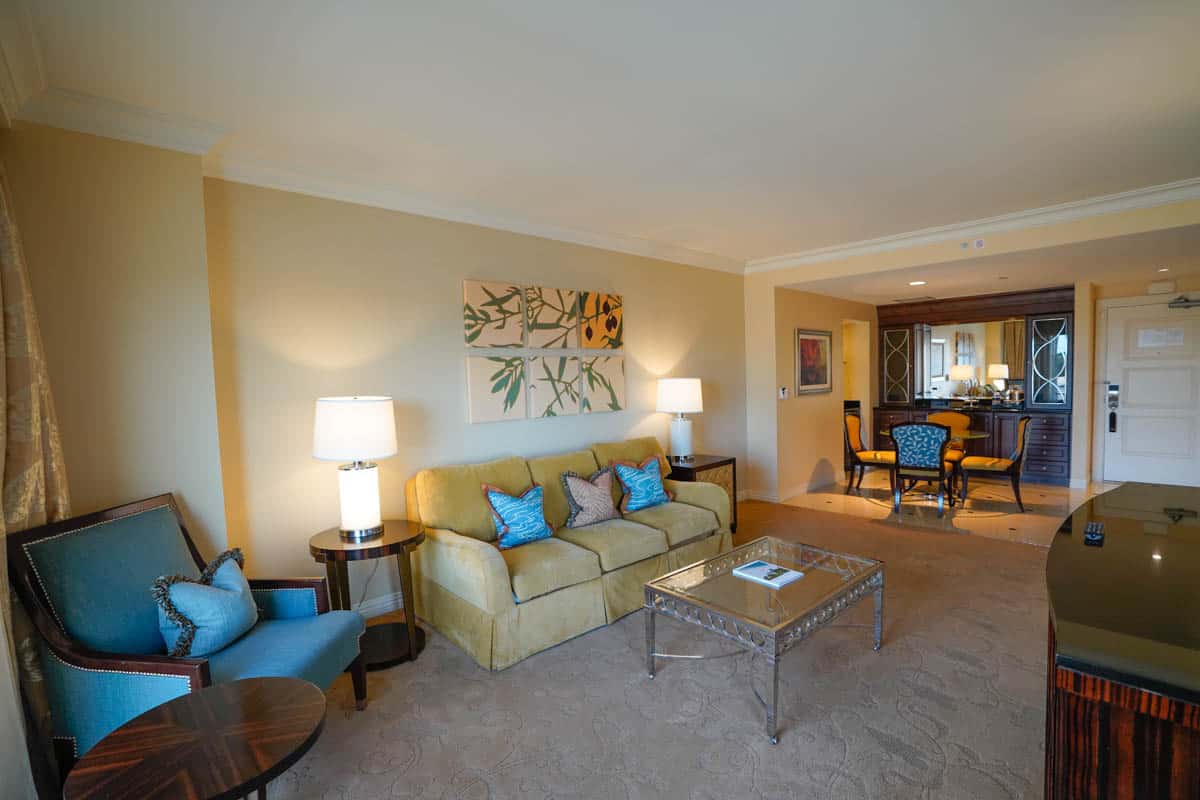 There are refrigerators ready for your own foods and beverages, but no minibars (which is a plus for traveling with kids).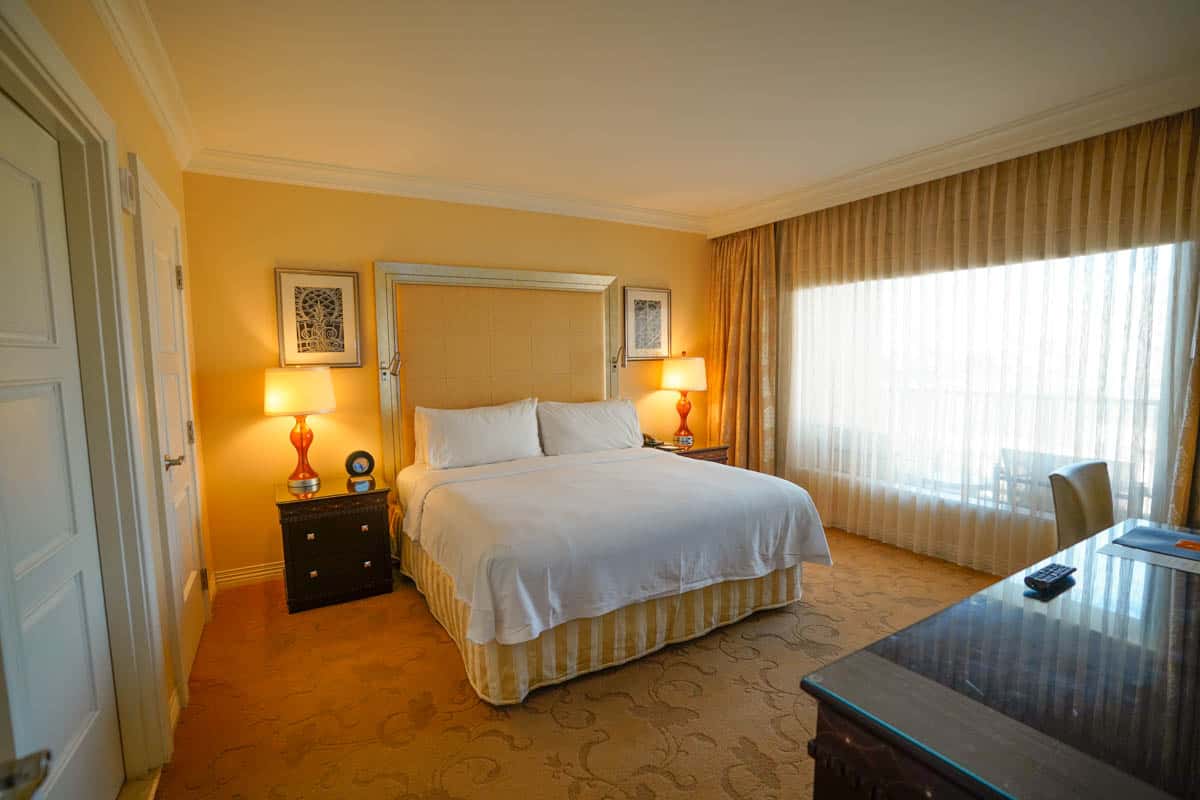 Many park view guest rooms are available, and luckily for the Waldorf Astoria, the best views are of those at Hollywood Studios, now offering some of the most exciting fireworks shows for Star Wars. (Read the review the Star Wars Dessert Party).
Let me plan and book your Disney World vacation. As a Virtuoso travel advisor, I offer room upgrades and extra perks at the Four Seasons, Ritz Carlton, and Waldorf Astoria if you choose to stay offsite.
And I can still help with some pixie dust if you stay on Disney property, too. I can help you choose what to skip and where to splurge on the best restaurants and VIP experiences.
Epcot fireworks are also visible depending on the location of your room, Those on one side of the pool have a view of both parks' fireworks. This resort makes the increased price of a fireworks view worth it, in my opinion.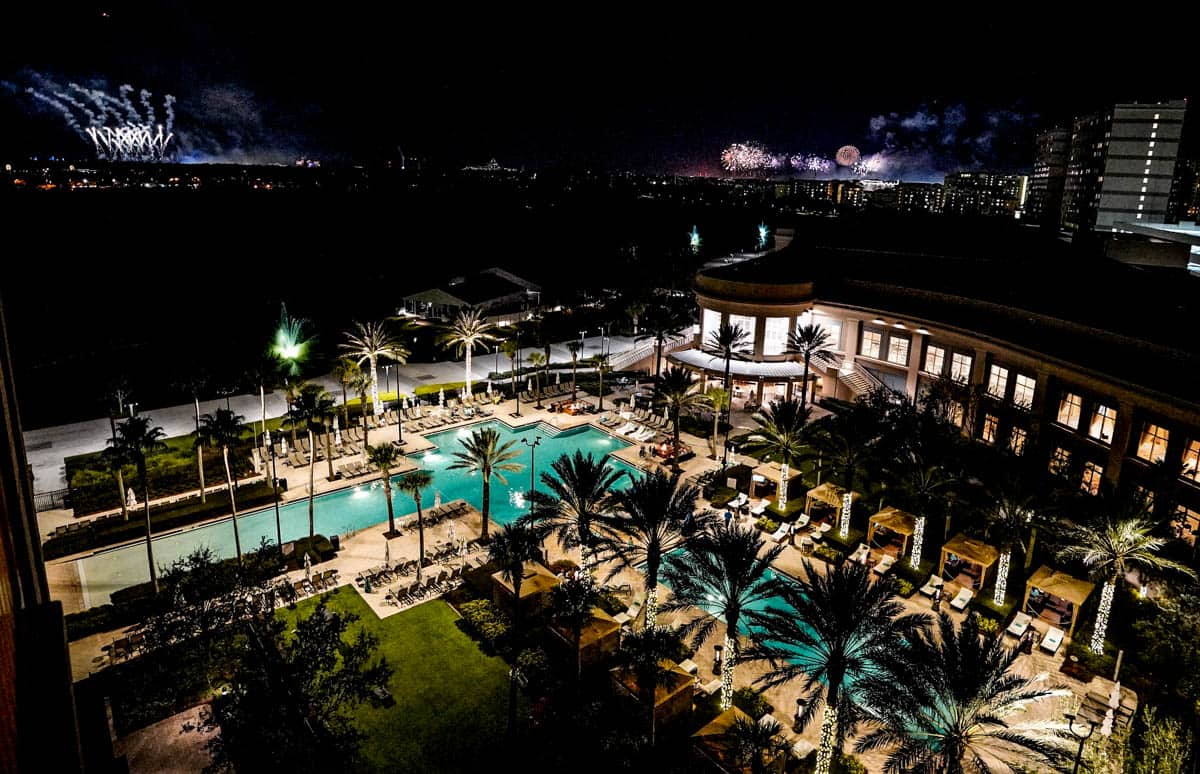 Waldorf Astoria Orlando Restaurants
Bull and Bear serves more formal dinners, Oscar's offers a daily breakfast buffet, while Aquamarine offers poolside lunch. Combined with the Hilton Bonnet Creek, there are several restaurants on property from sushi to Italian.
---
Join the Luxury Disney World Facebook group
if we can answer your questions when planning your next Disney vacation.
---
I have to make special praise for Oscar's breakfast buffet. It is, again, far nicer than any Disney character breakfast down the road.
In addition to covering all of the bases deliciously, I was impressed to see cheese and meat displays more commonly enjoyed by non-American guests, gluten-free baked goods, and a freshly pressed juice bar. You must try the fresh juices like watermelon. Omelettes and waffles are made to order.
I loved that I asked the kitchen for a few cut raw veggies to prevent my child from getting scurvy after living on a theme park diet for a few days. They delivered a plate full of crudité as I had asked, and my son immediately knew where two cucumber slices needed to go.
Bull & Bear Orlando
Bull & Bear provided a formal dining experience unlike any other I have had at the various luxury Orlando resorts. The service was flawless and attentive, with multiple servers offering a more traditional dining experience. I haven't tried Victoria & Albert's yet, but I am sure it is the only other restaurant in the area that has so many servers per table.
Our food ranged from good to excellent, with an entire menu available on an iPad that offered pictures of every selection. Escargot and gnocchi, fresh burrata and tomato salad, steaks with lobster tail, and signature Moscow Mules made an excellent meal with sunset views overlooking the pool.
---
---
Room service offerings for kids at breakfast were those you would expect. For lunch and dinner, however, I chuckled at what would be nearly $20 for plate of corn on the cob with taxes, fees and gratuities, and I was surprised by their choices: fresh salmon and pasta paired with asparagus and tomato sauce; pan-seared chicken with roasted tomatoes, pesto, and goat cheese. I can't imagine these children's dishes being ordered as is—without some sort of modification—but I am sure the Waldorf is happy to oblige your special requests.
One must-eat treat was the ice cream at the Hilton Bonnet Creek's Muse Restaurant. Made by Chocolate Shoppe Ice Cream in Wisconsin, they only serve about 8 flavors, but they were all truly decadent and worth a calorie splurge.
The most popular flavor, "This Just Got Serious," is salted caramel ice cream with chocolate sea-salt fudge and salted cashews. According to a sign on the wall, the ice cream is made with loads of Wisconsin cream and is not low-calorie. You have been warned.
Waldorf Astoria Spa & Fitness
The spa and fitness center are solid; the strength training machines are not as plentiful as cardio options. Props include stability balls, bosus, and foam rollers; the only class offered is poolside yoga at 8AM on the weekends, which I could not sample this trip.
There is a spa and fitness staff person on a constant rotation ensuring every cardio machine has a towel and bottle of water. The wonderful view of the pool and natural light in the gym make you want to linger a little longer and work a little harder. The locker areas include a jacuzzi, steam room, and sauna, and the relaxation lounge offers teas and granolas.
The spa is really large, with twenty-two treatment rooms, and spacious, so it feels much quieter than the more social atmosphere at the Grande Lakes spa for the Ritz-Carlton. The main spa product line is Carita, which I first tried at the St. Regis New York spa, known for its excellent facial product line. Many treatments use a locally sourced Tupelo honey, too, like the Honey Calendula Body Buff.
I chose a hydrotherapy spa service after a long workout for something different. I climbed into a stand-alone white Jucuzzi tub, and lay down in the warm water with a choice of essential oils (lavender or lemongrass). The room featured a metallic brick wall decorated with flickering tea lights and fresh flowers.
The tub offered a pre-programmed series of water jets targeting different parts of my body: back and shoulders, outer arms, outer legs. I didn't know what was coming next, just relaxing and taking in the atmosphere.
I realized it was the spa version of a Disney ride. But like a Disney ride, it ended abruptly, and you say to yourself, "Again! Again!" I will be eager to try their facials on a future visit, like the Sculpting Gold Perfection Facial.
The Waldorf Orlando Pool
Grab a cabana and enjoy a luxurious day at the outdoor pools. Although the neighboring Hilton Bonnet Creek boasts an excellent lazy river and slight bigger crowds, the Waldorf Astoria pool is calm and tranquil and decadent. Pool attendants will bring special Prosecco-made popsicles with a special flavor of the day, and you don't have to share those with your kids.
At the pool, a stand sells kids' floaties, toys, goggles, and anything else you left at home. Hammocks, a bean bag toss, and jumbo chess set surround the pool cabanas.
See the pictured zero-entry area of the pool that is perfect for pre-swimmers, and for older children, they will love the lazy river next door at the Hilton Bonnet Creek. Paths are mapped for a complimentary bike or surrey rental to glimpse a bit of the Bonnet Creek's almost 500-acre nature preserve surrounding the resorts.
Enchanted Evenings at the Waldorf Astoria Orlando
On my second visit to the resort, I had the benefit of being there for the summer series of special events called the Enchanted Evenings. Special events occur every summer weekend at the Waldorf Astoria and the adjacent Hilton offers its own special event program, including Cupcake Lover's Weekend, and lucky me, I was there for it all!
Enchanted Evenings included special events like poolside games, water walkers, scavenger hunts, poolside treat like a gyro bar at Aquamarine, Spa happy hour with champagne and chocolates, and the incredible champagne and chocolate bar in the Peacock Lounge at night. For the most creative, my son loved the Mad Scientist sundae bar where liquid nitrogen was added to the mixer and children could make their own sundaes.
Cupcake Lover's Weekend at the Hilton Bonnet Creek
The Waldorf Astoria never felt crowded during my stay, because most of the guests were at the parks during the day, so the facilities felt private and serene. The lazy river at the adjoining Hilton also retains a relaxed feel. One local mom told me at the gym, "We always come here for our local vacations because the lazy river was designed so well, I can see my kids easily; I can actually relax and chill by the pool." Yes, moms can just chill here, with or without their kids.
More holidays at the Waldorf Orlando
One of the great things about the resort is how much additional programming they add throughout the year. The Waldorf celebrates Thanksgiving through New Year's Day with many holiday programs.
There is frequently a champagne and dessert pop up in the lobby on Friday and Saturday nights including select Epcot Food and Wine weekends.
Orlando is actually one of my favorite family-friendly destinations for New Year's Eve. While we braved the parks a few days in between Christmas and New Year's, I knew we wanted to celebrate December 31st away from crowds but still in the middle of the excitement.
The weather can vary greatly during the last week of December in Orlando. It can be in the 60's or in the 80's. The Waldorf hosts a celebration around their pool area with Smore's and hot chocolate and hot chocolate cocktails.
We chose to enjoy the fireworks from our balcony. We could see three shows: Epcot's, Hollywood Studio's, and the resort's own. The building shook. And there was a musician performing at the pool, a James Ingram or Peabo Bryson wannabe. Or maybe it was Peabo Bryson, as he may not be that busy these days.
So, if you want to retire early on New Year's Eve, do not request a pool view. The noise settled around 12:30 AM.
Enjoying Disney World From the Waldorf Astoria Orlando
The Waldorf Astoria and Hilton Bonnet Creek share a scheduled luxury motor coach to each park, so there are no mysterious waits. The buses to Magic Kingdom, however, drop of at the Transportation Center and require the monorail or boat to transfer to the entrance of Magic Kingdom. Uber is readily available now, too, for those not interested in waiting.
The Hilton Bonnet Creek has a full Disney store inside to purchase and activate Magic Bands with your pre-reserved Fast Passes.
The Waldorf Astoria Orlando is a perfect 5-star resort to stay for families at Disney World if your children are too young or you choose not to participate in supervised kids club activities offered at the other five-star resorts.
If you feel like you want something more Disney-esque for the sake of your children, simply order a fabulous princess or Mickey Mouse welcome gift from Disney Floral and Gifts to have delivered to your room on arrival day. The environment is adult—yet completely welcoming to children— and a perfect antidote to the overstimulation one gets at Disney parks and resorts.
After my son went to sleep, I snuck out to our balcony and watched the fireworks from Hollywood Studios and noted that one very smart family was watching them from the hot tub at the pool. That's on my bucket list for next time.
Although we were guests of the Waldorf Astoria on some visits and paying guests on others, these opinions are entirely my own.
Let me book your stay at the Waldorf for VIP amenities and perks at no extra cost!