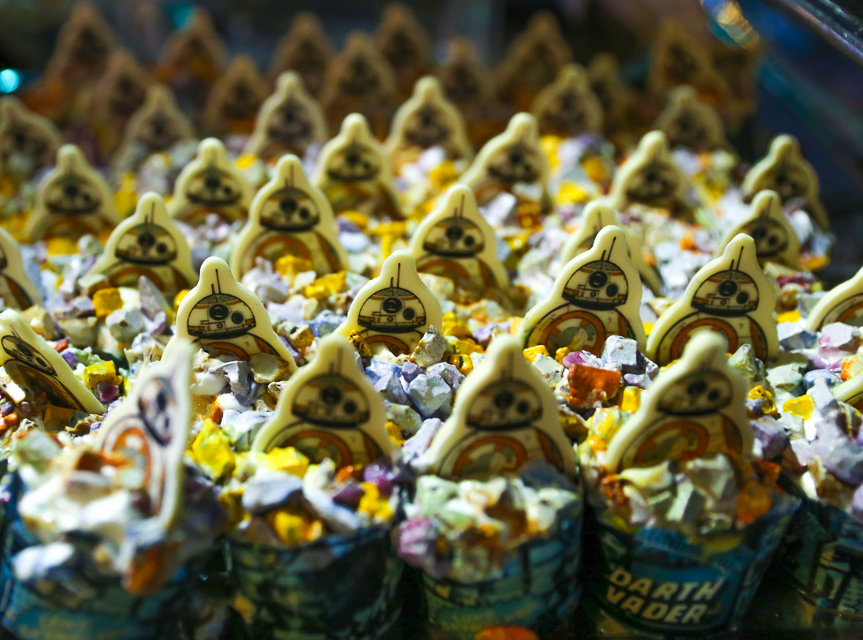 Lots of new Star Wars experiences have been added to the Disney parks this year. Hollywood Studios is now the Mecca for Star Wars fans of every age with new character meet and greets including Kylo Ren, the Jawas, and Chewbacca. The Star Wars Dessert Party is another way to experience Disney World like a VIP.
Fittingly, the park-closing entertainment at Hollywood Studios is a Star Wars themed fireworks orchestration set to the iconic soundtrack. The show has evolved from its testing phase this spring to present, but a VIP Star Wars Dessert Party called "Symphony in the Stars: A Galactic Spectacular Dessert Party at Disney's Hollywood Studios" has remained a coveted hard-to-get Disney dining reservation.
My son and I attended the party this month, and the question is: is it worth it? Like any VIP experience at Disney World, it doesn't come cheap. Adult tickets for the Star Wars dessert party are $69.00 and a child's ticket is $39 for those aged 3 to 9.
What's included in the Star Wars Dessert Party
Included in the cost is an open dessert and limited drinks buffet. The sweets range from Mickey bars, Mickey ice cream sandwiches, and the other standard Disney park treats, to more elaborate Star Wars-themed desserts.
There was a Nutella-themed liquid nitrogen creation offering a mysterious space feel. Darth Maul eclairs, BB8 droid cupcakes covered in white chocolate BB8's and rock candy, Darth Vader chocolate cupcakes, and C-3PO cheese crackers. I found the best dessert to be a trash compactor-themed bread pudding that had everything but the kitchen sink as a topping that was served with vanilla ice cream.
I was happy to see a table of hummus, cheese, crackers, and fruit kabob because there are only so many desserts I can try.
The featured cocktails were some sort of alcoholic punch the came in Gatorade neon colors, so I passed. Iced coolers of water and cans of soft drinks were available as well as a coffee, tea, and hot chocolate station.
All ticketed guests receive a wristband to make easy escapes to the restrooms. Each person receives a Chewbacca mug at the conclusion of the event. The souvenir mugs typically run approximately $15 in the Disney parks so it adds value to the ticket price.
Challenges for families attending
There are some logistical challenges that make this a hard event for families with young children to attend that may be alleviated some when the event moves indoors to the new Launch Bay building as of July 10th, 2016 to prevent wet weather cancellations. Guests will have access to a special viewing area when the fireworks begins.
Guests are allowed to check into the party at 8:45, one hour before the fireworks begin.  Tables are first come, first served. There are no chairs at the red table-clothed bar tables. Young children can't reach their food, so it's unrealistic for kids under the age of six to stand next to these tables for the hour that's required after long days of park fun. Strollers are not allowed, so that adds an additional complication for some families.
There are a few tables that are traditional table height for guests using wheelchairs. Once guests in chairs have occupied the tables they need, young children could gather around those unoccupied so that they could eat their dessert, but note that isn't a guarantee, depending on the crowd.
I used one of our spare rain ponchos that I keep as part of my Disney park backpack, (read my tips of a stress-free Disney vacation and what to put in that backpack) and we spread that out on the warm concrete so that my son and I could sit on the ground when he could simply stand no longer.
Because I attended the Star Wars Dessert Party with my four-year-old only, it was logistically challenging to go back to the buffet to get more waters, napkins, or fruit kebobs while leaving my four-year-old son at the table. The open seating meant that had we left the table together, another family could have taken our table.
Fortunately moms from nearby tables understood the challenges I faced and lended me a hand. Had my whole family been with us, it would've made the Star Wars dessert party easier to enjoy, however, I probably would feel that after paying the price for two children and two adults (totaling $216) that the experience was not really worth the cost. I can think of many other ways to spend that money for a more luxurious Disney vacation like the Goofy breakfast at the Four Seasons.
Symphony Under the Stars: the Star Wars Fireworks Show
The benefit of the Star Wars firework show is that there aren't really any bad seats.
The original version of the show that ran into until June 16th was a flawless orchestration of fireworks set to the iconic Star Wars soundtrack, and it was pure brilliance. For me as a life-long Star Wars fan, it was easily one of the highlights of my Disney park experiences that broke through my jaded exterior and spoke directly to my inner six-year-old with pure joy and celebration. It clearly cost a pretty penny because the amount of fireworks in the first version of the show was impressive.
I filmed the finale of the show in April 2016. Here is an excerpt of the show's ending to see the Disney Magic makers at their best. Be sure to watch it in 1080 HD if you can. The setting is to the left of the You Tube logo in the bottom right corner.
The Star Wars Fireworks 2.0 that started on June 17th, 2016 differs in that video has been added, showing an ongoing montage of the films projected onto the buildings. There are now  effects to evoke light sabers, blaster and ship lasers, but the show is now more about video and less about fireworks.
It starts to feel like a montage honoring the Star Wars trilogy that the Oscars might show to fill airtime. Even that is somewhat ruined by tweens around you screaming the name of the characters flashed on the Chinese Theater's front façade as if watching a video yearbook. "OBI-WAN! HAN! BB8!"
There are dessert parties at Epcot and Magic Kingdom from which to view the fireworks from a roped-off area. The reality is I'm probably not the target customer for this experience. Although my love for Star Wars is matched by few, I'm not really a dessert buffet kind of mom since I do my best to promote a low-sugar diet for my family.
If you enjoy a really decadent night of eating lots of desserts and loosening your belt, then I can see that the Star Wars dessert party would be a fun thing to enjoy at least once. If you are without kids you could enjoy drinking at an open bar of fluorescent alcoholic brews reenacting your favorite Cantina scene dialogues.
Because the core feature of the Star Wars dessert party is a fireworks show that everyone in the park can enjoy, you should attend based on your love of dessert more than your love of the Force.