Acqualina is a place to experience the turquoise waters of Sunny Isles Beach, just north of Bal Harbour. I think the word "acqualina" is a take on the Italian word "acquolina" used in expressions to mean "mouth-watering".
I won't dispute that my stay was a feast for my eyes. The dominant color of the resort's outdoors is, red, and it's everywhere. The umbrellas, awnings, cushions of the chairs and chaise lounges are red. Juxtaposed with the aqua blue waters of the ocean and pool, it is a stunning Kodachrome effect.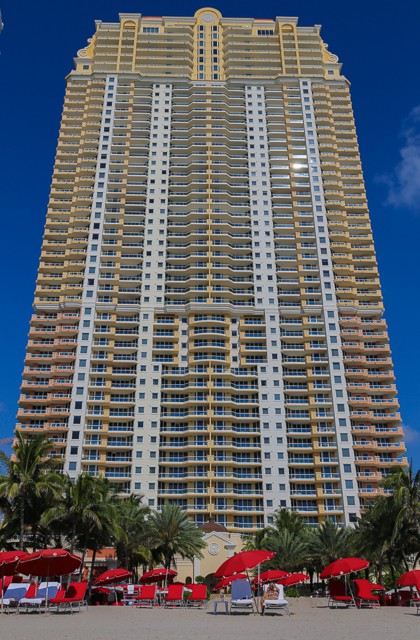 While many Florida resorts feature those same views, few can claim the level of service that Acqualina offers.
Flawless Five-Star Service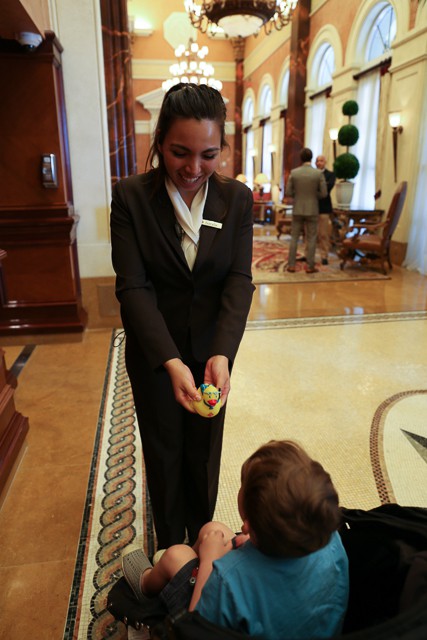 I would say that Acqualina delivered some the best service in all the properties I have featured for Luxe Recess. That's a bold statement, but I can back it up. So what does that mean?
The valet staff tracked us down at the hotel elevators to return my child's sunglasses he left in the car. He knew that we would need them for an afternoon at the pools. A beach staff member chased down my preschooler who ventures too far by following beach buggy tracks in the sand. George will make it a game, a race back to mommy. The spa director helped me track down products to undo a really bad spray tan. (Yes, I did that before I arrived). And then she found a matching nail color to fix a recent pedicure I chipped at the pool. Sarah patiently waited while my son doggie-paddled the length of the pool to offer him a mango smoothie.
---
Join the Luxe Recess Facebook group where thousands of well-traveled parents advise one another.
---
I visit many hotels, and I never had such an easy time recalling so many staff members names than from my stay at Acqualina. I think the small staff-to-guest ratio makes it an extraordinary, personal experience, and I think the staff name tags that use a large font make a positive difference.
The Balcony Views
Some properties have views not worth their premium price. Acqualina's views are definitely worth it. Morning sunrises over the Atlantic bring the dawn of each vacation day with new promise of deeper relaxation.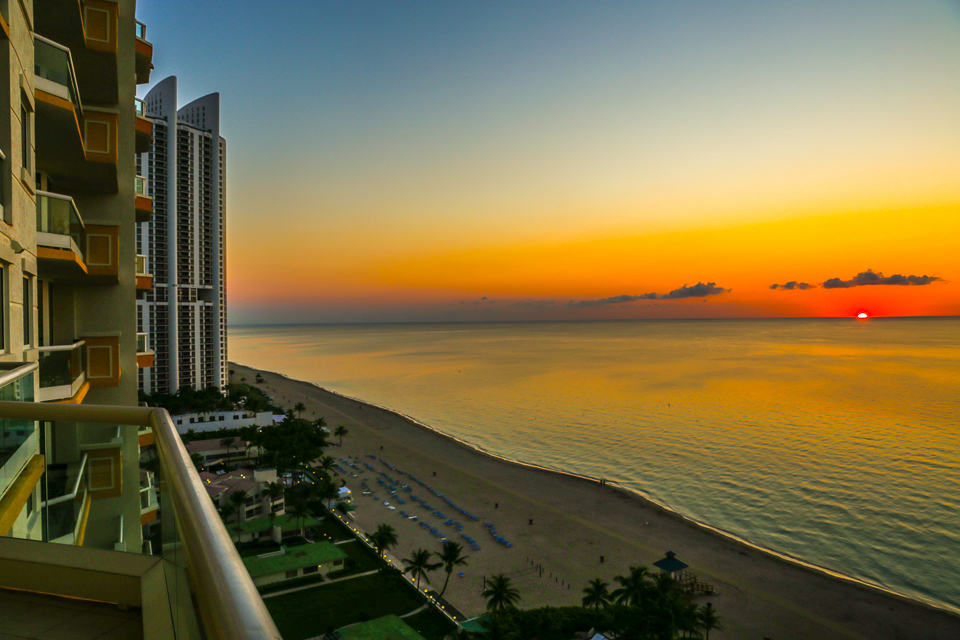 The Pool and Beach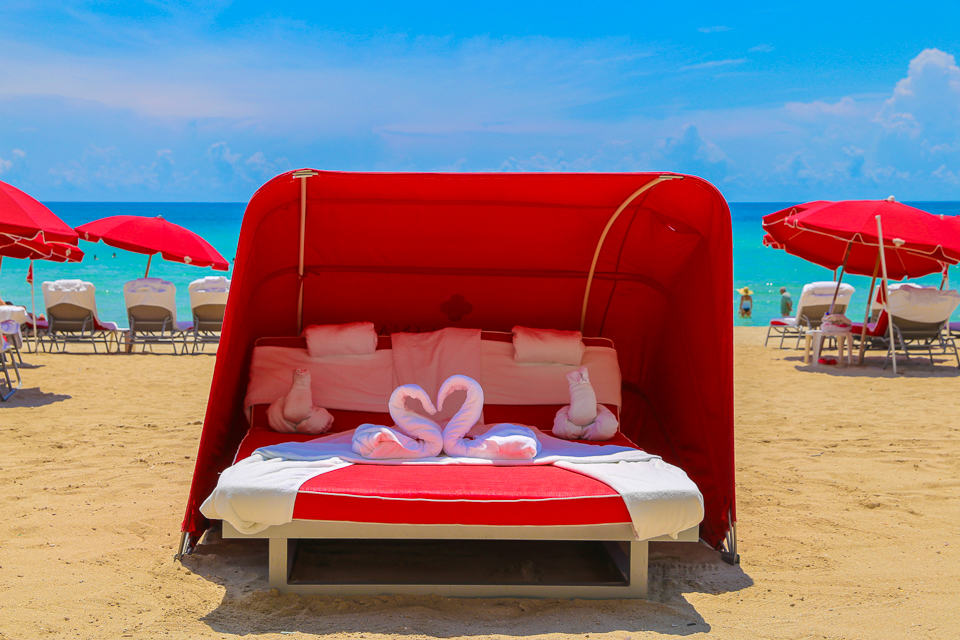 The most fabulous aspect of Acqualina's location is that it experiences bright sun only until early afternoon. After lunch, both the beach and the pool areas are covered in shade by the shadow of the Acqualina building. So sun worshipers need to be out in the morning, but the afternoon is makes very safe to enjoy hours in the pool and ocean without a fear of sunburn.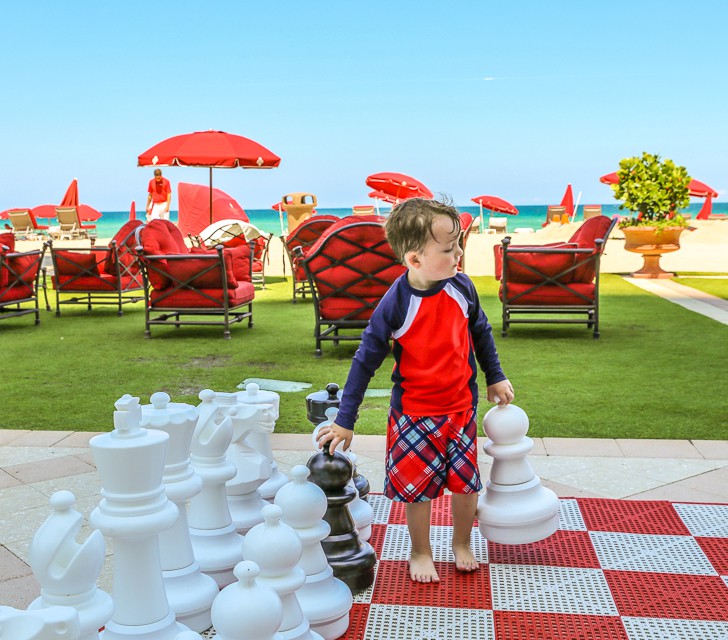 There are two pools with by cabanas for families. One is much larger than the other that has spraying fountains. It's definitely the pool you want to be at where you can enjoy signature Thai coconut water drinks served in the coconut shell from the Costa Grill.
There's an adult-only pool as well as one only for spa patrons for those who are looking for child-free moments.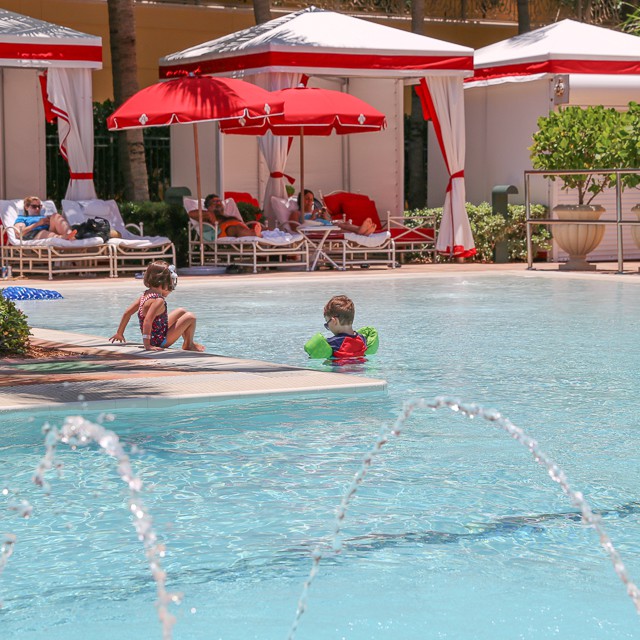 One of Acqualina strength is its ability to be both a very family-focused destination while retaining the elegance of an couple's destination. I loved that a romantic table for two was set up for dinner steps from the ocean but in between it and the turquoise waves was a massive area the staff had made for the ultimate sandcastle building area.
It's no surprise that a resort with such a high staff to low guest ratio can manage to customize the service that it offers for each guest.
Spectacular Rooms and Suites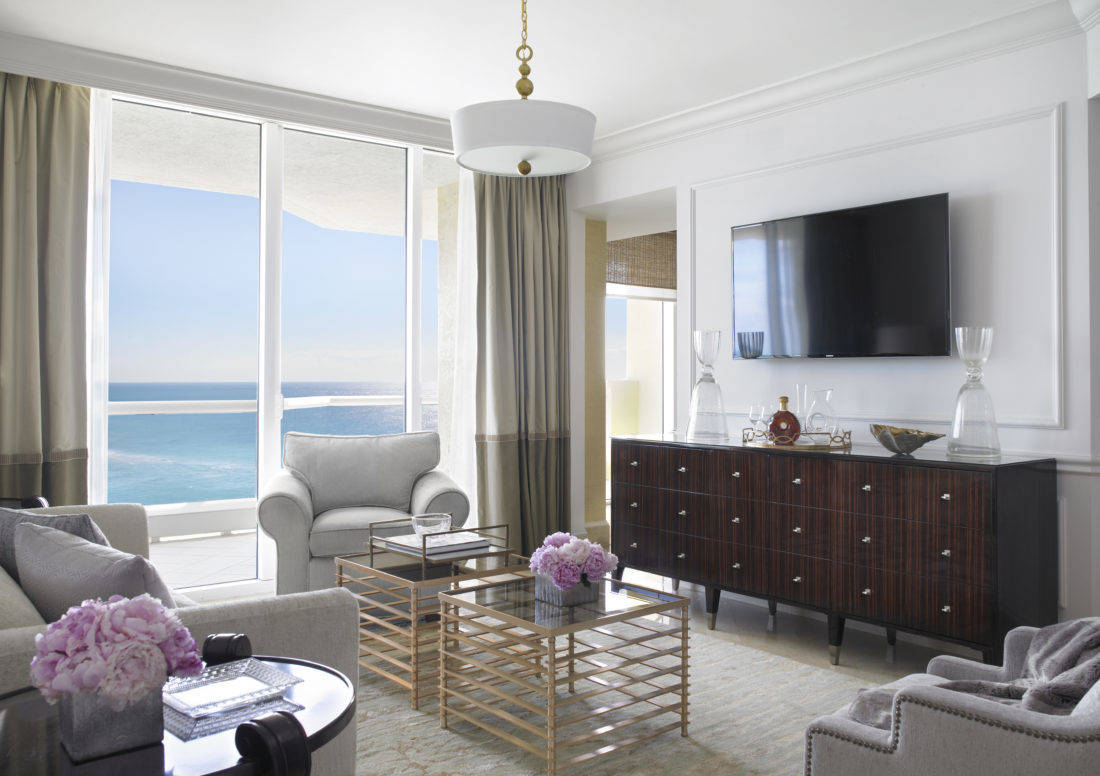 One of the reasons I had anticipated my stay at Acqualina was that I became enamored with their rooms long before I checked in. While the public spaces look entirely different — they have a very traditional, Old World European vision of glamour— the rooms and suites are modern, sleek, and magazine worthy. Think of the most tempting shopping on One Kings Lane.
---
Book your stay at Acqualina though Luxe Recess, and we can VIP your stay with the following amenities:
Upgrade on arrival, subject to availability
Daily Breakfast daily per person, for up to two guests per bedroom
$100 Spa Credit, per room, per stay to be used towards face and body treatments.
Early check-in/late check-out, subject to availability
Complimentary Wi-Fi
---
Many suites like ours contained full kitchens as well as a dining area and a study that contained a twin bed. They are a luxuriously spacious option for a family to enjoy. The kitchens were decked out with Wolf ranges, SubZero refrigerators, and a bountiful mini bar awaited us.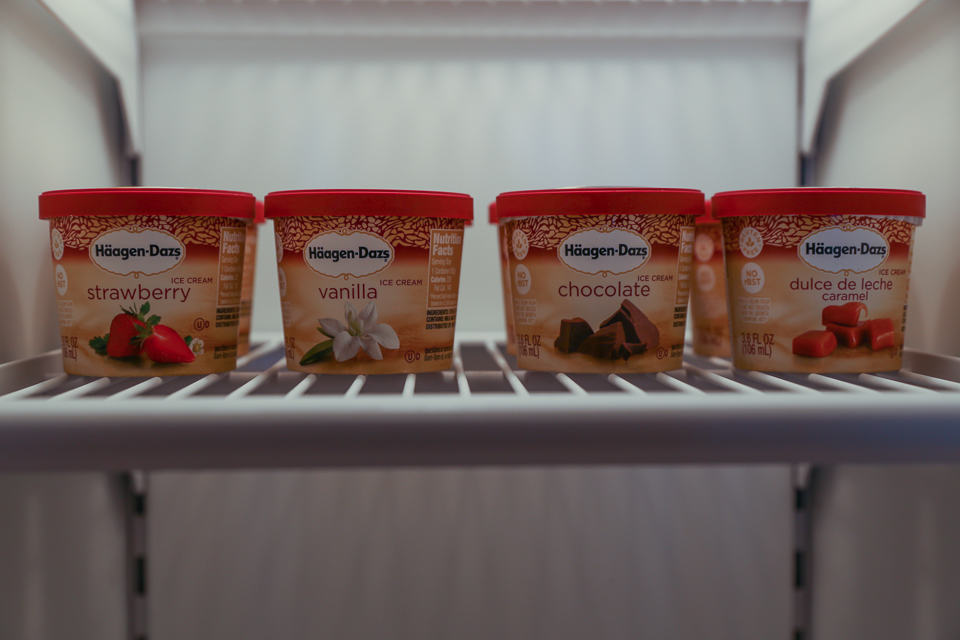 To my delight, the freezer contained the first ice cream mini bar I had ever seen with several single serving pints of Häagen-Dazs vanilla, chocolate, strawberry, and of course, dulce de leche flavors. I also loved that every red, white, rose, and sparkling wine came in what I would consider "personal" and "party" size.
In anticipation of my son's arrival the resort had adorned our bed with beach towel animals— an elephant and sea turtle —which I didn't think was done outside of cruise ships but was incredibly charming.

The adorable study with a twin bed made me think of my daughter still at home in school. Pangs of guilt set in as I enjoyed this paradise with only half the family. There was so much space for all of us.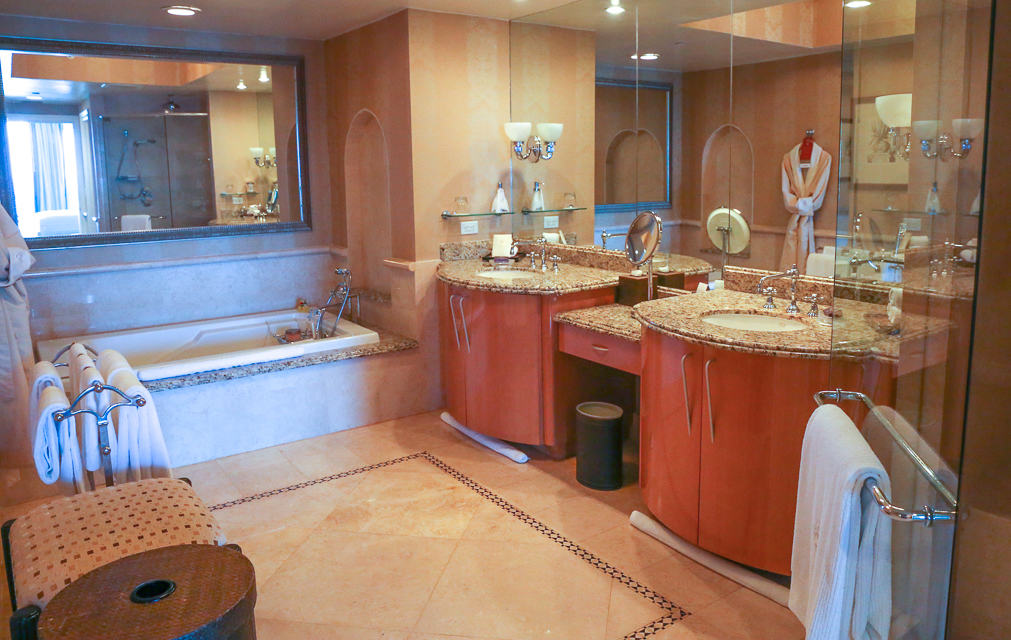 Acquamarine: the kids' club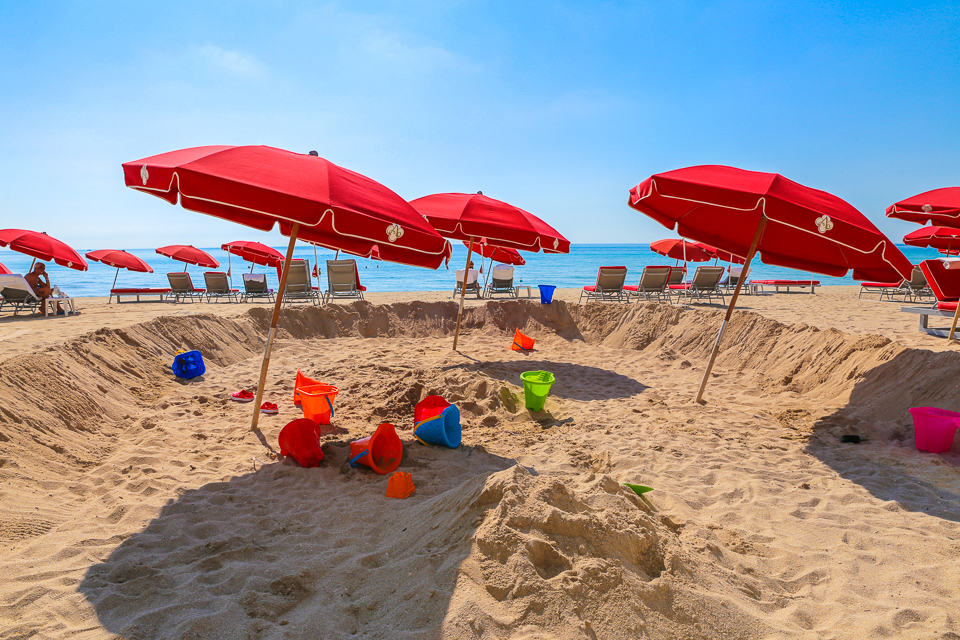 Acquamarine is the newly designed children's program at Acqualina a cheery, bright ocean-themed room near the pools. Many of the standard children's club features like iPads, desktops, and computer games are here. In addition are lots of crafts and educational lessons around sea life taught by those experienced in education. The ceiling is a unique soft material that can be pushed by hand to replicate the ripple of waves, giving the sense that the room is under the sea.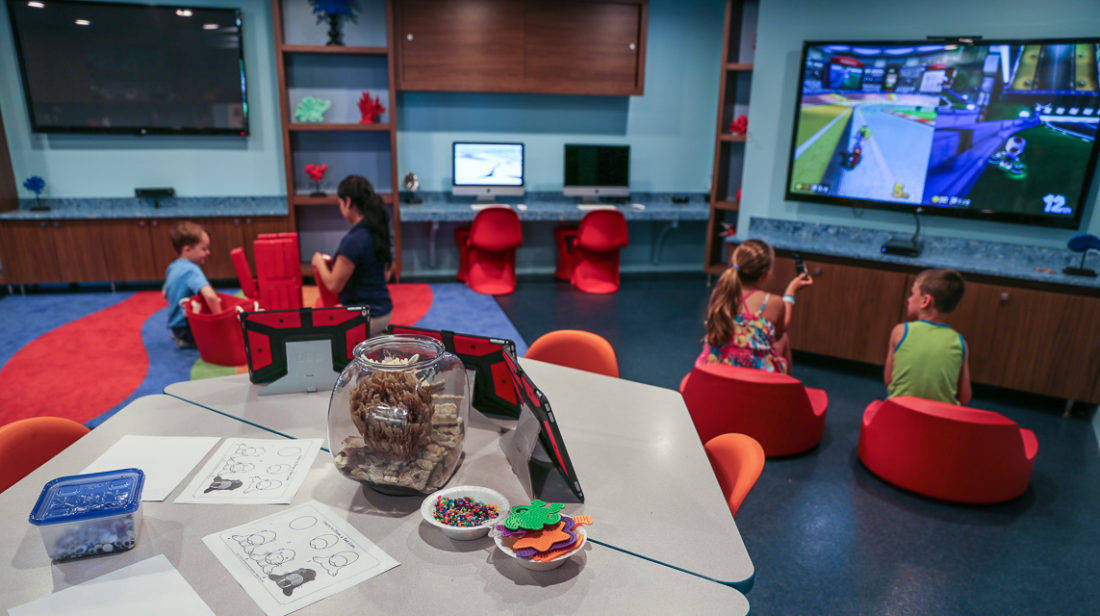 Another impressive feature of Acquamarine is the camera security app offered to parents. After registering your child, parents can download the app to their phone for access to cameras in the room. When not in the club enjoying crafts, they're at the pool, making sand castles, or playing lawn games. The staff carefully orchestrate a day of activities avoiding the hottest and sunniest times outside.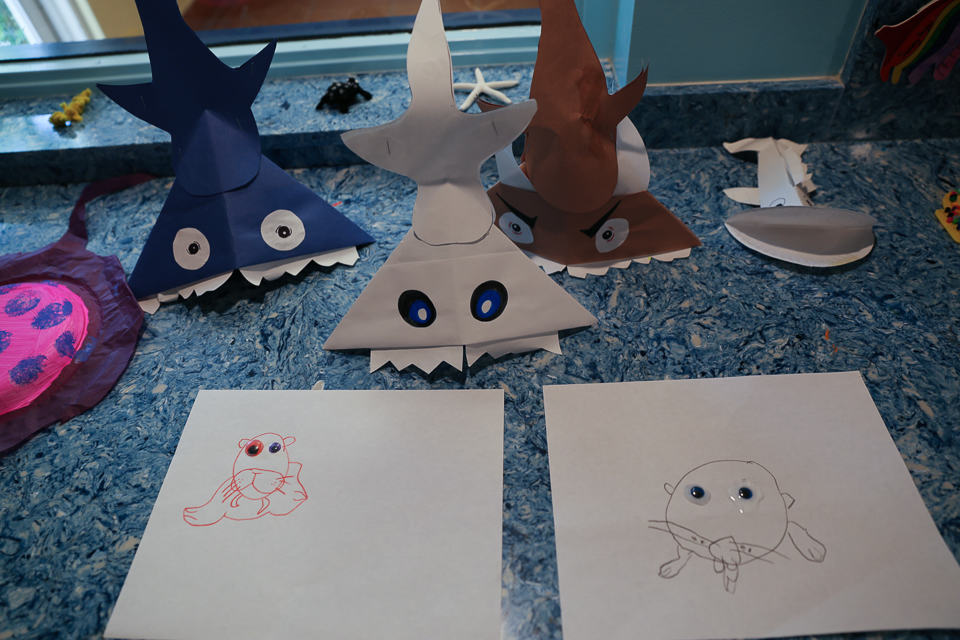 Dining with Kids at Acqualina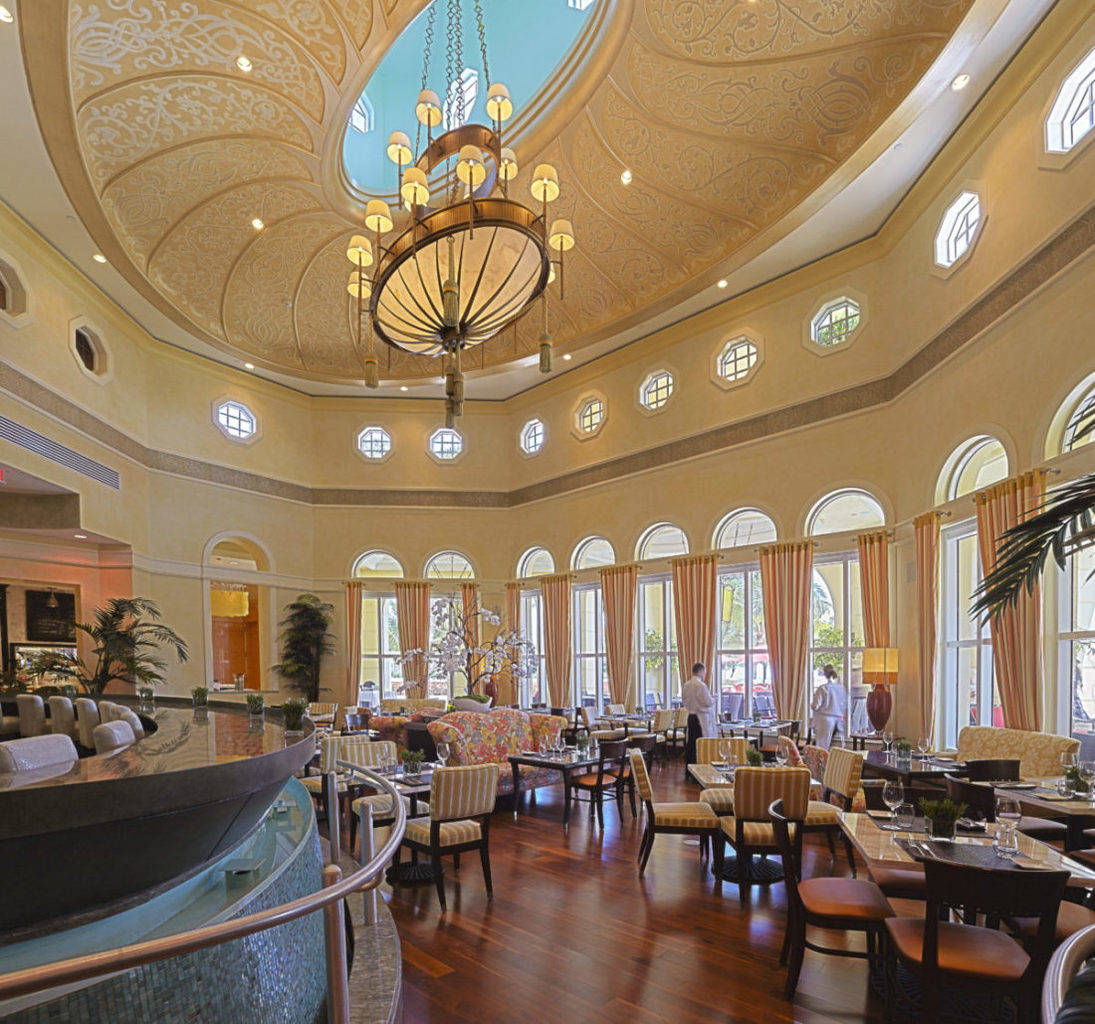 There are only three restaurants at Acqualina. Il Mulino, which is based on the signature Italian restaurant in New York, is the more upscale dining room. Decorated with wrought iron and tapestries it has an old world feel. AQ is the signature restaurant off the lobby that also serves both a breakfast buffet in addition to dinner. The Costa Grill serves lunch poolside or overlooking the beach.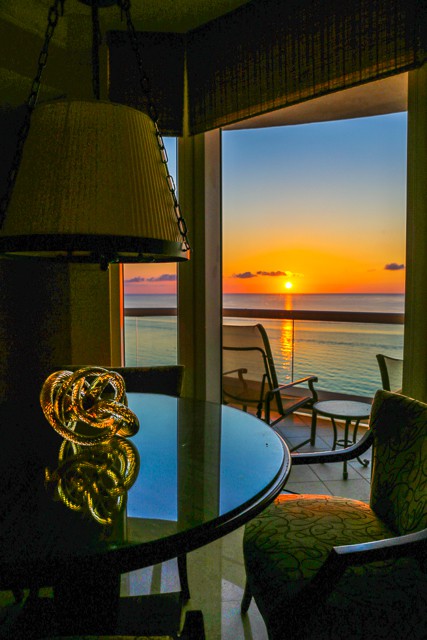 The buffet was excellent and dinner was quiet, as only families chose to eat in AQ while the adult-only parties enjoyed Il Mulino. One of the signature cocktails, called the Lady in Red, and a plastic kids' cup of water started off our mother-son dinner.
I asked for something custom for my son who had had his fill of chicken tenders on the trip. (Though I will say that the kitchen had served him chicken that was breaded in-house.) They accommodated him perfectly with a beef filet and broccoli while I enjoyed the AQ sushi menu. This allowed us to save room for a delicious chocolate cake we could have easily shared with the whole family.
Spa & Wellness
With its private pool open for those receiving treatments, the spa is designed to create a haven within the resort.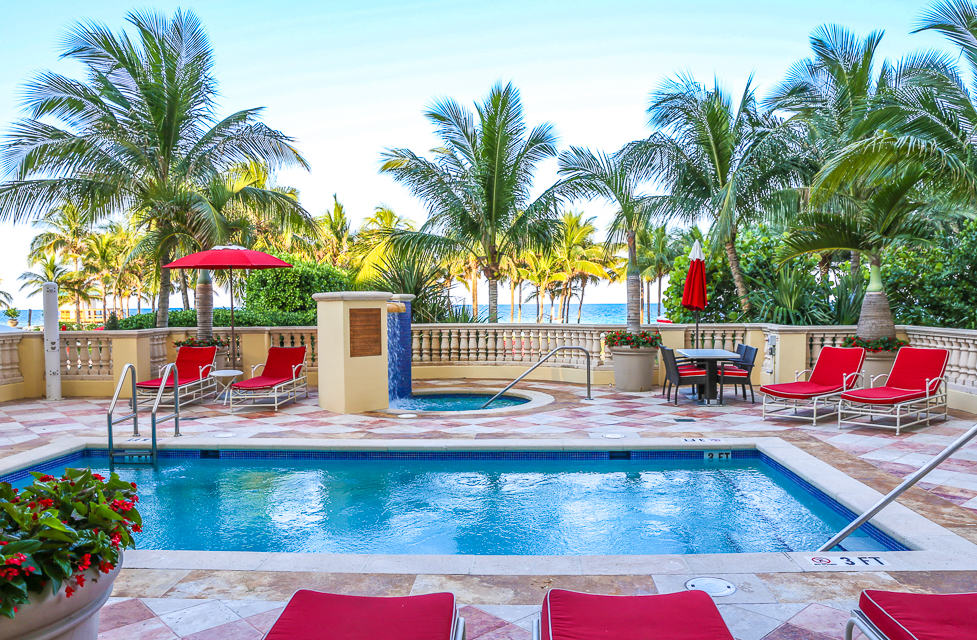 The inside coed relaxation lounge features a Himalayan salt brick wall to emit the healing properties of the salt crystals. The locker rooms downstairs offer extensive wet area options including both hot and cold hydrotherapies with ices and specialty showers.
The fitness studio is on the second floor of the hotel offers beautiful ocean views.
Even during high season the spa pool would be incredibly exclusive and serene, with all noises diluted from the rushing fountain pouring into the blue tile hot tub.
The spas predominant line is ESPA which is available at other Leading Hotels of the World properties like the Chatham Bars Inn Spa. Traditional Thai massage, one of my favorites, is offered, which would be the perfect treatment before enjoying another Acqualina Thai coconut shell drink by the pool.
Acqualina was a perfect luxury break for families with its spacious rooms, memorable service, a new kids' program, and its many ways to enjoy the water. I know my son felt like a rock star, and I definitely felt like a rock star's mom.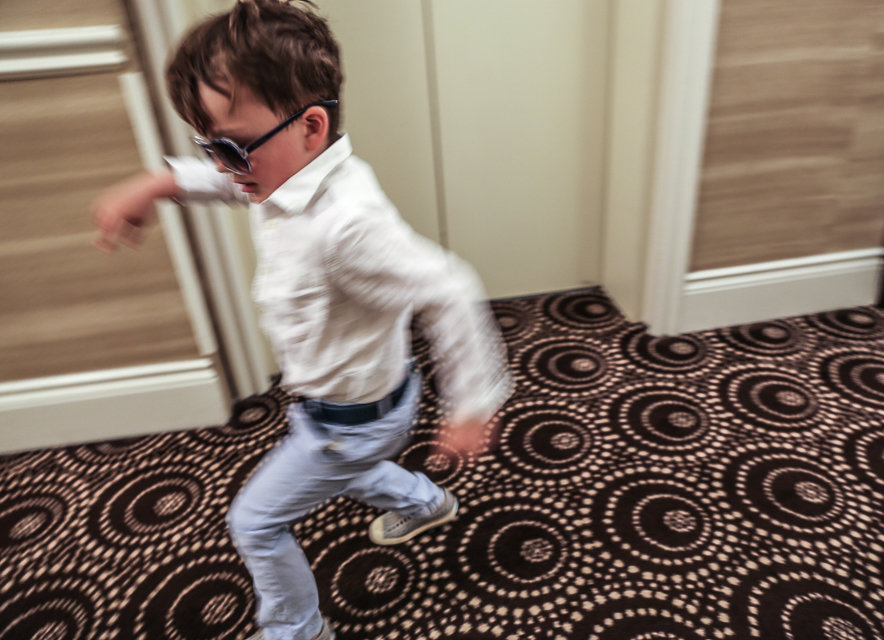 Although we were guests of Acqualina, these opinions are entirely my own.