So we couldn't believe it. We were off to the Four Seasons Las Vegas for our first child-free vacation together in five years.
It was an incredibly exciting opportunity to be different people a few days, more rested and stylish versions of ourselves. The last time we had been away alone was our babymoon before our second child was born. Our goal in our short visit together was to make no plans and have no schedule, a rare luxury for parents. We would just decide in the moment what we felt like doing.
My husband and I are incredibly fond of Vegas for all of the lesser-known reasons. Our party days are long behind us. We go for the food, design, and wellness options available in a city like no other.
Think about it. Where do you think all of those Cirque de Soleil performers and other dancers work out? The Pilates studios and other methods of exercise in Vegas are as hardcore as they come. Did you know Las Vegas boasts as more Five-star spas than New York and only one fewer than Los Angeles?
An Exclusive haven from Las Vegas Madness
Las Vegas is not much different than Disney World in many respects, over-stimulating and crowded but where the annoyance of children crying is replaced with a stench of smoke. Pools, lobbies, and casinos guarantee crowds.
We chose The Four Seasons because it has no casino, no smoke, and a tranquil pool. The property's separate entrance from that of Mandalay Bay was clever in design. It feels like a very exclusive club that protects its guests from the less savory aspects of the hotels on the Strip. Yet, there is a door marked "Mandalay Bay" for all of the experiences that the big Strip resorts offer.
The whole hotel received a renovation with new room décor, new restaurant design, and a new lobby from 2012 until 2014, so the hotel feels very different if you haven't visited since then. I didn't even recognize it.
Press: People watching, amazing coffee and cocktails
Press is the lounge that was remodeled in the new lobby in 2014. In the morning, the cold-brew machine that makes the meanest iced coffee in town dominates the bar, with some takeaway sandwiches for those on the way to the airport.
Press offers a real gem to start your day, an elaborate cold-brew coffee machine that makes the smoothest, most complex iced coffee you will ever have. I fell in love with this machine at Lickety Split, the café at the Four Seasons Orlando.
As the day progresses, an eclectic— yet typical for the Four Seasons— crowd emerges, groups of Silicon Valley casual, international colleagues making them look frumpy, and well maintained trophy girlfriends and wives and their gray-haired partners.
The lobby attracts a vibrant cocktail hour crowd. I saw a woman sitting on the lap of her companion, stroking his hair with her diamond-adorned hand, and  whispering into his ear. Maybe this was what I was supposed to be doing on our first kid-free break? Another time.
Spectacular suites with views
The Four Seasons guest rooms occupy the top floors of the Mandalay Bay hotel tower. Standard rooms are perfectly comfortable, but the Four Seasons, similar to some airline practices, will let you know if there are any suites to upgrade to prior to your check in.
Given the special occasion of our trip, we chose the Sunrise Sunset Suite because of its decadent sounding name. Its extended layout curves around much of a wing of the hotel, giving guests nearly 180-degree views from the main room and bedroom, a chance to capture both sunrise and sunset.
It had a magnificent walk-in closet and a four-poster bed. The main room was an open floor plan of study, living room, and dining room. A butler's pantry housed the hotel's private bar options, china, flatware, and glasses to set our enormous circular dining table.
The banquet and chairs could have easily seated six adults. Its globular chandelier of fused chrome fragments gave off a rose light that turned our suite into a very elegant nightclub-like setting after sunset as we watched the lights of the Strip intensify.
Unlike our family travels, we were able to read a few magazines on the coffee table and the suite looked at checkout exactly as we found it.
A Five-Star Spa and Salon
An adult-only vacation needs to involve some spa and pampering. The Four Seasons offers not only a five-star spa, but it recently completed the Nail Bar, a spa for hands and toes. The minimalist khaki and ivory room is perfectly suited for men and women, and is a great activity for couples to do.
I can count the time I have worn color on my fingernails on one hand. I came of age when young women owned every shade of Essie pale pink, when Chanel's Vamp was a game changer, years before the blues, greens, and grays came on the scene. But I could tell Adrianna, my nail technician, was a true pro having seen what she had just done to my feet, and her loyal following of locals and tourists knew to hand their fingers over to her.
I gave her the choice of my nail color, and I was so impressed that she carefully inspected my skin's undertones to find the most flattering color. She chose a pale purple I never would have even considered based on how it look in the bottle. It is without a doubt my favorite manicure ever. I've tried most of the Strip spas for hair and nails over the years, and I give two pale purple painted thumbs way up for the Nail Bar's quality and service.
Memorable Meals
The Four Seasons has two full service restaurants on site, Veranda and Charlie Palmer's Steak House as well as pool and patio service at Press, the lobby lounge. We had two days of delicious, and the only mediocre meal we had was the one we left the hotel to eat.
Guests have lunch at Veranda or by the pool. The salads are excellent, with the Tuscan chicken salad with grilled artichokes and pine nuts as a stand out.
Our first official vacation kicked off when my husband met me at the hotel at 2 p.m. He hadn't eaten yet, having just completed 48 hours of business meetings and a convention. We decided to find a cozy spot out on the patio and order a bite from Press.
With beautiful views of the pool surrounded by cozy cushions, my husband settled into a shady corner and began napping within seconds after ordering a burger. The server arrived with his late lunch, and I had to elbow him. "This is Vegas, honey. She's going to think you've been drinking." Sorry. We are just exhausted parents.
Veranda at the Four Seasons Las Vegas
Veranda offered one of our most memorable meals in Las Vegas, a city where the price tag of a meal doesn't always equate with its quality and definitely not its value. Veranda is an Italian restaurant led by chef Antonio Minichiello, a Neapolitan who arrived most recently from the Michelin-starred Four Seasons Prague after cooking at many hotels in his native Italy.
I would place the quality his food in the same category as our best meals in Italy, while offering it in a much more relaxed environment. My first course of goat cheese, ricotta, prosciutto, pear, and endive was a masterpiece though it led me to an incredibly embarrassing conversation.
I had taken a bite of a baby salad green and then my second bite of baby kale confused me. The texture, of course, was rougher, and I began imagining elaborate treatments of the greens that were flash fried in a way that one might prepare sage leaves.
Our server walked by and in my delirium of wonderful flavors I asked her how the greens were prepared. She looked at me quizzically and said, "I think they're simply dressed it in olive oil."
I realized the moment she said it that it was baby kale to account for the thicker texture, but in classic Four Seasons flawless service, instead of saying "You moron, it's a salad in olive oil" she most sincerely said— to my complete horror— "Let me check with the chef about its preparation."
I said, "Oh please, no, that's not necessary," knowing that I was about to look like a complete fool— a very happily served fool— but I probably wouldn't live this down with my husband. I enjoyed thinking I was the true foodie in our marriage. Until now.
My husband is gluten-free, so we don't prepare a lot of pasta at home so it's always exciting for me to order occasionally. The house special featured on the menu, La Pasta Cotta Nel Vaso captured my attention. A leaf-shaped artichoke pasta prepared inside a mason jar with a delectable broth-like Caciucco sauce served with the most succulent shellfish in generous portions.
Dessert was a coated chocolate gelato tartuffo filled with a rich chocolate sauce. The food was outstanding, the service was excellent, and the patio setting during a break from the May Las Vegas heat was delightful. With the fountain sounds of the Four Seasons pool behind us, I recalled one of our other favorite meals in Las Vegas.
We enjoyed Daniel Boulud's DB Brasserie at the Wynn overlooking a little lake before it closed. A frog would appear at the top of a small waterfall while lip-synching to Louis Armstrong's "What a Wonderful World." The silliness and novelty of the setting made that meal so memorable; though I have no idea what we ate. Veranda needs no gimmicks. It's the real thing, and I'll remember that artichoke pasta cooked in a mason jar forever.
Pools with an adult vibe
Vegas pool vibes vary from X-rated Bacchanals to the sophisticated and spa-like. Guests of the Four Seasons can choose all of the above. Its own pool is certainly serene and mellow, but the Four Seasons pool is built privately within the much larger Mandalay Bay pool complex that includes a lazy river, a wave pool, and a European style private pool club. That's Vegas code for bikini top optional.
The Four Seasons Las Vegas pool is very grown up, filled more with upscale leisure and business travelers trying to relax. A few well-behaved children splashed around, too. The pool attendants serve food and drinks and provide the attentive service you would expect.
Finding Zen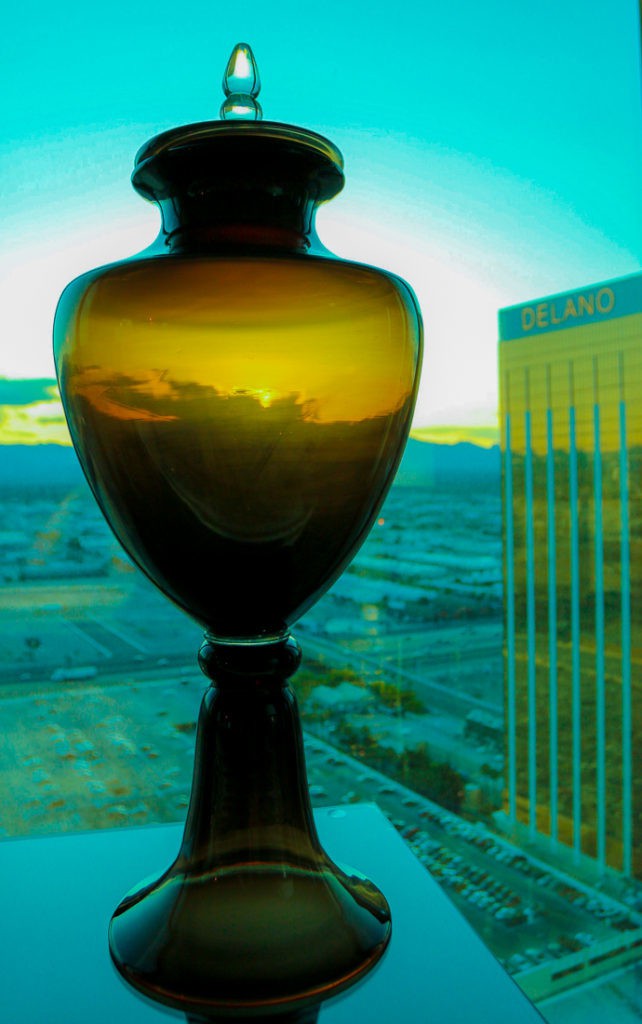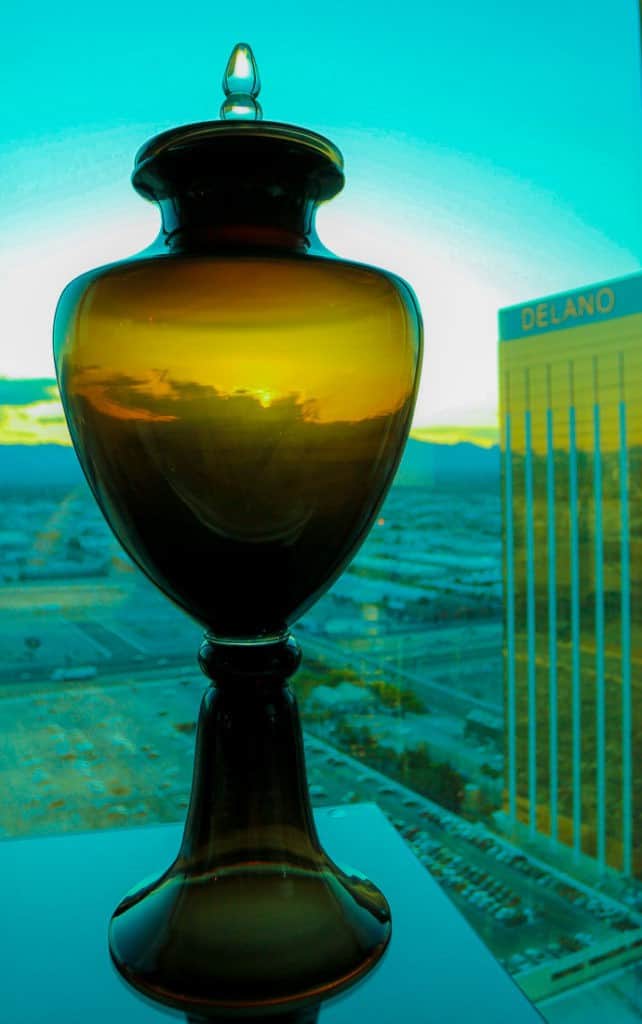 We snuggled in a circular pool lounger for at least four hours reaching a place of Zen that we certainly hadn't achieved together in years.
While we were sitting in our circular lounger by the pool feeling more relaxed and enjoying our cherished time alone, my husband said, "I really like the Four Seasons."
Of course, it's such an obvious statement. Who doesn't like the Four Seasons? Considering I drag him along every month (willfully) to so many luxury hotels, I asked him if he could articulate what it was specifically that made him say it.
"It meet its guests exactly where they're at."
I knew just what he meant. There are other luxury brands that strive for a more formal atmosphere and take pride in a traditional approach to hospitality. Although we, as a family, love dressing up and celebrating at those historic properties, it's more festive than relaxing.
I think that the Four Seasons formula and style articulate our definition of an authentic break. While other luxury properties might welcome guests to participate in their resort culture, the Four Seasons Las Vegas, like a chameleon, changes to match what each guest wants: romance, celebration, business, or family fun.
My husband and I now use the term "Four Seasons Vegas" as a code for that state of mind we arrived at mentally together: present, intimate, mellow, romantic—adjectives that take serious efforts to reach at home.
We saw plenty of children throughout our stay, and it is, without a doubt, one of the best choices for families in Las Vegas. We'll be back, with kids in tow, ready to see a different, playful side to the hotel, that is equally magical.
Although we were guests of the Four Seasons Las Vegas for many of these experiences, these opinions are entirely my own.