Are The Best Disney Resort Hotels Right for Your Vacation?
To stay at the Disney World resorts or to stay off-site is one of the first questions to consider when planning your Disney vacation. Everyone has an opinion. I stay at several different resorts each time I visit Disney World with the purpose of knowing how each property rates within the Orlando market. As of this year, I will have stayed at over 30! Finding the best Disney hotels for you is certainly an enjoyable research project.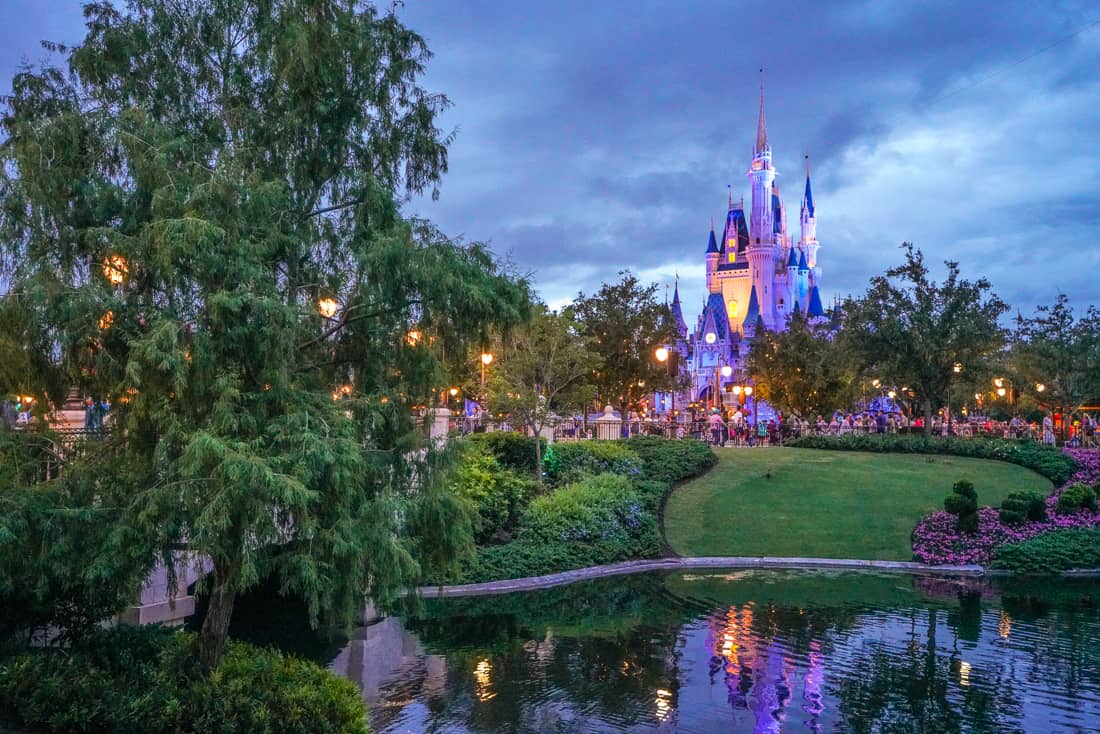 Typically, the closer the Disney World resort hotels are to the parks, the higher the price tag. I find it a strange contradiction that Disney aims to offer a Walt-inspired small town, Main Street-style service while charging Fifth Avenue prices. The deluxe Disney resorts often cost more per night than a Four Seasons. It sets the bar dangerously high.
When paying upwards of $500 to $700 per night, guests may expect a Disney resort to deliver the same level of amenities that luxury hotels have offered them on past vacations.
Disney World resorts are improving all the time. And that's a good thing, because there are several areas where they still don't deliver for the steep price the Disney deluxe resorts charge.
There are some sacrifices when staying on property that I want Luxe Recess readers to know before choosing their accommodations.
Where Disney World Resorts need some help
Checking In & Bell Service
Hotels on Disney property are typically at full occupancy, so I appreciate cast members manage a full house most of the time. But considering that Disney uses some of the best technology and logistical tools to ensure exceptional crowd flow in their parks,  I don't know why their rooms can't get ready by check in. I'd say our rooms are ready at the correct time 40% of the time.
As a rule, do not have bell service take your luggage to storage either. I have had to go into the luggage storage room a few times to collect my bags after waiting more than an hour for them. And this wait is in addition to the wait for our rooms.
If you plan for these likely events, they won't hold you back your first day of fun. I keep a bag separate of swimsuits, coverups, and flip flops so that we have what we need to go swim, as well as a park backpack ready to go if we plan to visit the parks for a few hours on the first day.
Another option on check-in day is to book a mid-afternoon tea at the Grand Floridian or a family sundae party at Beaches 'N Cream. If all goes right, you will receive text from the Disney app letting you know your room is ready during the meal.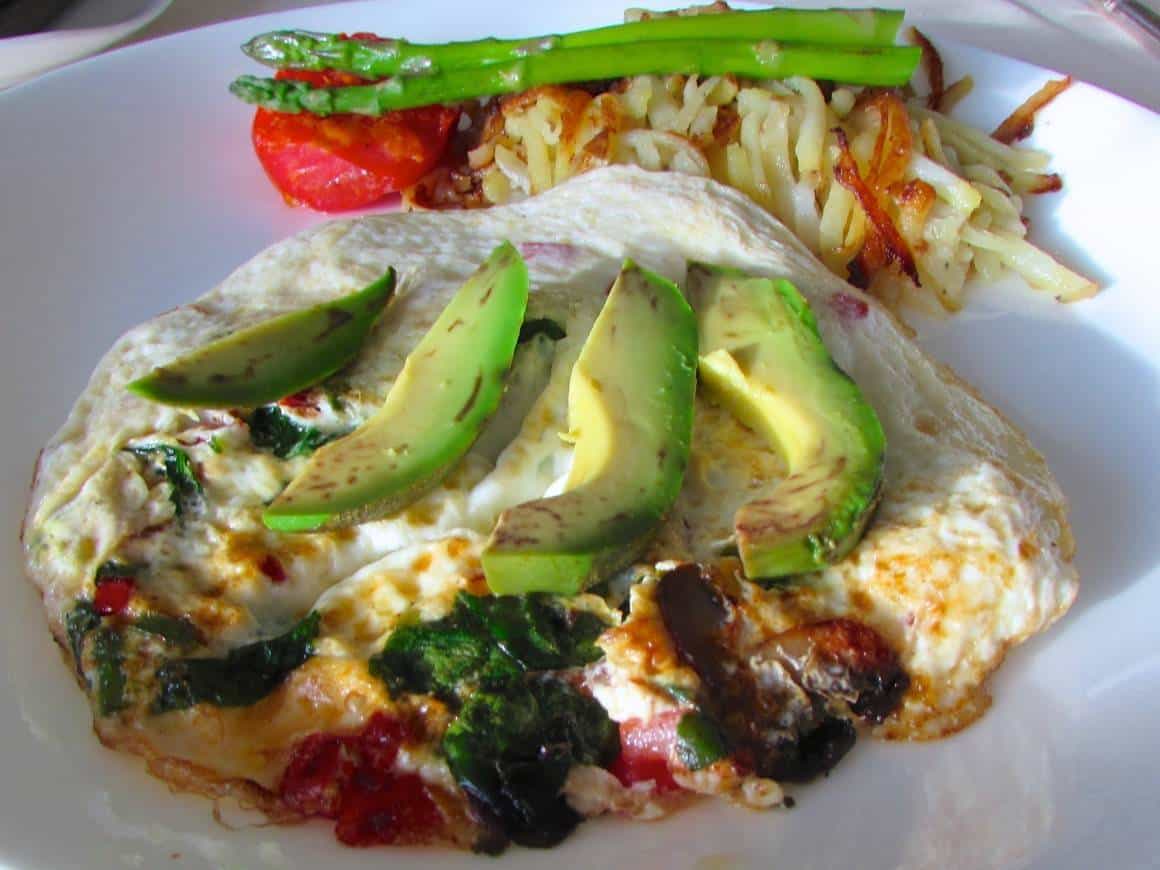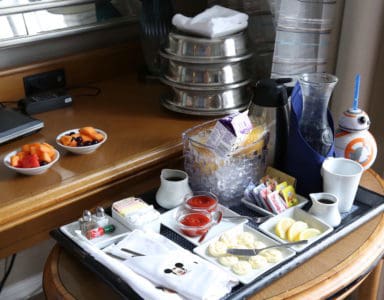 Room Service
For travelers who love filling out their breakfast order on the card left at turndown service, they will have to go without while staying a Disney resort.
When I tried room service for breakfast on a recent visit at a Disney deluxe resort, called "private dining" in Disney speak, I was shocked that the cast member chirped, "That will be 60 minutes."
Most hotels live by the 30-minute rule, so an hour for breakfast with hungry children was irksome to me. The room service tray arrived with napkins covered in Mickey Mouse stickers. That will either thrill you or annoy you. Your reaction tells you where you belong. No judgement.
Try placing the order the night before by phone to see if you can get your breakfast delivered at an exact time.
As a family, we tend to love room service on our travels, so I know this won't be an issue for everyone.
Disney's in-room dining fare resembles their quick service restaurants far more than it does their upscale signature restaurants, too. Room service lovers might be happier at Four Seasons or Waldorf Astoria Orlando for prompt delivery of a more varied menu.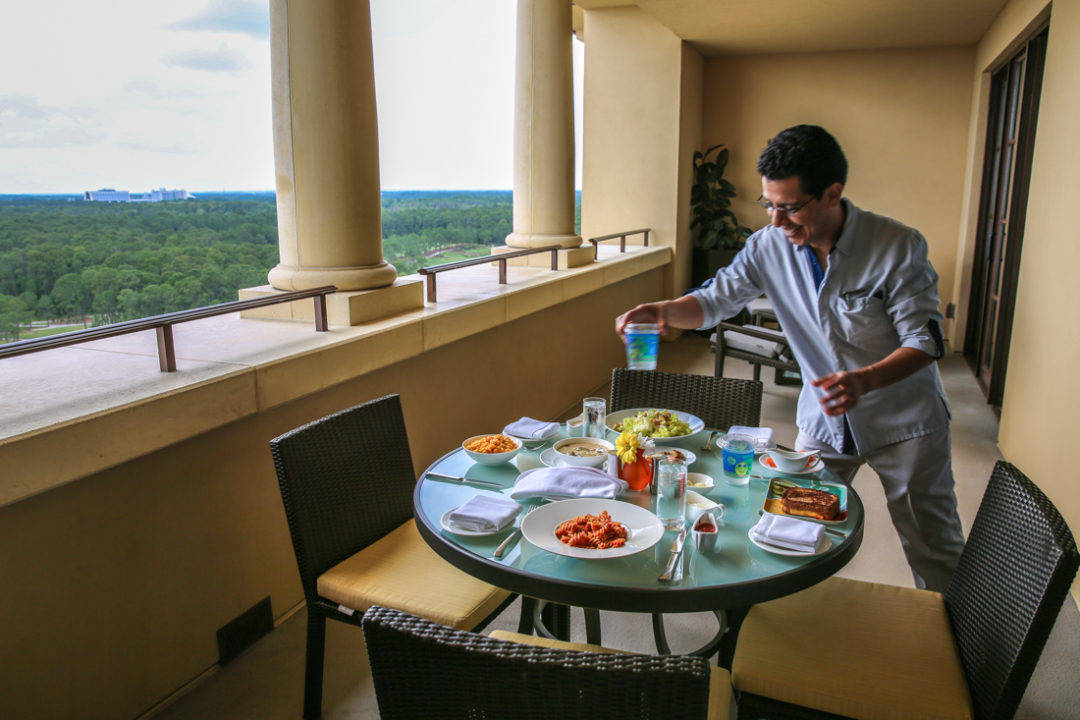 The Rooms: Are deluxe Disney resorts rooms worth it?
Deluxe Disney World resorts are not always worth their premium price compared to the luxury hotels in the area. They are very expensive; the Mouse gets a very big commission on a hotel room. Most deluxe Disney resort rooms still feel like a chain business hotel room with a few not-so-hidden Mickeys in the décor. They are 4-star hotels at 5-star prices.
The offsite luxury resorts like the Four Seasons and Waldorf Astoria are only just outside the Mickey bubble.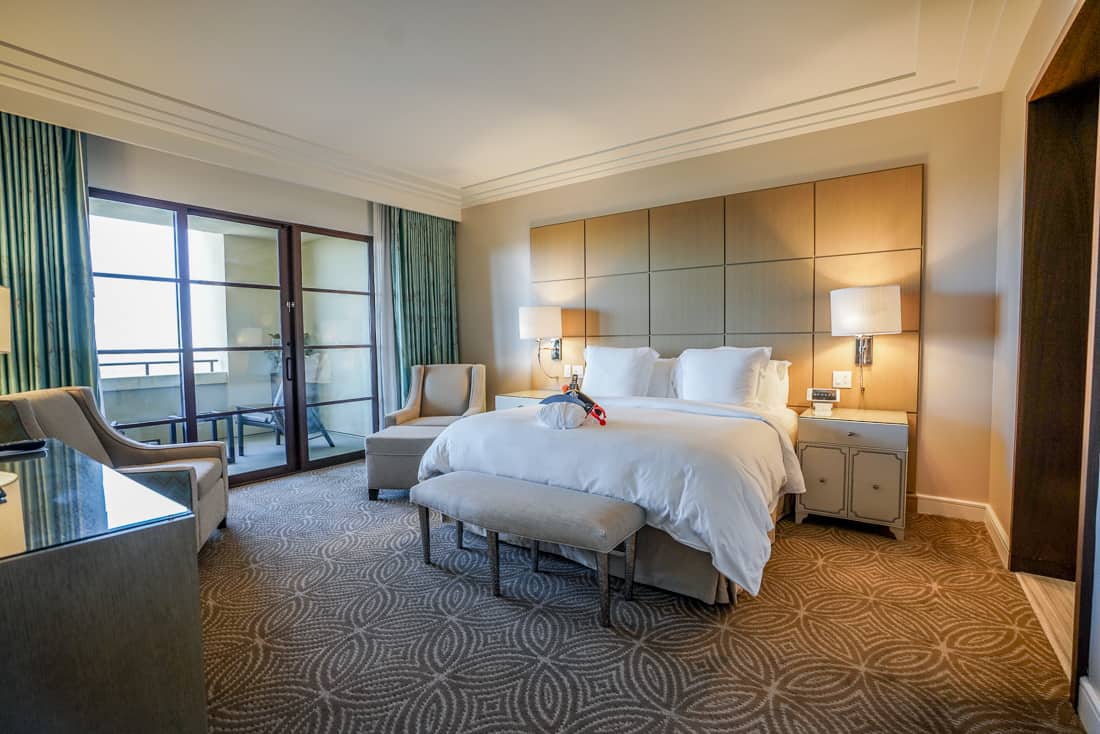 This summer, we stayed in a Club Level park view room at the Grand Floridian in the main building. It's definitely a premier choice at Disney's most signature resort.
Though I really am a fan of the hotel, the rooms are just drab. Its benefit was purely its location, as we could watch Magic Kingdom fireworks from our balcony overlooking the resort marina. In contrast, the villas at the Grand Floridian are stunning.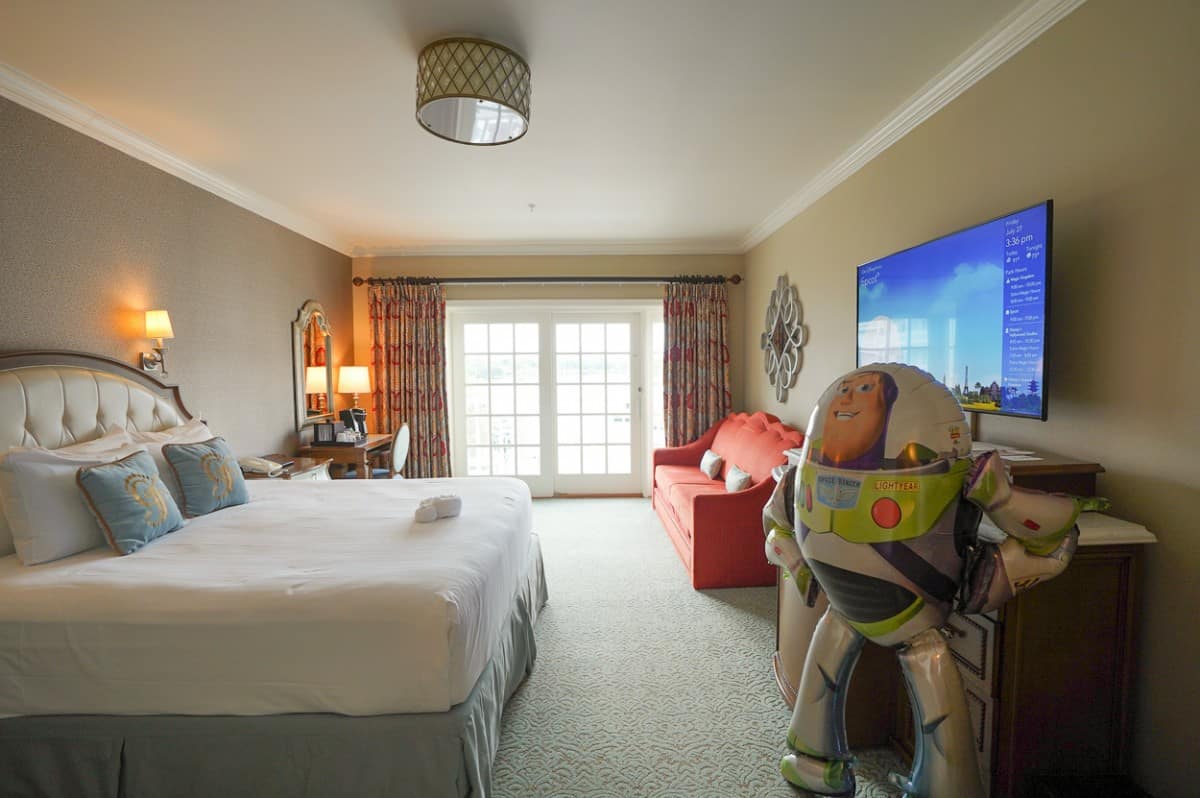 In order to find a really nice hotel room on Disney property, the secret is to book a Disney Vacation Club villa, particularly the newer ones like Copper Creek at the Wilderness Lodge.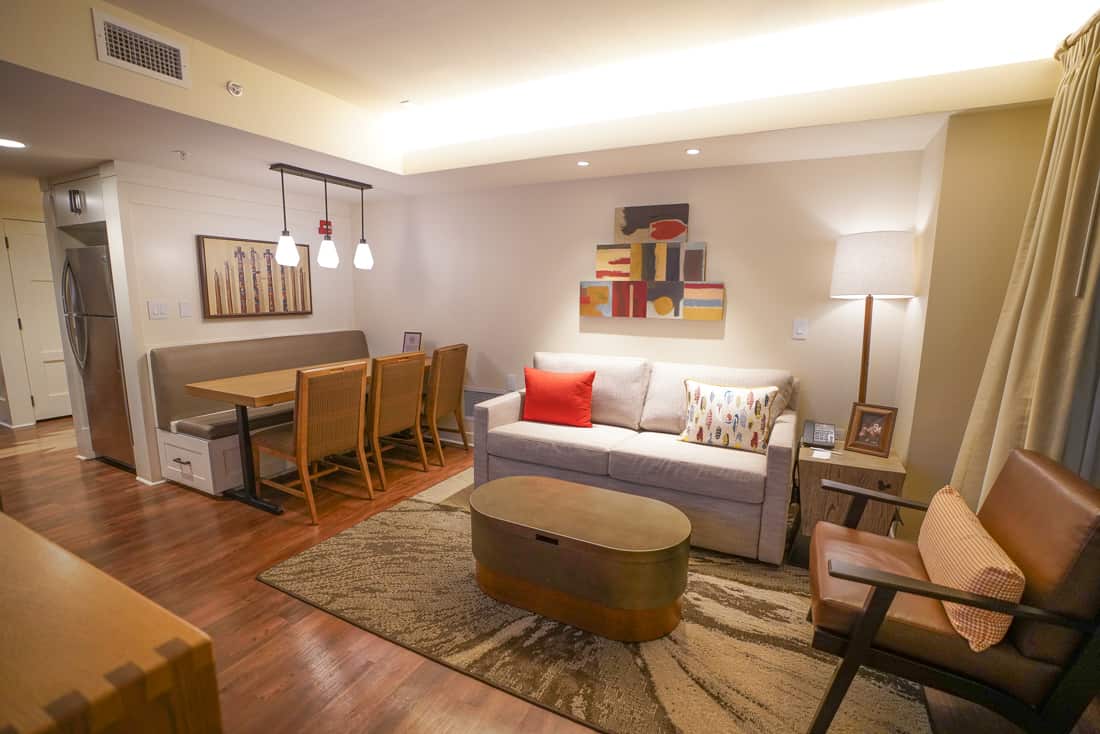 All of the deluxe Disney resorts have a section of Disney Vacation club villas to rent. The newest are the Grand Floridian's and Wilderness Lodge's. Of particular note are the premium villas like the Polynesian's over-the-water-bungalows, and my favorite, the Copper Creek Cabins.
Look out for the new DVC Riviera Resort opening in 2019 that will be themed around Walt Disney's travels throughout Europe. Given it will be connected to Disney's brand new Skyliner, it will be a hot reservation. I've been following the construction of this new resort and will have a review from our stay right after the opening.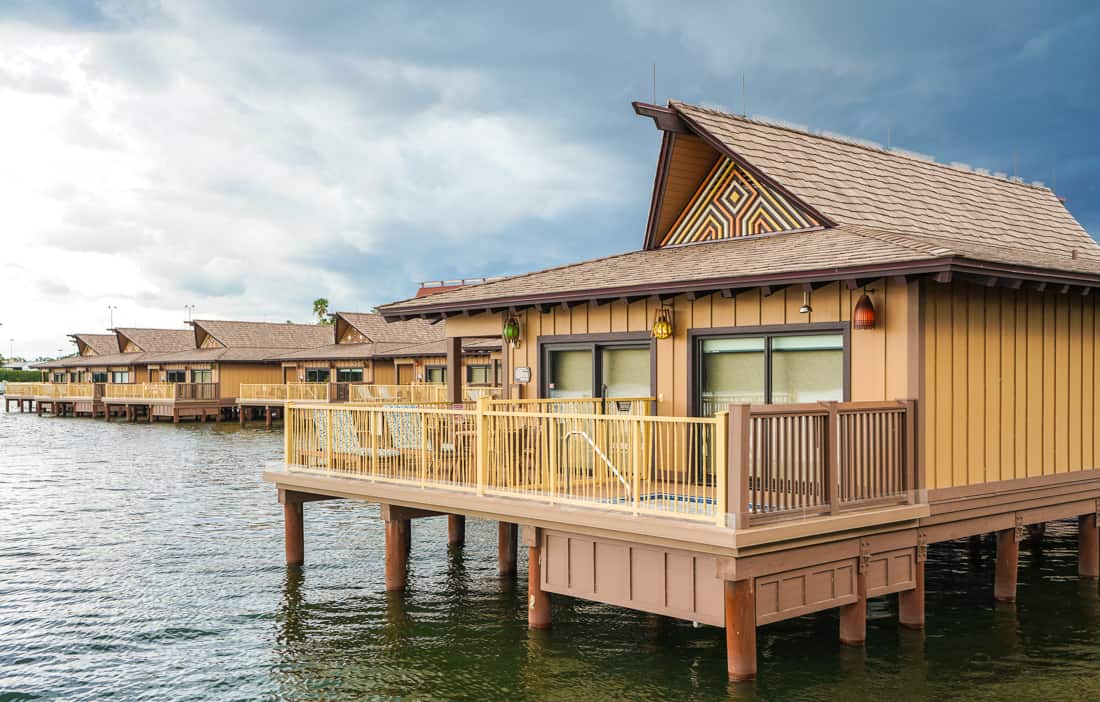 Benefits of Staying On Property
A lot of marketing and money has gone into making everyone think that staying on property is more convenient. I thought that made sense, too, until I stayed a few times at Disney resorts. The onsite benefits are pushed everywhere, and some are legit. Some aren't as much.
---
---
The benefits of Disney World Resorts
The biggest perks to staying on site is to take full advantage of their very fancy technology like online check-in, Magic Bands, and an early Fast Pass window before the public (the ride reservation system).
NOTE: Disney World boasts one of the most technologically advanced guest experiences while offering, ironically, some of the least reliable WiFi service.
Guests at Disney World resorts may check in at home and even choose their preferred room. I found this feature pretty cool, but unless you have been to the resort before, it is hard to know what to choose. Guests may also elect to receive a text notification that their room is ready, which can even include the room number.
This worked for us at the first resort we tried the service, and we dragged our bags straight to our room. We left the property without ever once interacting with the front desk. Some people may like this efficiency.
Magic Bands
Disney World mails Magic Bands in advance to resort guests in a beautifully designed package with the same Incredibles theme that the resort confirmation uses.  It is a gleeful box to open. Not quite like a Tiffany's robin egg blue box, but close.
Both the bands and their inscription of each family member's name are included with the cost of the stay. They can be customized by color and are inscribed underneath the Mickey. They are used as a park ticket, charge account, and room key.
They are incredibly convenient. I'm a huge fan. Even when my son lost his on our last trip, we merely had to go to the guest services window at the park entrance to pick up a replacement.
Guests at non-Disney resorts can purchase Magic Bands from the Disney store web site or once on site and load their park ticket and Fast Pass information on them, but they won't work as charge cards or room keys.
Standard magic bands that are included free for Disney guests run about $12, while the character-themed designs cost about $20.
The Four Seasons has a Disney relations stand opposite their concierge service, and I have found these cast members to be some of the bet I have ever consulted with questions, even before checking in. They can load your Magic Bands for you after check in.
The Hilton Bonnet Creek (connected to the Waldorf) and the Swan & Dolphin have on site Disney stores for its guests to link purchased Magic Bands with their tickets, too. (Though this can be done online in your My Disney Experience account at home).
Fast Pass Windows
Guests of the Walt Disney World resorts (and the Walt Disney World Swan and Dolphin resorts, the Four Seasons, and the Waldorf Astoria*) can choose their Fast Passes sixty days before while other off-site guests may do so thirty days before arrival.
This matters in terms of reserving the most coveted Fast Pass options like Toy Story Land, Seven Dwarfs Mine Train, the Frozen Ever After ride at Epcot, or the Pandora Avatar experience, but most options are still available at thirty days.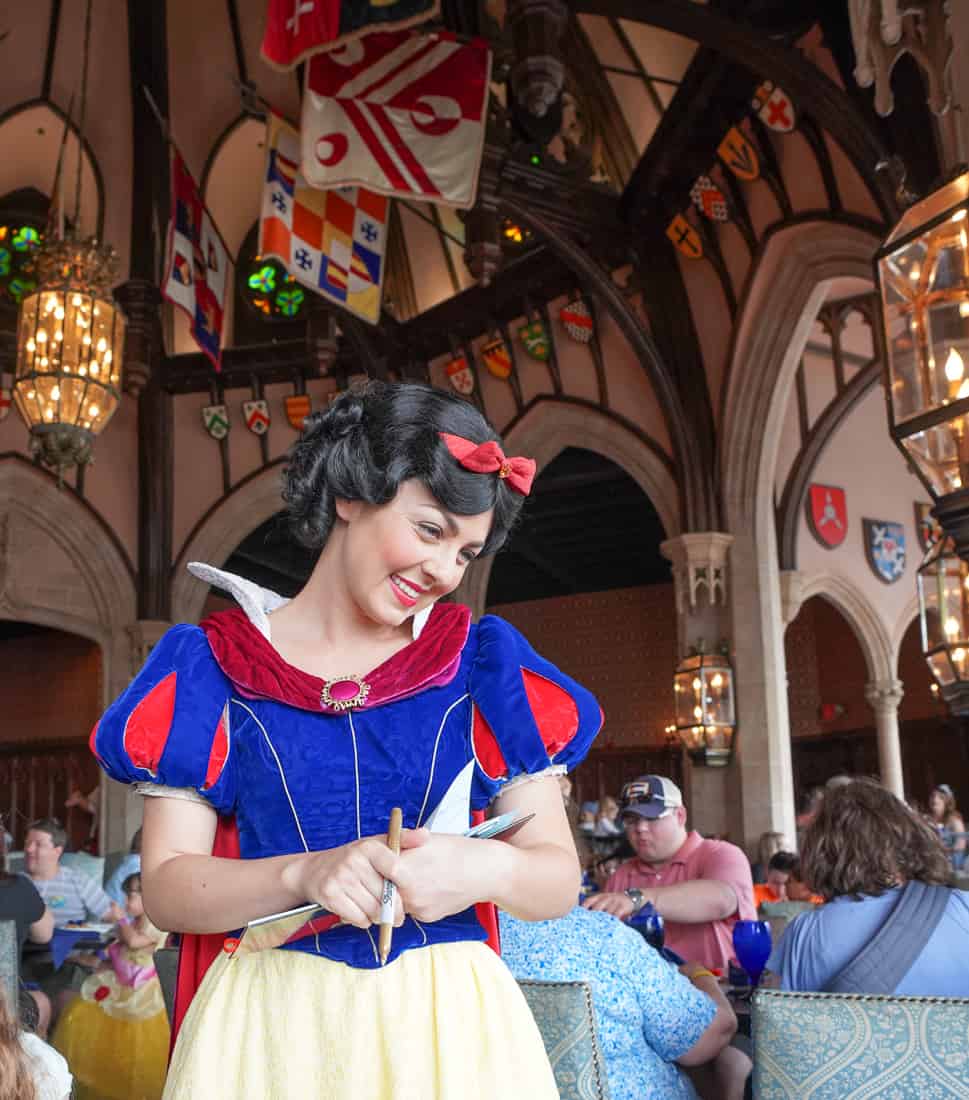 Plans change, so if you check the My Disney Experience website regularly, especially the week of your trip, you'll find that cancelations open up.
*Swan and Dolphin guests will not receive magic bands by mail and must purchase them separately and link them to their park tickets in their My Disney Experience accounts.
The Disney Magic
I think Disney can lose sight of the fact that not everyone taking their children to Disney World places value on the total immersion of Disney. Clearly if that is appealing to you, then the choice is quite obvious.
When someone starts referring to a hotel's theming, I know they are best suited to a Disney World resort. I still help advise families who need a break from Disney after their park experience.
Park Transportation
Buses to the parks really don't differ. Disney World resort buses run "continuously" but that doesn't mean you can't wait a good thirty minutes or more for your bus when the schedules go awry.
To Disney's credit, after waiting more than 30 minutes for a bus at the Grand Floridian, a staff member came out to do hat tricks to entertain us until a bus arrived.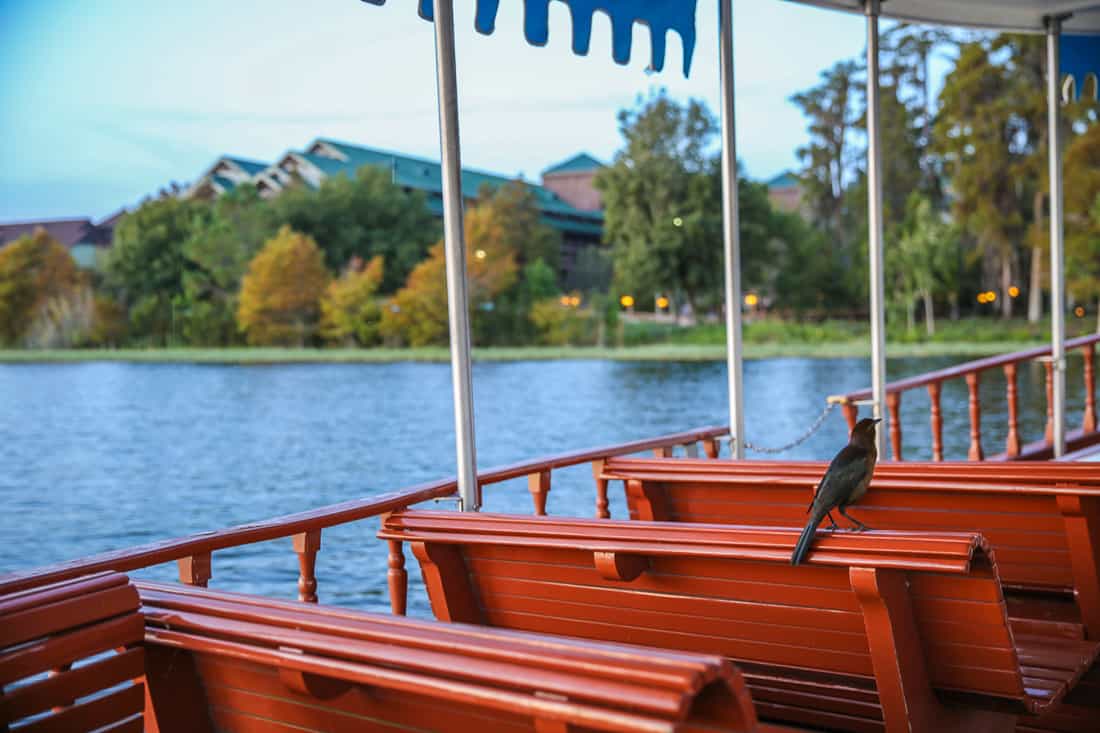 If you are using the Four Seasons or Waldorf Astoria buses, though, the departure times are set and easy to coordinate. The Waldorf Astoria even has a fantastic website with departure times to each park.
We have also stayed at a monorail resort for its convenience only to find it not working for the night. This isn't common, but it does happen.
Even if you stay onsite to be closer to the parks, those resorts are typically only close to one park, and the other parks will still require a bus or an Uber to get there.
Regulars to the Walt Disney Resort like the Disney resorts that offer pedestrian access to a park. The Contemporary beats the other Magic Kingdom hotels because guests can walk to the park's entrance.
All of the Epcot resorts like the Yacht and Beach Clubs, the Swan and Dolphin, and the Boardwalk Inn offer a walking distance to Epcot. These resorts are a logical choice if the Epcot Food and Wine Festival is the purpose of the trip. There is a path to Hollywood Studios, too, but it is still a 15 minute walk.
But honestly, Uber and Lyft are so easy to use, I am not sure why people suffer with long and unpredictable bus wait times unless they face issues with needing more than two car seats or easier transfers for wheelchairs and scooters. Disney has caught on, and launched their own program, Minnie Vans, that guests can request through the Lyft app.
In the future there will be a new method of transportation: the Disney Skyliner, a gondola system that connects a the newest Disney Riviera Resort (a new DVC property), the Art of Animation, and Pop Century with Epcot and Hollywood Studios.
Early Magic Hours aren't all that magic
Disney World resort hotels offer their guests Extra Magic Hours. Guests have access to early entry or extended hours of a specific park each day. This seems like a perk, but it actually isn't always. When you choose the park that has the morning hours, you are choosing the park most popular that day for every Disney World resort guest.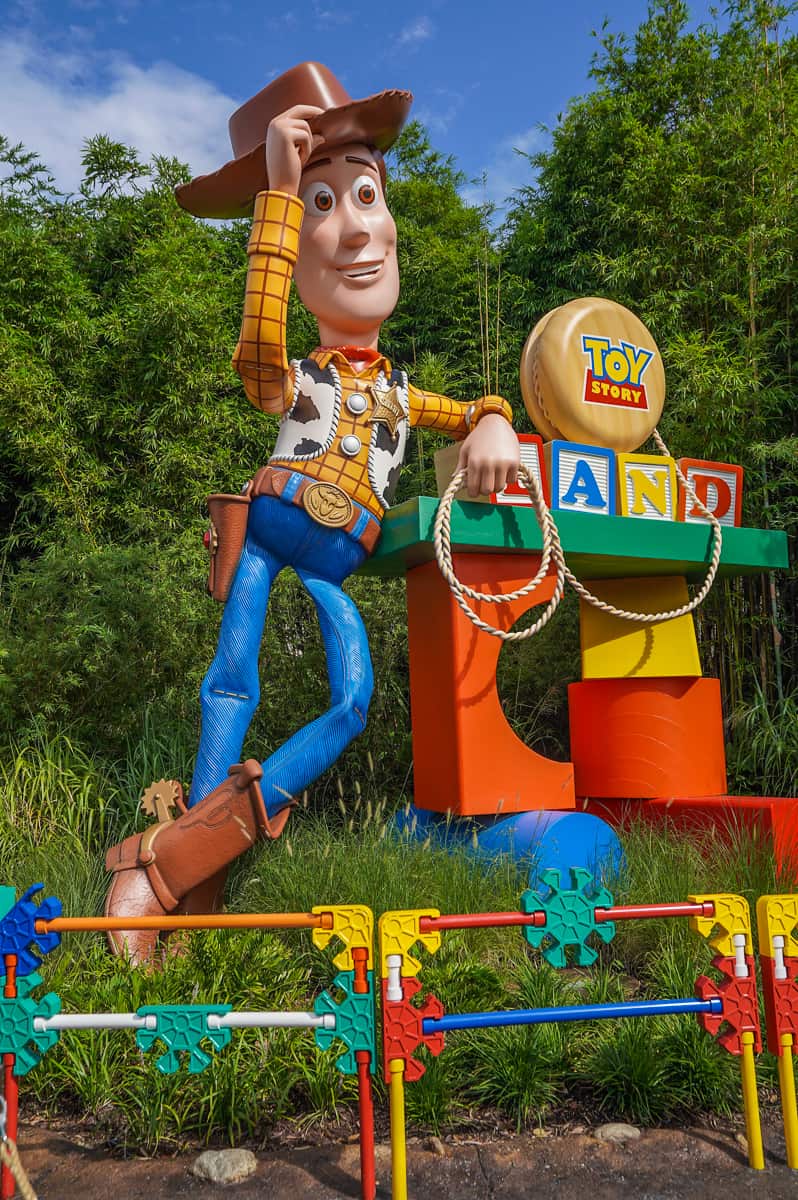 All park crowd calendars suggest avoiding those parks on those days for a good reason. Is that extra hour in the morning worth a much heavier crowd for the whole day? It can be during the sweltering summer temperatures. But as a rule, if some friend is trying to tell you that the Early Magic Hours are a great perk, take what they say with a grain of salt.
Magical Express vs. Renting a Car vs. Hiring a Car Service
If you stay on Disney property, Magical Express is a free bus service from the airport to your Disney resort. This is a great perk for travelers who don't mind the extra walking, waiting, and schlepping.
But for luxury travelers, they will likely choose a car service or rent a car. I think the best option to start your trip is a Minnie Van for airport pick up, but they will only do Orlando airport transfers to Disney resorts.
If you care about eating well, a rental car or Uber is key in reaching the many great restaurants in Disney World and beyond the your own resort area. If you are a foodie family, here's our list of favorites.
---
Join the Luxury Disney World Facebook group for your questions
about planning your next Disney vacation.
---
And speaking of restaurants at Disney World
The food at Disney World's resorts is very limiting for foodies and the health conscious. But it IS changing. All of the newer restaurants are significantly better than many of the older dining establishments. But good food, not junk food, at Disney World will cost you.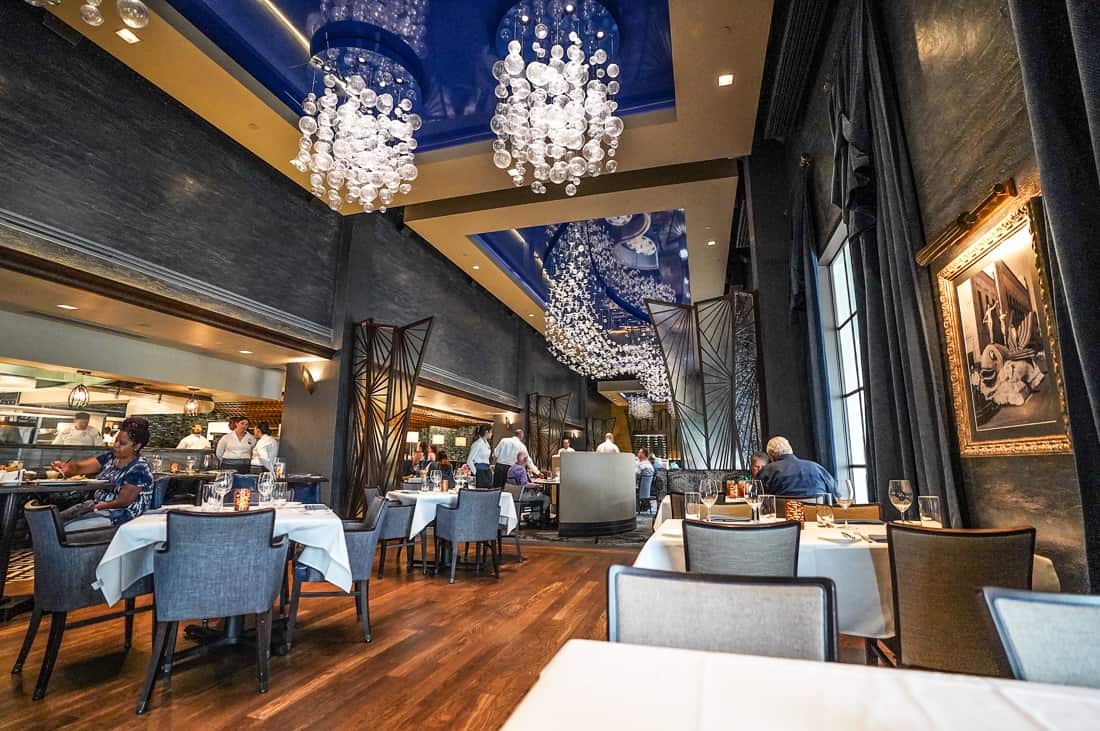 Each deluxe resort has a signature restaurant for dinner that is typically great. California Grill, Citricos, Jiko, and the newly reopened Flying Fish Cafe are some of the best.  Outside of those signature restaurants with $45 entrées, it is hard to eat well at the resorts if you don't eat pizza, burgers, processed food, and those addictive Mickey bars.
I have observed the food offerings improving over the last few years, particularly with healthier children's menu options called Mickey Check Meals.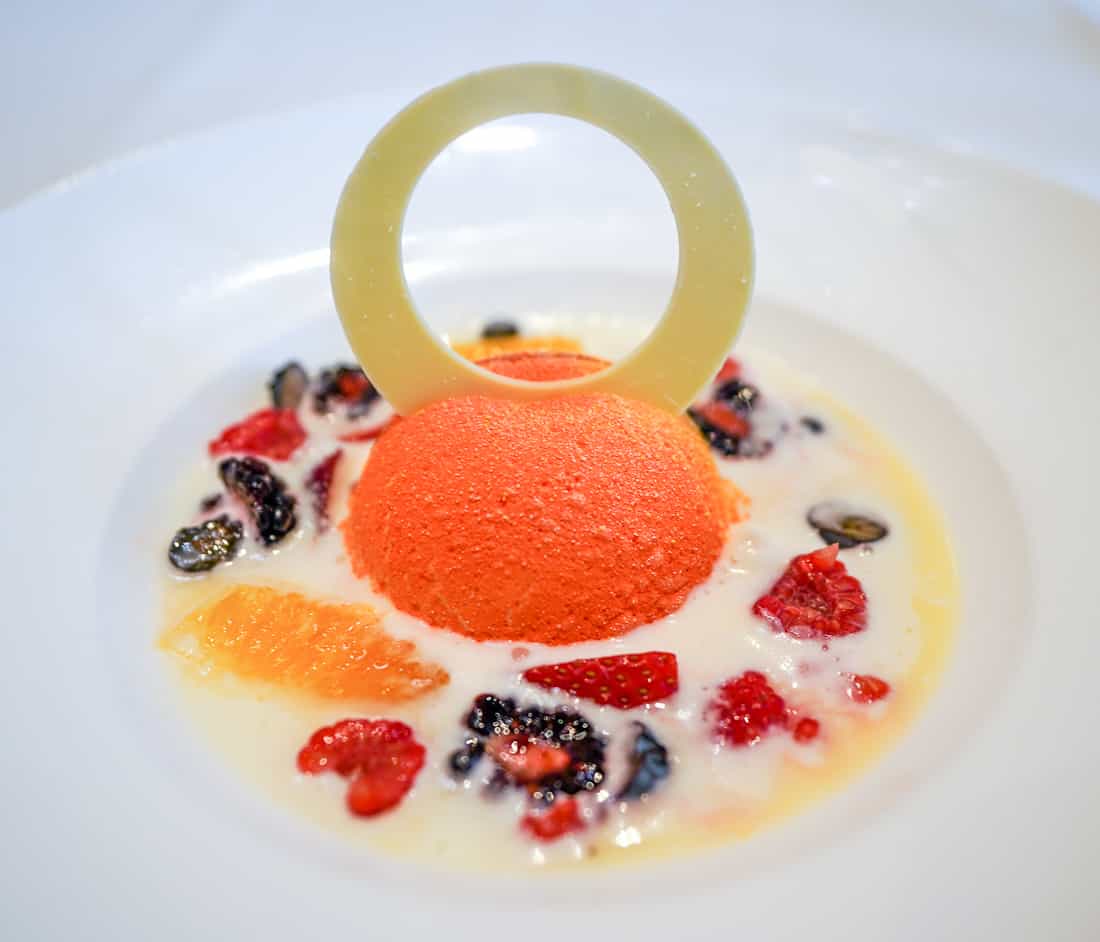 Breakfast and lunch still fall short. The breakfast buffets at nearby properties like the Four Seasons,  Swan and Waldorf are in another league than the Disney resort breakfasts. And lunch is often a limited to a quick service option stuck eating a chicken caesar wrap in a clear plastic container by the pool.
Here's our list of favorite Disney park and resort restaurants.
The new lakefront Geyser Point at the Wilderness Lodge gets it right by offering casual menu and full service in their open area restaurant and lounge. The food is not in the same category as the Four Seasons' PB&G lunch spot, but it's a great start.
Food Allergies: an A+ for Disney
I do want to give Disney World credit for being outstanding to those with food allergies. Their policies are typically ironclad, and Disney World has rightly earned the loyalties of families with special dietary needs.
But Orlando-area luxury resorts are used to guests having these allergies, too, and when notified, can be equally accommodating and serve much better tasting food for the same or lower cost.
So why stay on Disney property at all?
One most profitable strategy Disney World resorts has capitalized on is nostalgia. If you grew up staying at the Polynesian, you probably will love staying still. Many passionate Disney friends love routine and prefer that Disney not keep changing.
If you didn't grow up going to Disney, they themed an entire resort for a stroll down generic Memory Lane for everyone called the Pop Century Resort. With memorabilia from the 1950's to the 1990's every adult guest can enjoy the iconography of their childhood. People stay at Disney hotels because it is what they did before, and the trip just won't feel the same unless they stay on site every time.
Don't change what is working for you.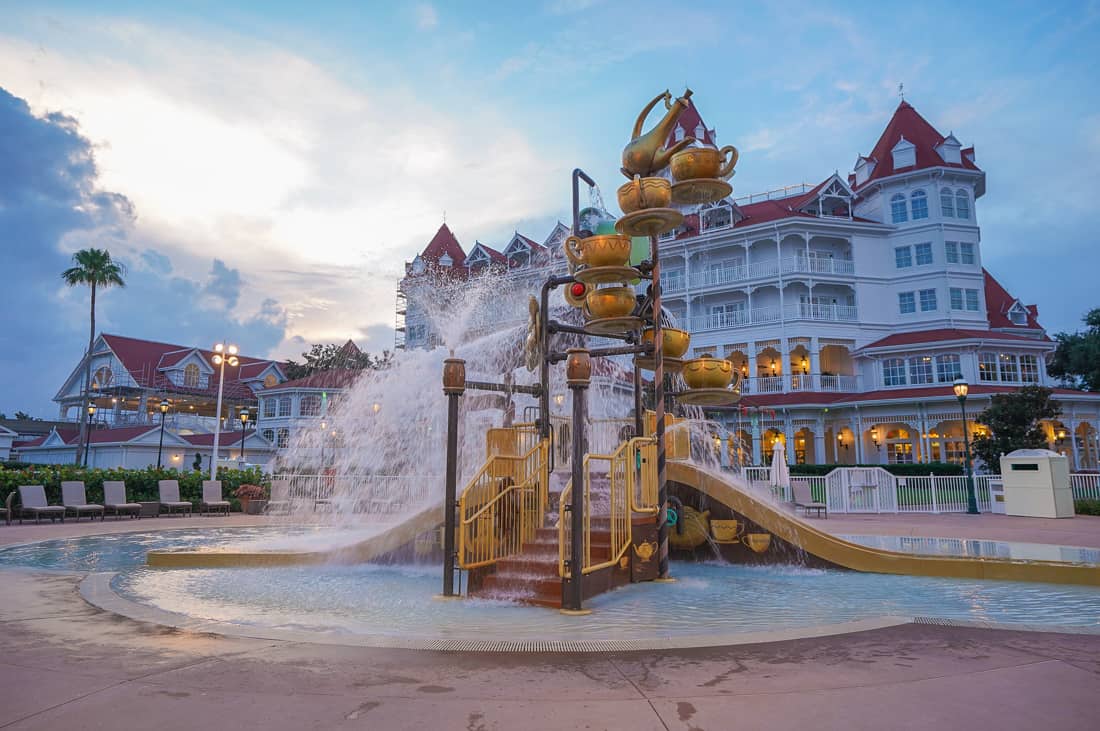 The Star Wars Resort Experience
And speaking of nostalgia, Disney World will likely announce (at least I hope) a Star Wars-themed resort experience at the Disney World resorts to tie in with the planned Star Wars Land expansion of Hollywood Studios for 2021.
This will probably be the game-changer in how Disney World creates immersive guest experiences for the rest of the world to follow.
Parents will probably be able to choose Star Wars-themed rooms and pretend it is for their kids' enjoyment. (Guilty I will be!)
The rumors around this multi-day experience sounds like a cruise style experience, in that it will be all-inclusive about a Star Wars ship hotel, and guests check in for a two night experience that follows a sequence of experiences like flight training, character interaction, and more.
This Star Wars Resort will possibly have a pool area, a cantina, and robotic butler droids. Rumors are pricing this two night all-inclusive experience about about $1,000 per person.
The New Club Level Fast Passes
In 2018, Disney World is now offering club level fast passes for those who stay three nights or longer with 3-day or longer tickets. Club level guests of the Polynesian, Grand Floridian, Beach & Yacht Club, Animal Kingdom Lodge, Boardwalk Inn, Wilderness Lodge, and Contemporary are eligible for this new VIP Fast Pass offer. Also guests of the luxury DVC units like the Polynesian Bungalows, the Copper Creek Canyon Cabins, too.
Surprisingly, guests at the Swan and Dolphin in the following room categories can book these, too: Presidential Suites, Governor Suites, Parlor Suites, Premium Alcove Rooms.
These guests can book 3 extra Fast Passes that work for any park at the 90-day window. This means that in addition to the traditional 3 Fast Passes available to all, these extra VIP Fast Passes can confirm you can book the new hot rides like Pandora or Toy Story Land in the summer of 2018. The cost is $50 per person per day.
Where should you stay at Disney World?
I don't know! There are so many options. I can tell you what we do. We always stay at more than one property while visiting Disney World. If we are visiting a park, we can't take advantage of the resort amenities we are paying for. We like to start at a Disney resort and finish off property where we can relax and rest up after tiring park days.
I don't personally like to spend more than $500 for a Disney resort room when I can book a nearby luxury property at that price. I think the best Disney resort for the value and experience is the Art of Animation resort (check dates & rates). The giant family suites are always under $400.
You can't be more immersed in Disney than those themed family suites with Cars, Lion King, or Little Nemo movie characters. Walking around the property and seeing the life-sized characters is a treat. Their food court is edible, and the suites are spacious. It is, at heart, still a motel with few amenities and little service, though, but if you are at the parks all day, who cares?
I also think the Contemporary Resort is a great place to start a stay. Check in, grab dinner at California Grill, and walk over to Magic Kingdom on your first morning.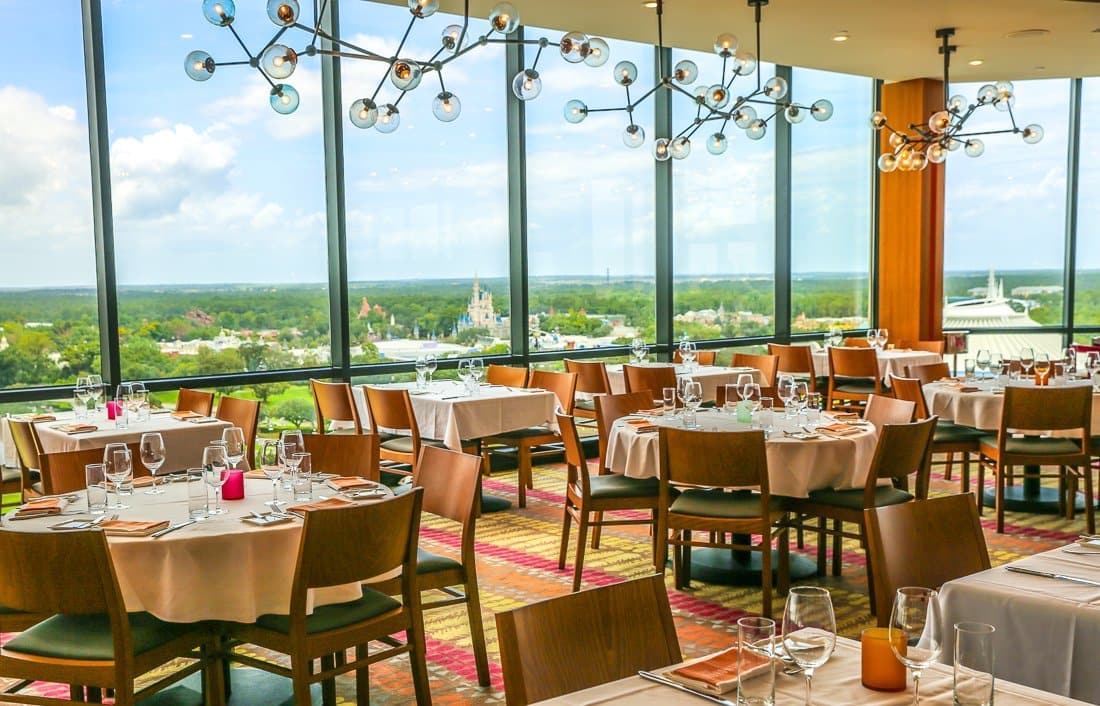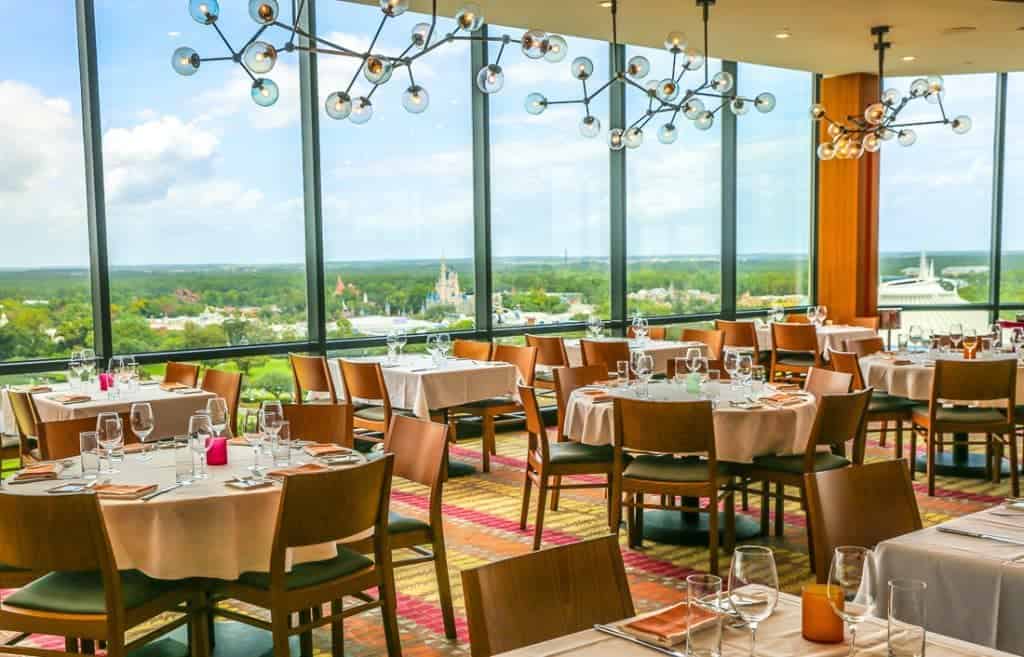 For those who want to be at the deluxe Disney World resorts, I encourage you to consider renting points to book on the the Disney Vacation Club villas at the Grand Floridian, Polynesian, or Contemporary
But to save save money we have repeatedly used David's DVC Rentals (check your dates using their point calculator) with great satisfaction, giving us a discounted price at the nicest, newest rooms on Disney property. When I am paying closer to $300 per deluxe villa studio per night, the whole equation of value and luxury of the onsite properties works very well for me.
I couldn't choose a favorite between the big three: the Four Seasons, Ritz-Carlton, or Waldorf Astoria. They are all great; it just depends on how much you want to spend, how close you want to be to the parks, and what childcare options you seek.
The Four Seasons kids' club is included in the price, the Ritz-Carlton offers two free hours per day, and the Waldorf's is by appointment only. They all have spectacular pools, rooms, service, and restaurant options. The Ritz-Carlton is the furthest away from Disney World but well situated to visit Universal Studios, too.
If you are still confused, or seeking Disney World advice, join my Luxury Disney World Facebook Group where I can try and answer any questions about hotels, spas, and restaurants.
If you are new to planning a Disney World vacation, be sure to read our 7 essential tips to planning a stress-free trip. The ultimate stress-free luxury is, of course, are Disney VIP tours.
Headed to Disneyland? Here's an expert assessment on deciding between off-Property hotels at Disneyland is completely different.