In 1840 the Duchess of Bedford began hosting afternoon soirees with snacks and tea, sparking a trend that would establish one of England's most celebrated traditions. These days taking afternoon tea is a must-do on any trip across the pond. Enjoying a spot of tea in the lap of luxury should be on every family's London itinerary; the only problem is deciding where to indulge. While there are hundreds of choices throughout the city for a full afternoon tea, we've narrowed the list to our favorites. These afternoon teas serve up delicious decadence for the most discriminating families as well as those with a twist on tradition.
Claridges — The Gold Standard for Locals and Tourists
Tea at Claridges has been called a 'must-do' for decades, as countless movie stars, royalty and the international jet set have called Claridges their London home away from home. Served in the hotel's grand Art Deco foyer, tea at Claridges is a classic affair of savories and sweets, all accompanied by the hushed sounds of a live pianist and cellist. With only two seatings per day, securing a tea reservation can be a challenge, but one that is worth the effort. Servers replenish cakes and sandwiches as soon as they are finished, and even send diners home with extra treats in the hotel's stylish striped boxes.
When my own children and I enjoyed tea at Claridges, waitstaff invited them to the kitchen to meet the pastry chefs, an eye-opening experience as we ogled the hundreds of carefully crafted delicacies made famous in their kitchen. Compared to many other tea menus, my children still considered this one of their favorites because they said everything was delicious. The presentation of flavors emphasizes quality over quantity. And did we mention you can request more of anything?
JOIN OUR LUXURY HOTELS & RESORTS FOR FAMILIES,
A FACEBOOK GROUP FOR SEEKING ADVICE AND INSPIRATION
FOR THE BEST LUXURY FAMILY BREAKS.
Rubens at the Palace— Best Tea for Royal Family Fans
Just across from Buckingham Palace, Rubens at the Palace serves an afternoon tea service fit for a queen. Tea is served in the Royal Lounge overlooking the Royal Mews of Buckingham Palace. With Windsor favorites like coronation chicken and cinnamon chocolate mousse on the menu, every dish is a thoughtful tribute to HRM The Queen. The Prince and Princess tea offers a child-friendly menu with classics like the Queen's favorite "Jammy Dodgers", honey scones and seasonal cupcakes. The rich red velvet and silk tasseled surroundings provide a comfortable but ornate environment that makes it easy to feel like royalty, if only for the day. The nearby Buckingham Palace Shoppe, with merch given the royal seal approval, makes this afternoon itinerary a must for any anglophile.
The Goring- The Best for the Royally Minded
Winner of The British Tea Guild's 'Top Afternoon Tea in London', The Goring has been serving afternoon tea in its salon and dining room since 1840. A favorite of royalty for centuries, The Goring is the only hotel in the world to boast a royal seal and is the site for the Queen's annual Christmas staff luncheon. Even Kate Middleton made The Goring her headquarters during her wedding to Prince William. White-gloved service and a hushed gentility prevail in the Dining Room and salon, where a selection of sweet and savory treats are on offer, but The Goring's large rear garden is the real draw for families with children. Enjoy a cuppa followed by a game of croquet on the hotel's manicured lawn for a quintessentially English afternoon.
The Potion Room at Cutter & Squidge — For A Hogwarts Style Experience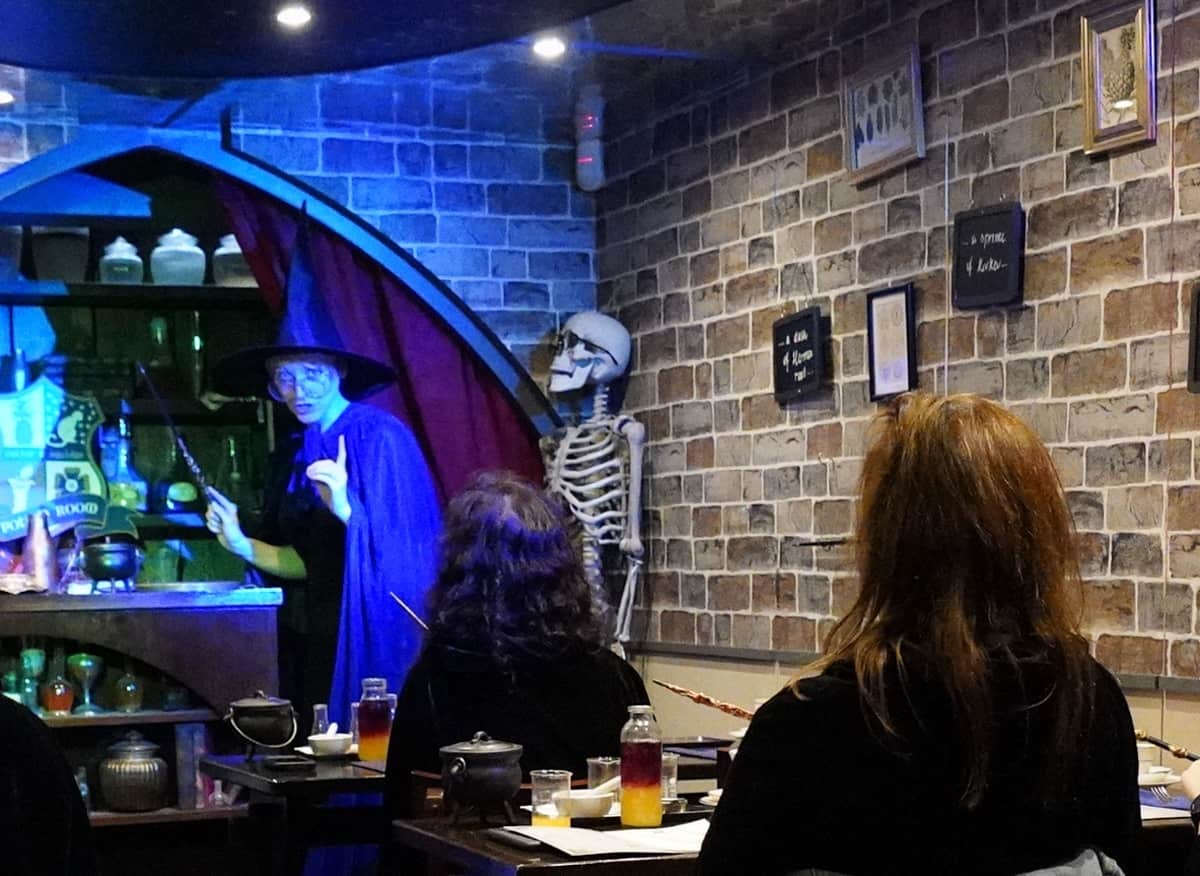 For copyright reasons, this tea cannot label itself as what it actually is, but rest assured that it will delight Harry Potter fans of all ages. Descend down this SoHo bakery's dungeon to 'Potions Class' where you have the opportunity to whip up your own concoctions in this two-hour class for wizards. Wearing the black robe offered, it is an immersive experience to feel like a student at a famous Wizarding School, where treats appear faster than a wave of your wand. The Potion Room can cater to many dietary requirements, including vegetarian, vegan, wheat-free, and halal-friendly. The Potion Room is for ages 8+ and children under 18 must attend with an adult.
The Berkeley — The Best Insta-Worthy Tea Treats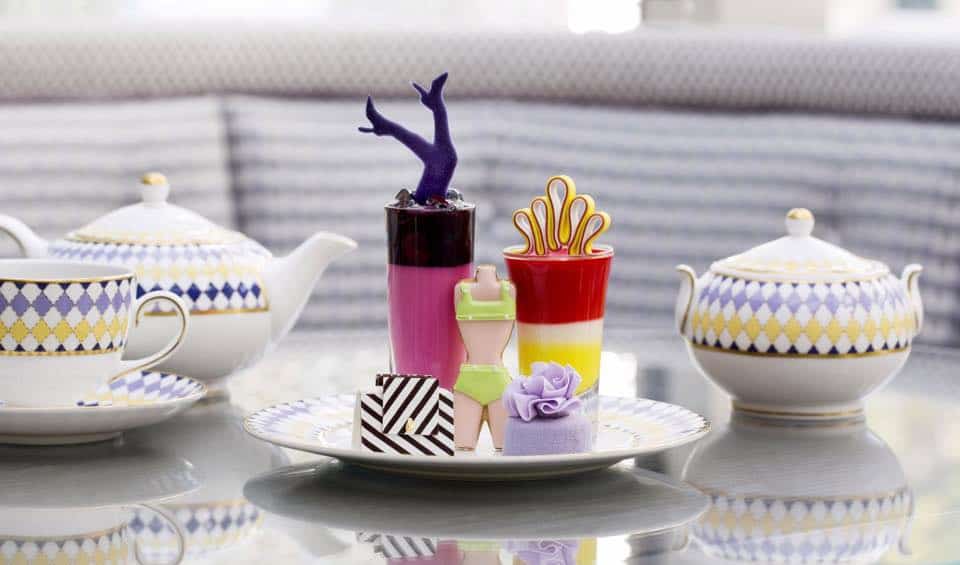 The Instagram-famous 'Prêt-à-Portea' at this fashionista HQ in Knightsbridge is the ultimate mom-daughter shopping break after Harrods and Harvey Nichols. Couture cakes and confections modeled after the latest runway collections are the highlight of this well-dressed tea. After starting with Champagne and hibiscus mocktails, we enjoyed every edible shoe, dress, and handbag delight from Pastry Chef Mourad Khiat, served on custom Bernardaud china in the sky lit lounge.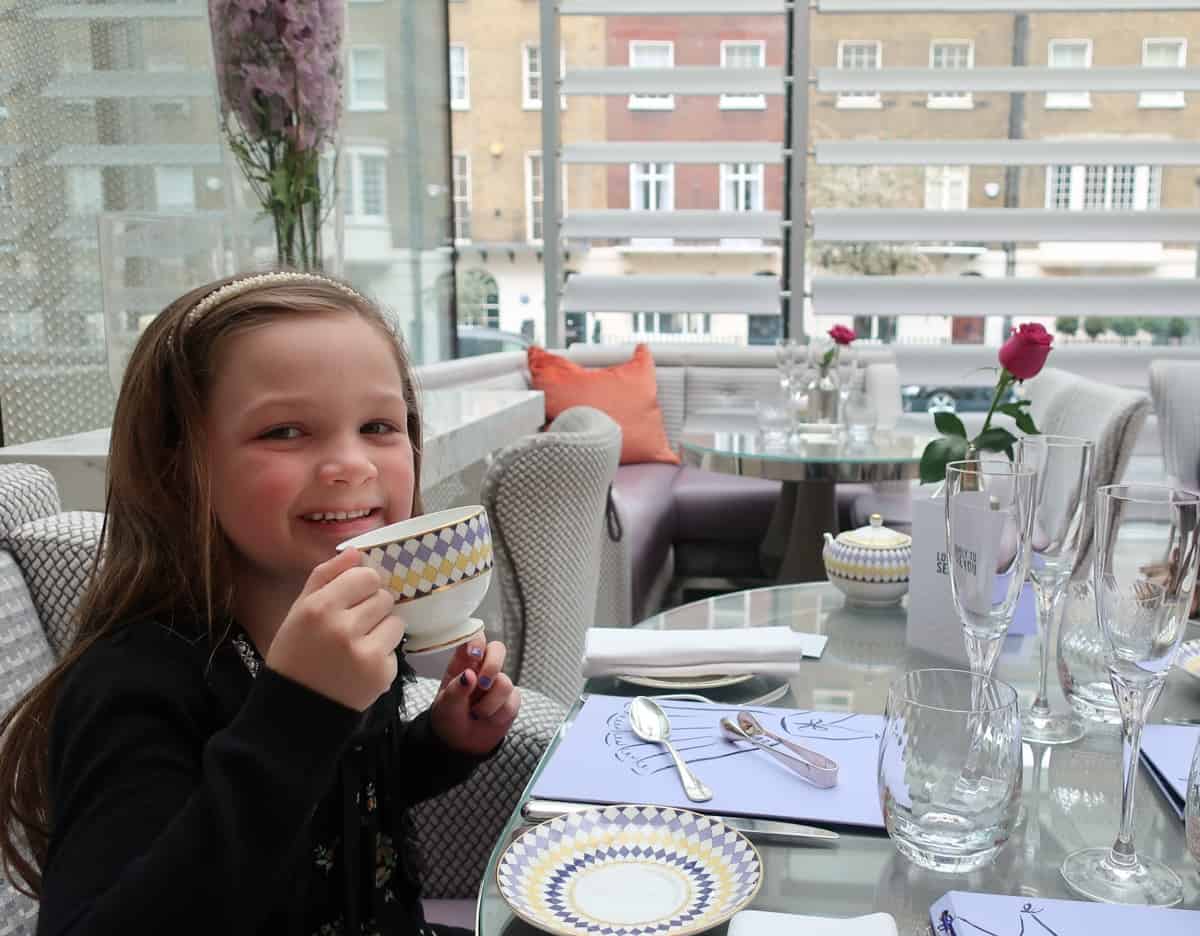 There is no special menu for children, but the main tea is playful enough for any budding fashionista. Gluten and Nut Free options are available.
The Mandarin Oriental — An Asian-Fusion Respite
Centrally located near Harrod's in the heart of Knightsbridge, the swanky Mandarin Oriental serves a traditional afternoon tea with an Asian twist in the hotel's stylish restaurant, The Rosebery. The sophisticated menu boasts dishes such as egg and black truffle sandwiches and prawn cocktail with avocado that can be accompanied by beer, champagne or even sake. The kitchen's award-winning pastry chef serves up traditional scones with cream and jam, but also innovative sweets like coconut mousse with passionfruit. The children's tea menu offers kid-friendly favorites like ham and cheese sandwiches, mini scones and a bento-style feast of treats to delight the eyes and palate of their youngest guests.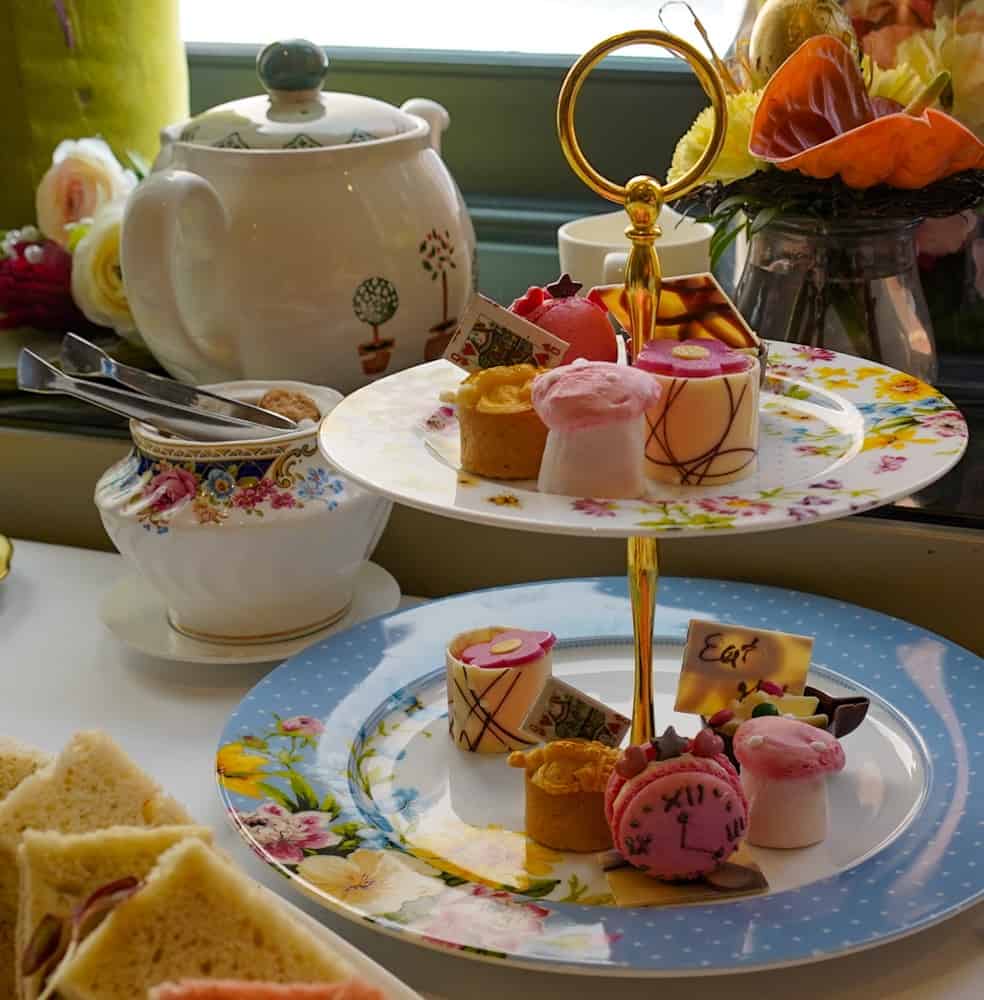 Taj 51 Buckingham — The Best Afternoon Tea Themes
With two afternoon teas to tantalize your taste buds, an afternoon at the Taj is a treat for the senses. For kids, head down the rabbit hole to enjoy afternoon tea in Wonderland! Cakes and pastries are inspired by characters and scenes with Alice and the Queen of Hearts, while tables are decorated with props for a whimsical welcome. Everyone in the family will enjoy eating "Queen of Hearts" mango tarts while sipping on "Drink Me" strawberry potions.
For another twist, the adults enjoyed the Jasmine Indian Tea at an adjacent table. This fusion style tea featured Indian takes on tea sandwiches and wraps and even includes a vegetarian option. Instead of scones, we enjoyed samosas and other popular Indian appetizers. Desserts included both traditional Indian dishes and pastries featuring flavors like mango, cardamon, and passionfruit. We loved this twist on tradition that awakened all five senses.
Fortnum and Mason—Best Combined Tea and Shopping Experience
Tea on the fourth-floor salon of Fortnum and Mason hasn't changed much in the 100 years since it's been served in this iconic shop in Picadilly. Chocolate mousse tarts and salted caramel pastries, homemade scones and savory sandwiches are served on the store's famous eau-de-nil plates. More than 45 different tea varieties provide endless choices for sipping. The best part of tea at Fortnum and Mason is that everything—from the wild berry jams to the elegant bone china teacups—can be purchased in the decadent shop beneath the salon.
The Chesterfield of Mayfair — The Best Afternoon Tea for Young Children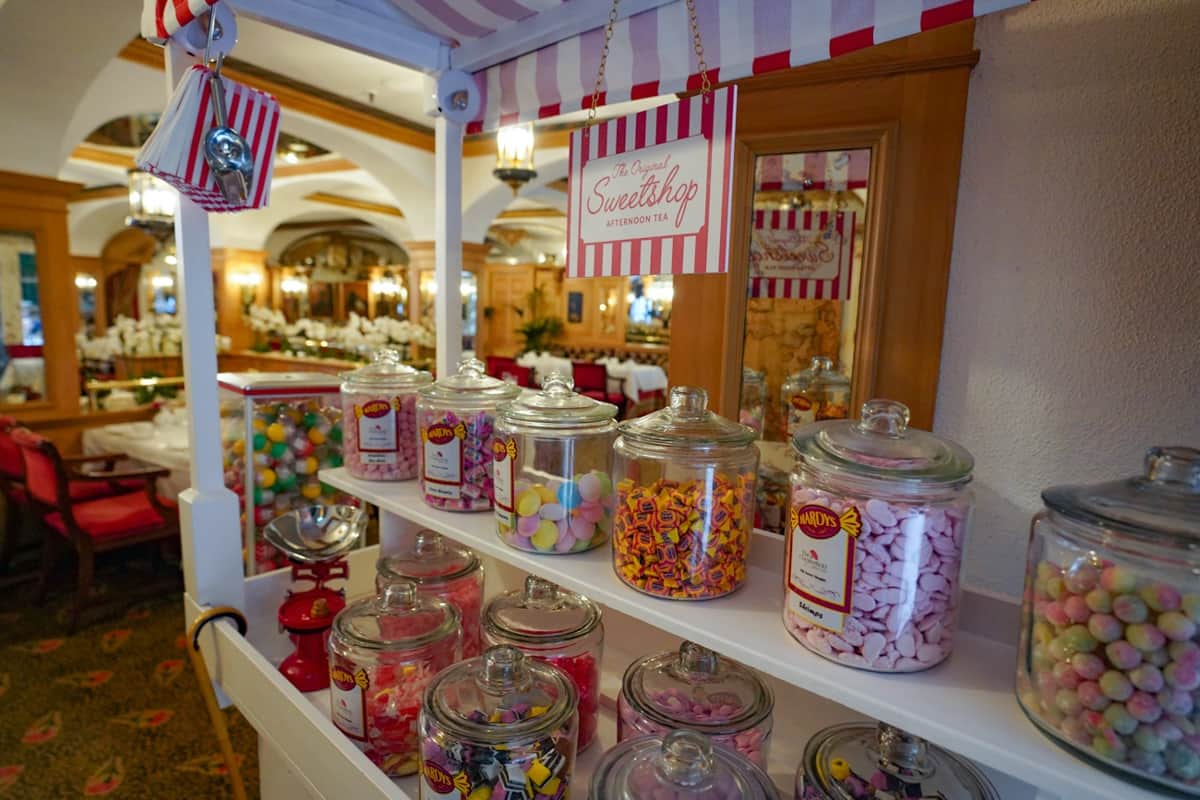 Tea at The Chesterfield is extra sweet with their 'Original Sweetshop Afternoon Tea,' inspired by Hardy's Original Sweetshop. Kids especially love this candy-themed tea sure to wow anyone with a sweet tooth. Enjoy finger sandwiches and homemade scones, while leaving room for signature treats such as the Coca-Cola Slice, Cherry Bonbon Cupcake, and Homemade Jazzy Lollipop. The tearoom is small and intimate, away from the hotel foot traffic, and is a great choice for children who may not have yet mastered hushed voices.
The Ritz— The Traditionalists
Tea in the Palm Court at The Ritz has enjoyed legendary status—and for good reason. The extravagant three-tiered spread of scones, sandwiches and savories in the elaborately gilded environs could impress even the most jaded luxury traveler. The strict dress code of jackets for men and smart casual for women sets the tone for a formal affair of glamour and glitz that is perfect for older children and teens. Sit back and enjoy a glass of tea or champagne accompanied by the hushed tinkle of teacups and live piano music. With seven seatings daily, tea at The Ritz is a London institution.
B Bakery Afternoon Tea Bus London Tour — The Best Tea for Families with Boys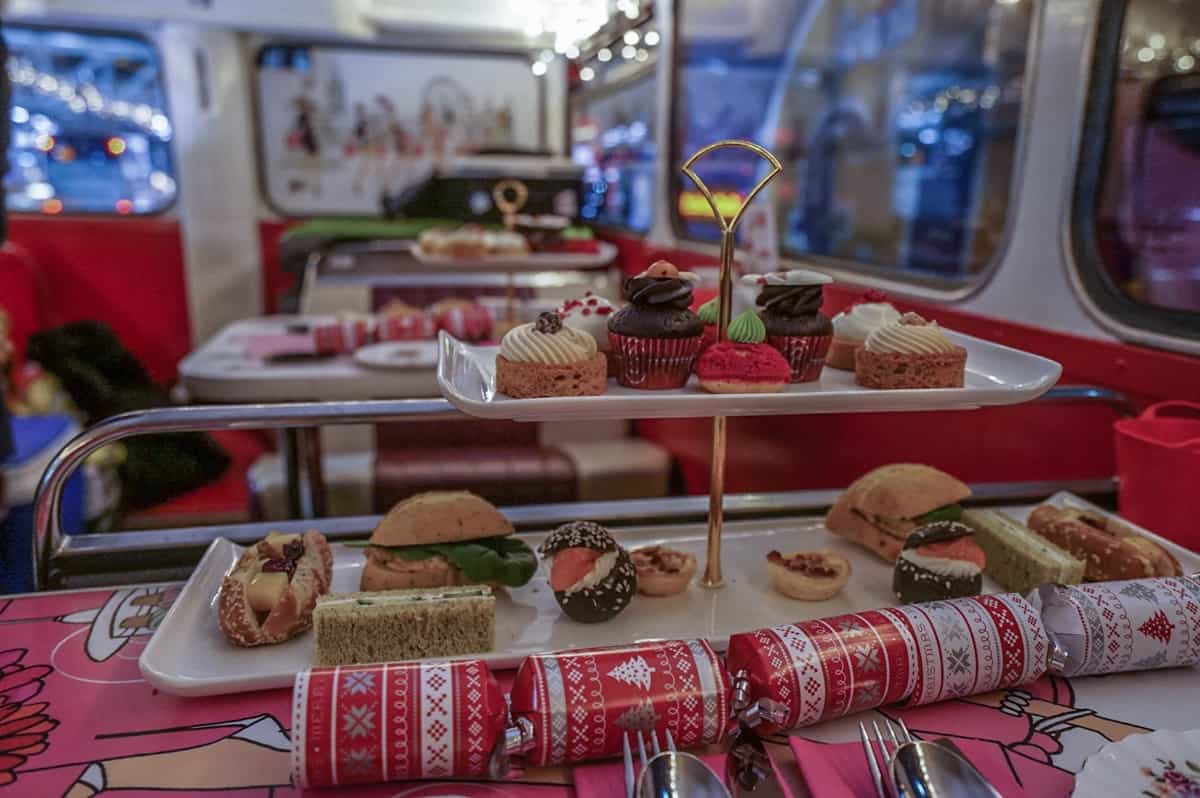 Is there anything more London than tea on a double decker bus? On the B Bakery Afternoon Tea Bus London Tour, take in some of London's best sights while indulging in sweets and savories. You'll skip the teacups for a more practical travel mug (and souvenir!) while you sip and sightsee on this party on wheels. Bop along to Abba and holiday tunes while whizzing by Big Ben, The Houses of Parliament, Westminster Abbey, St James's Park, Hyde Park, and The Royal Albert Hall.
During the holiday season, special tours showcase the city's beautiful light installations. Vegan, vegetarian, halal and gluten-free options are available. Children under age 5 are not allowed on the bus. And just a mom warning from my own adventure: when your little one looks up at you and says, "Mommy, I have to go," you'll have to hop off and end your tea. There are no WCs on this bus.