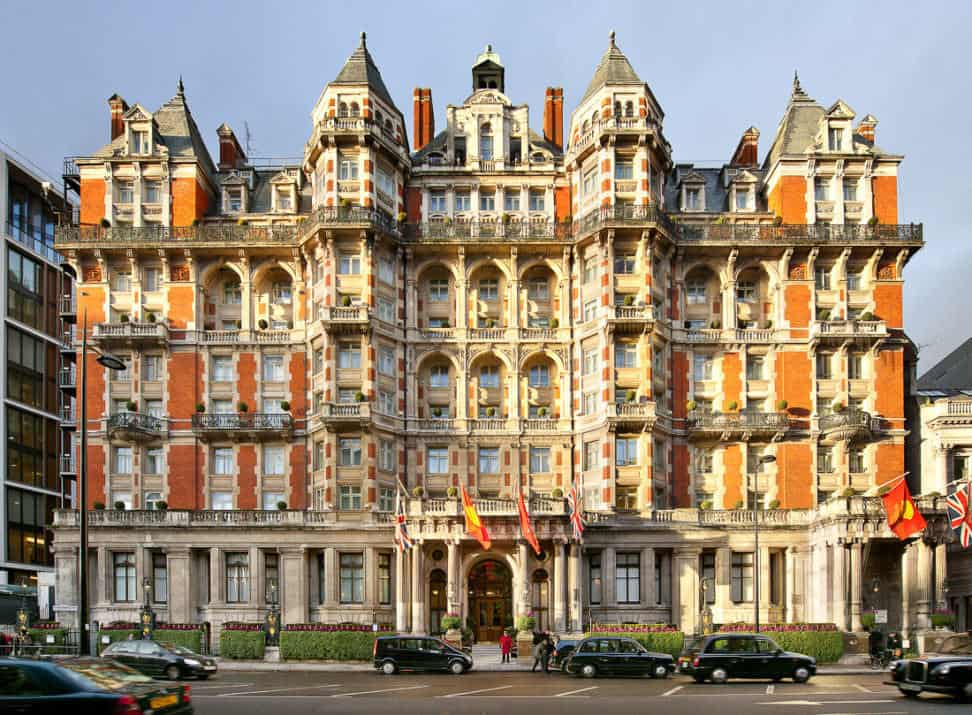 A most distinguished Hyde Park Address
The Mandarin Oriental Hyde Park is the only hotel to boast an address directly on the edge of London's iconic green space.  Rooms located on the back side of the hotel (what to request) offer amazing views, and one can occasionally catch the horse guard marching by midday for the Changing of the Guards.   
London's Best Shopping Next Door
The city side of the hotel faces the most chic shopping district in Knightsbridge, just a few steps from Harrods and Harvey Nichols. 
For me, a trip to London is not complete without a short visit to Harrods.  I completely bypass the amazing collections of Chloe and Chanel bags and head straight to the food halls – you literally feel like a kid in a candy store.  Bonbons, dipped chocolates, gorgeous colors of coffee tins and teas abound.  This is also a great spot to pick up a few souvenirs to bring home.  After purchasing my eight-quid dark chocolate dipped coconut sticks, I am ready to take on anything.
The hotel has currently undertaken a full head-to-toe multi-million dollar restoration project, aimed to be completed in Spring of 2018, and I cannot wait to visit to see this amazing transformation.
A much needed break at the Mandarin Oriental London Spa
Time. Steve Jobs once said "It's really clear, the most precious resource we all have is time."  Time is a luxury and as a busy working mom, spending time on myself feels truly indulgent, sometimes bordering on selfish. I recently had the opportunity to enjoy The Spa at the Mandarin Oriental as authentic tranquility in the city. 
The spa is a subterranean hideaway from the hustle and bustle of Knightsbridge.  A short flight down from the lobby, you are quickly greeted with the calming resonance of flowing water.  Like other Mandarin spas, they greet you with a warming tea and trade your shoes for slippers.
The aesthetics of this spa could be quickly classified as water & stone.  Hard concrete, textured stairs illuminated by the gentle flicker of candles direct guests to the treatment rooms designated by stone sculptures of the male and female torso.  My inner 10-year-old gave a chuckle at the designations. 
Once inside the female area the wet area offerings are worth as much time as a full treatment.  There is a tranquil vitality pool, a sanarium, which is like a sauna and steam room combined, and an amethyst crystal steam room to start a detox process. 
Asian details flourish all areas, and in the relaxation room, the zen lighting of changing colors sets a calming mood immediately. Tucked all over the spa, Buddhist figures quietly watch you from their cross-legged perch. 
Booking time for one's self
I had booked one of the spa's signature treatments, called the Time Ritual. Rather than book a specific treatment, like a facial or massage, the spa encourages you to book TIME.  This allows you and your therapist to create a unique experience geared to your current mood and feeling.
This is a signature offering at most Mandarin Oriental spas, and as our needs change based on pregnancies, stress, and travel, so do the treatment experiences.
Once called into the treatment room, I was given a welcoming foot massage while I discussed with my therapist how I was feeling, any medical issues of note and areas I would like to focus on.  From there, she customized a treatment of an aromatherapy massage followed by a rejuvenating, holistic facial for the hour and 50 minutes.  Because I was still nursing, she quickly changed the aromatherapy choice from a sandalwood to a rosewater, and it was light, fragrant and delightful.
About halfway through my time I flipped over to enjoy my custom facial.  The products that were recommended for me were from the Mandarin Orientals signature lines: an exfoliation mask made by Aromatherapy from the UK and a Sodashi recovery serum, a clean and organic product line from Australia.  
A lavender eye mask was carefully placed over my eyes and the facial ended with a scalp massage.  Before I knew it I heard the quiet, resonating chime, noting that my time had come to an end.  Why does it always seem that spa treatment time goes at warp speed?
I returned to the relaxation room to suck up my last free moments of "me time" fully re-aligned and balanced.  Time is a precious commodity and the Mandarin Oriental London spa certainly has mastered the art of savoring time, made even sweeter with those dark chocolate coconut sticks from Harrods.
Check rates on your travel dates at the Mandarin Oriental Hyde Park.
For a mellow stateside break with the whole family, we loved the Mandarin Oriental Boston.
Although I was a guest of the Mandarin Oriental London, these opinions are my own.