We pulled up to the The Langham New York on Fifth Avenue for our annual December pilgrimage to New York. As a hotel design junkie, I love seeing how each property interprets Christmas decor. I had never been to The Langham New York, but I have been impressed with their remodeling of the Langham Boston hotel.
We started our stay with the Sunday family brunch, a musical event called Tunes with Tina. Tina DeVaron is a master at engaging kids, talking to them by name from the piano bench as she composes and personalizes songs in a casual cabaret-brunch. Santa Claus was Tina's special guest (instead of a rotating Broadway star) as it was a holiday-themed brunch. My favorite moment was whenever Tina sang "Santa Claus is coming to town," Santa kept responding in a thick New York accent, "I'm already hee-uh."
The kids ordered their meals, and my son—on cue— removed his pants. He is three, and he will tell you, "I don't like pants." I credit the Langham New York with being genuinely family-friendly. Every member of the staff at the Measure Lounge pretended to be charmed by his pant-less habit. And as the inevitable Frozen portion of the sing-along began, I decided to let it go and enjoy this beautiful sun-drenched morning at a Leading Hotel of the World. For those of you not familiar with this accreditation, it means you can safely expect outstanding service. And thanks to the Langham's laid back family attitude, I am pleased that we got our annual picture of Santa of my son without pants. Had he worn them, I would have known the photo was just a lie.
A family vacation in New York is an incredible experience. No matter what your standards are, you will have great food, shopping, and entertainment options. The most relaxing family vacations are those in hotels that offer juxtaposition to the overstimulation of the city's sidewalks, particularly if you visit during the holidays at peak season. The whole world seems to come to New York City to enjoy the department store windows and the Rockettes.
---
---
When we checked into our Family Suite, my senses were overwhelmed. Most luxury properties have a signature scent, but I had never smelled a yummier room. I kept inhaling deeply until my daughter asked, "Uh, Mommy, what are you doing?"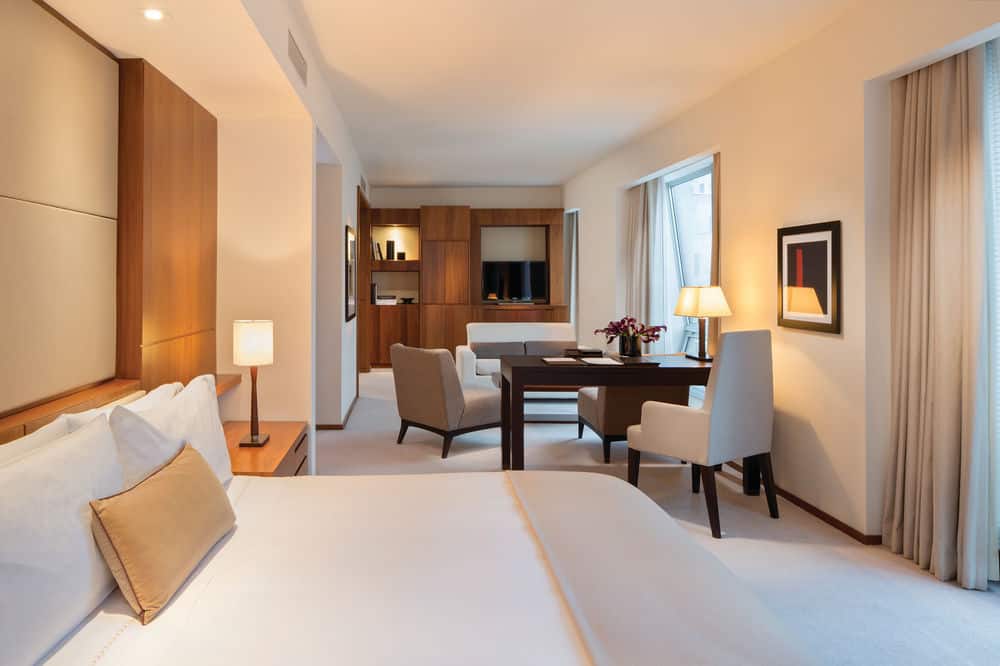 The family suites are completely decadent by New York standards where space is at a premium. The living room and open kitchen contained a bar for eating, a sectional sleeper sofa for gathering, and a high-end galley kitchen (but who's cooking?).
The bedroom was twice the size of the living room, open and airy with stunning skyscraper views, a low platform bed, and incredible, wood-panelling everywhere. The bathroom opens to the bedroom with a large window above the soaking tub (that can close). The double sink vanity had more space to spread out toiletries than any other New York hotel bathroom I have ever seen. Complete with a washer and dryer, the family suites define comfort. My daughter kept suggesting we live there. Not a bad idea, as I think a few lucky people do.
Certain hotel rooms have a magical invisible fence where you find you can't leave. Despite the adventures of the city, my family and I couldn't find the desire to face cold, crowded sidewalks with such a serene space of our own. The plans for the Morgan Library's Holiday Party went out the window, and we stayed in for the night, savoring every minute. We enjoyed a fantastic meal from room service: really great Margherita pizzas and chicken noodle soup for the kids, hummus with roasted red peppers and a steak salad for the grownups.
I didn't get a chance to try Ai Fiori, the hotel restaurant to great disappointment.  Ai Fiori actually has a special dinner program for families from 5 to 7pm where children receive a tour of the kitchen. I bet the New York Health department would require pants, and, therefore, not suited for my son— no pun intended.
The Michelin-starred restaurant was really stylish and romantic when I was exploring. It reminded me of a more modern interpretation of Café Des Artistes, the former restaurant on the Upper West side that was known for popping the question, where the Rococo frescoes of nude nymphs hung above each banquette. Ai Fiori, "to the flowers," has beautiful vernal green art contrasting the black, gray, and silver of the restaurant. I later returned to the restaurant with friends and highly recommend it.
I explored the spa, salon, and fitness areas for future visits and was impressed, again, by the thoughtful design of the hotel. You can alternate between an ice lounge, a hamman, and a steam room until you feel balanced. I sent my daughter to the Julien Farel salon by herself while I stayed in the rooms with my son, and the staff was perfectly attentive when I called. Julien Farel has other locations in Miami and Cabo San Lucas and is known for anti-aging treatments for hair. They offer a flat blow dry fee of $50 for hotel guests, which is super convenient.
The Langham Place is on Fifth Avenue in between the commanding lions of the New York Public Library and the Empire State Building. If your vacation consists of midtown and downtown activities, the location is perfect —adjacent to Koreatown and the garment district. If you have never tried Korean food or are a vegetarian, consider one of my long-time favorites: Hangawi— as long as you are traveling with older children who will get a kick out of removing their shoes and enjoy the ambiance that is very Zen and spa-like.  But I don't have any spa-like dinners these days because I have a three-year-old boy that removes his pants in restaurants.
Bryant Park's ice-skating rink is two blocks away, which is a useful green space in warmer months, and the Morgan Library and Scandanavia House are a block away on Madison Avenue. Both museums have great family programming for young children. The hotel has an arrangement with the Little Collectors program and can arrange age-appropriate Chelsea gallery tours to encourage young connoisseurship for those three and older. Young guests participating in the program receive their own work of art to take home as well as other sophisticated books and toys. My kids loved cleverly curated gifts.
If you or your children are also into architecture, spring for the Empire Suites where most of the historically significant skyscrapers are seen from your room, and the Langham will provide expedited passes to skip the lines at the Empire State Building, too (for a fee). The Langham New York knows how to put families' needs first. A serene hotel room after a day in Manhattan is most welcome, and coming back to such attentive service and spacious accommodations, your children will tell—you like mine did—"Wow, we should live here."
Although we were guests of The Langham New York, the opinions expressed in this article are entirely our own.