I love helping friends and clients choose where to go and where to stay. Call me a hotel matchmaker. The Ritz Carlton Orlando Club Level, Grande Lakes is for you.
Wait, I don't know who you are, right? Doesn't matter. Everybody's happy here, whether a vacation means golf and a great steak or kayaking in the everglades and eating avocado toast and a kale smoothie. There is a reason why it is the Orlando locals' favorite for a staycation.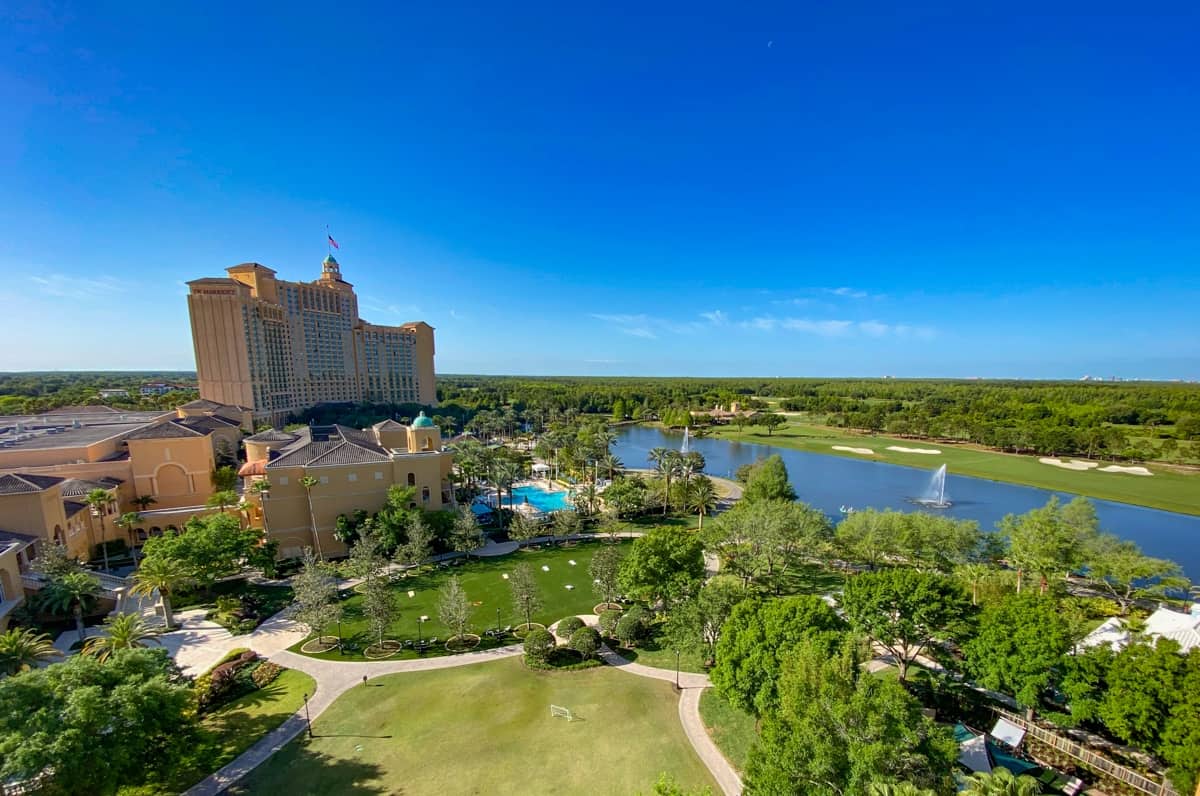 The Grande Lakes Resort
The Ritz-Carlton is part of a larger resort called Grande Lakes and is shared with the JW Marriott, connected by a spa complex and conference center. Guests at either resort have access to all resort amenities: pools, dining, spa, fitness center, kids' clubs, and restaurants.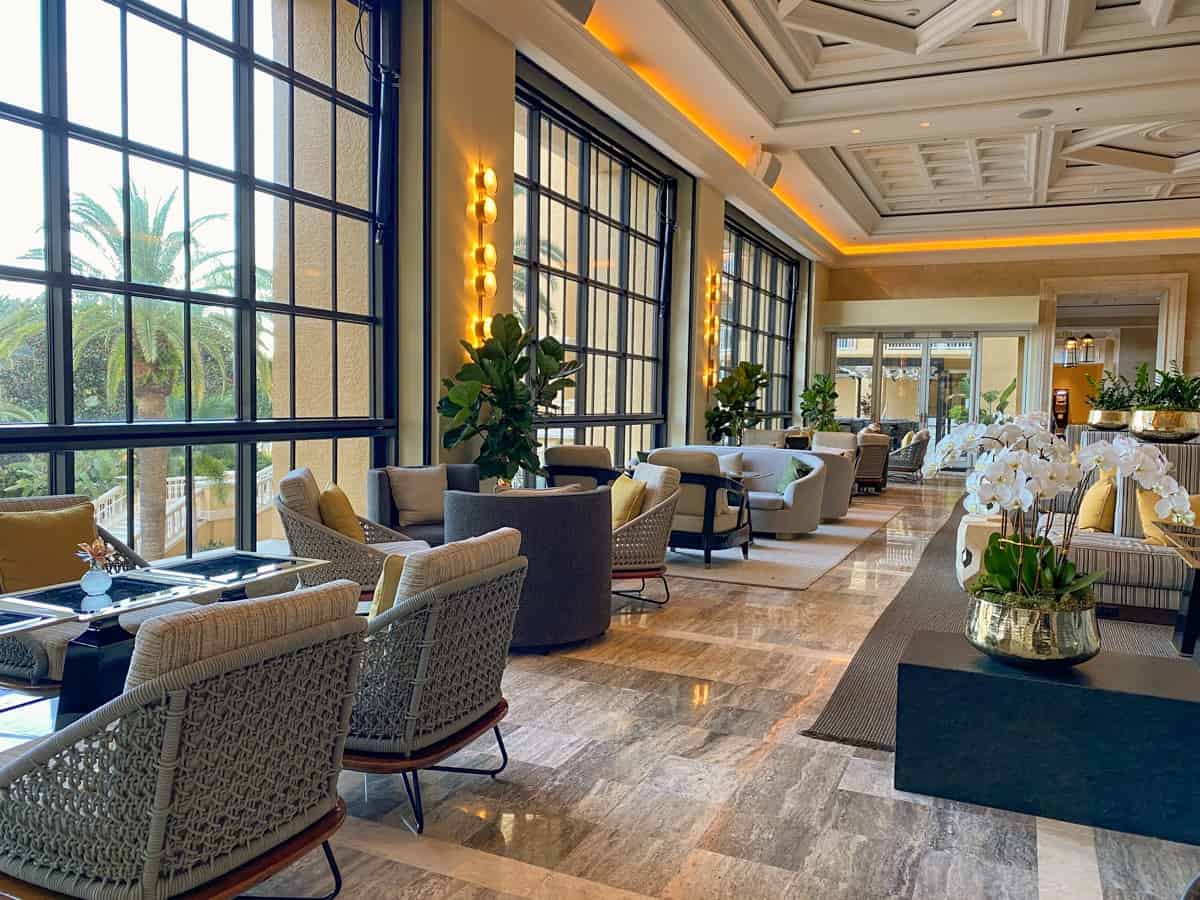 When checking in, staff offer adults a glass of champagne and children a scoop of ice cream. Like most Ritz Carltons, the hotel conveys a sense of timeless tradition, like you could have come here as a child in even though it wasn't built then (This Ritz Carlton was built in 2003.)
The service is outstanding, and in all of my encounters with staff, they displayed an eagerness to assist, and I was referred to by name everywhere.
A family may save money staying at the JW Marriott while enjoying the Ritz facilities, but they'd be missing out on some of the most polished and accommodating service of any Orlando resort. And its best club level experience.
JOIN OUR LUXURY HOTELS & RESORTS FOR FAMILIES,
A FACEBOOK GROUP FOR SEEKING ADVICE AND INSPIRATION
FOR THE BEST LUXURY FAMILY BREAKS.
Ritz Carlton Orlando Club Level Rooms and Suites
Of course, the rooms and suites are as comfortable as one can expect and recently refurbished in 2021 with a hint of Mid-Century hip. The marble bathrooms have separate bath, shower, and water closet filled with the purple Asprey toiletries Ritz regulars know well.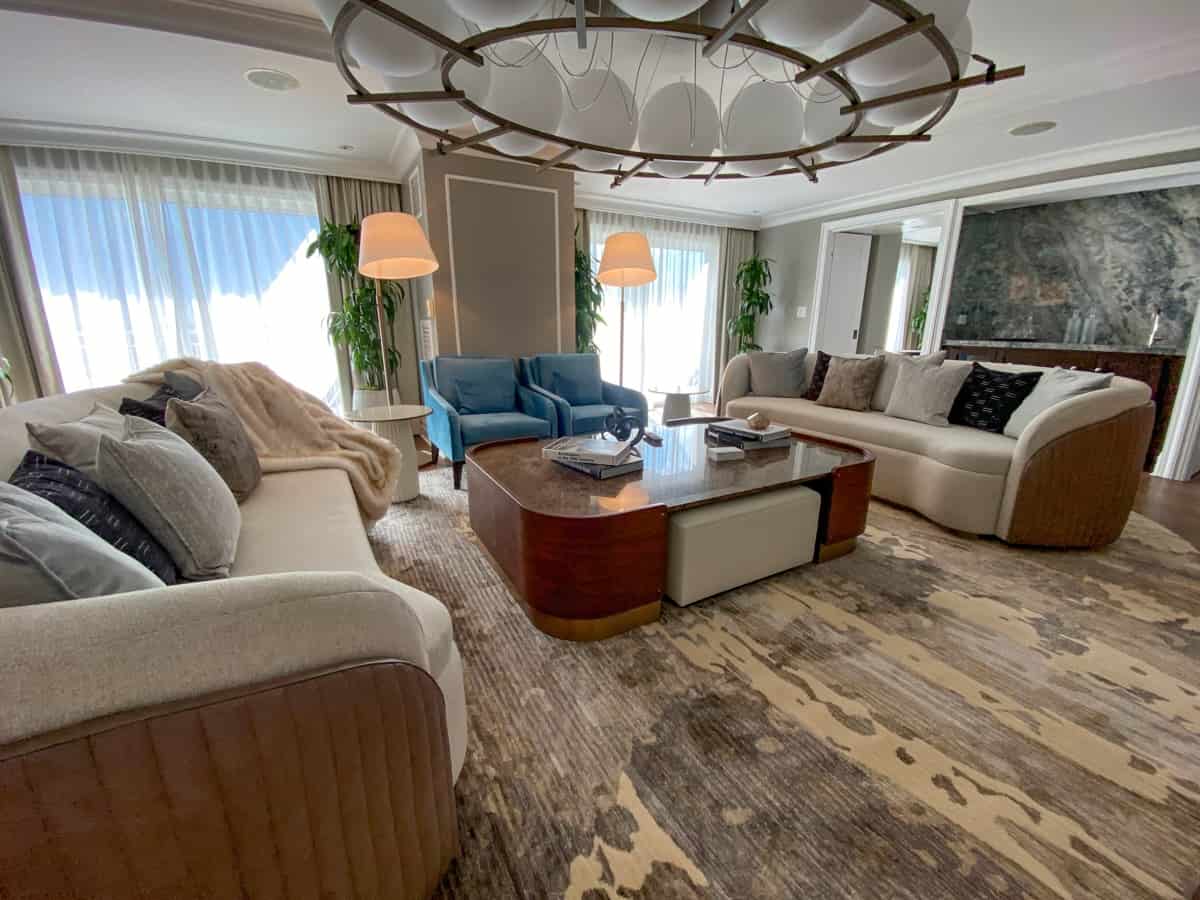 Ritz Orlando Royal Suite
The recently remodeled Royal Suite offers a great set up for families with up to three connecting bedrooms. The common area and media room give plenty of space for a larger family gathering. All Royal Suite guests have access to the Club Lounge as well. The dining table seats ten for in-room dining.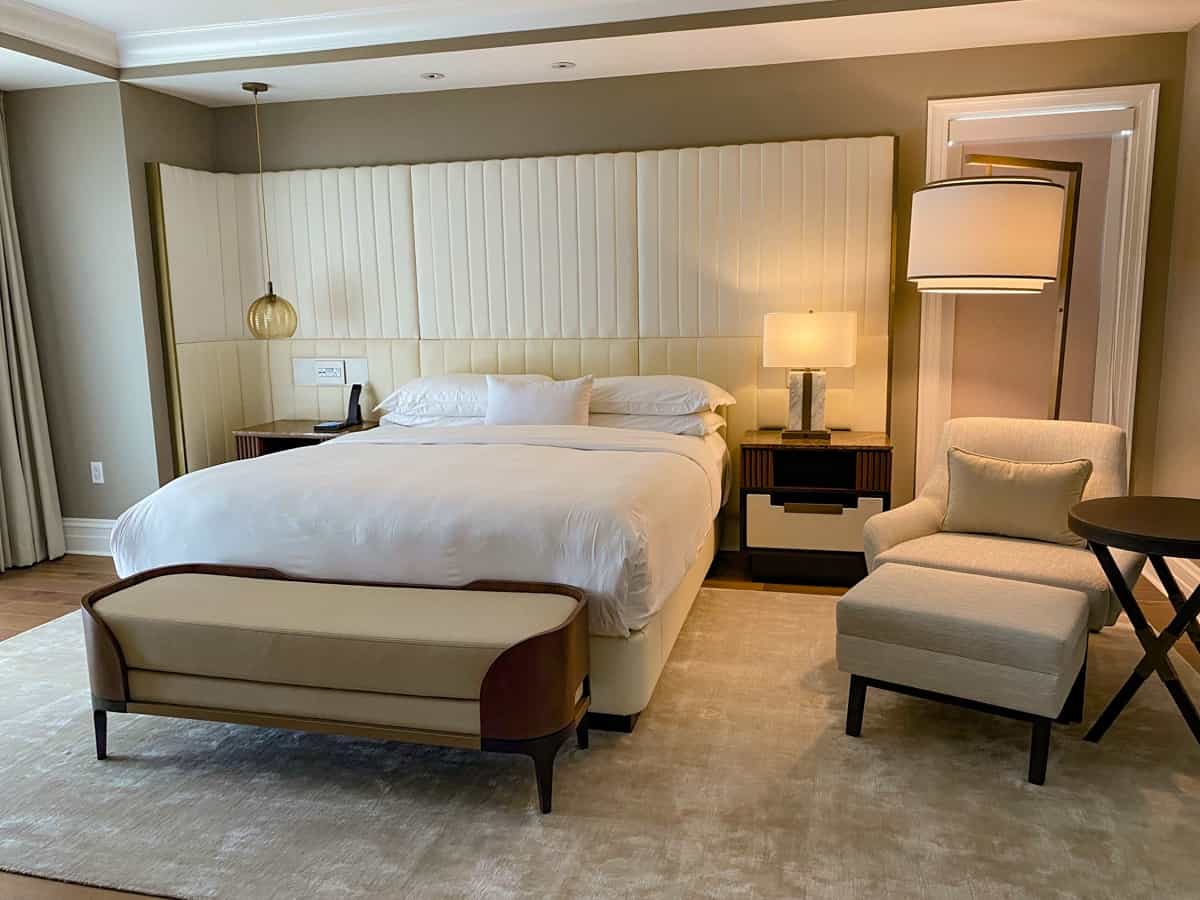 The Ritz Carlton Orlando Club Lounge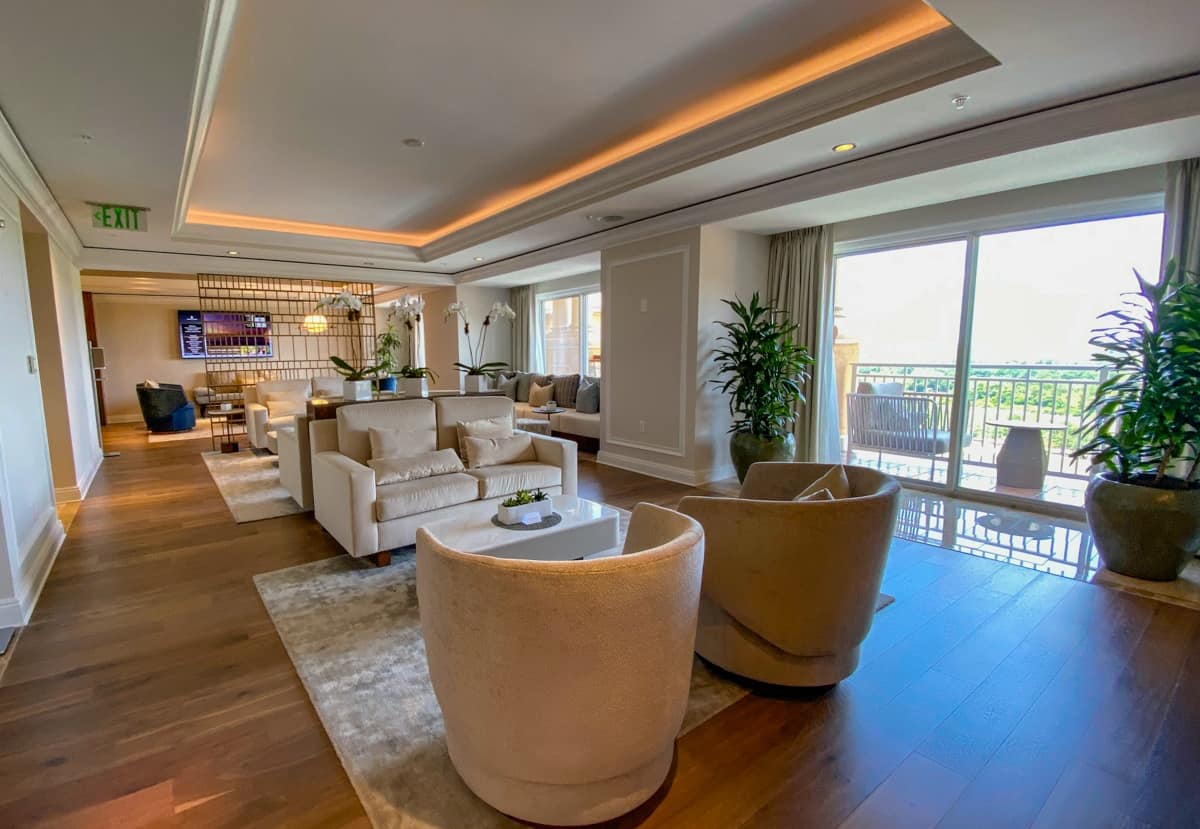 This Club Lounge is one of the largest in the brand and has a separate family area for children to enjoy. Its food presentations are plentiful, and you can take your snacks and cocktails outside and enjoy balcony views of the property.
Like most Ritz lounges, the breakfast includes a hot buffet, the lunch service features soup, salads, and sandwiches, and the evening hors d'oeuvres are plentiful. And yes, there's an evening dessert buffet as well as giant cookies all day. It's decadent and very different than club level at a Disney resort.
In the distance, one can see the Disney parks' fireworks. Those who spend on the Concierge level at Disney Resorts who fight over goldfish crackers and mass-produced pastries are missing out.
Celebrating Holidays at Grande Lakes
Because the Grande Lakes resort is so popular with Florida residents, too, there are many special holiday events that welcome families year after year. Christmas, New Year's Eve, Easter, and the Fourth of July are big here. Go to Gingerbread School with the Ritz pastry chefs and enjoy a holiday teddy bear tea.
On Christmas Eve, one of the ballrooms is converted into Peppermint Square, and on New Year's Eve, there are adult-only, kid-only, and family options to ring in the new year and enjoy the resort's fireworks show.
Is the Ritz Carlton Orlando right for a Disney Vacation?
The Ritz Carlton Orlando feels, like you would expect, much like a Ritz Carlton and not like a Disney resort. There are no hidden Mickeys in their carpets or furniture. In fact, it is the only luxury resort in Orlando without a Disney World desk in its lobby.
This is ideal for parents who want to have control of how much theme park they want on their vacation. Grande Lakes is close to Sea World and designer outlet malls (less than 10 minutes) and not far from Universal Studios (15 minutes).
It takes 20 minutes to reach Magic Kingdom by interstate, assuming no traffic. Your resort fee includes shuttle service to all three parks; its Disney World stop is Magic Kingdom's Transport and Ticket Center.
Family Fun at the Ritz Grande Lakes Resort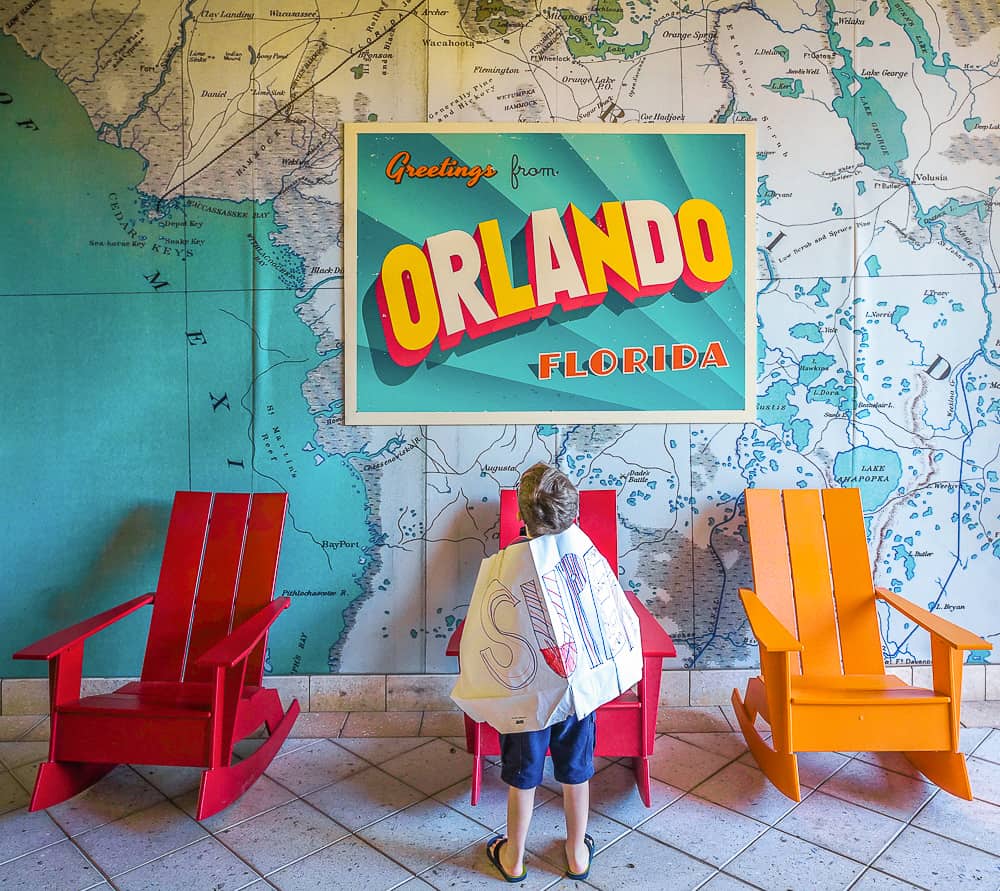 What sets this Ritz Carlton apart is how pleasantly a family can pass the day. This location has a robust Ritz Kids program for ages 4 and up, and the JW Marriott has its own schedule of activities.
Ritz Kids is run by enthusiastic staff that were skilled at entertaining kids with crafts, age-appropriate games, a bunny, a hen, and various reptiles. The kids club has open houses for families if their program isn't running traditionally.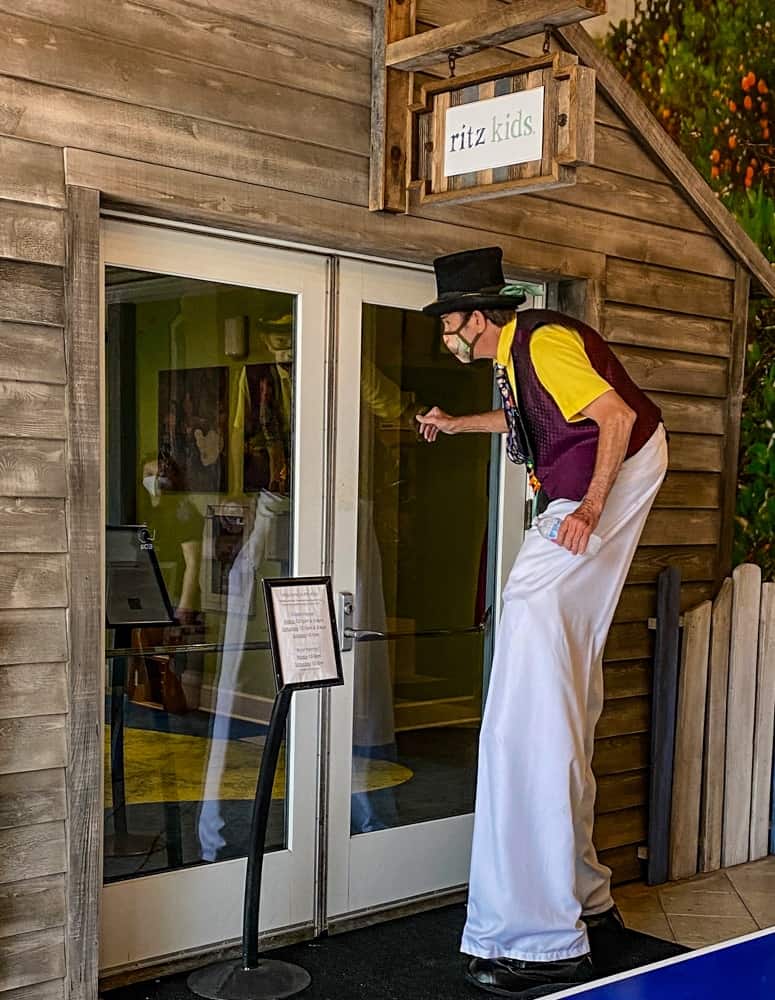 But even if you have toddlers, don't fret. The pool area has a fenced-in, partially shaded playground and splash area where you can watch your toddlers easily while enjoying a shrimp salad and mojito from the pool restaurant, Bleu. It is a great way to spend a few hours with your toddler and squeeze in possibly three pages of a People magazine.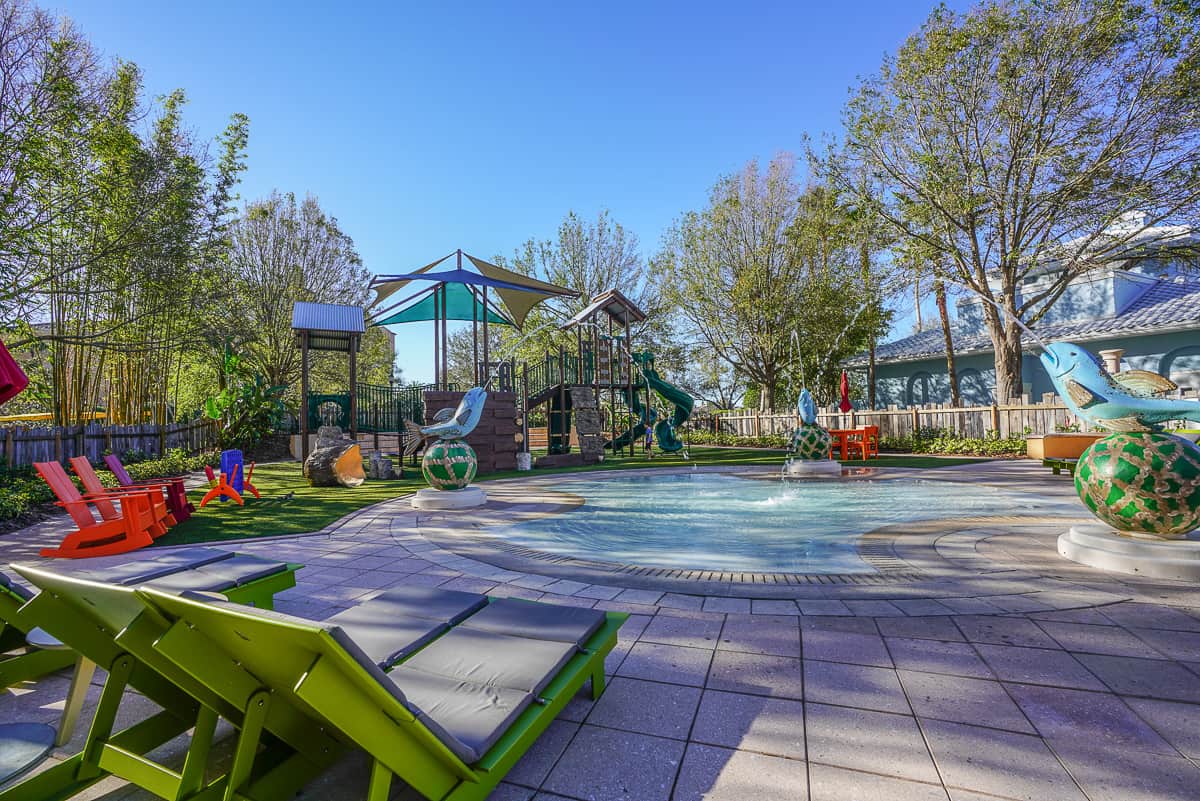 The Pool Situation at the Ritz Orlando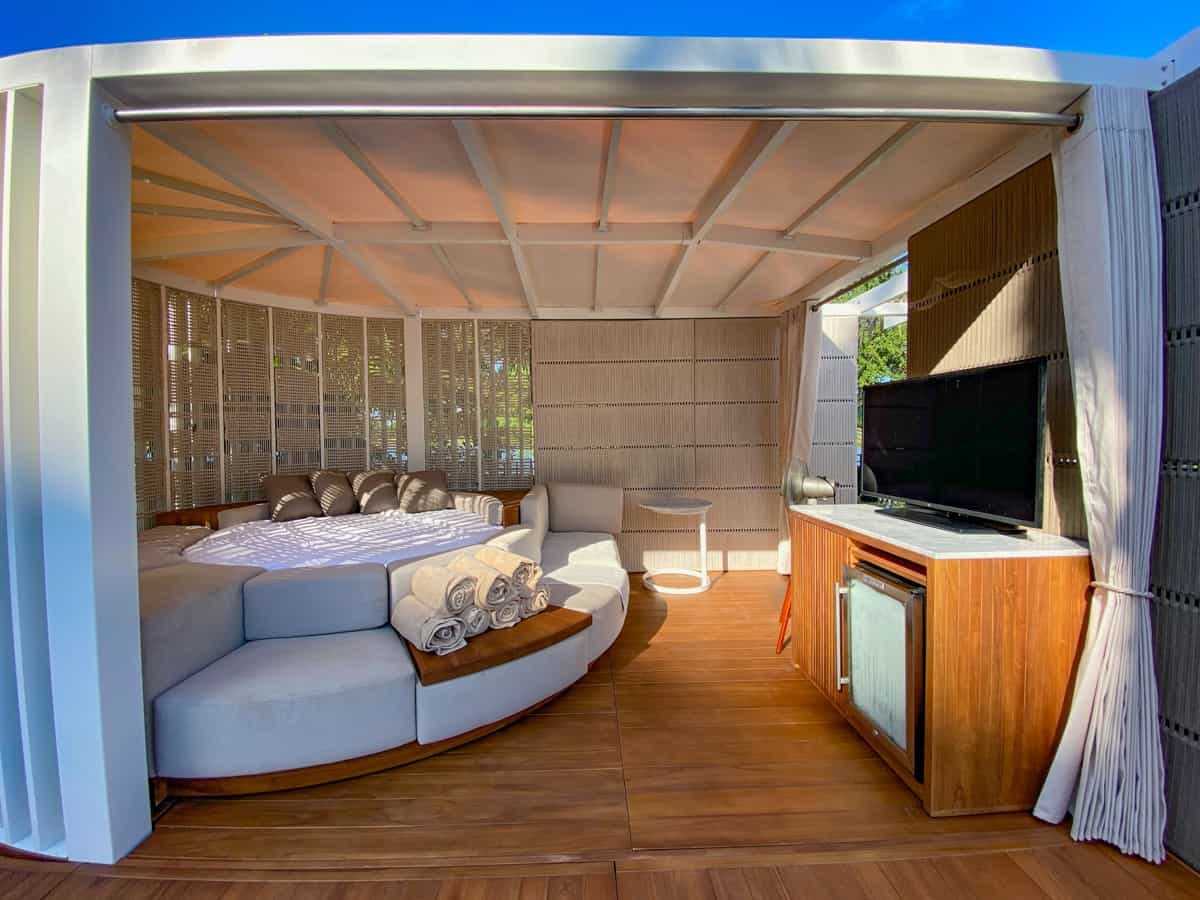 Guests can choose between the Ritz or JW Marriott pools. The JW Marriott pool has a lazy river, but this pool always feels extra crowded to me, so it isn't my favorite. The Ritz pool recently updated the pool and its cabanas, and the service poolside is solid and attentive. Our lunches from Blue were delicious and delivered promptly and correctly.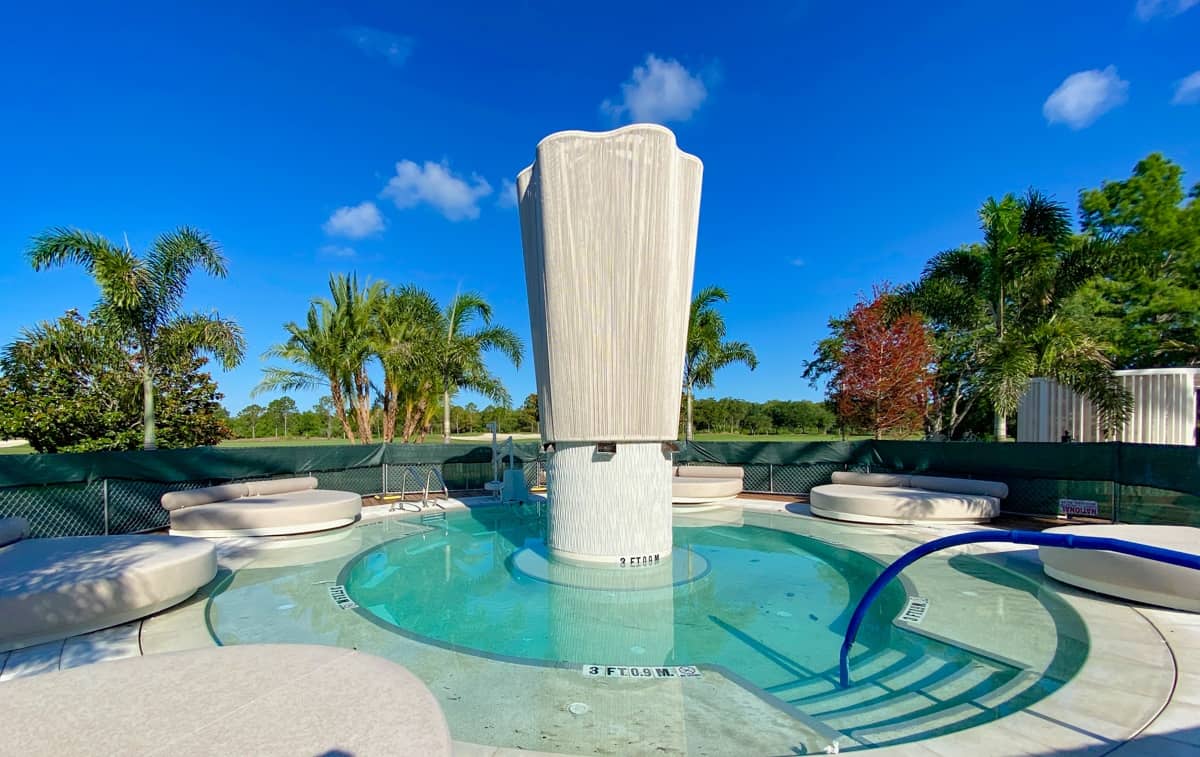 Beyond the Pool For Families
The grounds are massive and beautiful to explore by stroller, and the extensive business corridor connecting the two hotels is ideal for crawlers to burn some calories.
For tweens and teens, the JW Marriott pool has a lazy river, more poolside activities, zip lines, and a ropes course. There is private instruction in casting, or you can fish on your own; children under 17 can golf for free with a paying adult.
Kayaks, hammocks, paddle boards, and bocce are available to use around the grounds. There is a teen party every Saturday night for those aged 13-17, too.
My absolute favorite thing we did, and maybe even my favorite thing to do in Orlando is the eco tour at Grande Lakes. We have done it numerous times.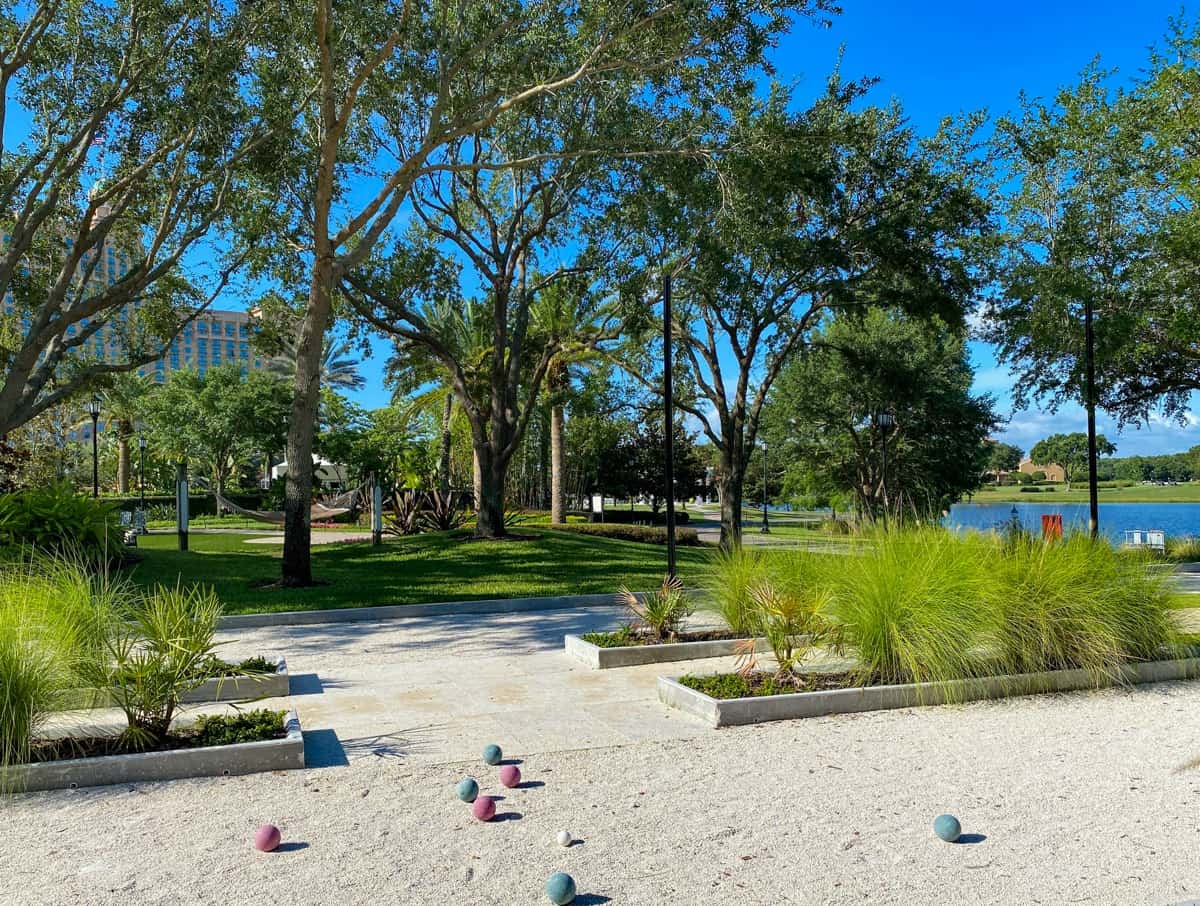 The Ritz Carlton Orlando Spa
For parents who do get a break, the spa and fitness center have its own excellent cafe and adult-only pool, reserved for those who receive services or pay an access fee. The fitness center offers extensive cardio, weight training, and stretching equipment, a Pilates reformer (though a bit worn), and about six exercise classes per day.
It really has enough to be a spa weekend with girlfriends if you head to Orlando without the kids.
The spa and salon were well staffed and service was excellent— though I never saw a staff person at the fitness center the two times I worked out. After a pedicure, I went to pay for my treatments to find a note written by my nail technician telling me how much she enjoyed our conversation. It felt completely authentic as opposed to some staff procedure.
Breakfast or lunch at the spa cafe, Vitale, is a must. My server had been at Bleu by the pool the day before and remembered me, called me by name, and told me what to order when I asked.
Ritz Carlton Orlando Restaurants
Resort guests have the dining options at both Grande Lakes properties to serve everyone well. Farm-to-table veggies, sushi, Italian, steaks—it's all here.
With more than ten options combined, it would take a week-long stay to try them all. Grande Lakes has been developing some sustainable agriculture at their Whisper Creek Farm, which is also available to tour and for private events.
Highball & Harvest
The signature restaurant at the Ritz Carlton Orlando, Highball & Harvest, is a more casual option that is the better choice if dining with small children.
The menu offers Southern comfort food in chic surroundings and live music at nights. It is completely decadent in terms of calories, so plan to arrive hungry and go for the chicken and waffles!
Knife and Spoon at Grande Lakes
The newest restaurant replaced Norman's, a local favorite for years. Knife and Spoon has a beautiful soaring ceiling in its round room filled with lively conversation. We dined here on a date, and I promised I wouldn't work and take photos.
In-Room Dining
In-room dining is another standout at the Ritz-Carlton, with one of the better kids' menus I have seen where you can customize an entrée and side according to your children's tastes. They are very accommodating for special requests, too. Even my breakfast was worth photographing, and everything tasted as good as it looked.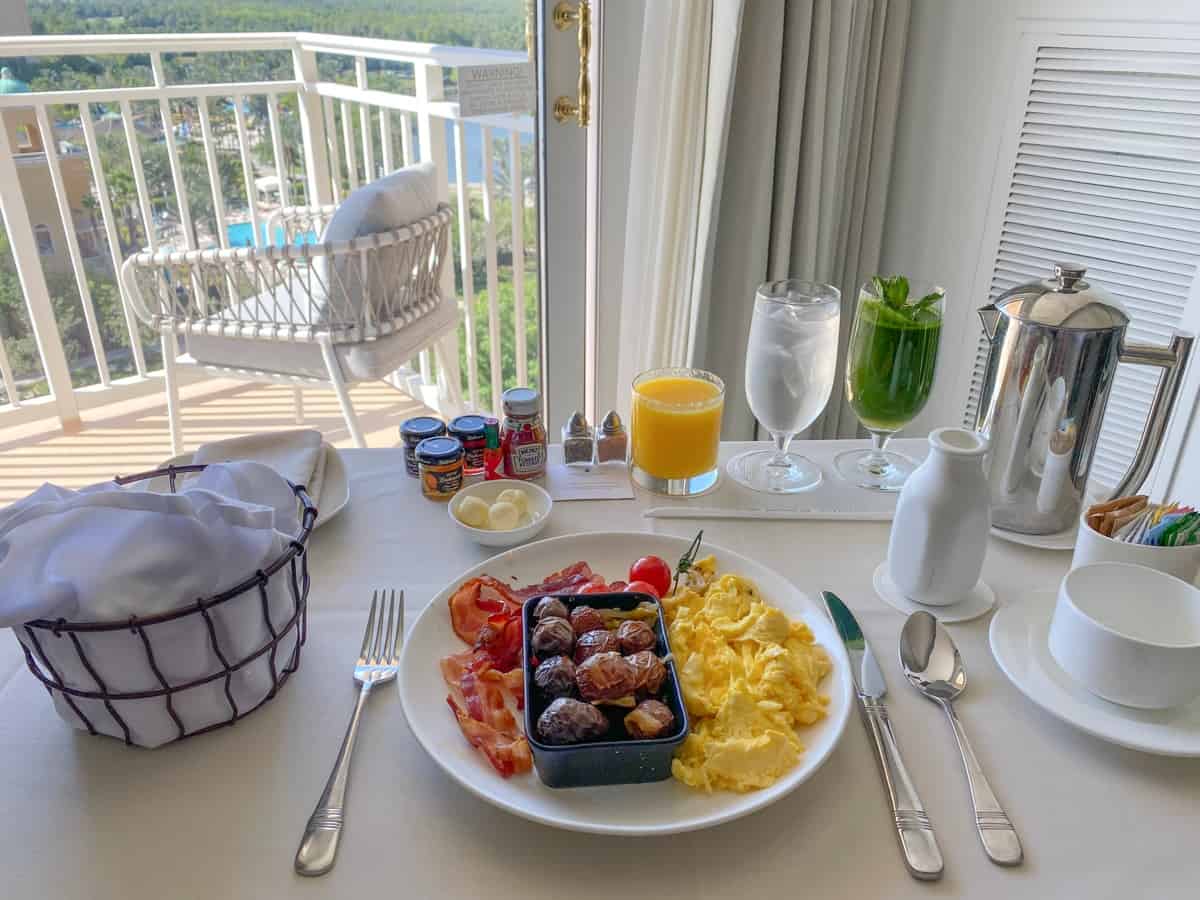 Planning a Ritz Orlando Vacation
The Ritz Carlton is a Virtuoso property (and we're a Virtuoso agency in addition to publishing this magazine). Our clients get complimentary daily breakfasts, resort credits, and—based on availability—upgrades, early check-in, and late check-out.
Book your stay through our Virtuoso site for these complimentary amenities. We recommend you do this on a desktop to create a Virtuoso account and book their VIP rates at thousands of luxury hotels.