Families choose the Keys for the casual, retro feel of their own childhood vacations, where Jimmy Buffet, piña coladas, and touristy t-shirt shops (selling the same stuff they sold in the 1970's) reign supreme with the scent of Coppertone waiting for you.
Finding a family-friendly Keys resort in Hawks Cay
A luxury family vacation in the Florida Keys does not provide pool cabanas, beautiful people, and skyscraper hotels along the beach. After landing in Miami, guests are rewarded with a scenic 90-mile drive to the resort to decompress into vacation mode. For us it means putting the top down on our Audi convertible —well, ok, we open the sunroof of our rented Chrysler minivan and enjoy double-sided turquoise water between little towns filled with souvenir shops and beachfront bars.
A must-stop is the Morada Beach Cafe in Islamorada if you like Piña Coladas. Dig your toes into the sand, eat a freshly caught meal, and watch your kids expend some energy on the beach after an hour in the car. Take a few deep breaths and realize you are really on vacation.
Laid-back families have been having stress-free and fun-filled vacations at Hawks Cay for decades. (Check your dates for rates.) The family oasis on the island of Duck Key (named because the key is shaped like a duck's head from an aerial view) built in the 1940's is in the midst of a $18MM dollar renovation that will be keeping this resort on the forefront of family destinations for years to come.
Take advantage of the villa units. Each one has a different decor but all boast well-equipped kitchens with granite countertops, comfortable living rooms, and two or three bedrooms upstairs. I strongly recommend a unit in the Sunset Village, which has its own pool that rarely sees more than 10 guests at a time and is close to the kids' club.
Hawks Cay is known for its Scuba and offers diving excursions to the Florida Reef, the only living reef in the continental US and third largest in the world. Training programs start at age 8 with SNUBA. There is also a World War II shipwreck for those seeking a deeper diving experience.
There is also kayaking, snorkeling, parasailing, and paddle-boarding. For younger ones wanting to try these sports, the man-made lagoon is where my son happily and safely learned to kayak and snorkel. There is a new Cliff Drysdale tennis program with daily clinics for adults and classes twice a week for kids. Other activities include biking, mini-golf, volleyball, and basketball.
As a family, we're boat people, and one of our family's passions is deep-sea fishing. The Keys offers some of the best, with Hawks Cay home to NBC's "The Saltwater Experience". Hawks Cay offers many charter fishing trips, and we have used Callion Fishing Charters. On our last two fishing trips, my son saw turtles, caught and released a shark, and brought home enough red snapper for three delicious dinners.
Hawks Cay has five pools, and they are all nicely heated. The no-entry Pirate Pool at the Indies Club provides hours of fun, and with the water level no higher than 8 inches, parents can comfortably relax in lounge chairs around the perimeter. With its ship, water cannons, and slides, the Pirate Pool attracts toddlers through tweens. It is this type of family amenity that sets Hawks Cay apart from the other luxury accommodations in the Keys and lets you know you are at a Preferred Family Resort, where parents' needs are thought through by the property.
When parents are ready for some couple time, the Indies Club for kids has been noted as one of the best kid clubs in the US. Starting in 2015, the program will include a touch tank, butterfly garden, and daily themes such as "Flora and Fauna" and "Creatures Under the Sea". Another improvement is that the kids will be split into two age groups, 4 to 7 and 8 to 12, so that older kids can participate in more water sports.
The Calm Waters Spa at Hawks Cay is for parents needing some unpretentious pampering. The treatments are good, however, the facilities are solid 4-star, not 5-star territory. I choose a heavenly combination massage using hot stones and bamboo rods, and I was kneaded and rolled out like a piece of Play-doh.
While Hawks Cay offers several places to eat, most families stock up at Whole Foods in Miami before the drive down or the Publix grocery store in Marathon and enjoy the ease of eating in the villa. But we always make a trip to Key Fisheries, a family-friendly take-out joint with picnic tables and where kids can feed fish off the docks. As with everything outside the Hawks Cay resort, keep in mind that true Keys-style establishments serve great food but aren't trying to be innovative or upscale.
The resort offers several restaurants. The breakfast buffet at Ocean Breeze was delicious. I also appreciated that children aged 3 and under are free and children 4-12 are half price. For dinner, we tried the casual Beach Grill near the Tiki Bar. The fare was just ok and somewhat pricey. The third option is Alma featuring Nuevo Latino cuisine‑and to my kid's delight‑a "Mocktails" drink list with child versions of piña coladas and daiquiris. This restaurant also offers a separate gluten-free menu.
Head over to the fishing docks for dessert at the resort ice cream parlor. The docks are also home to the Hawks Cay General Store if you need staples such as cereal, milk, etc. As part of the resort renovation, a new restaurant is planned, the Angler and Ale, which will focus on seafood and a large selection of craft beers. This restaurant will also prepare any fish that you have caught and offer live entertainment in the evenings.
We had the most educational vacation yet (which always helps to justify missing a few days of school). Our first stop was the Turtle Hospital in Marathon. After a slide show of the different types of turtles and reasons they come to the hospital, we visited the operating room and tanks to feed these gentle creatures. My son was captivated by the experience. What 7- year-old boy doesn't love learning about Bubble Butt Syndrome?
We headed off to the Dolphin Research Center in Grassy Key for another incredible learning experience. My son and husband signed up to get in the pen with the dolphins, and I will never forget watching my husband dance with a dolphin in front of 30 spectators. Note that Hawks Cay also offers dolphin experiences. My aunt in her 70's signed up for the dolphin experience available at Hawks Cay. If you're looking for more of an educational experience for your kids, I would recommend the Dolphin Research Center. For the best photos, I would choose Hawks Cay.
This last trip we also visited Theater of the Sea, which opened in the 1940's. We saw a show with dolphins and a sea lion with front-row seating which put us not more than 3 feet away from the animals. What kid wouldn't be in hysterics with a sea lion sticking out its tongue at them? After an ice cream, we donned bathing suits and swam in their Lagoon to hand-feed parrot fish. The Lagoon also houses barracuda, which we only mentioned to our son after he was out of the water.
A trip to Hawks Cay is about so much more than just the resort itself. We have visited the resort frequently over the last six years but this last trip was perhaps our best ever, with both our kids old enough to appreciate the activities the area has to offer. So leave your Jimmy Choo's at home, pack your flip-flops, and book this nostalgic vacation to share with your children.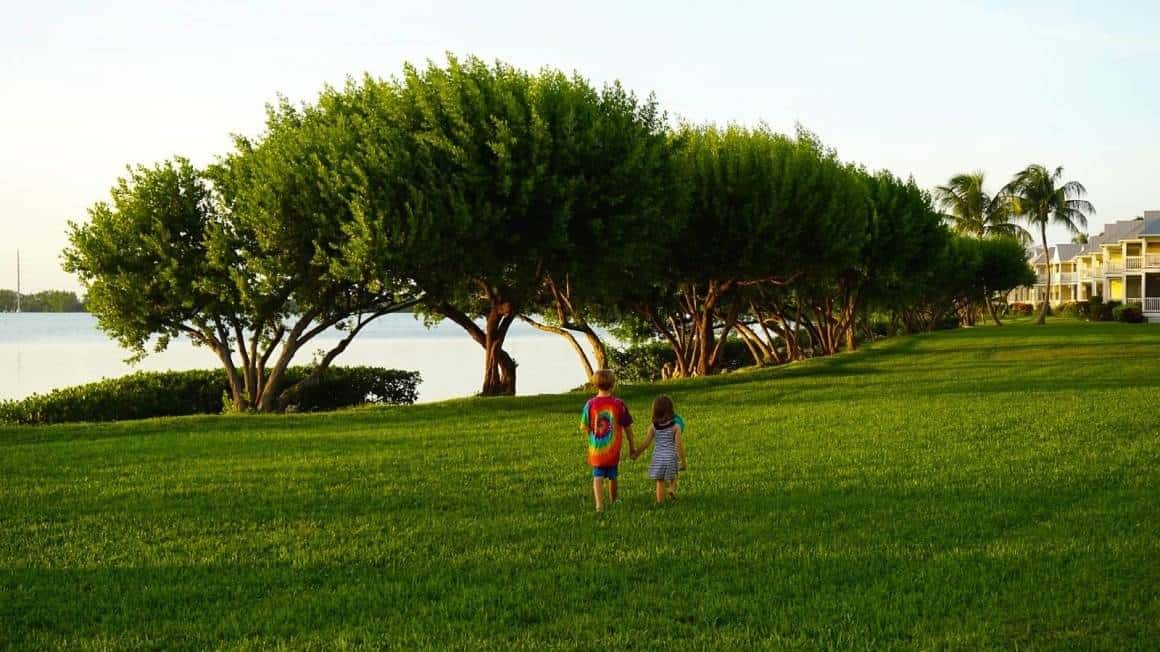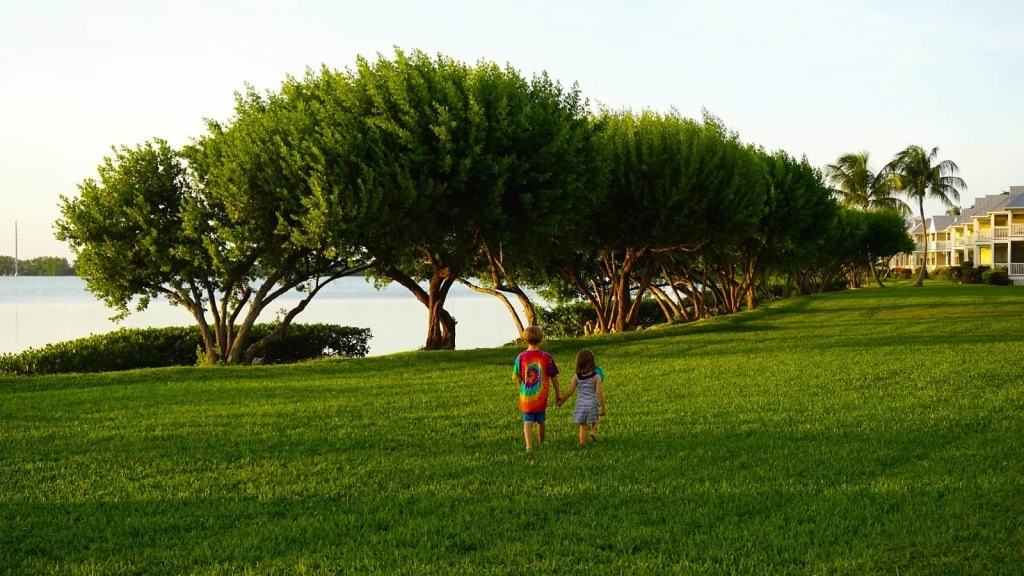 Check your dates for rates.