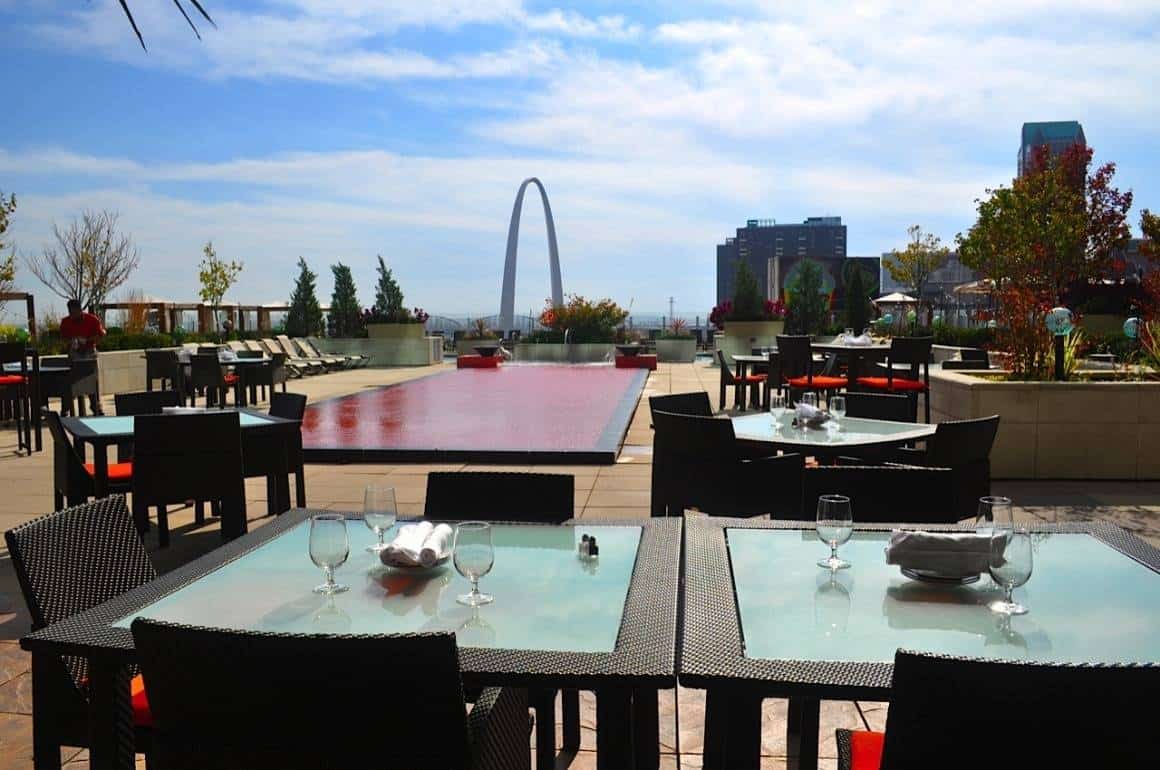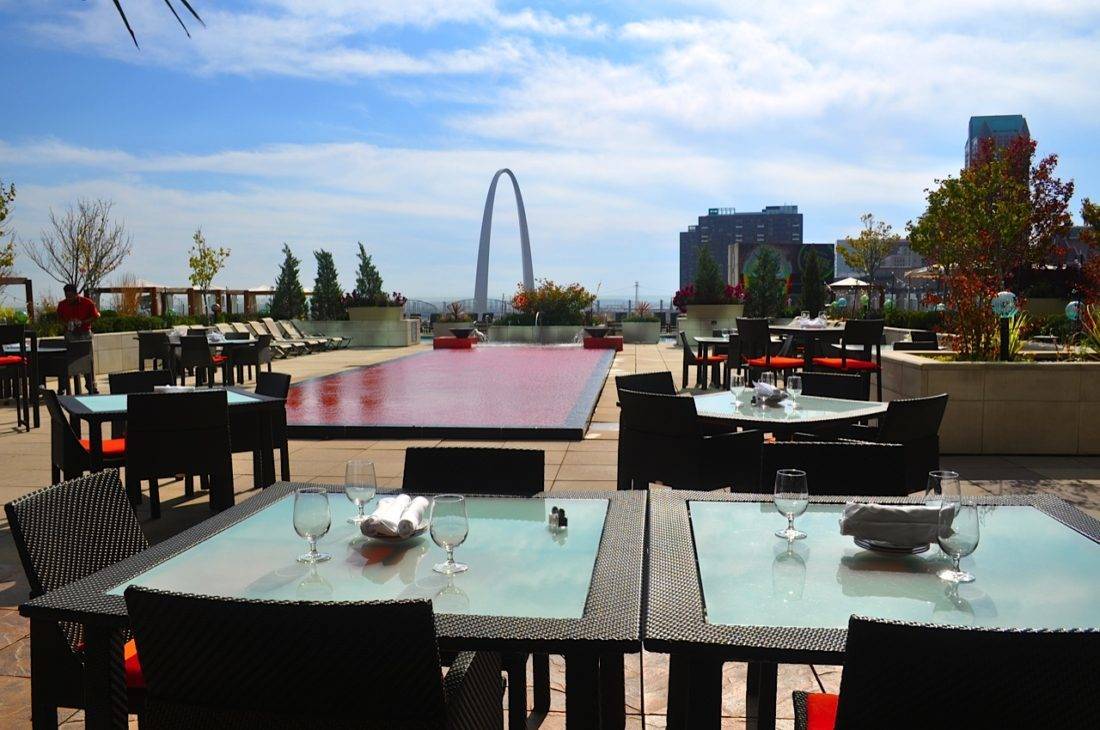 The phrase "urban oasis" is overused, and typically does not describe anything worthy of the meaning. I don't think I had ever really experienced an urban oasis until I stayed at the Four Seasons St. Louis.
Like many downtown St. Louis hotels, the Four Seasons is situated along the Mississippi River, and lucky guests are given views of the St. Louis Arch. The property is part of a complex called Lumiere Place that also contains a new casino, but I never would have known it was there without the signage. The Four Seasons welcomes you to one of the more thoughtfully designed city hotels that offers a decadent escape while remaining in the middle of everything—even with football stadiums and an interstate right next to you, it feels like you are floating above the city.
The Sky Terrace is responsible for this, extending out from the 8th floor of the hotel. Massive patios surround on all sides and transparent walls encase the outside spaces.  Your toddler will not be able to climb them. Beyond Cielo's patio seating and herb garden is a beautiful reflective pool and the hotel's swimming pool flanked by cabanas. It is no surprise that the Sky Terrace becomes incredibly popular in the summer time. Fortunately, the pool is closed to all but hotel guests on weekends during high season.
I had originally planned to bring my daughter on this work trip, so the Four Seasons had asked for her name and age. The Four Seasons is one of the hotel brands that set the standard for children's welcome amenities. I ended up, however, arriving solo—which is a good thing because I arrived after three consecutive 14-hour workdays. I attempted to shift gears and slow down and spend a day at the hotel spa to give the monkeys jumping in my mind a rest, too.
I was lucky to receive a beautiful room with a great view of the river and St. Louis Arch, and it was still prepped  for my daughter—with a robe, slippers, and an organic Circle of Friends bath set waiting for her. And they monogrammed the bathtub with her name in removable rainbow stickers. As I mentioned, no one does welcome amenities for kids like the Four Seasons. I was a little homesick for my children seeing these touches but was immediately consoled by the treat that they intended for my daughter, specifically an arch made of chocolate Rice Krispy treats. Don't even think I considered packing that one to bring home.
The rooms have generously sized bathrooms, minibars that are easy to lock if you are traveling with a toddler, and Keurig coffee makers. I was nervous when I saw the ubiquitous Green Mountain coffee pods but pleased with the stronger options that were parent-strength: French Roast, and Magic Dark. The Premier King room I had might have been tight for a rollaway bed, so I would suggest families get two beds or a suite to be comfortable. The Four Seasons always has high chairs, cribs, toys, and games for its smallest guests.
The room service menu has standard comfort fare, but guests can order from Cielo, the hotel's restaurant, through in-room dining, too. Cielo opens up many possibilities with their new chef, Gian Nicola Colucci, from Hotel Danieli in Venice. Their former chef, also from Turin, Italy, moved to the new Four Seasons in Orlando, and they both love introducing donut lovers to Bomboloni, an Italian twist on the creme filled donut that is lighter than the American donut. You can place orders by the dozen  to take home or to gorge on in the privacy of your room.
I ordered three small plates of seafood with vegetables and was asked if I wanted a glass of wine, "What would you pair with a chocolate Rice Krispy shaped arch? Prosecco? Perfect." I loved my cured shrimp, scallops, and blue crab salad. Next visit, I would love to try Chef Colucci's Venetian-inspired dished like Lobster with squid-ink pasta. My kids could order their dream dinner: salmon with buttered noodles and broccoli.
Because the Four Seasons works hard to be the premier hotel of St. Louis, there are many unique services for family and business travelers. I loved that if you lost your luggage, there is a Saks Fifth Avenue stylist ready to swoop in and come to your aid with a new wardrobe until your bags are delivered. This Four Seasons perk is worth buying delayed baggage protection that includes a stipend and hoping for the worst!
What struck me most about the hotel's spa and fitness facilities was how much space was designated for them, taking up an entire floor of the hotel. Some hotel spas feel very dark and cramped, but the Four Season's spa and fitness center is drenched in sunlight and never ending. When I think of the signature Four Seasons design elements: glass, chrome, and ivory marble, I saw them here in abundance. The design geek in me was obsessed with an exterior glass staircase that connects the spa floor with the lobby floor, and I couldn't stop admiring it. It is one of the most popular spots in the hotel for wedding photos. The general manager, Alper Oztok, walked by and introduced himself while I was admiring it. The hotel feels very intimate, and the staff really knows its guests on property.
Moms are great at going from zero to 60 miles per hour. But going back from 60 to zero is really, really hard. Our families always need something, and there is always more we need to do for work. I have always believed in the power of a great hotel stay to replenish my reserves, but I was definitely checking into the Four Seasons with an empty tank. My spa appointments began at 9AM the next morning—or at least I thought they did. I found I had the time wrong and arrived an hour early. The spa desk changed my schedule and accommodated my error with a smile. It's that kind of place.
The spa has both coed and single-sex lounge areas. I loved that these river-facing lounges give guests the perfect view of the large cargo barges that move at a snail's pace in the river. It's hypnotic and relaxing. Their signature couple's treatment includes massage, champagne, and time in a private suite with steam and shower. Just try, however, to request it by name, "the Royal Celebration of Love." I wonder how many times the staff had to say that out loud in order to say it with a straight face.
When I was trying to coordinate my spa appointments, lunch, and check out time, I relinquished control to the staff to coordinate everything. They did not disappoint. In the ten minutes in between my excellent massage and facial, the spa hostess handed me a spinach and flax seed smoothie to drink in the tranquility lounge. It looked as muddy as the river water but tasted fabulous. I loved the services I had, but on my next visit, I would love to do the signature Barbor experiences like the anti-aging 80 minute facial and 105-minute massage just because I wanted more. I would allow time in between services to soak in both hot tubs, swim outside if the weather was warm, and finish the nap I started in the tranquility lounge while watching the barges on the Mississippi. I simply didn't want to leave. Spas aren't all created equally, and the Four Seasons felt special on every level: service, design, amenities, and treatments.
The hotel would be a great place for friends from both coasts to meet up, and I began planning the perfect no-kids weekend in my head.  Even though the Four Seasons St. Louis is as welcoming to families as city hotels go, this hotel would be ideal for a parent-only getaway or family getaway with lots of hotel-arranged babysitting—which they can do, of course. There are farm-to-table visits and dinners with Cielo's chef, tours on local craft beers, vineyards, and a wonderful music scene near the hotel. Combine the hospitality of St. Louis (trust me, it is a really friendly city) with the Four Seasons level of service, and you have yourself an authentic urban oasis.