A kids' safari in Botswana is the stuff of bucket-list vacations, combining eco-luxe lodges with some of the most impressive and diverse wildlife on earth.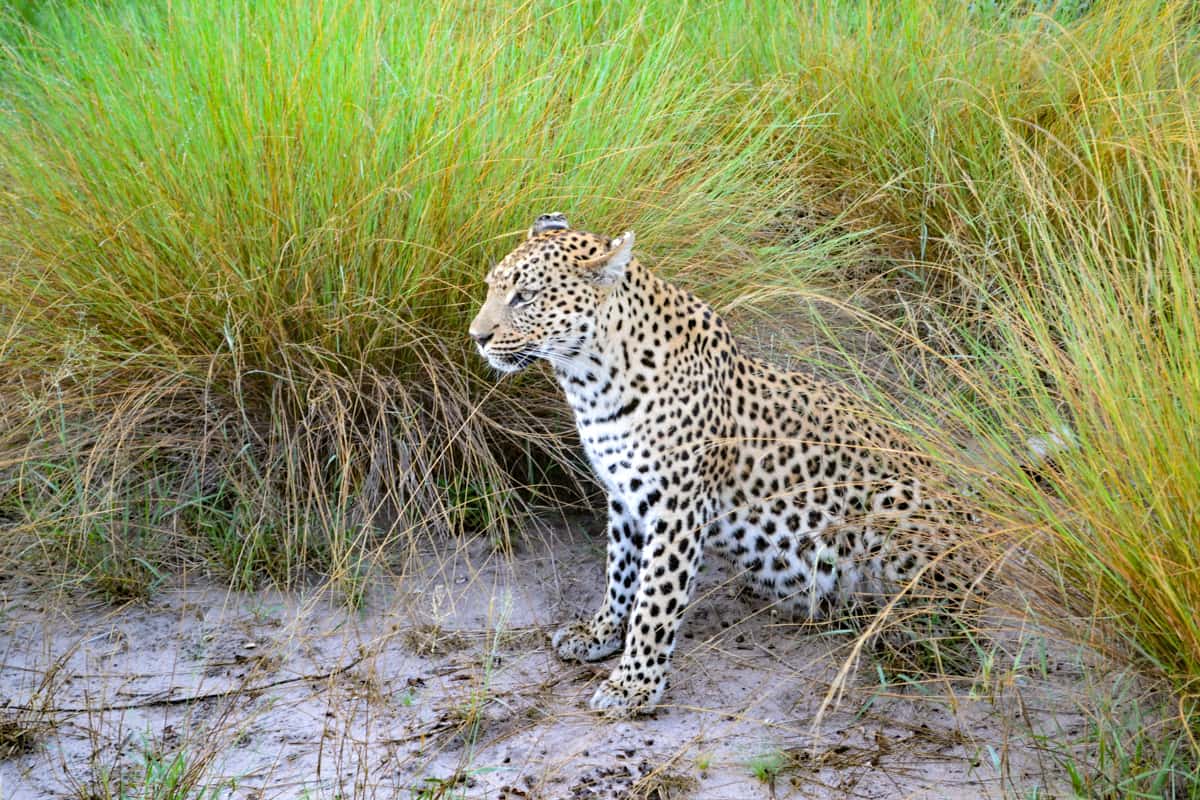 This once-in-a-lifetime trip had been the dream for my animal-loving daughter. She had recently turned seven, which is the perfect age to try out an African safari vacation. Who knew? 
Lured by the country's low-volume approach to tourism to get off the beaten track, I decided to embark on our debut African family vacation to Botswana.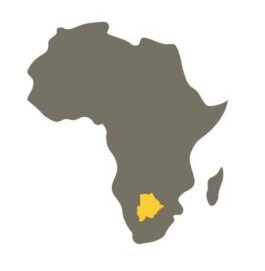 For our weeklong adventure, we decided to explore the Okavango Delta region in Southern Botswana. We picked out three intimate camps run by Wilderness Safaris, due to their reputation as the leading Botswana luxury safari operator and their expertise in family safaris.
Our first stop was Tubu Tree, a tree-top camp with only eight tents. Next, we visited Seba camp, which has been specifically designed for families. We rounded off the trip off in style with a couple of nights at Vumbura Plains, one of the most exclusive safari camps in Southern Africa.
Any concerns that I may have had about taking a child on such a far-flung adventure quickly evaporated as soon as we touched down in Botswana's Maun airport.
The Wilderness team skillfully organize aerial transport between the camps, making it as stress-free as catching a bus.
Tubu Tree: a Tree-Top Adventure
A friendly team from Wilderness Safaris greeted us. Steering us across the tarmac to the tiny ten-seat airplane, they flew us to our camp, low over the African bush.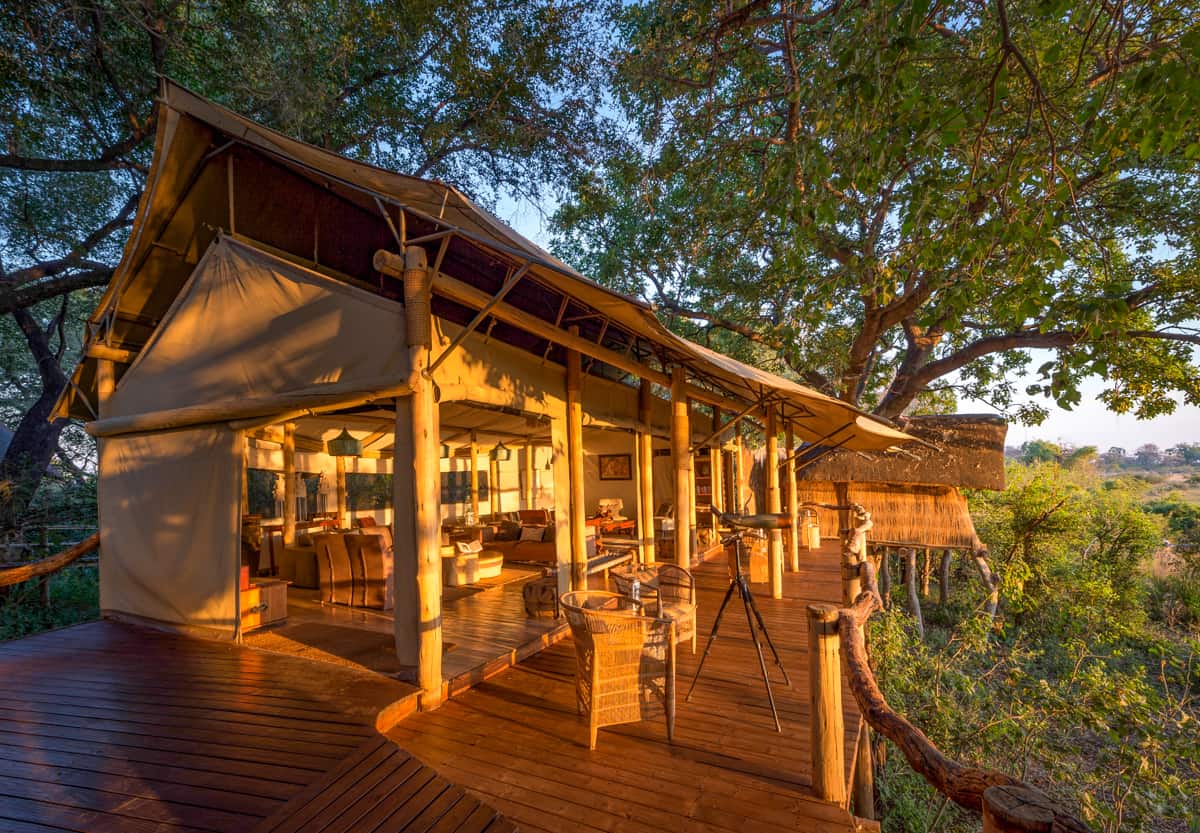 Tubu Tree is located in the 150,000 acre Jao Reserve in the northeast region of the Okavango Delta. What makes this place really unique is that the camp is on raised wooden stilts. With a feeling of being in a treehouse, my daughter's safari dreams exceeded our expectations.
Safari Nannies called Bush Buddies
As soon as we arrived at the Tubu Tree camp, Keity, my daughter's 'bush buddy gave us a warm welcome. She served as a dedicated mentor who was on-hand to enhance her safari experience. Or as Keity explained to Summer "I will be like a second mommy while you're staying with us".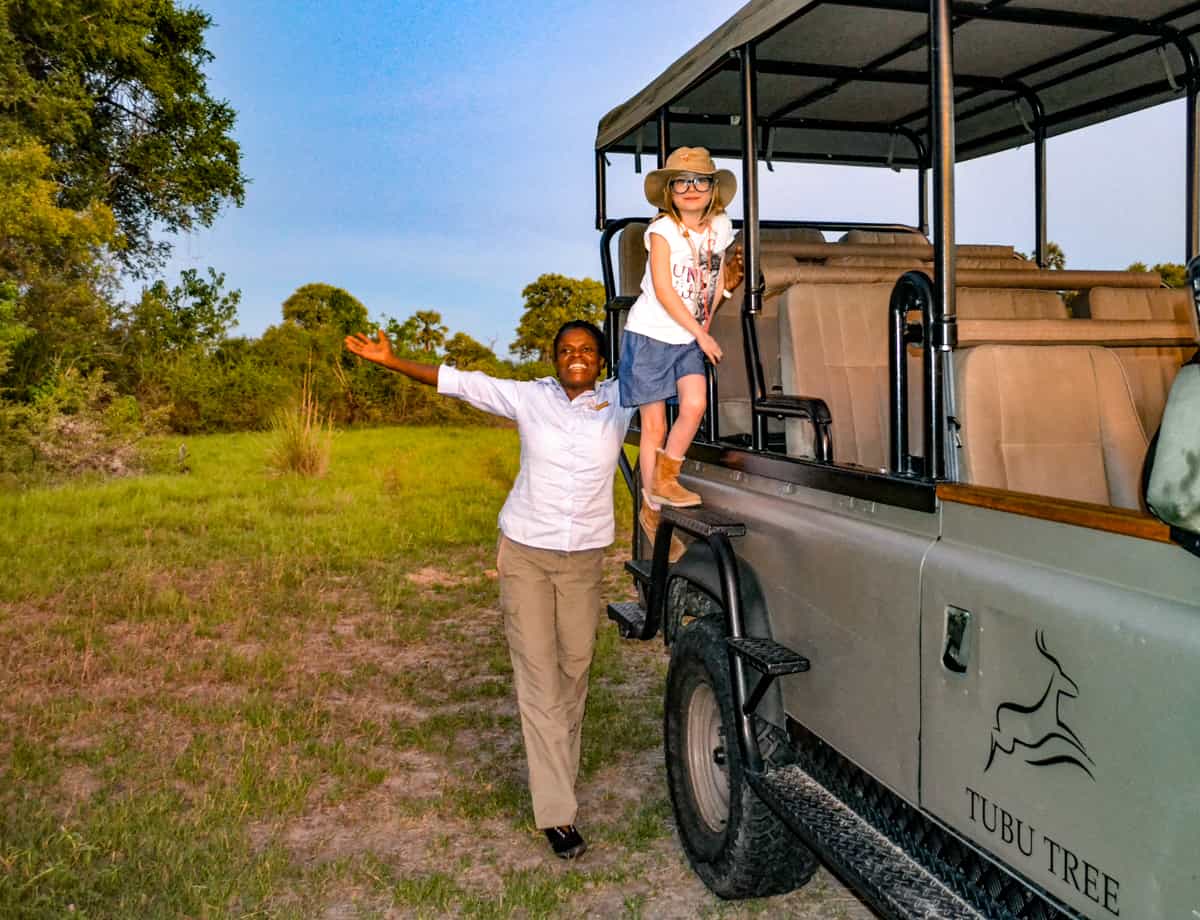 This massive perk for families teaches children about local culture through tailored activities while parents enjoy a little down time. And it's complimentary.
Keity presented my daughter with her own bush buddy safari backpack. She filled it with useful mementos such as a bug viewer, a 'My Wilderness Journey' booklet, a sun hat and flashlight for evening adventures.
Each family's bush buddy plans an itinerary tailored to each child's age and interests. They accompany the family on activities and also spend time with the children back at camp.
JOIN OUR LUXURY HOTELS & RESORTS FOR FAMILIES, A FACEBOOK GROUP FOR SEEKING ADVICE AND INSPIRATION FOR THE BEST LUXURY FAMILY BREAKS.
This bush buddy program was one of the highlights of the trip. Summer learned to make beaded African jewelry. She played the traditional game of Morabaraba with marbles, which she has since taught her classmates back at home. I also gained a fascinating insight into the culture of Botswana with the team Wilderness bush buddies.
Family Safari Accommodations
Our elevated room provided spectacular views across the floodplains, teaming with buffalos, giraffes, and antelopes. Monkeys played in the sausage trees overhead.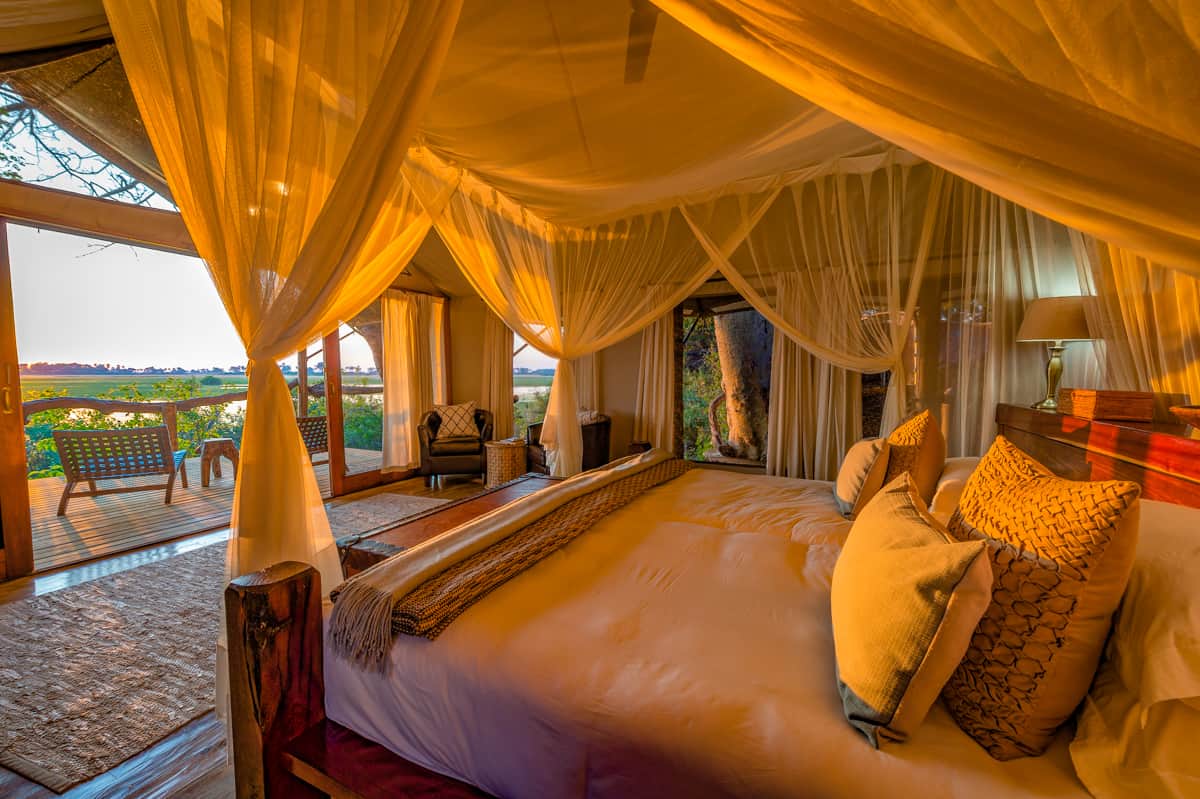 We soon acclimatized to seeing elephants and hippos around the camps. Guests view them from the safety of the raised walkways.
This is glamping with a capital G! The accommodations at all of the Wilderness camps consist of tented rooms. Guests find netted, four-poster beds, yoga mats, free weights in each tent. You can shower either indoors or alfresco, using eco-friendly toiletries by Africology.
The standard rooms are very spacious, but most camps also offer family lodges. Parents can sleep near their children without being too cramped in one tent. Depending on the camp, this could be either a sectioned-off sleeping area or a separate room. Some come with shared facilities and others with separate bathrooms.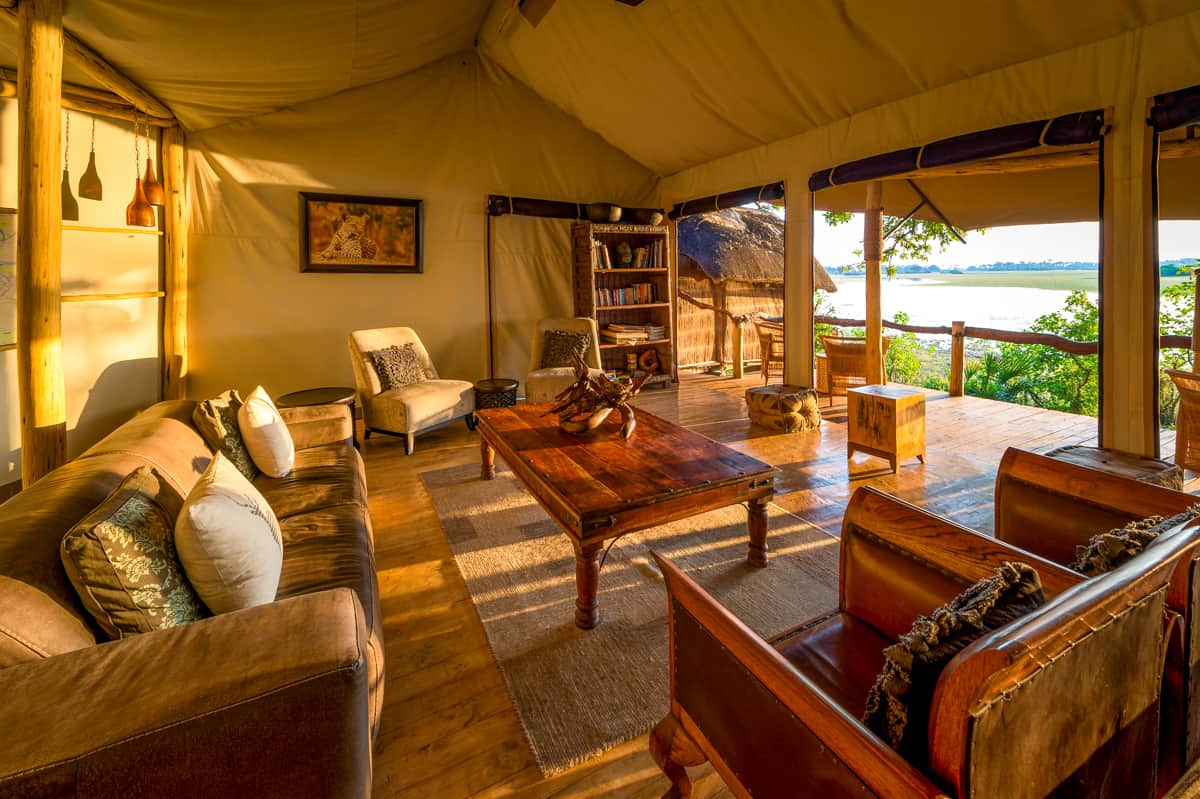 Enjoying a Botswana Safari with Children
Our typical safari day started at daybreak with a morning game drive. For a safari with children, it is worth paying a little extra for private activities so that you can go at your kids' paces.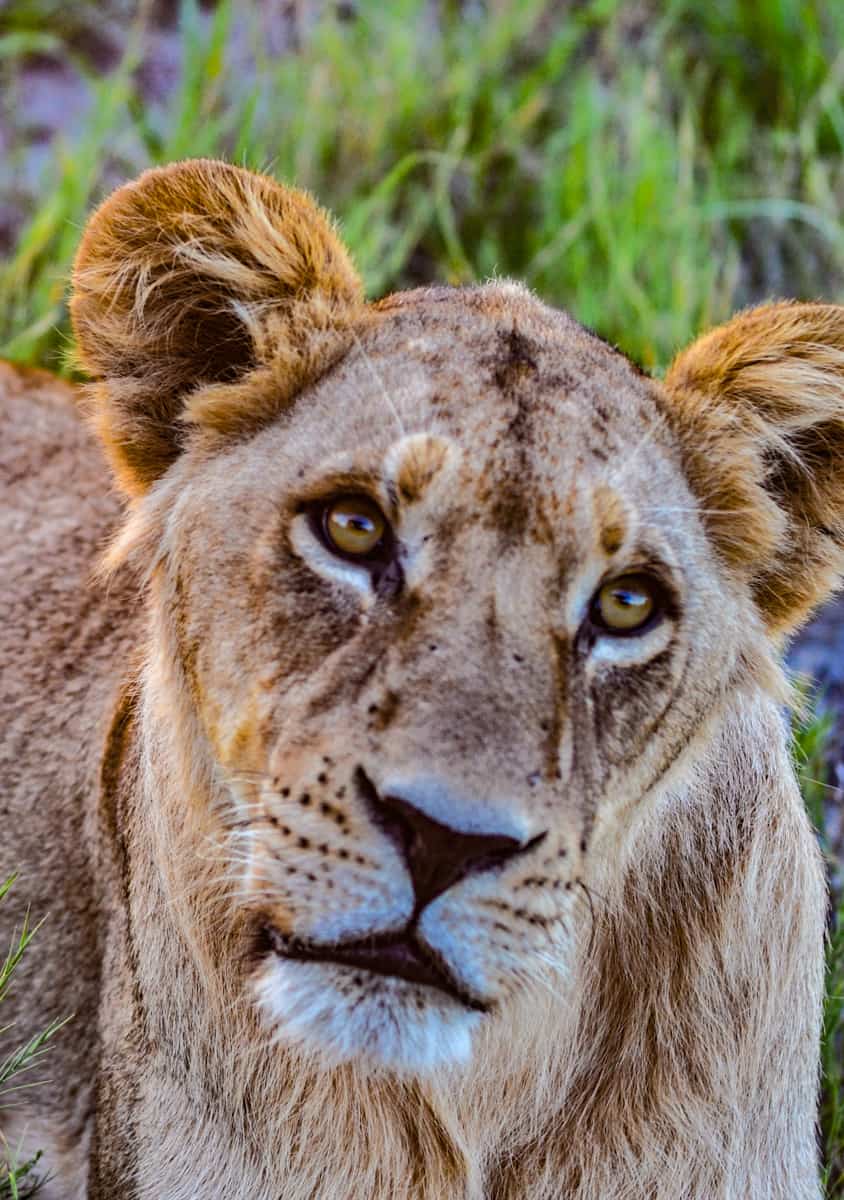 There was never a dull moment on the drives. Expect to see lions hunting just feet away. Hippos wallow in lakes a stone's throw away, and curious elephants come right up to the jeep.
It's not just the animals that make the drives so memorable. The game drives kept both me and Summer transfixed. The aroma of the sage that grows rampantly throughout Botswana and the chorus of baboons stimulated all the senses.
Meals at Tubu Tree
By late morning we were back at the camp, in time for a buffet style lunch with plenty of healthy salad options and a special menu for kids.
Guests eat communally with others in the main open-plan dining area. The chefs accommodate and tailoring meal times to suit children's schedules.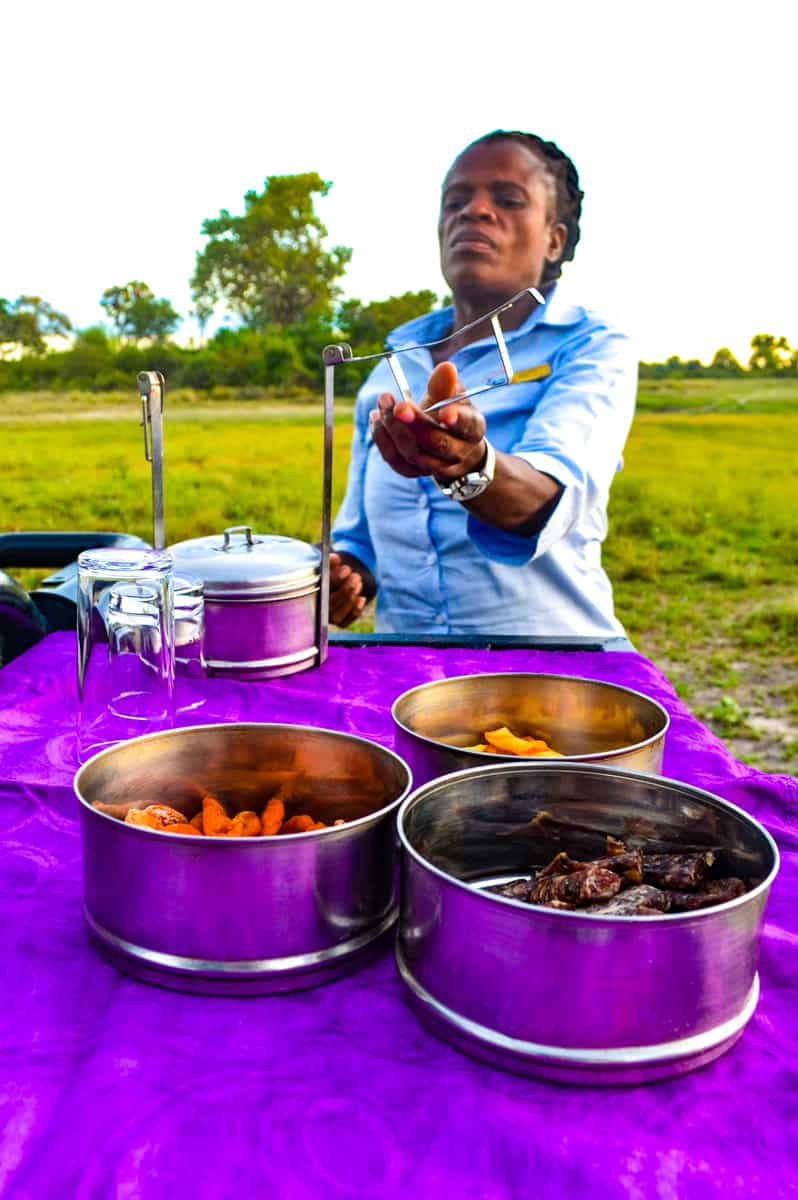 Tubu Tree also has a shared swimming pool for guests and a beautiful open bar area, shaded by a large marula tree.
In the afternoon, activities can range from game drives and safari walks, to boating and catch-and-release fishing excursions.
The Wilderness camps also emphasize engaging with the local culture. Staff integrate their culture and customs into the daily guest activities and experiences.
Certain Wilderness camps offer visits to local villages. In the Kalahari area, visitors can spend time with the San Bushman, learning about their lifestyle through activities and walks.
Cultural Experiences
One of my personal trip highlights took place on our final night at Tubu Tree. We enjoyed an evening of traditional African songs and dance. Performed around a campfire, with a dramatic sun setting over the dusty plains, I watched fully present.
The guests soon joined in with the dancing and Summer danced at the front of the procession. The women made a chorus of high-pitched ululation — a distinctive noise made with the tongue to celebrate and express strong emotions.
The next morning, we were on a light airplane making the fifteen-minute journey over to Seba camp.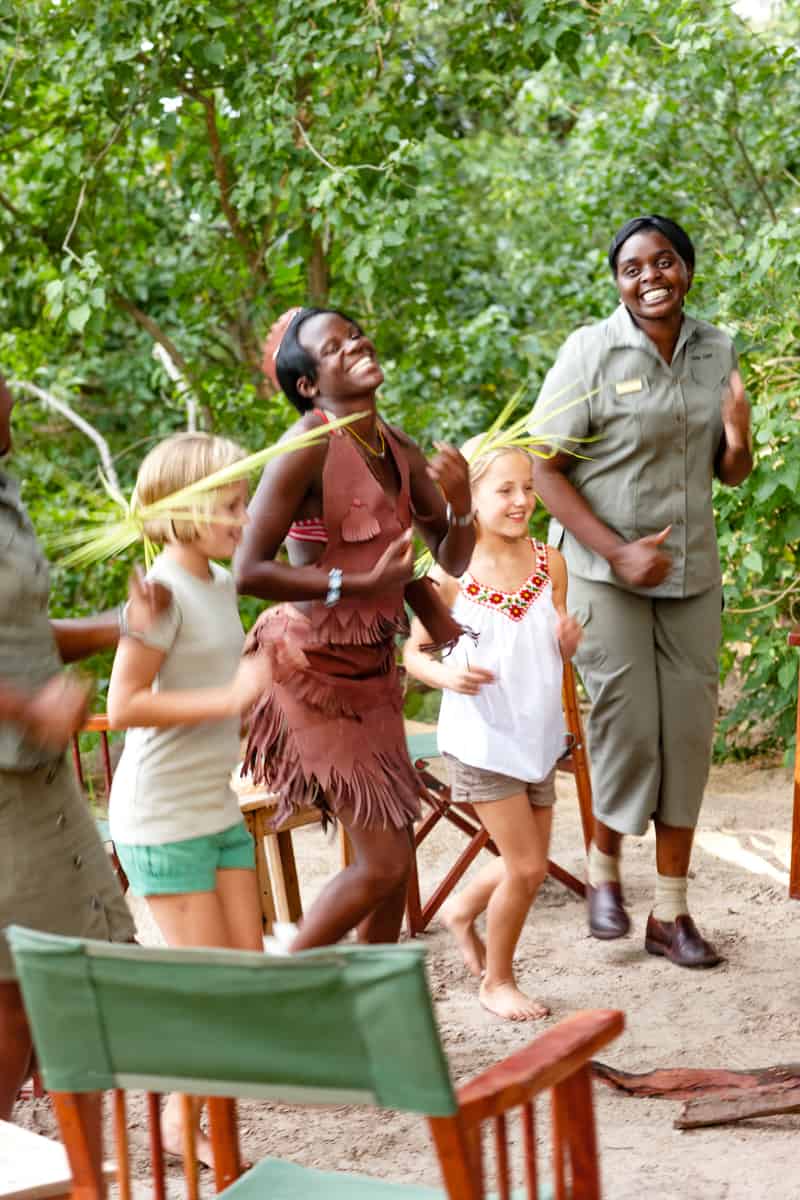 Seba Camp Accommodations
Arriving at Seba, located in an ancient riverine forest, the landscape is fertile with wildlife, attracting zoologists from around the globe. The Seba camp's very relaxed, family-focused atmosphere makes it a great option for larger families.
Of the eight tents in the camp, two are vast family lodges with separate bedrooms for the children and plenty of room for play.
We stayed in a three-bedroom tented lodge, with a second-story viewing deck and private plunge pool overlooking a dazzle of zebras. In our room, a library of toys, safari-themed card games and copies of Nat Geo Kids magazine greeted kids.
Staff constantly replenished homemade cookies in our room. Airtight containers kept the local monkeys from eating them! 
Like most of the Wilderness camps, this Botswana safari lodge runs entirely on solar energy. The company ensures as light an environmental footprint as possible.
As Wilderness Safaris are pioneers of sustainable tourism, there is a noticeable lack of disposable plastic at the camps. Guests use glass bottles given upon arrival, and have access to purified water
Sleeping with Lions at Botswana Safari Camps
As night fell on the camp, with just canvas between you and the wildlife, sleeping in our safari tent at Seba became a completely immersive concert.
Outside you can hear nature's chorus as you drift off to sleep, including baboons jumping around on the deck, and the occasional lion roaring!
It took me a few nights to adjust to the night time safari soundtrack. My daughter was completely unfazed and slept soundly throughout our vacation.
The Best Family Safari Guides
Our charismatic safari guide, Kitso, managed to expertly tailor the game drives to my daughter's interests, and Summer was soon spotting and ticking the animals off on the checklist that Wilderness had provided.
With Kitso's guidance, we were able to tune into the subtleties of the wildlife around us, spotting animal tracks and listening for the bird's warning calls to alert us to nearby big cats.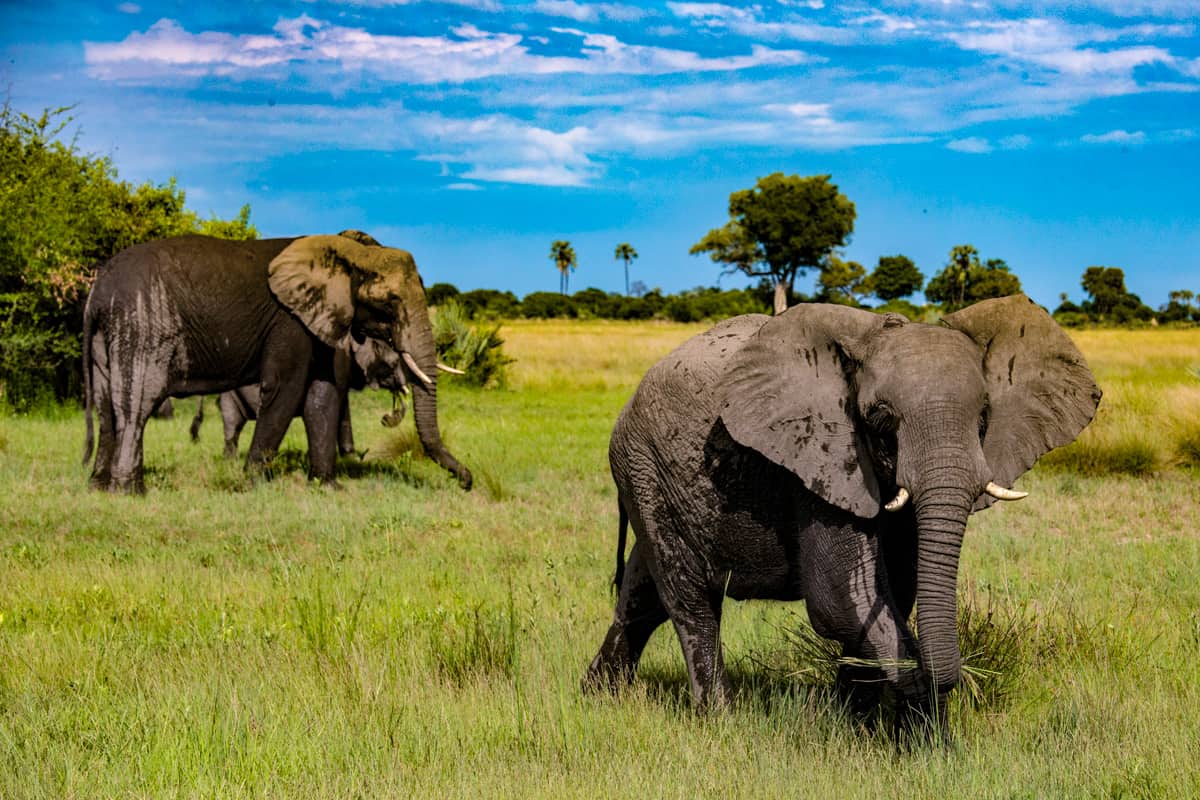 The camp also offers the option of walking safaris, bush cookery lessons, and for a truly unique view of the wildlife, low-flying air balloon rides can be arranged.
Vumbura Plains, a five-star finale
The next morning, we hopped on a propeller plane and made another fleeting airborne journey to our final destination, Vumbura Plains. This exclusive camp has a handful of eco-luxe lodges, set right in the middle of a wilderness wonderland, surrounded by wetlands.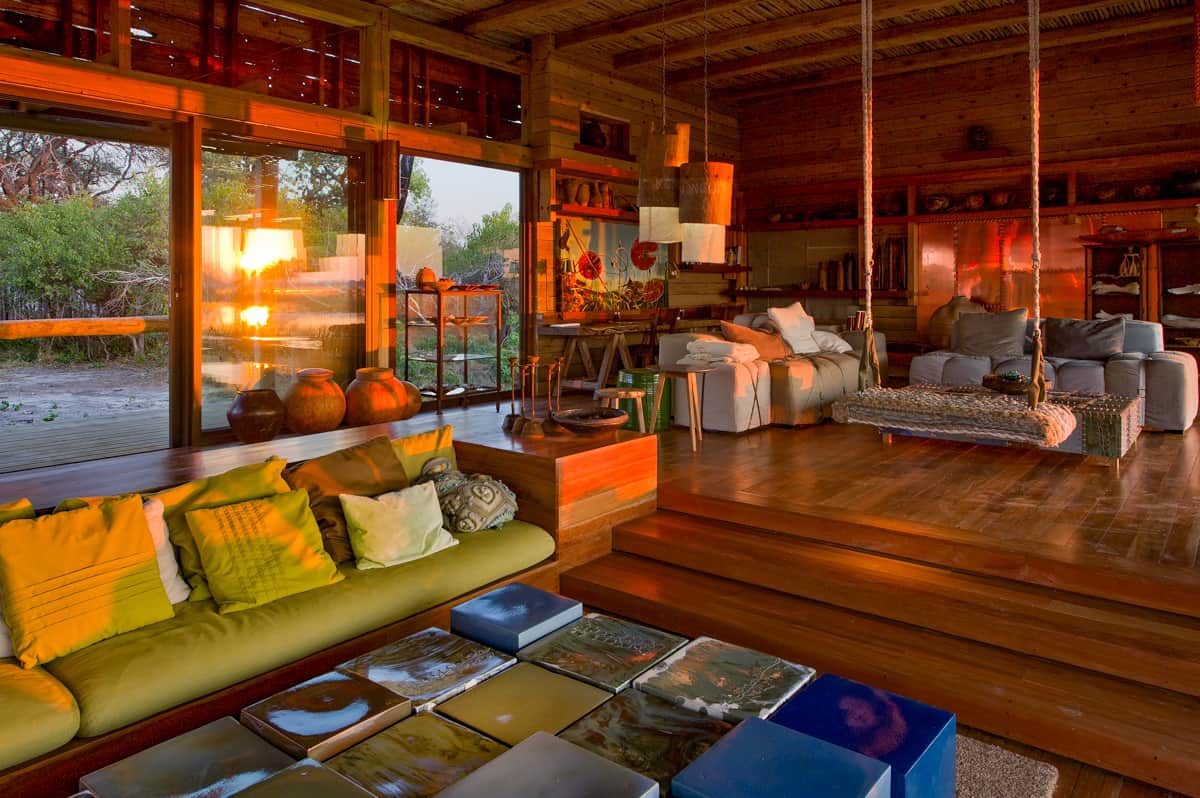 Whilst Tubu Tree and Seba camp are classed as "classic" camps, Vumbura Plains is a premium Wilderness camp, offering a more luxurious, five-star experience.
One of the offerings that this is particularly upgraded is with the cuisine. At Vumbura Plains, instead of communal, buffet style meals, the menu is a la carte. Dishes include both local delicacies like ostrich koftas, along with international dishes like Vietnamese rice wraps. Guests enjoy premium wines with meals, too.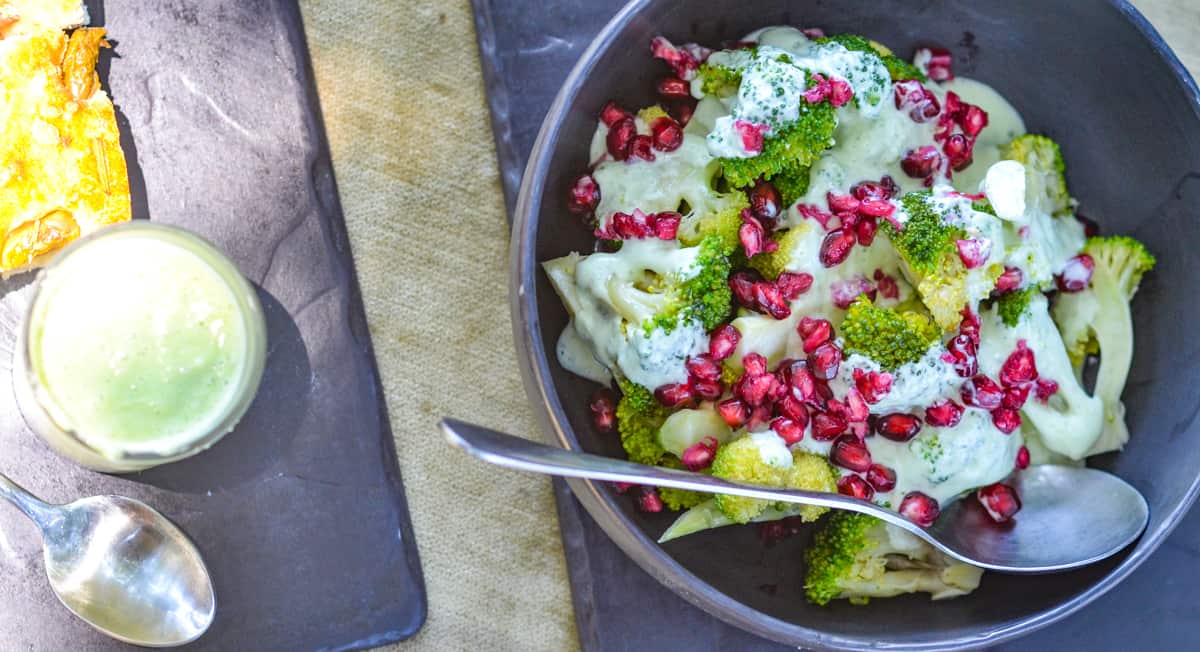 High tea, served just before our daily afternoon activity, included exquisite treats such as miniature passion fruit cheesecakes washed down with fresh fruit smoothies.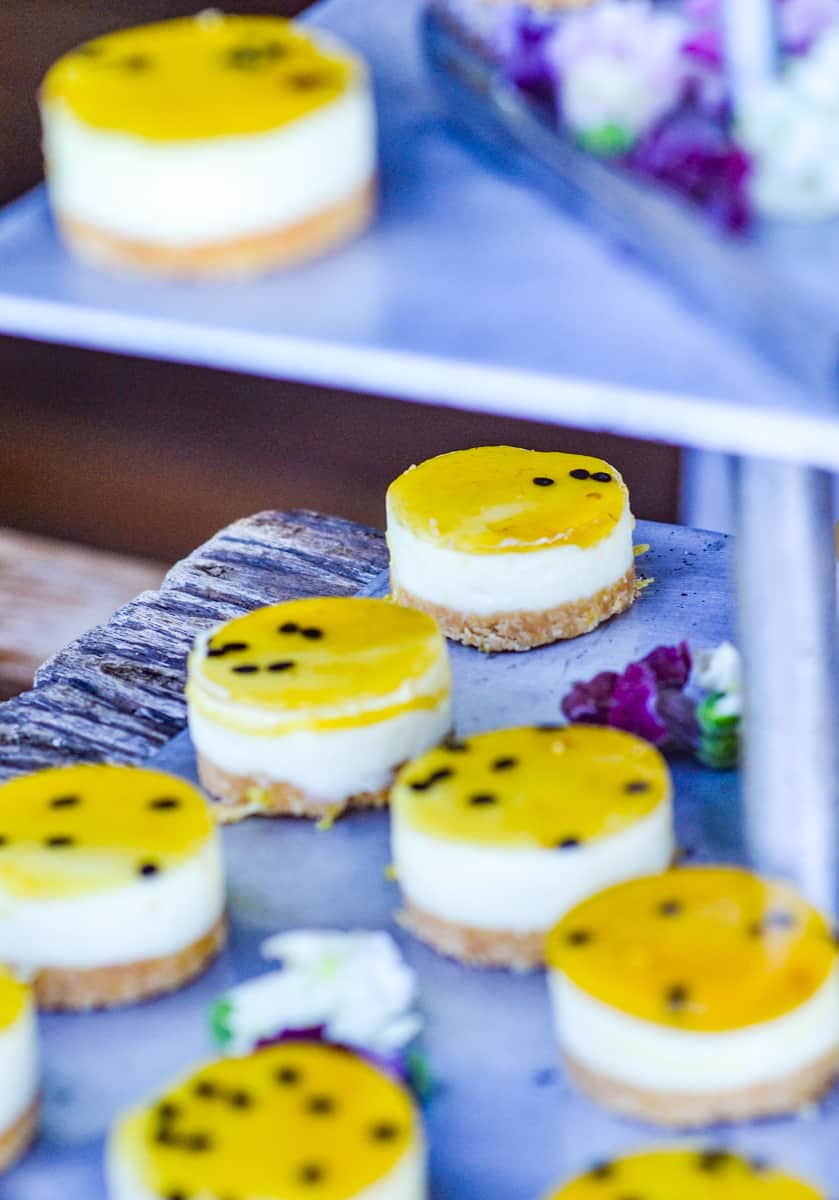 Accommodations at Vumbura Plains
The rooms at Vumbura Plains are more structured and incorporate glass windowpanes with canvas panels. These accommodation have less of a tent-like feel.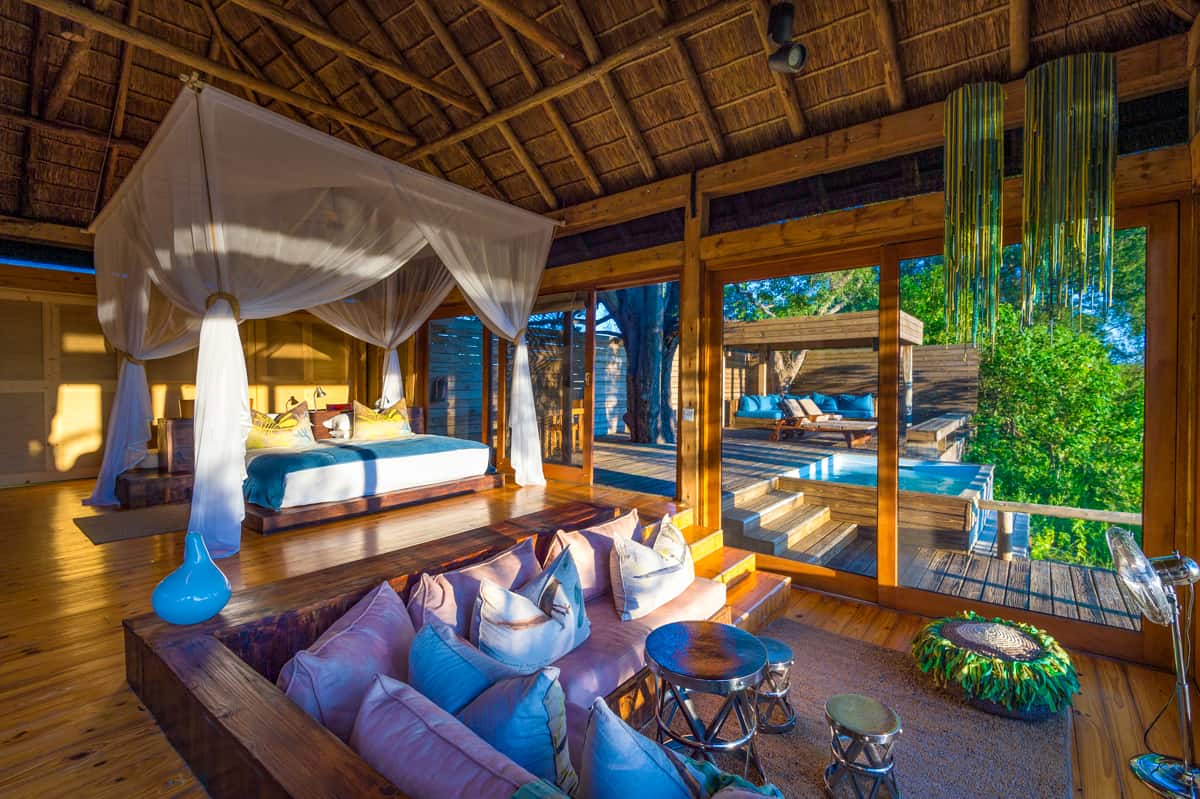 A beautiful, draped shower area takes center stage in the room. There were thoughtful touches including a keepsake map of the local trees and an illustrated poster by a local artist.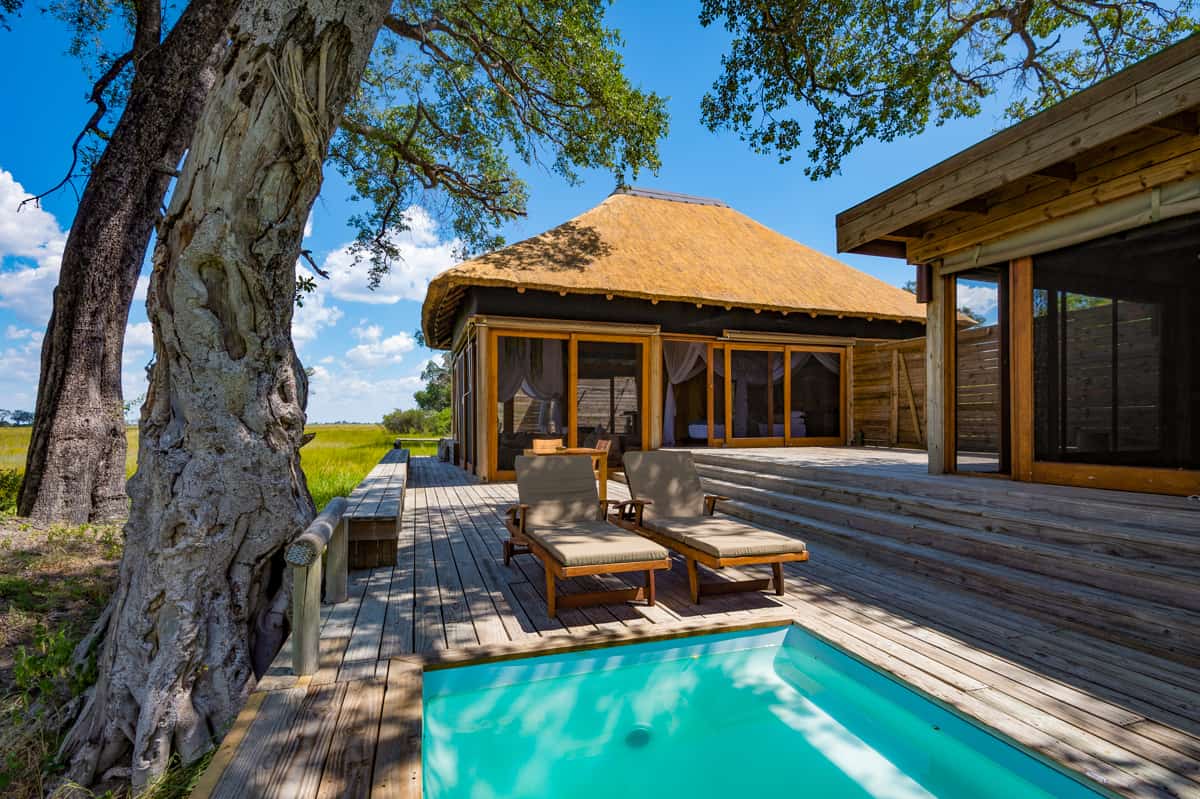 Our room had a private, turquoise plunge pool, where we enjoyed a three-course lunch, looking out over the lush landscape.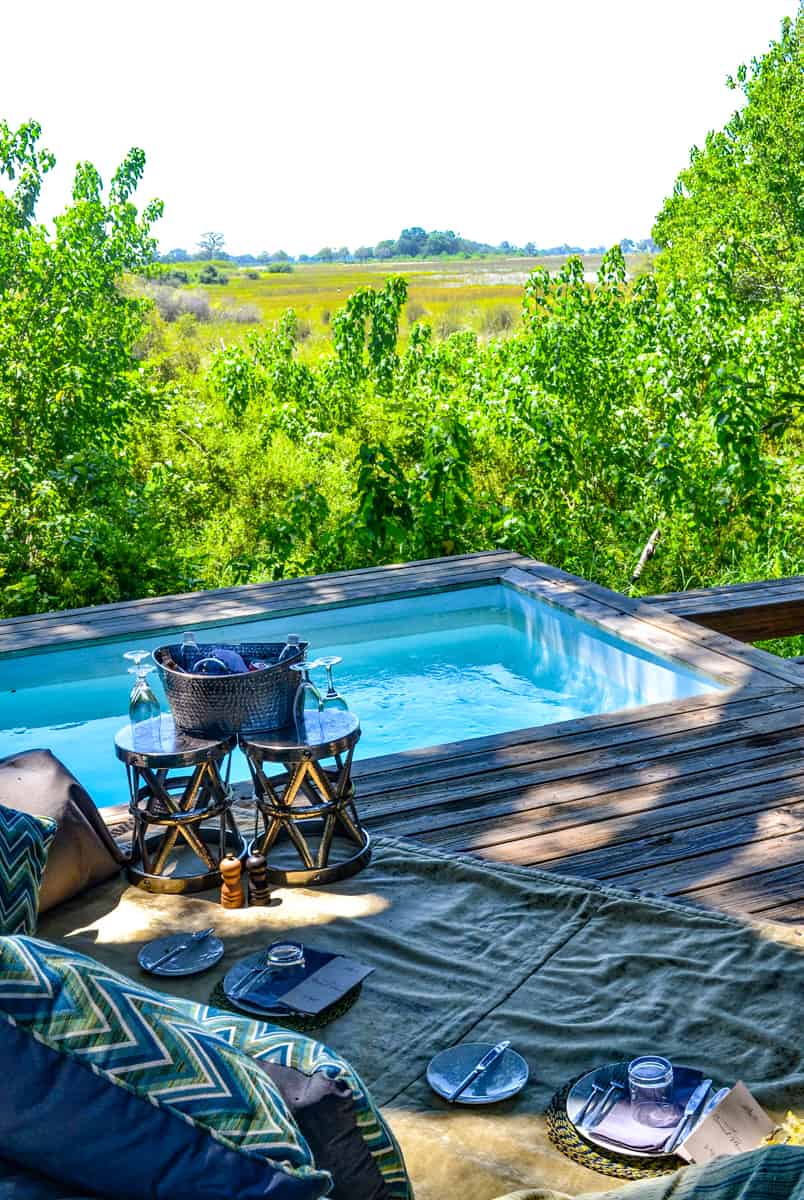 Safaris in the Kwedi Concession
Beyond the camp, the surrounding area is set in the Kwedi Concession, which can only be accessed by Wilderness guests. The landscape incorporates both plains and wetlands, so you can alternate land and water activities.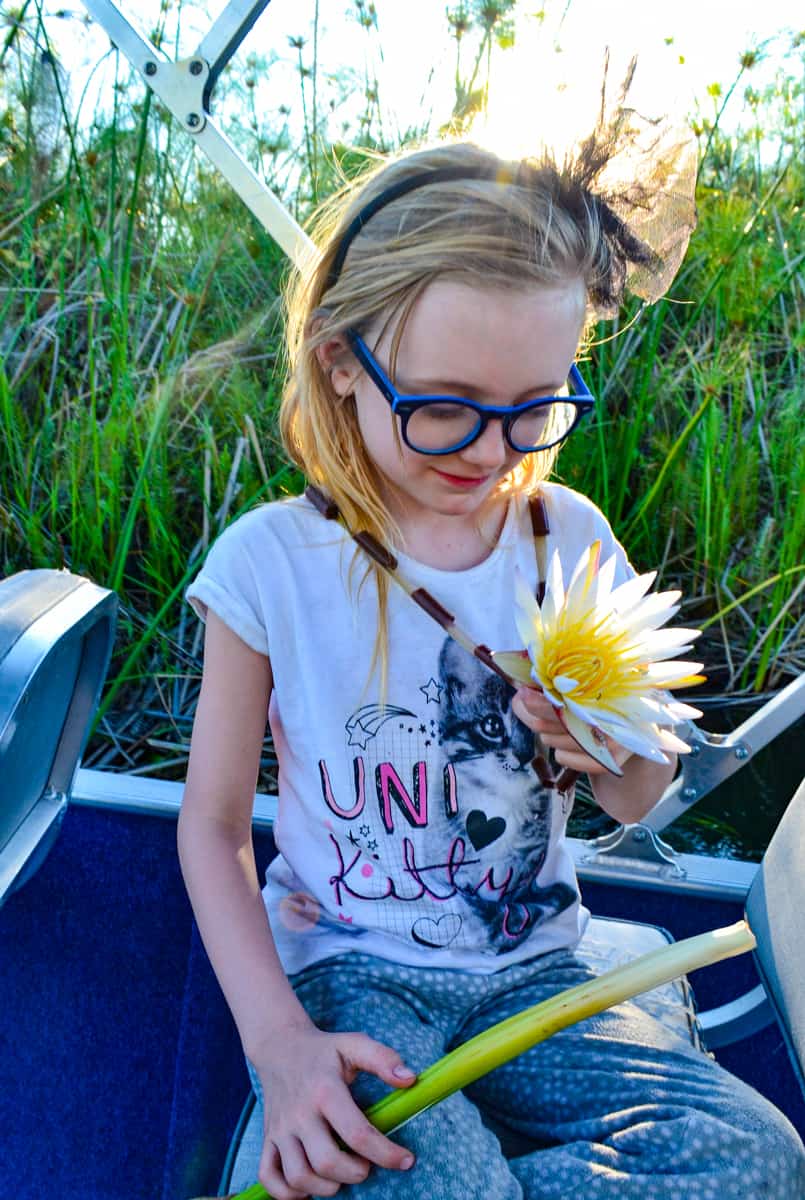 This diversity works really well in holding children's interest. A different pace and perspective for our final few days kept things exciting. In the afternoons, we explored the picturesque waterways in a traditional Mokoro canoe and visited a local island by speedboat. Summer got up close with the local reed frogs, and our guide made us necklaces from the floating lilies.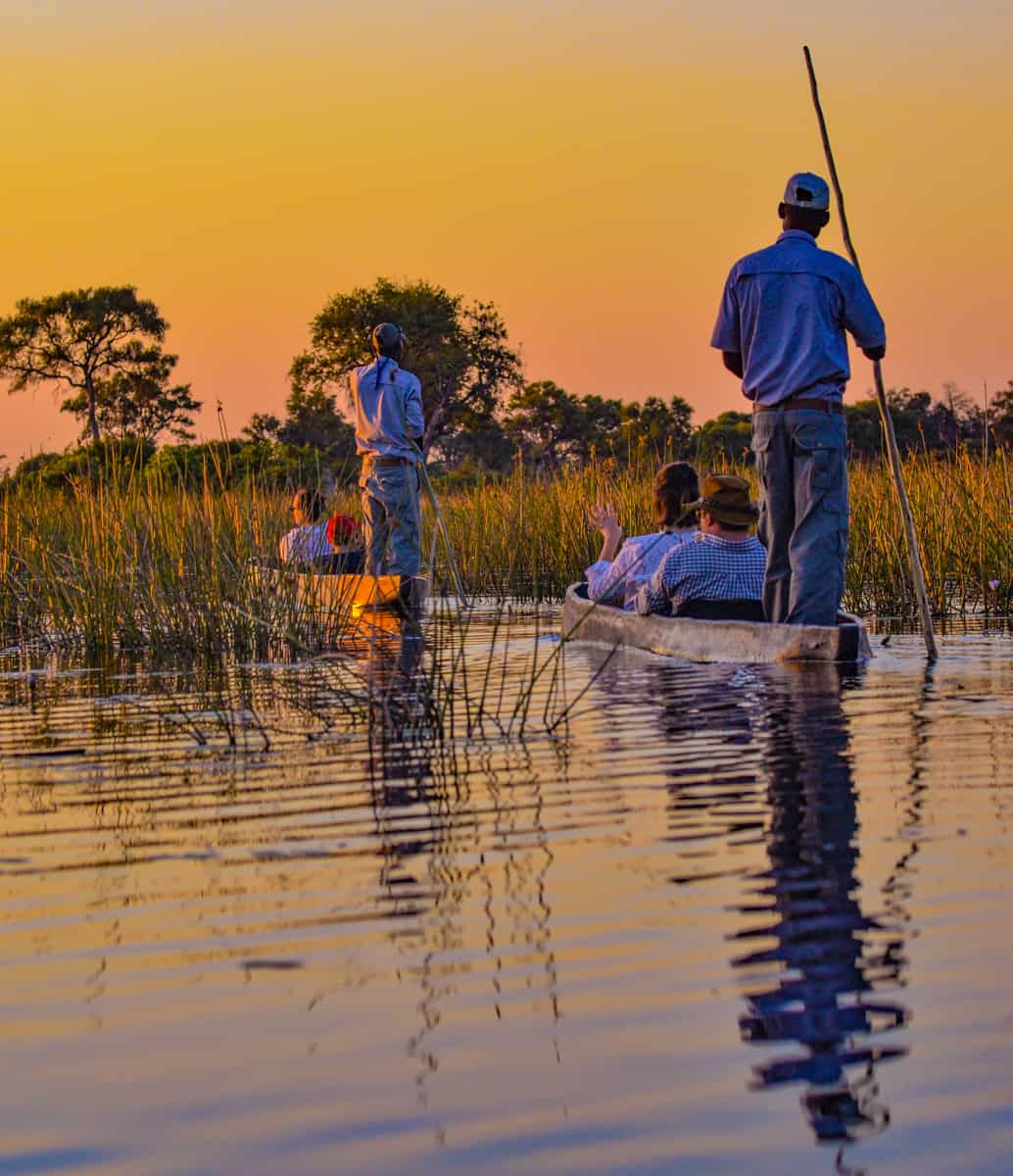 Vumbura Plains is also known for its high concentration of predators, and on our first day at the camp, we witnessed a large pride of lions tucking into their kill of the day, just a few feet from our jeep.
It was an eye-opening reminder of the circle of life. My daughter, who is a big fan of Disney's Lion King, took this in her stride and chalked it up as one of her trip highlights!
On our final evening, Summer and I sat around a bonfire out on the deck, stargazing and listening to the crickets compete with the occasional grunt of the nearby family of hippos, and reflected on our epic Botswana adventure.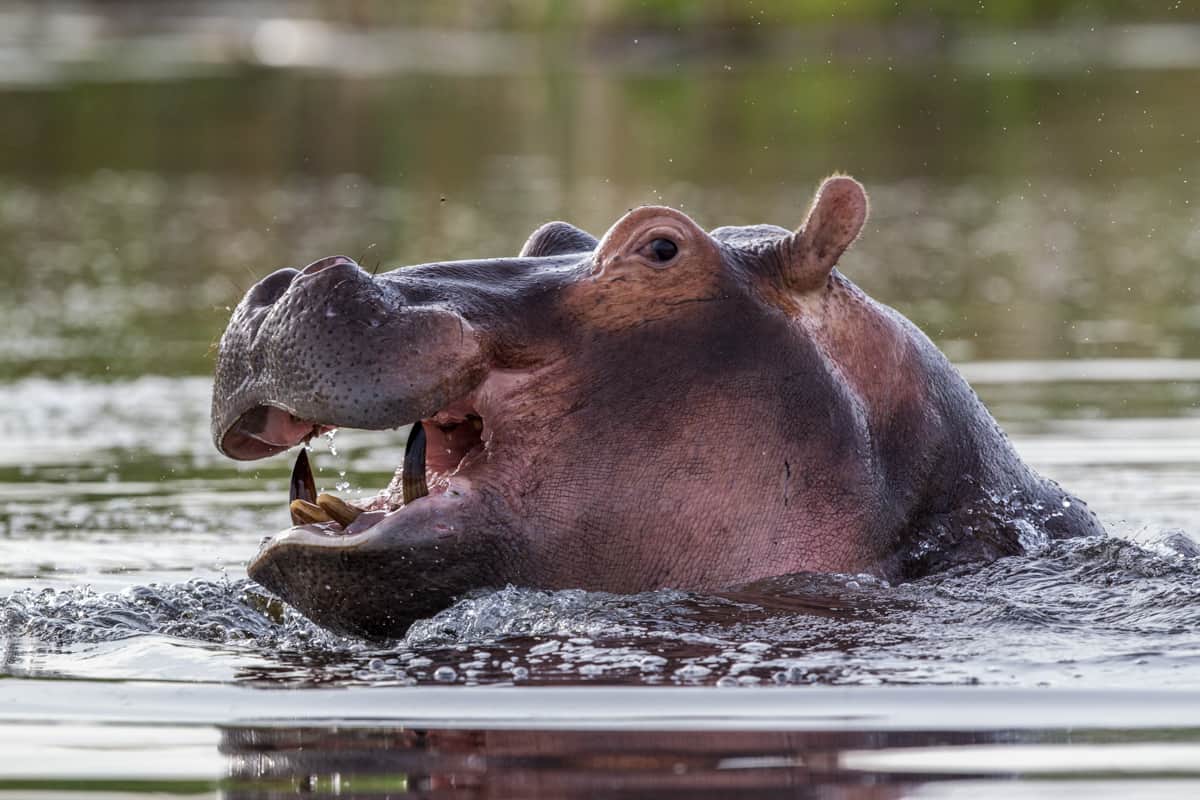 The Best Safari For Families?
Each camp had its own individual charm – Seba's family-friendly ethos had made my visit with a child a breeze, while Vumbura Plains had been the height of luxury.
It was however, the Tubu Tree camp that stole our hearts. My daughter couldn't wait to tell her friends back home that she had slept in a treehouse, and that the noisy monkeys had kept her mom awake!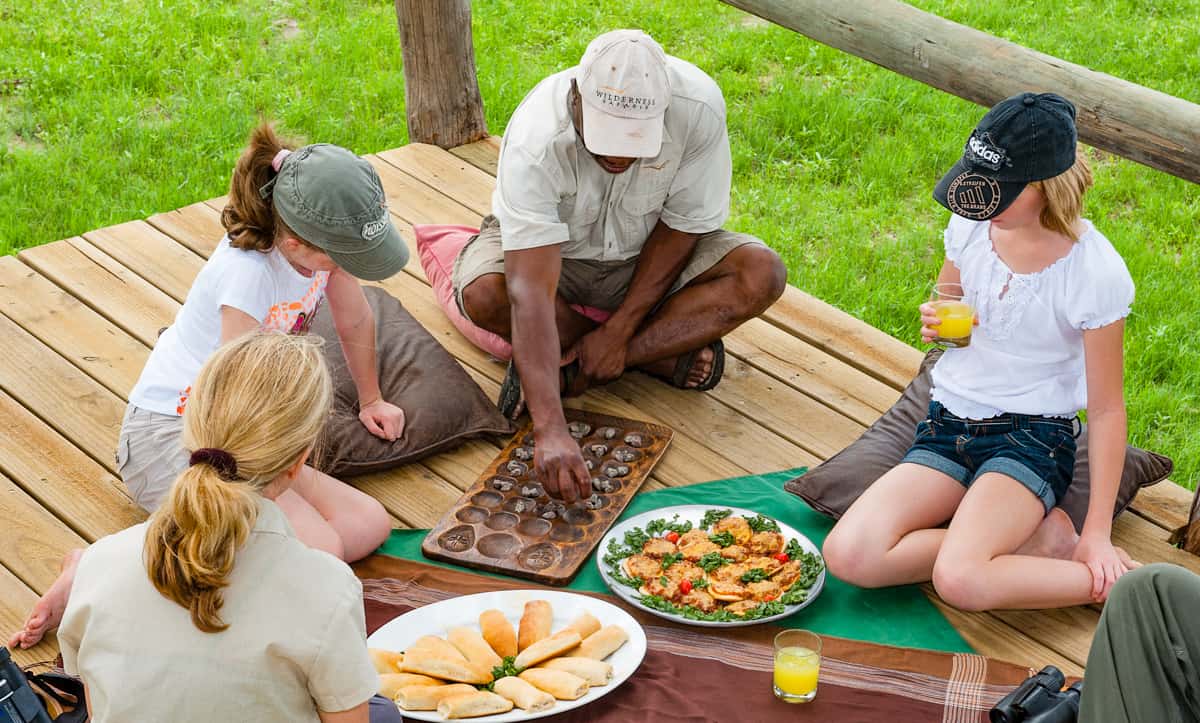 Raising Kids with Conservationists View
Collectively, the Wilderness Safaris camps had offered us something quite unique – luxurious accommodation, in a setting where there were so few boundaries between the incredible wildlife and us.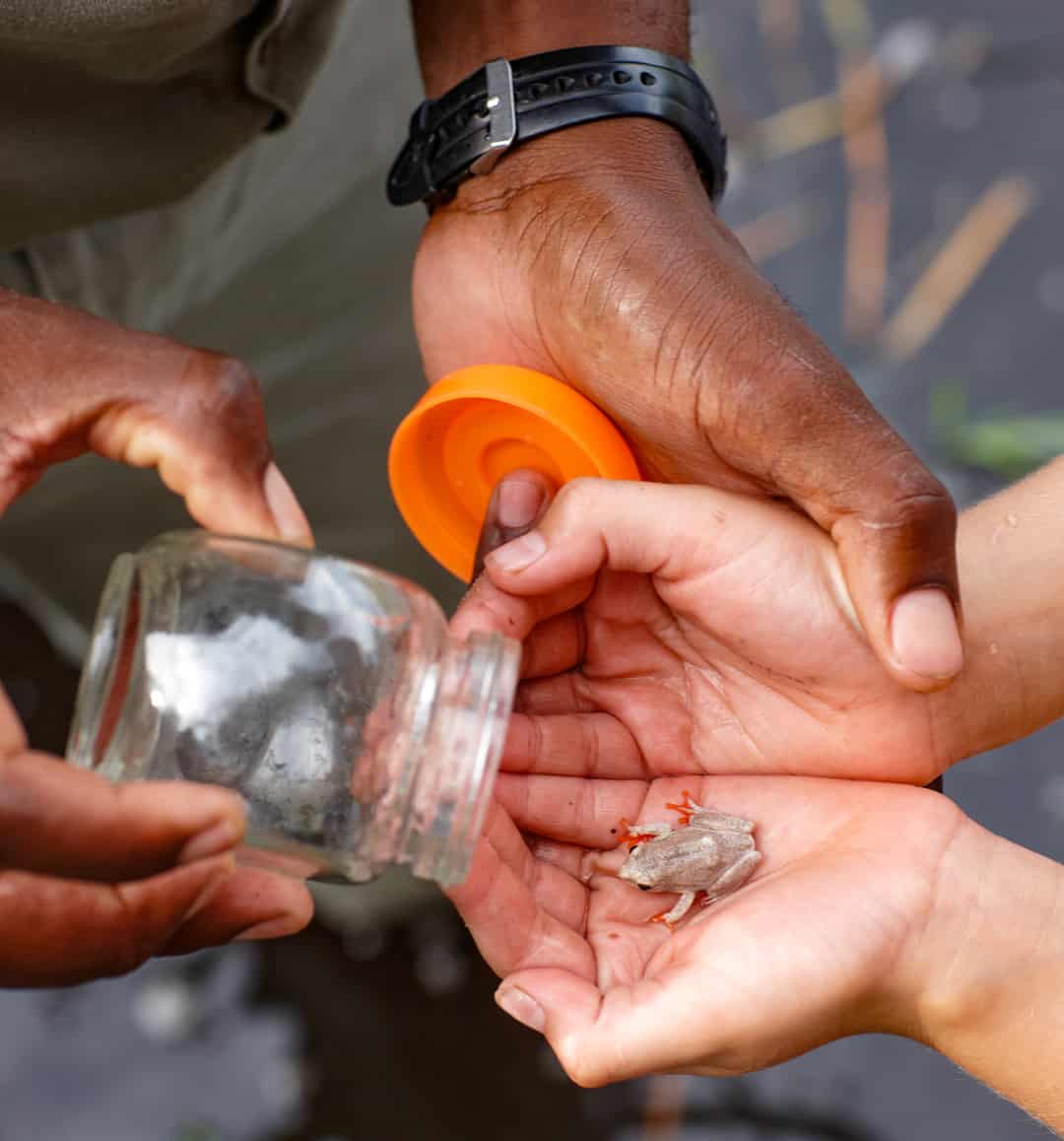 There must be few places left on earth that are so utterly remote and wild, which made bringing a child to Botswana feel like an incredibly enriching experience. It has a reputation for being one of the best places to visit in Africa for families for this type of safari vacation. I returned with a head full of memories, a camera full of wildlife shots and a daughter who now wants to be a conservationist.
Things to Know For Family African Safaris
Don't count on Wi-Fi
All three Wilderness camps that we stayed at have a 'disconnect to reconnect' policy, meaning that we were off the grid when it came to Internet access.
After a couple of days of adjusting to the digital detox, this actually felt like an incredibly beneficial way to enjoy the natural space around us, minus the distraction of screen time.
However, if you wanted to dip back into the outside world, certain Wilderness camps do have guest Wi-Fi, so it may be worth incorporating these into your trip itinerary.
Vaccinations for Botswana Safari Tours
Do you need vaccinations to go to Botswana? Whether you'll need jabs or not to visit Botswana will depend on where you are with your vaccination schedule. Speak to your physician at least 8 weeks before travel.
Hepatitis A and Tetanus are advised for family African safari tours, while Hepatitis B, Rabies, and Typhoid are on the consideration list for Botswana travel vaccines. My daughter and I needed Hepatitis A boosters.
Yellow fever is only an issue if you're coming from a country where it's a risk, in which case you need to show a certificate.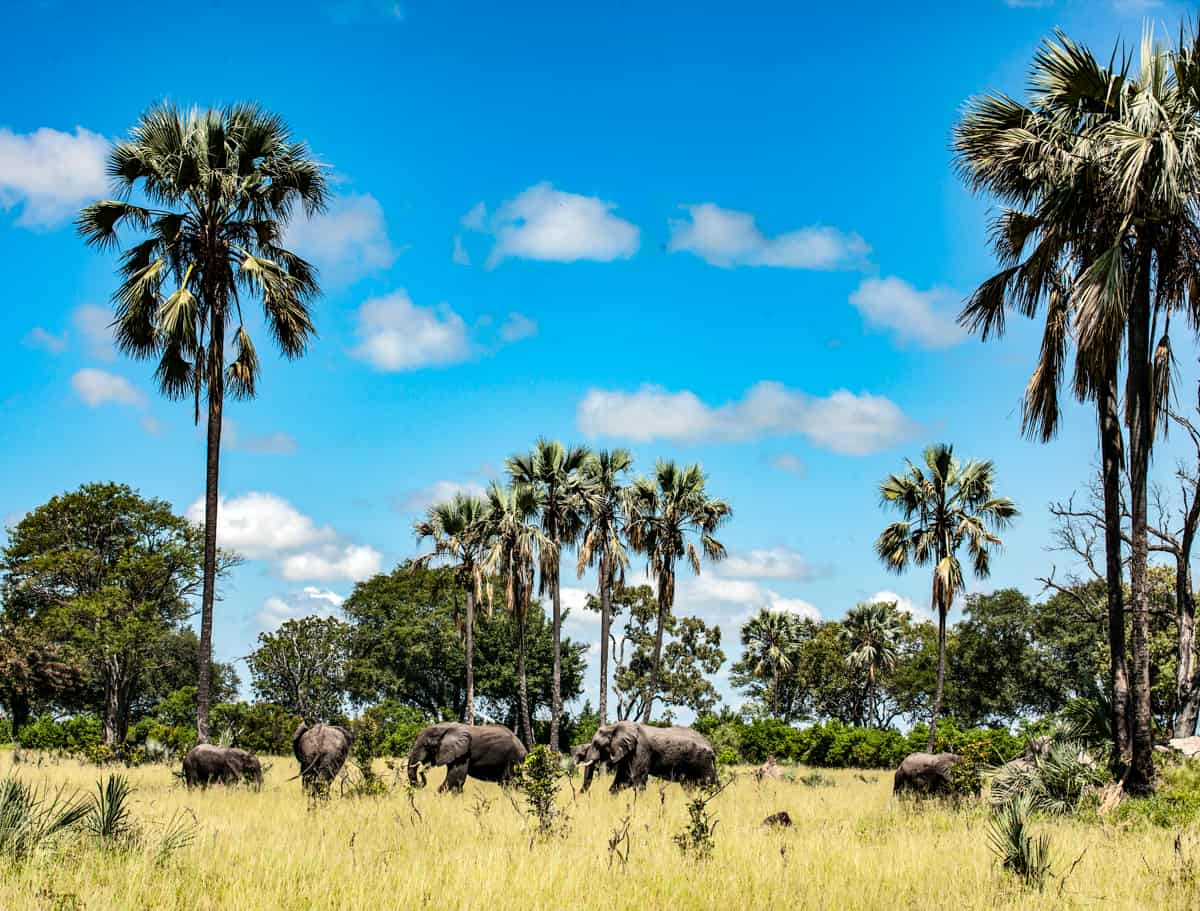 Malaria
The southern half of Botswana is low to no risk, so anti-malarial medications aren't usually required. If you are planning a similar trip north to the Okavango Delta, however, you'll need to take the tablets as the northern region is higher risk.
My daughter and I took an antimalarial tablet each morning during our trip and for a few weeks after returning. Children take a lower dosage depending on their age and weight, so again, speak with your physician about this prior to travel.
A small minority of people will experience side effects from the tablets such as dizziness or sickness, but thankfully we were in the majority and didn't notice any symptoms.
While these precautions are worth considering, we both agreed that the mind-blowing experience that Botswana offered was well worth a jab and taking a tablet with our breakfast each morning.
Best Time of Year To Go To Botswana
In the Southern Hemisphere, Botswana's drier winter coincides with our summer break. June through September is considered high seasons, while April and May are considered the best weather.
Families who live where school gets out in May have the best options of perfect weather with fewer crowds.
Avoid October through February for extreme heat and the wet season.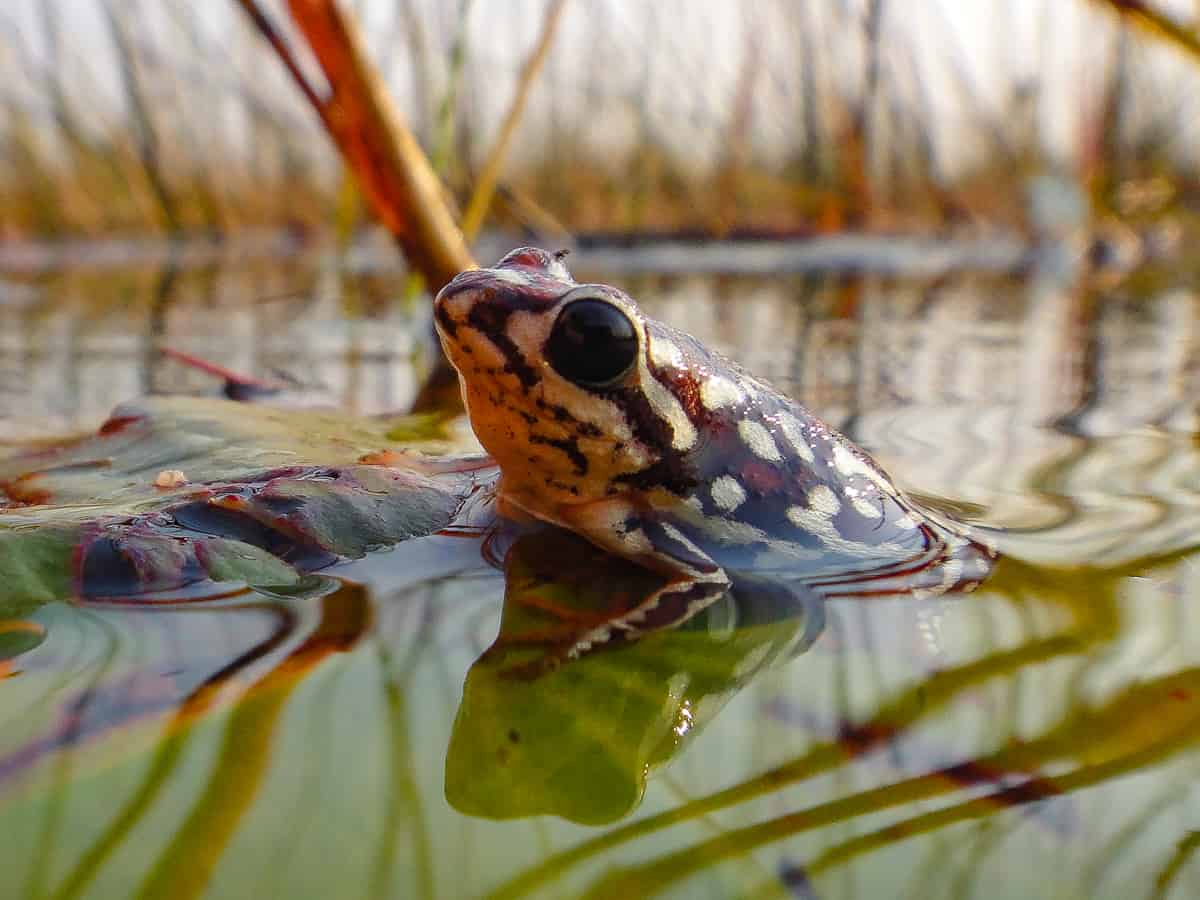 What to Pack For A Family African Safari
It's worth noting that with the charter flights, there is a baggage weight limit and you can't take hard shell luggage on-board, so packing light is essential.
Although we had only brought a travel backpack each, I had still managed to over-pack, unaware that all the toiletries we could possibly need, including mosquito spray, would be waiting for us in the rooms.
All of the Wilderness camps also have a complimentary, same-day laundry service, meaning you only really need to pack a handful of outfits. However, although temperatures in the bush can soar, the morning game drives can be surprisingly chilly, so it is worth packing layers of lightweight long sleeve pants and shirts.
Fact Box Information:
Zoey was a guest of Wilderness Safaris, with international flights supported by Africa Odyssey.
Africa Odyssey offers 2 nights at Wilderness Safaris' Tubu Tree, 2 nights Seba and 2 nights Vumbura Plains from $6,618 per person including internal flights. Discounted rates apply to children sharing with adults.