Eight years ago, a friend shared she had convinced her whole family to dress as a character from Harry Potter for a Thanksgiving celebration. I knew I had to do something similar. It finally happened, and it was well worth the wait.
How to Organize The Ultimate Harry Potter Florida Celebration
When it comes to VIP Orlando vacations, I'm an expert. I've done them all. I gathered 14 family members game for an immersive weekend celebrating the Wizarding World of Harry Potter Orlando. We arranged a family Hogwarts Feast and a private tour of Universal Orlando Harry Potter experiences.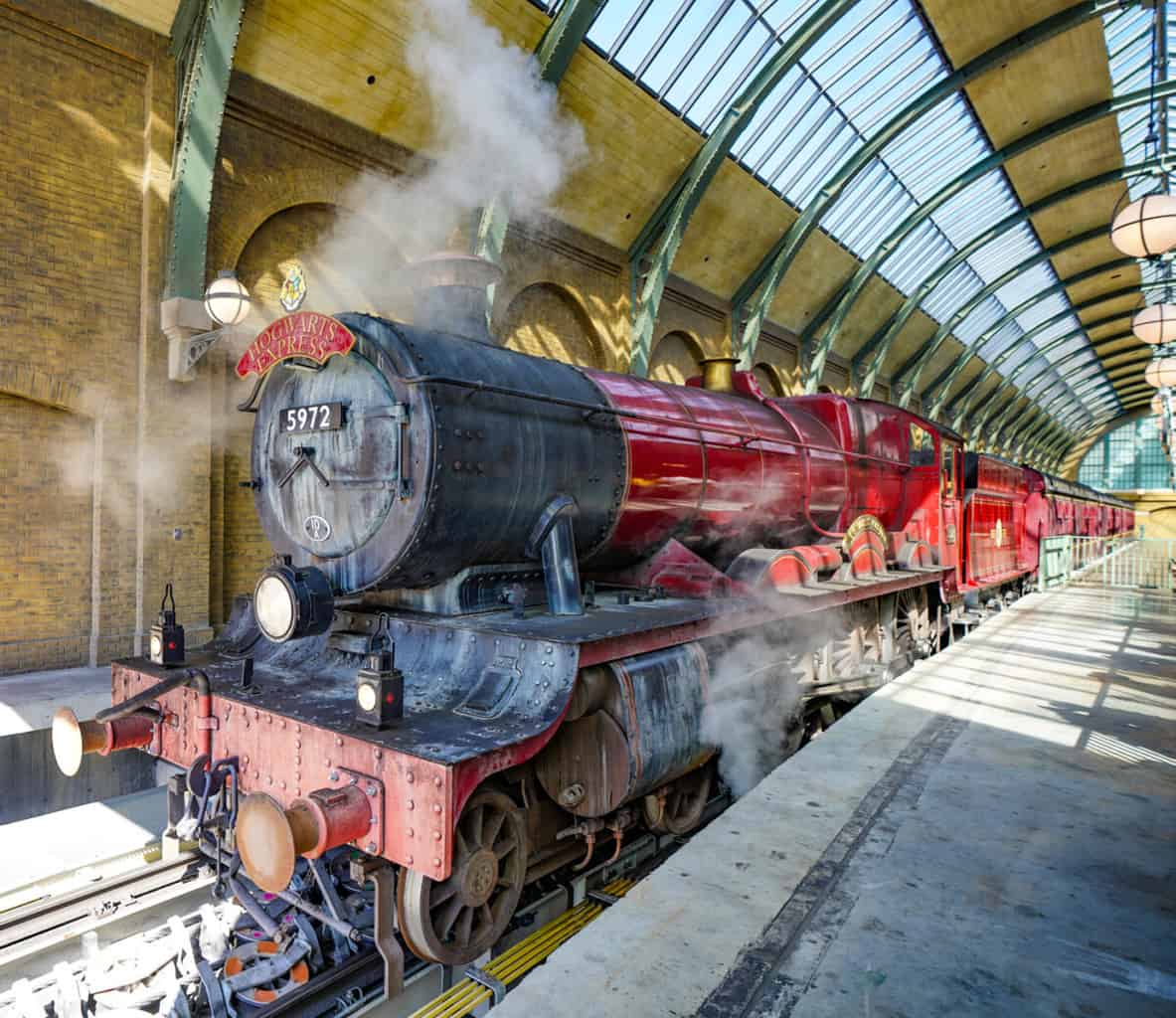 I will show you how to plan one yourself and you can book this same house.
Do it. It truly was magical.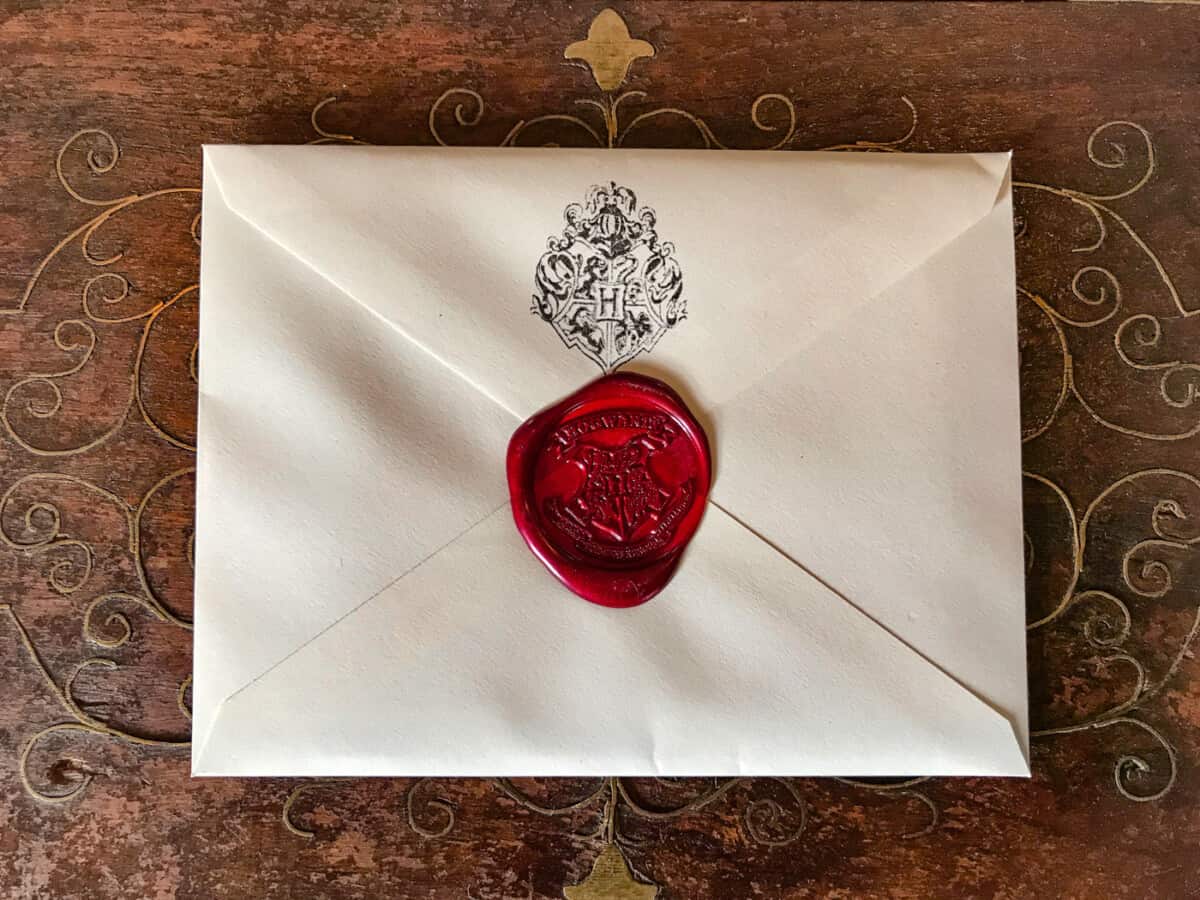 "Welcome To Hogwarts" Letters
Announce it with a bang. Send everyone a beautiful invitation to Hogwarts Orlando in the mail. I ordered mine on Etsy from BalistiCreations for this trip (as well as our prior trip to the Harry Potter studio in London).
When certain relatives weren't ready to commit, I knew this letter would motivate them to buy airline tickets and not miss out.
Orlando Vacation Homes To Thrill Everyone
For big families, the best hotel for the Wizarding World of Harry Potter is one of the themed Orlando vacation homes. Amazing vacation accommodations can elevate a good vacation to legendary status.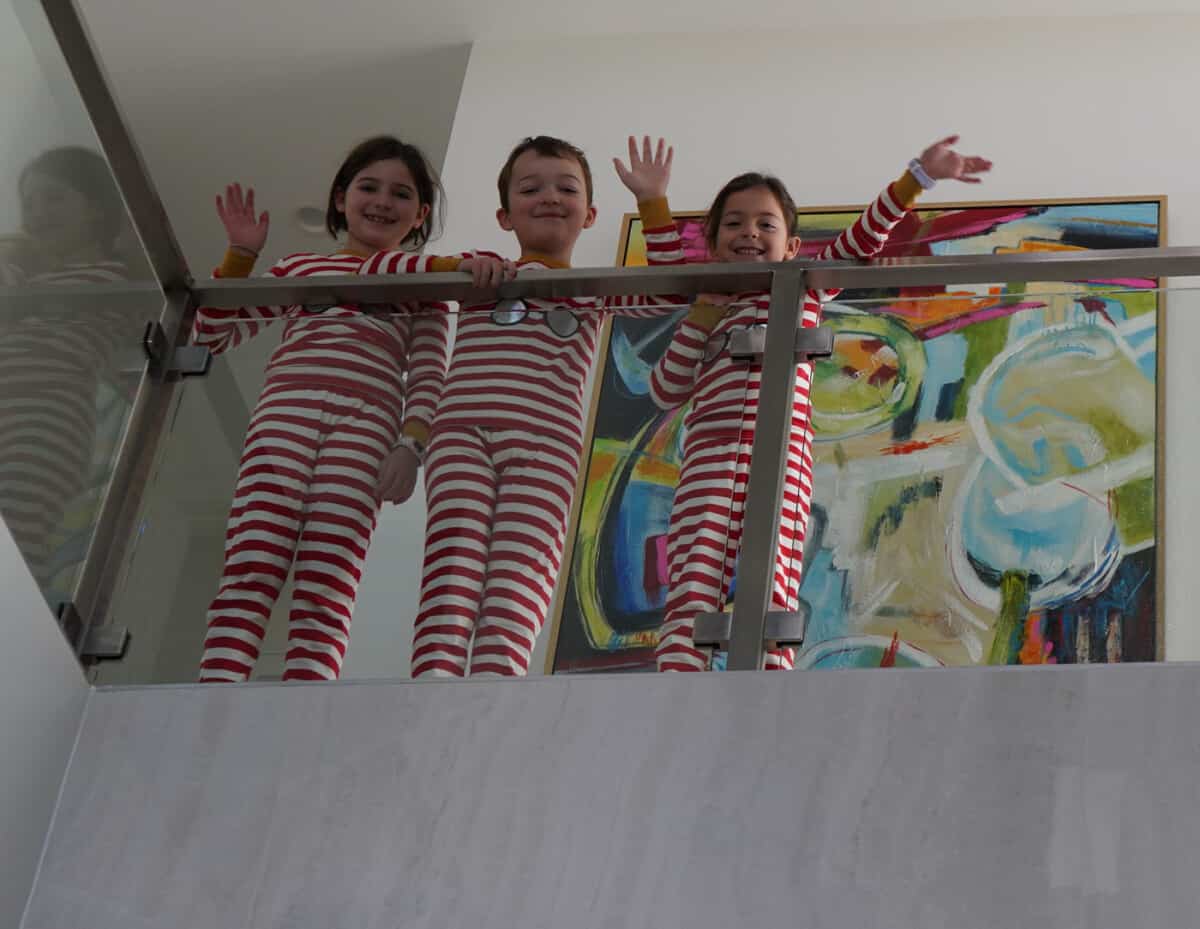 Guests who choose hotel rooms will have to break up families in smaller groups. While Disney and other resorts offer three-bedroom condos, families will appreciate how much easier it is to spend time together (and with room to spread out) in one of the many large luxury vacation homes in Orlando.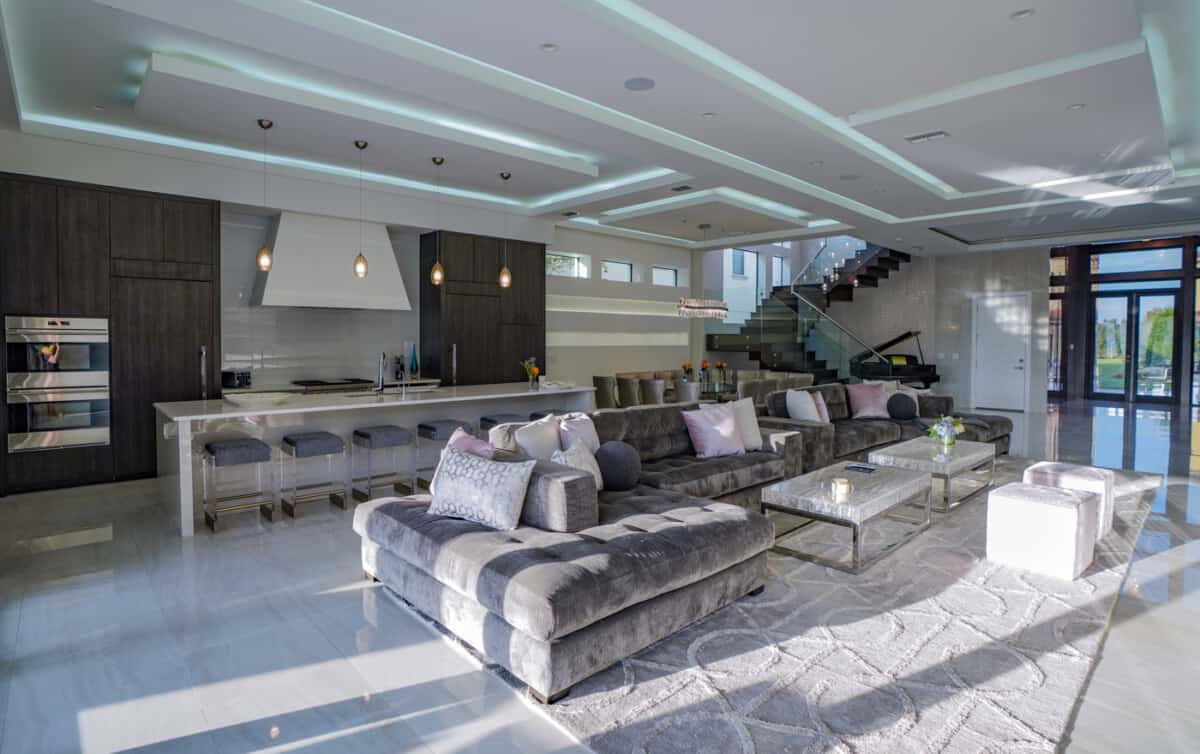 ---
VIP Orlando Vacation Planning
Luxe Recess can book this vacation for your family! Let me help!
---
Vacation homes in Orlando, Florida are plentiful. There are many large, "luxury" vacation homes to rent with six to twelve bedrooms. But be warned. The word "luxury" is very over-used and misapplied.
And among the more higher-end inventory, typically clustered within the Reunion Resort, they all have themed rooms to delight kids and grandkids, screening rooms, game rooms, fitness equipment, and pools with hot tubs.
STOP!
JOIN OUR LUXURY HOTELS & RESORTS FOR FAMILIES,
A FACEBOOK GROUP FOR SEEKING ADVICE AND INSPIRATION
FOR THE BEST LUXURY FAMILY BREAKS.
Investors build these McMansions, fill them with bagged bedding from Target, fill kitchen drawers with knives and pans from the dollar store and cover a few bedroom walls with Disney character decals bought at Home Depot. There's nothing wrong with this, but nothing exciting about this either.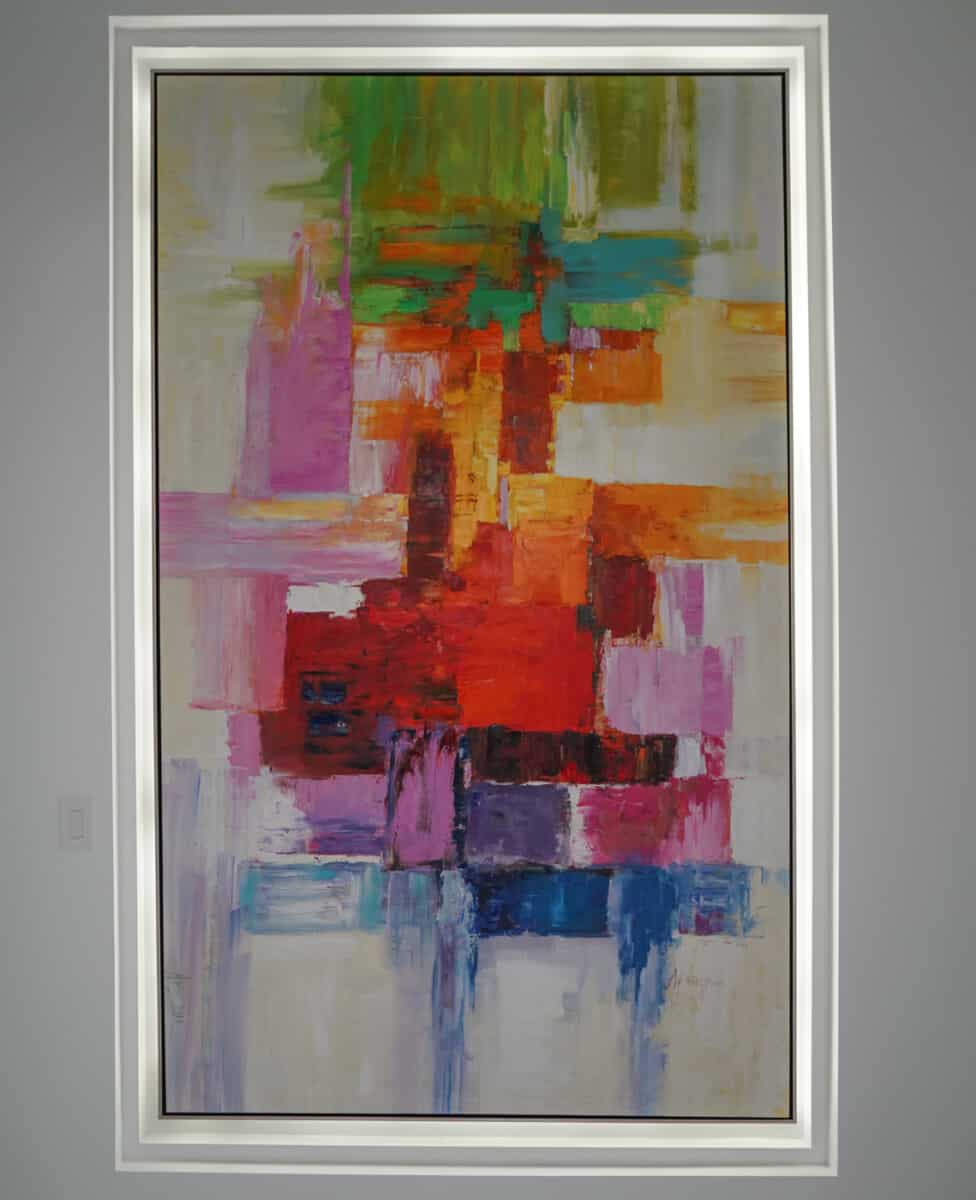 Sleep inside the Hogwarts Express at at this Harry Potter home
This house is different. It is the passion project of a couple who purchased the home to enjoy their own large family gatherings with siblings, nieces, and nephews all in one place. It was not mass designed like the other Orlando vacation homes near Disney.
The owners created this Orlando vacation home to enjoy for themselves and their family. As a result, nothing has taken the path of least expense. It's appointed with luxurious bedding, a kitchen stocked with real cookware, and beautiful art hung on the walls.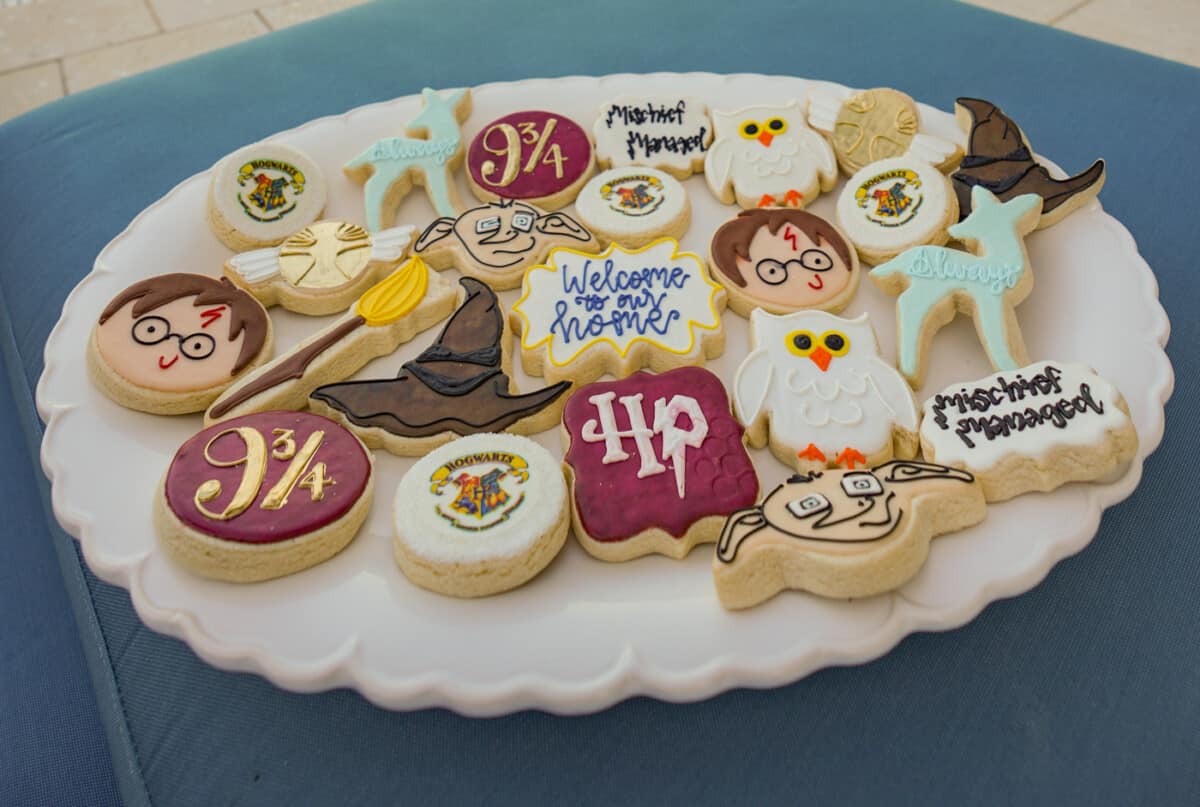 The owners welcome guests with a Hogwarts letter and a stunning tray of Harry Potter themed cookies.
While every Gen Xer's favorite Disney princess reigns the Belle themed room on the second floor, Harry Potter is the true love of these owners.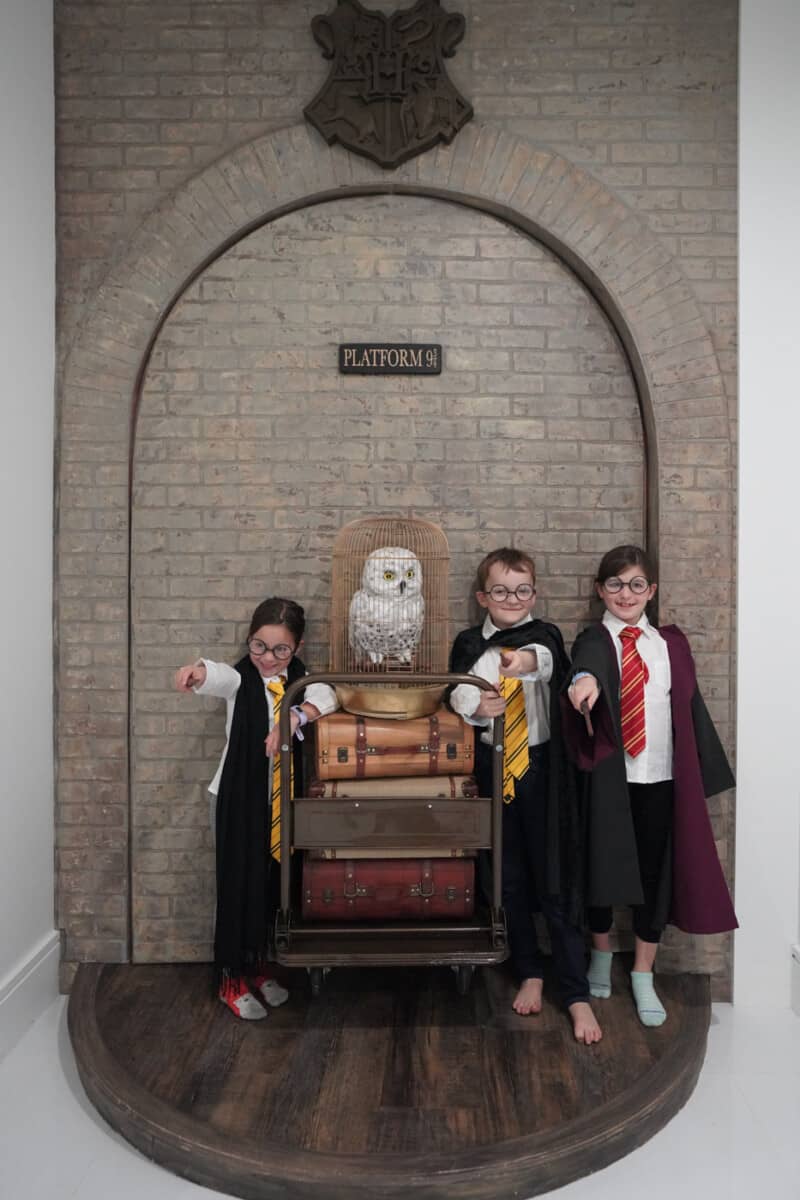 To cut to the chase, there is a life-sized, custom made Hogwarts Express train with beautiful woodworking and six bunk beds located within a spectacular Harry Potter themed bedroom on the third floor.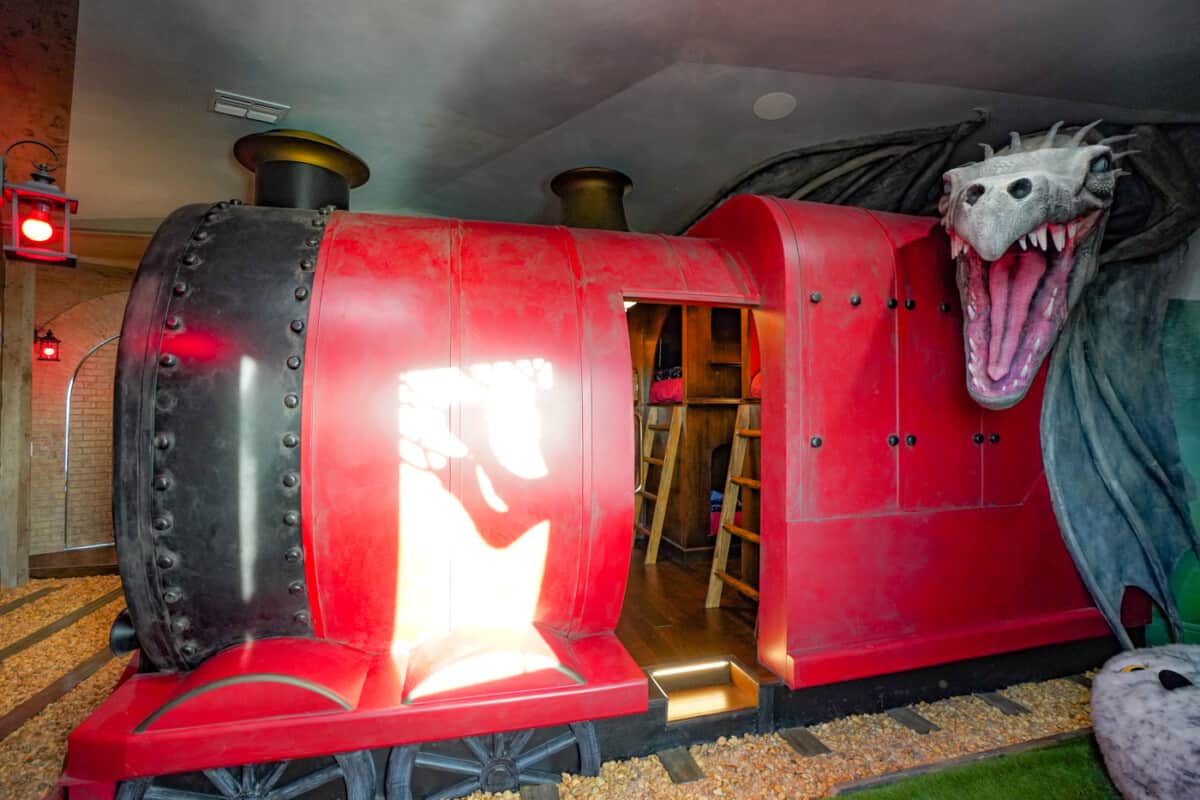 Each of the six beds showcased Pottery Barn Harry Potter bedding and pillows, and a television with headset was at the foot of each bed, too.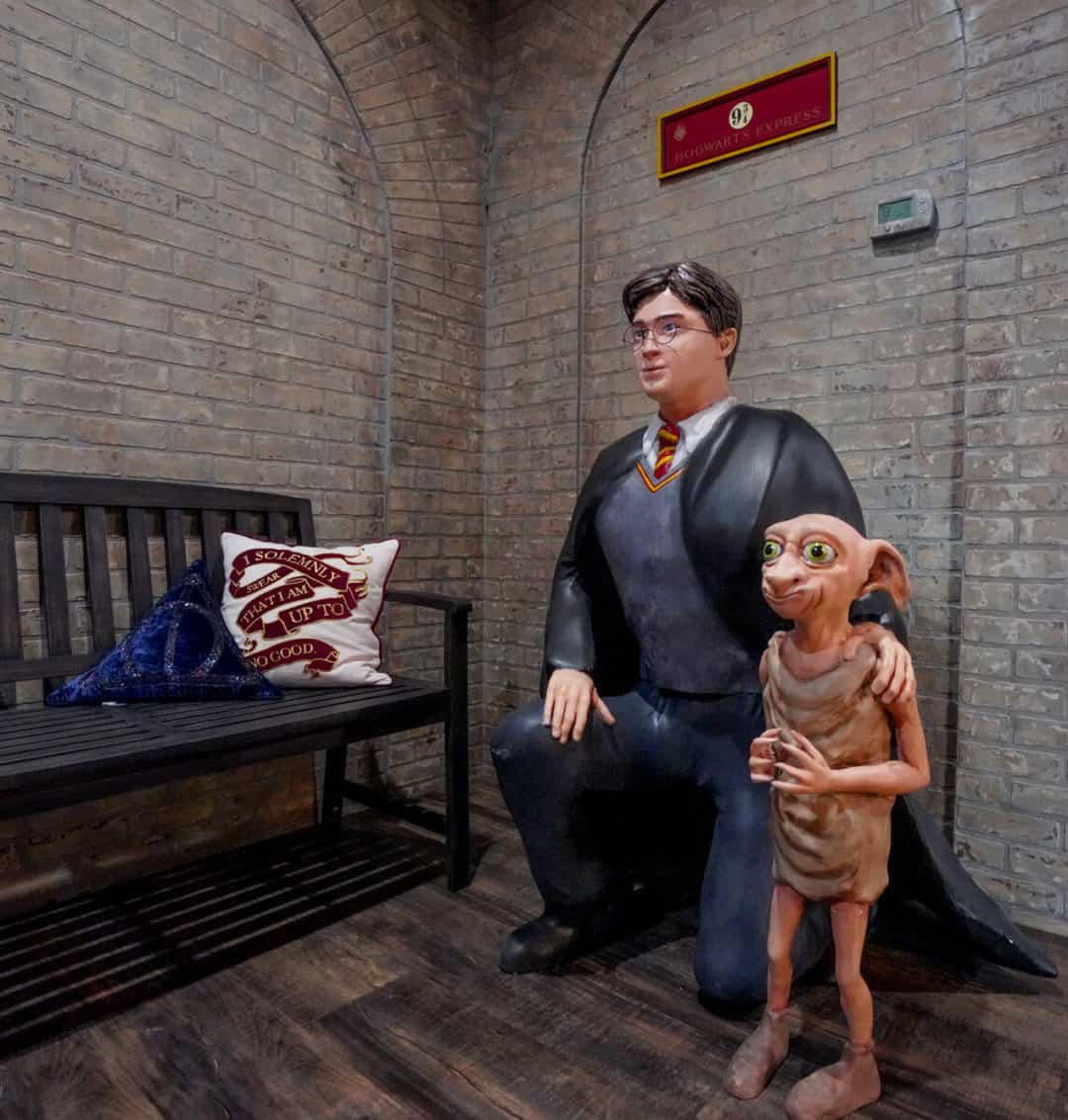 Statues of Harry and Dobby greet you once you pass through a revolving door that mimics Platform 9 3/4. The Womping Willow, dragons, Aragog, and the blue Weasley car complete the room. Dumbledore's portrait hangs above the toilet adorned with directions to the Ministry of Magic.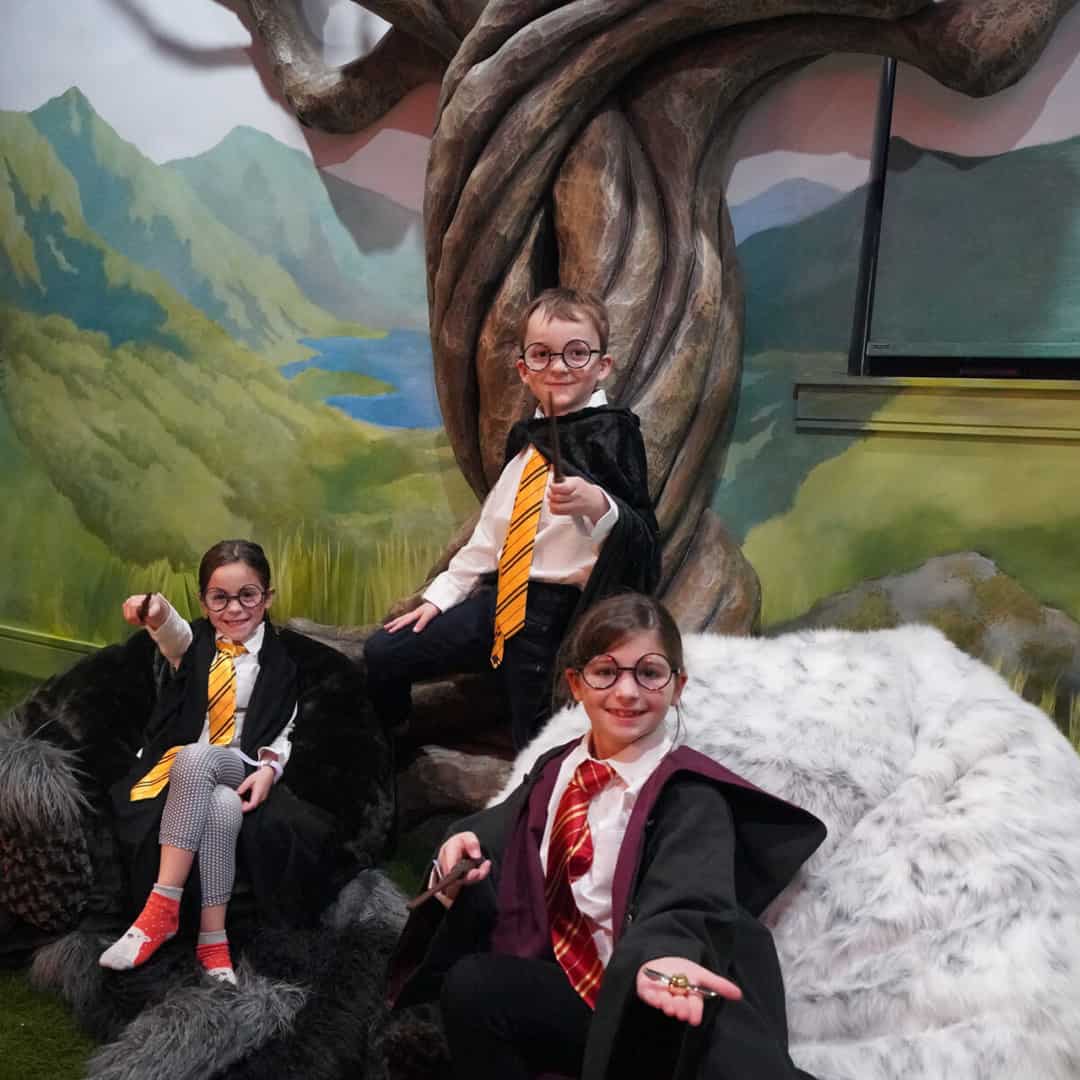 It's incredible. You don't even have to be a Harry Potter super fan to fall in love with the effort that went into the work and its incredible results. Custom lighting, floors and walls all completed the Harry Potter inspired world that is actually yours for however long you stay.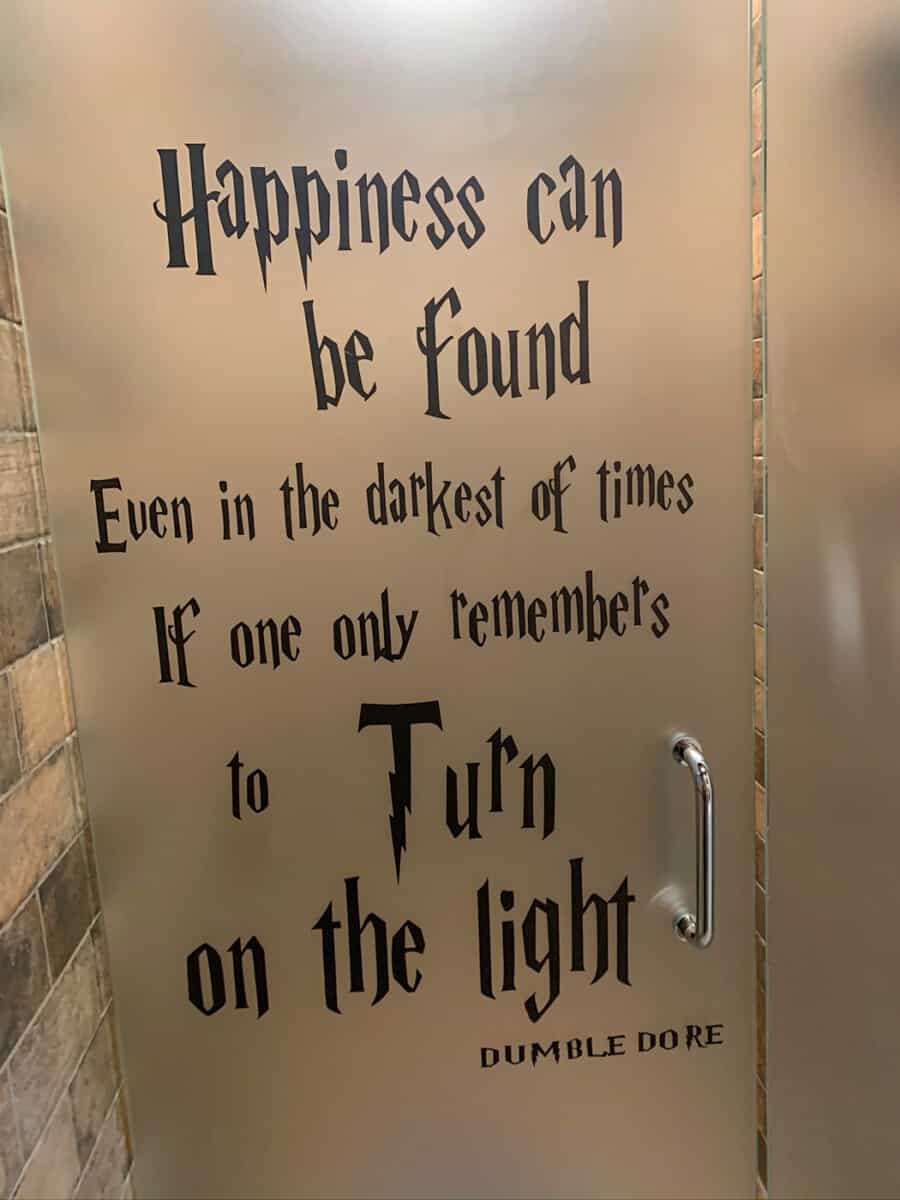 Plan a Hogwarts Orlando Feast For Your Family
No Harry Potter vacation is complete without a Hogwarts Feast— with costumes. We hired a private chef and decided on the meal in advance so that I could print Hogwarts-style menus in advance.
Our meal featured a goat cheese and beet salad, mushroom risotto, filet mignon, popovers, and grilled broccolini.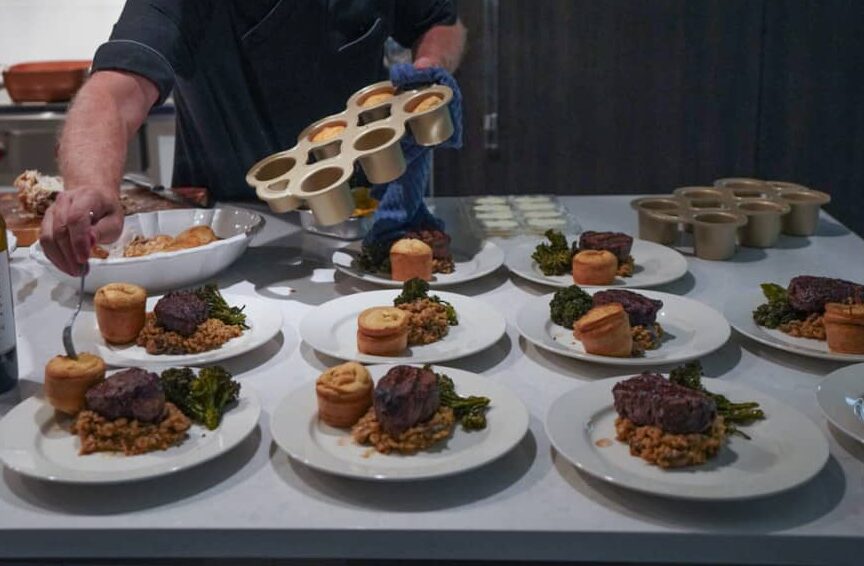 We're foodies and have some very accomplished cooks in the family. To be truthful, the meal was fine, but we all decided that if we had each taken an item from the menu to prepare, the meal would have been much better. Instead of hiring the chef, I would reach out to a catering company for a meal assistant to help serve the meal and take care of cleanup instead. (I'll keep trying more chefs and update with someone truly wonderful).
Also, the Whole Foods in the Doctor Phillips neighborhood has a really excellent prepared foods department compared to all of our Whole Foods stores at home. We supplemented the kids' meals with rotisserie chicken and macaroni and cheese, and I might look into having them cater next time.
The Harry Potter Costumes and Decorations
Because Villa Belle is modern, bright, and minimalist in its design, it doesn't feel like a castle, even in the dark. So, we opted to create a table honoring the four schools of Hogwarts: Ravenclaw, Slytherin, Hufflepuff, and Gryffindor.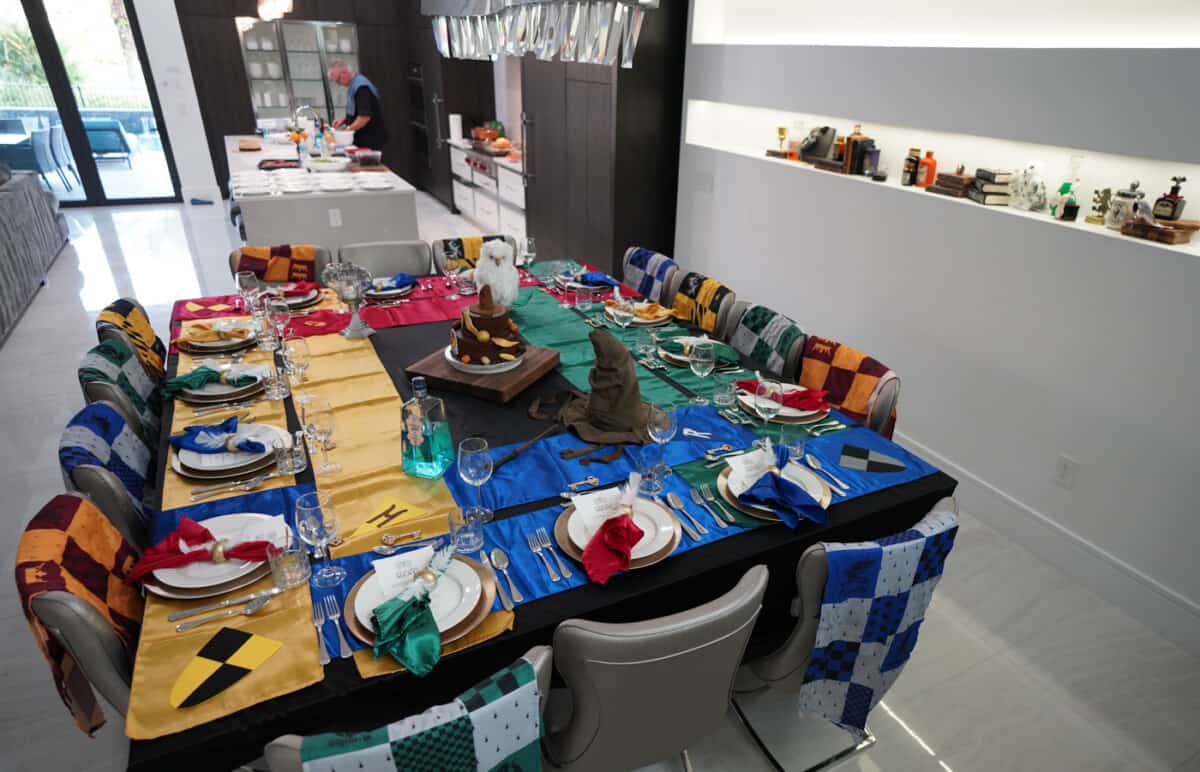 We asked everyone to pack a white, button-down shirt, and we found bulk packages of school ties on Amazon for us to represent each of the four Hogwarts houses. The sorting hat told us a which Hogwarts House we belonged to.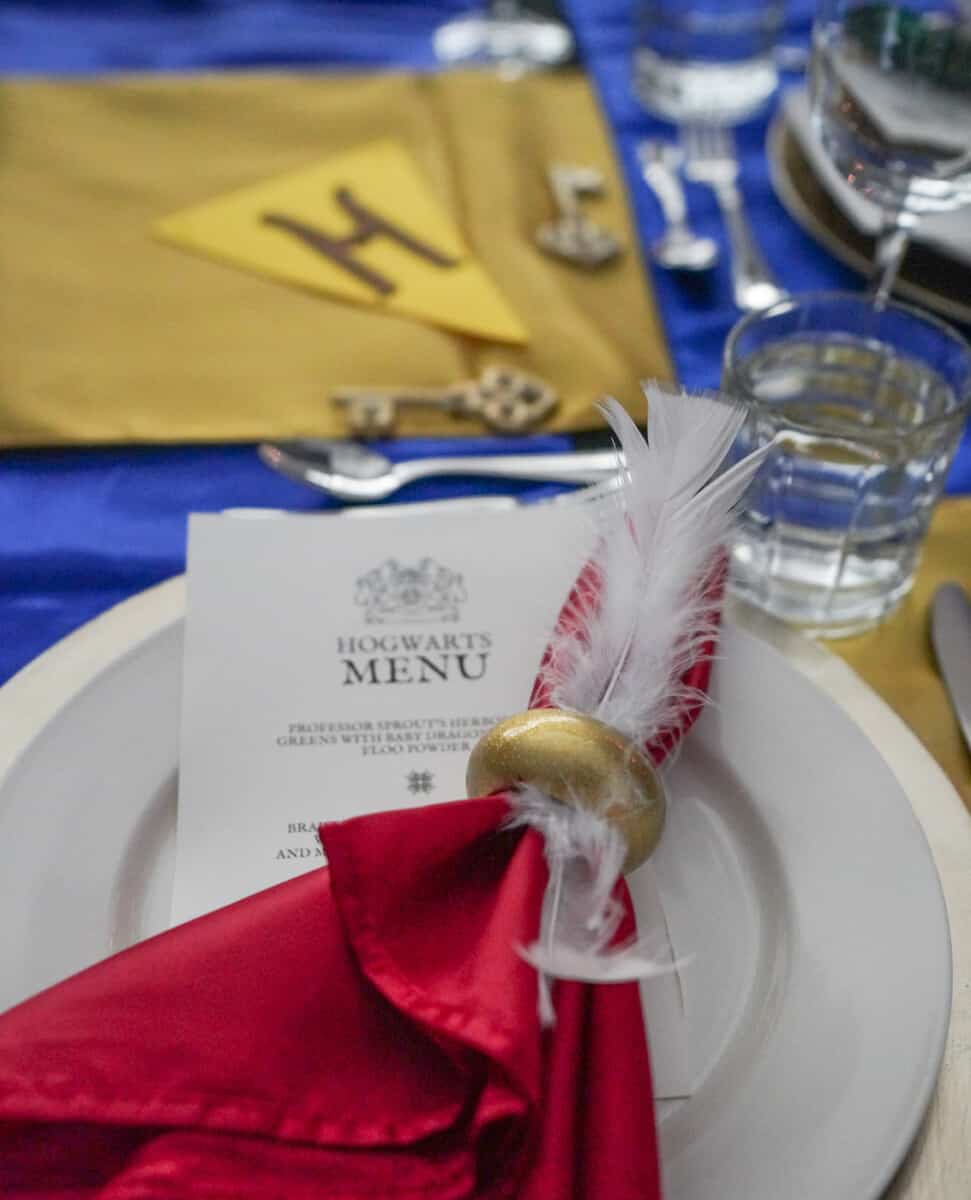 We have some super fans in our family who already owned several props which they packed.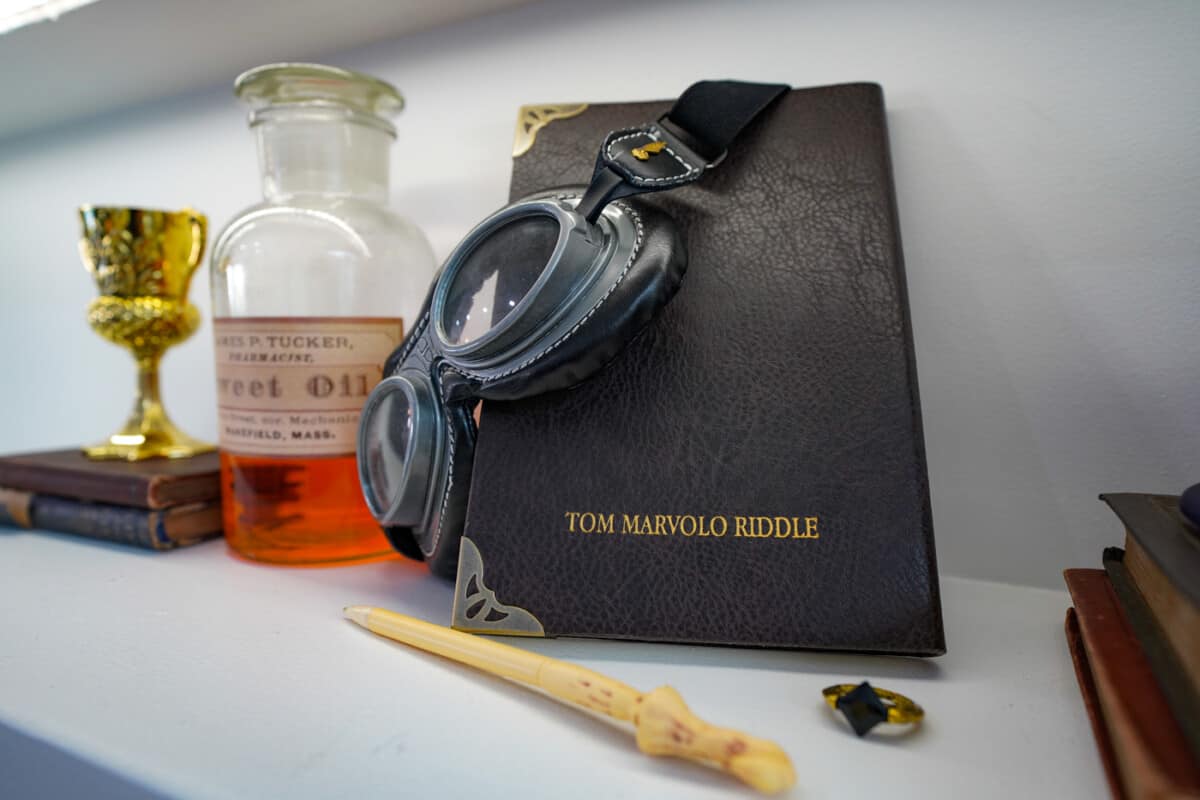 My daughter mocked me for saying this sentence out loud: My Tri-Wizard Cup doesn't fit in my suitcase!
Check out the Luxe Recess store at Amazon for all of the supplies and decorations we purchased.
The Harry Potter Cake
For the cake, there are two options. Some Orlando bakeries can make gorgeous looking Harry Potter cakes, but some bakery cakes look much better than they taste, and I didn't want to spend $300 on a cake that wasn't delicious.
I ordered fondant Harry Potter items to decorate a cake myself which I packed in its packaging from the Etsy store owner. Publix, the Florida grocery chain with a really good reputation for their bakery made a plain two-layer yellow cake with fudge icing. It was delicious and only about $50. Anything gold looks great against fudge icing, if you want to tackle the cake decorations yourself.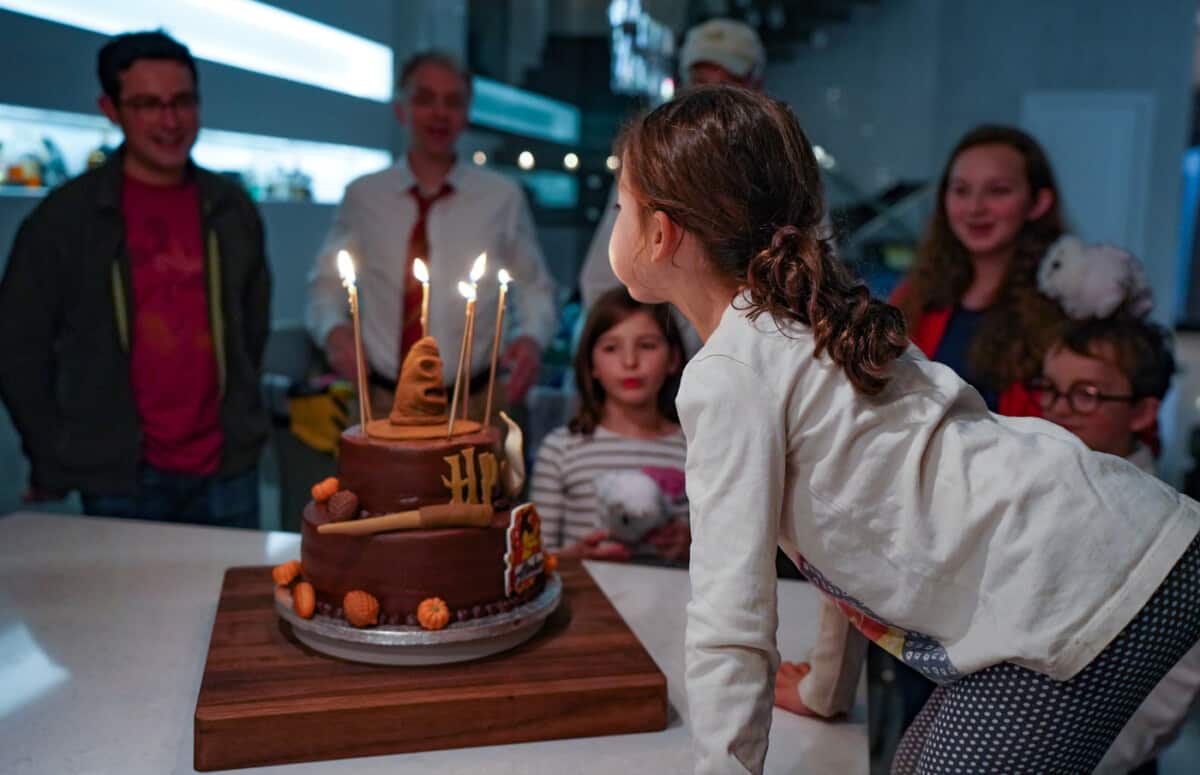 More Family Fun at Villa Belle
Villa Belle's amenities provided the most incredible vacation as a family. We spent most of our time in the open first floor with its main kitchen, dining room, and ample sofa space to watch a movie or football game while we chatted and cooked.
The first floor also contained an incredible game room and two master suites, laundry, and a fitness studio with a treadmill and adaptable weight training station.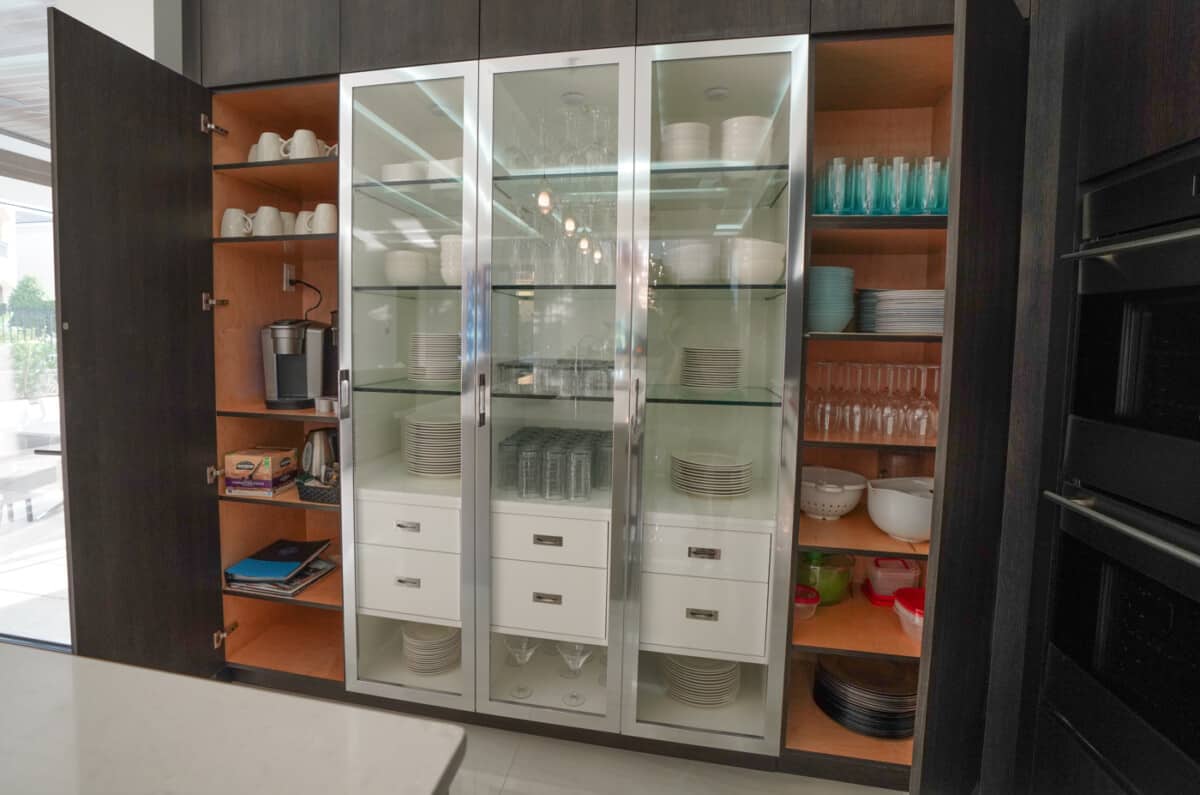 The game room, with an Avengers theme throughout, included air hockey, two arcade games that each had libraries of vintage video games and two game consoles . My favorite design detail of the whole house was the blue poxy paint on the floor filled with a special-order hologram glitter.
The Second and Third Floors at this Harry Potter Home
The second floor had five more bedrooms: three king suites, one room with two queens and a fabulous princess-themed room.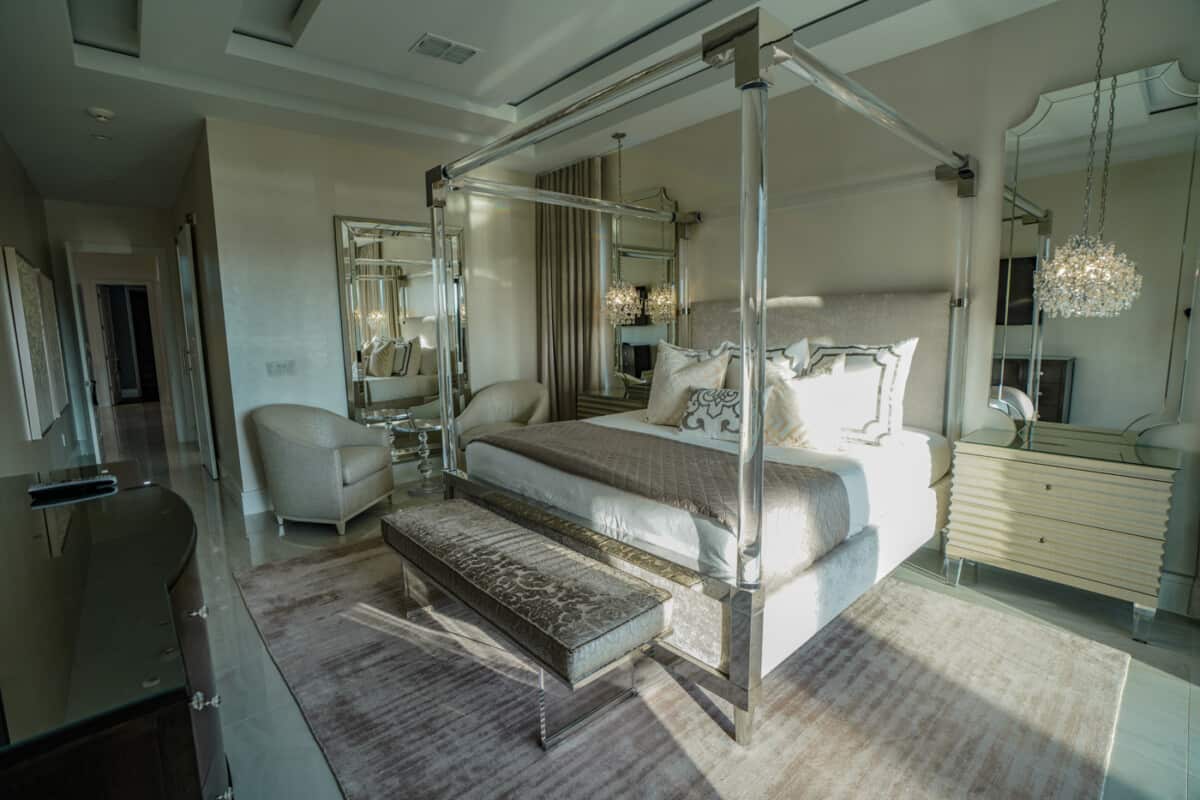 This "Belle room" had four double-sized bunk beds with a life like wardrobe from the Beauty and the Beast movie. The curtains, closets, and bathrooms had many touches to complete the Belle castle theme.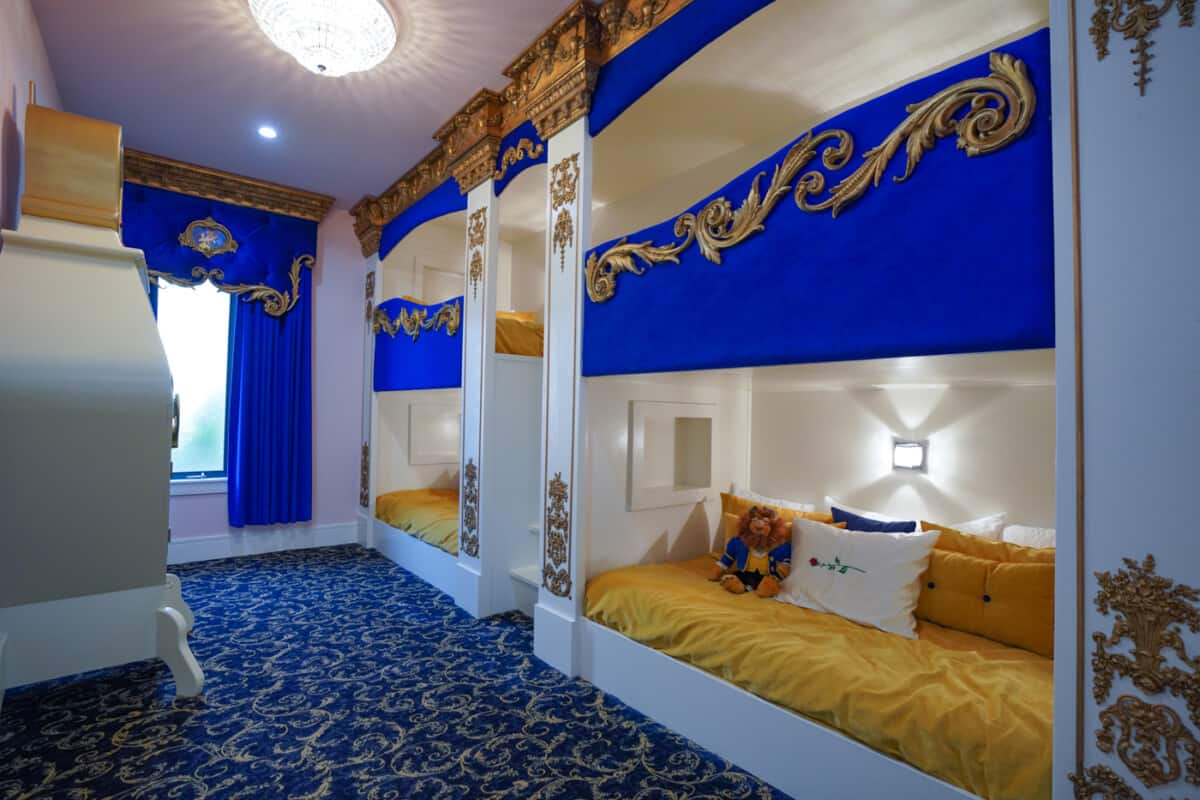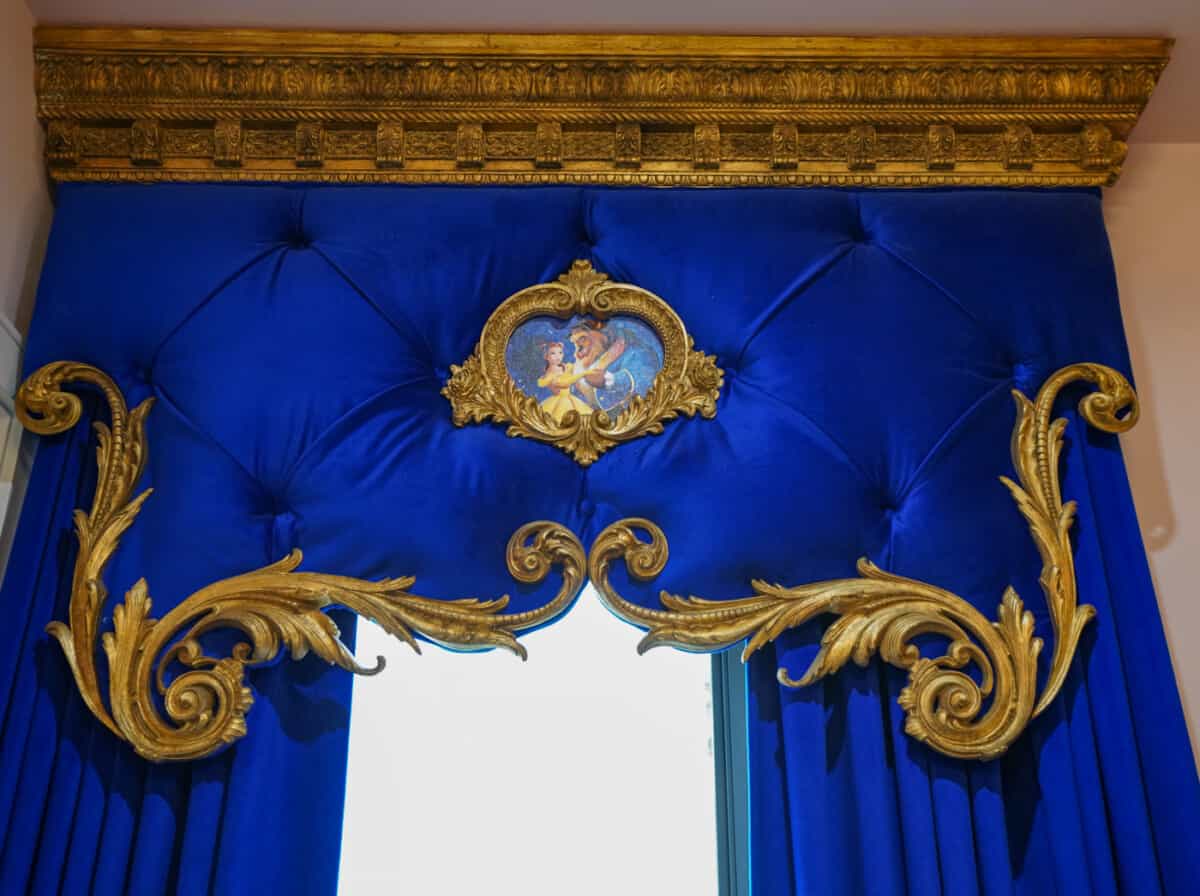 The second-floor common area had a billiards table, a large wet bar, and a large indoor sitting area with a television, as well as, an outdoor living area (with television) on a balcony.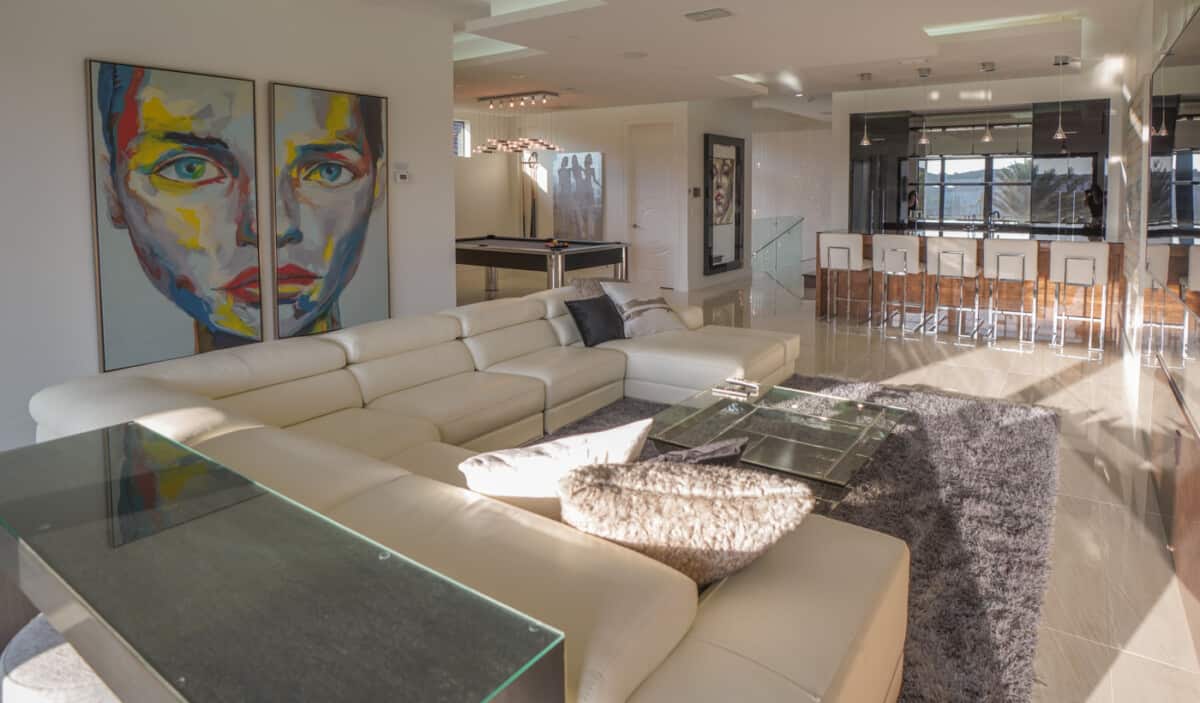 The third floor not only had the Harry Potter themed room, it also housed a beautiful screening room with state-of-the-art technology. The kids watched a few of their favorite movies to experience the thrill of media room's sound system.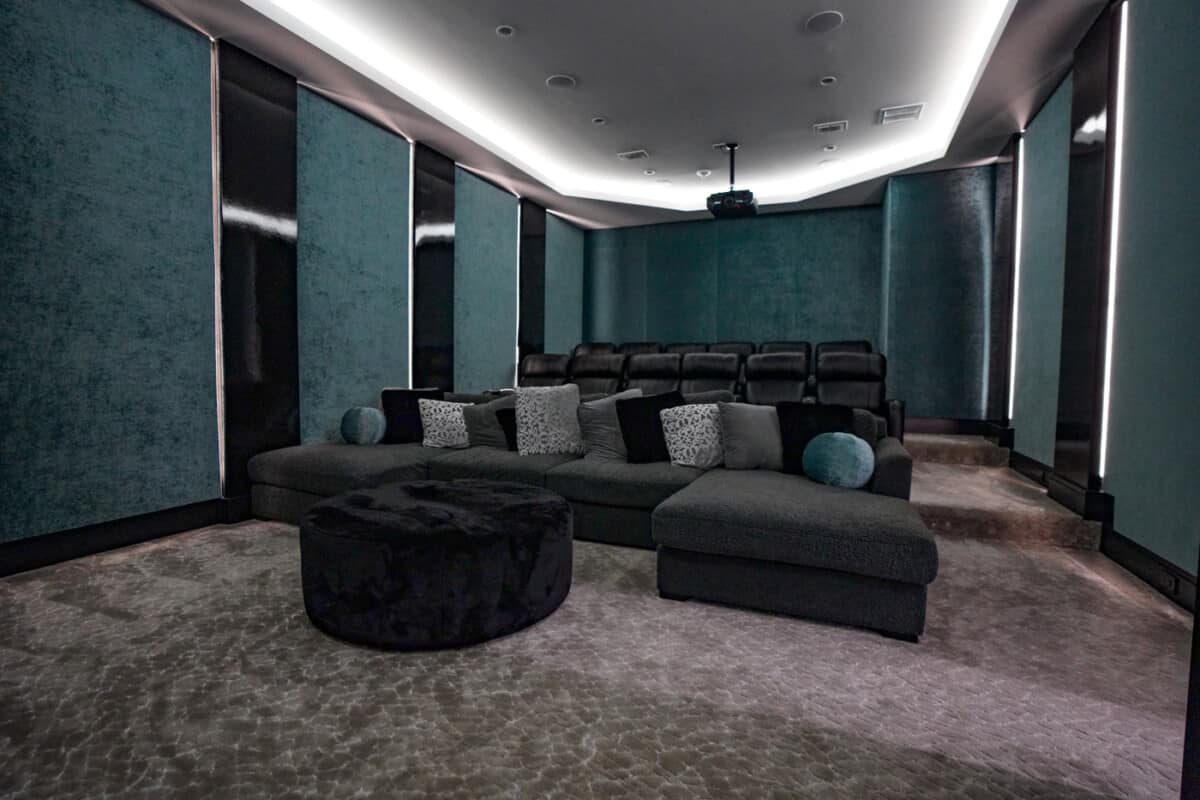 I grabbed the HDMI cable on our last night and connected my laptop for a slideshow of all of the photos we had taken of our trip. Even my kids said that was the best part of the trip. Seeing our family pics on a theater-sized screen was just lovely.
On our final night, we had a family contest: "Who could guess the correct number of televisions in this house?" Supposedly, there are 24, but I bet there were more.
Villa Belle's Pool
The pool and hot tub were a lovely dark metallic tile, and the outdoor kitchen kept us home to cook when we hadn't planned on cooking. Guests have to pay for pool heating for a fee of $60 per day.
The water was incredible, and when the temperatures dropped below 80 degrees, the pool was still perfect for a swim. We grabbed some giant donut floats at Publix for the kids to make up the lack of water slides.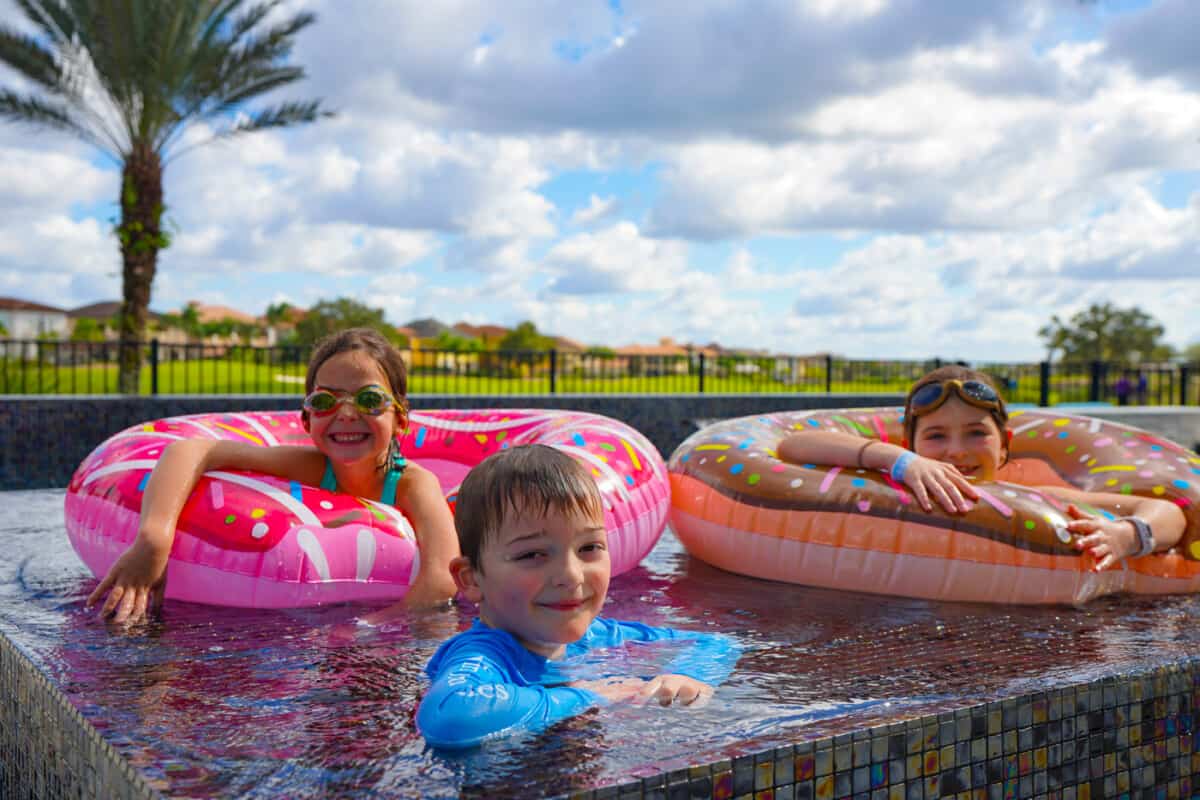 The outdoor kitchen area was perfect for a casual lunch of chicken tacos and Mexican street corn done on the grill.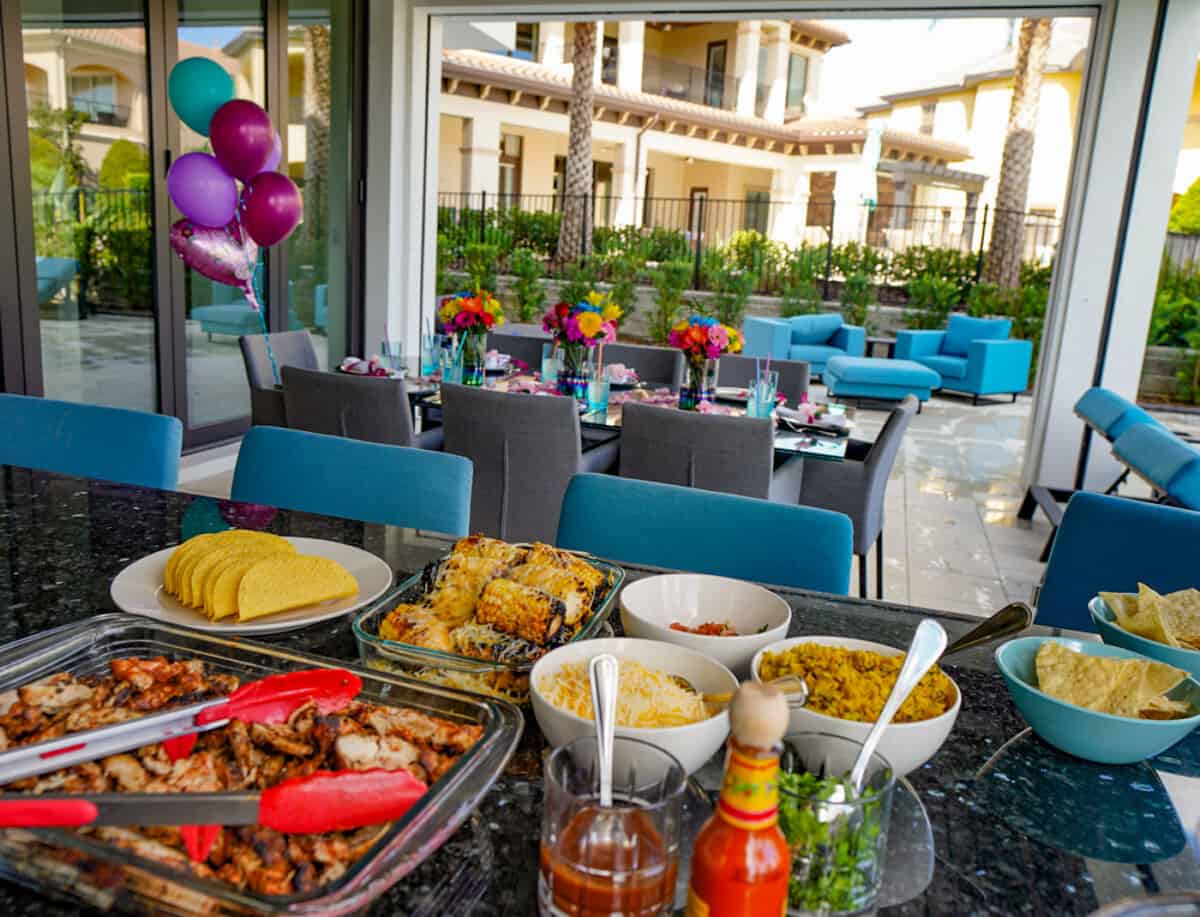 We found the Disney princess dishes and felt motivated to decorate the table for lunch since we had put so much energy into decorating our Hogwarts table for dinner.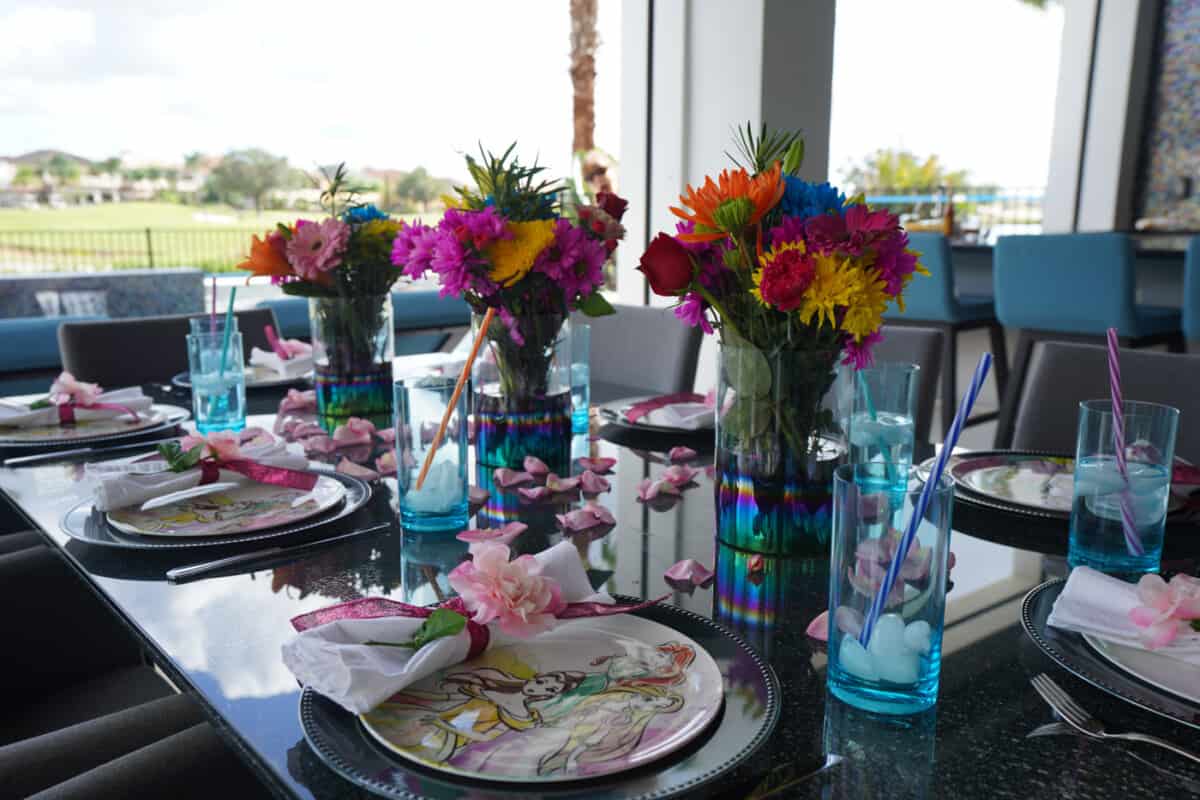 Harry Potter World Orlando Tickets
Compared to Disney, one can organize a trip to Universal more spontaneously. They do not have a ride reservation system. The downside is that a day to visit Harry Potter costs much more than a day at Disney.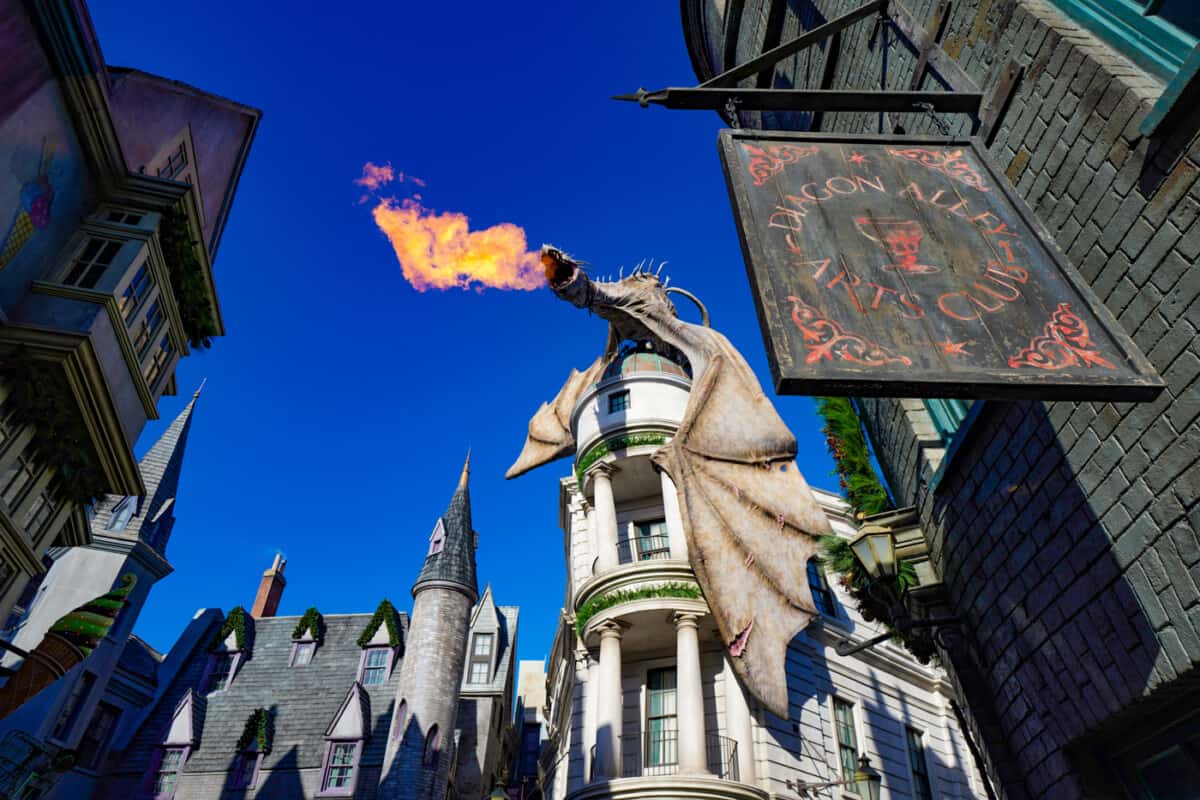 The Harry Potter rides and experiences are split between Universal Studios and Universal Islands of Adventure. One has to buy a two-park ticket in order to see it all, and one of the best experiences (for all ages) is their Hogwarts Express train ride that connects both parks. I'll cover more about the rides in each park below.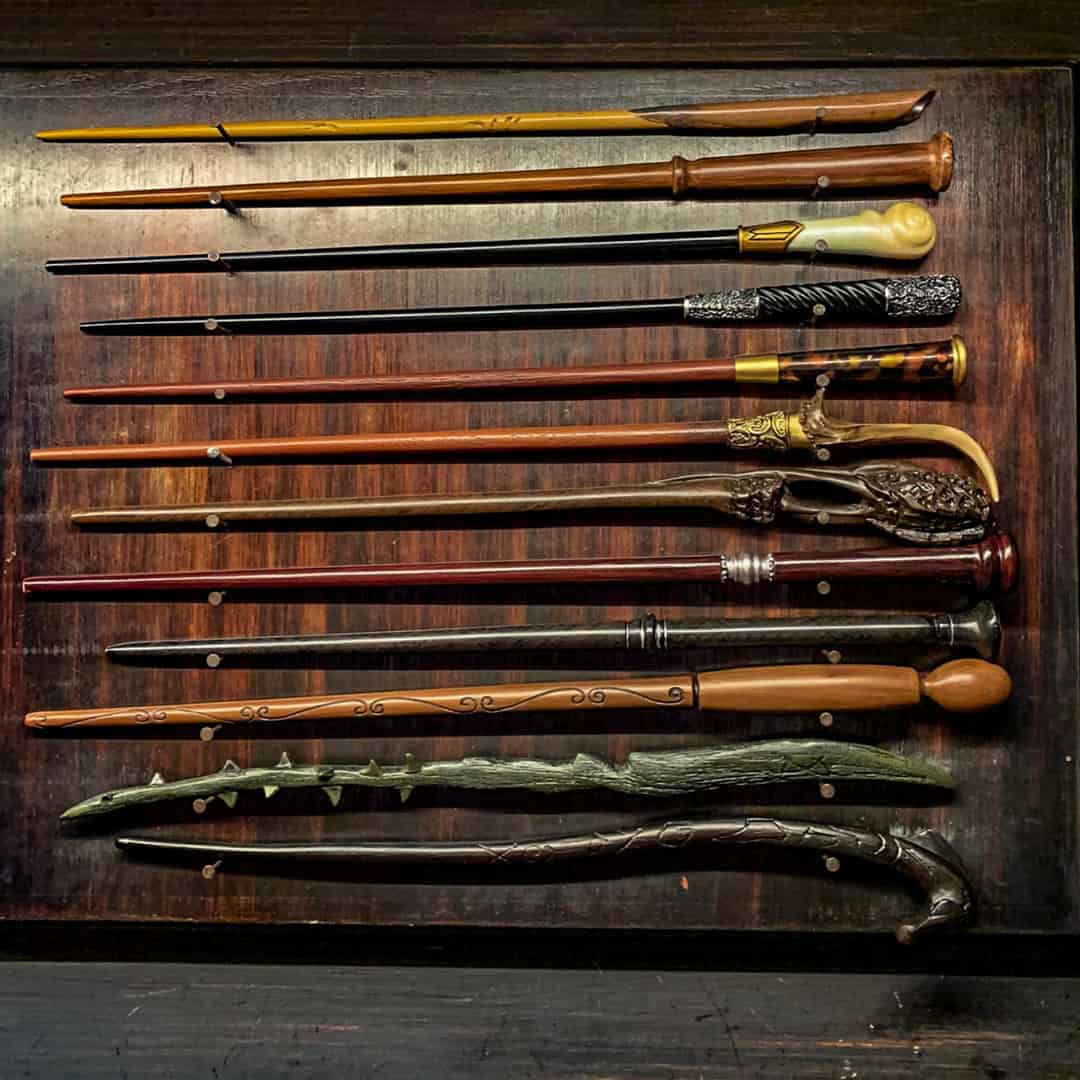 Additionally, the Universal Express pass is a must that you can buy at the ticket window. (If you stay at one of the three deluxe Universal resorts—Portofino Bay, Hard Rock Hotel, or Royal Pacific—you receive a complimentary Express Pass).
Why You Need VIP Guides For The Wizarding World of Harry Potter Orlando
Everyone wanted to spend a day seeing all of the Harry Potter rides at Universal during our weekend, of course.
Do not go as a large family to a theme park without professional assistance. Seriously. I reached out to book two guides for our family (because there is an 8-person maximum per guide.)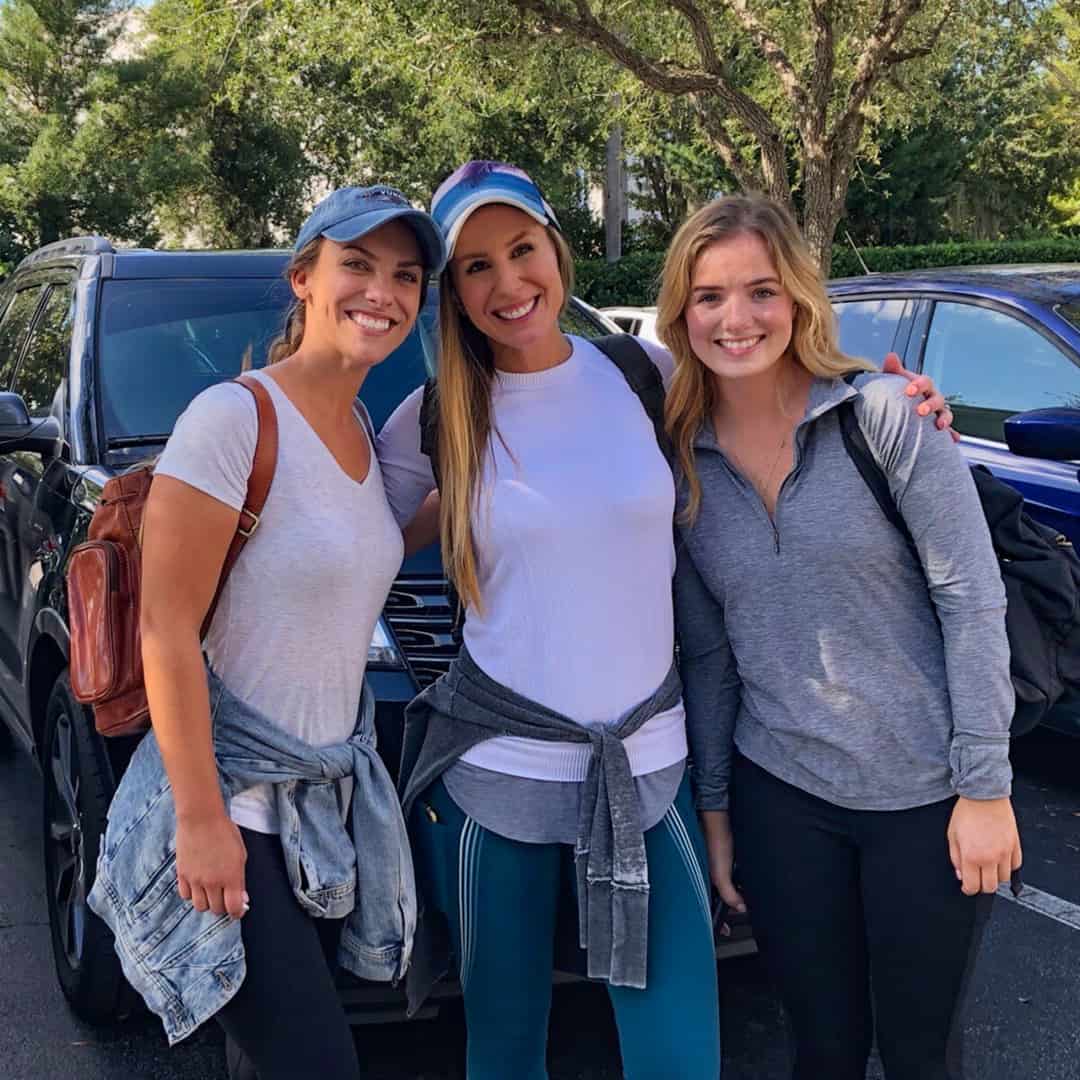 Our VIP experience was not the official experience from Universal. That wasn't of interest to us because official tours are better suited to having the best ride access (important if your group is interested in riding all of the thrill rides).
Instead, we wanted to have 5-star concierges guiding us through to make the experience as easy on our group as possible showing us every magical detail of the World of Harry Potter. And boy, was it incredible.
What our VIP Guides Did
It started with a secret parking hack where we met our guides steps away from the park entrance. They organized us in front of the big Universal globe for a family photo and brought us props to celebrate the birthday girl in our group for a large family pic.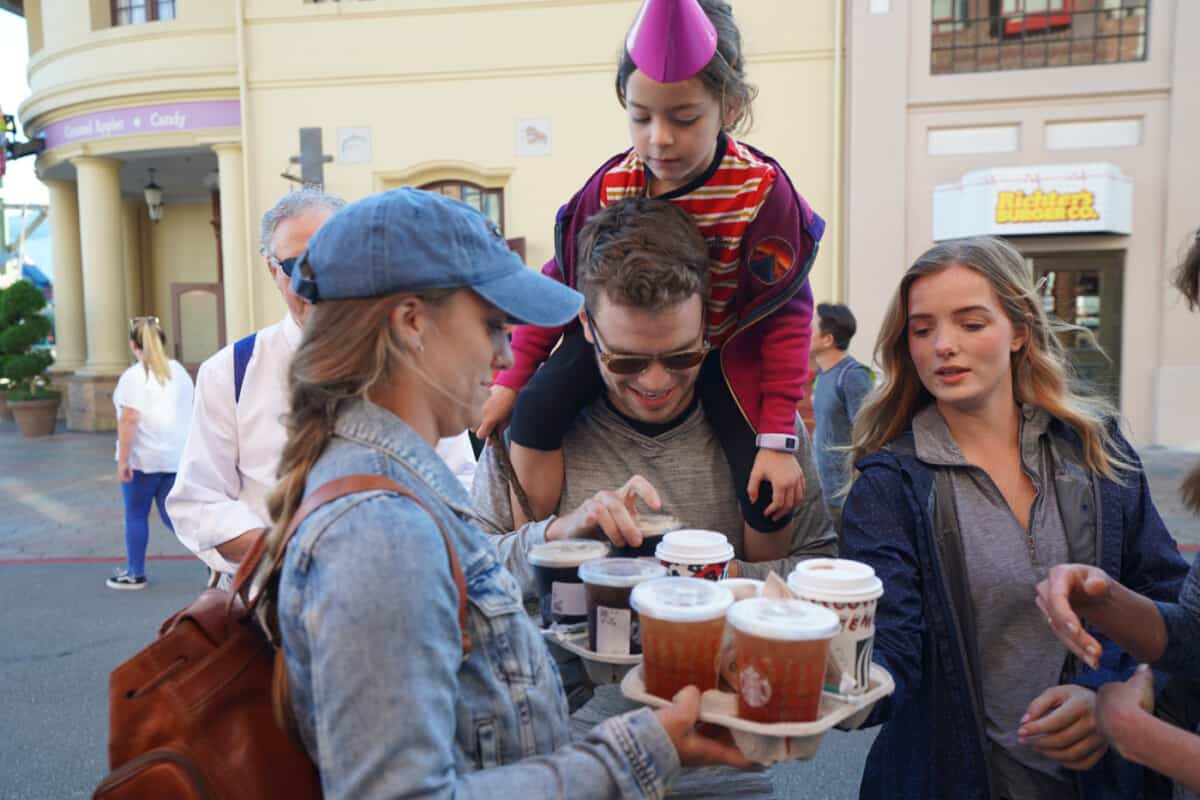 They led us through the park and took our Starbucks orders. They had spare wands in their Mary Poppins-like magical bags filled with items to make our day even better. They had Reese's Pieces for us when we got off of the ET ride.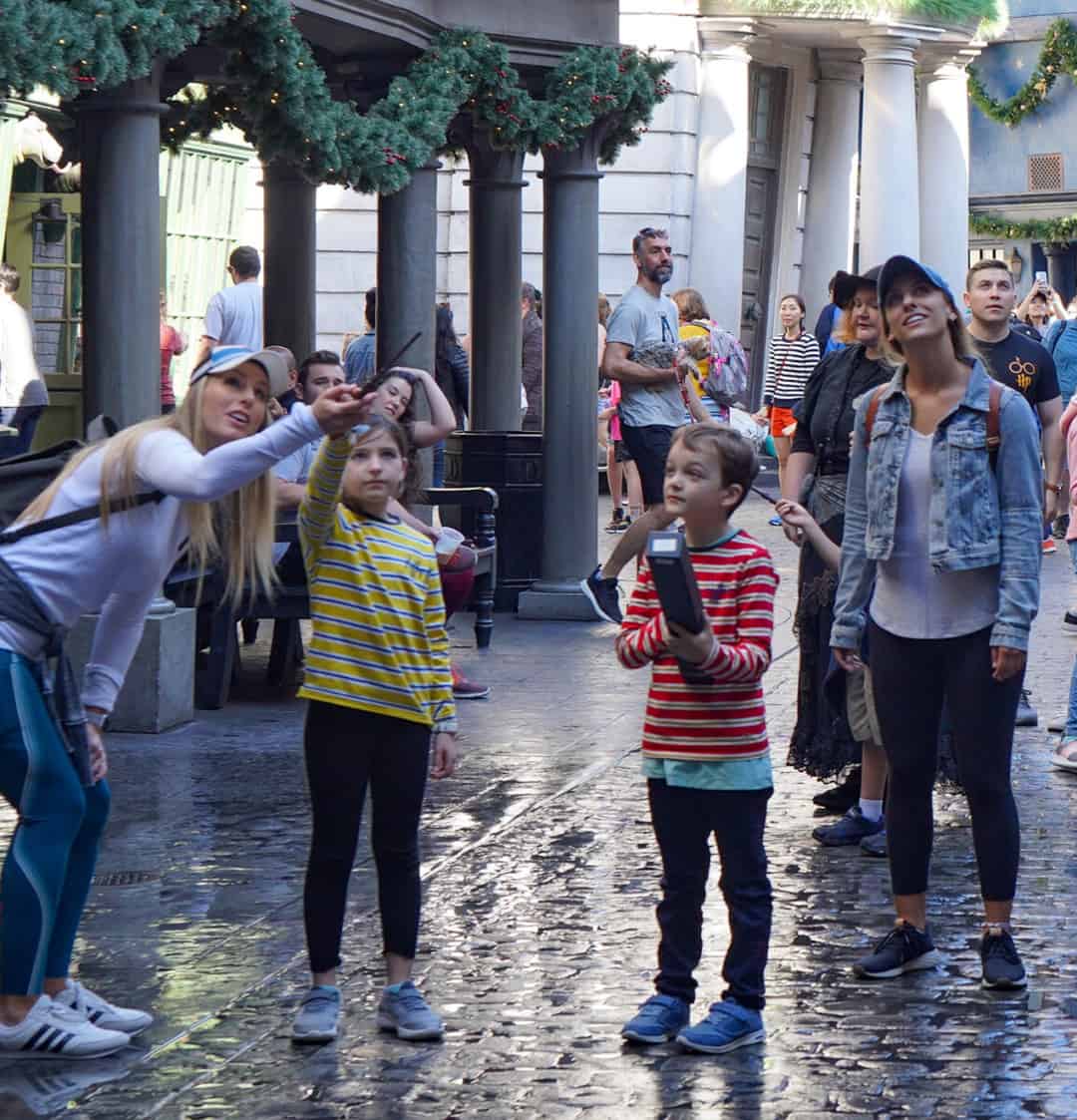 They showed our kids every little magical experience guests can do after purchasing the RFID enabled wizard wands. (They run about $55 each).
Our guides knew every detail in the park that we would have unknowingly walked right past. Our guides showed us the London phone booth that plays secret recorded messages if you know the code to dial. They managed to get our whole group into Ollivanders Wand Shop experience by waiting in line for us. They made us stop so we could spot Kreecher, the house elf, quickly peek from behind the curtains at No. 12 Grimauld Place.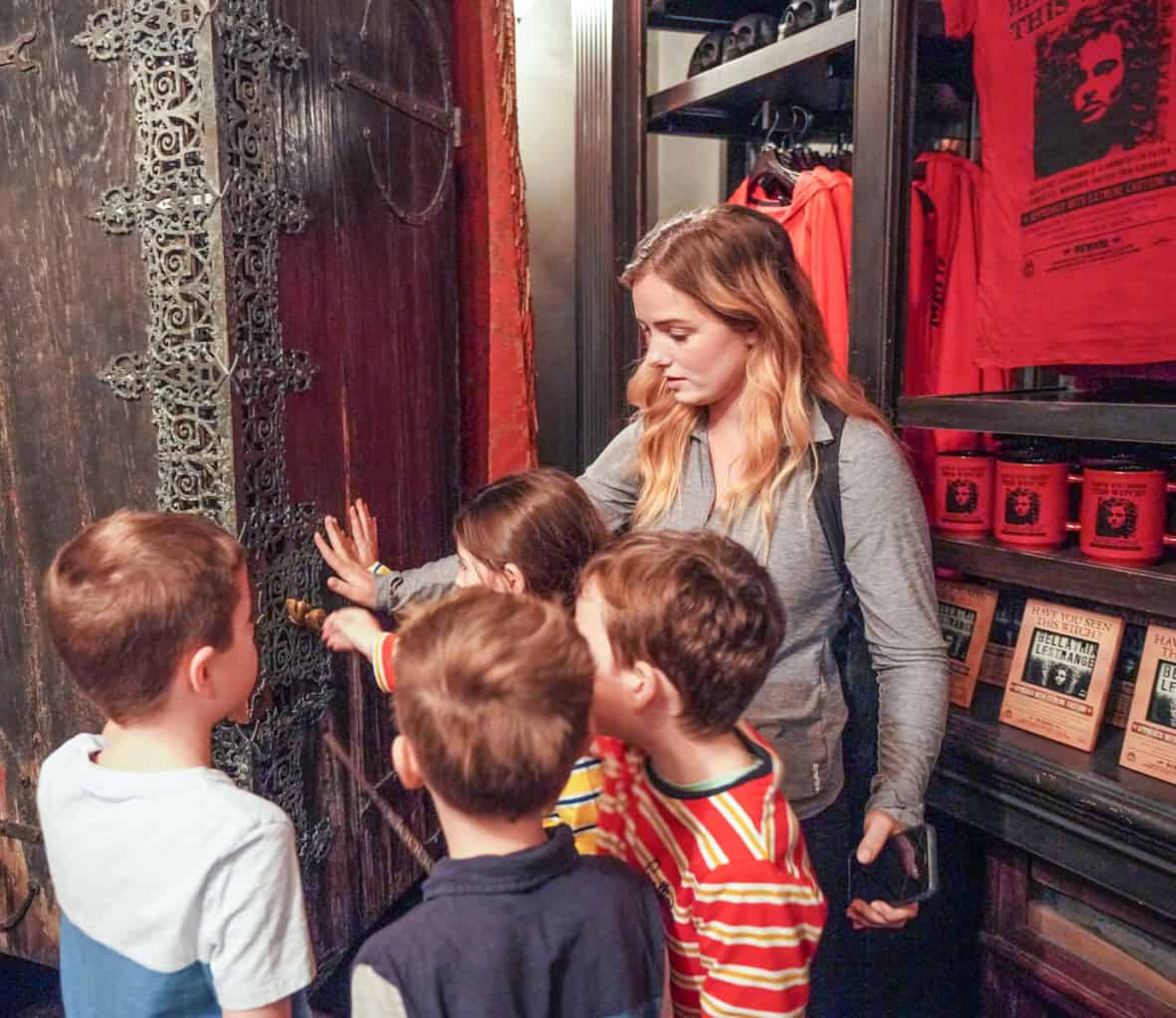 The best part? We rode the main ride in the Hogwarts at Islands of Adventure and then were led to the back, shaded tables at The Three Broomsticks where our lunch was waiting for us. (We had given them orders earlier.)
The Best Rides at Harry Potter World
Universal's experiences are more thrilling than Disney's rides, and families will small children will not find as many options to enjoy. I do not recommend heading to Universal with anyone who cannot enjoy moderate thrill rides.
There are four main rides at Harry Potter in Orlando, with two of them not suited for young children. The newest ride is Hagrid's Magical Creatures Motorbike Adventure. It is a roller coaster for thrill seekers that does not go upside down, but it goes backwards.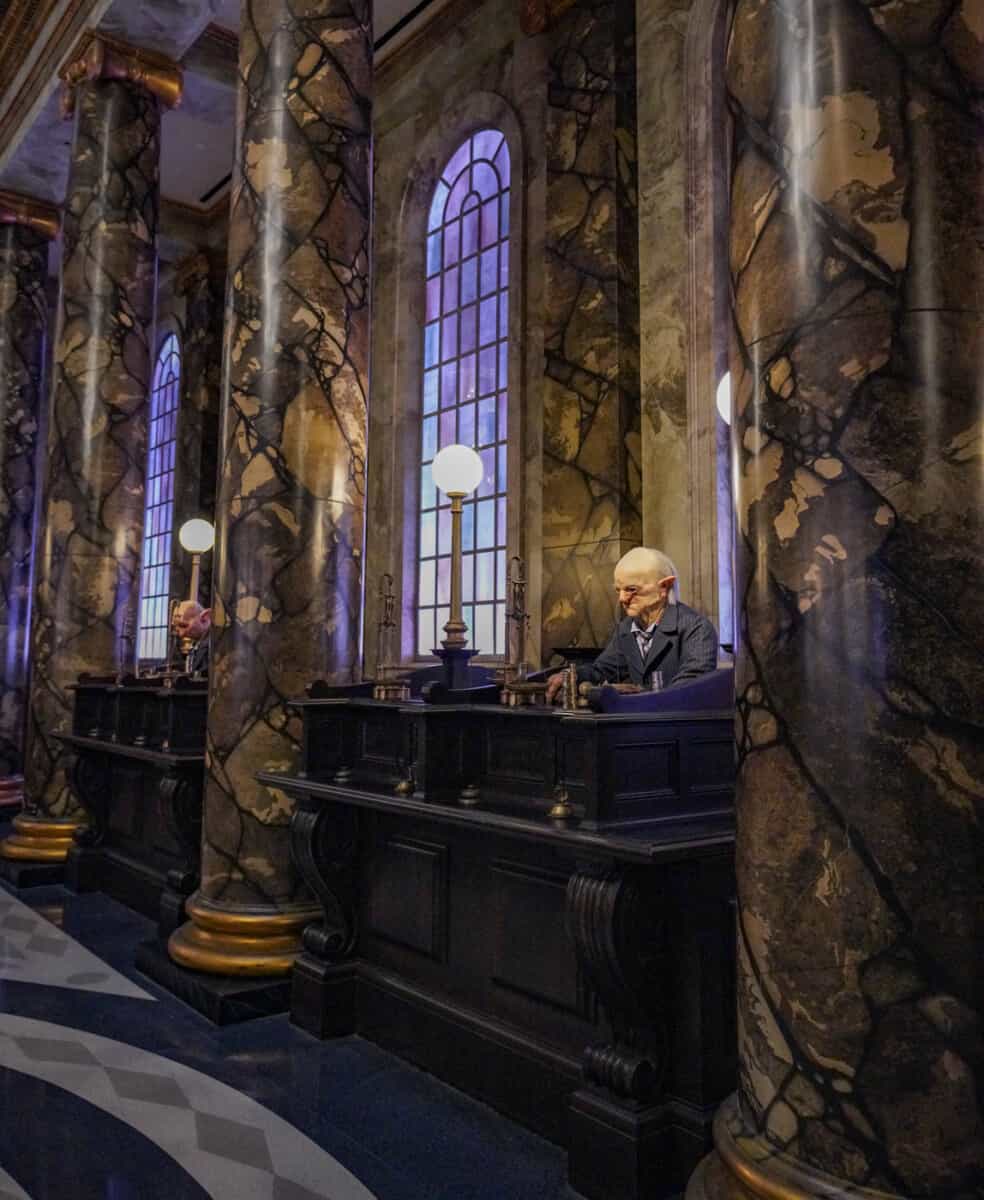 The ride inside Hogwarts Castle is also a thrill ride. Harry Potter and the Forbidden Journey throws its riders around assaulting them with immersive video of every villainous creature.
Escape from Gringotts was much tamer, and everyone in our group, aged six to 76 enjoyed it. But it still was thrilling and not good for children who easily scare.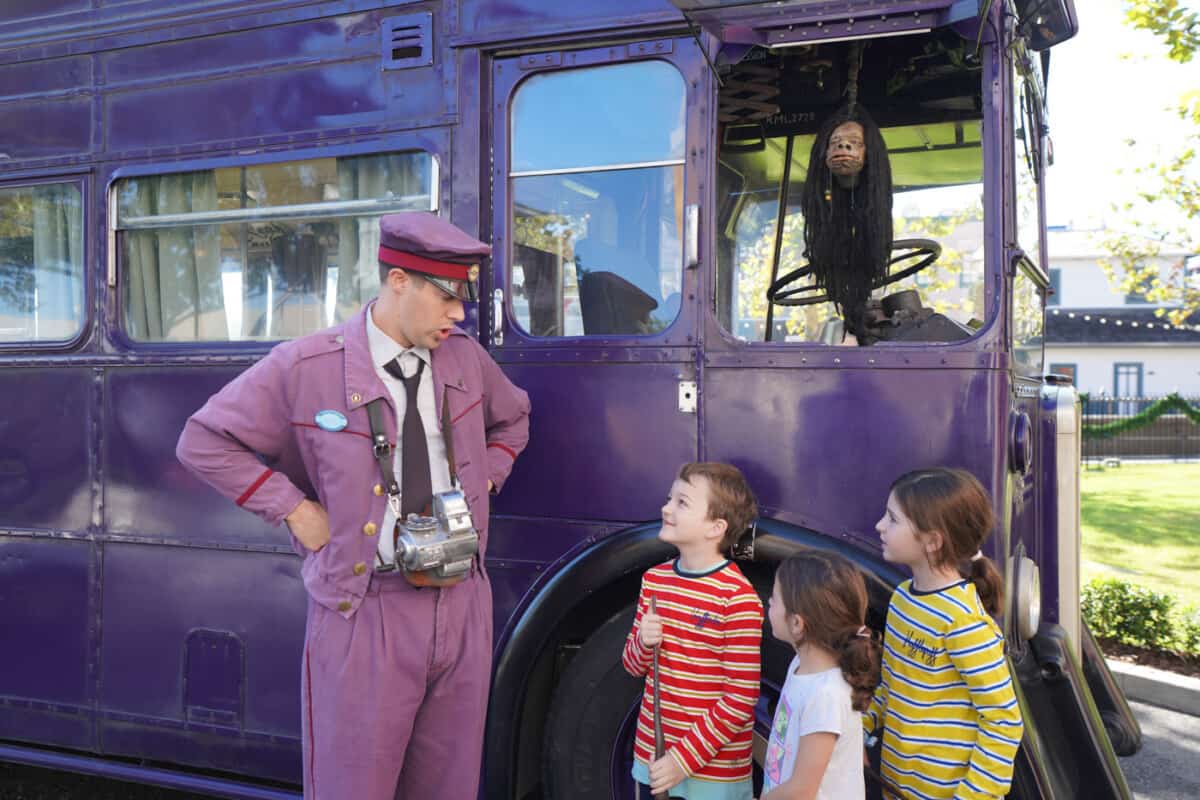 The Flight of the Hippogriff ride is a roller coaster offering views of Hogwarts Castle and Hogsmeade's snow covered village. It's not as intense at the new Hagrid rollercoaster.
The Hogwarts Express Train is peaceful and suitable for all ages.
The magic wand experiences will engage younger kids and kids at heart. Older kids and adults will marvel at the recreation of J.K. Rowling's world. I loved Knockturn Alley's details, in the dark arts section off of Daigon Alley.
Avoid the Cauldron Cakes. They are gross, rock hard cupcakes buried under three inches of preservative-filled frosting.
Why You Need to Book This Vacation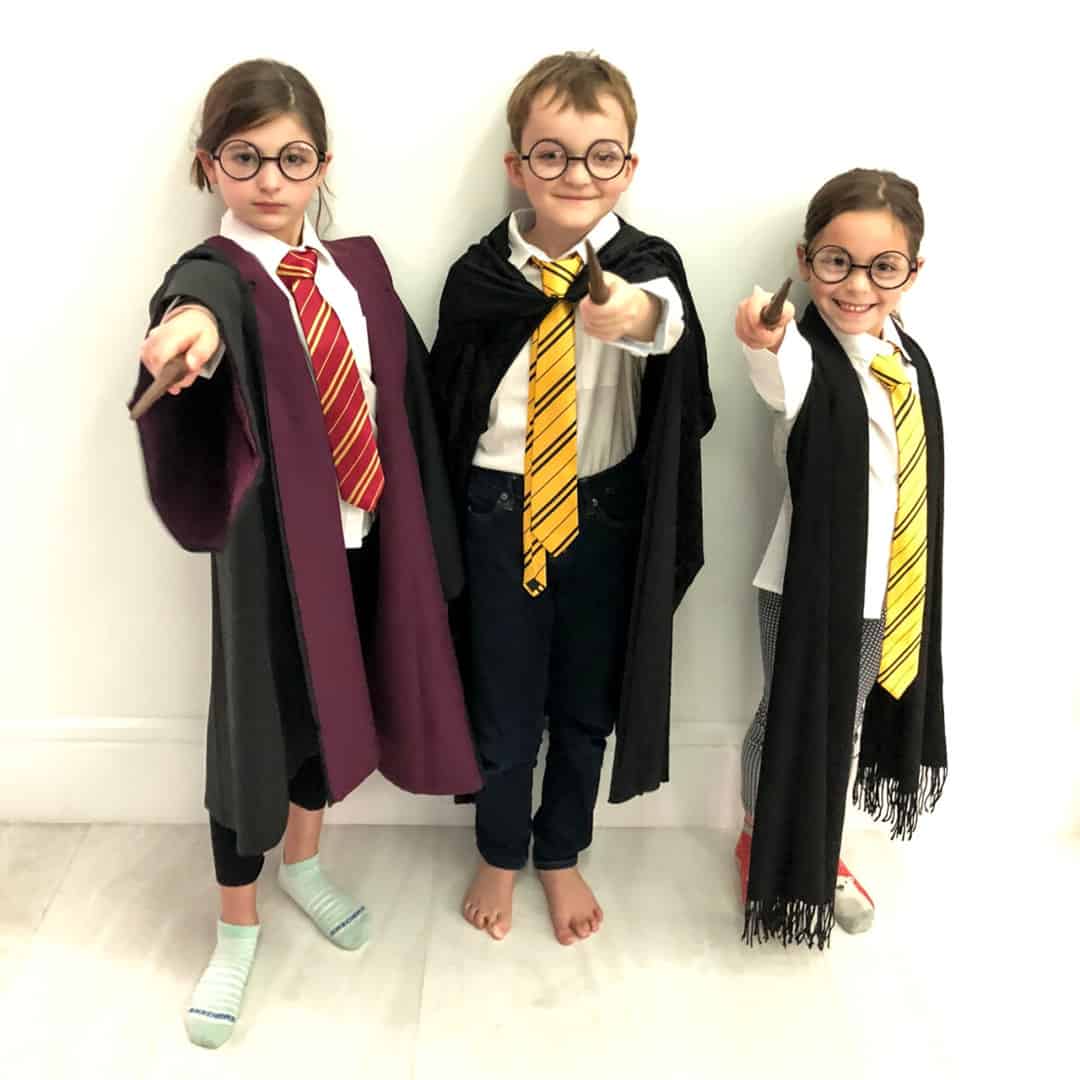 We had an incredible time, and for a large family, it worked perfectly.
For what its worth, we will return and likely not even venture beyond Villa Belle much. After three nights there, we still felt like we could have had another full day enjoying the house. One day at the house wasn't enough.
Let's chat if I can help you plan this vacation for your family.
I really want to believe in portkeys now.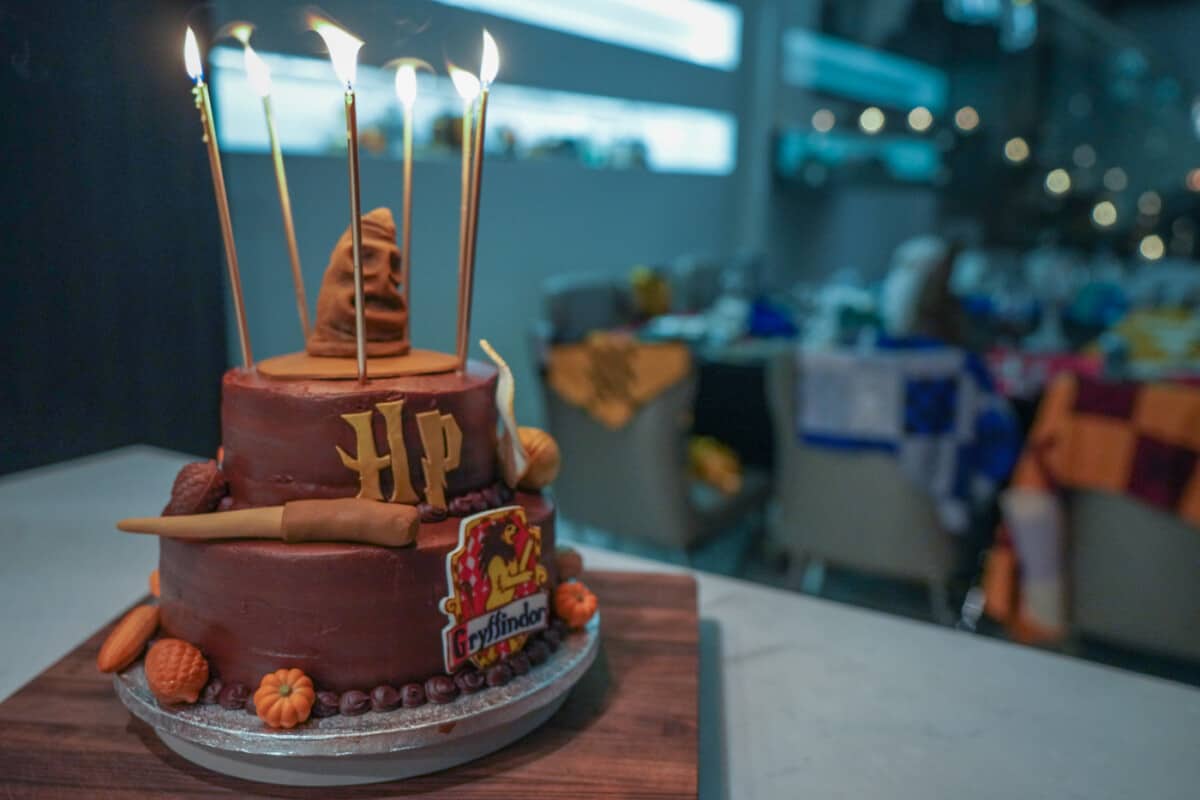 Rent These Harry Potter Homes in Orlando
Create your own Harry Potter hotel at these Orlando vacation home.
This home is a top home starting at $1900 per night with 8 bedrooms.
Here's another home on VBRO that is closer to $1000 per night with Harry Potter themed game room and Star Wars rooms. It has 12 bedrooms.
This home is even grander with 13 bedrooms and a secret Gryffindor common room and your own bowling alley! Prices are closer to $4000 pr night with several top of the line amenities.